Pappardelle pasta with walnut sauce and black truffle shavings.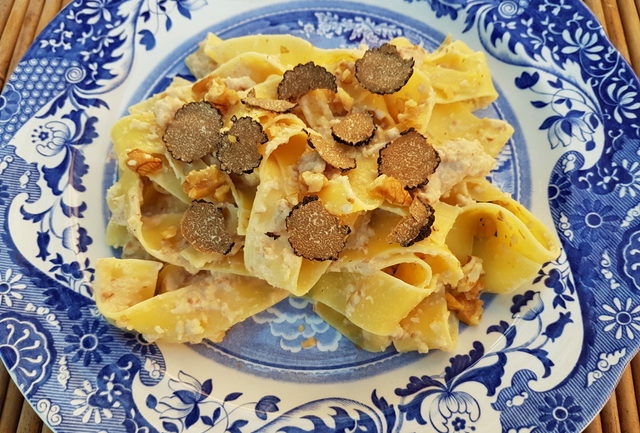 I think walnuts are my favourite nuts. I use them a lot in pesto sauces and often eat them raw. Here in Italy, walnut sauce is a popular condiment for pasta. This recipe is for the most famous walnut sauce which comes from Liguria, where it is eaten with typical local pasta such as Trofie or pansotti, triangular ravioli filled with herbs and spinach. However, pasta with walnut sauce has become popular all over the country and is served with both long and short pasta.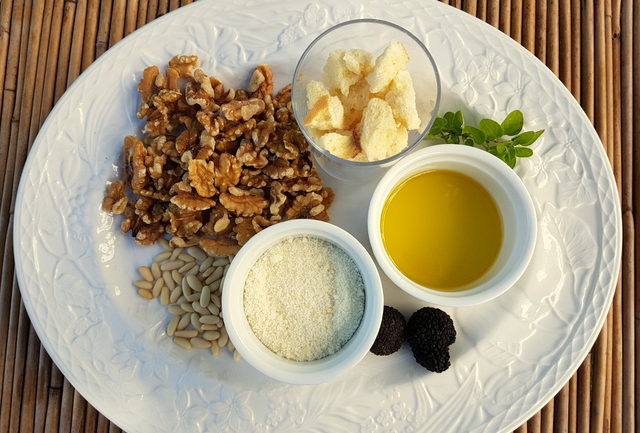 Walnuts in Italy.
Walnuts are grown throughout Italy and trees can be found scattered around the countryside. There are a couple in the fields near my house! Italy has a long history of walnut production and consumption. Walnuts were collected and eaten here as far back as 9,000 years ago, long before they were cultivated! There are even some towns and villages with names like Nogara, Noceto, and Nogare, which are derived from 'noci' the Italian word for walnut and so named because of the centuries-old presence of this crop. Apart from eating walnuts and using them in cooking, the Italians also make a wonderful liqueur out of walnuts called Nocino!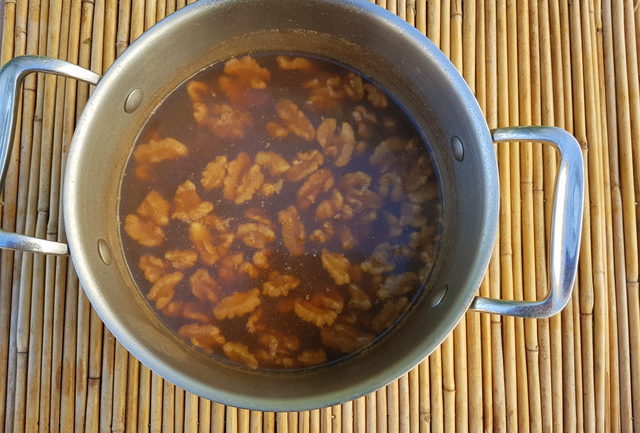 The best Italian walnuts.
Fresh walnuts are available in Italy for a few weeks from the end of September and these have a more delicate taste than dried ones. However once collected, the walnuts are dried and last for many months even up to a year. The two most well-known types of Italian walnuts are the slightly sweet and less bitter Lara walnuts; which are grown in Veneto where I live, as well as Piedmont or Sorrento walnuts, grown in Campania. However it's possible to buy small, but very tasty, homegrown walnuts all over Italy.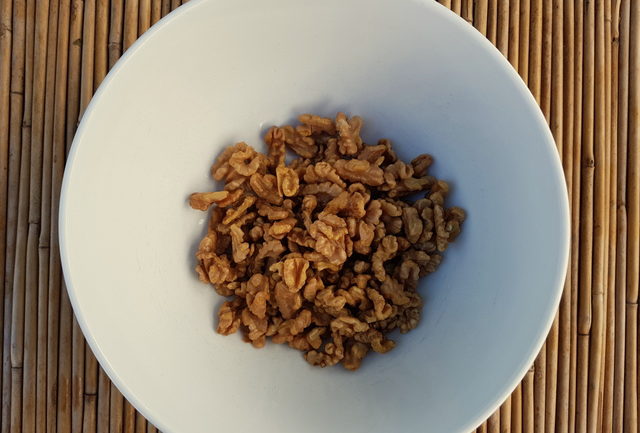 This pasta with walnut sauce recipe is beautifully creamy and fragrant. The sauce is made mainly from walnuts, but also includes pine nuts, another dried fruit that is typical in Ligurian cuisine and popular throughout Italy. It is still traditionally created with an olive wood pestle and mortar, an ancient tool used to crush the walnuts kernels so as to give off their full flavor and give the sauce a warmer note. Of course, it can be made using a food processor or blender!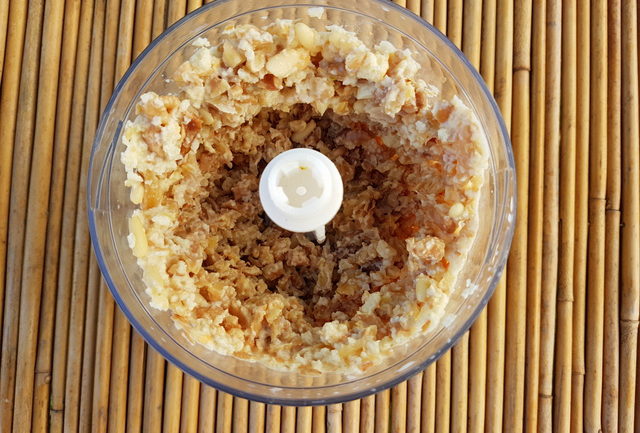 Minimum cooking required.
The only cooking required is boiling the walnuts, so that they can be peeled, and cooking the pasta. I served this pappardelle pasta with walnut sauce and black truffle shavings. Black truffles are widely available in Italy in the autumn and I had some in the freezer. The combination of the creamy walnut sauce and the woody taste of the truffles really worked well together, but of course truffles are not always easy to find and expensive so you can also serve it with just the pasta with walnut sauce or add mushrooms, pancetta, speck or zucchini. This sauce can also be eaten as a dip or on bread!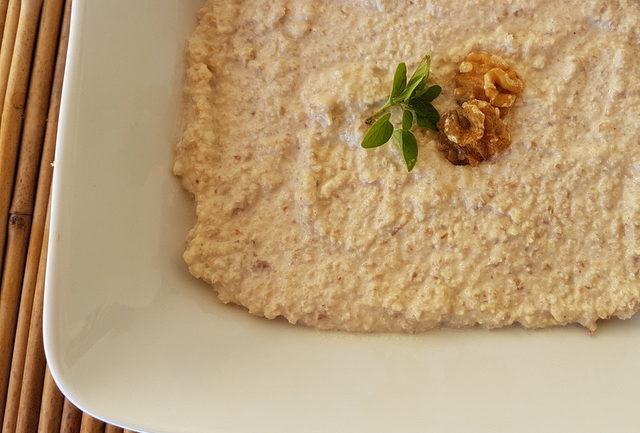 I served this sauce with pappardelle but many other pasta types go really well. Tagliatelle is great and even spaghetti or short pasta like farfalle or penne.
If you do make this pasta with walnut sauce recipe, I'd love to hear how it turns out. Please leave a comment here on the blog or on the Pasta Project Facebook page. If you'd like to share a photo, I'd be thrilled if you join my Pastaliciousness group. The members and I would love to see your finished dish.
Buon appetito!
(Go to next page to get the recipe. Just scroll down and click 2)