Pappardelle pasta with venison ragu from Trentino-Alto Adige.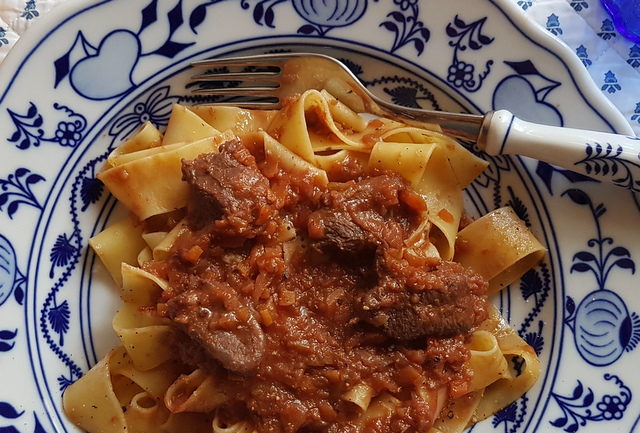 Pappardelle con ragu di cervo.
I'm actually writing this post after just having eaten the most delish pappardelle pasta with venison ragu! I wish I could share the wonderful aroma that still lingers in my kitchen with you! In my opinion, venison is a very flavourful meat that tastes absolutely fabulous when slow cooked in a rich spicy sauce, which is how Italian venison ragu is usually made.
(click here to go straight to recipe)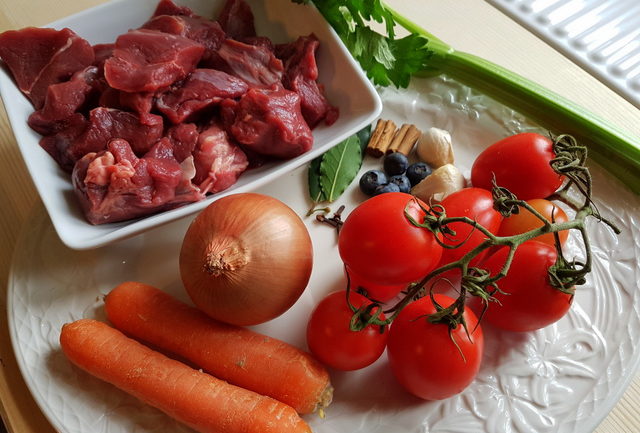 I know that many people are against hunting wild animals for food. Personally I'm not. I'm against trophy hunting or hunting animals in danger of extinction. In Italy, there are large populations of certain game animals which, unfortunately, also cause damage to crops and agricultural land. So, the government permits hunting them. Also, game meat is certainly much healthier than most of the meat we buy and the animals themselves have a better quality of life than most the pigs, cows and chickens we eat.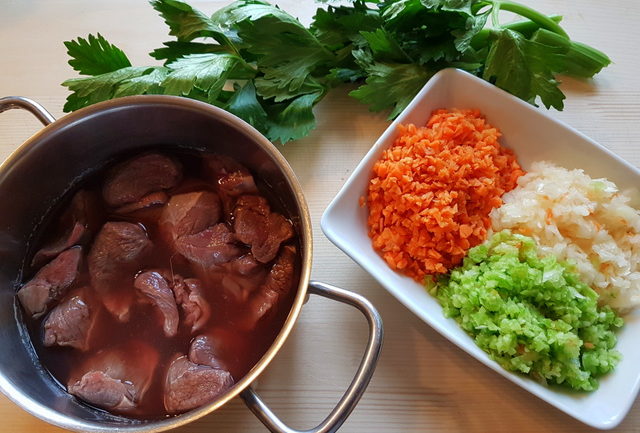 Game meat is popular in Italy!
Before moving to Italy, I hadn't eaten much game. But here, it's very popular, especially in the mountainous areas. Game is traditionally eaten during the hunting season, which mainly runs through the winter. By game, I mean mostly venison (cervo), roe deer (capriolo) wild boar (cinghiale) and hare (lepre). Italians eat game served in different ways including with pasta, braised as a main course or as salami. All are delicious, but I think with pasta is my favourite!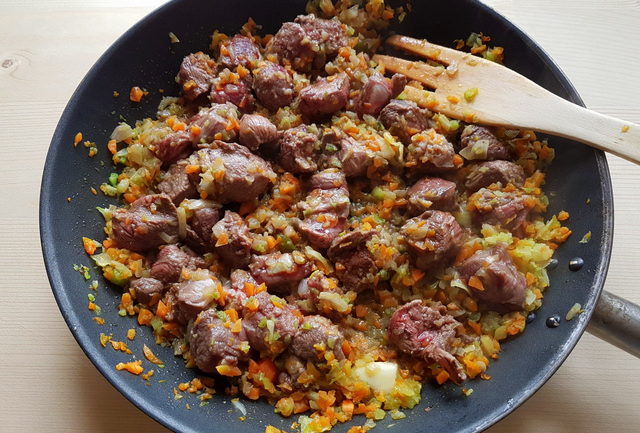 This particular pasta with venison ragu recipe comes from Trentino-Alto Adige, the North Eastern Italian region which borders Austria and Switzerland and stretches across the Dolomite Alps. Food in Trentino-Alto Adige is a mixture of Austrian and Italian and, of course, game is an important part of the regional cuisine. However, venison is also eaten in other regions.
The pasta!
Traditionally, the most popular pasta served with game ragu is flat ribbons such pappardelle, tagliatelle or fettuccine. I used pappardelle for this pasta with venison ragu recipe. But, one of these days I want to try making chocolate tagliatelle with venison. Yes, chocolate tagliatelle exists and is mainly eaten with venison!
The herbs & spices!
Most pasta with venison ragu recipes also include spices and herbs such as juniper berries, cinnamon and cloves and, sometimes, sage, rosemary and thyme. In this recipe, I used bay leaves, cloves, cinnamon and juniper berries. If you can't find juniper berries you can replace them by adding a bit of gin or rosemary.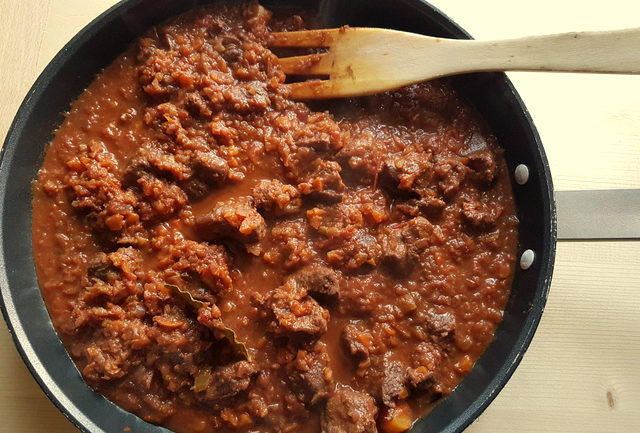 Venison requires slow cooking, so this isn't a dish you can make quickly. The venison needs to be marinated in wine for up to 3 hours (this gives the meat a slightly less gamey taste) and some recipes I found called for up to 6 hours of cooking!! I simmered the sauce for 3 hours. A lot depends on the size of the pieces of venison. You can also mince it to shorten cooking times.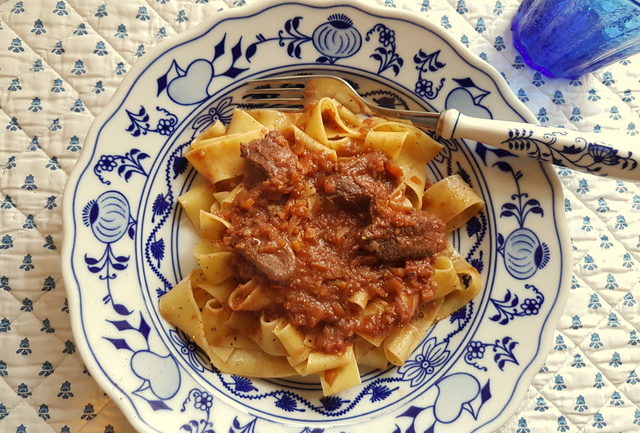 If you like venison you should definitely try this pasta with venison ragu recipe. It's divine. For those who can't easily find venison or prefer not to eat it, beef can be used instead although the taste will be slightly different as venison does have a more gamey taste.
If you do try this recipe, I'd love to hear what you think. Please write a comment here on the blog or post a comment on the Pasta Project Facebook page.
Your feedback is important to me!
Buon Appetito!
Other slow cooked meat pasta recipes on The Pasta Project.
(go to next page for recipe. Just scroll down and click 2)