Ziti Pasta with la Genovese ragu; recipe from Naples.
Ziti pasta with la Genovese ragu, or alla Genovese, is a traditional iconic Neapolitan recipe. This is actually a very old recipe, apparently dating back to the 15th century. In fact, this is one of the most typical dishes that families in Naples prepare for Sunday lunch and holidays. However, it is relatively unknown outside of Campania.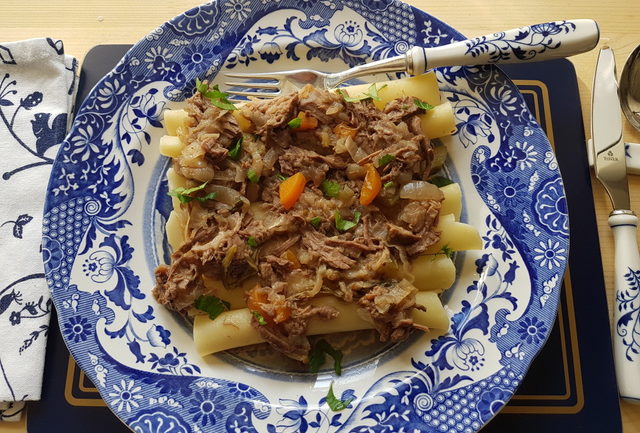 Ziti con la Genovese da Napoli.
The recipe for pasta with Genovese ragu is basically onions (lots of onions!) and beef cooked together for 3- 4 hours (yes 4 hours!!) to create a thick rich sauce, which is served with pasta, normally ziti or zitoni.
(This recipe was first published in 2017 but has been updated)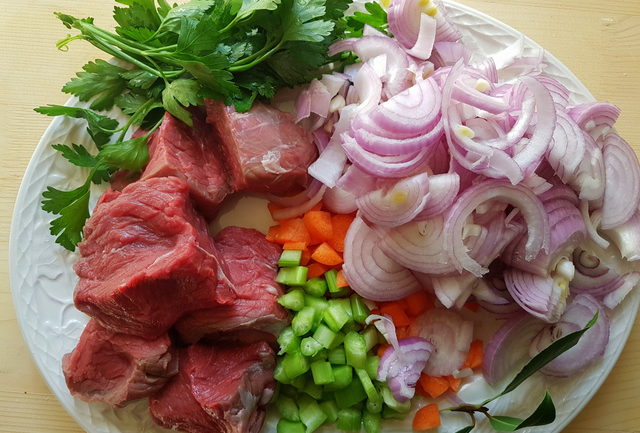 As in a number of other traditional Italian slow cooked pasta recipes like Ischian rabbit and duck ragu, most of the meat is served separately as a main course. But, you can also serve it just with the pasta (as I did) or save it for another meal.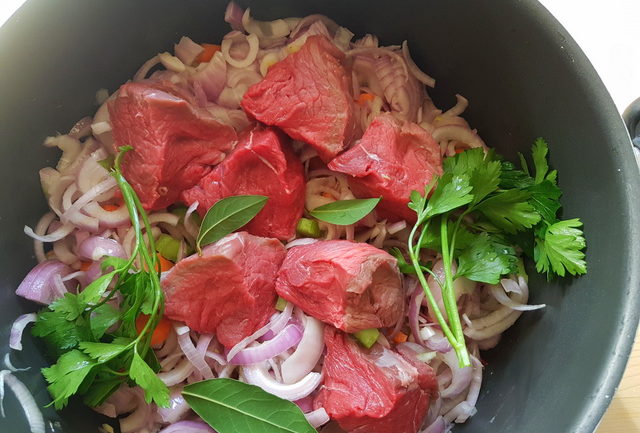 La Genovese doesn't come from Genova!
Interestingly, the name of this recipe is not indicative of the place of origin as it is for dishes like tagliatelle alla bolognese, a typical recipe from Bologna in Emilia Romagna.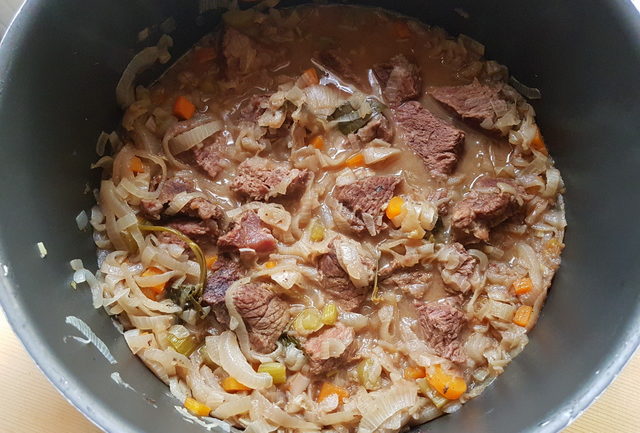 They don't eat this dish in Liguria or Genova, where Genovese refers to basil pesto. There are a number of theories as to how it came to be called la Genovese. Some believe this pasta with la Genovese ragu was simply invented by a Neapolitan chef whose surname or perhaps nickname was 'the Genovese'. Others believe that it is connected to the Genovese cooks living in Naples when the city was under Aragonese and Spanish rule in the fifteenth century. These cooks were known for their pasta sauces based on meat. This sauce is mentioned as a 'ragu' in a famous Italian recipe book from the 19th century. The Theoretical Kitchen-Practice, written by Ippolito Cavalcanti, Duke of Buonvicino. is the book that brought Neapolitan cuisine to the world!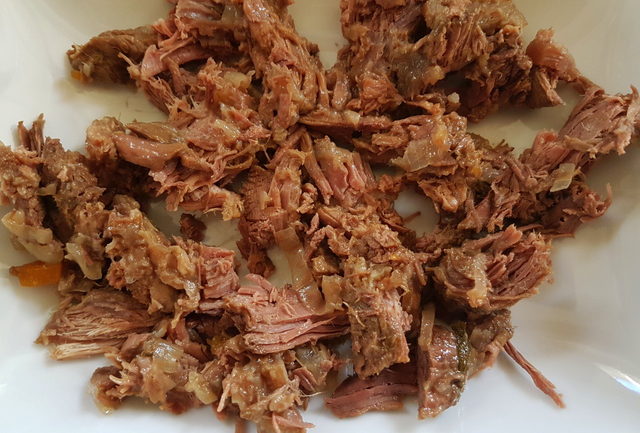 The recipe in Cavalcanti's book is less elaborate than the one popular today. This version most likely dates back to the second half of the 19th century. It was considered the poor version of a classic ragu.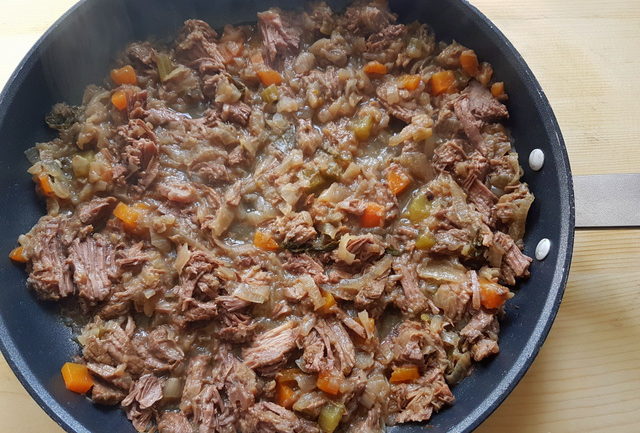 The right ingredients for pasta la Genovese!
To make ziti pasta with la Genovese you have to choose a cut of meat, usually beef, that is well suited to long slow cooking. Chuck roast or braising steak are good. The onions they use in Naples are traditionally coppery outside and slightly red inside, particularly Montoro onions. But, you can use normal yellow onions.
Finally, to make your pasta la Genovese very Neapolitan, use ziti or zitoni that have been broken in half by hand before cooking. If you can't find this pasta then short pasta such as rigatoni or penne works well too!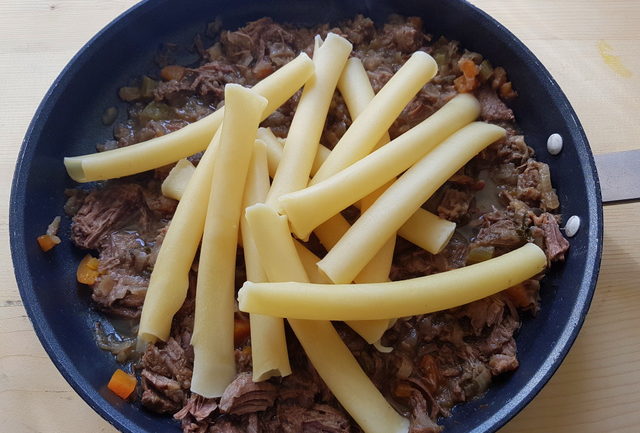 Cook it long and slow!
The true secret of pasta with la Genovese ragu is the long and very slow cooking of the ragu. This is the only way to get the classic brown colour of the sauce, onions that are almost like jam and meat that will melt in your mouth. Obviously, every Neapolitan family has its own recipe with slightly different quantities and ingredients.
I have come across versions that are cooked for 5 hours and some for 2! Others include different herbs, other types of meat and also tomatoes. I made it without tomatoes. Traditionally, la Genovese ragu is supposed to be a 'white' sauce. This recipe doesn't normally require broth or water as the onions create a lot of liquid. But, if your sauce is drying out, add some beef stock or water.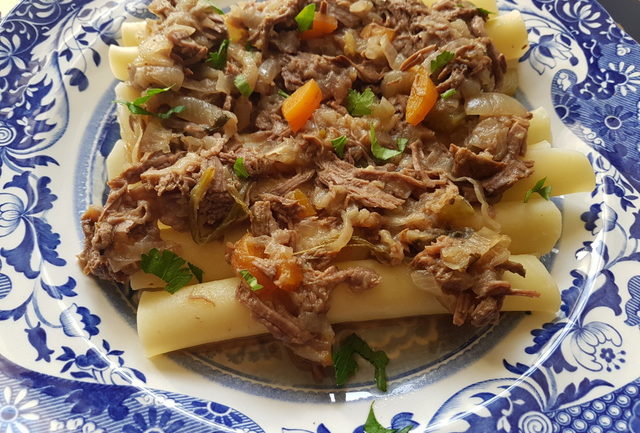 I have to say this ragu was one of the best I have ever eaten! It's so worth the time it takes to make. I have eaten it in Naples and, obviously made it myself! Of course, this is not a dish you can cook any day of the week. But, it's perfect for Sunday lunches and special occasions. I hope you'll give it a try!
If you do try this La Genovese pasta recipe, I'd love to hear what you think. Please write a comment here on the blog or post a comment on the Pasta Project Facebook page.
Your feedback means a lot to me!
Buon Appetito!
Don't forget to pin for later!

Other recipes from Naples
Save this recipe for later?
If you want to save this ziti pasta recipe for later, you can print it, bookmark this page or save it to Pinterest.

Have a look at these other authentic Neapolitan pasta recipes for more delicious pasta recipes like this one!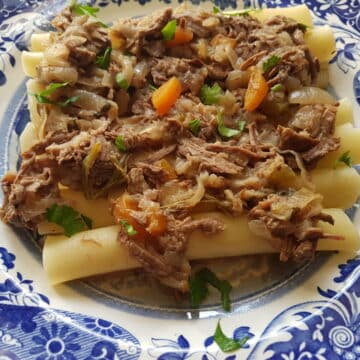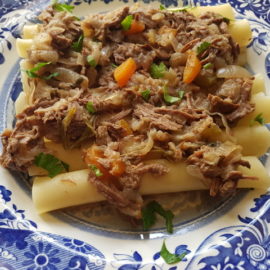 Pasta with la Genovese ragu from Naples
This iconic recipe from Naples involves slow cooking beef and onions to create a rich tasty sauce that can be served with pasta, as well as with potatoes.
Ingredients
320

g

ziti or zitoni pasta

(11oz) you can also use penne or rigatoni

1.5

kg

coppery onions

(3.3lbs) you can also use normal yellow onions

900

g

beef

(2lbs) chuck steak or brasing steak

2

stalks

celery

washed and cut into small pieces

2

carrots

washed and cut into small pieces

2

bay leaves

1

handful

fresh parsley

3

tbsp

extra virgin olive oil

salt

for pasta and to taste

black pepper

to taste

1/2

glass

dry white wine

50

g

Parmigiano Reggiano

(2oz) grated for serving
Instructions
Begin by peeling the onions and slicing them thinly.

Wash and cut the carrots and celery into small pieces

Remove any fat from the meat and cut it into about 5-7 pieces

Heat the olive oil in a deep pan. Fry the carrots, celery and onions together for a couple of minutes, stirring continuously.

Add the meat, parsley, bay leaves and a teaspoon of salt. Mix together and cook for a couple of minutes until the meat starts to brown. (some people prefer to brown the meat first, I didn't)

Cover the pot, lower the heat and cook for about 3 hours. You will need to check it and stir every now and again, but the onions should create enough liquid for the meat to cook in. If it seems dry add some beef stock or water.

After 3 hours, remove the bay leaves, add half the wine, salt and pepper to taste, stir and let simmer on a low heat uncovered for one hour. You may need to add more wine as the sauce reduces. Continue to stir often.

Once the meat is very soft you can remove it from the sauce and save it to serve later, apart from a small quantity which should be shredded (cut into very small pieces) and returned to the sauce. Alternatively shred all the meat and return it to the sauce. (this is what I did)

Put a pot of water on to boil for the pasta. Add salt once it starts to boil. Bring to the boil again.

If you are using long ziti or zitoni, break the pasta in half or 3 pieces before adding it to the water. Cook the pasta al dente according to the instructions on the packet.

When the pasta is cooked, save a cup of the cooking water and drain. If your sauce seems dry, add some of the pasta cooking water and stir. Add the pasta to the sauce and mix well or in the case of long pieces of pasta it may be easier to cover it with sauce once you have plated it.

Serve immediately with chopped parsley and grated Parmigiano cheese.
Notes
This recipe really needs to be cooked for a long time, although the process may be sped up by using a pressure cooker, I'm not sure that the results would be as delicious. In Naples, they traditionally use use ziti or zitoni pasta that has been broken in half by hand before cooking. If you can't find this pasta then short pasta such as rigatoni or penne work well too.
This dish can be made a day or two in advance and kept in the fridge (in fact the sauce tastes even better). You can also serve the sauce with pasta and most the pieces of meat with potatoes. Two meals or courses with the work of one!
Nutrition
Calories:
1200
kcal
Carbohydrates:
100
g
Protein:
58
g
Fat:
60
g
Saturated Fat:
21
g
Polyunsaturated Fat:
3
g
Monounsaturated Fat:
29
g
Trans Fat:
3
g
Cholesterol:
168
mg
Sodium:
410
mg
Potassium:
1521
mg
Fiber:
10
g
Sugar:
20
g
Vitamin A:
5378
IU
Vitamin C:
32
mg
Calcium:
314
mg
Iron:
7
mg