This Italian braised oxtail recipe is an iconic Roman dish that dates back centuries. It is made by slow cooking oxtail in a rich tomato sauce until the meat falls off the bones. As they do in Rome, you can serve this spectacular dish as an oxtail ragu with pasta or with polenta or just with crusty bread to mop up the delicious sauce!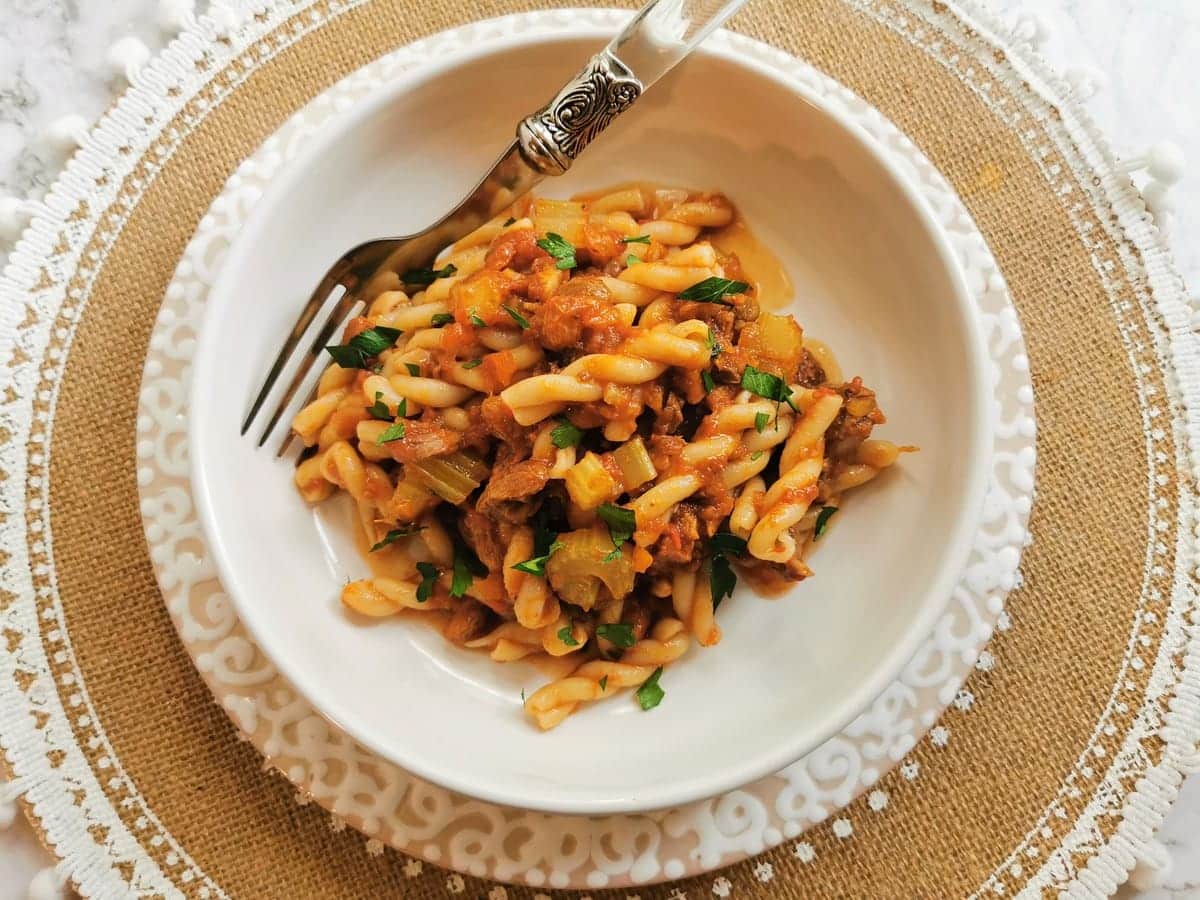 Coda alla vaccinara.
Known as coda di bue alla vaccinara in Italian, it's one of Rome's traditional recipes. It's served in many trattorias in Italy's capital city, especially in Travestere and the Testaccio district home to Rome's slaughterhouse, the 'mattatio', up until 1975. In fact, this dish owes its name to the 'vaccinari' (slaughterhouse workers) of the past.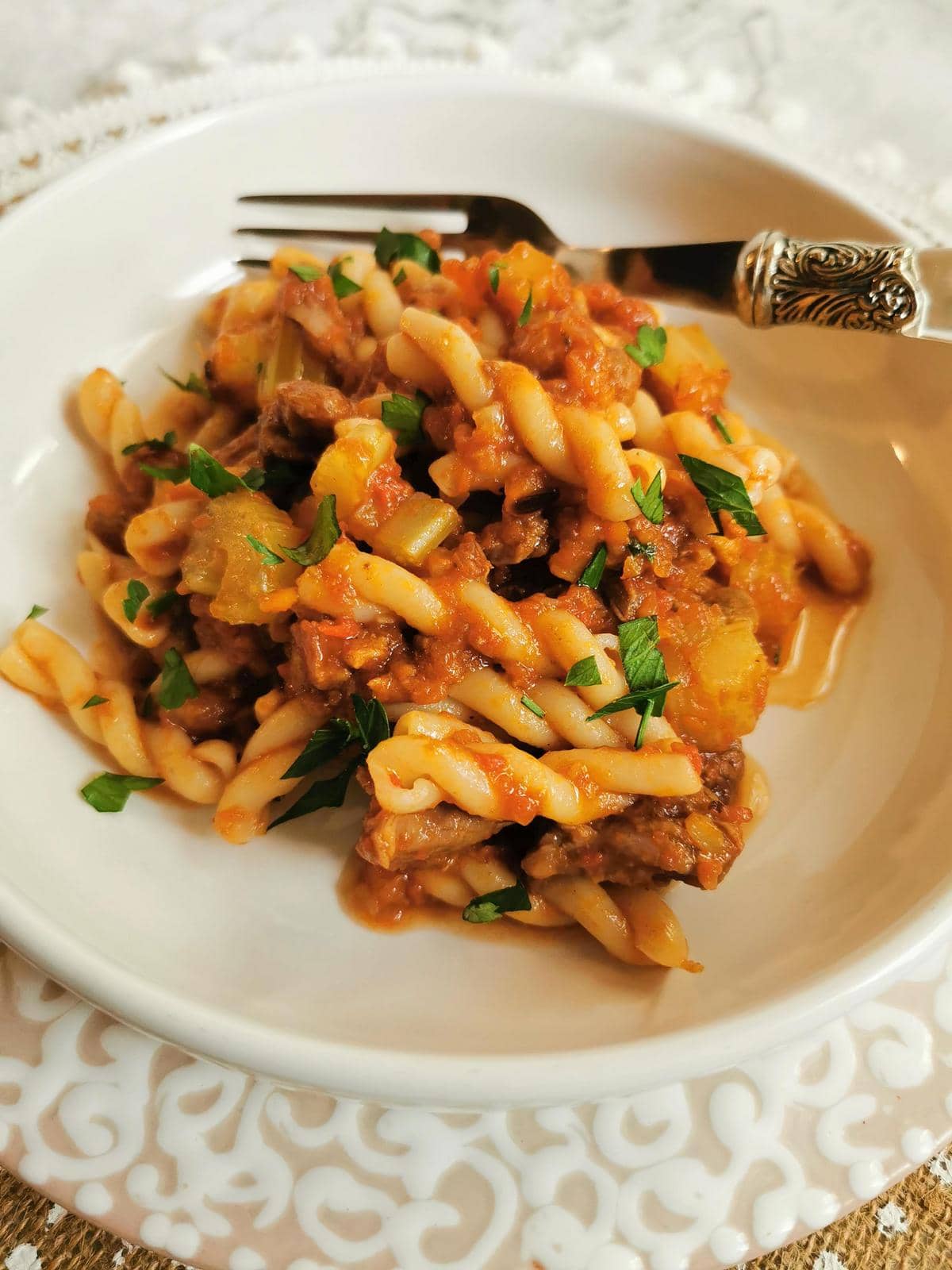 As far back as the 1300s, when Rome's mattatio was located in the Rione Regola district, slaughterhouse workers used to bring home the less valuable or sought-after cuts of meat. This was often part or even all of their pay. These cuts of meat (usually offal) were referred to as the fifth quarter, quinto quarto in Italian.
What does fifth quarter mean?
Even up to the early 20th century, there was a system in Rome which distributed meat according to social status. Animals brought to the mattatoio would be divided into quarters. The first quarter included the very best cuts. These would go to the nobility. The second quarter would go to the clergy, the third to the bourgeois and the fourth quarter to members of the army.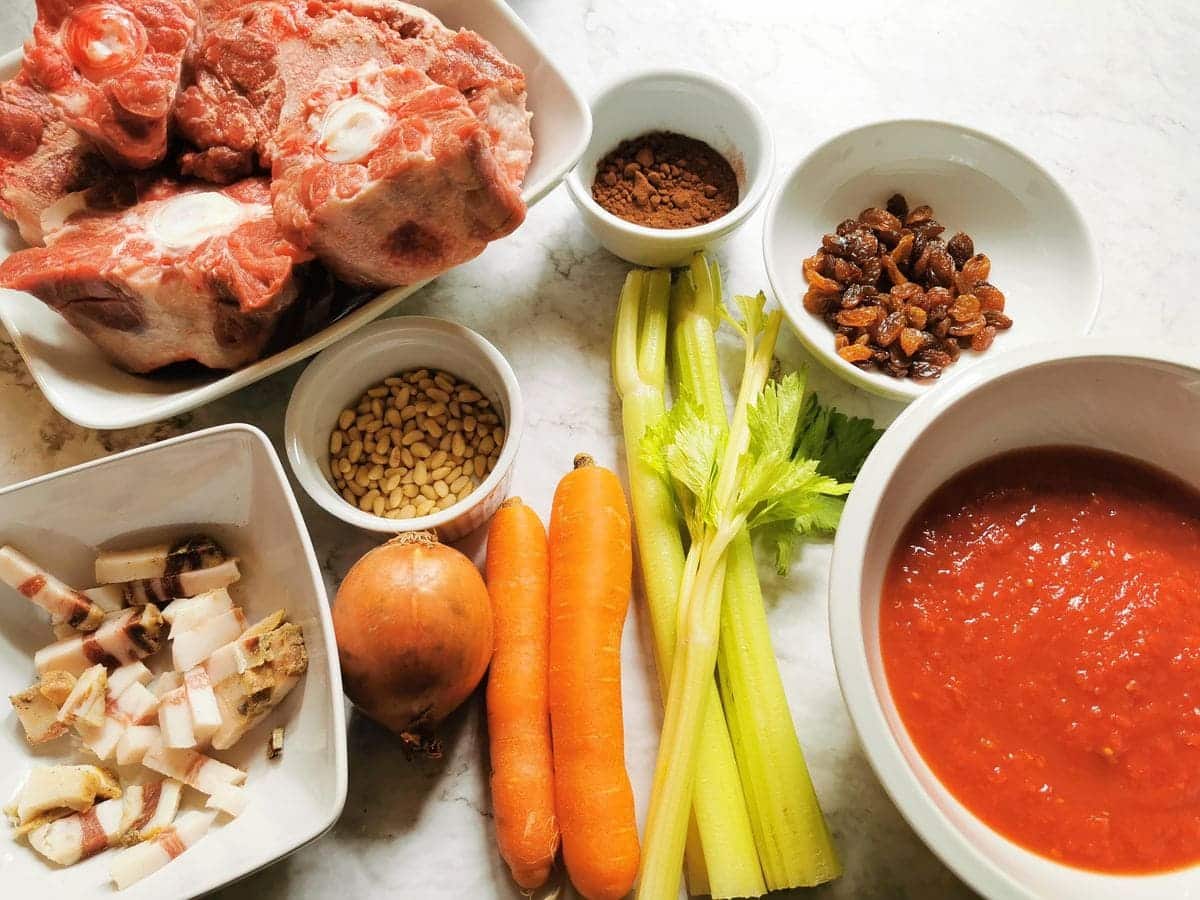 Other people, usually the poorer inhabitants, were left with the quinto quarto, or 'fifth quarter'. In reality, this was the animal parts the rest of Rome thought unfit to eat – brains, feet, livers, intestines, lungs and hearts etc, what we mostly call offal. Oxtail was considered one of the best and most popular fifth quarter meats. In fact, the vaccinari were also known as 'magnacode' in the Roman dialect, meaning tail eaters!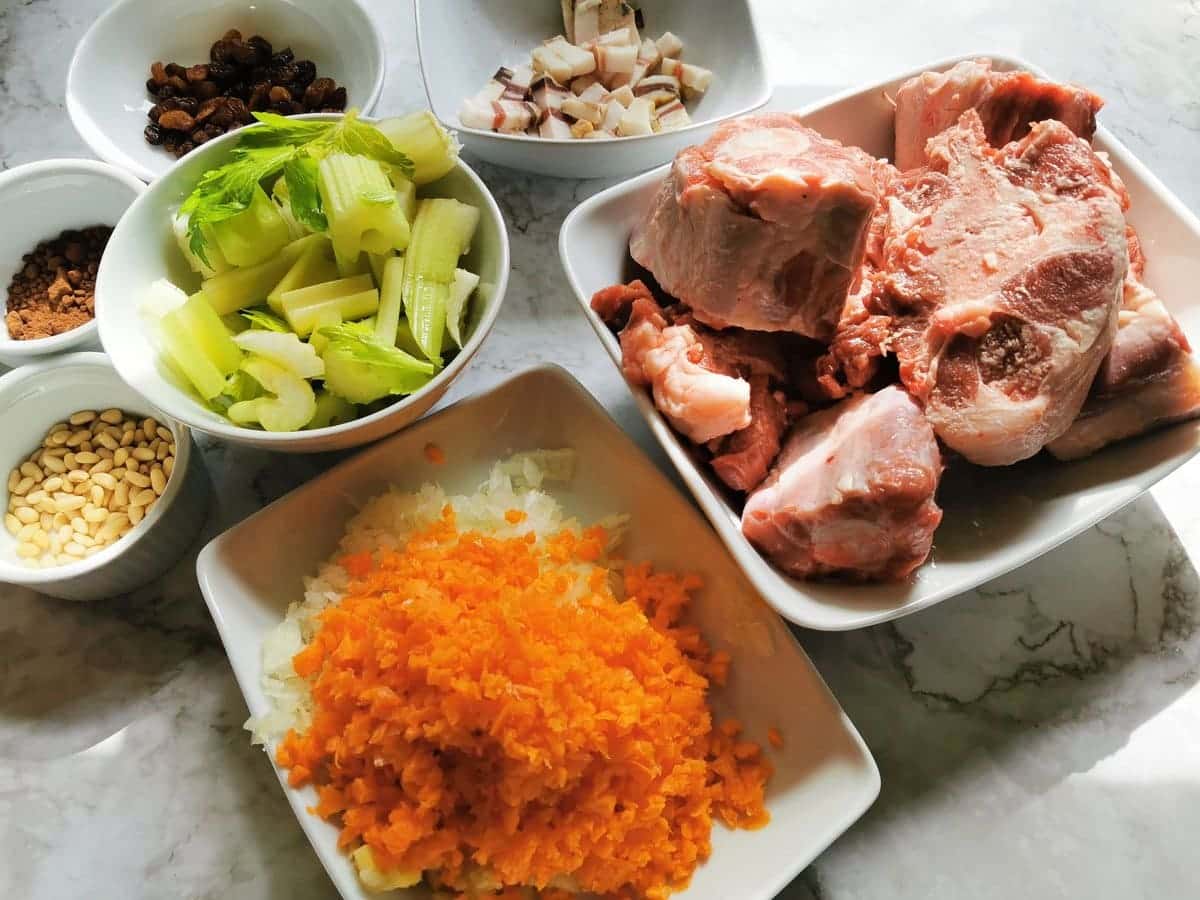 What does oxtail taste like?
Oxtail is a collagen rich decadent meat that is similar to finely marbled steak. It has a smooth silky texture and a rich flavour that is brought out further by the use of herbs and spices and long slow cooking. Despite being a cut of meat that was mostly eaten by the impoverished (not only in Italy), oxtail has become a much sought after food in many countries.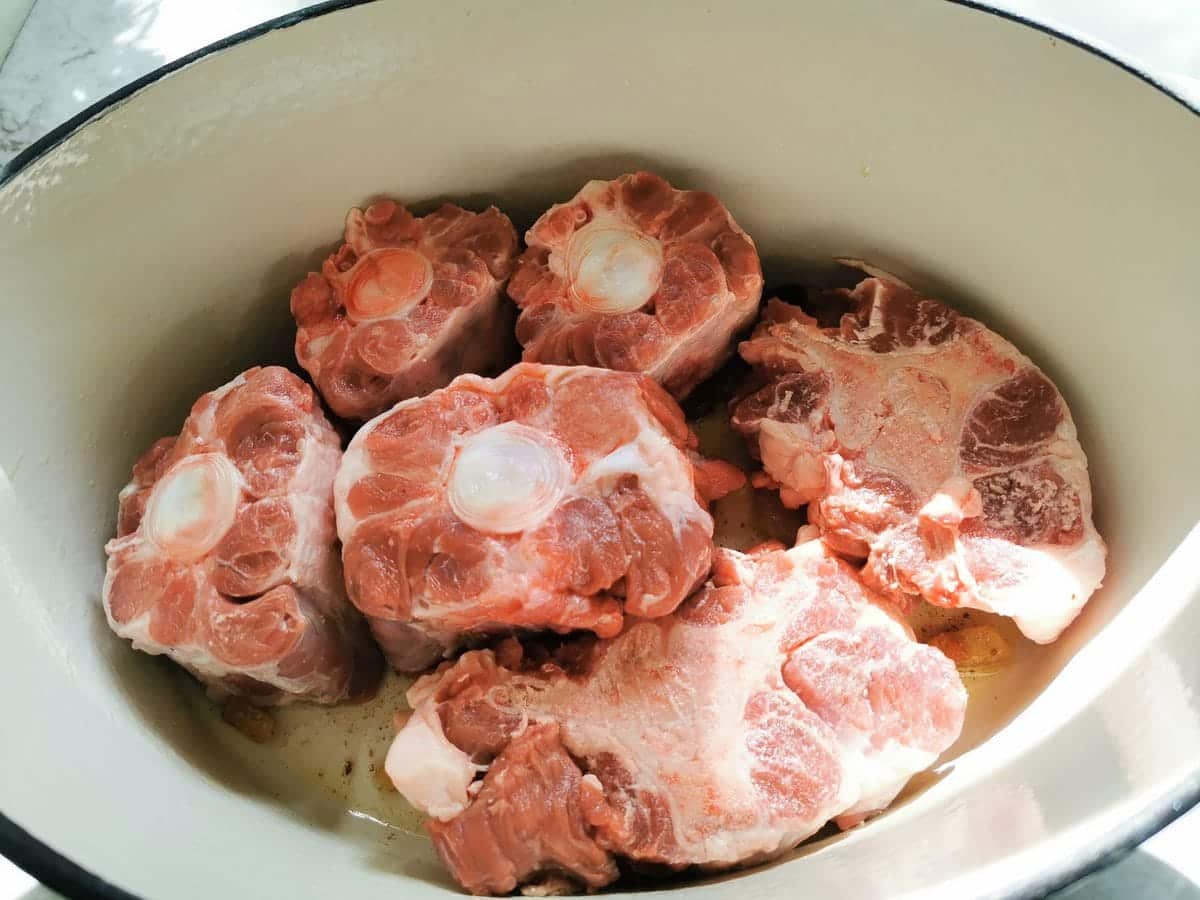 Some attribute its growth in popularity to celebrity chefs. But oxtail is also an excellent ingredient for bone broth. Plus, it's high in collagen and a great energy source for those on a keto, paleo or carnivore diets. The downside is that what used to be a cheap meat has become quite expensive in some places!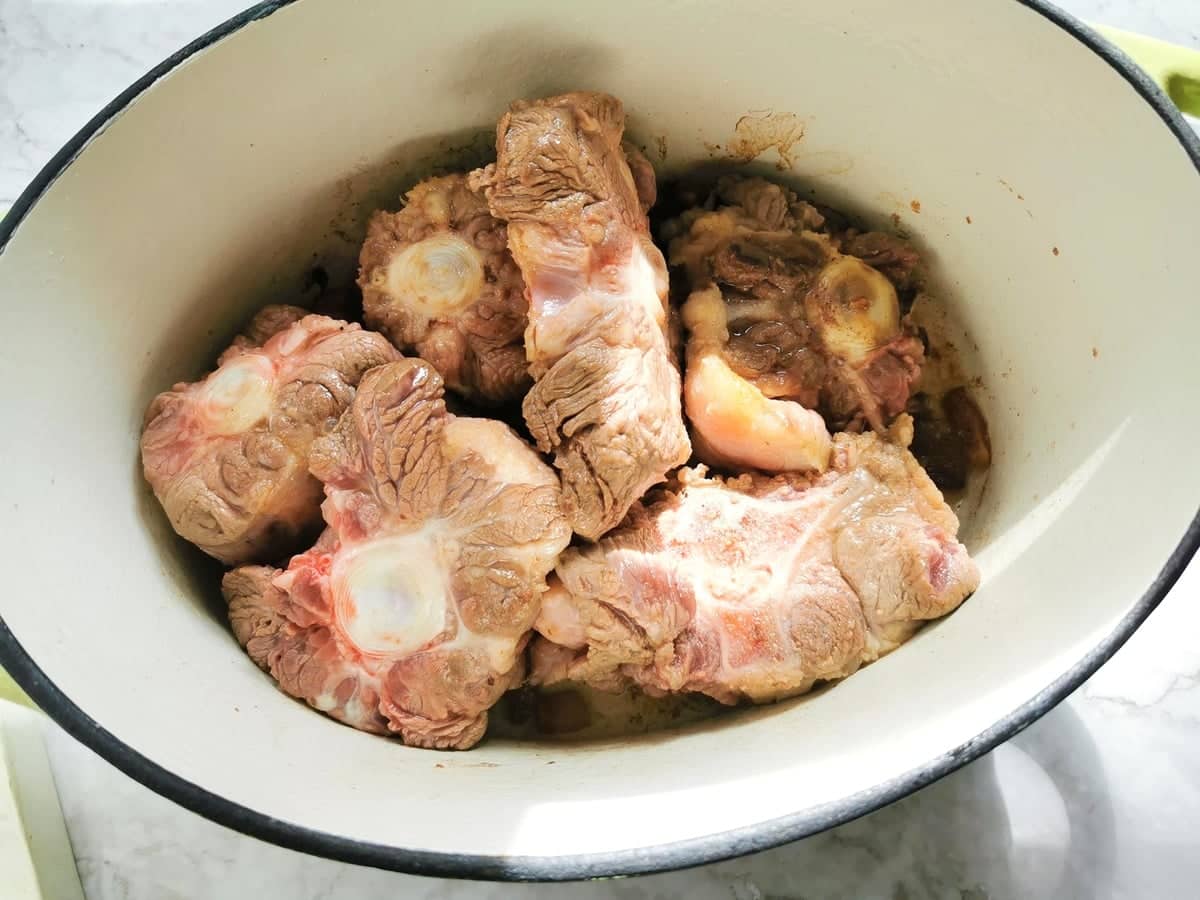 The origins of Roman braised oxtail.
As a result of an increase in Rome's population, the city's slaughterhouse moved to the Testaccio district towards the end of the 1800s. It was here, in 1887, that the daughter of the owners of the Checchino Tavern invented the original braised oxtail recipe popular today. Her name was Ferminia and her recipe included a secret ingredient which now we know was bitter cocoa!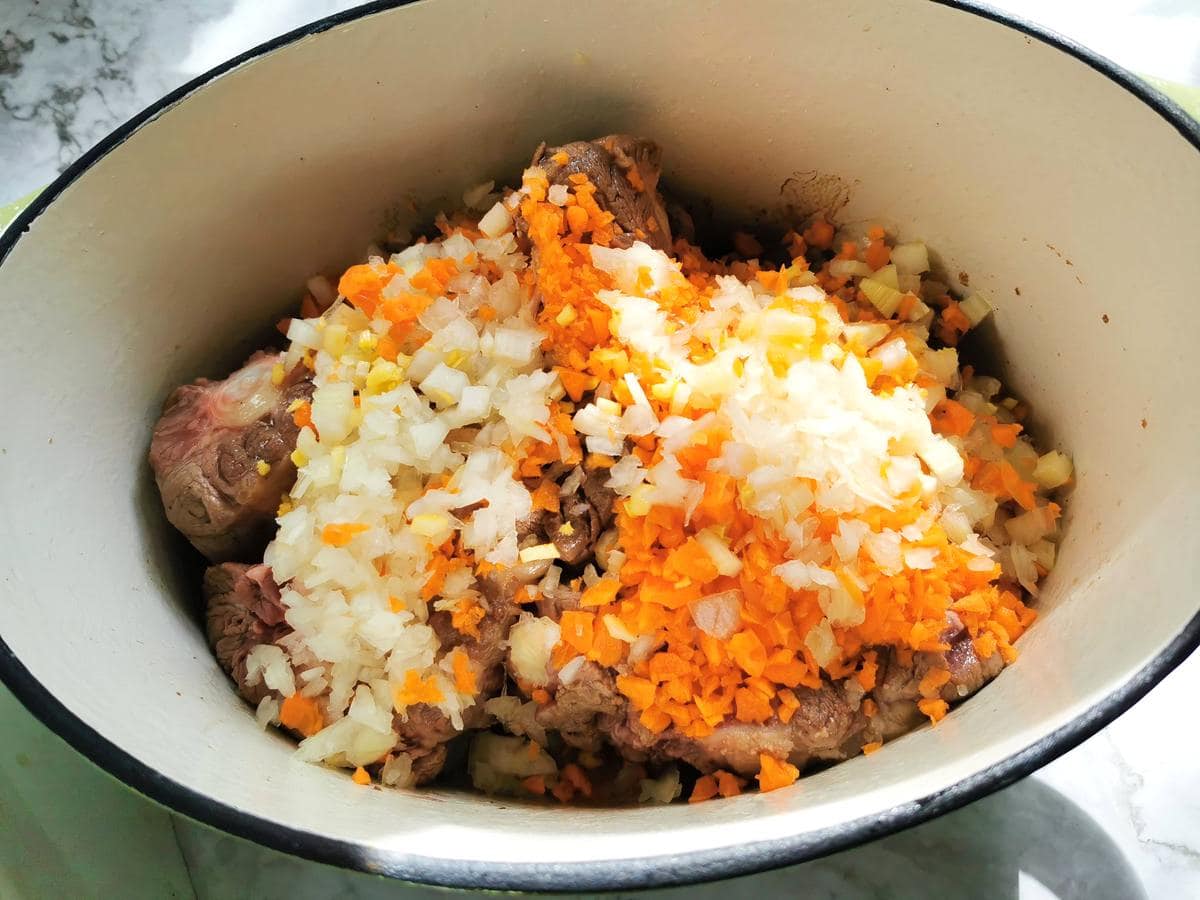 The Checchino Tavern still operates today and is run by the 6th generation of Ferminia's family. It's actually considered one of the top 10 restaurants in Rome and has twice been included in the London Times restaurant magazine as one of the 50 best restaurants in the world! The restaurant specializes in fifth quarter recipes and, of course, serves oxtail ragu with pasta and braised oxtail alla vaccinara as a main course.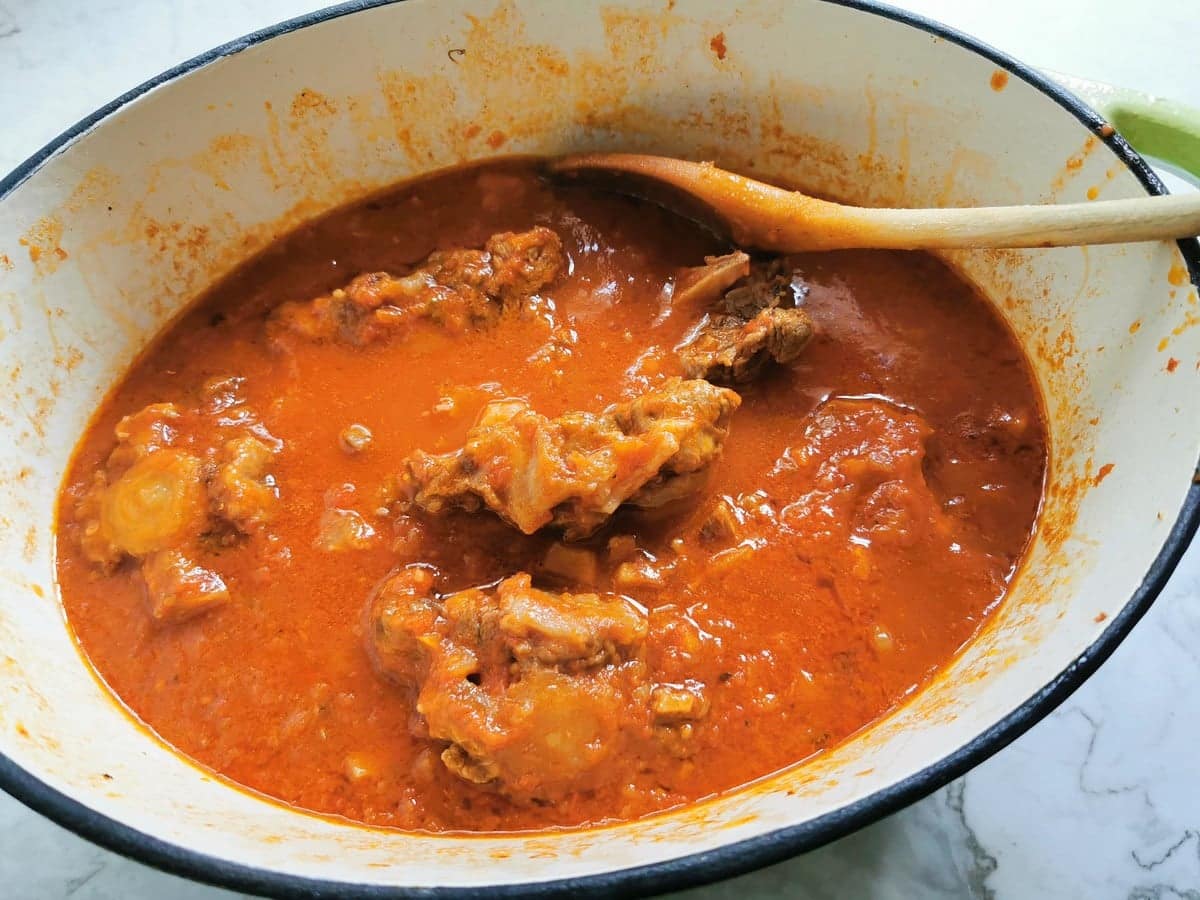 Different ways to serve Italian braised oxtail.
Over the years the recipe for coda alla vaccinara has been transformed into a rich dish, with raisins, pine nuts, wine, cocoa, cloves and tomatoes. Some versions also call for cinnamon, nutmeg and bay leaves. It's interesting that from a dish intended for the less well-off, Italian braised oxtail has become a delight for gourmets and connoisseurs, as have many other Roman fifth quarter recipes.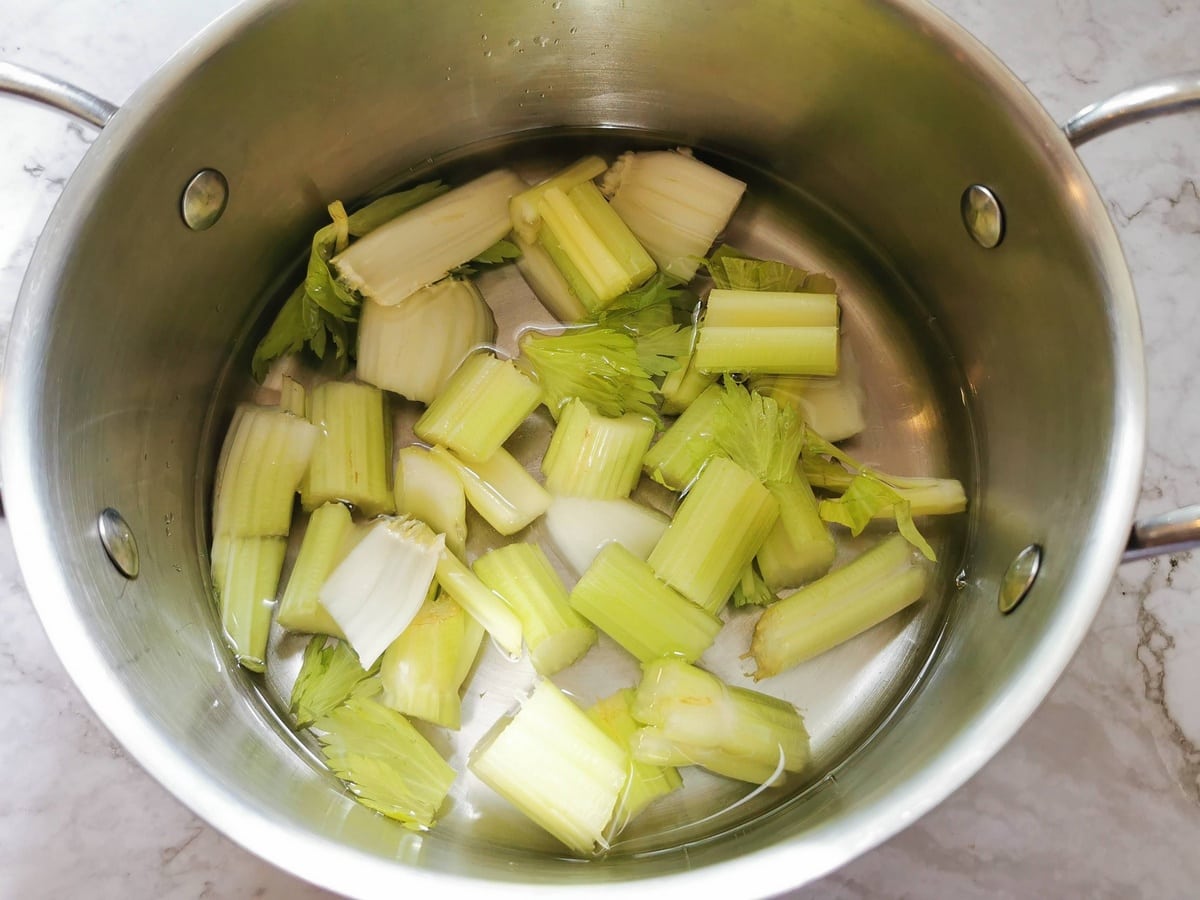 Today, you can find this dish served with pasta or with polenta or as a main course to be eaten with bread. Some chefs use the oxtail ragu as a filling for ravioli or tortelli. It's also very traditional in Italy to divide braised meat dishes into 2 courses. The sauce is served with pasta, which Italians eat as a starter, and the meat as a main course.
Of course, you can get 2 meals out of these recipes. In fact, I call them 2 in 1 or cook once eat twice recipes. See below for links to other similar recipes.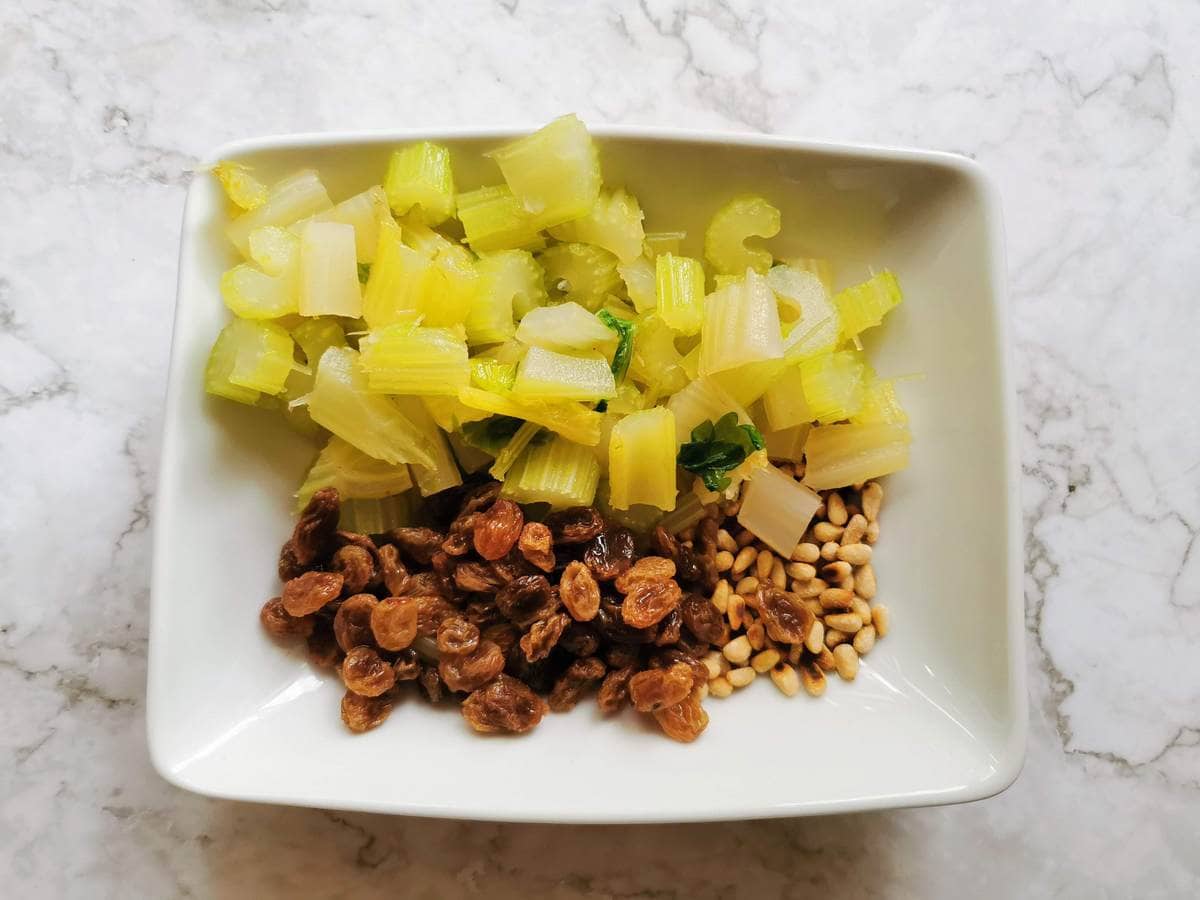 Ingredients in this oxtail ragu recipe.
As I mentioned above there are different versions of this oxtail recipe.The one I used is probably the most common one for home cooks. It calls for oxtail cut into pieces, onion, carrots, lots of celery, peeled tomatoes, pine nuts, raisins, bitter cocoa powder or grated dark chocolate, cloves, white wine, guanciale (pork cheek) or pancetta and parsley. Some people also add bay leaves, garlic and pepperoncino (red chili pepper).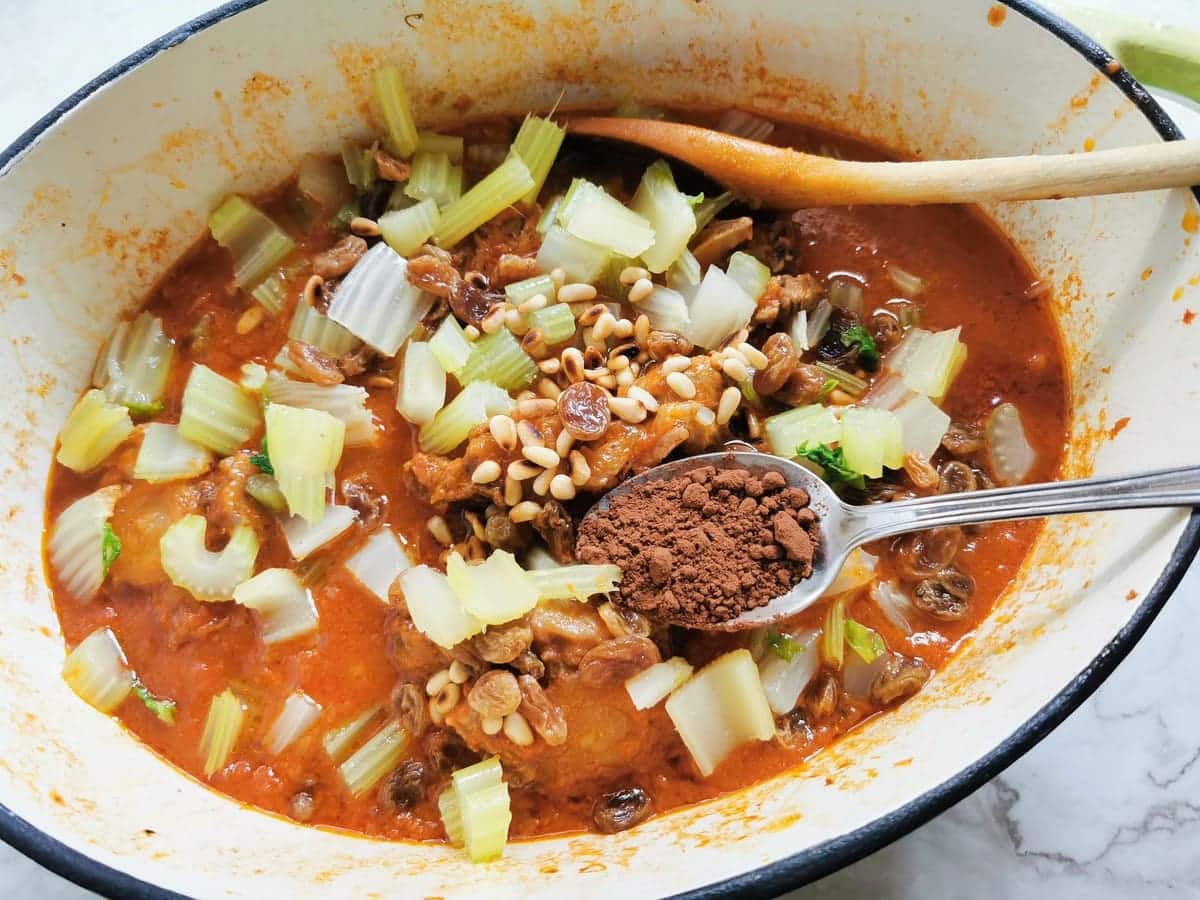 The pasta.
Traditionally coda alla vaccinara sauce is served with rigatoni. I used gemelli instead. In Italian, gemelli means twins. This short, dried pasta actually looks like two strands of pasta that have been woven together, hence the name. However, gemelli is made from single strands of pasta cut to look like two.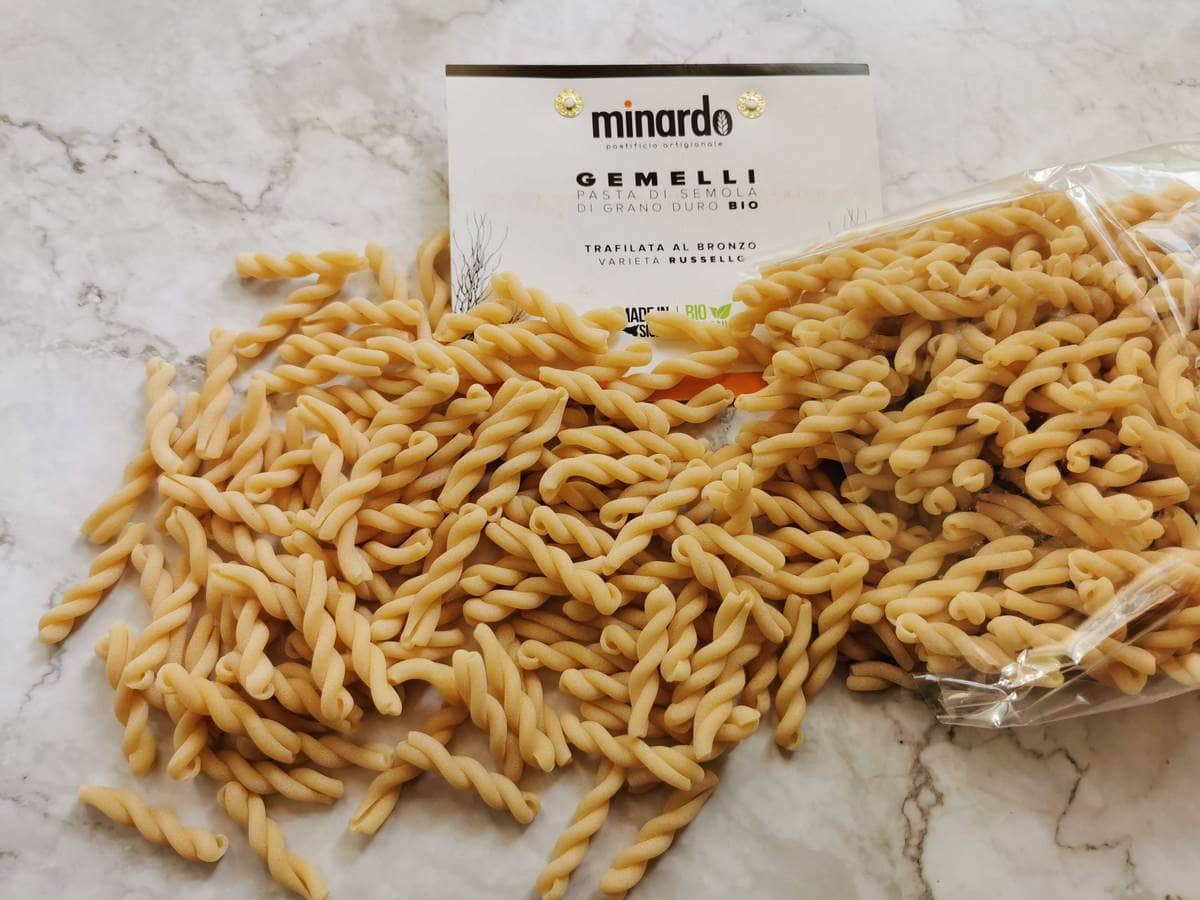 Although a contemporary shape, gemelli is similar to fusilli but smaller. It's a great pasta for salads, baked pasta dishes and robust meaty sauces like this oxtail ragu. The gemelli pasta I used comes from a Sicilian company called Pasta Minardo. They are in Modica, Ragusa, my favourite part of Sicily.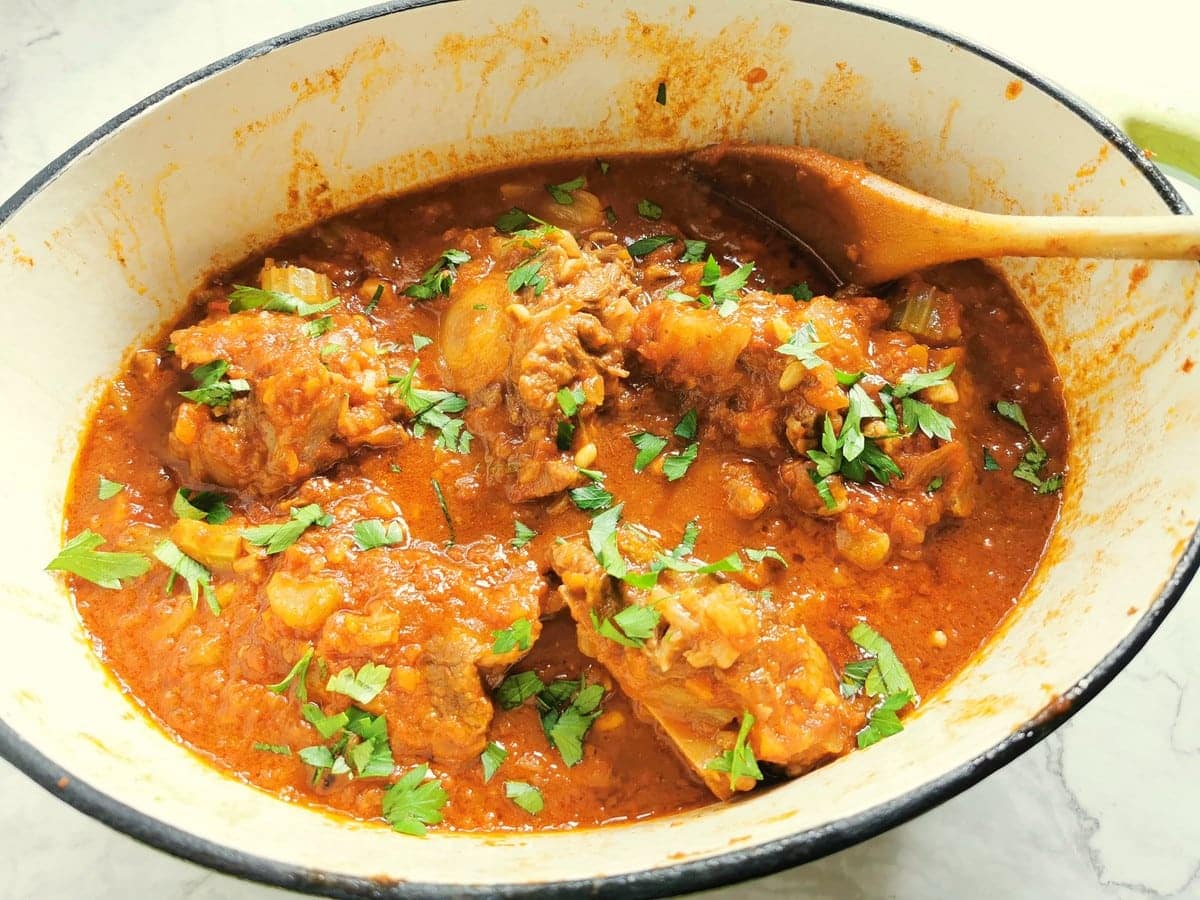 Their pasta is made with Sicilian heritage grains, plus it's bronze extruded and organic. All factors that contribute to making really good pasta that has a slightly sweet flavour and holds together really well when cooked. Recommended if you come across it! (my opinion)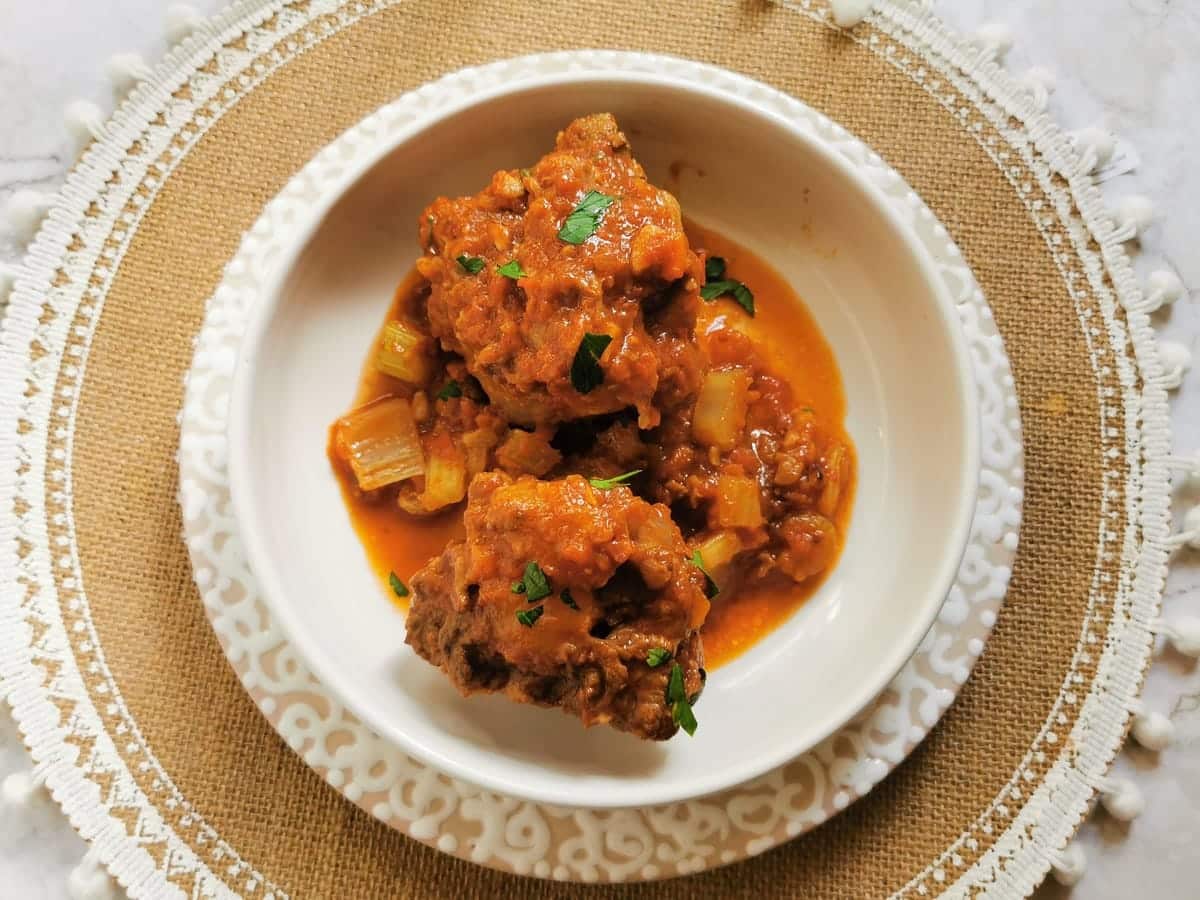 How to make oxtail ragu.
Prep the ingredients.
Although this recipe takes a while to make, it's not at all difficult. The first step is to prepare the ingredients. The oxtail needs to be cut into medium sized pieces if you have a whole one. The onion, carrots and some of the celery need to be finely chopped.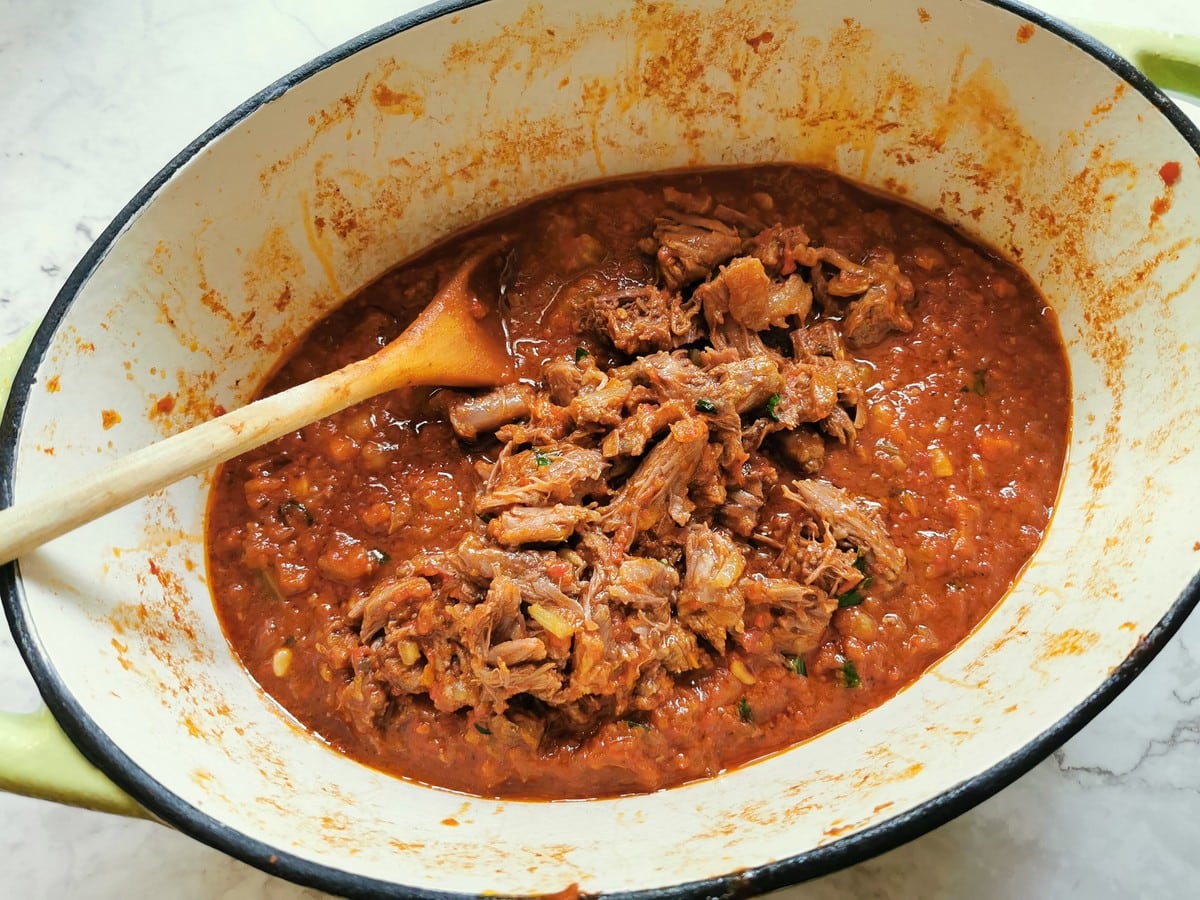 The rest of the celery should be cut into pieces and boiled until a little soft. You also need to soak the raisins and toast the pine nuts by dry frying them. Finally, the guanciale or pancetta has to be cut into small cubes or lardons.
Make the sauce.
Once your ingredients are prepped, then just sauté the guanciale or pancetta in a heavy pan that's large enough to hold the oxtail in one layer. I used my Dutch oven. Then add the oxtail pieces and brown them. Next add the finely chopped onion, celery and carrots. When these have softened slightly, pour in the wine.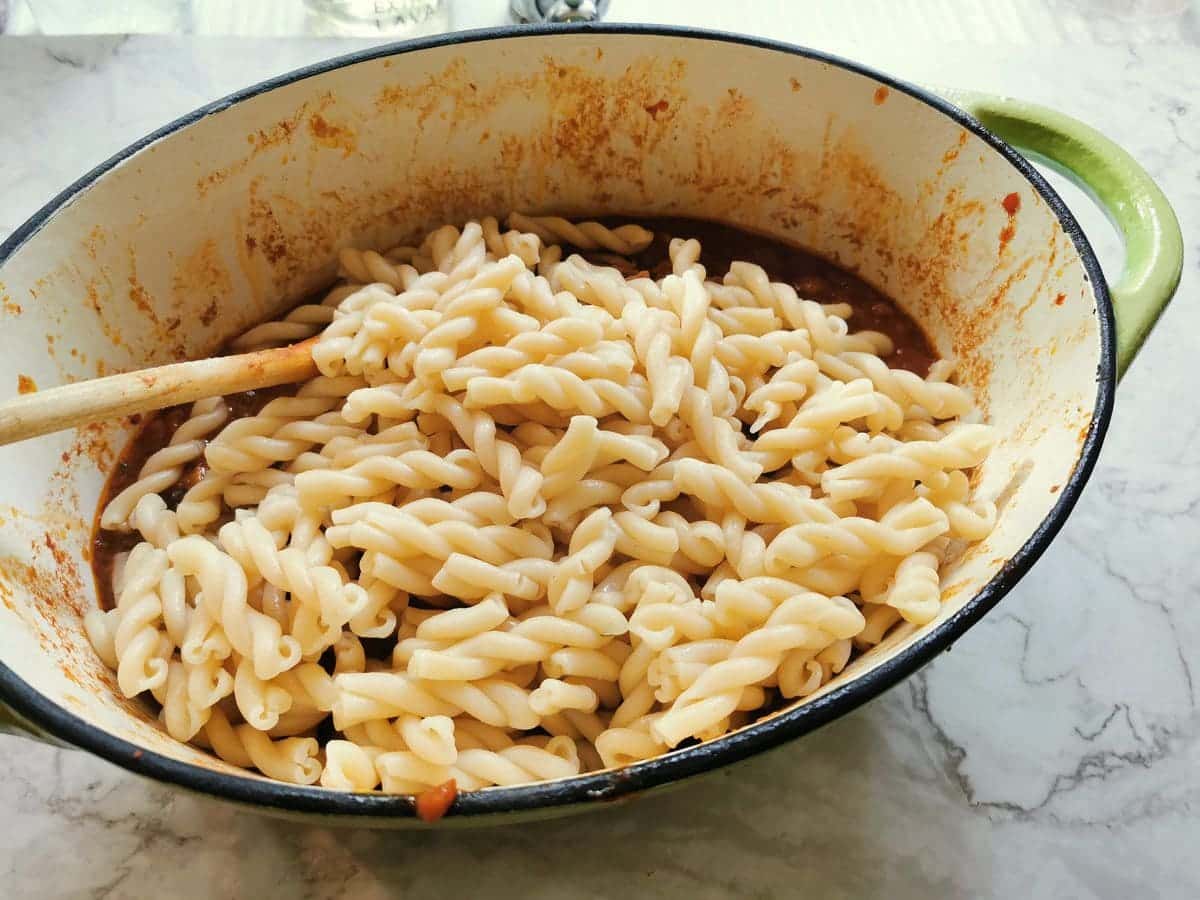 Finally, add the peeled tomatoes and cloves, mix everything together, season and simmer covered for about 2 hours. Once the oxtail is cooked add the boiled celery, soaked raisins, cocoa and toasted pine nuts and continue cooking for another 15 minutes. Then add chopped fresh parsley.
Cooking times may vary depending on the size of your oxtail pieces. When you can remove the meat from the bones easily, it's ready! Then all that's left to do is remove the meat from the bone, shred it and add it back to the sauce. You can keep aside some whole oxtail pieces and sauce to serve as a main course or for another meal.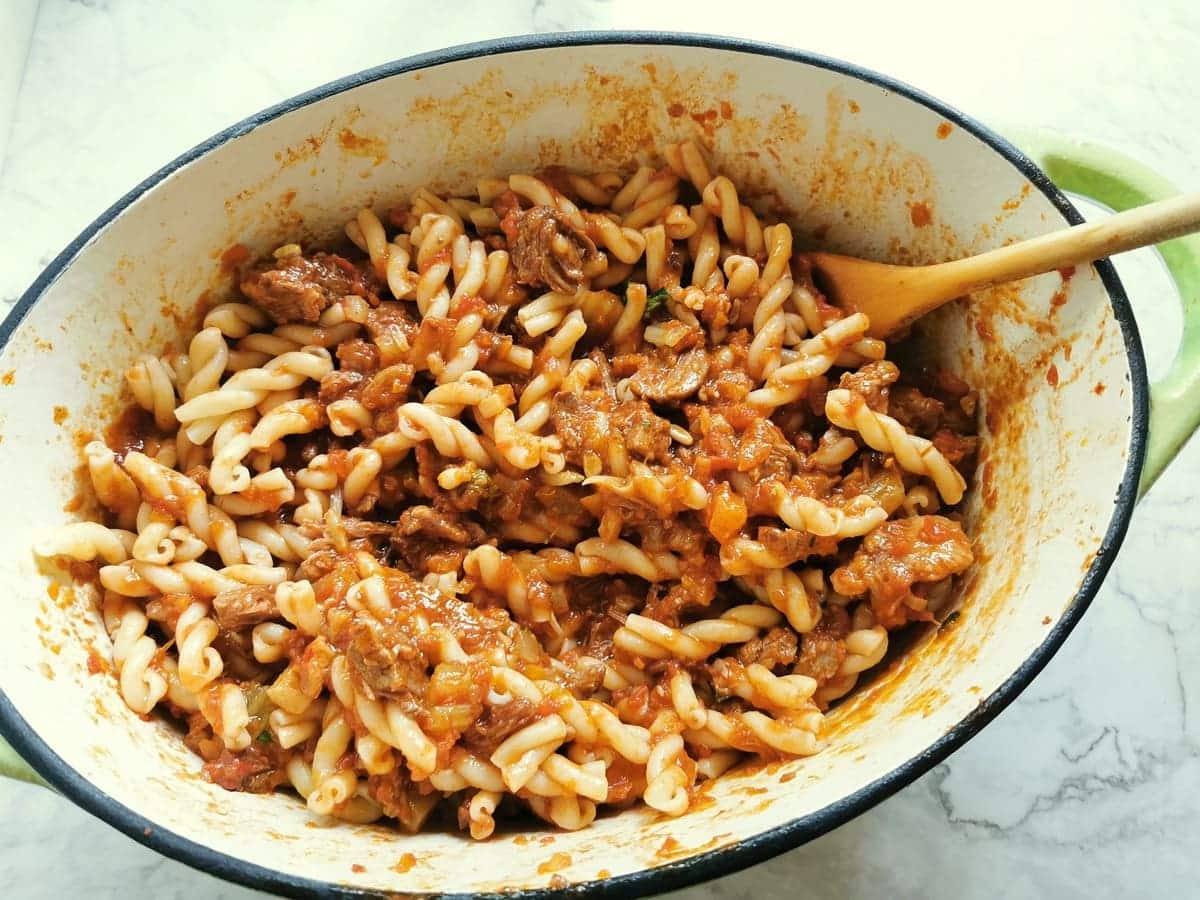 What to do with leftovers.
You can freeze leftover oxtail ragu for 3-4 months. I don't like to freeze cooked pasta as I think it becomes mushy when reheated. So, it's better to freeze leftover sauce that hasn't been mixed with pasta. Leftover pasta and sauce together can be kept sealed in the fridge for 2-3 days. It's easy to reheat in a microwave, a skillet with a little olive oil or by baking it in the oven.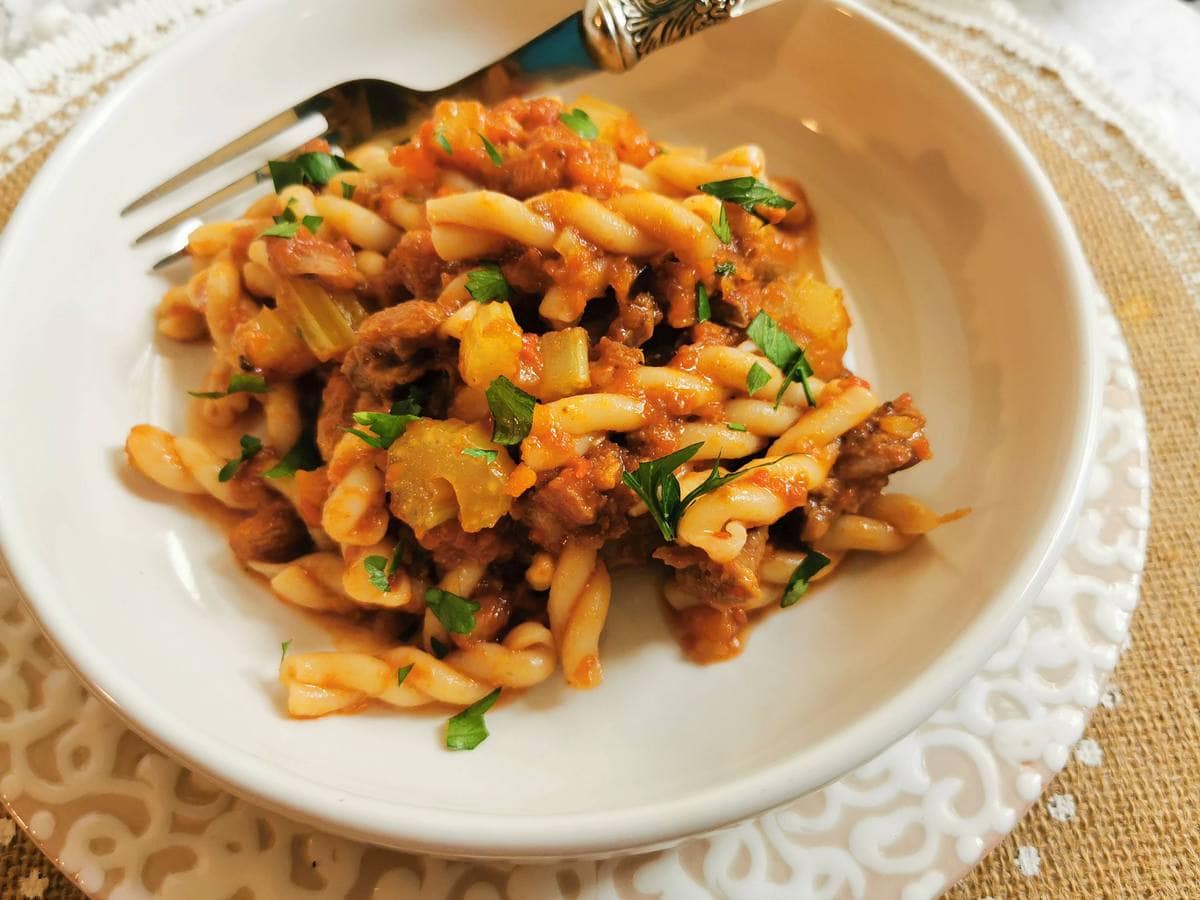 Can this recipe be gluten free?
For a gluten free version, just use your favourite gluten free short pasta. However, GF pasta doesn't hold up well when already mixed with sauce. So, it's better to cook more pasta when using leftover sauce.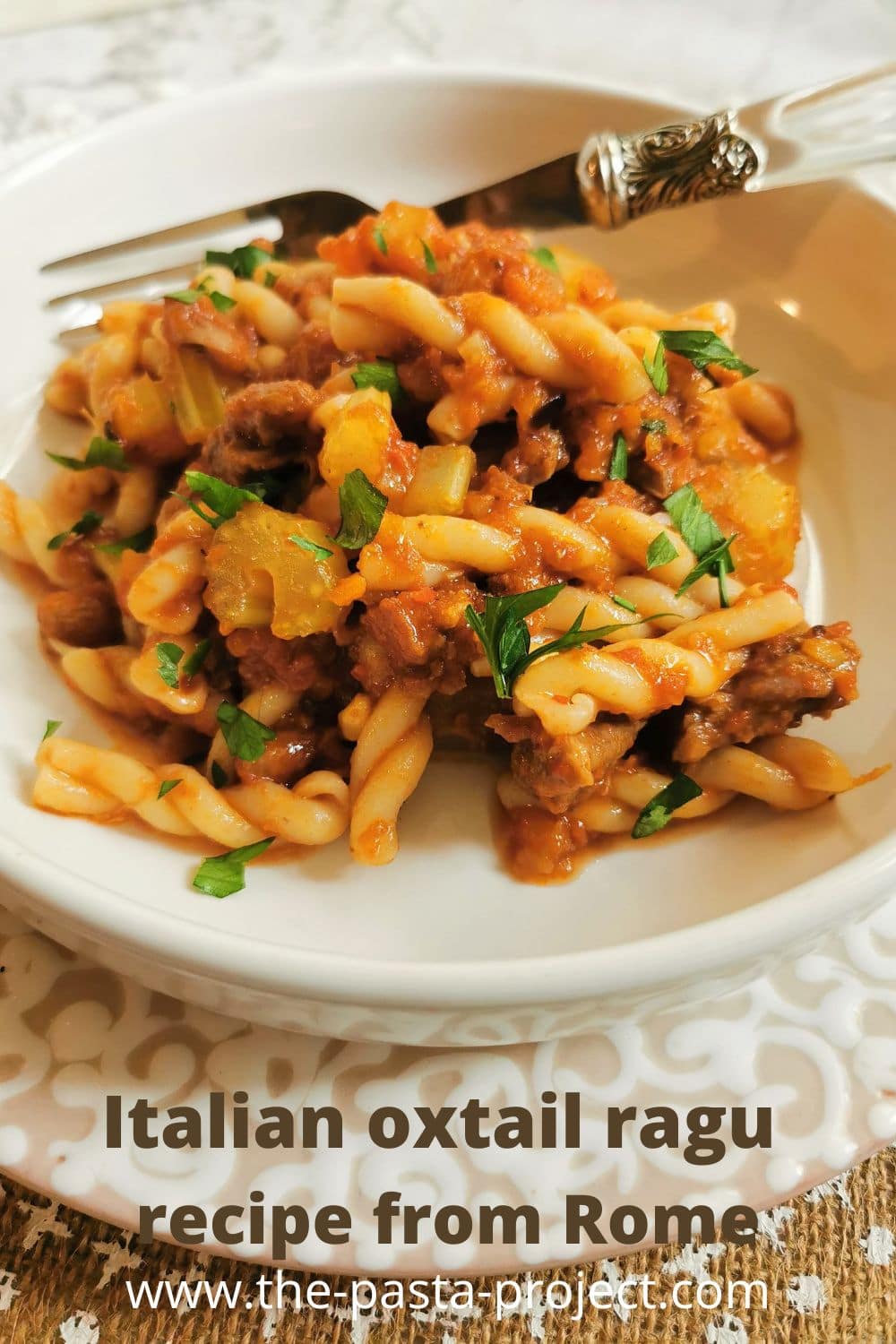 Let me know what you think.
Slow cooked braised oxtail has a wonderful flavour and consistency, much like beef shank (osso buco) which you can actually use instead to make this ragu. However, if you like oxtail this is a recipe you will love. Perfect comfort food for those chilly winter days!
We love everything about this dish. In fact I think it's one of the best ragu I have ever eaten! I'm sure you will love it too. If you try it, please do let me know what you think. I'd love to hear how it turns out. Please write a comment here on the blog, email me or post a comment on the Pasta Project Facebook page.
Buon Appetito!
More pasta recipes with braised meat
If you are interested in learning how to make homemade pasta and different types of gnocchi, check out my shop page for some great video online courses from my friends in Rome! Nothing beats learning to make pasta from Italians! Plus while you're there why not order a copy of one of my pasta recipe cookbooks or checkout some recommended pasta making tools?