12 Pasta Recipes from Rome.
In the world of Italian pasta, some of the most well-known and popular pasta recipes come from Rome and Lazio. In fact, you may well have already heard of and even love some of these 12 authentic Roman pasta recipes. But, I'm sure there are others you will really enjoy discovering for the first time.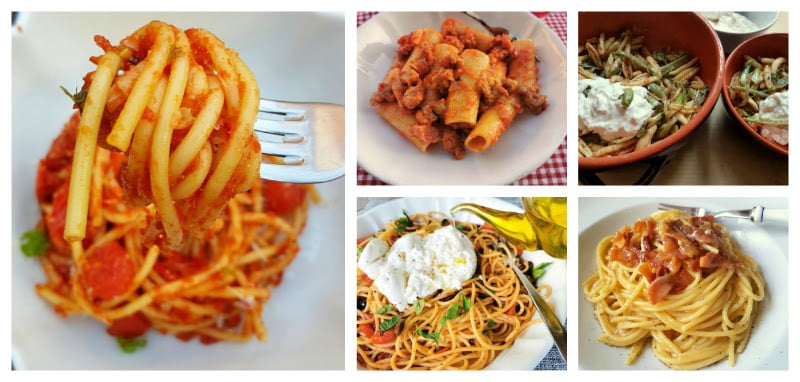 Pasta is a mainstay of the Roman diet. Many of the traditional recipes are hearty and based on ingredients that have been produced in the surrounding countryside for centuries. However, there are also lighter vegetarian and seafood recipes originating from times when meatless days were a religious tradition. Today, of course, these dishes are popular because they are healthier and many people no longer eat meat.
Click the recipe name to go to the recipe post.
12 Roman pasta recipes: meat pasta.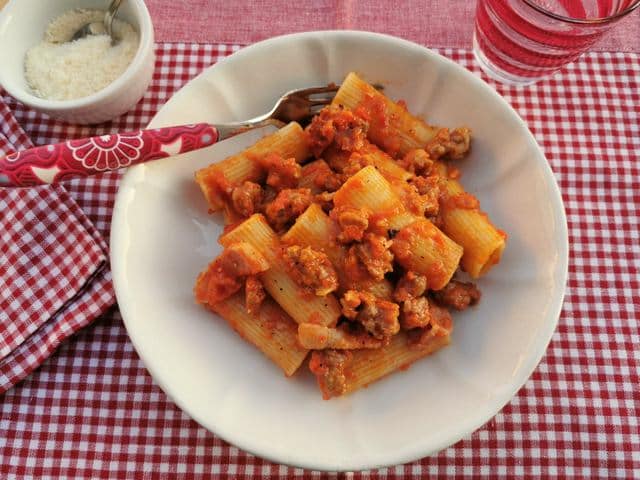 There are many sausage ragu pasta recipes in Italy. This recipe from Rome is one of the latest I have posted on the Pasta Project. It's also one of the heartiest and most substantial! The sauce includes pancetta or guanciale (pork cheek), tomatoes, Pecorino and eggs, all very typical Roman pasta ingredients.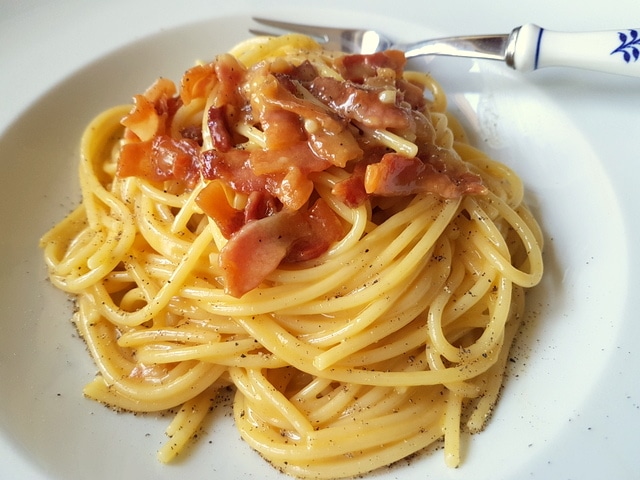 Carbonara is probably the most well-known of these 12 authentic Roman pasta recipes. There are a number of theories about its origin. But, most probably it was invented towards the end of the Second World War to satisfy the tastes of American soldiers stationed in Rome after the city's liberation in 1944. There are many versions of carbonara outside Italy. However, this is the authentic Roman recipe. It calls for just guanciale/pancetta, eggs and Pecorino.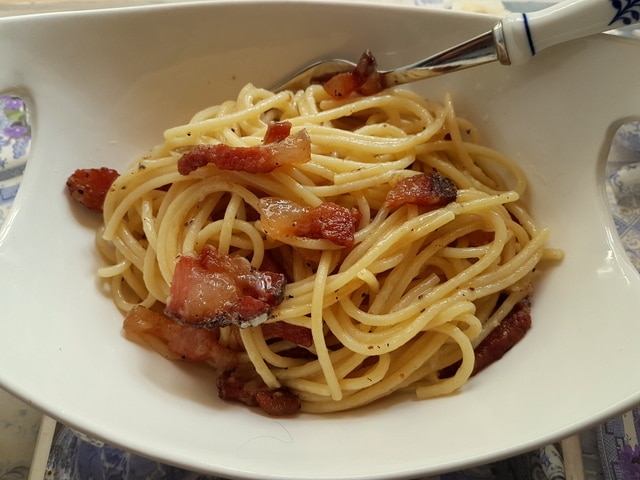 Alla Gricia is one of the oldest authentic Roman pasta recipes, said to date back to around 400AD! Italians often call it white Amatriciana! This is a super simple recipe made with just guanciale, Pecorino and freshly ground black pepper. Traditionally, the pasta for this recipe is either spaghetti or rigatoni.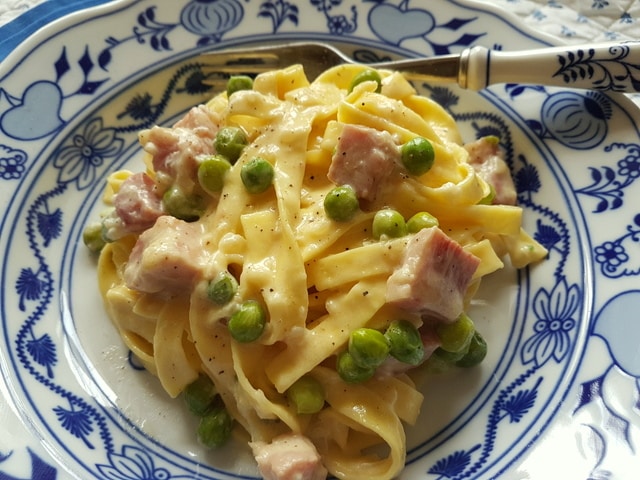 Alla Papalina is a creamy pasta recipe from Rome named after Pope Pius XII, who was the inspiration behind its invention. Romans usually make this dish with fettuccine. It is super simple to make and a great way to use up leftover ham! Like carbonara, alla Papalina calls for eggs. This version includes peas.
12 Roman pasta recipes: pasta with fish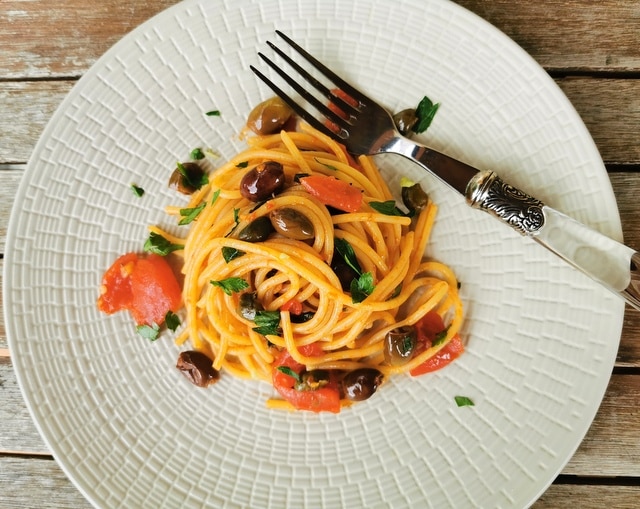 If you cook your Puttanesca with anchovies, then you are actually making the version from Rome. Yes, there are two versions of this popular Italian recipe. The original comes from Naples, but they don't add anchovies, whereas in Rome they do!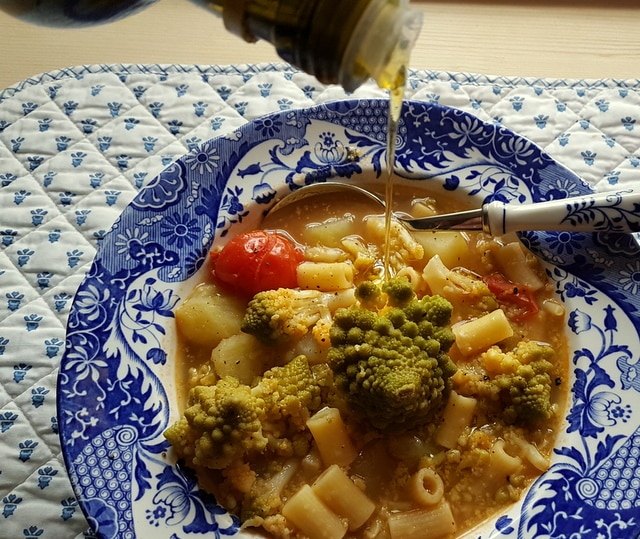 I think Romanesco broccoli, also called Roman cauliflower, is one of the most incredible looking veggies on the planet! And, this fabulous chartreuse coloured natural masterpiece is the main ingredient in this Roman pasta soup.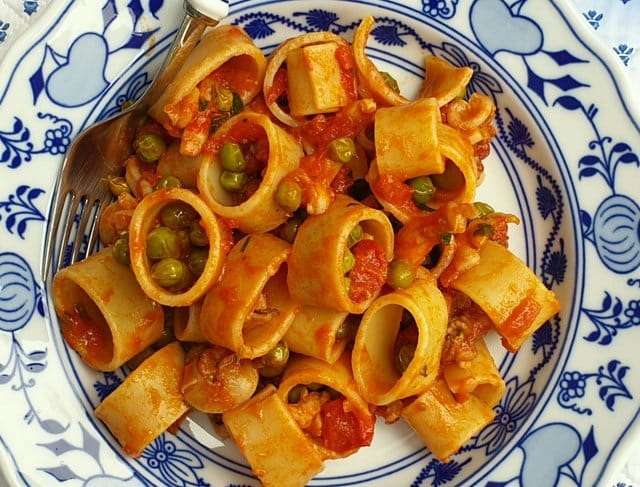 There are a number of versions of stewed cuttlefish and peas in Southern and Central Italy. In fact, this is both a popular main course (without pasta) and a pasta dish. Apart from the cuttlefish and peas, this version from Rome has tomatoes, onions, white wine, stock and parsley. I used calamarata pasta. But, you can use other large pasta tubes.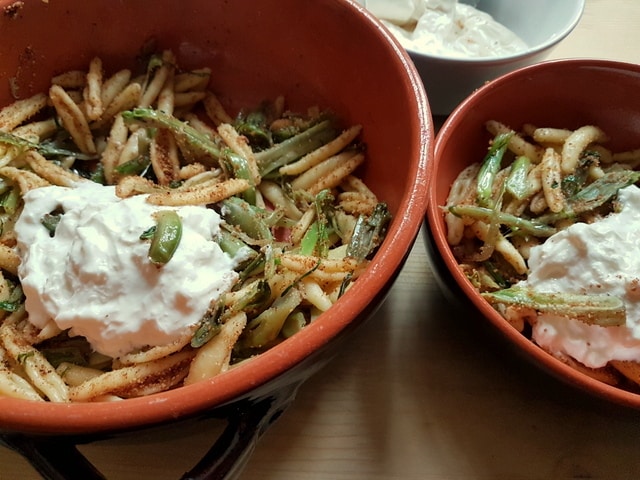 The Romans are crazy about puntarelle, the flower shoots of Catalonian chicory. And, you will be too after you have tried this delicious puntarelle pasta with burrata. I made this dish with cavatelli pasta but in Rome spaghetti is more traditional!
12 authentic Roman pasta recipes: vegetarian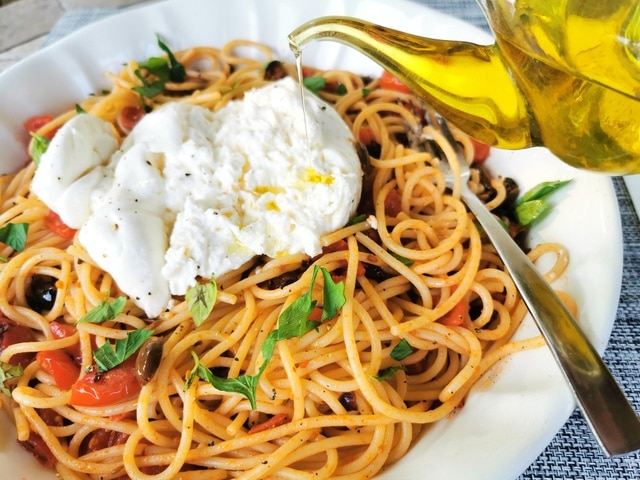 Alla Checca is a great summer or weeknight Roman pasta recipe that dates back to the 60s and 70s. This dish is super simple and can be ready in just 30 minutes. The sauce ingredients are olives, tomatoes, fennel seeds, fresh parsley and fresh basil. I also added burrata! But, you can leave that out to keep it dairy free or vegan.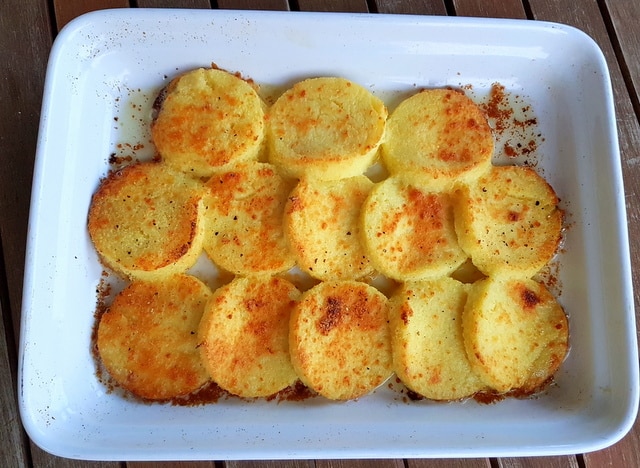 These Roman gnocchi are different to most other kinds of gnocchi as they are made with semolina, rather than potatoes or bread. As a result, they are lighter than other gnocchi. In fact, you can serve them as a starter! Traditionally, gnocchi alla Romana are shaped in circles. But, the dough can also be cut into squares or other shapes! So, if you're making these with the kids, you can have some fun and cut them in different shapes!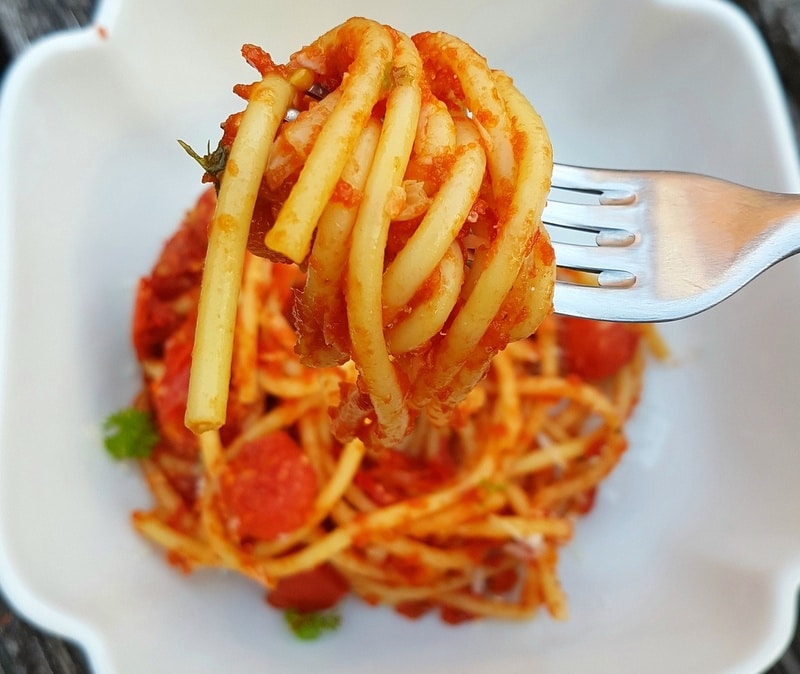 There are two very well-known spicy pasta dishes in Italy. One is pasta with nduja from Calabria, made with a soft spicy salami. The other is this vegetarian Roman pasta recipe called all'arrabbiata or just arrabbiata. The word 'arrabbiata' means angry and the name refers to the fact that eating this spicy dish can make your face turn red, like someone who's very angry! Of course, the amount of chili pepper you add depends on how hot you like it!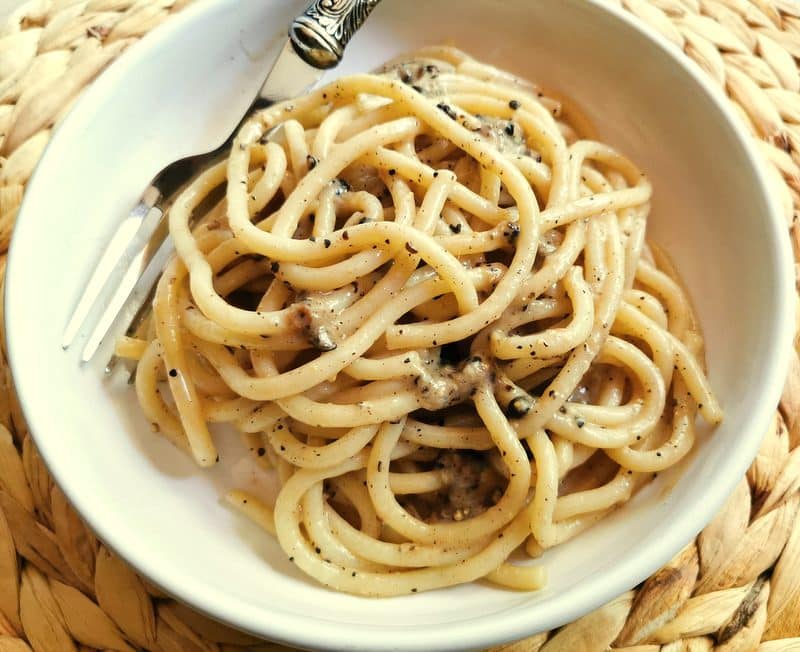 This 2 ingredient Roman pasta recipe is probably the simplest of all Italian pasta dishes. And, like many traditional recipes cacio e pepe originated in the countryside among the peasants and farmers. However, despite its humble origins, it has become a very trendy dish!
If you do try any of these 12 authentic Roman pasta recipes, I'd love to hear what you think. Please, write a comment here on the blog or post a comment on the Pasta Project Facebook page.
Your feedback means a lot to me!
Buon Appetito!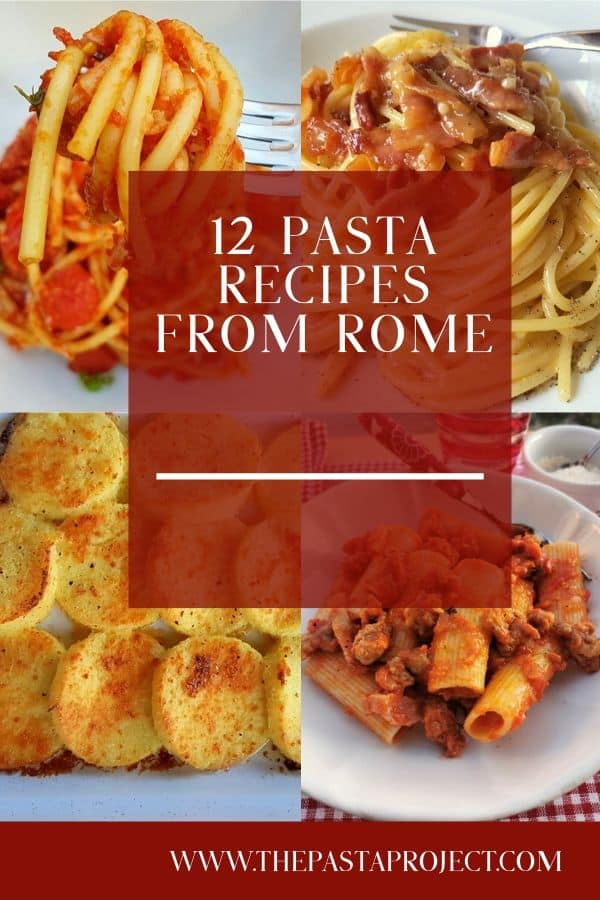 Want to know more about my life in Italy? Go to the homepage and subscribe to my newsletter. New subscribers get a free recipe e-book too! https://www.the-pasta-project.com