Authentic Spaghetti alla Puttanesca!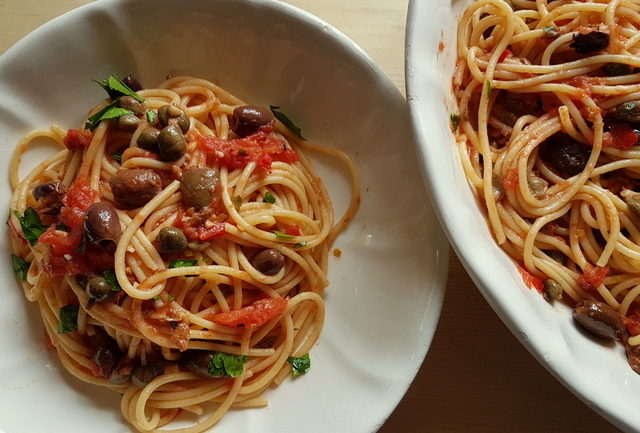 Alla Puttanesca: Whore's spaghetti!
If you speak or understand Italian you'll know that Spaghetti alla Puttanesca literally means prostitute's spaghetti! 'Puttana' in Italian means prostitute or whore! Despite the name, this is a very popular pasta recipe in Italy and abroad. Although, out of Italy many recipes include other ingredients which often has Italians up in arms!
(click to go straight to recipe and leave your comments)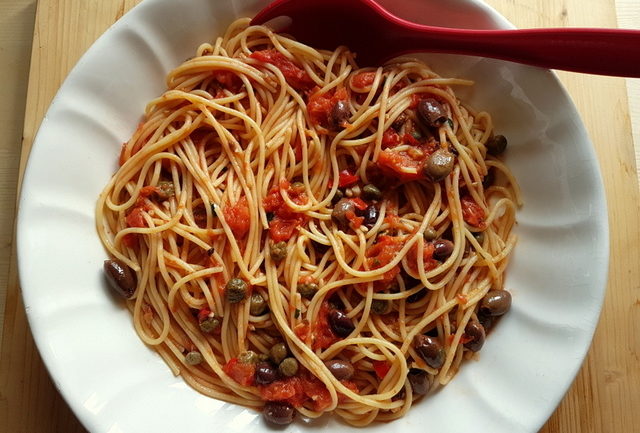 How Puttanesca got it's name!
Like so many other Italian dishes there are various opinions on how this pasta dish got its name! Some believe that it was a dish made by a brothel owner in the Spanish quarter (red light district) of Naples. Although it's not clear, if he offered it to his patrons or used it to entice customers through the door with the spicy, pungent aroma produced by its ingredients. Others believe that this was the easiest thing prostitutes could prepare between customers because the low cost, easily stored ingredients required little shopping or preparation.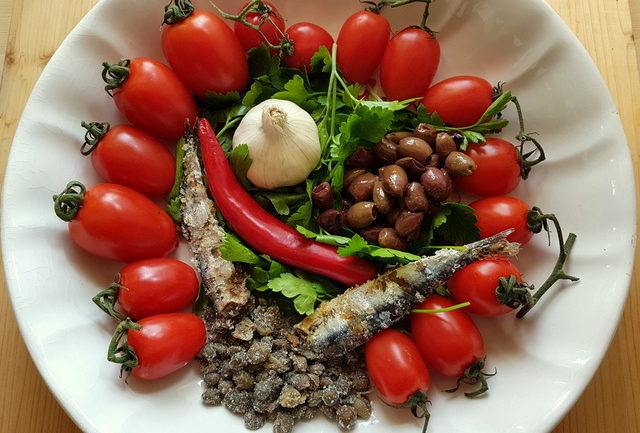 More believable, perhaps, is the story that this very popular sauce originated in Ischia around 1950. It was created by Sandro Petti, the co-owner of the restaurant Rangio Felon. The story goes that some customers arrived late to eat and because the restaurant had run out of many fresh ingredients, they asked Petti to prepare 'una puttanata qualsiasi', which literally translates as 'a whore's any' but means any rubbish/ garbage. So Petti created a dish with what he had, or rather had left in the kitchen. The resulting pasta dish was liked so much by the customers that Petti put it on the restaurant menu calling it 'spaghetti all puttanesca'.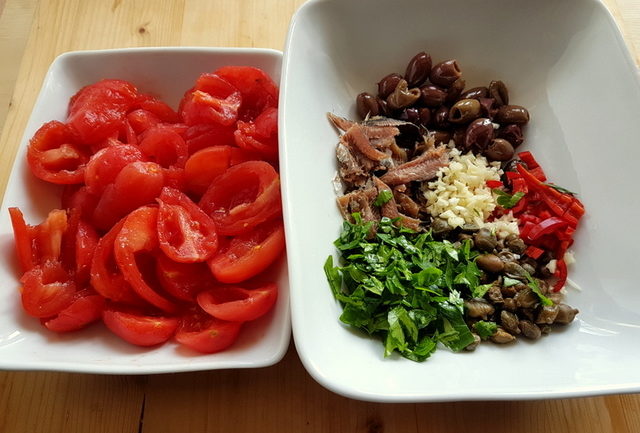 The two main Italian versions of Puttanesca
Whatever its origins, puttanesca is a very popular pasta dish. The original Neapolitan ingredients are simple but flavourful; fresh peeled tomatoes, capers, black olives, garlic, oregano and sometimes peperoncino. The original recipe from Naples, the capital of Campania, doesn't actually include anchovies. That version, apparently, comes from Lazio where they replace the oregano with parsley and anchovies and sometimes use green instead of black olives. Both recipes are simple to make and very tasty.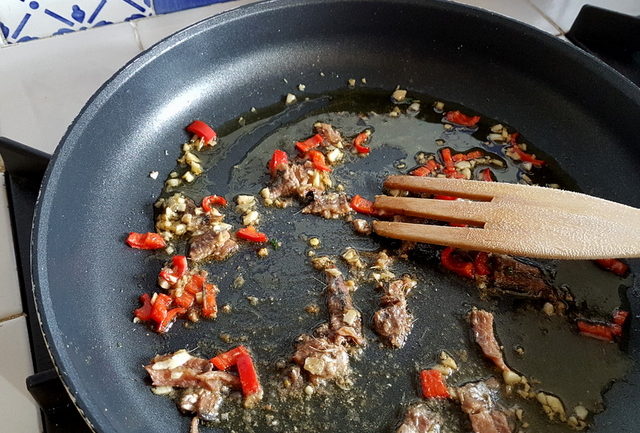 Italians love to talk about food and they are very vocal when it comes to discussing the correct ingredients for traditional dishes. Because there are regional versions of many popular dishes, they can often be heard disputing among themselves what is the correct way to cook something! However, when it comes to Puttanesca there are a couple of strict rules Italians all agree on. No parmesan if you make it with anchovies (Italians don't use cheese on seafood pasta dishes) and no basil!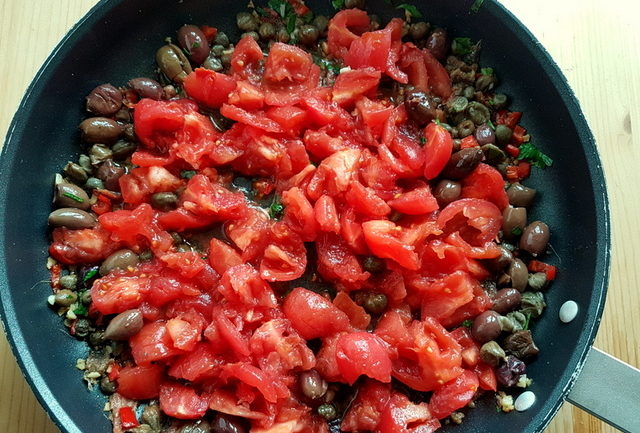 Authentic or not authentic that is the question!
I recently came across a recipe on Jamie Oliver's website for puttanesca. Jamie's version comes from Gennarro Contaldo, a well-known Italian chef who has lived and worked in UK since 1969. This recipe is quite different from those found and eaten in Italy and includes basil and parmesan and has no capers! I spent an amusing few minutes reading the comment section under the recipe in which a number of outraged Italians had stated their total disagreement to the recipe, especially since Jamie Oliver captioned it as being authentic!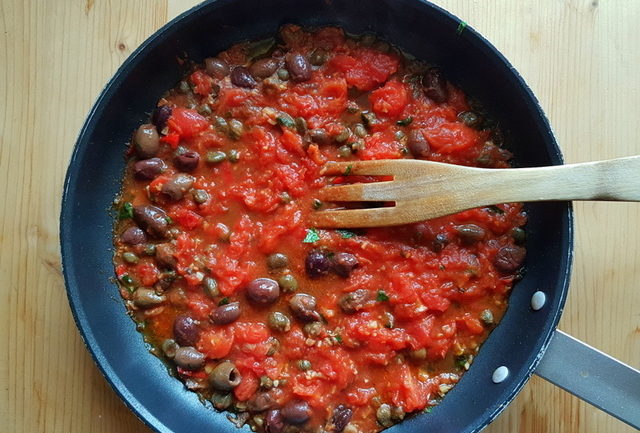 To caper or not to caper?
The recipe here is the one from Lazio, as I love the taste of anchovies. However, capers are a must and to caper or not to caper isn't a question of choice if you are planning to make 'authentic' puttanesca. For the Italians, if it doesn't have capers, it isn't puttanesca. So, it needs to be called something else! Of course, you should make it the way that suits your tastes. Ingredient quantities aren't rigid, it's still delicious if you use less or more of something. Without anchovies, it would be more like the Neapolitan version and then you might want to add some oregano!
Buon appetito!
(Go to next page to see recipe. Just scroll down and click 2)