If you speak or understand Italian you'll know that Spaghetti alla Puttanesca literally means prostitute's spaghetti! 'Puttana' in Italian means prostitute or whore! However, despite the name, this is a very popular pasta recipe in Italy and abroad. Although, out of Italy, many recipes include other ingredients, which often has Italians up in arms!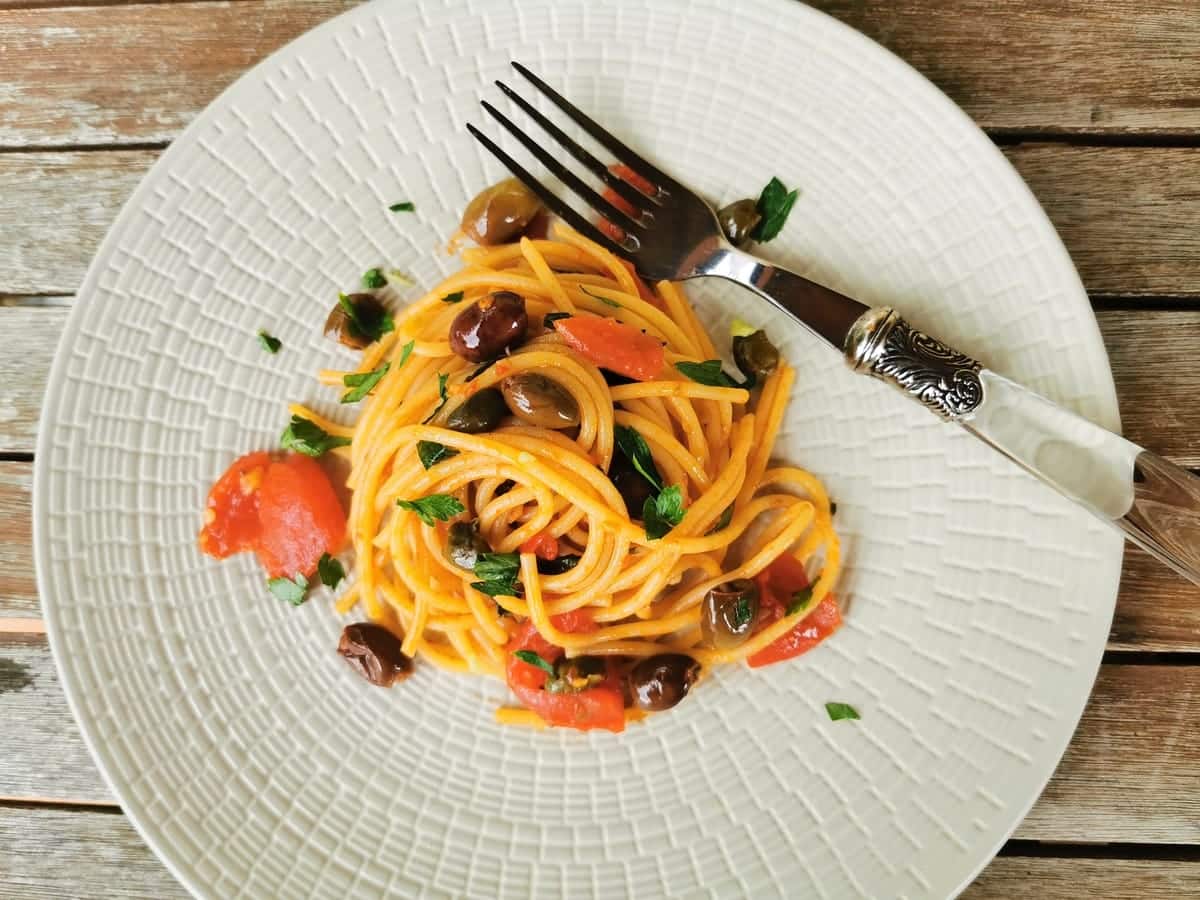 What is Puttanesca?
Like so many other Italian dishes there are various opinions on how this pasta dish got its name! Some believe that it was a dish made by a brothel owner in the Spanish quarter (red light district) of Naples.
Although it's not clear, if he offered it to his patrons or used it to entice customers through the door with the spicy, pungent aroma produced by its ingredients.
Others believe that this was the easiest thing prostitutes could prepare between customers because the low cost, easily stored ingredients required little shopping or preparation.
More believable, perhaps, is the story that this very popular sauce originated in Ischia around 1950. It was created by Sandro Petti, the co-owner of the restaurant, Rangio Felon.
The story goes that some customers arrived late to eat and because the restaurant had run out of many fresh ingredients, they asked Petti to prepare 'una puttanata qualsiasi', which literally translates as 'a whore's any' but means any rubbish/ garbage.
So, Petti created a dish with what he had, or rather had left, in the kitchen. The resulting pasta dish was liked so much by the customers that Petti put it on the restaurant menu calling it 'spaghetti all puttanesca'.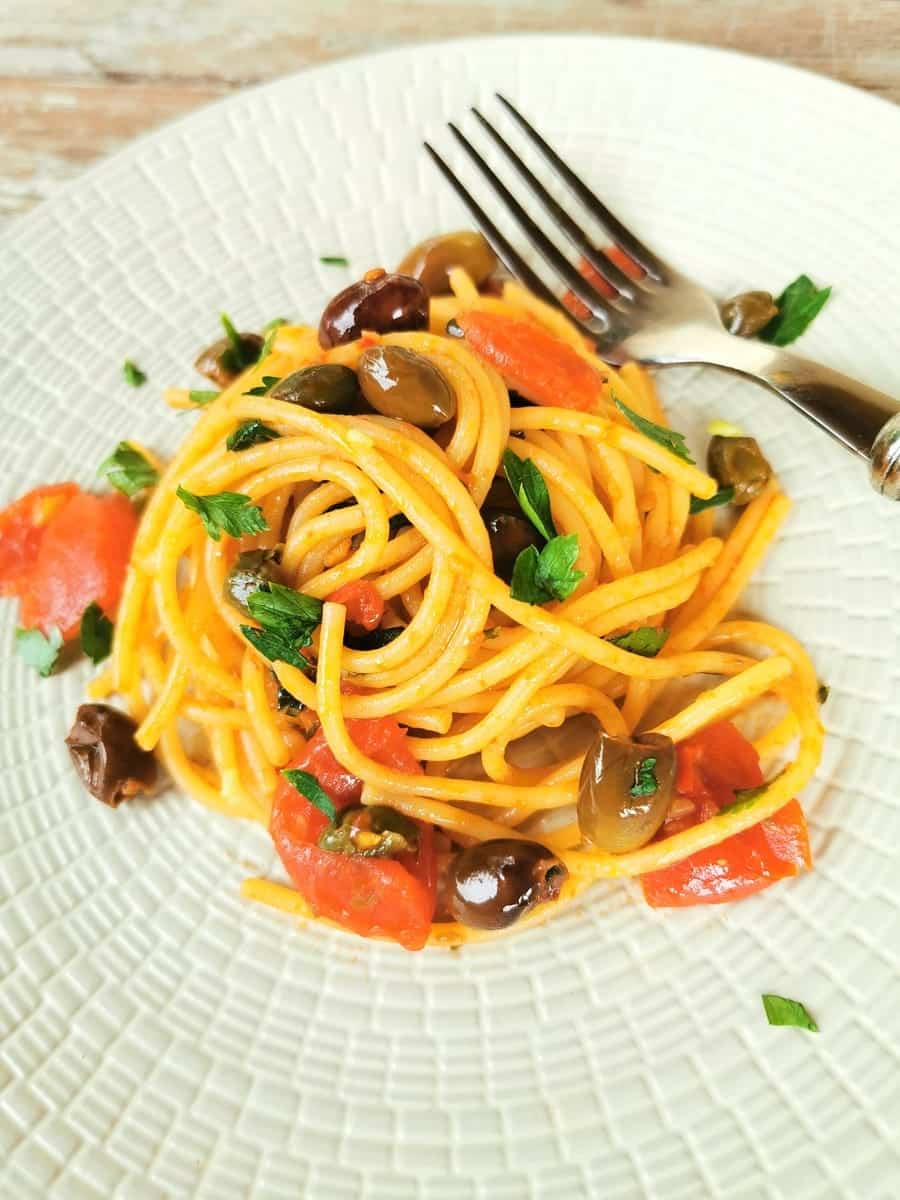 Two rules for authentic Puttanesca
Italians love to talk about food and they are very vocal when it comes to discussing the correct ingredients for traditional dishes. Because there are regional versions of many popular dishes, they can often be heard disputing among themselves what is the correct way to cook something!
However, when it comes to Puttanesca there are a couple of strict rules Italians all agree on. No Parmigiano cheese if you make it with anchovies (Italians don't usually use cheese on seafood pasta dishes) and no basil.
Ingredients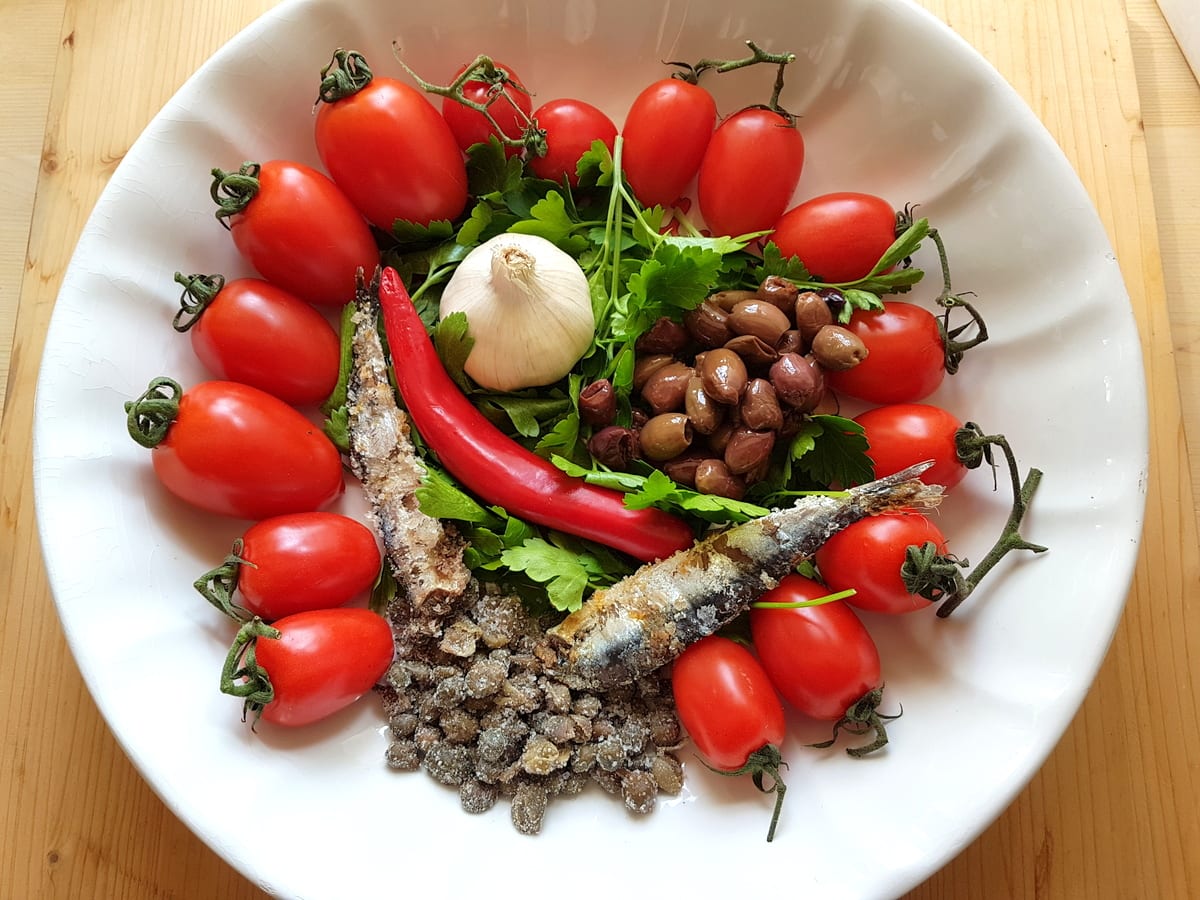 Pasta: Use a good quality Italian branded pasta if possible. Traditionally spaghetti is used for Puttanesca, but you can also use other long pasta types like linguine.
Extra Virgin Olive Oil: Extra virgin olive oil adds a lot of richness to the puttanesca sauce, so it's important to use a good-quality one.
Garlic: Thinly slice or chop the garlic to ensure it melds seamlessly into the oil, creating a fragrant base.
Anchovy Fillets: These add a lot of richness and umami to the recipe. If using salted anchovies, rinse off the excess salt; if using oil-packed, drain them well.
Peperoncino Flakes or Fresh Peperoncino: Adjust the heat to your liking.
Capers: If using salted capers, rinse under water to remove excess salt. Capers add a necessary unique flavor to the dish.
Olives: Black or green olives work well. I used Taggiasca olives for their rich flavor and firm texture.
Fresh Tomatoes: San Marzano or datterini tomatoes are ideal for their sweet flavor and low acidity. Peel and deseed them for a smoother sauce.
Fresh Parsley: Use flat-leaf parsley for its stronger flavor.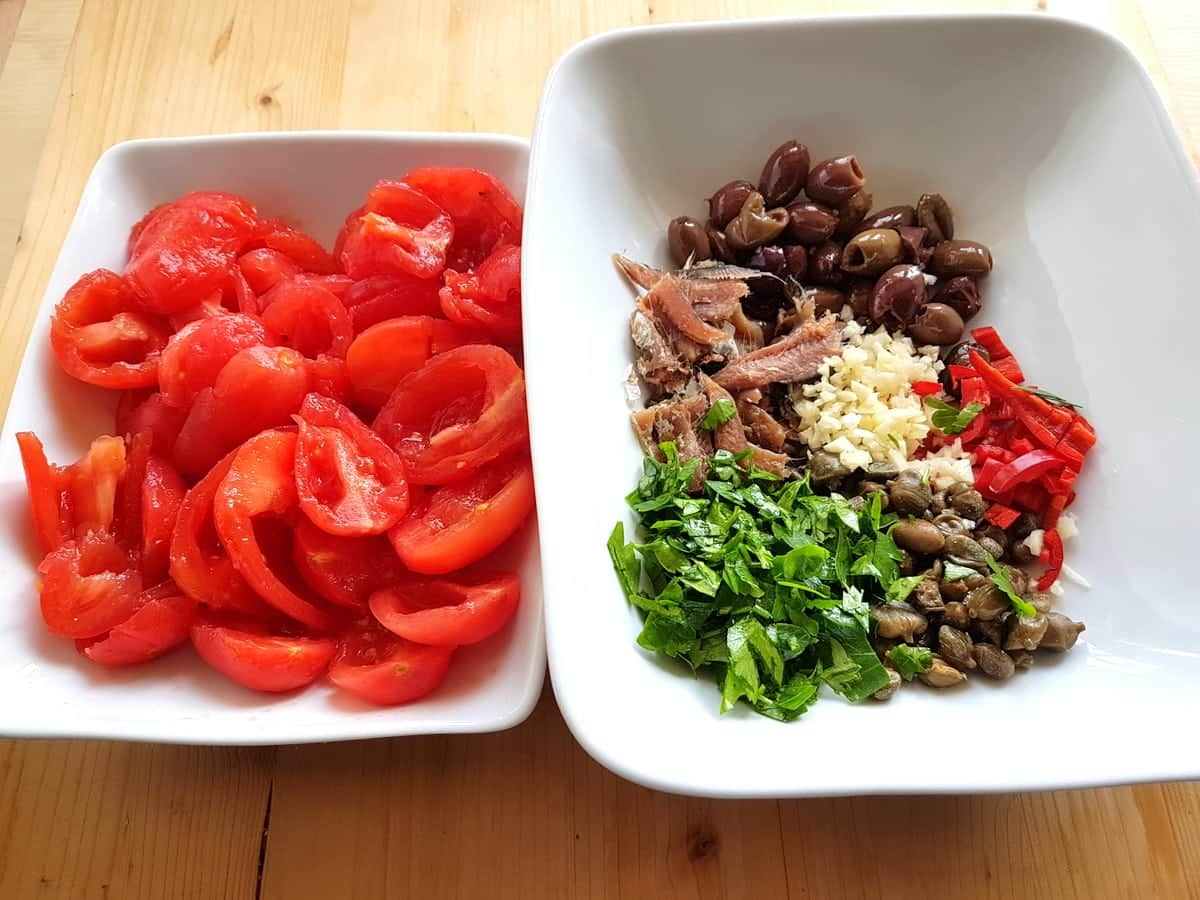 Expert Tips
Tomato Preparation: To deskin and deseed fresh tomatoes, start by scoring a small "X" on the bottom of each tomato. Blanch them in boiling water for 30 to 60 seconds, then transfer them to cold water. The skin should peel off easily. After, cut them in half horizontally and use a small spoon to remove the seeds.
Pasta Water and Sauce Consistency: Don't discard the pasta water after boiling the spaghetti. This starchy water will help make a silky and well-emulsified sauce. If the sauce is too thick, gradually add some pasta water to reach your desired consistency. Conversely, if the sauce is too thin, allow it to simmer slightly longer to reduce it to your liking.
Step by Step Instructions
1) Start by boiling water for the spaghetti. Once boiling, add salt and return to a rolling boil. Add the spaghetti and cook according to the package instructions until just under al dente. Reserve one cup of pasta water before draining.
2) Meanwhile, heat the olive oil in a large deep skillet. Add the garlic, anchovies, and peperoncino. Cook over medium heat until the garlic is fragrant and the anchovies have dissolved, about 5 minutes.
3) Add capers, a bit of parsley and olives and stir to combine.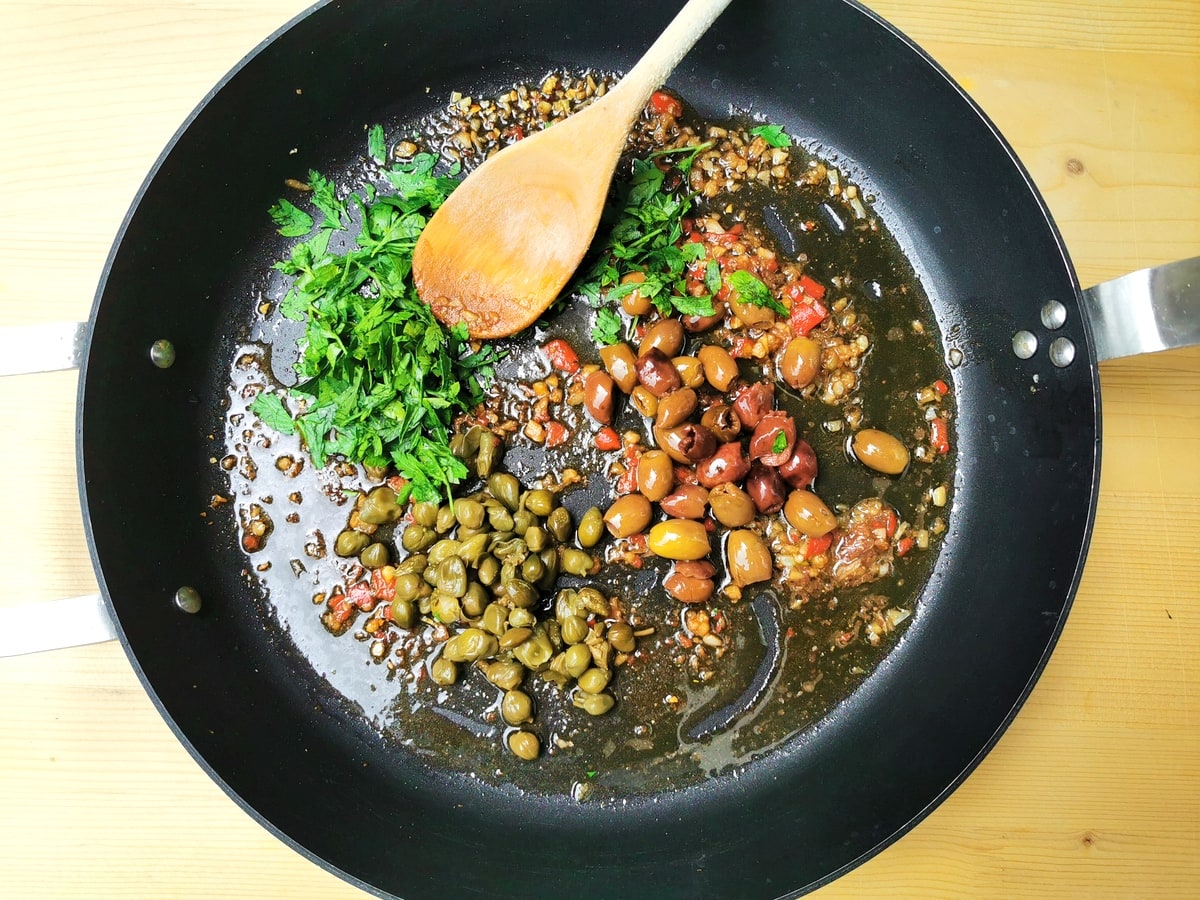 4) Add the tomatoes to the pan and bring the sauce to a gentle simmer.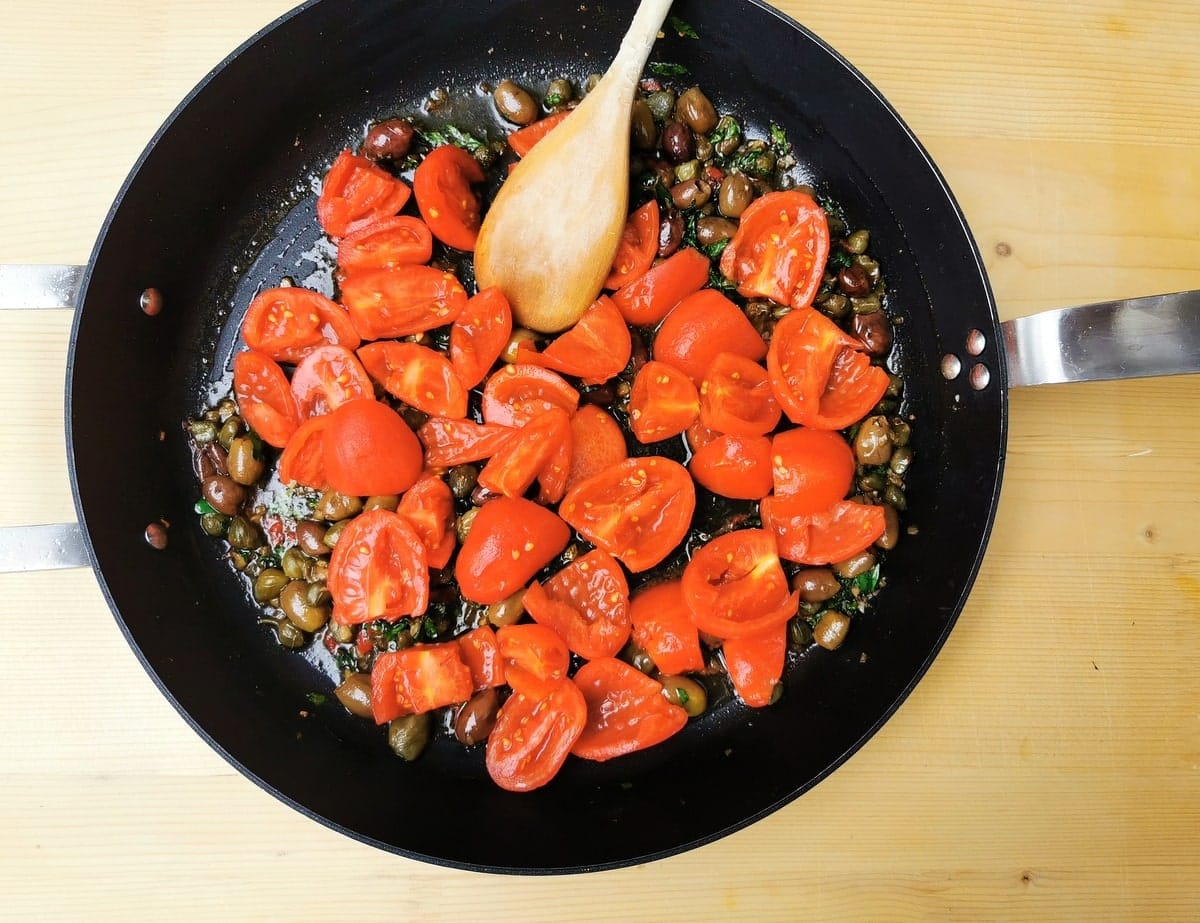 5) Add the drained spaghetti and a splash of pasta water to the sauce.
6) Cook, stirring and shaking the pan and adding more pasta water as necessary to keep the sauce a little liquidy until pasta is perfectly al dente. Sprinkle in more parsley and taste to season with salt and pepper. Serve immediately.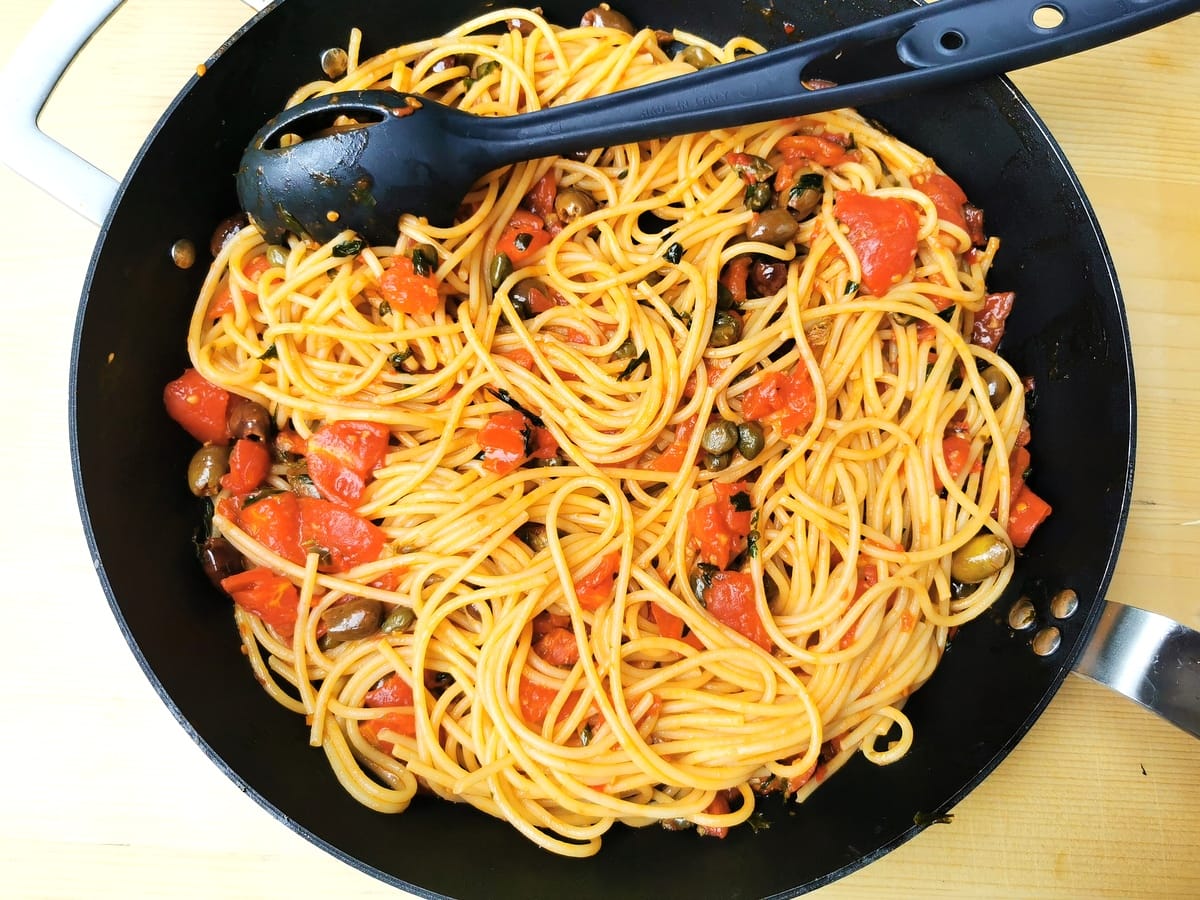 Storage and Leftovers
Store any leftover Spaghetti alla Puttanesca in an airtight container in the fridge and enjoy it within the next 3 days.
When you're ready to reheat, place the leftovers in a microwave-safe dish and cover the dish. Microwave in intervals, stirring in between each interval to ensure even heating until the dish is hot throughout.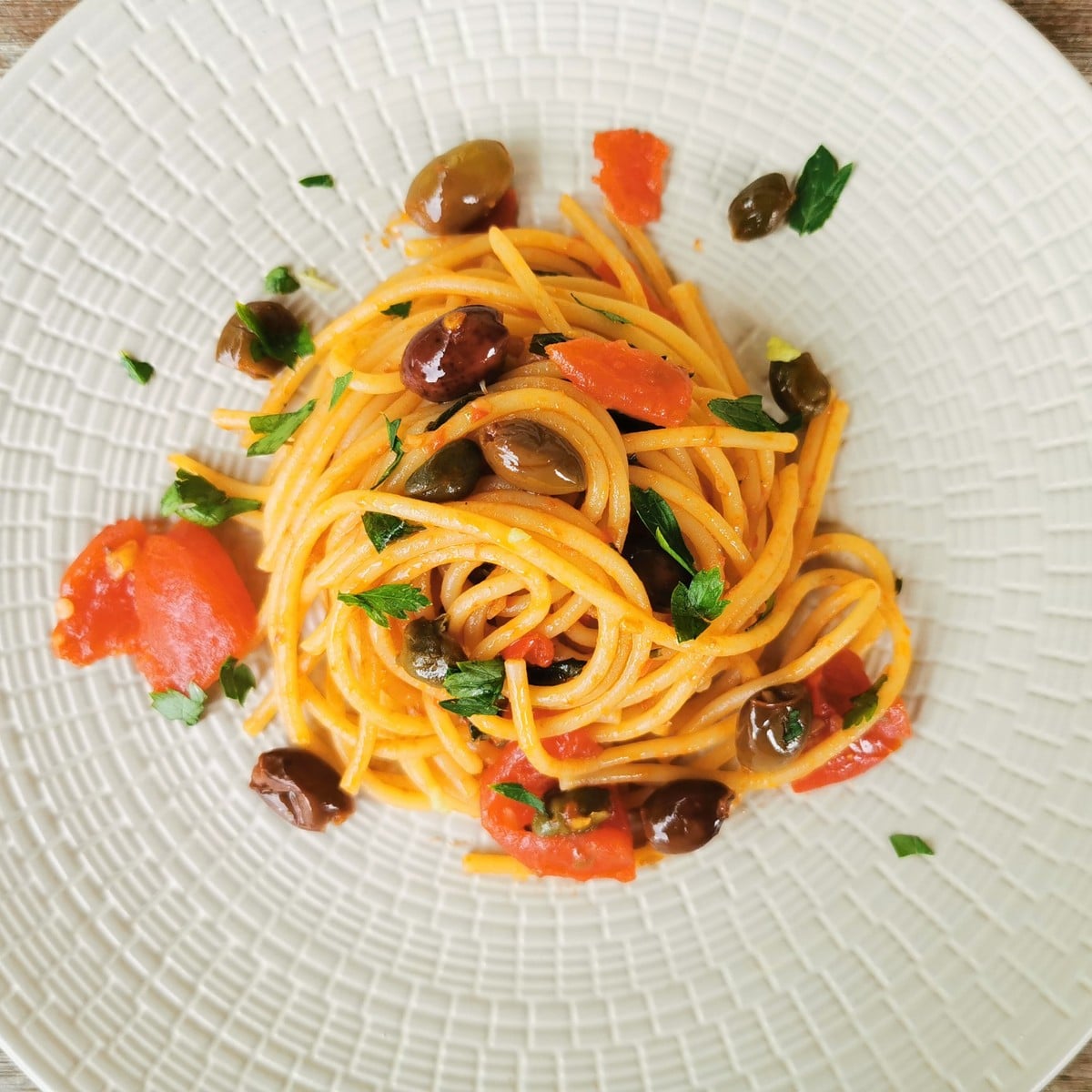 FAQs
Does traditional Puttanesca have capers?
If you are planning to make 'authentic' puttanesca, it has capers! For the Italians, if it doesn't have capers, it isn't puttanesca. So, it needs to be called something else!

Of course, you should make it the way that suits your tastes. Ingredient quantities aren't rigid. It's still delicious if you use less or more of something.
Can I use canned tomatoes instead of fresh tomatoes?
If fresh tomatoes aren't available, you can also use a can of San Marzano tomatoes. However, you will need to simmer the sauce for longer before adding the pasta to get the right consistency.
What are the two main versions of Puttanesca?
The two main versions of Puttanesca are the original Neapolitan version and the version from Lazio. The Neapolitan recipe includes fresh peeled tomatoes, capers, black olives, garlic, oregano, and sometimes peperoncino. The Lazio variation, on the other hand, typically includes anchovies, replaces oregano with parsley, and sometimes uses green olives instead of black ones. Both recipes are simple to make and very tasty.
More popular Italian classic pasta recipes
If you do try this spaghetti alla puttanesca recipe, I'd love to hear what you think. Please write a comment here on the blog or post a comment on the Pasta Project Facebook page.
Your feedback means a lot to me!
Buon appetito!
(This recipe was originally published in March 2018 but has been updated with new photos and text)
Pin for Later: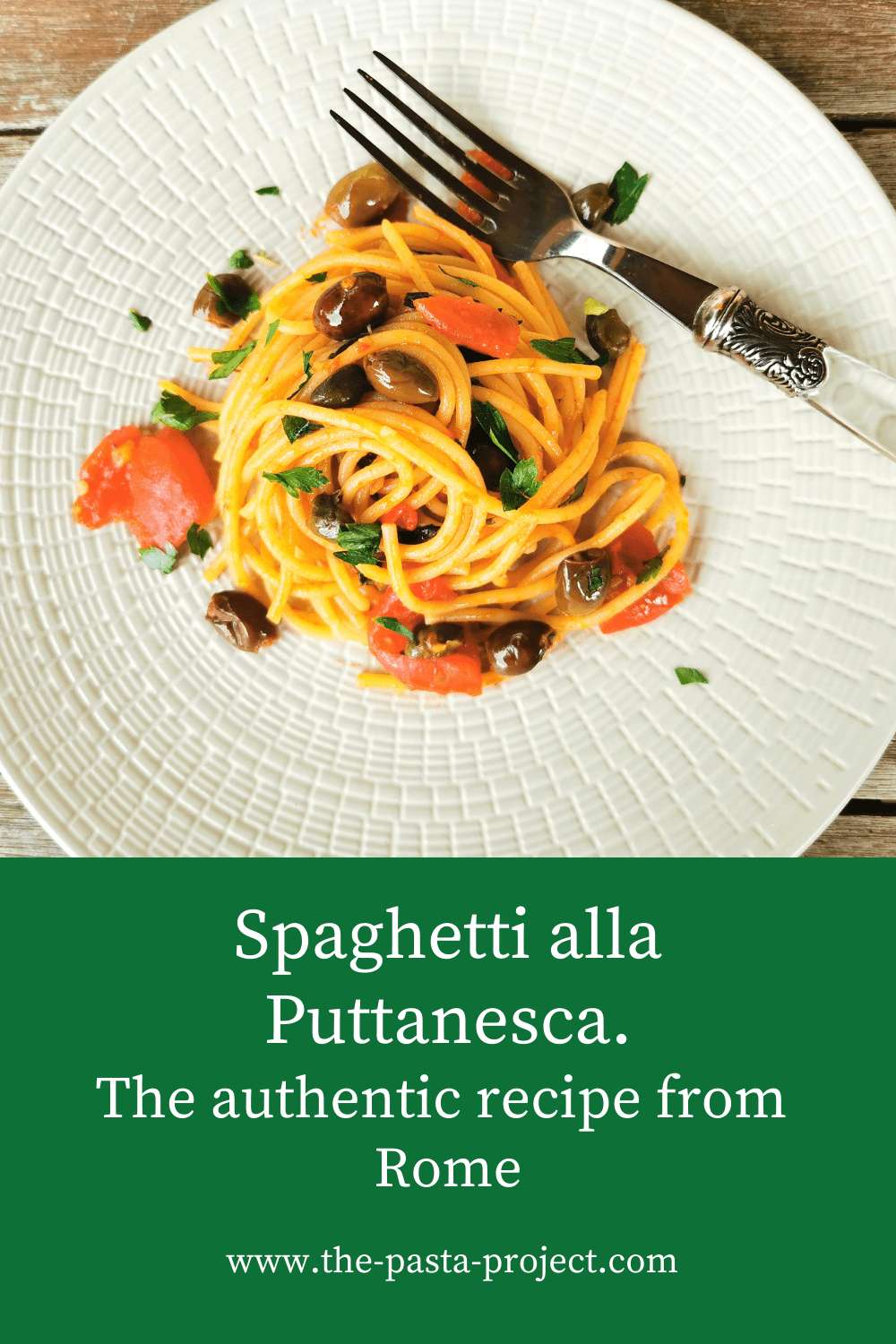 If you are interested in learning how to make homemade pasta and different types of gnocchi, check out my shop page for some great video online courses from my friends in Rome! Nothing beats learning to make pasta from Italians! Plus while you're there why not order a copy of my autumn/winter pasta recipes cookbook!?