Authentic Spaghetti alla Puttanesca!
If you speak or understand Italian you'll know that Spaghetti alla Puttanesca literally means prostitute's spaghetti! 'Puttana' in Italian means prostitute or whore! However, despite the name, this is a very popular pasta recipe in Italy and abroad. Although, out of Italy, many recipes include other ingredients which often has Italians up in arms!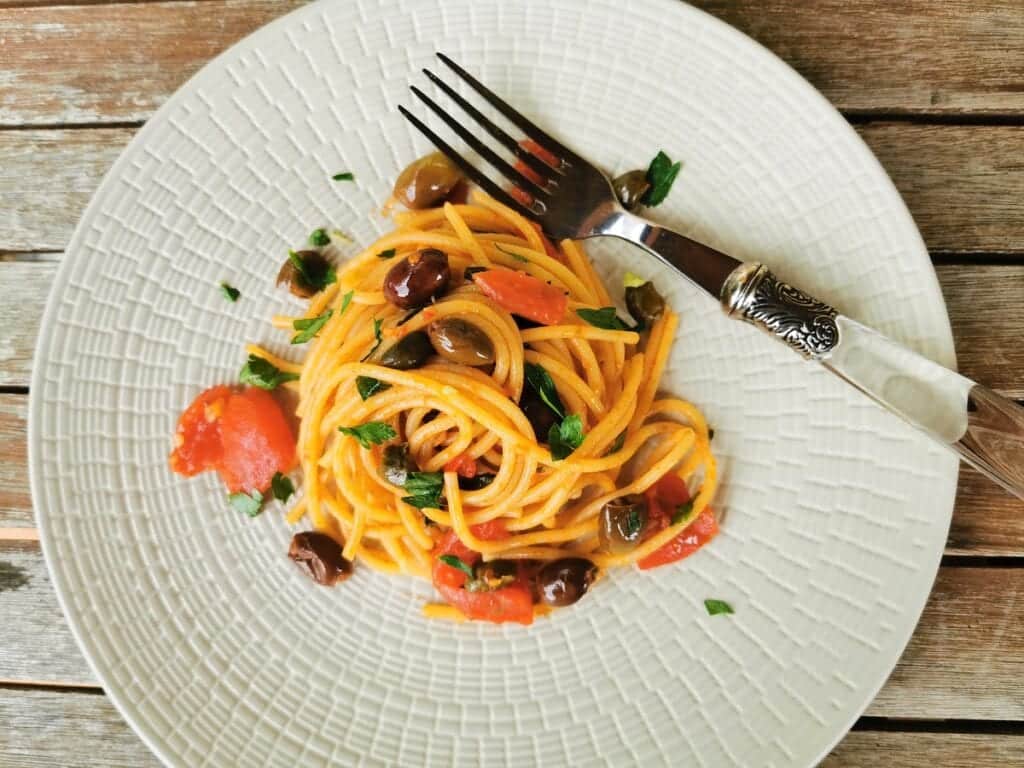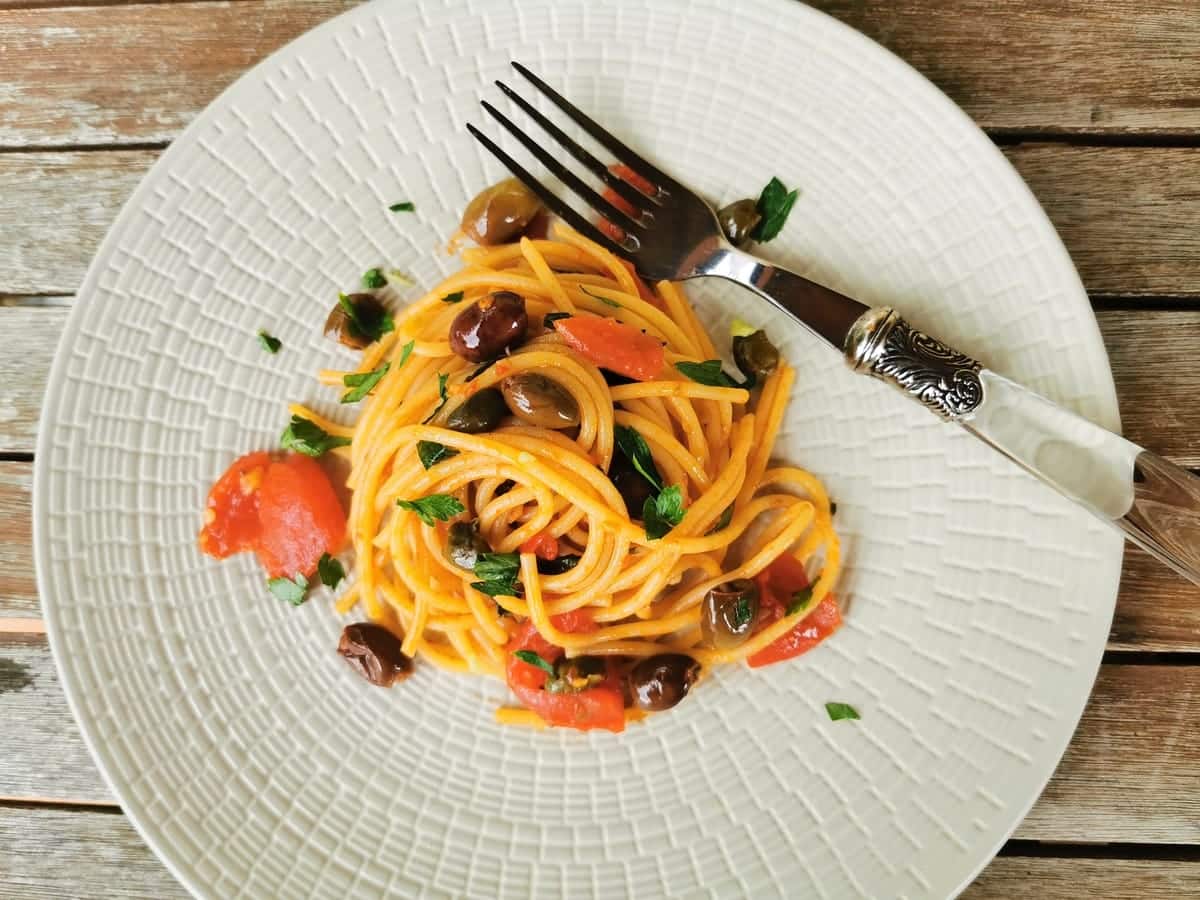 Alla Puttanesca: Whore's spaghetti! How it got its name!
Like so many other Italian dishes there are various opinions on how this pasta dish got its name! Some believe that it was a dish made by a brothel owner in the Spanish quarter (red light district) of Naples. Although it's not clear, if he offered it to his patrons or used it to entice customers through the door with the spicy, pungent aroma produced by its ingredients.
Others believe that this was the easiest thing prostitutes could prepare between customers because the low cost, easily stored ingredients required little shopping or preparation.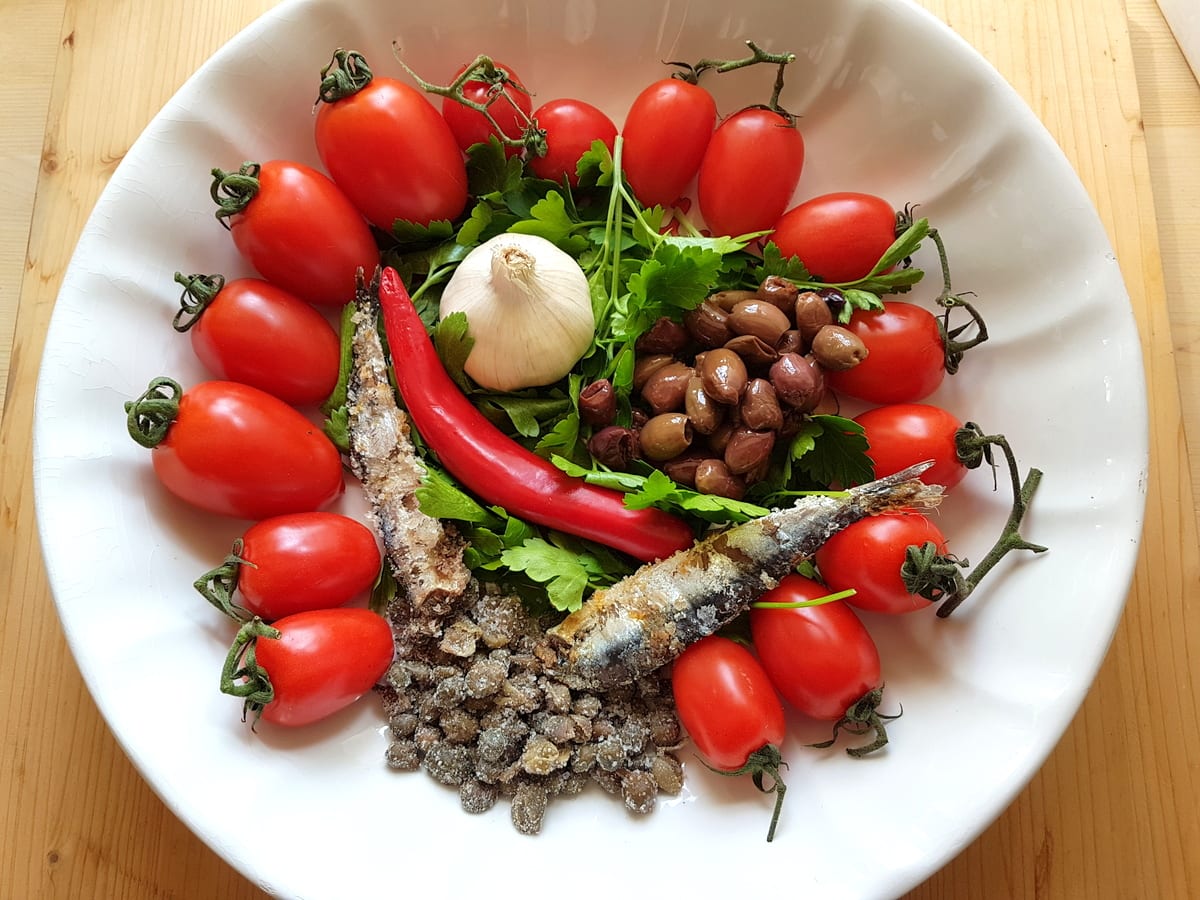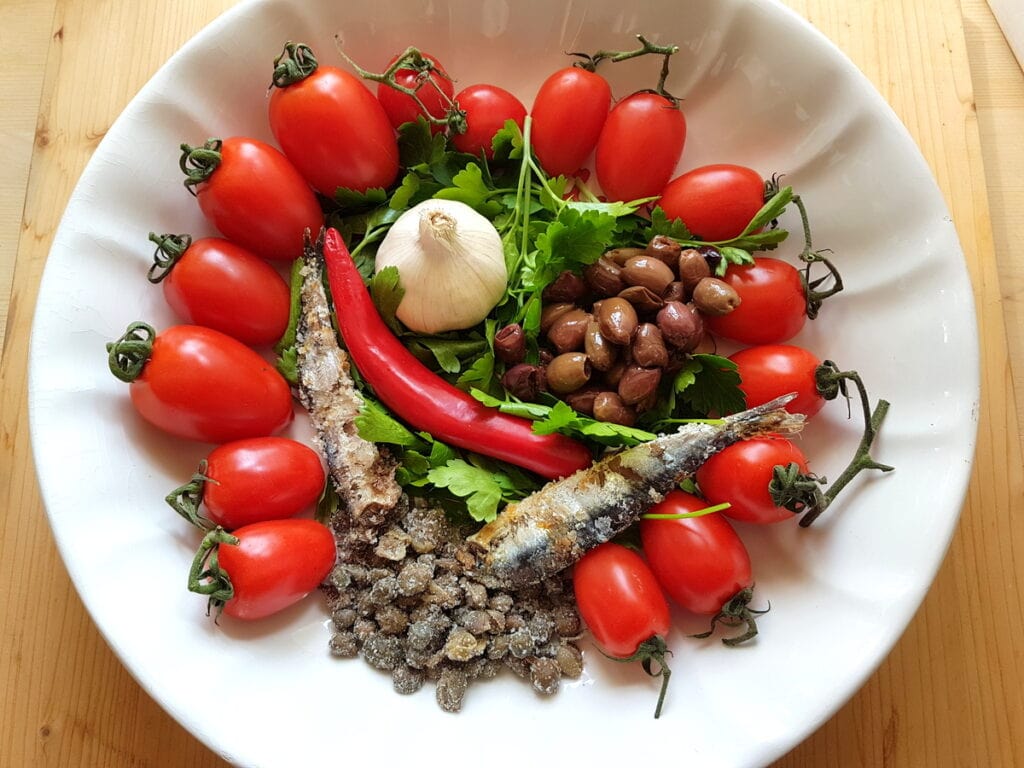 More believable, perhaps, is the story that this very popular sauce originated in Ischia around 1950. It was created by Sandro Petti, the co-owner of the restaurant, Rangio Felon. The story goes that some customers arrived late to eat and because the restaurant had run out of many fresh ingredients, they asked Petti to prepare 'una puttanata qualsiasi', which literally translates as 'a whore's any' but means any rubbish/ garbage.
So, Petti created a dish with what he had, or rather had left, in the kitchen. The resulting pasta dish was liked so much by the customers that Petti put it on the restaurant menu calling it 'spaghetti all puttanesca'.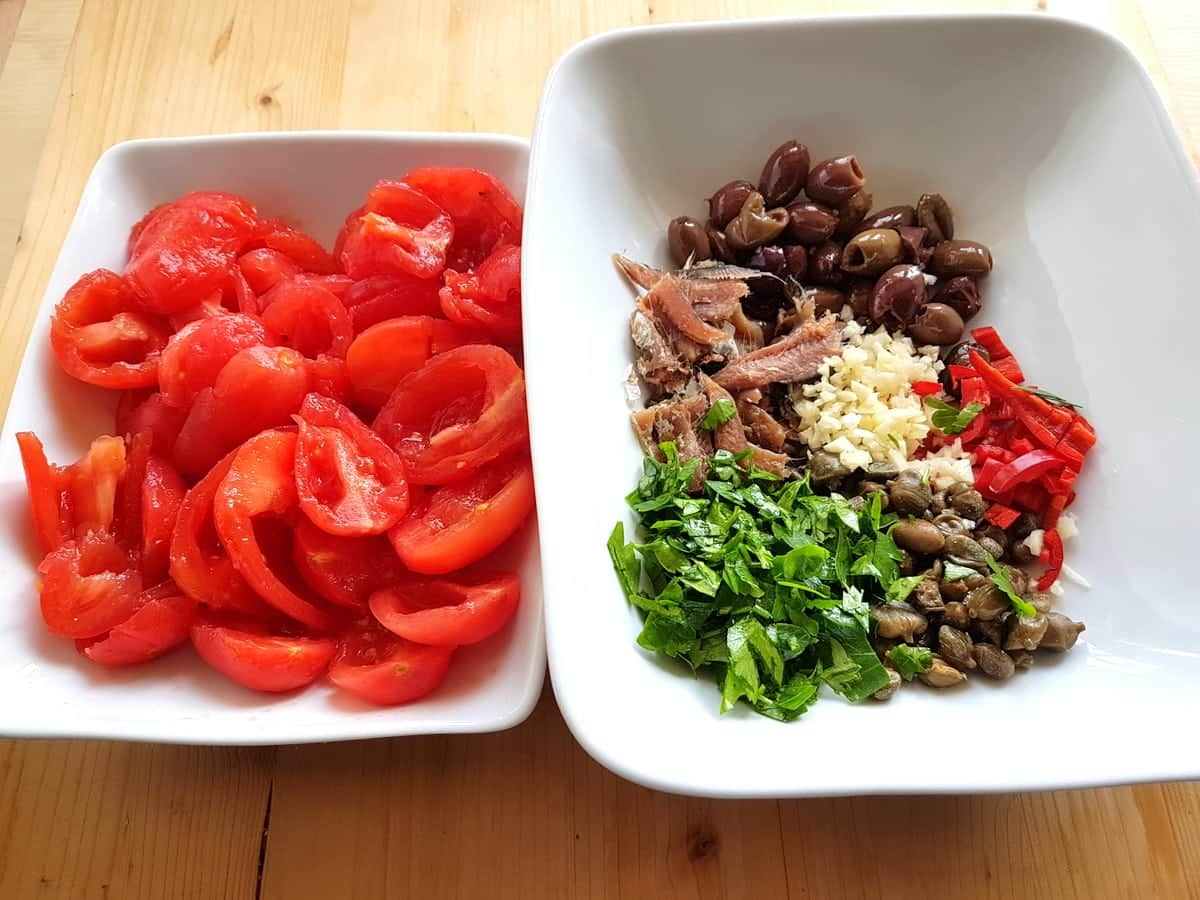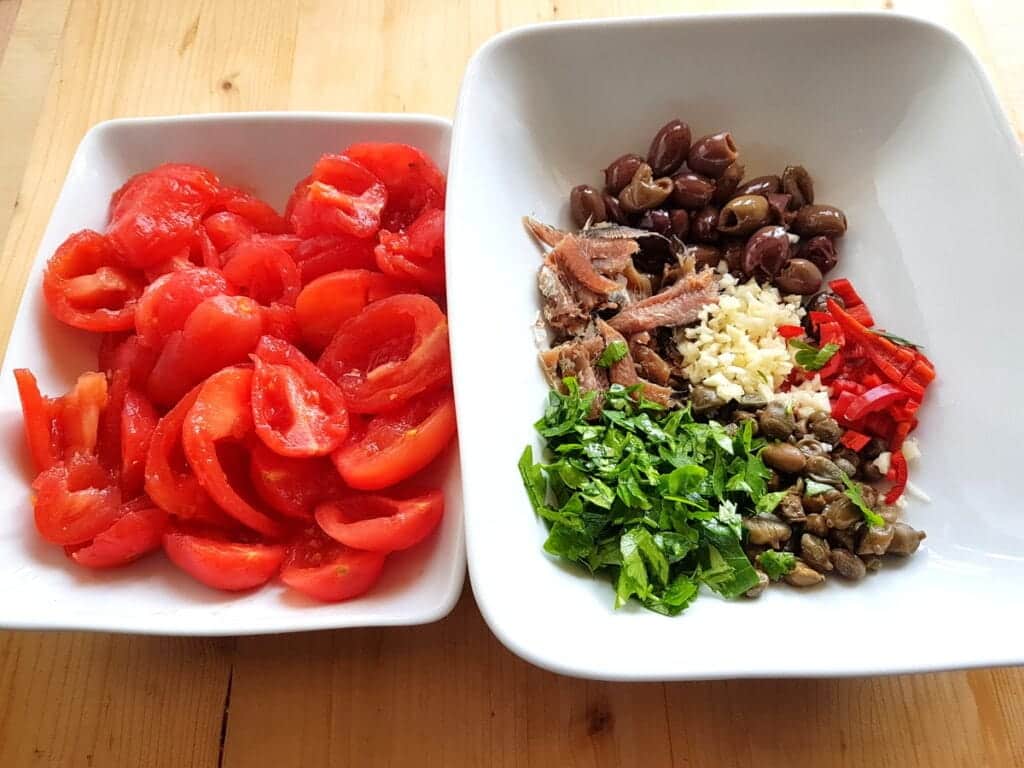 The two main Italian versions of Puttanesca
Whatever its origins, puttanesca is a very popular pasta dish. The original Neapolitan ingredients are simple but flavourful; fresh peeled tomatoes, capers, black olives, garlic, oregano and sometimes peperoncino. The original recipe from Naples, the capital of Campania, doesn't actually include anchovies.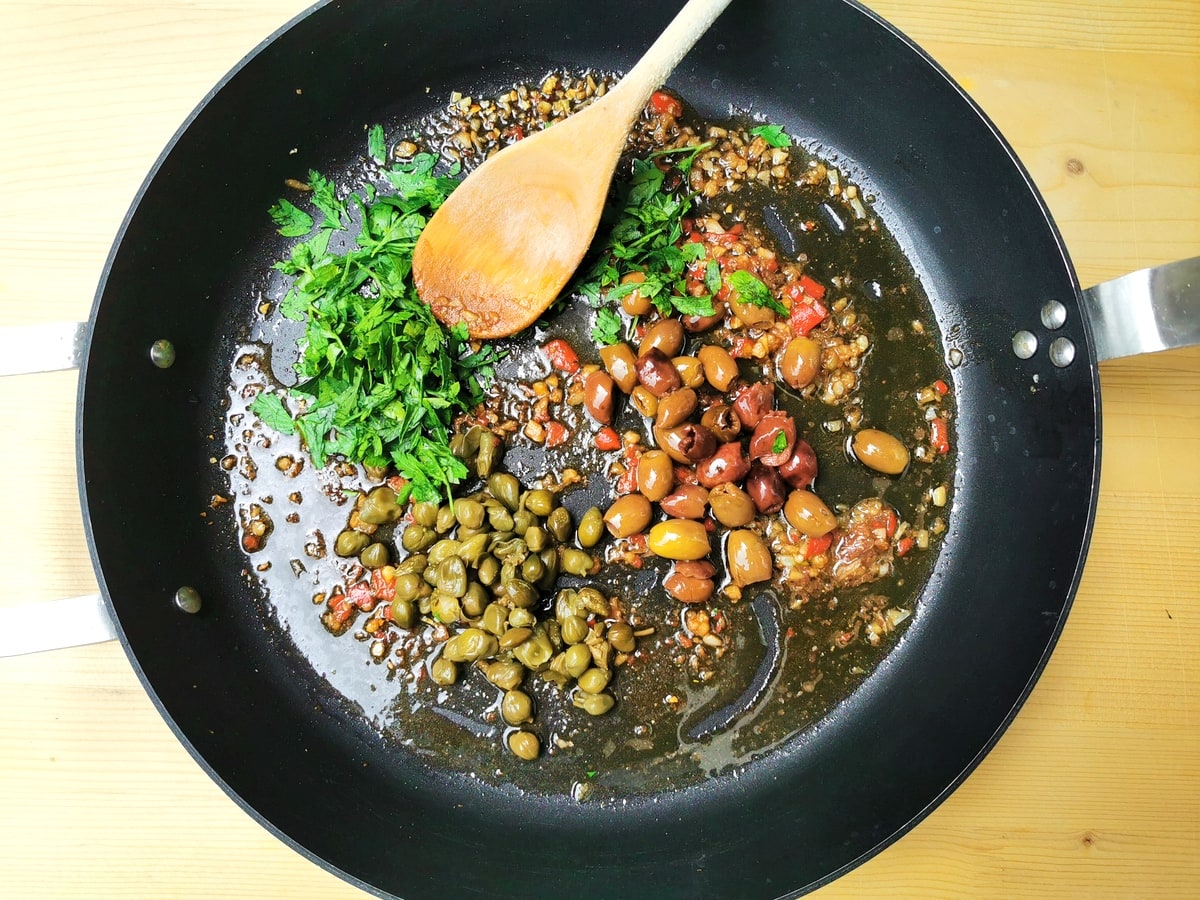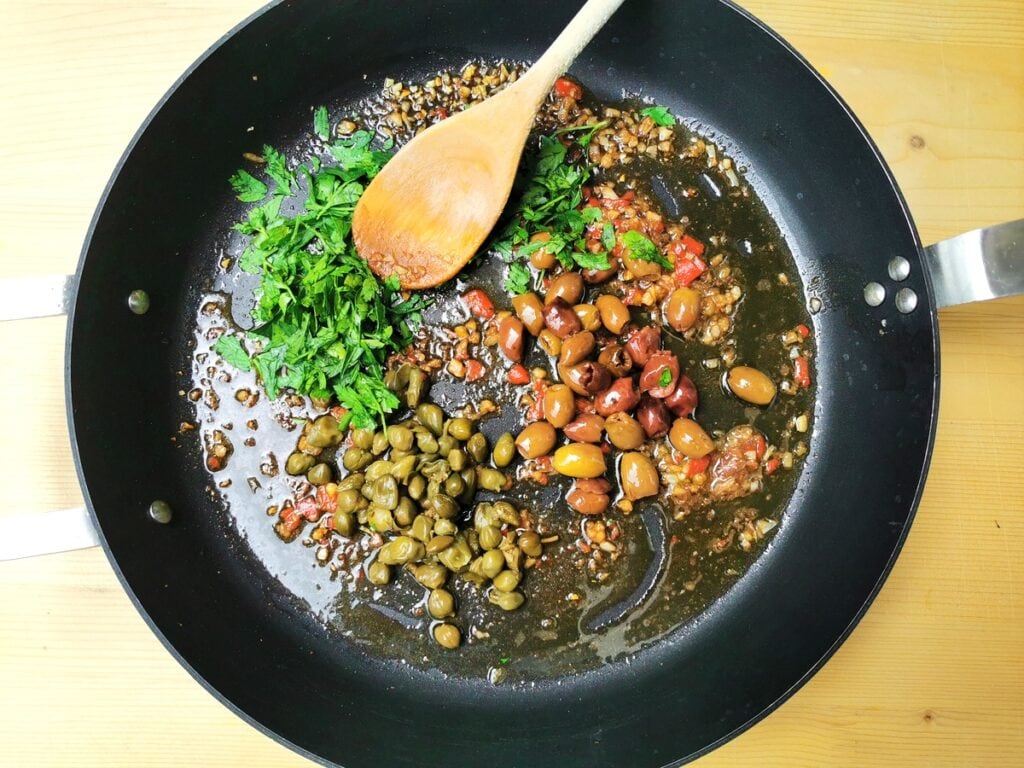 That version, apparently, comes from Lazio where they replace the oregano with parsley and anchovies and sometimes use green instead of black olives. Both recipes are simple to make and very tasty.
Two rules for authentic Puttanesca
Italians love to talk about food and they are very vocal when it comes to discussing the correct ingredients for traditional dishes. Because there are regional versions of many popular dishes, they can often be heard disputing among themselves what is the correct way to cook something! However, when it comes to Puttanesca there are a couple of strict rules Italians all agree on. No Parmigiano cheese if you make it with anchovies (Italians don't usually use cheese on seafood pasta dishes) and no basil!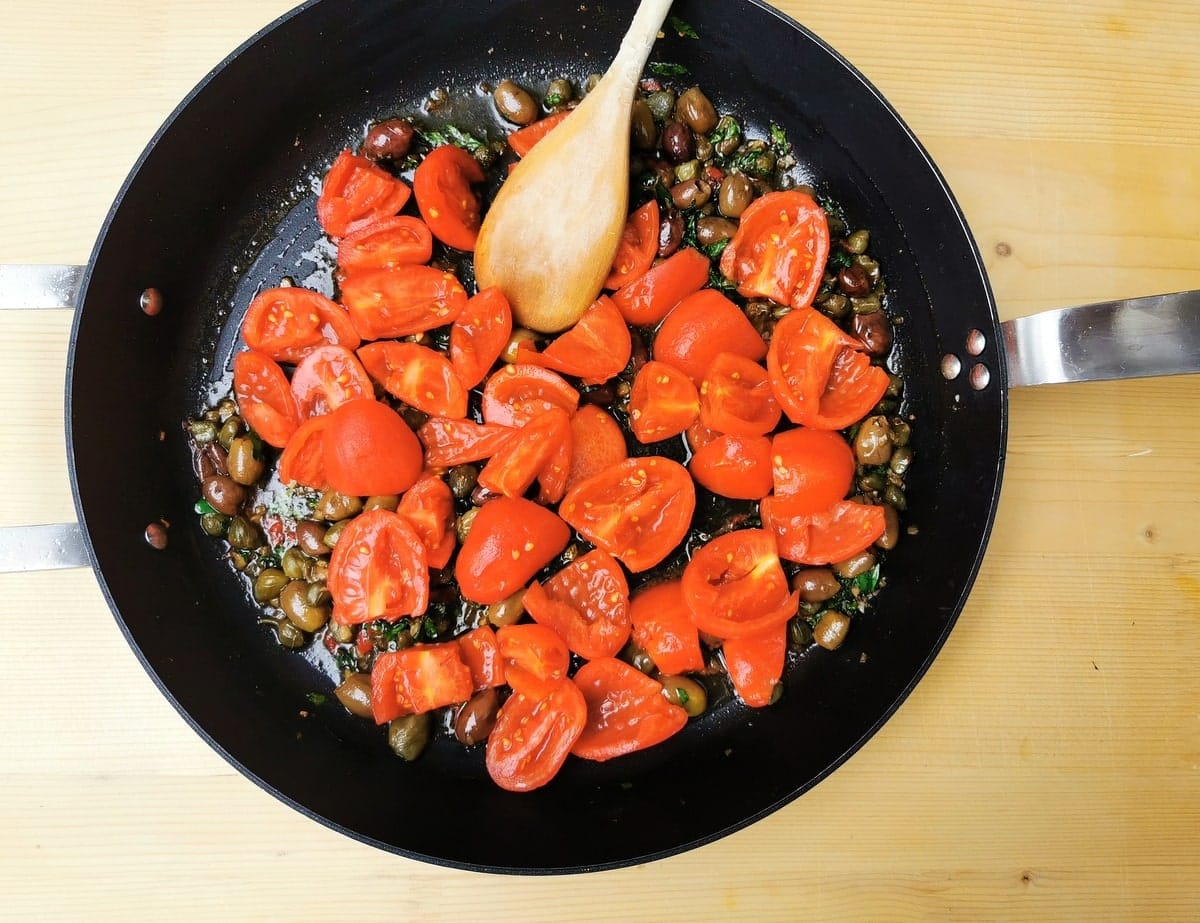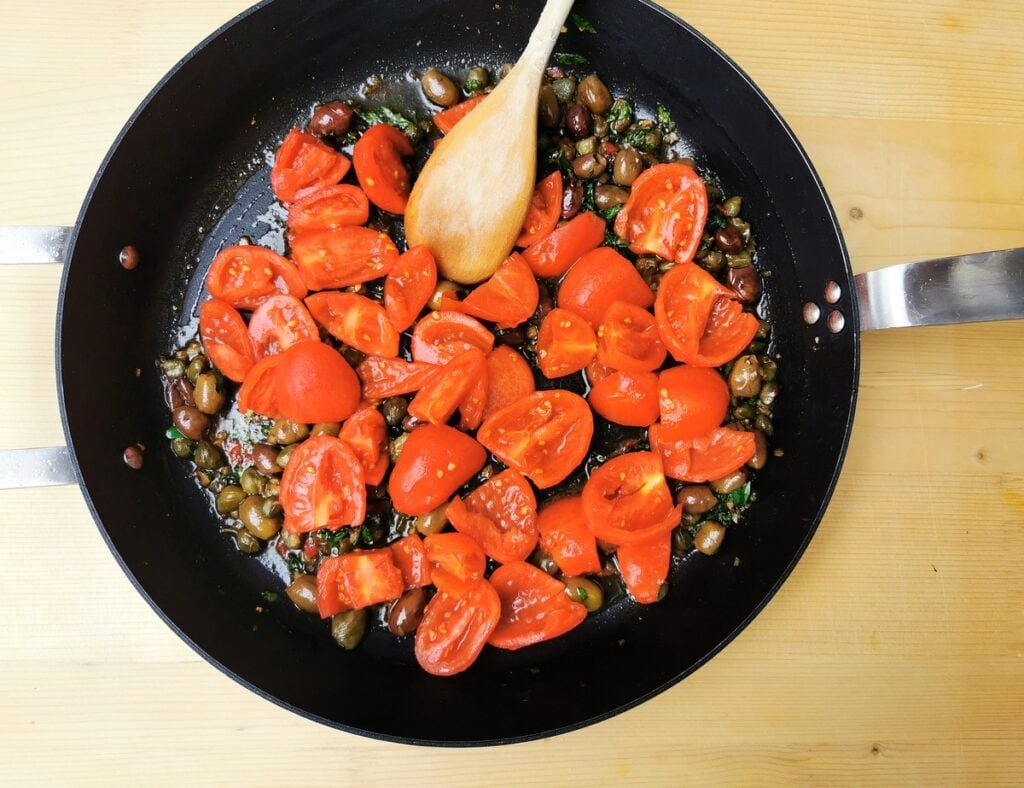 Authentic or not authentic that is the question!
I recently came across a recipe on Jamie Oliver's website for puttanesca. Jamie's version comes from Gennarro Contaldo, a well-known Italian chef who has lived and worked in UK since 1969. This recipe is quite different from those found and eaten in Italy. It includes basil and Parmigiano and has no capers!
I spent an amusing few minutes reading the comment section under the recipe in which a number of outraged Italians had stated their total disagreement to the recipe, especially since Jamie Oliver captioned it as being authentic!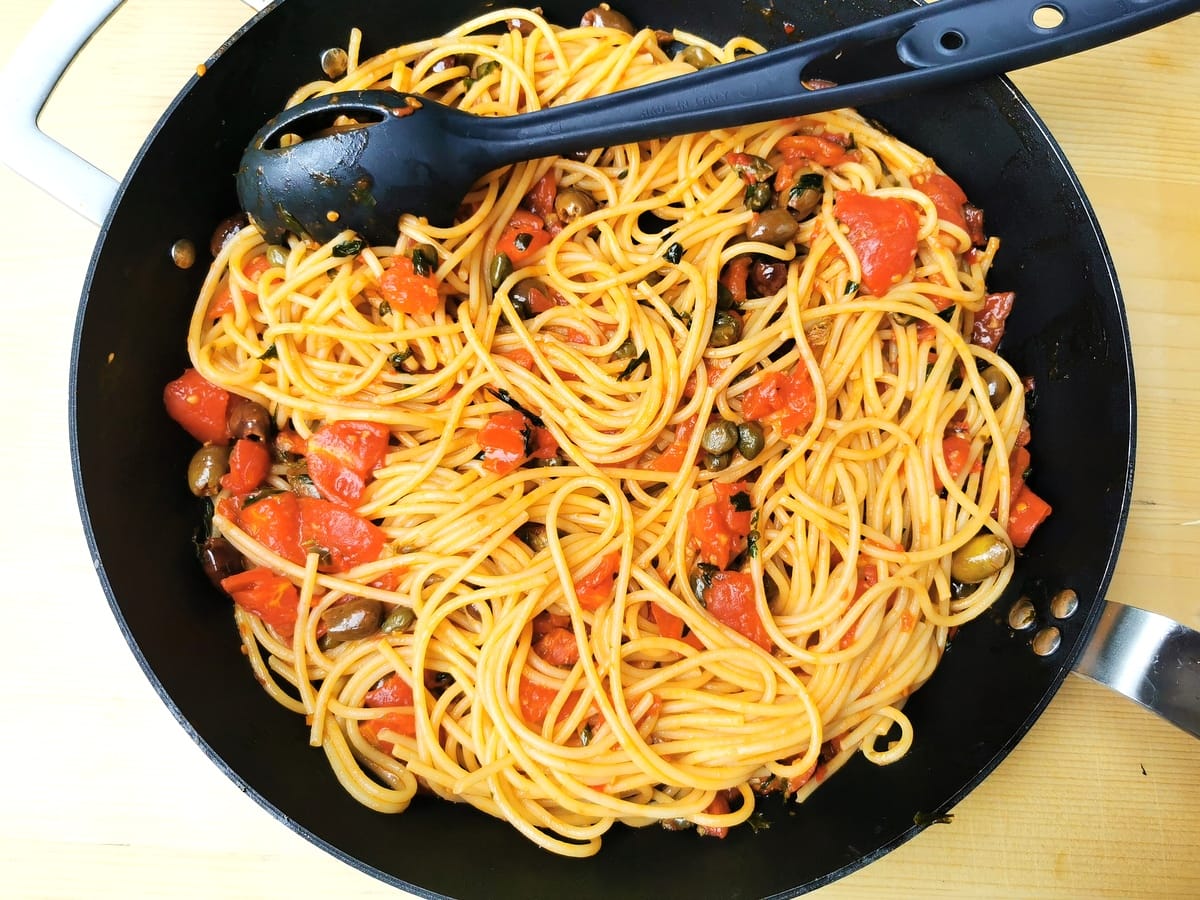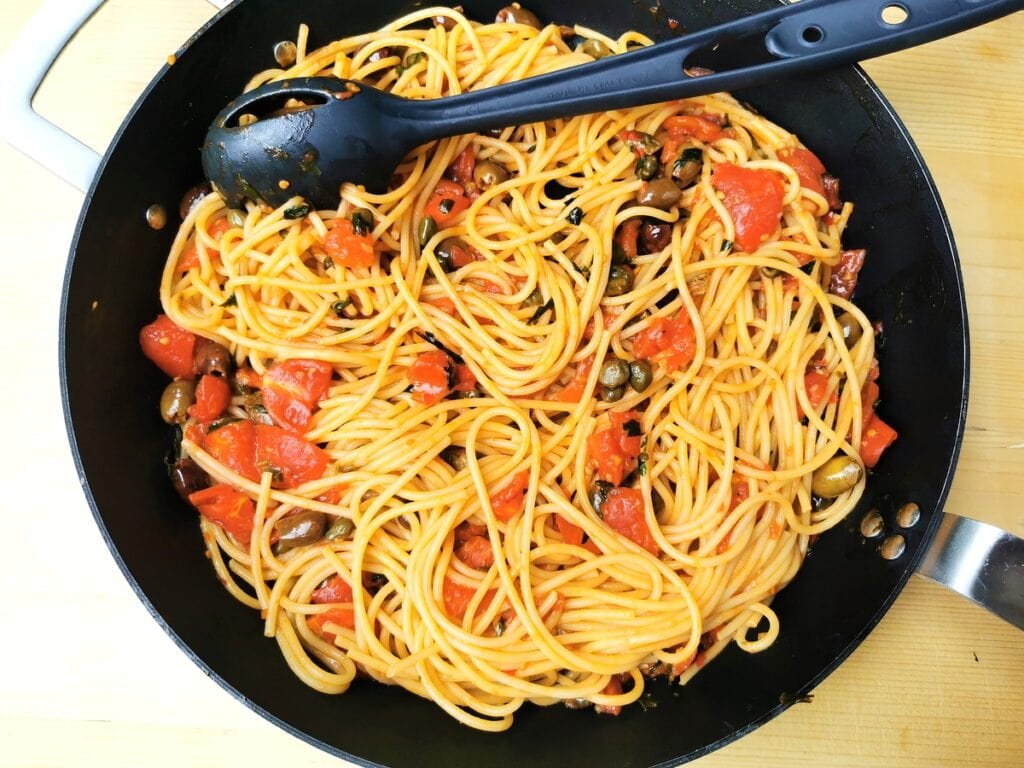 To caper or not to caper?
The recipe here is the one from Lazio, as I love the taste of anchovies! However, capers are a must and to caper or not to caper isn't a question of choice. If you are planning to make 'authentic' puttanesca, it has capers! For the Italians, if it doesn't have capers, it isn't puttanesca. So, it needs to be called something else!
Authentic alla puttanesca always has capers!
Of course, you should make it the way that suits your tastes. Ingredient quantities aren't rigid. It's still delicious if you use less or more of something. Without anchovies, it would be more like the Neapolitan version and then you might want to add some oregano!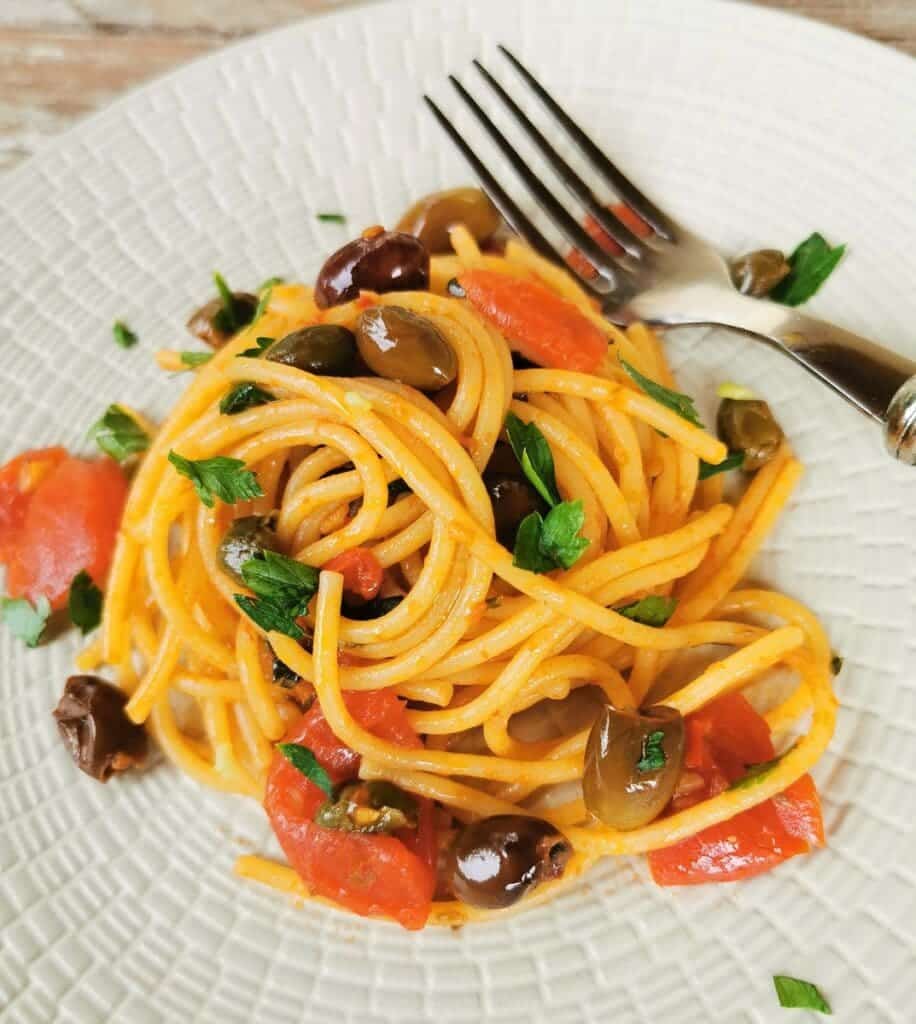 If you do try this spaghetti alla puttanesca recipe, I'd love to hear what you think. Please write a comment here on the blog or post a comment on the Pasta Project Facebook page.
Your feedback means a lot to me!
Buon appetito!
(This recipe was originally published in March 2018 but has been updated with new photos and text)
Other must-try classic pasta recipes from Lazio
Save this recipe for later?
If you want to save this recipe for later, you can print it, bookmark this page or save it to Pinterest.
PIN FOR LATER
Want to know more about my life in Italy? Why not subscribe to my newsletter? New subscribers get a free series of recipe e-books too!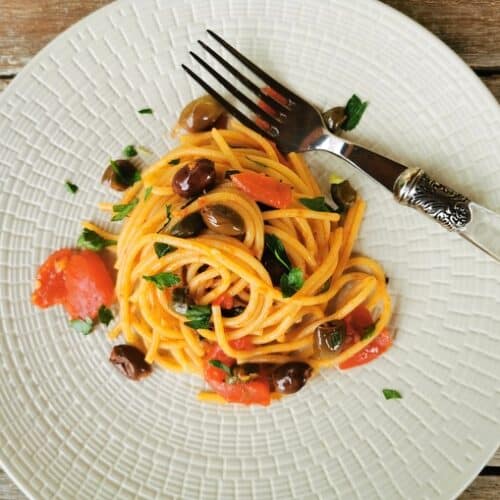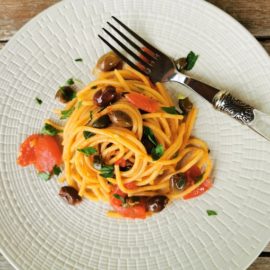 Spaghetti alla Puttanesca
An easy-to-make classic Italian spaghetti recipe with strong tasty Mediterranean flavours and an interesting history!
Ingredients
400

g

spaghetti

(14oz) I used spaghetti made by Rummo.

3-4

tbsp

extra-virgin olive oil

3-4

garlic cloves

thinly sliced or finely chopped

6 to 8

anchovy fillets

finely chopped (Italians prefer salted anchovies but you can also use those in oil)

1

tsp

Peperoncino flakes or 1- 1/2 a chopped peperoncino

(Italian red chilli pepper)

1

tbsp

capers

drained and chopped. (Italians also prefer salted capers. If you use these rinse them under water before using them)

100

g

pitted black or green olives

(3.5oz) I used taggiasca olives

400

g

Fresh sauce tomatoes (San Marzano or datterini)

(140z) peeled, deseeded and chopped.

1

handful

fresh parsley leaves

chopped

Freshly ground black pepper.

Salt

for pasta and to taste
Instructions
Start boiling water for the spaghetti. Add salt once it starts to boil and bring to the boil again.

Meanwhile prepare the ingredients. Peel and finely chop the garlic. Peel, de-seed and chop the tomatoes. If anchovies and capers are salted rinse them under cold water. Then cut anchovies into small pieces. If they are large, remove the spine. Remove the seeds from the red chili pepper (if you are using it)  and cut into small pieces.

Heat some olive oil in a frying pan large enough to hold the cooked pasta later. Add the garlic, anchovies, and red pepper flakes (peperoncino).

Cook over a medium heat until garlic is very lightly golden and the anchovies have melted, about 5 minutes. (Adjust heat as necessary to keep it gently sizzling.)

Add capers, a bit of parsley and olives and stir to combine.

Add the peeled and chopped tomatoes, stir and bring to a bare simmer.

Cook pasta to just under al dente (about 1 minute less than the package recommends).

Drain pasta reserving 1 cup of the cooking water.

Add drained pasta to the sauce.

Add a few tablespoons of the pasta cooking water and increase the heat to bring the pasta and sauce to a vigorous simmer.

Cook, stirring and shaking the pan and adding more pasta water as necessary to keep sauce a little liquidy until pasta is perfectly al dente.

Sprinkle with some more parsley.

Season with salt and pepper as required.

Serve immediately.
Notes
Although traditionally served with spaghetti, alla puttanesca can be served with other long pasta such as fettucine.
The quantity of the individual ingredients can be altered depending on one's taste. Some people prefer less olives, capers or anchovies.
Nutrition
Calories:
544
kcal
Carbohydrates:
84
g
Protein:
16
g
Fat:
16
g
Saturated Fat:
2
g
Polyunsaturated Fat:
2
g
Monounsaturated Fat:
11
g
Cholesterol:
4
mg
Sodium:
591
mg
Potassium:
565
mg
Fiber:
6
g
Sugar:
7
g
Vitamin A:
403
IU
Vitamin C:
11
mg
Calcium:
83
mg
Iron:
3
mg
Pin for Later
If you are interested in learning how to make homemade pasta and different types of gnocchi, check out my shop page for some great video online courses from my friends in Rome! Nothing beats learning to make pasta from Italians! Plus while you're there why not order a copy of my autumn/winter pasta recipes cookbook!?