Spaghetti aglio e olio is a shining testament to the idea that sometimes, less truly is more. It uses just a handful of easy-to-source ingredients and takes 15 minutes to make while packing a lot of flavor!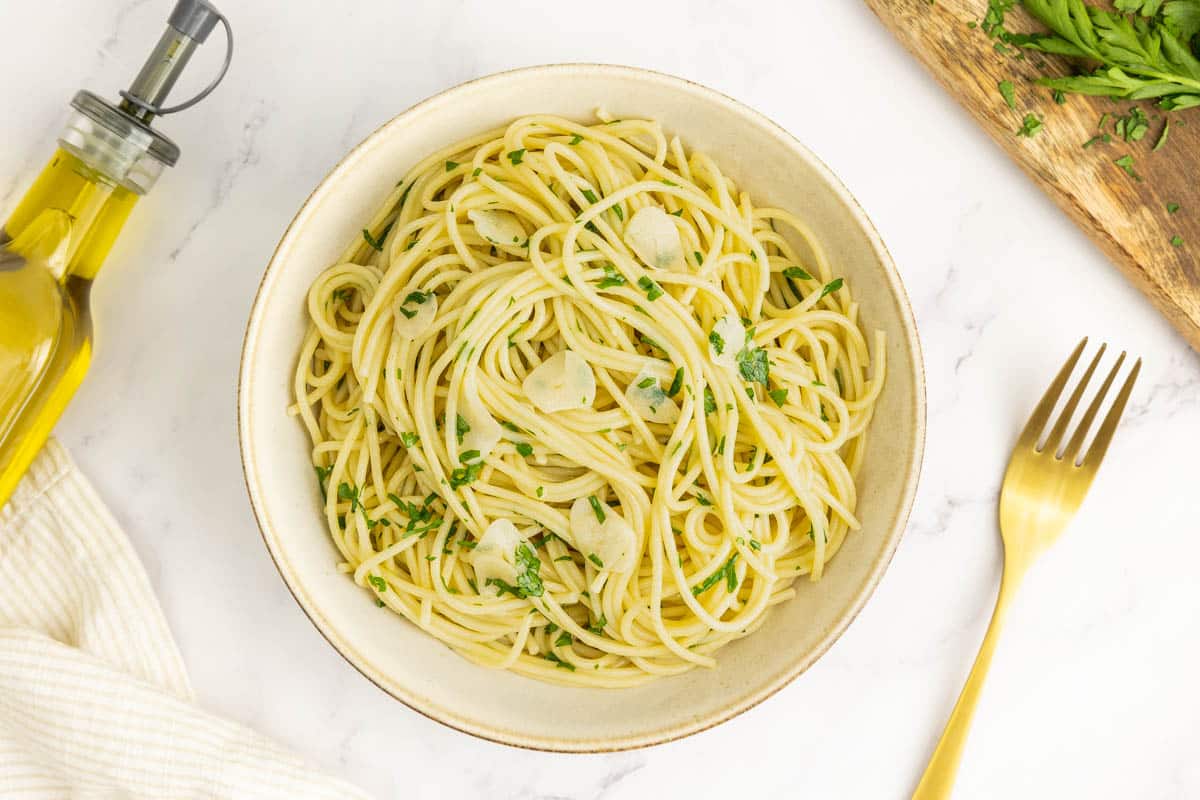 History
Originally known as 'vermicelli alla Borbonica', spaghetti aglio e olio dates back to the 1800s or even earlier. It was apparently a favorite dish of the Bourbon King Ferdinand IV who is said to have ordered the invention of a pronged tool with 4 tines, so that he could eat his garlic and oil pasta more easily!
The Neapolitans used to use a 2-tined fork or their fingers to eat pasta! Once tomatoes became a popular addition to pasta recipes, using fingers became a little messy!
Nowadays, many Italians make the later version of this recipe that includes peperoncino (red chilli pepper), unless they aren't lovers of spice. However, most food historians believe that aglio e olio, without chilli, is the original recipe.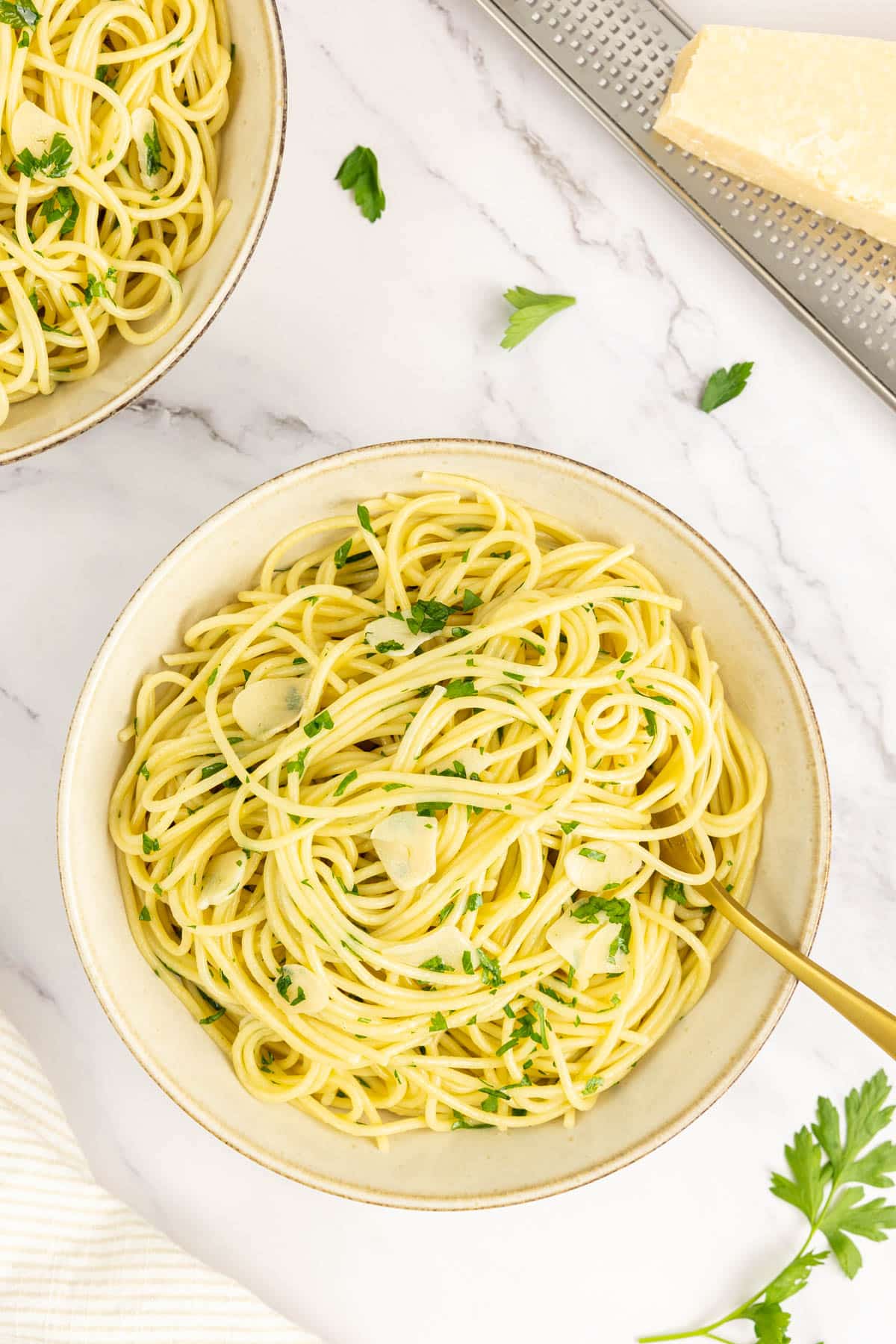 Ingredients
The individual ingredients stand out more with a dish as simple as pasta aglio e olio (pronounced ah-lee-oh eh oh-lee-oh).
This is why it's extra important to opt for high-quality ingredients:
Spaghetti: Use high-quality Italian pasta if possible. Spaghetti is the most traditional nowadays, but can be substituted with linguine and vermicelli. Purists prefer using vermicelli as in the original recipe. If you are gluten-free, opt for gluten-free pasta.
Garlic: Fresh garlic cloves are essential for the signature flavor of this dish. While jarred minced garlic offers convenience, it doesn't quite capture the same robust flavor as fresh garlic.
Extra Virgin Olive Oil: Extra virgin olive oil provides the foundational flavor for the dish, so it's important to use a good-quality one.
Fresh Parsley: Dried parsley doesn't offer the same vibrant color or fresh taste, so it's best to stick with the fresh parsley.
Salt: Salt is used to season the pasta water and the final dish. You can adjust the salt to your personal preference at the end.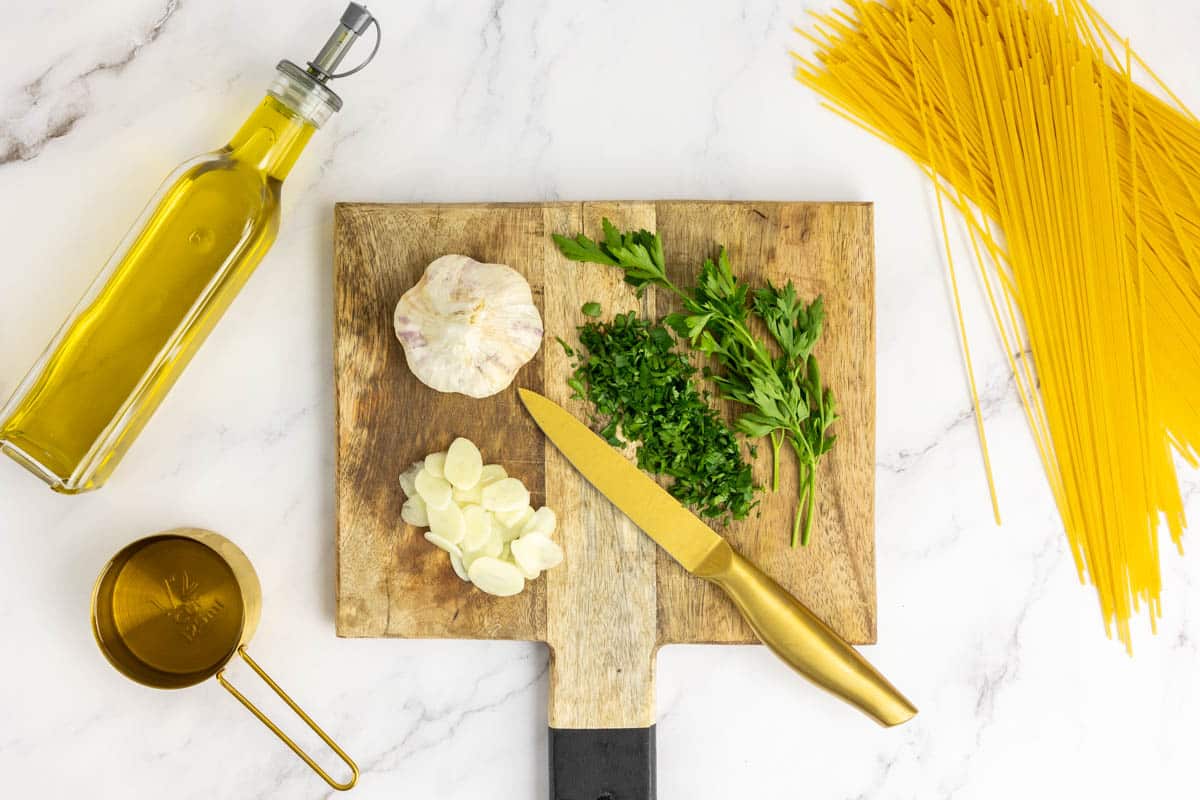 Expert Tips
Perfect Pasta: Cooking pasta to 'al dente' ensures it retains a small bite and isn't mushy. Regularly taste-test your pasta towards the end of its cooking time to find that sweet spot.
Garlic Color: Since garlic is central to this recipe, monitor its color as you sauté. If the garlic turns dark, it will add bitterness to your dish, so make sure you sauté it slowly. Should it brown too quickly, momentarily remove your pan from the heat.
Pasta Water: Adding pasta water is a matter of preference; some people do and some don't. If you add pasta water, stir the pasta until the pasta water incorporates with the oil. The starchy water will emulsify with the garlic oil to make a sauce.
Step by Step Instructions
1) Bring a large pot of water to a boil. Once boiling, season with salt and bring it to a boil. Add the pasta and cook until al dente. Before draining the pasta, reserve half a cup of the pasta water, then drain the pasta.
2) While the pasta is cooking, heat up extra virgin olive oil in a large sauté pan over medium heat. Add the garlic, allowing it to soften for about 2-3 minutes.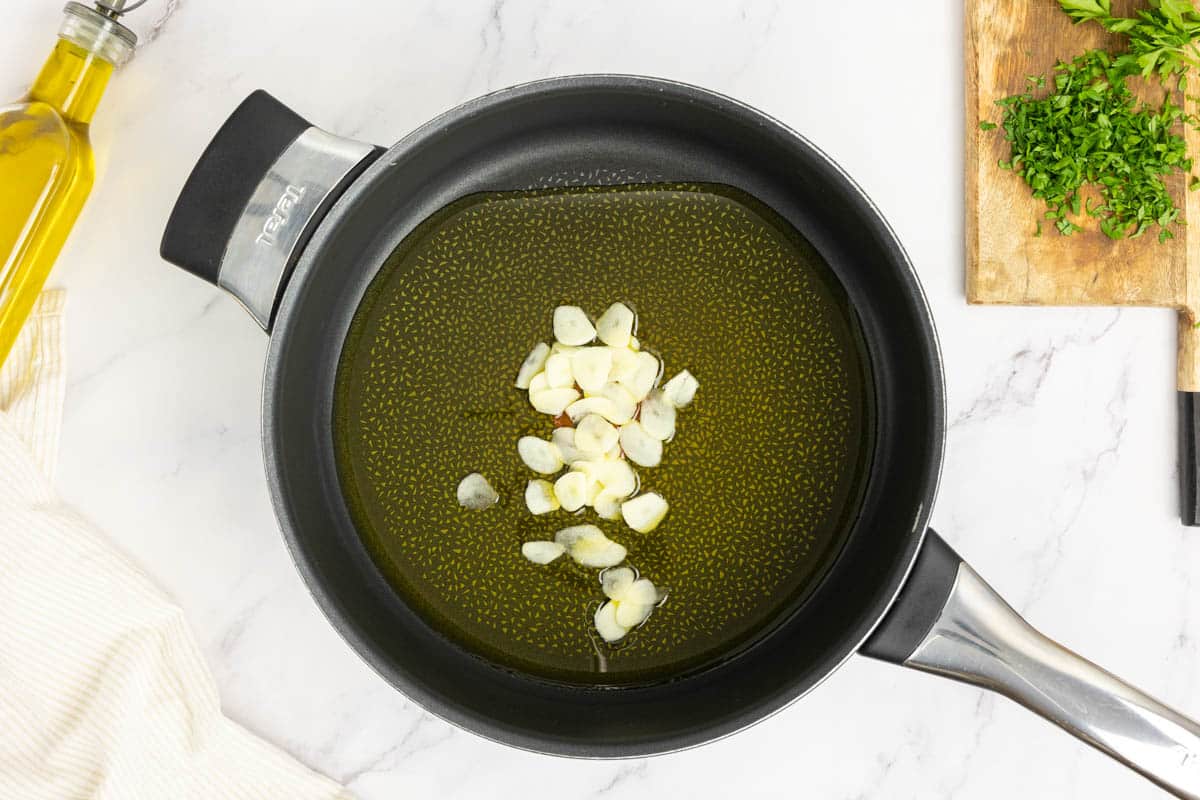 Note: If the garlic starts to brown, the heat is too high. Remove the pan from the heat until the garlic stops frying, then add the pan back onto a lower heat until the garlic is softened.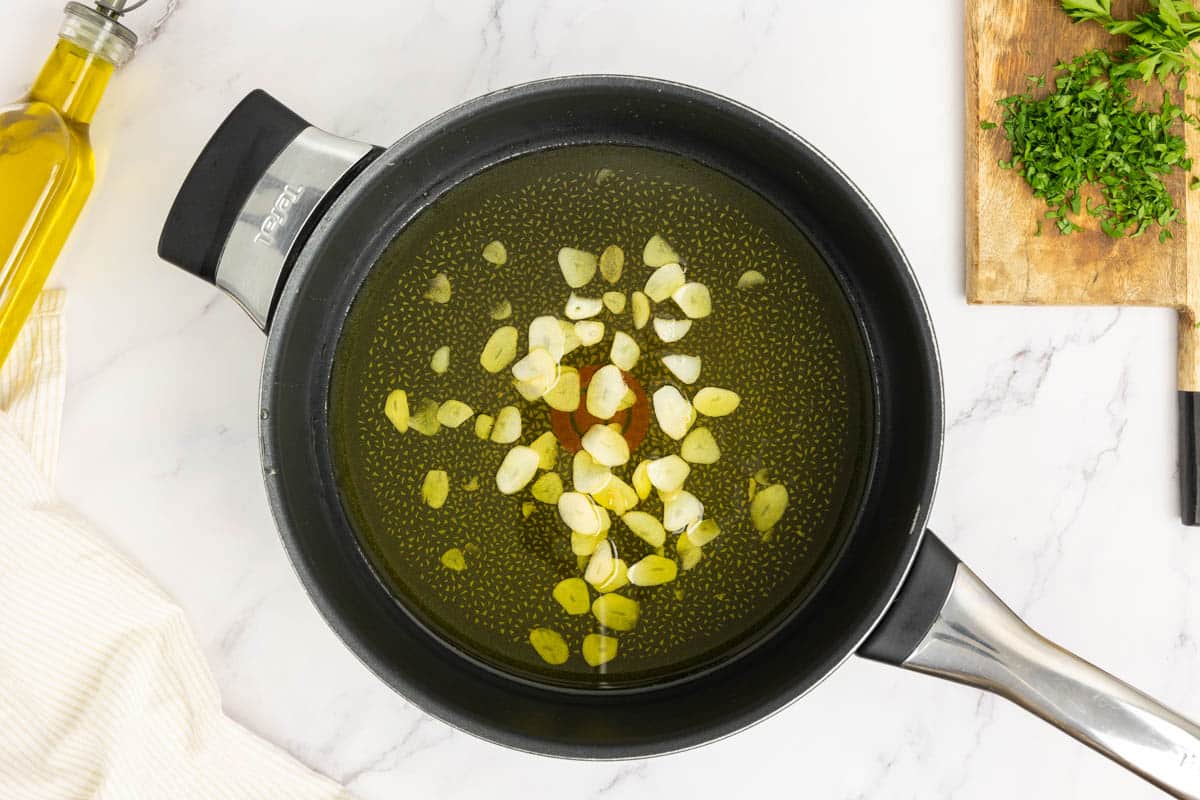 3) Once the garlic is softened, turn off the heat. Mix in the drained pasta and parsley to the sauté pan. If desired, also mix in half of the reserved pasta water.
Note: The starches in the pasta water will incorporate with the oil, making an oil-based sauce. If the sauce is too thin, you can reduce it while mixing over medium heat.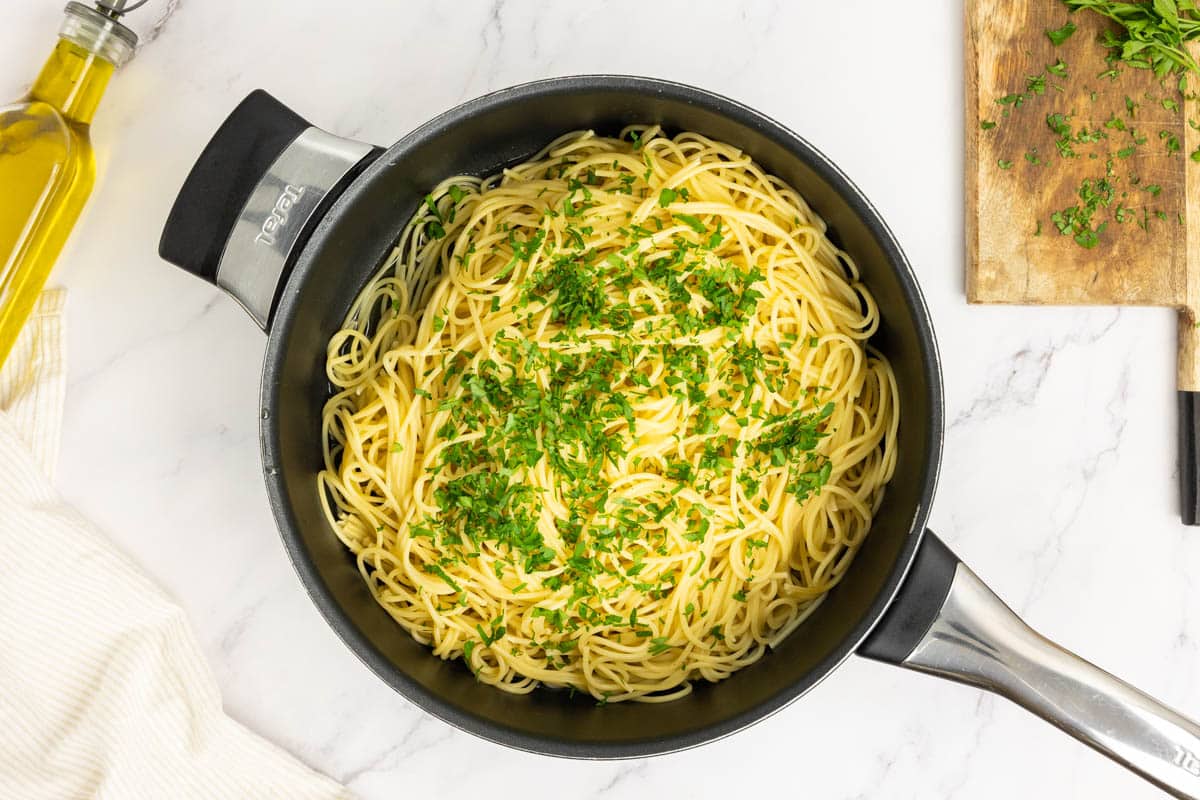 4) Season to taste with salt and serve immediately.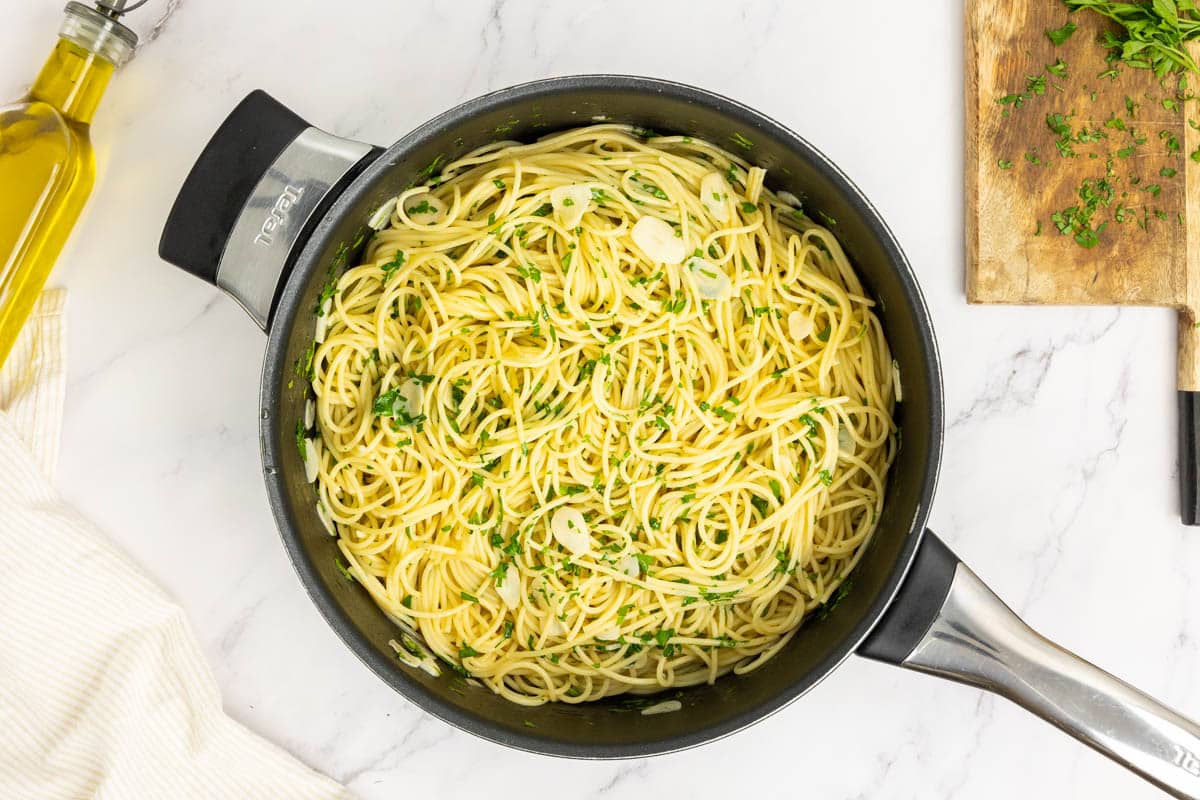 Storage and Leftovers
Storing: Spaghetti aglio e olio is undoubtedly best when enjoyed fresh. However, if you find yourself with leftovers, you can store them in an airtight container. They'll remain good in the refrigerator for up to 3 days.
Reheating: Reheating spaghetti aglio e olio is tricky as microwaving can result in uneven texture, with some pasta pieces becoming dry and hard. I recommend adding a splash of water to a large saute pan, bringing it to a simmer, then adding the pasta aglio e olio. After, turn down the heat to medium and slowly mix until hot.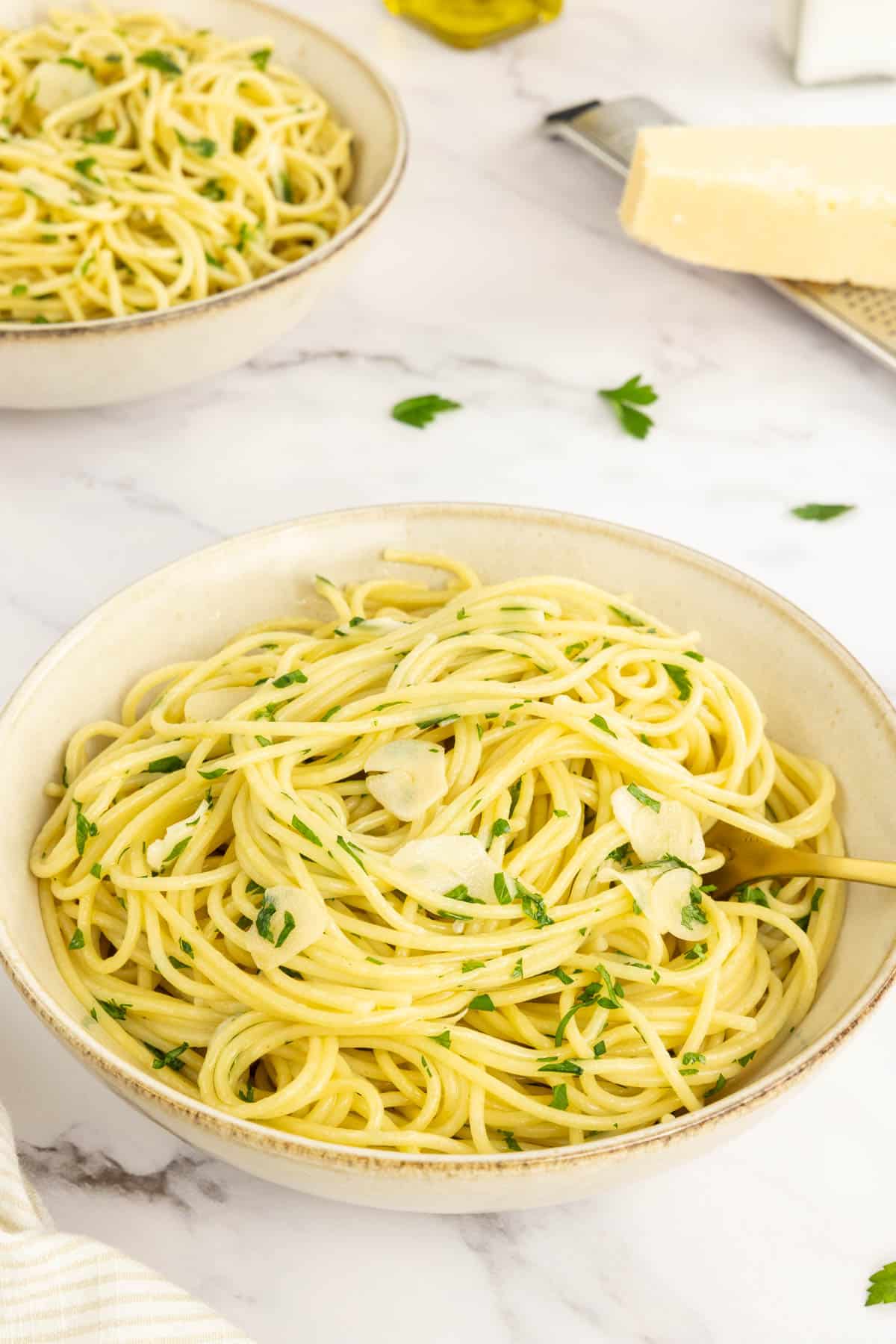 FAQs
Can I use other types of pasta for aglio e olio?
Absolutely! While spaghetti is traditional, linguine and vermicelli are also popular choices in Italy. If you're avoiding gluten, use gluten-free pasta.
Why is my sauce too thin?
If your oil-based sauce feels too runny, it might be due to adding too much pasta water or it hasn't emulsified well. Ensure you stir continuously to help the starchy pasta water meld with the oil to form a silky sauce. If needed, you can reduce it a little over a medium heat.
More Pasta Recipes You May Like:
If you do try this pasta aglio e olio recipe, I'd love to hear what you think. Please write a comment here on the blog or post a comment on the Pasta Project Facebook page.
Your feedback means a lot to me!
Buon Appetito!
Glossary of Italian words in this recipe post.
Aglio: Italian for garlic
Olio: Italian for oil most often used to refer to olive oil unless otherwise stated.
Peperoncino: Italian chilli peppers, usually red or green in colour.
Al dente: Translates to 'to the tooth'. Describes pasta or rice that is still a little firm in the centre once cooked.
Vermicelli: A long pasta similar to spaghetti but slightly thicker. Not the same as Asian vermicelli noodles.
Linguine: A long pasta that's flatter and thicker than spaghetti.
Pin for Later: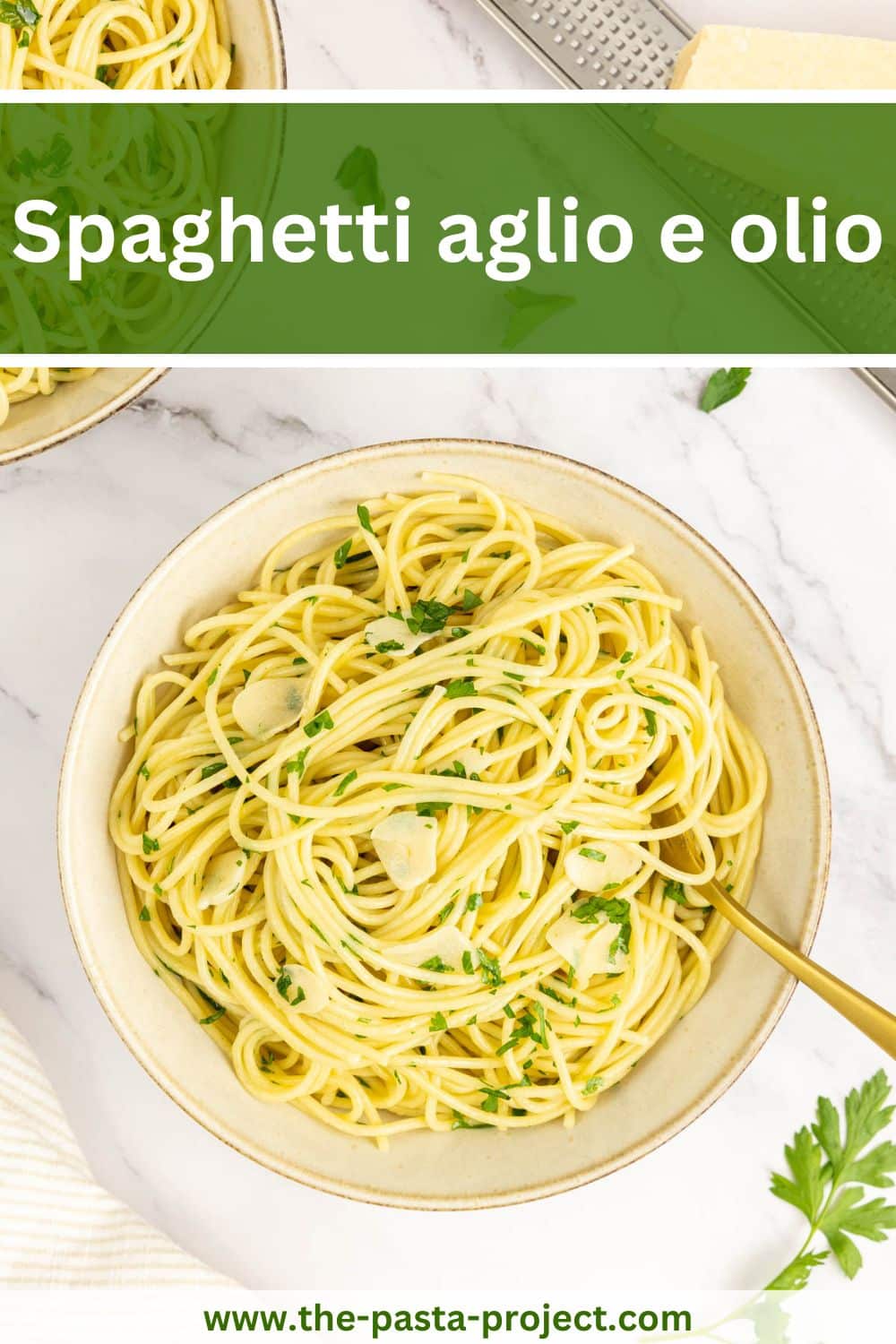 If you are interested in learning how to make homemade pasta and different types of gnocchi, check out my shop page for some great video online courses from my friends in Rome! Nothing beats learning to make pasta from Italians! Plus while you're there why not order a copy of one of my pasta recipe cookbooks? They make great prezzies for pasta loving cooks.