Pasta aglio, olio, peperoncino (alla Borbonica)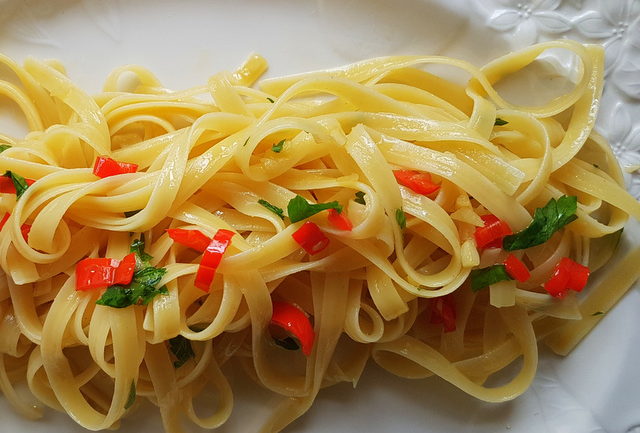 Pasta with garlic, oil and chili pepper (pasta aglio, olio, peperoncino) is the most popular of impromptu pasta dishes in Italy. This is the Italian go-to dish when hunger strikes at midnight or you come home to find the cupboard bare!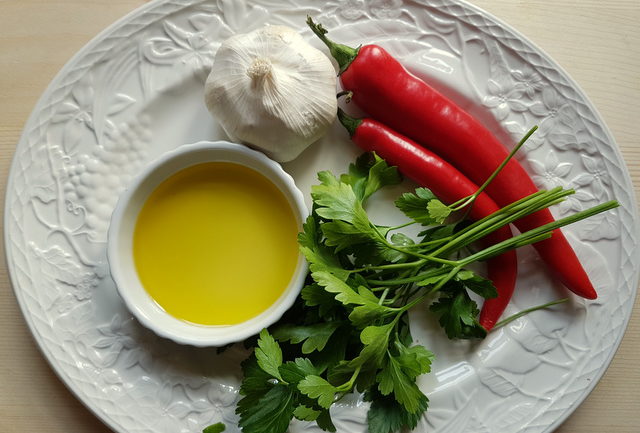 A little pasta aglio, olio, peperoncino history!
Originally this recipe started life as just pasta with garlic and oil (aglio e uoglie in Neapolitan dialect). The peperoncino was added at a later date. It is a typical Neapolitan recipe, part of the range of so-called 'poor' recipes of Neapolitan cuisine (cucina povera) along with 'allo scarpariello, alla puttanesca and pasta with beans (pasta e fasule). I have also read that it was actually the poor version of pasta with clams and also known as 'alle vongole fujute' (meaning with clams which escaped!) The clams (vongole) existing only in the imagination of the person eating the dish!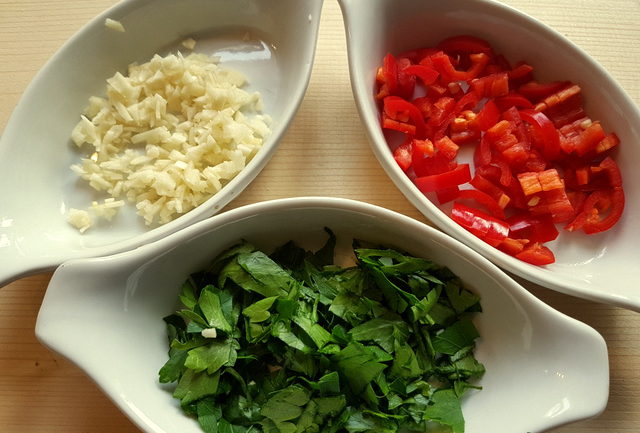 Pasta aglio, olio, peperoncino and the invention of the fork!
Another interesting historical footnote to this pasta recipe is that it is said to be one of the dishes that inspired Ferdinand IV of Bourbon to order the invention of a fork with 4 tines (in those days forks only had 2 tines) so that he could eat 'garlic and oil pasta' without using his hands! In those days the Neapolitans ate pasta with their hands which was of course a messy affair, especially once they started adding tomatoes to it! So this dish was once also known as 'alla Borbonica'. If that food legend is true, forks with 4 tines were invented in order to eat the original pasta aglio, olio e peperoncino!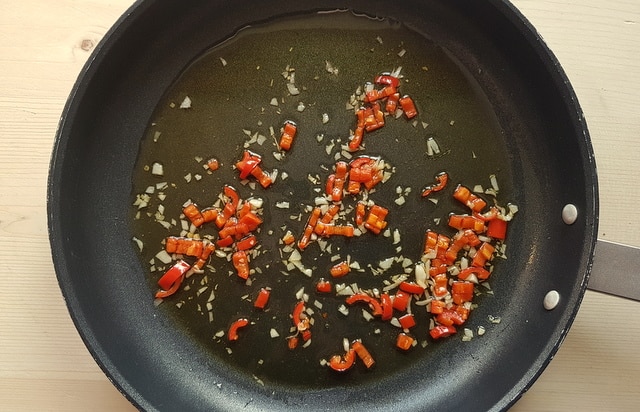 What pasta to use?
Despite its extreme simplicity or perhaps because of it, today this is one of the most loved and widespread pasta recipes both in Italian homes and in restaurants that offer rustic and authentic menus.
Traditionally this recipe is made with one of three pasta types; vermicelli, spaghetti or linguine. Although nowadays, some people also use short pasta such as penne and here, I have used fresine; a ribbon pasta from Gragnano, near Naples.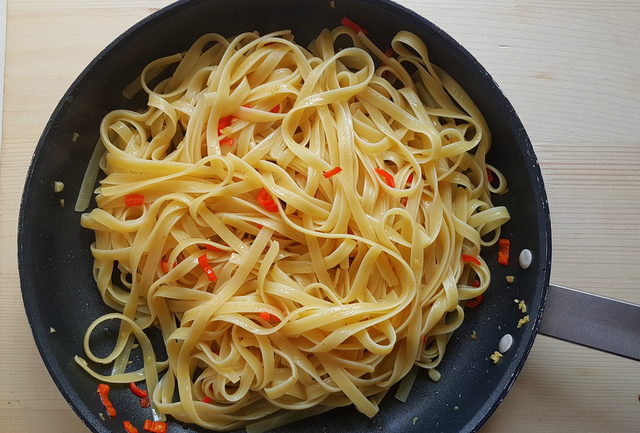 As in all the simplest recipes, the secret to a good pasta aglio, olio e peperoncino lies in the quality of the ingredients. It may seem a super simple dish, but it's not quite as simple as it seems. Plus, there are a number of slight variations to the recipe!
Good quality ingredients are the secret!
Apart from the choice of pasta, the way in which the garlic is added differs from recipe to recipe. Some people peel and cut the garlic into pieces (never finely chopped though). Others use whole peeled garlic cloves and remove them once the oil is infused with the garlic flavour. The important thing is not to let the garlic burn or it will taste bitter.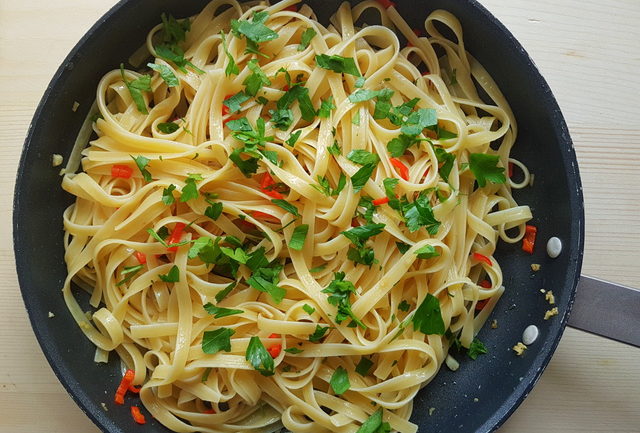 The peperoncino is best used fresh with the seeds removed and cut into small strips or circles. However, dried peperoncino is often used too! The best Italian peperoncino comes from Calabria.
Most importantly, is the use of extra virgin olive oil, despite the fact that extra virgin olive oil has only existed since world war II! However, the better the olive oil, the better the dish tastes!
A very healthy plate of pasta!
Interestingly, although probably not a consideration when pasta aglio, olio e peperoncino was invented, this dish is very healthy and nutritious! Garlic and, in particular, its main active ingredient, allicin, contributes to reducing the risk of serious cardiovascular diseases. It is also antibacterial and anti-inflammatory.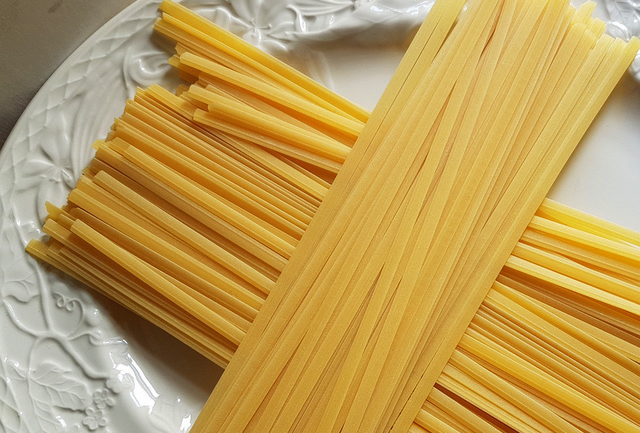 Extra virgin olive oil is a known source of polyphenols, effective antioxidants and unsaturated fatty acids. In particular oleic acid which helps to keep the cholesterol concentration in the blood under control. And fresh chili is a source of vitamins, carotenoids and minerals such as potassium, calcium and phosphorus and capsaicin, known for its effectiveness as a digestive and antioxidant and is also antibacterial.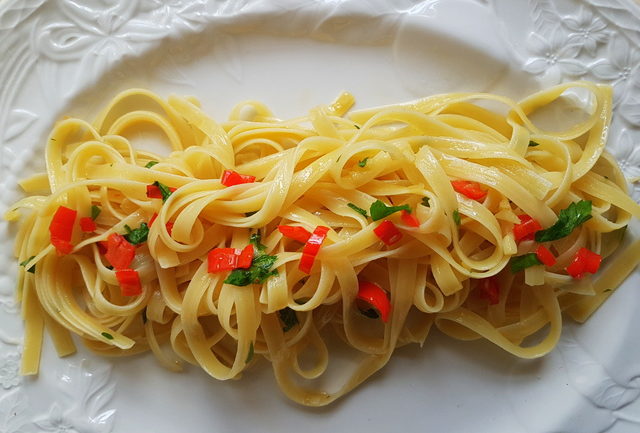 Not everyone likes garlicky and spicy food. But, if you do, pasta aglio, olio, peperoncino is a seriously good recipe and, like the Italians, you may find it a very useful dish for those days when you don't have much in the larder or need to feed people at an inconvenient hour! I've lost count of how many times we've served this up in the early hours after a party because the house is still full of guests and they're hungry!
Buon appetito!
(go to the next page to see the recipe. Just scroll down and click 2)