A fresh easy-to-make recipe from the Amalfi coast.
This fresh tomato vermicelli di Positano recipe is great for summer. You only have to cook the pasta and marinate the vegetables and herbs. Perfect for vegetarians and vegans, easy, nutritious and delicious!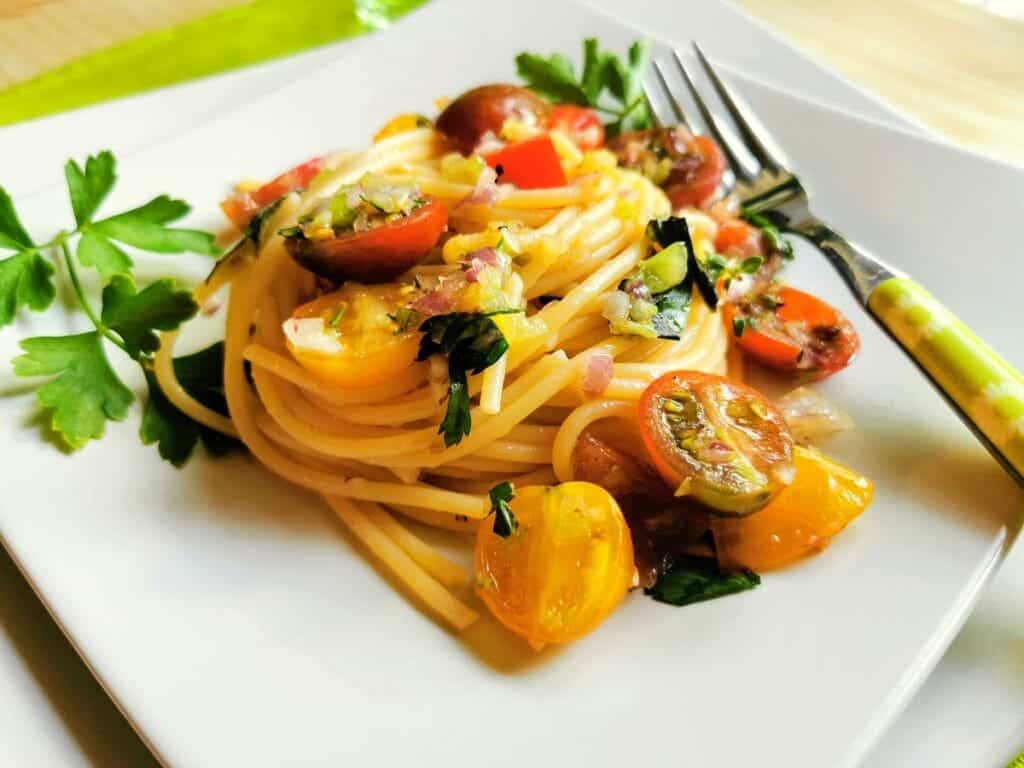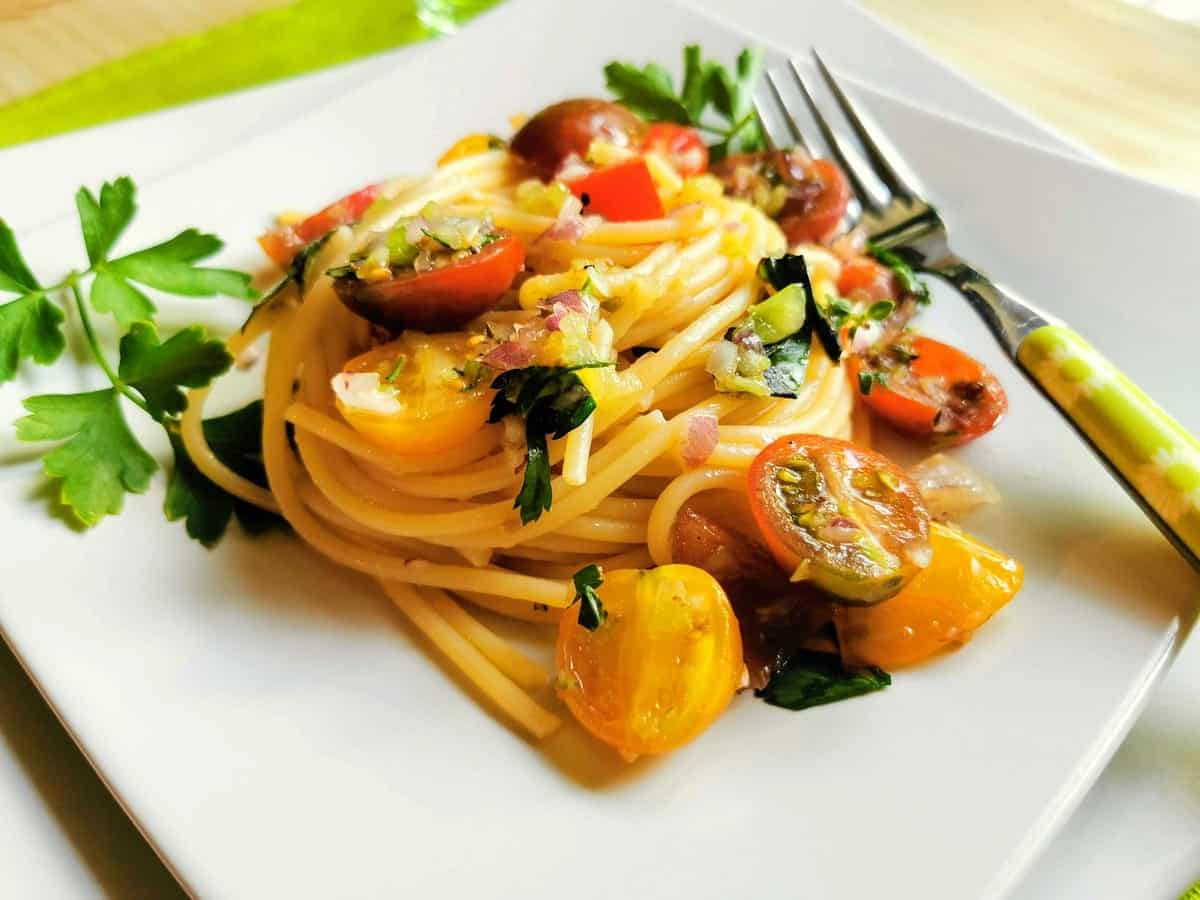 Have you ever been to Positano? For many Italians and tourists, Positano and the Amalfi coast represent not only the real essence of Italy but Italian cooking at its finest.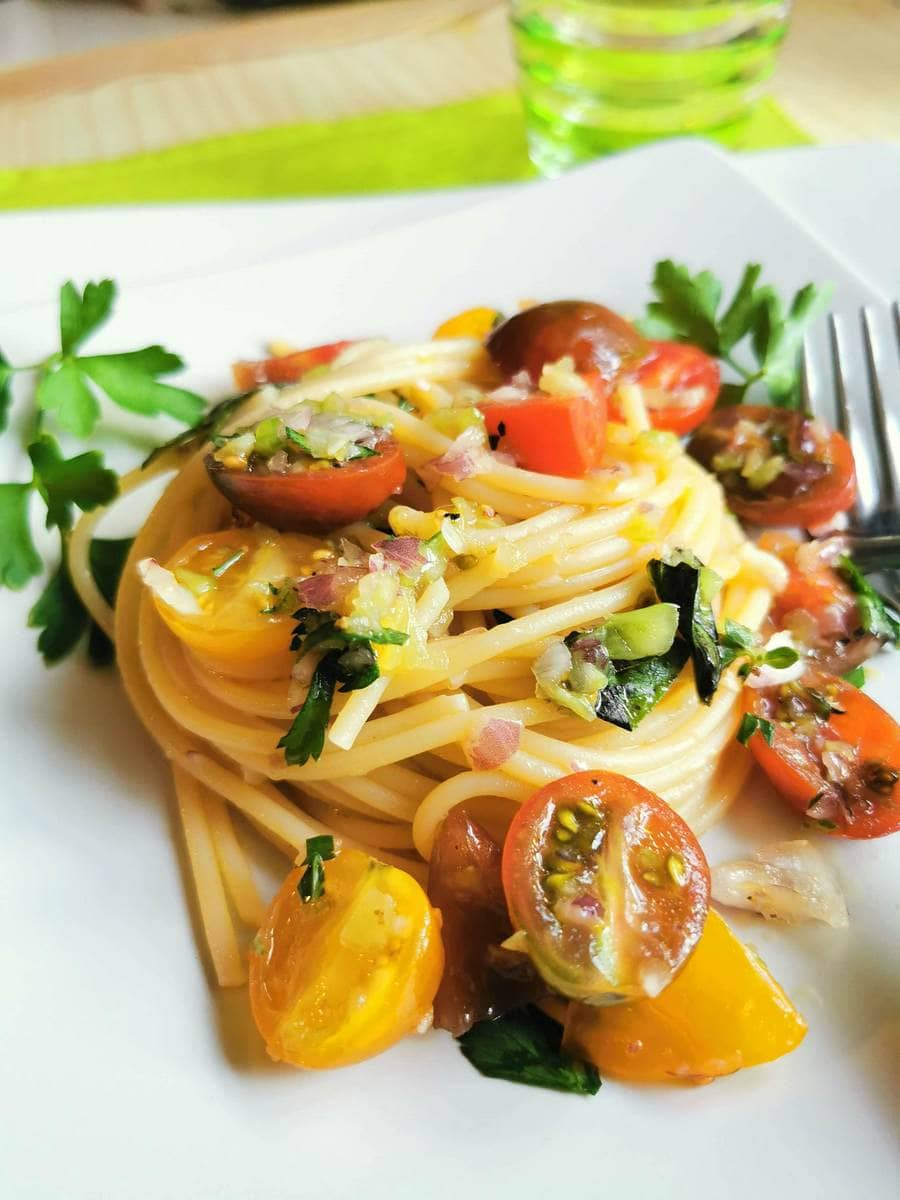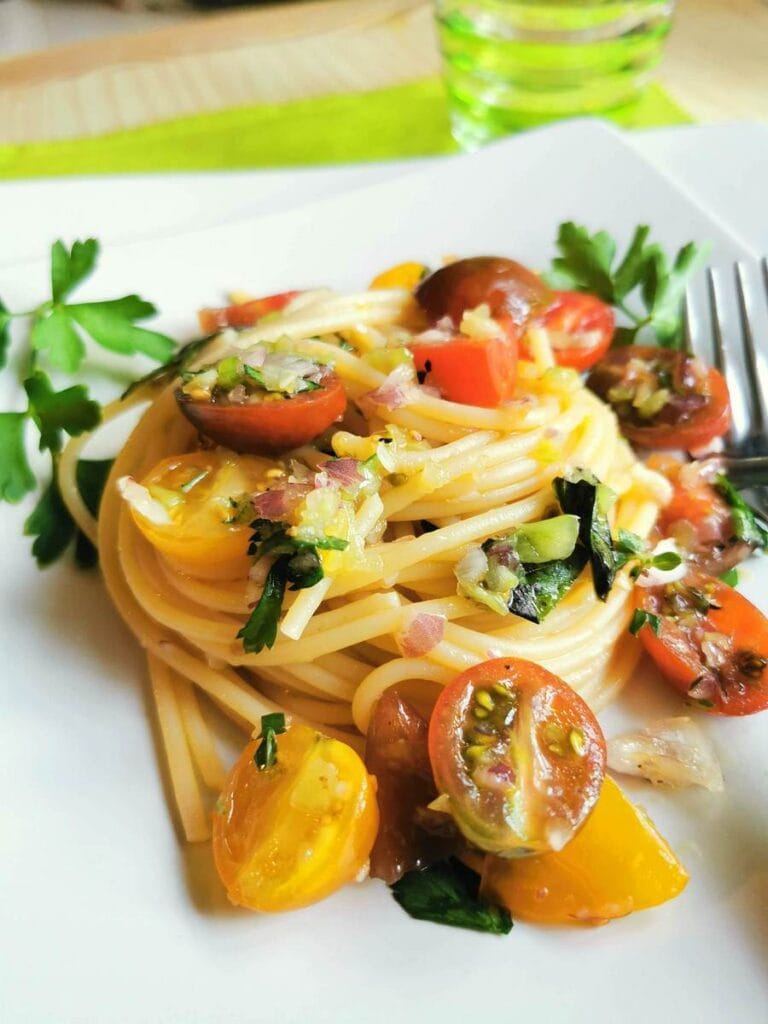 The cuisine in this part of Italy is full of delicious seafood, wonderful vegetables and fruit ripened in the Mediterranean sun, as well as meat and cheese from the Lattari mountains. However, for me, it's the marriage of all this produce with pasta that makes the food in this part of Italy so scrumptious!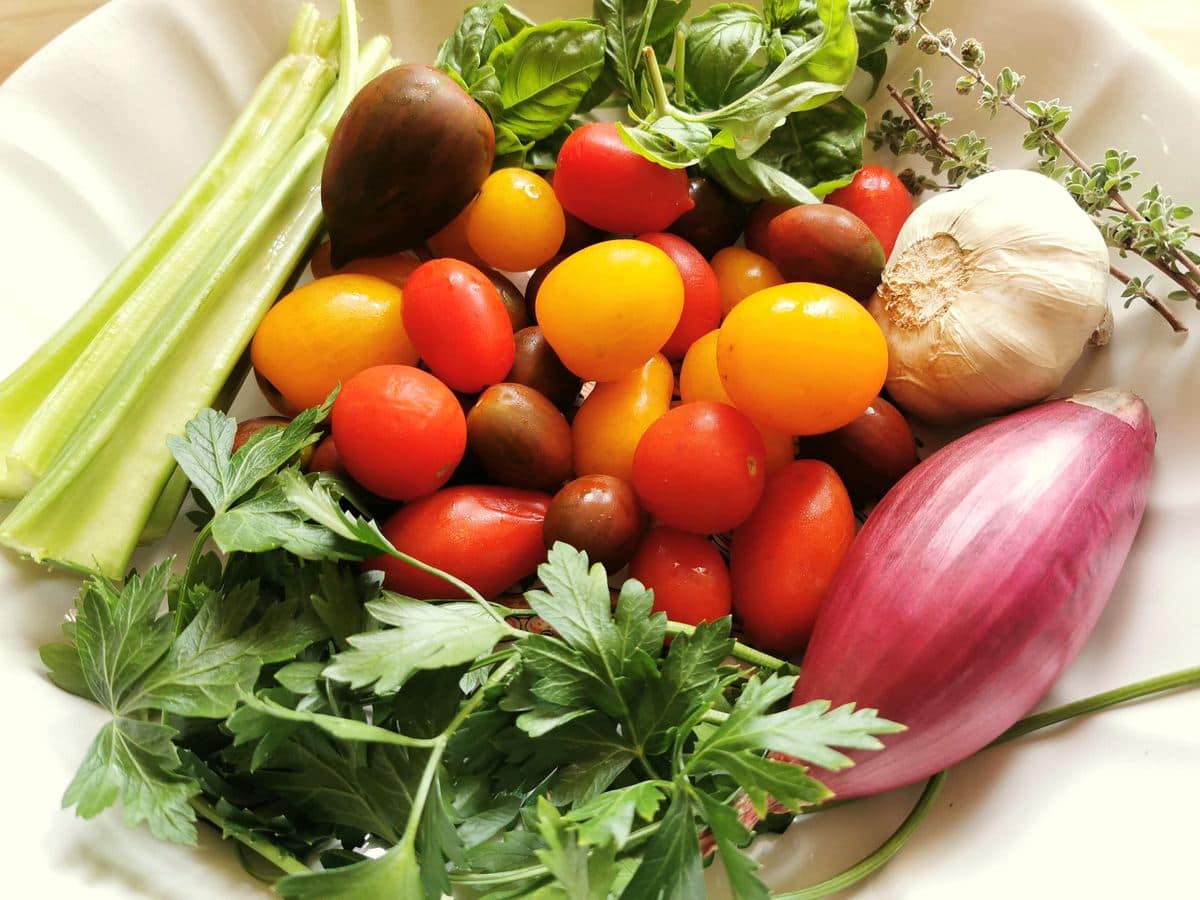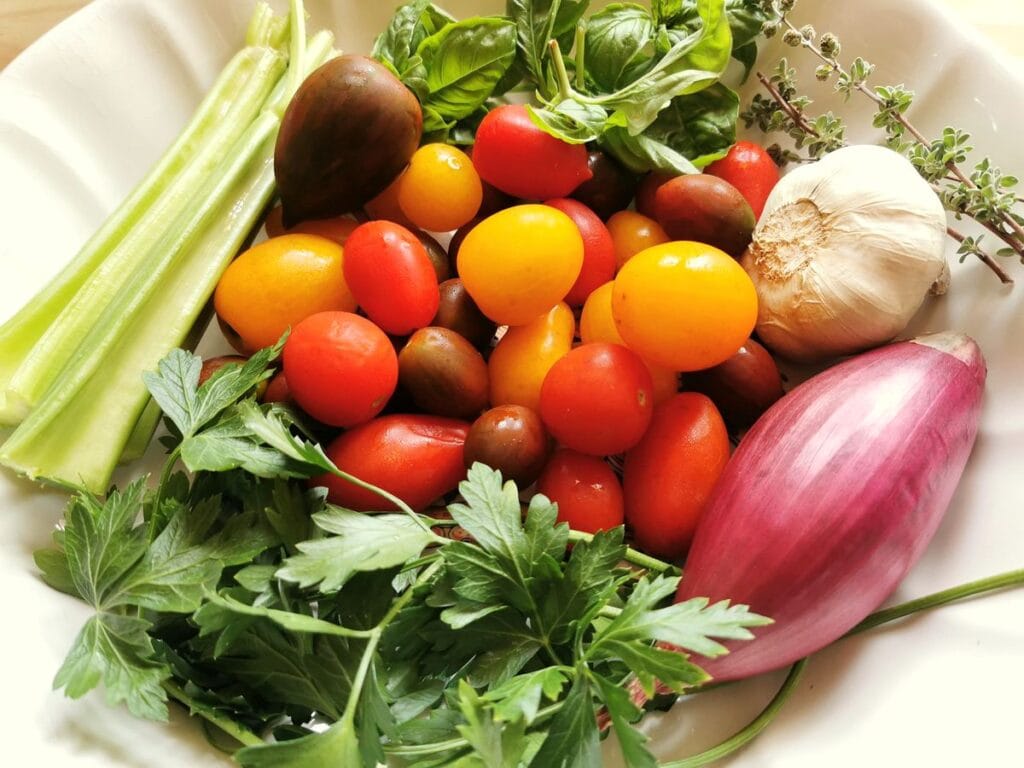 Gragnano pasta.
Positano is only an hour's drive from Gragnano, a city that has been producing what many believe to be the best dried pasta in Italy (and the world) since 16th century. Needless to say that both the quality and taste of pasta in this area is most probably the best you will find anywhere.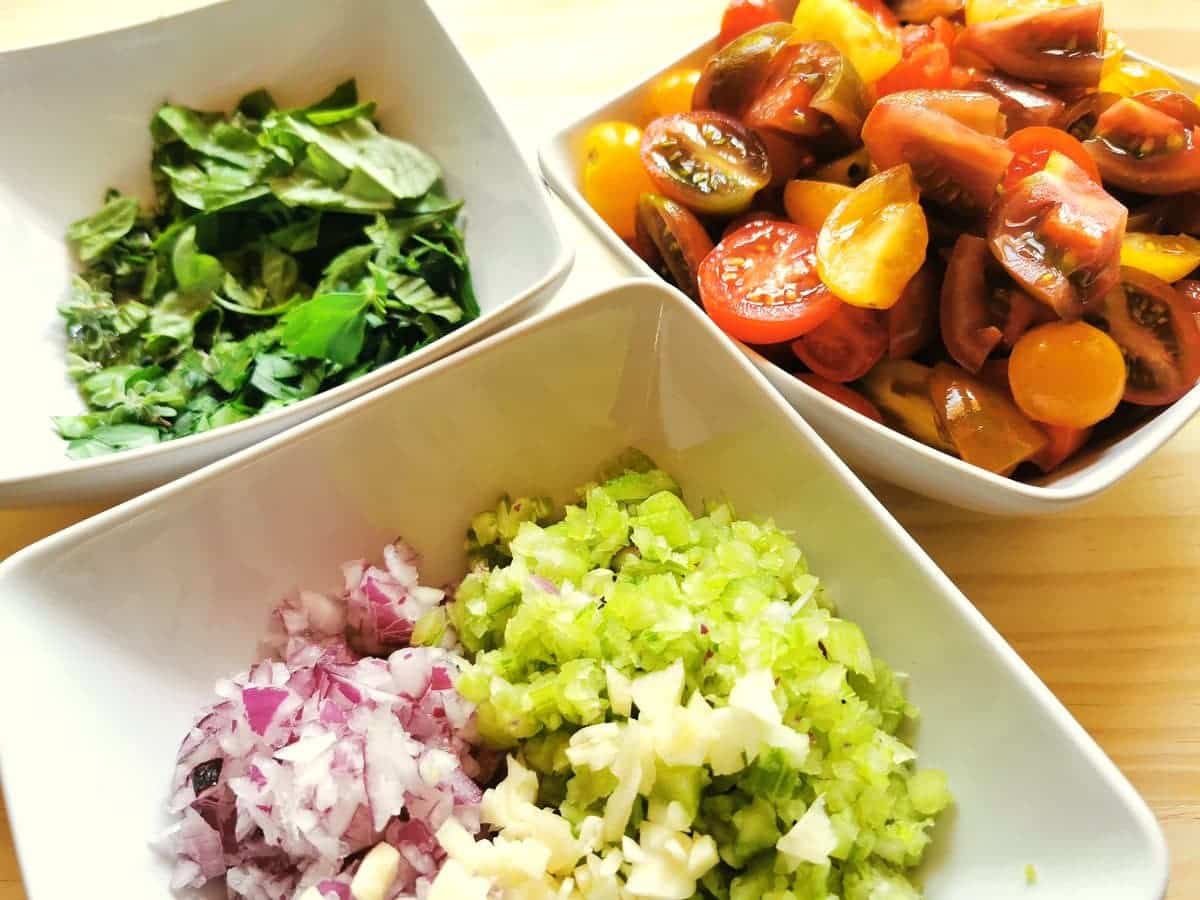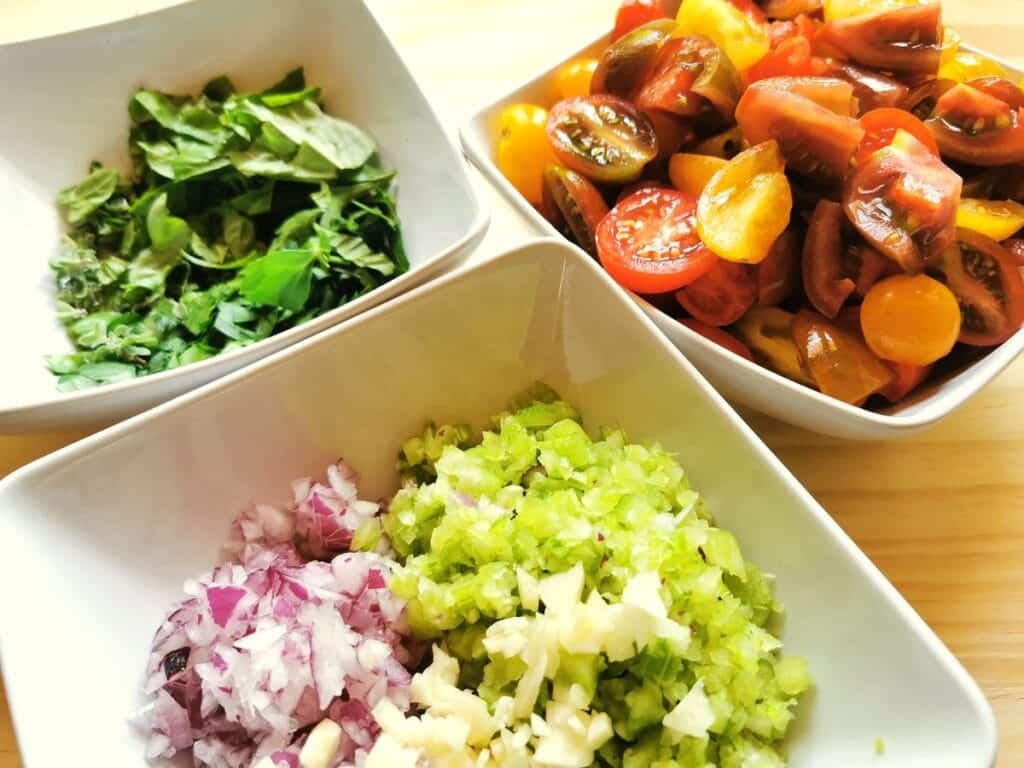 For this recipe I used vermicelli made by Garofalo, a company that has been producing pasta in Gragnano since 1789! However, there are many other excellent pasta makers in this area. If you can't find vermicelli from Gragnano, you can, of course, use other makes of vermicelli or even very thin spaghetti. Linguine is also a popular choice for pasta positano!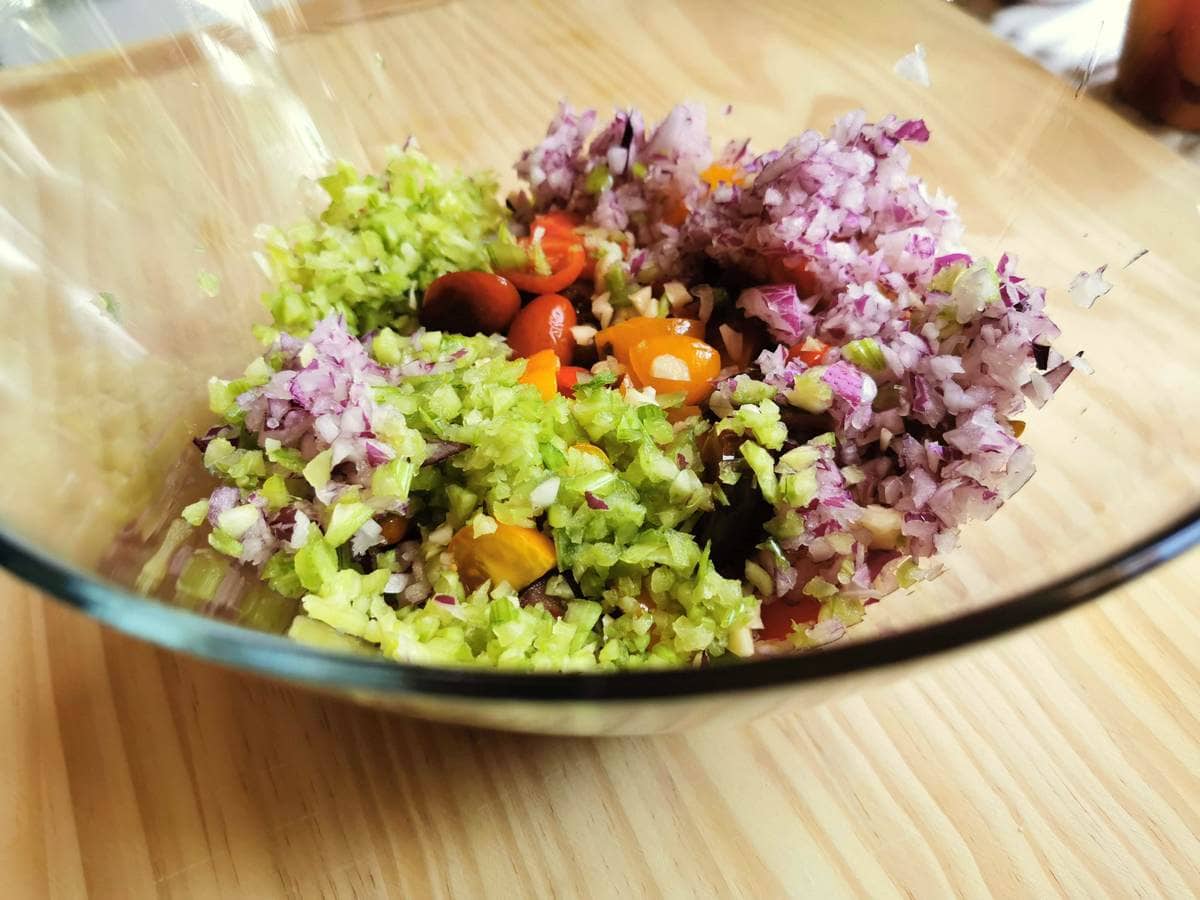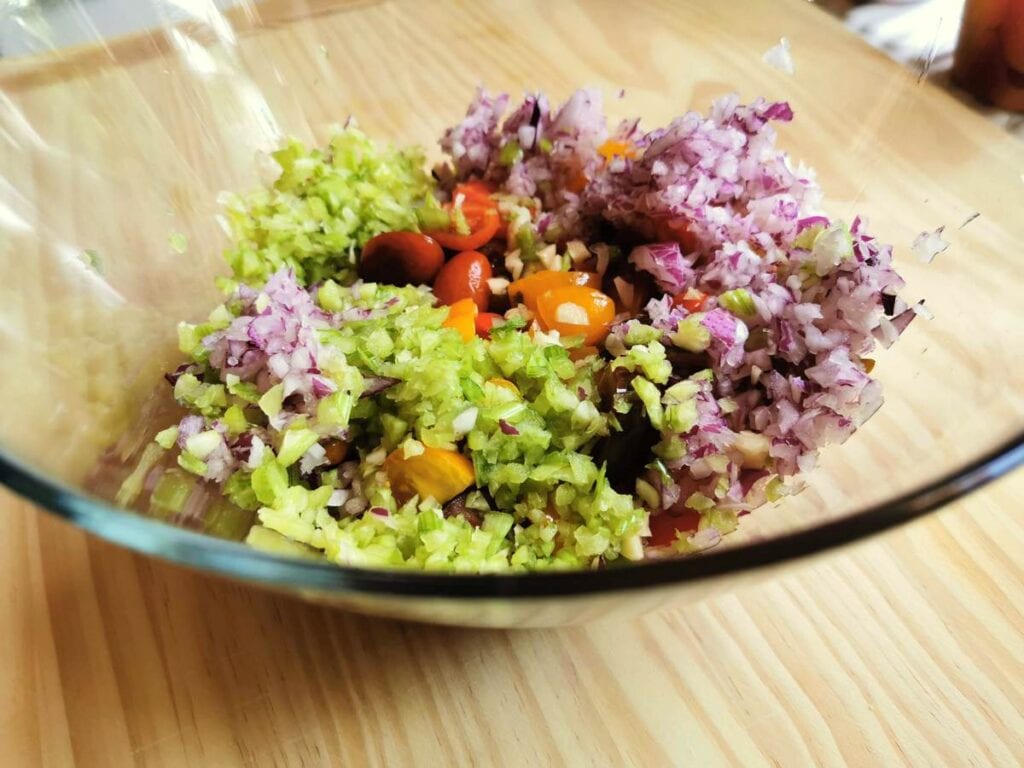 Pasta recipes from Positano and Amalfi!
The list of pasta dishes from this part of Italy is pretty long, especially when it comes to seafood pasta dishes. However, some of these are not so easy to make at home and in many places fresh seafood is either very expensive or hard to come by.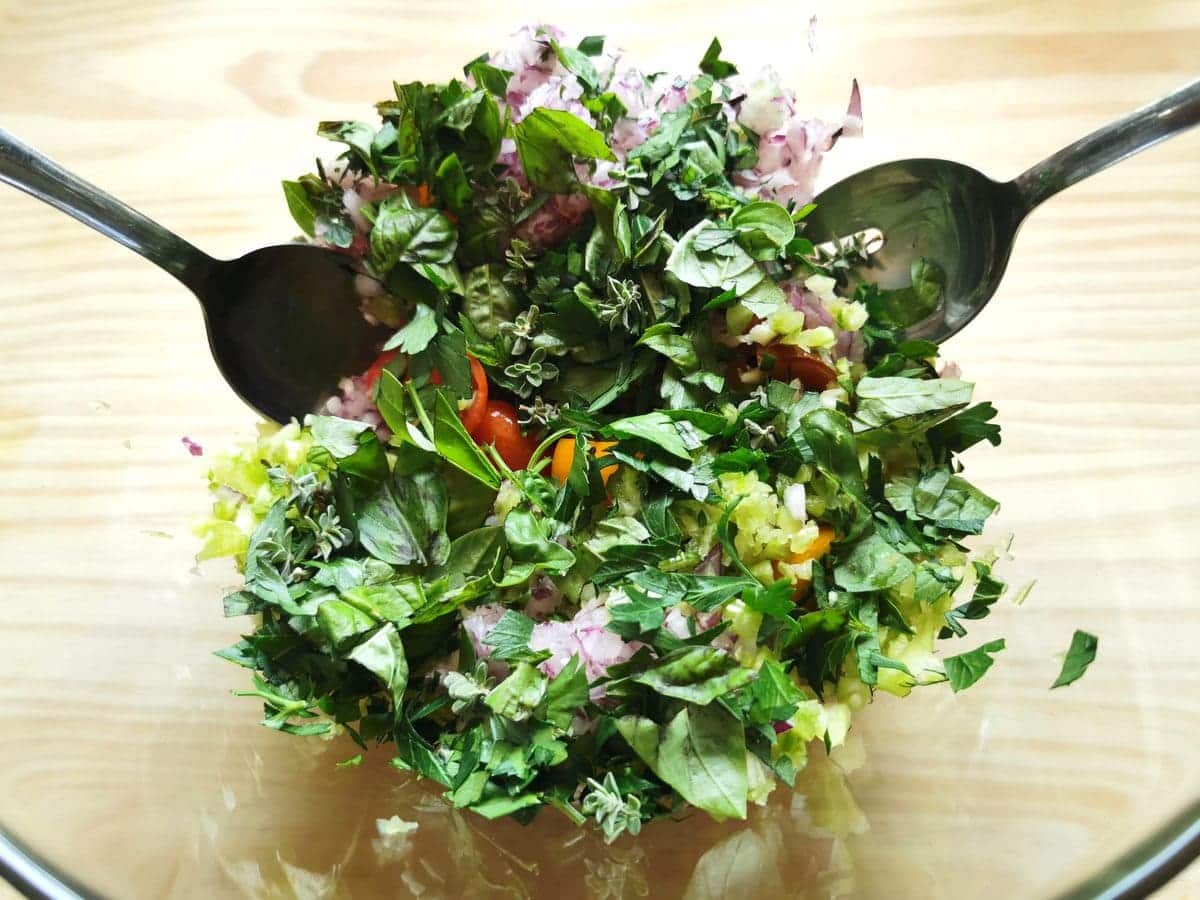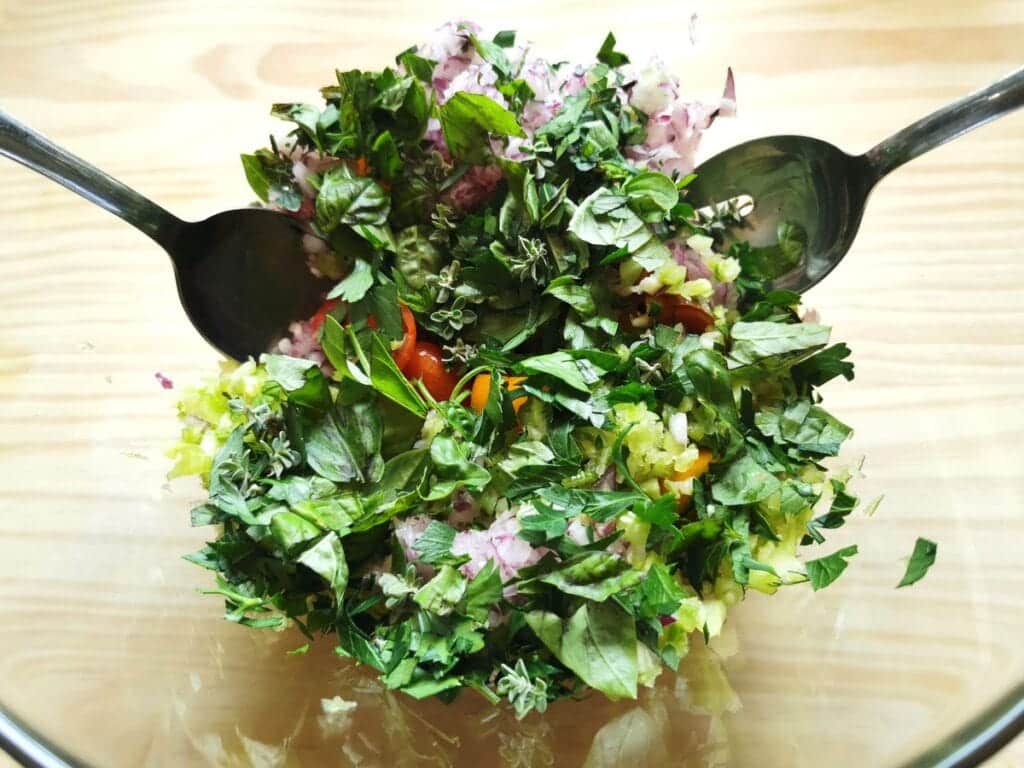 Having said that, there are many recipes from this part of Italy which CAN be made at home and will definitely appeal to seafood lovers, non-seafood lovers and vegetarians. Included in this list and already posted on the Pasta Project so far are 'spaghetti alla Nerano' (with fried zucchini), 'spaghetti al limone with ricotta', 'creamy linguine al limone' and 'spaghetti alla puttanesca' which needs no introduction to most pasta lovers!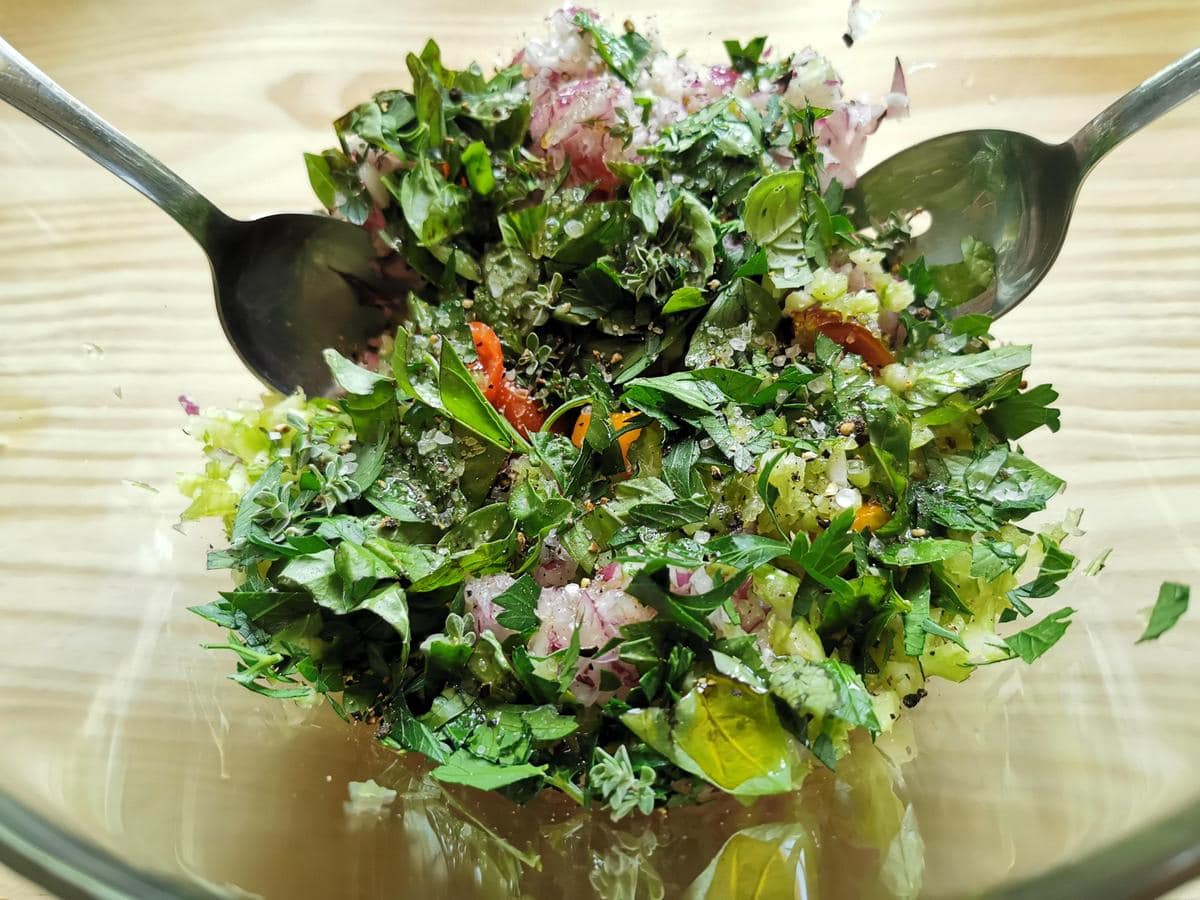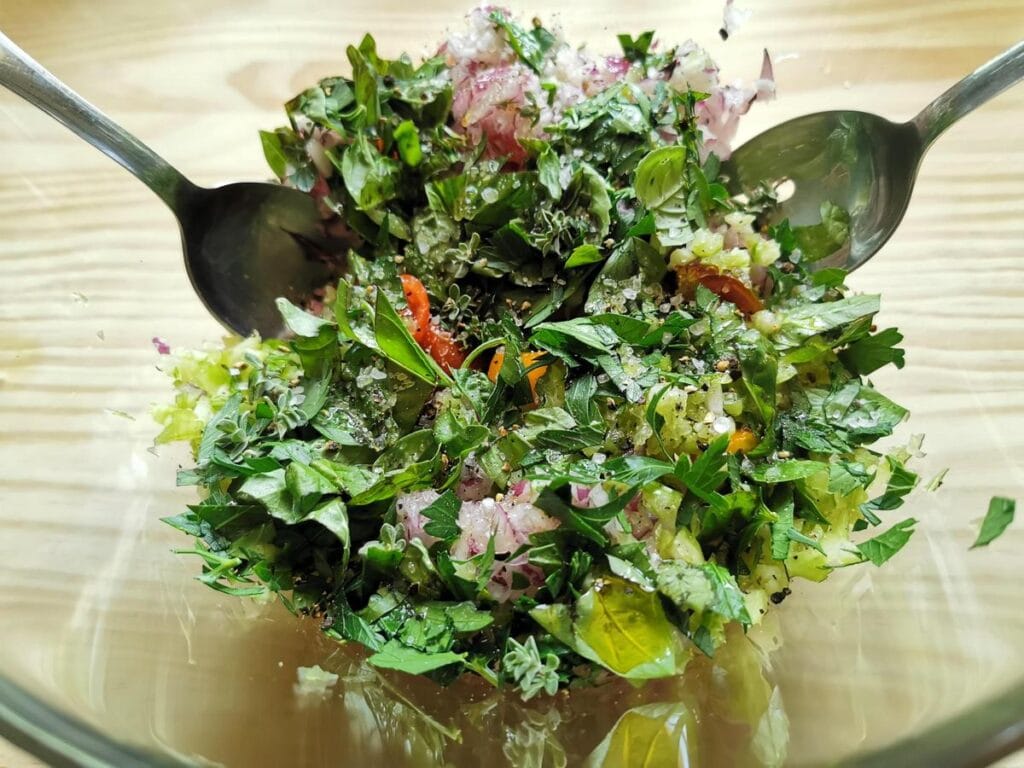 As with many Italian recipes, there are a number of different versions of pasta di Positano or alla Positano. I decided on this vermicelli recipe because it's so perfect for summer and here in Italy it's pretty hot at the moment. The forecast for Verona tomorrow is 34 degrees Celsius. So, heavy pasta dishes will have to wait for cooler weather!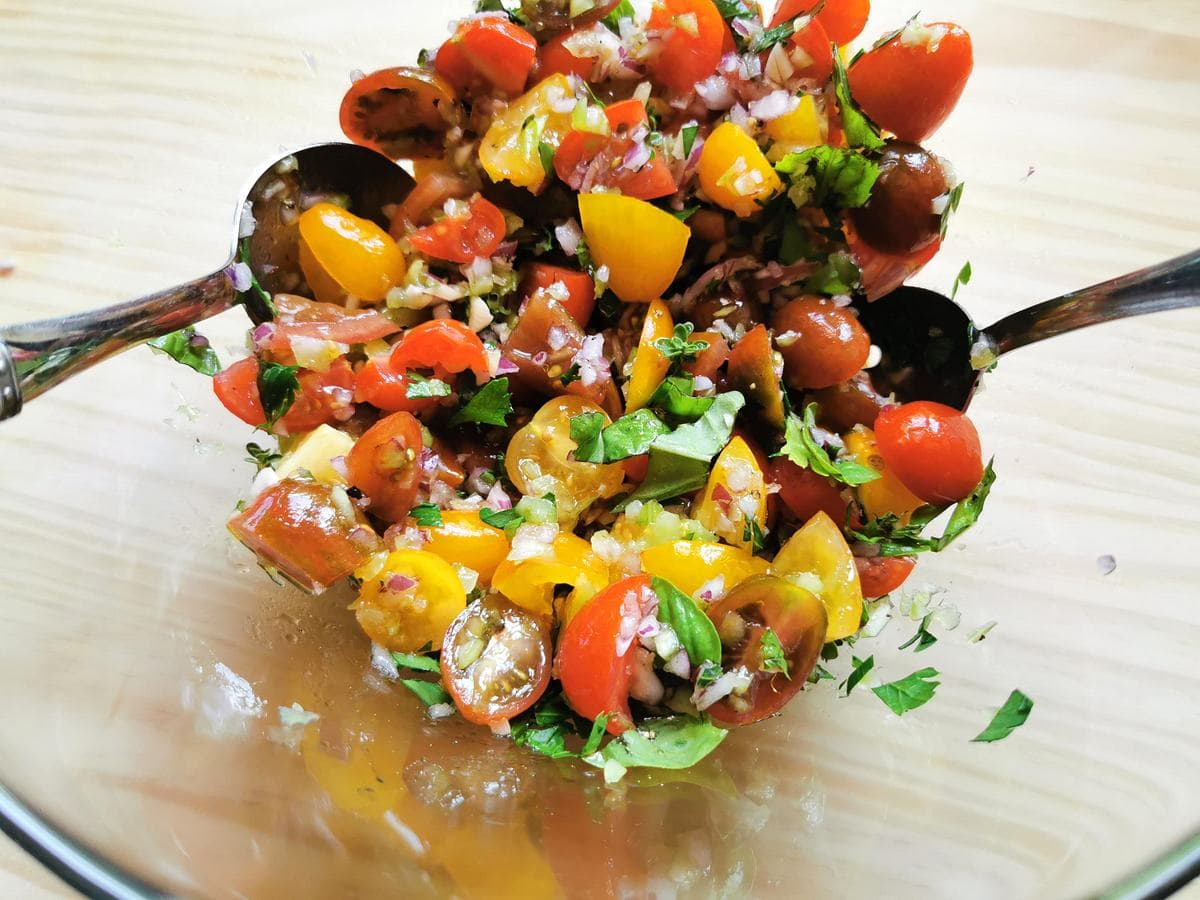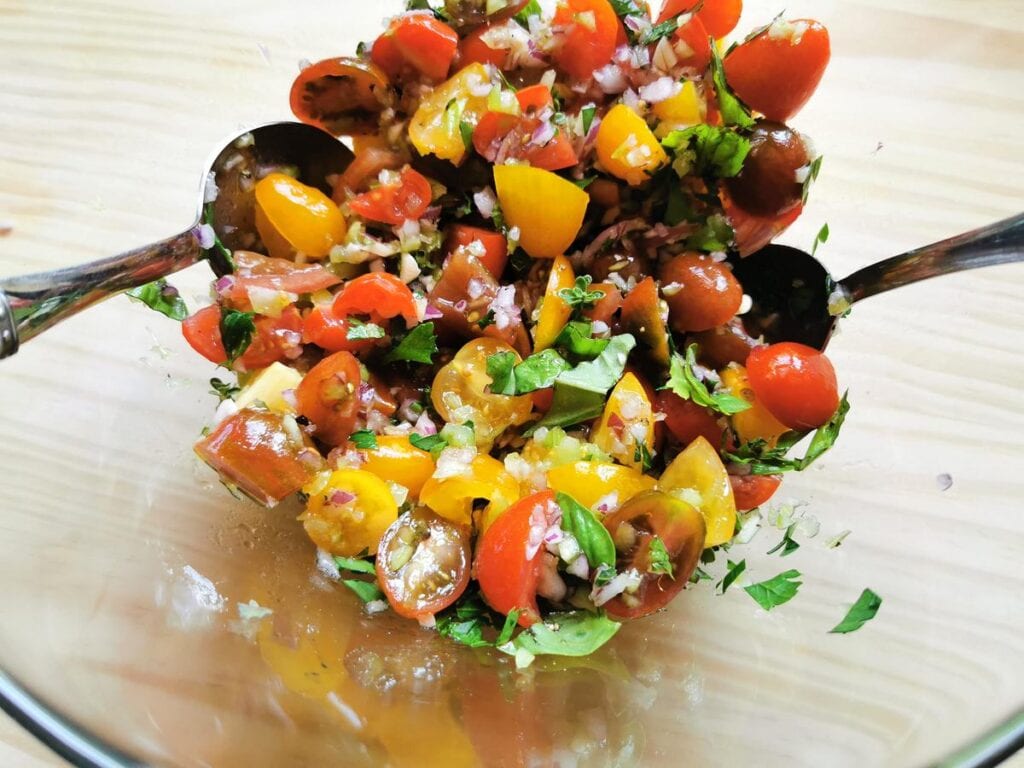 Making this vermicelli di Positano.
Not only is this vermicelli di Positano recipe light, but it's also a super easy no-cook recipe. In fact, you only have to cook the pasta. The rest of the ingredients just need to be chopped and then marinated in extra virgin olive oil for an hour or two. I've found the longer you leave the veggies the better the flavour. So, two hours is actually better than one!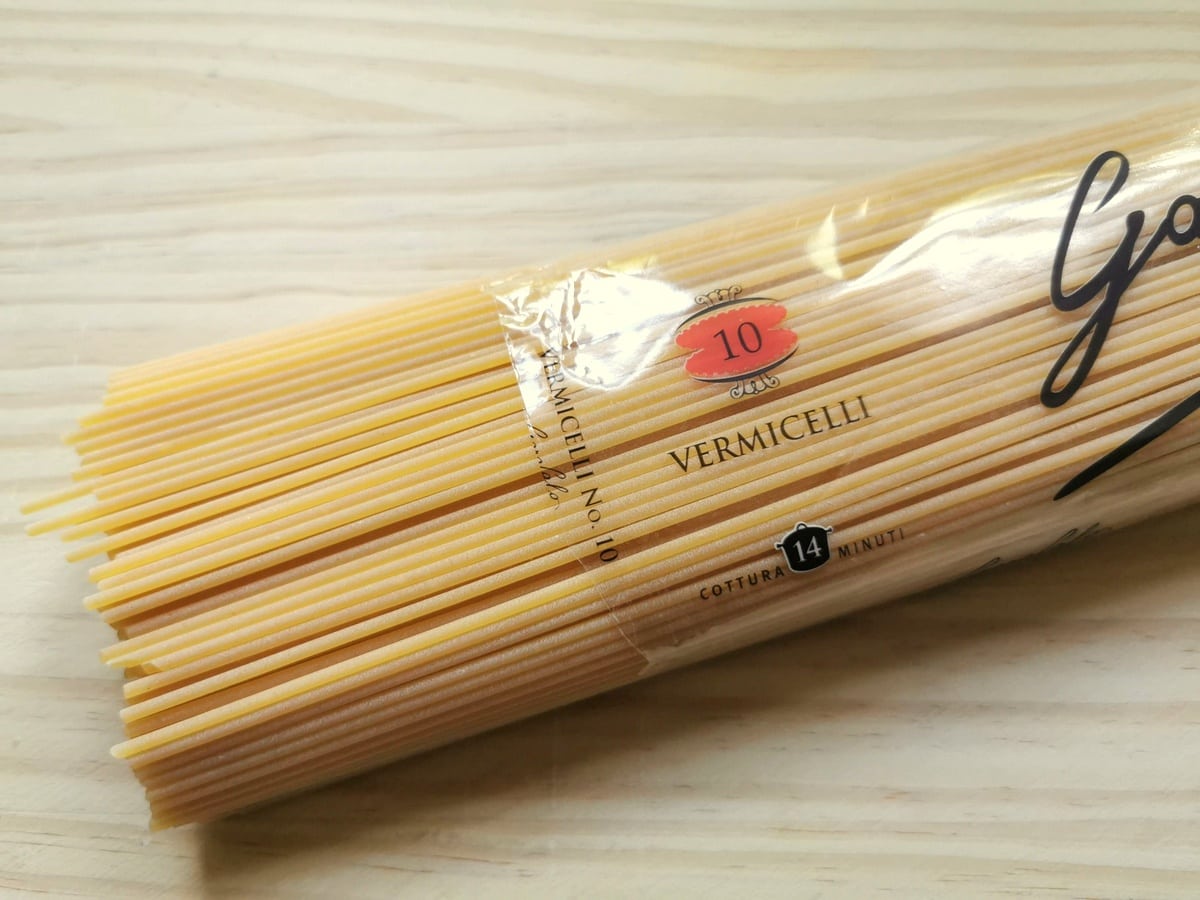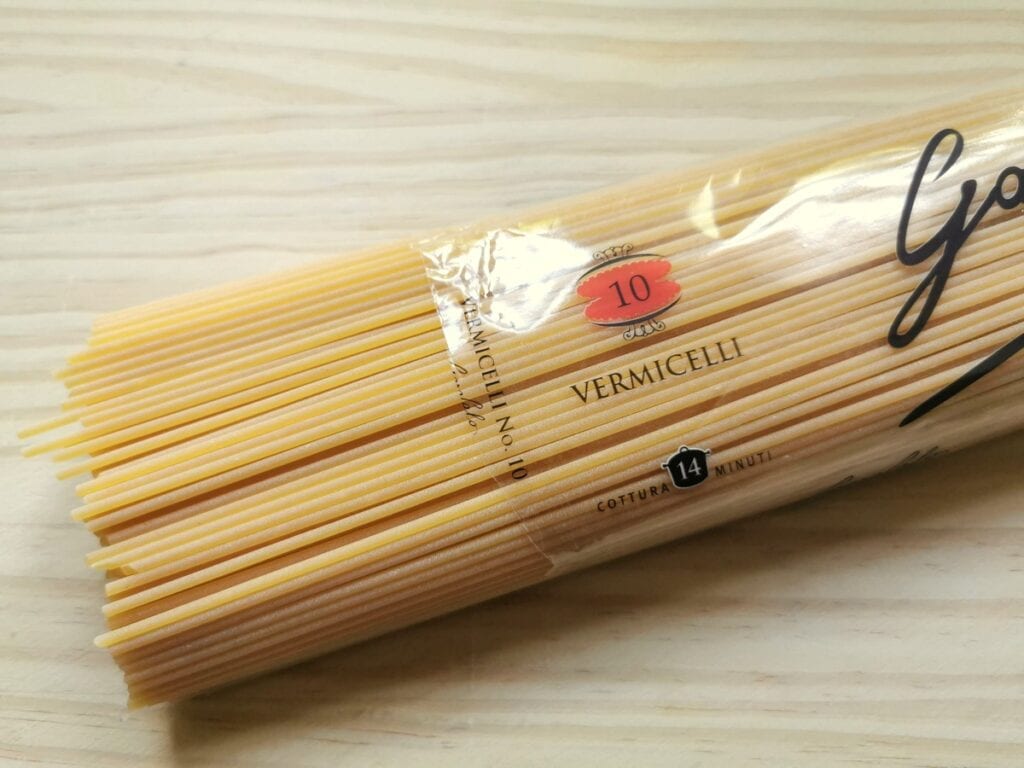 The tomatoes for this Positano pasta recipe.
As you can see from the photos, I used different coloured datterini tomatoes in this dish. However, I have also made it with only red datterini or cherry tomatoes. It tastes just as good! Make sure the tomatoes are ripe but not too soft as the olive oil will soften them.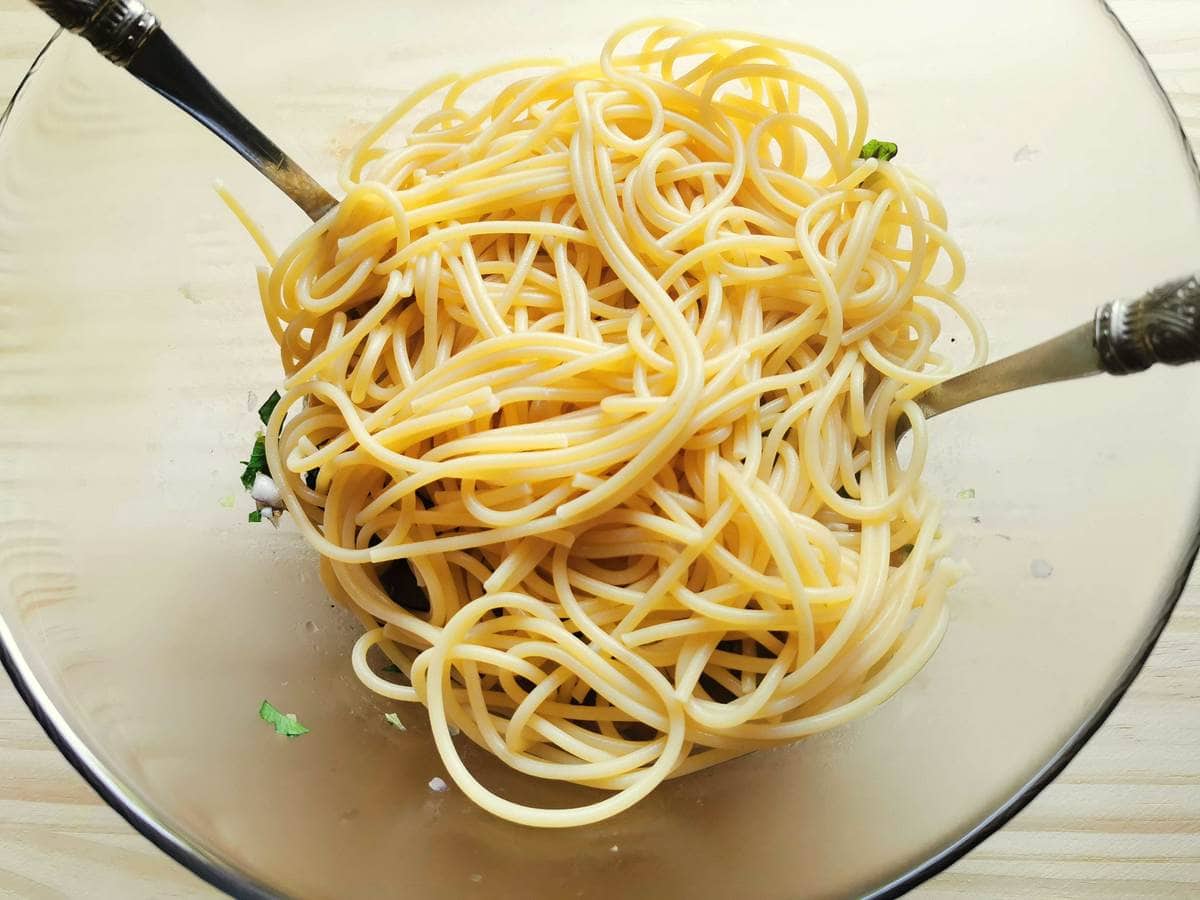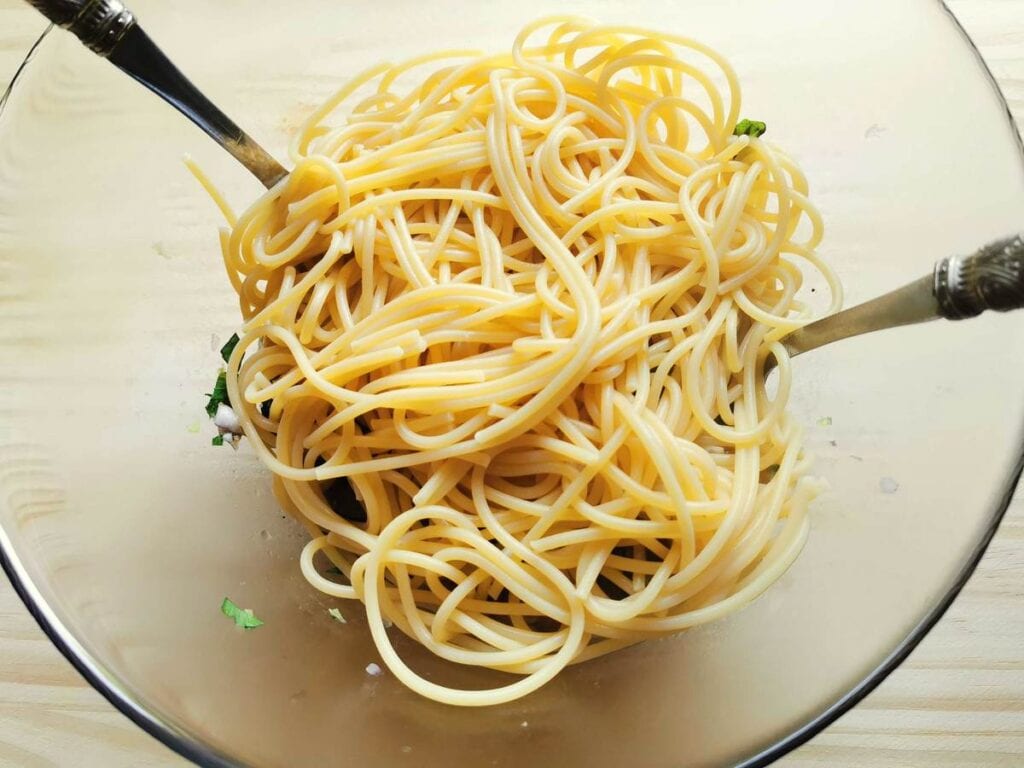 Once you have cooked your pasta, just mix it with the vegetables and herbs and serve! Give it a try. I'm sure you'll agree it's a super dish to add to your pasta repertoire.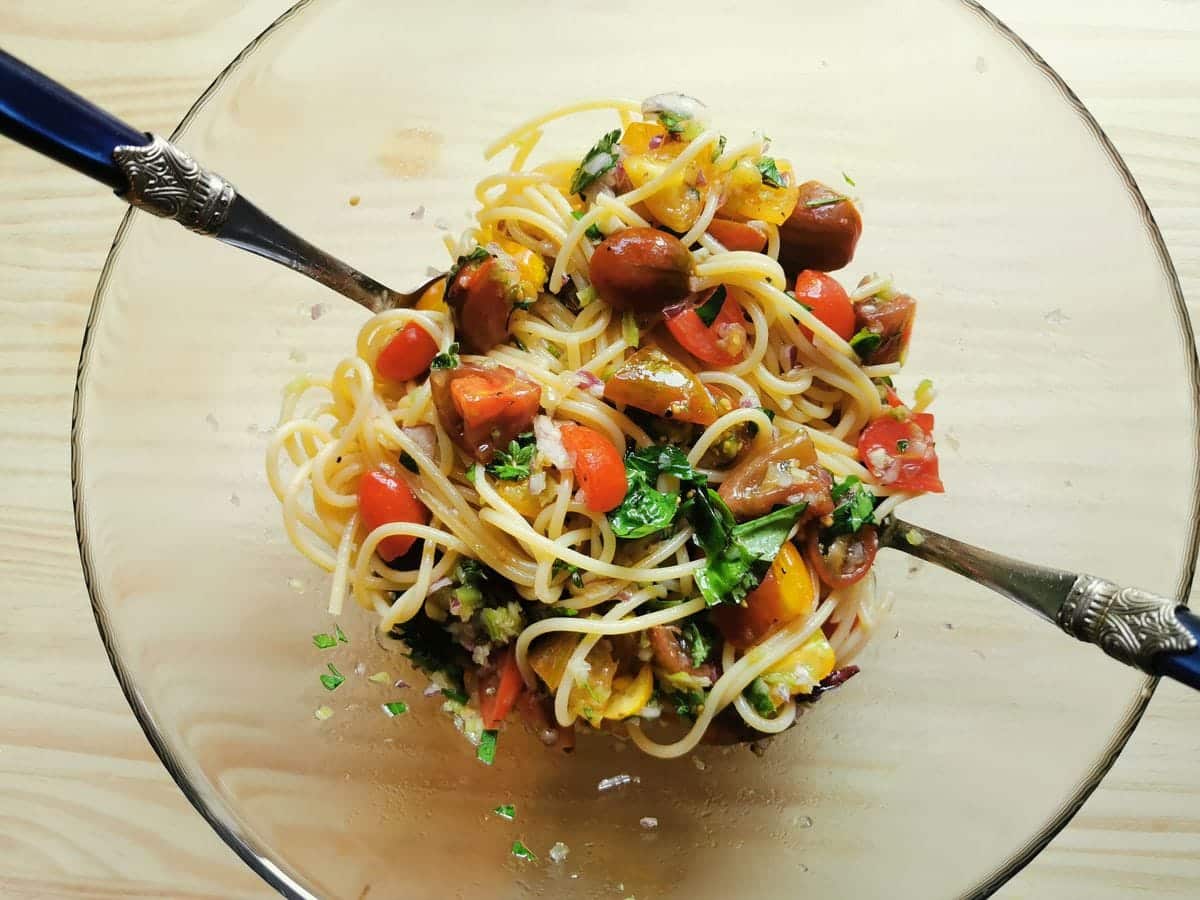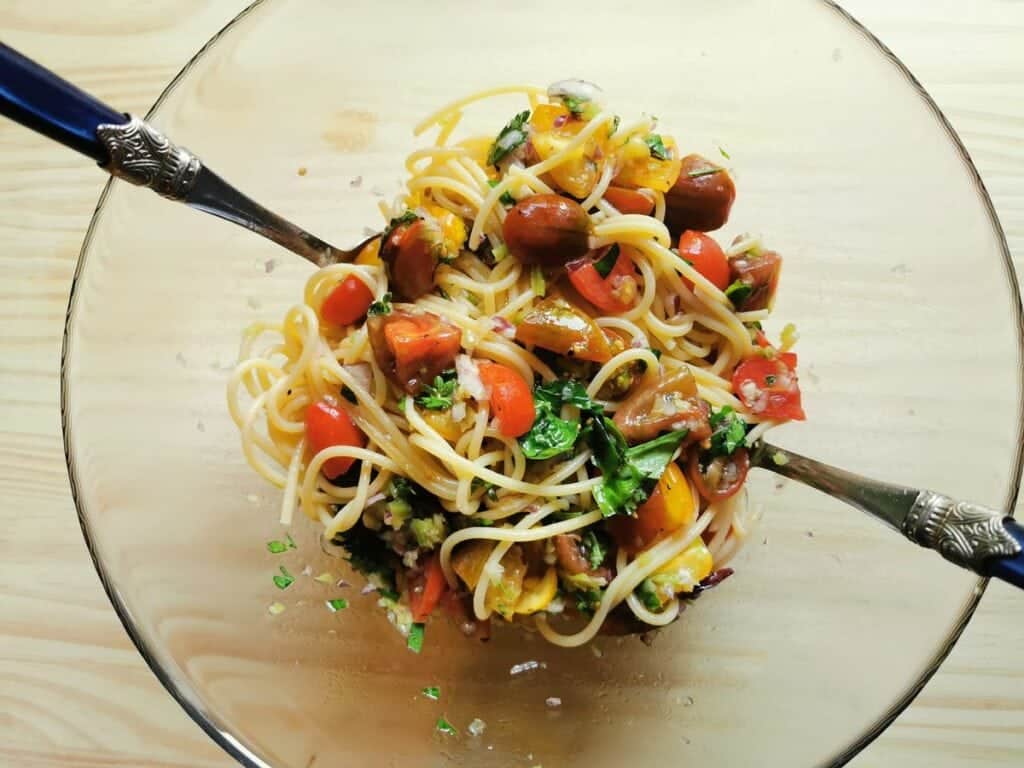 If you make this vermicelli di Positano recipe I'd love to hear how it turns out and if you liked it. Please leave a comment here on the blog or on The Pasta Project Facebook page. Looking forward to hearing from you!
Buon appetito!
(This recipe was originally posted 12 July 2017, but it has been updated with new photos and text!)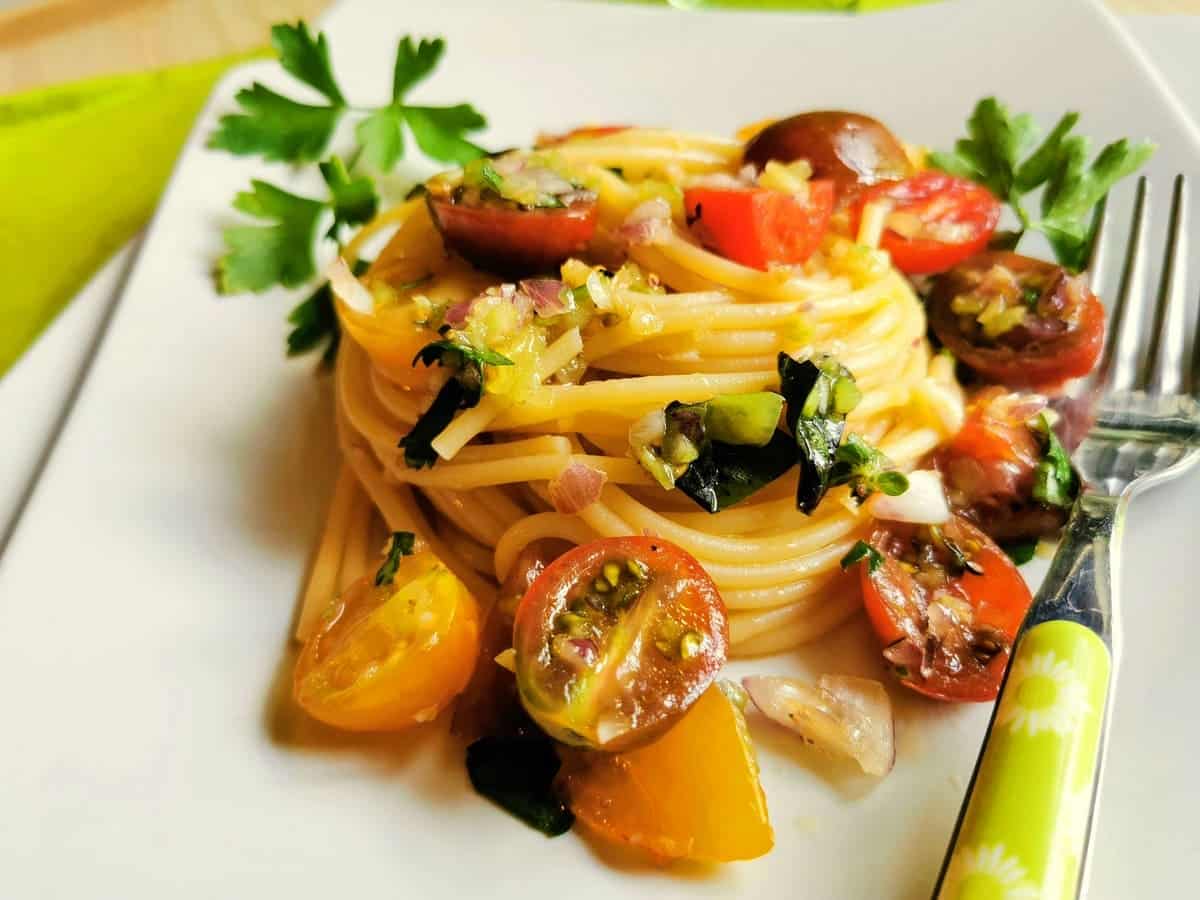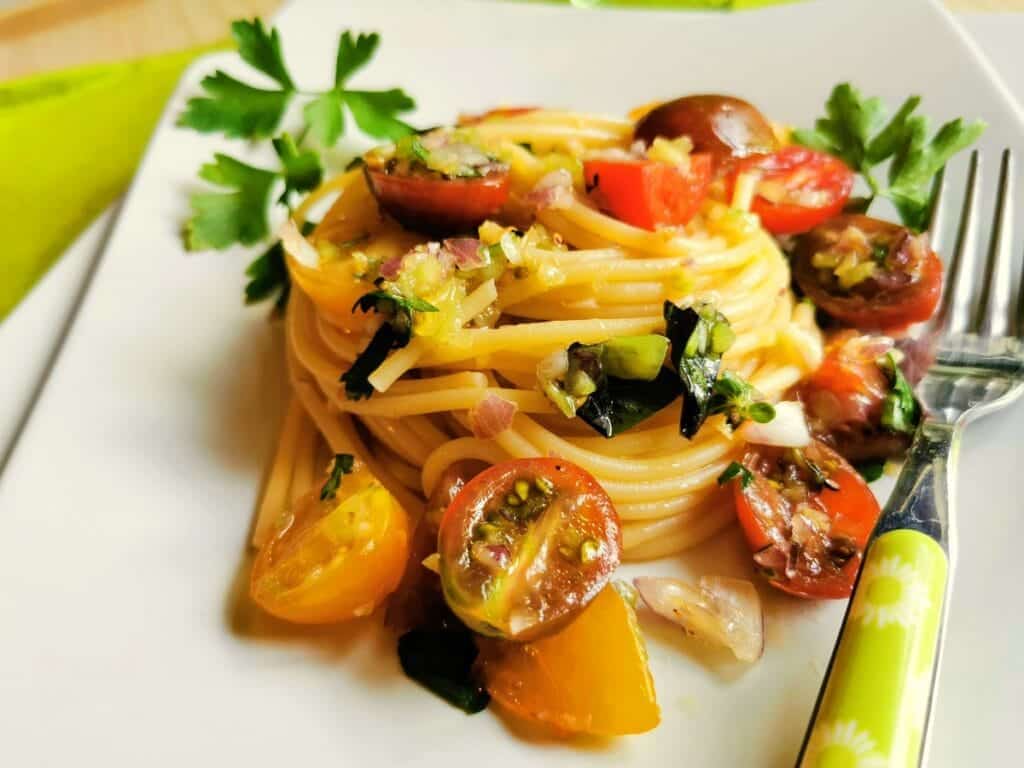 Save this recipe for later?
If you want to save this recipe for later, you can print it, bookmark this page or save it to Pinterest.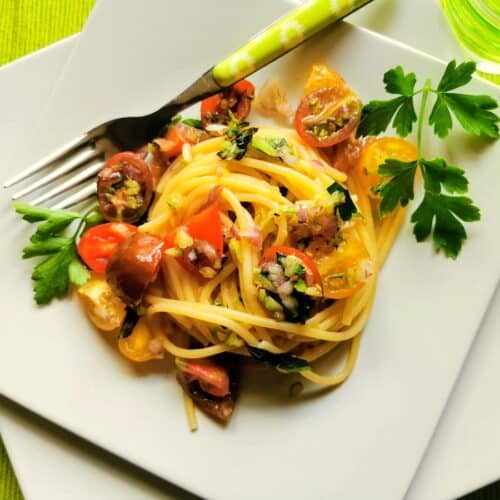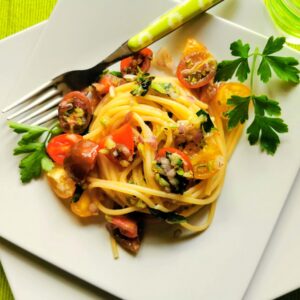 Vermicelli di Positano
This delicious light vegetarian/vegan pasta dish from Positano on the Amalfi coast is a super easy no-cook recipe, meaning you only have to cook the pasta. Perfect for summer meals, as a side at BBQs or for light lunches. Another authentic Italian pasta recipe from The Pasta Project!
Ingredients
400

g

vermicelli (14oz)

or spaghetti

500

g

mature small tomatoes (1.1lbs)

Red or different coloured datterini or cherry tomatoes

1/2

onion

peeled and finely chopped

2

garlic cloves

peeled. 1 finely chopped

2

celery stalks

finely chopped

1

cup

fresh parsley

finely chopped

1/2

cup

basil leaves

finely chopped

1

teaspoon

dried oregano

or 2 sprigs fresh oregano

4-5

tablespoons

extra virgin olive oil.

salt

for pasta and to taste

black pepper

to taste
Instructions
Chop the onion, celery and one garlic clove very finely (I put them in a hand-held food processor) Cut the tomatoes in halves or quarters. Chop the fresh herbs

Rub the other garlic clove onto the sides of a large bowl that can also accommodate the pasta when it's cooked.

Put the tomatoes and chopped vegetables into a large bowl. Add the herbs.

Add salt and pepper to taste and the olive oil. Mix everything together well.

Cover with cling film and leave to marinate for an hour or 2 (not in the fridge). I prefer to leave it for at least 2 hours.

Put a pot of water on to boil for the pasta. Add salt once it starts to boil and bring to the boil again.

Cook the vermicelli al dente according to the instructions on the packet. (normally 13 minutes)

As soon as the pasta is cooked, drain it and add it to the bowl with the tomato mixture and a little more olive oil if it seems dry. Mix everything together well.

Serve immediately sprinkled with a little more chopped parsley.
Notes
You can also make this recipe with other types of long pasta such as spaghetti, linguine, tagliolini etc. The cooking times do not include the time needed to marinate the tomatoes or boil the water for the pasta.
Pin for later
If you are interested in learning how to make homemade pasta and different types of gnocchi, check out my shop page for some great video online courses from my friends in Rome! Nothing beats learning to make pasta from Italians! Plus while you're there why not order a copy of one of my pasta recipe cookbooks or checkout some recommended pasta making tools?