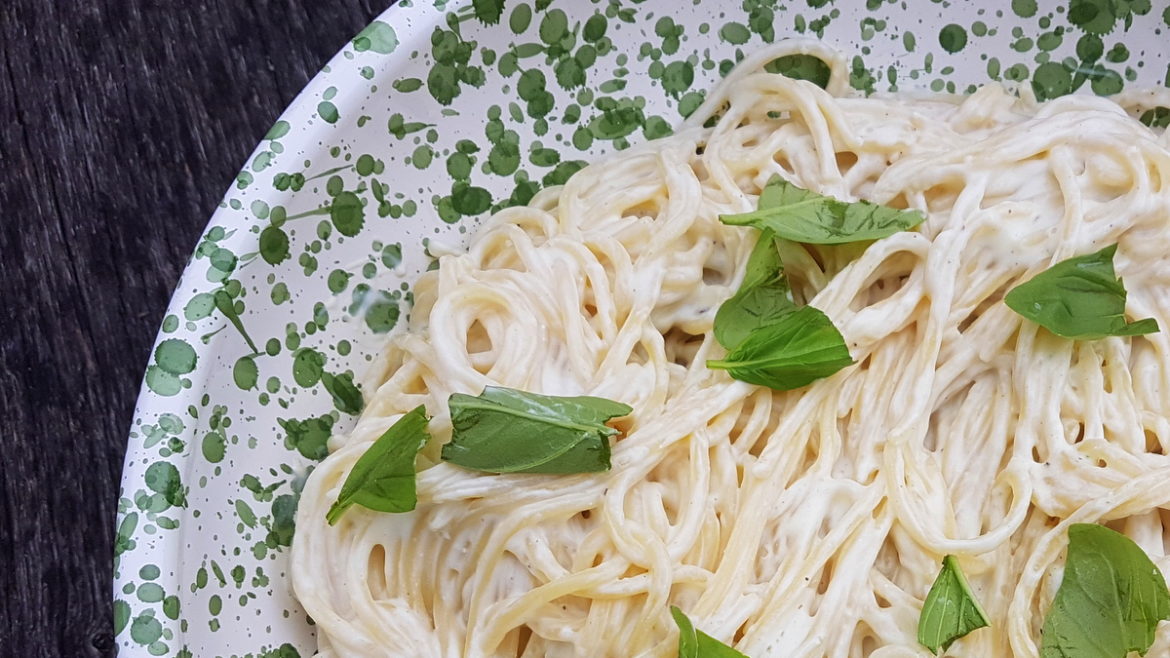 Spaghetti al limone, a real taste of summer!
Spaghetti al limone has a wonderful fresh summer taste, with an intense lemony flavour. Close your eyes and you can even imagine you are eating it sitting on a terrace overlooking the sea on the Amalfi coast or Capri!
As I have said a number of times in my posts, so many Italian pasta recipes make use of ingredients that are really simple and easy to find. The secret seems to be in the quality of the ingredients. Luckily nowadays, Italian produce and products can be found all over the world. And even where it's not possible to find the exact ingredients that Italians use, there are often similar products and produce available which can substitute the Italian ones.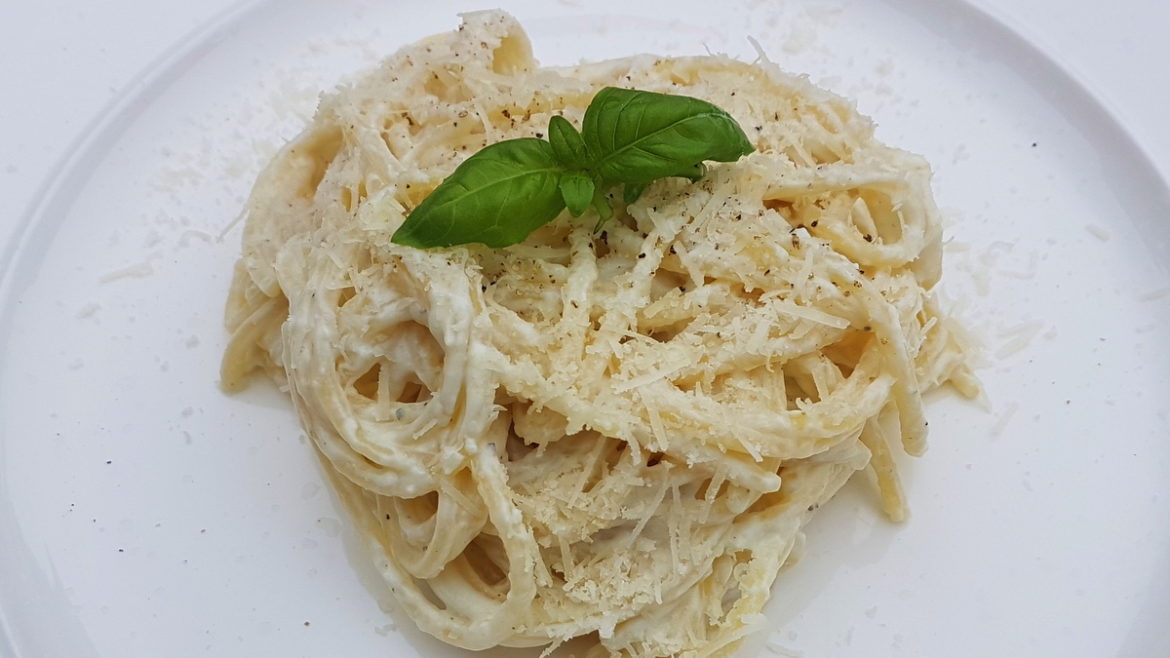 One of the simplest, yet most divine, pasta recipes in Italian cuisine has to be spaghetti or tagliolini al limone! This recipe originally comes from Campania, more specifically Sorrento and the Amalfi coast, an area famous for its lemons and lemon gardens. Sorrento lemons are not only used in cooking but are the main ingredient of the well-known Italian liqueur limoncello. Italians also use these lemons to make granita, sorbet and ice-cream.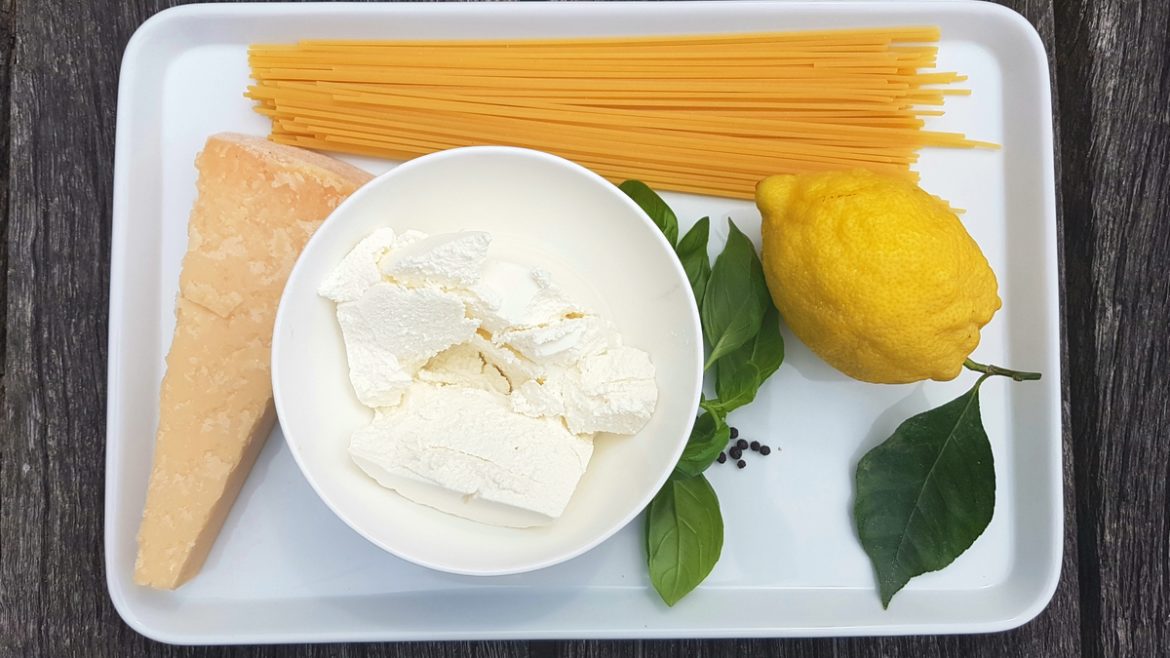 Which lemons to use?
If you can get hold of them, Sorrento or Amalfi lemons are the best to use. They are very high in vitamin C and have an intense fragrance. However, if Sorrento lemons aren't available, then organic lemons which are rich in vitamin A, B1, C are good as well. If you can only find normal supermarket lemons, look for the most fragrant.
For UK readers, I made this dish whilst in UK and managed to find Sorrento lemons and good Italian ricotta at Waitrose.
Like many other Italian pasta recipes,  there are a number of versions of this. The most basic being with just lemon rind, parsley, olive oil and garlic. Some recipes include cream (fresh or cooking) and/or butter, which obviously makes the dish creamier and richer. My favourite is this recipe with ricotta and basil. The end result is very creamy but without the heaviness and richness which comes with fresh cream.
This is a no-cook recipe. In other words the sauce isn't cooked, only the pasta. It's perfect as a summer dish or when you just want a quick light lunch or dinner. You can prepare the sauce even a day in advance and keep it in a sealed container in the fridge until you are ready to make the dish.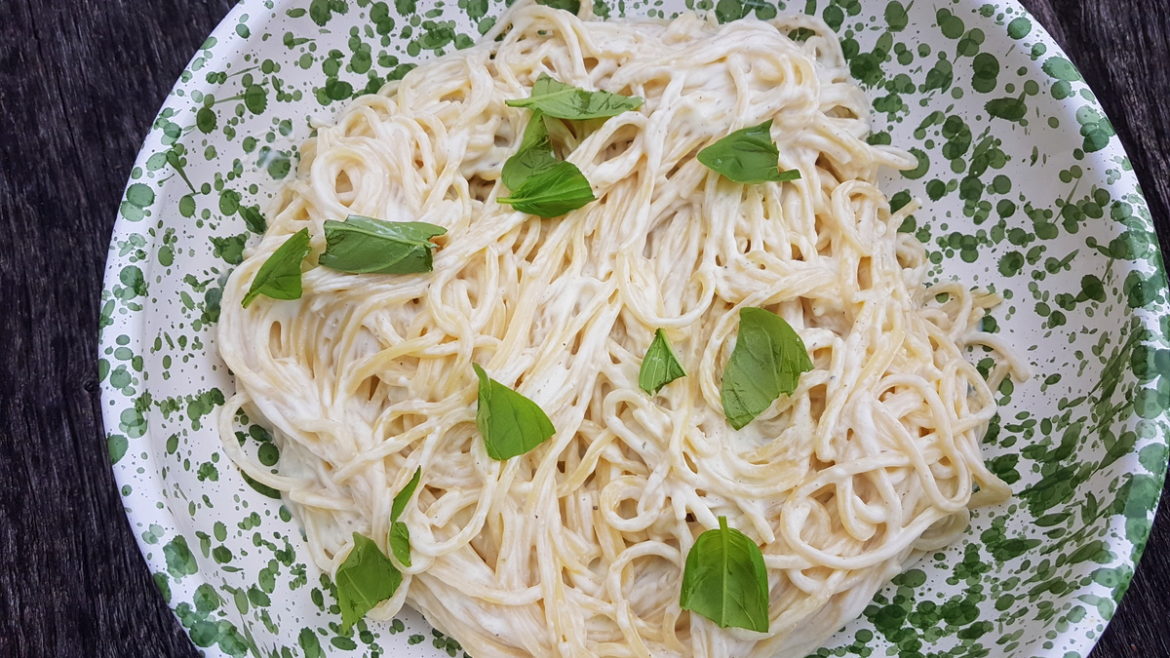 Which pasta to use?
When it comes to the pasta, both spaghetti and tagliolini are traditional, but linguine are often used too If you can find pasta di Gragnano, this is one of the best types of Italian pasta and comes from Campania as well. However, many big Italian pasta makers produce good quality spaghetti. One of my favourites of these is De Cecco.
I totally fell in love with spaghetti al limone the first time I had it. I am sure you will fall in love with it too!
If you do make this recipe, I'd love to hear how it turns out. Please write a comment here on the blog or post a comment on the Pasta Project Facebook page.
Your feedback means a lot to me!
Buon Appetito!
If you like pasta with lemon you may also like this unique lemon water spaghetti recipe or this creamy linguine al limone
Save this recipe for later?
If you want to save this recipe for later, you can print it, bookmark this page or save it to Pinterest.
Pin for later.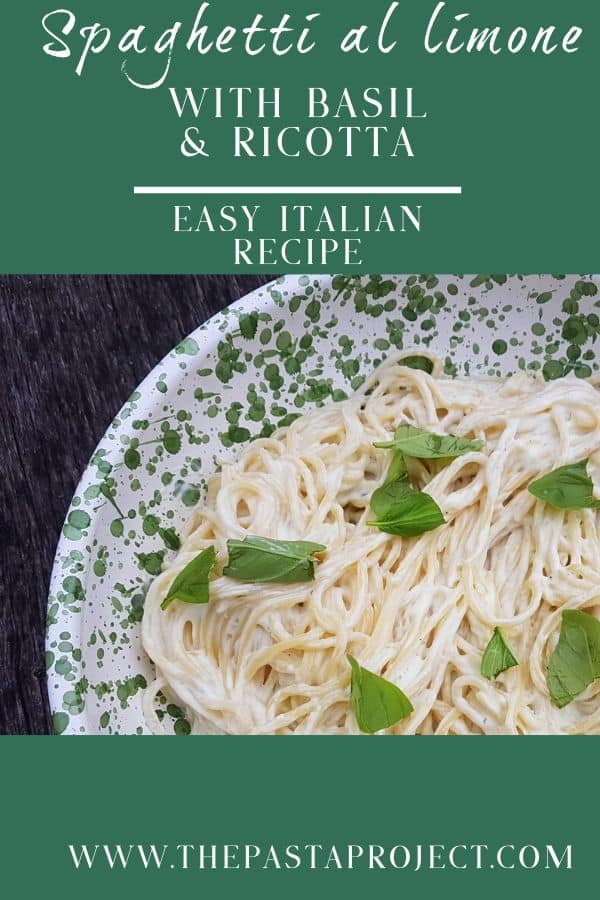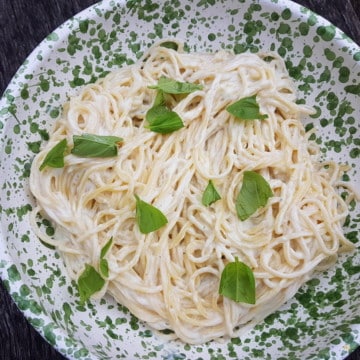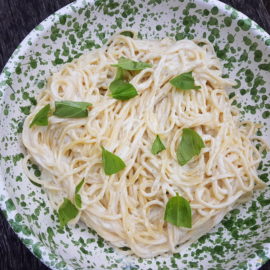 Spaghetti al limone with ricotta and basil
One of the simplest, yet most divine, pasta recipes in Italian cuisine has to be this spaghetti al limone!
Ingredients
400

g

spaghetti

(14oz) or tagliolini or linguine

400

g

fresh Italian ricotta

(14oz)

basil leaves

handful

1

Organic lemon

medium sized from Sorrento or Amalfi if possible

100

g

Parmigiano Reggiano

(3.5oz) grated

Salt and black pepper

as required
Instructions
In a blender or food processor, blend the ricotta cheese with the grated rind from the lemon (I used all the rind from one lemon), most of the basil leaves, a pinch of salt and a pinch of black pepper.

If the sauce seems a bit thick, add a dash of milk. It needs to have the consistency of a dip.

Cook the pasta al dente, in boiling salted water according to the instructions on the packet, reserve a cup of the cooking water.

Drain the pasta and return it to the pan.

Add the ricotta cream and half the saved cooking water to the pasta and mix well until you have a creamy sauce. If needs be, add some more of the pasta cooking water.

Add half of the grated Parmigiano cheese and mix it in well.

Serve immediately with a sprinkling of ground black pepper, more grated Parmigiano and the remaining basil.
Notes
Variation: this recipe can also be made with mint instead of basil.
Want to know more about my life in Italy? Go to the homepage and subscribe to my newsletter. New subscribers get a free recipe e-book too! https://www.the-pasta-project.com