If you like basil pesto, you'll love this pasta Portofino (or alla Portofino) recipe which pairs pesto with tomatoes. Named after Portofino the well-known picturesque fishing village on the Italian Riviera, this is a super simple pasta dish full of the flavours of an Italian summer!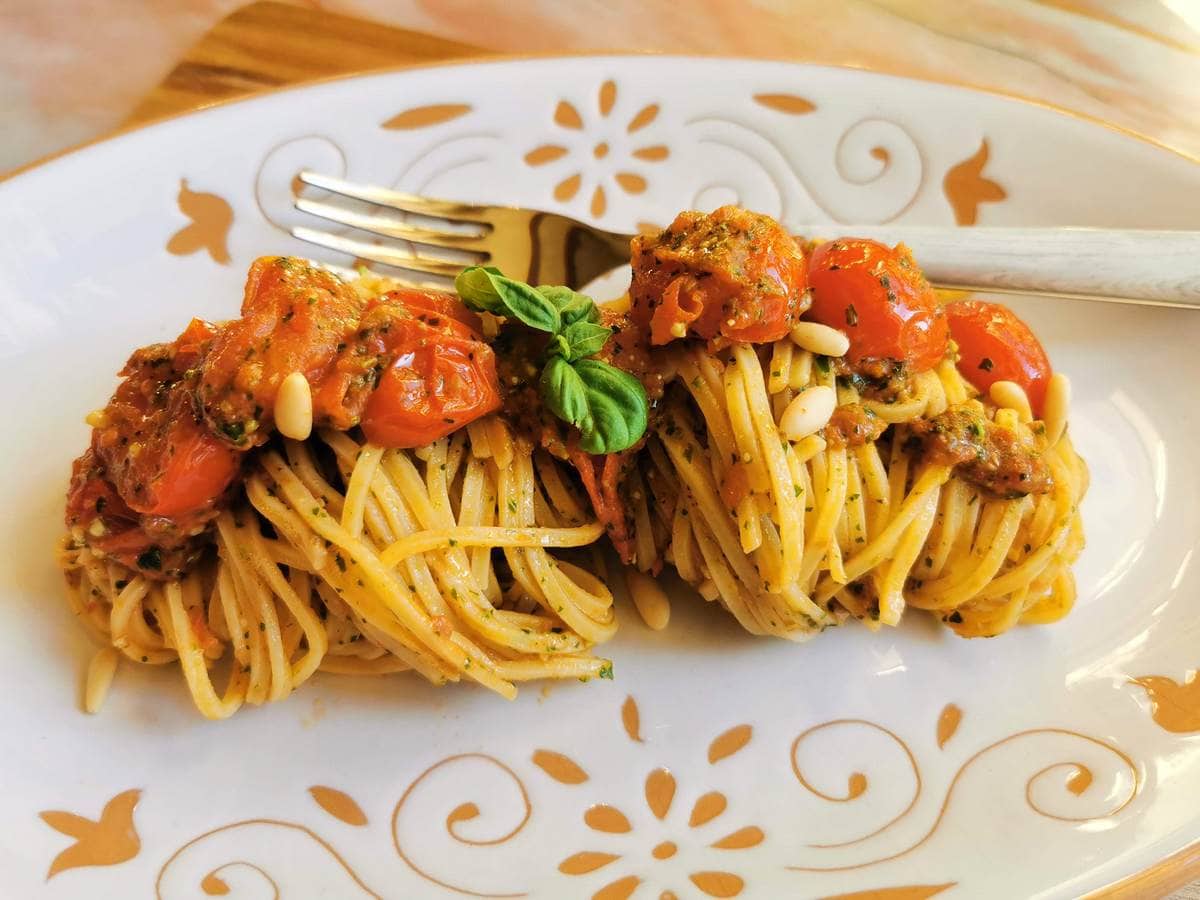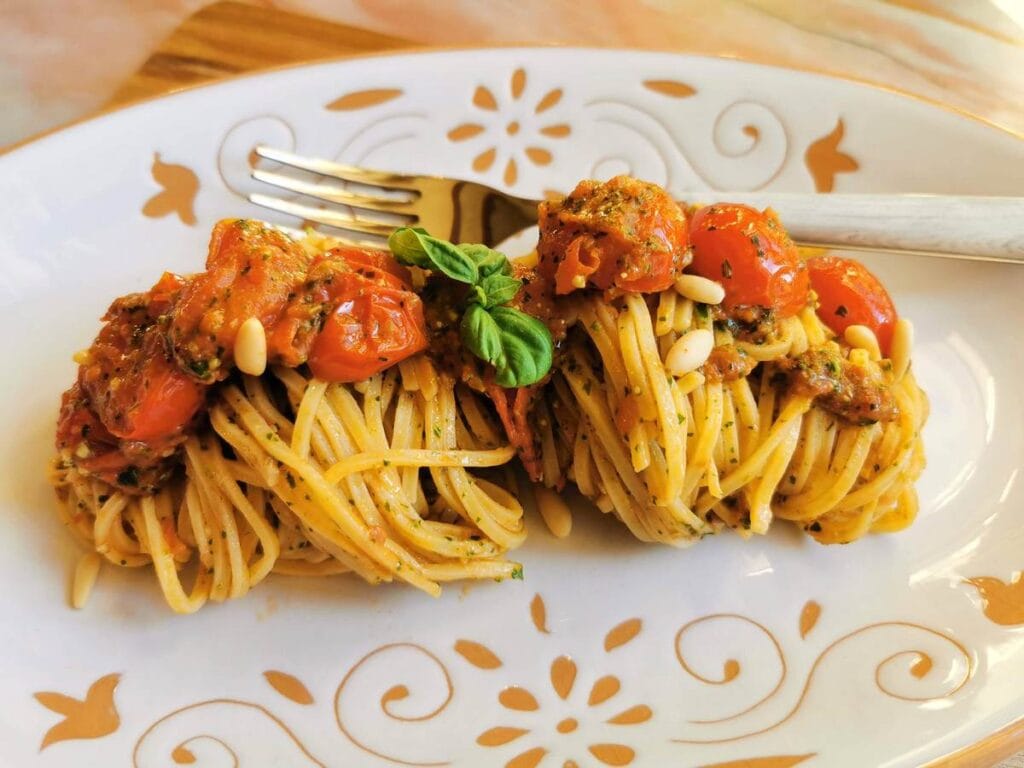 Liguria.
The Italian region of Liguria has established its place on the world food map with a number of unique dishes and types of pasta. This relatively narrow and mountainous coastal region is where pesto originated and is also said to be where ravioli was invented! There are many typical ravioli recipes and basil pesto is a staple in the Ligurian kitchen.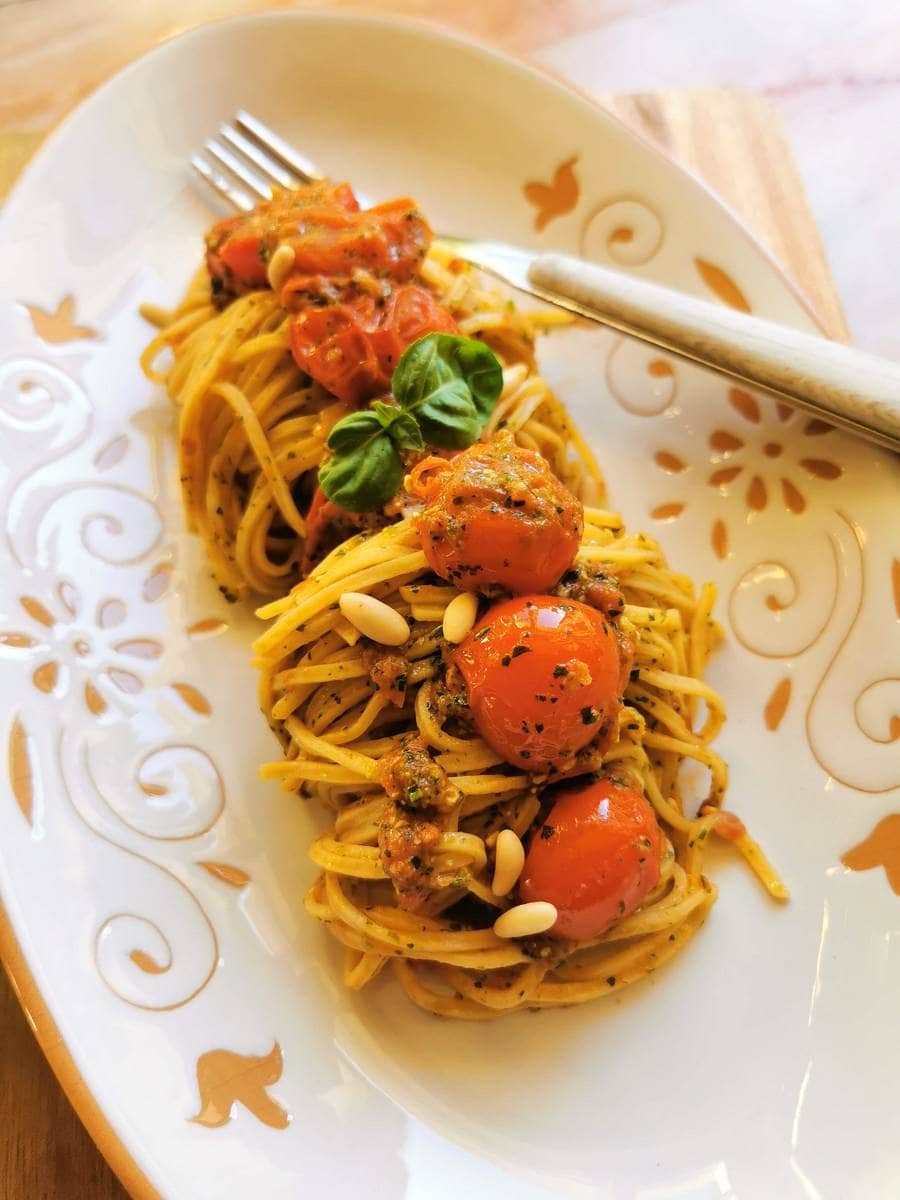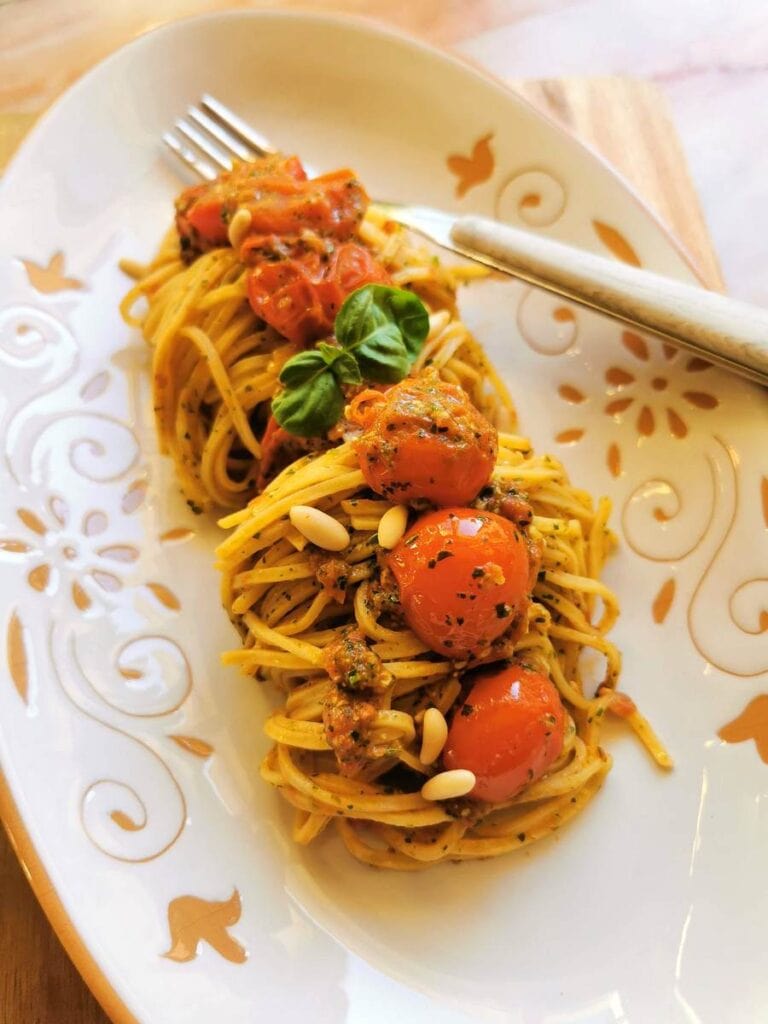 Basil pesto in Liguria.
Basil pesto is a condiment that dates back to the 1800s. In Liguria, they have an official recipe that calls for 7 very specific local ingredients. This recipe was published by the Genoa Chamber of Commerce and is made with Ligurian basil leaves, Mediterranean pine-nuts, Vessalico garlic cloves, Ligurian extra virgin olive oil, coarse sea salt and two types of cheese, aged Parmigiano and Pecorino from Sardinia.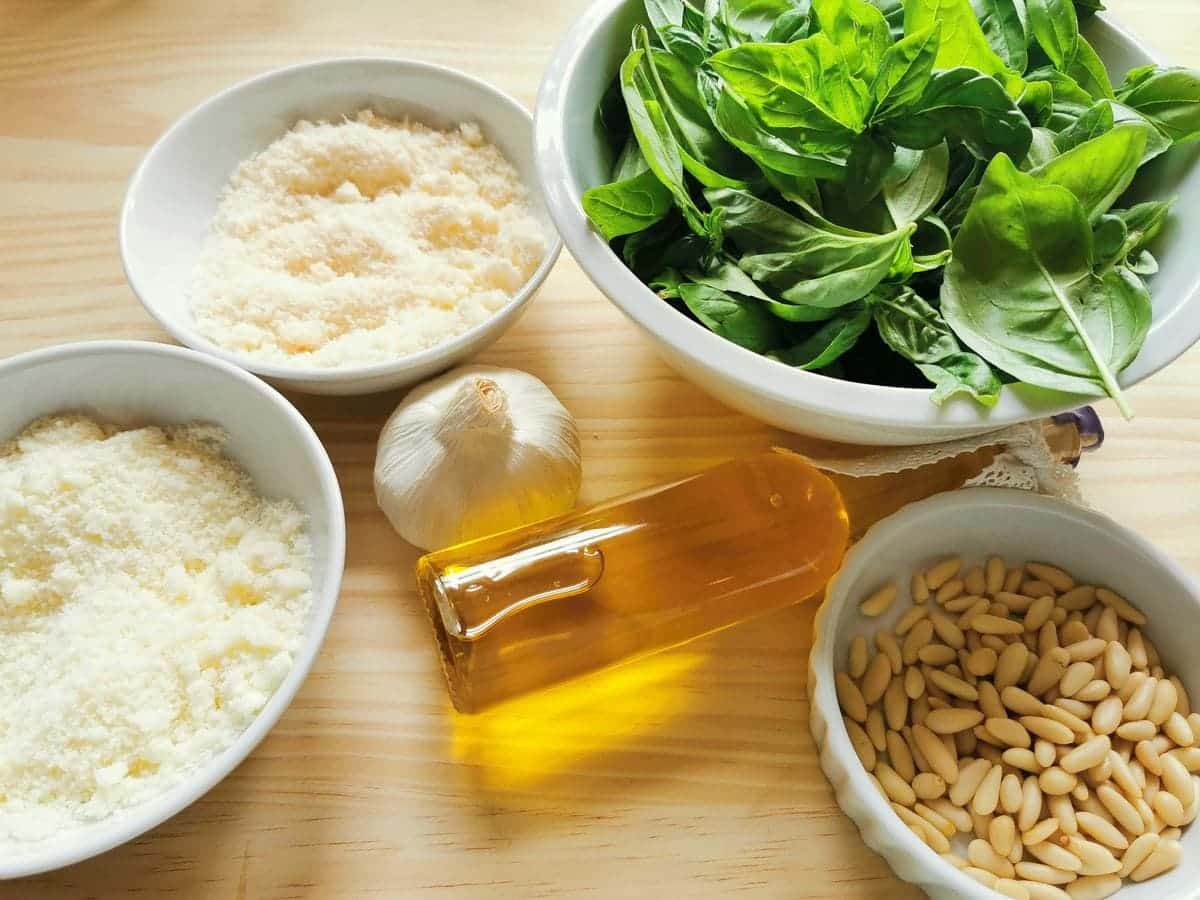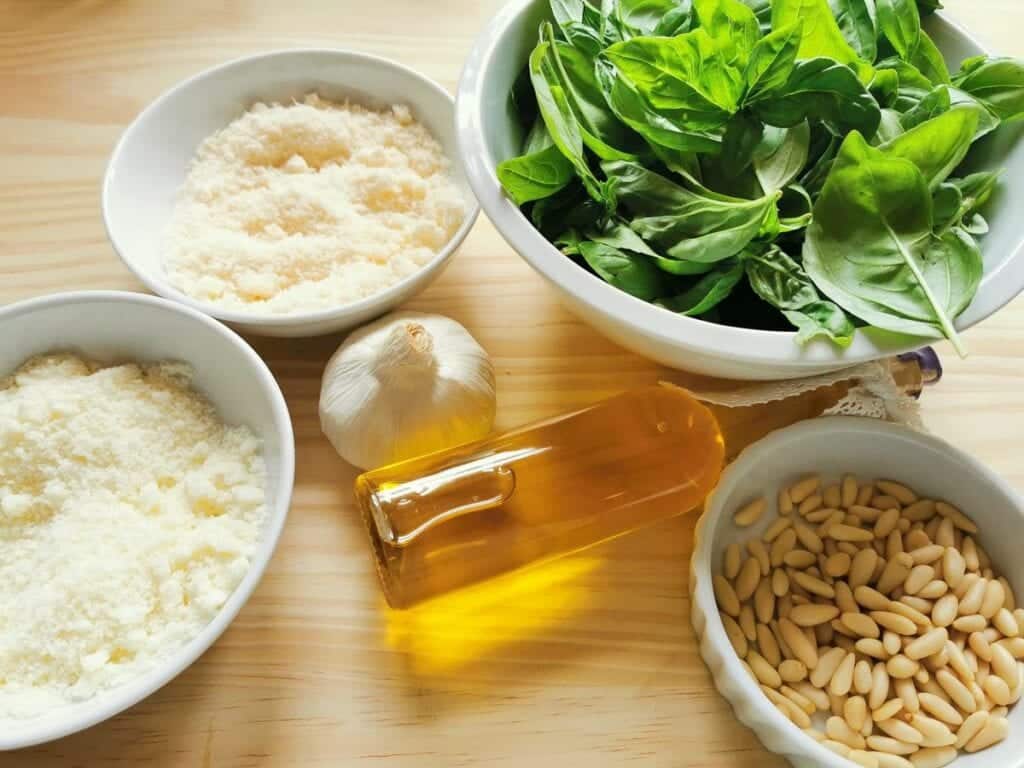 Of course, most of us have to use locally sourced ingredients such as basil leaves, garlic and olive oil. It may also not be possible to find both cheeses. I often make it with just Parmigiano. You can also make this recipe with ready-made basil pesto for a faster meal prep or if it's difficult to find fresh basil.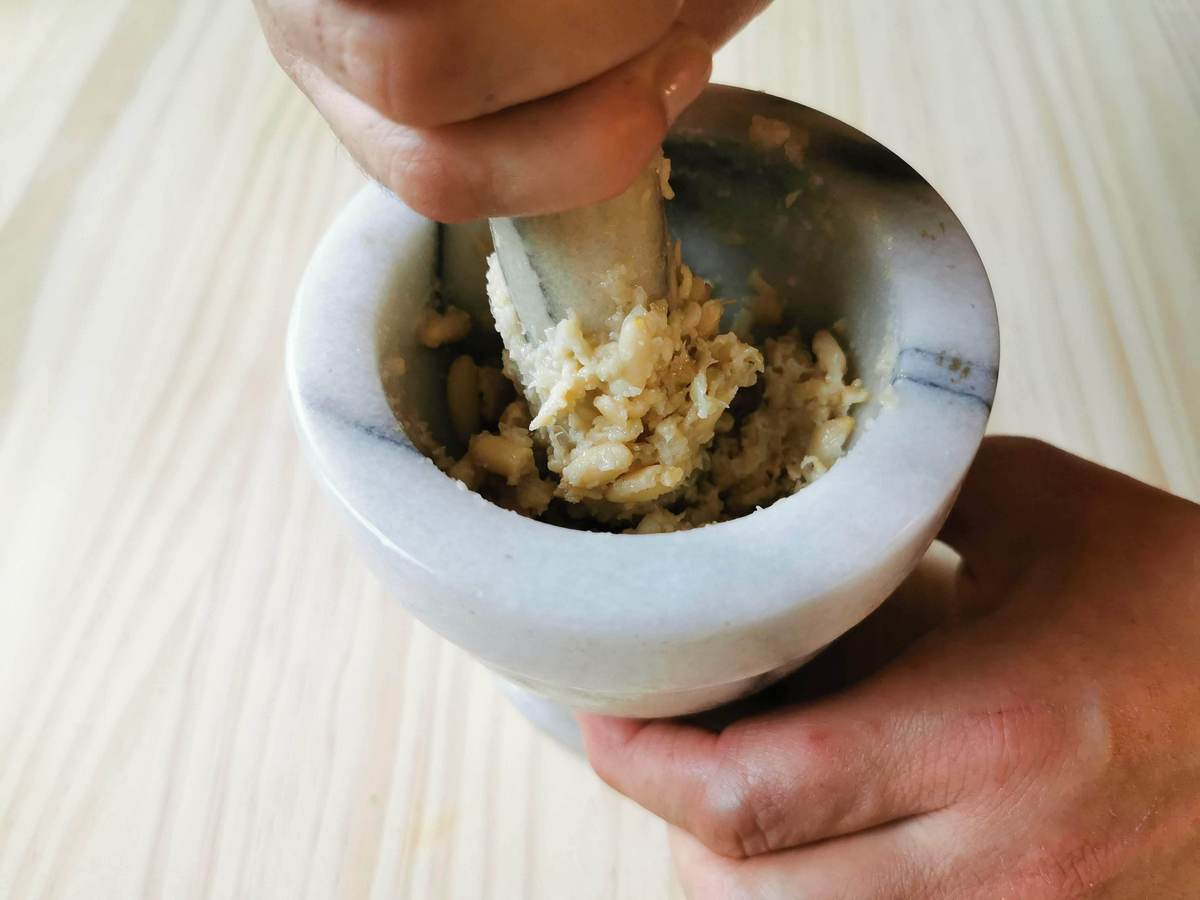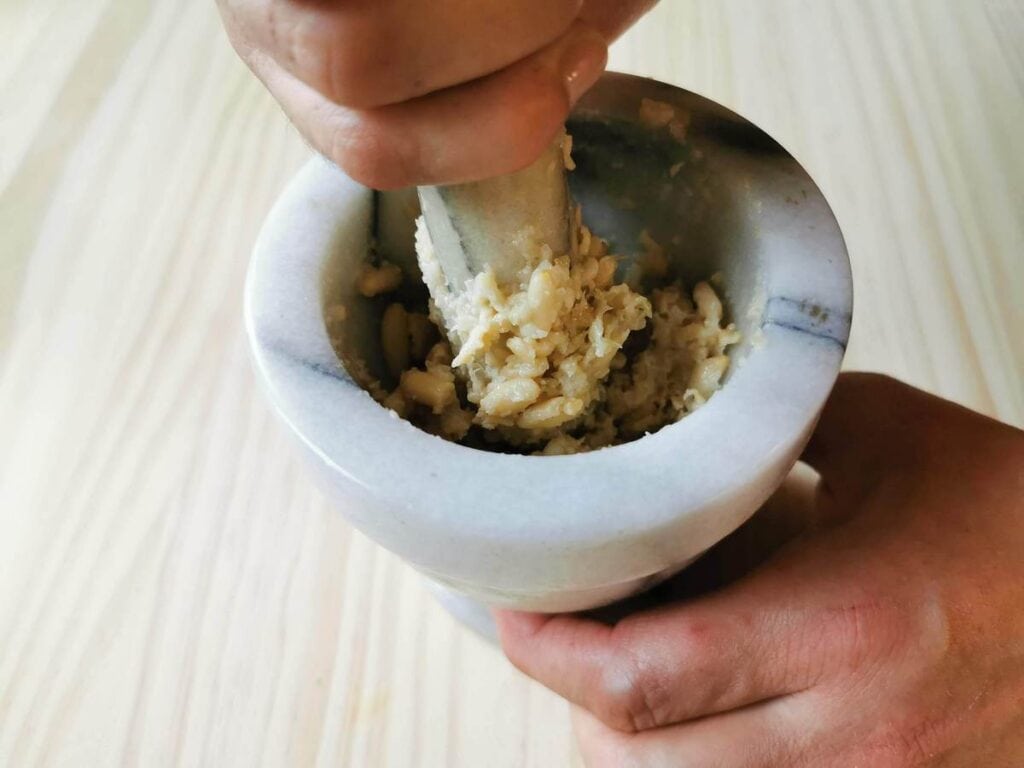 How to make basil pesto.
Traditionally, the people of Liguria make basil pesto with a pestle and mortar. However, you can also use a blender or food processor. Alternatively, crush the pine nuts using a pestle and mortar or a hammer and use a blender/food processor for the rest. But, mix the cheese in after using a fork. This gives the pesto a more authentic consistency.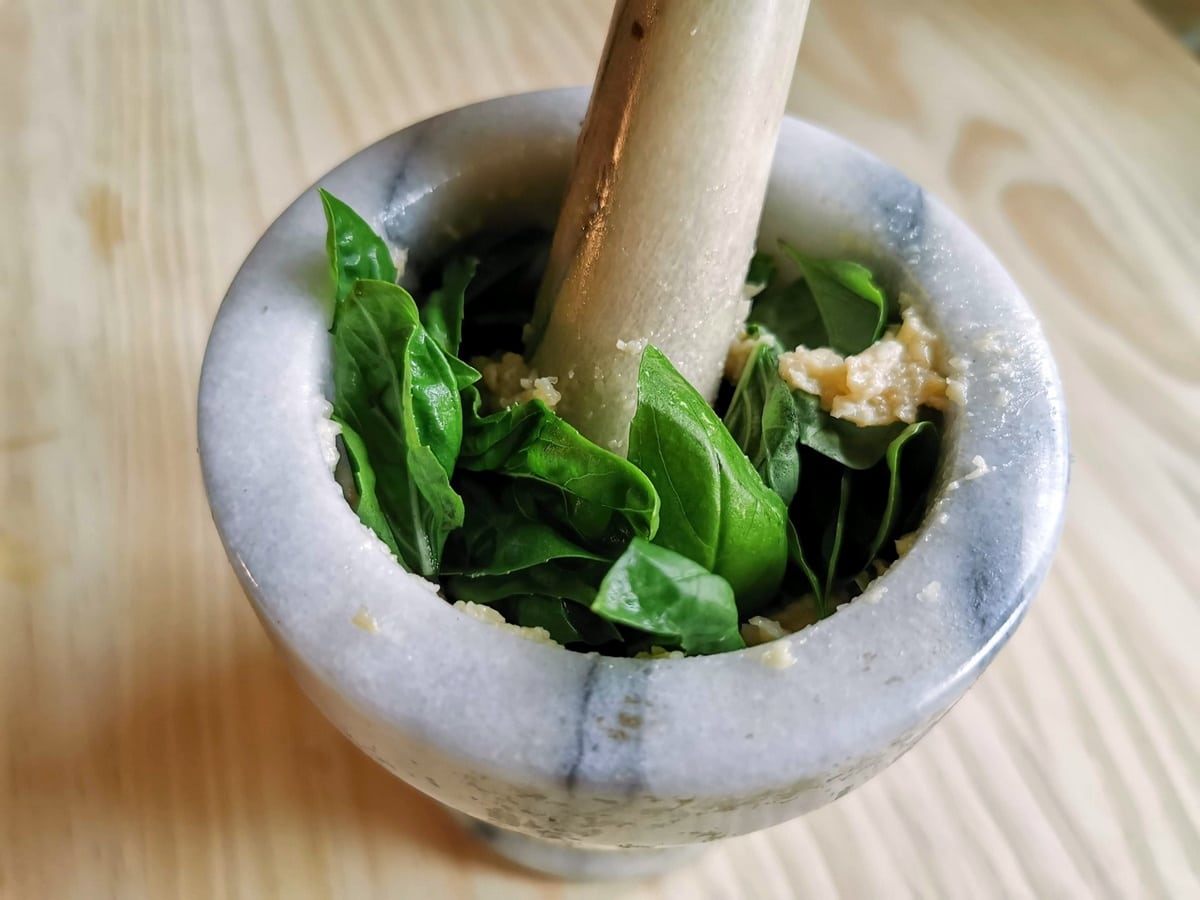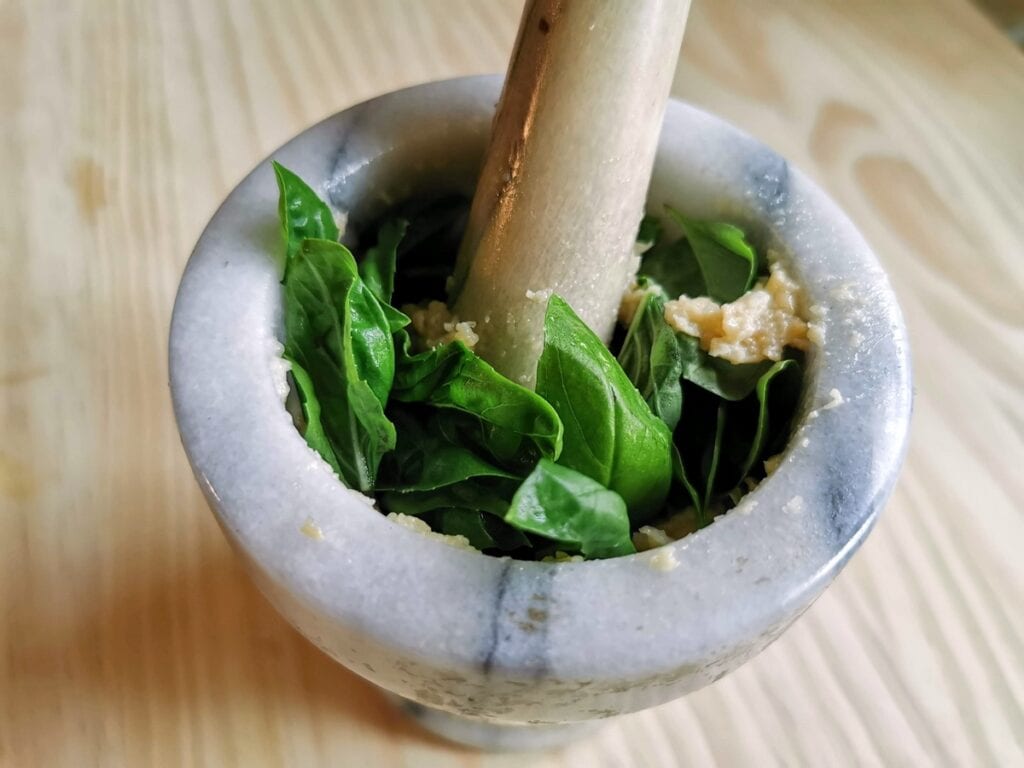 If you want to use a food processor or blender to make the pesto for this pasta alla Portofino recipe, it's important to pulse intermittently. The basil will spoil is you keep blending continuously. This is because the metal blades heat up and the basil will turn brown with the heat.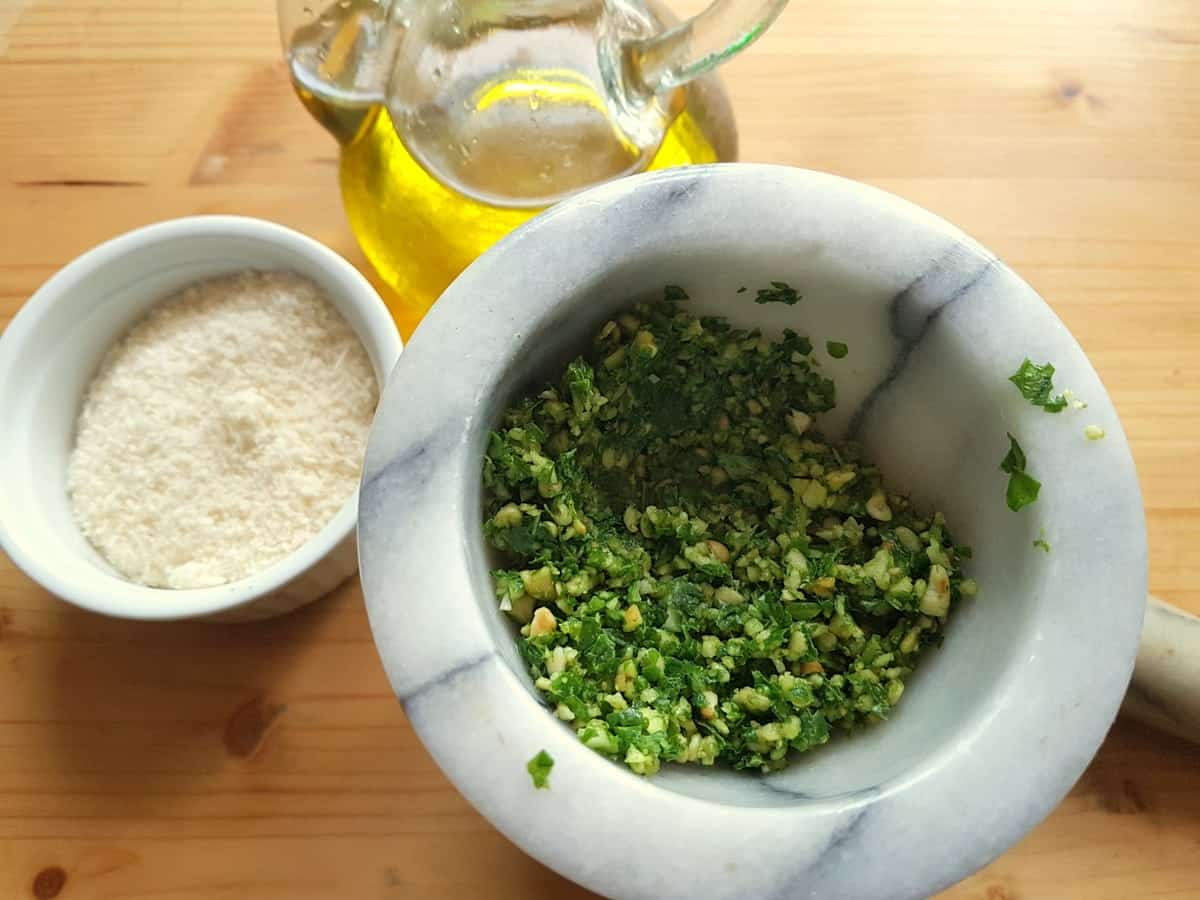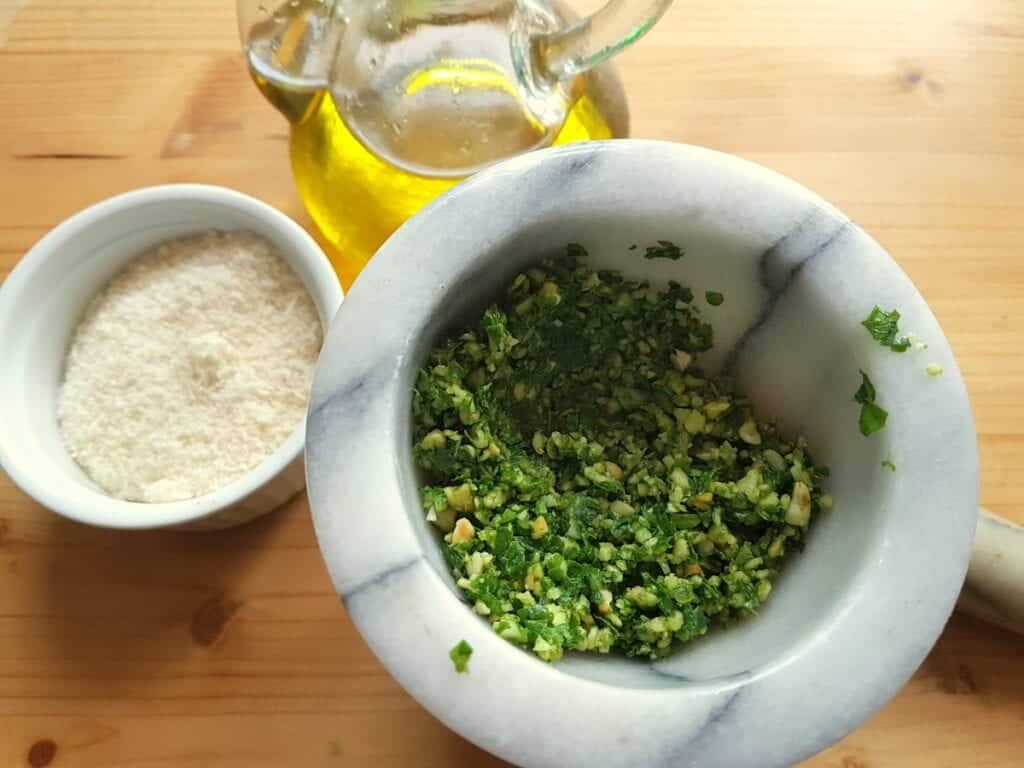 The origins of pasta Portofino.
According to food legend, this pesto and tomato sauce was invented by a chef from Portofino (hence the name). Apparently, he had an unexpected large group of customers in his restaurant wanting to order pasta with pesto. He didn't have enough of the sauce for them all, so he made it go further by adding tomato sauce. The dish was obviously a hit and pasta alla Portofino was born!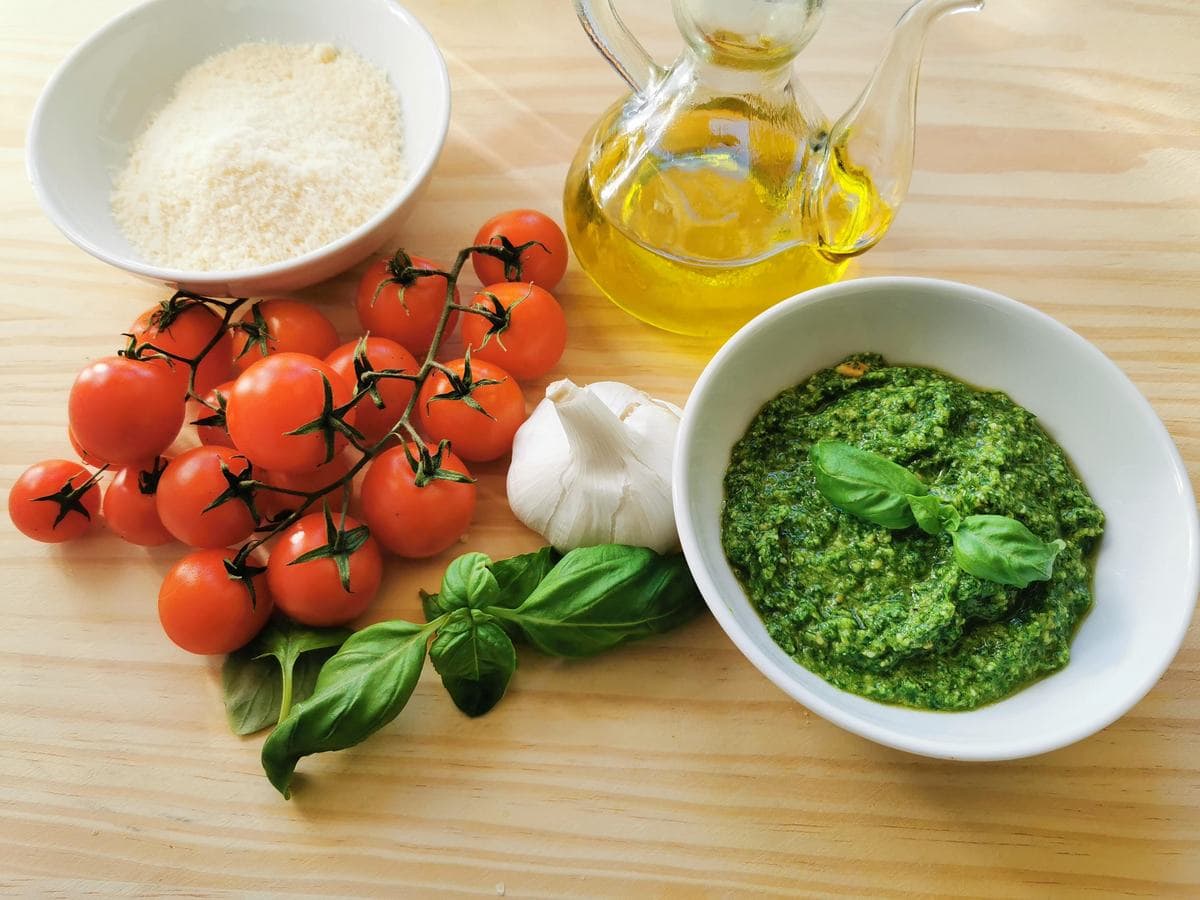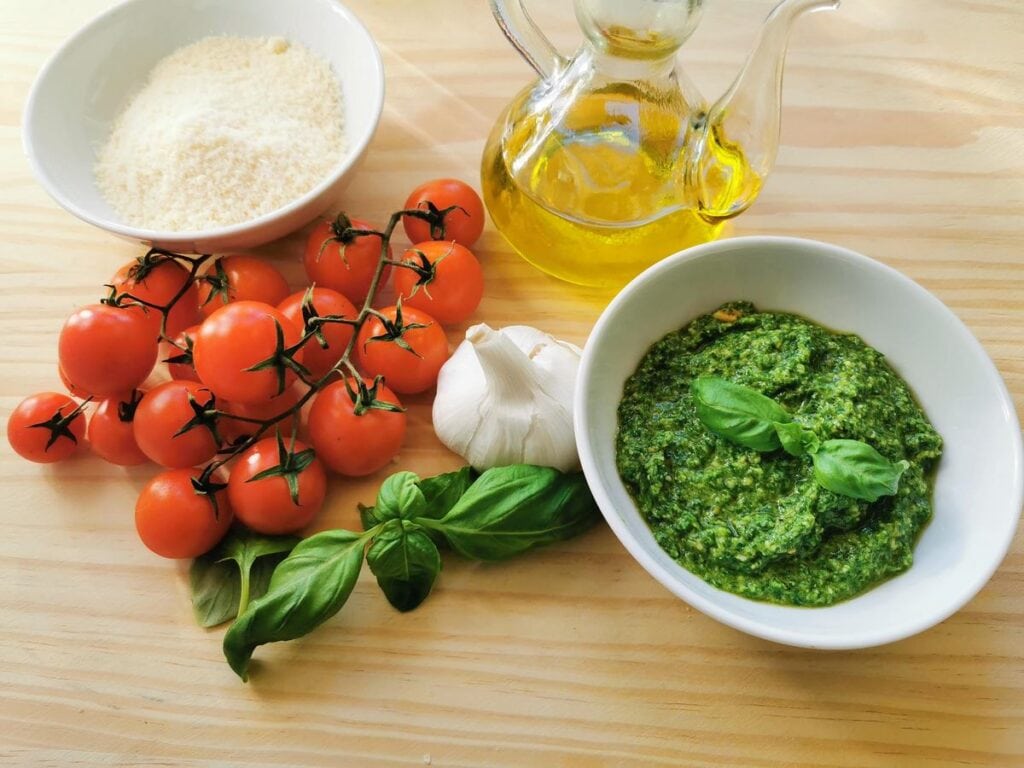 The Genovese are very traditional when it comes to their pesto and the idea of adding tomatoes and losing its unique colour and flavour horrified many! However, pasta alla Portofino became really popular both in Liguria and other parts of Italy! I've read on several Italian food sites that it was a favourite of Frank Sinatra, whose mother was Ligurian.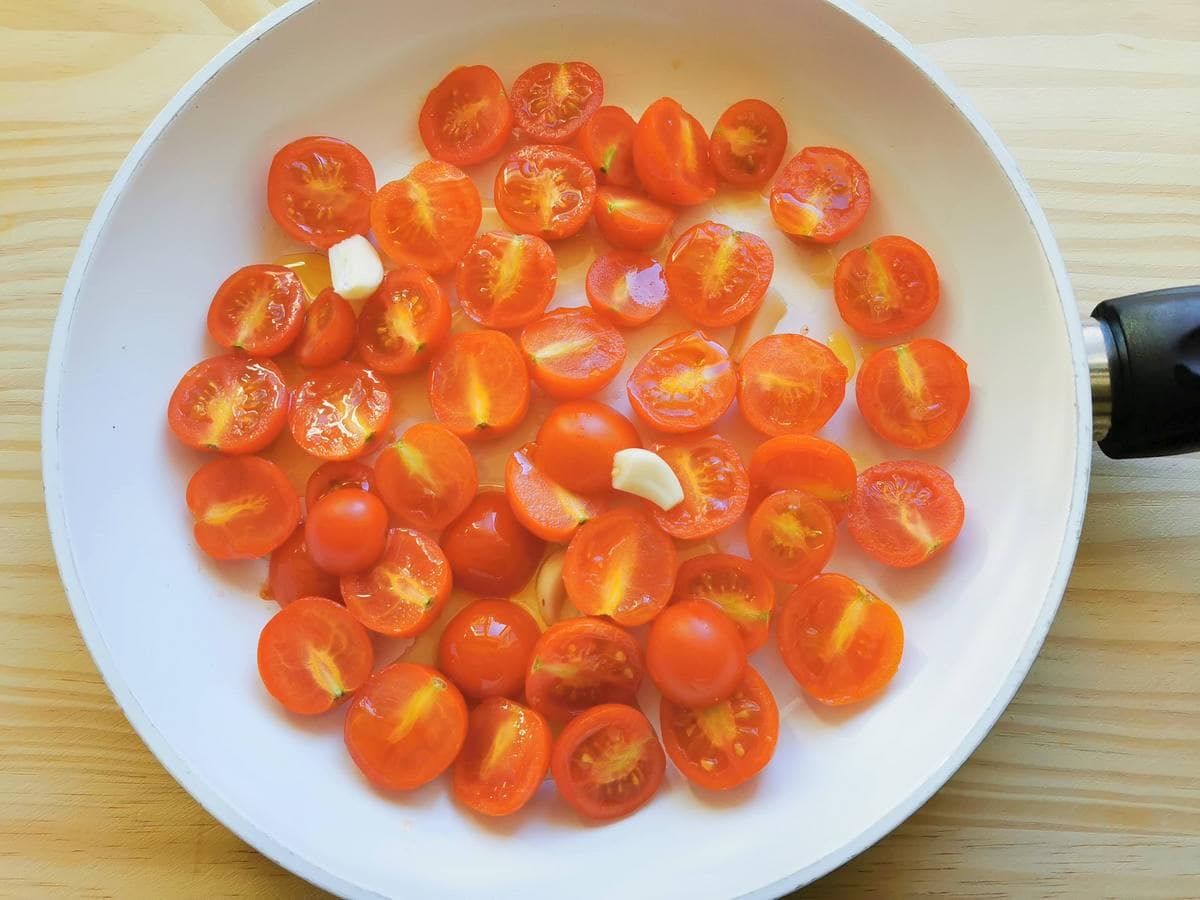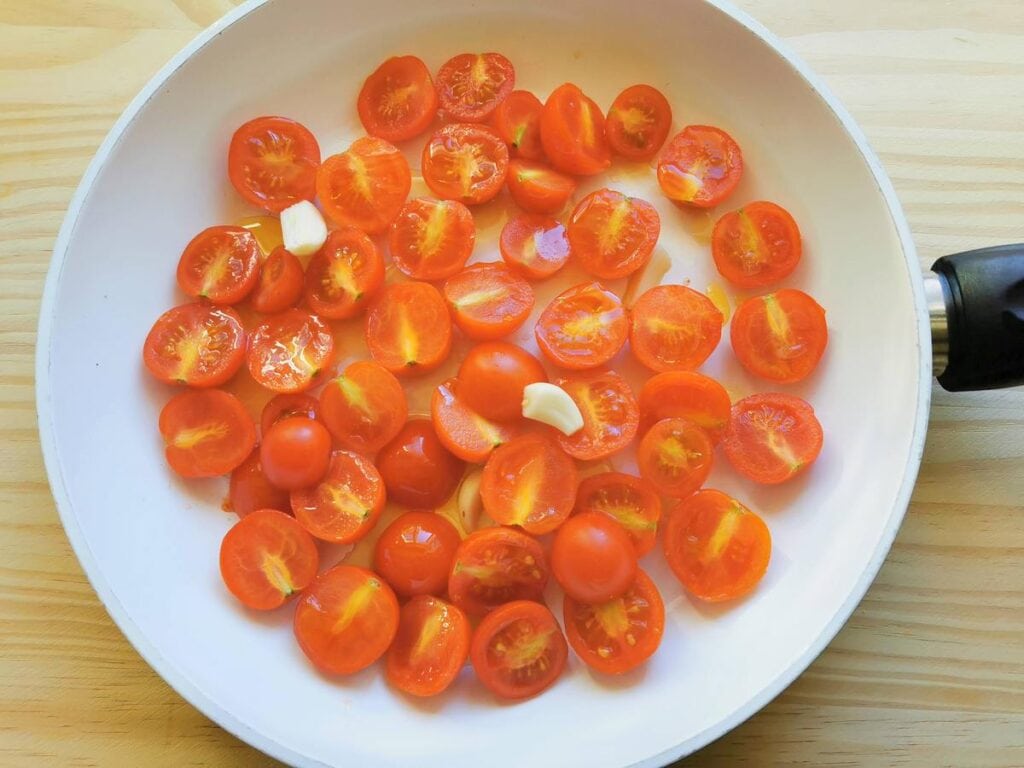 Which pasta goes with Portofino sauce?
Because pasta Portofino is a contemporary recipe, there's not one particular pasta served with it. I've seen recipes with long pasta (spaghetti or linguine), short pasta (fusilli, penne, rigatoni) as well as traditional Ligurian trofie and even potato gnocchi! I used fresh tagliolini, one of my favourite long pastas.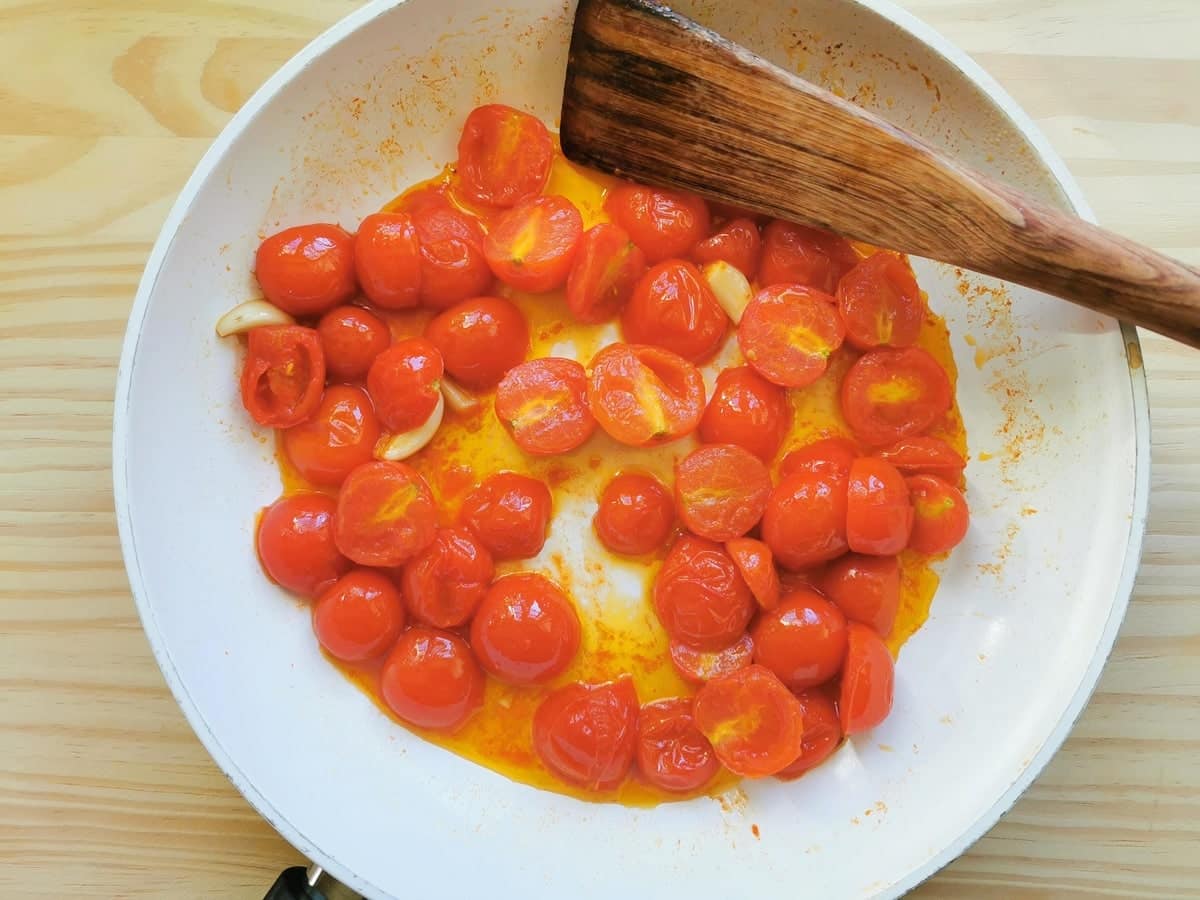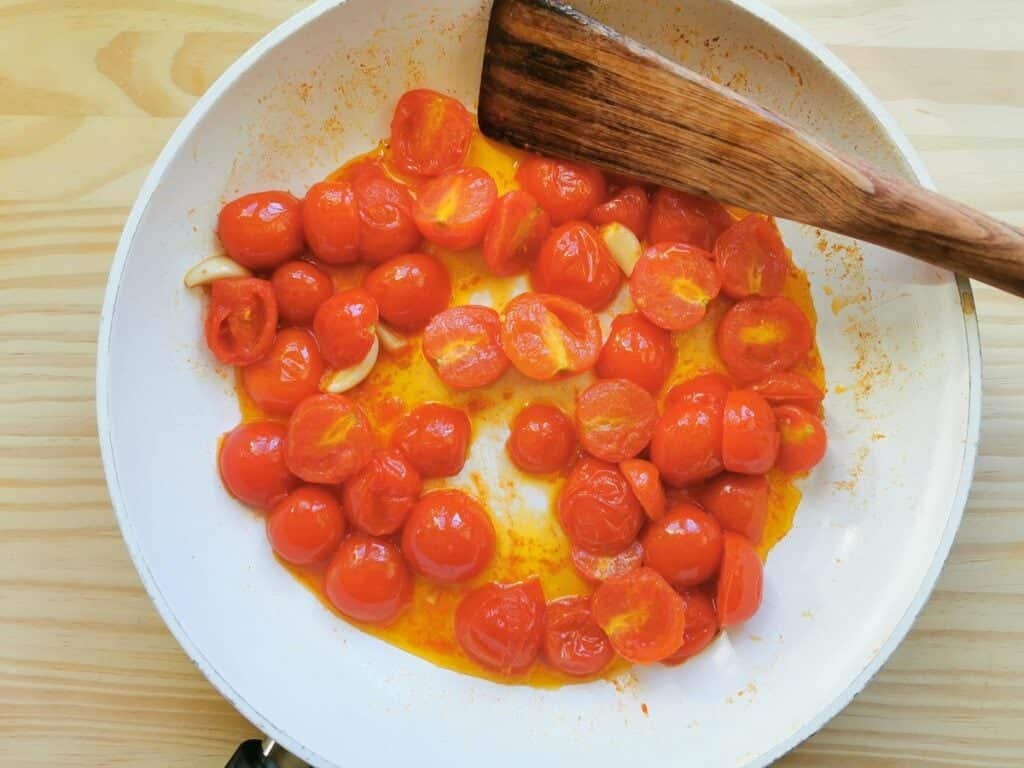 How to make pasta alla Portofino.
As I mentioned above, this is a simple recipe. And, there are two ways to make it or maybe three!! Firstly, make your own pesto and tomato sauce which is what I did! Secondly make your own tomato sauce but use ready-made pesto or finally, use store-bought canned peeled tomatoes and basil pesto. This last way would be super-fast, and you can have dinner on the table in no time! Plus, I'm sure it would be good!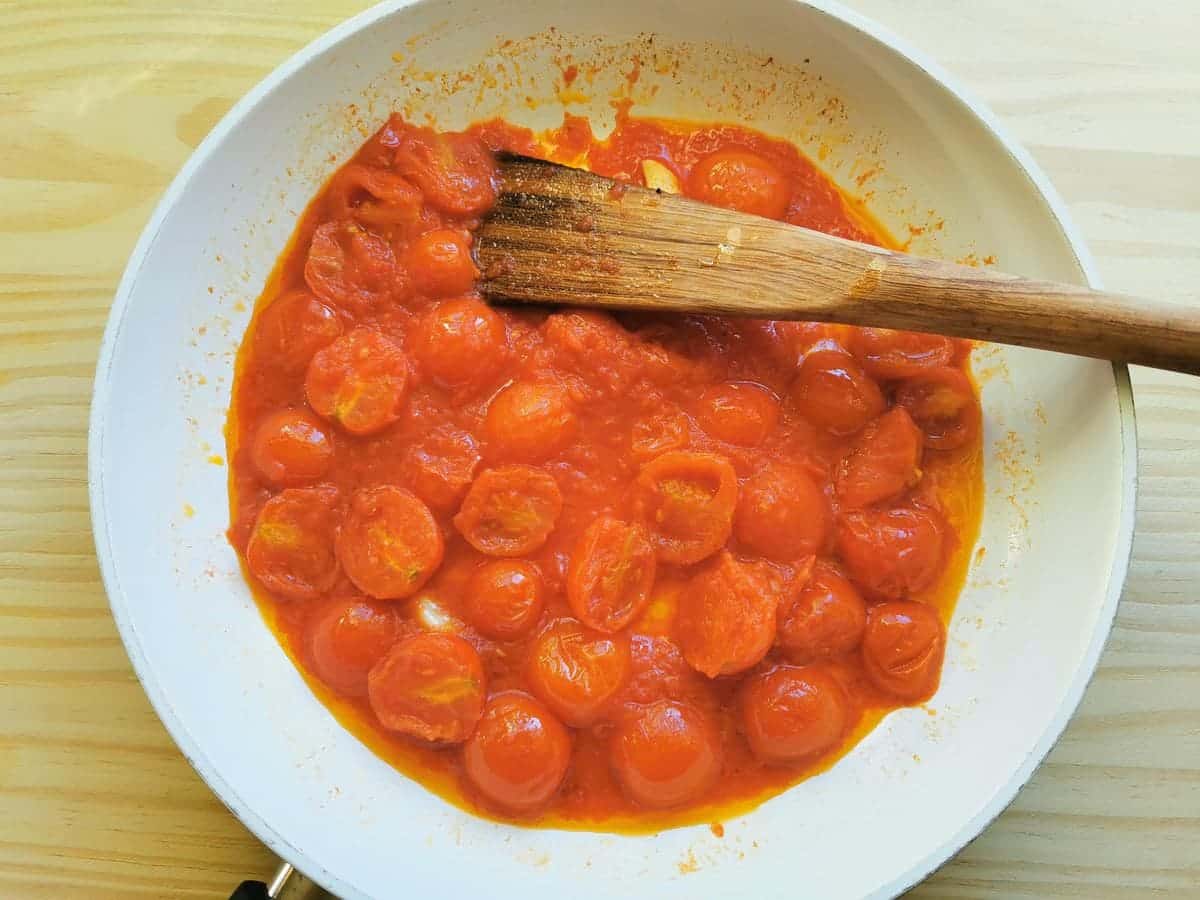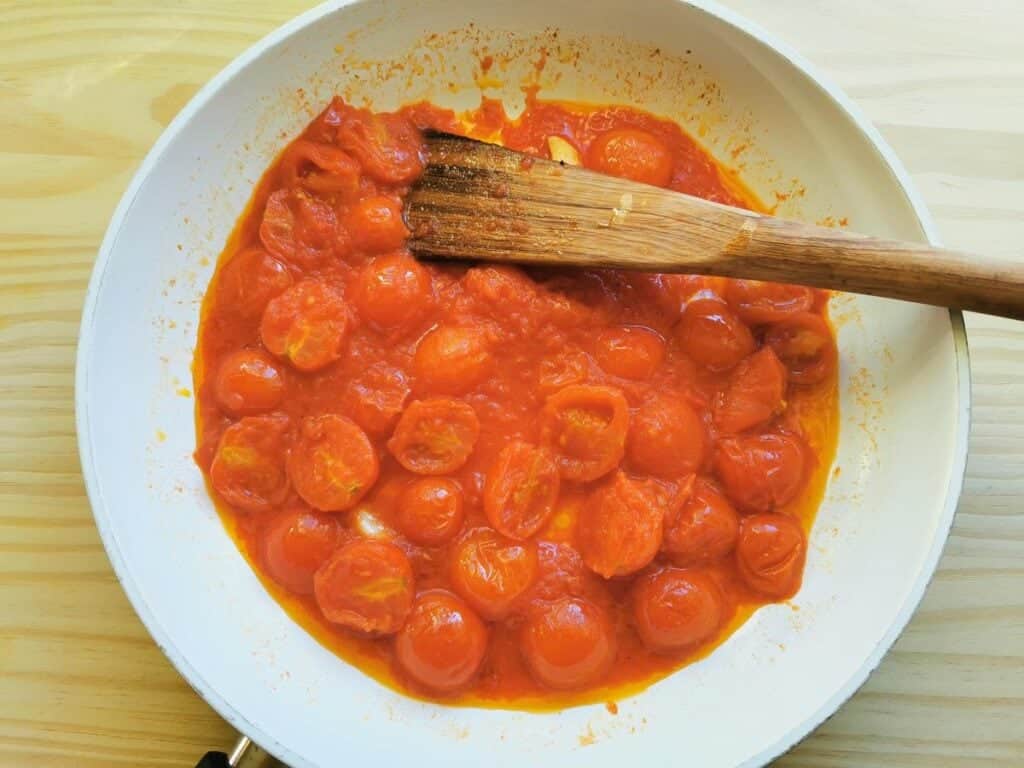 BUT, pasta alla Portofino definitely deserves to be made from scratch! The flavours of fresh basil, good extra virgin olive oil and fresh tomatoes can never be found in a jar or can! In addition, by using fresh ingredients, you'll be better able to really appreciate why this has become such a popular recipe!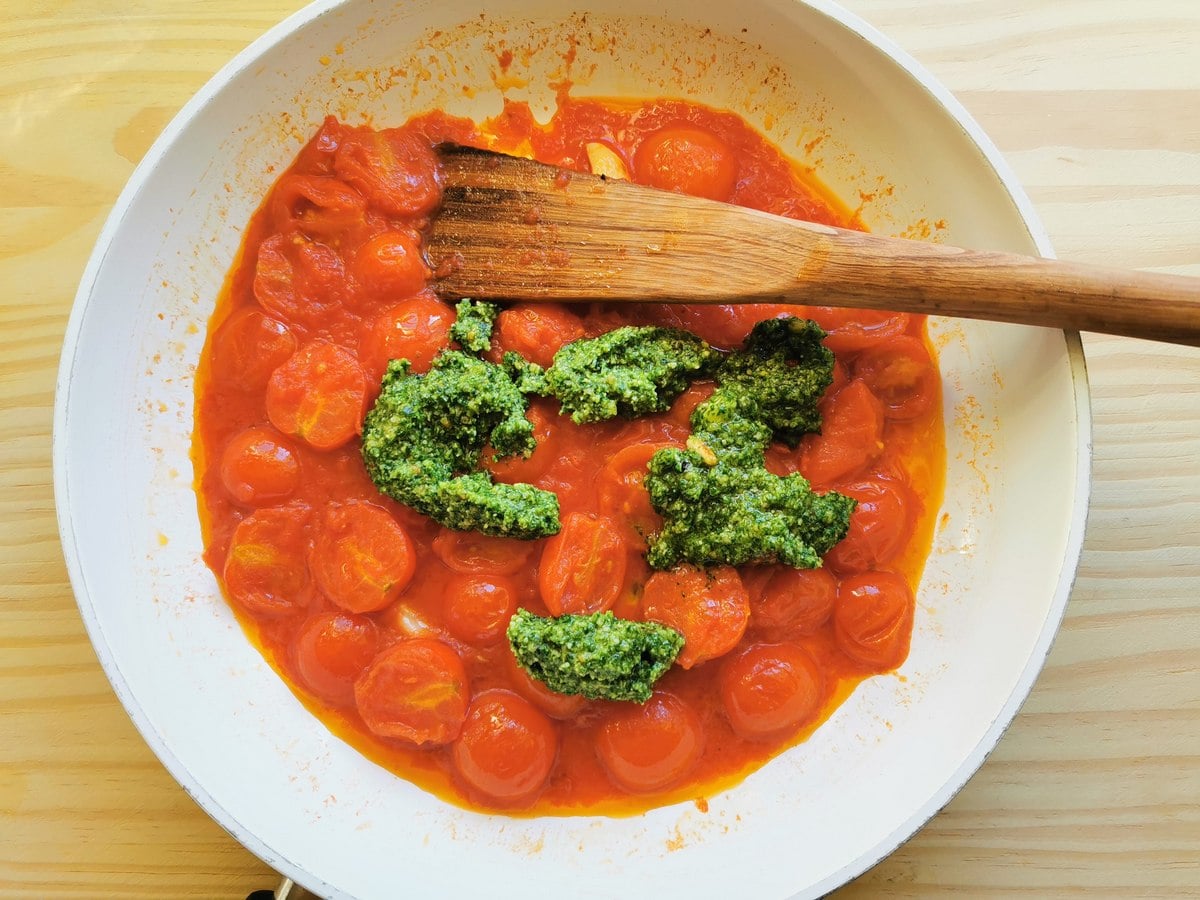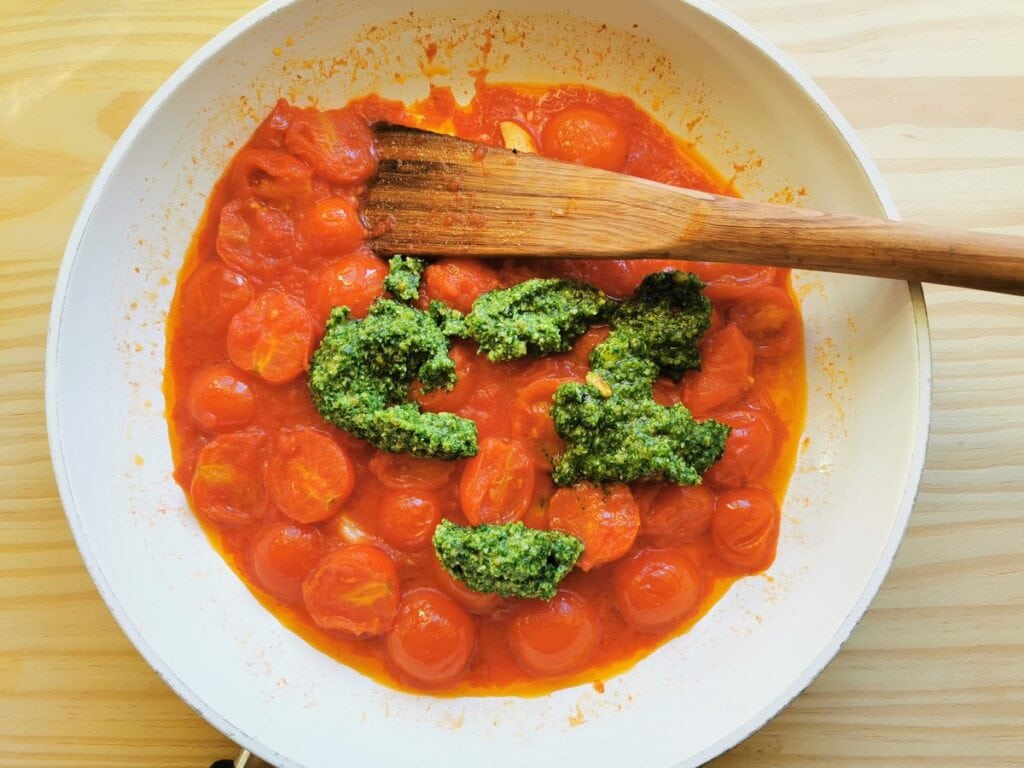 Cooking Tips.
Make this recipe vegetarian.
To make this recipe vegetarian, you'll need to use a vegetarian cheese. As many strict vegetarians will know, Italian Parmigiano and Pecorino are made with animal rennet and therefore, not vegetarian. However, there are types of parmesan or Italian style hard cheeses which have no animal rennet. Make sure to check the label!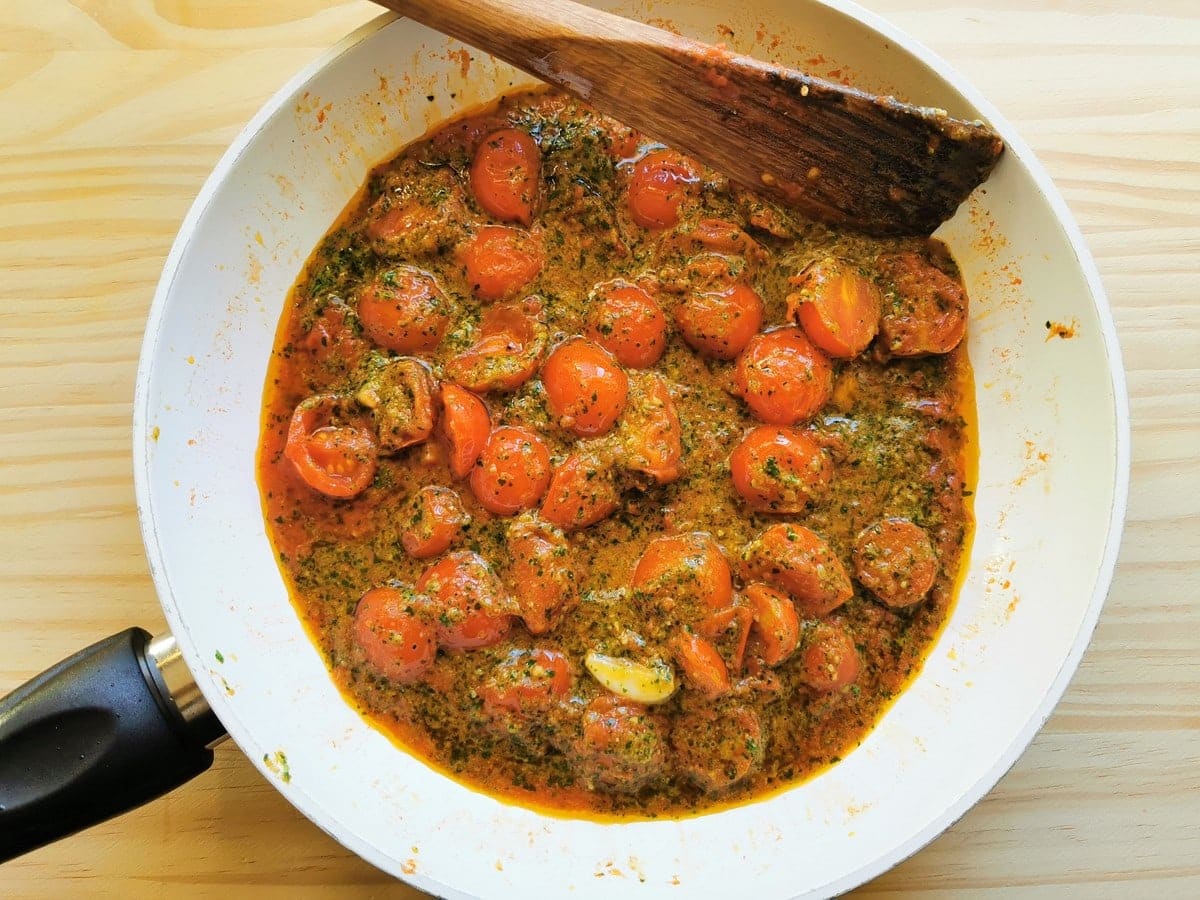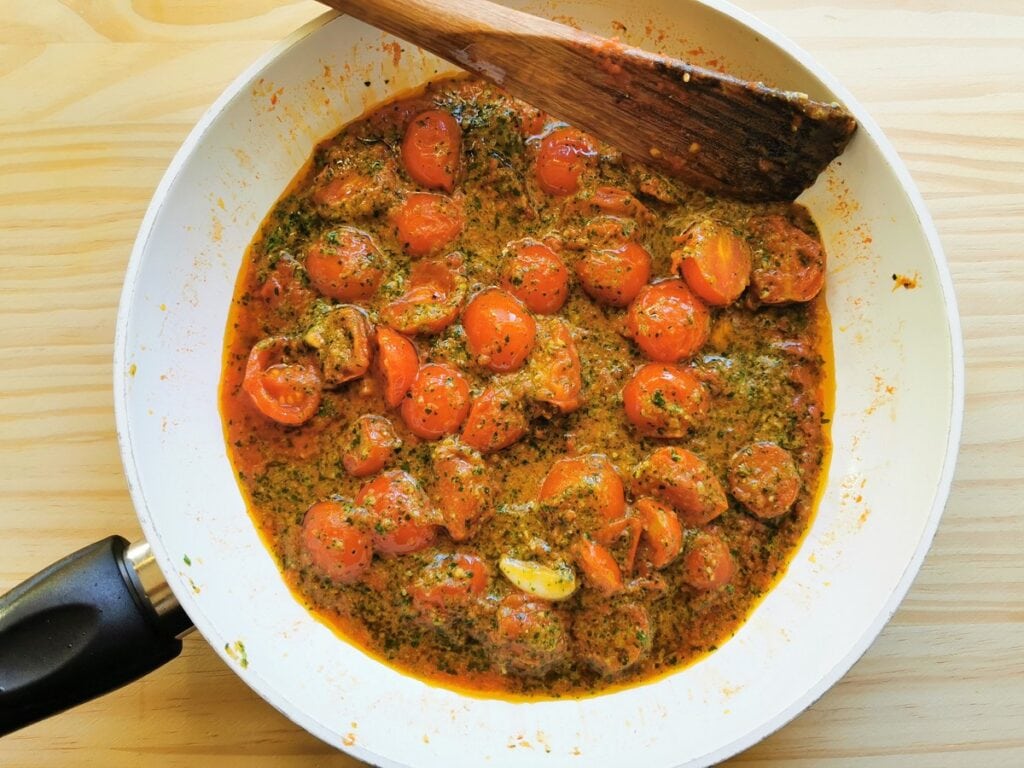 Make this recipe in advance.
Although I wouldn't cook the pasta in advance, both the tomato sauce and pesto can be made up to 3-4 days before. Just keep them well sealed in the fridge. It's also a great idea to make more than you need and freeze for later use! Pesto is great frozen in ice-cube trays and then transferred to freezer bags. Apparently, it keeps for 9 months, although I use mine up much faster! Tomato sauce also freezes well!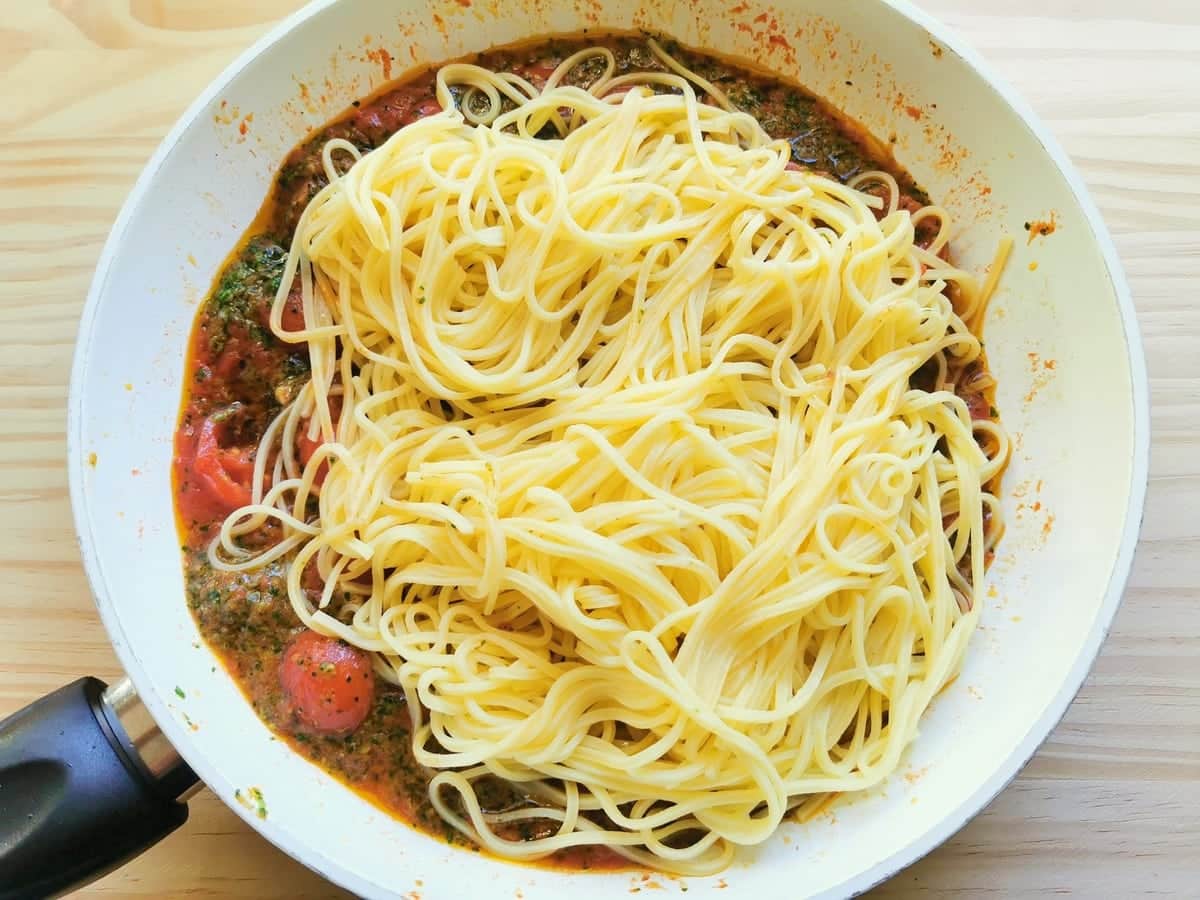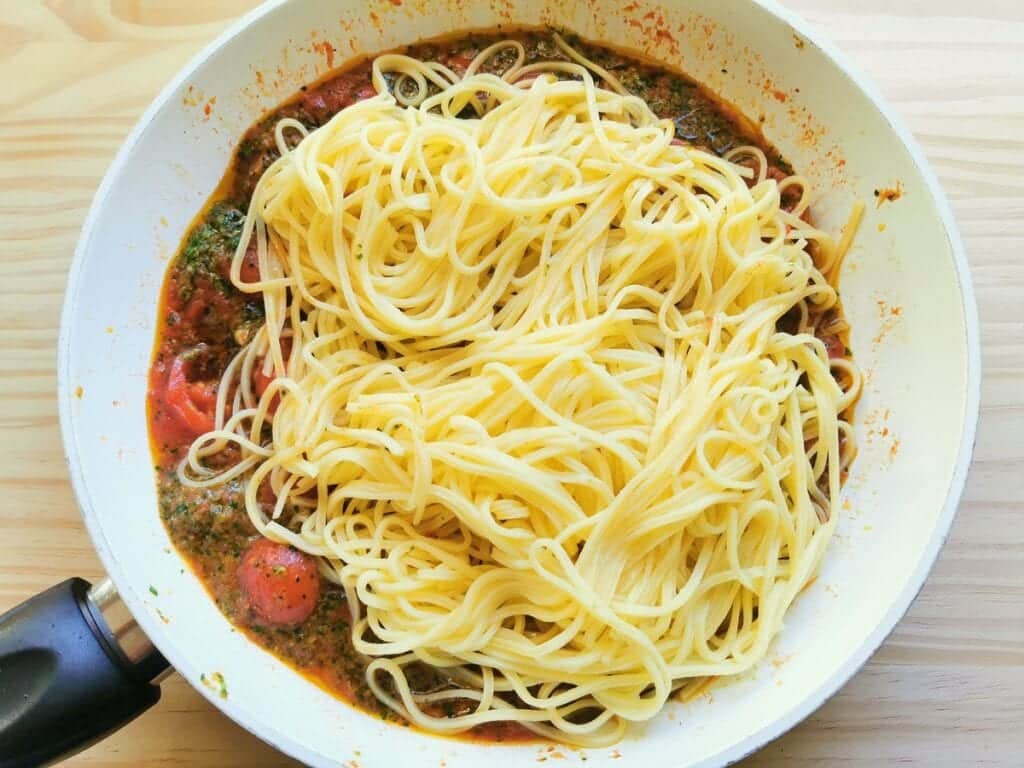 What to do with leftovers.
If you make this pasta alla Portofino with short pasta, leftovers are delicious baked with a layer of mozzarella and Parmigiano on the top! Yum Yum!
Other versions of pasta Portofino.
I've noticed that outside of Italy, particularly in the USA, people make pasta Portofino with chicken! This may be good but it's definitely not Italian! There are very few Italian pasta recipes with chicken, although filled pasta like tortellini is often served in a chicken or capon broth. There are also versions with shrimps or prawns. I love prawns with pesto and there are Italian recipes for pesto, prawns/shrimps and tomatoes. However, they're not referred to as pasta alla Portofino.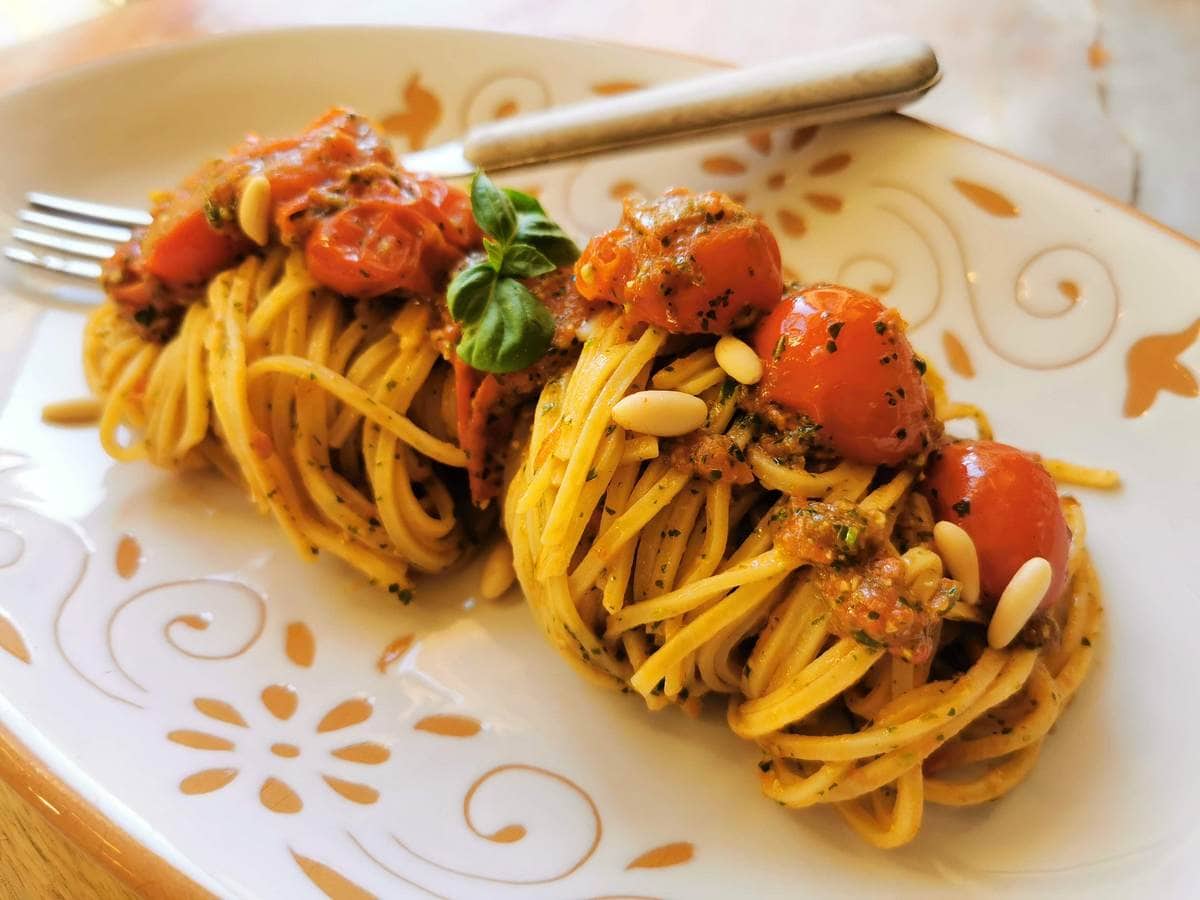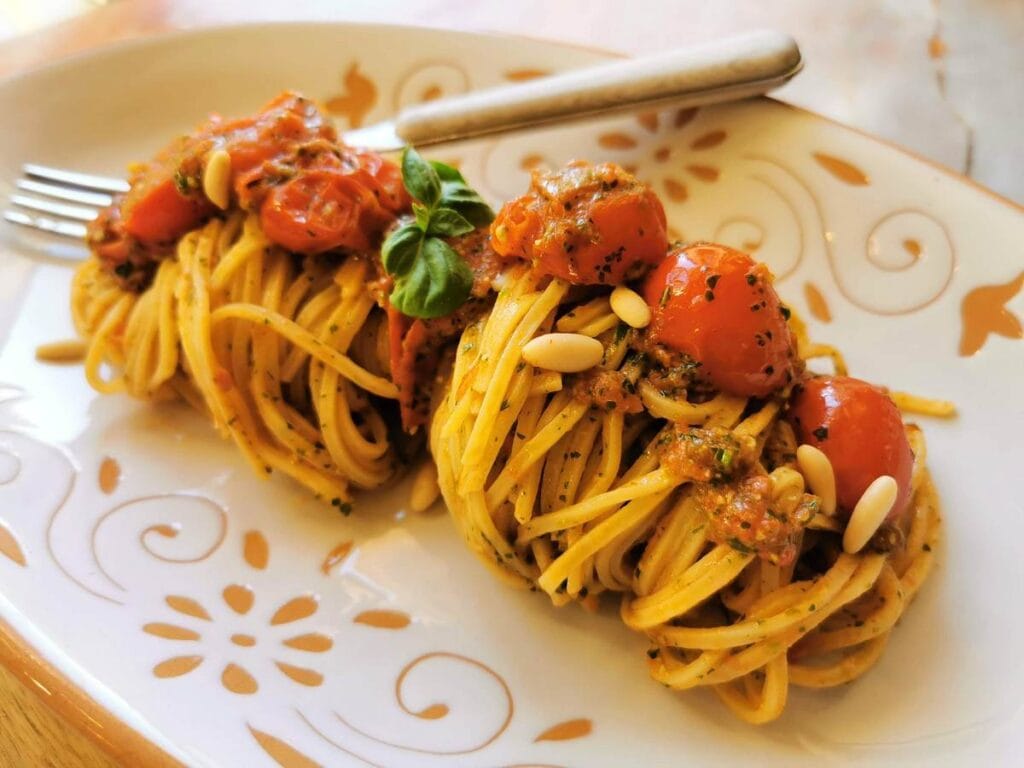 What is sometimes called pasta Portofino is lasagne alla Portofino. This is a fabulous pesto lasagna. But, it has no tomatoes, just pasta, pesto and béchamel. Another divine way to use basil pesto!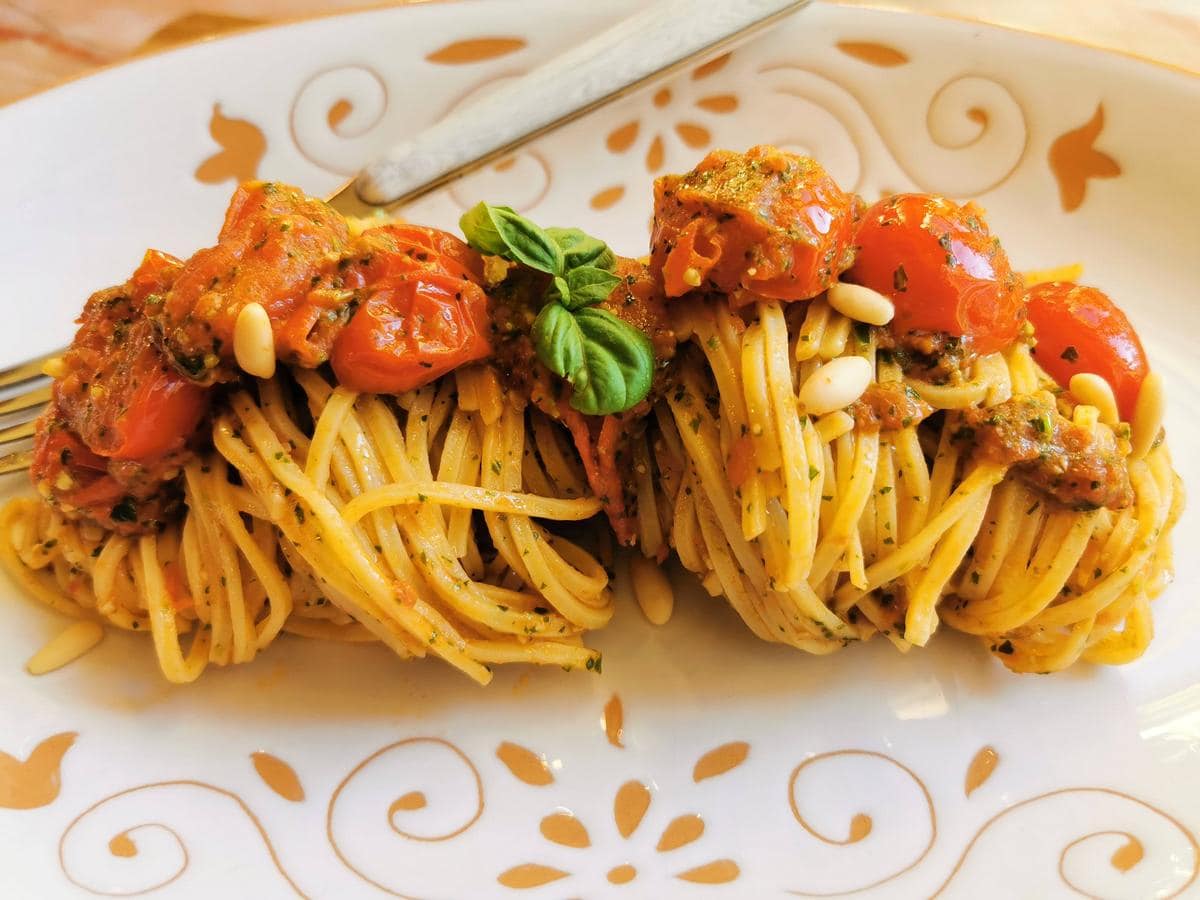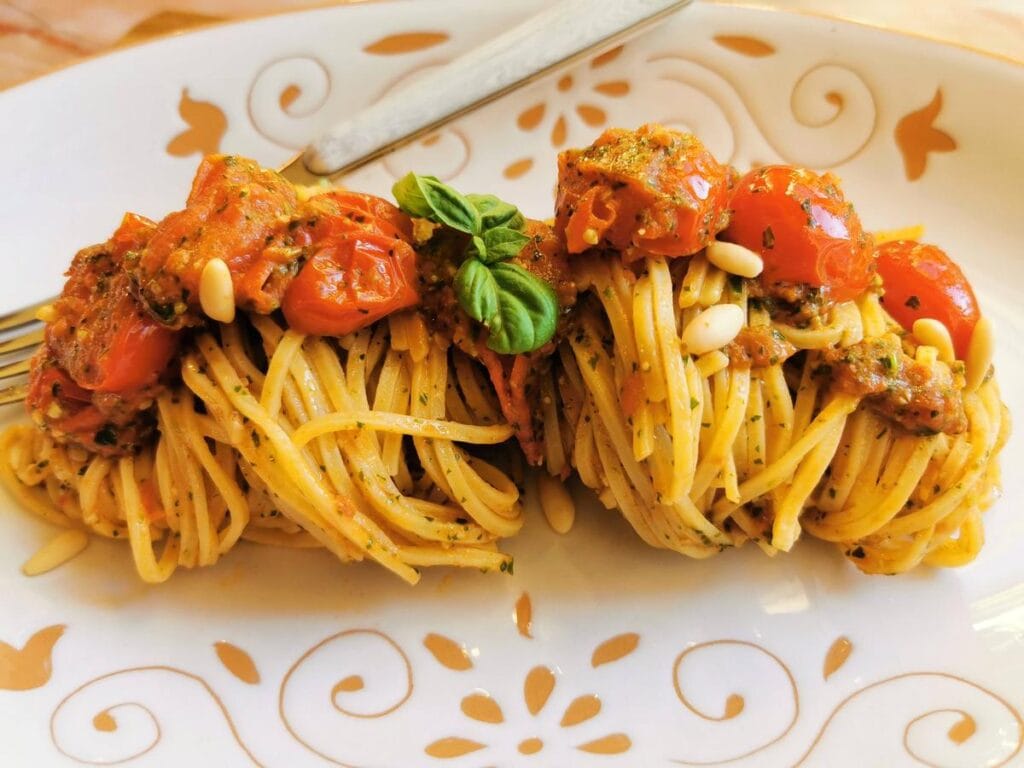 If you make this recipe, I'd love to hear how it turns out. Please write a comment here on the blog, email me or post a comment on the Pasta Project Facebook page.
Your feedback is really appreciated!
Buon Appetito!
SAVE THIS RECIPE FOR LATER?
If you want to save this recipe for later, you can print it, bookmark this page or save it to Pinterest.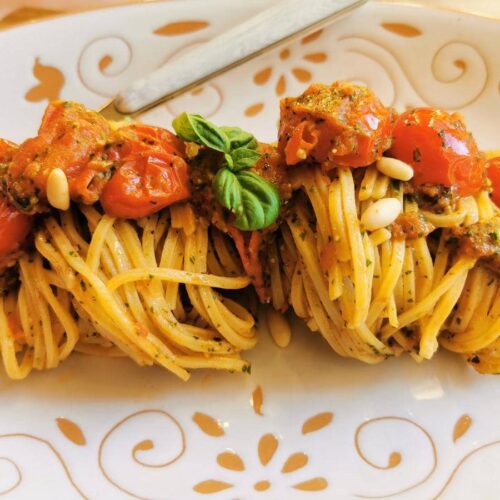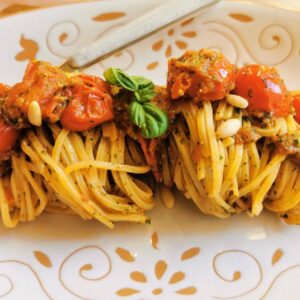 Pasta Portofino Recipe from Liguria.
If you like basil pesto, you'll love this pasta Portofino (or alla Portofino) recipe which pairs pesto with tomatoes. A simple easy-to-make vegetarian recipe full of Italian summer flavours.
Ingredients
400

g

tagliolini pasta (14oz)

or other pasta of your choice
For homemade pesto
4

handfuls

fresh basil leaves

60-70 g preferably young leaves

30

g

pine nuts (1oz)

60

g

Parmigiano Reggiano (2oz)

grated or vegetarian parmesan.

60

g

Pecorino sardo (2oz)

grated (double parmigiano (4oz) if not available or use pecorino romano)

2-3

pinches

coarse sea salt

1-2

garlic cloves

peeled

extra virgin olive oil.

as required
For tomato sauce
400

g

cherry tomatoes (14oz)

washed and halved

1

cup

tomato passata

or chopped tomatoes

1-2

garlic cloves

peeled

2-3

tbsp

extra virgin olive oil.

salt

for pasta and to taste

freshly ground black pepper.

to taste
Instructions
Make basil pesto
If it's possible, choose medium sized young basil leaves (brighter green). Rinse the leaves under water and dry them with paper towels.

Basil pesto the traditional way. Peel the garlic cloves and put them into a mortar with pine nuts. Grind until you have a paste Then add some basil leaves, and a little coarse sea salt, and 3 tbsp of olive oil. Keep working with the pestle, while continuing to add more basil leaves and olive oil until the pesto is smooth. Finally, transfer to a bowl, add the cheeses and stir well.

Using a blender/food processor. Put all the ingredients in the blender and pulse a few seconds at a time until you have the right consistency. Add olive oil as required. Don't keep pulsing for too long at once as the blender will heat up and this can spoil the basil.
Make the tomato sauce.
Sauté peeled garlic cloves in olive oil. Remove the garlic (if you wish) add cherry tomato halves and cook until they are well softened. Add passata, salt and pepper to taste and simmer for 10-15 minutes. When the tomato sauce is ready, add 3-4 tablespoons of pesto, mix together and simmer for 5-10 minutes.
Finish and serve.
Put a pot of water on to boil for the pasta, add salt once it starts to boil and bring to the boil again. Cook the pasta al dente according to the instructions on the packet. My fresh tagliolini only took 2 minutes!

Drain the pasta and add it to the sauce. Mix well and serve immediately with some fresh basil leaves and extra cheese if required.
Notes
You can use many types of pasta for this recipe. Long pasta like spaghetti or linguine, short pasta like penne, fusilli, trofie or rigatoni and even gnocchi.
To make this recipe vegetarian, you'll need to use a vegetarian cheese. As many strict vegetarians will know, Italian Parmigiano and Pecorino are made with animal rennet and therefore, not vegetarian.
Other basil pesto pasta recipes worth trying.
If you are interested in learning how to make other homemade pasta and different types of gnocchi, check out my shop page for some great video online courses from my friends in Rome! Nothing beats learning to make pasta from Italians! Plus while you're there why not order a copy of one of my pasta recipe cookbooks or checkout some recommended pasta making tools? All great prezzies for pasta lovers!