Minestrone with pesto Genovese Recipe from Liguria.
Minestrone is probably the most well-known of Italian soups. However, there isn't actually one traditional recipe for it. In fact, there are many. It really depends on where in Italy this soup is made and on the available seasonal vegetables at the time. This recipe for minestrone with pesto from Liguria in North West Italy is one of my favourites. Not only is it packed with fresh seasonal veggies, but the addition of the local basil pesto really makes it uniquely flavourful.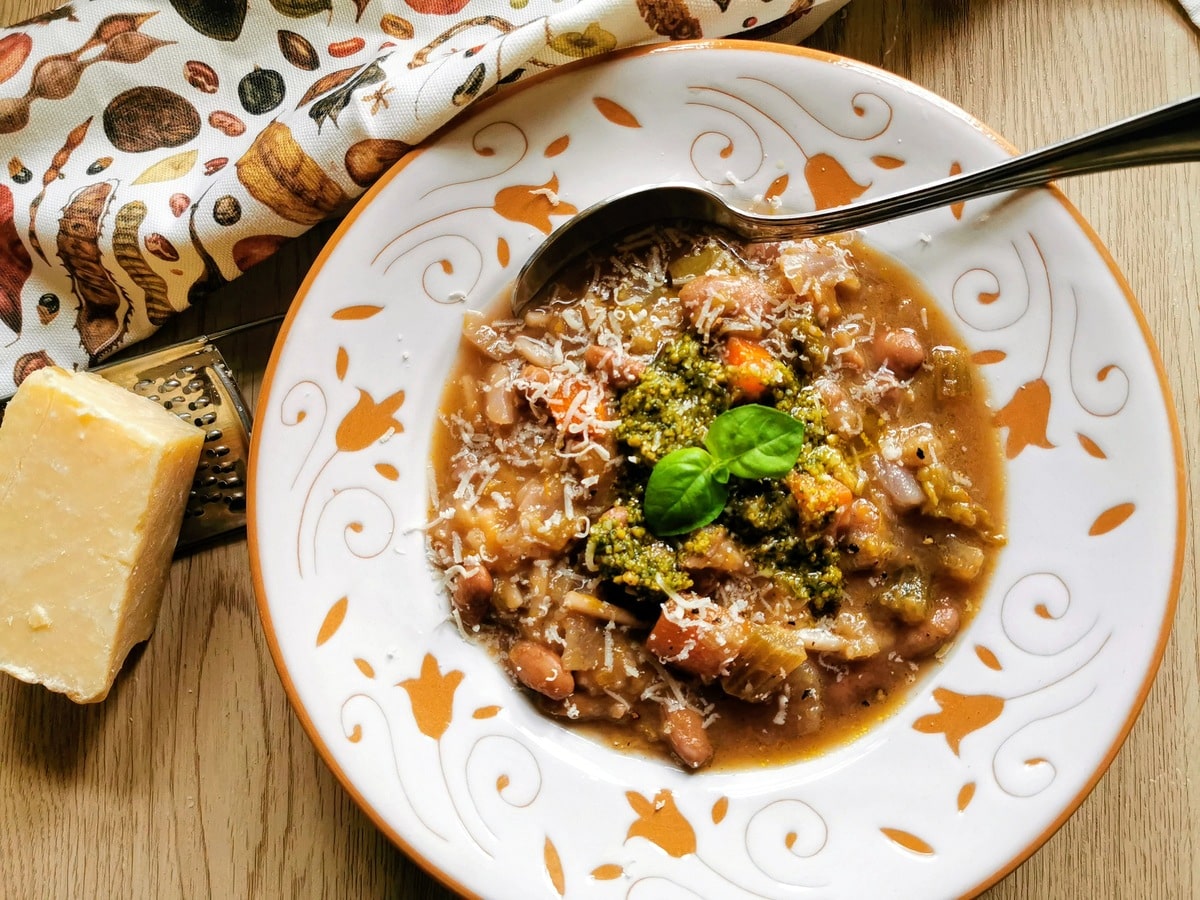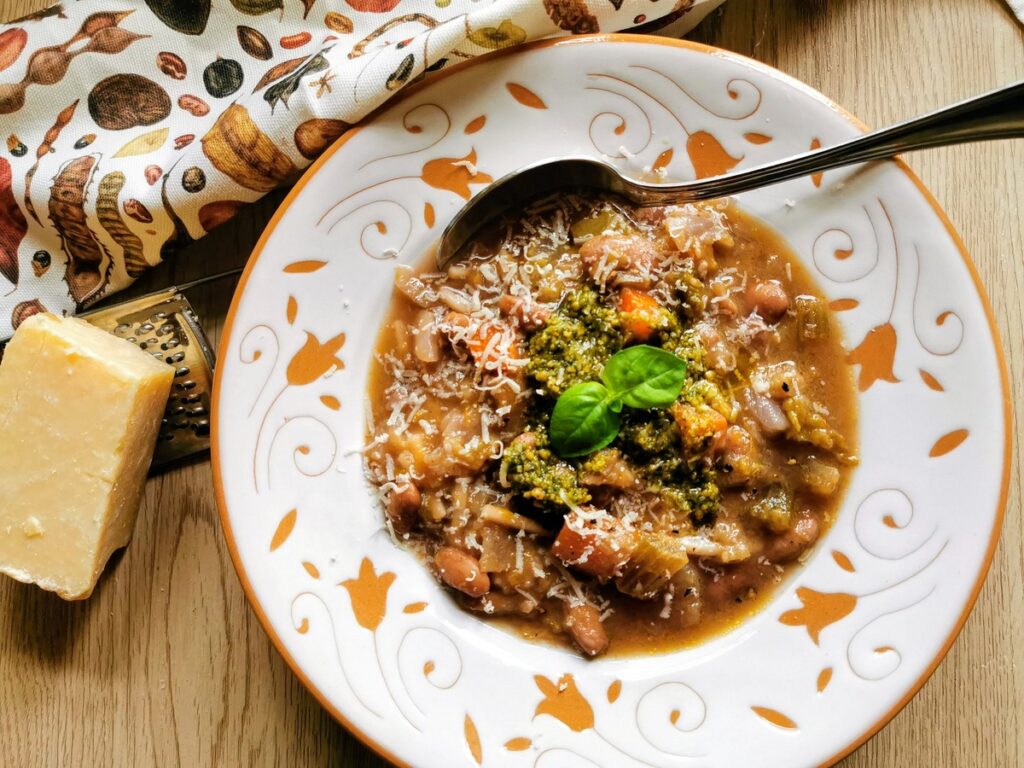 Minestrone con pesto alla Genovese.
What makes this minestrone from Liguria so unique is the addition of pesto Genovese. In other words, basil pesto. Basil pesto is practically a culinary staple in Liguria. In more or less its present form, it has been made there since the 1800s. However, food historians say that it probably developed from an ancient Roman sauce called 'moretum' and a Medieval crushed garlic and walnuts sauce called 'agliata'.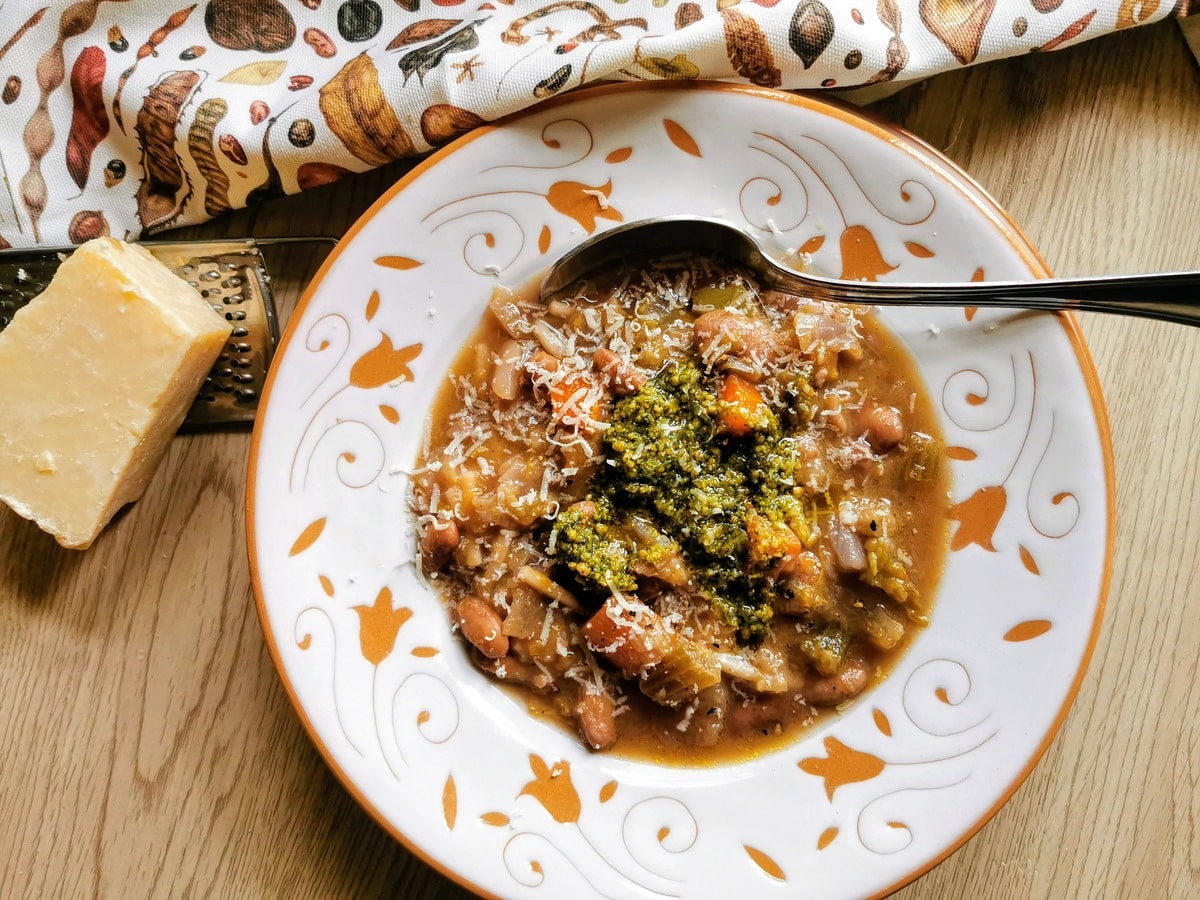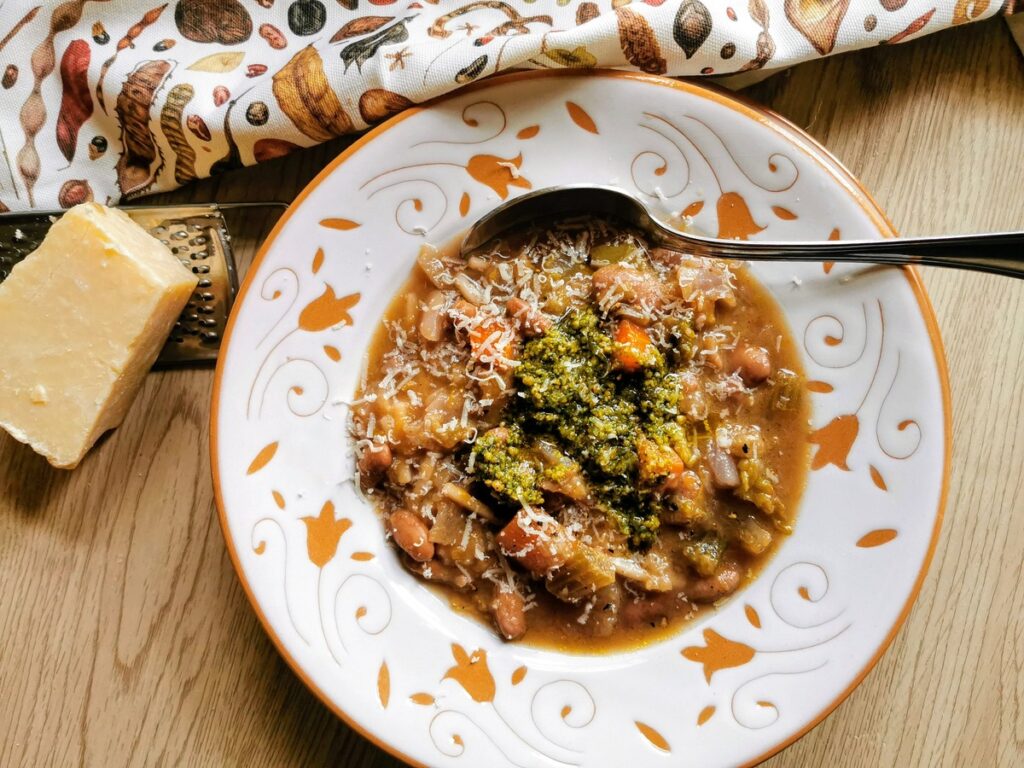 The Ligurians use basil pesto in many dishes, particularly with pasta. They even have an official recipe published by the Genova Chamber of Commerce. The official recipe has 7 ingredients; Ligurian basil leaves, Mediterranean pine-nuts, Vessalico garlic cloves, Ligurian extra virgin olive oil, coarse sea salt and two types of cheese, aged Parmigiano and Pecorino from Sardinia.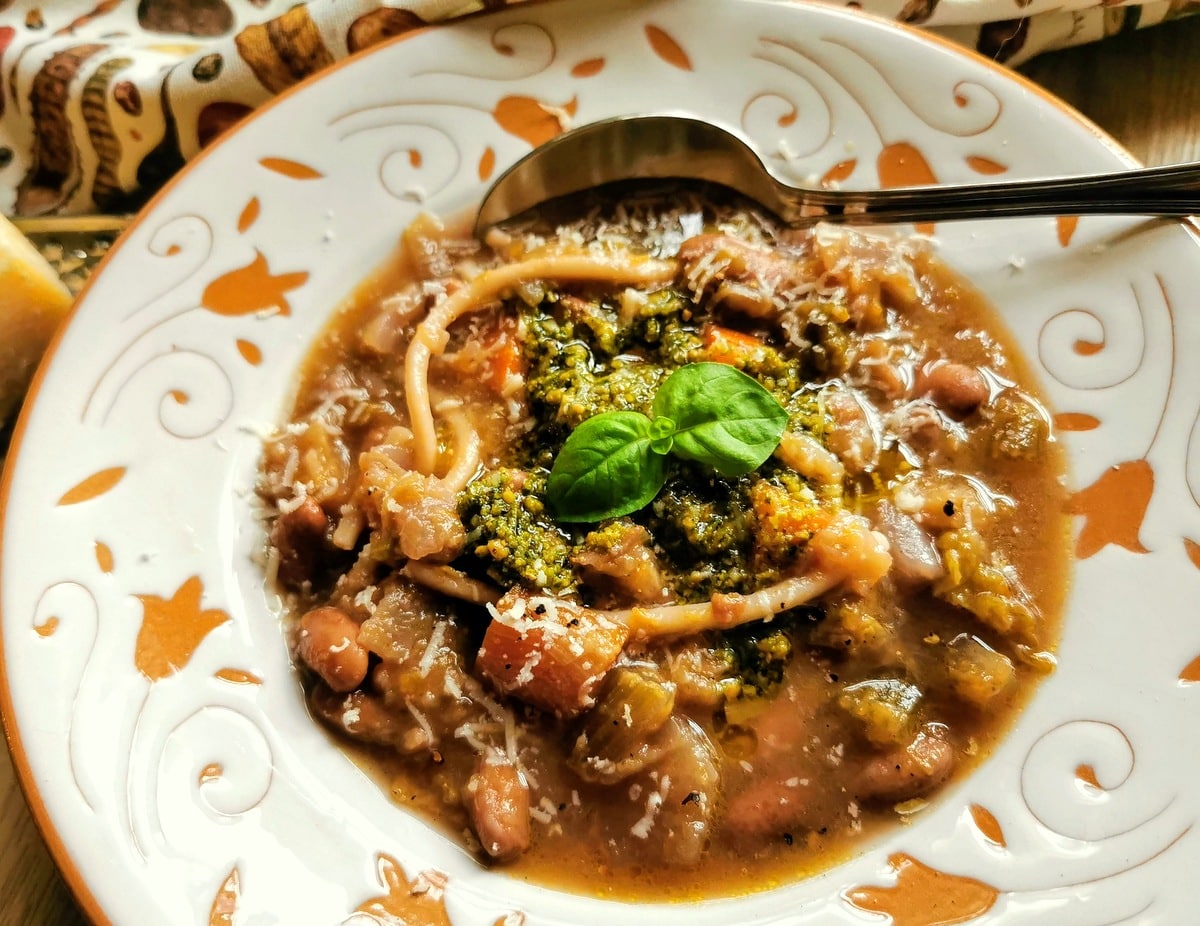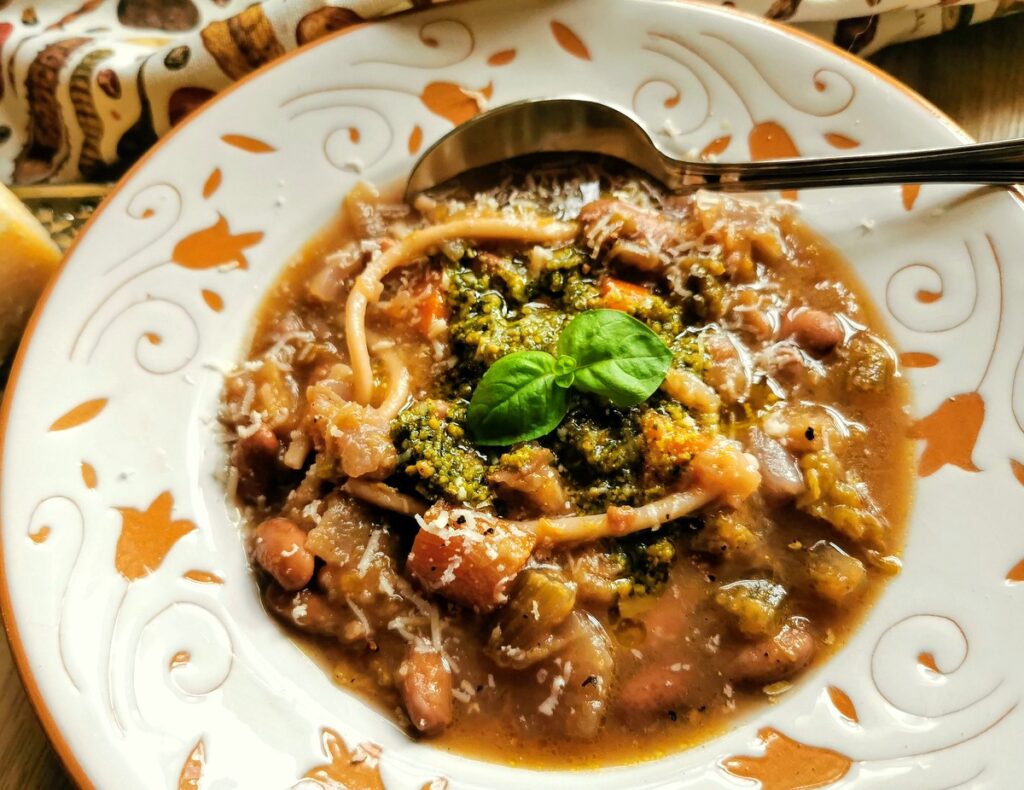 Of course, most of us have to use locally sourced basil leaves, nuts, garlic and olive oil. It may also not be possible to find both cheeses. In fact, I often make basil pesto with just Parmigiano (but don't tell anyone from Genova!).
What exactly is minestrone?
Minestrone is a soup with pretty antique origins. Even the Ancient Romans made a version with onions, garlic, carrots, asparagus, lentils and mushrooms plus, whatever else they could find at the time. They just boiled all the ingredients in water.
Over time, other ingredients have been added to minestrone in Italy. Tomatoes and beans only arrived in Europe after the discovery of the Americas in the 15th century. So, these are relatively more recent additions.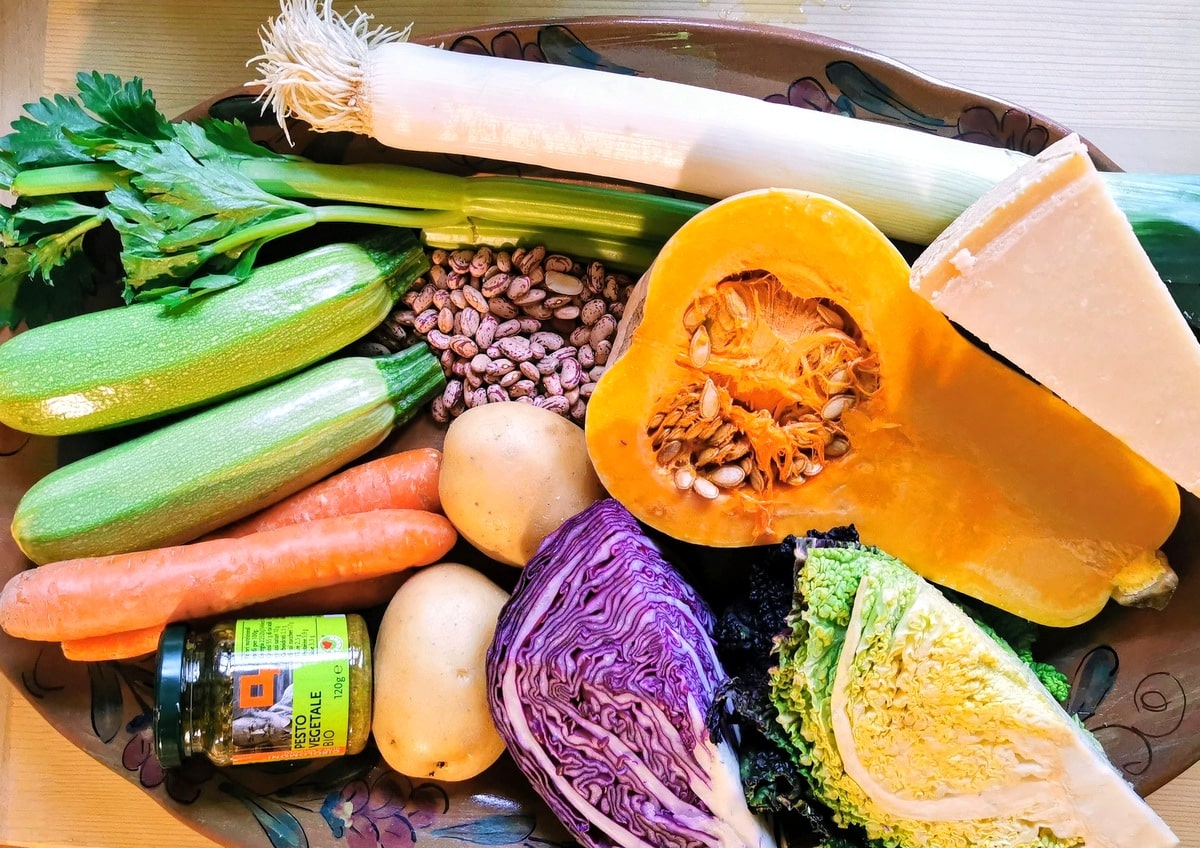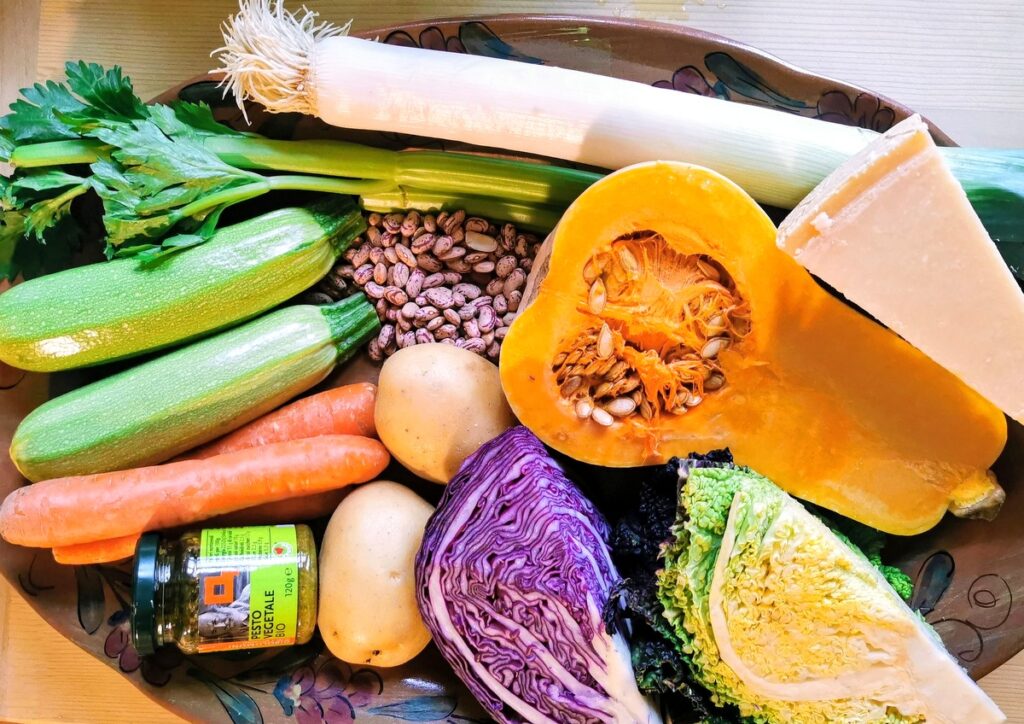 But, traditionally, minestrone is a seasonal vegetable soup which normally has some thickening plant-based ingredients such as squash, potatoes or legumes, plus, a variety of veggies cut into pieces and rice, pasta or grains.
Ingredients in minestrone with pesto Genovese.
Ligurian minestrone with basil pesto has lots of veggies in it. However, some of those traditionally depend on the season. All versions of this recipe have beans, usually borlotti or cannellini, as well as some type of pasta. In summer, you are more likely to find it made with tomatoes, zucchini, green beans, fava beans, sometimes eggplant and freshly made basil pesto. Some people add peas and borrage is popular, as is chard.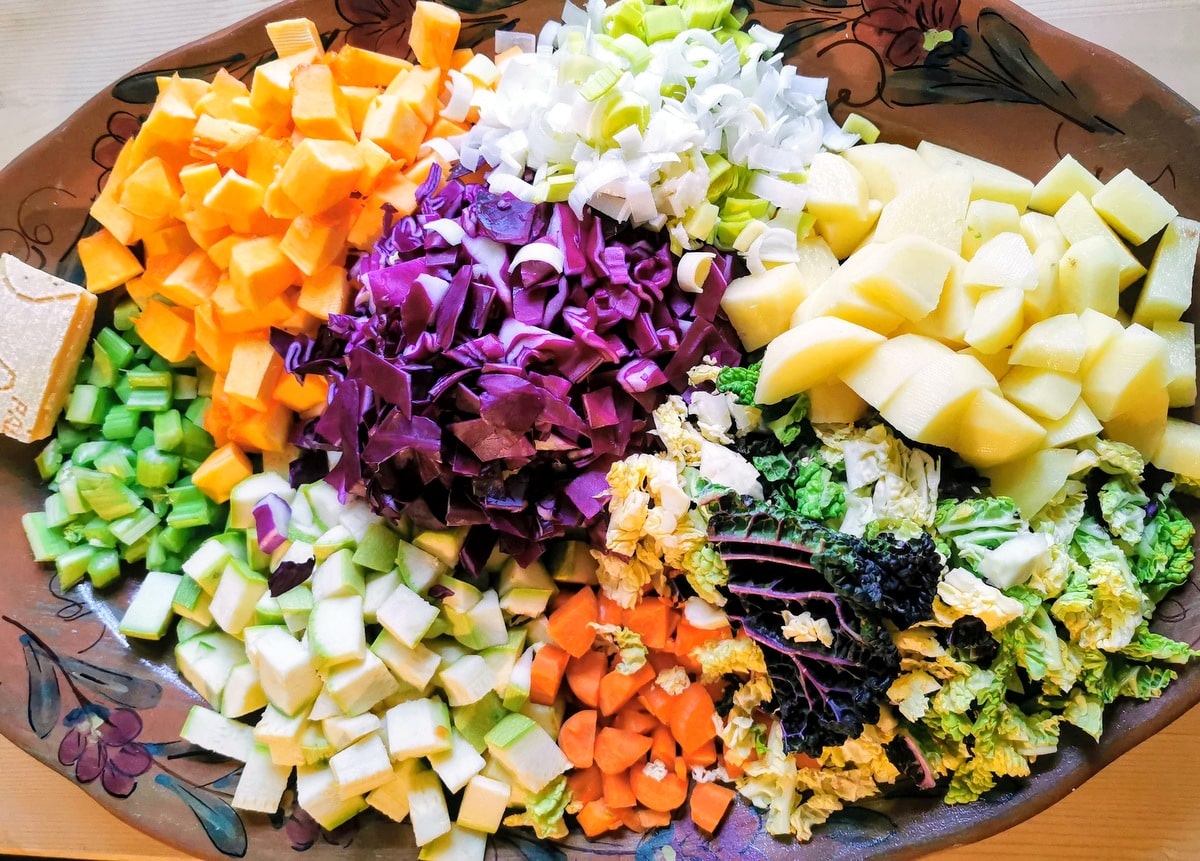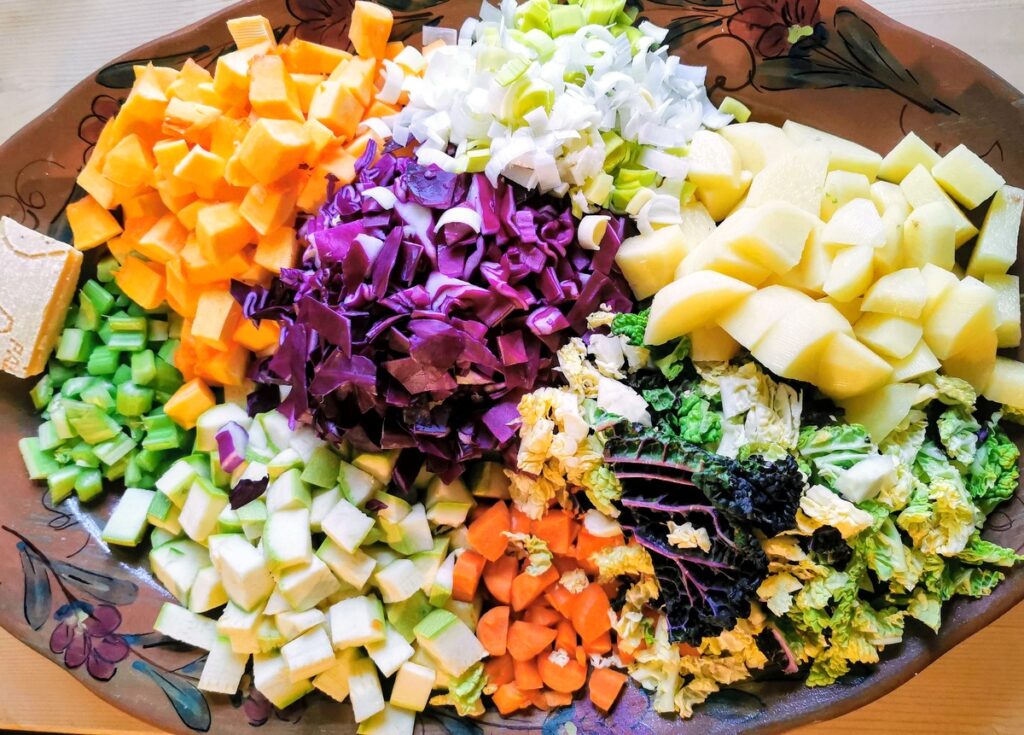 In winter, this vegetable soup often has squash or pumpkin, cabbages, kale, leeks, potatoes, celery, and carrots. These are the veggies I used along with zucchini. However, nowadays, many vegetables are available year-round. So, it's actually possible to make this Ligurian minestrone with your favourite veg whenever you want! And many people do!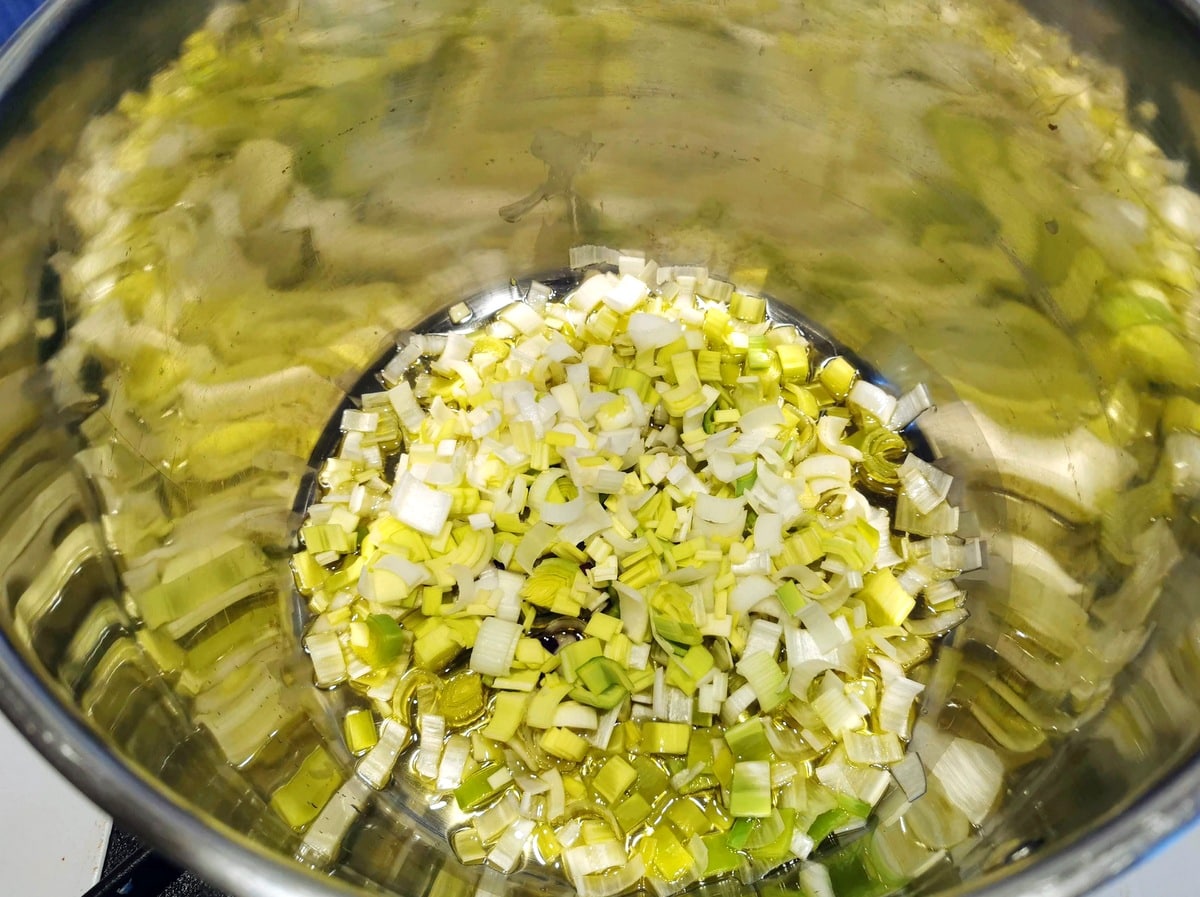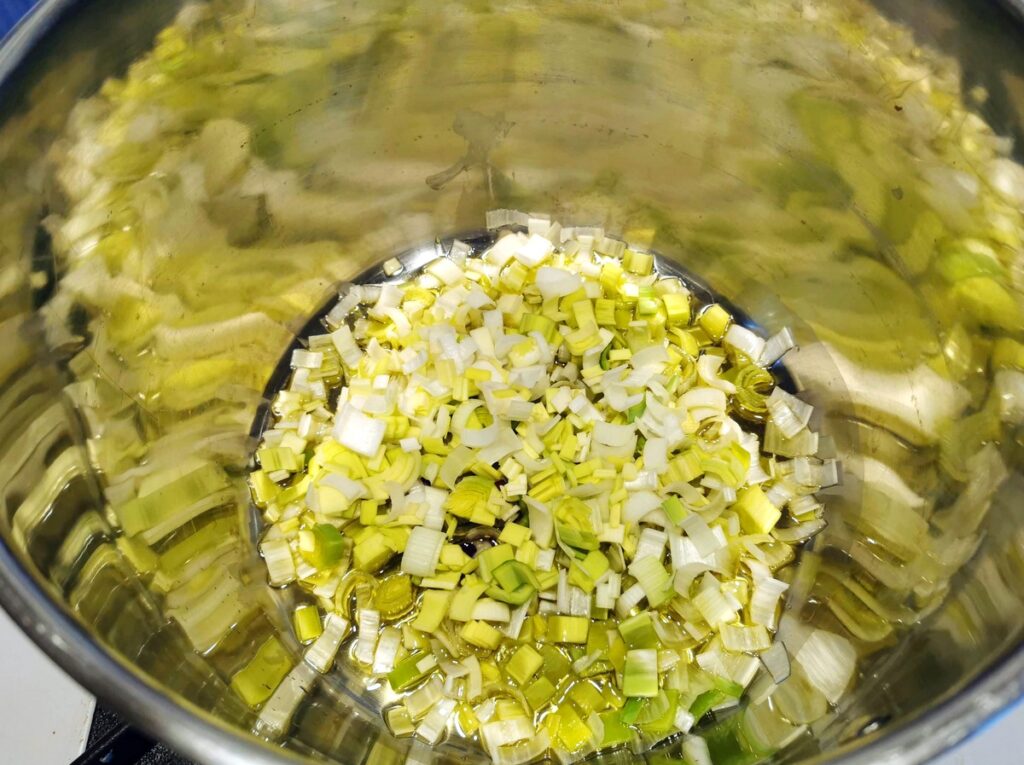 One ingredient I can't always find all year is fresh basil. So, for this version of minestrone with pesto, I used a ready-made pesto from a company called Girolomoni. This is actually one of my favourite pasta makers but they also produce other traditional Italian foods. You can read more about this company in my post about my visit to them. When making pesto particularly for this minestrone, Ligurians don't include pine nuts.
The beans
In Liguria, they often use local bean types called 'grixi' and 'balin' for minestrone alla Genovese. But, most recipes call for borlotti (cranberry beans). However, if you can't find those, cannellini are fine too.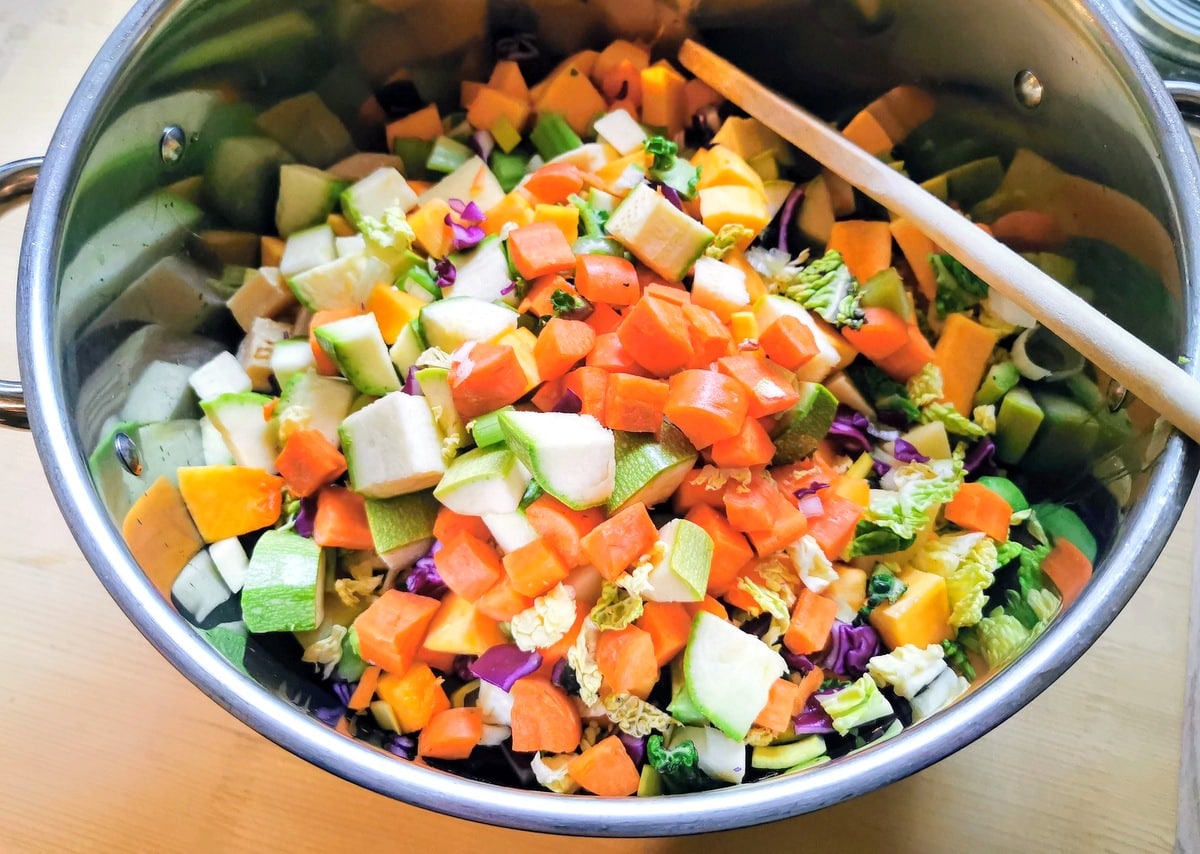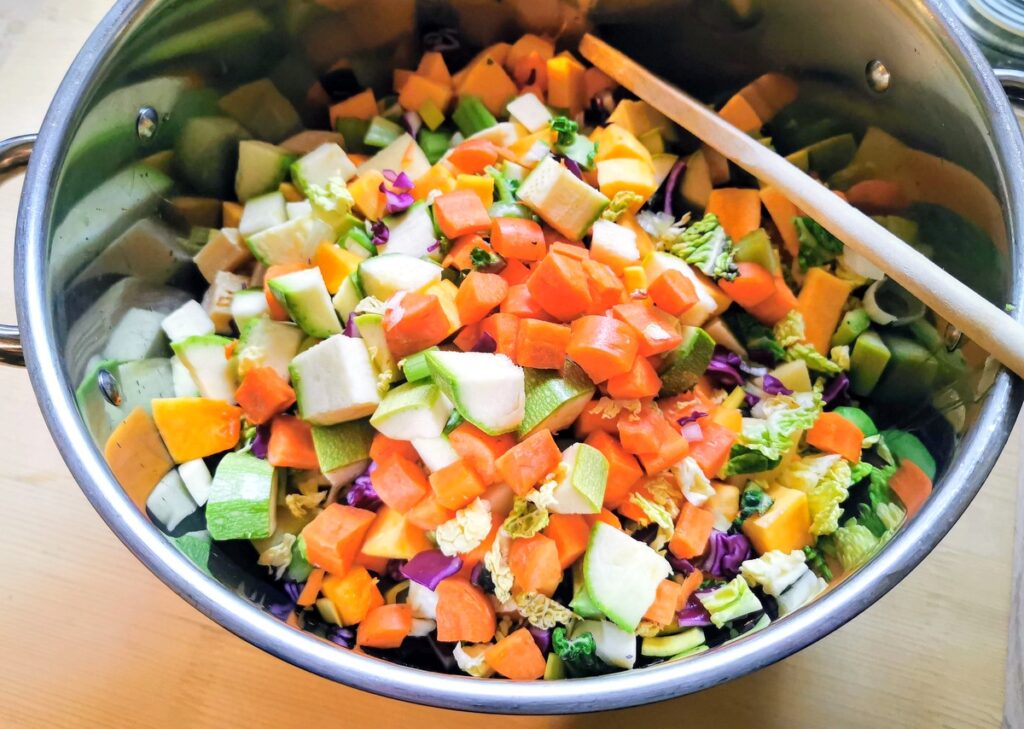 Traditionally the beans are fresh ones or dried ones which have been soaked overnight. But, of course, you can use canned beans instead. The difference between dried and canned is that you won't have the nutritious bean cooking water to add to the soup.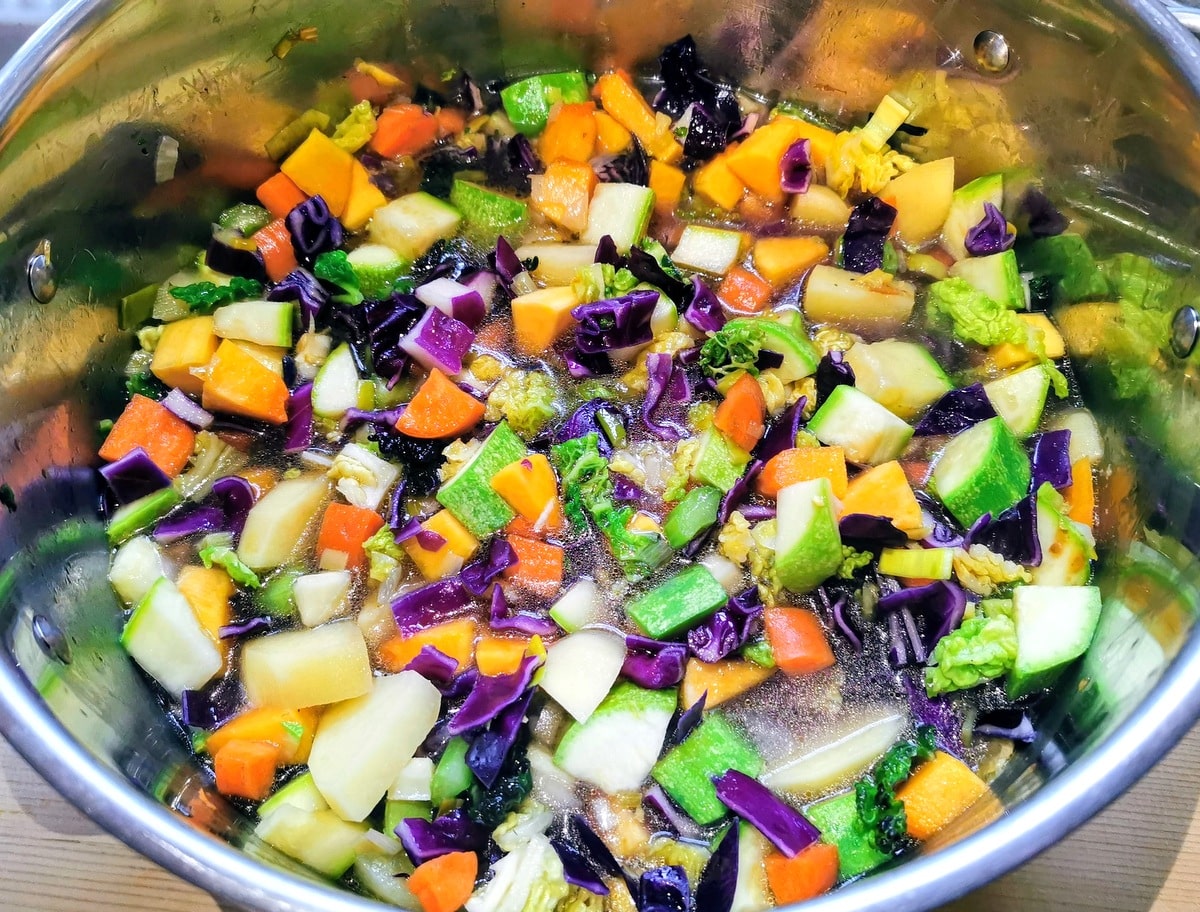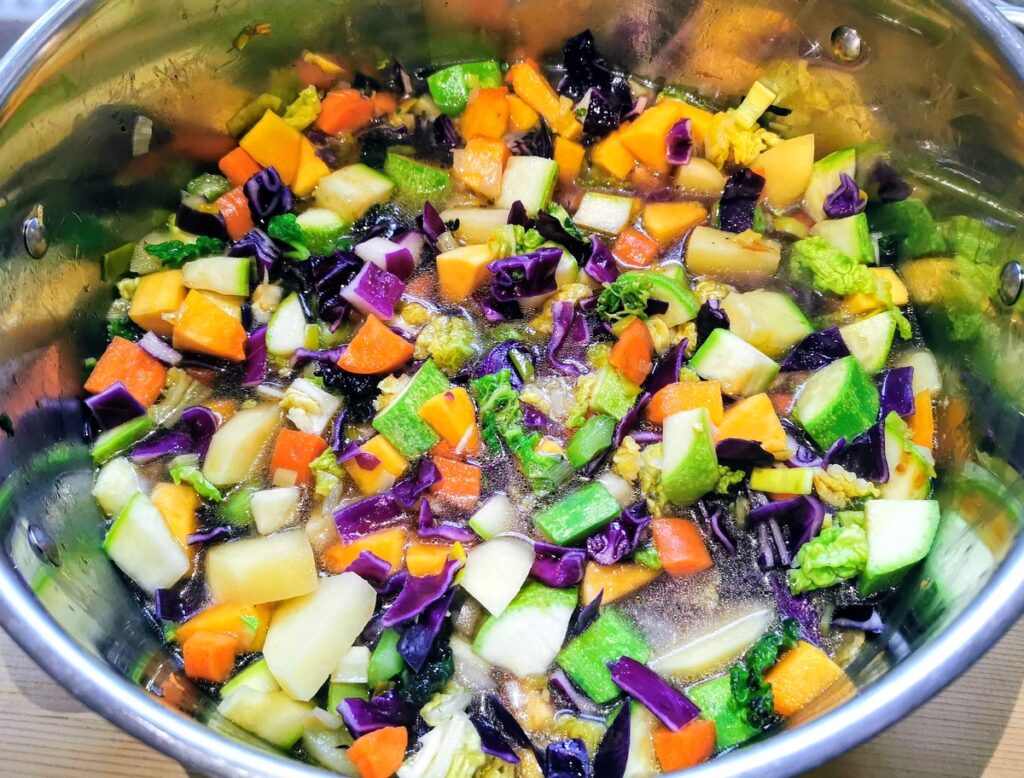 Some recipes actually use the bean cooking water as the base for the soup. In other words, the veggies are added to the beans once the latter are half cooked. I cooked the beans separately and added them with some of their cooking water to the soup, once the veggies had cooked a while.
The pasta.
I used broken spaghetti for my minestrone with pesto. This is the most traditional way. Although, pasta shapes such as ditalini or other soup pastas (pastina) are popular too. Rice can also be used instead if you like it better. Or you can leave the pasta out altogether if you're on a low carb diet or just prefer it that way.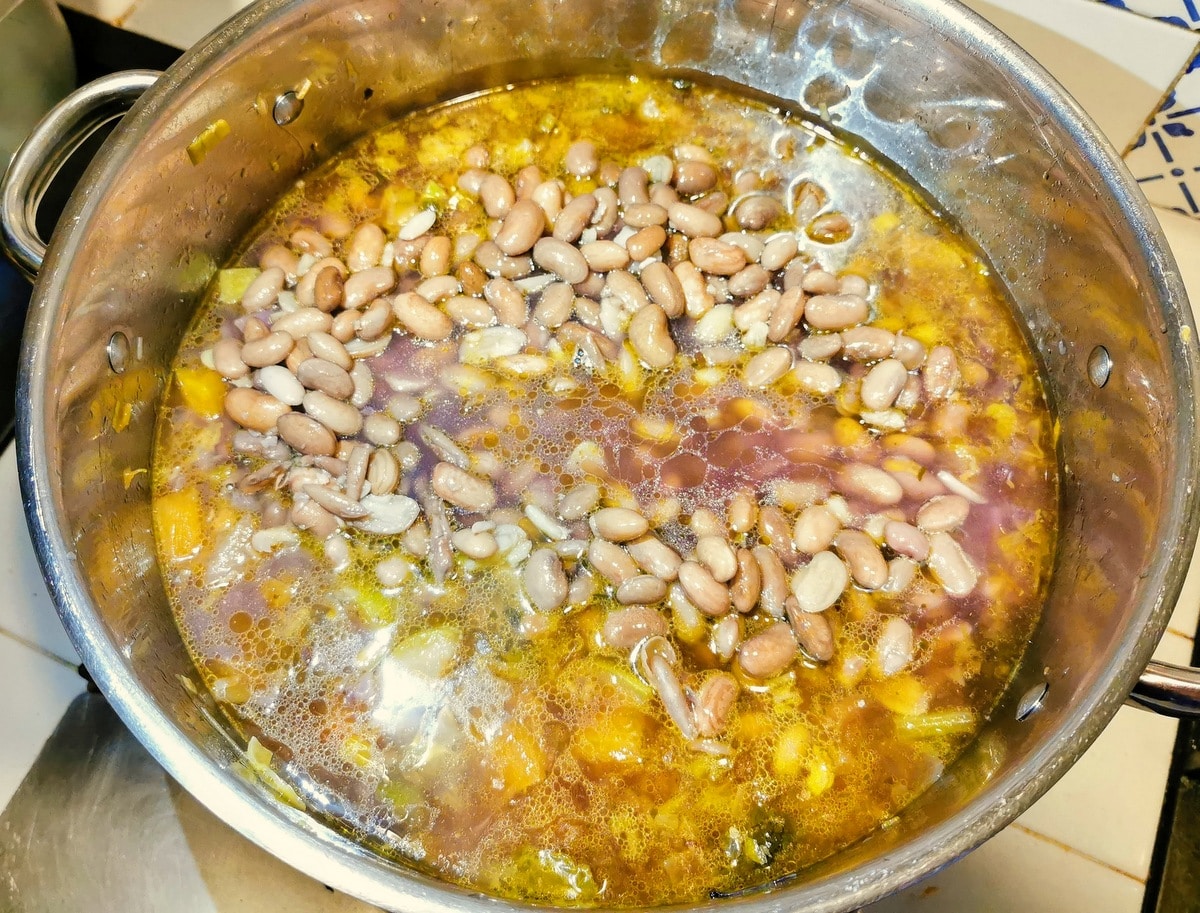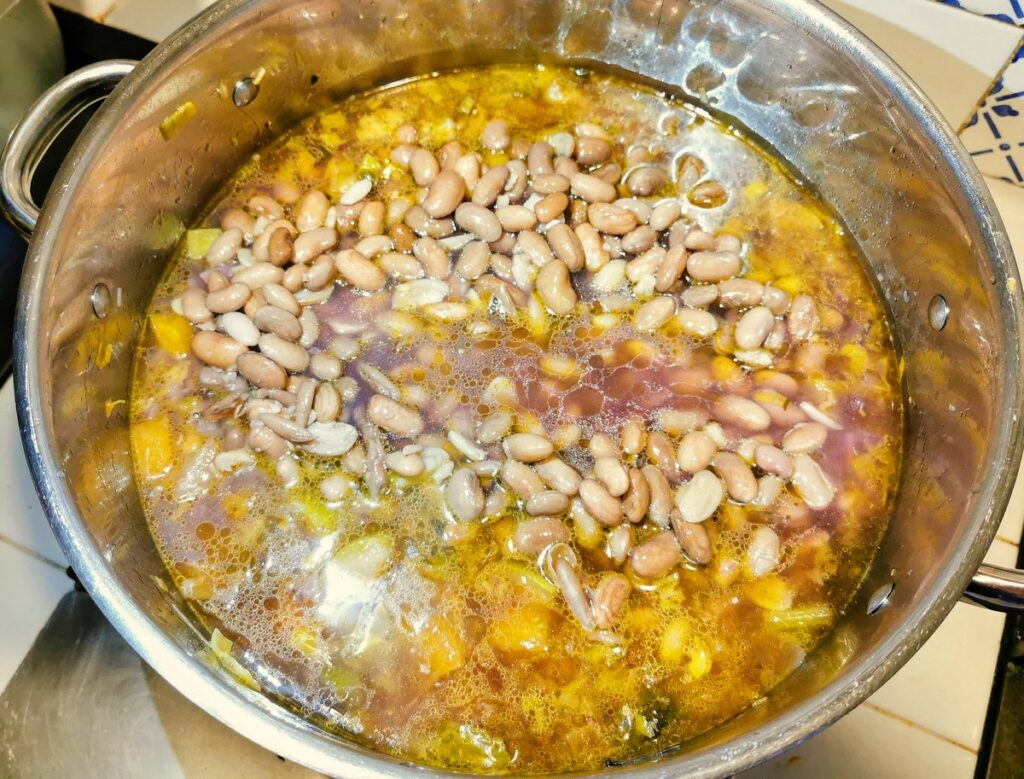 Making Ligurian minestrone alla Genovese.
Unlike other minestrone recipes, Ligurian minestrone doesn't usually have a soffritto as a base (finely chopped onions, celery and carrots sautéed in olive oil). In some versions, all the veggies are just cooked together. I followed a recipe that involved just sautéeing the leeks and then I added all the other ingredients.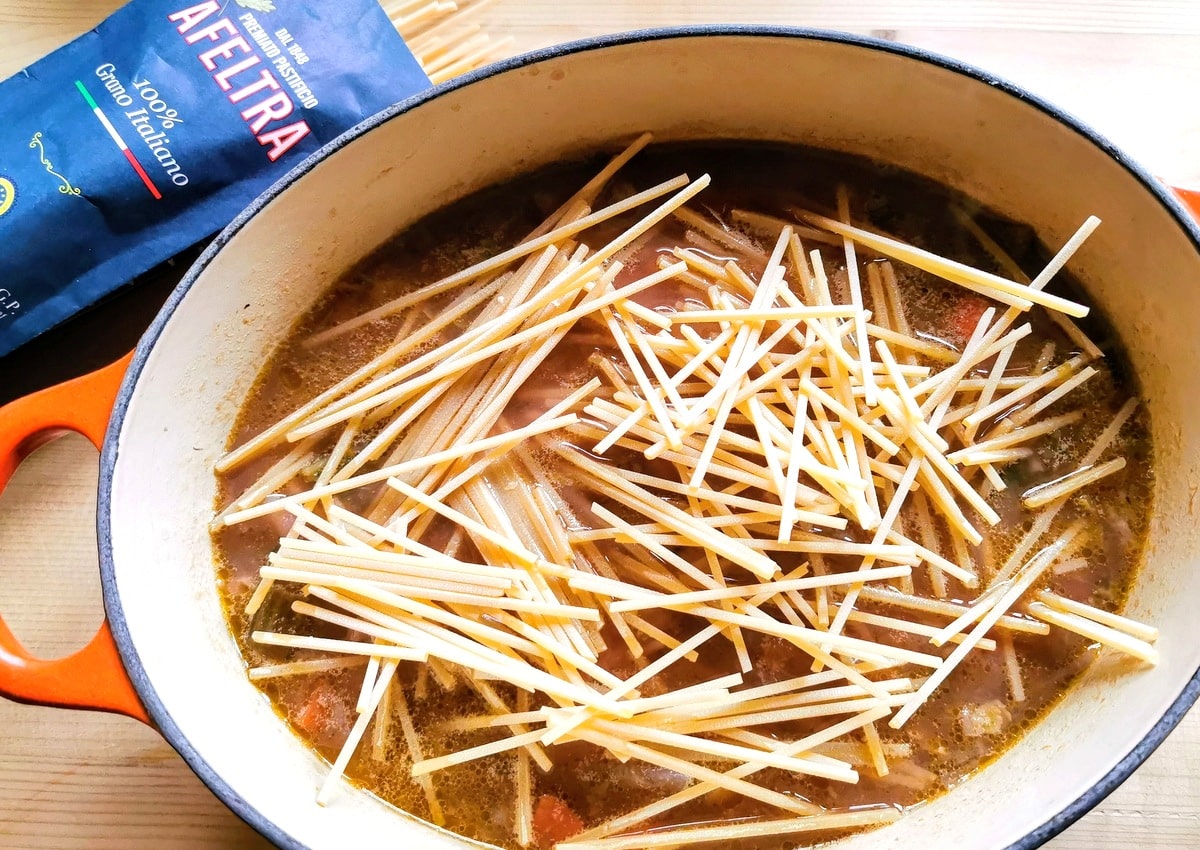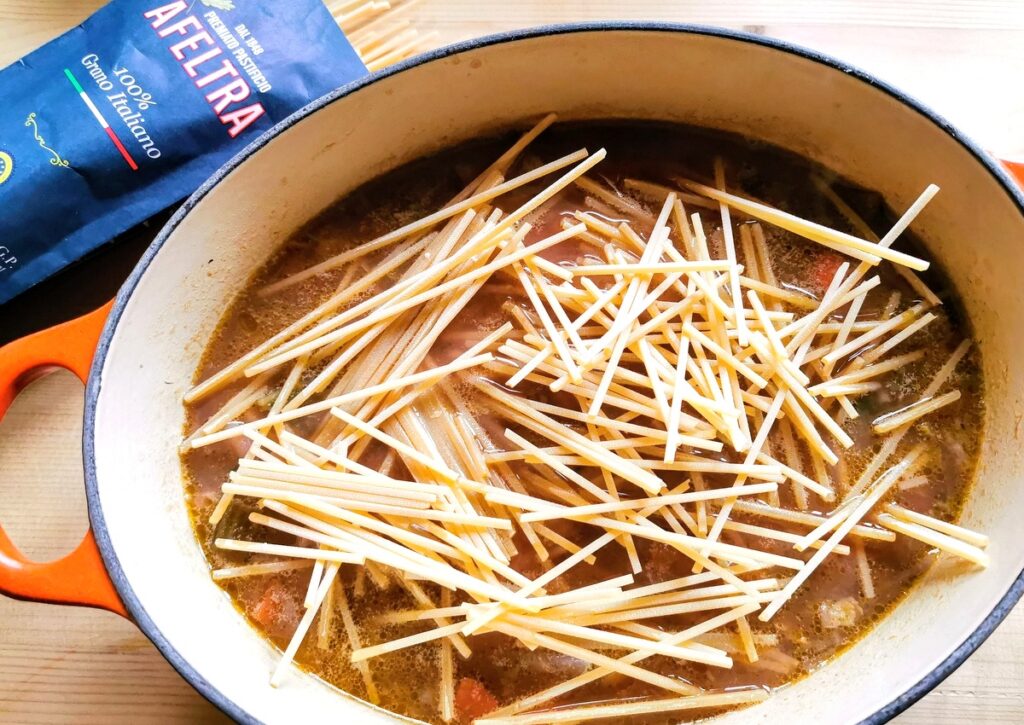 If you're not vegetarian a delicious addition to minestrone is to add a parmigiano rind to the soup. This really adds a lovely flavour. But since parmigiano is made with animal rennet, it's not suitable for vegetarians. The same goes for traditional pesto as it has parmigiano or pecorino in it. However, there are versions with vegetarian cheese and you can make it without cheese too.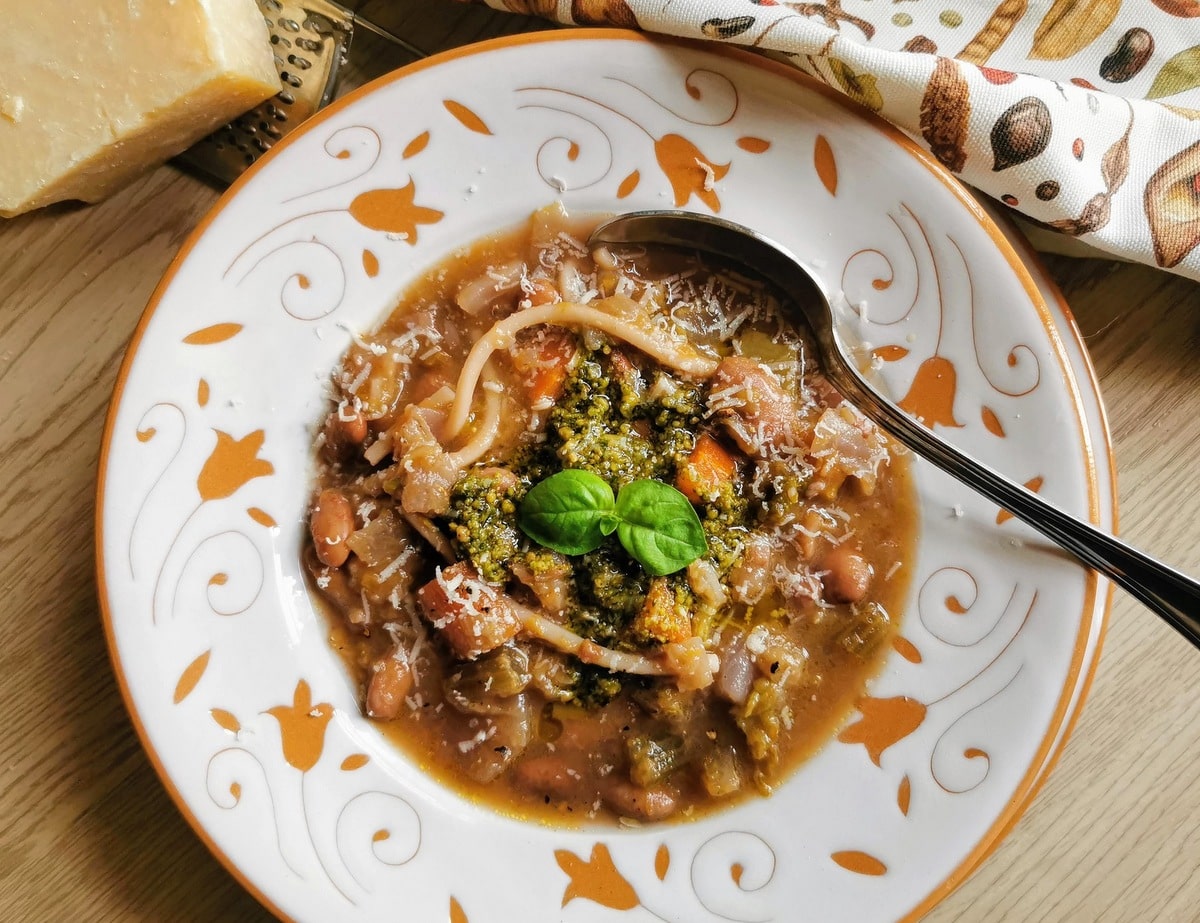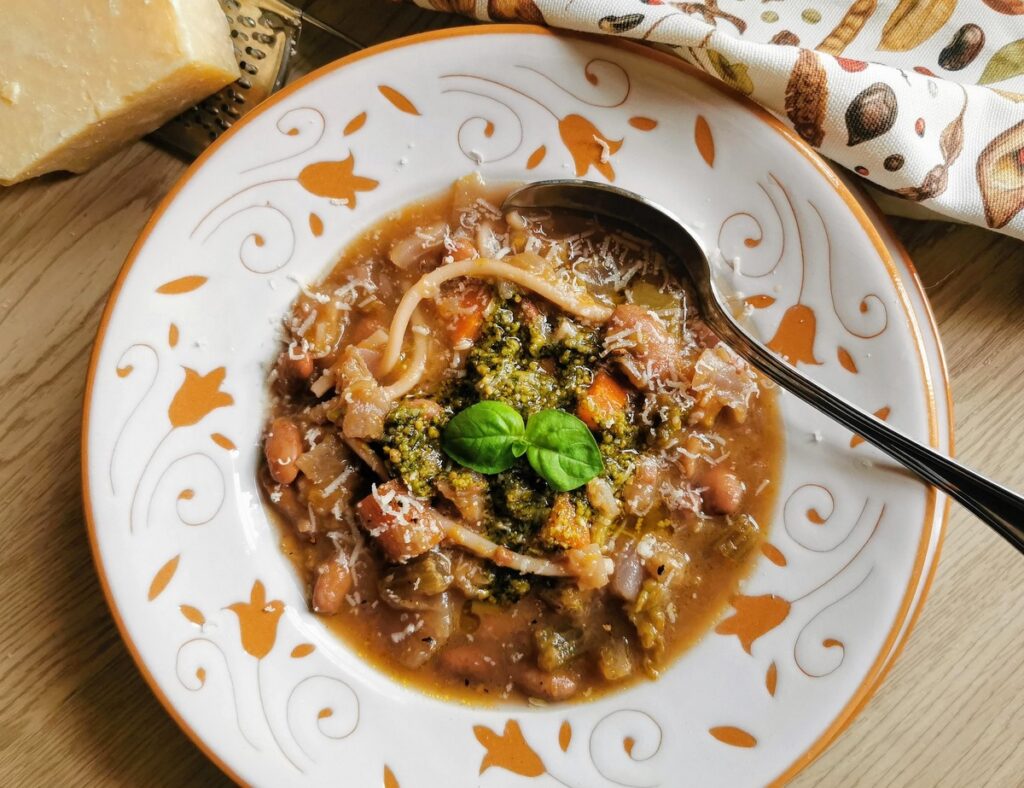 Let me know what you think.
Whichever combination of veggies you use to make this recipe, I'm sure minestrone with pesto is going to become a favourite for you too! It's uniquely delicious, nutritious, warming and filling. Pure comfort food!
If you do try this Ligurian minestrone, I'd love to hear what you think. Please write a comment here on the blog or post a comment on the Pasta Project Facebook page.
Your feedback means a lot to me!
Buon Appetito!
Other soup with pasta recipes.
Save this recipe for later?
If you want to save this recipe for later, you can print it, bookmark this page or save it to Pinterest.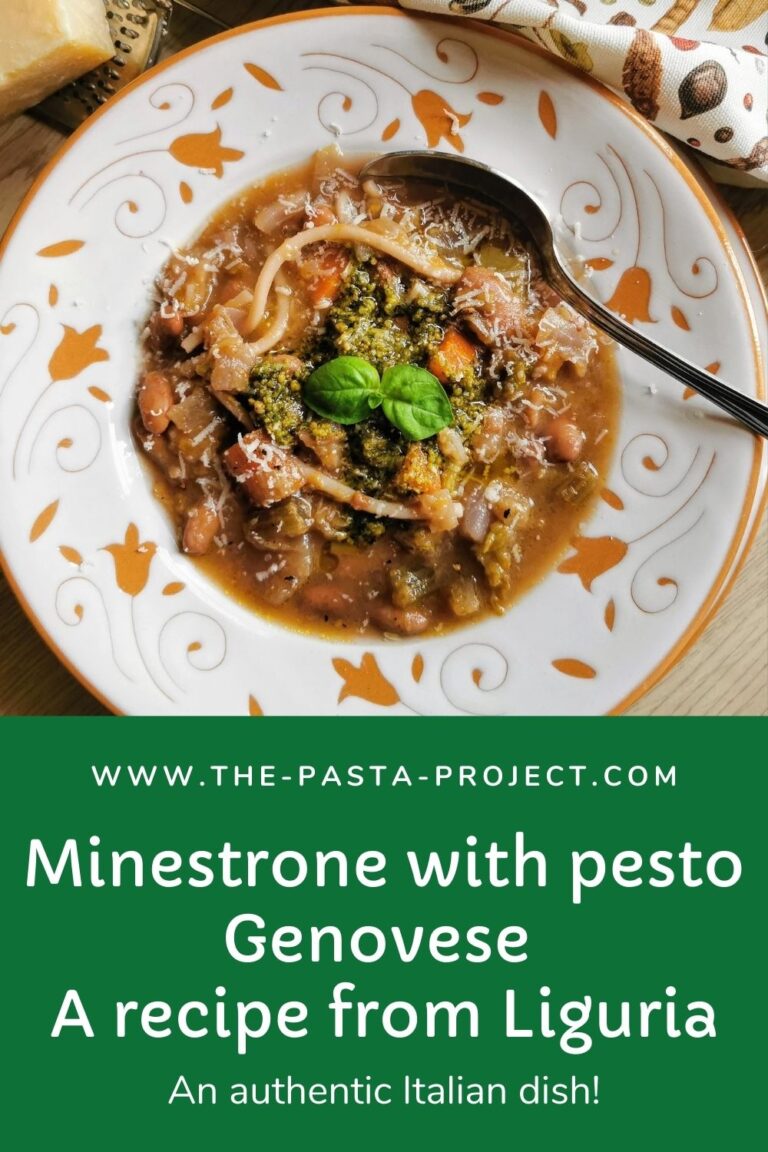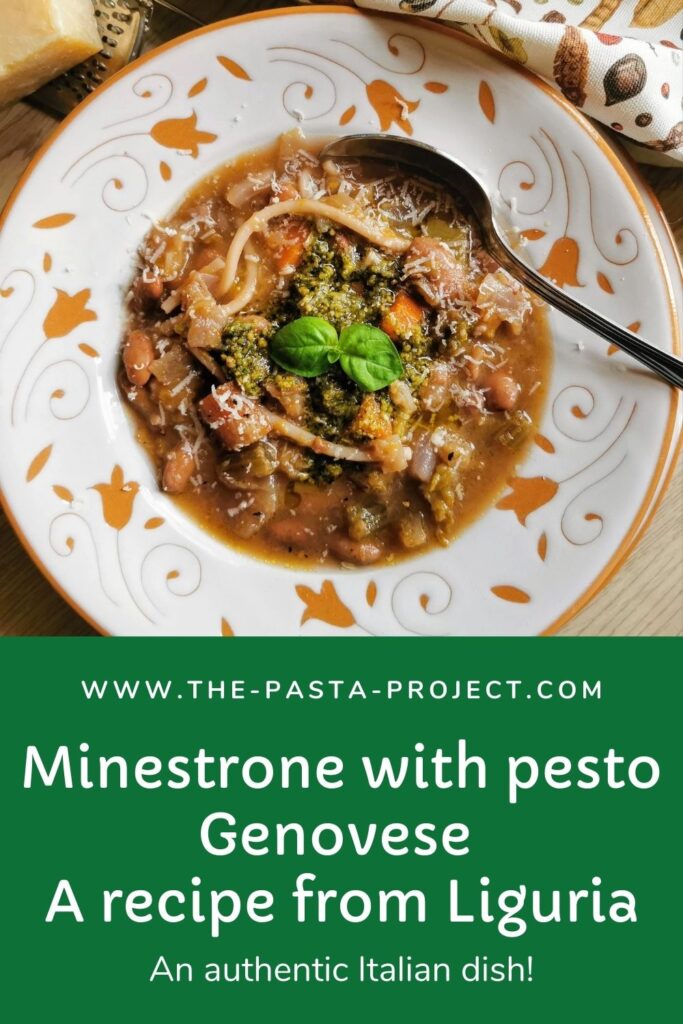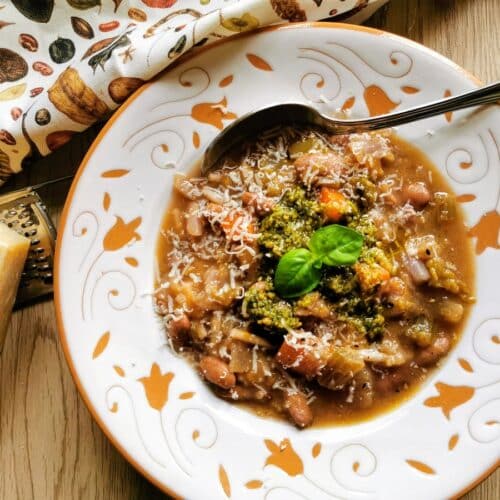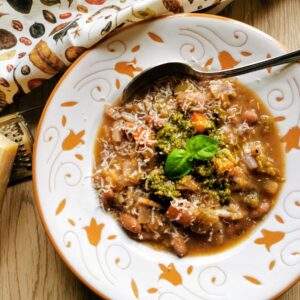 Minestrone with pesto Genovese (basil pesto)
A delicious and nutritious Italian minestrone served with basil pesto.
Ingredients
150

g

spaghetti

(5-6oz) or other soup pasta

200

g

borlotti beans (cranberry beans)

(7oz) canned or dried and cooked. Fresh borlotti can be used when in season (see notes)

1

leek

large. Cleaned and sliced

2

potatoes

peeled and cut into cubes

2-3

carrots

washed and cut into cubes

1/2

squash

I used a small butternut squash

2-3

zucchini

washed and cubed

1-2

celery stalks

washed and cubed

1/2

wild cabbage (type of kale)

or savoy cabbage ( cleaned and sliced)

1/2

red cabbage

(cleaned and sliced) or greens like chard, spinach

2-3

tbsp

basil pesto

homemade or ready-made (if homemade leave out pine-nuts)

1

piece

Parmigiano rind

(optional)

Parmigiano Reggiano

grated (optional) for serving

3

tbsp

extra virgin olive oil.

salt

to taste

freshly ground black pepper.

to taste
Instructions
Prepare the ingredients.
If using dried beans soak overnight and then rinse and cook in lightly salted water for about 40 minutes. Save 2 cups of the cooking water and drain.

Peel the potatoes, peel and remove the seeds from the squash, remove the outer leaves from the cabbages. Wash/clean all the other veggies and then cut potatoes, squash, carrots, celery and zucchini into cubes and slice leeks and cabbages and greens.
Cook the minestrone.
Sauté the sliced leeks in the olive oil for a couple of minutes. Then add all the other vegetables. Mix and add a salt to taste and enough water to just cover the veggies. Simmer on a low-medium heat for about 30 minutes.

Add the cooked beans with 1-2 cups of the bean cooking water (or drained canned beans) and the parmigiano rind (if using). Simmer for another 30 minutes. Add salt and pepper to taste.

Use a fork to mash (puree) some of the potatoes and beans in the pot. Add the pasta and continue cooking until it's al dente. If your soup seems dry, pour in some hot water.
Serve your minestrone.
When the soup is ready, remove from the heat and add the pesto. Mix gently and serve. You can also add the pesto to each serving once it is plated. (I like to do this).

This minestrone with pesto can also be served tepid and tastes even better the next day. However, the pasta will absorb more liquid so you may want to add some water when reheating leftovers.
Notes
You can use broken spaghetti or small tubes like ditalini as well as other soup pasta (pastina). Rice can also be used instead if you like it better. Or you can leave the pasta out altogether if you're on a low carb diet or just prefer it that way.
I actually set half my minestrone aside before adding the pasta. I prefer to add the pasta just before serving. This minestrone tastes even better the next day but the pasta will absorb a lot of the liquid. You can either just add some water when reheating leftovers or set aside some soup before adding pasta as I did.
If you use fresh borlotti, just add them in with the rest of the veggies.
If you want to make homemade pesto check out this pesto pasta recipe for instructions.
Want to know more about my life in Italy? Why not subscribe to my newsletter? New subscribers get a free recipe e-book too!
Pin me for later!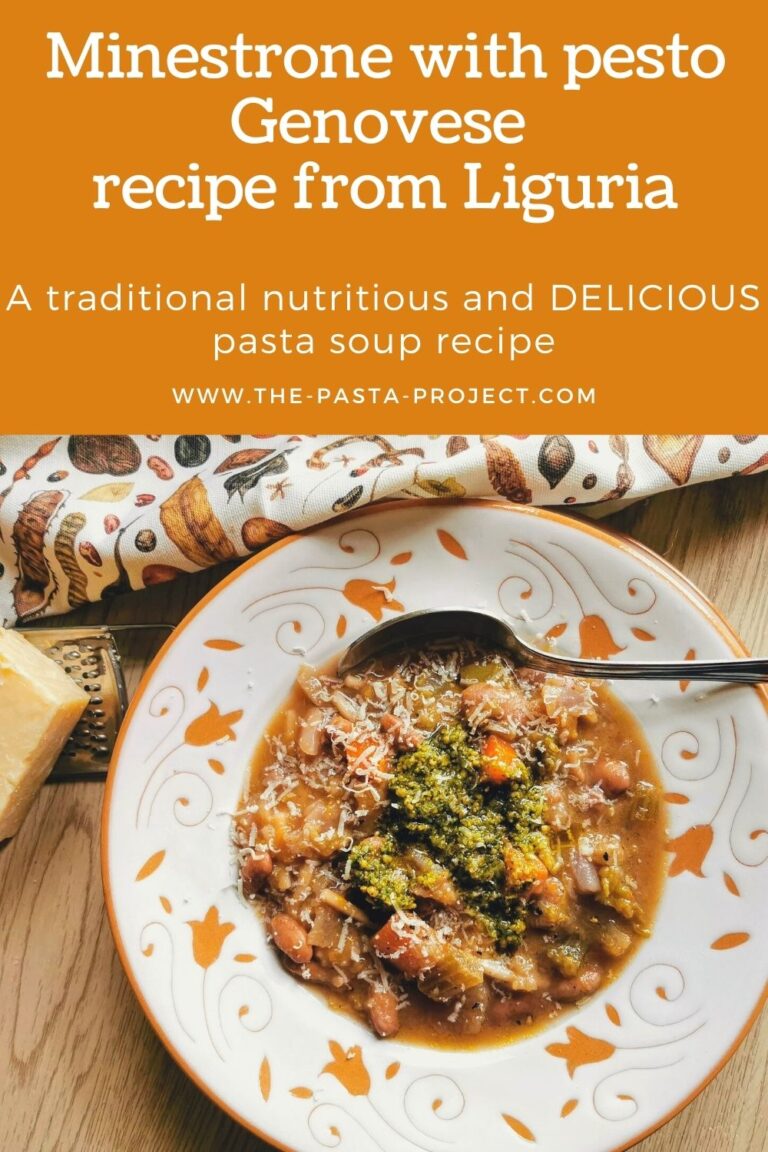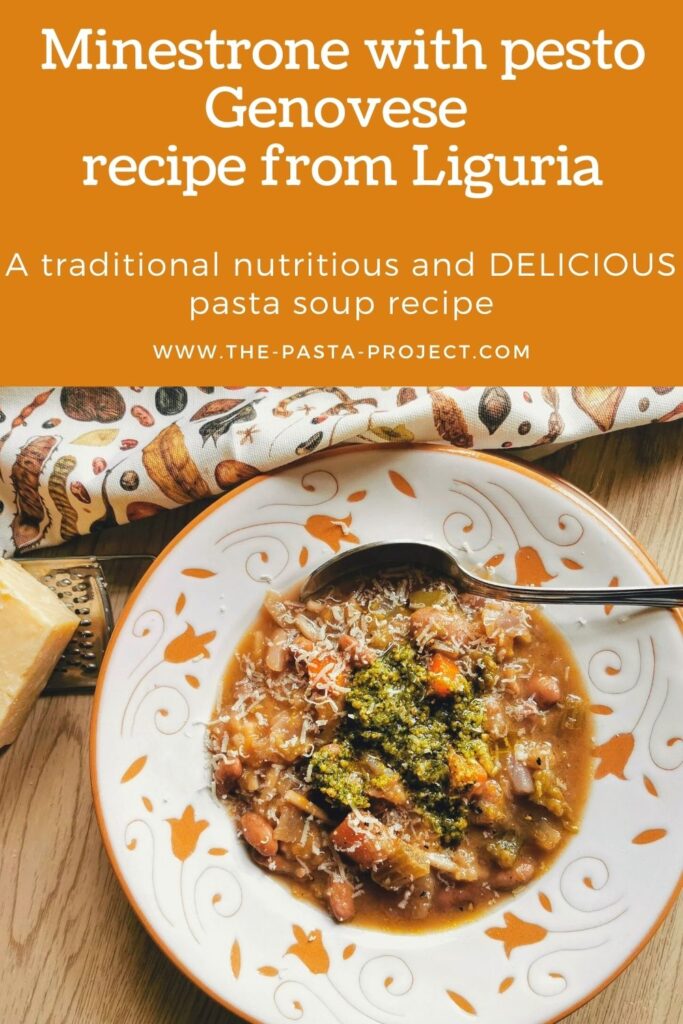 If you are interested in learning how to make homemade pasta and different types of gnocchi, check out my shop page for some great video online courses from my friends in Rome! Nothing beats learning to make pasta from Italians! Plus while you're there why not order a copy of my newly published autumn/winter pasta recipes cookbook!?