Italian Dumplings (Canederli) in Broth: Recipe from Trentino-Alto Adige.
Italian dumplings (canederli) in broth is a delicious and easy way to use up stale bread. This is a signature dish from the beautiful South Tirol that is warming, comforting, filling and healthy! Simple Alpine food at its best!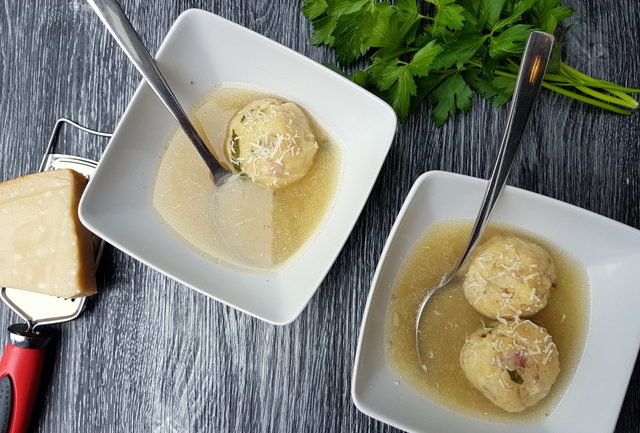 Canederli in brodo.
Canederli are delicious large round dumplings made from a mixture of stale bread, flour, eggs and milk. These bread dumplings are traditional in Trentino-Alto Adige, the Alpine region in North East Italy that borders with Austria. In fact, canederli are also a signature dish on the Austrian side of the border too, although there they are usually called knödel.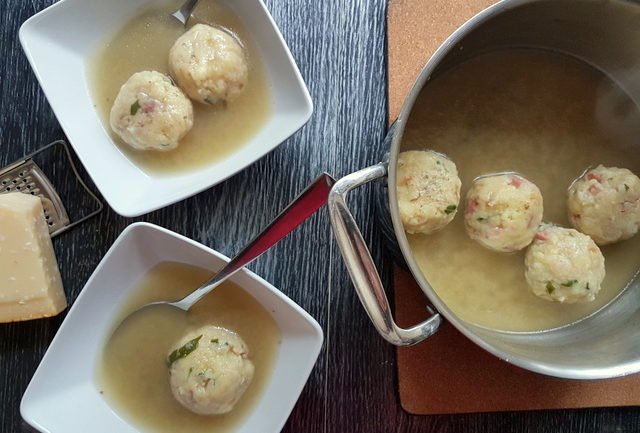 For many Italians, canederli are a type of gnocchi and in fact, they are often called bread gnocchi. Away from the Trentino-Alto Adige/South Tirol region there are similar types of bread dumplings known as 'gnocchi di pane' which have practically the same ingredients. The only ingredient in this Italian dumplings in broth recipe that is quintessentially from the Alto Adige is the speck, specifically speck Alto Adige IGP.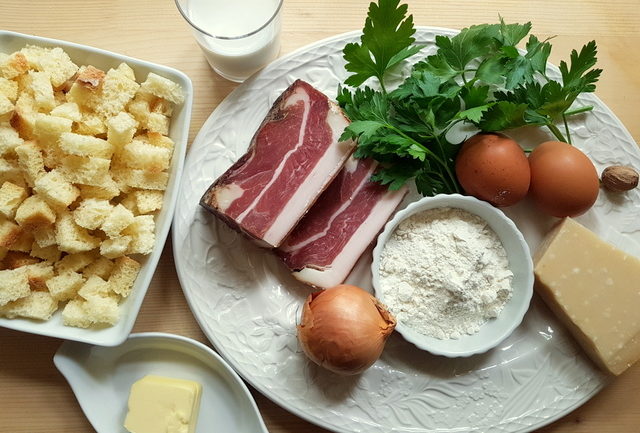 What is speck?
Speck Alto Adige IGP is a distinctly flavored, smoked, cured ham which has a much fuller taste than Italian prosciutto crudo. It's one of a number of Italian food products that has a European IGP certification, meaning that it is made in a specific geographical area according to traditional methods of production.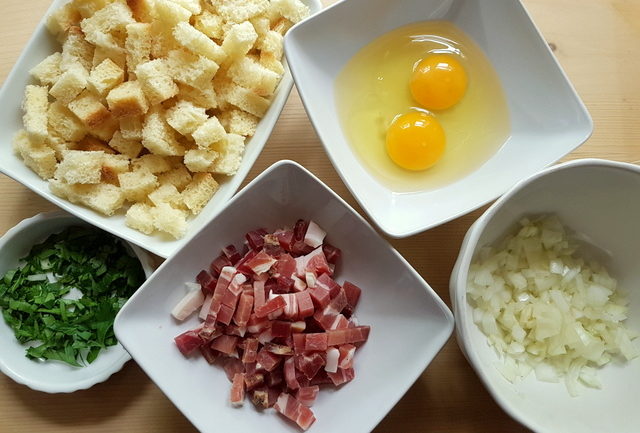 In fact, this speck is the most well-known food produced in and exported from the Alto-Adige or South Tirol. It is often used in cooking in Northern Italy. Apart from this canederli in broth recipe, I have already posted a number of other recipes with speck such as fettuccine with speck and radicchio and orecchiette with zucchini and speck. However, it's also eaten raw like prosciutto. I love it with horseradish!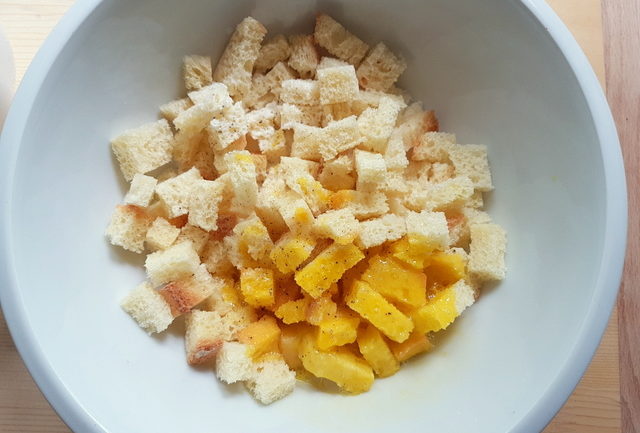 Outside of Italy, speck can be harder to find and is more expensive than pancetta. But, this Italian dumplings in broth can be made with pancetta too. You can also use bacon, prosciutto, ham, spicy sausage or normal pork sausage meat.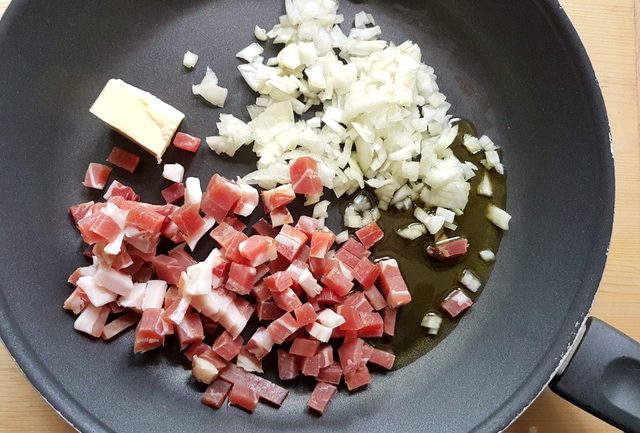 What kind of broth is best?
Italians usually eat bread dumplings with a clear homemade broth. The broth can be beef, chicken or vegetable. I used homemade beef broth for this canederli recipe. You can check out how to make it in my recipe for homemade beef broth with grattoni pasta.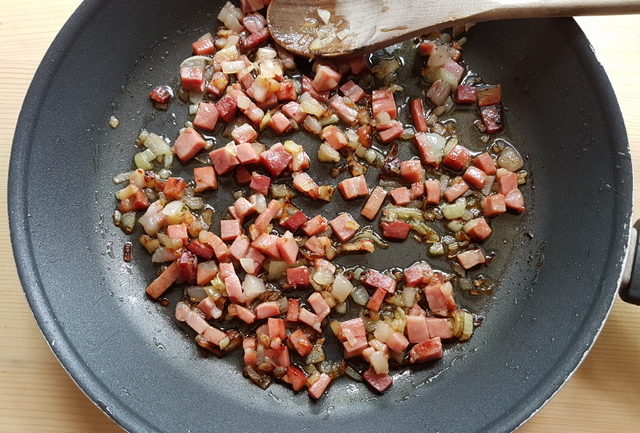 Some people boil the canederli in water first and then serve them in the broth. Others cook the canederli in the broth, which is what I did. You can make the broth a day or two before and keep it covered in the fridge. It's also possible to cook these Italian bread dumplings in water or broth and then serve them with out of the broth with melted butter and grated parmigiano.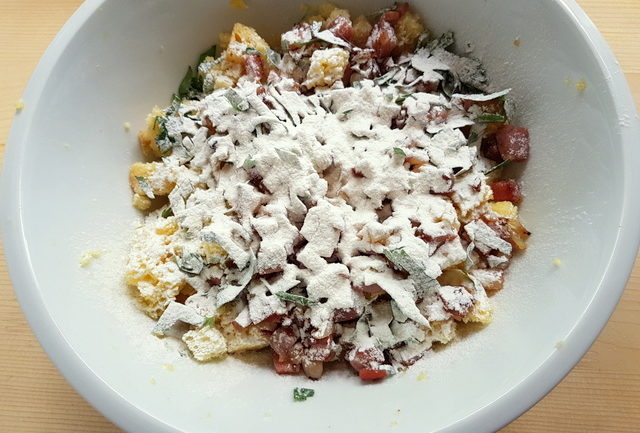 What kind of bread to use.
Italians use mostly white bread to make canederli. However, the slices need to be thicker than ready sliced white bread. So, it's better to use something like a day old Italian loaf, ciabatta or country loaf. Here in Italy, we can buy stale bread cubes specifically for making bread dumplings! But, I used bread I had at home!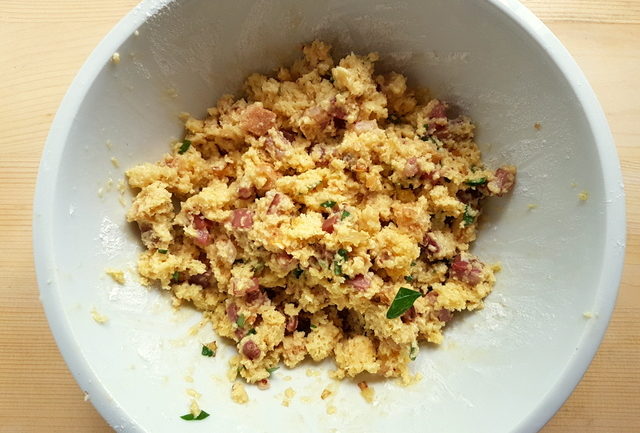 Making this canederli in broth recipe
The canederli for this Italian dumplings in broth recipe are easy to make but they take a little time as you need to let the bread soak in the eggs and milk for a couple of hours.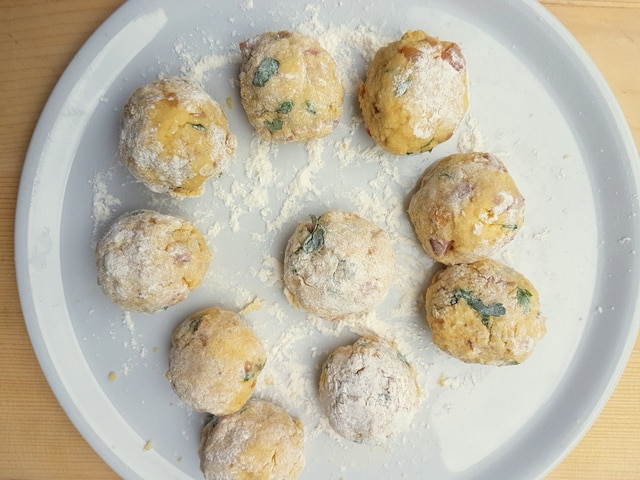 Then, once you add the cooked onions and speck plus the flour and parsley, you'll have to let the mixture sit for another 30 minutes before forming the dumplings. However, canederli are well worth the wait. Cooking time is pretty fast, just 15 minutes.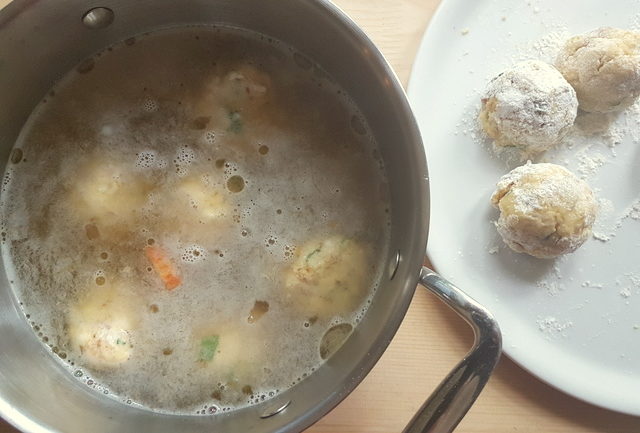 Although canederli in broth is more of a comforting winter dish, I love it all year round. It's a tasty and healthy dish that is filling enough to be a one plate meal. Plus it is, of course, a great way to use up stale bread!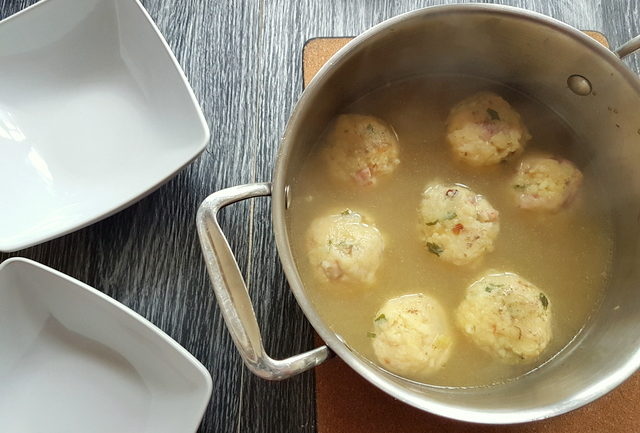 If you do try this Italian canederli in broth recipe, I'd love to hear what you think. Please write a comment here on the blog or post a comment on the Pasta Project Facebook page.
Your feedback means a lot to me!
Buon Appetito!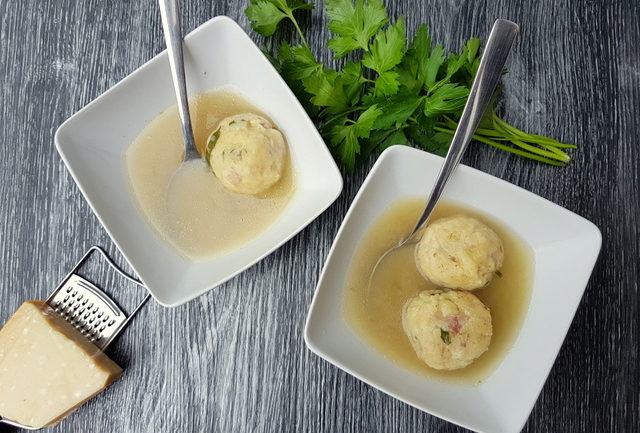 Save this recipe for later!
If you want to save this recipe for later, you can print it, bookmark this page or save it to Pinterest.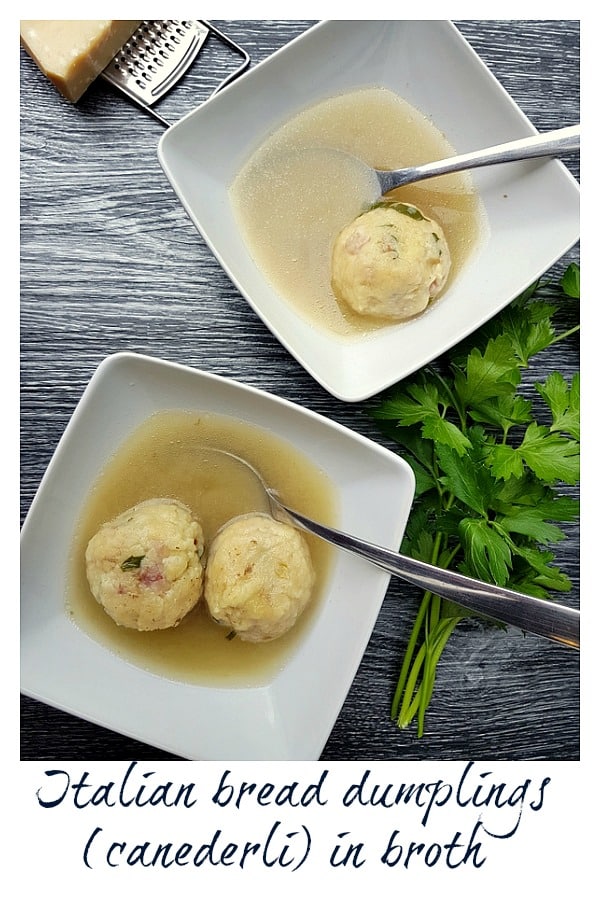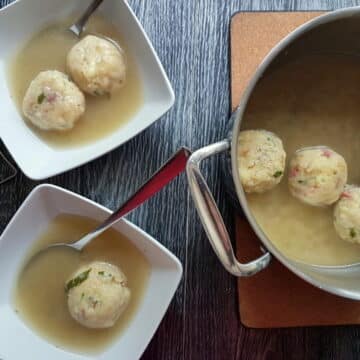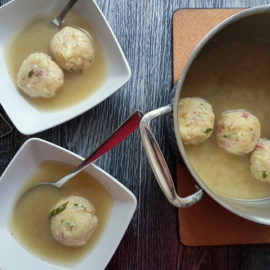 Canederli in Broth: Recipe from The South Tirol
This warming and filling Italian bread dumplings recipe is a delicious way to use up stale bread. Cooked in homemade broth this is Alpine comfort food at its best.
Ingredients
8-10

slices

stale bread

(quite thick)

200

ml

warm milk

(1 cup)

200

g

speck

(7oz) or bacon cut into small cubes

2

eggs

lightly beaten

1

onion

peeled and finely chopped

50

g

Parmigiano cheese

(1/4 cup 2oz) grated

40

g

all purpose flour

(1/3 cup 1.5oz)

30

g

butter

(1oz)

1

tbsp

extra virgin olive oil

1/4

tsp

nutmeg

grated

6

tbsp

fresh parsley

chopped

salt

to taste

pepper

to taste

2

Lts

beef broth

(8.5 cups) or chicken or vegetable
Instructions
Cut the bread into small squares and put it in a bowl. Add the milk and beaten eggs. Mix everything together and leave covered for up to 2 hours. Mix again a couple of time in the 2 hours.

If making your own broth you can do it while the bread is soaking. The broth needs to be filtered before cooking the canederli in it.

Cut the speck into small cubes and peel and finely chop the onion. Cook the speck and onions in olive oil and butter for 5 to 8 minutes in a skillet over a medium heat,  or until the speck starts to crisp. Pour off and discard fat. Set pan aside to cool.

Using your hands, mix together the pre-soaked bread with the onions and speck, grated parmigiano, 4 to 5 tablespoons of chopped parsley, salt, black pepper and nutmeg. Add the flour and mix again. Leave the mixture to rest for 30 minutes.


Form soft balls from the canederli mixture of about 8-10 cms in diameter (3-4 ins) (You can make balls bigger or smaller but you may need to adjust cooking time.) Place the dumplings on a floured surface until you have made them all.

Bring the broth to a simmer and drop the canederli, one at a time, into the heated broth. Don't overcrowd the pan. You may have to do them in batches and keep warm while you cook the rest. Simmer the dumplings for 15 minutes, or until each turns slightly yellow and rises to the top. Remove balls carefully with a slotted spoon.

Serve one or two dumplings per bowl, covered with heated broth. Garnish with remaining parsley and more grated parmigiano.
Notes
You can also use bacon, prosciutto, ham, spicy sausage or normal pork sausage meat instead of speck. The broth can be made a day or two in advance and kept in the fridge in a sealed container. The canederli can also be kept for one to two days in the fridge after cooking. 
For my recipe for homemade beef broth check out this recipe
Want to know more about my life in Italy? Go to the homepage and subscribe to my newsletter. New subscribers get a free recipe e-book too! https://www.the-pasta-project.com