Homemade beef broth with whole-wheat grattoni pasta.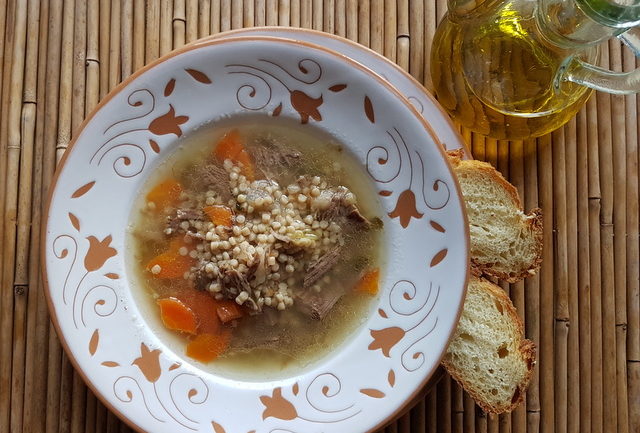 Italians love pasta in broth or soups like this delicious homemade beef broth with whole-wheat grattoni pasta. Homemade broth is traditionally a staple in the Italian kitchen. It is used to make other dishes or soups or is eaten with pasta. Even nowadays, many Italian home cooks still make their own broth and I would think it's de rigueur in most restaurant kitchens. Italian children grow up on these pasta in broth dishes.
(click to go straight to recipe)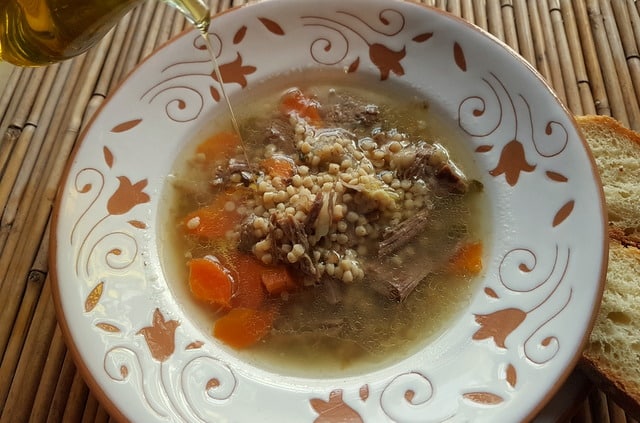 I envy Italian children their childhood food! I grew up in the 60s in London and in retrospect I can say my childhood diet was rather lacking in homemade goodness. We ate a lot of tinned and frozen food including, dare I say it, spaghetti from a tin! Of course, in the those days people didn't really focus on the quality and healthiness of the food they ate. Today, the Mediterranean diet is what everybody wants to follow and food has become an important part of our quest for good health.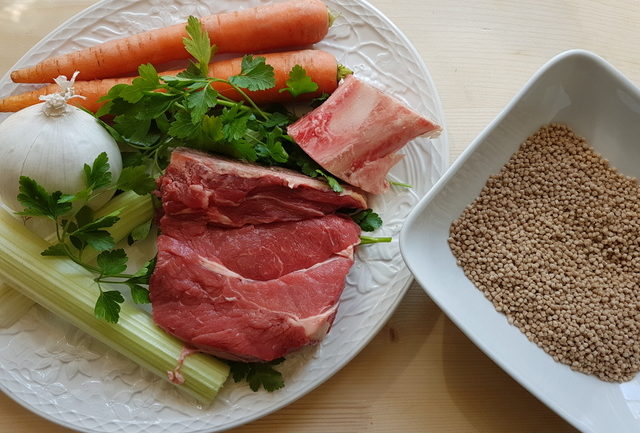 So, I've started to make my own broth and I've used it, like in this recipe for homemade beef broth with whole-wheat grattoni pasta, as a first course or light dinner. I've also used it to make other pasta sauces such as ragu. Broth or as the Italians say 'brodo' is basically stock usually served with pasta and sometimes with meat or vegetables in it too. I have come to realize two things. Firstly anything you make that has homemade stock (brodo) in it, tastes better! Secondly, it's not difficult. It just takes time if you're using meat (about 3 hours) . However, you can make a lot and freeze it for the next time you need it.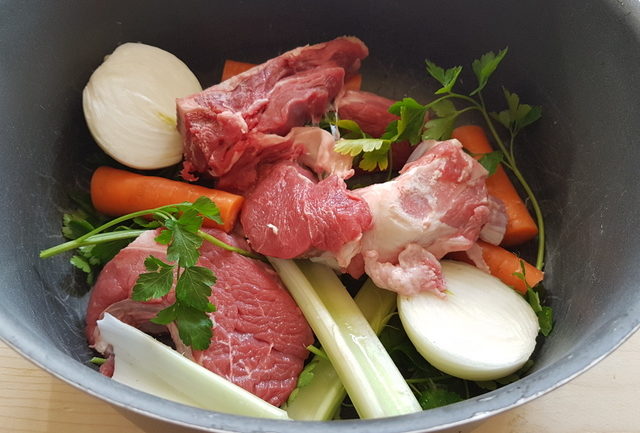 There are about 30 different small pasta types here in Italy which are mainly used in soup or broth. There are also a number of filled pasta types that Italians serve in broth, as well as types of gnocchi or dumplings. Grattoni are traditionally homemade with the leftover pasta dough from making other pasta such as tagliatelle. But, many pasta makers produce dried grattoni . Some of these are made with eggs, others not. The pasta I used in this homemade beef broth with whole-wheat grattoni pasta recipe was not an egg pasta and was made with whole durum wheat flour.I bought it last year from a wonderful restaurant/pasta maker I was taken to by friends in Tuscania called Il Romitorio.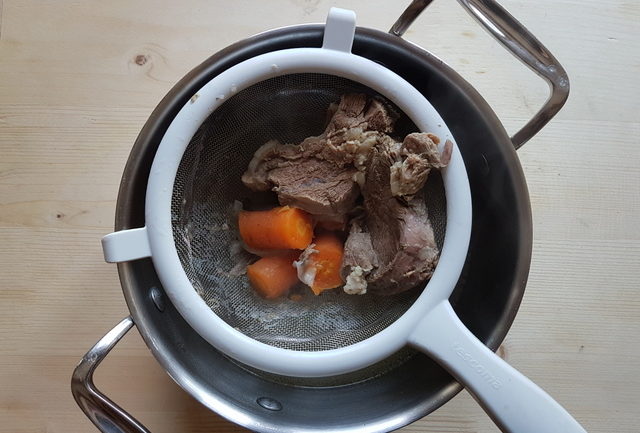 The combination of the beef broth and the whole wheat pasta was so very tasty, warming and comforting. I cooked it last week when we were getting sub-zero temperatures and snow! It was perfect! The pasta adds bulk and taste to the broth. As is traditional here we added a dash of extra virgin olive oil and a sprinkling of Parmesan and after the four of us (my hubby, me, my eldest son and his girlfriend) had had two bowls each there was nothing left! The moral of that being, best to make a lot because everybody is going to want second helpings!
Buon appetito.
More Pasta Soup Recipes You May Like
(Go to page 2 to see the recipe and rate it. Just scroll down and click 2)