This healthy Italian chicken noodle soup is extra nutritious and delicious because the chicken is a fresh organic bird and even the broth is homemade. Yes, it takes a little longer than making soup with leftover rotisserie chicken and store-bought broth but if you want your family to really benefit from all the goodness homemade chicken soup has to offer, this is the way to go!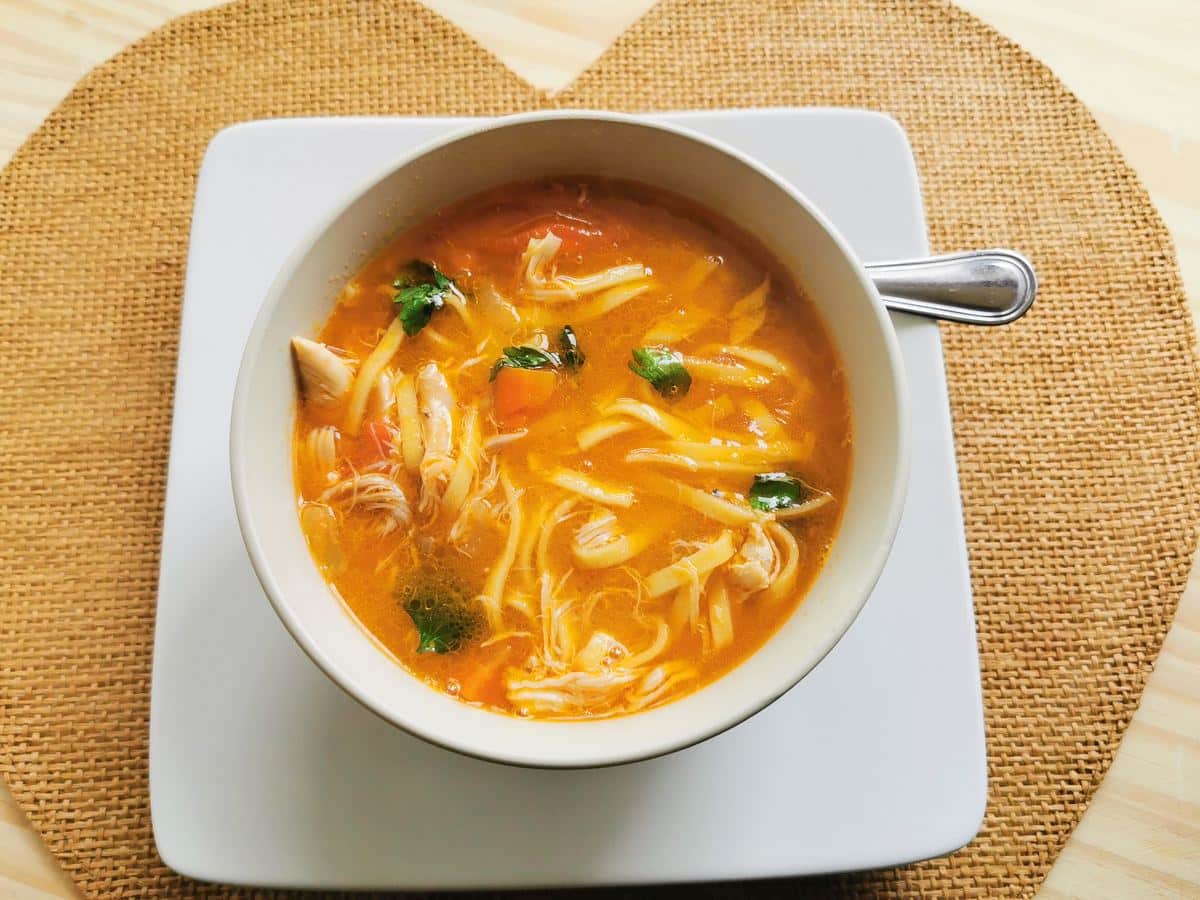 Versions of chicken noodle soup can be found all over the world. The Chinese have been making it for centuries although of course their noodles aren't the same as Italian ones. Apparently, the Chinese refer to it as noodles in broth, rather than soup. Which is traditionally true here in Italy too. Historically, pasta in chicken broth was a popular dish centuries before the Italian chicken noodle soup of today!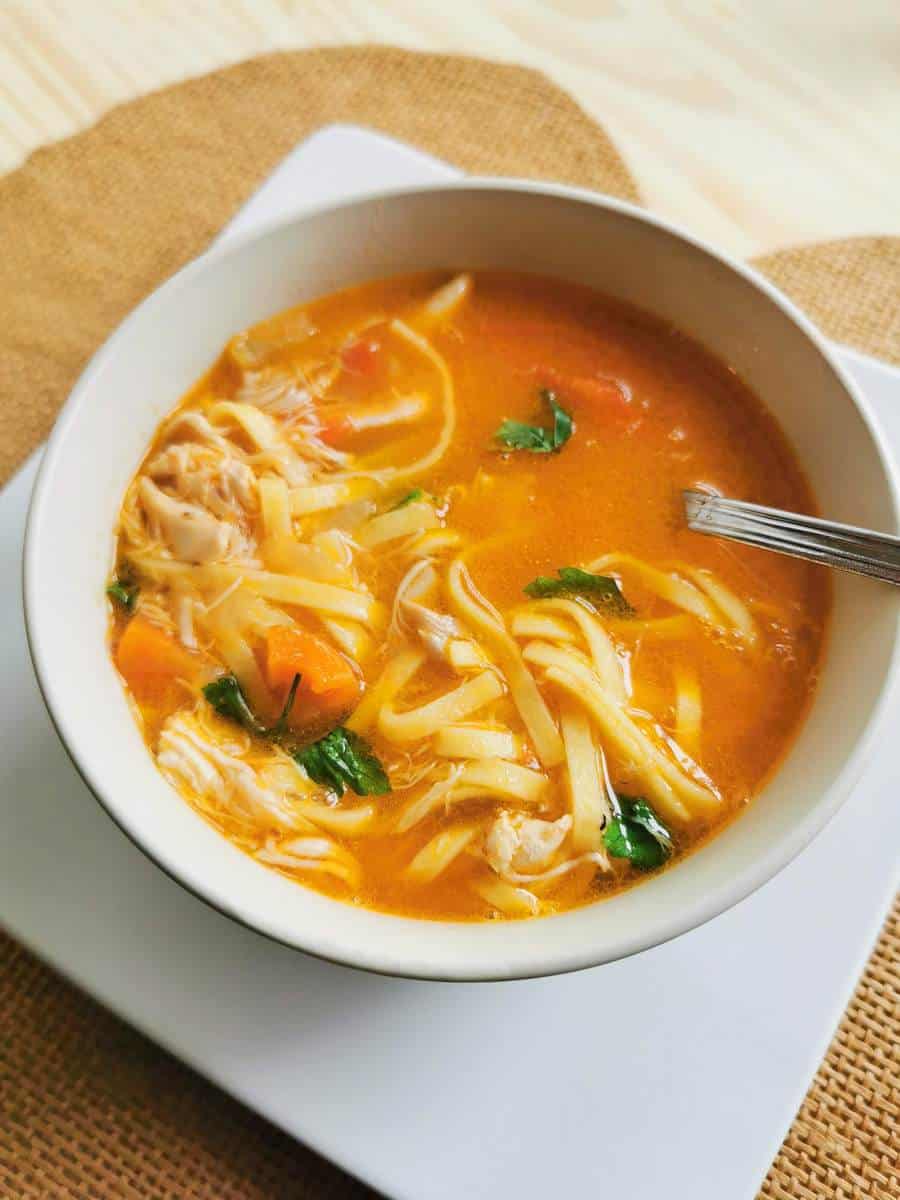 A little Italian chicken noodle soup history.
Italians have been serving pasta in chicken broth (pasta in brodo di pollo) since Medieval times. Before the invention of commercial pasta machines, the pasta was obviously homemade. In Northern and Central Italy, they mostly ate broth with filled pasta like tortellini, egg pasta ribbons such as tagliolini or dumplings/gnocchi. In the South, homemade pasta ribbons or maltagliati or broken spaghetti were typical.
Many of these old pasta in chicken broth recipes are still traditional today. Probably, the most famous is tortellini in capon broth from Emilia-Romagna. (a recipe on my to make list).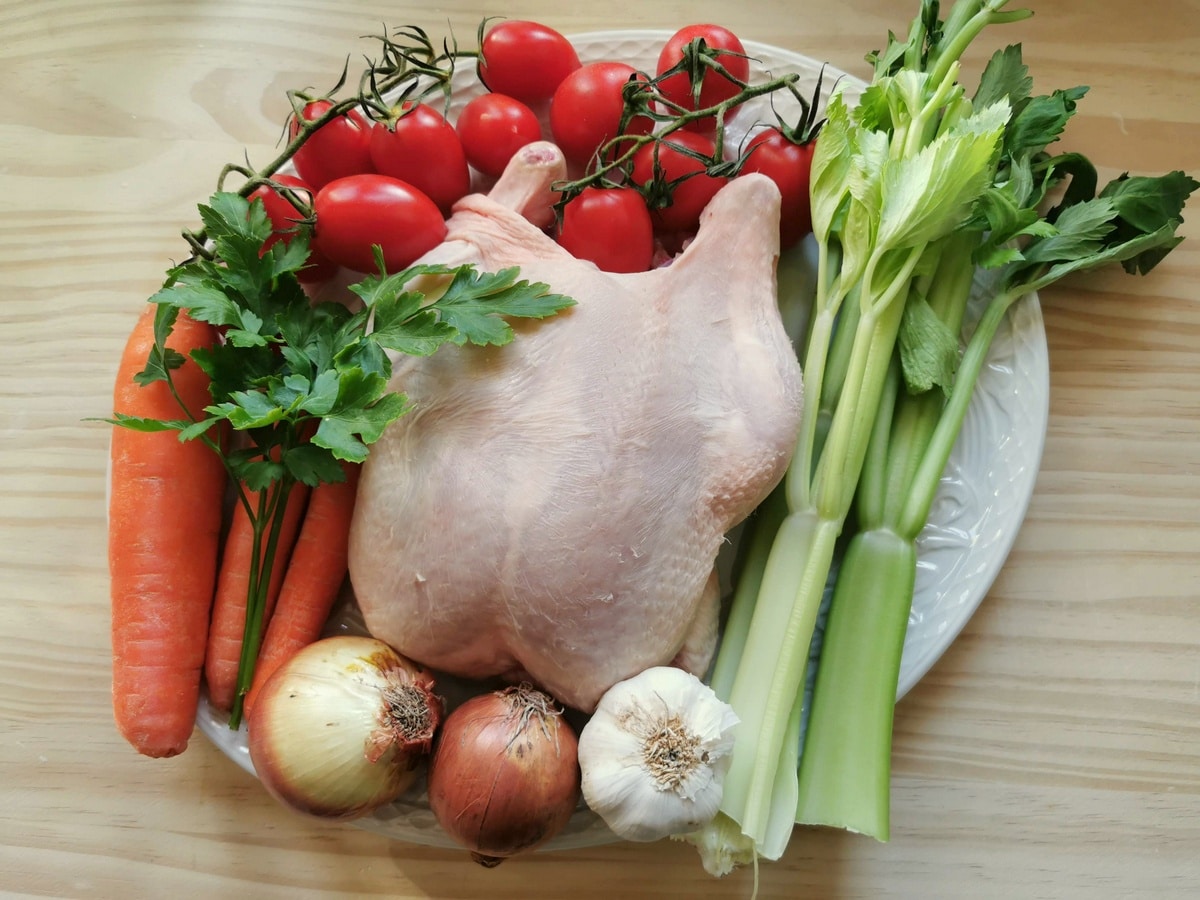 Of course, pasta isn't served just in chicken broth, but also beef or even fish broth and many types of soup. Nowadays, lots of pasta soup recipes have tiny machine-made pasta shapes known as pastina in them. Italians also use small pasta tubes like ditalini or anelletti. (See the links below for some more pasta soup recipes)
What's the difference between chicken broth and chicken soup?
Chicken broth in Italy is a clear 'soup' or consommé made by boiling a chicken or its carcass with vegetables and some herbs for quite a long time. Italians don't differentiate between stock (made only with bones) and broth (made with meat too). Both are called 'brodo' in the Italian kitchen.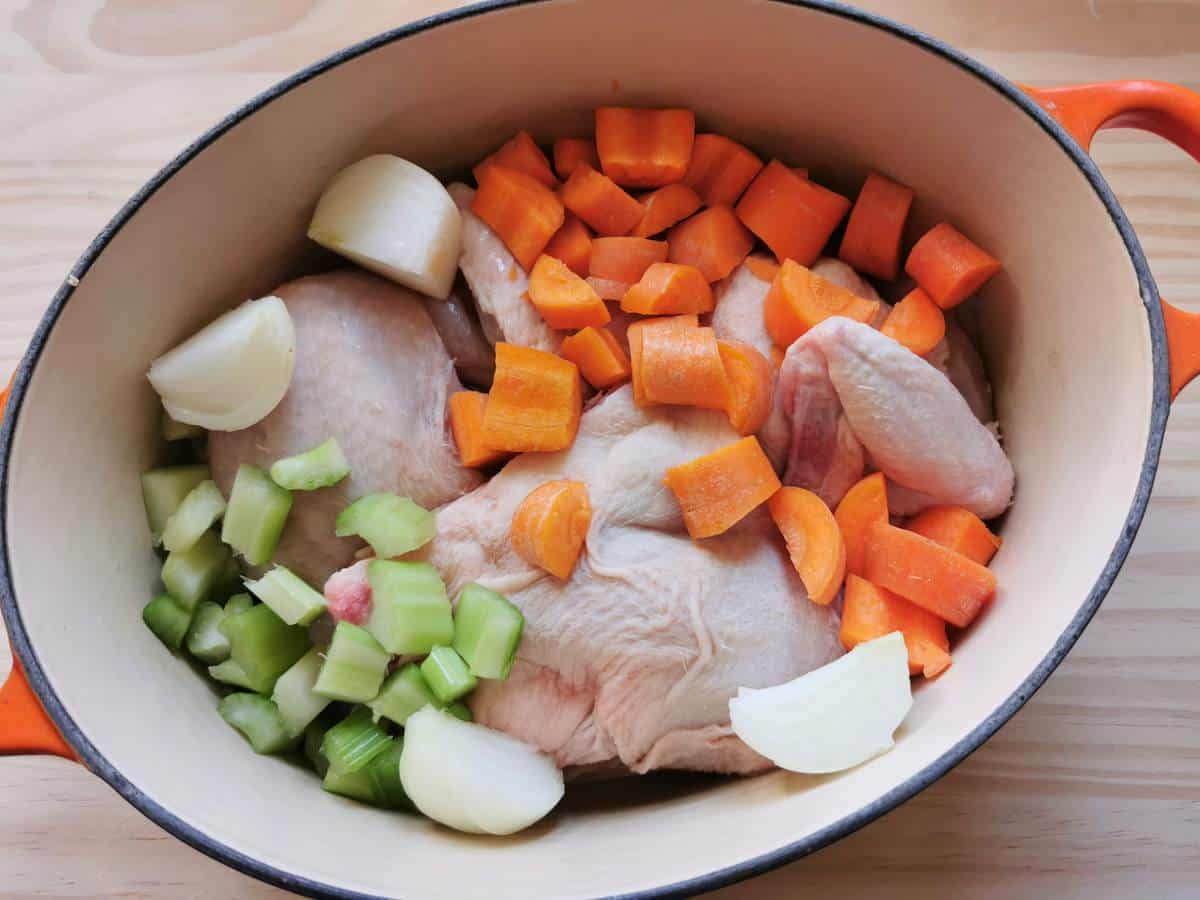 Once ready, the broth is strained. Italians use the strained broth either to cook and serve with pasta, dumplings or even meatballs in, or as a base for soups, risotto, stews and sauces. Of course, like elsewhere, nowadays many people use a store-bought ready-made broth/stock instead as making it at home can take a long time! But, the traditional way is to make broth from scratch like in this healthy Italian chicken noodle soup recipe.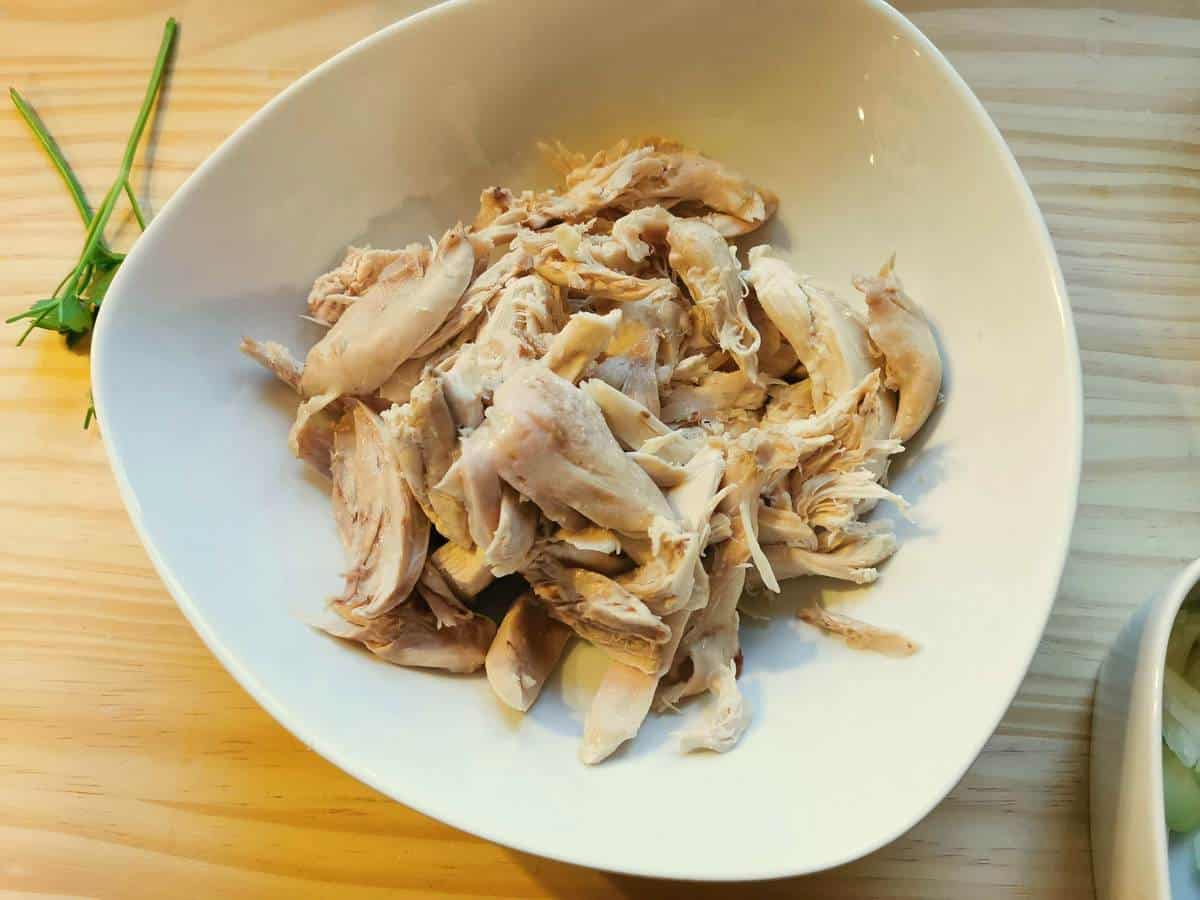 Chicken soup, in Italy, is a soup with obviously chicken and usually vegetables and some herbs. In Italian, it is called minestra di pollo or zuppa di pollo. It usually contains pasta, potatoes or rice and sometimes legumes and beans. Italians make chicken soup in different ways sometimes by just boiling chicken breast pieces and vegetables in store bought broth or water or, like in this recipe, using homemade chicken broth.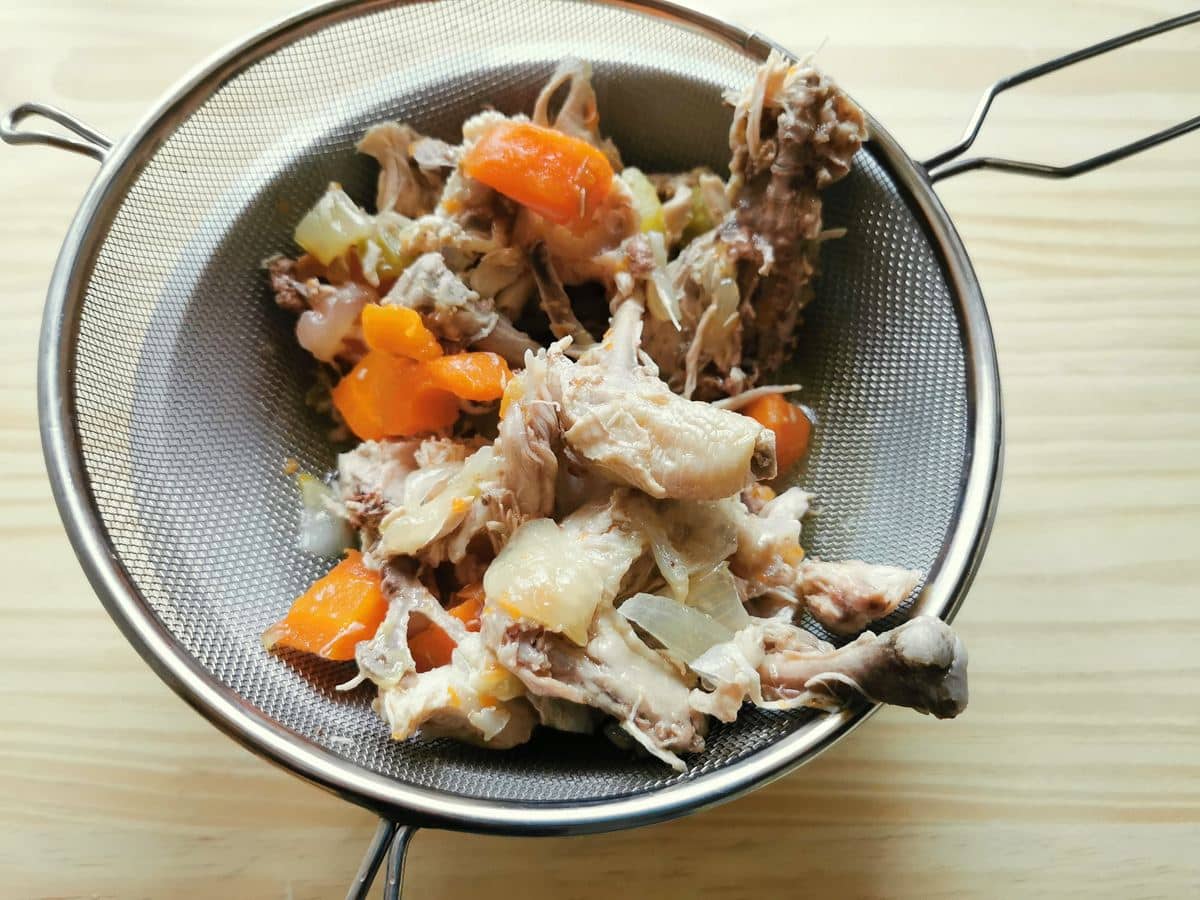 Making your own chicken broth for this soup.
You could make this Italian chicken noodle soup with store-bought chicken broth. BUT making it with homemade broth means it's not only more nutritious, but a lot more flavourful too. For this recipe, I used a whole organic chicken cut into pieces, but ready cut thighs would work too.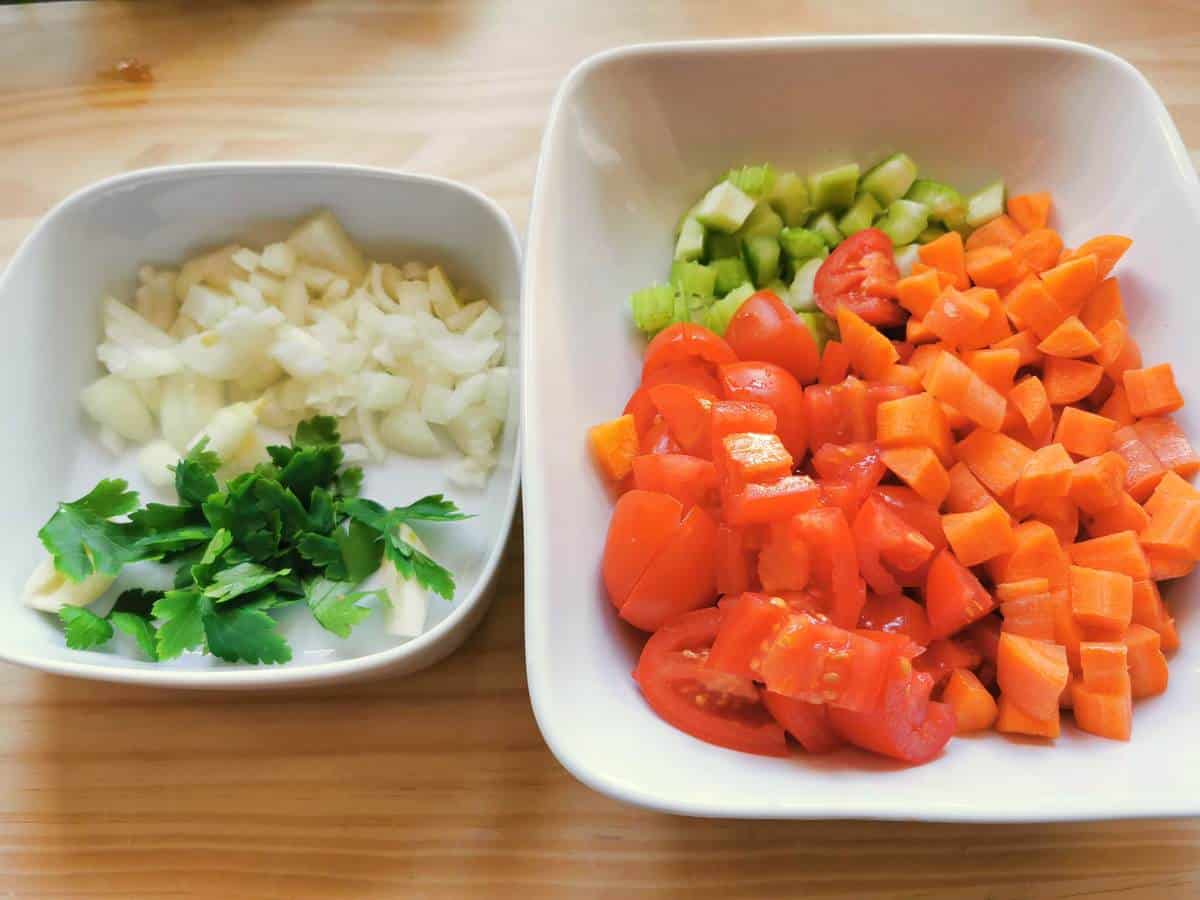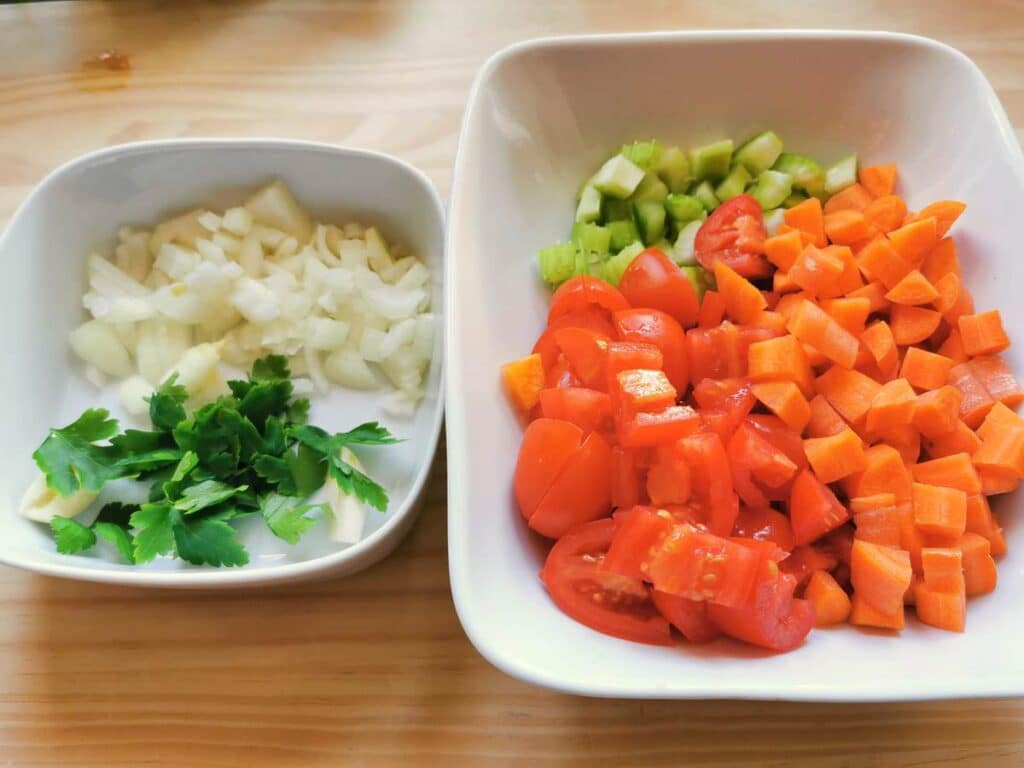 Start the broth with all the whole chicken pieces but after about 30 minutes remove most of the chicken meat from the bones, which you continue to cook further. Then once the broth is ready, strain it and use it for the soup, along with the chicken meat.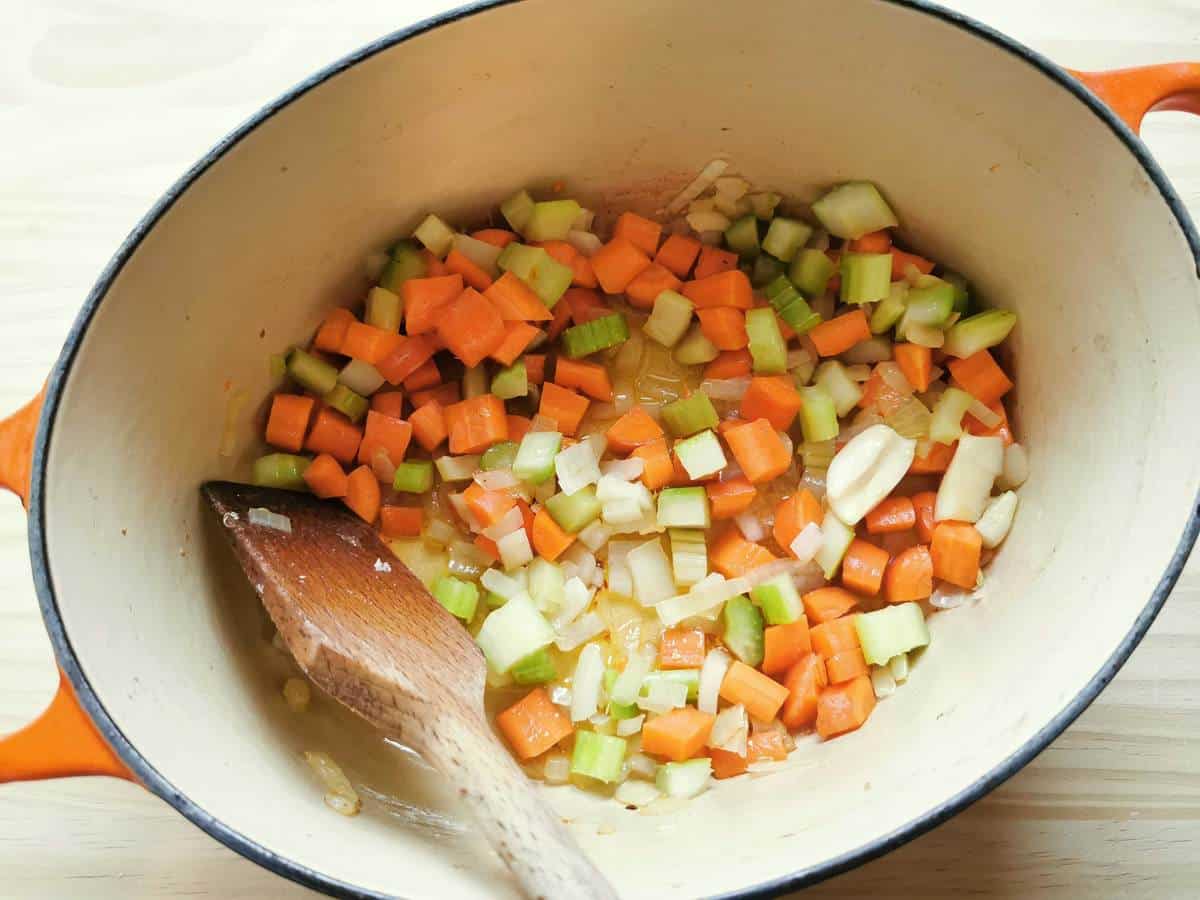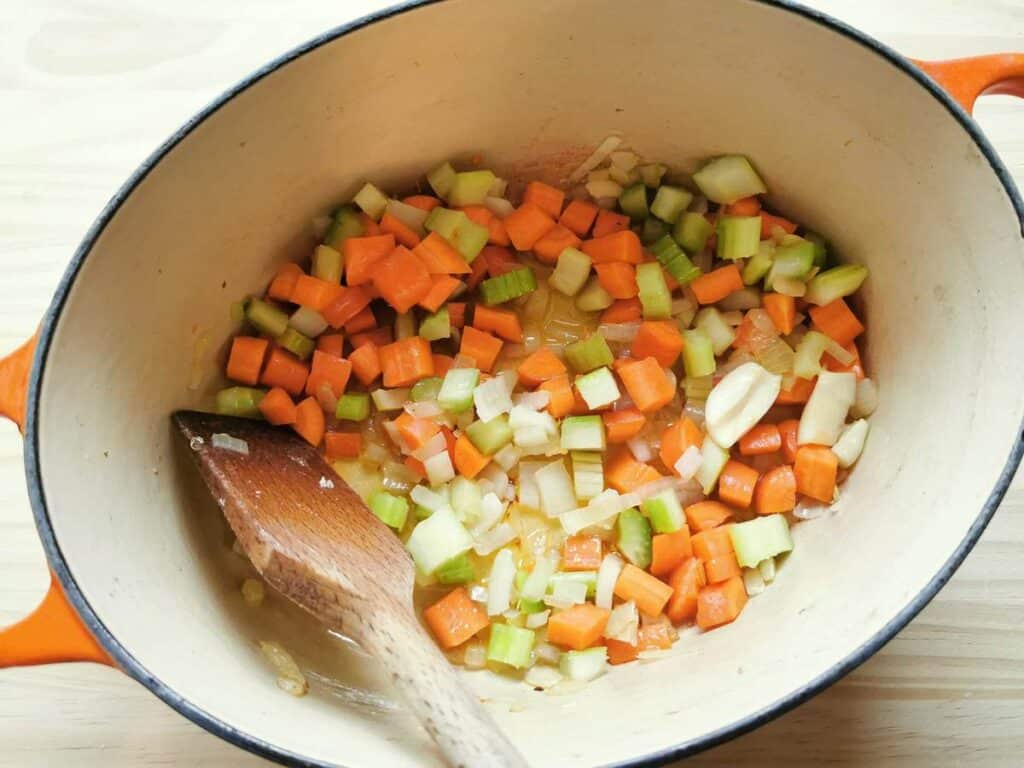 Making this Italian chicken noodle soup.
Making this soup is quite easy. First sauté the garlic, onion and other vegetable in olive oil. Then add the tomatoes or tomato passata (I prefer to use fresh tomatoes). Once the tomatoes have softened a little, add the chicken broth and chicken meat cut into small pieces or shredded. Then season with salt and pepper and simmer for 20-30 minutes. Finally add your pasta and cook until it's al dente.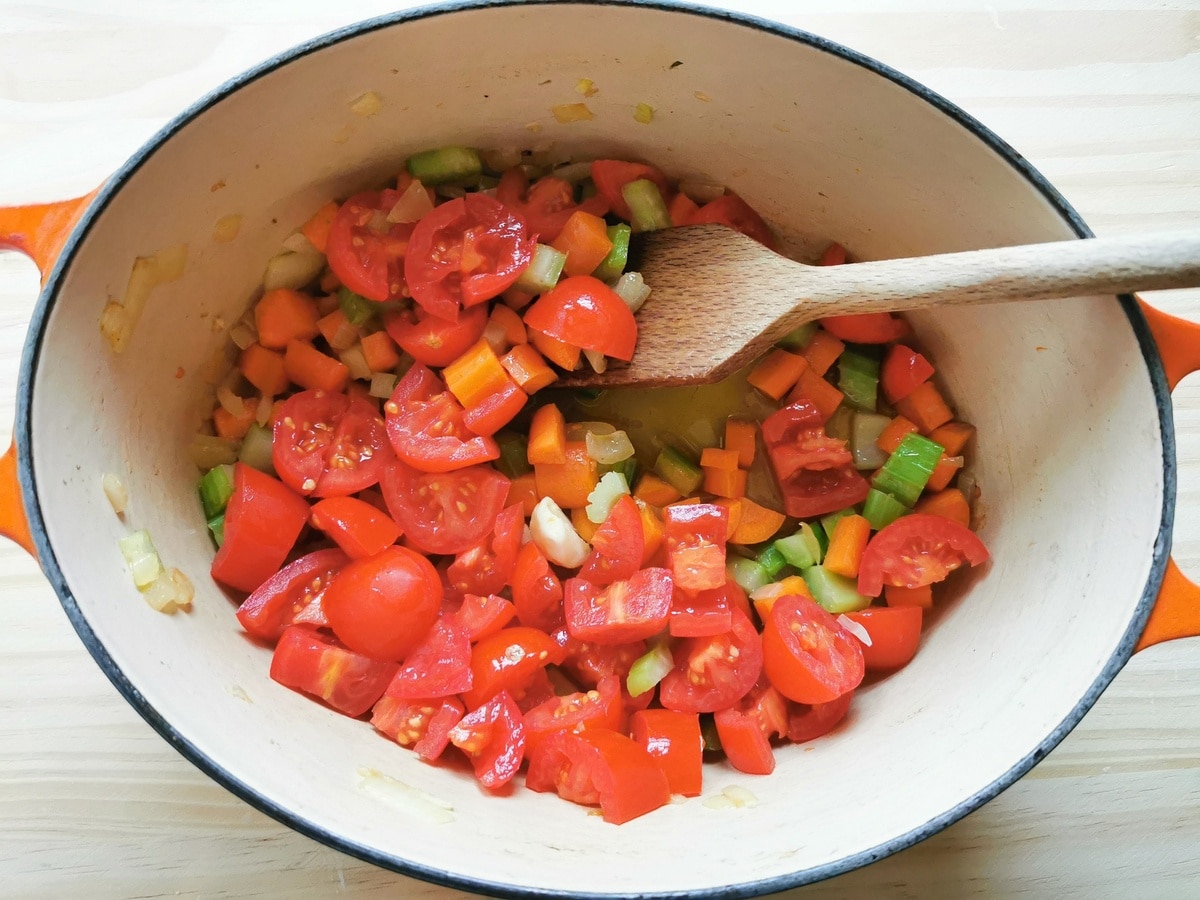 Which pasta can you use?
I think to be called a real Italian chicken noodle soup, the pasta needs to be long 'noodles' such as tagliatelle, tagliolini or thin spaghetti! Having said that you can use any pasta you prefer. But it's better if it doesn't require long cooking. Small soup pasta like orzo (risoni) would be a good choice too.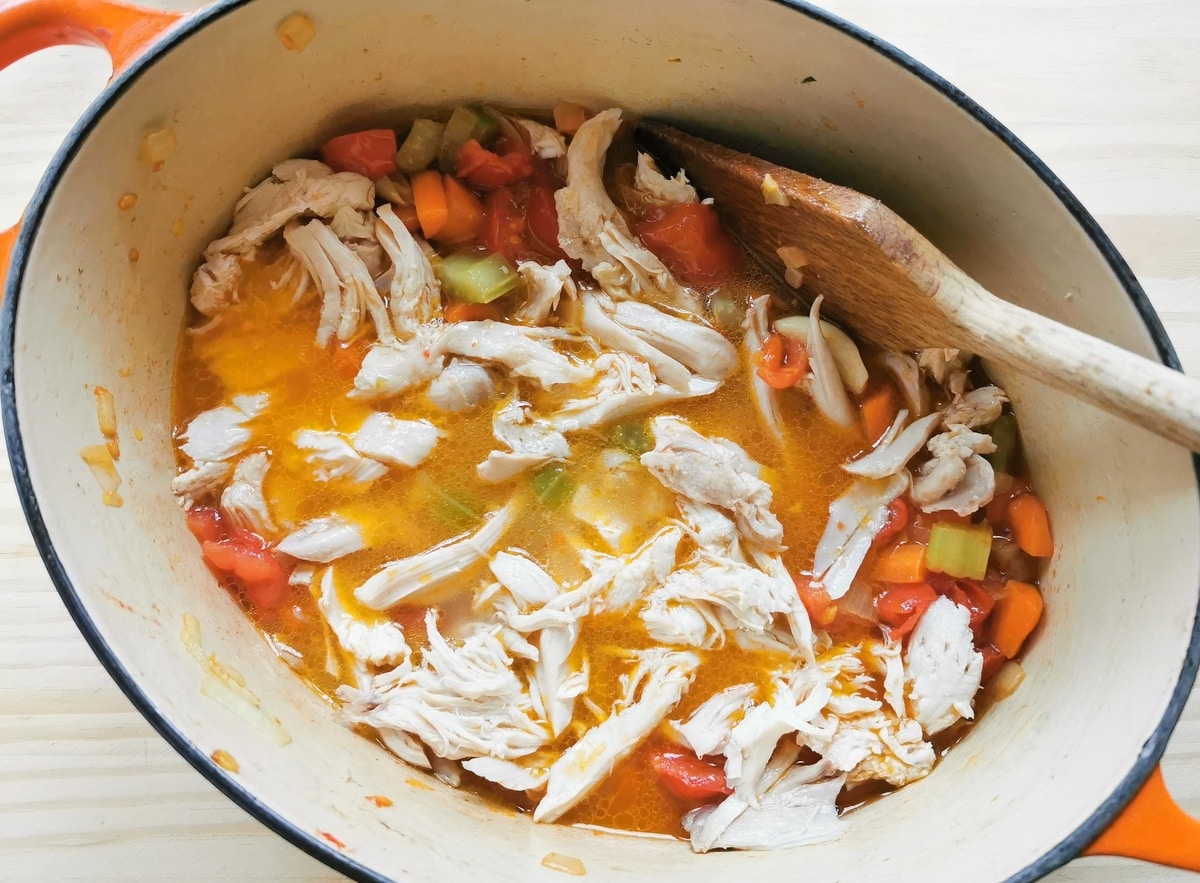 I used fresh tagliolini egg pasta ribbons made by Giovanni Rana, a company based here in Veneto. They also sell in the US. Tagliolini were and are traditionally cooked in broth, so I think this pasta is the best 'noodle' choice! Plus, fresh tagliolini only takes 1 minute to cook.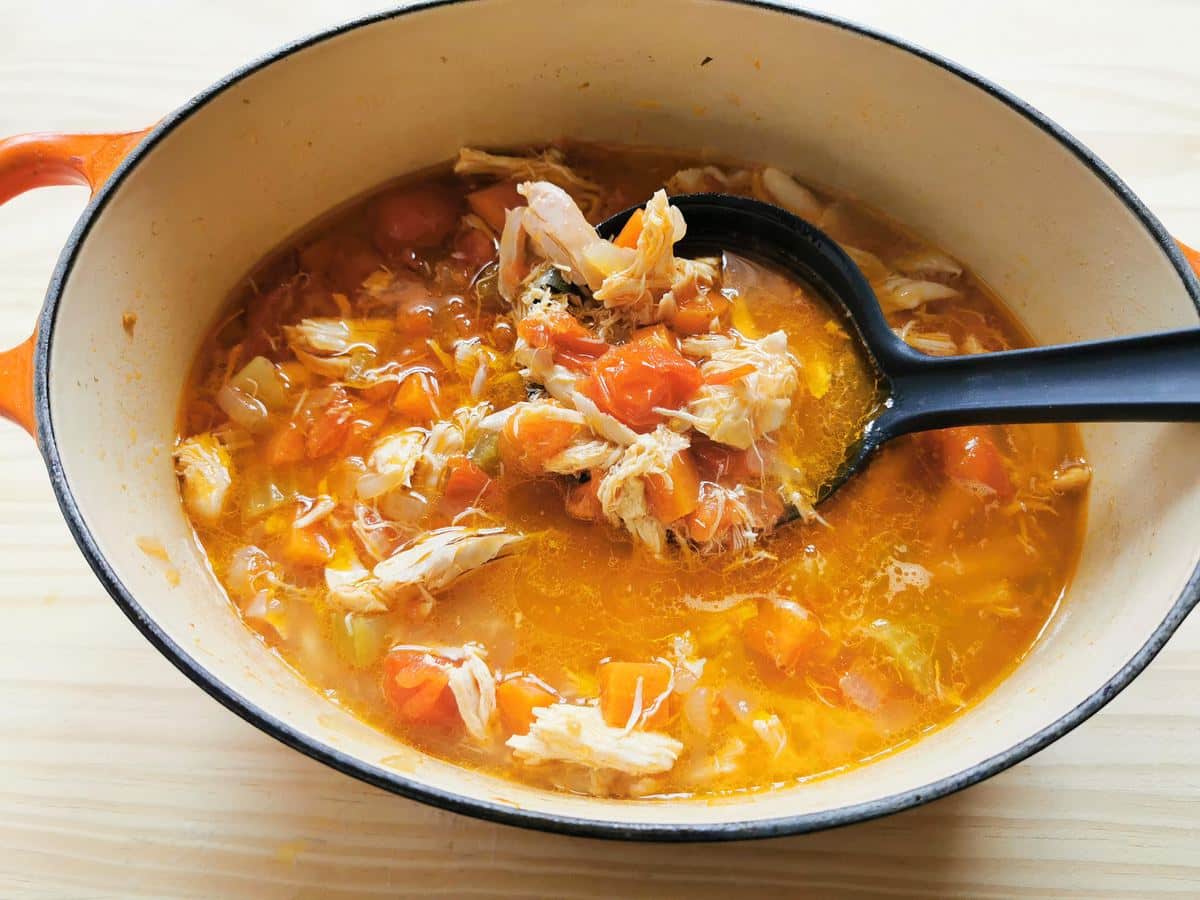 How to conserve leftovers.
Pasta cooked in soup or broth will continue to expand and soak up the liquid even after the soup is ready. In fact, leftovers will have less liquid than when the soup is first served, and the pasta will be much softer. Having said that, fresh egg noodles absorb less than dried pasta. Another reason I chose to use fresh tagliolini.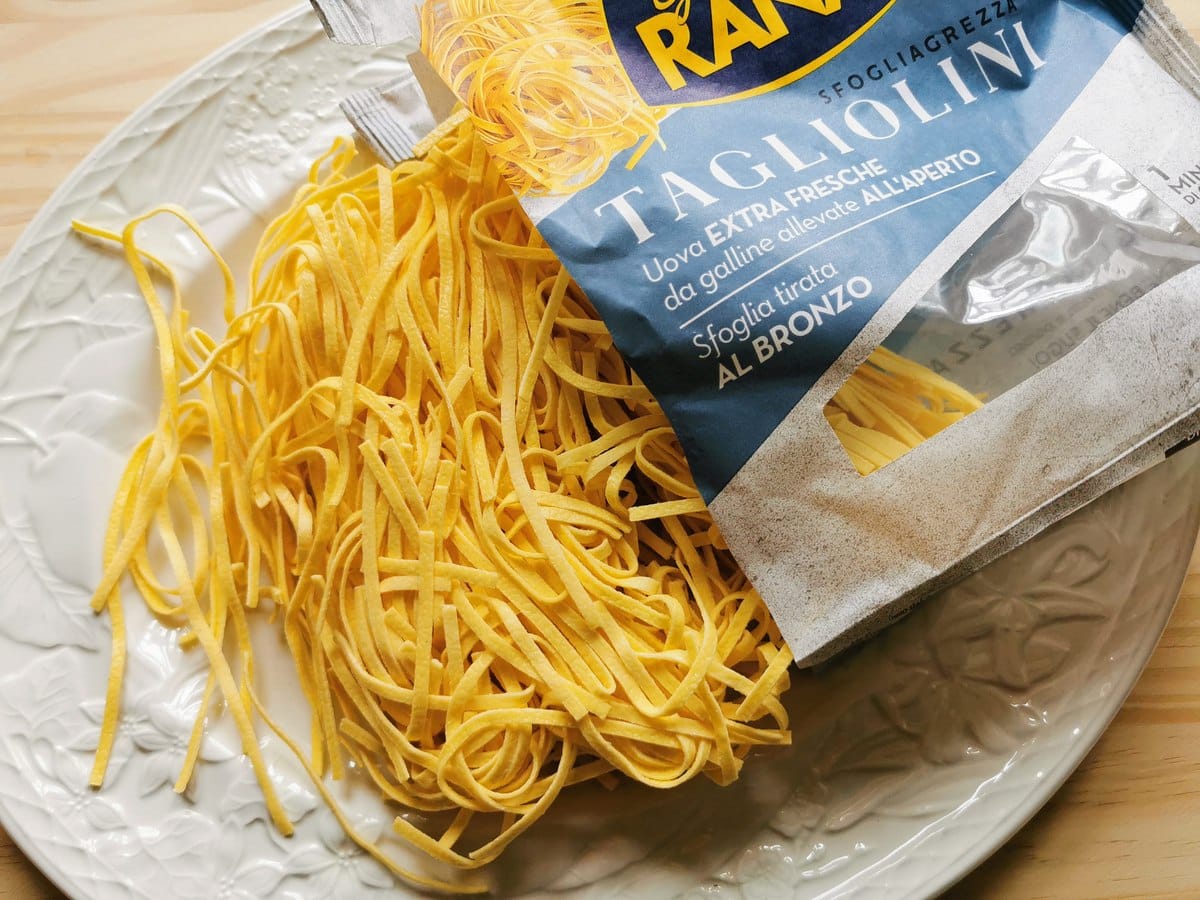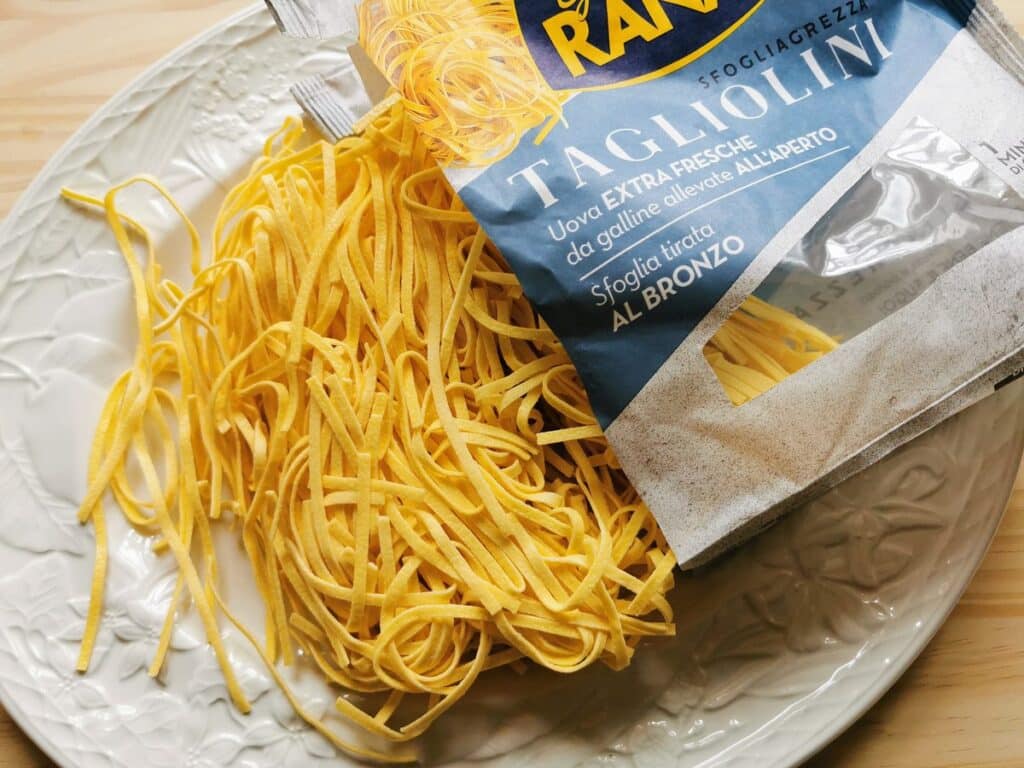 If you think you are going to have a lot of leftovers and don't want to end up with no liquid and soft pasta, I suggest cooking the pasta separately and adding it to individual bowls when serving. You can store any leftover pasta and soup separately in the fridge for about 3 says or freeze the soup without pasta for up to 3 months.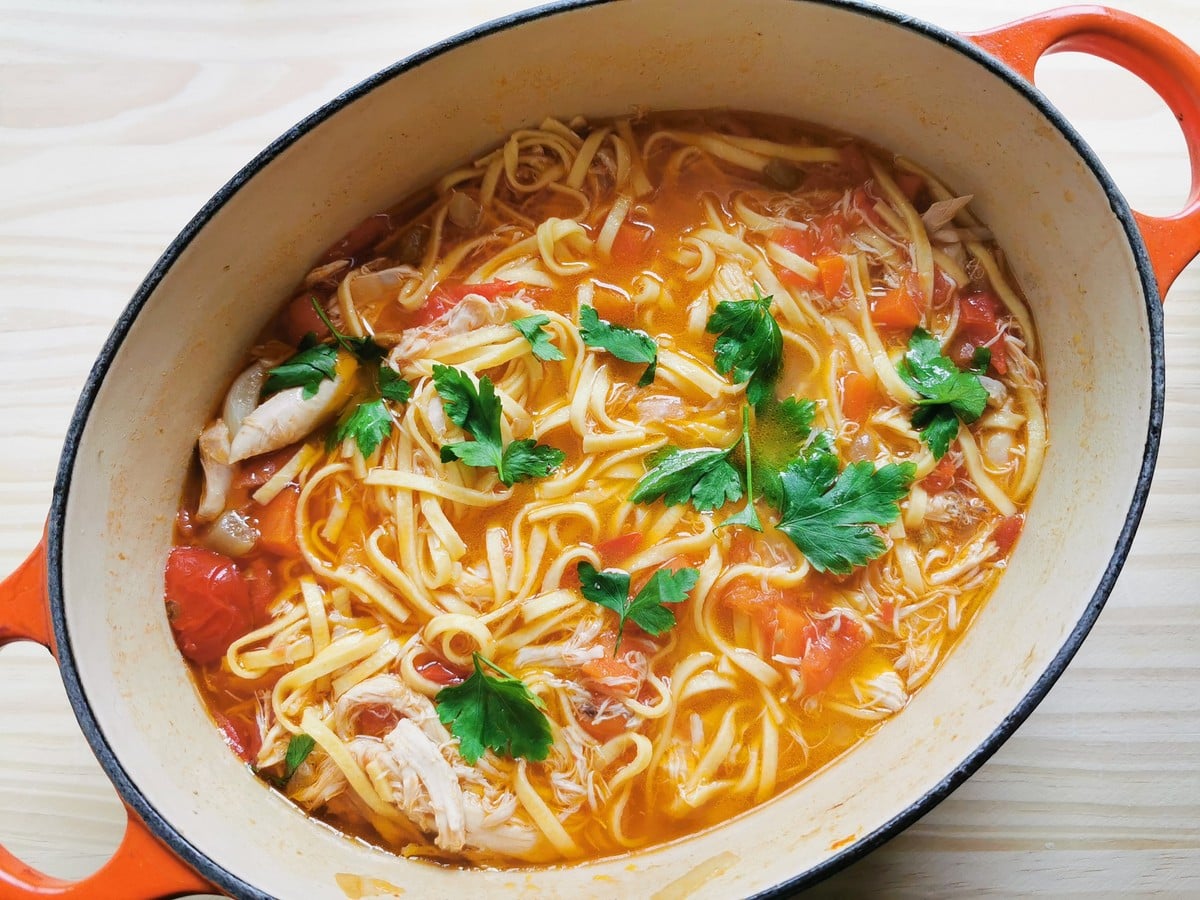 Is chicken noodle soup really healthy?
Well, according to nutritionists, chicken noodle soup is packed with a range of micro- and macronutrients, including carbs, protein, fibre, B vitamins, vitamin C, amino acids, and more. Plus, it contains antioxidants and anti-inflammatory ingredients. But, even before we had nutritionists, the Chinese, the ancient Greeks, the Jews and the Italians believed chicken soup to be healing and healthful.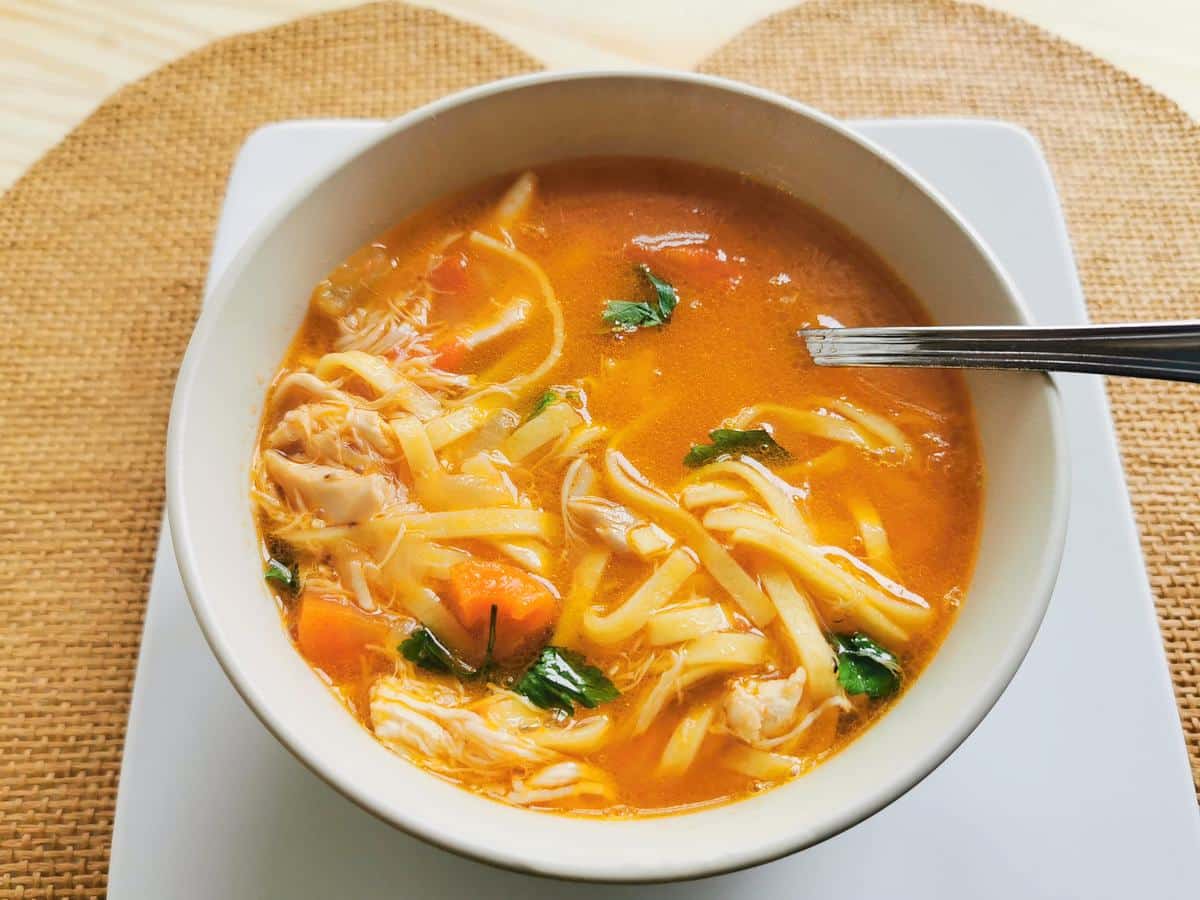 Made from scratch is the healthiest way.
Of course, there's a difference between eating chicken noodle soup from a can or making it with store-bought broth and ready cooked chicken or making everything from scratch yourself. When it comes to flavour and nutritional value made from scratch wins hands down.
This Italian chicken noodle soup is the optimal comfort food. I'm sure if you try it, you'll agree with me 101%.
If you make this recipe, I'd love to hear how it turned out. Please do write a comment here on the blog, email me or post a comment on the Pasta Project Facebook page.
Your feedback is really appreciated!
Buon Appetito!
PIN FOR LATER!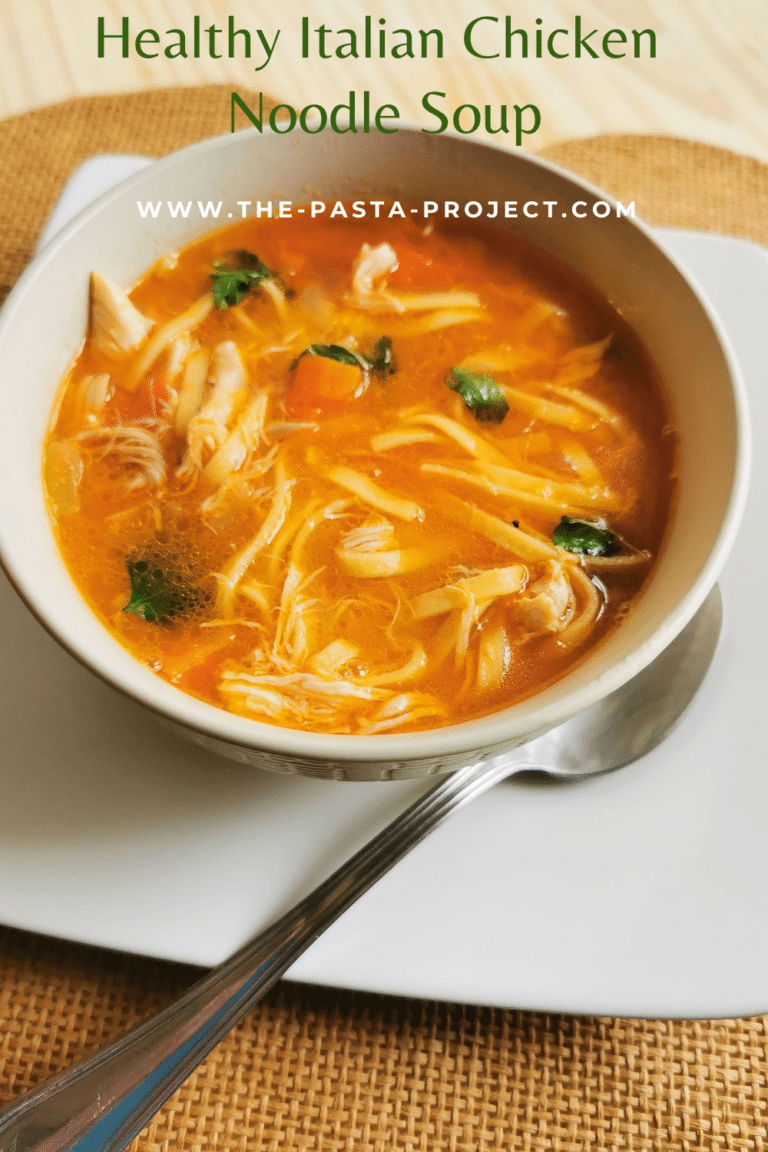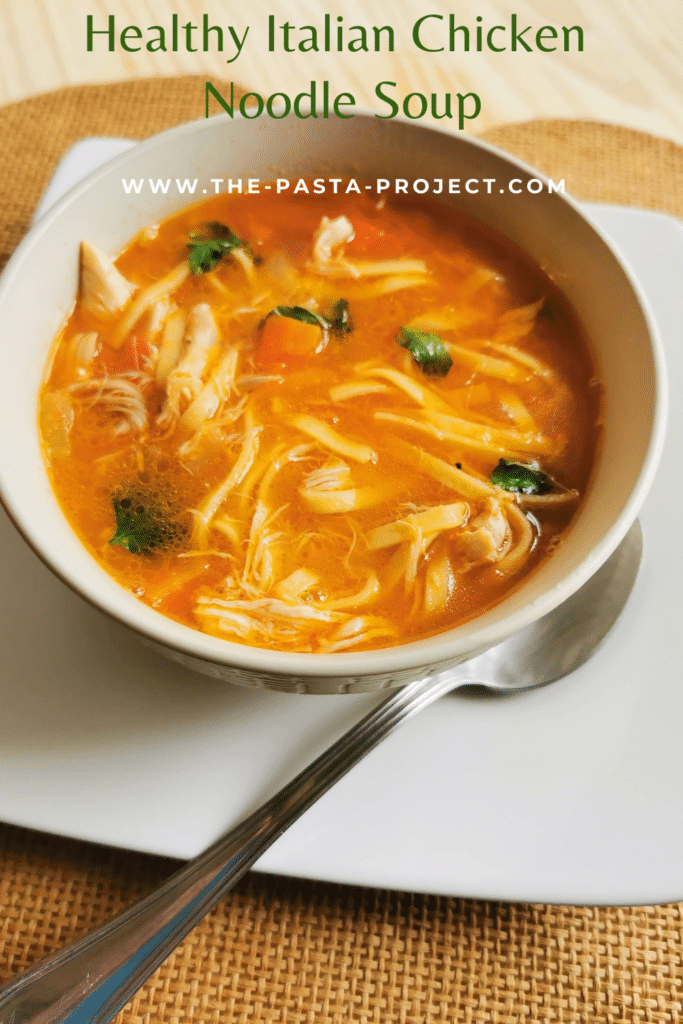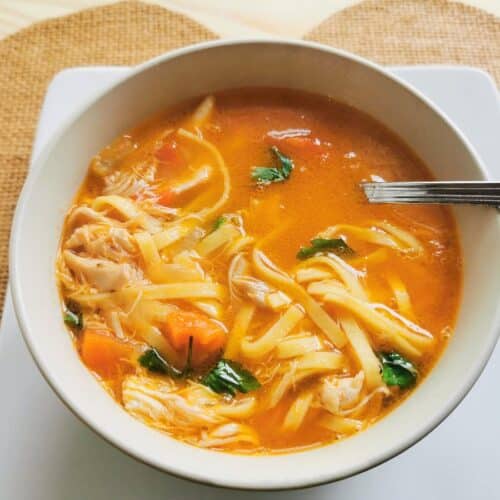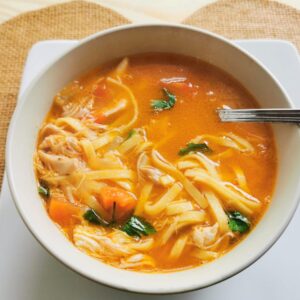 Healthy Italian chicken noodle soup
This healthy Italian chicken noodle soup is extra nutritious and delicious because the chicken is a fresh organic bird and even the broth is homemade. Healing and healthful, this is comfort food that's good for the soul!
Ingredients
For the chicken broth
1

whole organic chicken (1kg/2.2lbs)

cut into quarters

2

carrots

washed and cut into chunks

1

celery stalk

washed and cut into chunks

1

onion

peeled and quartered

1

bay leaf

water

as required

salt

to taste

freshly ground black pepper.

to taste
For chicken noodle soup
500

g

cooked chicken meat (3 cups)

I used the meat from the broth

1

onion

peeled and sliced

2-3

carrots

washed and cubed

2

celery stalks

washed and cubed

1-2

garlic cloves

peeled and cut in half

400

g

fresh tomatoes (14oz)

cut into quarters or tomato passata

2-3

tbsp

extra virgin olive oil.

salt

to taste

freshly ground black pepper.

to taste

1

handful

fresh parsley

chopped

200

g

fresh tagliolini (7oz)

or tagliatelle or orzo pasta
Instructions
Make the chicken broth
Prepare ingredients for broth. Wash the chicken, pat dry and cut into quarters Wash and cut carrots and celery into chunks and peel and cut onion into quarters.

Place chicken in a pot with carrots, onion, celery and bay leaf. Cover with water and bring to a boil. Simmer for 30 minutes. Remove any foam that rises to the surface. Then remove chicken pieces, allow them to cool enough to handle and remove as much meat as possible. Set the meat aside, return the carcass pieces to the broth, season with salt and pepper and continue to simmer on a low heatfor 1-1.5 hours. If the liquid reduces too much add more water.

When the broth is ready strain it through a sieve and keep just the liquid. Discard the bones and veggies.
Make the Italian chicken noodle soup
Wash and cut the carrots and celery into small cubes. Chop the parsley. Peel the garlic cloves and cut in halves. Wash the tomatoes and cut into quarters. Peel the onion and cut into slices.

Saute the onion and garlic in olive oil in a heavy bottom pan. I used the Dutch oven I used for the broth. Add the veggies and sauté till they start to soften. Add the tomatoes and cook them for 1-2 minutes. Then add all the broth and the chicken meat cut into small pieces or shredded. Season with salt and pepper. Simmer the soup for 30 minutes. If necessary, add more water.

Finally add the pasta and parsley to the soup and continue cooking until the pasta is al dente. My fresh tagliolini only needed 1-2 minutes.

Serve hot with grated parmigiano if required.
Notes
Long egg 'noodles' such as tagliatelle, tagliolini or thin spaghetti are best for this recipe! But, you can use any pasta you prefer. It's better if it doesn't require long cooking. Small soup pasta like orzo (risoni) would be a good choice too.
See content for info about storing leftovers.
Makes 4-6 servings.
Nutrition
Calories:
523
kcal
Carbohydrates:
53
g
Protein:
40
g
Fat:
16
g
Saturated Fat:
3
g
Polyunsaturated Fat:
3
g
Monounsaturated Fat:
8
g
Cholesterol:
94
mg
Sodium:
149
mg
Potassium:
927
mg
Fiber:
6
g
Sugar:
9
g
Vitamin A:
11175
IU
Vitamin C:
23
mg
Calcium:
72
mg
Iron:
3
mg
Other pasta soup recipes worth trying.
CHECK OUT MY SHOP PAGE.
If you are interested in learning how to make homemade pasta and different types of gnocchi, check out my shop page for some great video online courses from my friends in Rome! Nothing beats learning to make pasta from Italians! Plus while you're there why not order a copy of one of my pasta recipe cookbooks or checkout some recommended pasta making tools? All great prezzies for pasta lovers!