Has soup season arrived where you are?

One of the things I love about winter is soups! Nothing is more warming than a big bowl of homemade soup. And for this reason, I usually can't wait for soup season to arrive! There are a number of traditional soups made with pasta in Italy.
Here in Veneto one of the most popular, hearty and nutritious is pasta with beans 'pasta e fagoli' , usually served with a little olive oil on top. Variations of this soup exist in other Italian regions, however Veneto and Tuscany claim it as their own! (go straight to the recipe)
A little pasta with beans history!
Legend has it that the original pasta with beans recipe was born in the inns of ancient Rome as a cheap, nutritious and tasty dish suitable to feed the many different inn customers. It later became popular with the rural population as they could make it with their own home produce.
Here in Veneto pasta with beans became a traditional autumn soup because this was the time of year families slaughtered pigs. The pork rind and bones were used to flavour the soup. Today of course we don't need to slaughter a pig to make it. Adding some good pancetta or lardons works well too!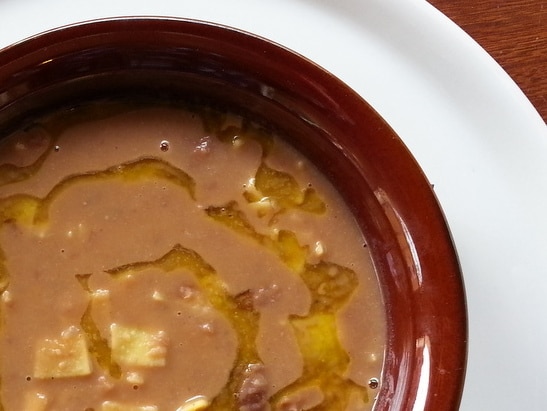 Although this soup takes about an hour to make, it's easy to do and well worth the time spent preparing it. Different kinds of pasta can be added to the soup. Traditionally, the Venetians use a homemade flat egg pasta cut into small rectangular or diamond shapes or ditaloni rigati (a short cut tubular pasta with a rough surface) to make pasta with beans. In some places, they break spaghetti into pieces and add that to the soup. 
Whichever kind of pasta you use, I am sure this pasta with beans soup will become a regular favourite! It is certainly one of mine!
If you do make this pasta e fagioli , I'd love to hear how it turns out and if you liked it. Please leave a comment here on the blog or on The Pasta Project Facebook page.
Looking forward to hearing from you!
Buon Appetito!
(see the recipe on page 2)