Lagane with chickpeas.
Here in Italy, there are many ancient recipes handed down from generation to generation, which still bring the flavours of the past to today's table. Lagane with chickpeas is definitely one such dish. In fact, the Roman poet Horace wrote about a soup of lagana (lagane) and chickpeas which he ate in his home town, Venosa in Basilicata! That's how old this recipe is! Although Horace would have eaten a version without tomatoes, which were unknown in Italy then.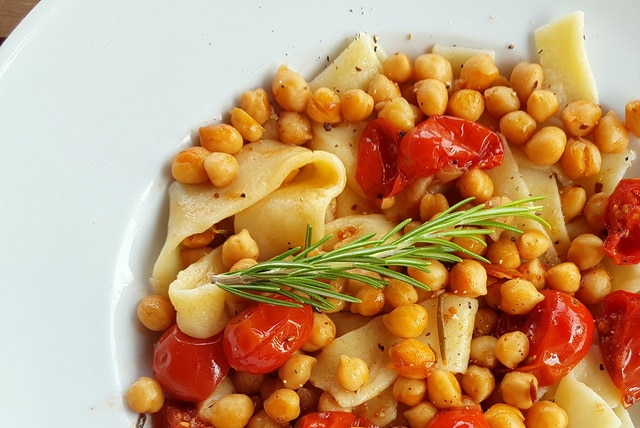 Lagane with chickpeas is one of the oldest known pasta recipes!
Lagane is the ancestor of today's lasagna and believed to be the oldest form of pasta. It is almost always served fresh and homemade. However, it is very simple to make as the ingredients are only durum wheat semolina flour and water. Lagane ribbons look like tagliatelle. But, they are thicker and wider, about 2-3 cm. (See my post on Lagane, if you would like to have a go at making it)
In some very old recipe books, lagane pasta with chickpeas is also called the plate of the Brigands (il piatto dei Briganti). Apparently, in the second half of the nineteenth century, the forests of Calabria and Basilicata were populated by bandits and outlaws who loved to eat large quantities of this pasta!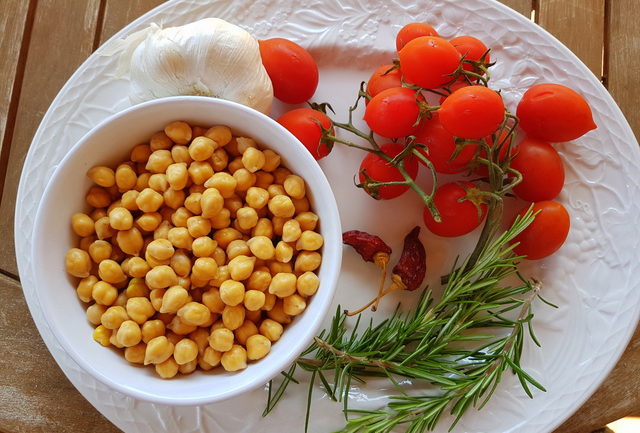 Typical of Southern Italy, lagane with chickpeas is very popular and traditional in Basilicata, Calabria, Campania and Puglia. However, there are a number of variations of this dish in the South; with or without tomatoes, with or without bacon, with or without lard etc. Some recipes are more like a soup, others are drier.
Lagane with chickpeas is healthy and nutritious!
In general, this is more a cold weather recipe as it's pretty filling and warming. However, even the simplest version makes a delicious main course or one course meal at any time of the year (Italians often eat pasta as a starter!). This dish provides adequate amounts of all nutrients and healthy proteins, thanks to the combination of legumes and cereals, and has an optimal amount of cholesterol-lowering fibre.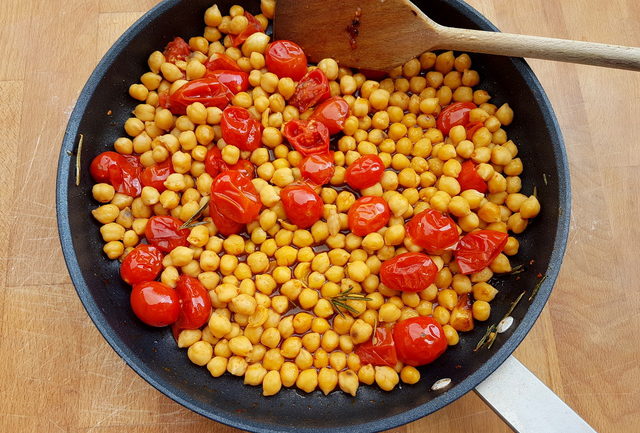 Canned or dried chickpeas?
In order for this dish to be really healthy, I like to use dried chickpeas. This, of course, increases the time it takes to make this recipe.  Dried chickpeas need to be soaked for 12 hours and then cooked for about an hour.
You can, of course,  use canned chickpeas to cook a faster more convenient version, but you will also lose out on taste as pre-soaked and cooked dried chickpeas are far more flavourful. Canned chickpeas may also contain more sodium and unless you purchase canned chickpeas in cans labeled "BPA-free," you'll be exposed to bisphenol A, or BPA.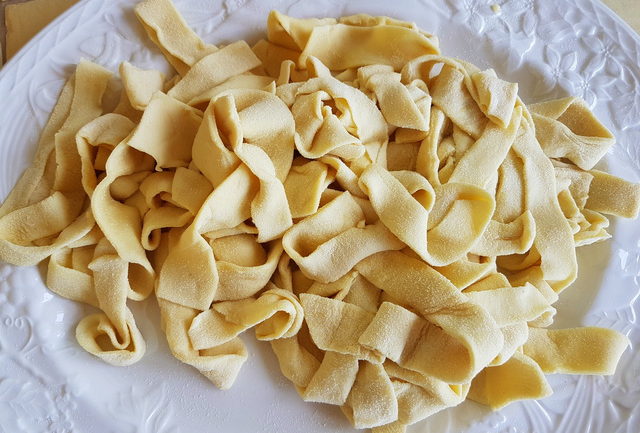 Yes, I made the pasta by hand!
As I mentioned before, there are a number of different ways to cook lagane with chickpeas. This version is common in Basilicata and Calabria. It includes tomatoes. I also made the pasta myself (much to my husband's delight!!) 
Lagane is usually made by hand in Southern Italy and very few pasta makers produce a dried version. Although I have seen some available online, I couldn't find it in the supermarkets here in the North. I wanted to make this dish with the typical pasta used in the South, so that's why I decided to make it myself!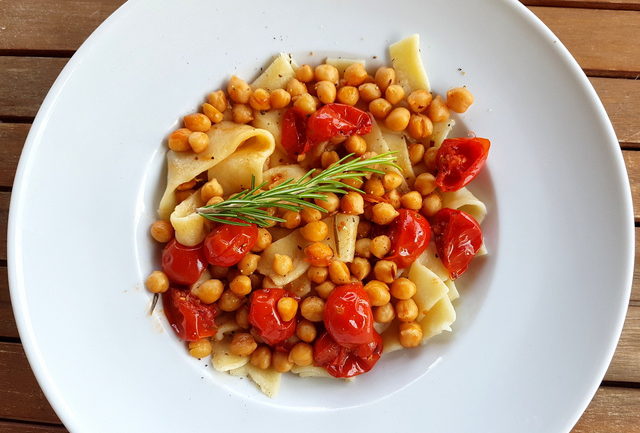 I am really glad I did! It was excellent!  But, if you prefer to use dried or ready made fresh pasta you can also use tagliatelle, pappardelle, lasagnette or cavatelli. Whichever pasta you use, you are sure to love this recipe.
As a footnote, I had a lot of left over chickpea and tomato sauce, which we ate the next day as a salad (without pasta) It was really good! So, I got 2 dishes for the price and work of one!
If you do try this chickpeas and pasta recipe, I'd love to hear what you think. Please write a comment here on the blog or post a comment on the Pasta Project Facebook page.
Your feedback means a lot to me!
Buon Appetito!
Other recipes with chickpeas.
Save for later?
If you want to save this recipe for later, you can print it, bookmark this page or save it to Pinterest.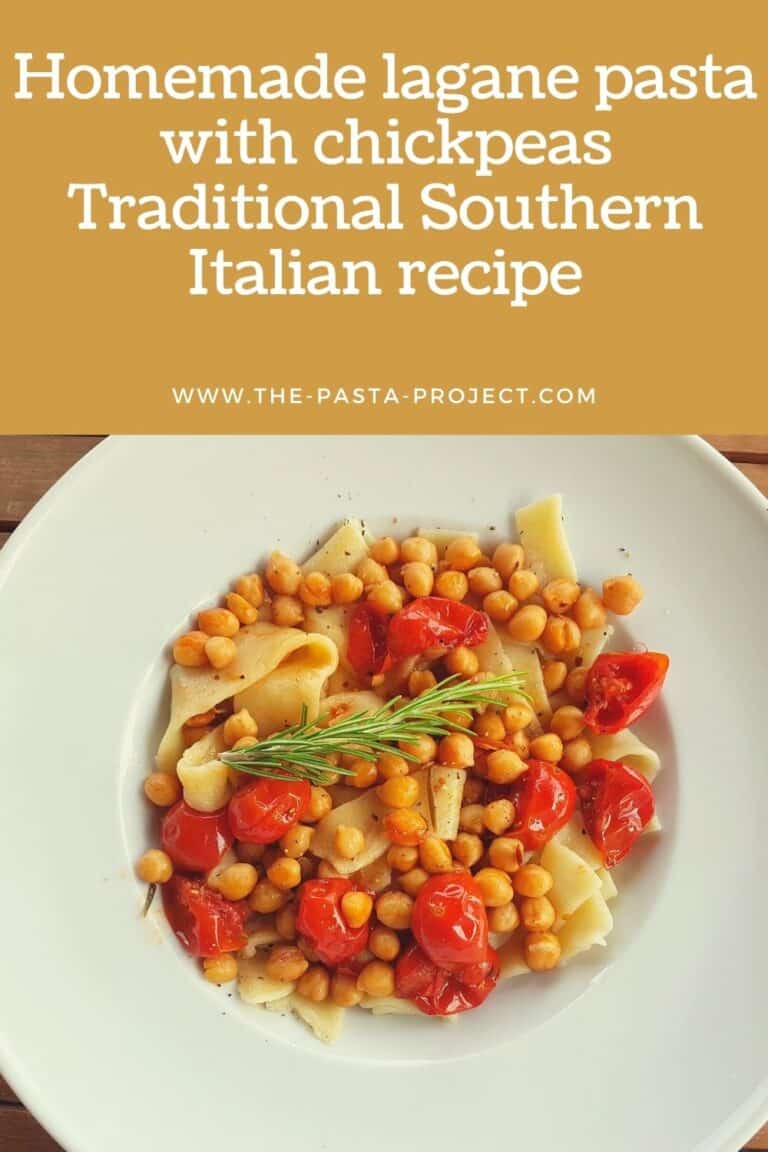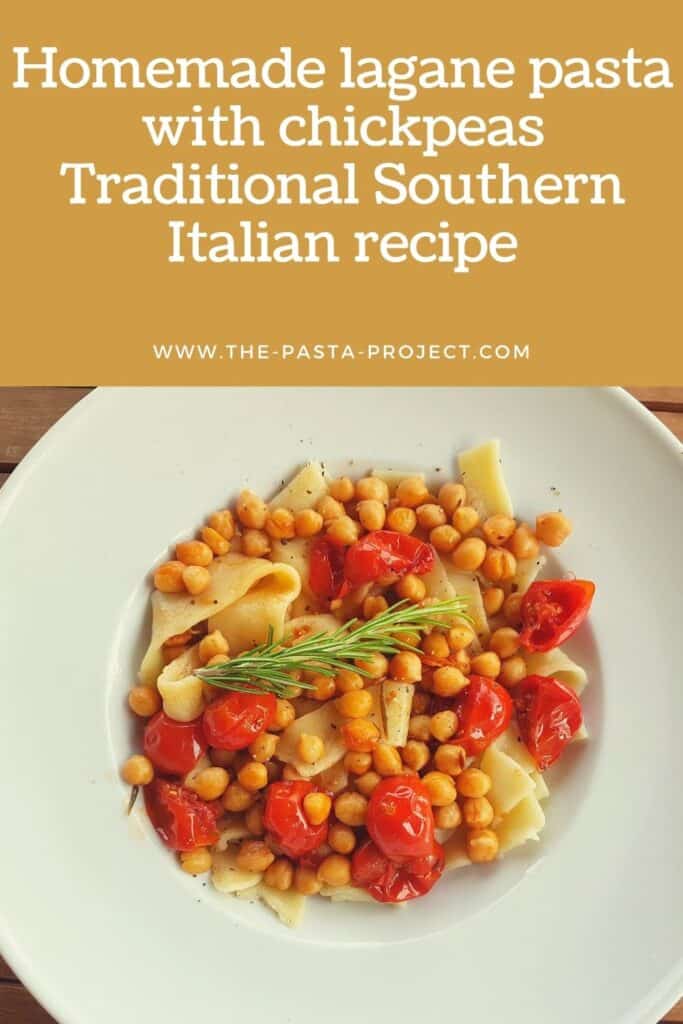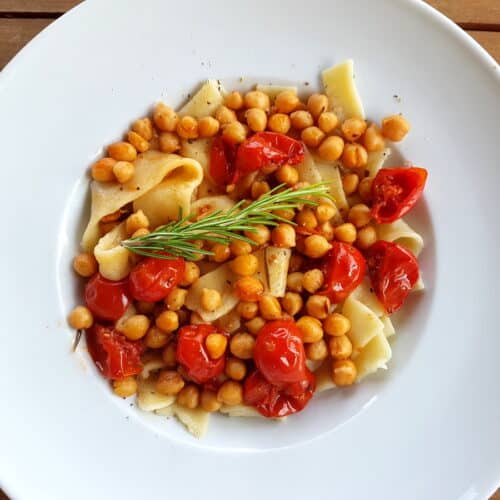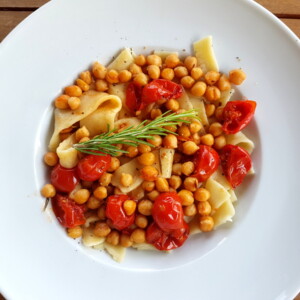 Lagane with chickpeas from Basilicata and Calabria
A super nutritious and tasty tradtional vegetarian/vegan pasta recipe from Basilicata and Calabria, perfect for cold days and one-course meals. Make it with homemade pasta or store bought!
Ingredients
320

g

lagane or other pasta

(12oz) see notes

200

g

dried chickpeas

(7oz)

200

g

cherry tomatoes or datterini tomatoes

(7oz) cut in half

2

cloves of garlic

peeled

1

rosemary

large sprig

1

fresh or dried peperoncino (chili pepper)

chopped with seeds removed

3

tbsp

extra virgin olive oil.

salt and pepper

to taste
Instructions
If using dried chickpeas cover them with cold water and soak them for 12 hours. Drain and rinse.

Cook the chickpeas well covered with water in a large saucepan with a little salt and a bay leaf until they are quite soft (1 hour)

When they are ready, save a cupful of the cooking water, drain the chickpeas and set aside. (some people cook them in the same water they were soaked in. I used fresh water.)

While the chickpeas are cooking, heat some olive oil in a large frying pan or skillet.

Add the peeled garlic cloves, rosemary leaves and peperoncino and cook until the garlic starts to soften and brown. Don't allow it to burn.

Add the tomatoes and a pinch of salt and cook until the tomatoes become quite soft 20 minutes on a low heat.

Put a pot of water on to boil for the pasta. Once it is boiling add salt to it and bring to the boil again

Remove the garlic cloves from the sauce.

Add the drained chickpeas to the tomato sauce and half a cup of the saved chickpea cooking water. ( If using canned chickpeas add them now)

Stir well and cook for a further 5 minutes. If the sauce is too dry, you can add the rest of the saved chickpea cooking water.

Cook the pasta al dente, drain it and add it to the chickpeas and tomato.

Mix everything together well and serve with grated grana or pecorino (if required) and black pepper.
Notes
Cooking times don't include the 12 hours to soak the chickpeas.
This recipe can be made with other pasta such as tagliatelle, pappardelle, cavatelli etc
To keep this recipe vegan use or make pasta without eggs!
To make your own homemade lagane check out the recipe here Lagane pasta from Southern Italy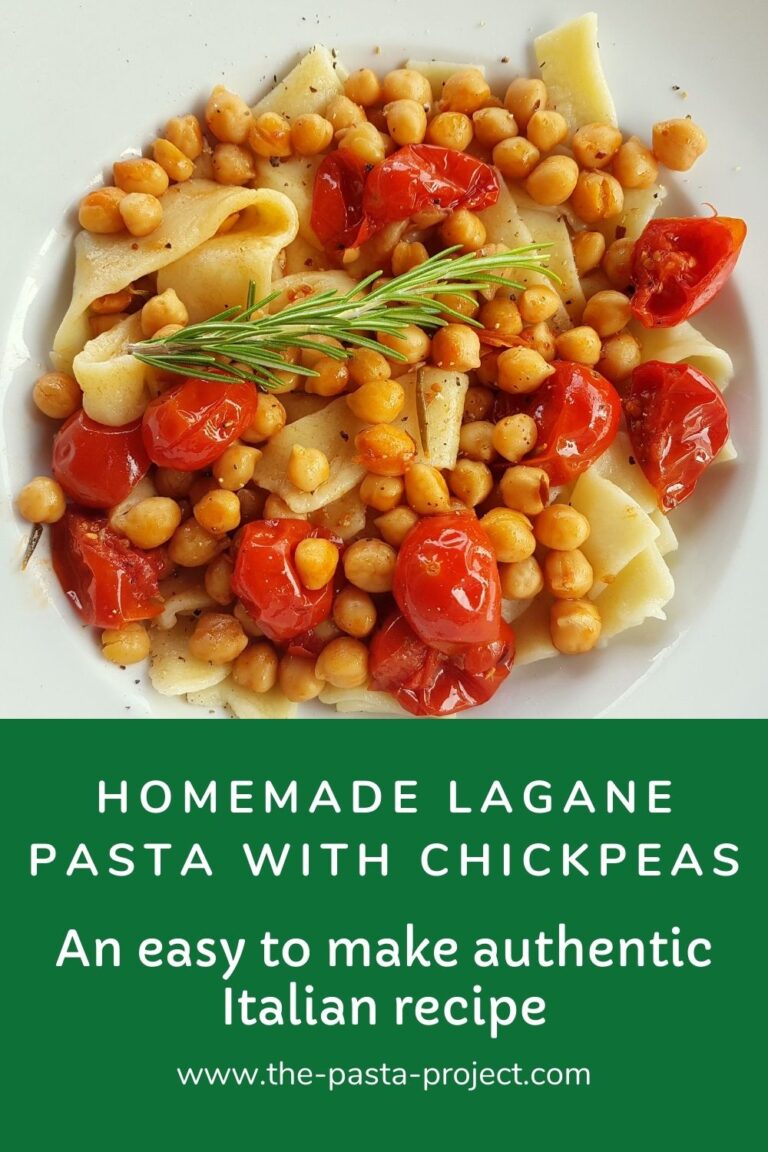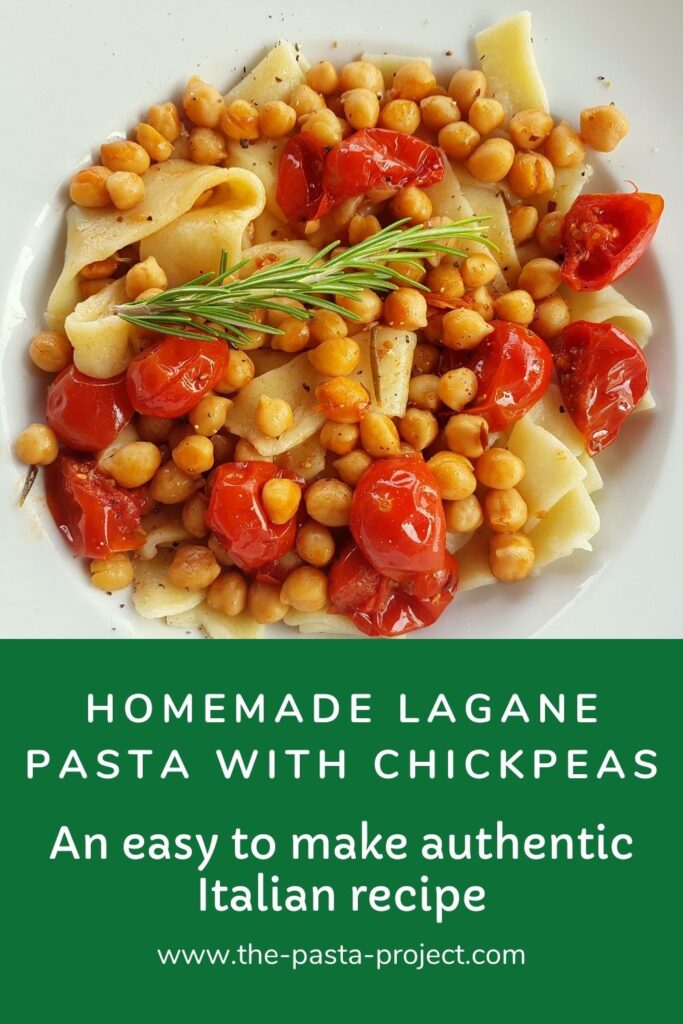 If you are interested in learning how to make other homemade pasta and other types of gnocchi, check out my shop page for some great video online courses from my friends in Rome! Nothing beats learning to make pasta from Italians! Plus while you're there why not order a copy of my newly published autumn/winter pasta recipes cookbook!