On a recent visit to Tuscany, I came home with a head of the local type of elephant garlic known as 'aglione' and some Tuscan pici pasta. These two foods are the main ingredients in this fabulous traditional dish, pici all'aglione, an elephant garlic pasta recipe that you can find on the table in Tuscan homes and restaurants whilst aglione is in season.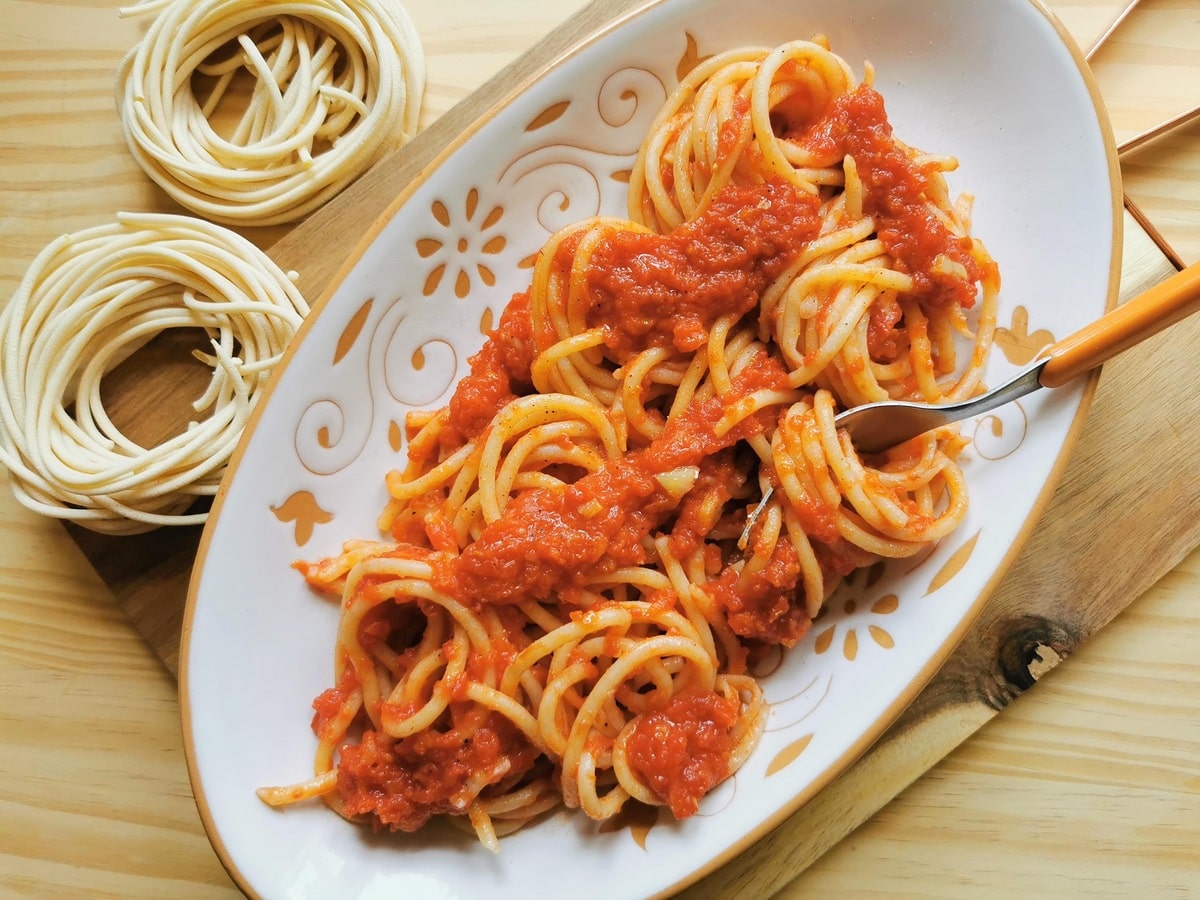 What is aglione?
The name 'aglione' comes from the Italian word aglio, which means garlic. 'Aglione' translates to big garlic! However, it is actually a type of elephant garlic, mainly grown in the Val di Chiana and the Val D'Orcia, Tuscany.
It is a much sought after local specialty because supply is limited, and the season is short just June and July. Aglione from the Val Chiana can cost up to 40 euros per kilo (2.2lbs)!
But, neither aglione nor other types of elephant garlic are actually garlic. Though both aromatics are part of the allium genus, they belong to different species. Elephant garlic belongs to ampeloprasum, the same species as leeks; garlic is from the species sativum.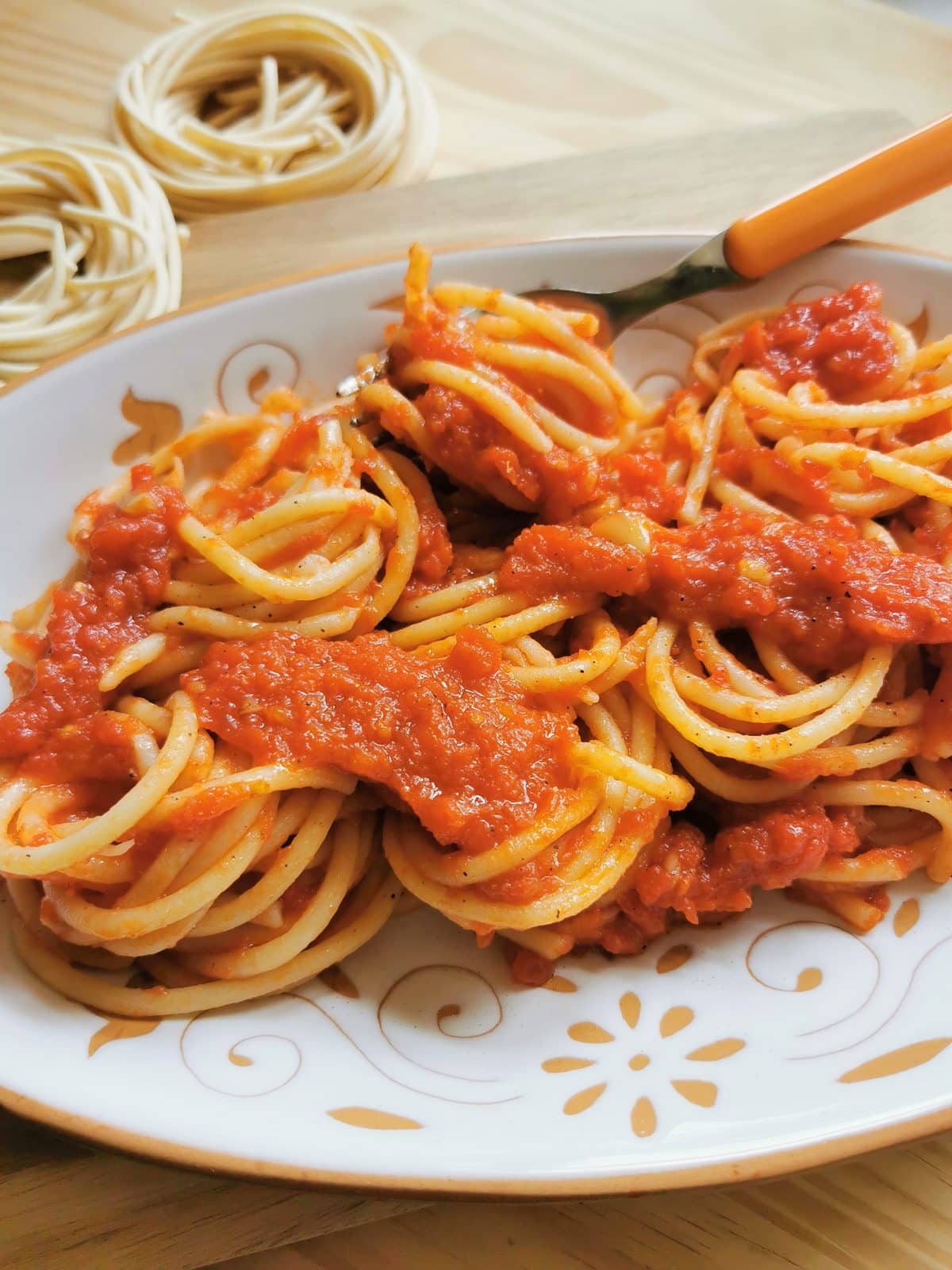 How big is aglione?
The size and weight of aglione garlic can vary depending on various factors, such as growing conditions and the specific variety of garlic used. However, aglione is generally known for its large bulb size.
In fact, it is much larger than typical garlic bulbs found in many other varieties. In terms of weight, a head of aglione garlic can weigh anywhere from 200g to 800g (7oz – 1.8lbs) and contains from 2 to 6 cloves.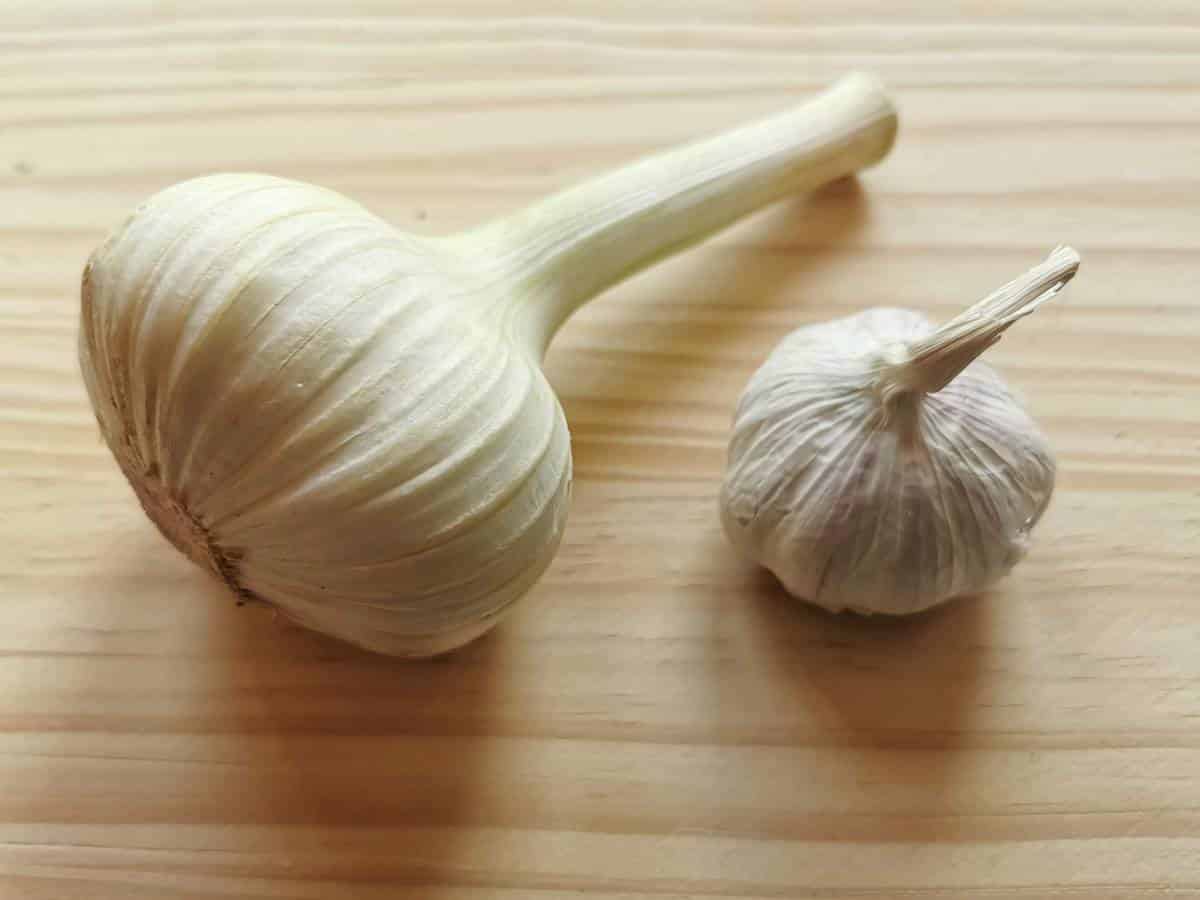 So, the cloves are pretty big too! The aglione bulb I used for this elephant garlic pasta weighed only 200g, so a small one! And it had 4 cloves.
What does aglione taste like?
Although smililar to garlic, aglione has a much more delicate and mellow flavour. I'd say it probably tastes closer to leeks or mild onions. Also, aglione does not contain alline, which not only makes it more digestible but it will not leave you with 'garlic breath'! In fact, some Italians refer to it as 'aglio degli innamorati', lovers' garlic!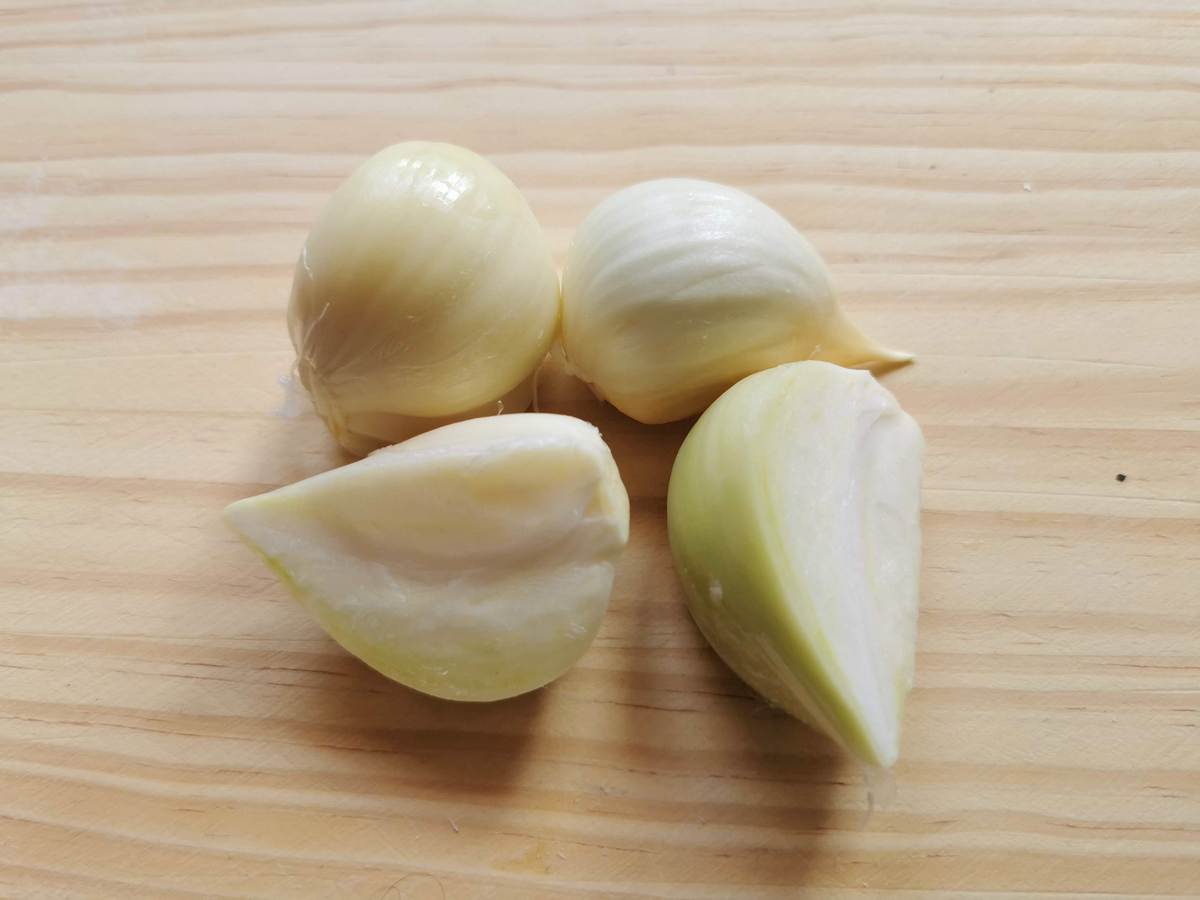 Aglione or elephant garlic substitutes.
If you don't have aglione or other elephant garlic, you can still make this pici all'aglione recipe using one of the following..
Garlic: Since normal garlic has a stronger flavour, you can either use less garlic as a substitute or slow cook the garlic to neutralize the flavour.
Leek: Leeks will provide a similar consistency to elephant garlic but if you pair them with garlic, you'll be able to mimic the taste of aglione more closely.
Onion: Onions and shallots are somewhat similar in flavour, but they may also benefit from being paired with regular garlic to copy the flavour of elephant garlic.
Or grow your own elephant garlic!
Apparently, elephant garlic is easy to grow, and the scapes are delicious too. So, you may want to think about growing your own. Learn more about growing elephant garlic in this article from The Spruce.com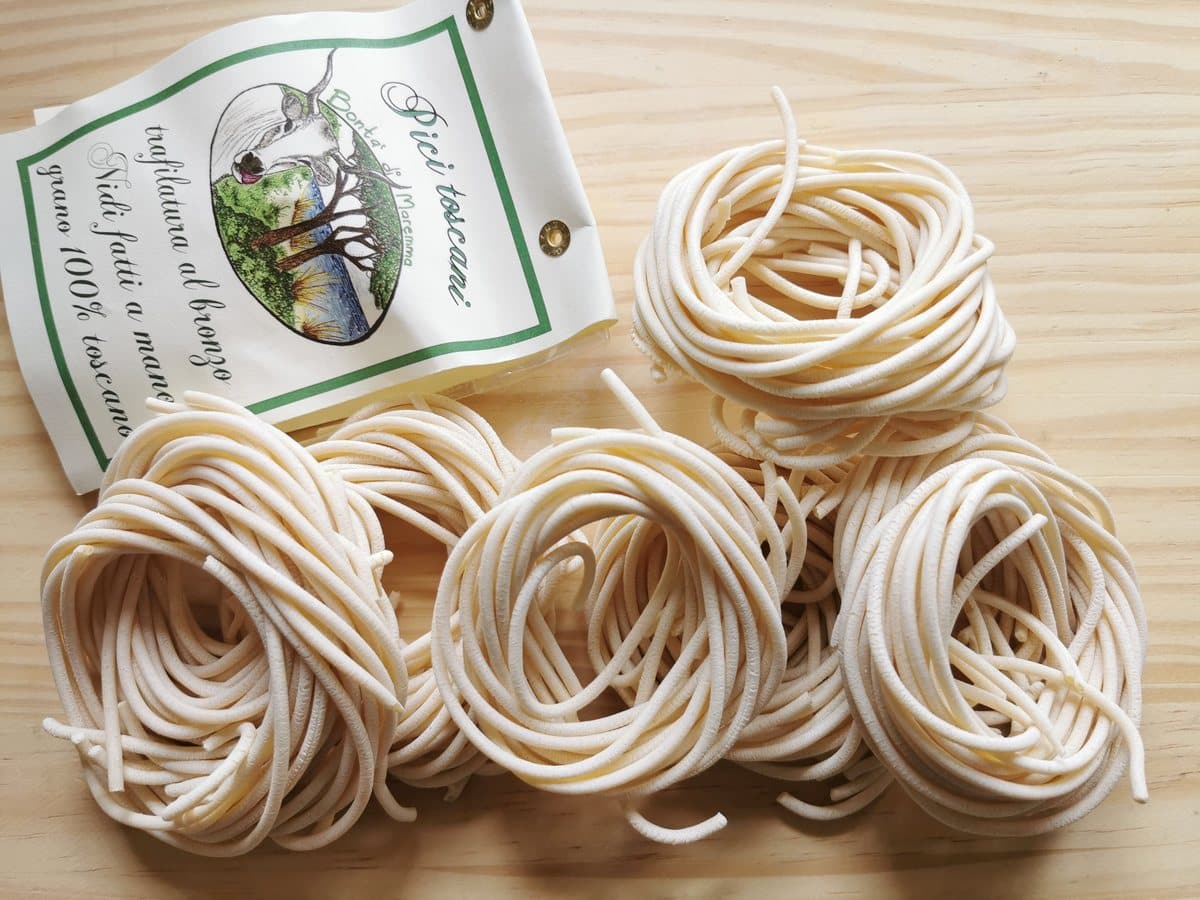 What is pici pasta?
As mentioned above, the pasta for this Tuscan elephant garlic pasta recipe is pici. Pici is a type of thick spaghetti from Tuscany. It is a traditional pasta variety that is characterized by its long, thick, and cylindrical shape. Pici is typically handmade by hand rolling small pieces of dough to create long thin strands.
The dough for pici pasta is made using simple ingredients like flour, water, and sometimes a little olive oil. It is kneaded until smooth and then rolled out into thin ropes. These ropes are then cut into shorter lengths, usually around 8 to 10 inches (20 to 25 cm) long.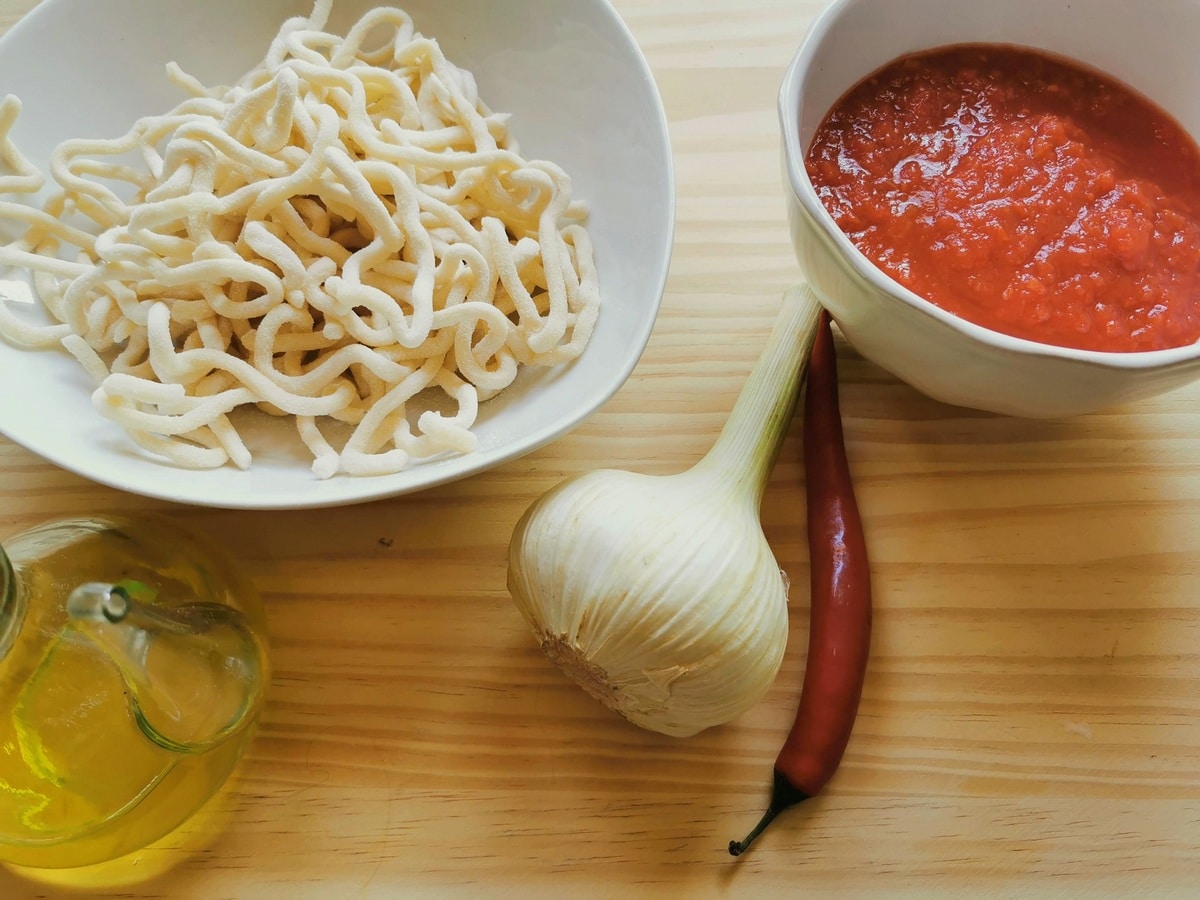 I made this recipe twice using fresh and dried pici pasta which I brought home from Tuscany with me recently. Pici is nearly always on the menu in most Tuscan restaurants and is typically homemade, although the menu will often say 'hand rolled' when it comes to describing this pasta.
A little pici all'aglione history.
According to food history, pici pasta was an ingredient used in peasant cooking and normally seasoned with breadcrumbs. The version with garlic sauce was a dish for celebrations, of course without tomatoes which weren't used in Italian cooking until the 17th century. Apparently, evidence of pici can even be seen in the 'tomb of the leopards', in the Etruscan necropolis of Tarquinia, making it one of the oldest types of pasta.
What to use instead of pici for this recipe.
Outside of Italy, pici pasta is not as widely known or available as some other types of pasta, but it can be found in certain Italian restaurants or specialty food stores.
Additionally, if you enjoy making pasta from scratch, you can try making your own at home. Making pici is on my to-do list. But in the meantime, check out the video below from Pasta Grannies.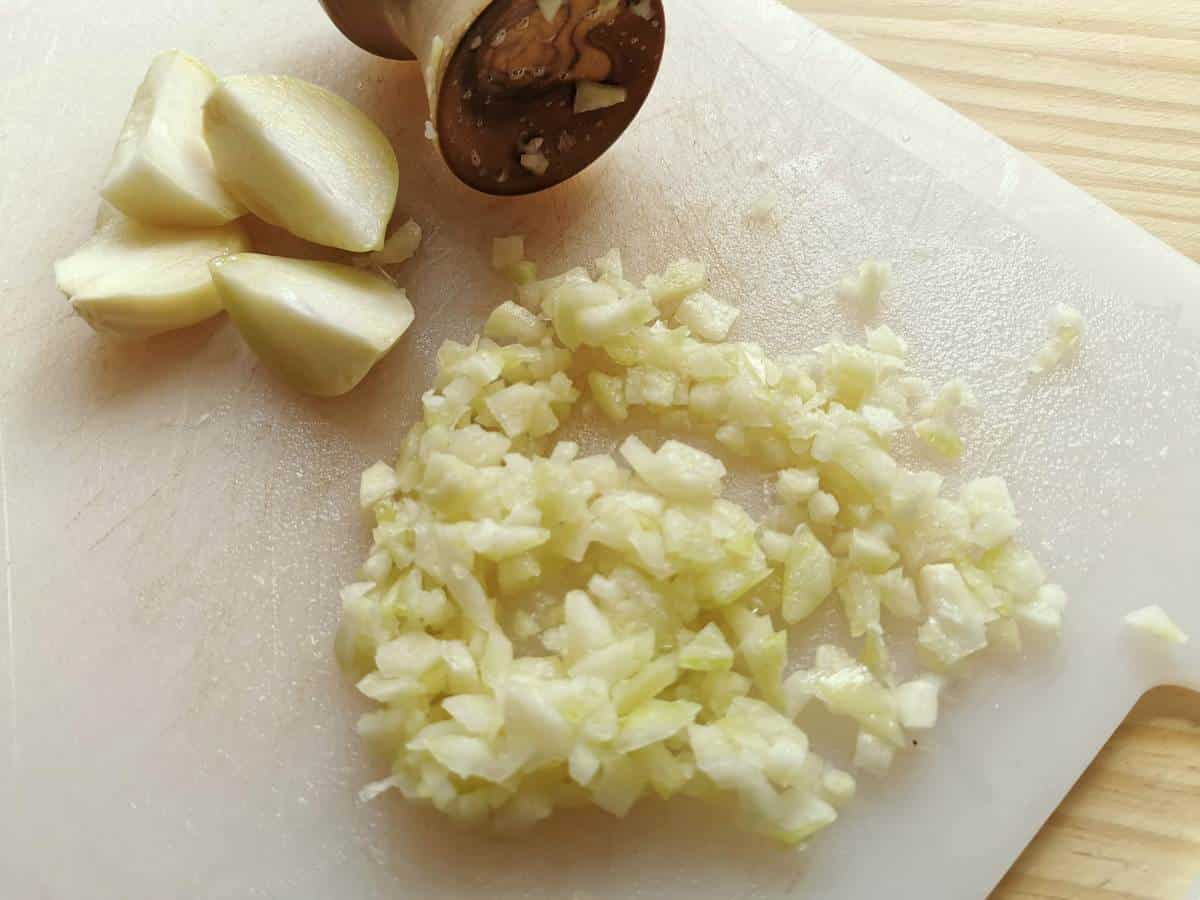 Alternatively, this elephant garlic pasta recipe works well with thick spaghetti or bucatini.
What are the other ingredients in pici all'aglione?
To make this traditional Tuscan recipe, apart from the pici pasta (or thick spaghetti) and elephant garlic, all you need is some olive oil, tomato passata or freshly peeled tomatoes and peperoncino. However, the latter is optional. I added a little fresh peperoncino (Italian red chili pepper). You can also use flakes.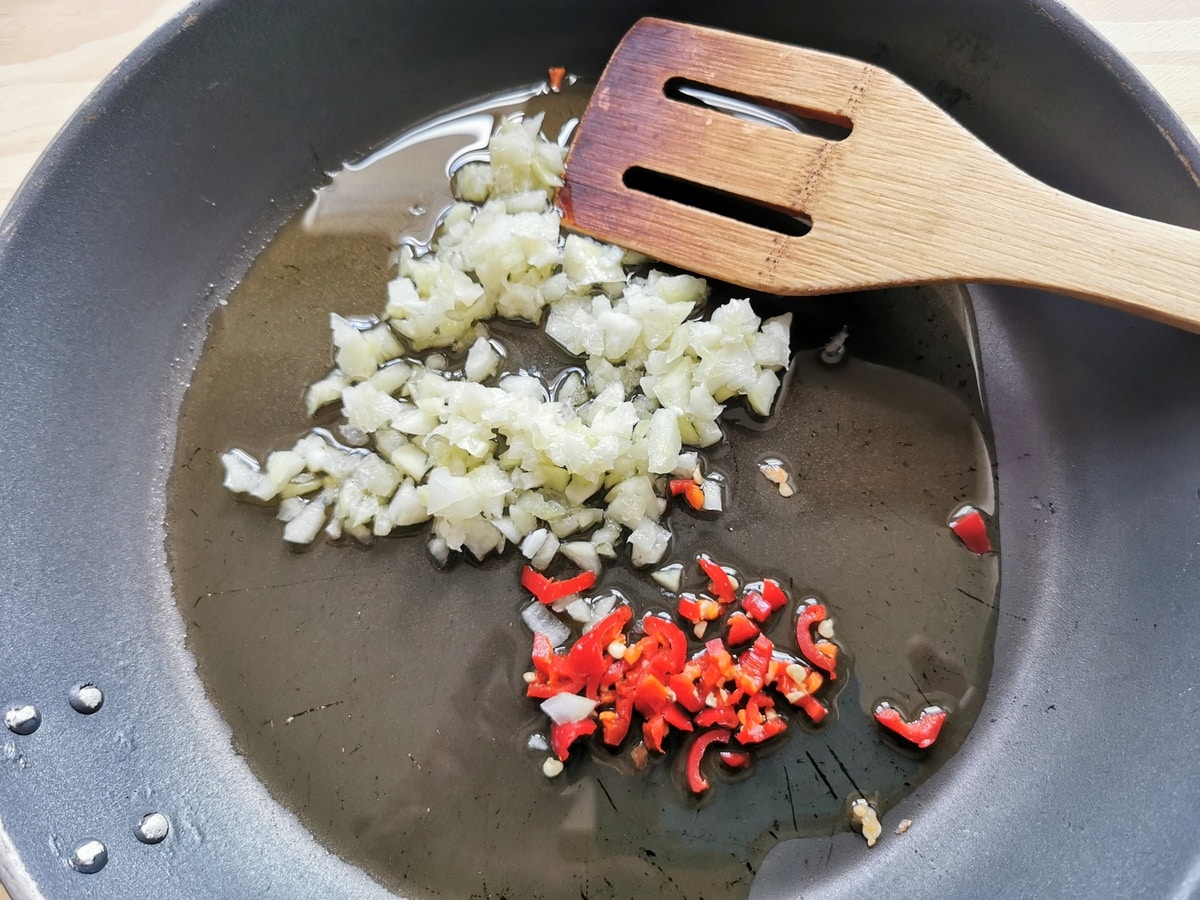 How to make the elephant garlic pasta sauce.
Like many classic Italian pasta recipes that call for just a handful of ingredients, this recipe is easy to make.
The first step is to peel and chop the aglione. The recipe I followed called for one clove per person, so I used the whole garlic head which had 4 cloves. You will also need to chop the red chili pepper if using a fresh one. And peel and chop the tomatoes if using fresh too.
Cook's Tip. The chilli pepper is optional. But, if you do use it, don't put too much as you'll overwhelm the other flavours. Removing the seeds will make the peperoncino less spicy.
Next, sauté the aglione and chilli pepper in a little olive oil just until the garlic starts to soften. Then add a little water. Cover the pan and let the aglione cook slowly on a low heat until it's really soft. (About 15 minutes).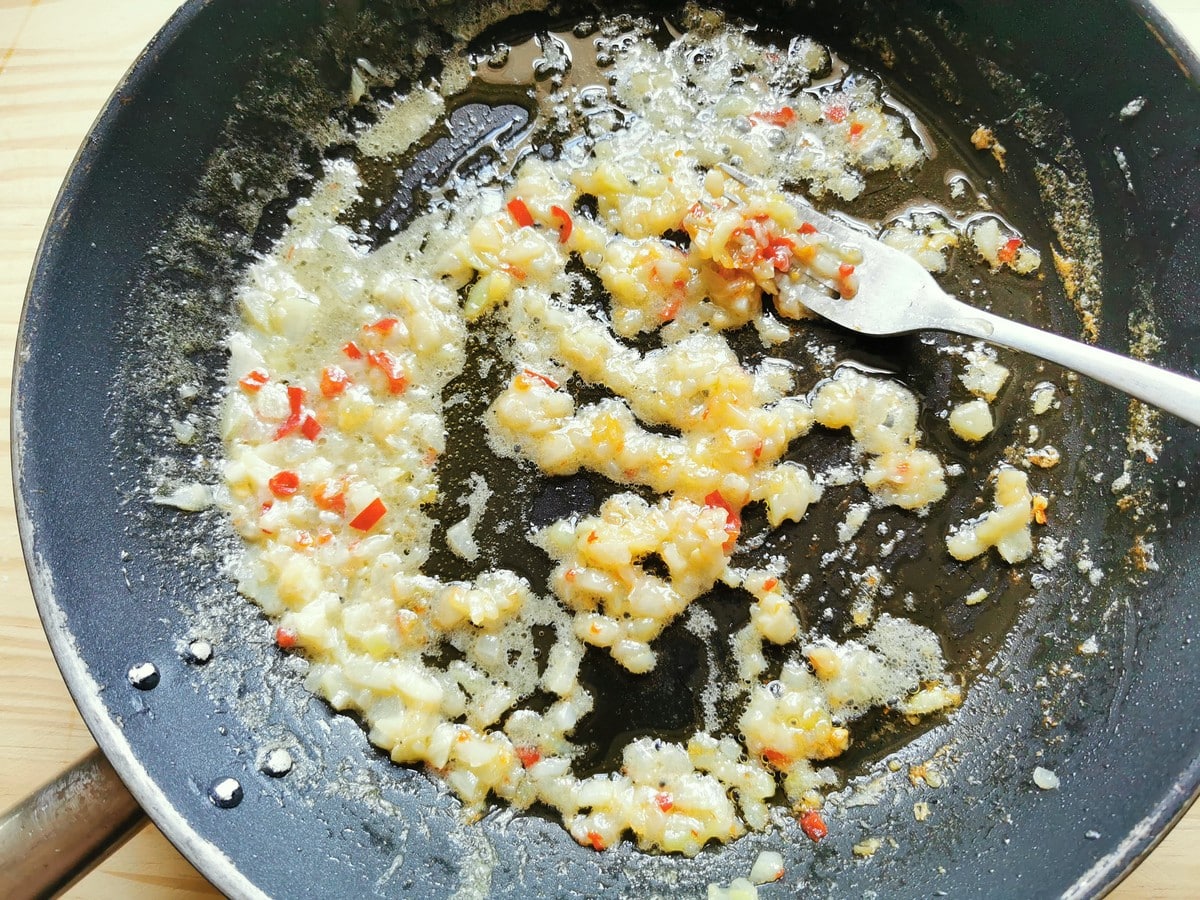 Every few minutes, mash the aglione with a fork and add more water if necessary. You don't want it to brown. It should get creamy.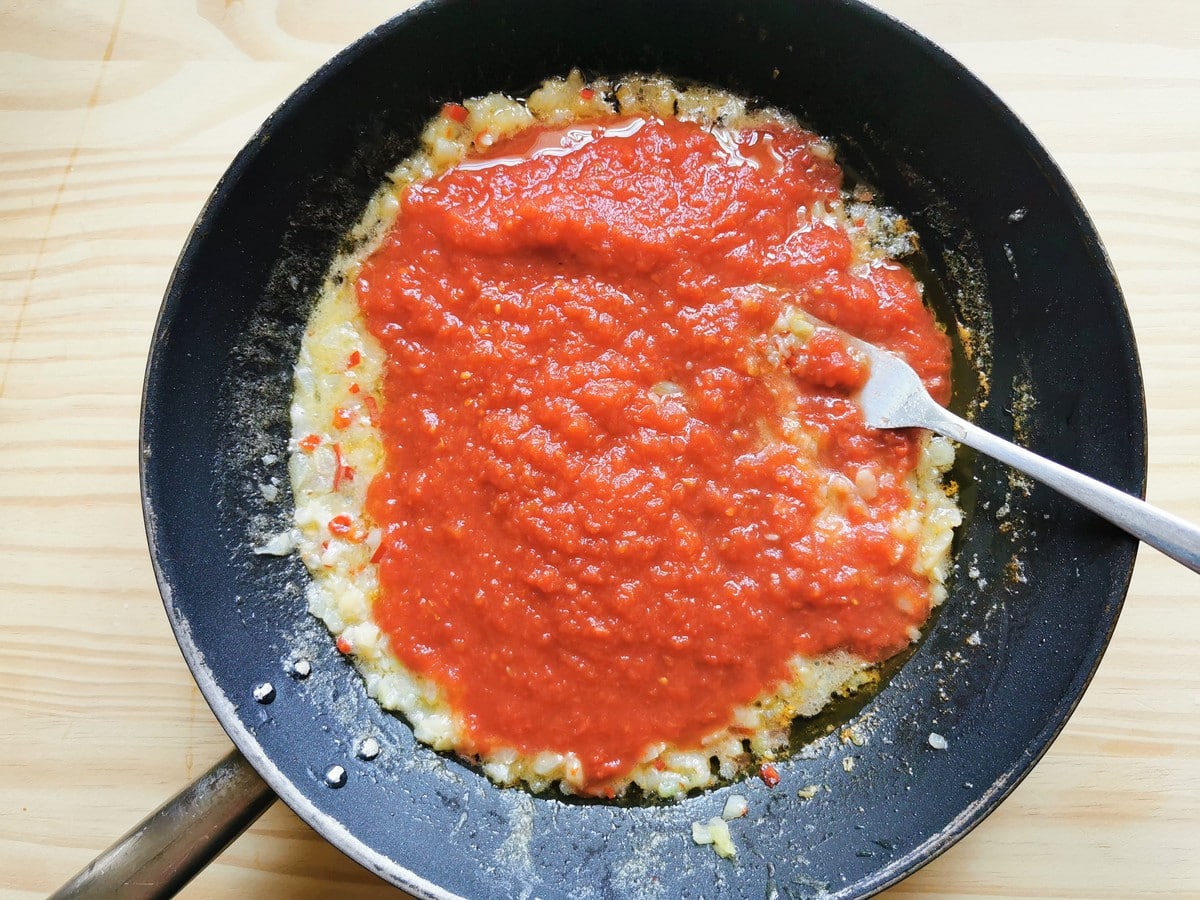 Once the aglione is soft and creamy, add the tomato passata (or peeled tomatoes), some salt and pepper and mix everything together. Cover the pan again and simmer on a low heat for about 20 minutes.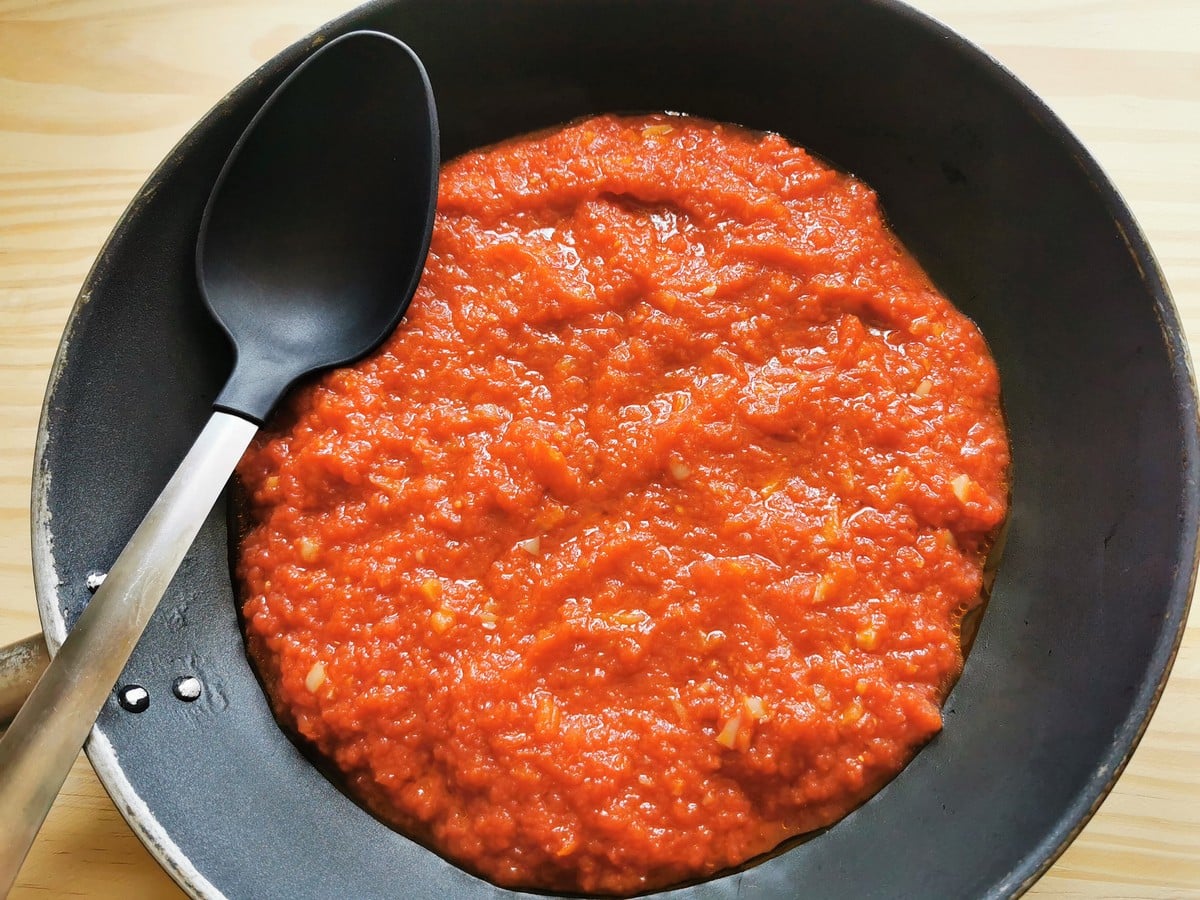 Cook the pasta and serve.
While the sauce is simmering, put a pot of water on to boil for the pasta. Add salt once it starts to boil and bring to the boil again.
Cook's tip: Italian chefs don't add salt to cold water because it can not only ruin the pot, but also the water will take a little longer to boil. The salt is added as the water starts to boil.
Cook the pasta al dente according to the instructions on the packet. Dried pici takes about 12 minutes, whereas fresh pasta cooks a lot quicker.
Finally drain the pasta and add it to the pan with the sauce. Mix everything together gently over a low heat. Then, serve immediately with some chopped fresh basil or grated Pecorino Romano if required.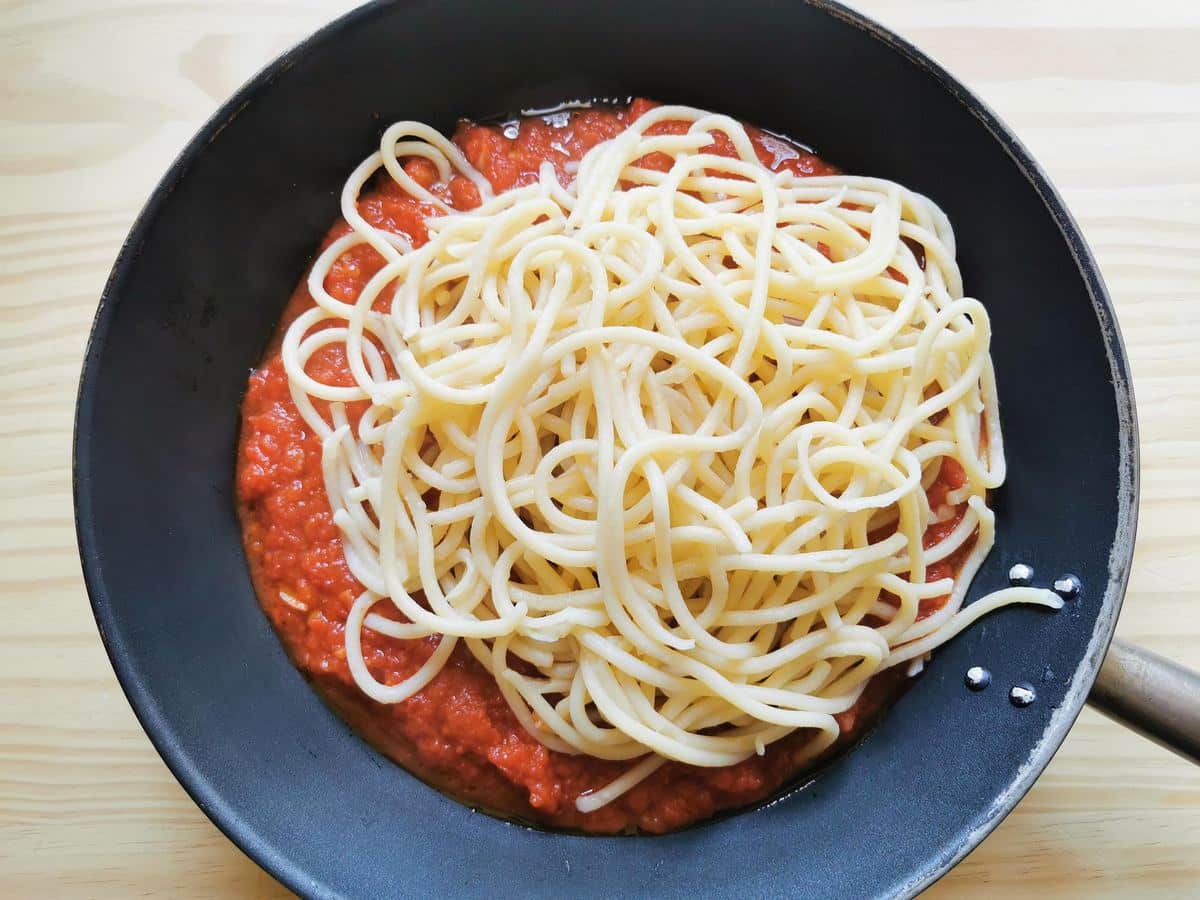 What to do with leftovers.
This pici pasta recipe is best eaten immediately. However, leftovers can be kept sealed in the fridge for a couple of days. You can reheat your pici all'aglione 3 ways; in the microwave, in a frying pan with a little butter or olive oil or bake it in the oven with some grated cheese on top. The latter is my favourite way!
I don't recommend freezing any leftovers.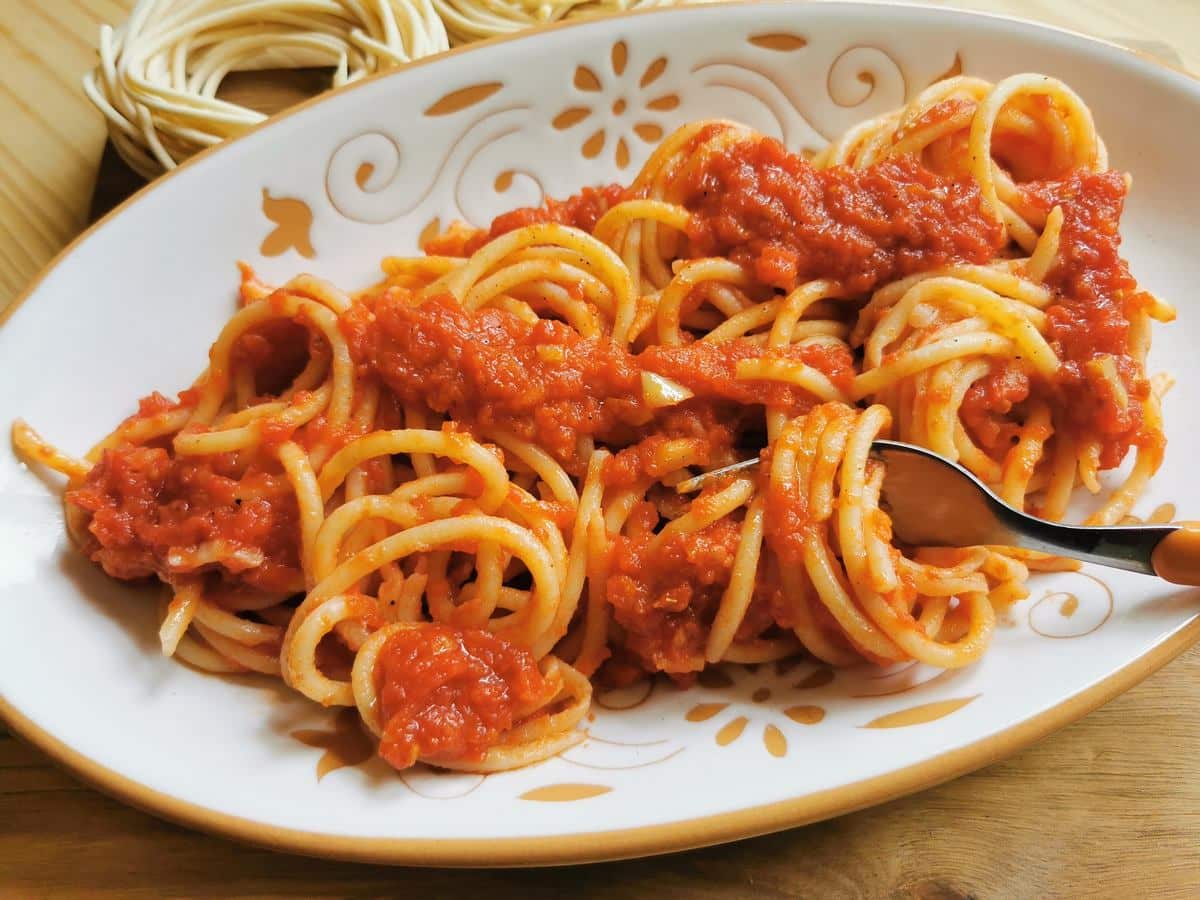 Let me know what you think.
Whether you make this elephant garlic pasta recipe as a comforting weeknight dinner or serve it at a special occasion, I'm sure you will enjoy the combination of rustic charm and mouthwatering flavours.
Pici all'aglione is a beloved classic Italian dish that showcases the timeless flavours of Tuscany and exemplifies the art of Italian cooking at its simple best!
If you do try this recipe, I'd love to hear what you think. Please write a comment here on the blog or post a comment on the Pasta Project Facebook page.
Your feedback means a lot to me!
Buon appetito!
Pin for later.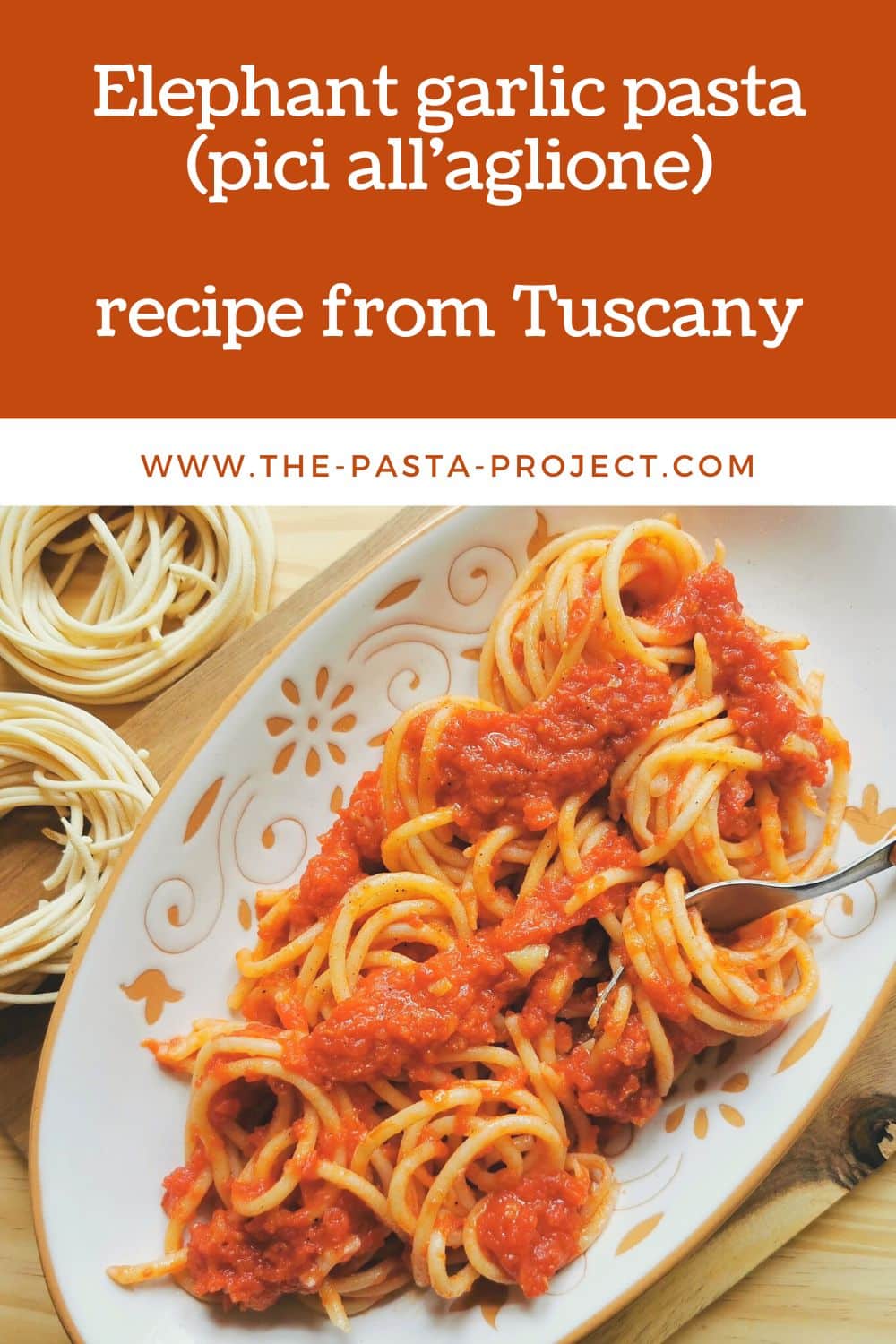 Other easy classic Italian pasta recipes.
If you are interested in learning how to make other homemade pasta and different types of gnocchi, check out my shop page for some great video online courses from my friends in Rome! Nothing beats learning to make pasta from Italians! Plus while you're there why not order a copy of one of my pasta recipe cookbooks or checkout some recommended pasta making tools?