Known as pasta alla cenere in Italy, this easy gorgonzola pasta with olives is a delicious creamy gourmet dish that has only 3 main ingredients. Plus, it takes less than 30 minutes to make! Perfect as a weeknight treat and special enough to serve to guests!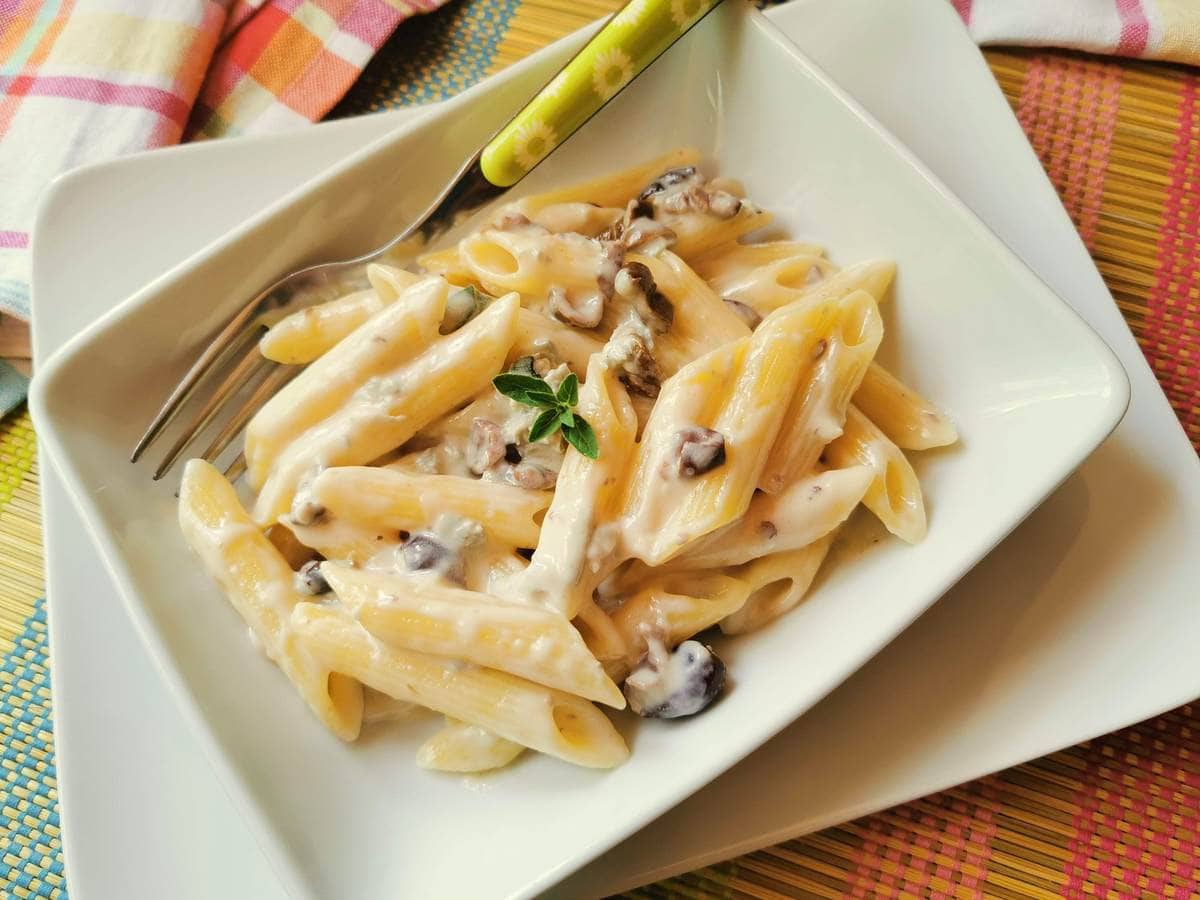 What does alla cenere mean?
Cenere in Italian means ashes or cinders. Although the origins of pasta alla cenere are uncertain, some Italian food writers say the name comes from the chopped olives in this dish which look like 'ashes'. Given that Italy is home to a number of active volcanoes, this makes sense, I guess.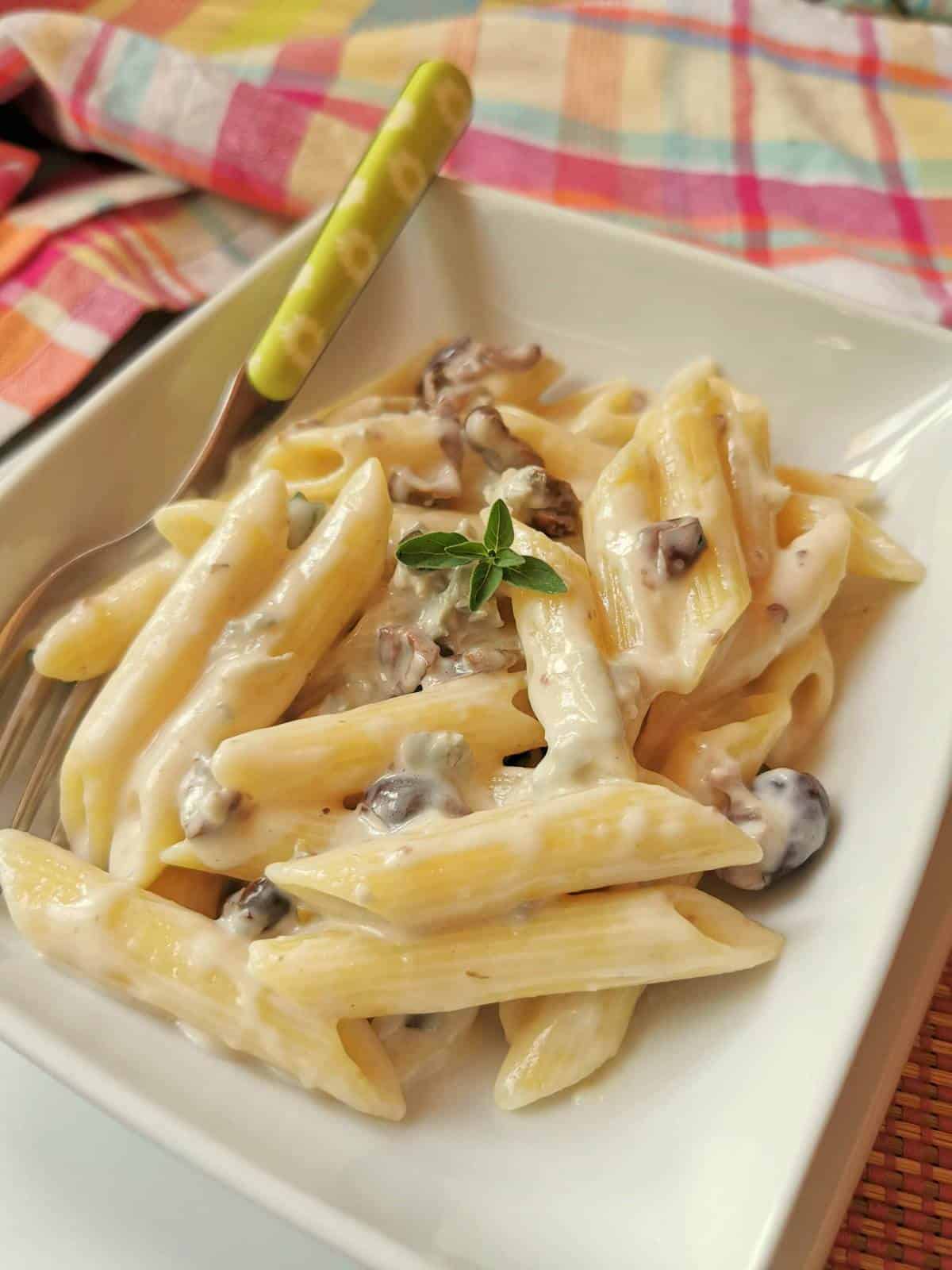 Whatever its origins, I found a lot of Italian blogs and food sites with a recipe for pasta alla cenere, so it's obviously a popular dish! I confess, I hadn't eaten it before, but we love gnocchi or pasta with gorgonzola! At first, I wasn't sure about combining gorgonzola with olives but wow they go together beautifully. I'm sure you'll agree if you try it!
What are the origins of Gorgonzola?
Gorgonzola is a very old Italian cheese that dates back to Roman times. Some food historians say that it was first made in 879 AD in the Northern Italian town of Gorgonzola, close to Milan. Yes, there's a town called Gorgonzola!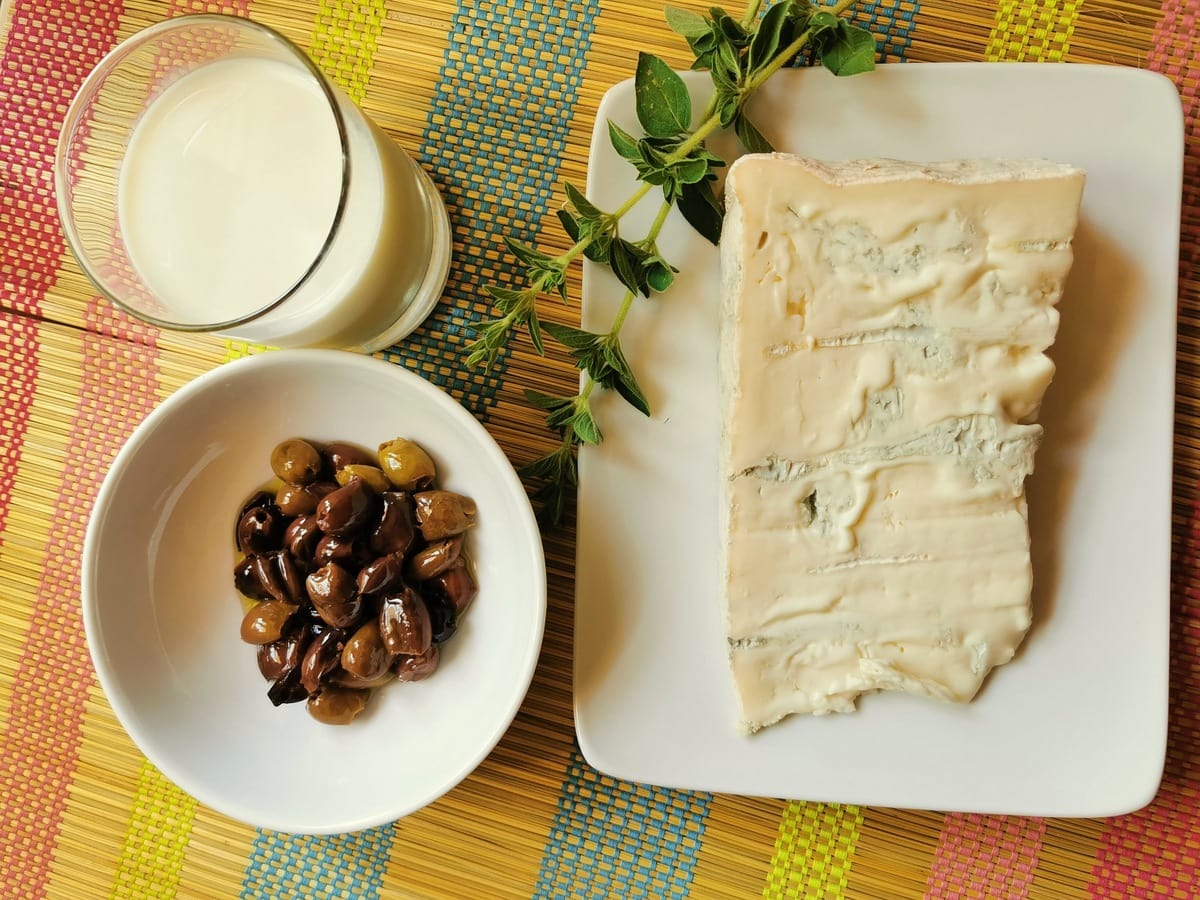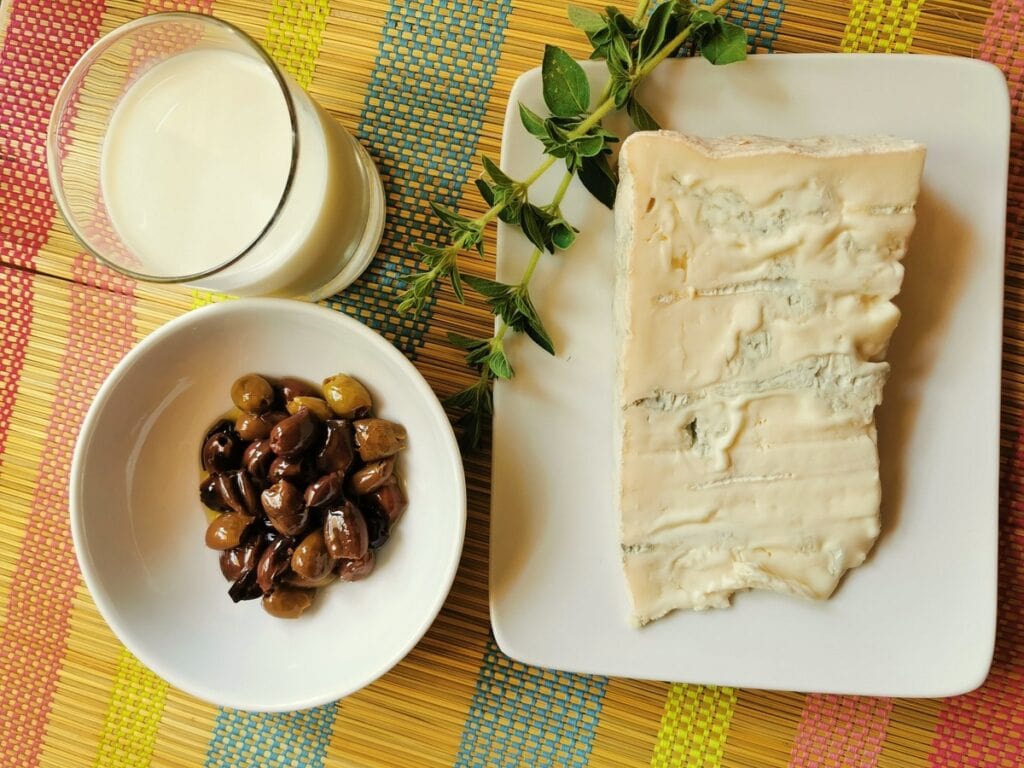 However, others believe Gorgonzola was born in Pasturo, a town in the Valsassina in Lombardy. Either way, it is the town that gave the cheese its name that remains the most famous even though it's no longer a center of Gorgonzola production.
Nowadays, Gorgonzola is produced all year round, but it was originally made in the autumn with milk from cows that had been brought down to the Po Valley from their summer grazing in the Alps.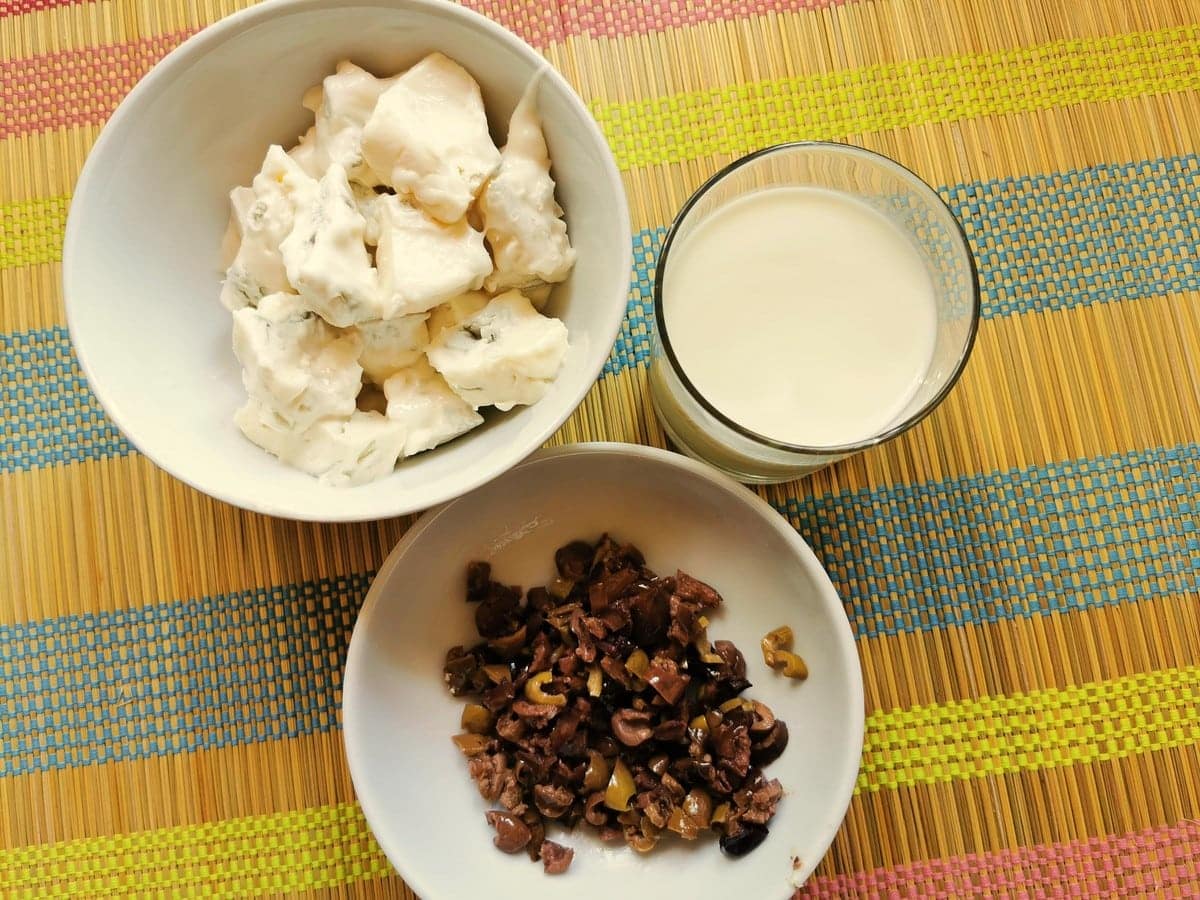 Apparently, the people of Gorgonzola and the surrounding farms began making cheese in order to conserve all the milk that was available over a short period of time.
This first cheese was called 'stracchino', meaning tired in Italian This was a reference to the milk that came from cows that were exhausted after their long migration south!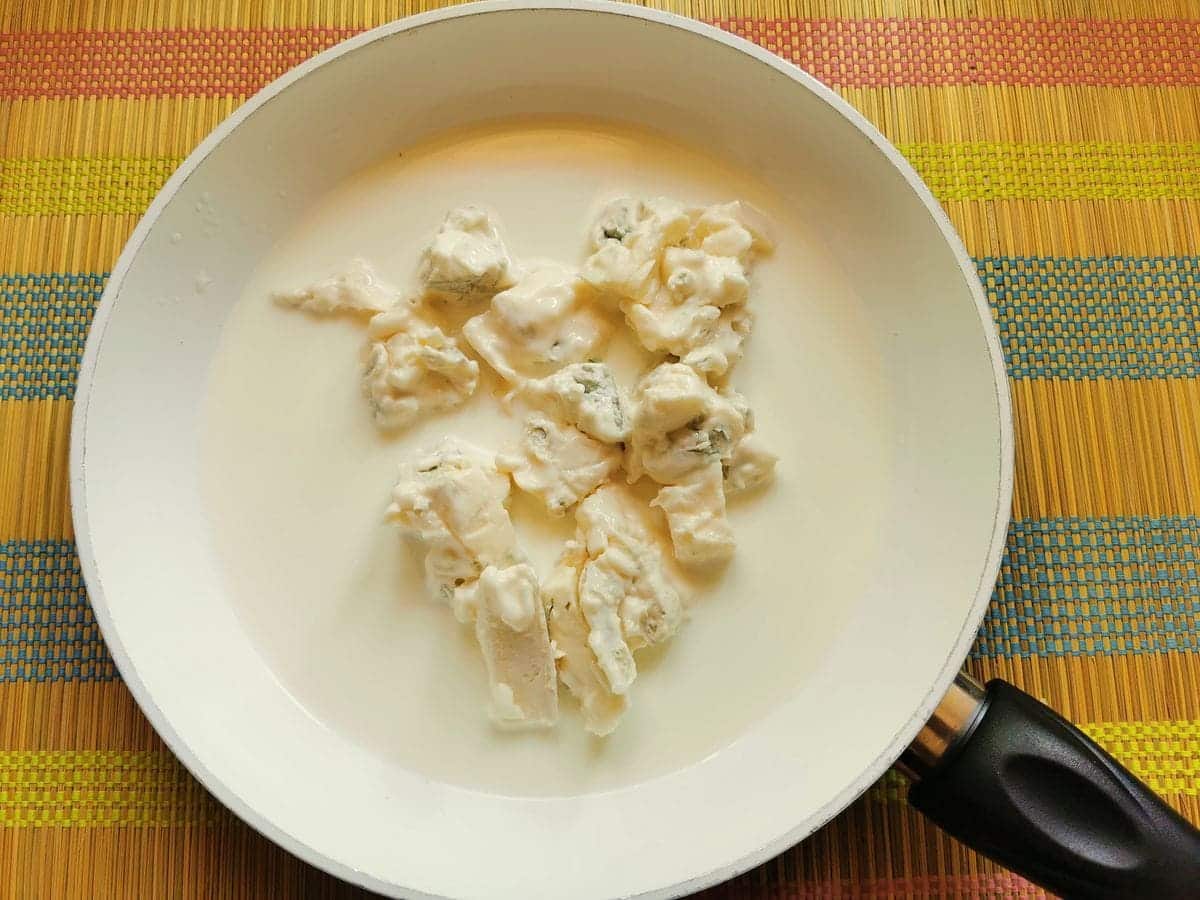 You can find out more about the history and production of Gorgonzola on the website of the Italian consortium for the protection of Gorgonzola cheese. They also have tons of great recipes and not just for gorgonzola pasta!
What's the difference between Gorgonzola dolce and Gorgonzola piccante?
Gorgonzola lovers will know that there are 2 types of this cheese, dolce (meaning sweet) and piccante (meaning spicy). Sweet Gorgonzola is softer and only slightly spicy. Gorgonzola piccante is obviously spicier, plus its more blue-veined, thicker and crumblier.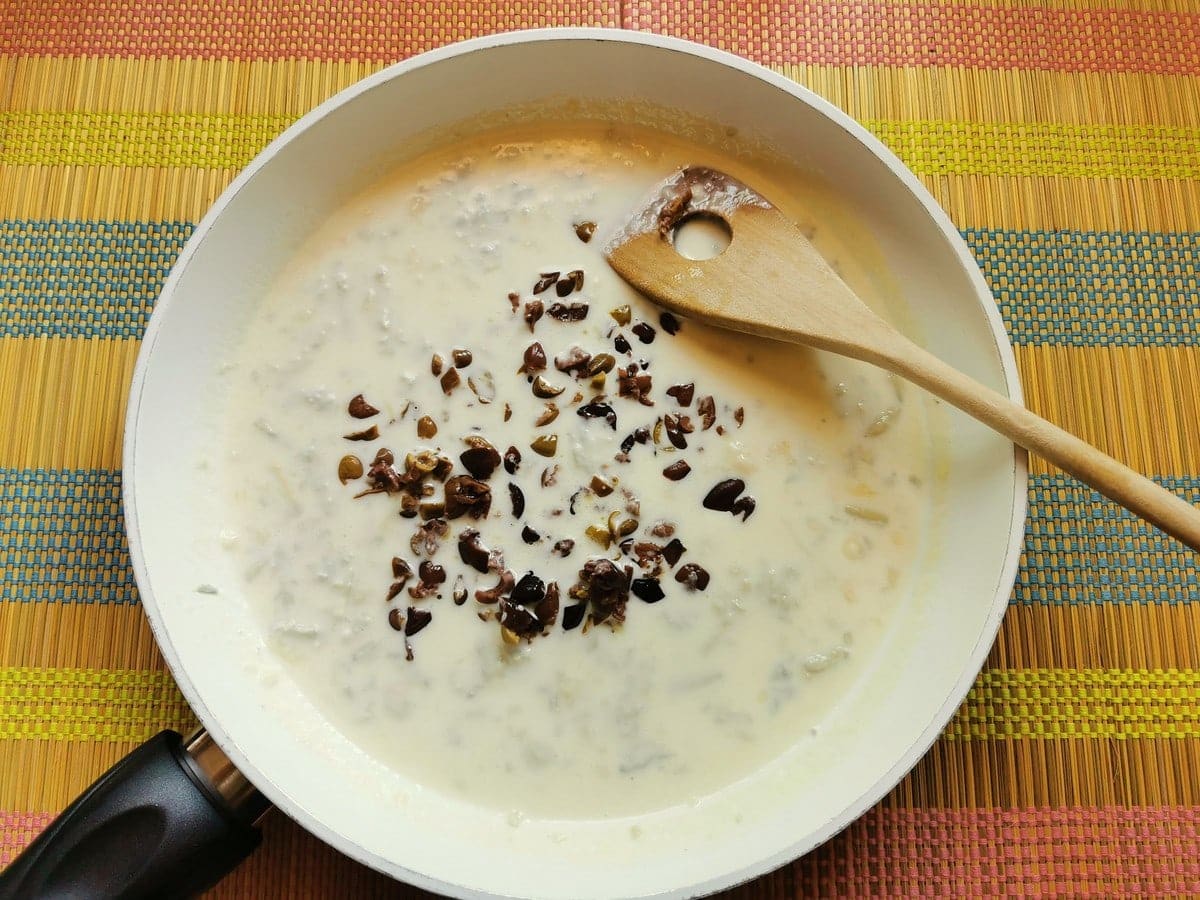 According to the Gorgonzola consortium website, both types are made with pasteurised milk, milk enzymes and selected moulds that give the cheese its blue/green streaks. Sweet Gorgonzola is matured for 50-150 days, whereas spicy Gorgonzola is matured for 80-270 days.
Is Gorgonzola a blue cheese?
Gorgonzola is a blue cheese but it's softer, milder and creamier than most other types. It's interesting that outside of Italy these cheeses are called blue cheeses. Italians refer to them as 'formaggio verde', meaning green cheese!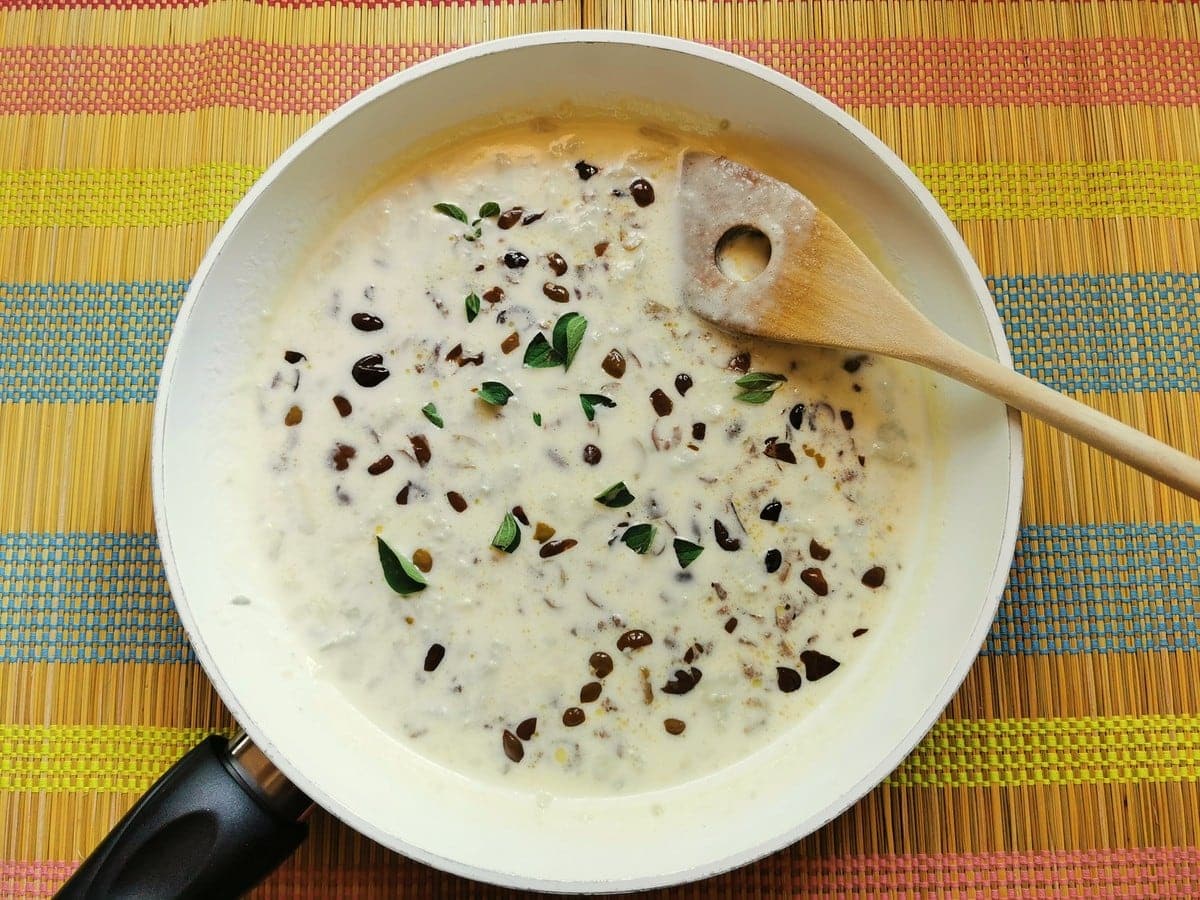 The cheese in this pasta alla cenere recipe.
Most Italian recipes for this gorgonzola pasta with olives call for sweet Gorgonzola (dolce). That is what I used. However, I've seen pasta alla cenere recipes made with spicy Gorgonzola (piccante). So, if that's what you have, I think it would work well too. This is really a pasta recipe for Gorgonzola lovers. But, if you are not, you can replace the blue cheese with ricotta.
The olives in this Gorgonzola pasta recipe.
This recipe has black olives. I used my favourites, taggiasca olives. These are more dark brown/green than black. They come from Liguria particularly the Alpes-Maritimes area and are also known as cailletier olives. Taggiasca are the same type of olives the French use in salad Niçoise.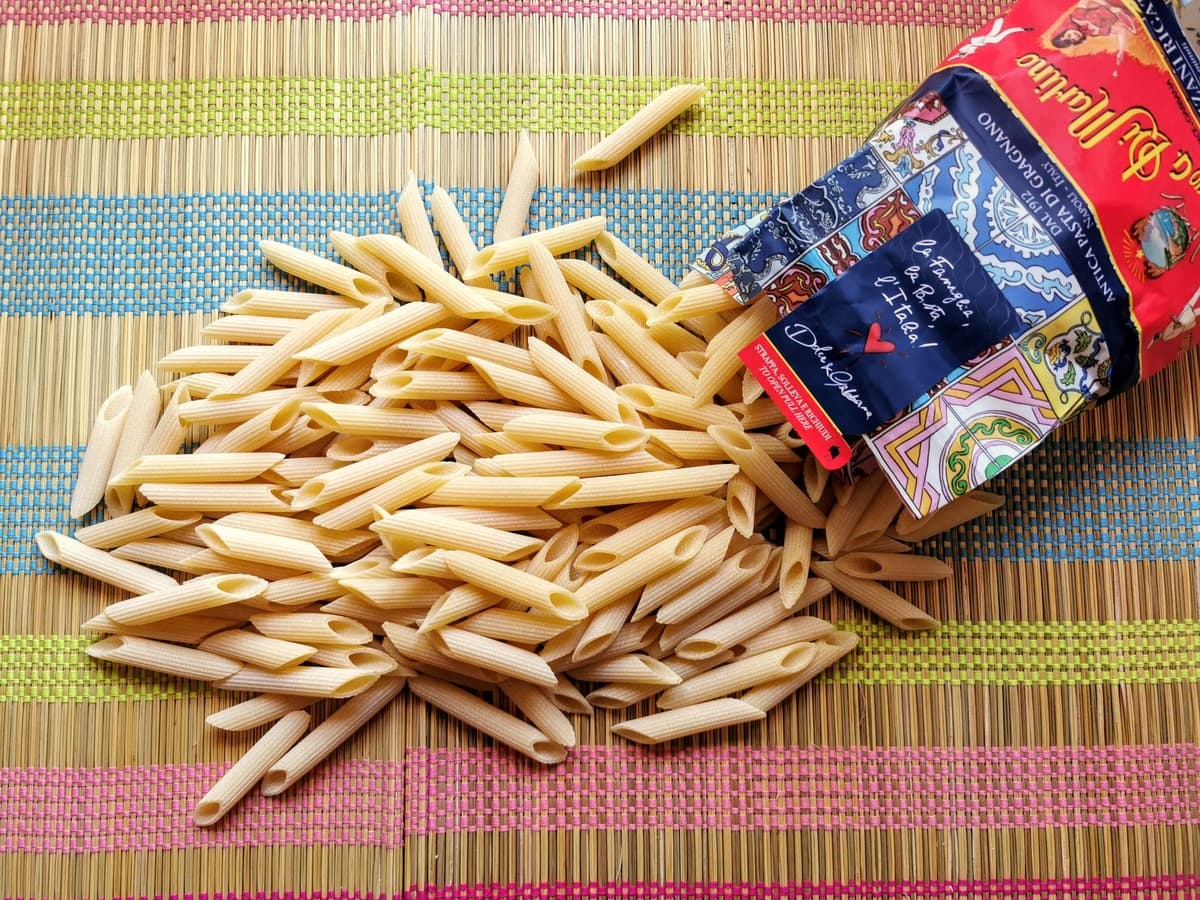 Of course, you can use other types of black olives. Some Italians cheat a little and utilize ready-made coarse olive paté. The recipe I followed called for pitted and finely chopped olives. I chopped them with a knife, but you can also give them a whirl in a food processor. However, be careful not to purée them. You want those pieces of olives in your pasta alla cenere!
Making this recipe vegetarian.
As I mentioned above, this recipe is super easy to make and has only 3 main ingredients. Apart from the gorgonzola and olives, all you need is some milk or cream to make the sauce. You can also add some grana or Parmigiano to thicken the sauce or when serving. But, neither these two cheeses nor Gorgonzola are vegetarian because they have animal rennet in them.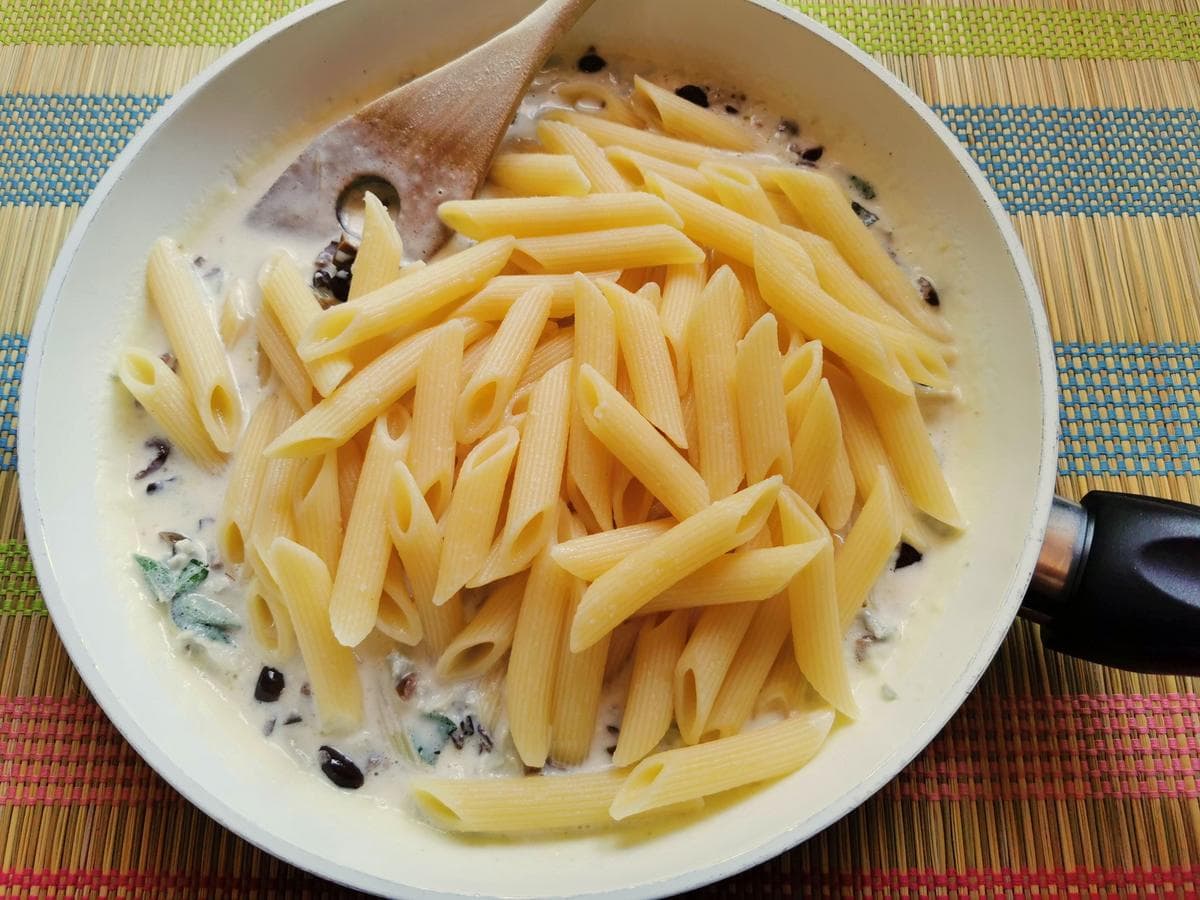 To make a vegetarian version of this recipe, you'll need to use vegetarian parmesan and blue cheese. Some types of blue cheese are definitely made without animal rennet. Italian dolcelatte is the closest to Gorgonzola. English Stilton is vegetarian.
Stilton does have quite a strong, sharp flavour but is worth trying. Apparently, there are a number of other vegetarian blue cheeses on the market. So, check the labels or ask your cheesemonger.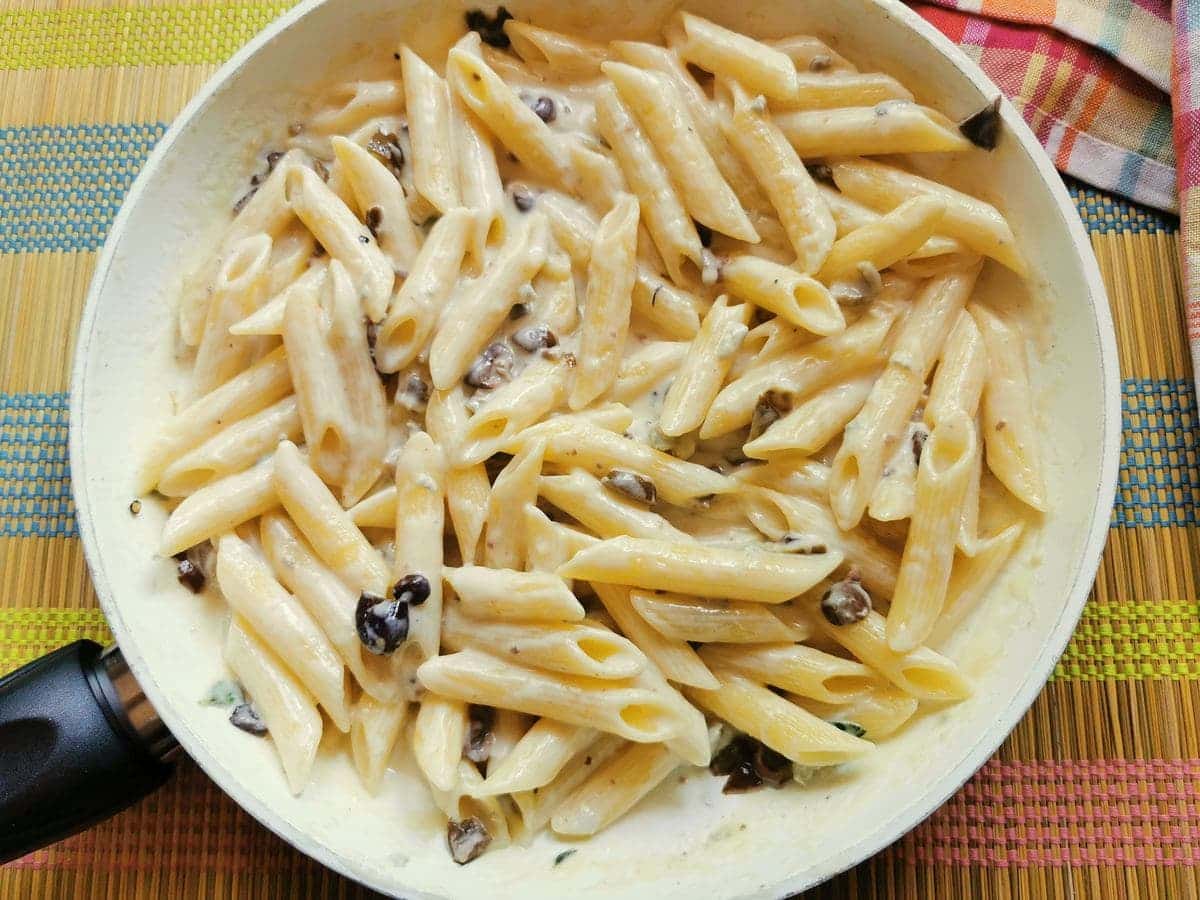 The pasta used in this recipe.
Pasta alla cenere is most often made with pasta tubes like rigatoni or penne. I used penne rigate from one of my favourite pasta companies from Gragnano, Di Martino. Gragnano is a town close to Naples that's been a pasta making centre for about 500 years. I went there a couple of years ago at the invitation of a subsidiary company of Di Martino called Pastificio dei Campi. If you want to learn more about Gragnano and the pasta made there, you can check out the post about my visit.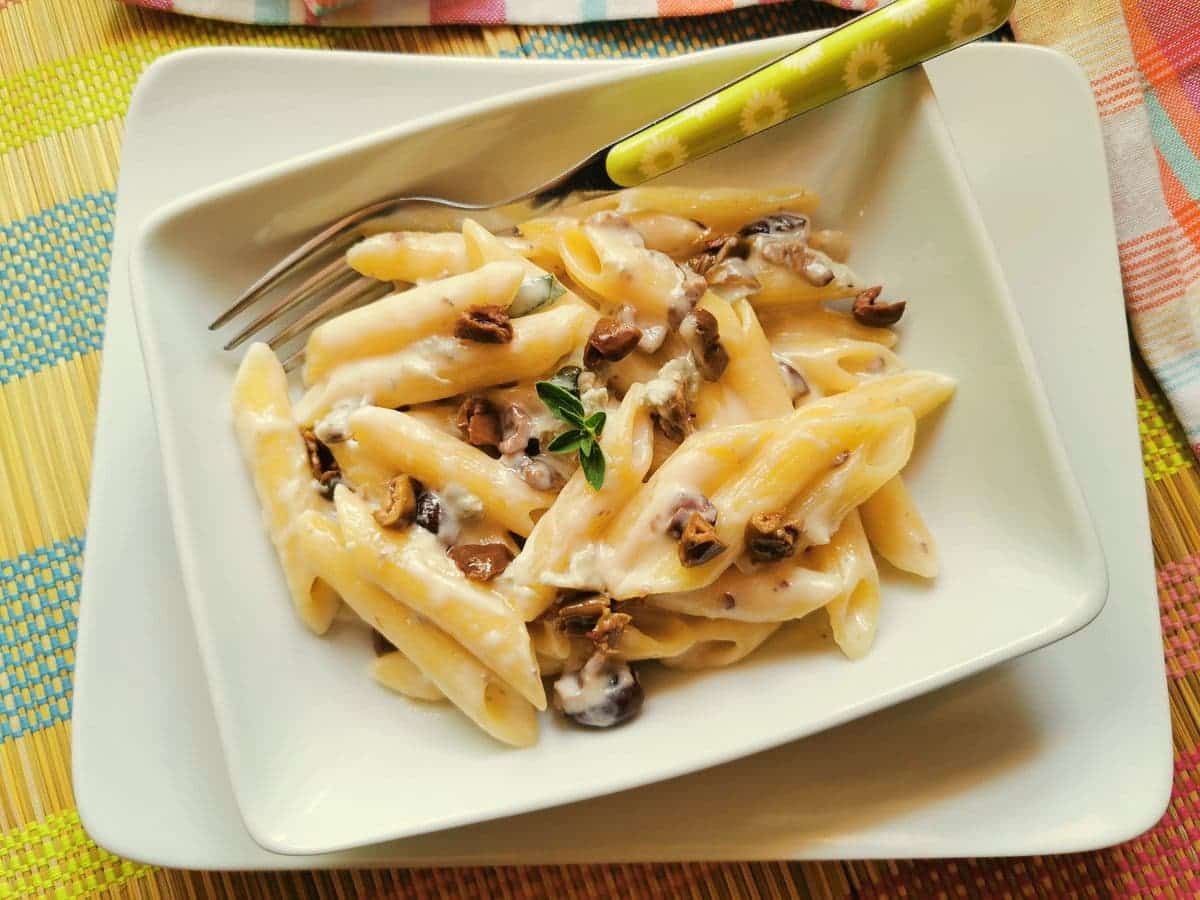 A super-fast gourmet recipe!
Normally we imagine gourmet dishes to be complex and time consuming to make. This easy Gorgonzola pasta with olives is unbelievably simple and yet the result is a dish you'd be happy to have in an upmarket Italian restaurant!
All you need to do (apart from cooking the pasta) is chop the olives and melt the Gorgonzola into the milk or cream. Then add the olives and some fresh thyme or marjoram to the cheese sauce. Finally add the pasta plus some pasta cooking water to the sauce, mix and serve. So easy and so delicious!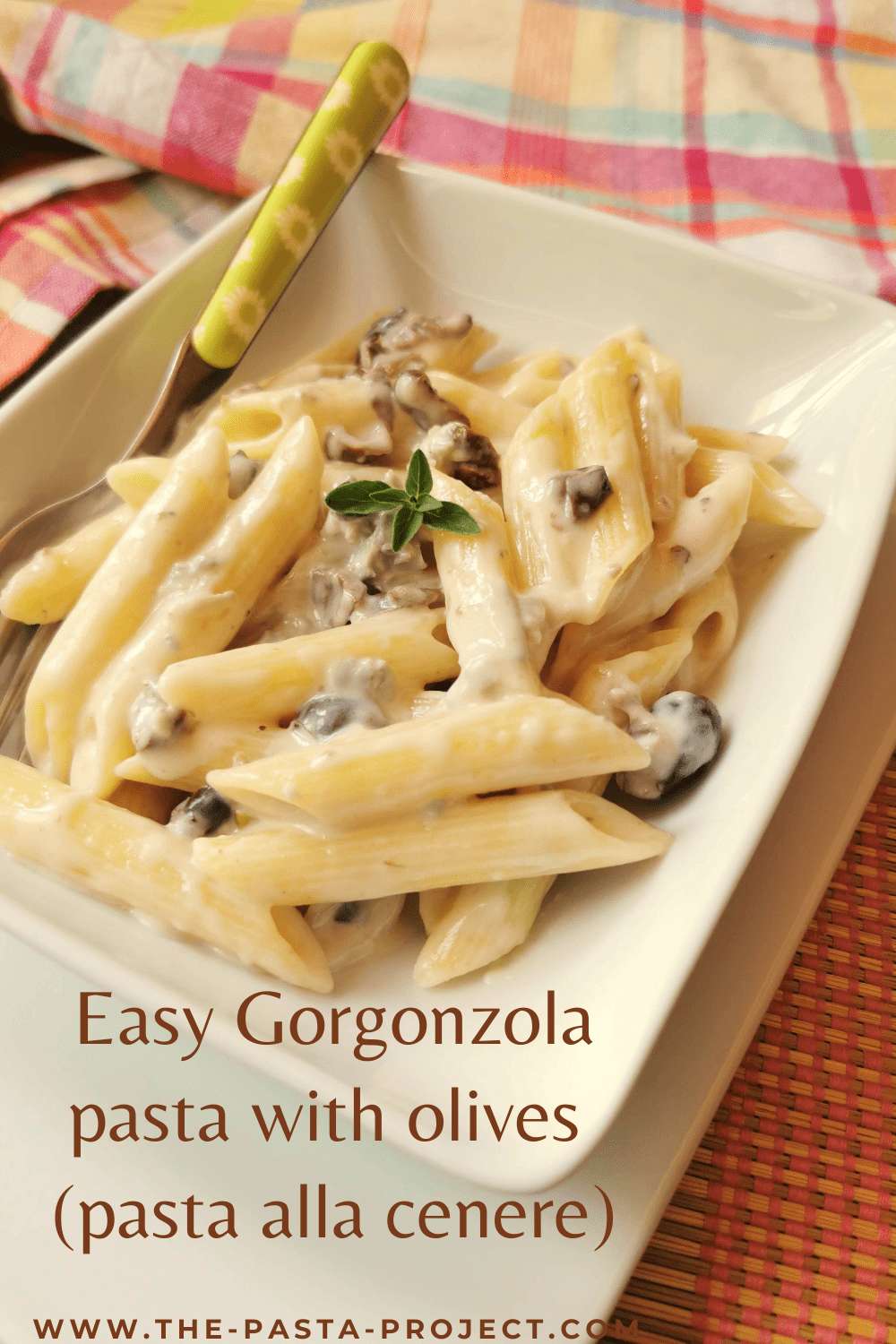 If you make this recipe I'd love to hear how it turns out and if you liked it. Please leave a comment here on the blog or on The Pasta Project Facebook page. Looking forward to hearing from you!
Buon appetito!
Other Gorgonzola pasta recipes to try.
If you are interested in learning how to make homemade pasta and different types of gnocchi, check out my shop page for some great video online courses from my friends in Rome! Nothing beats learning to make pasta from Italians! Plus while you're there why not order a copy of one of my pasta recipe cookbooks or checkout some recommended pasta making tools? All great prezzies for pasta lovers!