Gnocchi Gorgonzola and Radicchio; Recipe from Veneto
This gnocchi Gorgonzola and radicchio recipe is perfect winter comfort food that is full of Northern Italian flavours!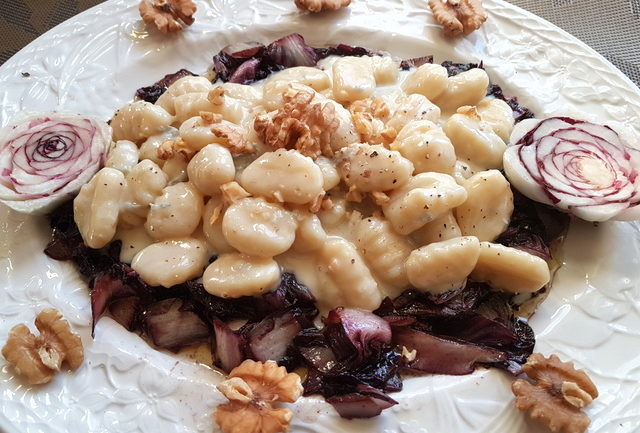 One of my favourite traditional Northern Italian winter recipes is potato gnocchi with gorgonzola. The combination of pillowy homemade gnocchi with rich and creamy melted gorgonzola is to-die-for delicious! At least to gorgonzola fans like me!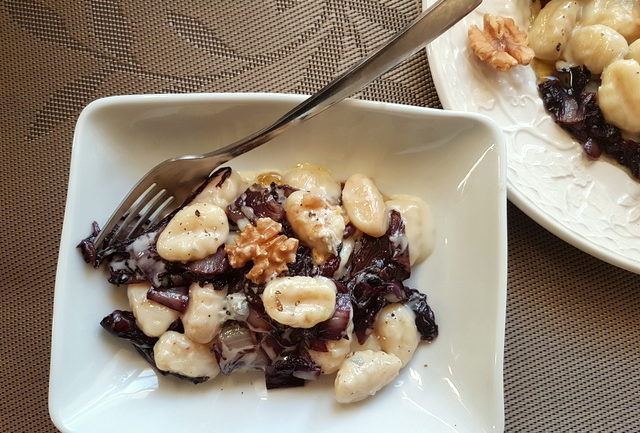 One of the most popular recipe posts here on the Pasta Project is my gnocchi with gorgonzola 5 ways! Well here's the sixth way and it's absolutely scrumptious. Potato gnocchi gorgonzola and radicchio is made with radicchio that has been caramelized with Balsamic vinegar and finished off with a sprinkling of walnuts. And yes it's as yummy as it sounds!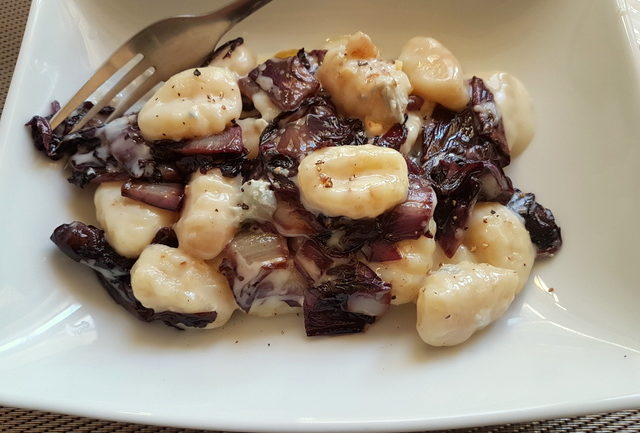 Radicchio or Italian chicory!
Radicchio is a reddish-purple leafy chicory which has been cultivated in Italy since the 1600s. It's very popular here in Northern Italy especially in Veneto, where I live, but also in Trentino-Alto Adige and Friuli Venezia Giulia. Italians grow different types of radicchio. The most common is probably 'radicchio di Treviso' which looks like Belgian endive. That's the type I used for this gnocchi Gorgonzola and radicchio recipe.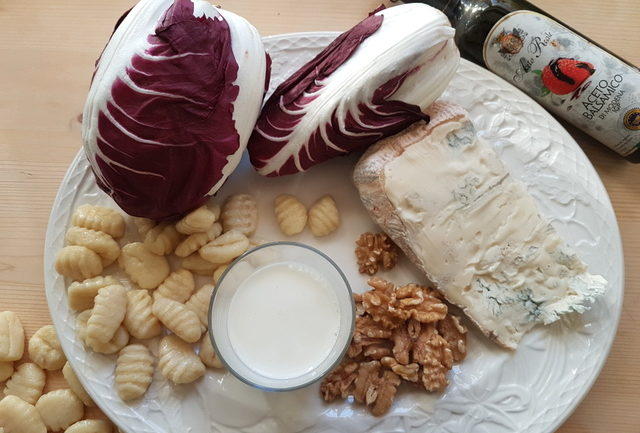 But, in my local supermarket I can also find 'radicchio di Chioggia' which is round and looks a bit like a purple cabbage and 'Tardivo' radicchio, which looks a bit like a flower! Italians love radicchio and use it a lot in salads. However, they also cook it in lots of ways including in risotto and with pasta. Radicchio is yummy in pesto too and I have a great recipe for radicchio pesto you can check out.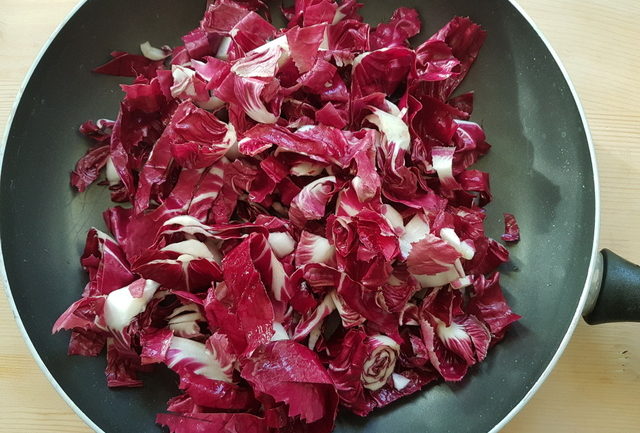 Gorgonzola.
You can read more about Gorgonzola in my other recipe post for gnocchi with Gorgonzola 5 ways. However, in short Gorgonzola is a very ancient cheese that is believed to date back to around 900AD. It's one of the most popular cheeses in Italy and one of the country's greatest exports!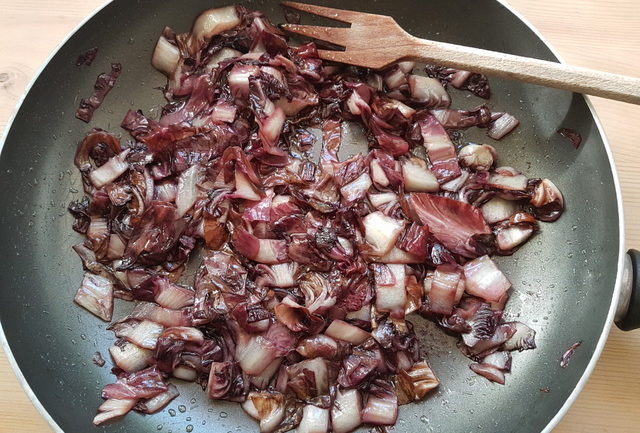 There are two kinds of Gorgonzola on the market; 'dolce' (meaning sweet) and 'piccante' meaning spicy. Gorgonzola dolce is younger, softer, creamier and, yes, sweeter. And this is the type I usually use and recommend for recipes like this gnocchi Gorgonzola and radicchio. Gorgonzola piccante is a more mature cheese and so it's harder, more crumbly and has a much sharper and more pungent taste. This type I prefer to add to a cheese board.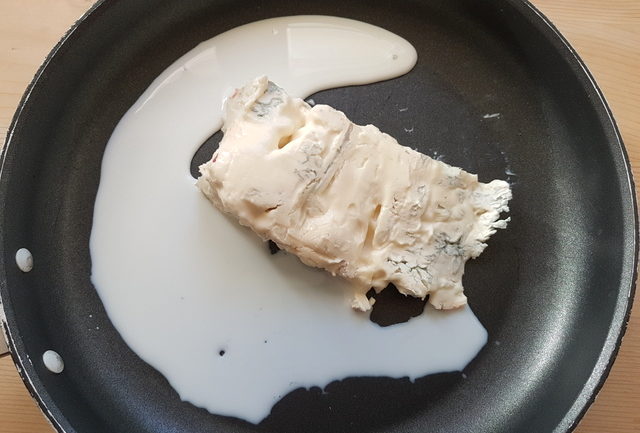 Potato Gnocchi.
Gnocchi in one form or another have been eaten in Italy since Roman times. Today, the most popular type, especially here in the North, are those made from potatoes. Italians eat gnocchi in the same way as pasta, often as a first course or 'primo'. I like to eat potato gnocchi as a one plate meal because they're pretty filling, especially since they are often paired with cheese based sauces like in this gnocchi Gorgonzola and radicchio recipe.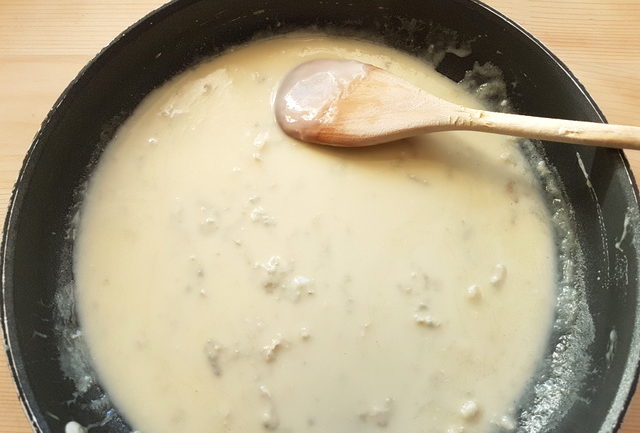 You can use store bought or homemade gnocchi for this recipe. I usually prefer to make my own . If you want to do the same check out my recipe for homemade gnocchi.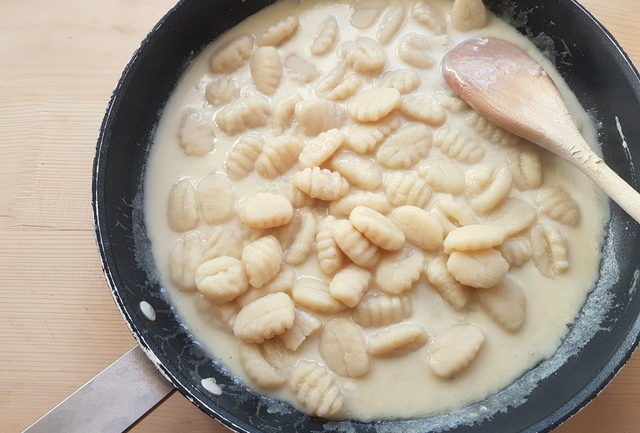 Making this gnocchi Gorgonzola and radicchio.
This delicious potato gnocchi Gorgonzola and radicchio is really simple to make. Okay a little more time consuming if using homemade gnocchi. But apart from making the gnocchi all you need to do is melt the gorgonzola with a little milk until it becomes a creamy sauce. Then cook the radicchio in a little butter until it's almost done, add some balsamic vinegar and caramelize it.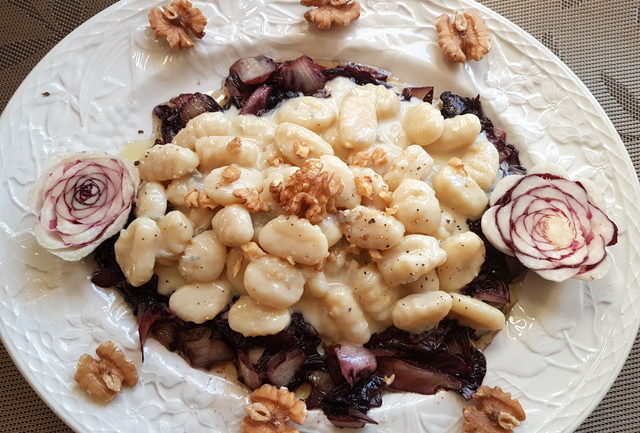 I served the gnocchi on a bed of the caramelized radicchio but you can also mix everything together before serving! Whichever way you serve this dish I'm sure it's going to become a winter favourite!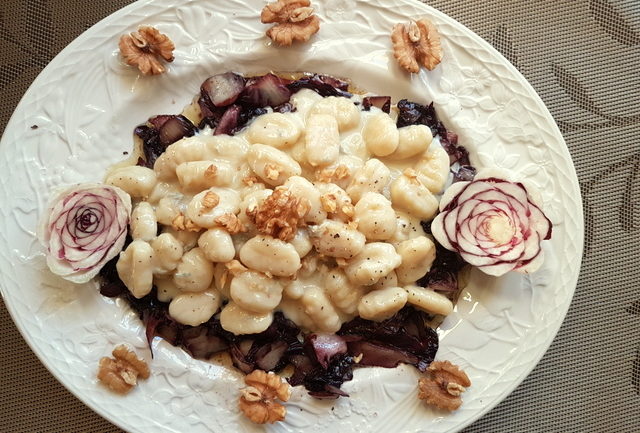 If you make this gnocchi Gorgonzola and radicchio recipe, I'd love to hear how it turns out. Please write a comment here on the blog or post a comment on the Pasta Project Facebook page.
Your feedback means a lot to me!
Buon Appetito!
Other Gnocchi recipes on The Pasta Project
Save this recipe for later?
If you want to save this recipe for later, you can print it, bookmark this page or save it to Pinterest.
Pin for Later