You can have this traditional Italian classic gnocchi with Gorgonzola on your table in just 15 minutes. It only uses 4 ingredients, plus a handful of optional authentic Northern Italian toppings worth trying. This Gorgonzola gnocchi is truly heaven on a plate!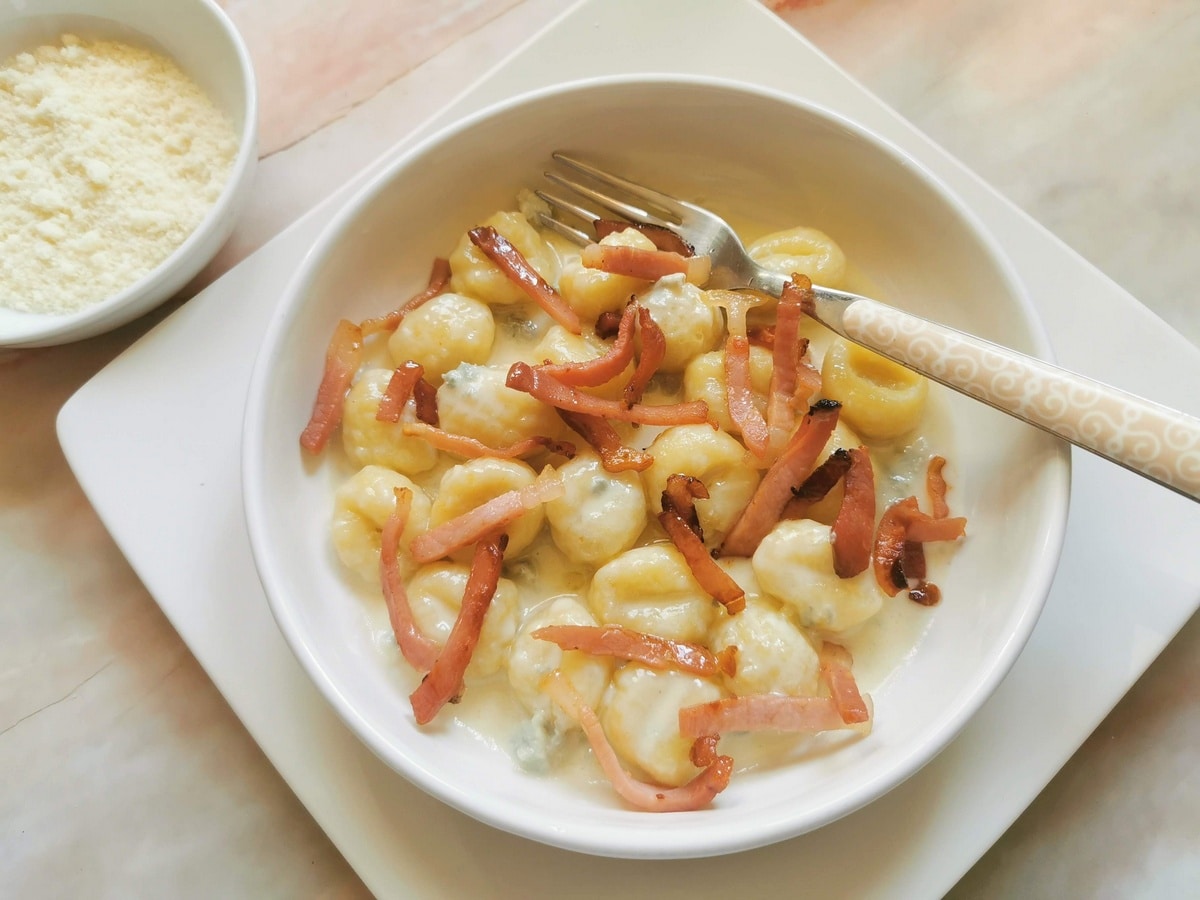 History
Gorgonzola is actually a very old cheese. It is believed to date back to Roman times. Some say that it was made for the first time in 879 AD in the Northern Italian town of Gorgonzola, close to Milan.
According to others, Gorgonzola was born in Pasturo, a town located in the Valsassina in Lombardy. Either way, it is the town that gave the cheese its name that remains the center of most renown.
In the past, herds of cows would be driven down from their grazing in the Alps to the valleys of the Po River in the autumn. It is said that Gorgonzola cheese was created as a result of the overwhelming number of cows in the area at one time. The people of Gorgonzola and the surrounding farms had to begin making cheese in order to conserve all the milk.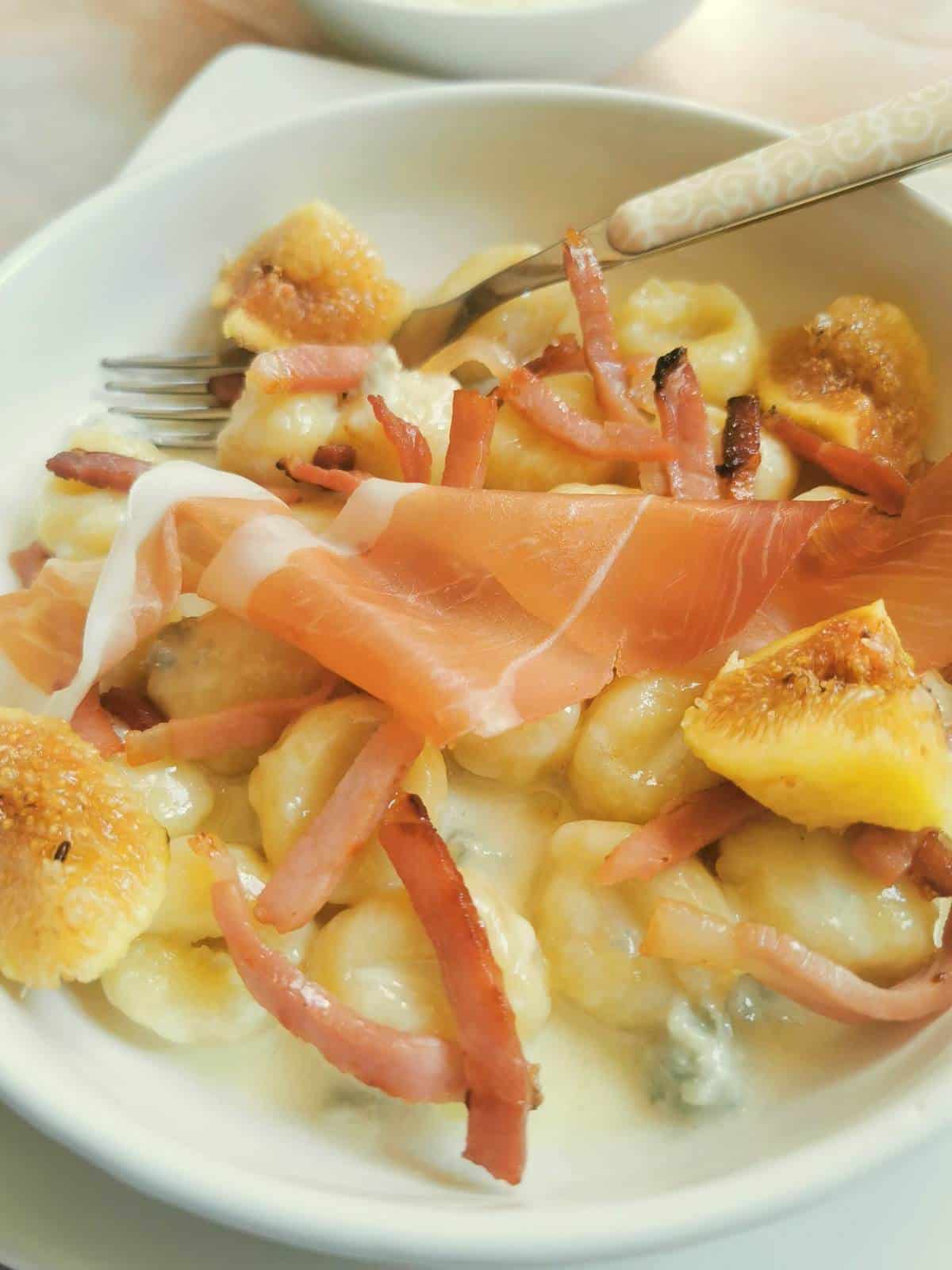 Wherever it was first made, Gorgonzola has become one of the Italians' favorite cheeses and one of Italy's most loved exports, with an annual turnover of 550 million euros and about 35 percent of production exported.
The production of Gorgonzola is now very heavily controlled to ensure that it conforms to certain standards of production. In the EU, it has Protected Designation of Origin (DOP) status and in Italy, it is a DOC cheese. Gorgonzola DOP is made exclusively with milk from cows in Piedmont and Lombardy.
What do Italians eat Gorgonzola with?
Italians eat gorgonzola in risotto, on pizza, in soup, on bread and, of course, with pasta and gnocchi. And as you can imagine, most gorgonzola recipes originate from the regions in which the cheese is made; Lombardy and Piedmont.
Gnocchi with Gorgonzola can be made with just Gorgonzola and a sprinkling of parmesan or grana or can also contain other ingredients typical of the North too; ingredients such as walnuts, speck or pancetta, radicchio, porcini mushrooms, truffles and fruit such as pears, and melons and figs in summer.
I like to add walnuts, speck or figs, or a combination of these.
Ingredients
Gnocchi: You can use either store-bought gnocchi or homemade gnocchi. Store-bought gnocchi is excellent for its convenience, but if you want to elevate your Gorgonzola gnocchi to the best version it can be, try my easy homemade potato gnocchi recipe.
Gorgonzola: Use Gorgonzola with a DOP (Protected Designation of Origin) certification for the most authentic flavor. Depending on your taste preference, you can use the creamier and milder 'Dolce' or the more robust 'Piccante'.
Milk: Helps in creating that smooth, velvety texture of the sauce. It helps mellow down and meld the flavors. You can also use fresh cream as well or instead.
Parmigiano Reggiano: Adds depth and a salty kick to the sauce. For the best flavor and texture, freshly grated is highly recommended. If unavailable, Grana Padano is a suitable substitute.
Nutmeg (Optional): A hint of nutmeg can introduce a warming, nutty undertone, enhancing the sauce's layered flavors. Use sparingly, as it's quite potent.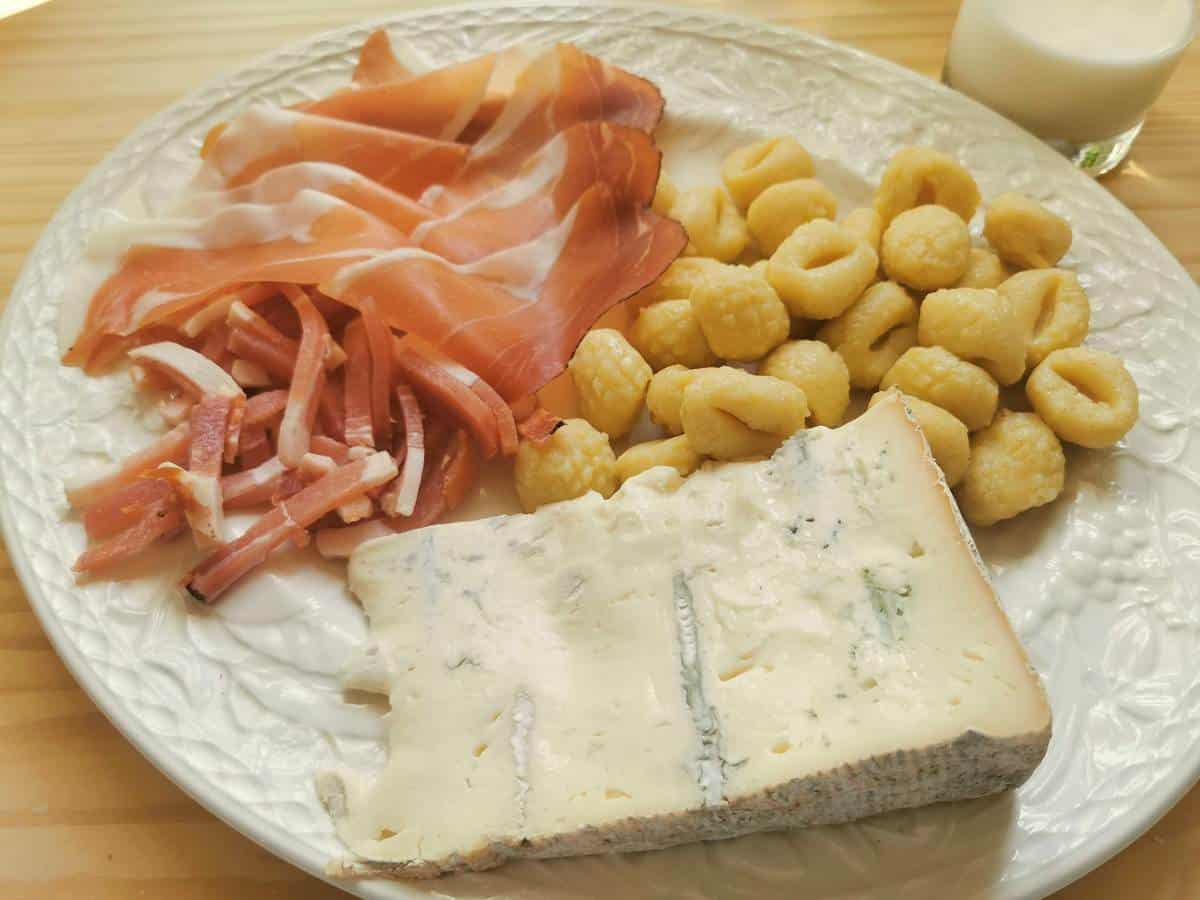 Traditional Add-ons (Optional):
Walnuts: Their crunchy texture and earthy flavor offer a delightful contrast, enhancing the dish's depth.
Speck: This Northern Italian cured lightly smoked ham amplifies the dish's savoriness. If unavailable, bacon or pancetta are great substitutes.
Figs: Their delicate sweetness balances out the savory notes, bringing a unique touch to the dish.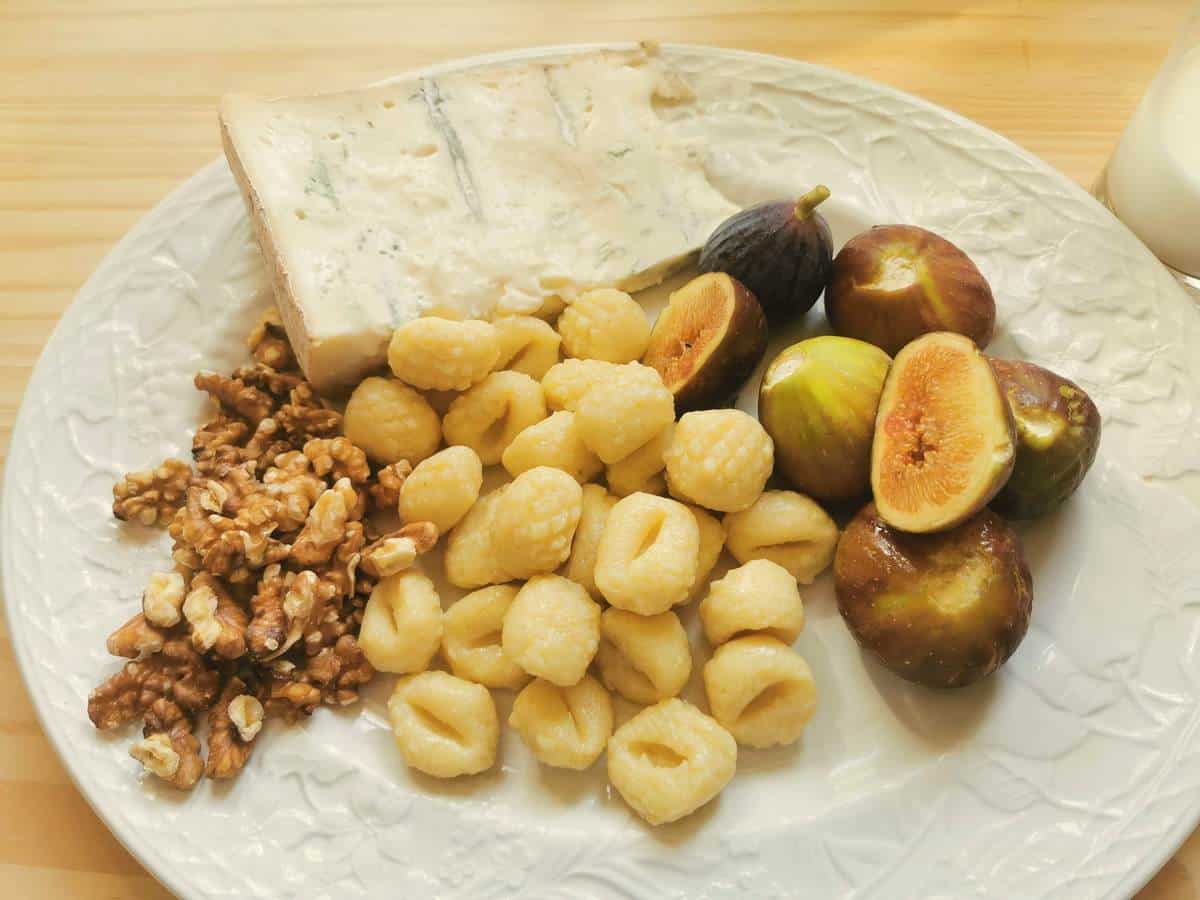 Expert Tips
Gnocchi Selection: While this recipe is perfectly delightful with store-bought gnocchi, using homemade gnocchi elevates the Gorgonzola experience even further. The freshness and texture of homemade gnocchi harmonize seamlessly with the creamy sauce.
Gorgonzola Varieties: There are two main types of Gorgonzola - 'Dolce' and 'Piccante'. Depending on your preference, you can use either. 'Dolce' is creamier and milder, whereas 'Piccante' offers a firmer texture with a stronger flavor.
Balancing Flavors: If you find the Gorgonzola sauce too rich, consider adding a touch of honey to the finished dish or a sprinkle of freshly chopped herbs to help cut through the richness. Another way is to thin the sauce out further with more pasta water while still in the pan.
Sauce Consistency: If your Gorgonzola sauce becomes too thick, use milk or pasta cooking water to thin it out.
Traditional Toppings: Garnish with walnuts for a delightful crunch, figs for a touch of sweetness, or speck for a savory punch. Each of these toppings complements the rich Gorgonzola sauce, adding depth and authenticity to every bite.
Step By Step Instructions
1) Place a large pot of water on the boil for the gnocchi.
2) Meanwhile, in a deep frying pan or skillet, add the milk and Gorgonzola pieces. Heat on a low temperature, stirring gently until the cheese has melted.
Note: If the sauce seems too thick, you can gradually add more milk to achieve the desired consistency.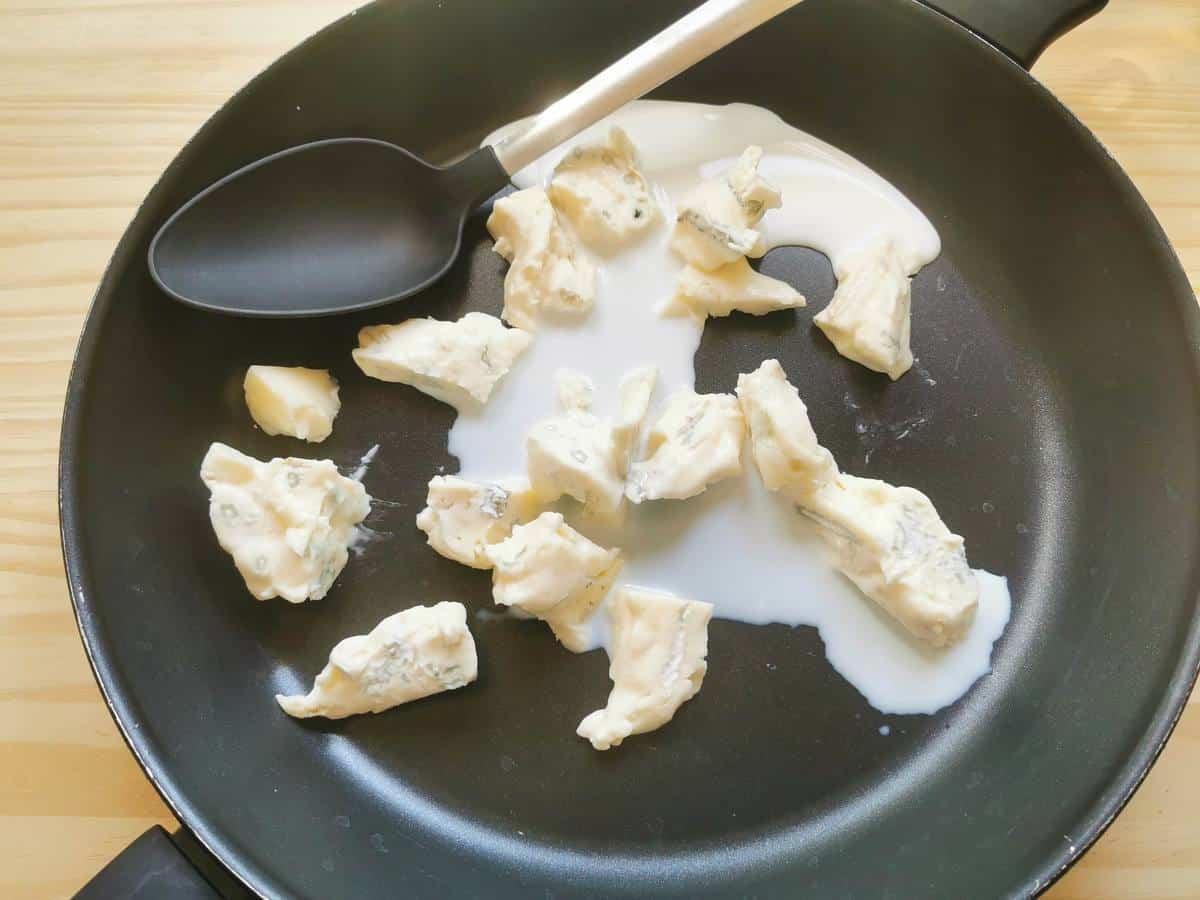 3) Once the cheese has melted and the sauce is ready, turn off the heat and stir in the grated Parmigiano Reggiano. Optionally, you can season the sauce with a pinch of nutmeg and black pepper to taste.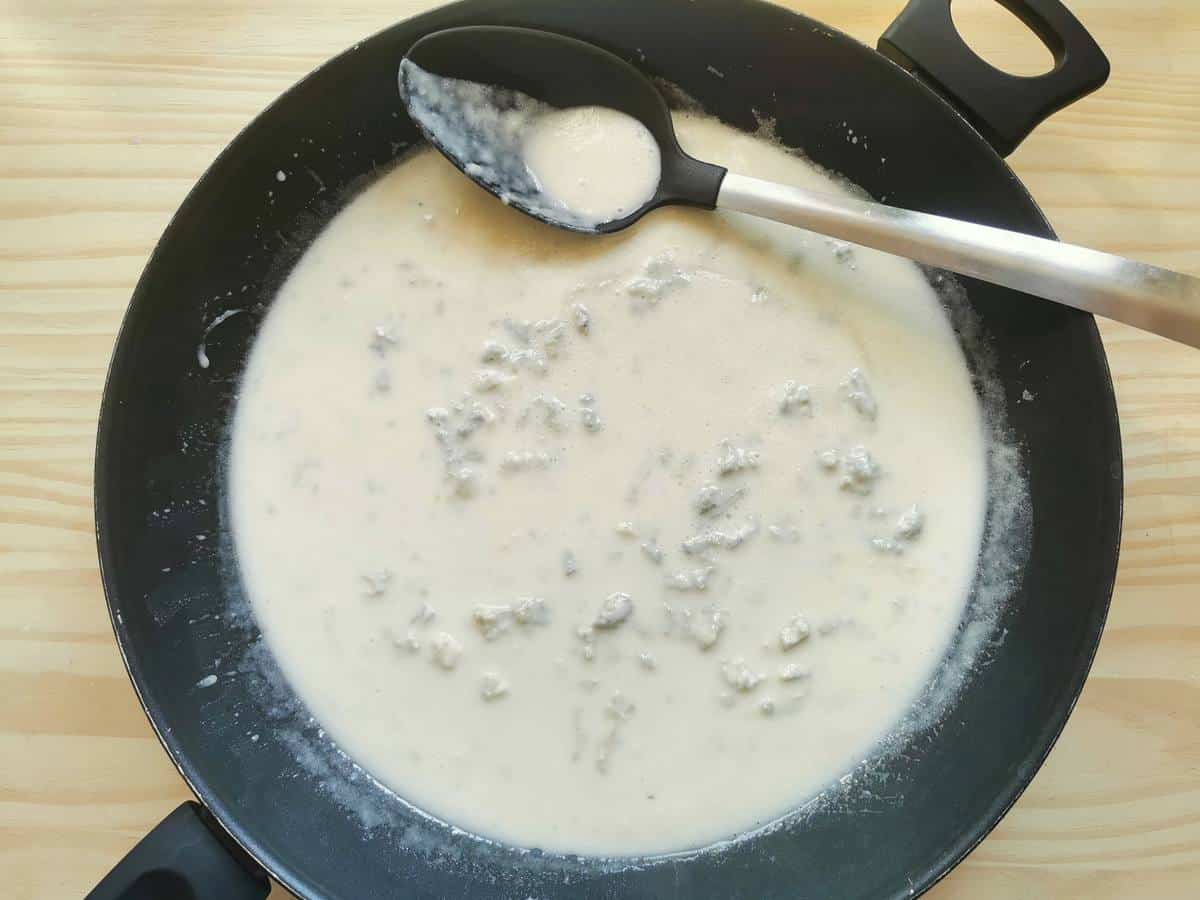 4) Once the gnocchi water is boiling, add salt and the gnocchi to the water. As the gnocchi begin to rise to the surface, use a slotted spoon to transfer them to the Gorgonzola sauce.
Note: If necessary, a splash of the gnocchi cooking water can be added to adjust the sauce's consistency.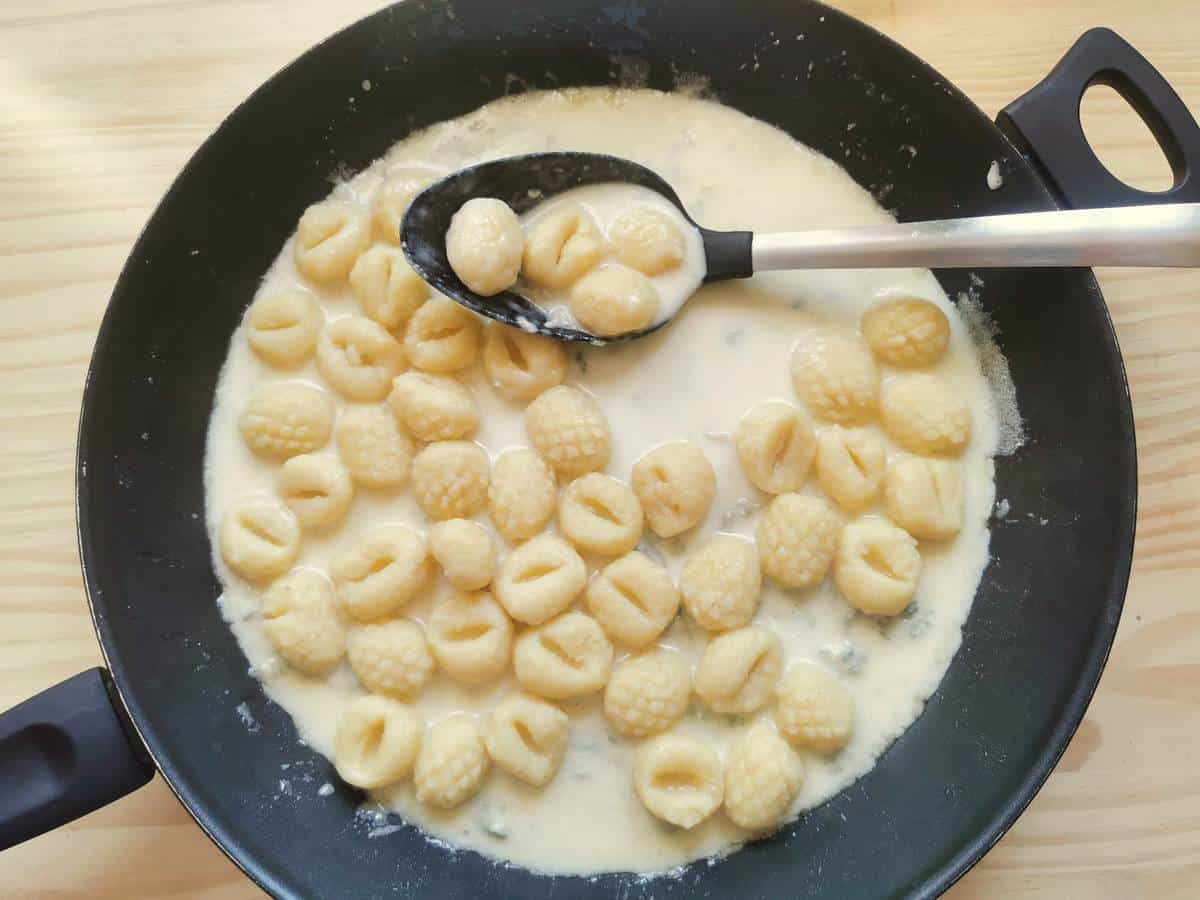 5) Toss the gnocchi in the sauce, ensuring they are well-coated. Serve immediately.
Recipe Add Ons
Adding Speck, Bacon, or Pancetta:
1) Choose either speck, bacon, or pancetta based on your preference. Sauté your selected meat in a tablespoon of olive oil until it starts to crisp up.
2) Garnish your gnocchi and Gorgonzola dish with these crispy bits right before serving.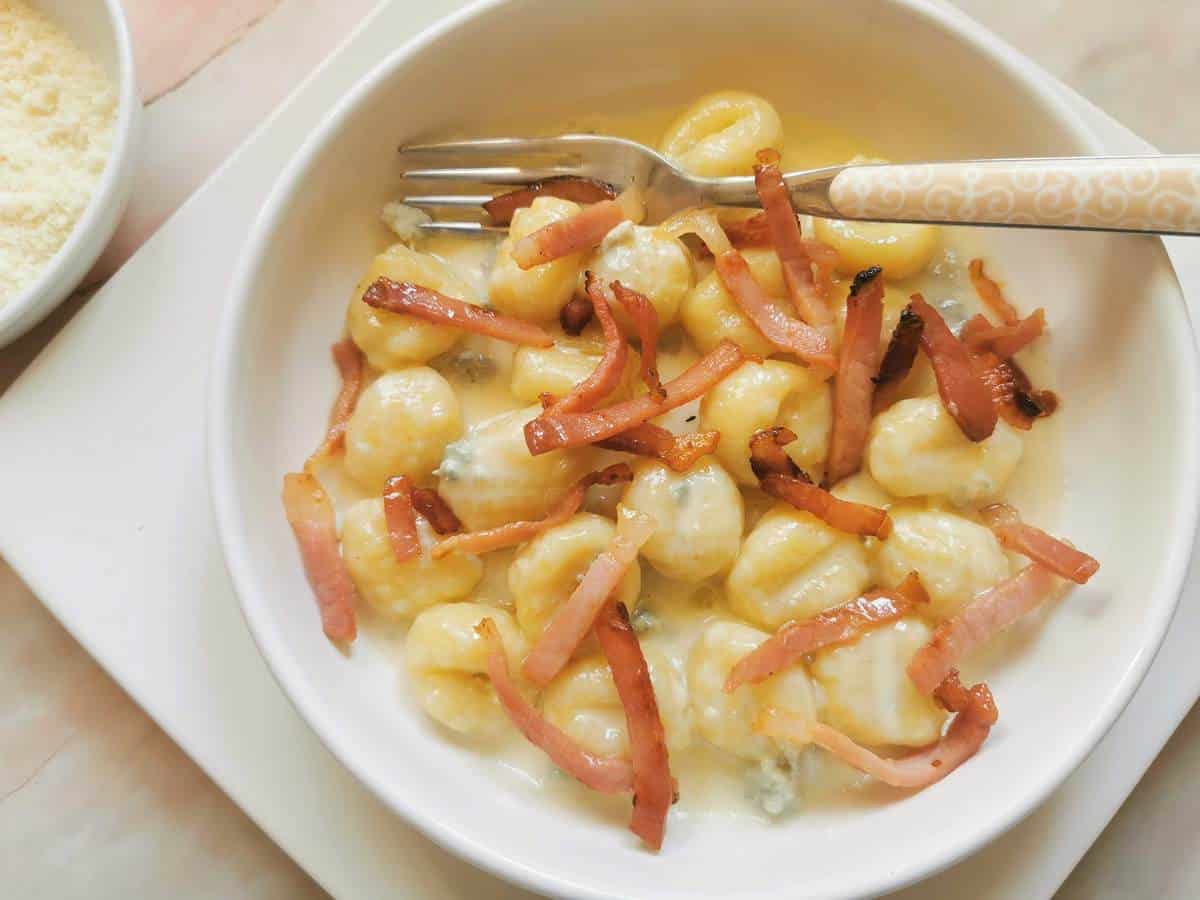 Adding Walnuts
1) Gently toast the walnuts in a pan until start to have a golden brown shade, stirring them frequently to prevent burning. Once toasted, sprinkle them over your prepared gnocchi with Gorgonzola just before serving.
Adding Figs
1) You can either add chopped figs to the final dish ( which is what I did) or add the chopped figs to the Gorgonzola sauce before adding the gnocchi.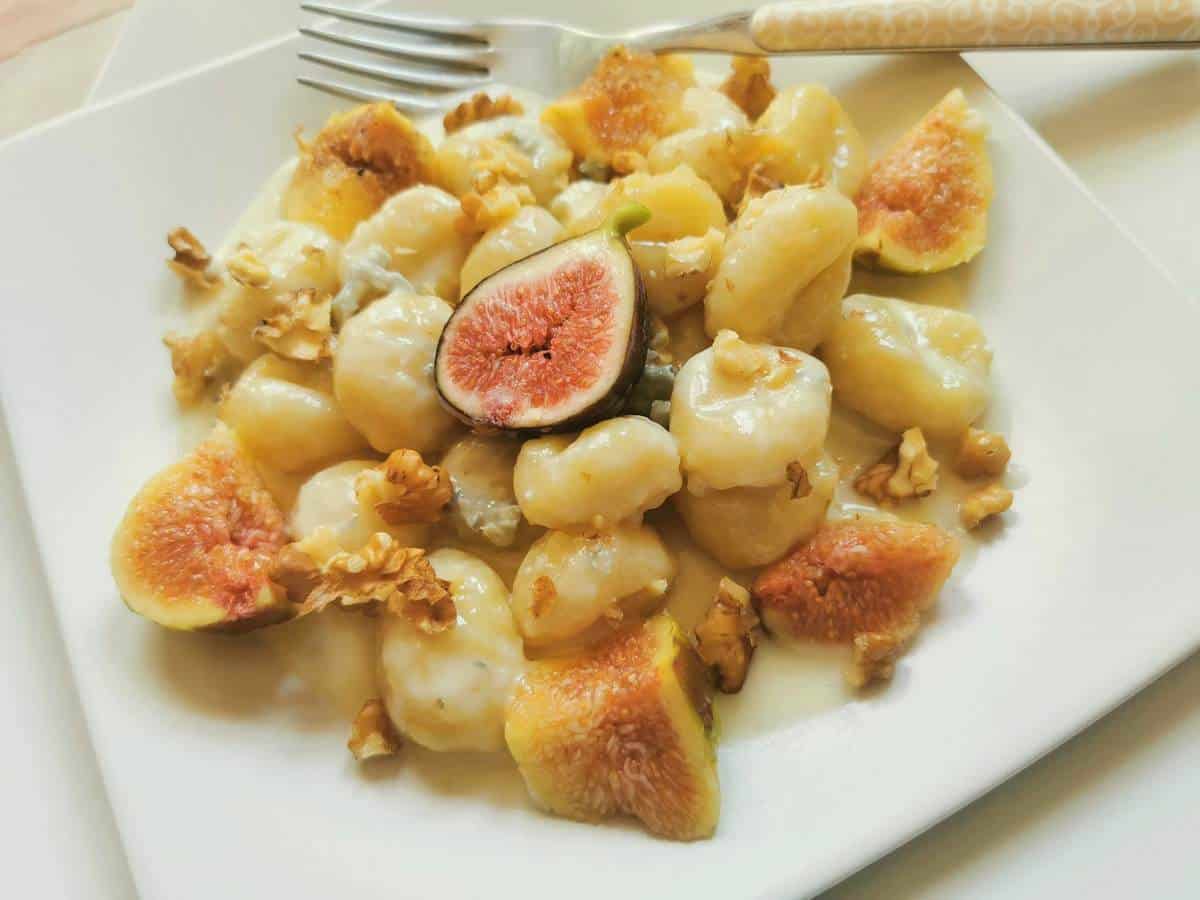 Storage and Leftovers
Gnocchi with Gorgonzola is best enjoyed fresh. However, if you find yourself with leftovers, here's how you can ensure they remain delicious:
Storing: Allow the cooked gnocchi with gorgonzol to cool down to room temperature. Once cooled, transfer to an airtight container. Place the airtight container in the refrigerator and consume the leftovers within 2-3 days.
Reheating: In a large deep frying pan or skillet, gently heat the Gorgonzola gnocchi over medium-low heat while stirring frequently until hot throughout. Ass a little milk or water if necessary.
FAQs
Is there a difference between 'Dolce' and 'Piccante' Gorgonzola?
The 'Dolce' Gorgonzola is creamier and offers a milder taste, making it great for those leaning towards a subtler blue cheese flavor. On the other hand, the 'Piccante' Gorgonzola has a firmer texture with bold flavors and distinct blue veins, which is ideal for those who enjoy an intense blue cheese flavor.
How does Gorgonzola DOP differ from regular Gorgonzola?
Gorgonzola DOP (Denominazione di Origine Protetta) indicates that the cheese adheres to strict production standards set by the European Union and is made exclusively from the milk of cows in Piedmont and Lombardy. It assures authenticity, quality, and a specific region of production, ensuring a genuine Gorgonzola experience.
Is Gorgonzola sauce suitable for vegetarians?
Traditional Gorgonzola cheese is made using animal rennet. However, there are vegetarian-friendly versions available in certain markets. Italian dolcelatte is a milder vegetarian version of Gorgonzola. For those following a strict vegetarian diet, make sure to thoroughly check the Gorgonzola cheese label.
Recipe You May Like:
If you do try this gnocchi with Gorgonzola, I'd love to hear what you think. Please write a comment here on the blog or post a comment on the Pasta Project Facebook page.
Your feedback means a lot to me!
Buon Appetito!
I originally published this recipein 2017. However, I recently updated it with new photos and text.
Glossary of some Italian terms in this recipe post.
Gnocchi (nyohk-kee): Italian dumpling often made with potatoes or pumpkin, as well as bread, ricotta and semolina.
Gorgonzola: An Italian blue cheese made from unskimmed cows milk from cows in Lombardy and Piemonte only. For more info about Gorgonzola DOP and other recipes check out the official site of the Consortium for the Protection of Gorgonzola Cheese.
Formaggio verde: Means green cheese. What others call blue cheese, Italians refer to as green cheese!
Speck: A typical Italian ham / bacon, that's lightly smoked and cured in the open air. It comes from the Italian South Tyrol and is also made and eaten in the German and Austrian parts of the Tyrol.
Learn more about speck and find other recipes on the official site of the Speck Alto Adige Consortium.
Pin for Later: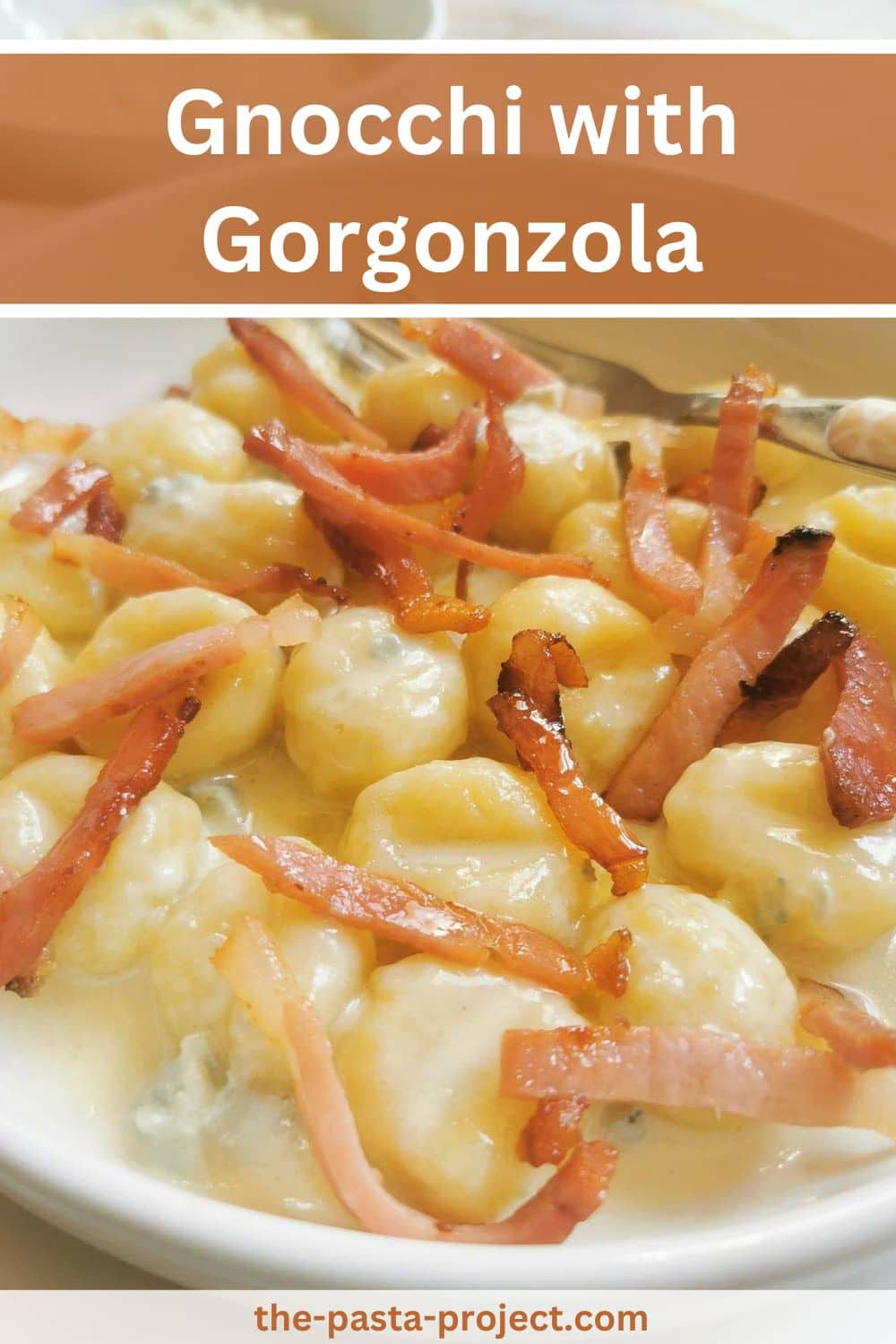 If you are interested in learning how to make other homemade pasta and different types of gnocchi, check out my shop page for some great video online courses from my friends in Rome!
Nothing beats learning to make pasta from Italians! Plus, while you're there, why not order a copy of one of my pasta recipe cookbooks or check out some recommended pasta-making tools?