Gnocchi with Gorgonzola 5 ways!
In Northern Italy, one of the most popular ways to eat gnocchi, especially potato gnocchi, is with a Gorgonzola sauce! In my opinion, partnering gnocchi with gorgonzola is a food match made in heaven. But then I'm a big Gorgonzola fan! If you are too keep reading! (go straight to recipe)
A little Gorgonzola history!
Gorgonzola is actually a very old cheese. It is believed to date back to Roman times. Some say that it was made for the first time in 879 AD in the Northern Italian town of Gorgonzola, close to Milan. According to others, Gorgonzola was born in Pasturo, a town located in the Valsassina in Lombardy. Either way, it is the town that gave the cheese its name that remains the centre of most renown.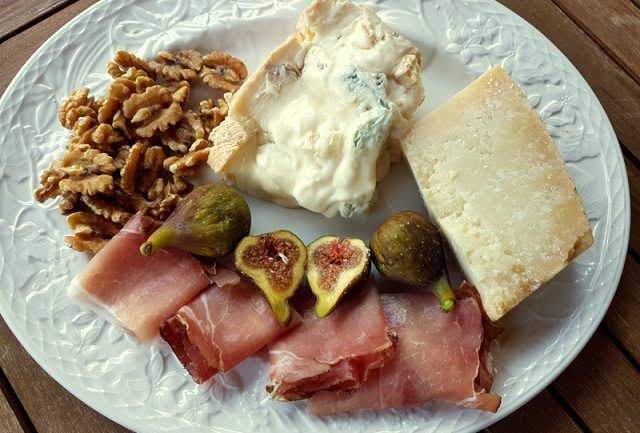 In the past, herds of cows would be driven down from their grazing in the Alps to the valleys of the Po River in the autumn. It is said that Gorgonzola cheese was created as a result of the overwhelming number of cows in the area at one time. The people of Gorgonzola and the surrounding farms had to begin making cheese in order to conserve all the milk.
However, legend has it that Gorgonzola was the result of a romantic escapade of a dairy worker who abandoned his evening's work midway to spend time in his lover's arms. The following day he added the morning's curd to the previous night's abandoned curds instead of throwing the latter away, as he should have done. This accidental hero succeeded in creating a cheese that had parsley green veins of mold in the middle but tasted good and remained soft even when aged!
Whichever way it was first made, Gorgonzola has become one of the Italians' favourite cheeses and one of Italy's most loved exports with an annual turnover of 550 million euros and about 35 percent of production exported. The production of Gorgonzola is now very heavily controlled to ensure that it conforms to certain standards of production. In the EU, it has Protected Designation of Origin (DOP) status and in Italy, it is a DOC cheese. Gorgonzola DOP is made exclusively with milk from cows in Piedmont and Lombardy.
There are two main types of Gorgonzola; 'Dolce', or mild Gorgonzola, which has a delicate taste, a creamier texture and less-developed blue veins than mature varieties and 'Piccante' or mature Gorgonzola, which has a firmer texture, stronger taste and more clearly defined blue veins.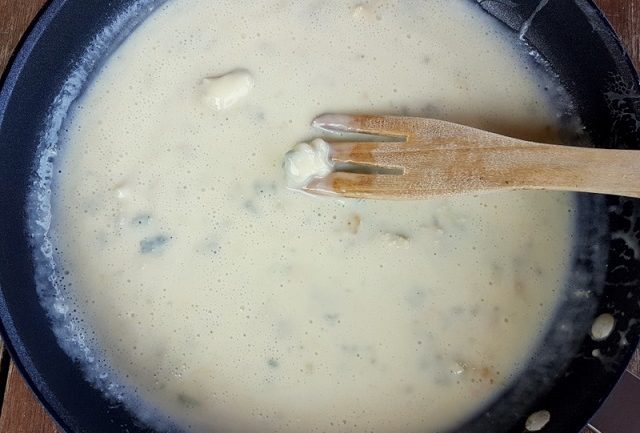 Italians eat gorgonzola in risotto, on pizza, in soup, on bread and, of course, with pasta and gnocchi. And as you can imagine, most gorgonzola recipes originate from the regions in which the cheese is made; Lombardy and Piedmont. Although different types of gnocchi are eaten and loved by all Italians, the heavier potato gnocchi are more common in the Northern regions and this is the type of gnocchi most often paired with Gorgonzola.I used my own homemade potato gnocchi but you can also use store-bought gnocchi. However, fresh or frozen is better than dried.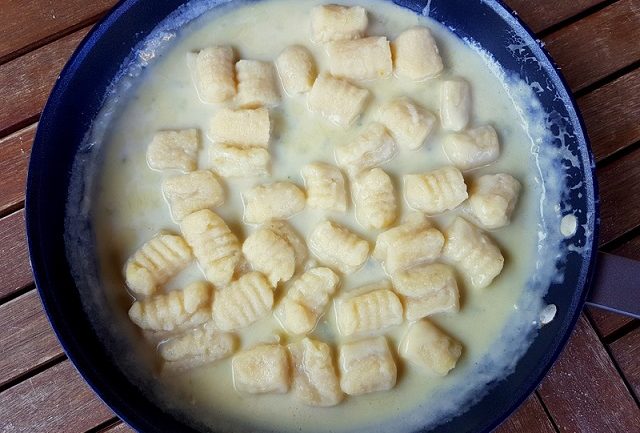 Gnocchi with Gorgonzola can be made with just Gorgonzola and a sprinkling of parmesan or grana or can also contain other ingredients typical of the North too; ingredients such as walnuts, speck or pancetta, radicchio, porcini mushrooms, truffles and fruit such as pears, and melons and figs in summer. I like to add walnuts, speck or figs, or a combination of these.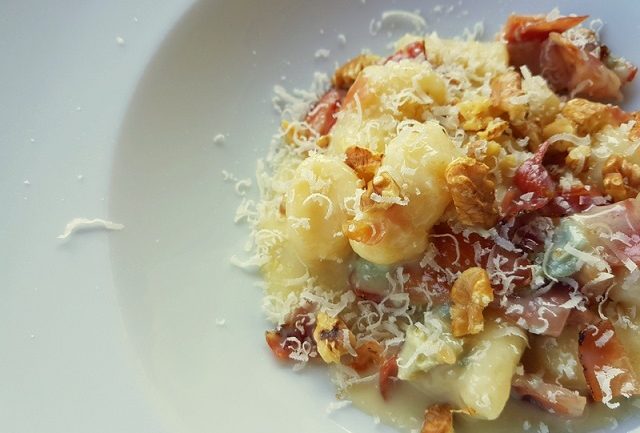 In many cases, and like these recipes, the basic sauce is the same. Just melt the gorgonzola in a pan with a little butter, cream, milk or just the pasta cooking water. Other ingredients may be added after the sauce is mixed with the gnocchi or cooked in the pan in which the gorgonzola is melted. Very simple, very easy to make and very delicious. So, if you're a gorgonzola fan, now's the time to give these combinations of this recipe a try. I'm sure you will agree with me, heaven on a plate!
Buon Appetito
(see the recipe on the next page)