Made with store-bought or homemade potato gnocchi and a creamy porcini and button mushroom sauce, this restaurant-worthy vegetarian mushroom gnocchi with stracchino recipe is full of autumnal Northern Italian flavours. It's easy enough for weeknights but special enough to serve to guests!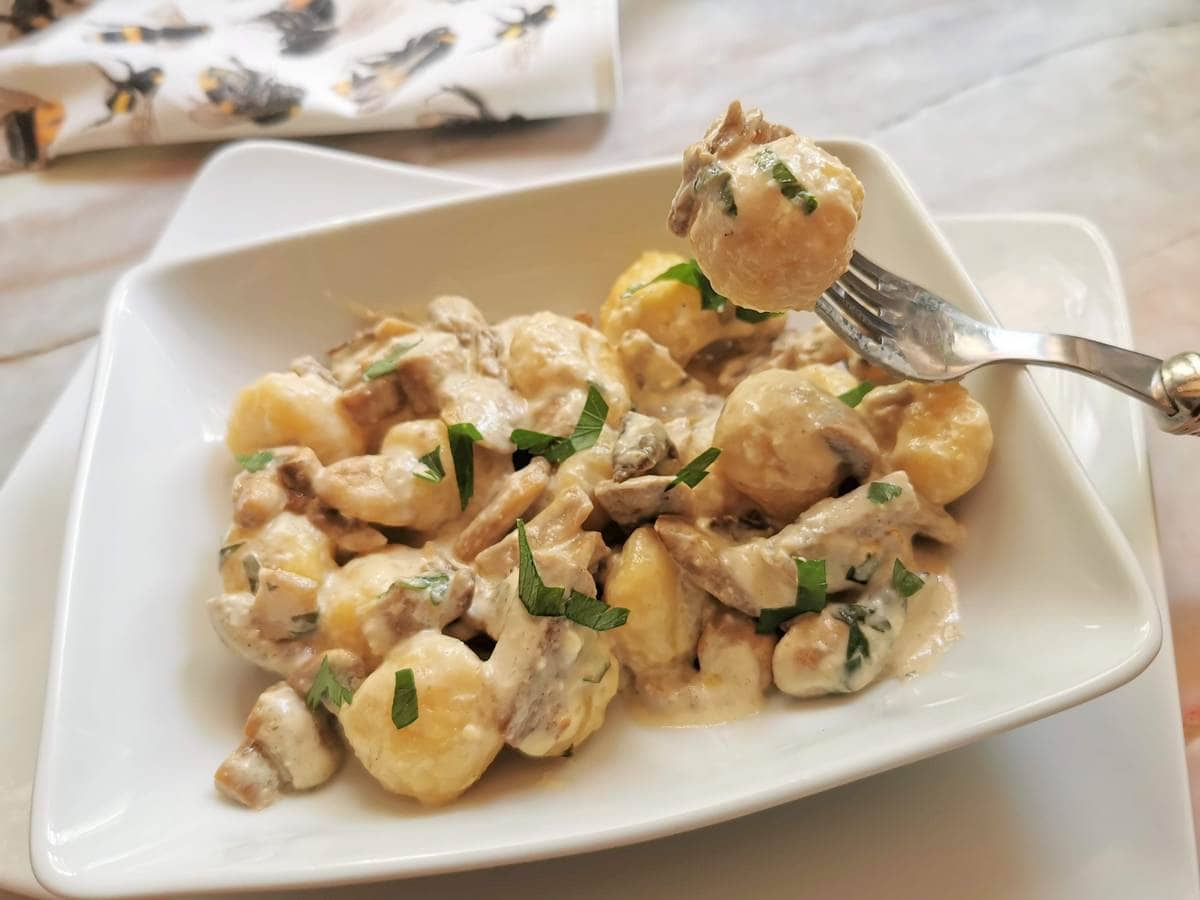 Gnocchi, funghi e stracchino.
The three main ingredients of potato gnocchi, mushrooms and stracchino cheese (crescenza) in this recipe are traditional autumn fare here in Northern Italy. And, so, this is a dish you will most likely come across on Italian tables as the hot summer weather gives way to the cooler days of autumn/fall.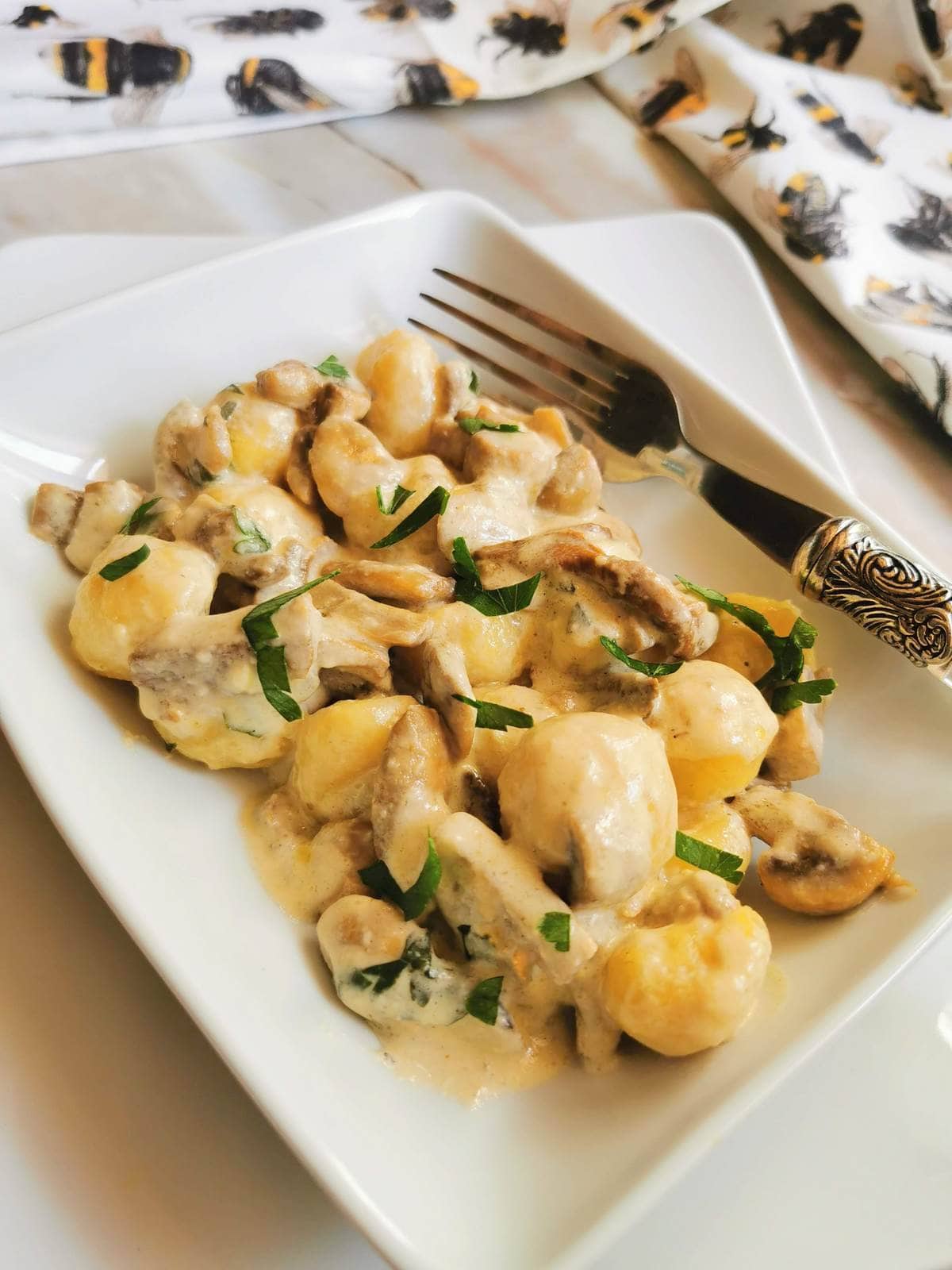 A little potato gnocchi history.
Gnocchi are really the Italian version of dumplings and there are many different types. The earliest evidence of Italian dumplings was in what is today the Alto Adige or South Tirol. There, they made, and still make, a bread dumpling known as canederli but also called gnocchi di pane (bread gnocchi). There is evidence that bread dumplings existed in this region during Neolithic times!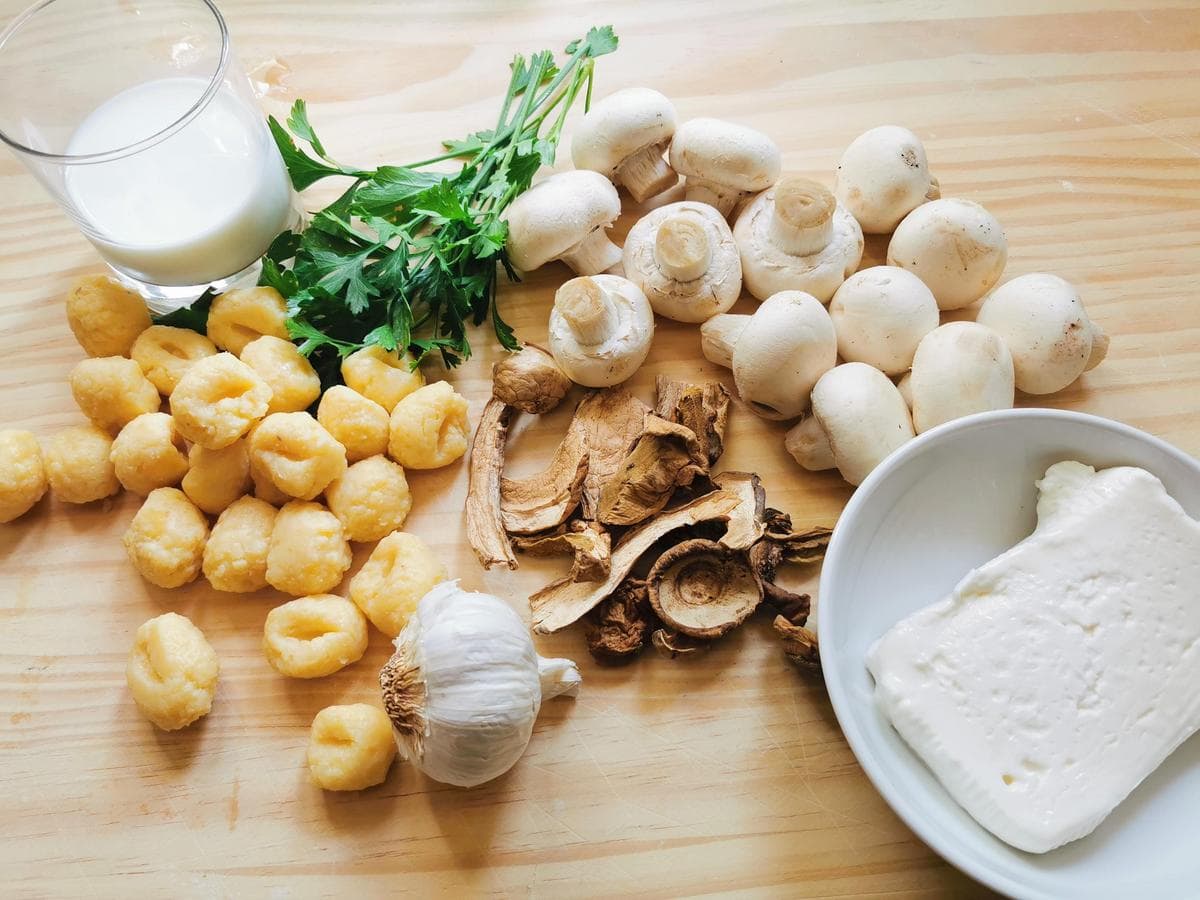 Potato gnocchi, on the other hand, date back to the more recent early 18th century! Potatoes were first brought to Europe from South America by Spanish explorers. During the 16th and 17th century, they were regarded with suspicion, distaste and fear by most Europeans. In fact, they used them only as animal food or to feed prisoners of war or the starving.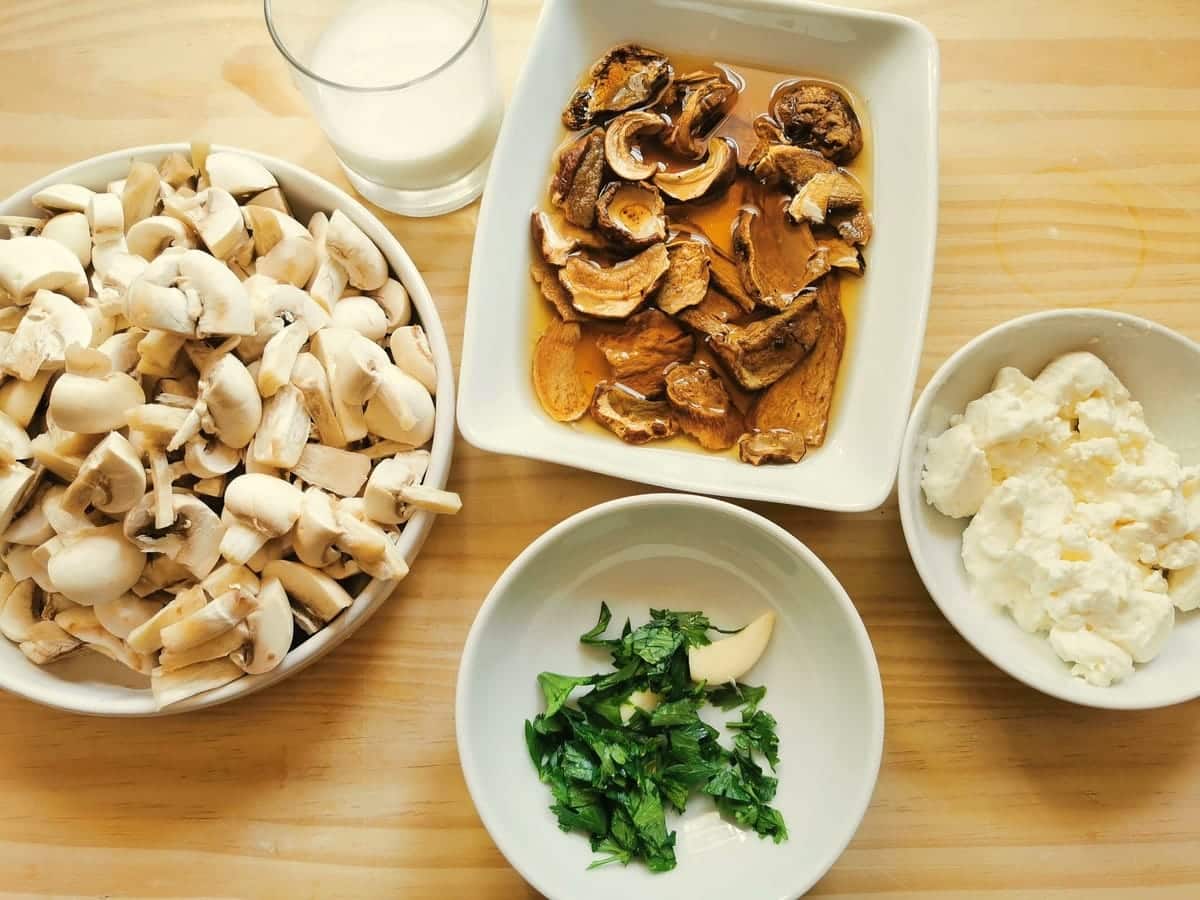 It wasn't until the 18th century that potato gnocchi began to appear on Italian tables You can read more about the history of the different types of gnocchi in my Italian gnocchi post.
Homemade or store-bought gnocchi?
For faster prep, it is of course better to use store-bought potato gnocchi. Here in Italy, we can find very good fresh ready-made gnocchi. I often use them during the week when I don't have time to make my own. In fact, that's what I used for this creamy mushroom gnocchi recipe.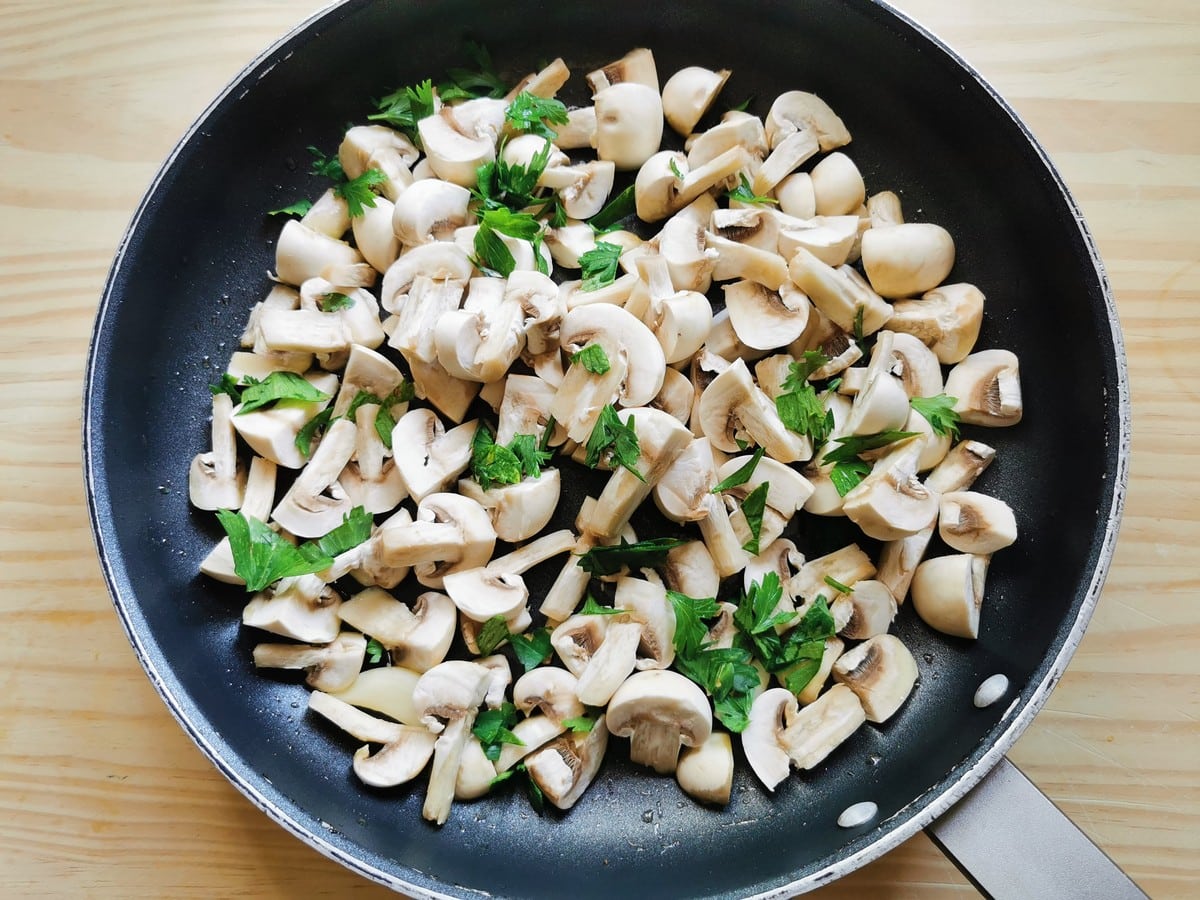 Some store-bought gnocchi are made with dried potatoes, potato flakes and potato starch. I prefer ones produced using only fresh organic potatoes. I use a brand called Mamma Emma, also available online in USA and UK. (not an ad!). Alternatively, homemade potato gnocchi are so very good and worth making. If you'd like to make your own, here's my homemade gnocchi recipe.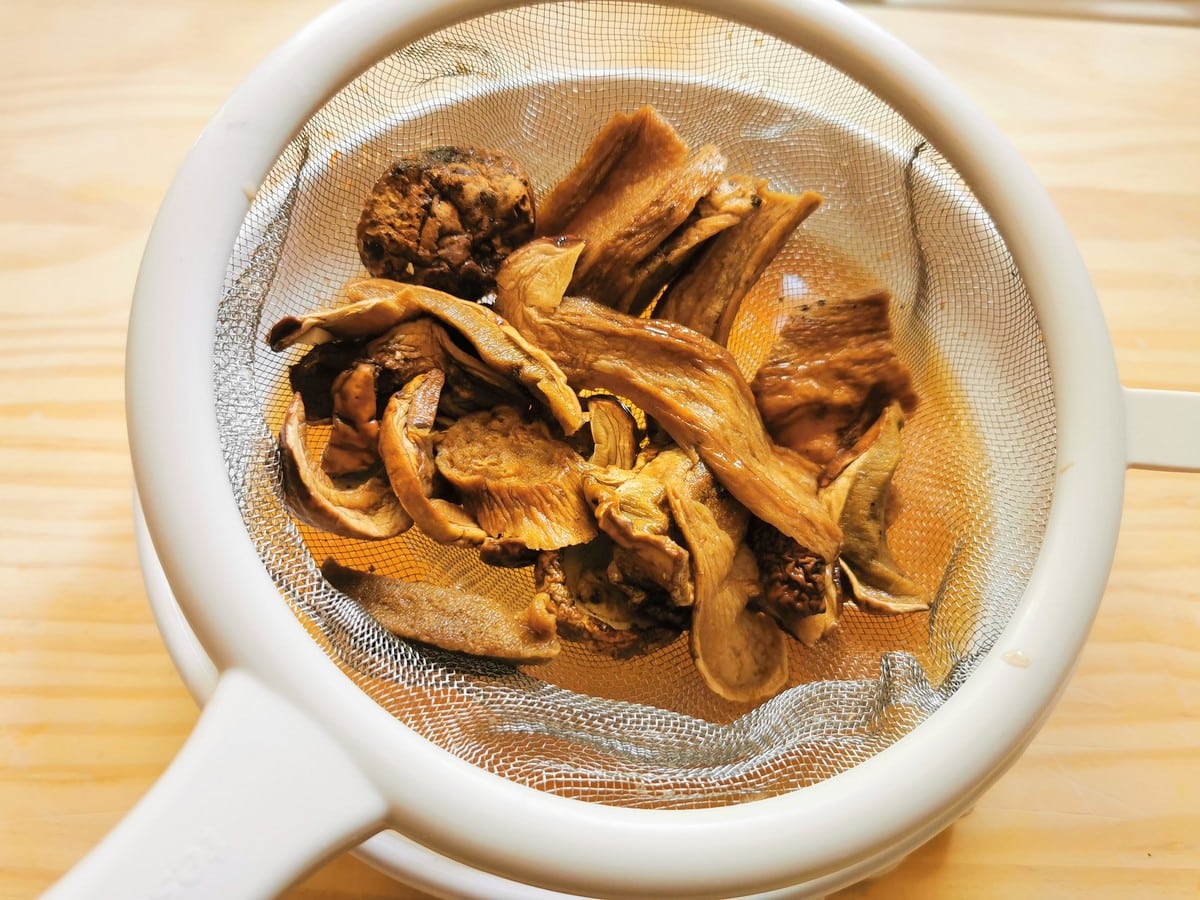 Which mushrooms are best for this recipe?
For this recipe, I used dried porcini and fresh champignons (button mushrooms). A lot of Italian mushroom pasta and mushroom gnocchi recipes call for porcini. Italians love mushroom hunting and foraging is very popular, particularly in the early autumn and spring. There are many types of edible wild mushrooms but the most sought after are Boletus edulis, or the king bolete, known to most of us as porcini or ceps.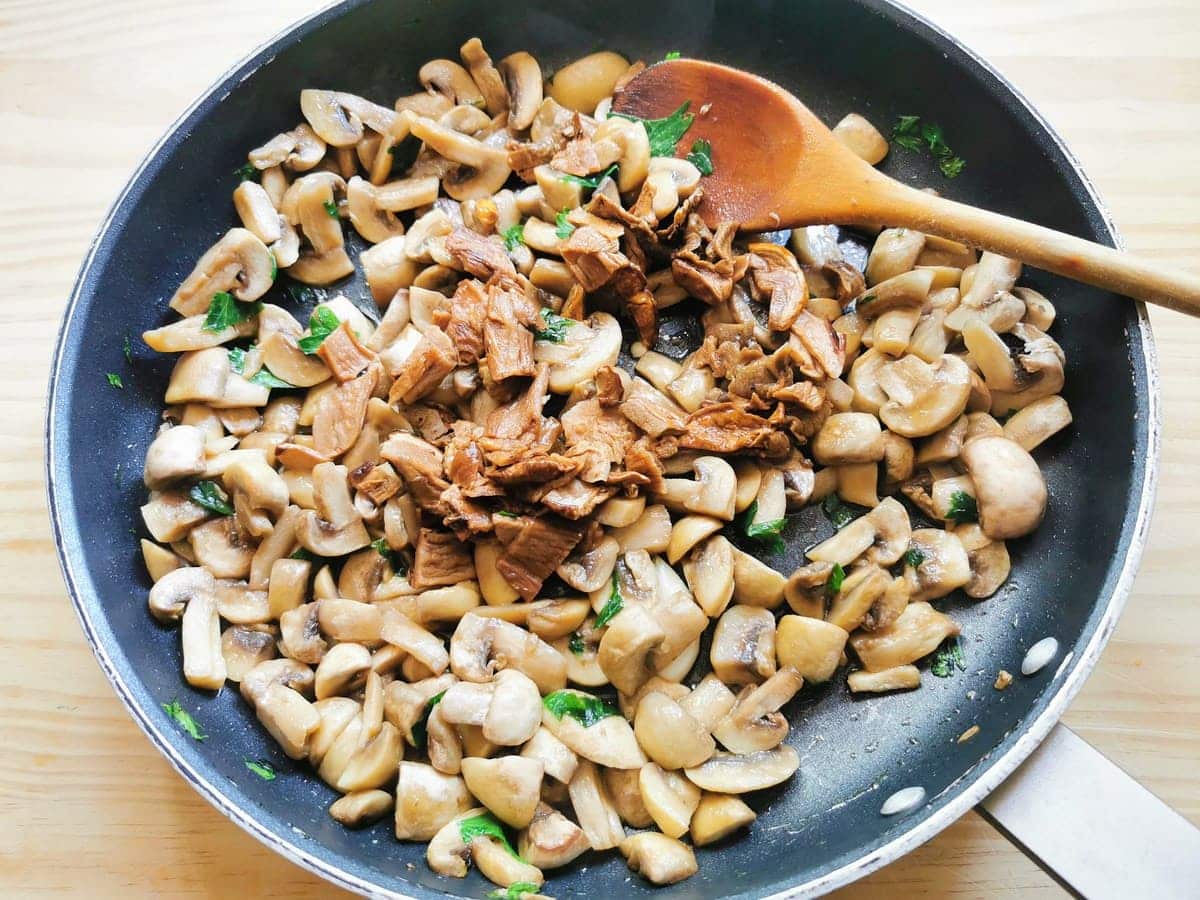 Traditionally, Italian would use fresh porcini mushrooms in a recipe like this one. However, many also use frozen or dried instead of fresh. When using dried mushrooms, it's necessary to soak them in warm water for at least 30 minutes before cooking them.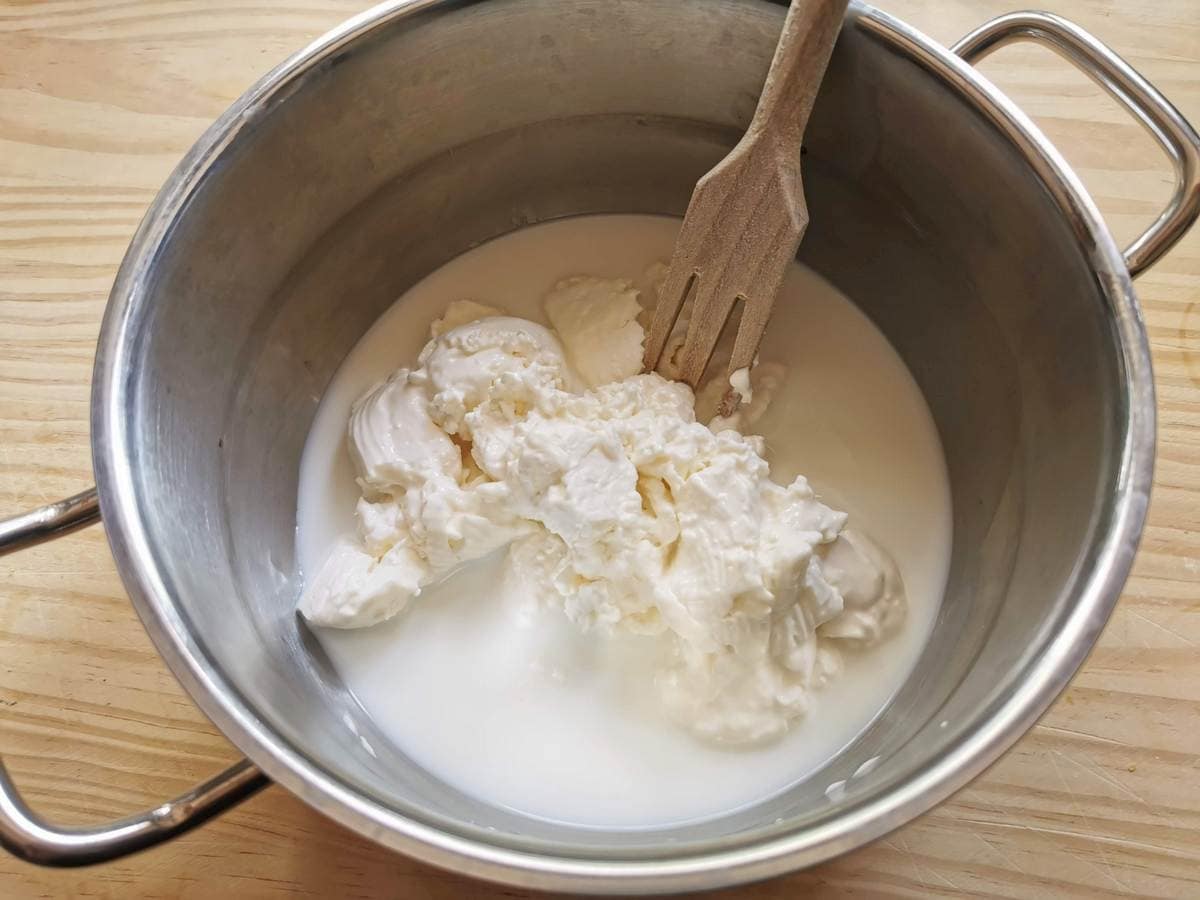 Other types of mushrooms are more readily available fresh and are less expensive. As I mentioned above, I included fresh white champignons (button mushrooms). However, you can use other types of champignons such as cremini (baby bellas) or portobellos. Chanterelle mushrooms and king oysters would be perfect too.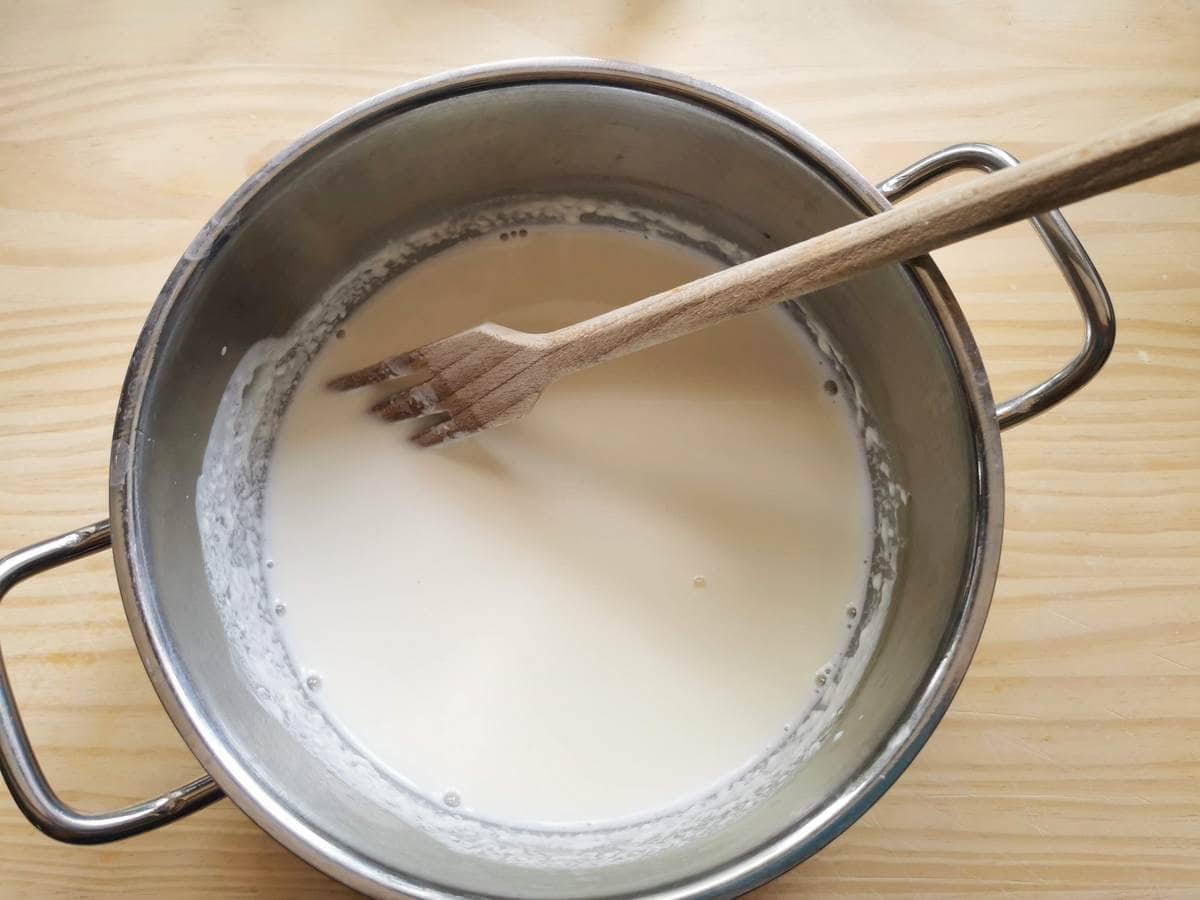 What is stracchino cheese?
The creaminess of this mushroom sauce comes mostly from the use of stracchino cheese. Stracchino (stra-key-no) also known as quartirolo or crescenza, is a fresh young cheese with a very soft, creamy and buttery texture and a mild and delicate flavour. It is a type of Italian cow's-milk cheese, typical of Lombardy, Piedmont, Veneto, and Liguria.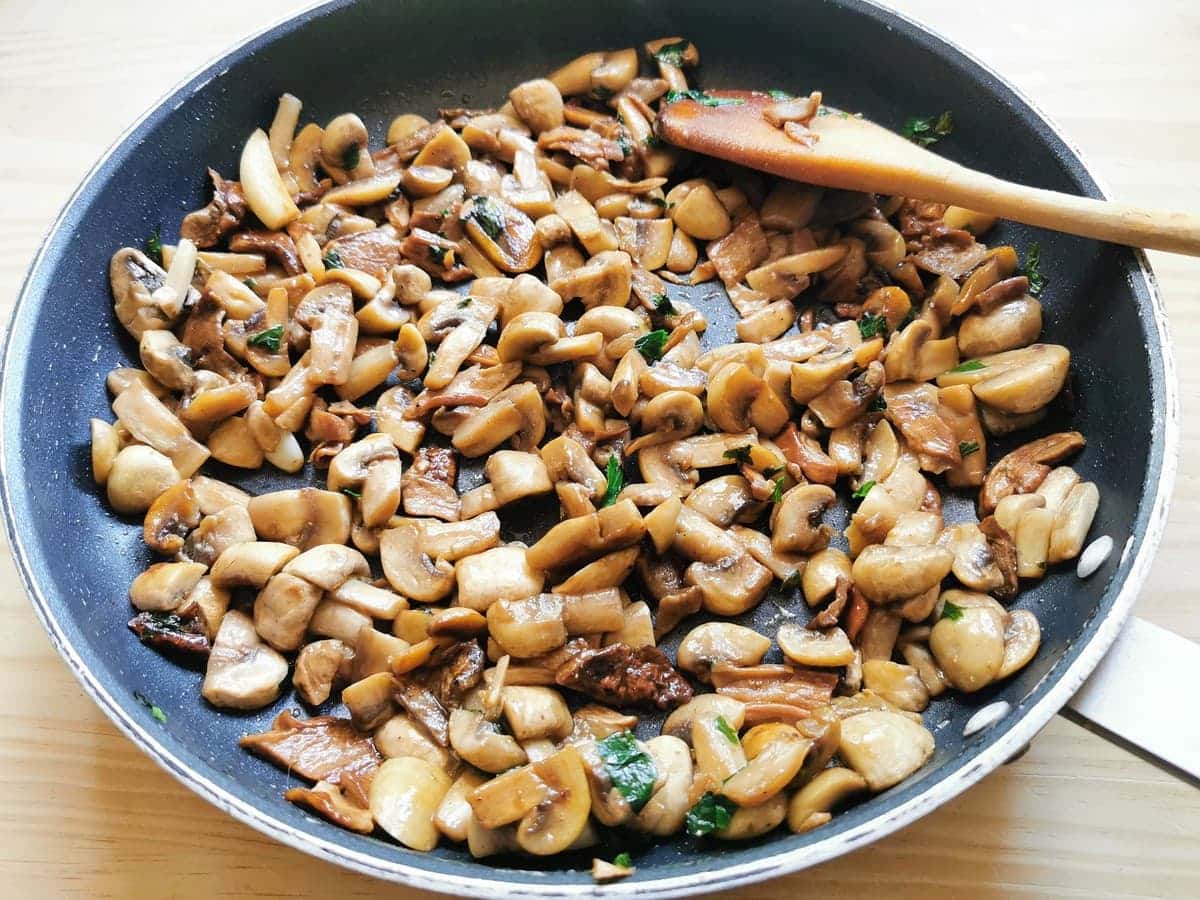 The name 'stracchino' derives from the fact that this cheese was originally made after the cows returned from their alpine pastures at the end of summer. They were said to be weary or tired (stracco) from the journey. However, the word 'crescenza' apparently comes from the Latin 'crescentia', meaning to grow. This name comes from the fact that when left in a warm place, this cheese tends to increase in size like rising bread dough!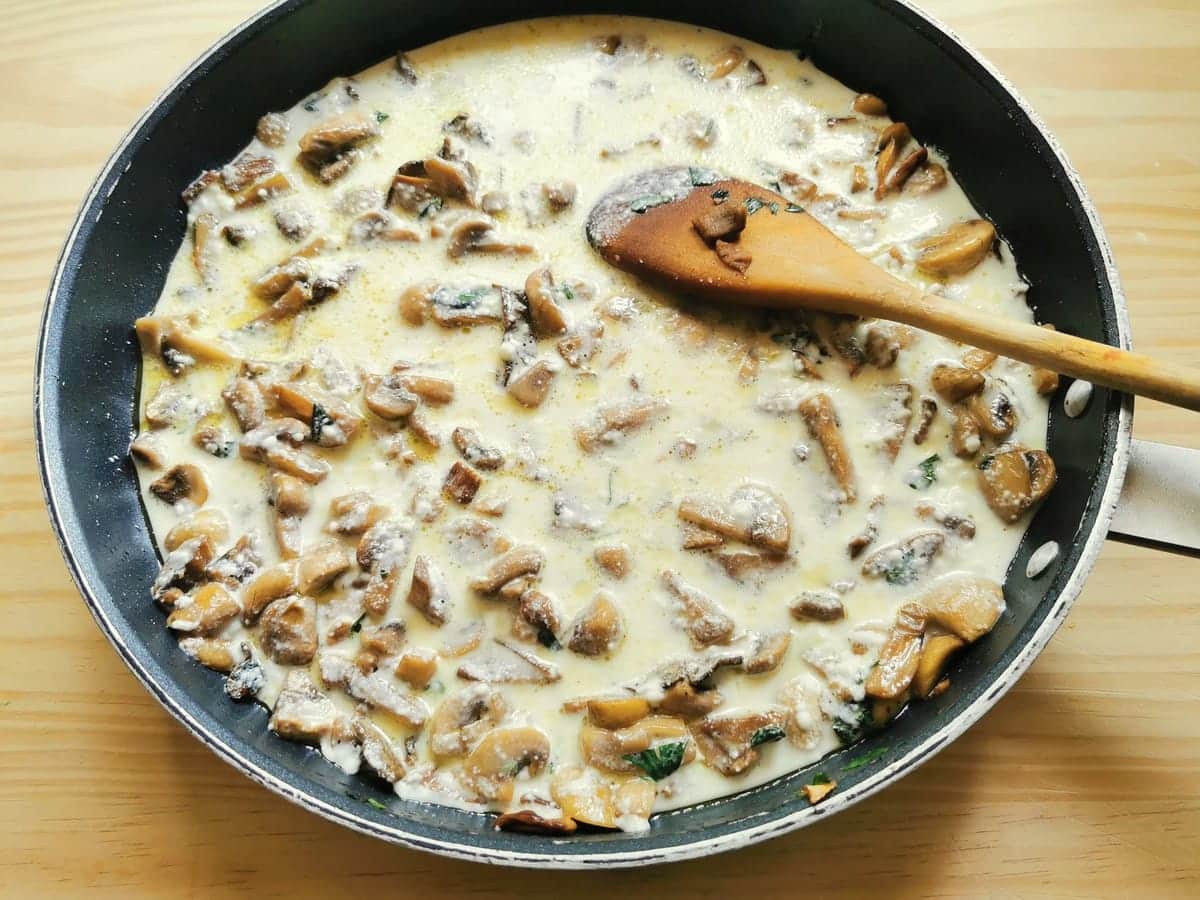 Substitutes for stracchino (crescenza).
If stracchino (crescenza) isn't available, you can substitute with mascarpone, cream cheese, fontina or taleggio. The latter has a stronger flavour than stracchino, so if you use it the flavour of the sauce will be different.
How to make creamy mushroom gnocchi.
As with all recipes, the first step to making this mushroom gnocchi is to prepare the ingredients. Luckily this dish doesn't have many, so it won't take long! If you are using dried porcini put them to soak in warm water. Then clean and chop the other mushrooms. I usually just wipe them with a cloth. Mushrooms absorb water, so it's better not to wash them.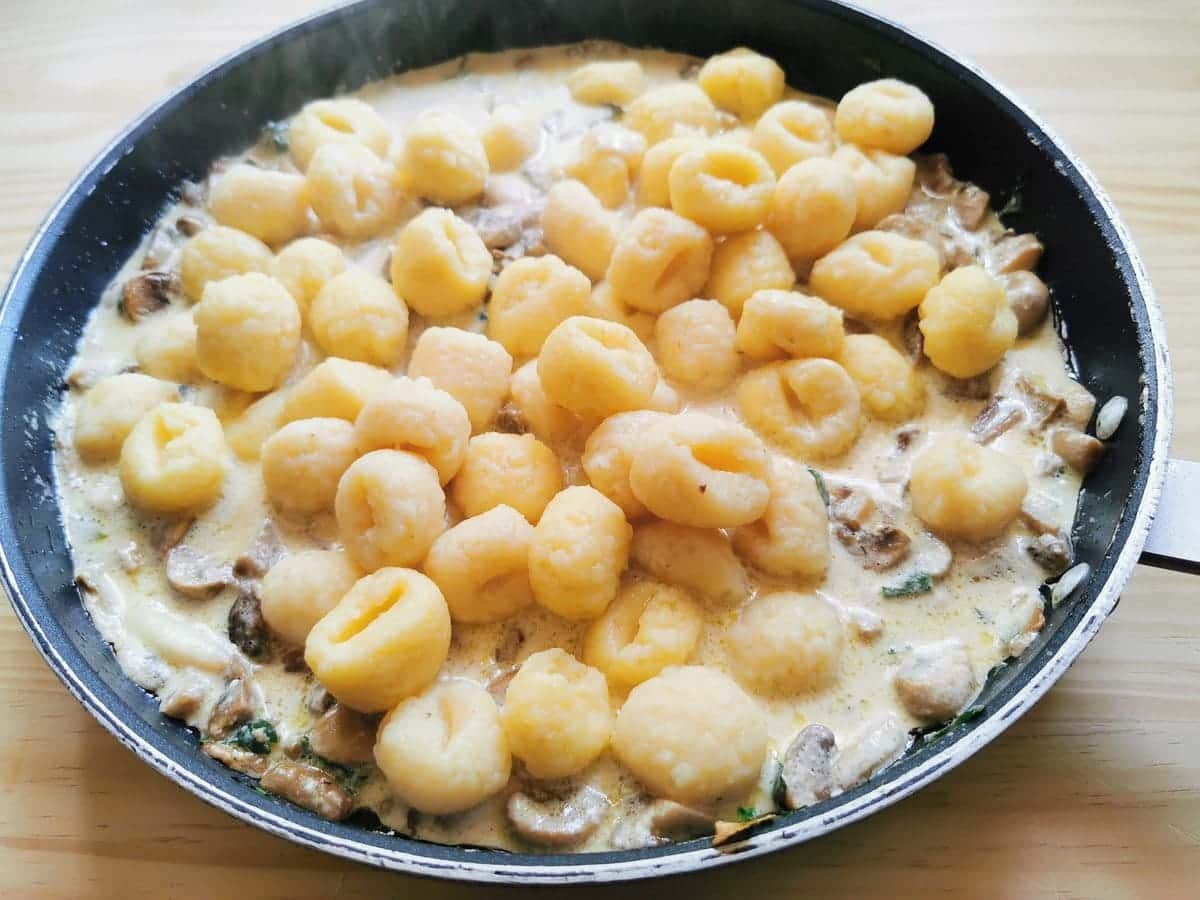 Apart from the mushrooms, the only other things to prepare are to peel the garlic and wash and chop the parsley. Oh, and put a pot of water on to boil for the gnocchi. This recipe can be on the table in the time it takes to boil the water and cook the gnocchi.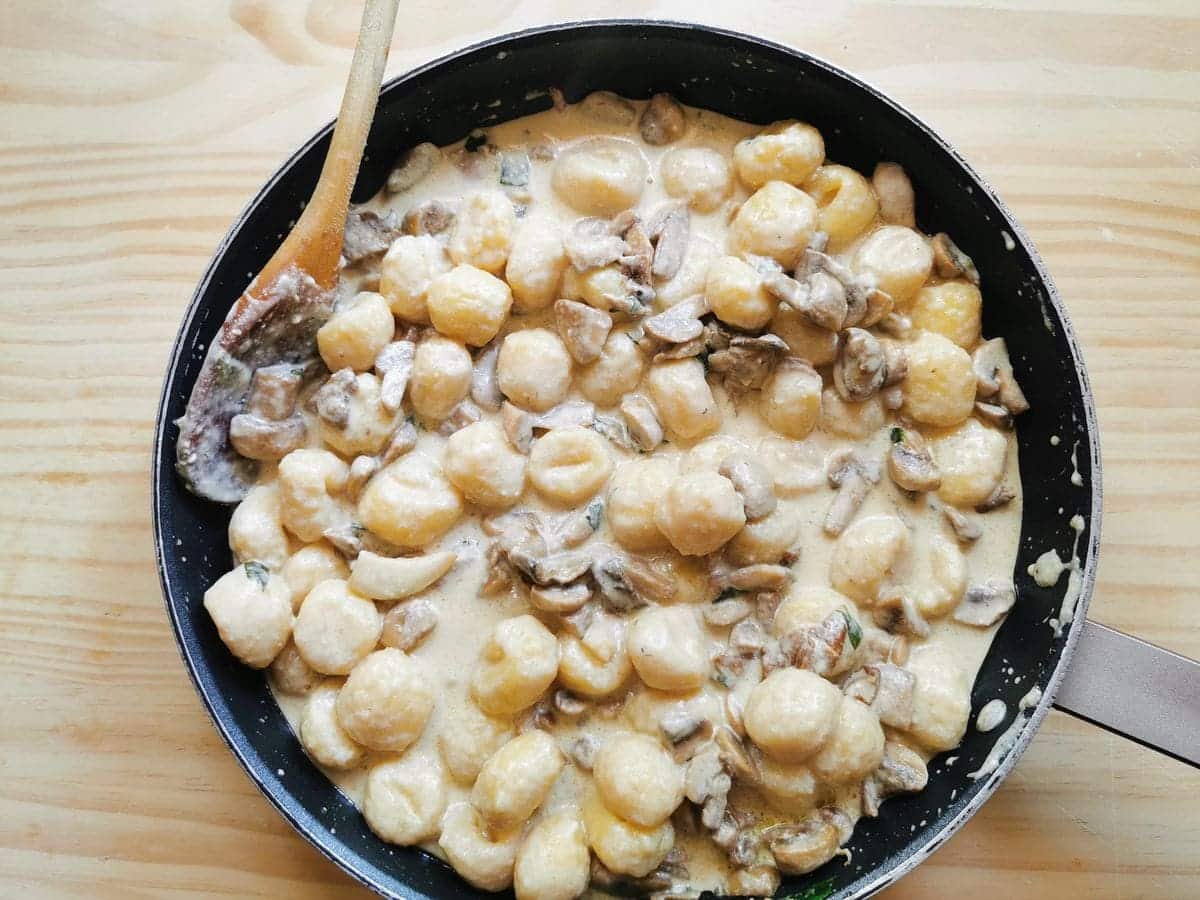 To cook the sauce, just sauté the garlic in olive oil. Then add the chopped champignons and some parsley. Cook until the mushrooms start to soften. Drain the porcini and chop them into small pieces and add to the other mushrooms. Continue cooking the mushrooms while you melt the stracchino with a little milk in a separate pan.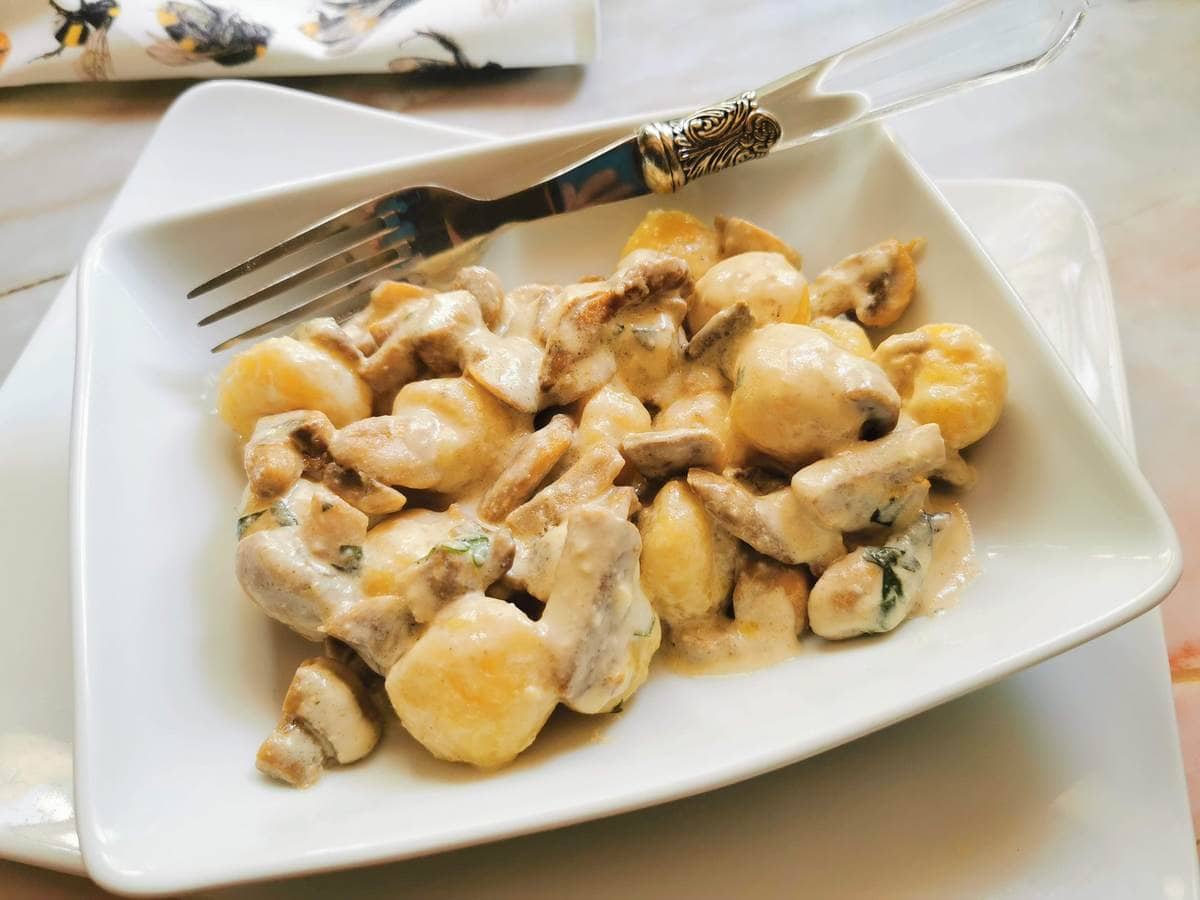 Finally, once all the mushrooms start to brown a little add the melted stracchino. Mix everything together well and season with salt and pepper as required. Then cook your gnocchi and when they are ready, drain and add them to the mushroom and stracchino sauce. Mix together carefully and serve with chopped fresh parsley.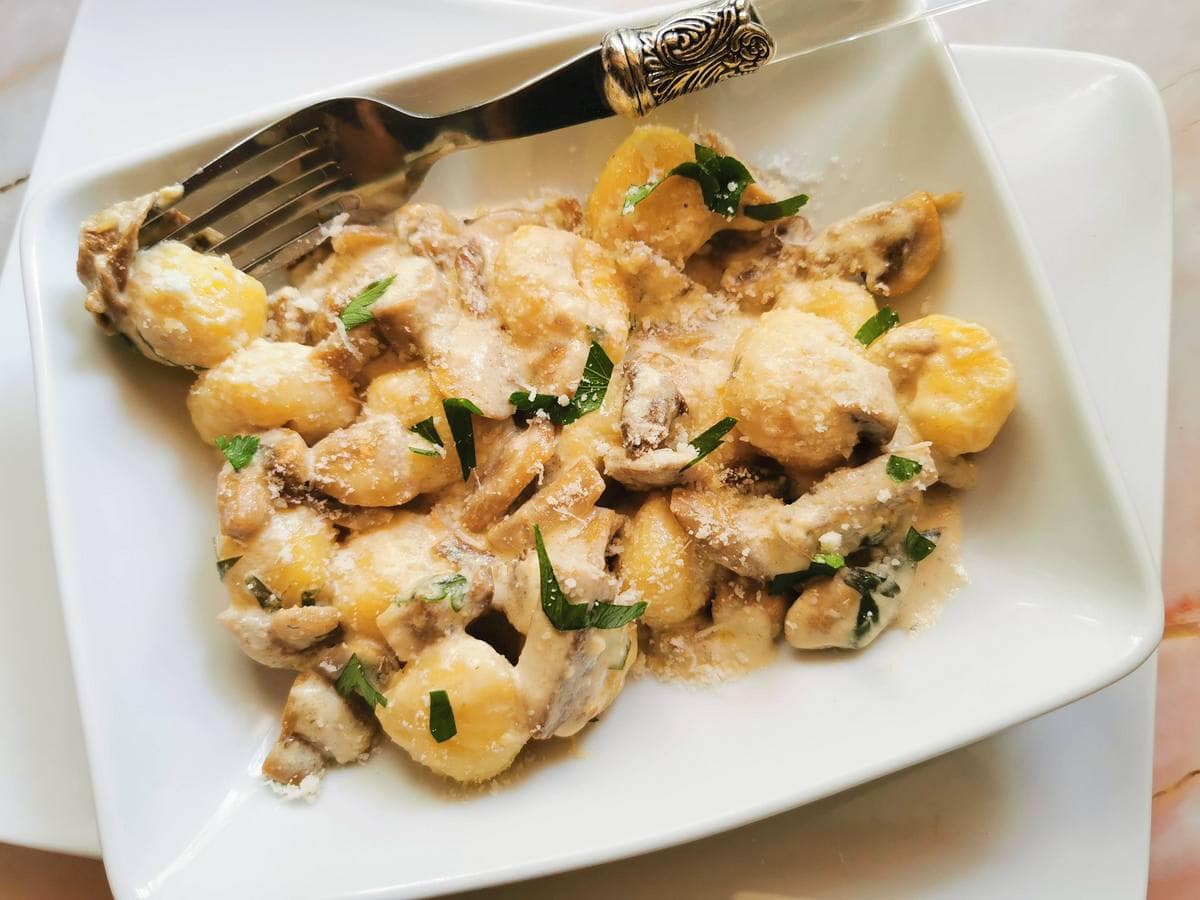 What to do with leftovers.
I doubt you'll have leftovers of this creamy mushroom gnocchi with stracchino. BUT, if you do, they'll keep sealed in the fridge for a day or two. The sauce tends to dry out, but you can fry the leftovers in some butter and sprinkle with grated parmesan.
N.B. This recipe is vegetarian but Italian parmigiano or grana is not. Therefore, vegetarians will want to use a vegetarian cheese if adding grated cheese to the recipe or leftovers.
Let me know what you think.
This creamy mushroom gnocchi was a big hit with my family and I'm sure it will be with yours too. If you try it, please do let me know what you think. I'd love to hear how it turns out. Please write a comment here on the blog, email me or post a comment on the Pasta Project Facebook page.
Buon Appetito!
Do check out the links to other mushroom gnocchi or pasta recipes after the recipe.
SAVE THIS RECIPE FOR LATER?
If you want to save this recipe for later, you can print it, bookmark this page or save it to Pinterest.
PIN FOR LATER.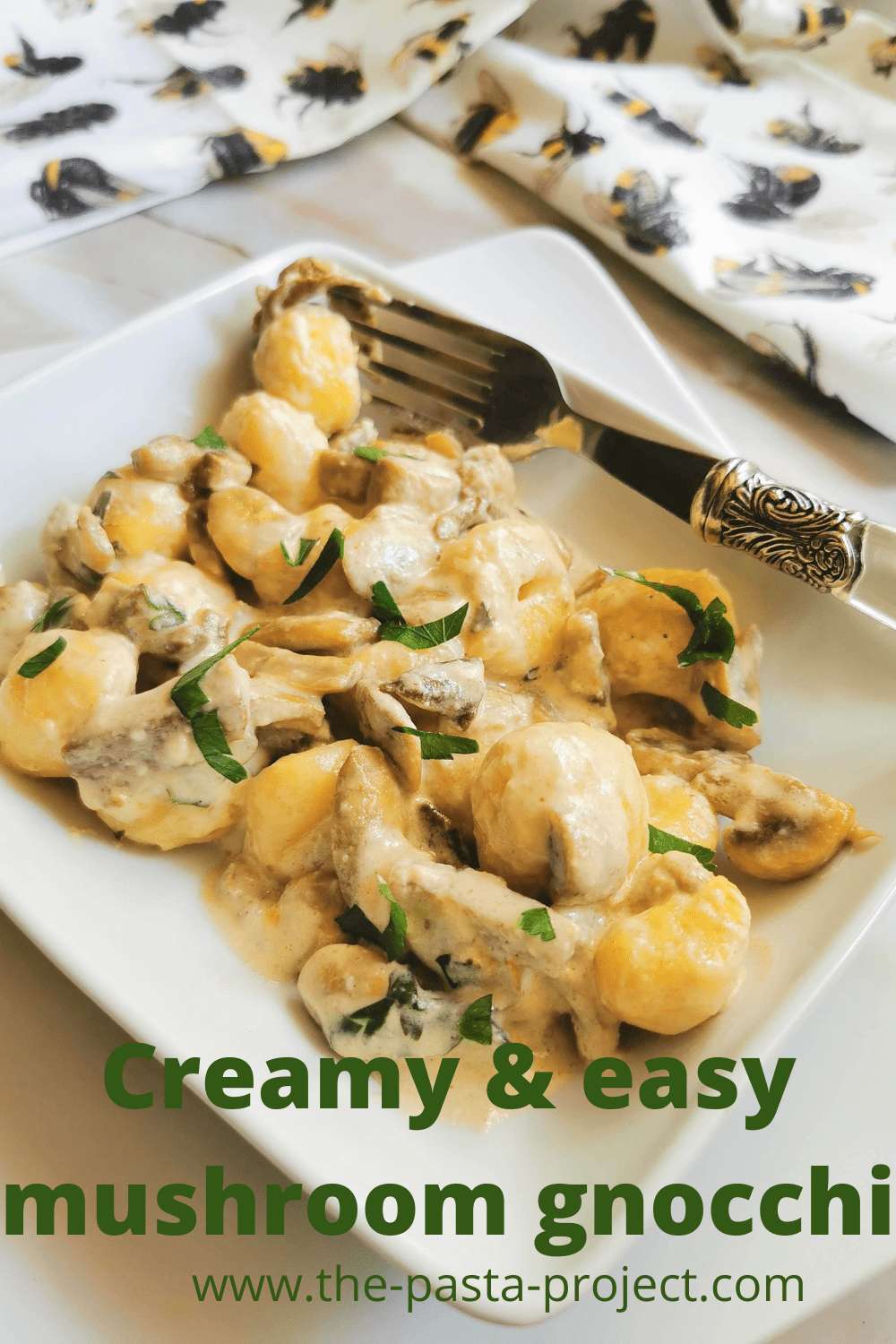 More gnocchi recipes to try.
Delicious Italian mushroom pasta recipes for your table.
If you are interested in learning how to make homemade pasta and different types of gnocchi, check out my shop page for some great video online courses from my friends in Rome! Nothing beats learning to make pasta from Italians! Plus while you're there why not order a copy of pasta recipe cookbooks or some Italian pasta making tools? Also great presents for pasta lovers!