Spaghetti 'Mare e Monti' Recipe from Le Marche.
Spaghetti mare e monti is a classic 'surf and turf' pasta recipe from the Marche region in central Italy. Le Marche is a beautiful unspoiled fairly mountainous and hilly region with a long coastline on the Adriatic sea. The food in this region is very influenced by both the land and the sea. So, the combination of different mushrooms and calamari (squid) in this delicious pasta dish is very representative of the local cuisine.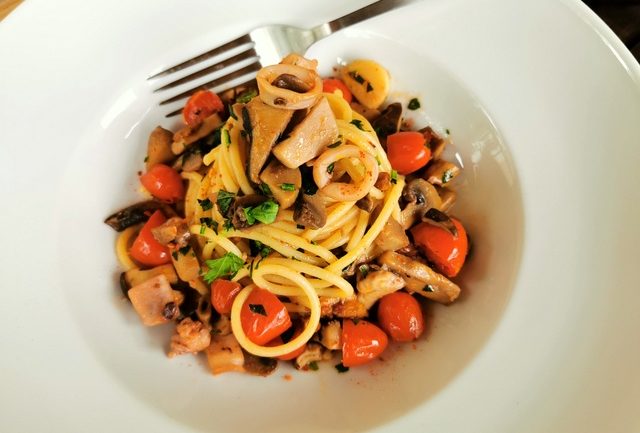 Pasta mare e monti is actually very popular throughout Italy. There are even similar risotto recipes and surf and turf pizzas! In some mare e monti pasta recipes, the seafood is prawns or shrimps, instead of calamari. In others, it's different kinds of fish or shellfish. But, the majority of Italian surf and turf pasta recipes include mushrooms, particularly porcini.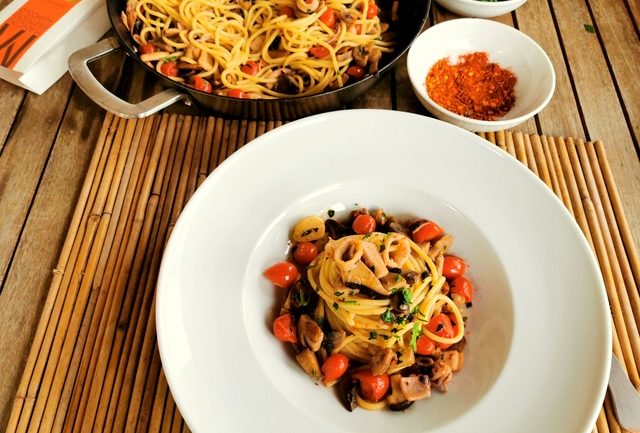 What mushrooms can you use?
This recipe calls for mixed mushrooms. So, you can use any combination that you like. I used a mix of foraged and farmed mushrooms. Porcini give a lot of umami flavour to any dish and I was lucky enough to find fresh porcini! However, you could also use frozen or dried. Dried porcini will need to be soaked for about 20-30 minutes in warm water before cooking them.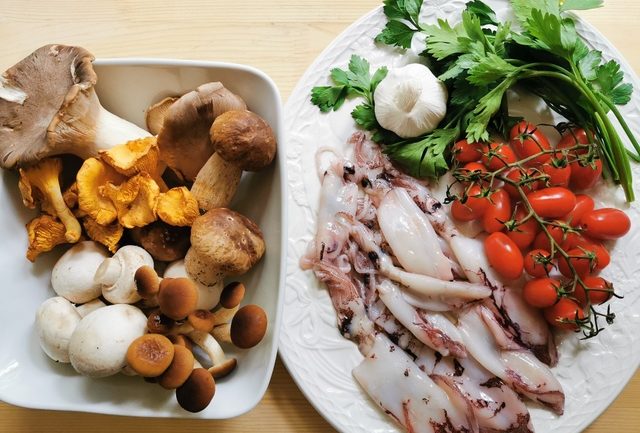 Apart from the porcini, I included white champignon button mushrooms, a type of oyster mushroom we call cardoncelli, finferli (chanterelles) and pioppini (black poplar mushrooms) . The mushrooms are all cooked together, so it's important to cut them to more or less the same size.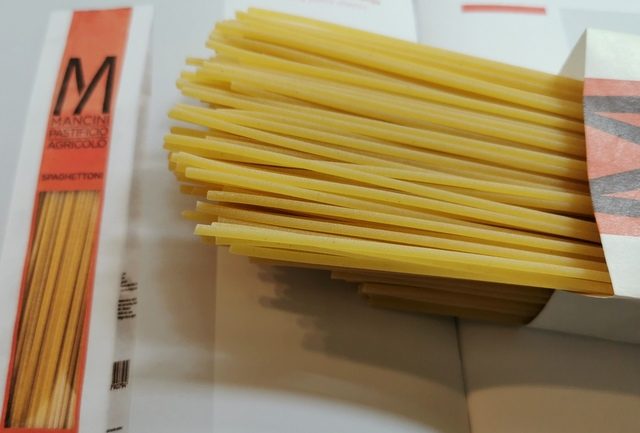 Calamari, fresh or frozen?
My hubby went shopping for the calamari for this spaghetti mare e monti. I was thrilled that he managed to find fresh baby calamari. I think, these are my favourites if I'm not stuffing them. Obviously, bigger ones are better for that! As you can imagine baby calamari are more tender than the big adult ones! However, the secret to cooking calamari is timing, no matter the size!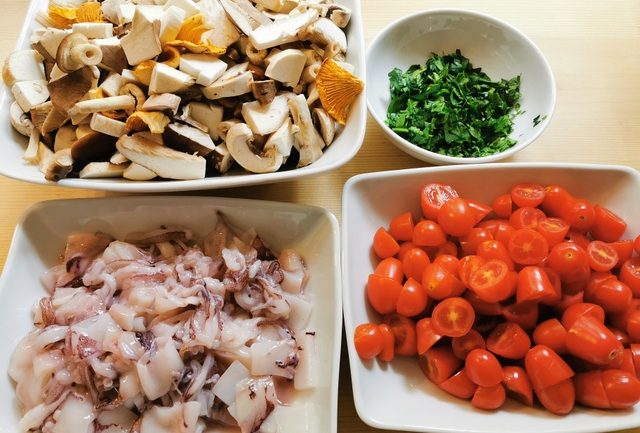 There are 2 ways of cooking calamari (and cuttlefish), fast or slow! This is because these sea creatures have a lot of connective tissue. When cooked fast these tissues don't have time to harden so the calamari stays soft and tender. When slow cooked, the connective tissues break down and the calamari becomes tender. This spaghetti mare e monti is a fairly quick recipe to put together. So, you will need to cook the calamari for just a short time!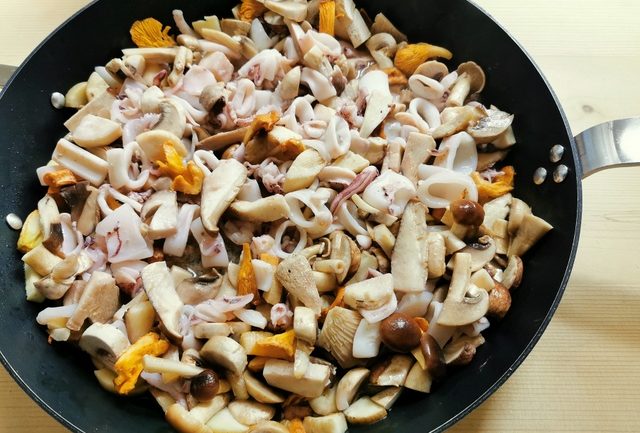 Of course, fresh calamari need cleaning. Luckily my hubby does it for me! But, if you don't want to clean them or can't find fresh squid, frozen works well too. In fact, like cuttlefish and octopus, calamari are actually often more tender after being frozen.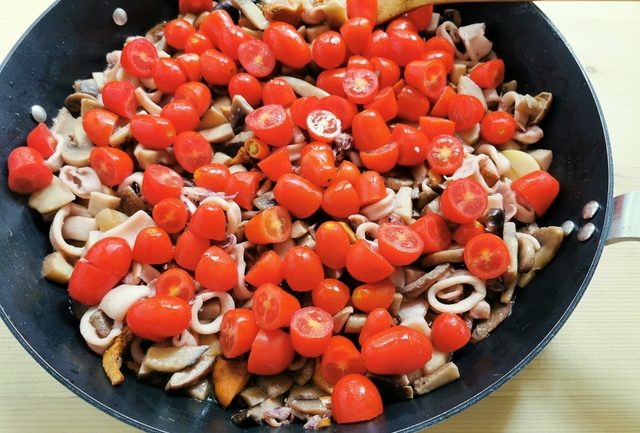 The pasta.
Spaghetti mare e monti is obviously made with spaghetti! However, other pasta shapes are delicious with it too! I chose to make this recipe with spaghetti made by one of Italy's best pasta brands, Pasta Mancini. This unique pasta producer is in Le Marche, the region this recipe comes from. So, a perfect pairing!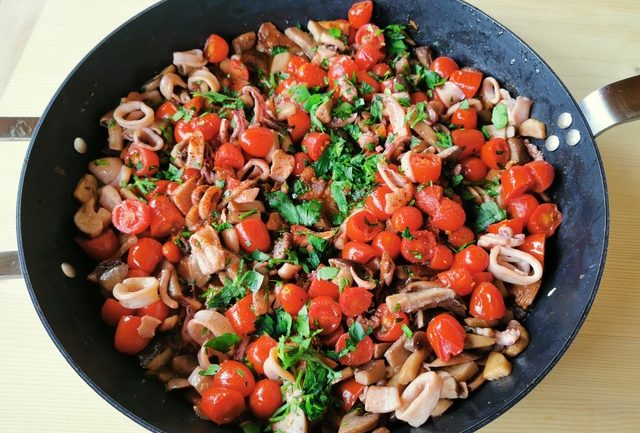 I call Pasta Mancini unique because, unlike most other pasta makers, this company grows its own wheat and its pastificio (pasta factory) is located in the middle of its wheat fields! But, not only do they grow their own wheat but they do so following farming principles known as Good Agricultural Practices (GAP). In short, this means that they implement sustainable, environmentally friendly farming.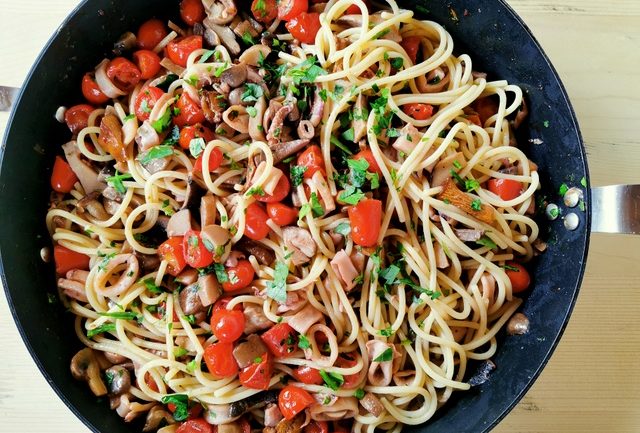 I recently visited Pasta Mancini and was given a very informative tour of their pastificio. I learnt so much about wheat growing and pasta making during my visit. You can read about my visit in my post Pasta Mancini; Pasta from Field to Fork. Or, if you'd like to learn even more about this company, check out their website. It's in English too and they export to US and UK ( https://www.pastamancini.com/en/ )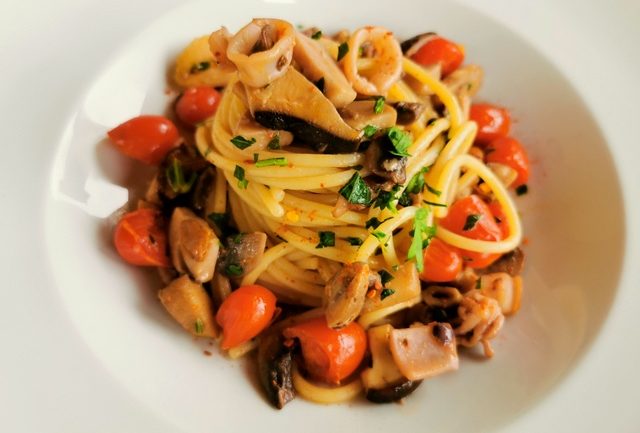 Making spaghetti mare e monti.
As I mentioned above this recipe doesn't take so long to put together. The most time consuming part is the prep. The mushrooms need to be cleaned and chopped. Plus, the calamari, if fresh, needs cleaning and then cutting into small pieces too.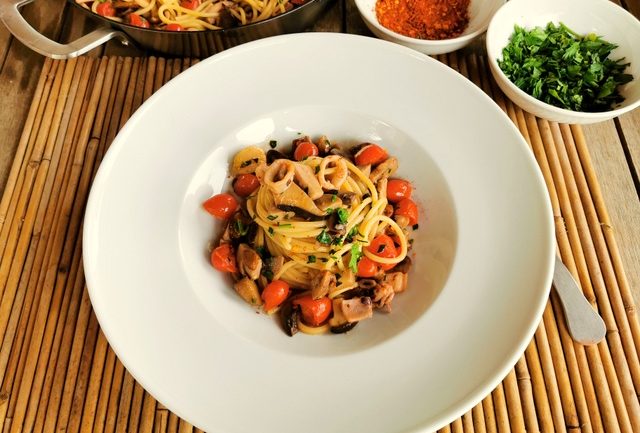 The rest of the ingredients are few, just some cherry or datterini tomatoes, parsley, garlic, peperoncino (red chili pepper) and wine. However, having just a few ingredients doesn't mean this surf and turf pasta dish is lacking in taste. In fact, it's very flavourful! I'm sure that if you make it, you'll love this dish as much as the Italians do!
If you do try this spaghetti mare e monti recipe, I'd love to hear what you think. Please write a comment here on the blog or post a comment on the Pasta Project Facebook page.
Your feedback means a lot to me!
Buon Appetito!
Disclaimer: Although this is a sponsored post, all opinions expressed are my own.
Save this recipe for later?
If you want to save this recipe for later, you can print it, bookmark this page or save it to Pinterest.
Pin for later.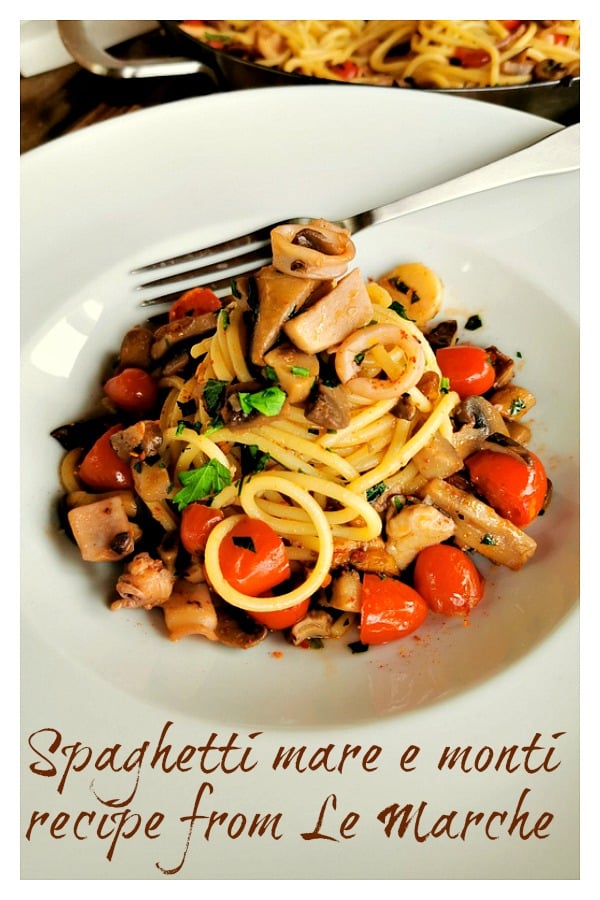 More Italian seafood pasta recipes....