Here in Italy, Christmas food traditions don't include a particular meal that every family eats! However, fish and seafood are traditional in many parts of the country, especially on Christmas Eve. But, also on Christmas day and New Year's day. Here are some special fish and seafood pasta recipes that you can include on your holiday menu to give it a bit of an Italian flavour.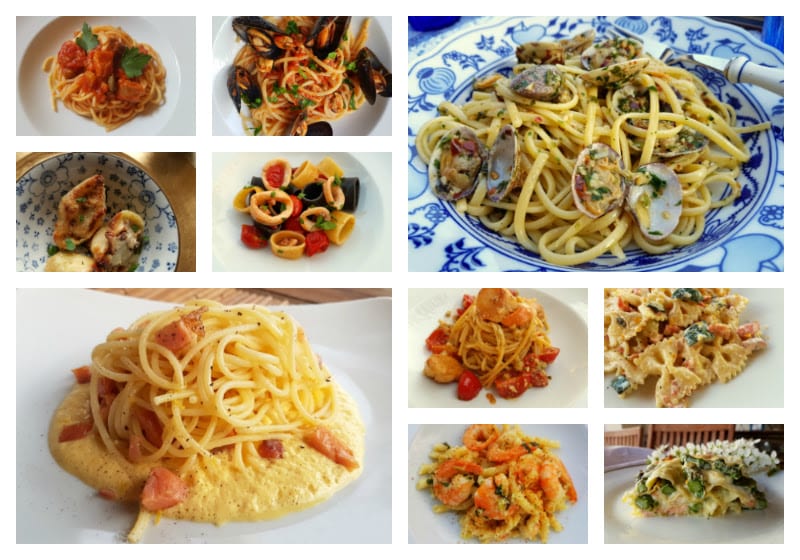 Pasta will appear on almost every family table in Italy at Christmas. Very often Italians eat more than one pasta dish or a pasta and/or a risotto followed by a main course! For dinner on Christmas Eve, most Italians eat fish and seafood. This is a religious custom as 24th December is considered a day of fasting or abstinence, which Italians call 'giorni di magro' (meaning lean days). However, seafood pasta is popular even on Christmas Day and New Year's day.
(Just click the title to go to the recipe posts)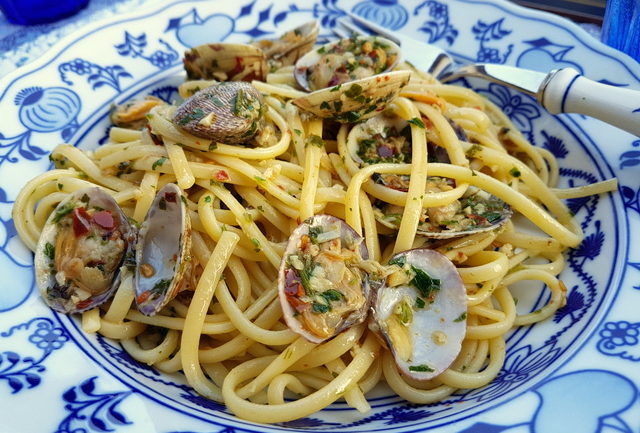 Linguine with clams one of the most popular seafood pasta recipes both in Italy and abroad! So it's not surprising that this iconic Neapolitan dish is traditional at Christmas in Campania! This linguine pasta alle vongole recipe is my Sicilian hubby's. He's pretty generous with the garlic and peperoncino but you can reduce the quantities if you prefer!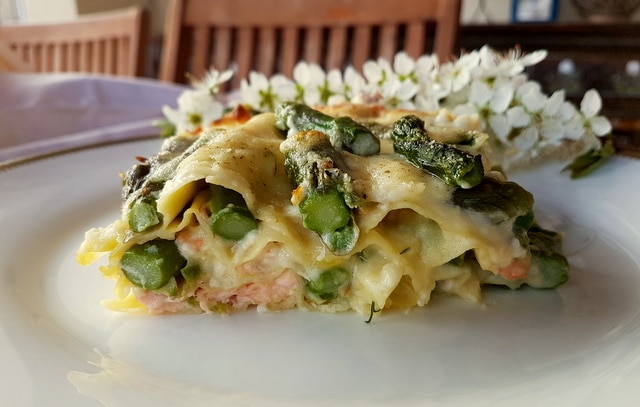 Lasagne al forno is a must for many Italians at Christmas. This version with poached salmon and asparagus is a perfect seafood pasta recipe for meatless days and special occasions. It's much lighter than traditional Lasagna with Bolognese.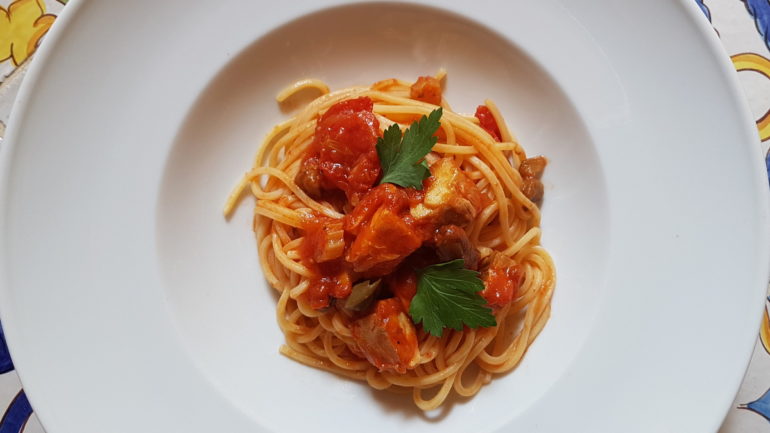 Baccalà is very traditional at Christmas both here in Veneto and in the South, although it's prepared in different ways. This is a Sicilian recipe which can be served as two courses. The sauce with pasta and the salt cod separately with potatoes.
(Just click the title to go to the recipe posts)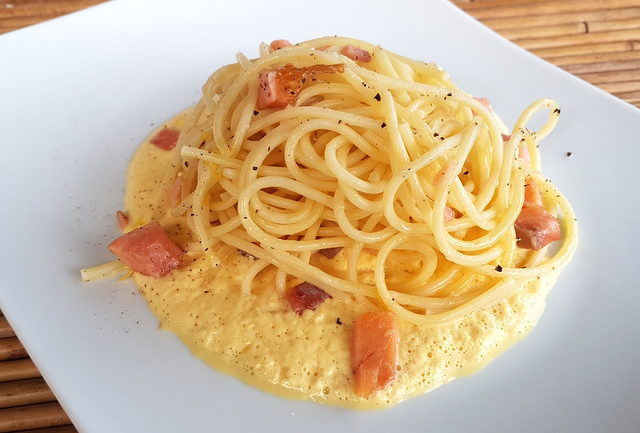 Based on a recipe from a Michelin star restaurant by Lake Garda, this contemporary carbonara recipe is one that I actually served last New Year. My guests loved it and yours will too!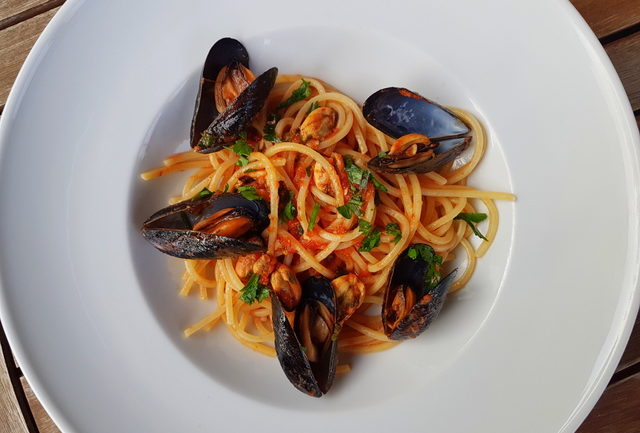 The Southern Italian region of Puglia is famous for its mussels, particularly those from Taranto. If you like mussels you will love this recipe which can also be served without pasta and chunks of bread instead!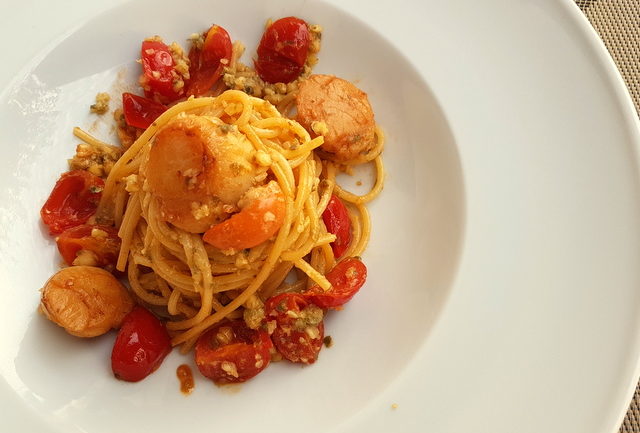 This is a seafood pasta recipe I posted here on The Pasta Project just a few days ago. Scallops are a favourite seafood in Italy at Christmas and New Year. This is a divinely delicious recipe that's very easy to make.
(Just click the title to go to the recipe posts)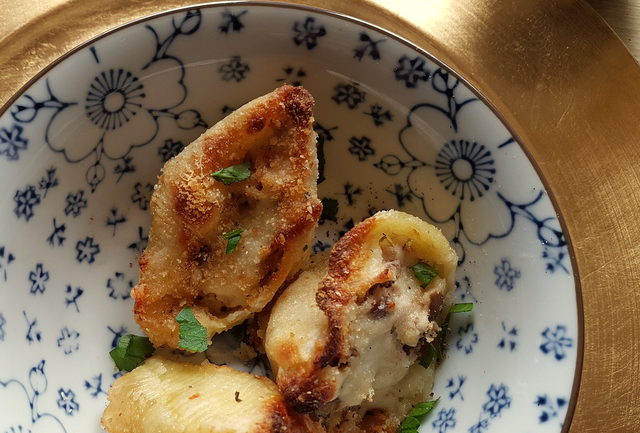 Baked pasta shells is another traditional pasta holiday dish, especially on days of fasting or abstinence. However, normally the shells are filled with spinach and ricotta and baked in a tomato sauce. This version is one I served at my Christmas party last year. Because the pasta isn't cooked in a lot of sauce these conchiglioni can even be eaten as finger food!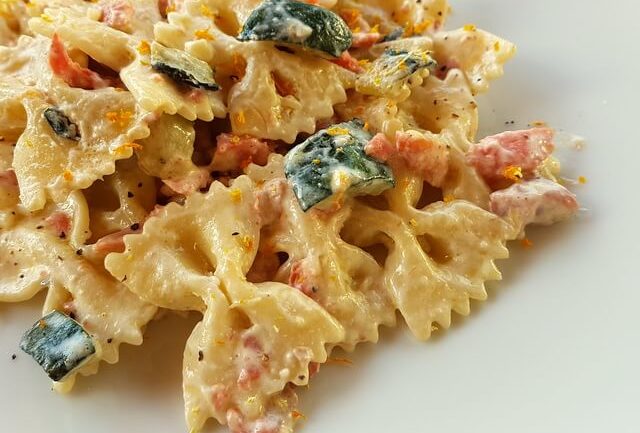 I've included this recipe because it's one of the most popular here on The Pasta Project. Although smoked salmon is not a traditional Italian ingredient, lots of Italians like to eat it on special occasions and their favourite way to eat it is with pasta!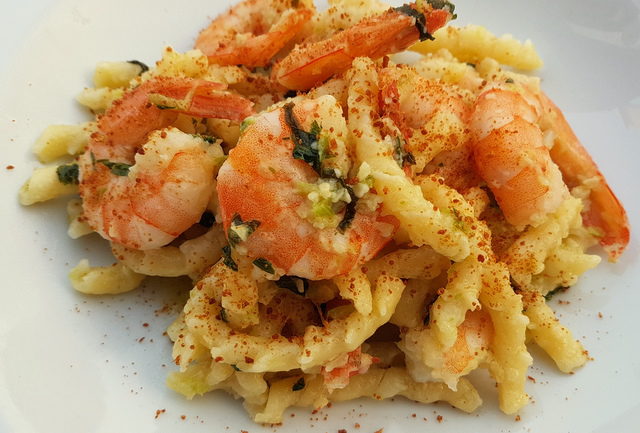 There are so many wonderful Sicilian seafood pasta recipes but this one is special. Made with Sicilian Busiate pasta, bottarga (tuna roe), red prawns and almonds. This recipe is a real taste of Sicily!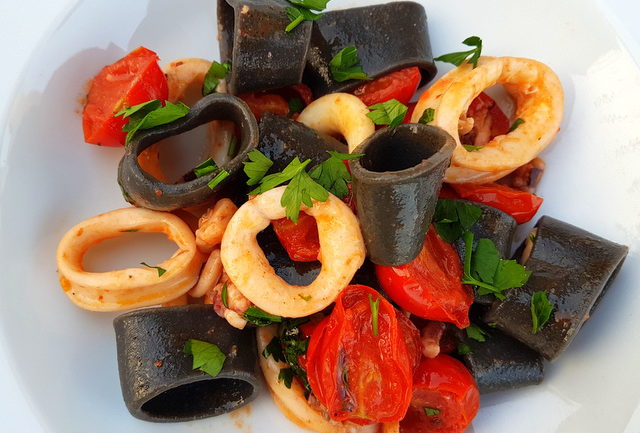 Another traditional Neapolitan seafood pasta recipe that is perfect for the holidays is La Calamarata. This dish is made with calamari (squid) and a type of pasta also called calamarata. This pasta actually looks like calamari rings, hence the name. Another pretty simple recipe that looks and tastes fantastic.
Pin for later.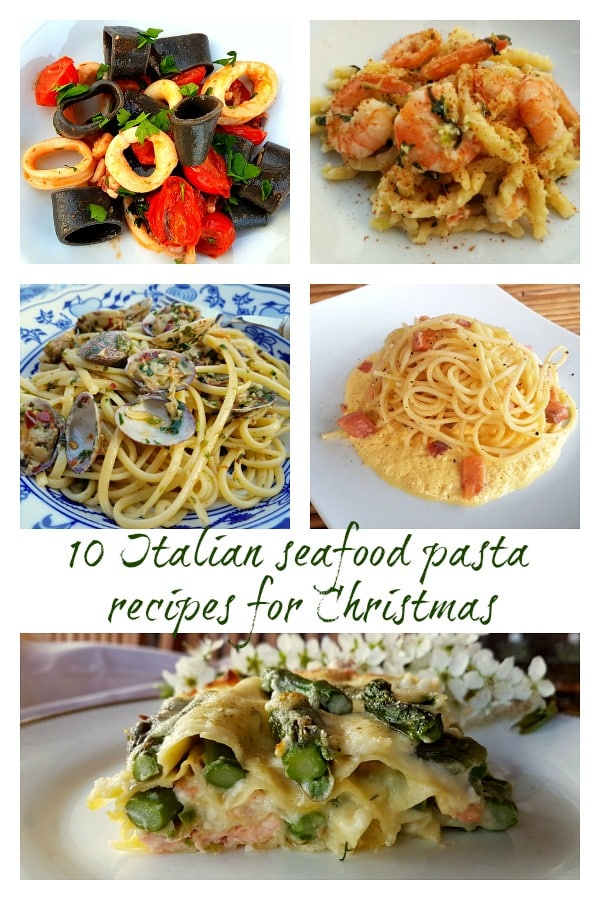 Tell me what you think!
If you make any of these seafood recipes have a look at our other Christmas pasta recipes too. Also, I'd love to hear how it turns out. Did your guests like it? Please write a comment here on the blog or post a comment on the Pasta Project Facebook page.
Your feedback means a lot to me!
Buon Appetito and Merry Christmas!
Pin for Later!