Spaghetti with salt cod (Baccalà)
I have long been fascinated by the fact that salted or salt cod is popular in many Mediterranean countries and has been for hundreds of years! This popularity is especially curious since these countries have their own fishing industries and catch fresh fish from their own seas and cod is not really found in the Mediterranean.
Drying and preservation only works with fish that have very little oil and fat. Cod fish, apparently, has very low levels of oil and most is located in the gut. Drying and salting enabled people to transport the fish long distances. Back in the 1500s, salt cod was popular on ships and became a staple part of sailors' diets. Eventually it started to be sold and eaten by people on the land as well because it was cheap and could be kept for very long periods of time.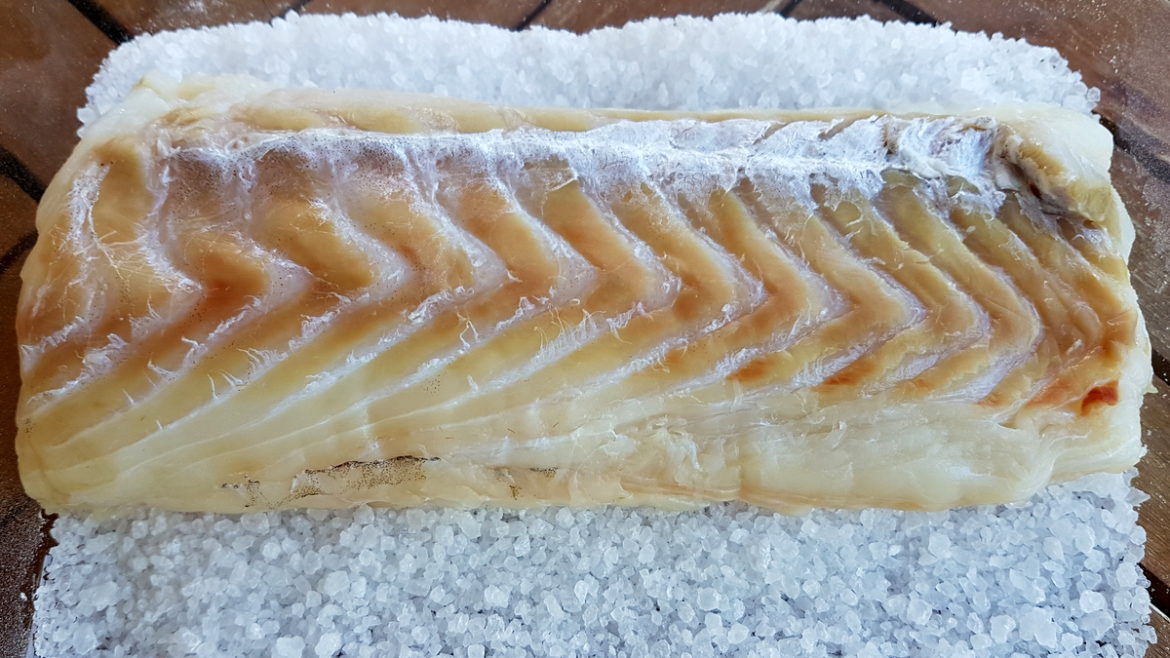 Originally most of the cod used to make salt cod in Europe came from the Grand Banks off the coast of Newfoundland. However, since the populations of cod have declined there due to overfishing and other reasons, most salt cod now comes from Norway or Iceland.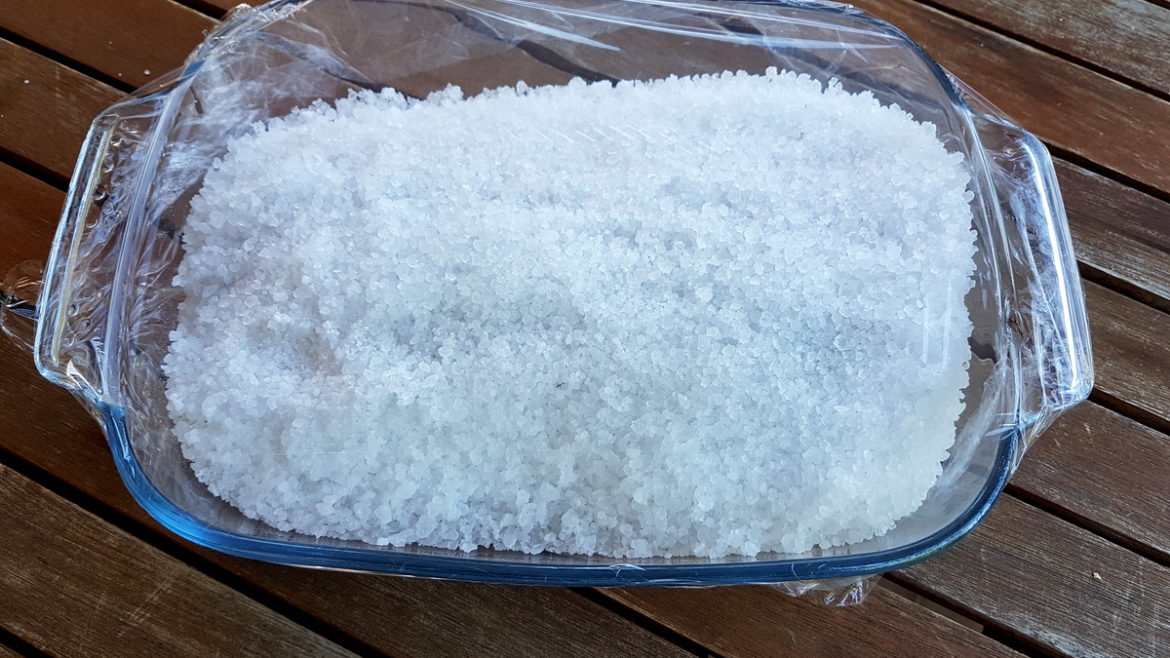 Baccalà in Italy
In Italy, two types of dried cod are popular, salted and air-dried. Fresh or frozen cod fish is called merluzzo in Italian, however, salt cod is called baccalà and air-dried cod is called stoccafisso (stockfish). Stockfish is even older in origin than salt cod and was most probably invented by the Vikings and brought to Italy by the Normans.
Many Italian recipes for baccalà can also be made with stockfish and vice versa. However, stockfish is more popular in Northern Italy and baccalà more commonly used in the South, where it is actually a traditional Christmas Eve dish.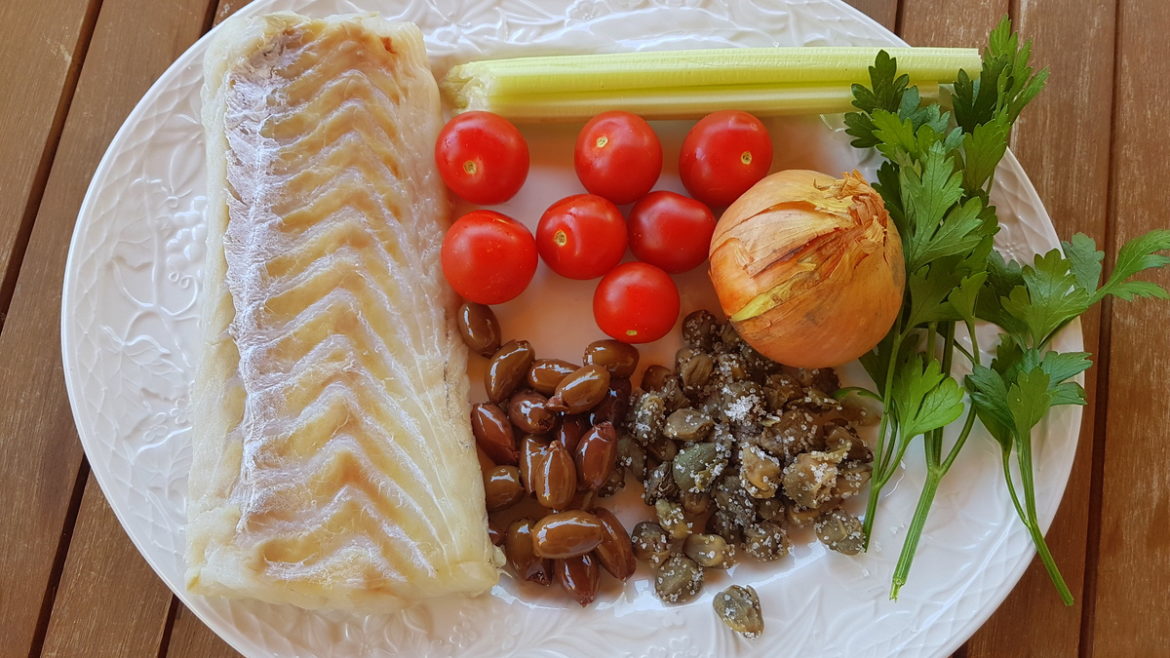 Once cod was really abundant and salt cod was a popular staple in Mediterranean countries, especially on Fridays and during Lent and other religious holidays which the Catholic Church ruled had to be meat free. Today, cod is less affordable and both baccalà and stockfish are quite expensive and can cost anything between about 12 and 32 euros a kilo, depending on the quality and the source. I am not sure about Italy but I know that in some places other types of white fish, such as Pollock, haddock and whiting are marked and sold as baccalà!
Preparing both stockfish and baccalà is quite a long process because the fish must first be rinsed to remove the surface salt and then soaked in fresh water for up to three days during which the water has to be changed 2-3 times a day! Once re-hydrated the fish can be used for cooking.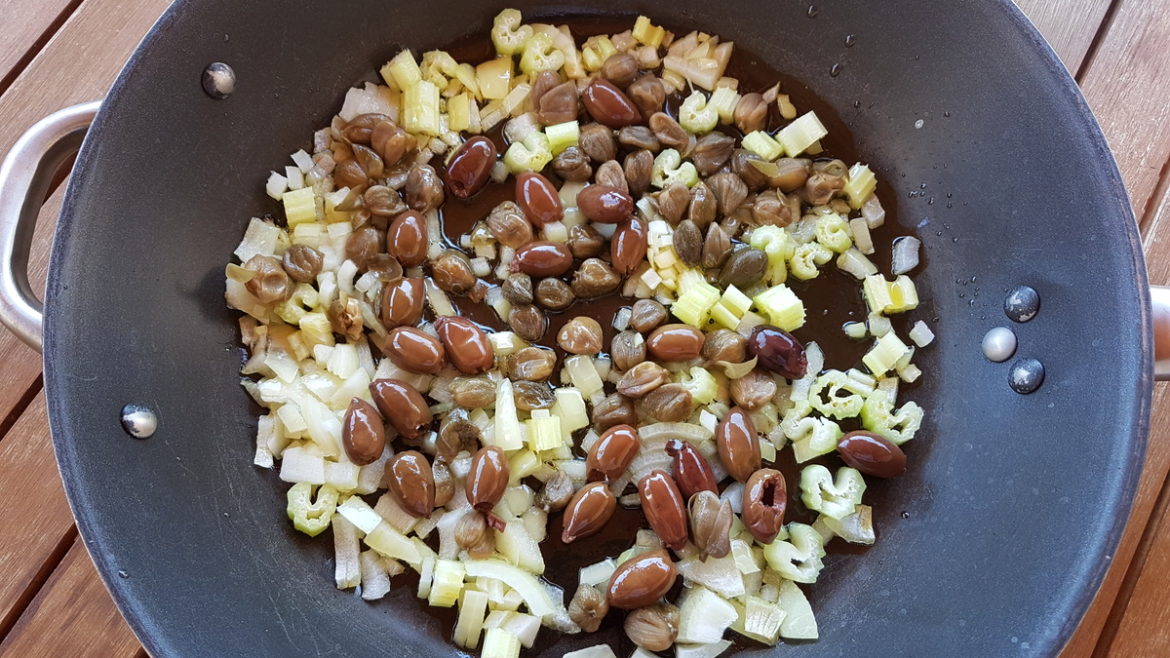 If the quality of the baccalà or stockfish is good then it really can be used in many delicious dishes. Well-cooked baccalà or stockfish is not at all fishy in flavour and should be slightly chewy and remain firm even when flaked. Here in Veneto usually stockfish, but also Baccalà, is used to make a recipe called Baccalà alla Vicentina. The fish is cooked in milk for up to 4 hours and served with polenta. In Livorno, salt cod is cook with tomatoes, garlic and basil. In Naples, where legend says there are 365 ways to eat baccalà, it's often served with tomato sauce flavoured with capers, olives and pine nuts. In the Southern regions, such as Sicily and Puglia, baccalà is also often served with pasta.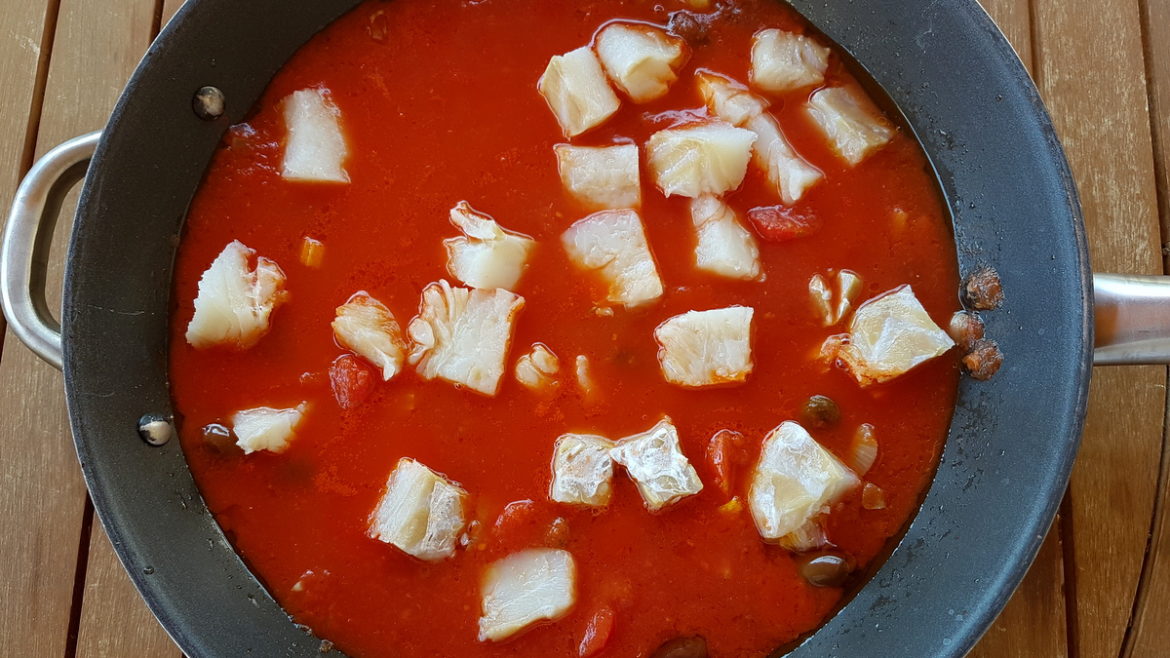 Homemade baccalà!
Having eaten it in Sicily, I had been wanting to make this typical Sicilian baccalà recipe called 'alla ghiotta' with pasta for a long time. However, after trying it, I found the process of rehydrating the fish for 3 days rather unpleasant and the result not guaranteed. I once actually threw away an 18 euro piece of stockfish because it didn't taste or smell right!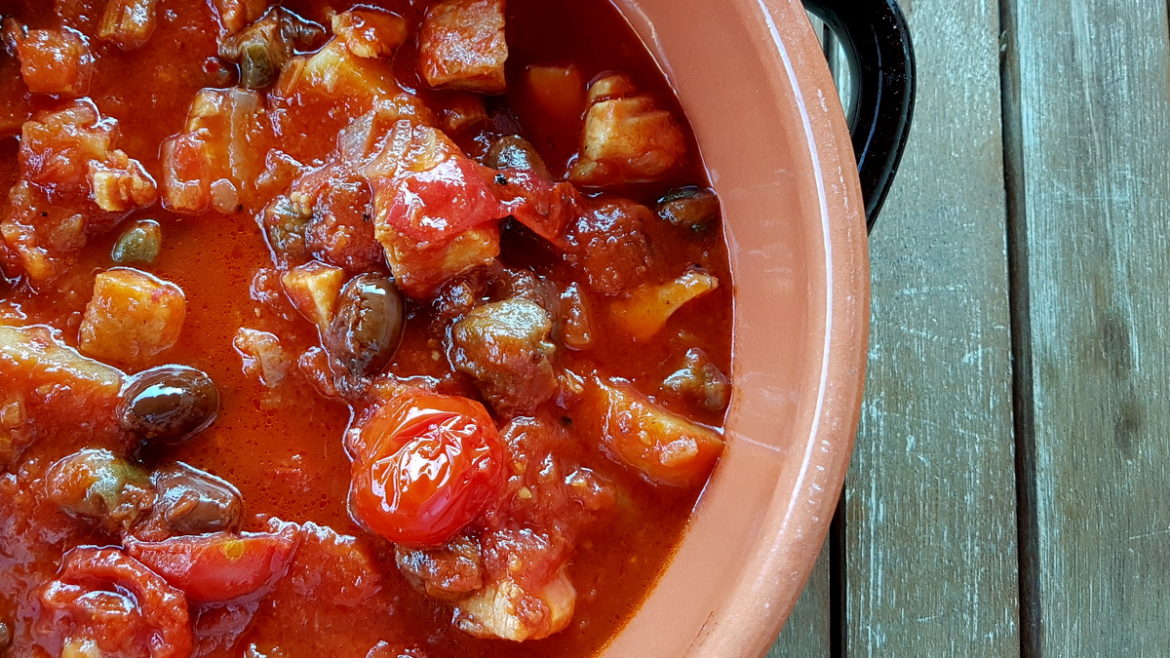 Then a chef friend of mine suggested I make my own baccalà! This actually turned out really well and was far easier to do than using ready salted or air-dried cod.
I bought a nice frozen Norwegian cod fillet, defrosted it, patted it dry and left it in the fridge covered in sea salt for 2 days. I then washed off the salt and let it soak for a couple of hours, changing the water every now and again, and then I cooked my dish. The result was really good!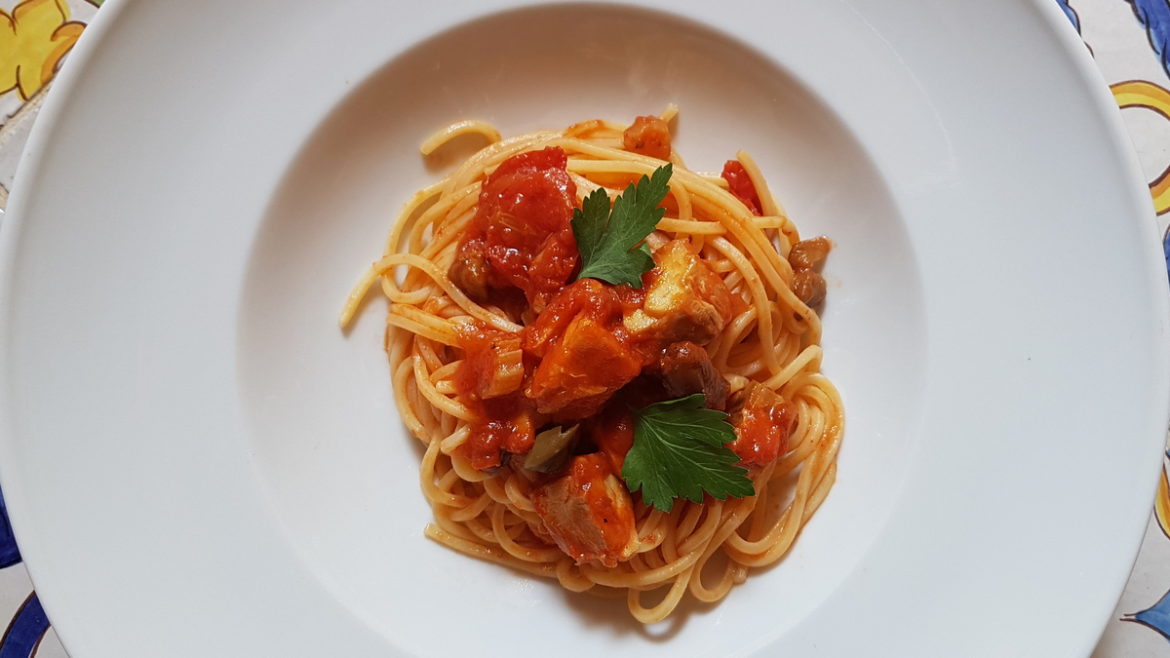 This recipe can be used to make two dishes. In Sicily it's quite common to serve the sauce and a little of the fish with pasta and then eat the rest of the fish with the potatoes as a main course (which is what I did). Alternatively you can make it without potatoes and use it only as a pasta sauce. Although preparation takes a couple of days, it actually involves very little effort and cooking times are short. I hope that if you like baccalà you will give it a try.
Buon appetito!
(See the recipe on the next page)