Strozzapreti Pasta with Swordfish Recipe from Sicily.
Strozzapreti with swordfish is a delicious example of how Southern Italians pair pasta with swordfish. It's full of typical Mediterranean flavours and very easy to make!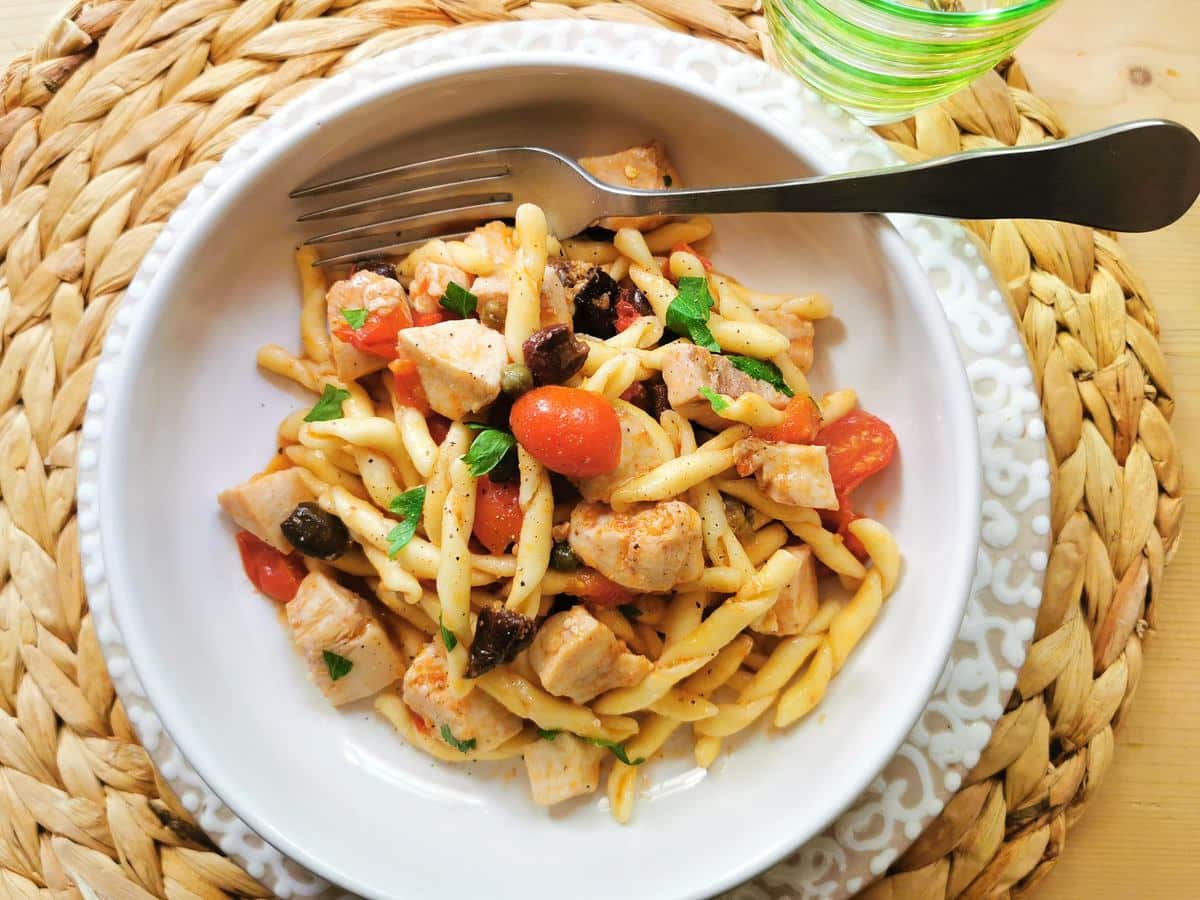 Sicilian Strozzapreti with Swordfish.
Swordfish is a very popular steak fish loved by children and adults alike. As a kid, I remember eating it a lot when on holiday in Spain. I'm talking about a fair number of years ago now, of course, which I guess is a way of saying I'm no spring chicken!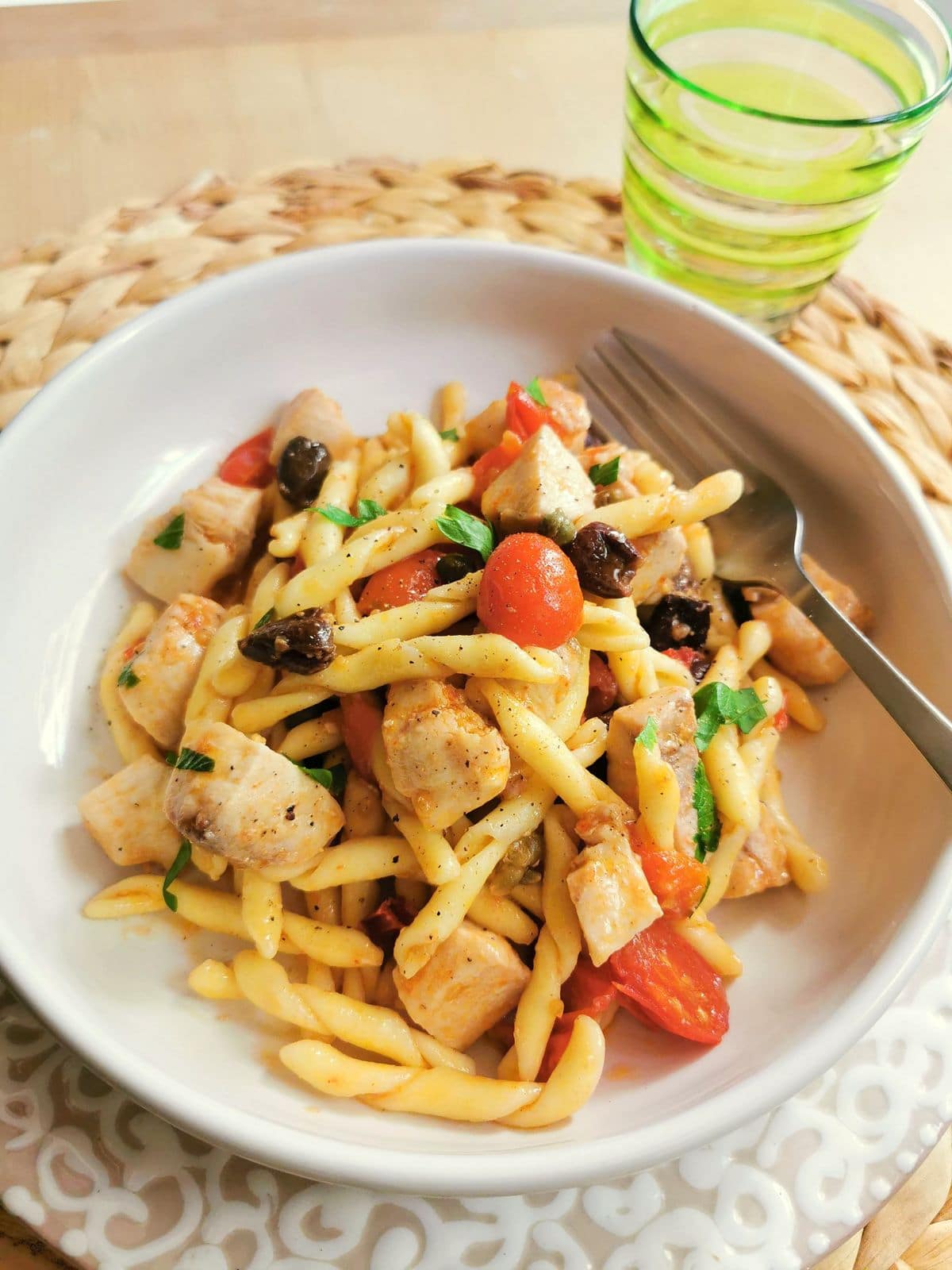 Today, you can find swordfish in supermarkets or fishmongers everywhere! But, outside of Italy, it's most often served as a main course either fried, grilled or oven baked. However, swordfish is a fabulous fish for pasta recipes. I only started eating it with pasta after moving to Italy. In fact, since coming to live here in 2003, I've developed a passion for almost any kind of seafood pasta!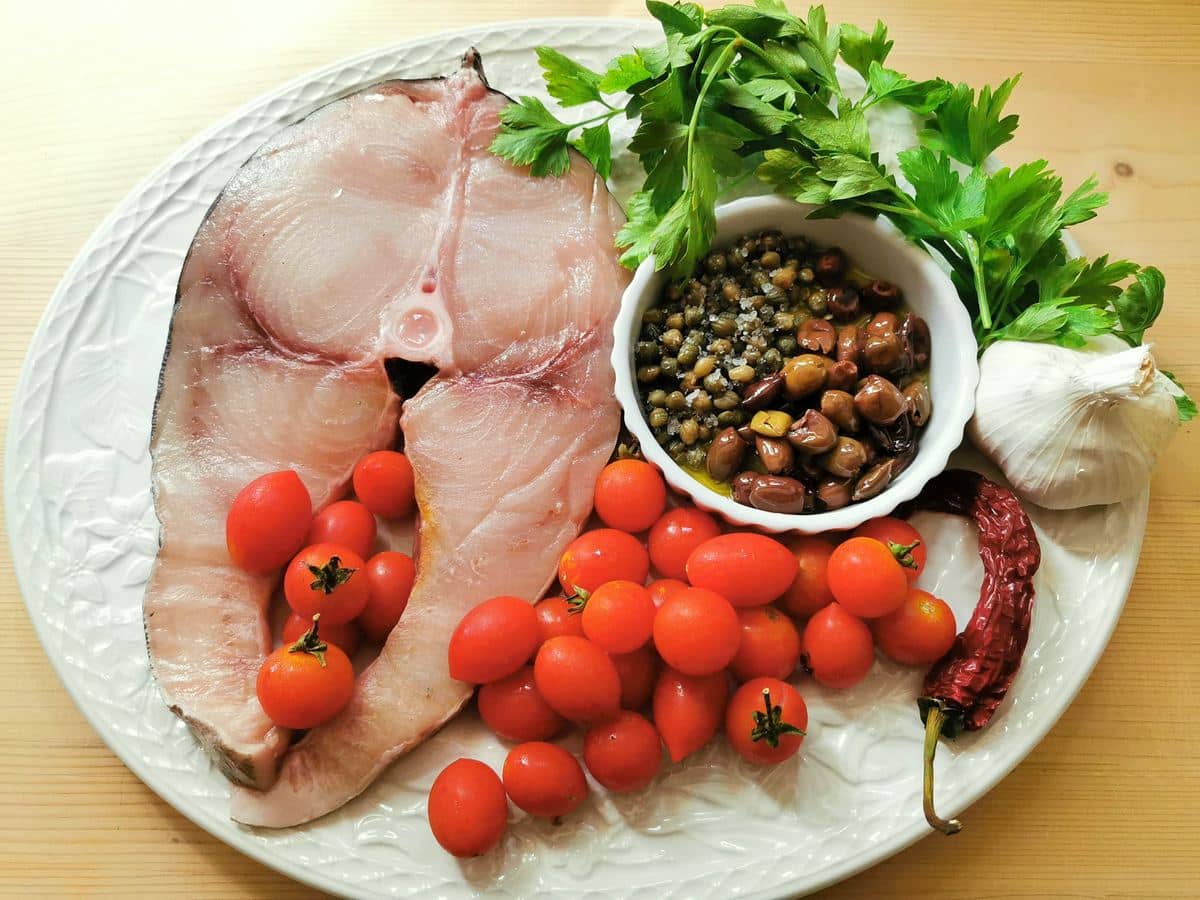 Luckily for me, my hubby is Sicilian and he loves to cook and eat seafood pasta dishes. He's introduced me to so many wonderful dishes at home in our kitchen and whilst travelling around Italy. Most especially in Sicily, where seafood is king of the kitchen and pasta its queen!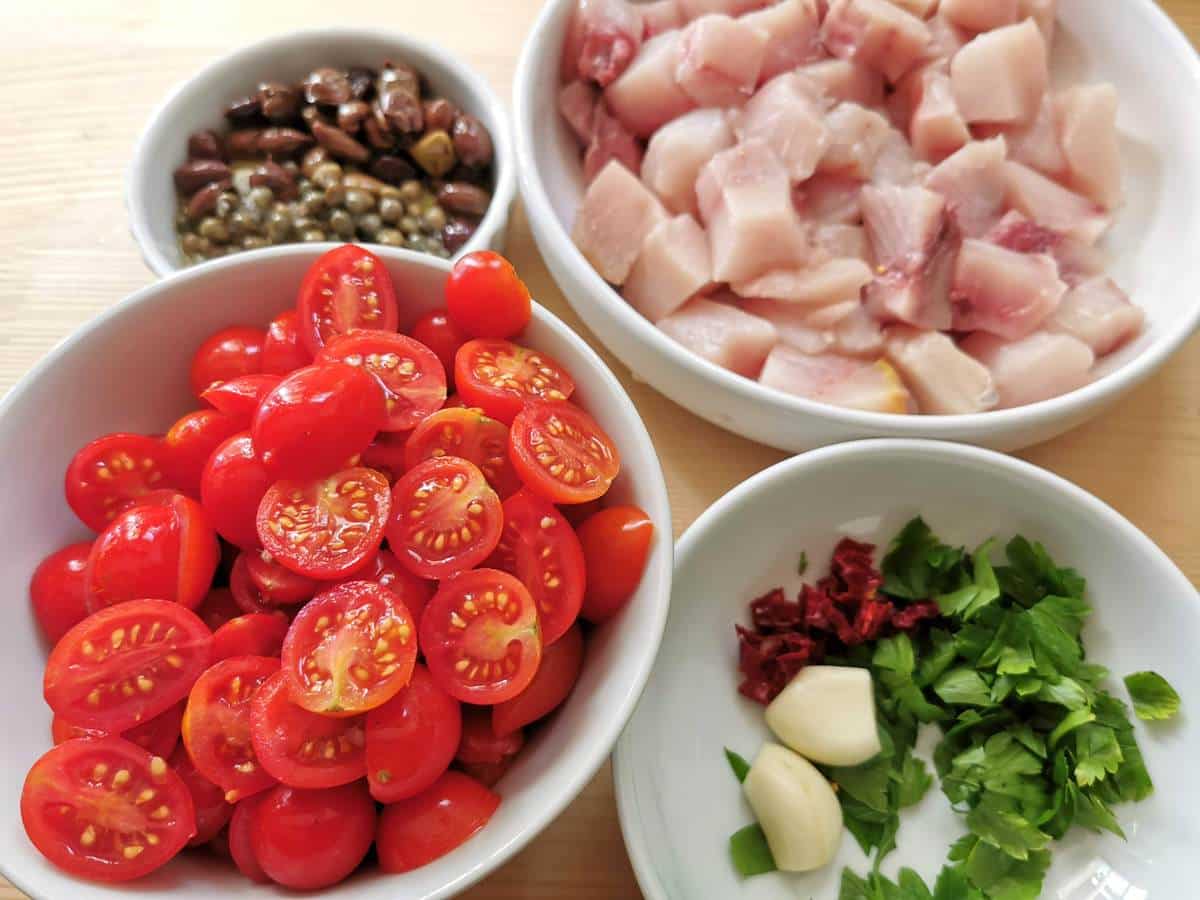 Seafood in Sicily.
I'll never forget our first trip to Sicily for Valentine's 2004, when we went to eat at a trattoria in the small harbour of Acitrezza . The restaurant had a wonderful display of seafood, most of which I couldn't put names too. It was my first time eating things like sea dates, sea urchins, venus clams, mantis shrimps, razor clams, bottarga and more. And my first time eating pasta with some of these.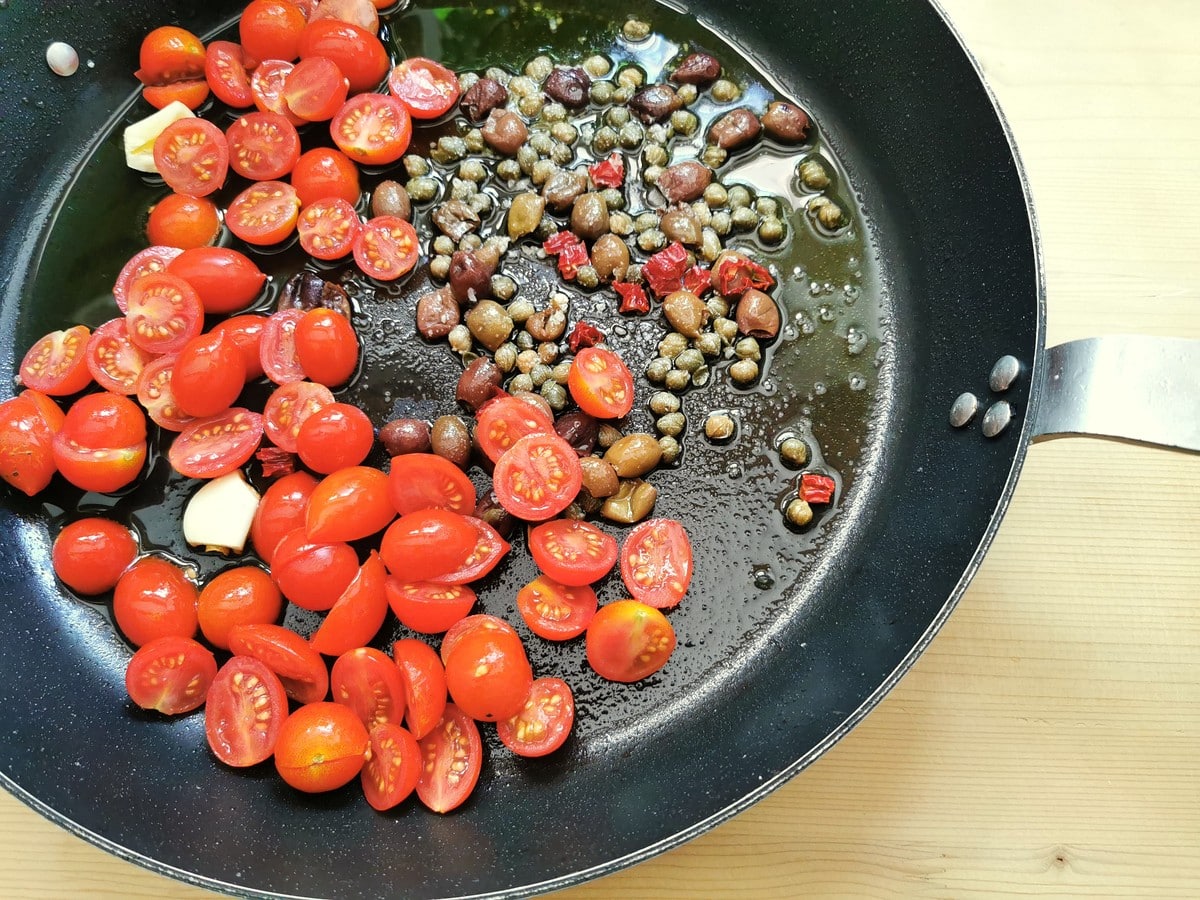 Since that day, I've been hooked on the Sicilian seafood, on pasta with sea food and on my hubby too! (We weren't married then.) The way to this woman's heart was obviously through her stomach!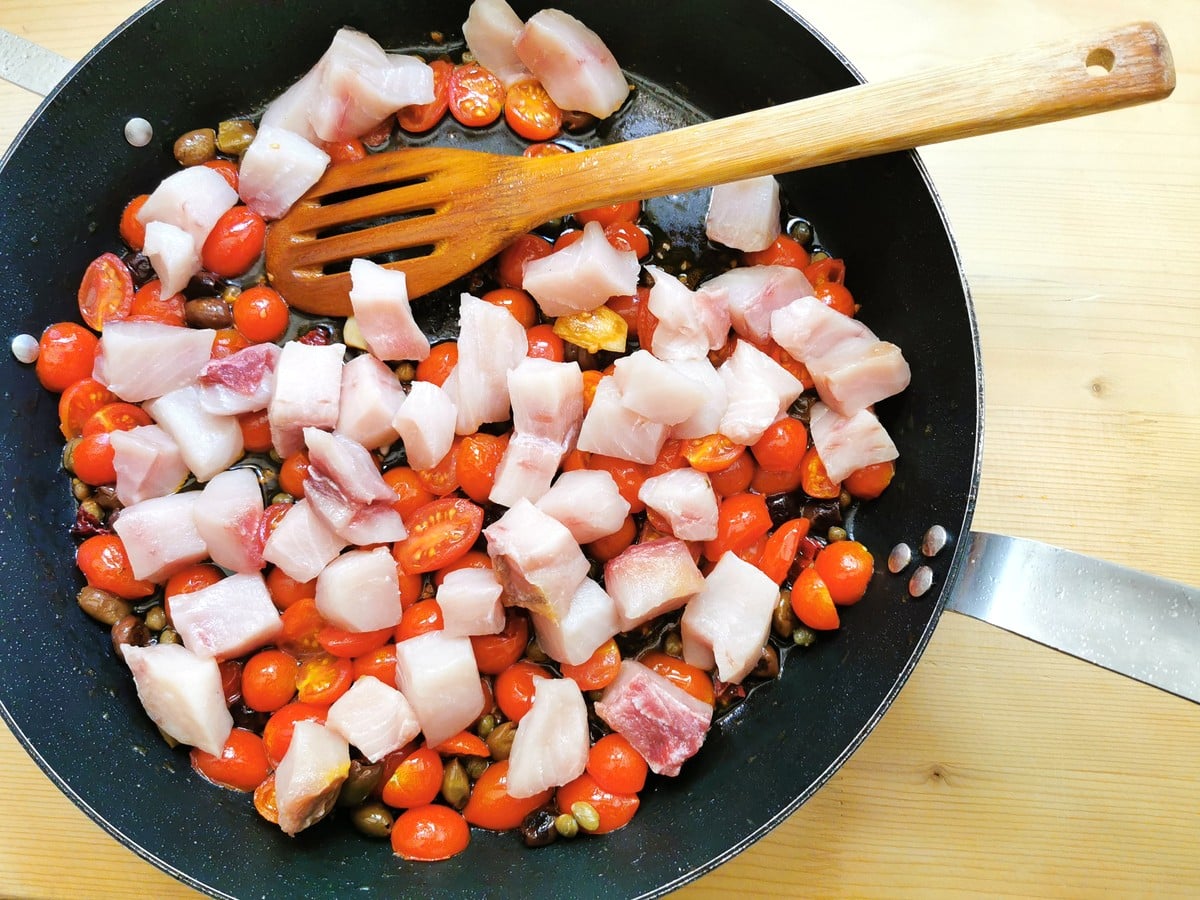 The pasta for this recipe.
Enough reminiscing! Now for the subject of today's post, Sicilian strozzapreti with swordfish! As I have mentioned in other posts, strozzapreti pasta is an elongated type of trofie, most often handmade. But, we can also buy it dried. The name 'strozzapreti' means priest strangler or choker. You can read how this pasta got its name on my strozzapreti post.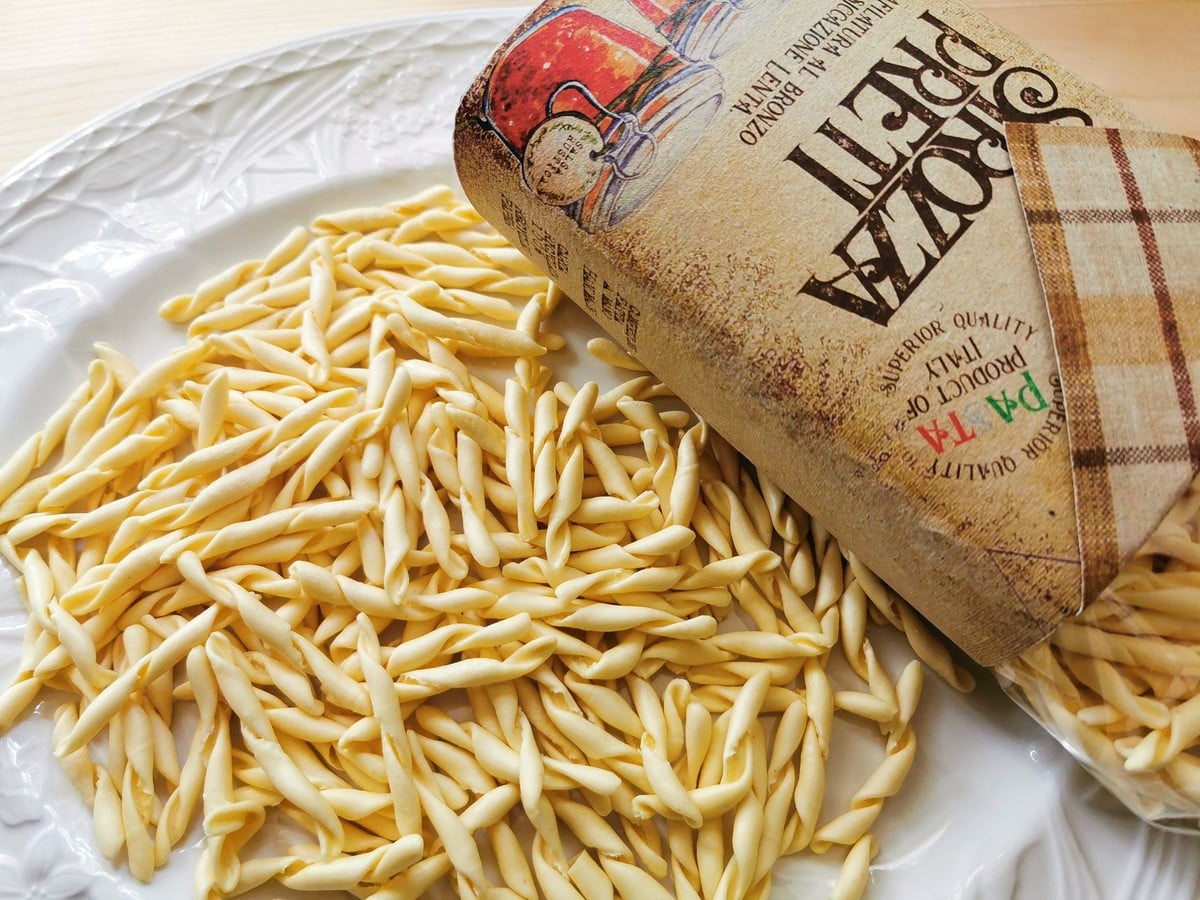 Strozzapreti pasta is very often eaten with heavier meat sauces, especially away from coastal areas. However, it's also a popular pasta partner for richer seafood sauces like this pasta with swordfish.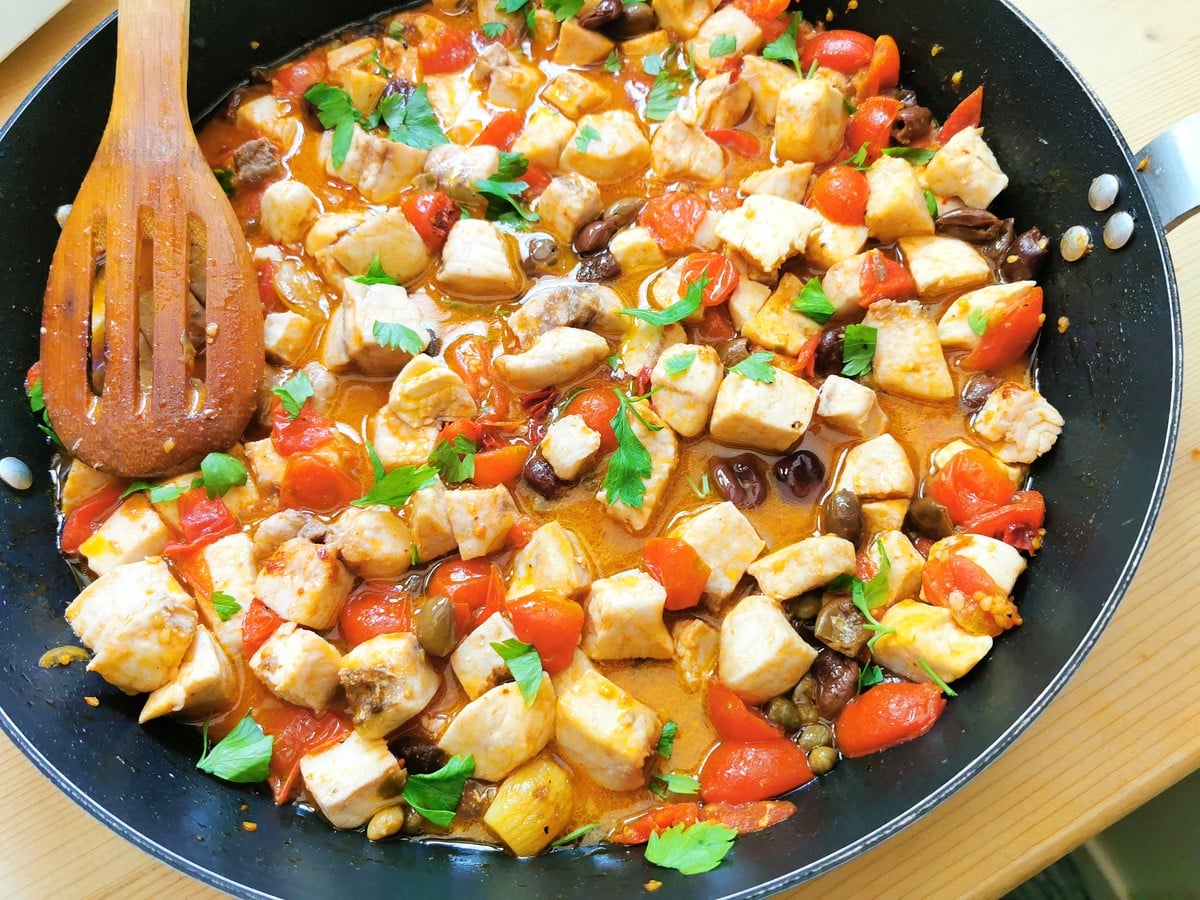 In Sicily, they also make a divine pasta with swordfish and eggplant and mint . However, normally the main ingredients are those typical of Central and Southern Italy; tomatoes, capers, olives, garlic, parsley and a little peperoncino for those who want theirs to have a bit of a kick!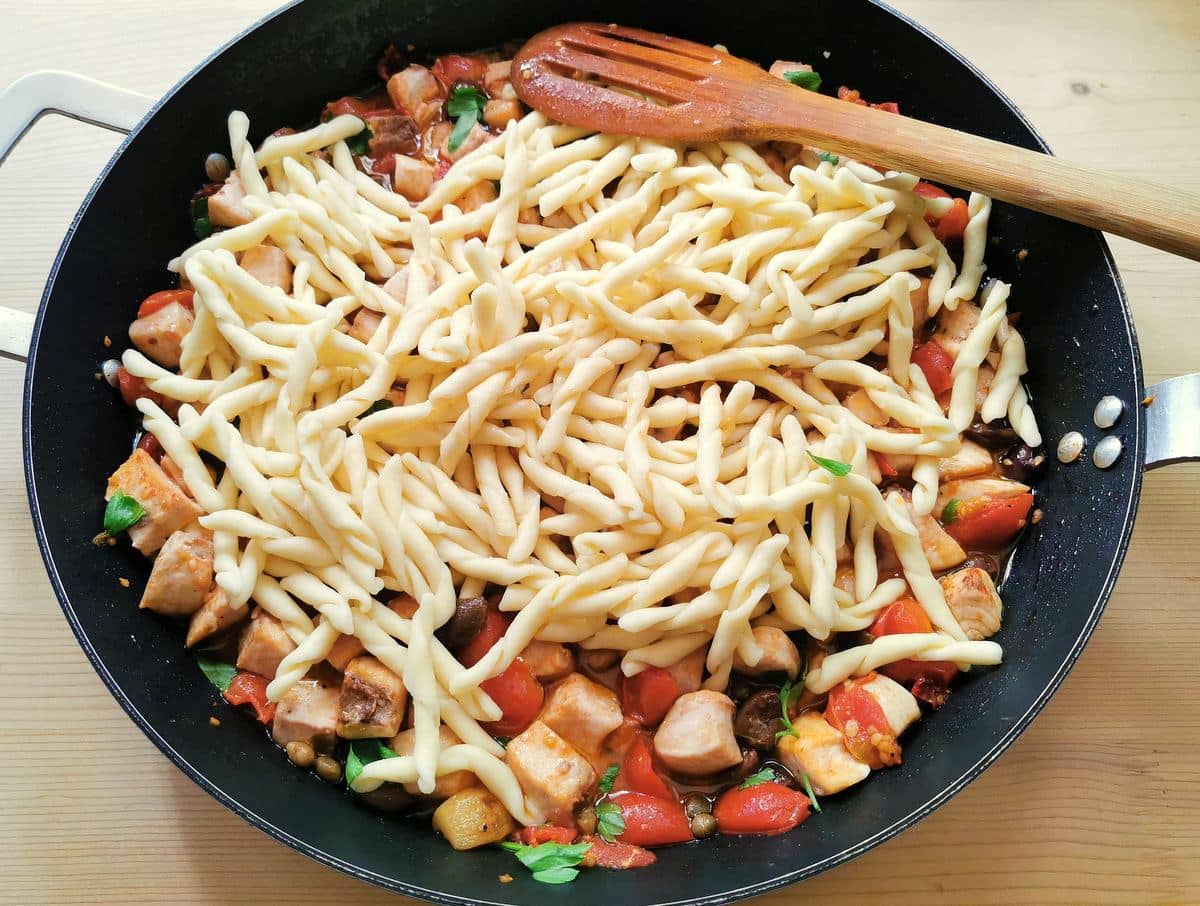 This strozzapreti with swordfish recipe can also be made with other short pasta such as casarecce, rigatoni or penne. Do try it. I'm sure you'll love the combination and be coming back for more time and again!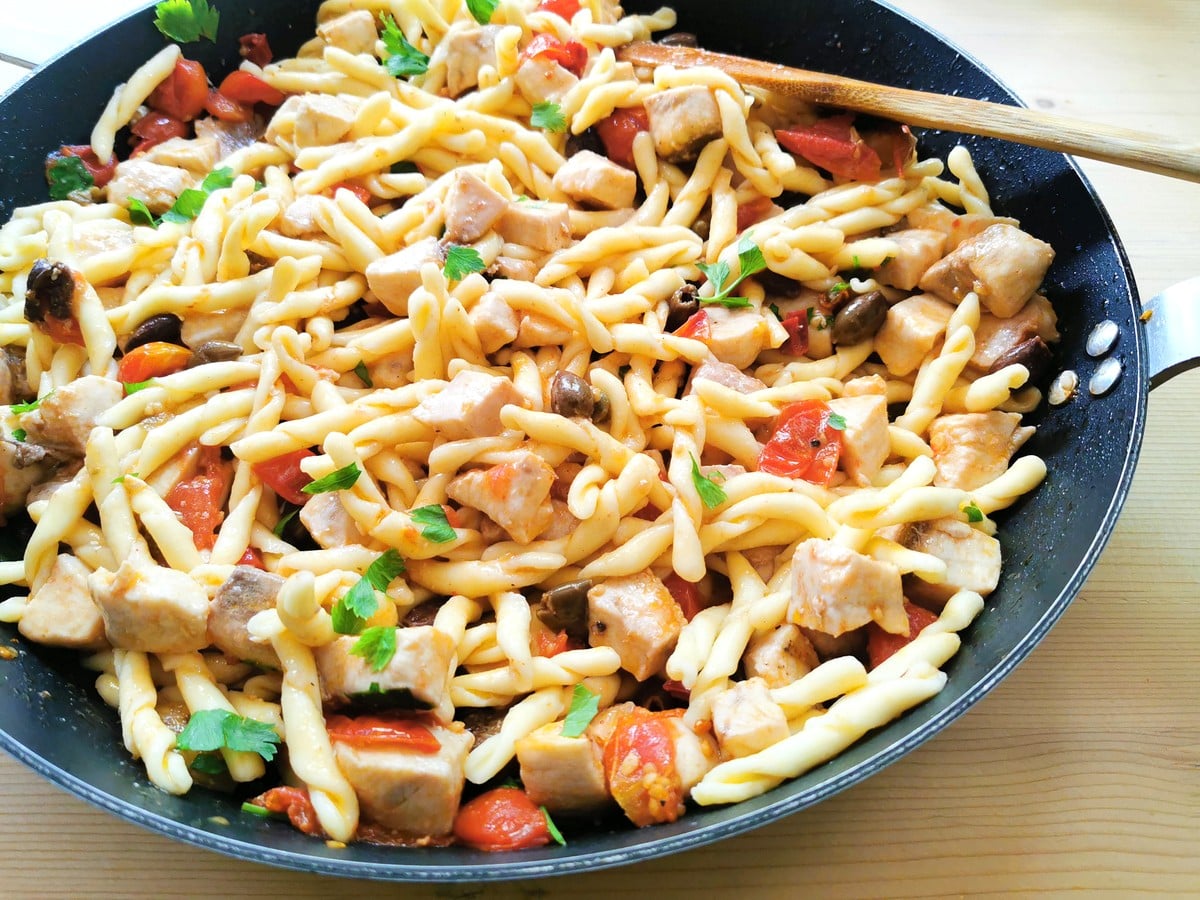 Please do let me know if you make this pasta with swordfish dish. I'd love to hear how it turns out and if you liked it. Please leave a comment here on the blog or on The Pasta Project Facebook page.
Looking forward to hearing from you!
Buon Appetito!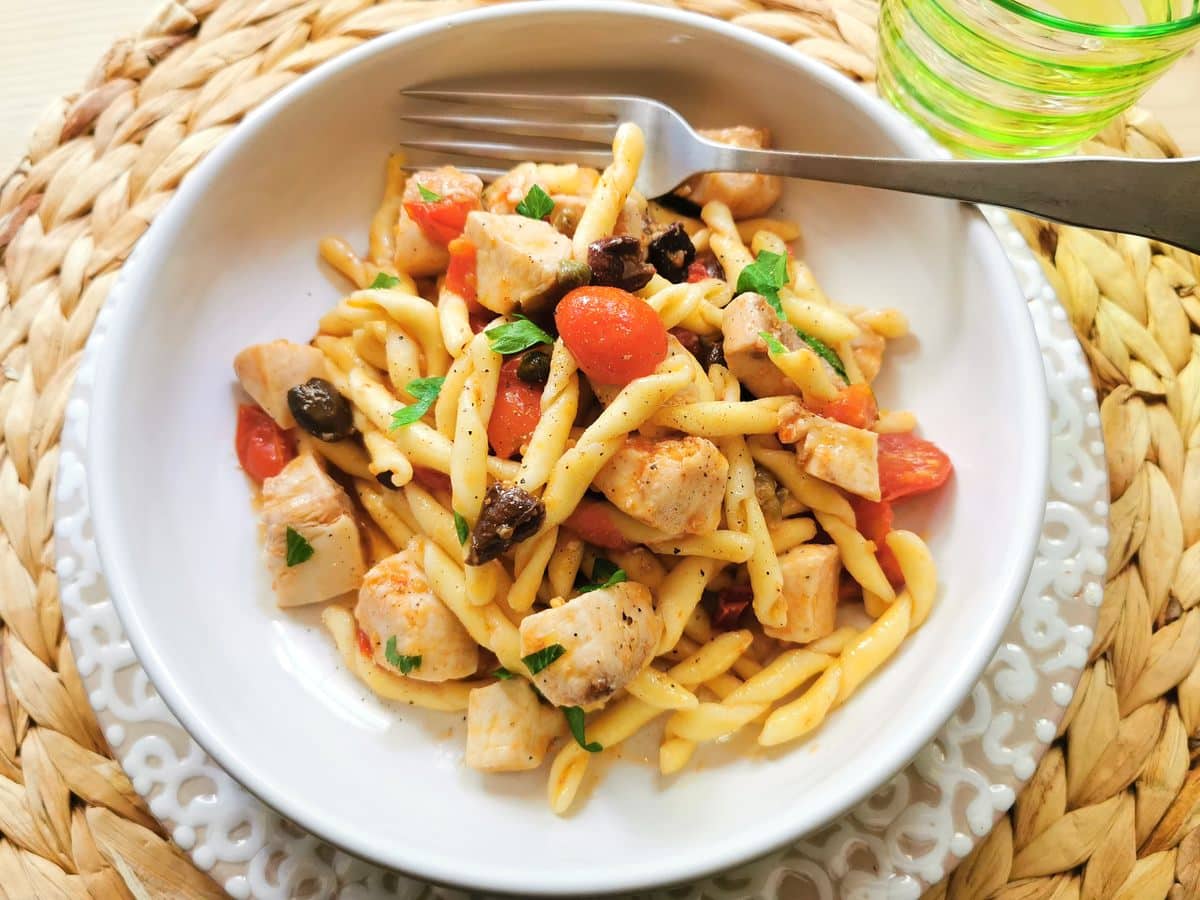 SAVE THIS RECIPE FOR LATER?
If you want to save this recipe for later, you can print it, bookmark this page or save it to Pinterest.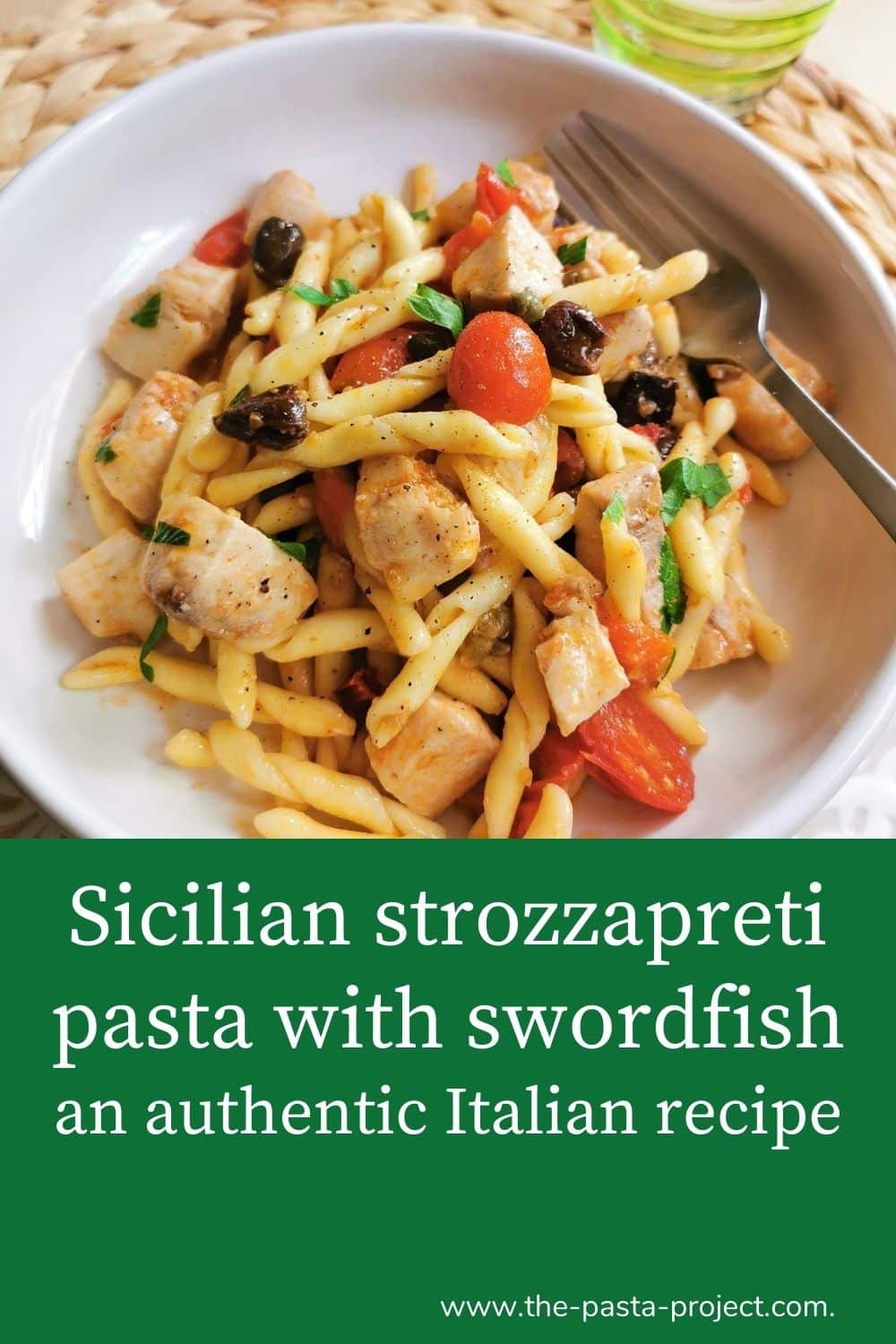 Other seafood pasta recipes to try!
If you are interested in learning how to make homemade pasta and other types of gnocchi, check out my shop page for some great video online courses from my friends in Rome! Nothing beats learning to make pasta from Italians! Plus while you're there why not order a copy of my newly published autumn/winter pasta recipes cookbook!
This recipe was first published in 2017 but has been updated with new photos and text.
Pin me!