This Italian creamy smoked salmon pasta recipe tastes like a luxurious and indulgent dish. But, it's actually super simple to make and calls for just a handful of ingredients. Perfect for special occasions, date nights or just whenever you're craving a delicious and comforting meal.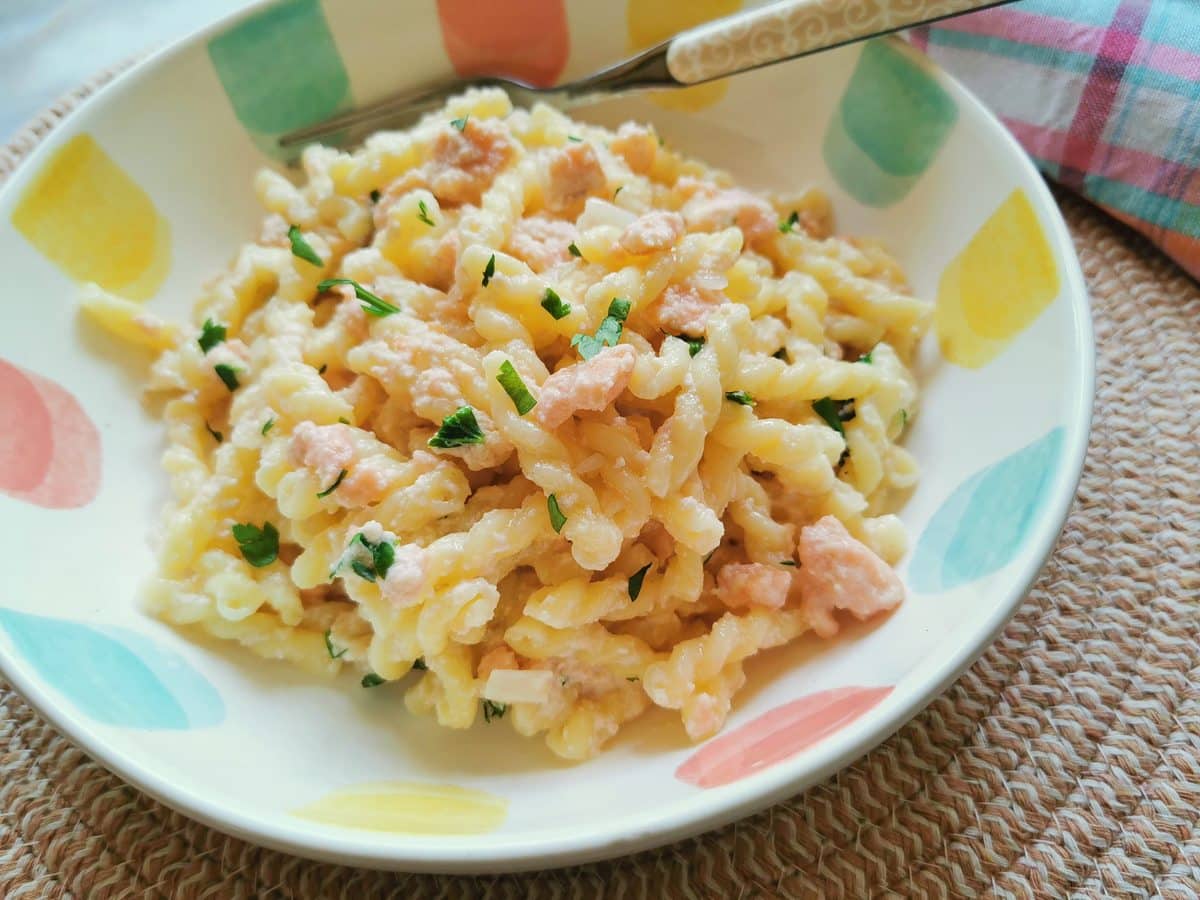 Smoked salmon in Italy.
Although smoked salmon isn't a traditional Italian ingredient, it's become extremely popular in Italy. In fact, there are quite a few companies smoking salmon here. However, the salmon itself normally comes from Scotland, Alaska, or Norway.
Italians rarely serve smoked salmon on sliced bread as people do in other countries. They prefer to eat the salmon as an antipasto/starter, such as in a tartare or roll ups (involtini), in salads, with eggs or in savoury tarts. However, one of the most popular and common ways is with pasta like in this creamy smoked salmon pasta recipe.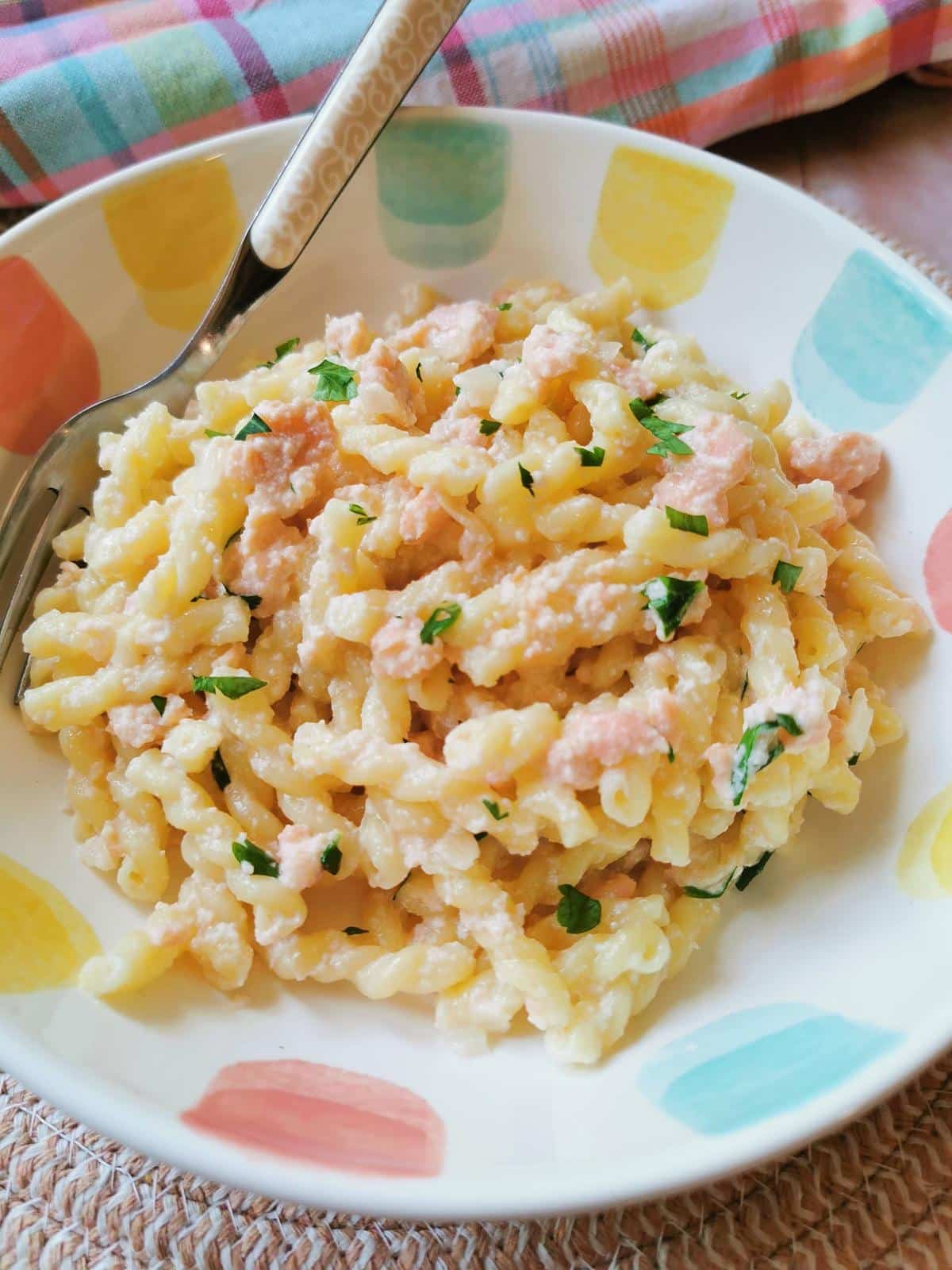 Cold or hot smoked salmon.
I used cold smoked salmon for this creamy smoked salmon pasta recipe. And, that's what I usually use whether in pasta recipes or other dishes. Most smoked salmon here in Italy is cold smoked.
But, what's the difference between cold and hot smoked salmon? Both are popular preparations of smoked salmon, but they differ in terms of flavour, texture, and how they're processed.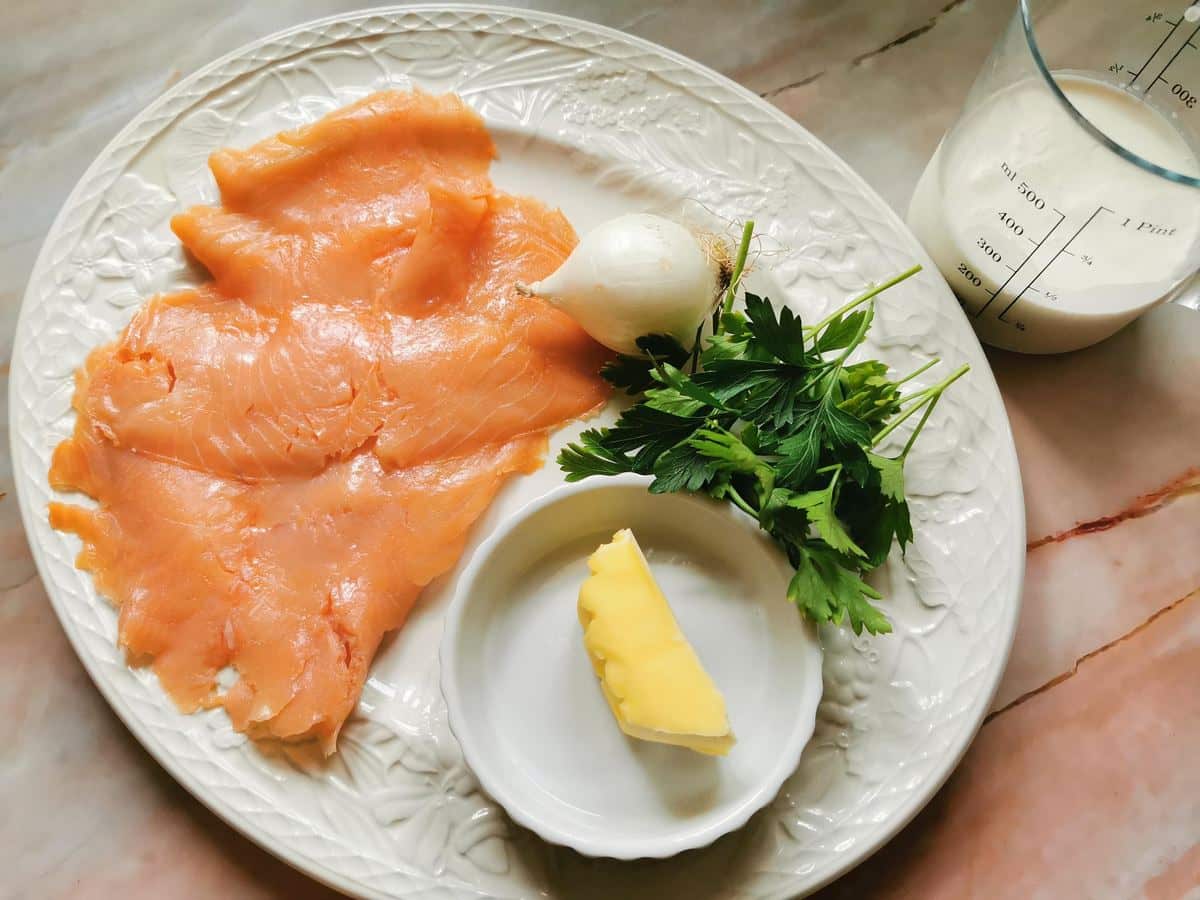 Here's a breakdown of the differences between the two.
Cold Smoked Salmon: This method involves smoking salmon at a relatively low temperature (usually below 80°F or 27°C) for an extended period, often 12 to 24 hours.
The goal is to infuse the salmon with a smoky flavour while maintaining its raw or partially raw texture. Cold smoking typically doesn't fully cook the fish, which is why it's sometimes referred to as "lox."
Hot Smoked Salmon: In this method, salmon is smoked at a higher temperature (around 140°F to 160°F or 60°C to 70°C) for a shorter duration. The higher heat cooks the salmon through while also imparting a smoky flavour. The result is a firmer, flakier texture and a fully cooked product, similar to cooked fish.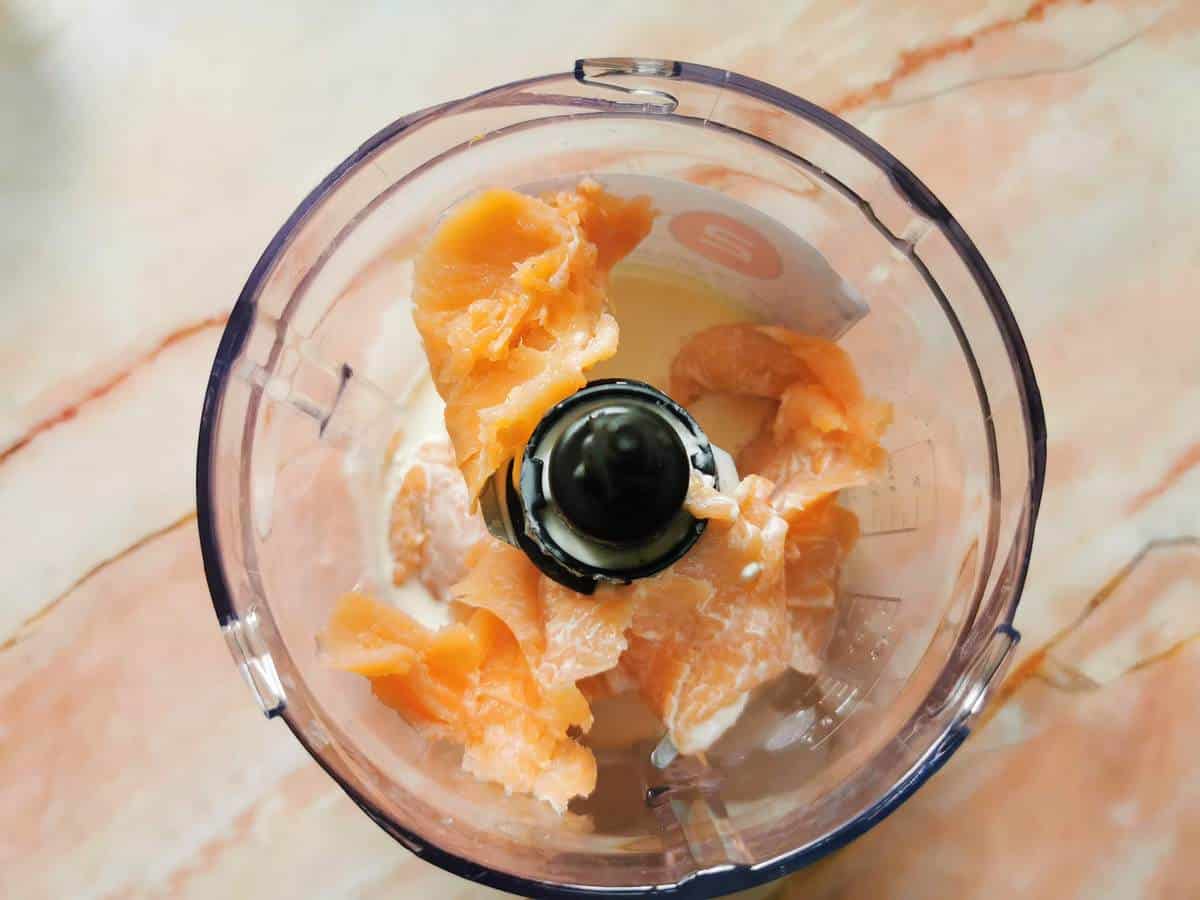 Texture and Flavour.
Cold smoked salmon has a silky and delicate texture. It's often sliced thin and has a buttery mouthfeel. The flavour is milder and focuses more on the smokiness and the natural taste of the fish.
Hot smoked salmon has a firmer texture with a lot flakier consistency and more intense smoky flavour. The cooking process causes the proteins in the fish to coagulate, resulting in a cooked and somewhat denser texture.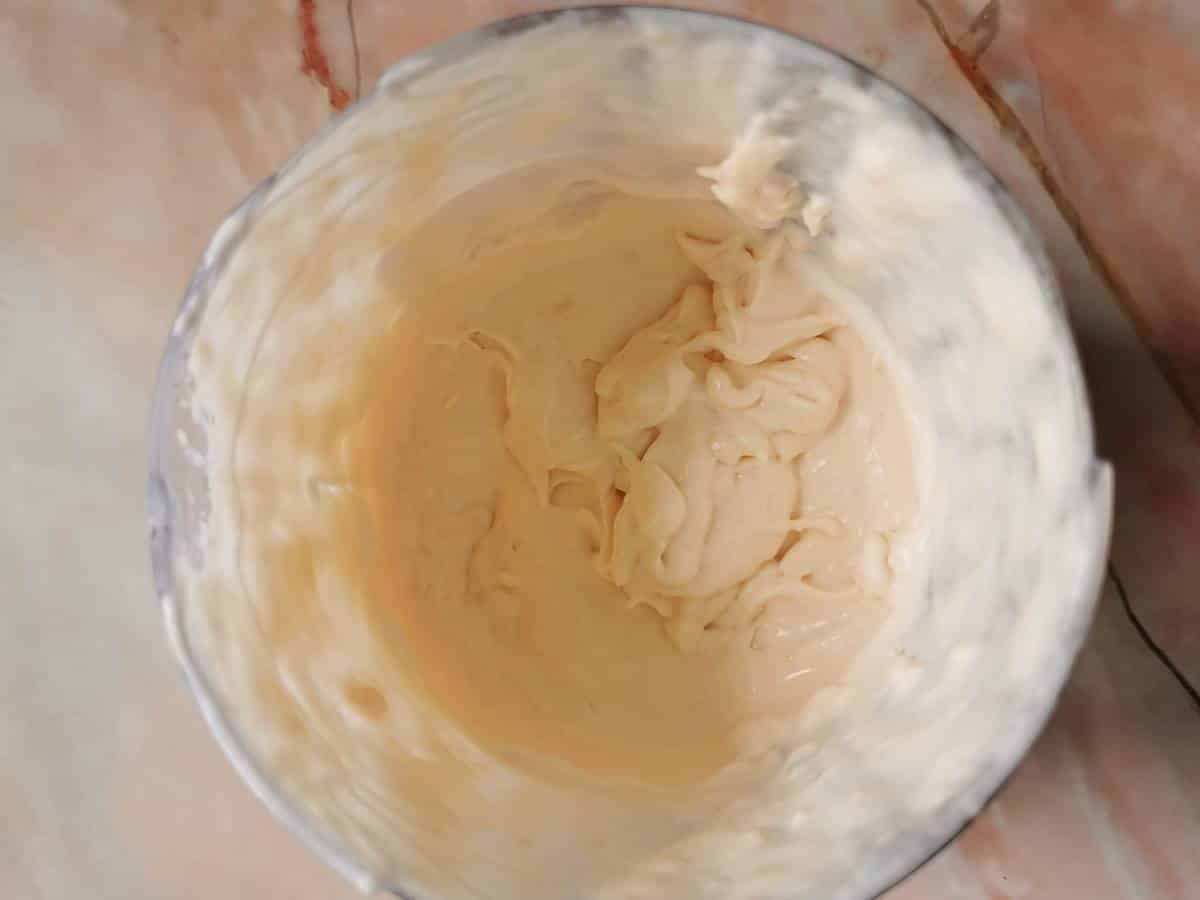 Uses of cold and hot smoked salmon
Cold smoked salmon is commonly used in dishes like bagels with cream cheese and lox, sushi rolls, and salads. Its delicate texture makes it suitable for dishes where the fish is not cooked. Hot smoked salmon is often served as a main dish on its own or as a part of a larger meal.
For smoked salmon pasta recipes many chefs think hot smoked salmon is better. But, as I mentioned above, here in Italy, it's not so widely available. Consequently, Italians use cold smoked salmon in their pasta. You can use either.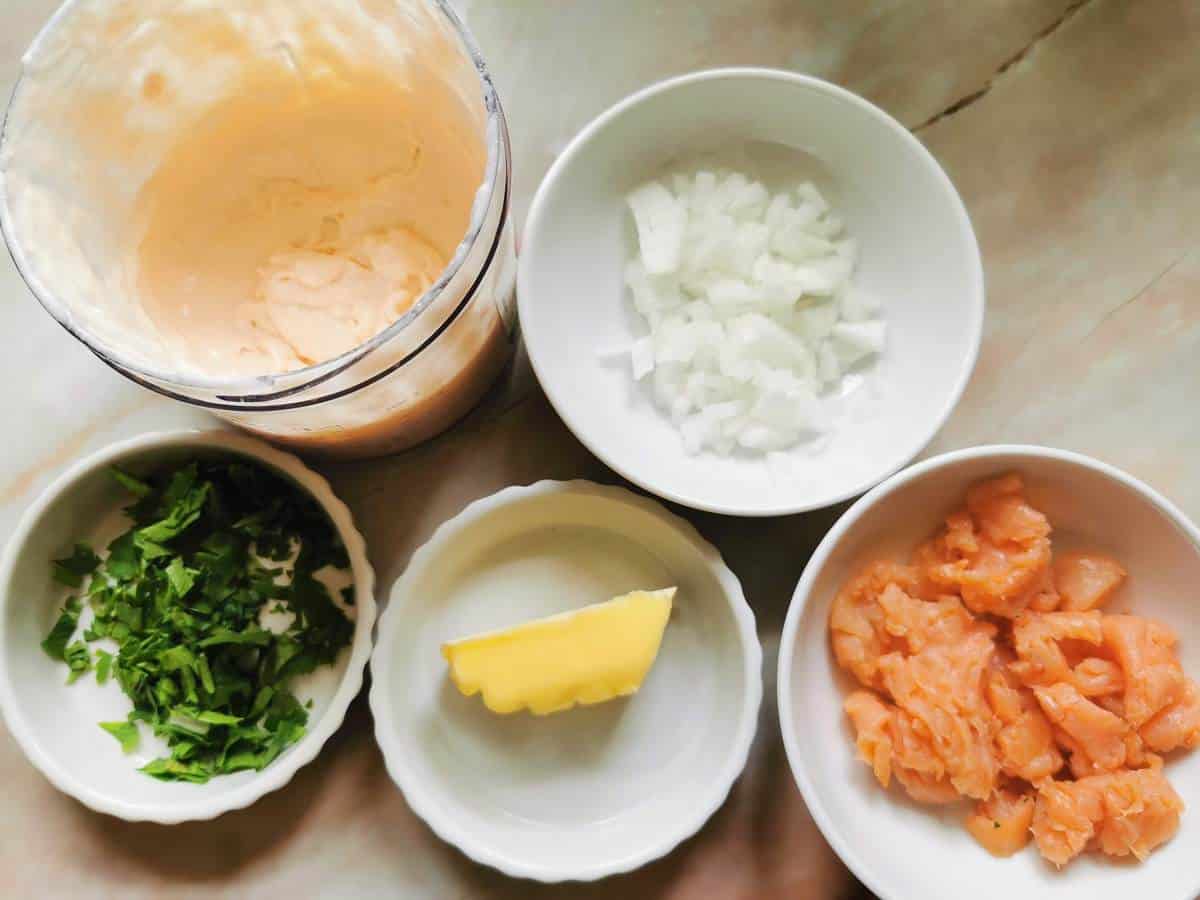 The pasta.
I love using short pasta with this creamy smoked salmon sauce. But, it would also be delicious with long egg noodle such as fettuccine or tagliolini. This time I use treccine made by one of my favourite Northen Italian pasta makers, Felicetti. (My opinion!).
Treccine pasta is very similar to gemelli. Both look like two strands of twirled pasta braided together! In fact, the word 'treccine' means little braids (or plaits in British English) from the Italian 'treccia'. A number of Italian pasta companies also make a larger size of this pasta which they mostly call 'trecce'.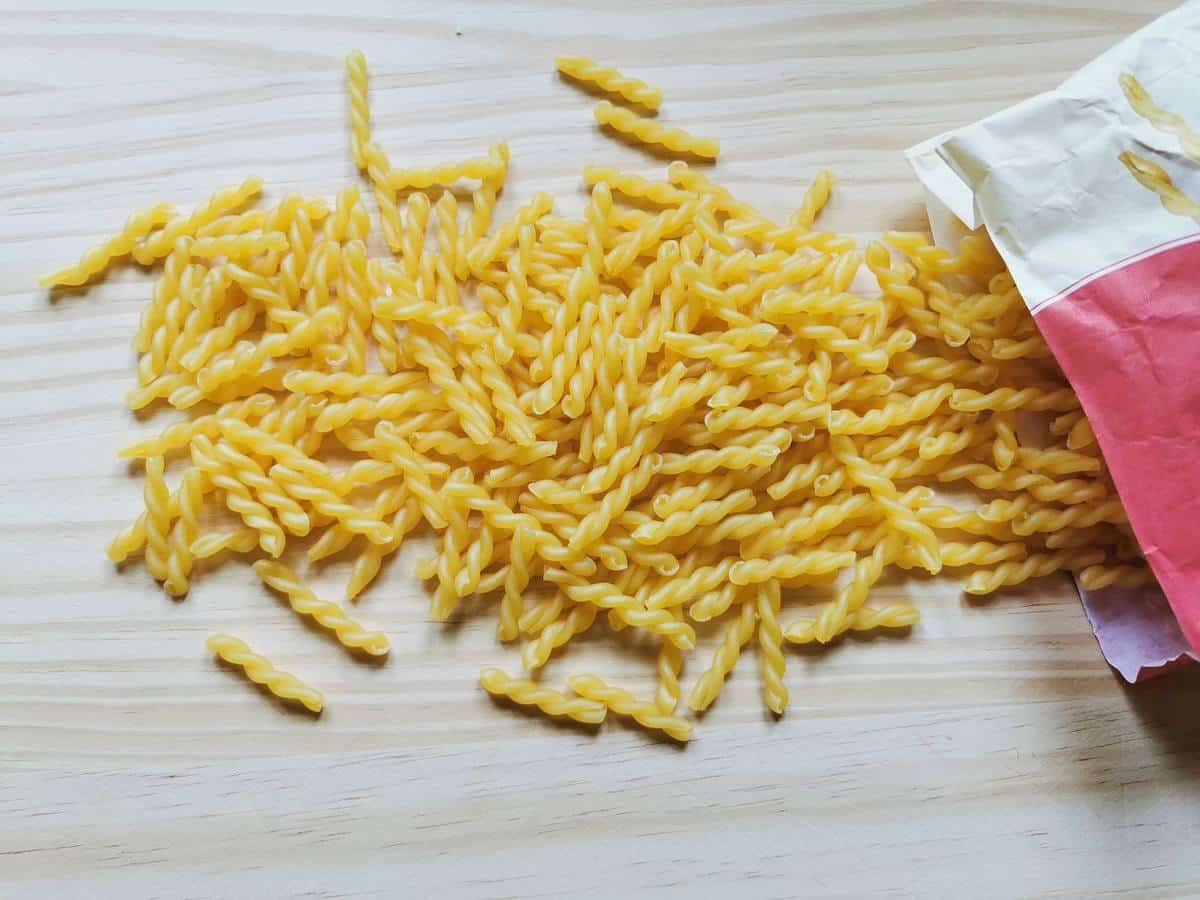 Ingredients for creamy smoked salmon pasta.
The smoked salmon: As mentioned above, you can use hot or cold smoked salmon for this recipe. Half the salmon is puréed with fresh cream to make the really delicate and flavourful creamy sauce. The rest of the salmon needs to be cut into small pieces and quickly sautéed in butter with onions.
Onion: I used a white onion as they have a more delicate and sweet flavour which won't overpower the salmon and cream Yellow onions work too as they are also quite sweet.
Cream: This smoked salmon pasta calls for fresh cream. You could also use half and half.
Butter: Unsalted butter is best because smoked salmon can be a little salty and there's also salt in the pasta cooking water.
Parsley: A handful of fresh parsley adds colour and freshness to this creamy smoked salmon pasta sauce. If you don't have parsley on hand, you can also use fresh basil, or dill which goes so well with salmon.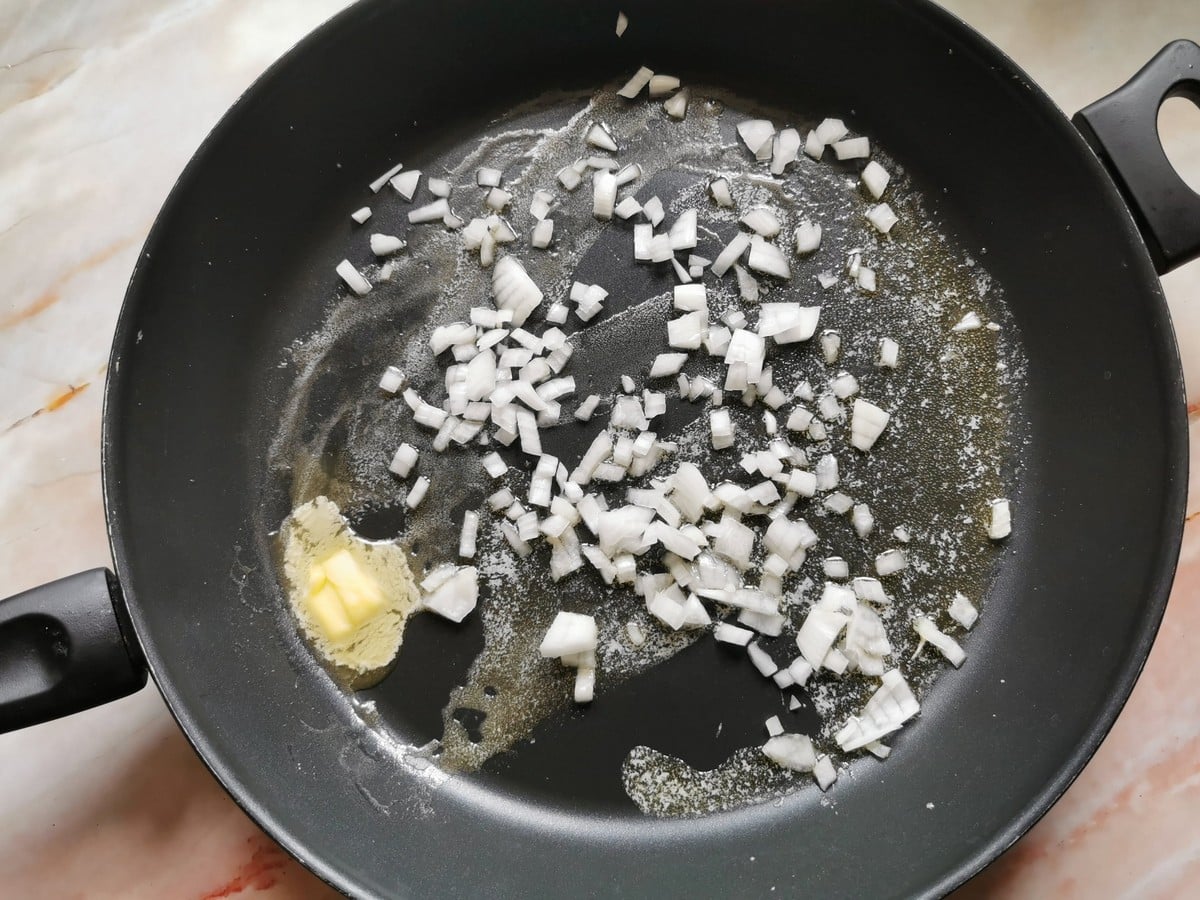 Step by step instructions.
Prep your ingredients, which are few! Wash and chop the parsley, peel and finely chop the onion and cut the smoked salmon into small pieces.
2) Purée half the salmon with the cream until you have a smooth creamy sauce. Add milk if it seems too thick.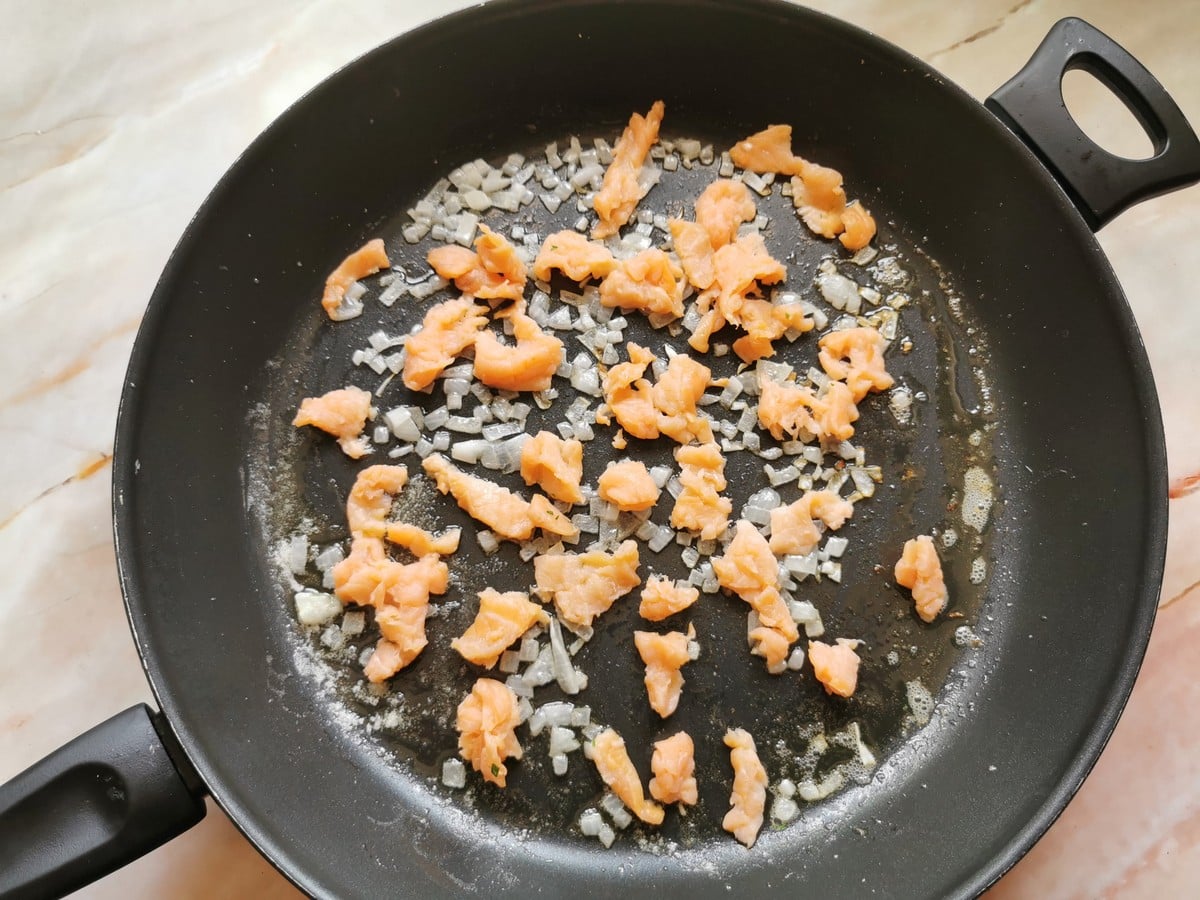 3) Melt the butter in a deep skillet or frying pan. It needs to be big enough to add the pasta in later. Sauté the onions until they soften.
4) Add the salmon pieces and sauté for just a minute.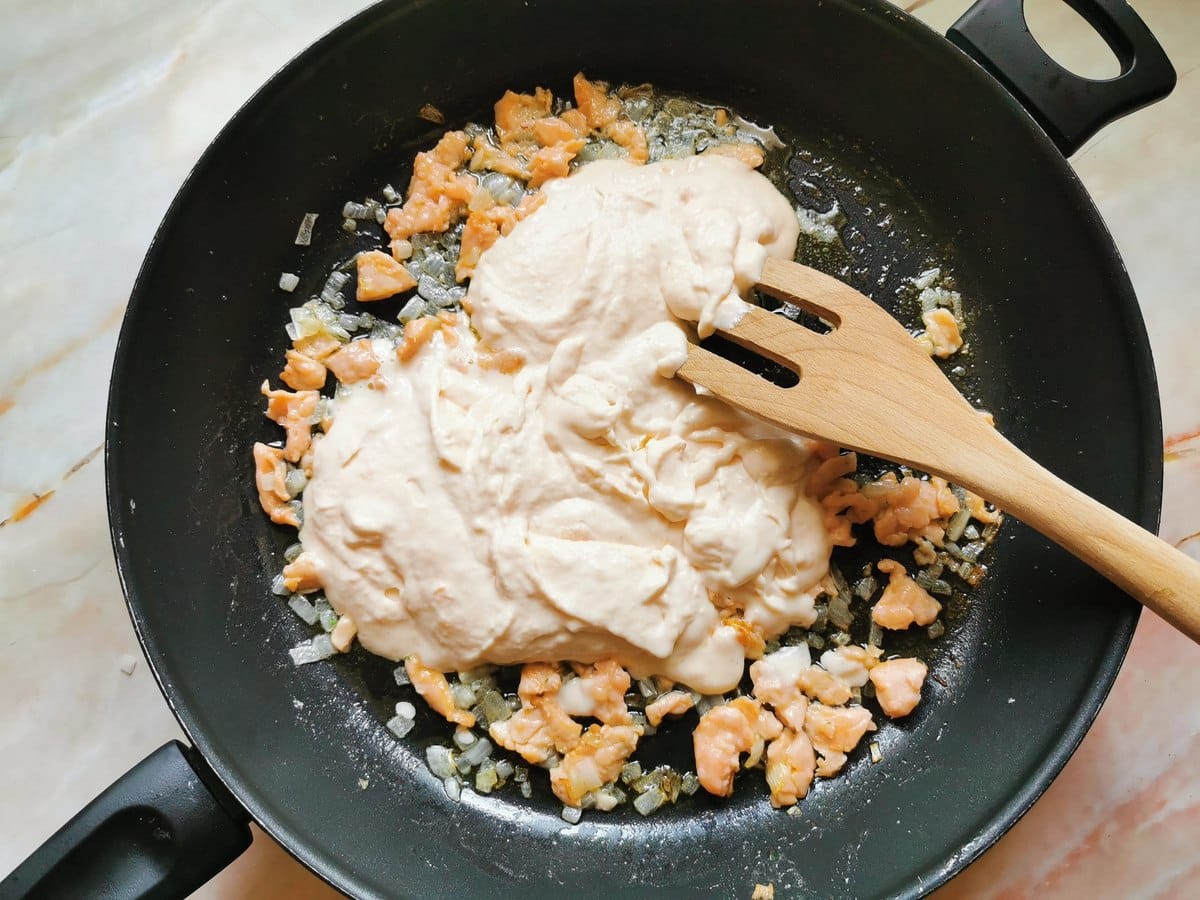 5) Mix in the salmon cream with the cooked salmon and onion. Cook for just a minute and add salt and pepper to taste and fresh parsley.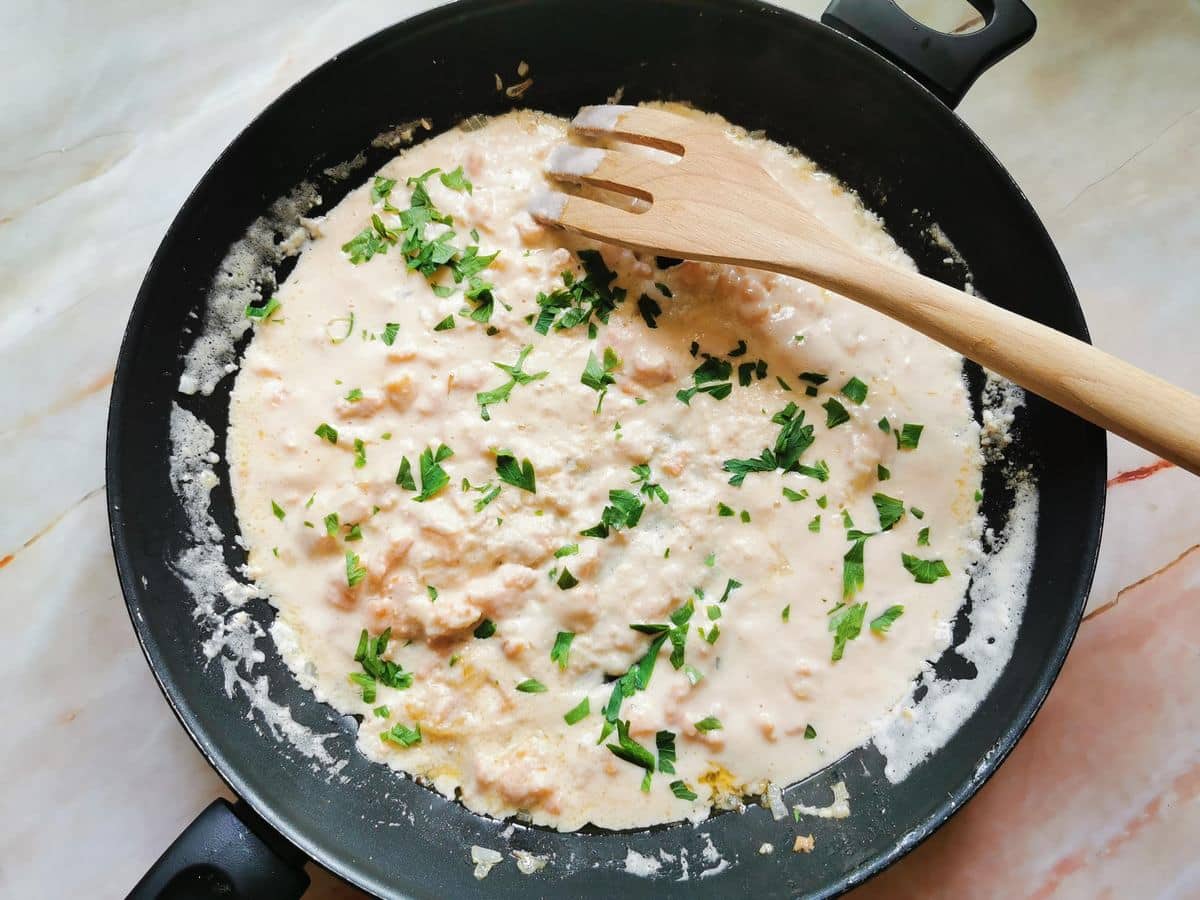 6) Put a pot of water onto boil for the pasta. Add salt once it starts to boil and bring to the boil again. Cook the pasta al dente according to the instructions on the packet. Save a cup of pasta cooking water. Then drain the pasta and add it to the sauce.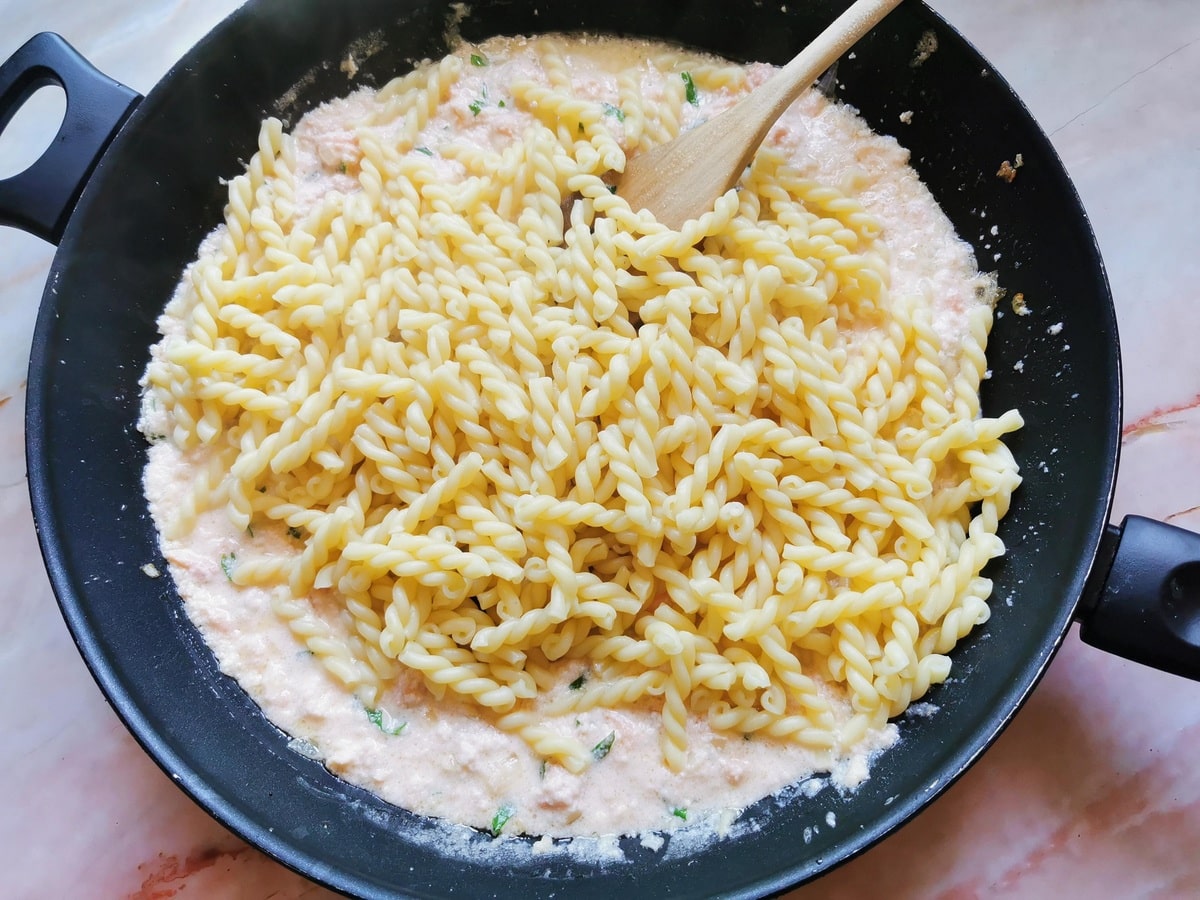 7) Mix the pasta and sauce together over a very low heat. Add some pasta cooking water to get a creamier and more liquid result if the sauce seems dry.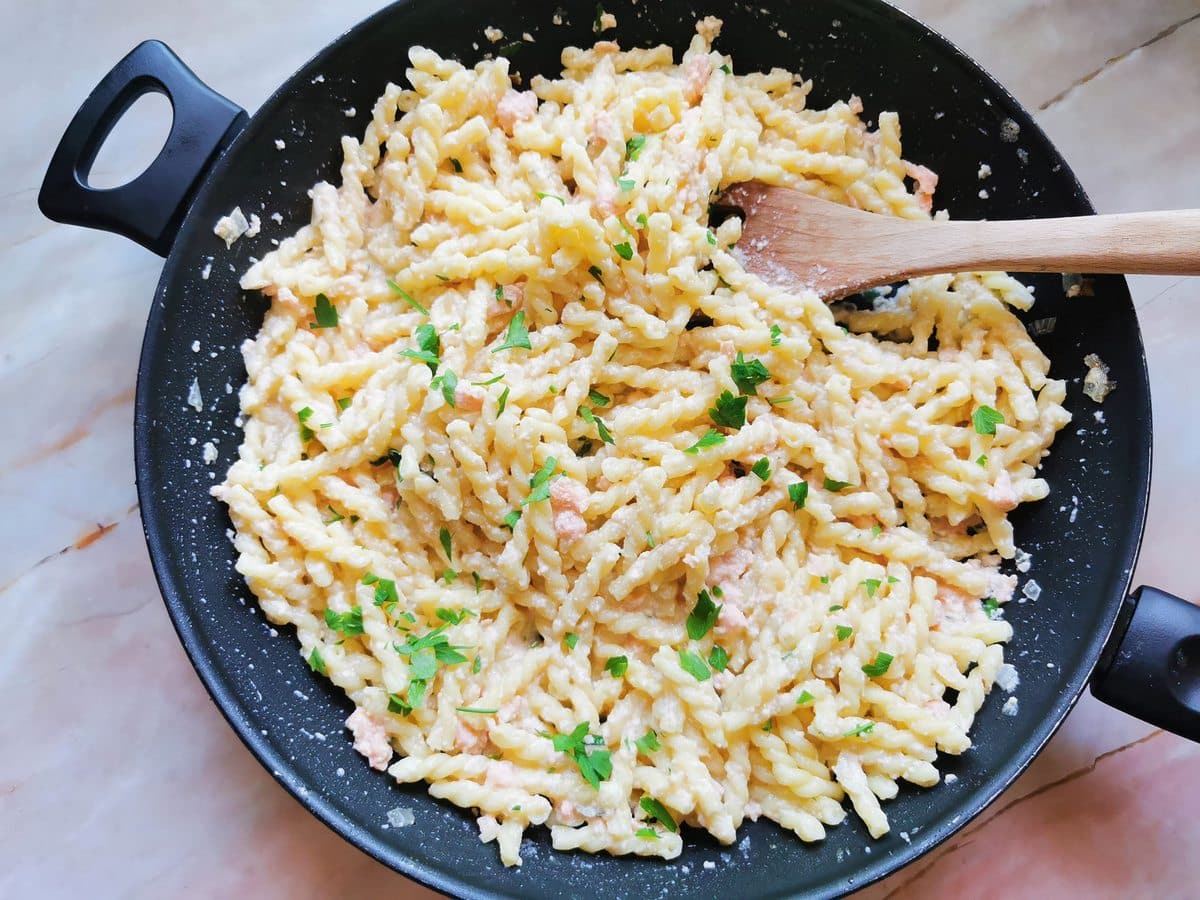 8) Turn off the heat, sprinkle with fresh parsley and serve immediately.
Italians don't usually serve fish pasta with cheese. However, you can, of course, sprinkle the finished dish with some grated Parmigiano if you like.
Cook's tips.
Pasta Water: When it's time to drain the pasta, reserve some of the pasta water. If needed, this starchy water is added to the simmering sauce to help achieve the perfect creamy consistency. It's also a little trick that makes your pasta look extra glossy.
Adding salt to the pasta water: Italian chefs don't add salt to cold water because it can not only ruin the pot, but also the water will take a little longer to boil. The salt is added as the water starts to boil.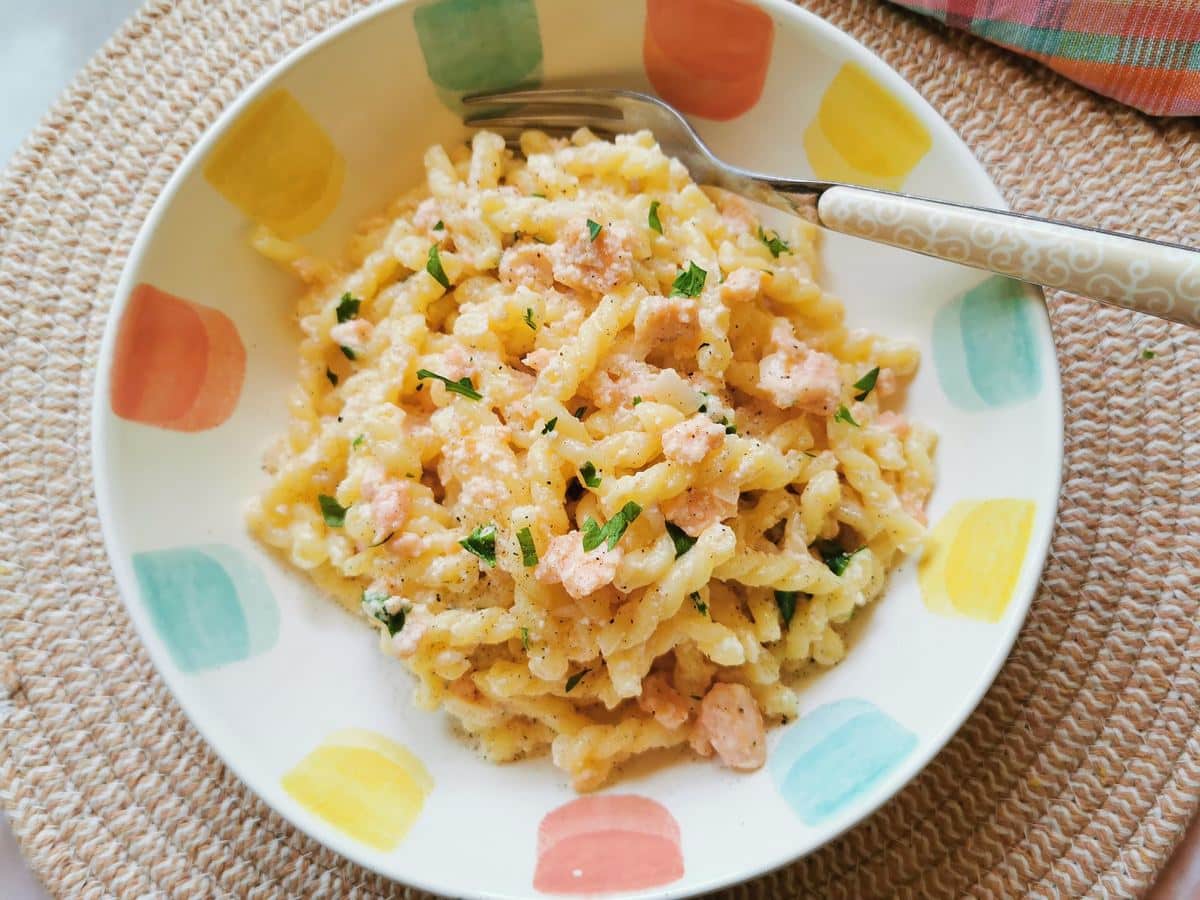 What to do with leftovers.
Leftovers of this creamy smoked salmon pasta dish don't freeze well but they can be reheated in a saucepan or in the microwave with a little more butter and cream or milk. You can keep the leftovers in an airtight container in the fridge for a couple of days.
Let me know what you think.
If you make this creamy smoked salmon pasta recipe, I'd love to hear how it turns out. Please write a comment here on the blog, email me or post a comment on the Pasta Project Facebook page.
Your feedback is important to me.
Buon appetito!
How can you tell when smoked salmon is cooked?
Whether you are using hot or cold smoked salmon, it really doesn't need much cooking. Once the salmon has changed colour slightly it is ready.
Can I freeze leftover salmon pasta?
Smoked salmon pasta doesn't really freeze well. Keep it in the fridge for up to 2 days.
What other ingredients could I add to this recipe?
This is a very simple recipe. You could add some spinach or peas to make it more nutritious.
Other pasta with smoked salmon recipes to try.
Pin for later.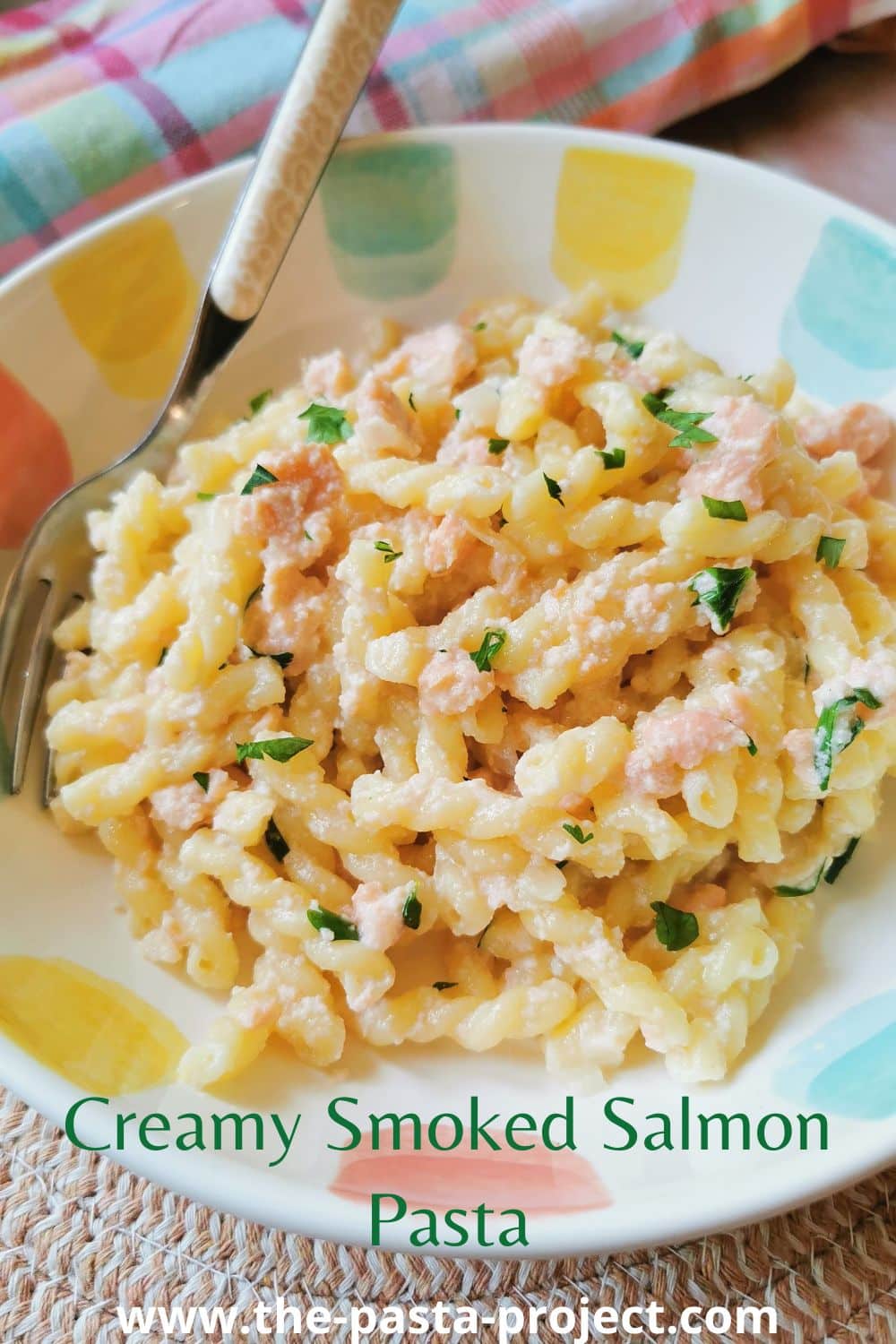 If you are interested in learning how to make homemade pasta and different types of gnocchi, check out my shop page for some great video online courses from my friends in Rome! Nothing beats learning to make pasta from Italians! Plus while you're there why not order a copy of one of my seasonal pasta recipes cookbook!