This creamy lemon salmon pasta is a delightful combination of pasta, succulent salmon, and a creamy lemon sauce. It's made with straightforward ingredients and only takes 30 minutes to make.
Perfect for those evenings when you desire something gourmet but aren't keen on spending hours in the kitchen.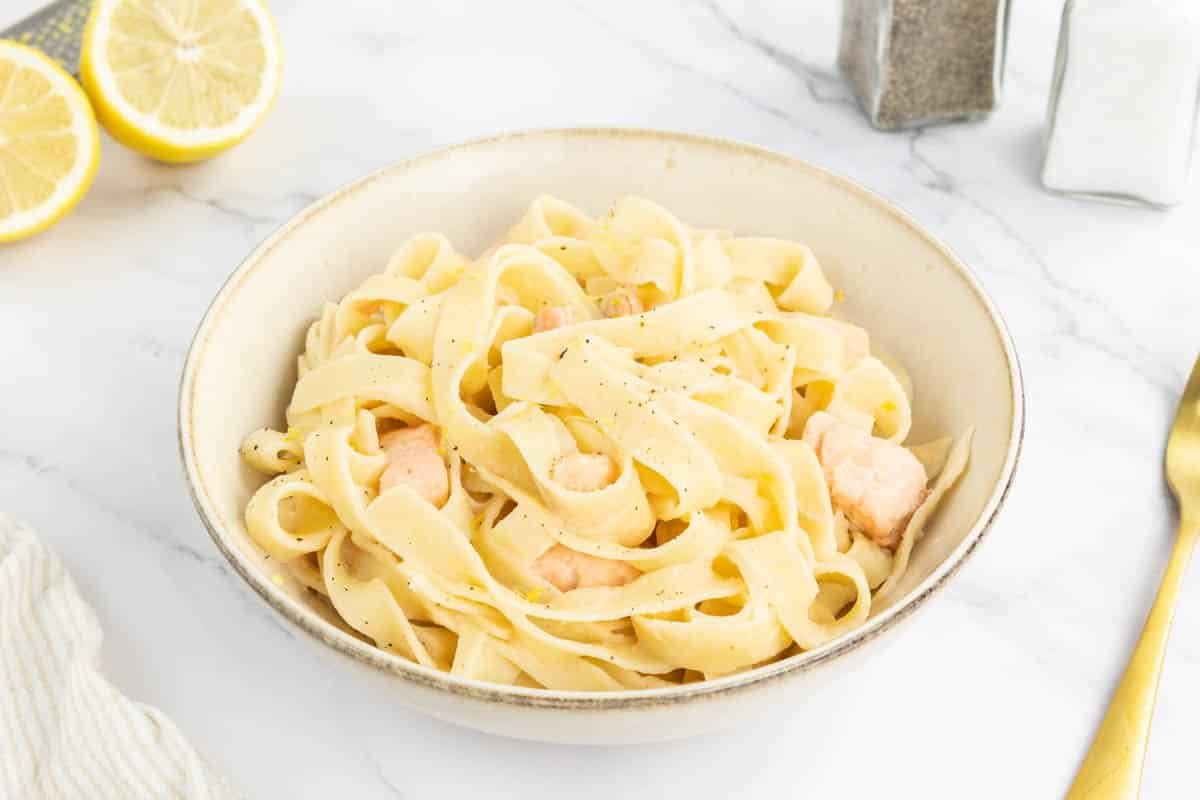 History
Although salmon is not a traditional Italian ingredient, it has become very popular here in recent years. According to a 2021 report from the market research company GfK Italy, 7 out of 10 Italian families now buy smoked or fresh salmon regularly.
Italians cook fresh salmon in different ways. However, the most popular cuts are boneless fillets with and without skin or salmon steaks. They hardly ever prepare a whole salmon.
Popular Italian salmon recipes include baked or pan fried salmon steak or fillet, salmon tartare or carpaccio and, of course, salmon pasta. Pasta types that are often paired with salmon are farfalle (bow-tie pasta), penne and egg pasta ribbons like tagliolini and tagliatelle, both of which are perfect for this creamy lemon salmon pasta recipe.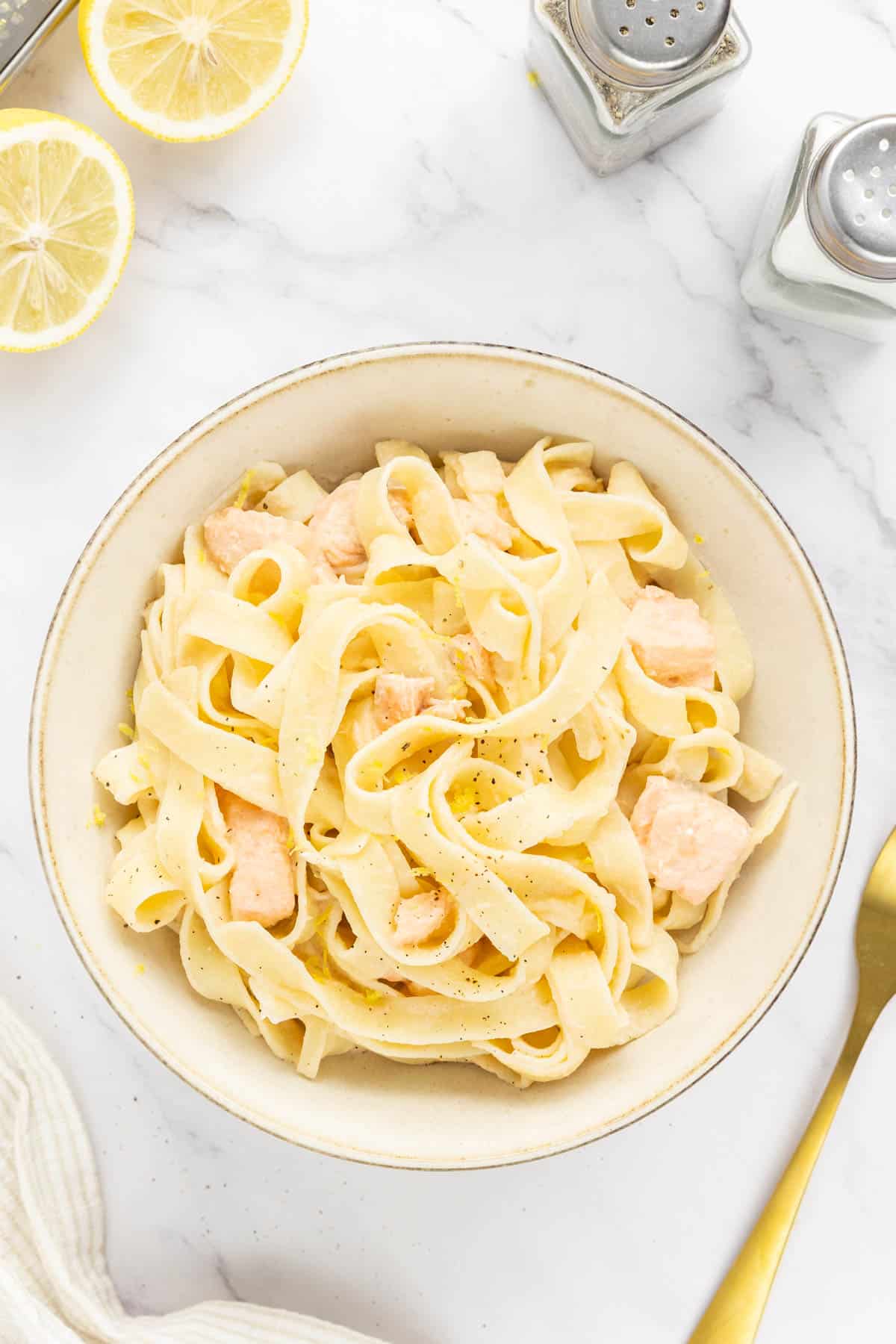 Ingredients
Pasta: With its ribbon-like structure, tagliatelle is perfect for cradling the salmon and sauce, ensuring each bite is flavorful. Can't find tagliatelle? Angel hair or tagliolini are excellent substitutes.
Salmon: Use fresh, skinless and boneless salmon. The salmon should be vibrant in color and firm to the touch, which are signs of freshness and quality.
Onion: Lends a subtle sweetness and depth to the sauce. Finely chop it to allow it to blend seamlessly into the sauce.
Butter: Provides a rich, buttery base for the sauce.
Extra Virgin Olive Oil: Use a good quality extra virgin olive oil; it will add more flavor to the sauce.
Lemons: The lemons add a refreshing contrast to the salmon sauce. Make sure to use unwaxed lemons so that you can use the lemon zest as a garnish.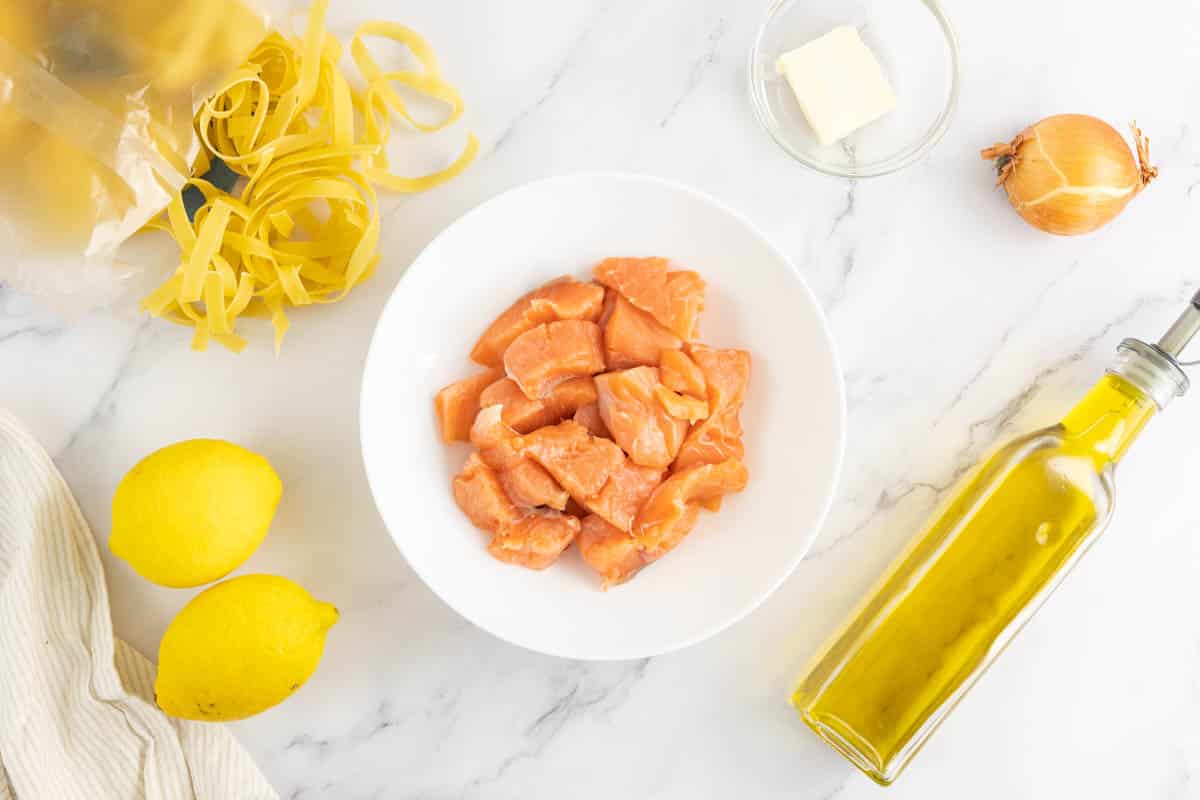 Expert Tips
Cooking the Pasta to Perfection: Ensure you cook your pasta just until it's al dente. Since the pasta will undergo a few minutes additional cooking in the salmon sauce, remove it from the boiling water about a minute before your desired doneness.
Achieving Creamy Consistency: Using reserved pasta water is key. It contains starches that help bind the salmon sauce and pasta together, giving the dish its signature creamy texture. If you find your sauce too thick, add the reserved water in small increments until you achieve your desired consistency.
Getting the Most Out of Your Lemons: If you have a lemon juicer, it's the best tool to extract every drop. If not, a helpful trick is to roll the lemon against a kitchen counter for about 10-20 seconds before cutting and squeezing. This action helps break down some of the fibers, releasing more juice.
Step by Step Instructions
1) In a bowl, add the salmon cubes and cover with the juice from one lemon.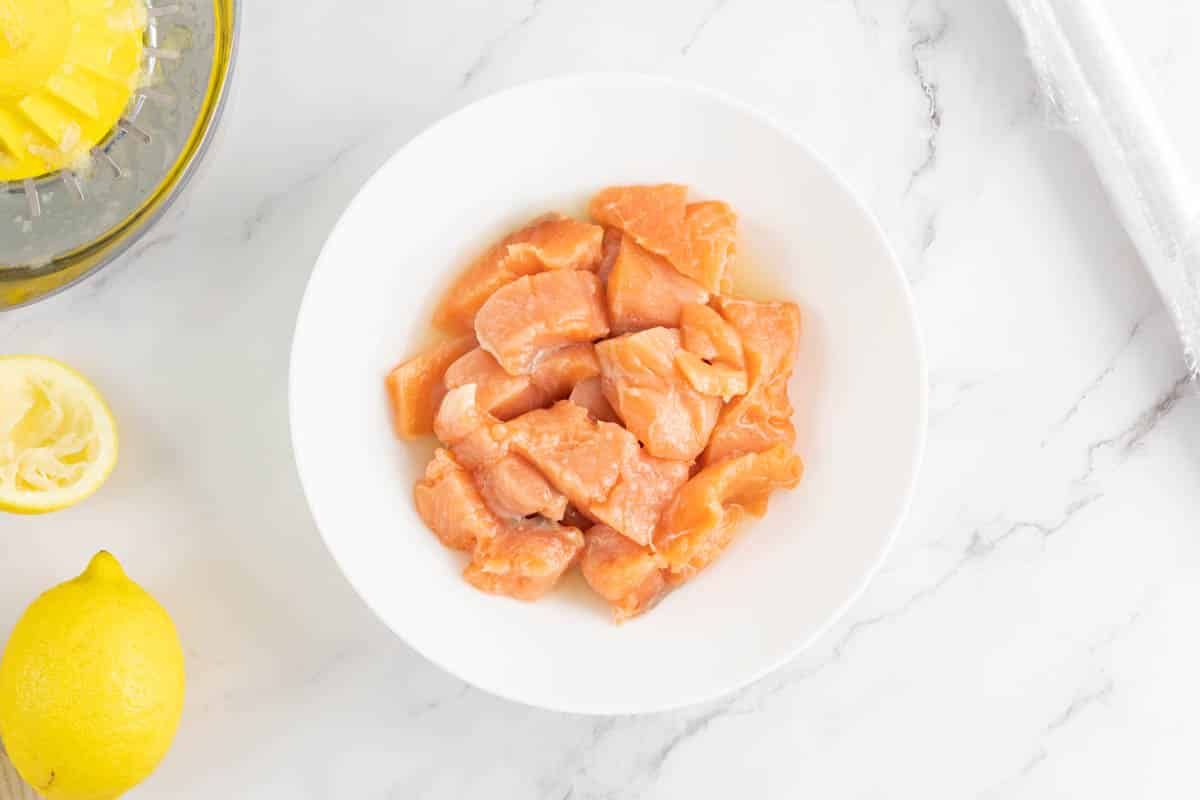 2) In a deep sauté pan, melt the butter with olive oil over medium-low heat. Once melted, add the onions and sauté for 6-8 minutes or until translucent.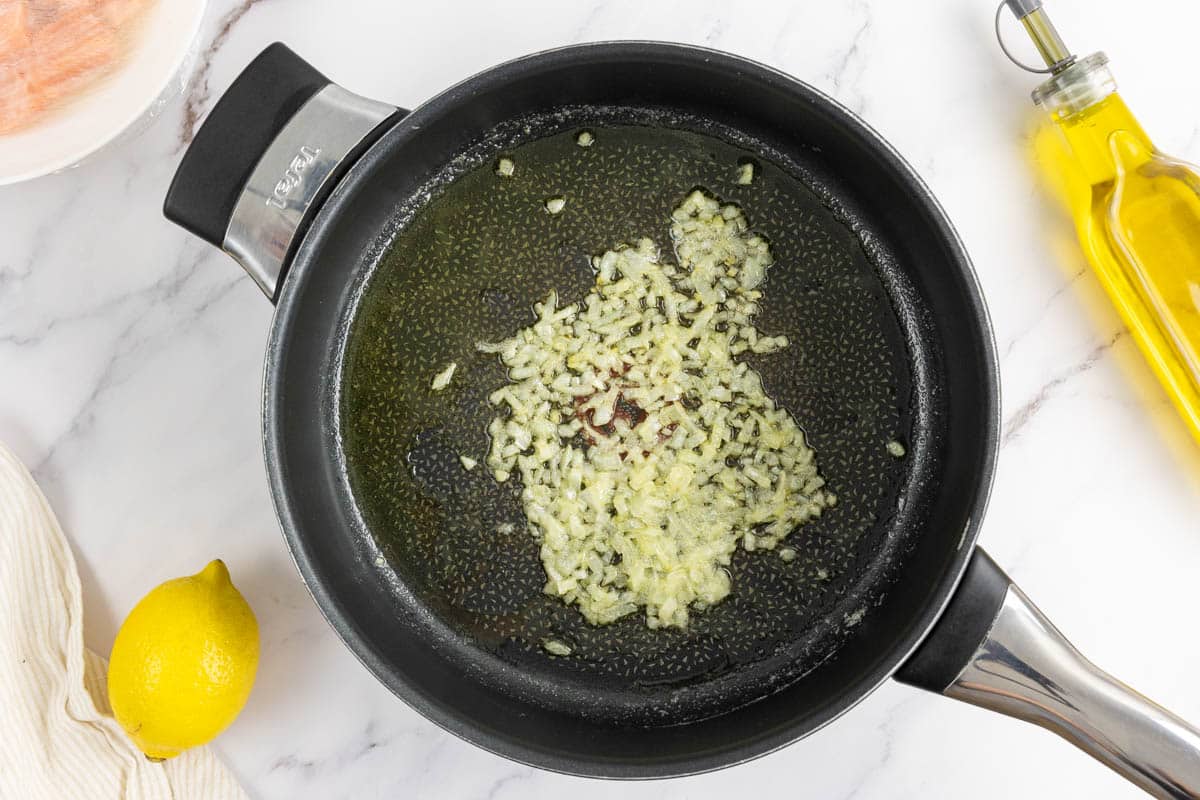 3) Add the salmon cubes to the pan, season lightly with salt, and cook for a minute or two, turning them often.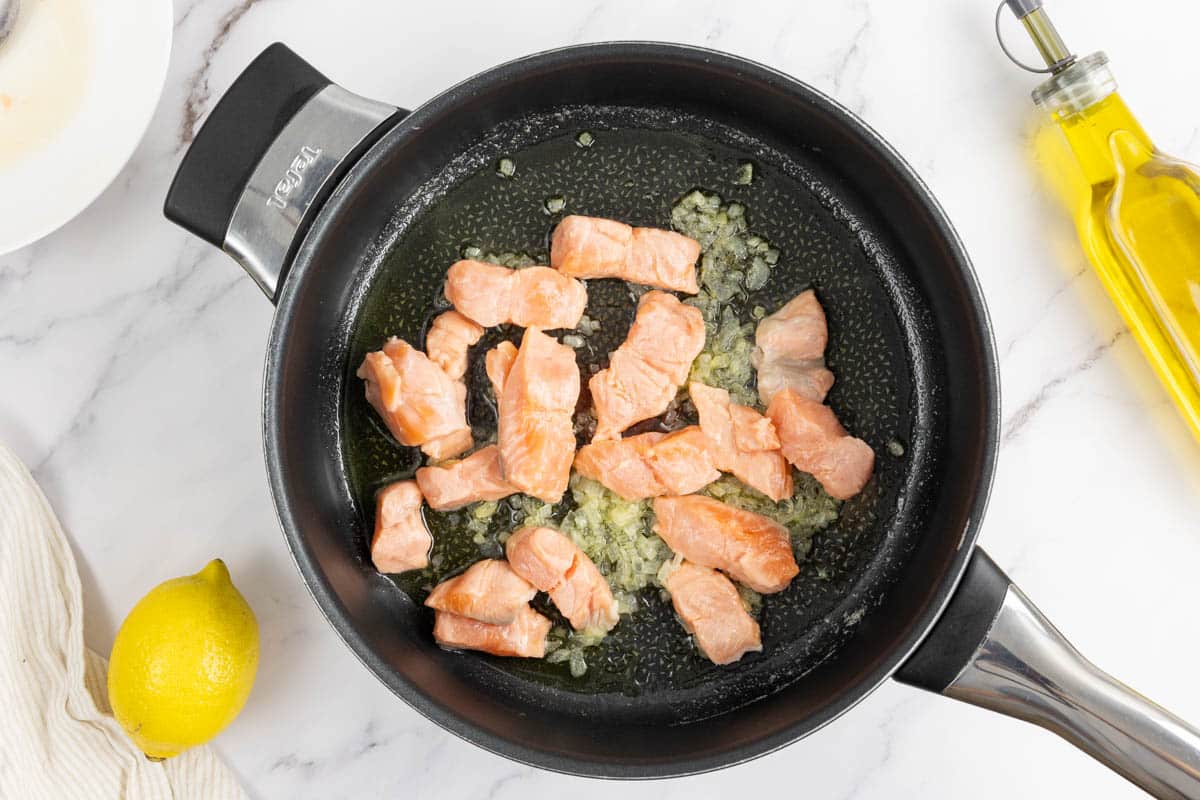 4) Increase the heat, pour in the juice from the second lemon, and allow it to evaporate. Remove the pan from heat.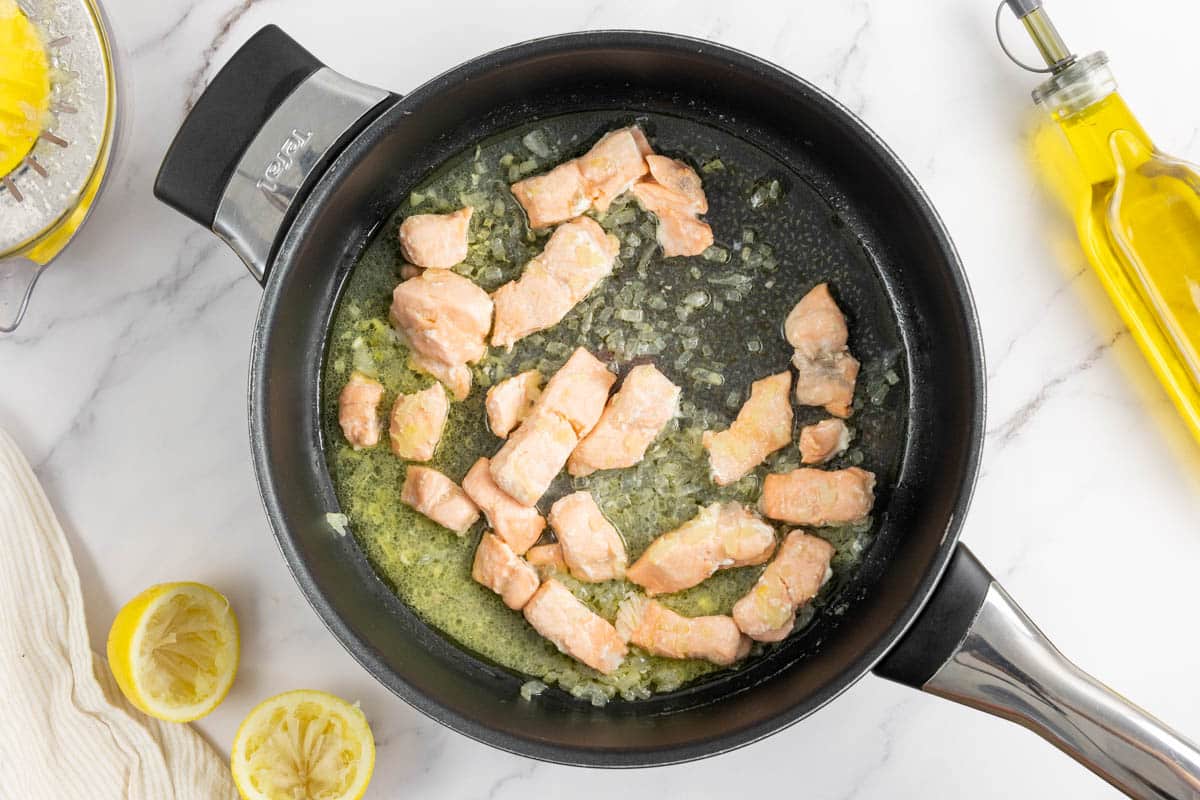 5) In a large pot, bring water to a boil for the pasta. Add salt once it starts to boil and bring to the boil again. Cook the pasta al dente according to the instructions on the packet. Before draining, reserve a cup of pasta water.
6) In a blender, combine half the cooked salmon with half a cup of the saved pasta water.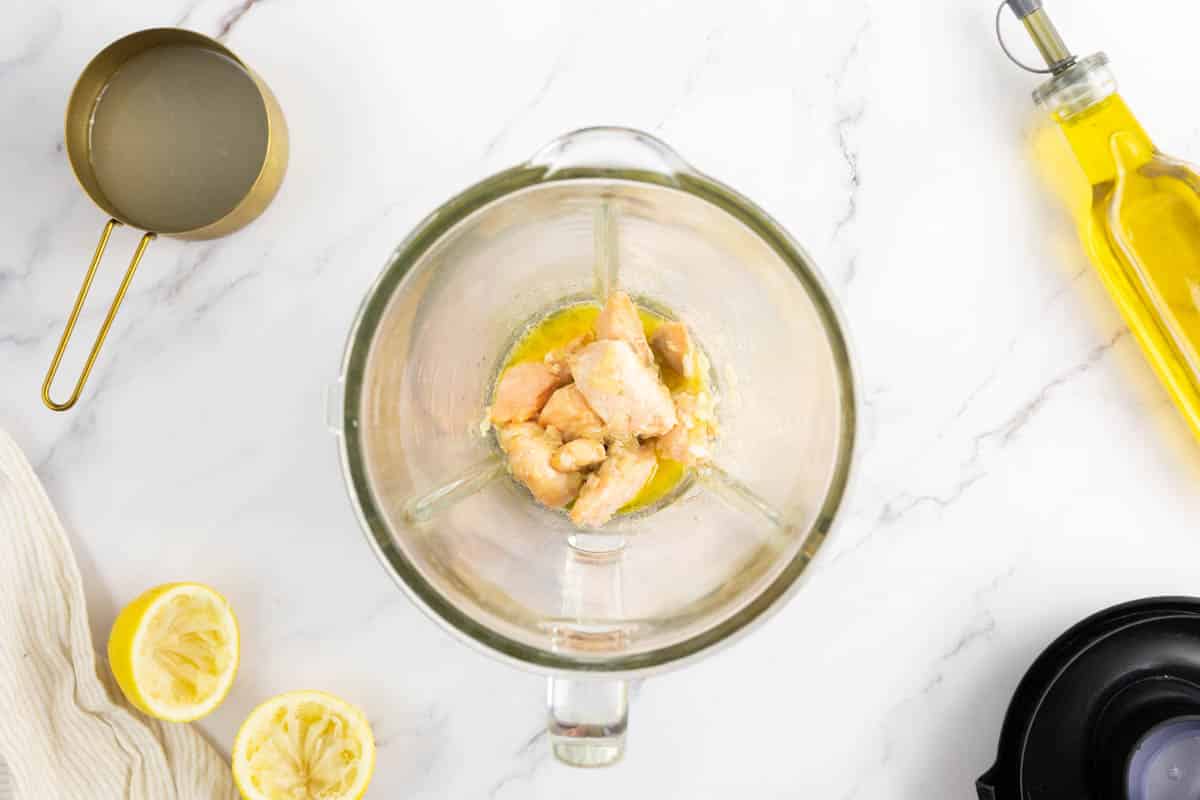 7) Blend until smooth, adjusting the consistency with more pasta water as necessary.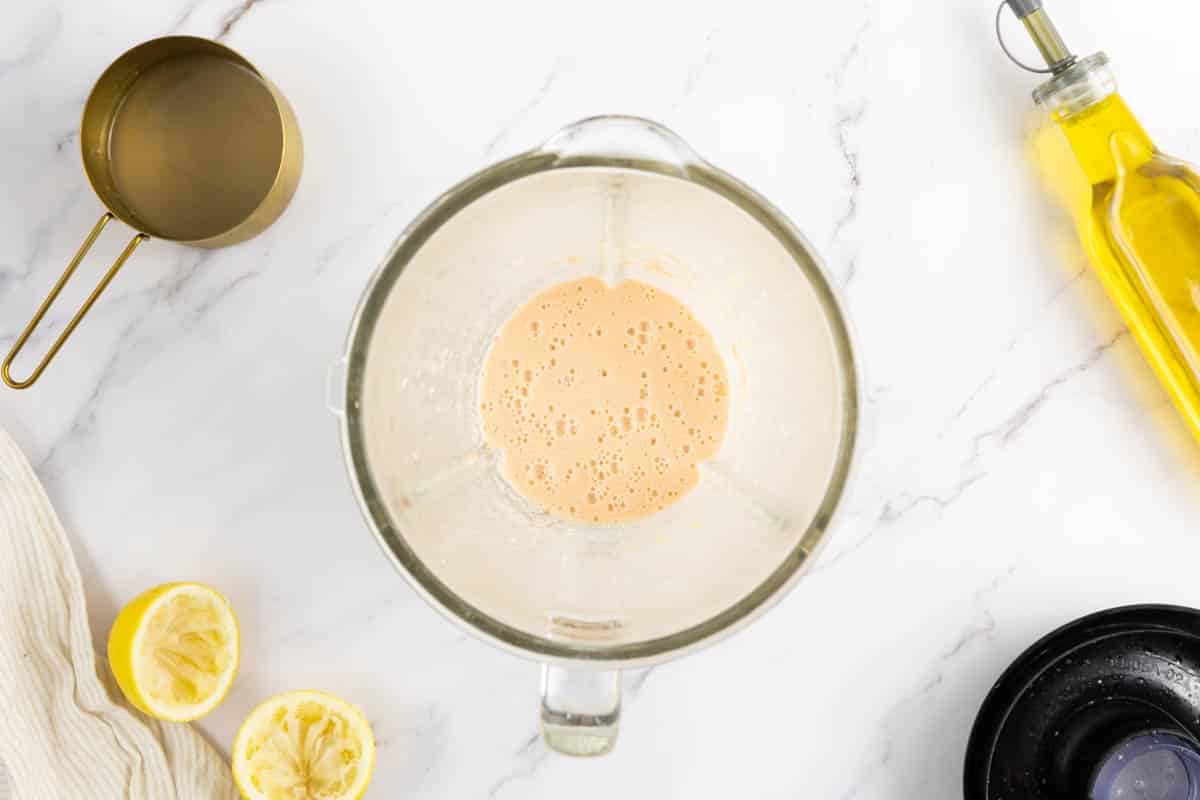 8) Pour the blended salmon sauce back into the sauté pan with the remaining salmon cubes.
9) Add the drained pasta to the pan and cook with the salmon mixture over medium heat for an additional 1-2 minutes, stirring frequently. If the mixture becomes too dry, add more of the reserved pasta water.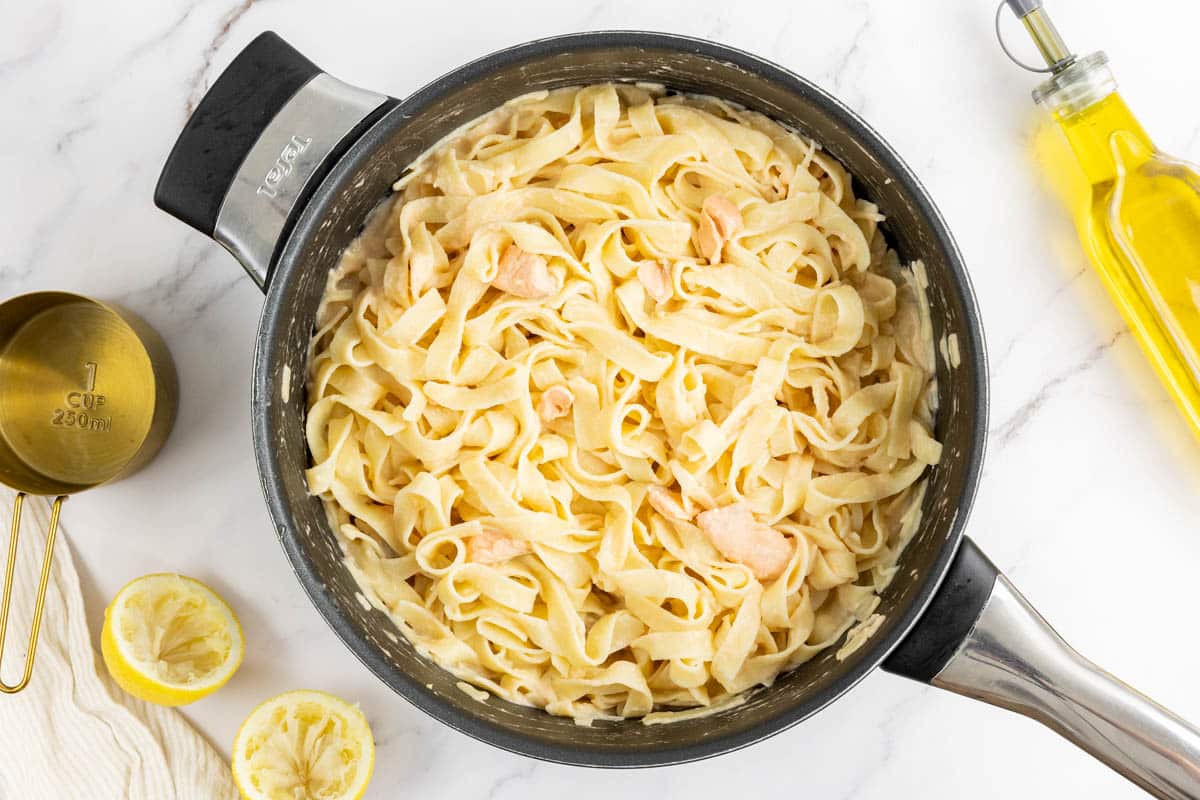 10) Once the pasta sauce reaches a creamy consistency, turn off the heat. Season with freshly ground pepper and garnish with lemon zest. Serve immediately and enjoy!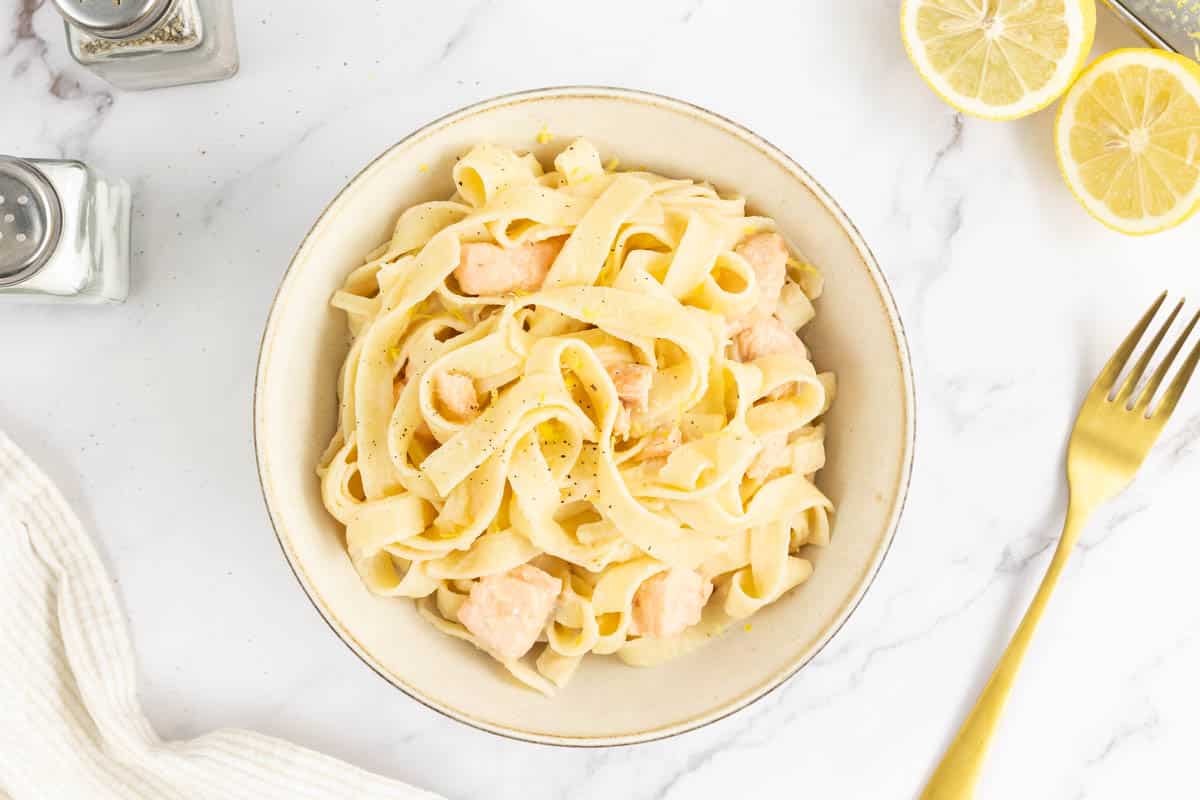 Storage and Leftovers
If you've got leftovers of this creamy salmon lemon pasta, place them in an airtight container and refrigerate. It's best consumed within 2 days for optimum flavor and freshness.
The best way to reheat this salmon pasta is using a microwave. Place the pasta in a microwave-safe dish and heat in intervals, stirring in between, until hot throughout.
This dish can be frozen, but due to its creamy nature, there will be a slight change in consistency upon thawing and reheating. If you decide to freeze it, ensure it's in an airtight container, and consume within 3 months for the best results. Also make sure to defrost in the refrigerator before reheating.
FAQs
What type of pasta works best for this recipe?
While I used tagliatelle for its ability to hold onto the creamy sauce and complement the salmon chunks, you can also use other fine egg noodles like angel hair or tagliolini as alternatives.
Can I use frozen salmon?
Yes, good quality frozen salmon fillets can be used. However, ensure you thoroughly thaw it before cubing and cooking. Fresh salmon provide the best flavor, but if frozen is all you have on hand, it will still work well.
Is the lemon essential to the recipe?
The lemon adds a refreshing zing and contrast to the richness of the salmon and creamy sauce. It's recommended not to skip it. If using unwaxed lemons, you can also utilize the zest as a garnish.
How important is it to reserve pasta water?
The starchy pasta water helps to emulsify and make the creamy salmon sauce. If you forget to reserve some, a splash of broth can help loosen the sauce, but the sauce may not be as creamy.
More Recipes You May Like:
If you do try this creamy salmon pasta recipe, I'd love to hear what you think. Please write a comment here on the blog or post a comment on the Pasta Project Facebook page.
Your feedback means a lot to me!
Buon Appetito!
Pin For Later: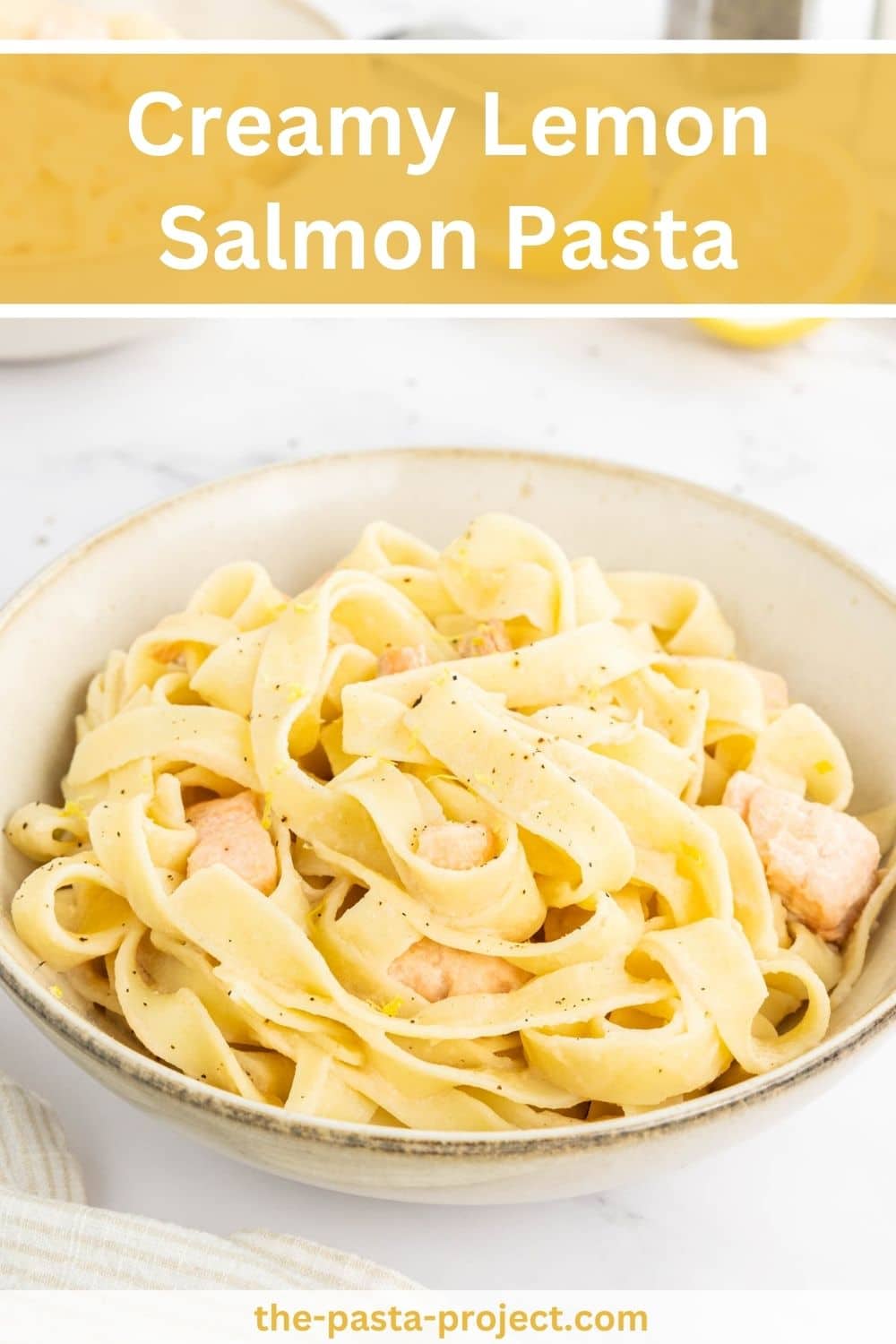 If you are interested in learning how to make other homemade pasta and different types of gnocchi, check out my shop for some great video online courses from my friends in Rome!
Nothing beats learning to make pasta from Italians! Plus, while you're there, why not order a copy of one of my pasta recipe cookbooks or check out some recommended pasta-making tools?