These divine baked smoked salmon pasta rosettes make a great dish to impress guests. Based on a traditional pasta bake from Emilia-Romagna, this recipe calls for lasagne sheets, stracchino (crescenza) cheese, smoked salmon (if possible sockeye salmon), parsley, béchamel and grated Parmigiano. Perfect as an appetizer, starter or main course.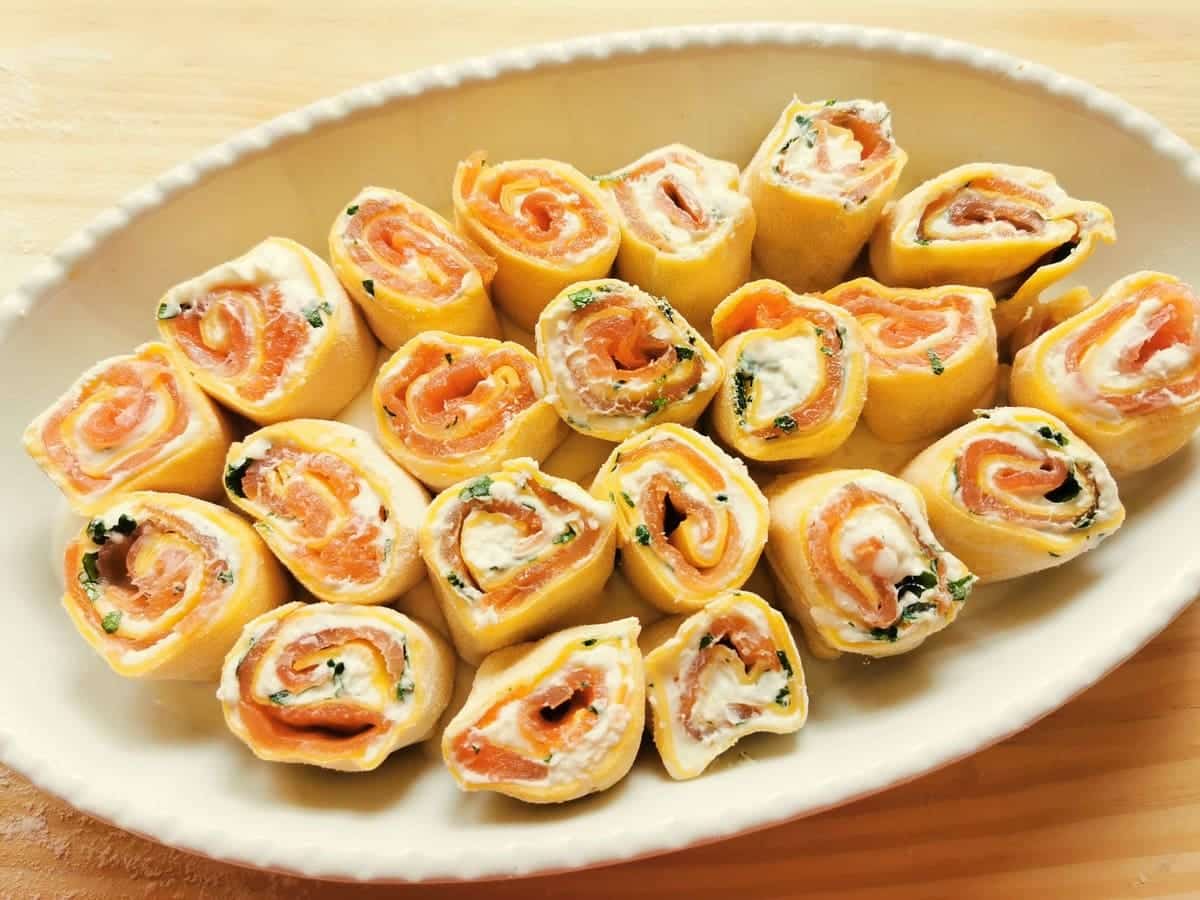 Nidi di rodine.
Known as nidi di rodine (swallow's nests) in Italian, baked pasta rosettes or roses are a type of lasagna rolls originally from Emilia-Romagna. This is the region where lasagne alla Bolognese comes from, as well as other pasta classics like tortellini and tagliatelle. It's also home to the production of Italy's most famous cheese Parmigiano Reggiano, and prosciutto di Parma (Parma ham).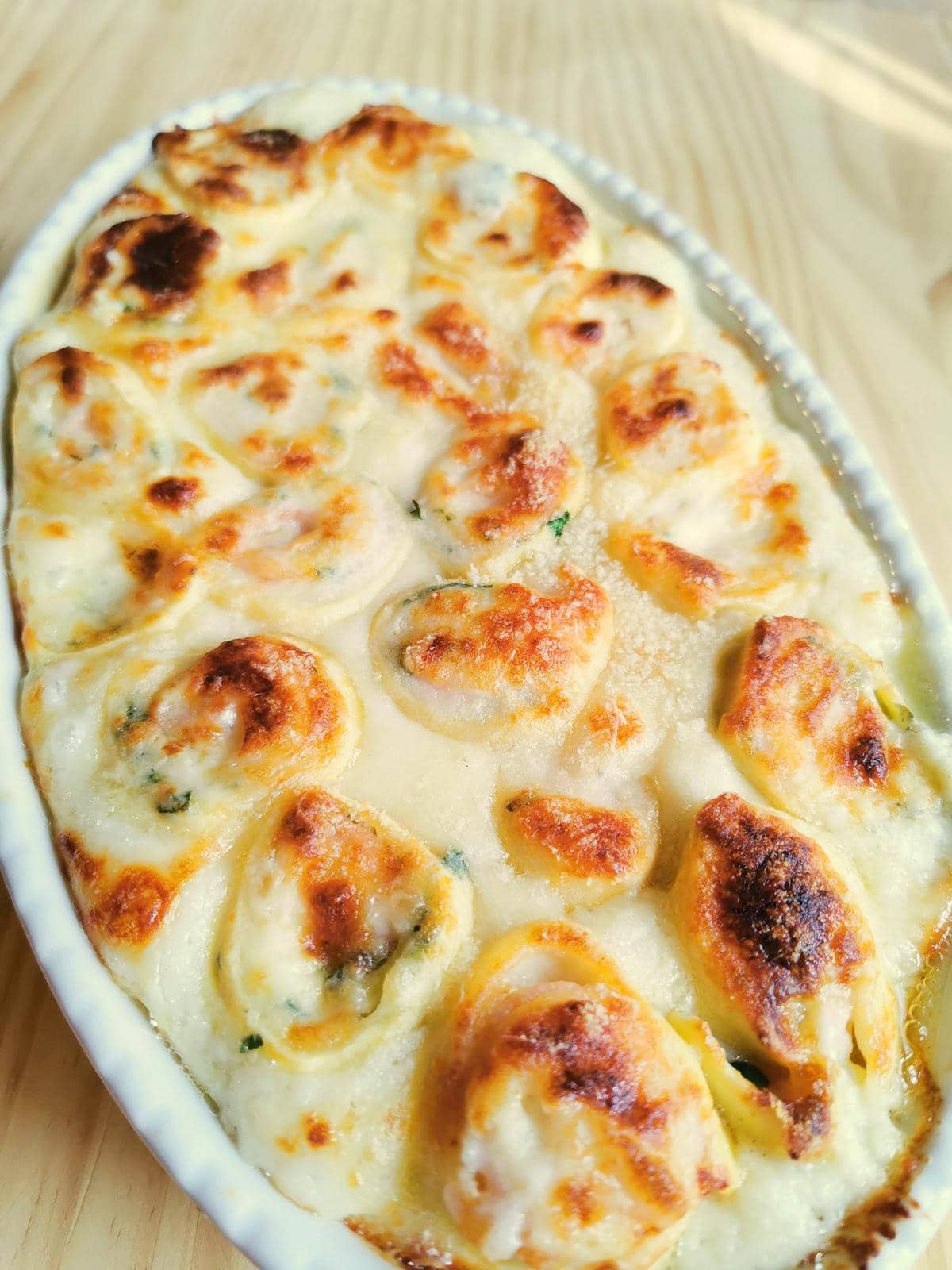 There are a number of versions of pasta rosettes in Emilia Romagna. It depends on where in the region you are. In the Romagna part of the region, they call the original dish 'nidi di rodine alla Romagnola' In Modena, there's 'rosette modenesi' and in Piacenza, nidi di rodine piacentini!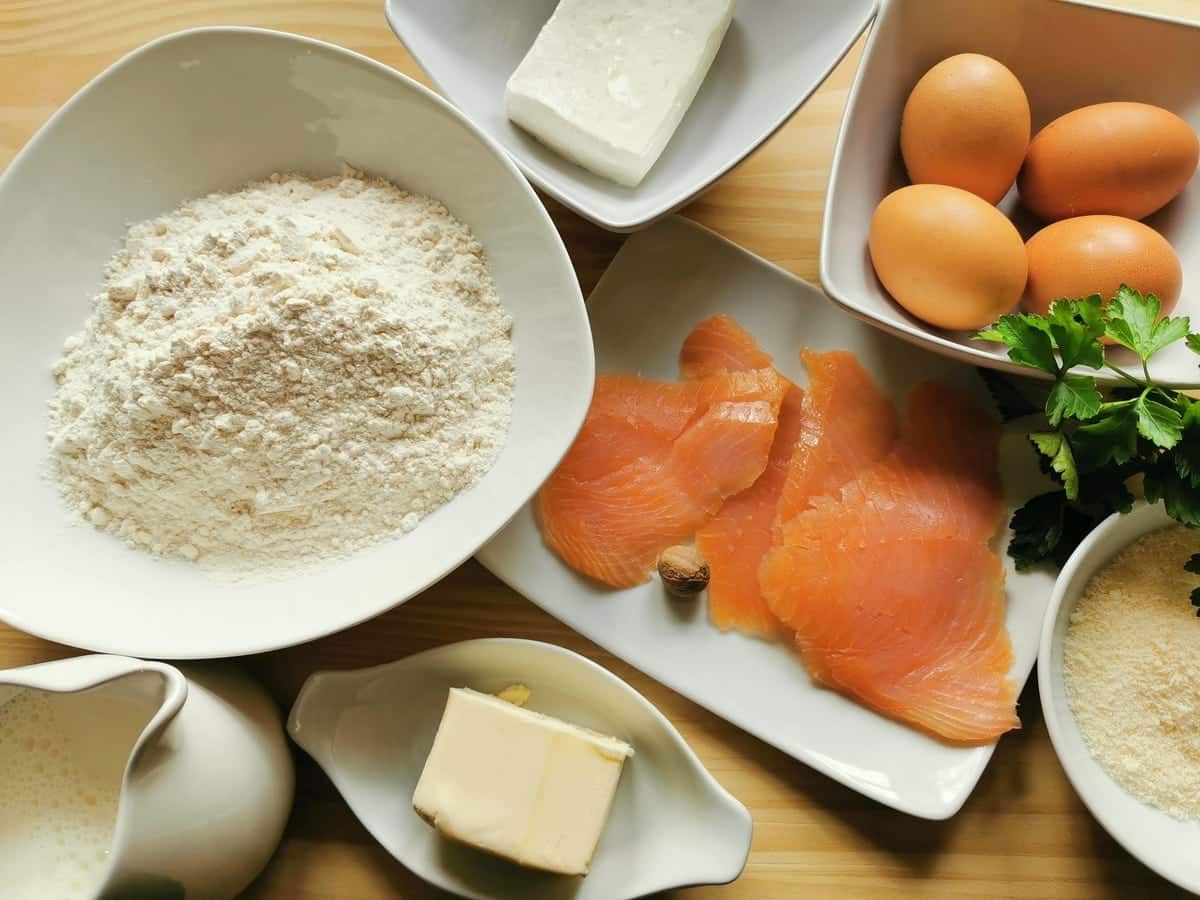 Pasta rosettes are traditionally made with cooked ham and cheese. There are also vegetarian versions with spinach and sometimes mushrooms. This recipe replaces the ham with smoked salmon.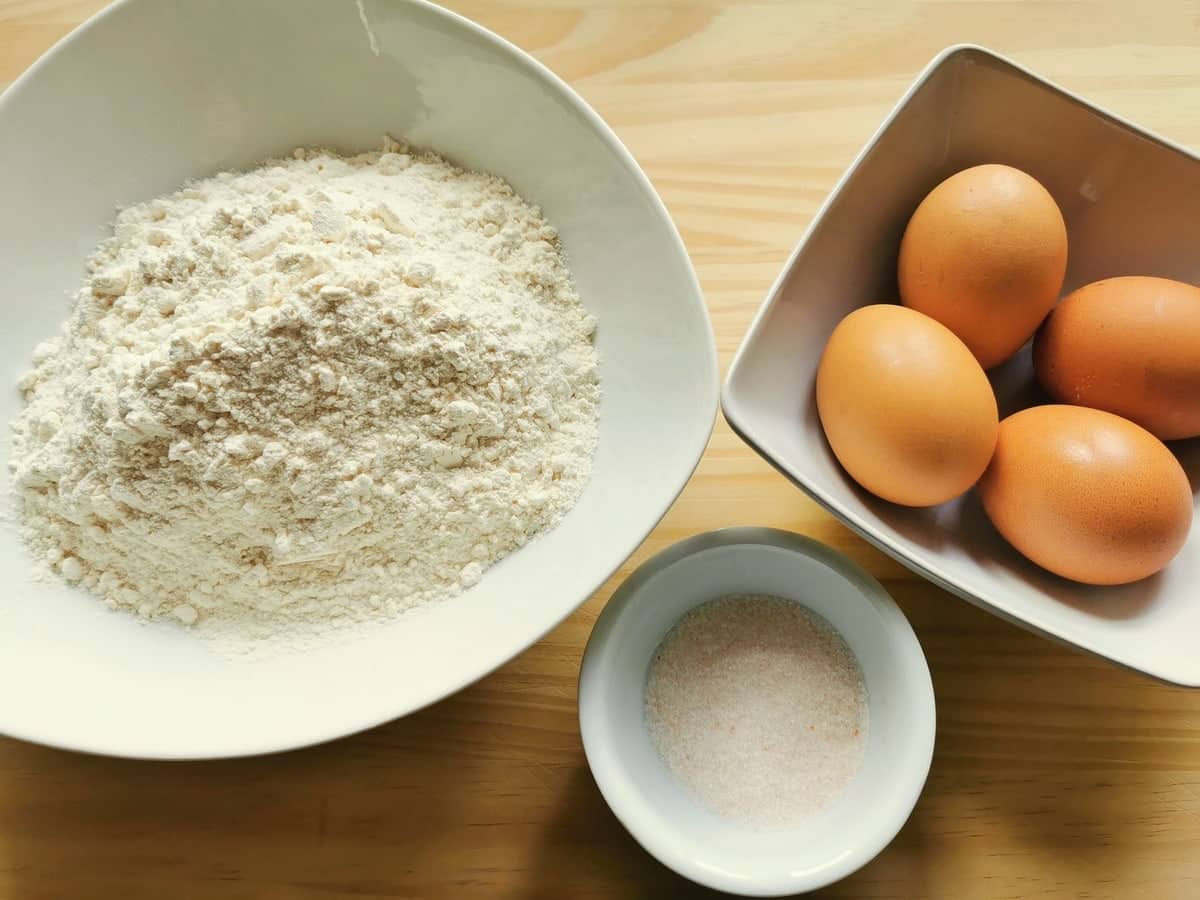 Is smoked salmon Italian?
While salmon isn't native to Italy, salmon and smoked salmon have grown enormously in popularity with Italians over the last 30 years or so. In fact, nowadays, there are several Italian companies producing smoked salmon. However, the fish usually comes from Scotland or Norway or, in the case of sockeye salmon, the US.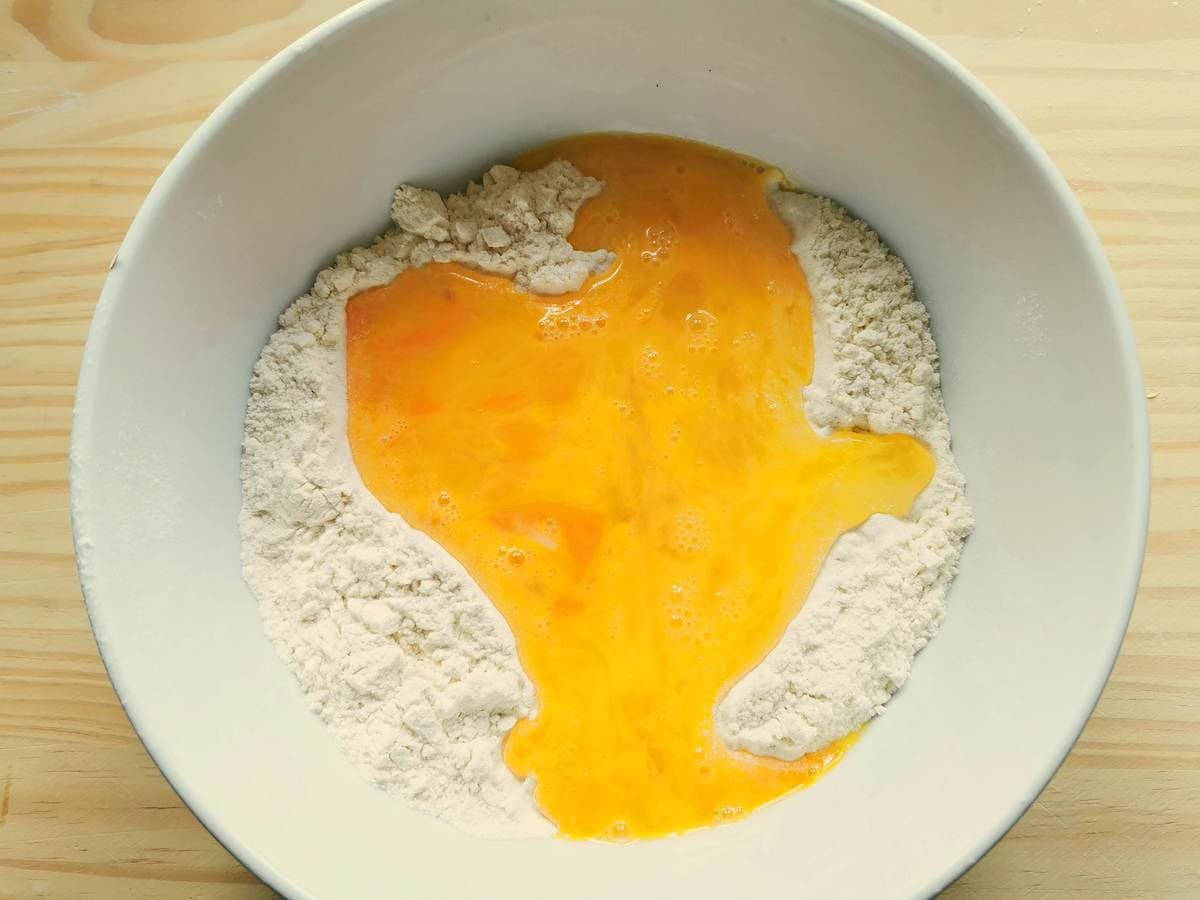 Italians don't often eat smoked salmon on bread as is popular in other countries. They prefer to eat it as an antipasto, in salad, in a frittata or in a flan.
However, the most popular way to cook with smoked salmon is in pasta dishes. There are quite a few delicious pasta recipes with both fresh and smoked salmon. This smoked salmon pasta rosettes is just one of many.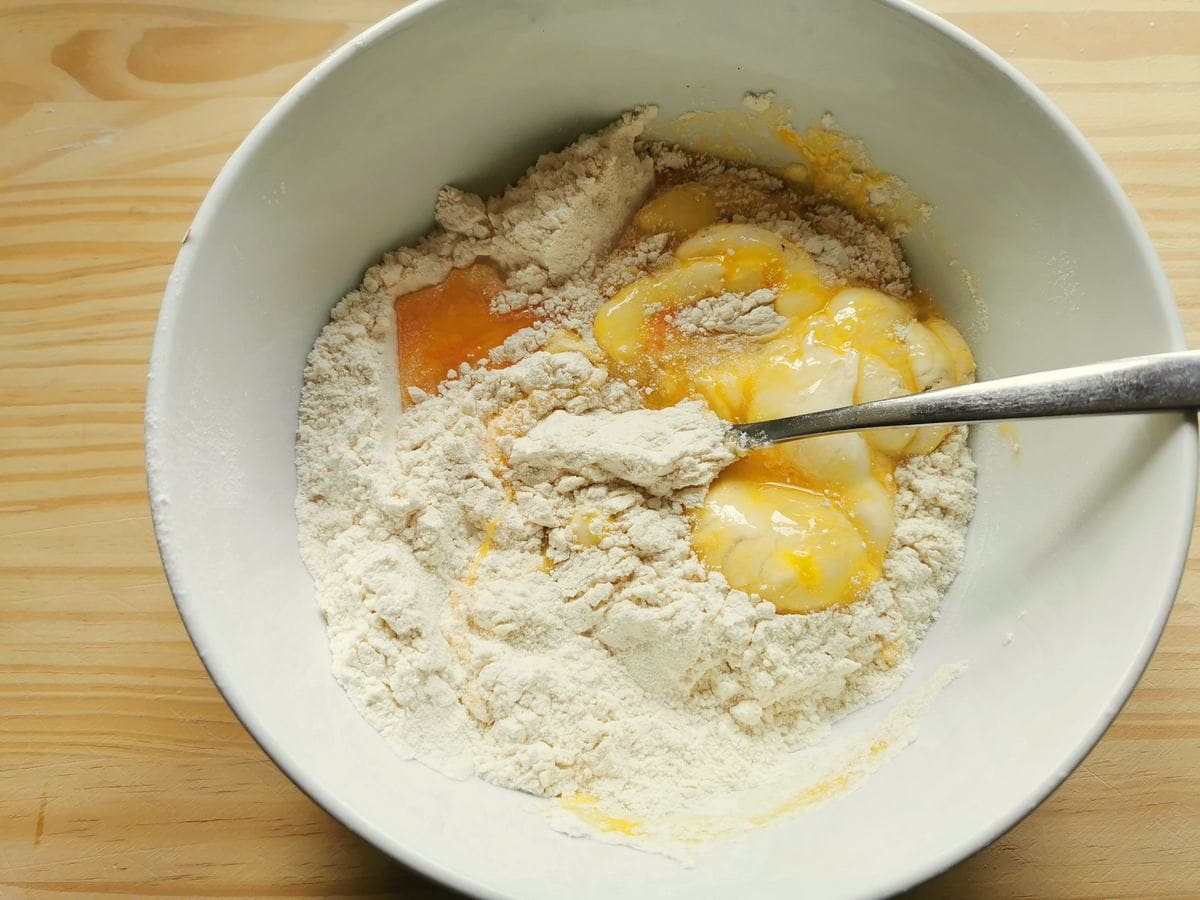 If you like smoked salmon pasta, you may also want to try this recipe for farfalle with smoked salmon and zucchini or this homemade smoked salmon cannelloni (manicotti).
The cheese in these smoked salmon pasta rosettes.
The cheese in Italian pasta rosettes can vary from good melting cheeses like Emmenthal and provolone to softer creamy cheese such as the stracchino (crescenza) in this smoked salmon version.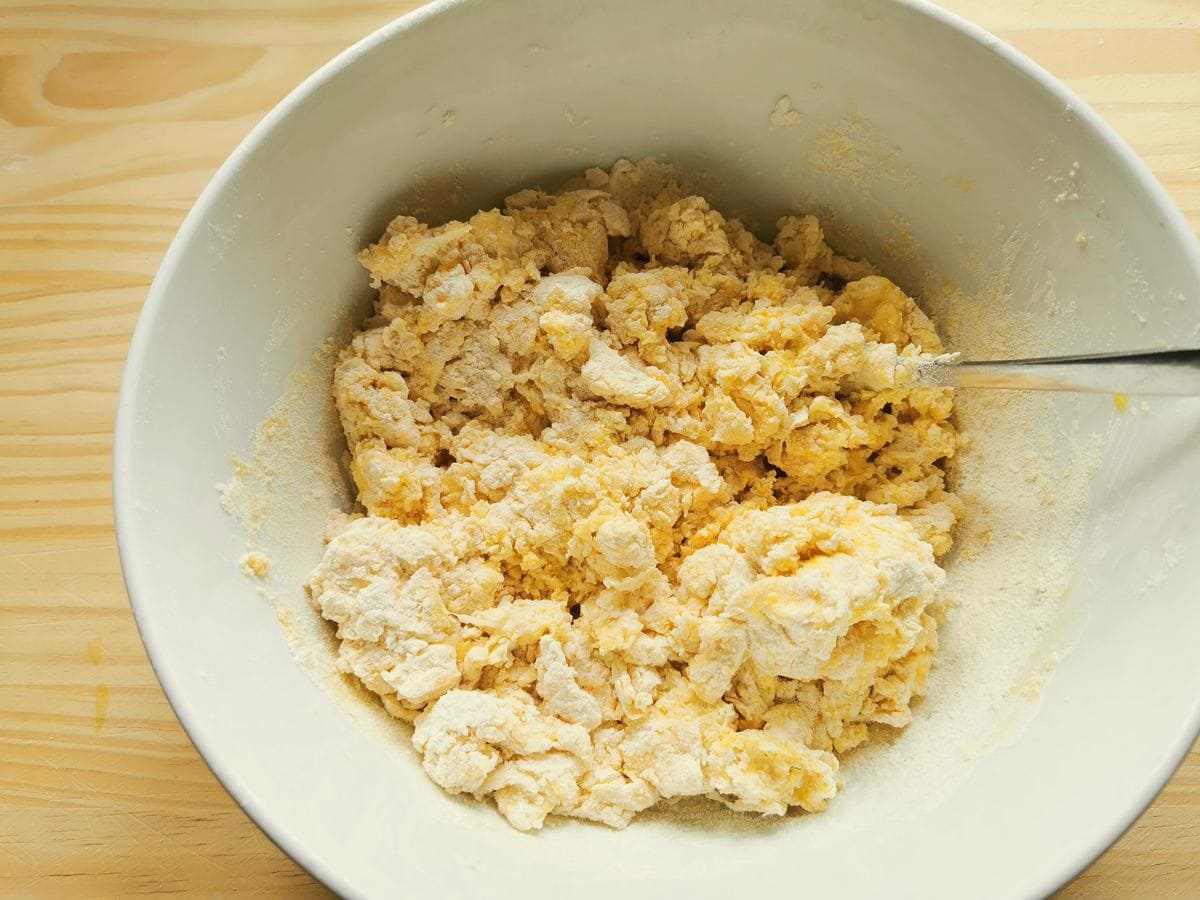 Some recipes call for mascarpone, ricotta or mozzarella. Although you can use any of these cheeses, I think a soft creamy cheese is better with the smoked salmon.
What is stracchino (crescenza)?
Stracchino (stra-key-no) also called quartirolo or crescenza, is a fresh young cheese with a soft, creamy and buttery consistency. It has a mild and delicate flavour. Stracchino is an Italian cow's-milk cheese, traditional produced in a number of Northern Italian regions such as Romagna, Lombardy, Piedmont, Veneto, and Liguria.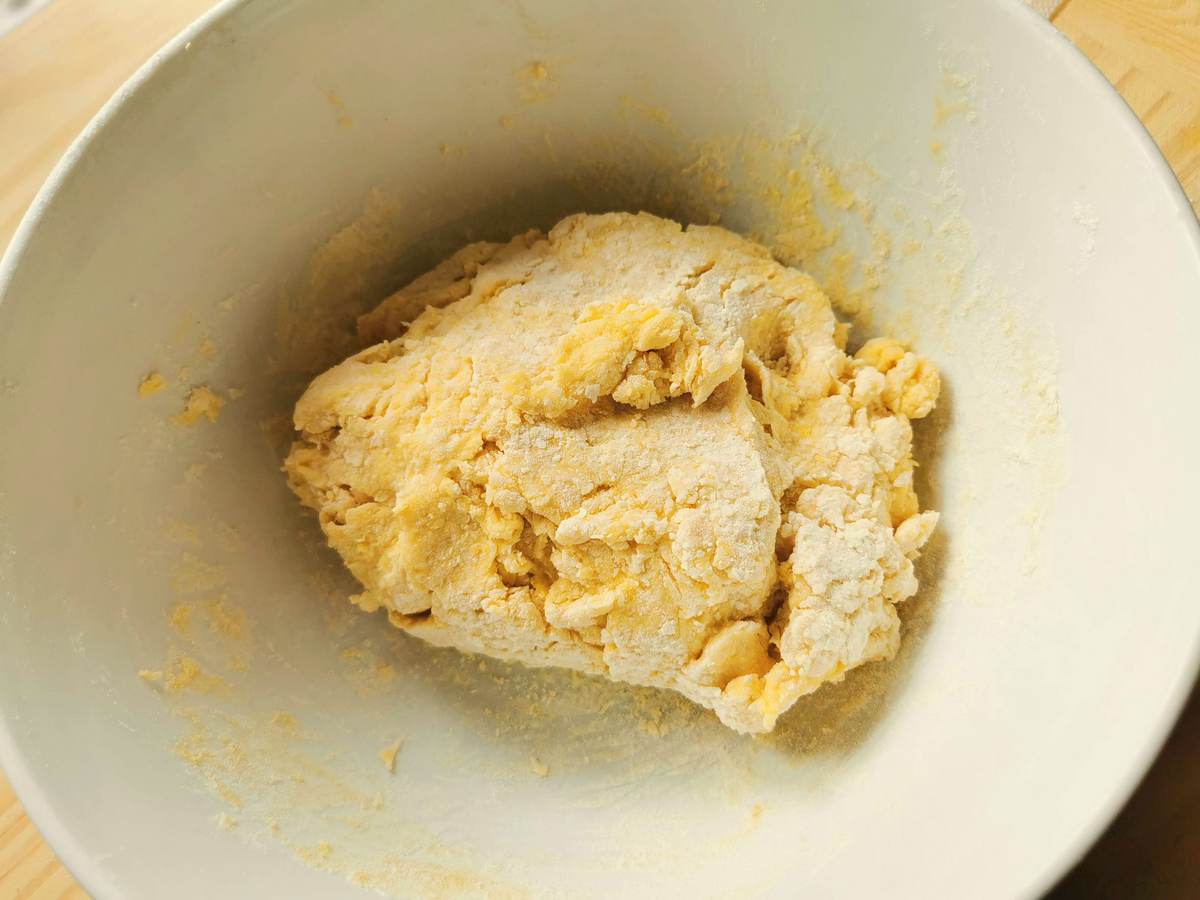 You can find stracchino (crescenza) for sale in UK, Australia, and the USA. I don't know if stracchino is imported into the US, but it is certainly made there. Check online for sales points.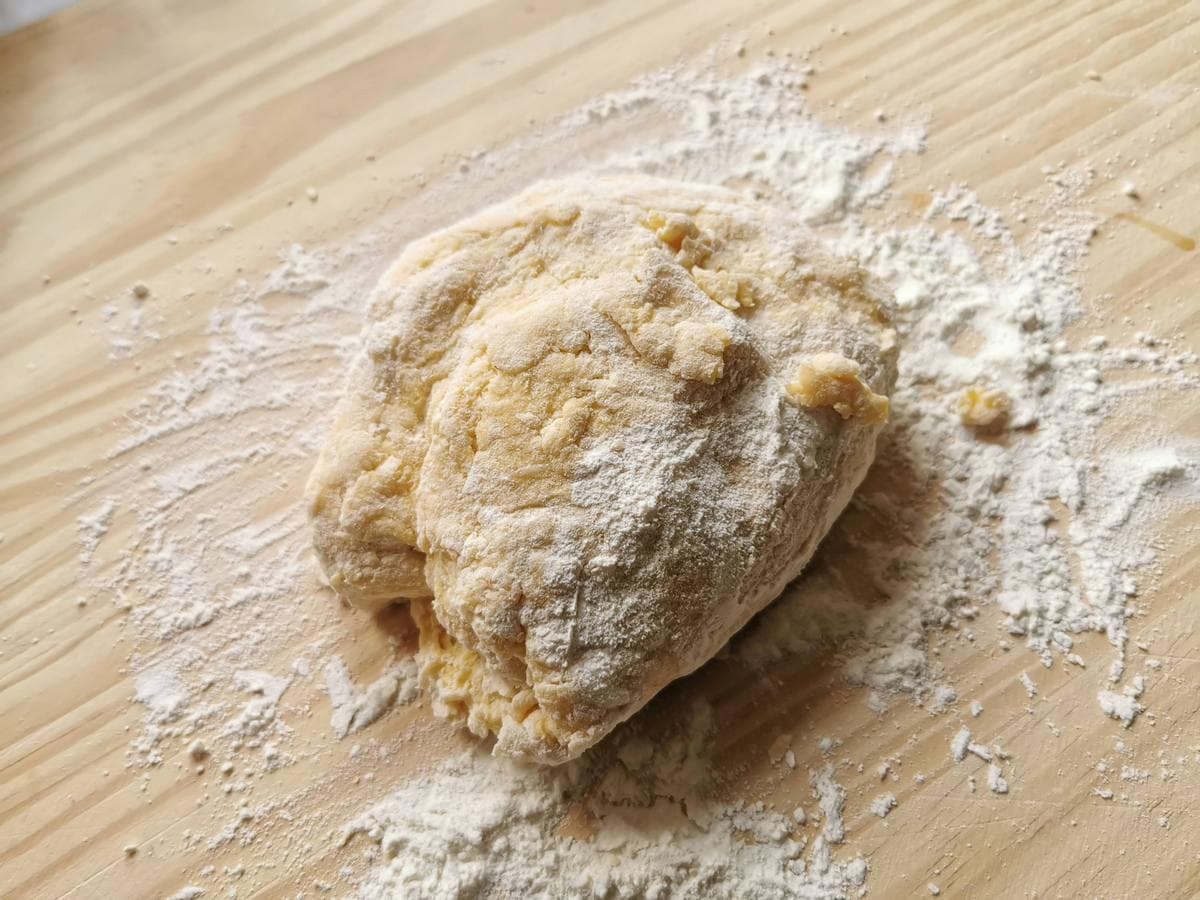 The pasta sheets.
Smoked salmon pasta rosettes can be made using homemade pasta sheets, or dried or fresh ready-made lasagne. Dried pasta sheets need to be partly cooked and then cooled before assembling the rolls.
Ready -made store-bought fresh lasagne sheets may need blanching in boiling water as these have a tendency to crack when rolled. They are never as soft as homemade pasta.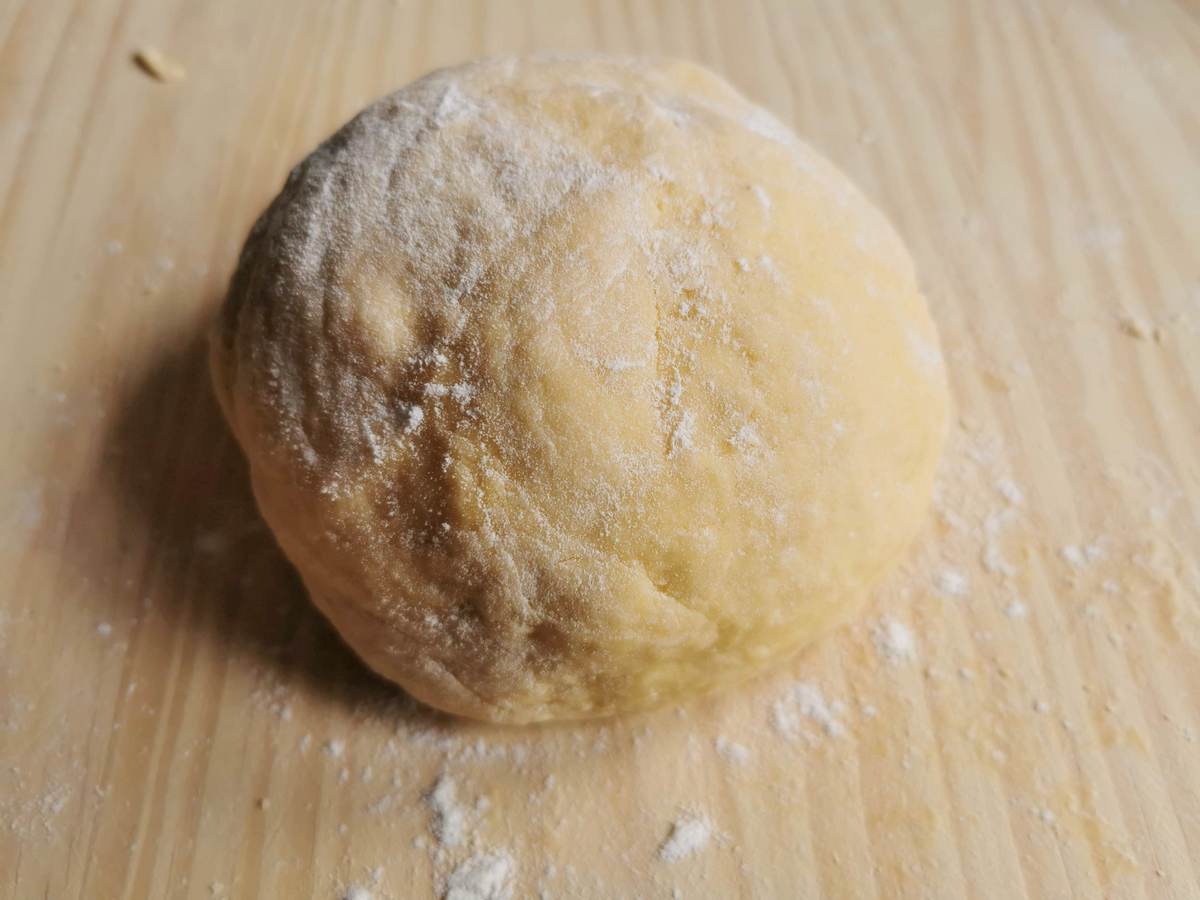 We made the pasta ourselves. This also has the advantage of allowing you to make longer and wider sheets. Normal lasagne sheets are quite small. If you are using standard size pasta sheets, it's best to roll them starting from one of the narrower sides. Each of these can be cut into about 3 pasta roses.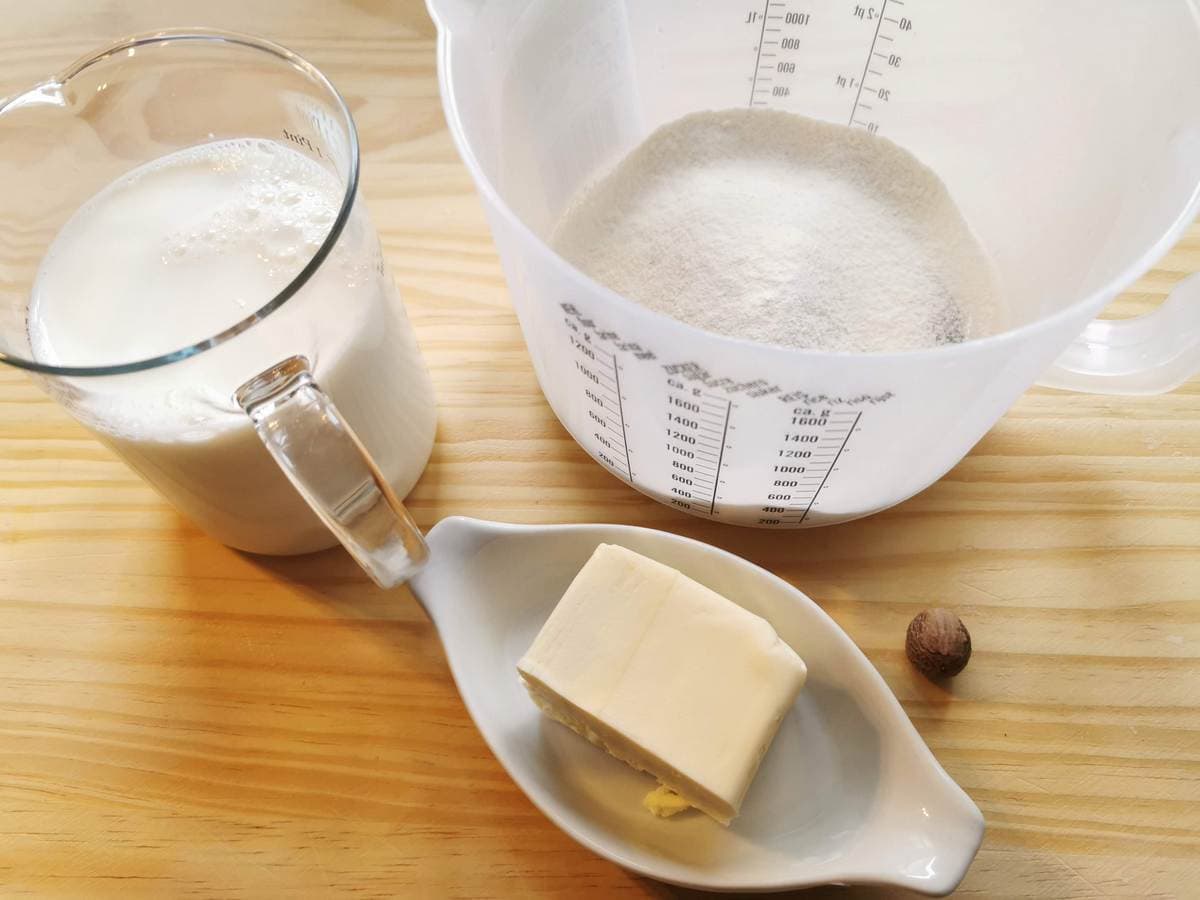 Making the pasta dough for your rosettes.
The pasta dough for this recipe is made the same way as lasagne pasta sheets for traditional lasagna, as well as most other fresh egg pasta noodles. You can use the same dough to make different types of ravioli or tortelli, tagliatelle and other pasta ribbons, and cannelloni (manicotti).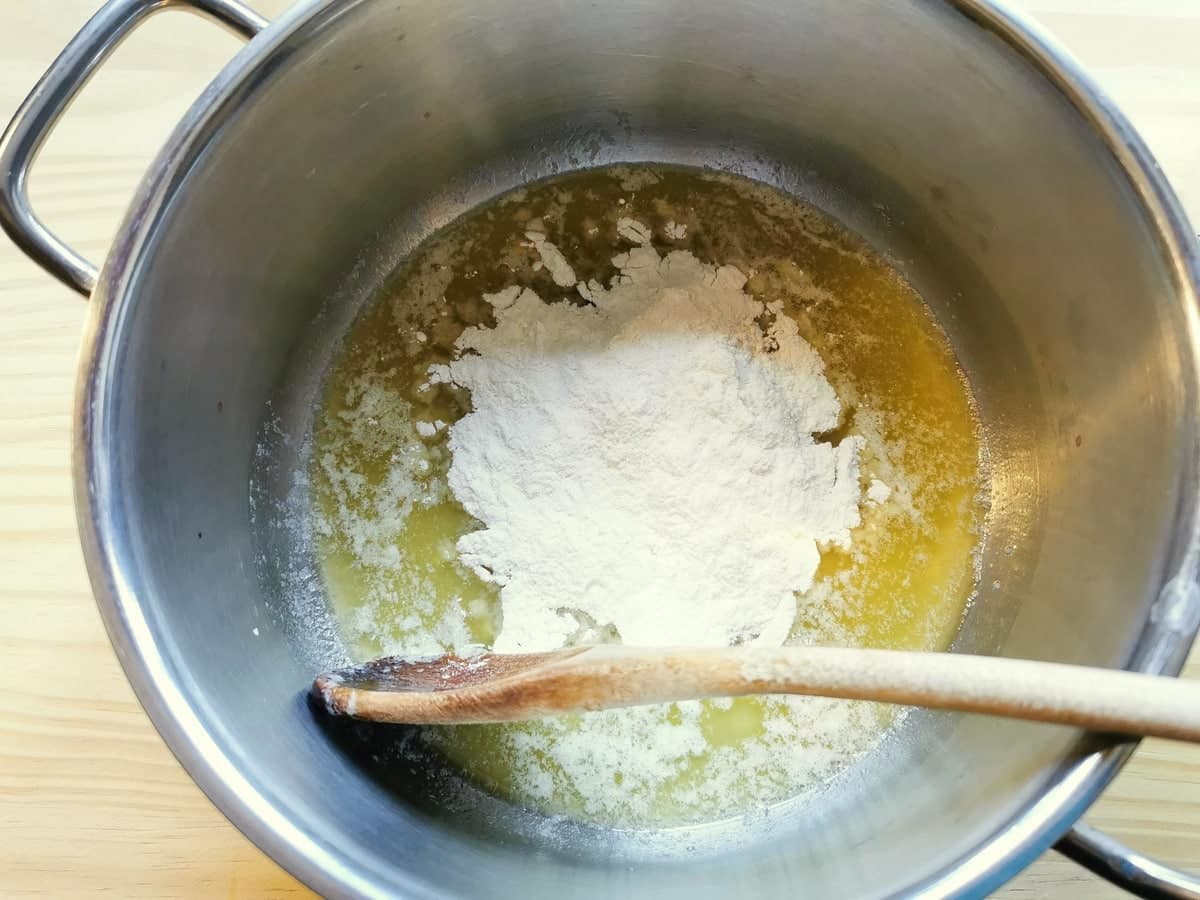 A classic Italian egg pasta dough has 100g (3.5oz) of soft wheat flour for every large fresh egg. Most recipes call for 400g (14oz) of flour, 4 eggs and a pinch of salt. This usually makes enough pasta to serve 4-6 people, depending on the pasta shape.
Some types of pasta dough recipes include olive oil, wine, water or even milk. The dough for smoked salmon pasta rosettes is just flour, eggs, and salt.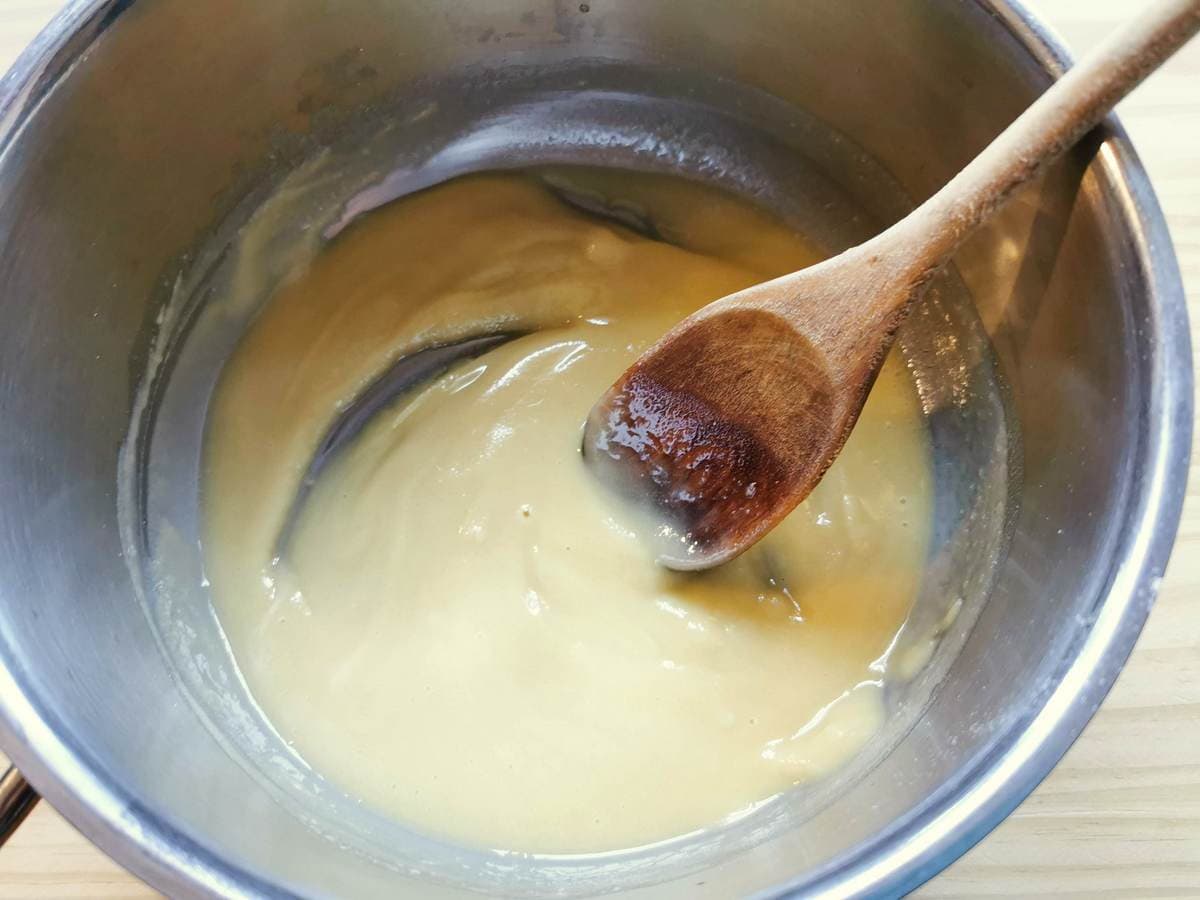 You can mix the flour, eggs and salt together the traditional way on a pastry board, or in a stand mixer (KitchenAid) or, as I like to do, in a bowl. I just sift the flour into a bowl, add the salt and eggs and start mixing them together with a fork.
I then use my hands to bring the ingredients together until I have a dough that no longer sticks to the sides of the bowl.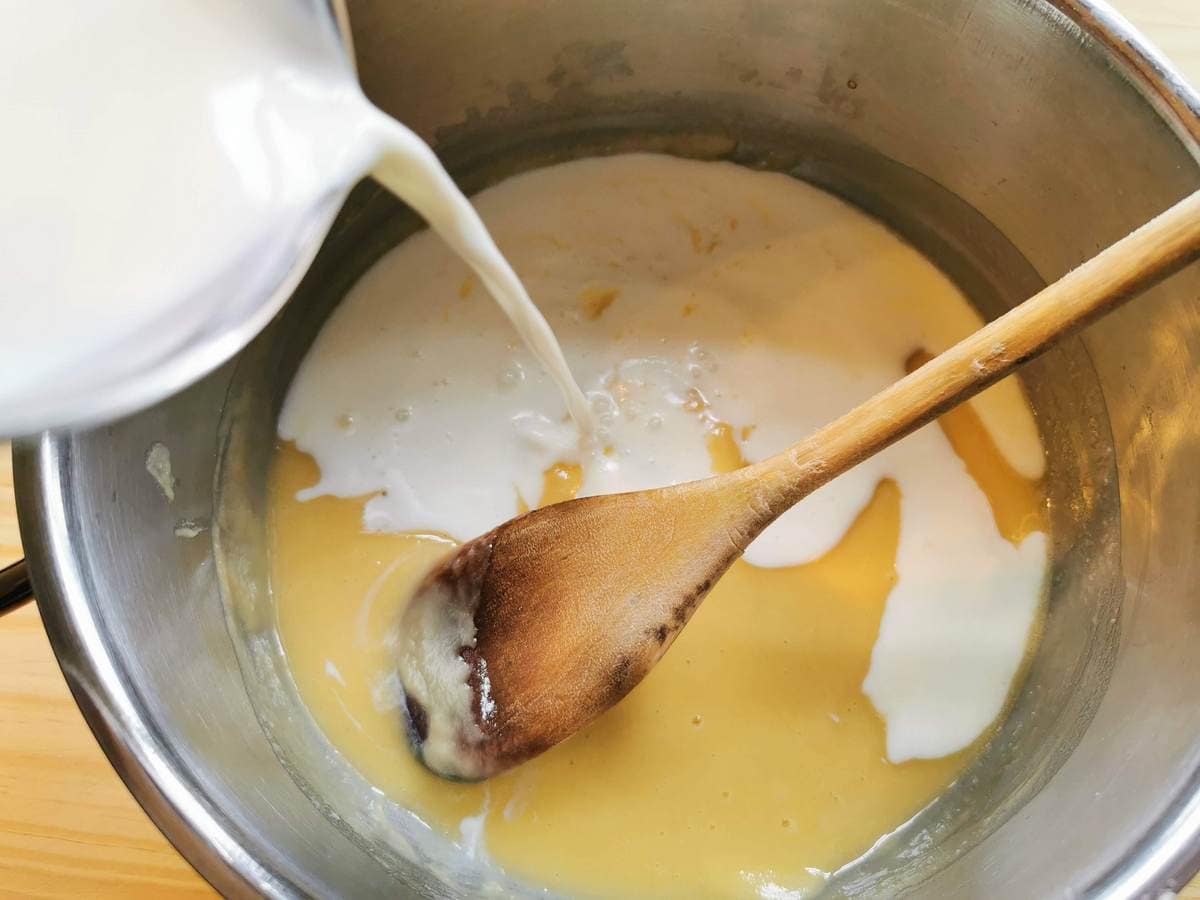 Then, I turn the dough out onto a floured worktop and knead it until it's soft, elastic and pliable. It's very much like kneading bread dough. Then, it's necessary to roll the dough into a ball, wrap it in clingfilm or a damp tea towel and let it rest for 30 minutes.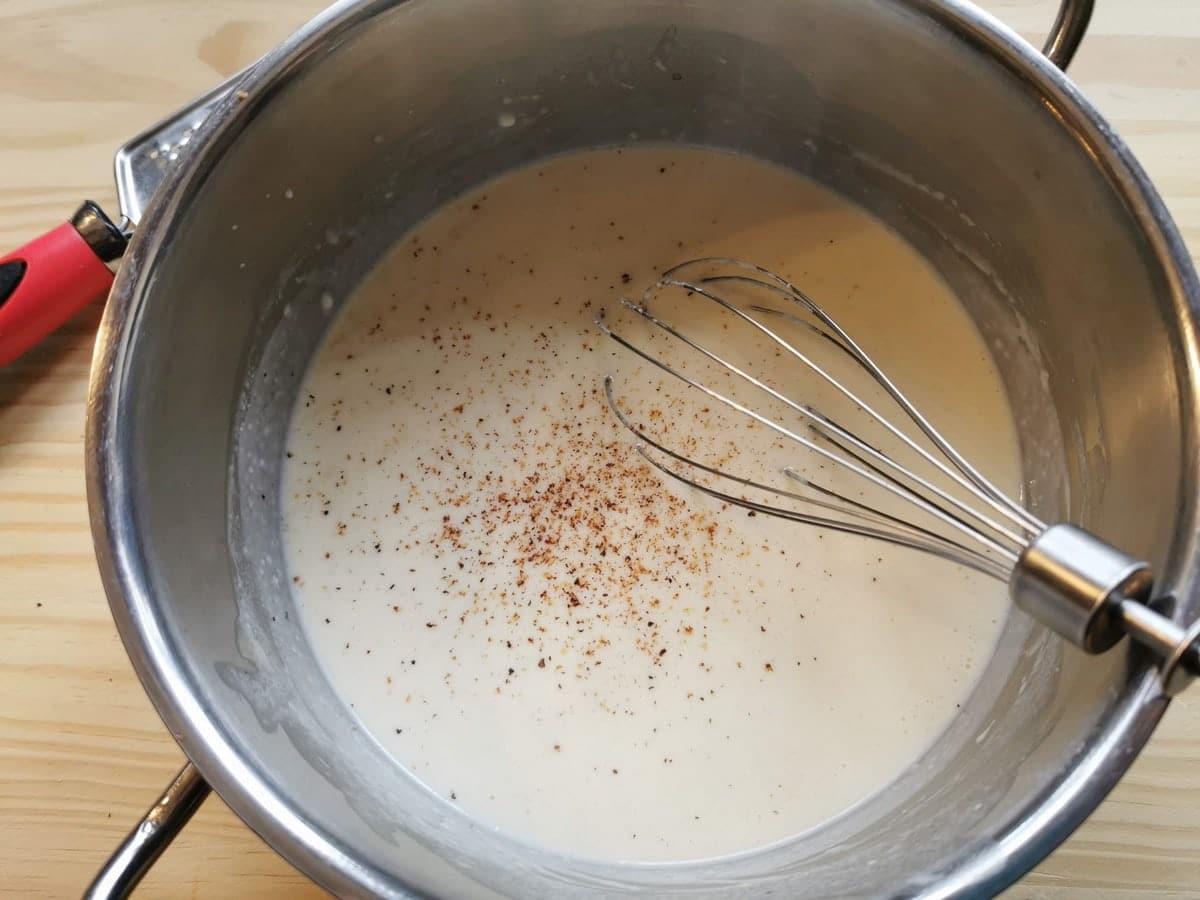 Making the béchamel.
While the dough is resting, you can prepare the béchamel, which is the white sauce the smoked salmon pasta rolls are baked in. Of course, you can use ready-made béchamel.
But, I prefer to make my own. It doesn't take very long. Just melt butter in a pan, add the flour and mix until you have a smooth paste. Then, over a low heat, add milk a little at a time and stir continuously until the sauce is smooth and creamy.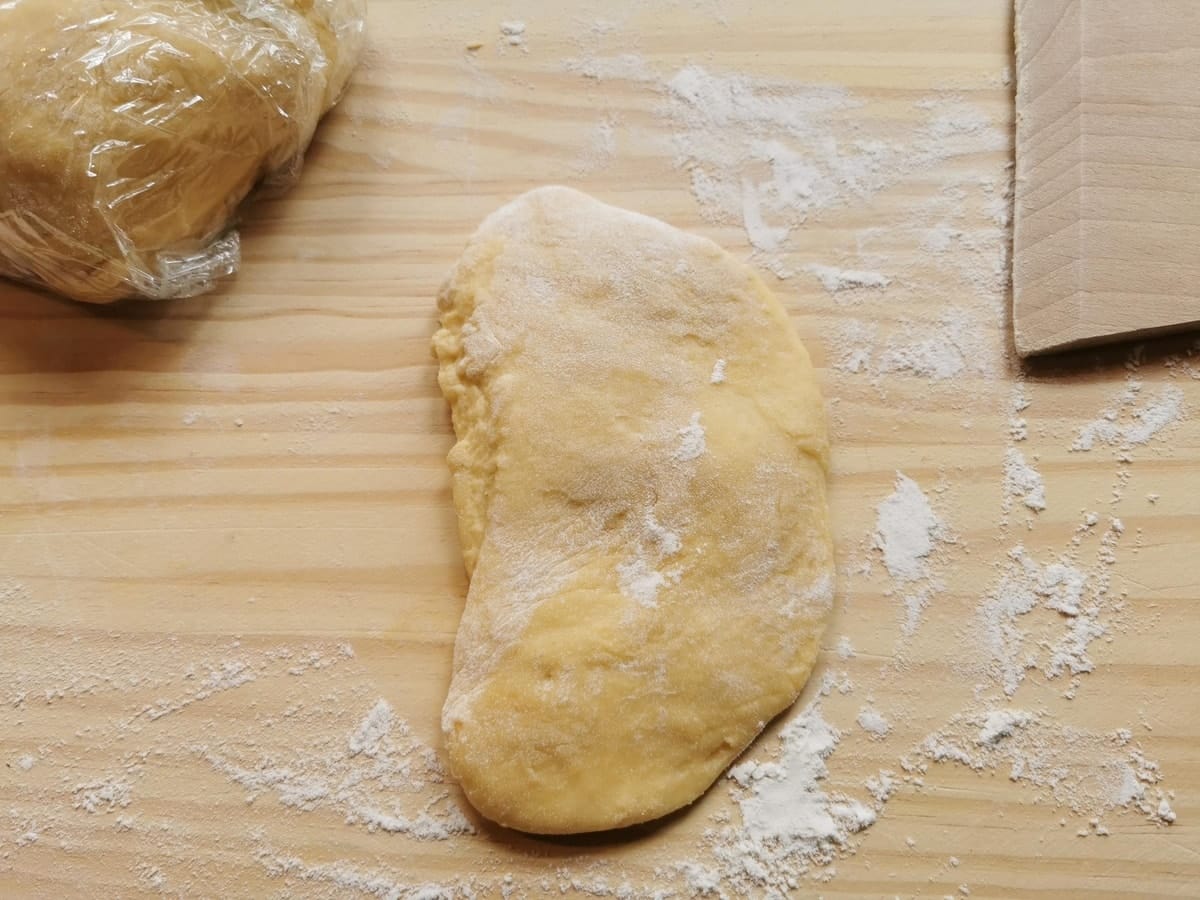 You can add some nutmeg if you like it and some grated Parmigiano if you want a cheesy sauce. However, if you are using homemade pasta that hasn't been pre-boiled, then your béchamel needs to be quite liquid. The pasta will cook in the sauce.
What kind of smoked salmon is best?
Obviously, the kind of smoked salmon you use in this pasta recipe will depend on what's available and you can use any thinly sliced smoked salmon.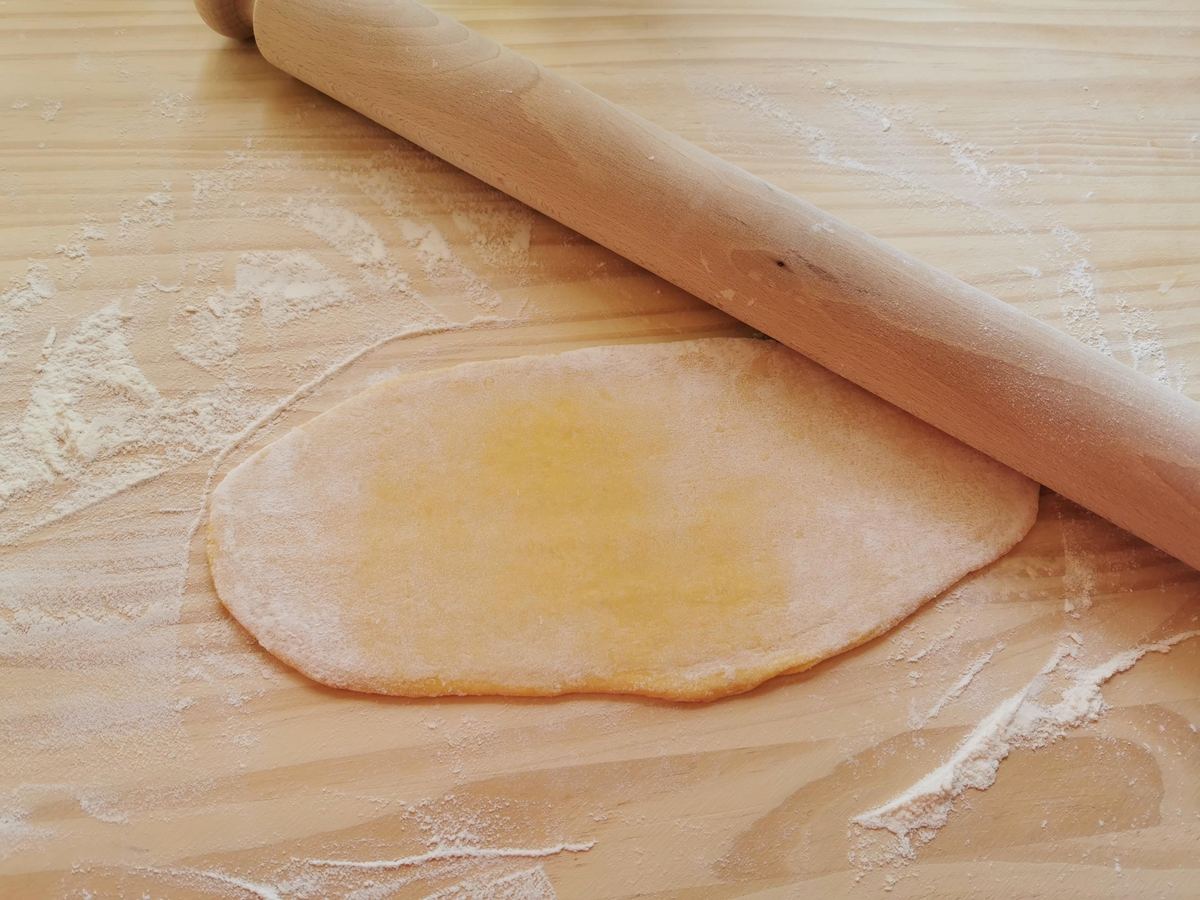 I used Lidl's wild sockeye salmon which carries a MSC Blue Fish label. This means the fish is sustainably sourced and comes from a healthy wild population that can reproduce for centuries to come. You can read more about the Blue Fish label on the MSC (marine stewardship council) site.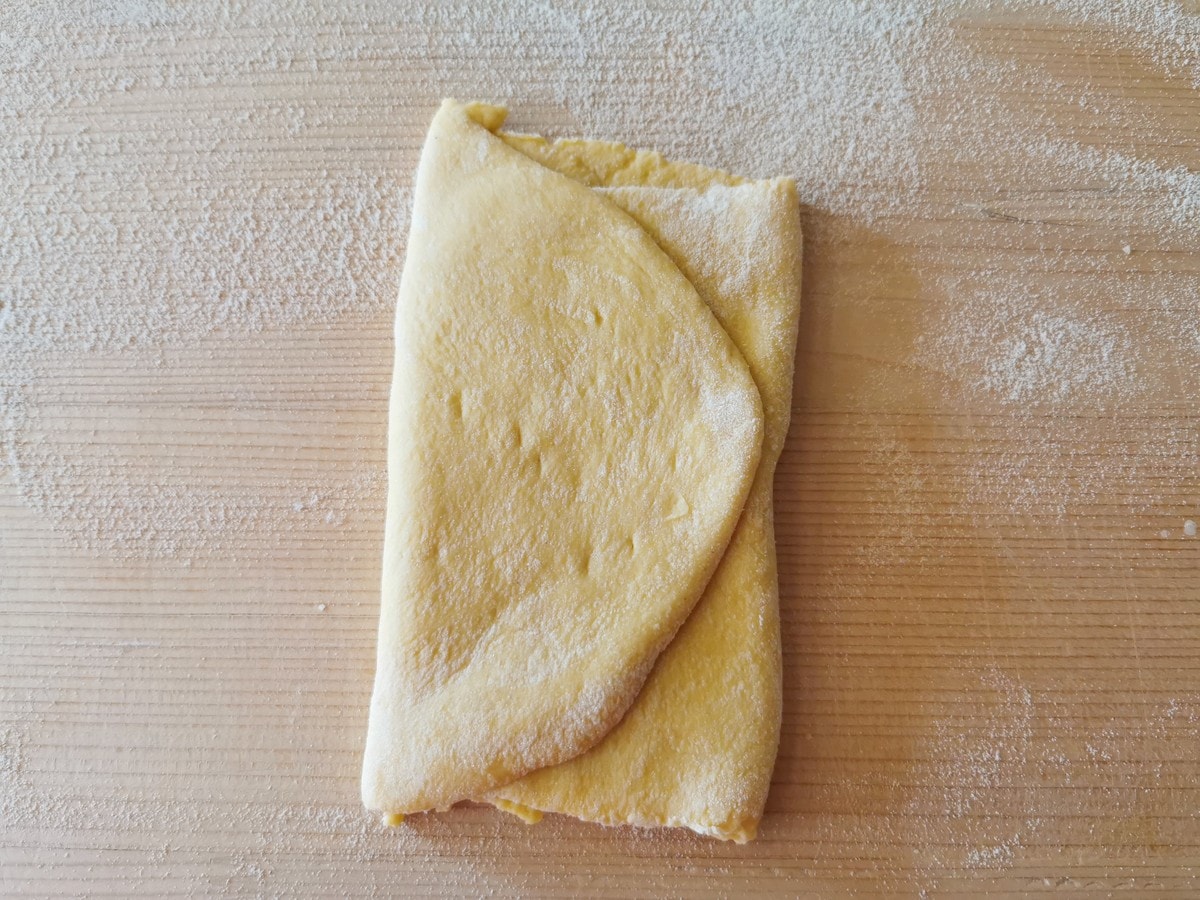 Choosing wild sockeye salmon is beneficial for our oceans. However, this salmon is also more flavourful than pink salmon, and more nutritious. In fact, Sockeye has the highest amount of omega 3 of any fish with around 2.7 grams per 100-gram portion! Good for the oceans, good for our health and super flavourful!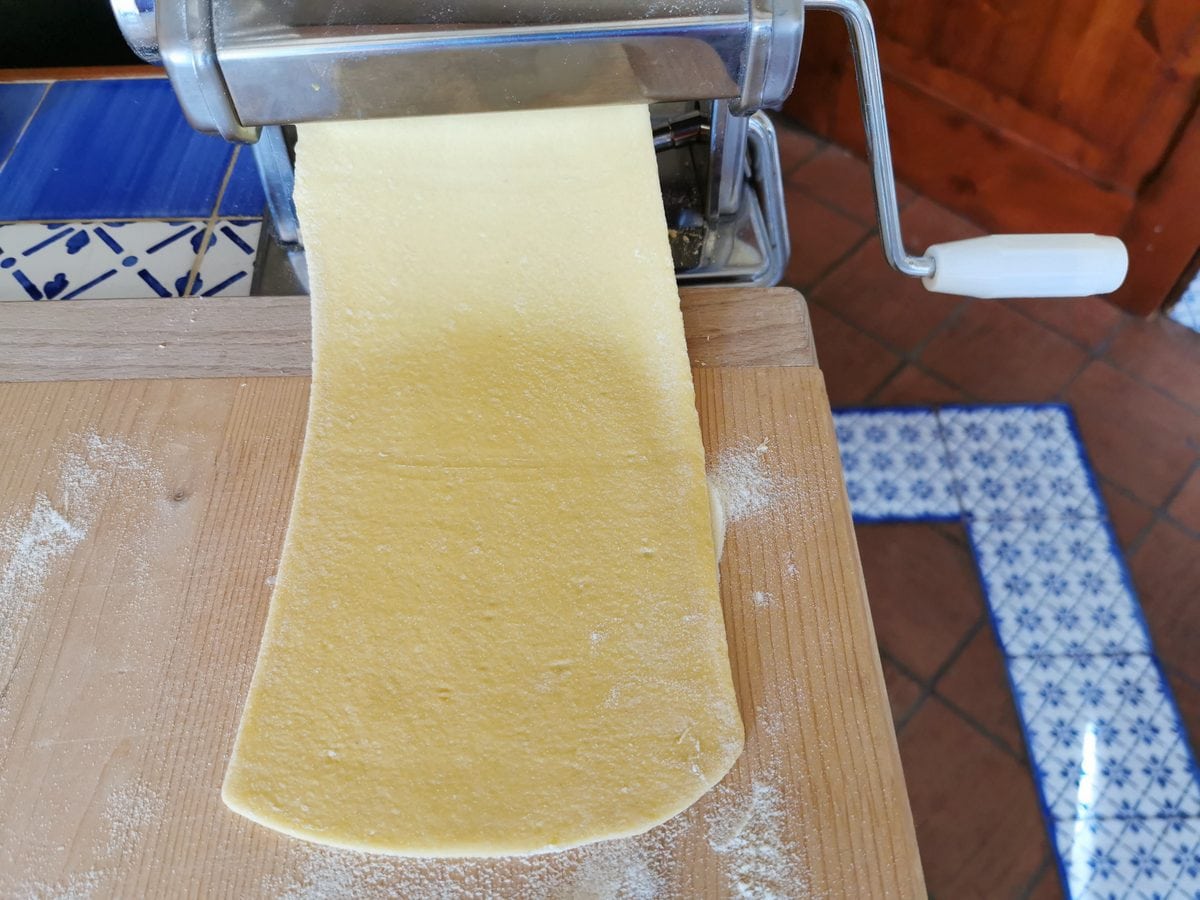 Making your smoked salmon pasta rosettes.
The other ingredients in this recipe don't require much preparation. All you need to do is mash the cheese in a bowl with a fork to soften it further and wash and chop the parsley.
So, once the pasta dough has rested and you have made your béchamel, you are ready to make the pasta sheets. You can use a hand operated pasta machine or just roll the dough out on a floured work surface.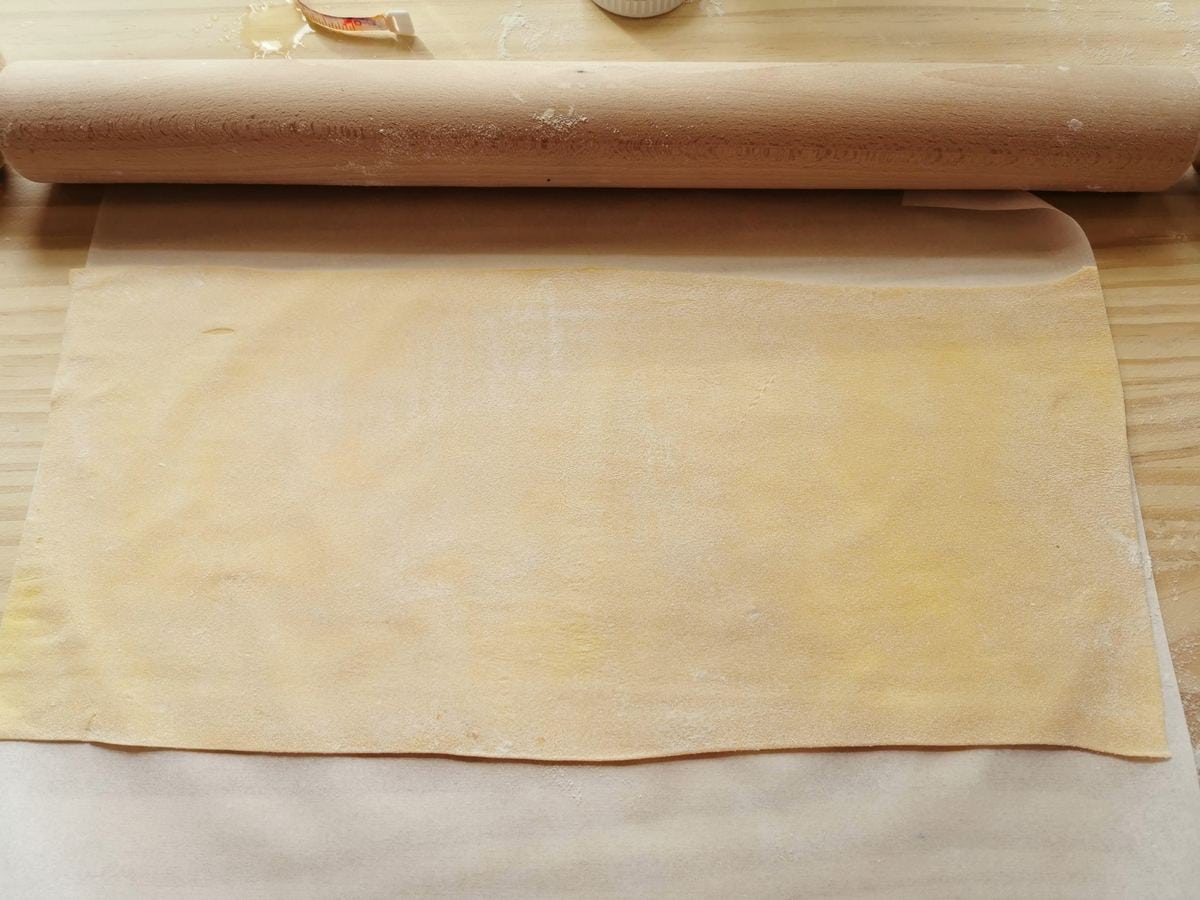 For our smoked salmon rosettes, we made quite large pasta sheets (about 42cm x 8 cm/ 16.5ins x 3ins). We then rolled the sheet up from the widest part to create a long Swiss roll, which we cut in two and then into rosettes of about 3cm wide.(1-1.5in).
Our pasta rosettes were quite small but a good size to even eat as finger food or serve in mini or individual portions.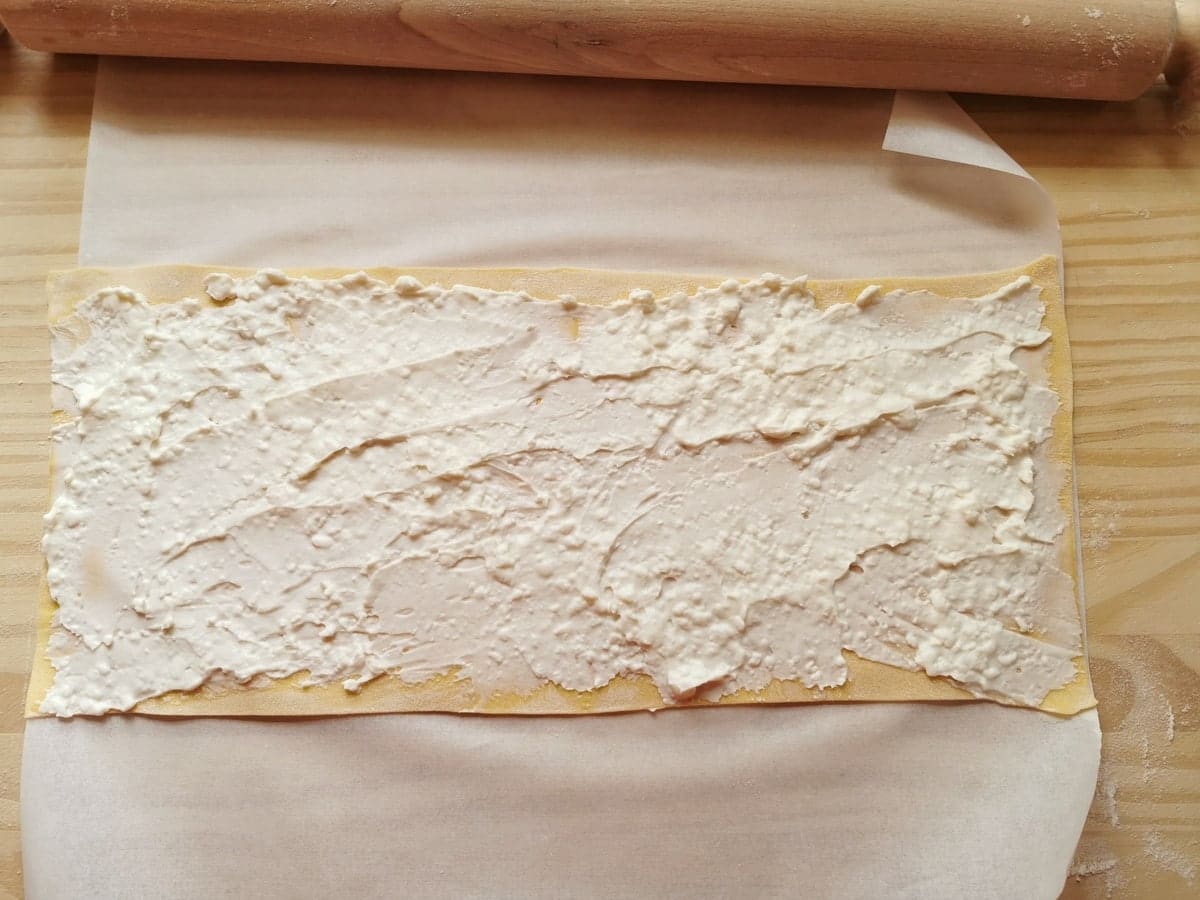 Other recipes for pasta rosettes suggest smaller pasta sheets like those used for lasagna, which can be rolled from the shorter edge. Alternatively, I've seen recipes with the pasta rolled out into a large square. It really depends on the size you want your pasta roses and whether you are making the pasta sheets yourself.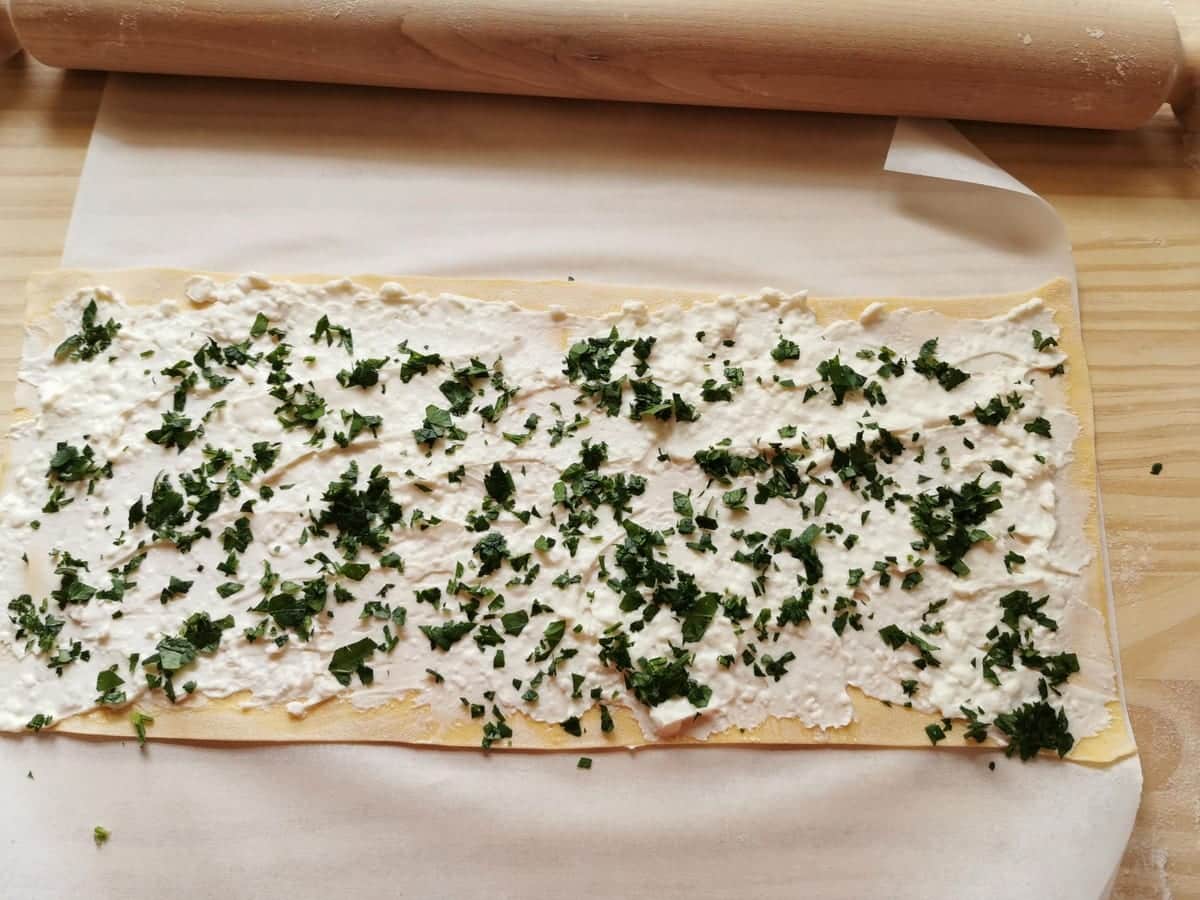 Filling and rolling your smoked salmon rosettes.
Filling and rolling the pasta doesn't take long. Just spread a layer of stracchino over most of the sheet of pasta, sprinkle some freshly chopped parsley on top of the cheese and then add slices of smoked salmon.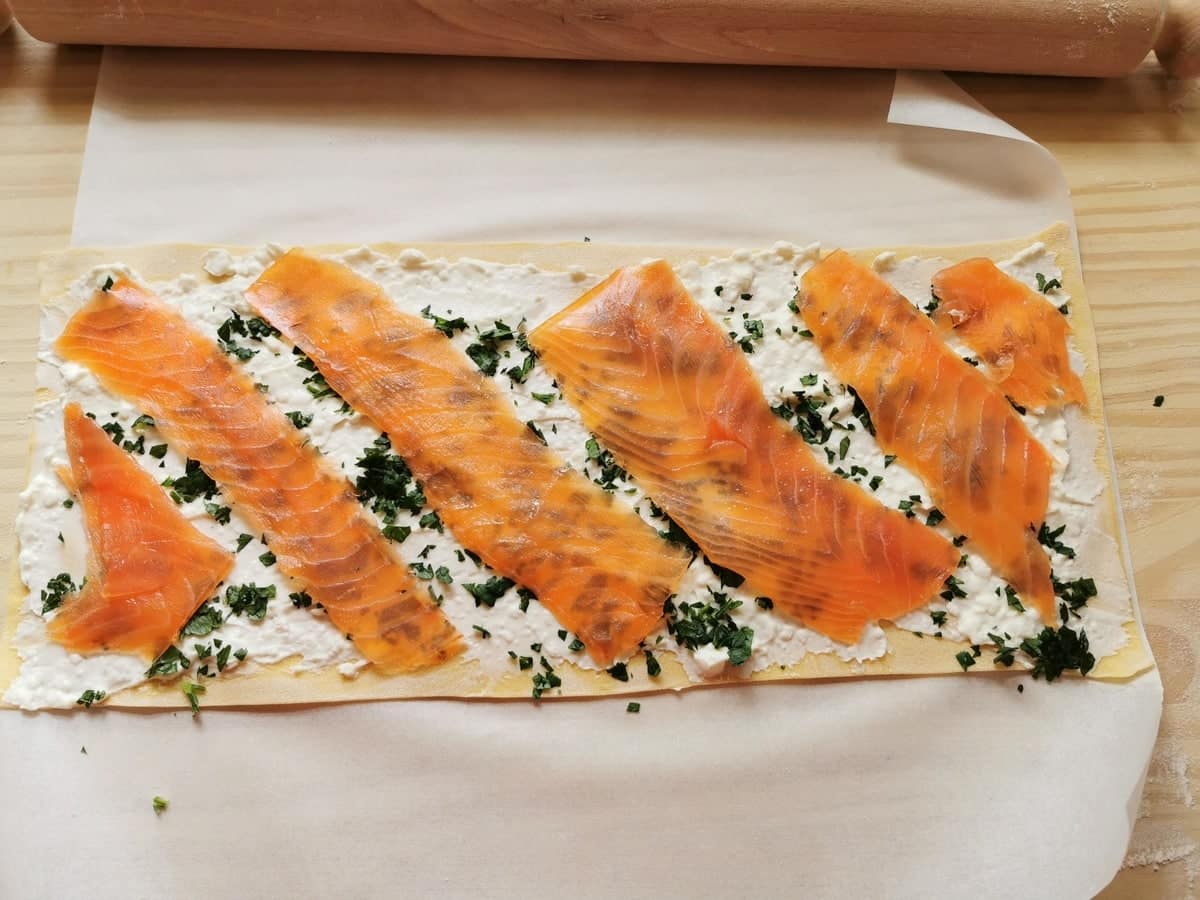 Then roll the pasta and the filling like a Swiss roll. The soft cheese will help keep the rolls from unfurling. Otherwise, brush along the inside of the end with a little water or egg.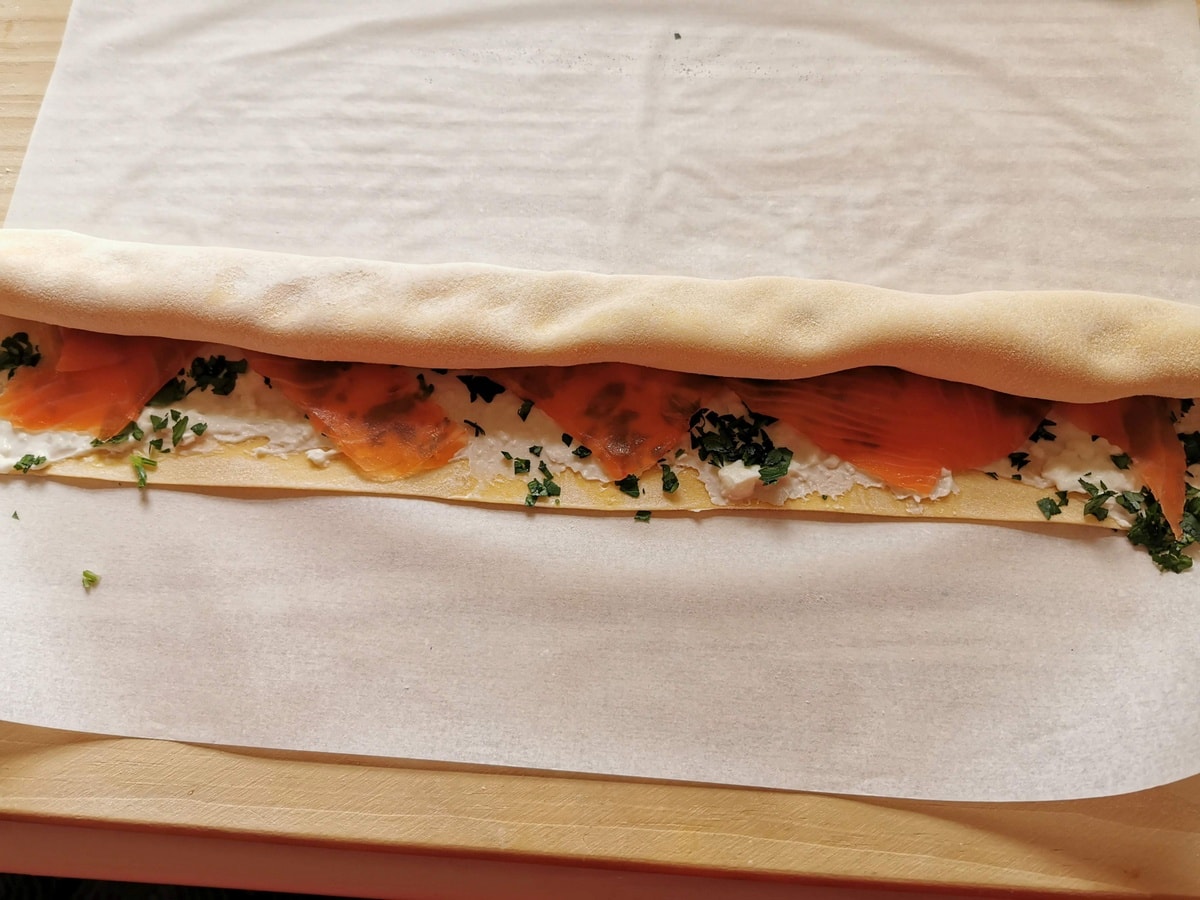 Whatever the length of your pasta rolls, it's a good idea to wrap them in baking paper and keep them in the fridge for an hour (if you have time). This makes it easier to cut into rosettes.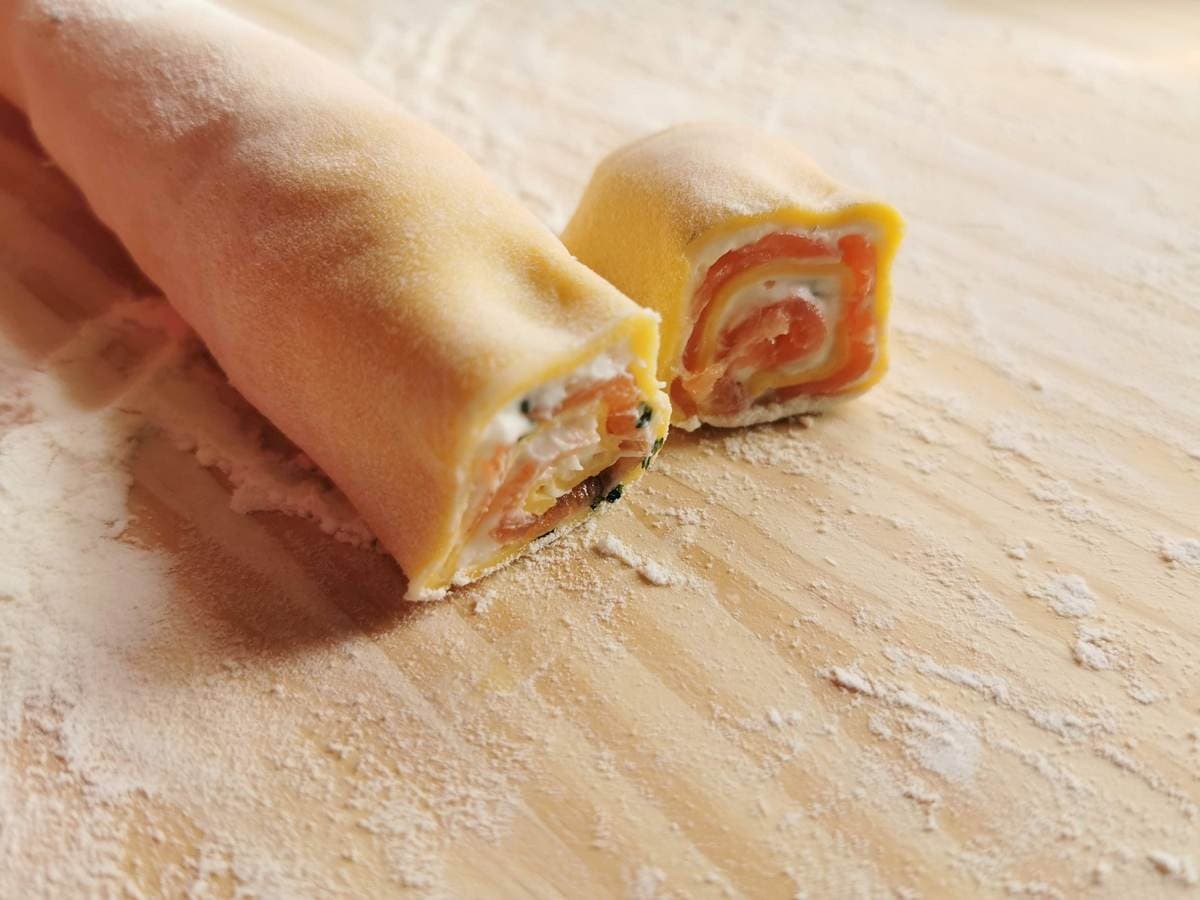 Finish and bake.
Once you have cut the pasta rolls into rosettes, spread a layer of béchamel in an oven dish and then fill the dish with the pasta rolls. They need to fit quite tightly without squashing each other.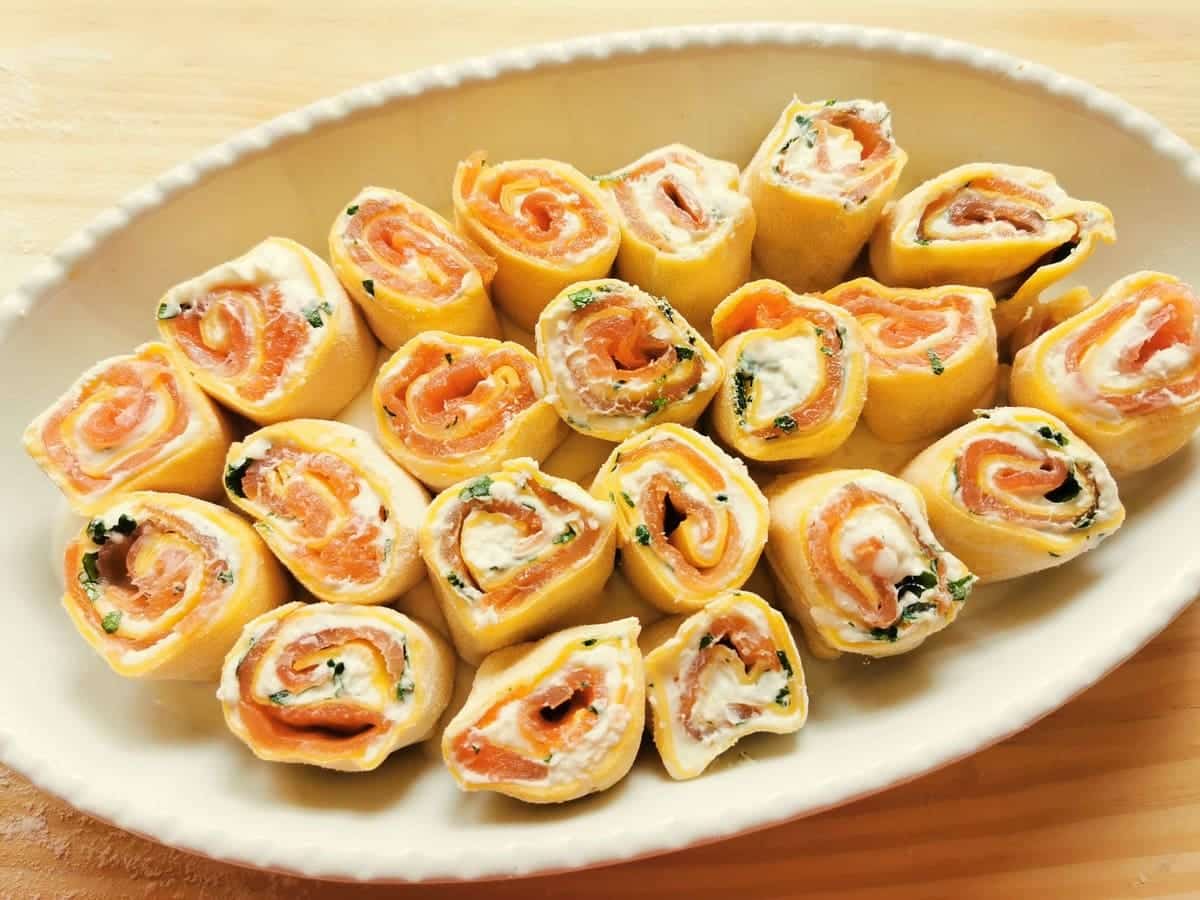 Finally, pour the remaining béchamel over your smoked salmon rosettes and sprinkle some grated Parmigiano on top. Bake covered with aluminium foil in a preheated oven for about 15 minutes and then uncovered for another 10-15 minutes until the pasta is cooked and the top has started to brown.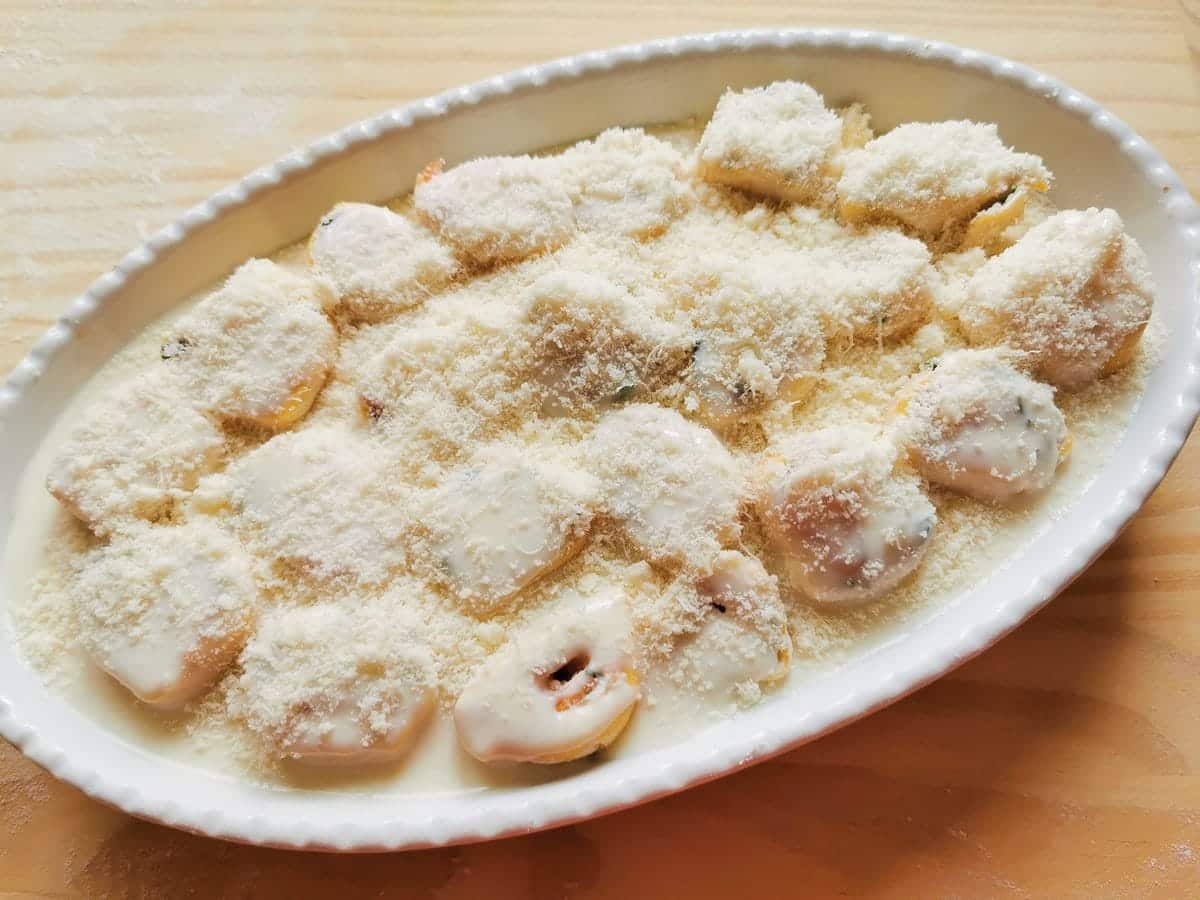 Let your baked smoked salmon rosettes sit for 10 minutes before serving. This makes it easier to remove them from the oven dish. Enjoy!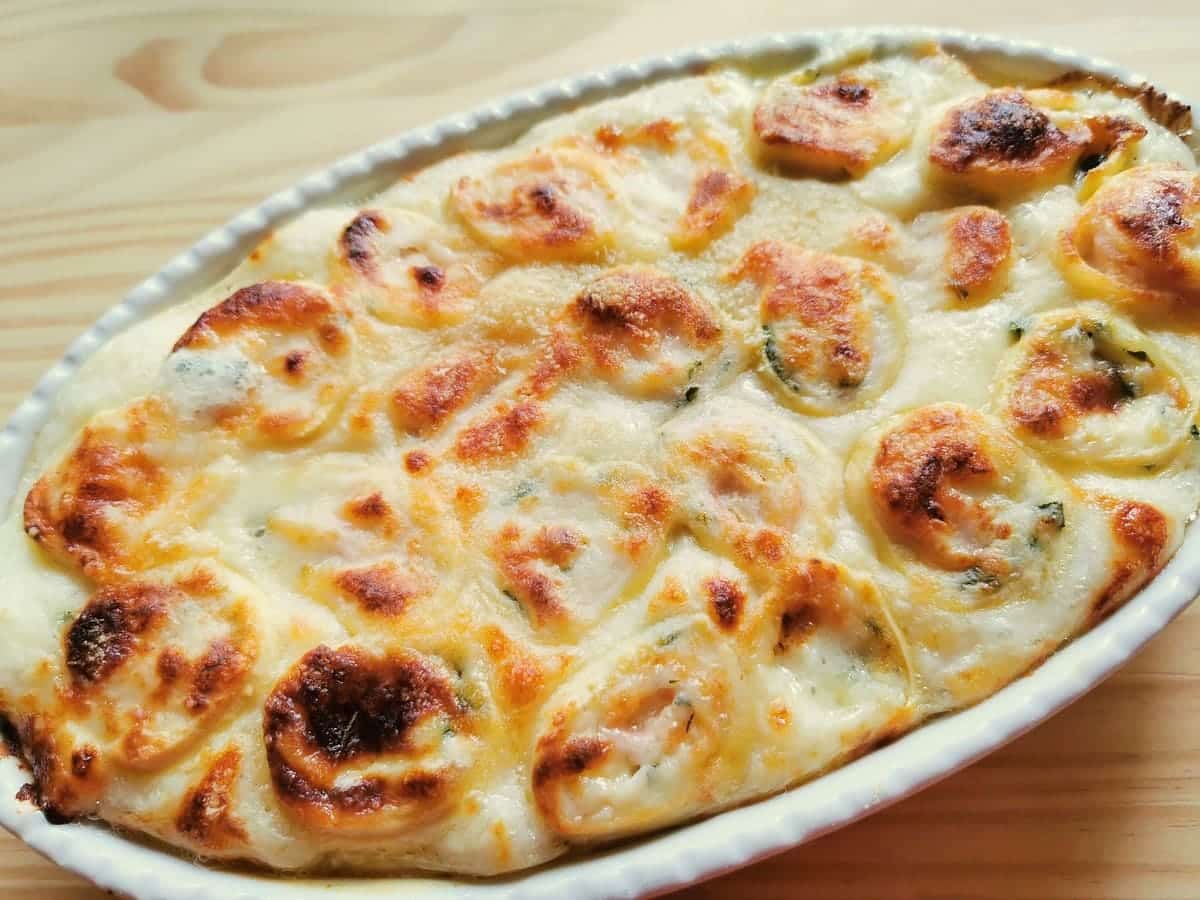 Let me know what you think.
If you do try this fabulous smoked salmon pasta recipe, I'd love to know what you think. Please write a comment here on the blog or post a comment on the Pasta Project Facebook page.
Your feedback means a lot to me!
Buon Appetito!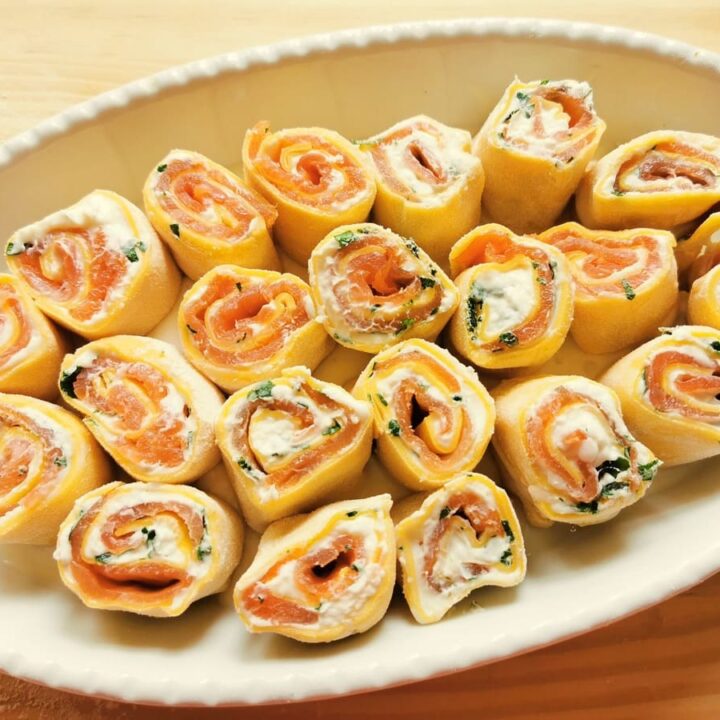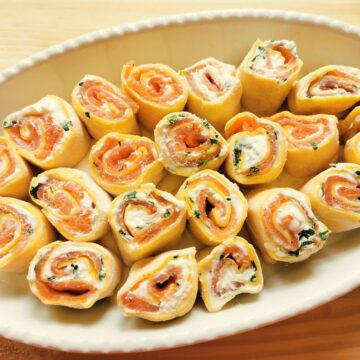 Baked Smoked Salmon Pasta Rosettes (rolls)
This divine baked smoked salmon pasta recipe has homemade pasta sheets rolled around a creamy cheese and smoked salmon filling and then cut into small rosettes (pasta roses or rolls). The rolls are then baked in a béchamel sauce with grated Parmigiano on top. Serve as an appetizer, starter or main course.
Ingredients
For the pasta sheets
14

oz

Italian 00 soft wheat flour (400g)

or all purpose flour

4

eggs (large)

room temperature

1

salt

a large pinch
For the béchamel
2.5

oz

Italian 00 soft wheat flour (70g)

or all purpose flour

2.5

oz

butter (70g)

3

cups

fresh milk (700ml)

nutmeg

freshly grated

salt

to taste
For the smoked salmon rosettes
9

oz

stracchino cheese (250g)

or ricotta or mascarpone

4.5

oz

thin smoked salmon slices (125g)

I used sockeye salmon

fresh parsley

chopped

2.5

oz

grated Parmigiano or Grana
If using ready-made lasagne sheets
6

standard fresh or dried lasagne sheets

8×18 cms/3.2×7 ins (see note)
Instructions
To make the pasta dough and sheets
Sift the dough into a bowl. Add beaten eggs and salt. Start mixing with a fork until the eggs are incorporated. Then continue mixing and kneading with your hands until you have the start of a dough that doesn't stick to the sides of the bowl.

Turn the dough out onto a floured work surface and knead for 7-10 minutes until the dough is soft, elastic and pliable. It's like kneading dough for bread.

Roll the dough into a ball and wrap it in clingfilm (plastic wrap) or a damp tea towel. Let it rest for 30 minutes.

After the dough has rested, cut 1/5 of the dough off and reseal the remaining dough in clingfilm again. Flatten the dough piece using your hands or a rolling pin until it's thin enough to pass through a pasta machine.

Pass the dough through your pasta machine 2-3 times at the widest setting, folding it into thirds afte reach pass.Then pass the pasta sheet through the next 2-3 settings until it's the right thickness and length.

Finally, transfer the dough sheet to a floured work surface and cut to the size you want. If you want it bigger, continue to roll out using a rolling pin.
Make the béchamel
Melt the butter in a non-stick saucepan over a low heat. Add the flour and stir until you have a smooth paste (roux)

Add the milk a little at a time and continue to stir until the sauce starts to thicken. Add salt and nutmeg to taste. You can also add grated Parmigiano if you desire.

Remove from the heat and allow to cool covered with cling film. If your bechamel seems lumpy when you are ready to use it, whisk with an immersion blender!
Fill and roll the pasta rosettes
Put a fresh pasta sheet onto a floured piece of baking paper. Cover the pasta with a thin layer of stracchino cheese and sprinkle chopped parsley on top of the stracchino. Then cover with thin smoked salmon slices.

Roll the sheet into a swiss roll shape. If it's very long cut it in half. If you have the time, wrap the rolls in the baking paper and leave in the fridge for an hour or more. This makes them easier to cut.

Repeat the filling process with all the pasta sheets and the rest of the smoked salmon, parsley and stracchino cheese.
Finish, bake and serve.
Coat the bottom of an oven dish with béchamel. Cut the pasta rolls using a very sharp knife into 3cm pieces (1.2in) and place side by side in the oven dish.

Pour the rest of the béchamel over the smoked salmon pasta rosettes and sprinkle with parmigiano.

Cover with aluminium foil and cook at 180° in a preheated oven for 15 minutes. Remove the aluminium foil and cook for another 10-15 minutes until the top becomes golden and crispy.

Allow the baked pasta to sit for 10 minutes before serving. Serve with extra grated parmigiano and more chopped parsley if desired
Notes
If you use dried lasagne sheets for this recipe, they will need to be cooked for a minute in boiling salted water and then cooled on a damp tea towel before making the rosettes.
Standard lasagne sheets are best rolled from the shorter side. These may only make 3 pasta rosettes each. Larger sheets can be rolled from the longest side (see pics in content) and will make more rosettes.
For this recipe we made 2 large rectangular pasta sheets (about 42cm x 8 cm/ 16.5ins x 3ins). Our rosettes were quite small. You can make them bigger.
Homemade pasta sheets don't need preboiling if they are thin enough. If you aren't sure blanch them for 10 seconds in boiling water and leave to cool on a damp tea towel. Ready-made fresh pasta sheets usually need blanching as they can crack when rolled.
This recipe makes about 24 rosettes. Serve as a starter for 6 or main course for 4. 
Nutrition
Calories:
629
kcal
Carbohydrates:
67
g
Protein:
29
g
Fat:
27
g
Saturated Fat:
15
g
Polyunsaturated Fat:
2
g
Monounsaturated Fat:
7
g
Trans Fat:
0.4
g
Cholesterol:
184
mg
Sodium:
557
mg
Potassium:
402
mg
Fiber:
2
g
Sugar:
6
g
Vitamin A:
951
IU
Calcium:
411
mg
Iron:
5
mg
Pin for later.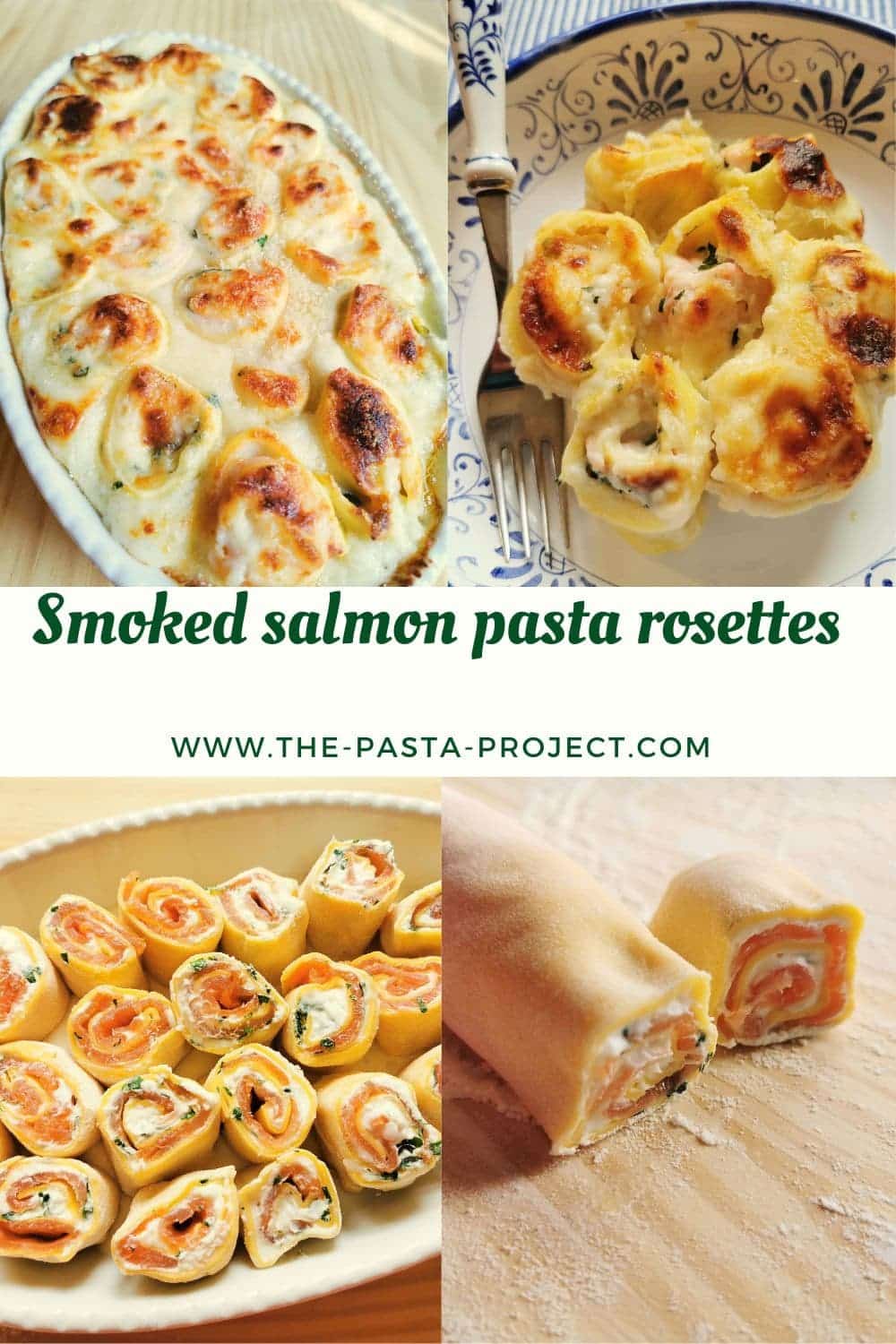 Other recipes you can use your fresh pasta in.
Are you interested in learning how to make other types of homemade pasta and different types of gnocchi? Then check out my shop page for some great video online courses from my friends in Rome! Nothing beats learning to make pasta from Italians! Plus while you're there why not order a copy of one of my pasta recipe cookbooks or checkout some recommended pasta making tools?