This baked pasta roses recipe from Emilia-Romagna is one of the best ways to use homemade, fresh or dried lasagne pasta sheets. Also known as pasta rosettes this beautiful dish is easy to make and yet seriously delicious. I'm sure your family will love it as much as mine! Perfect for Sunday lunch, Mother's Day and Easter.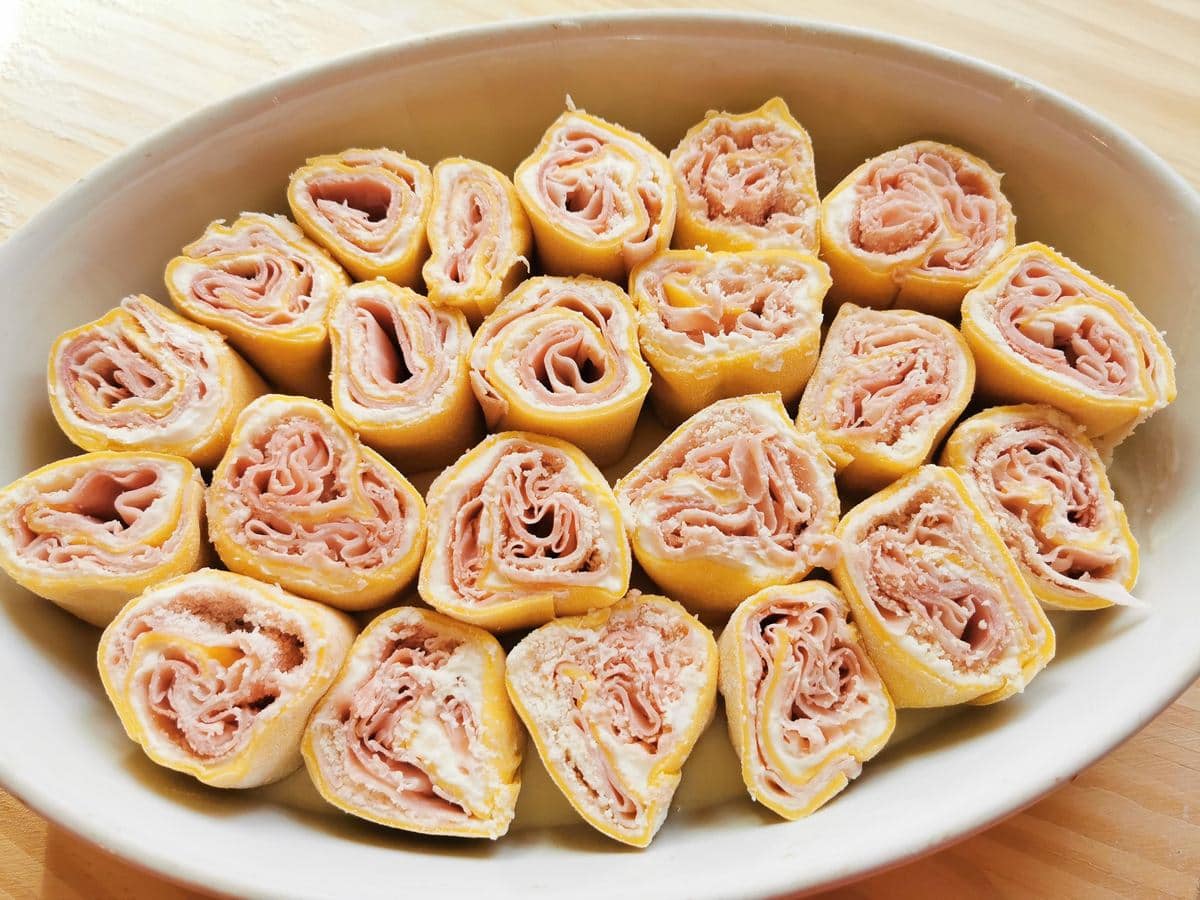 Nidi di rondine romagnoli (swallow's nests).
A few days ago, I was searching for a recipe for 'pasta al forno' (baked pasta). I wanted to find something traditional, yet a little unusual. Plus, since I have started to make more homemade pasta, I wanted to make the pasta myself.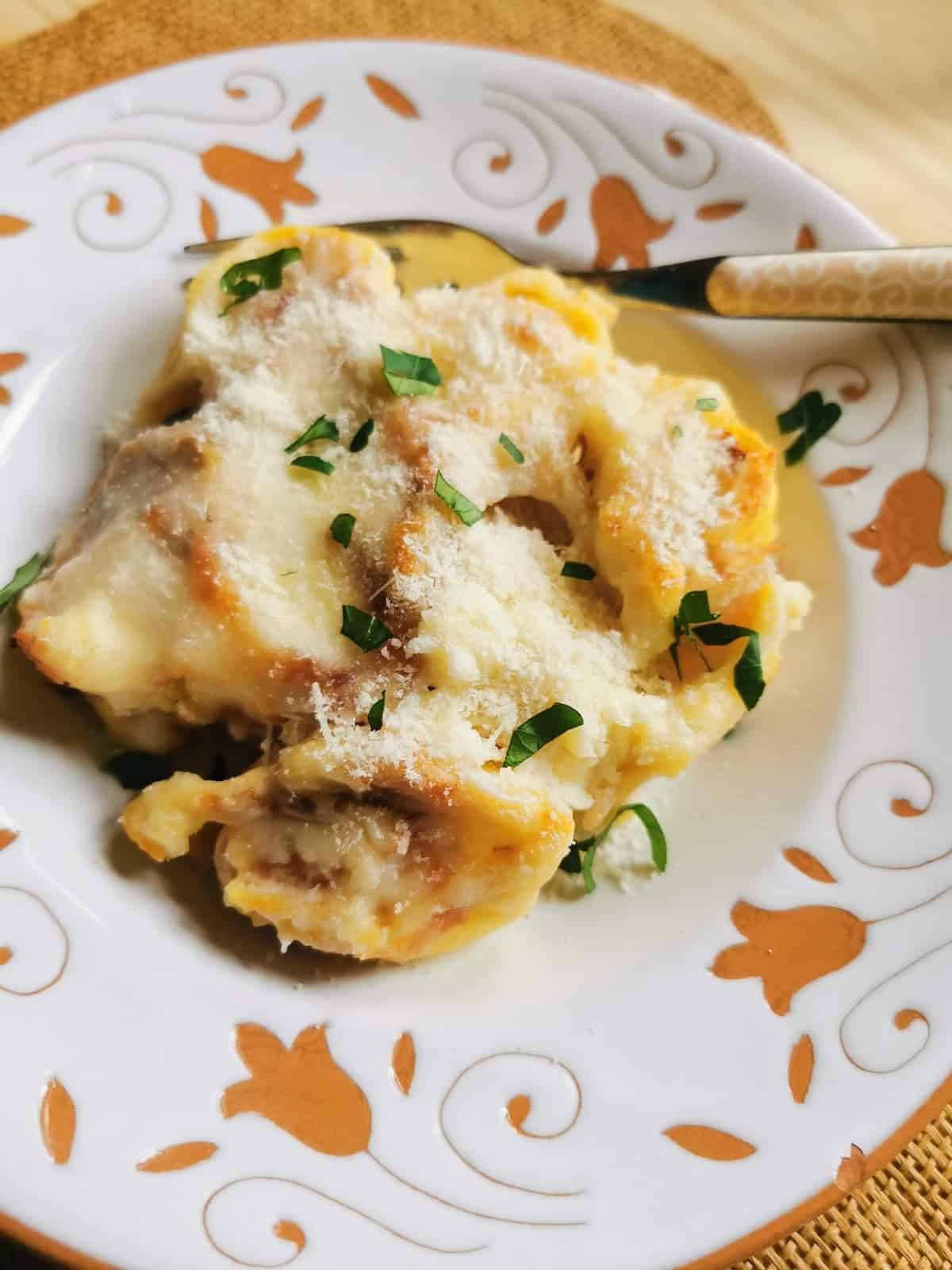 I came across this recipe for baked pasta roses that begged to be tried. This is a traditional dish from Emilia-Romagna. Italians call it pasta roses (rosette di pasta) or'nidi di rodine', meaning swallows' nests.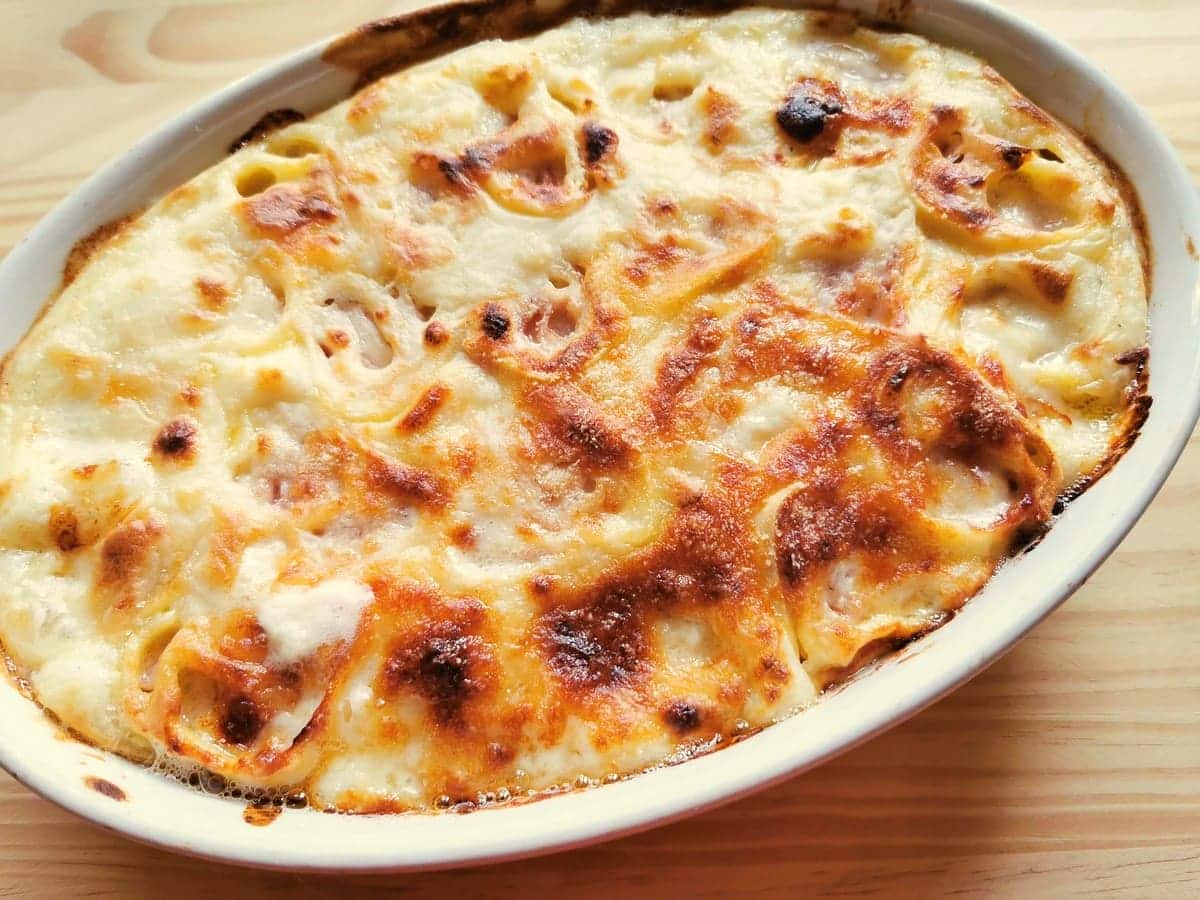 There are a number of versions of baked pasta roses in Emilia Romagna depending where in the region you are. You can find it called 'nidi di rodine alla Romagnola', meaning from the Romagna part of the region. In addition, there's a version from Modena known as 'rosette modenesi' and another from Piacenza, nidi di rodine piacentini!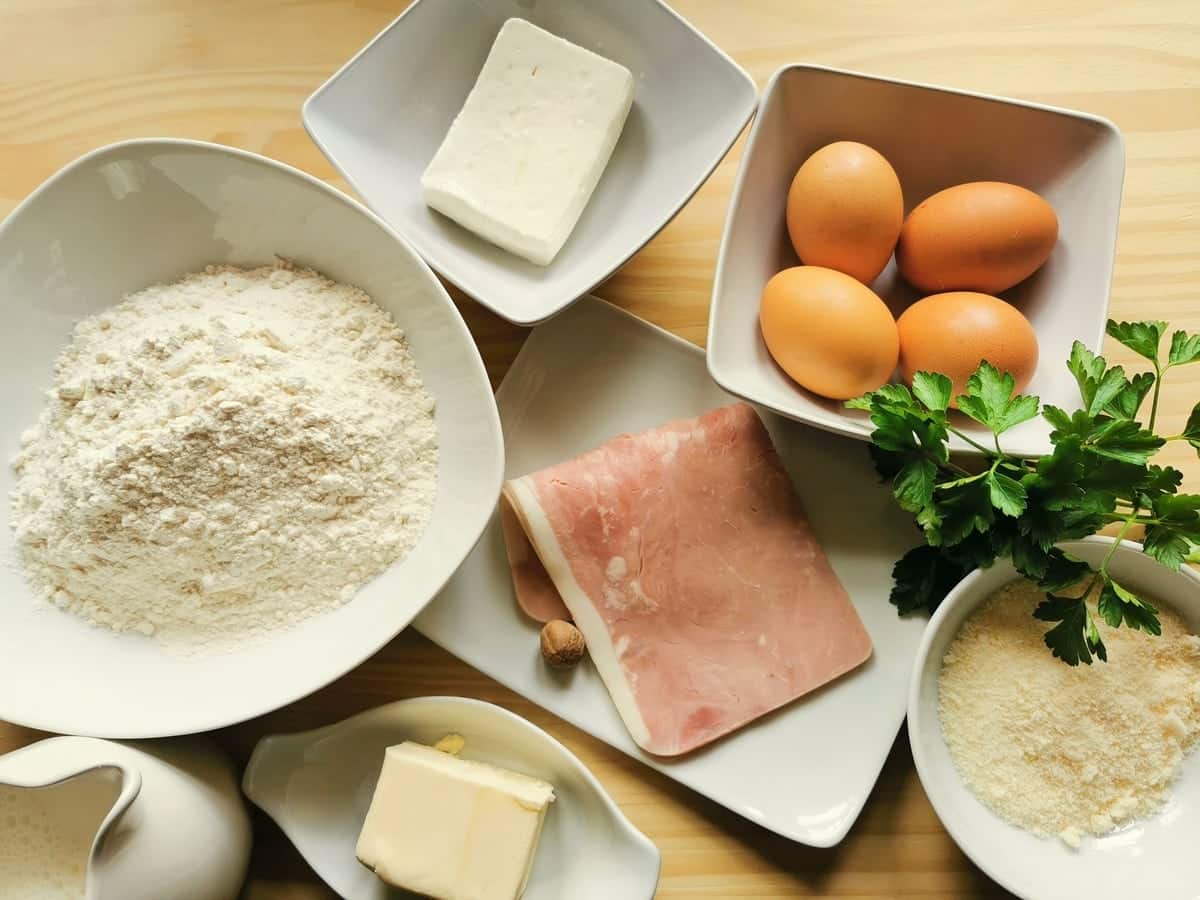 And, of course, there are slight differences in some of the ingredients used for the various versions of baked pasta roses. However, the basics are always the same, lasagne pasta sheets, ham, cheese and béchamel.
The pasta for baked pasta roses.
I made my own pasta for this recipe and the instructions for that are in the recipe card with step by step photos at the end. You can also use ready-made fresh pasta sheets or dried lasagne. If using either of these you will need to blanch the sheets in boiling salted water before assembling the pasta roses, about 10 seconds for fresh pasta and about a minute or 2 for dried lasagne sheets.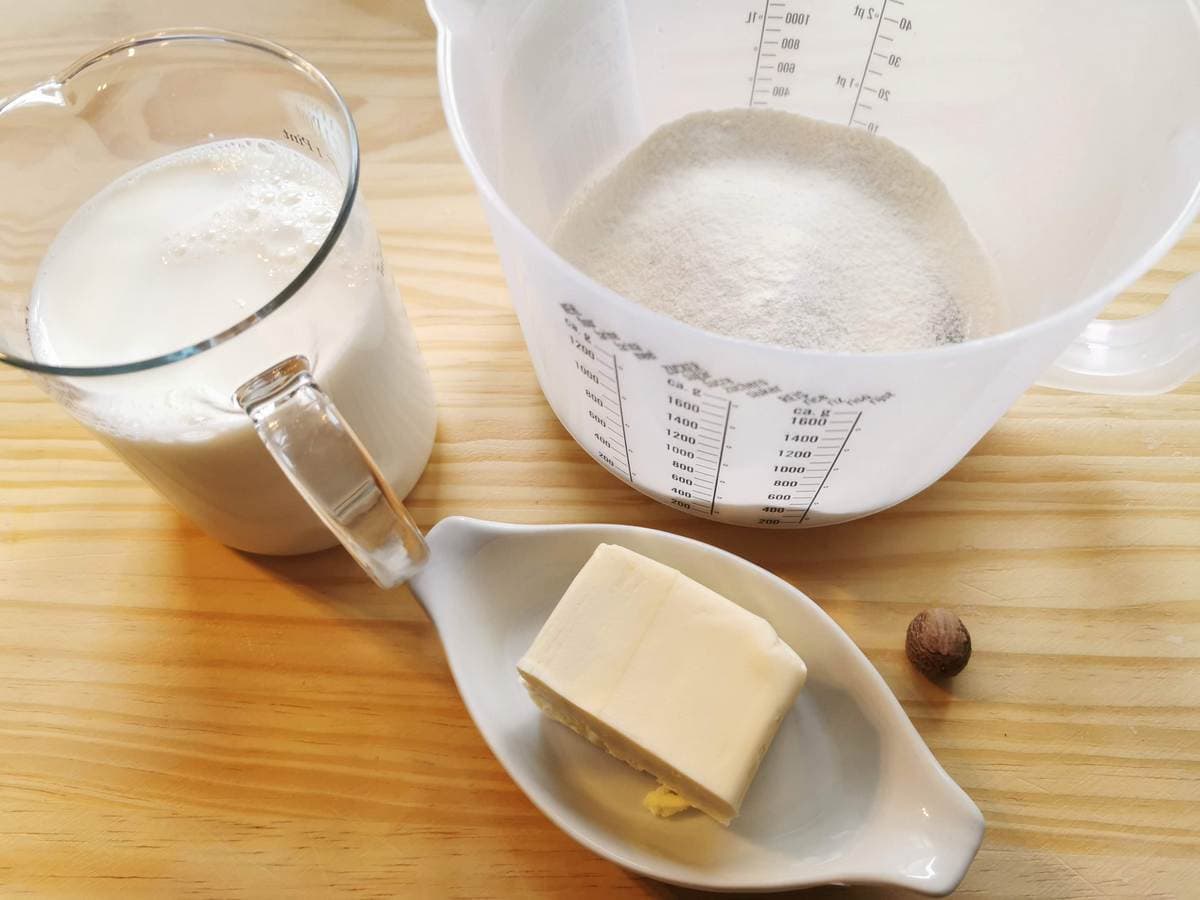 What cheese can you use?
This recipe calls for stracchino cheese and Parmigiano. However, Italians often use a number of other cheeses inside the pasta rolls. These can be fontina, mozzarella, asiago, emmenthal, mascarpone and provola, all good melting cheeses. Parmigiano is included in most recipes, particularly sprinkled on top of the pasta roses before baking.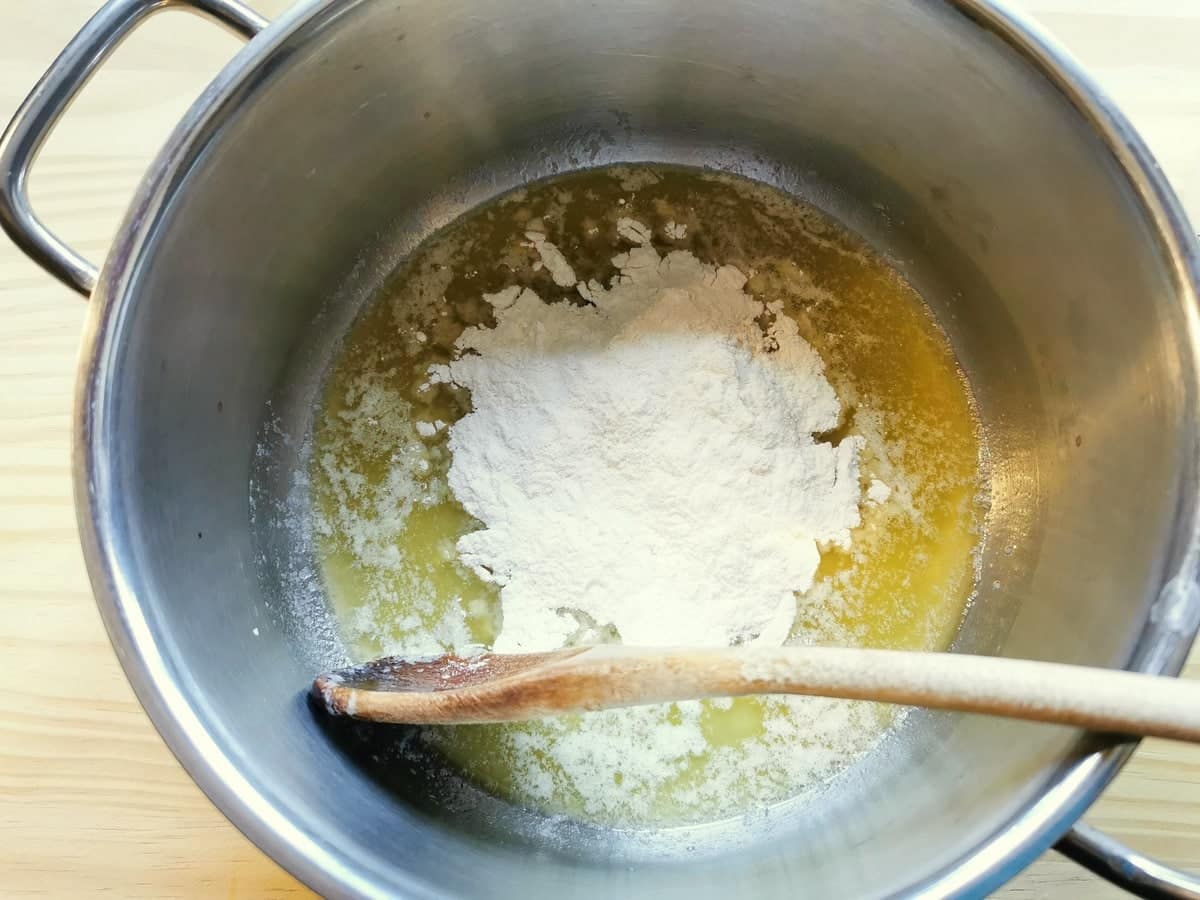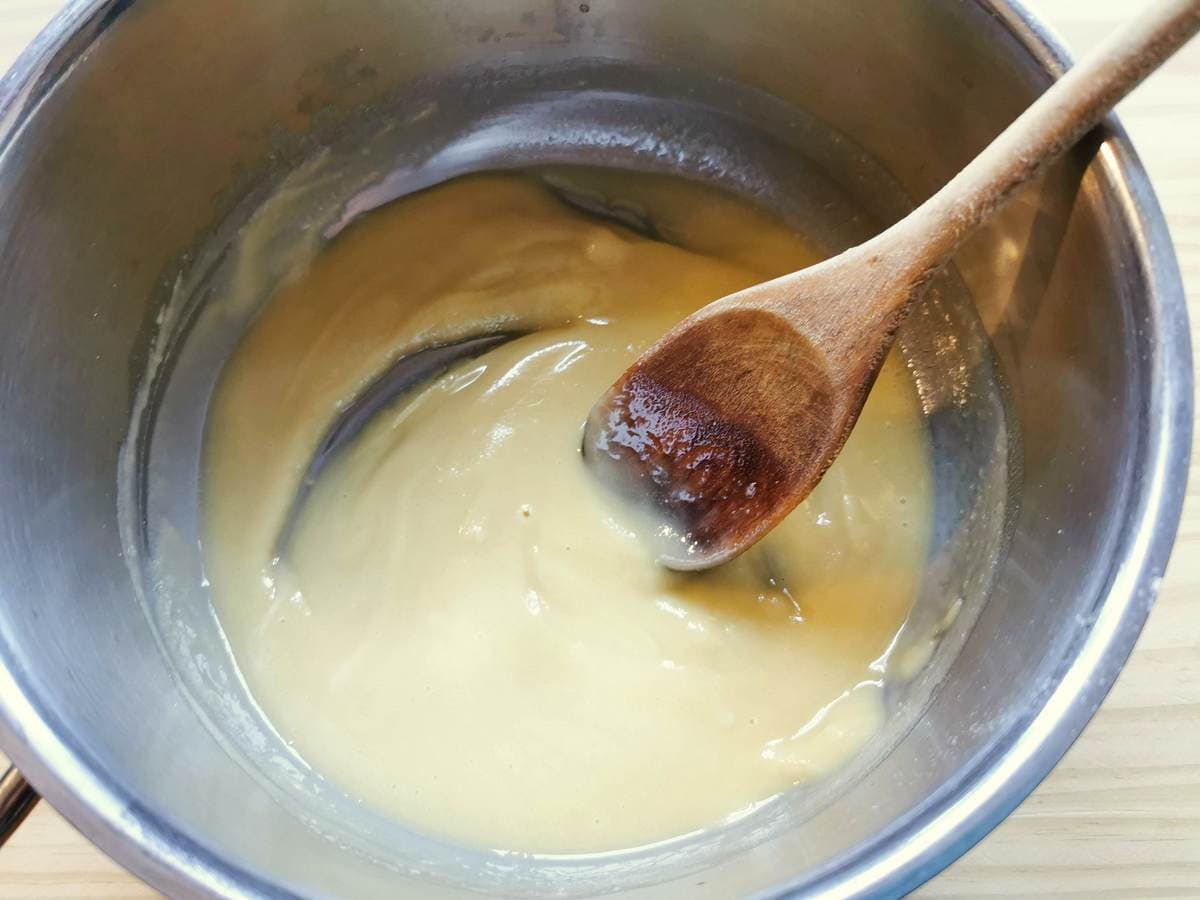 Stracchino also called crescenza, can be found in Italian speciality shops. It is a type of cow's milk cheese, typical of Lombardy, Piedmont, Veneto and Liguria. It is normally eaten very young and has a very soft, creamy texture and a mild and delicate flavour. In USA, stracchino can be bought from iGourmet.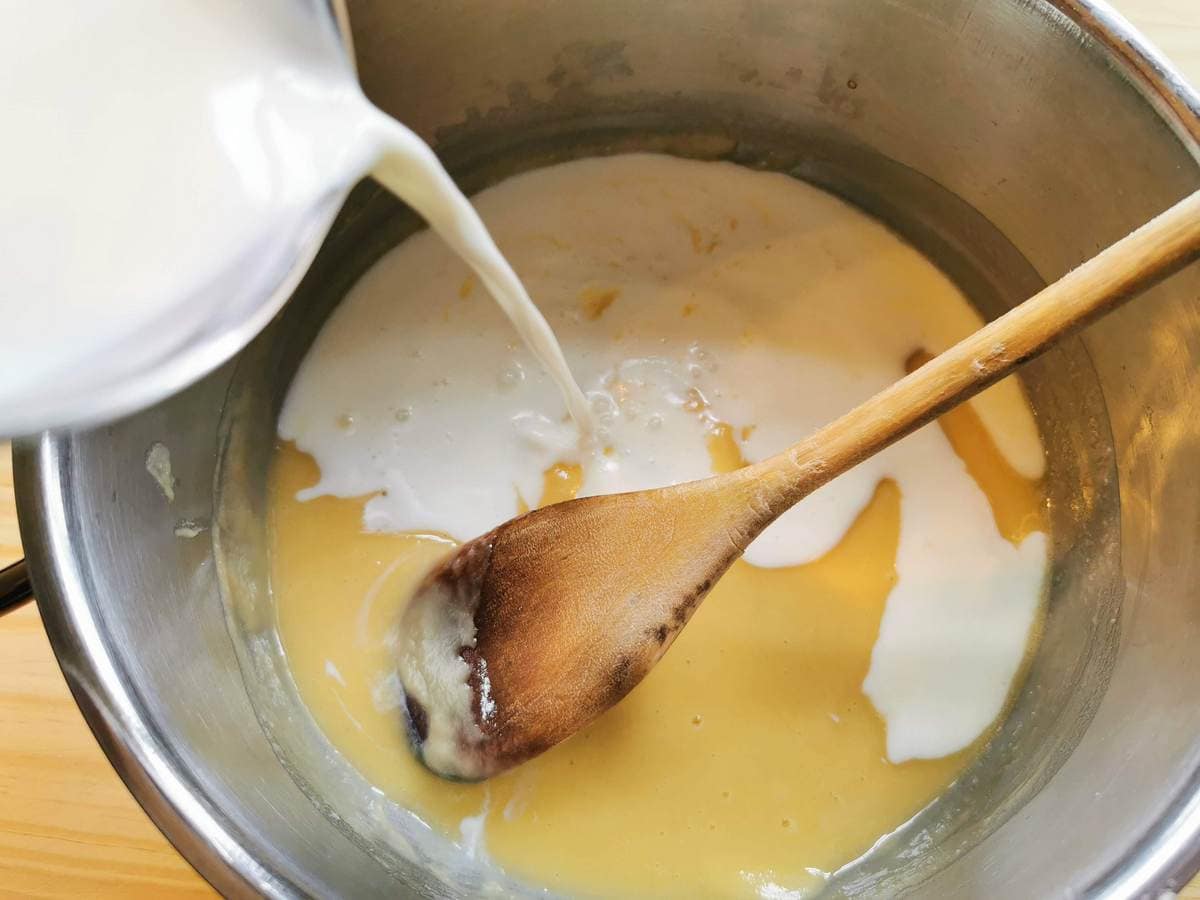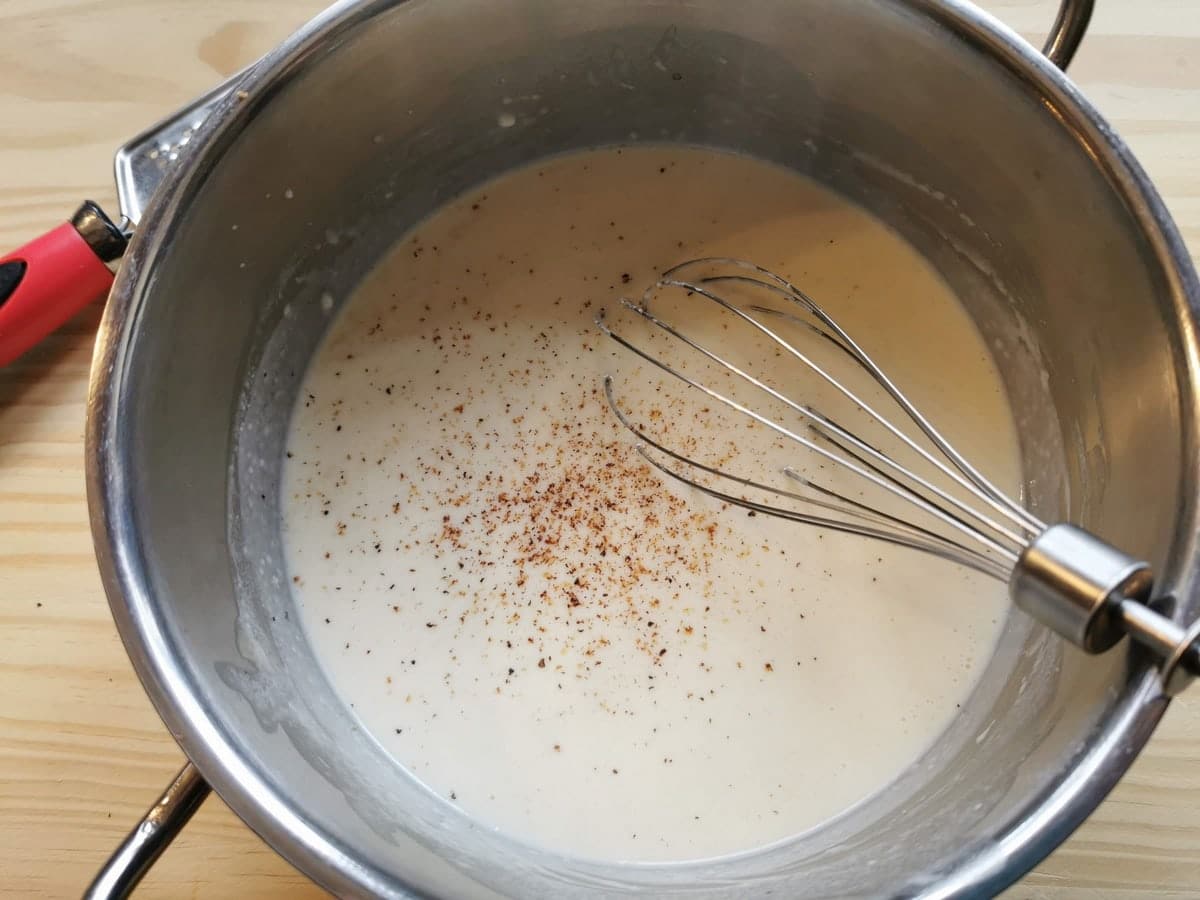 Other ingredients you can add to your baked pasta roses.
Some Italian recipes for this dish call for tomato passata and sometimes mushrooms. I have also seen versions with spinach. In fact, to make this dish vegetarian you can use mushrooms and or spinach without ham. But, you will need to omit Italian Parmigiano Reggiano as it's not vegetarian.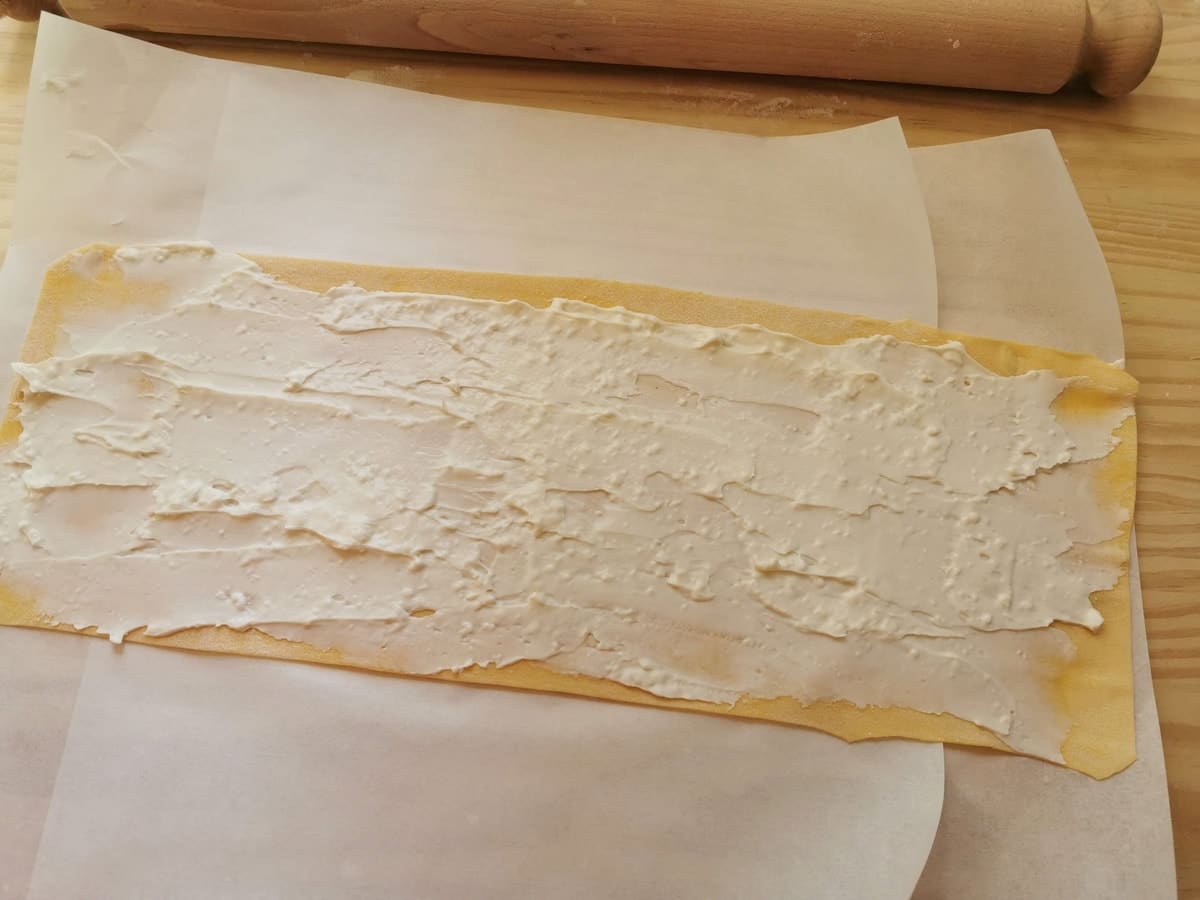 The fastest way to make baked pasta roses.
This recipe can be made super fast by using ready-made pasta sheets and store-bought béchamel. However, if you have the time, homemade pasta and béchamel is probably not only the most authentic and delicious way but also healthier as you have control over the ingredients used.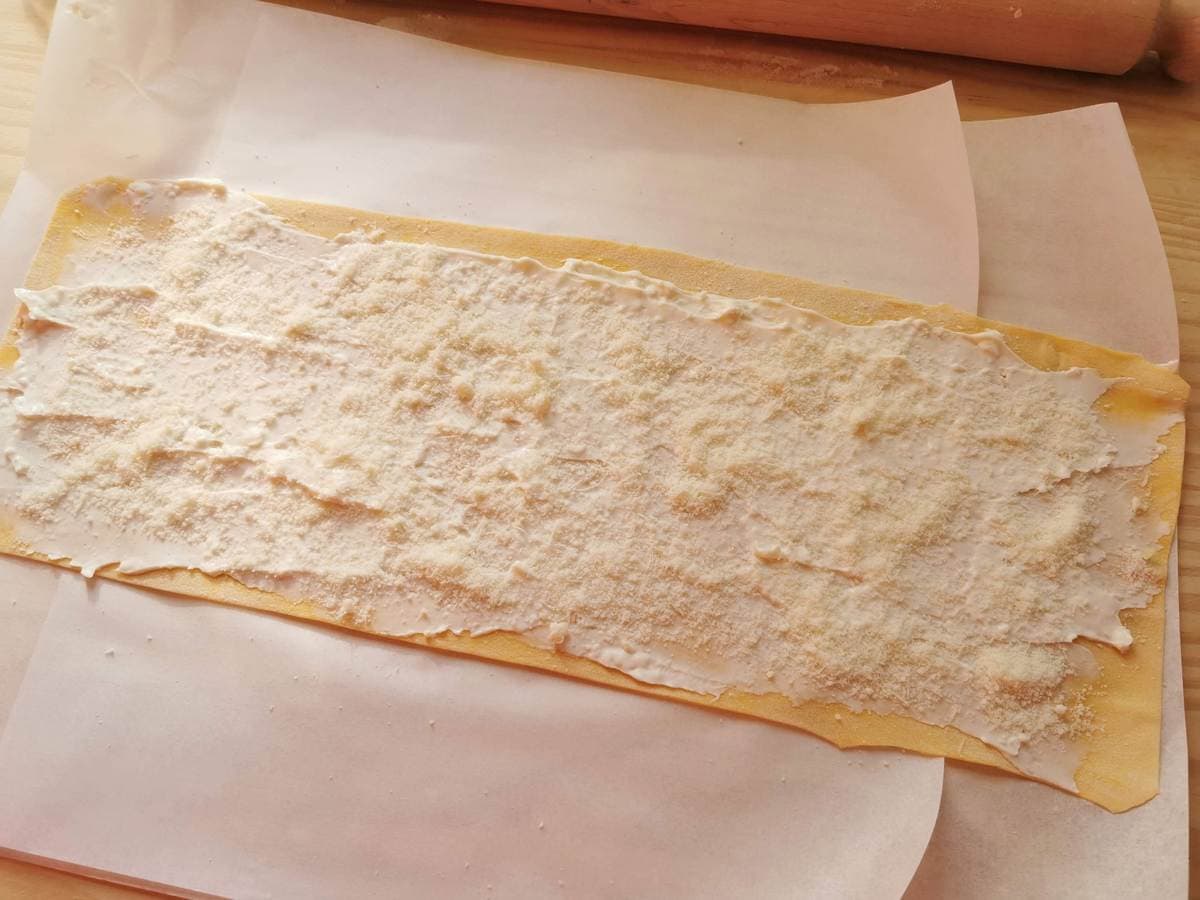 Different ways to make the pasta rolls.
For this recipe, we made quite large pasta sheets (about 42cm x 8 cm/ 16.5ins x 3ins). We then rolled the pasta from the widest part to create a long roll which we cut in two and later into roses of about 3cm wide.(1-1.5in). Our pasta rosettes were quite small but the perfect size to even eat as finger food.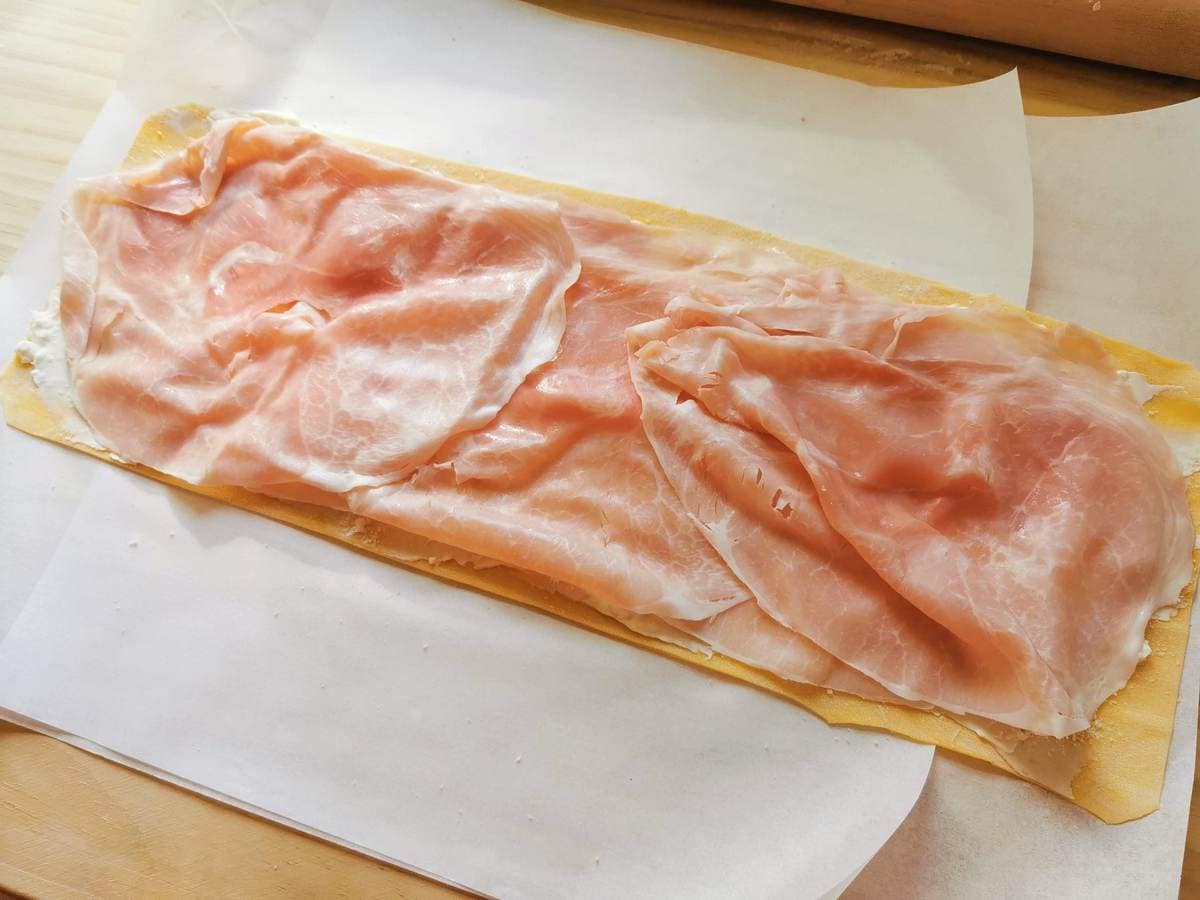 Other recipes suggest smaller pasta sheets like those used for lasagna which can be rolled from the shorter edge. Alternatively, I've seen this dish made with pasta rolled out into a large square. Much depends on what size you want your pasta roses to be and whether you are making the pasta yourself.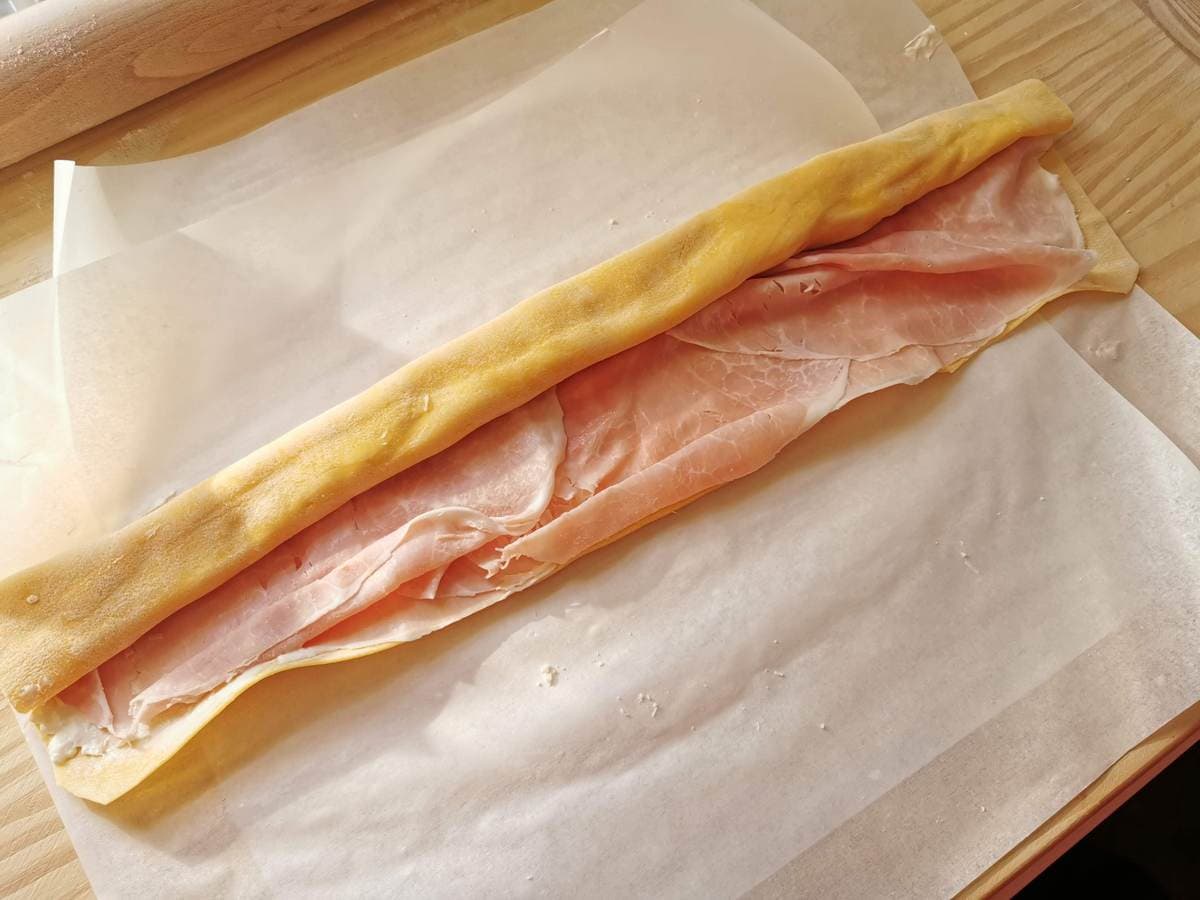 Whatever the size of your pasta roll, it's a good idea to wrap it in baking paper and keep it in the fridge for an hour (if you have time). This makes it easier to cut into rosettes.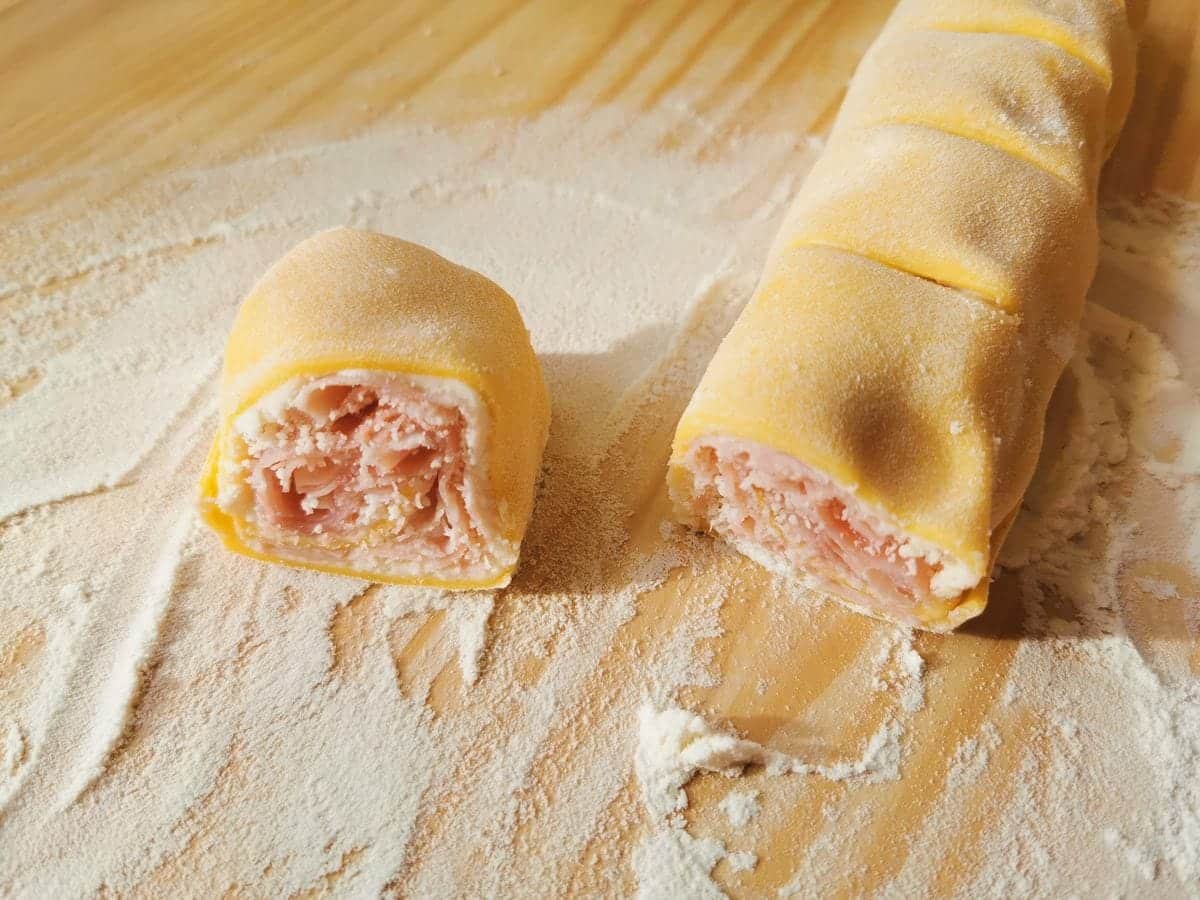 Finish and bake your pasta roses.
Once you have cut the pasta roll into small sections, spread a layer of béchamel in the bottom of an oven dish and fill it with the pasta roses. Finally, cover the pasta with the remaining béchamel and sprinkle some grated Parmigiano on top.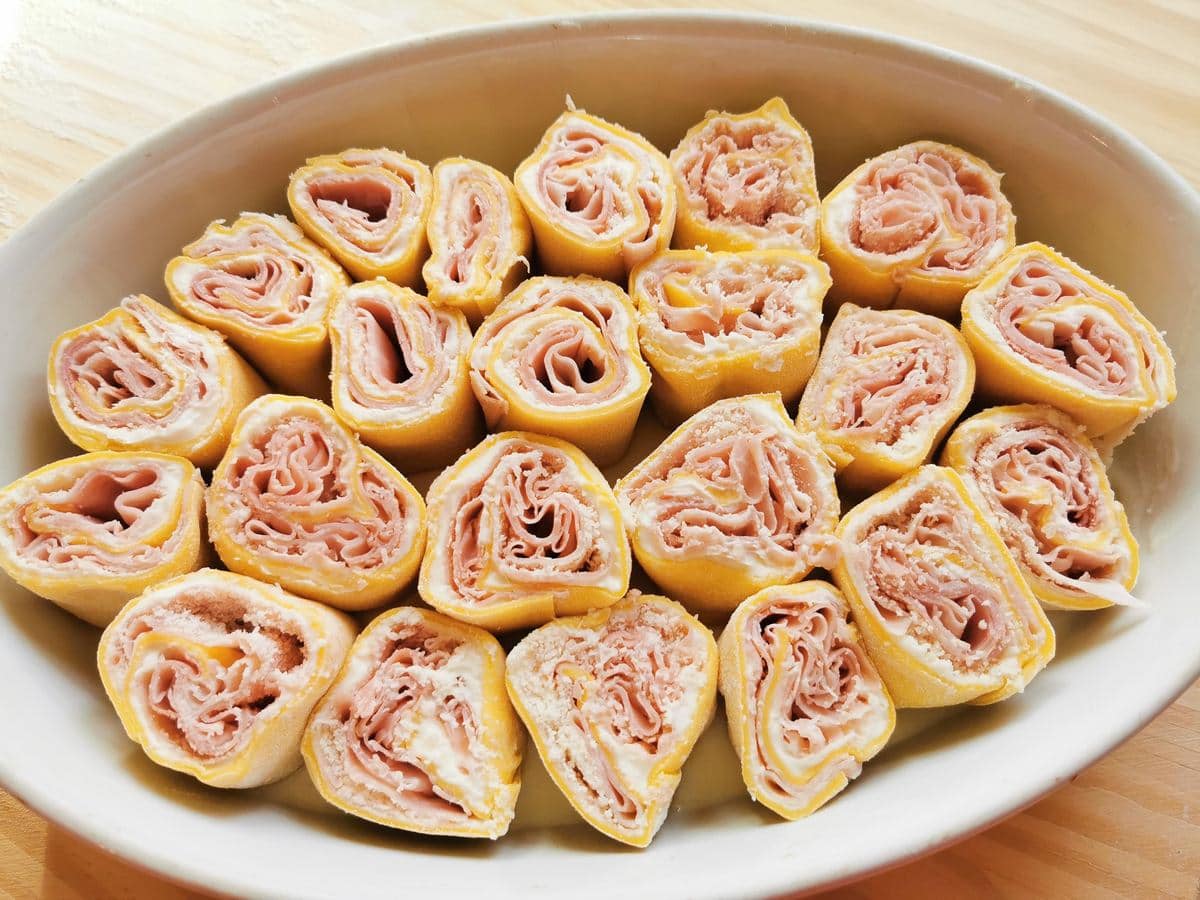 Then bake in a preheated oven for 20-30 minutes. It's best to cover the pasta with aluminium foil for the first 15 minutes and then remove the foil to allow the top to get browned and crispy.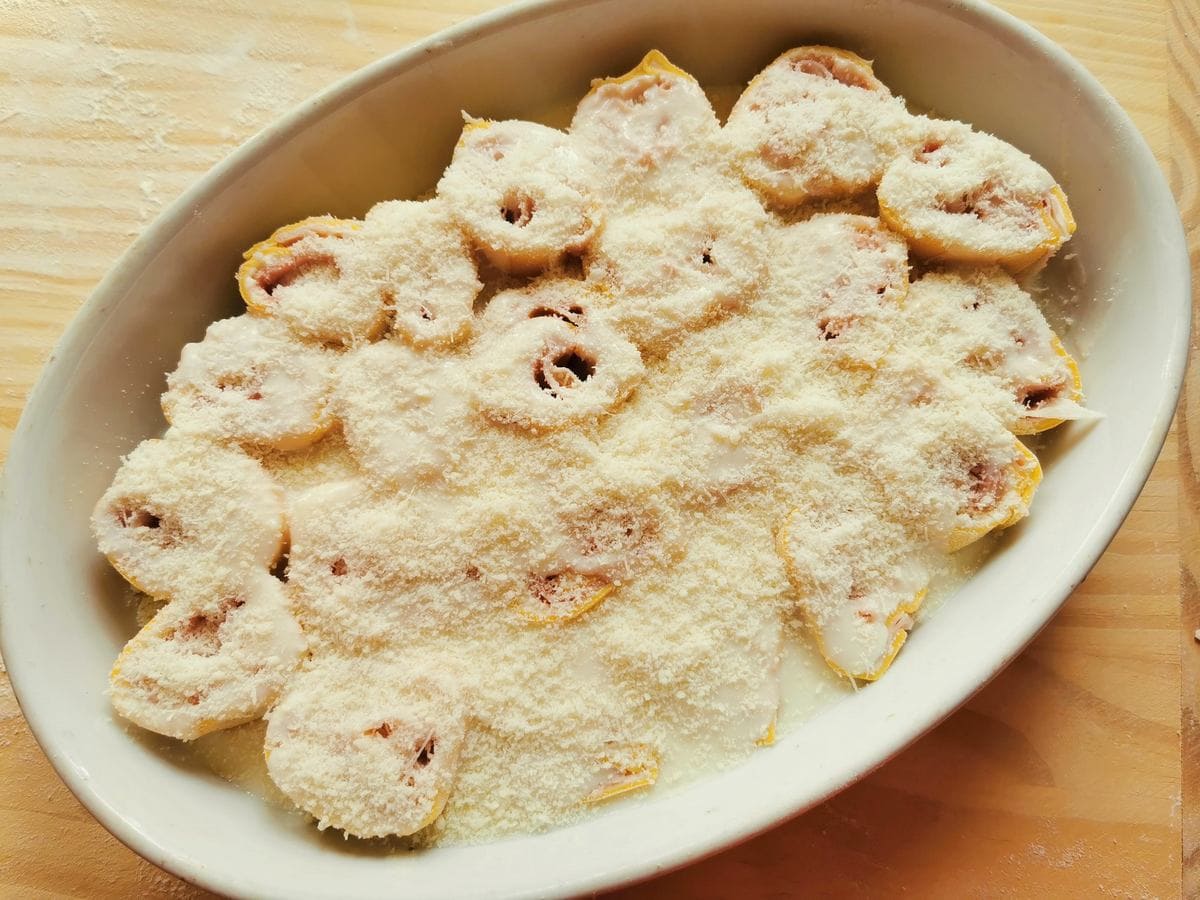 Let me know what you think.
This baked pasta roses recipe was a winner! My roses didn't look quite as artistic as some of the photos I saw online, but the taste was superb and the men in my life loved it. If you'd like to make the pasta yourself, check out my post for homemade lasagne pasta sheets or check out the step by step instuctions below.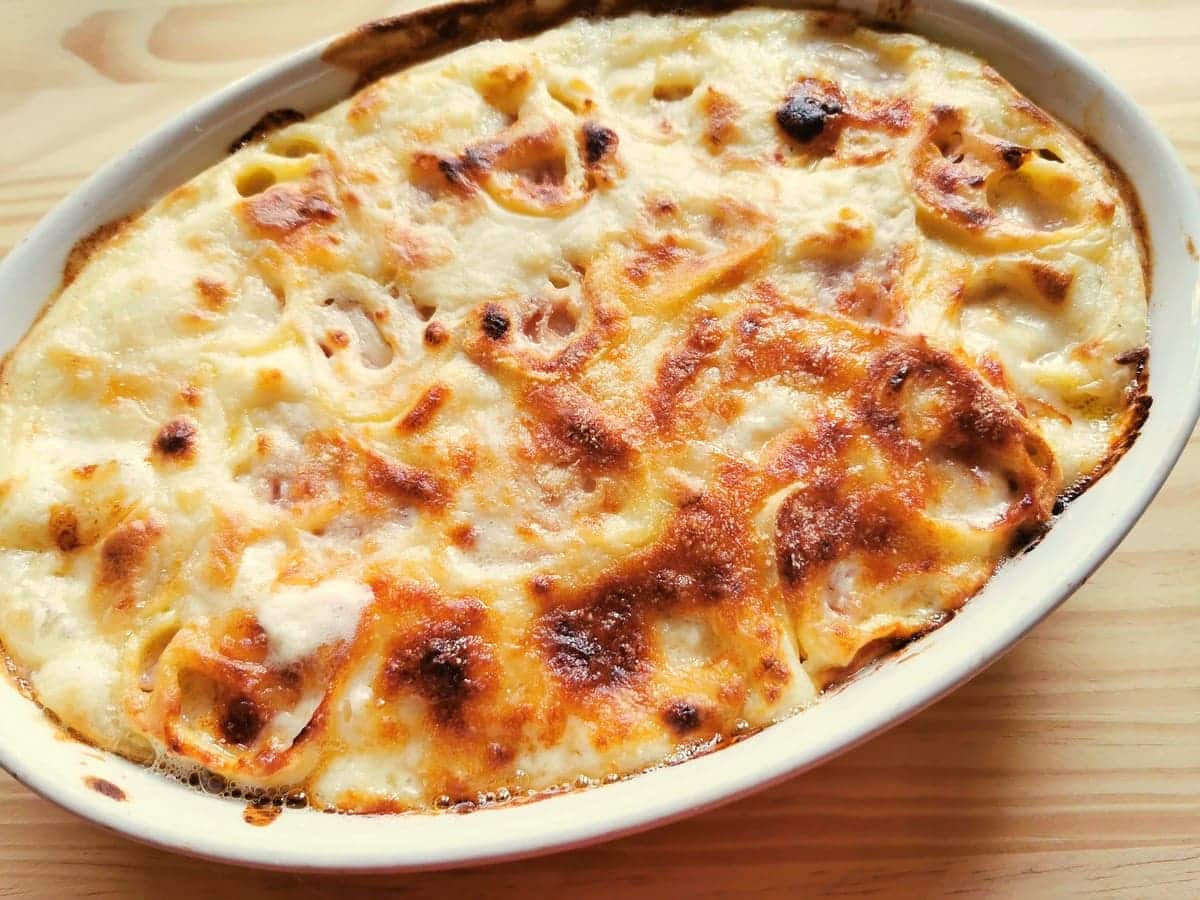 If you do make this or any other Pasta Project recipe, please let me know how it turns out. You can comment here on the blog or on The Pasta Project Facebook page. I'd love to hear from you!
Buon appetito!
Have a look at my favorite ham pasta recipes if you're interested in more delicious recipes like this one!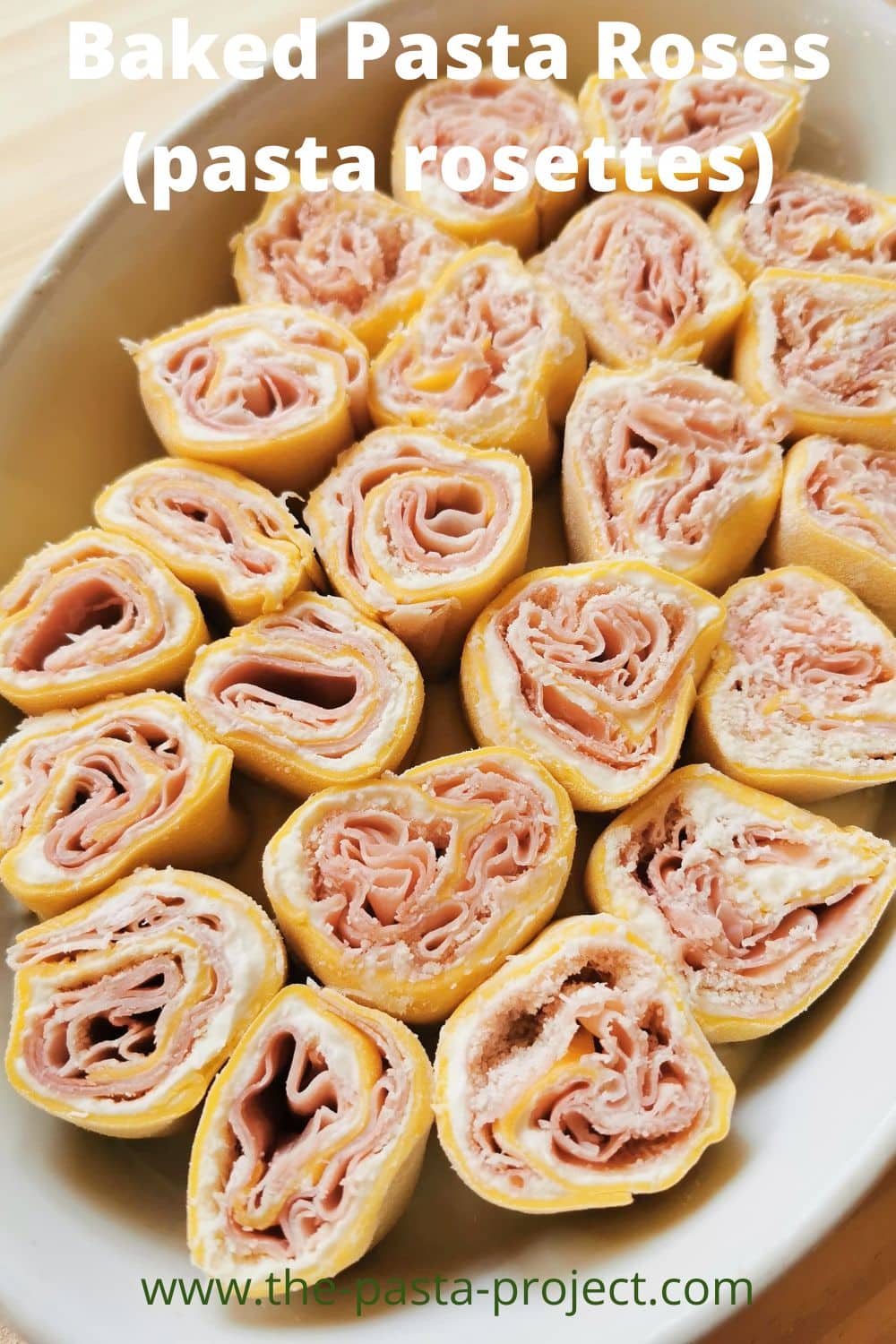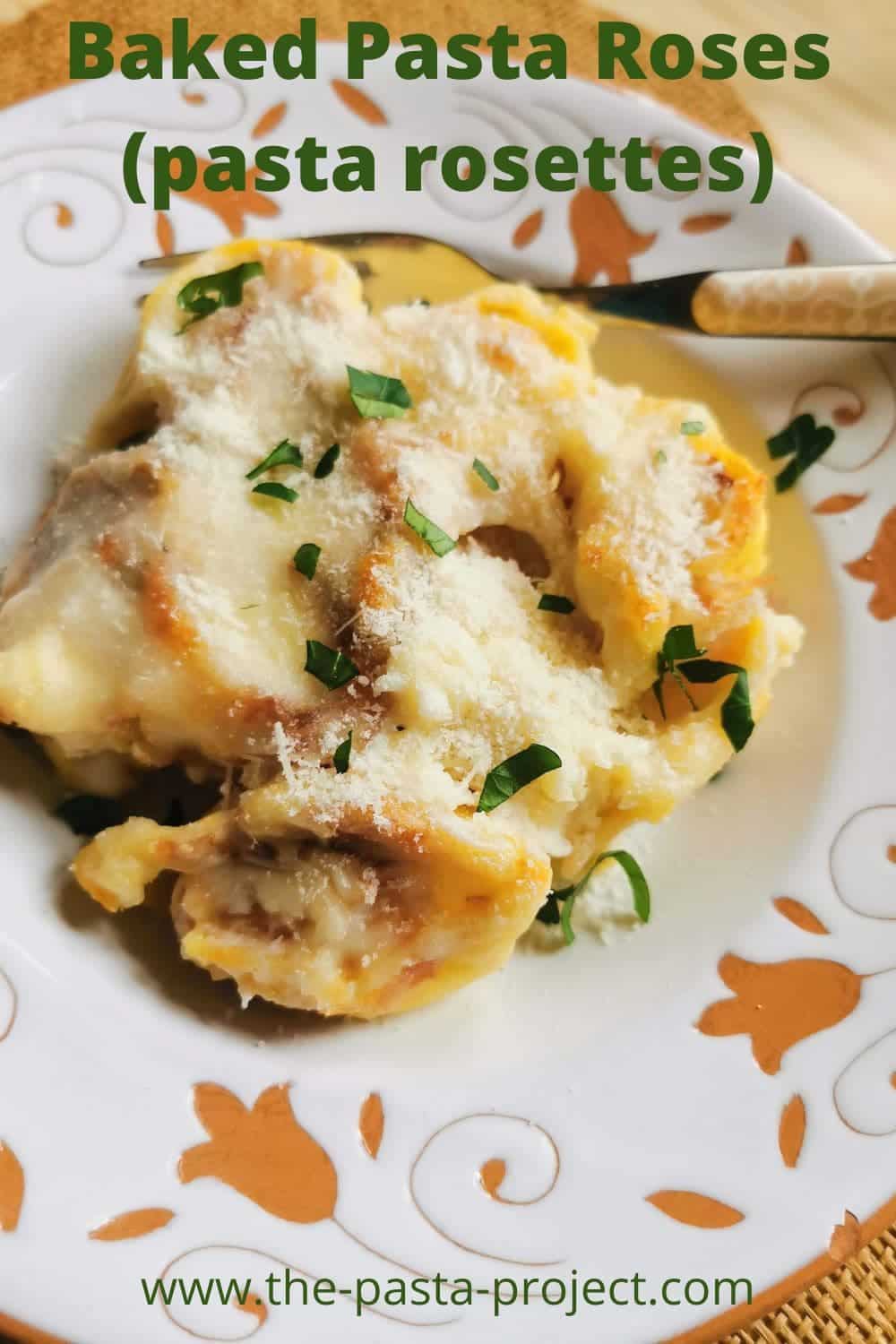 How to make fresh lasagne sheets for this baked pasta roses recipe.
To make the fresh pasta for this recipe you will need 4 large eggs, 400g Italian '00' flour and a large pinch of salt. These quantities shuld make enough pasta roses.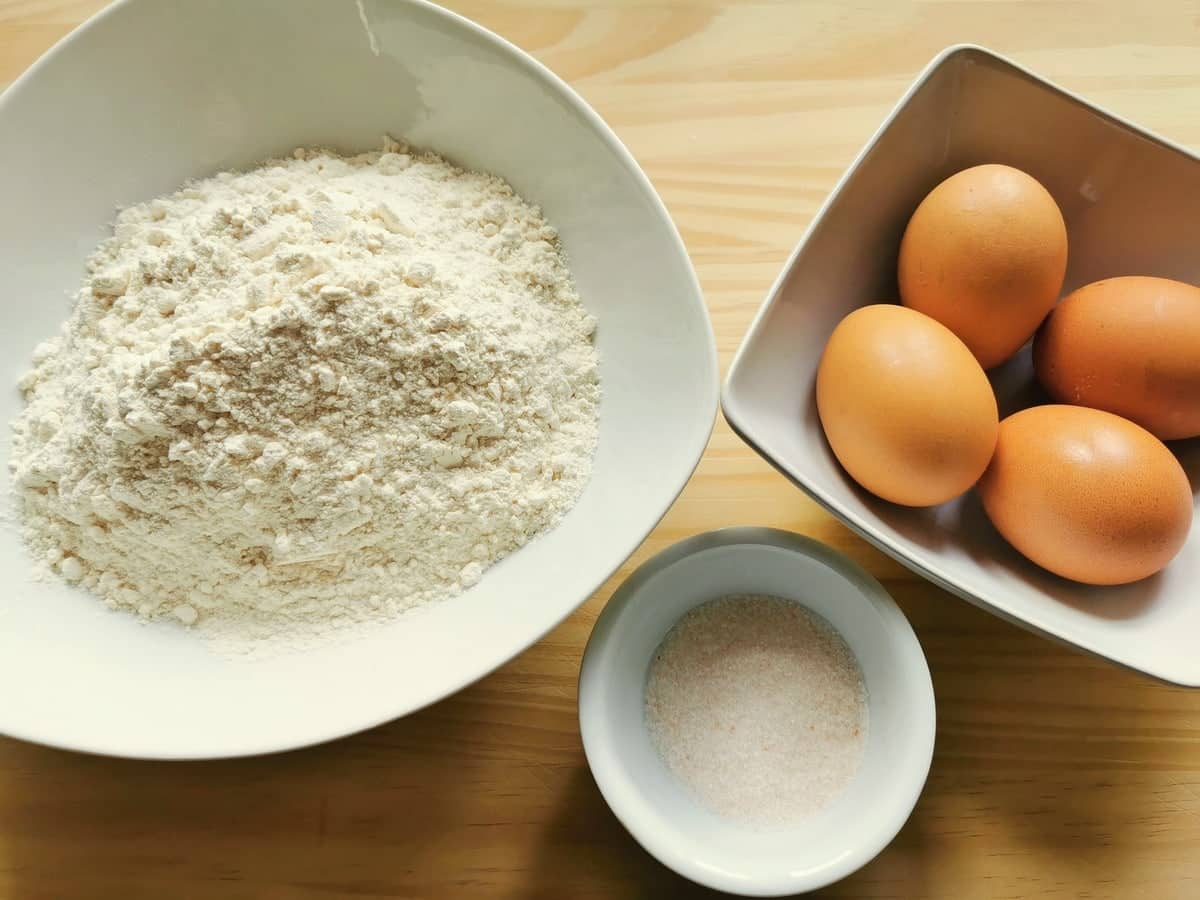 Sift the flour into a bowl and add the beaten eggs and a pinch of salt.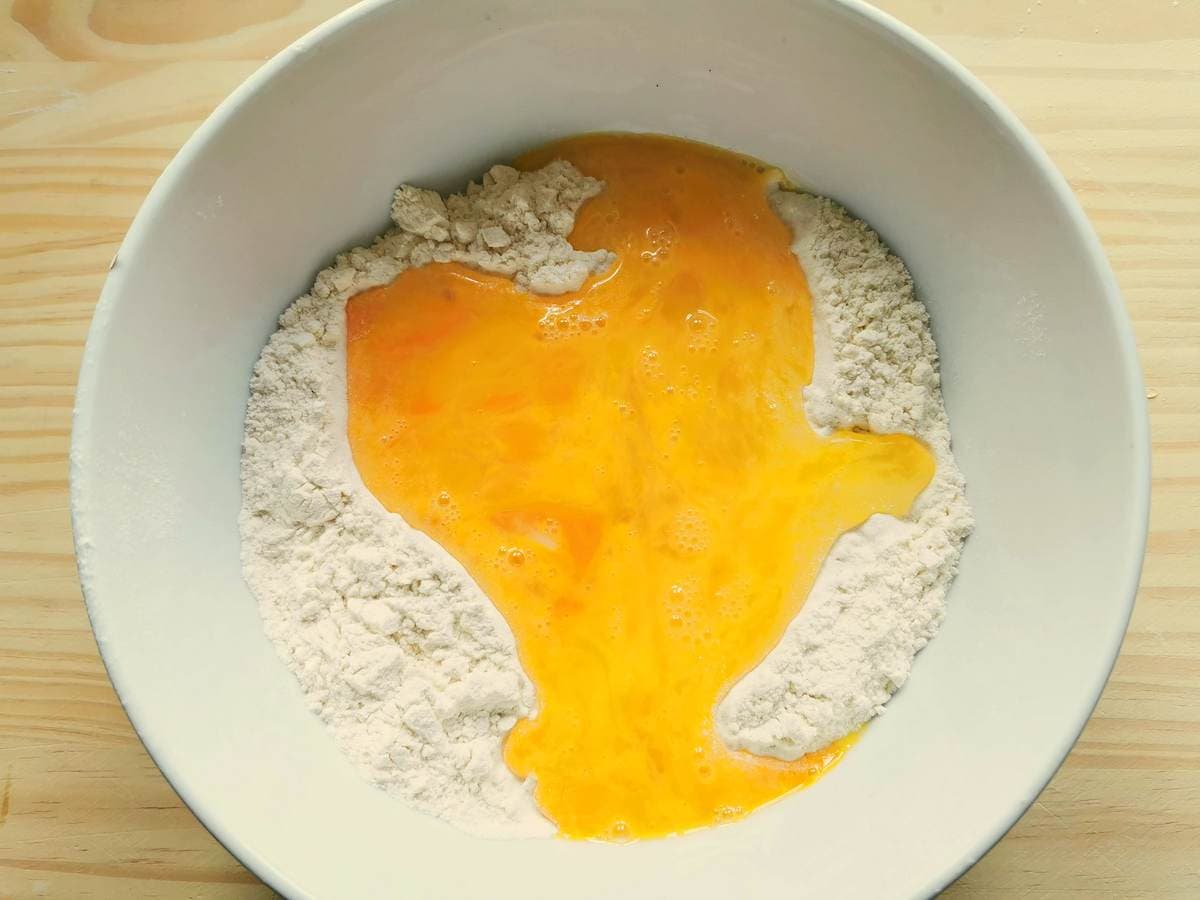 2. Mix the flour and eggs together using a fork.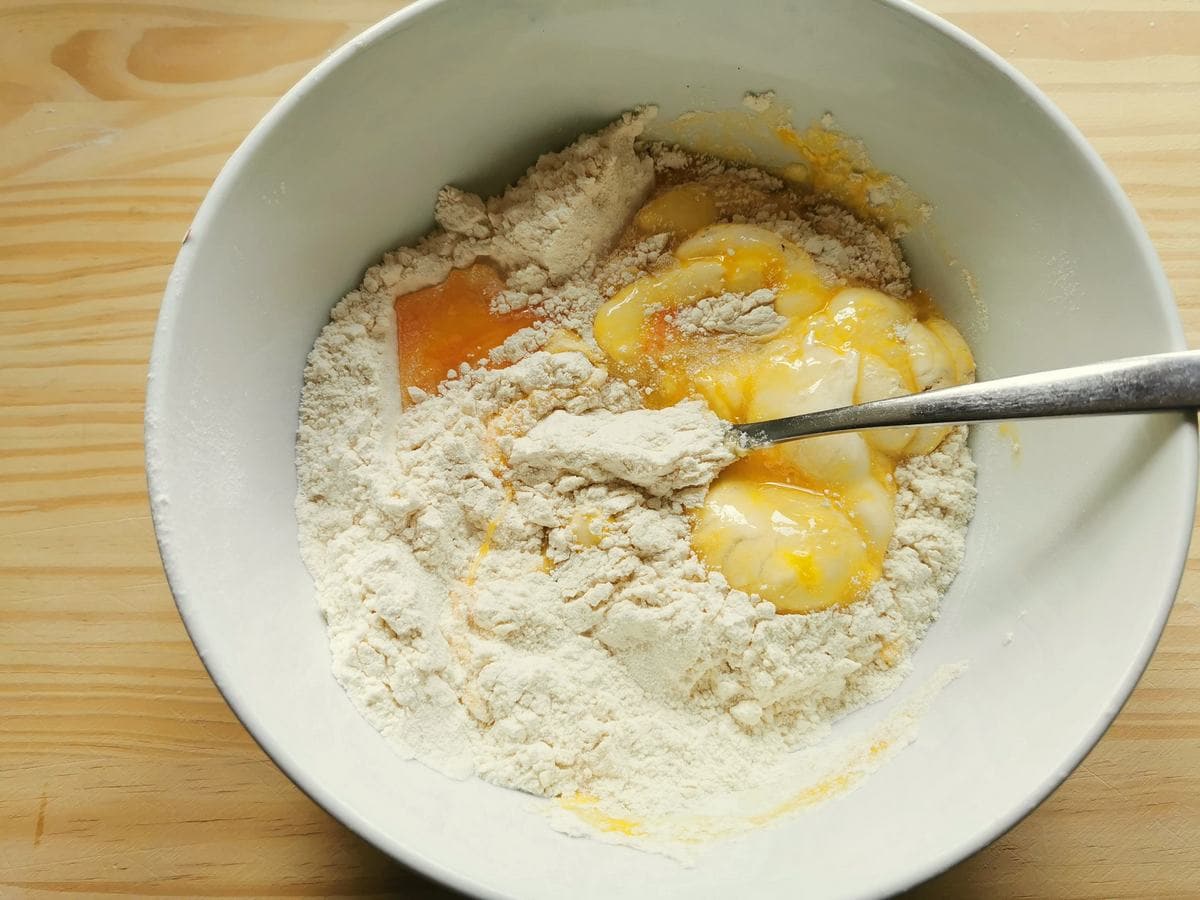 3. Once the eggs are incorporated in the flour continue mixing with your hands.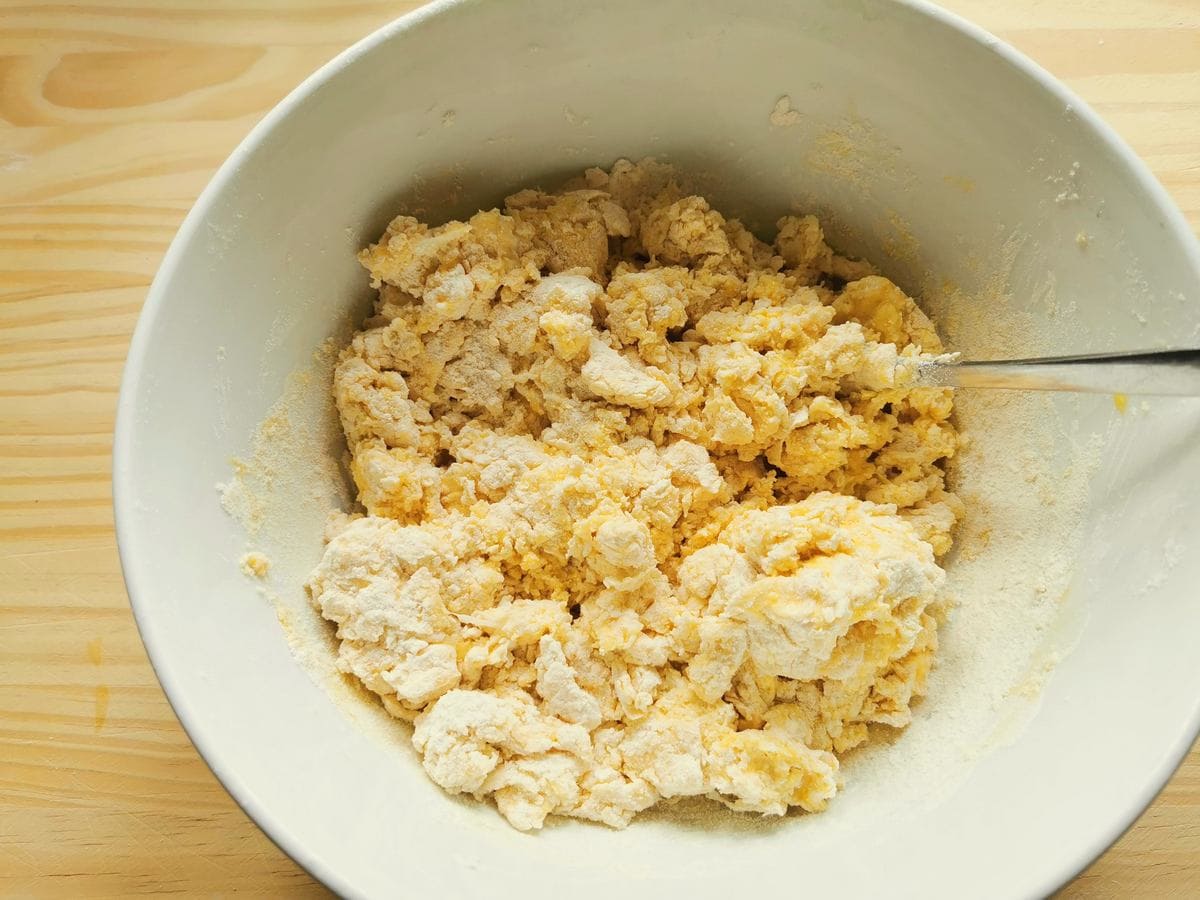 4. When you have the start of a good 'dough' that doesn't stick to the sides of the bowl. Turn it out onto a floured work surface.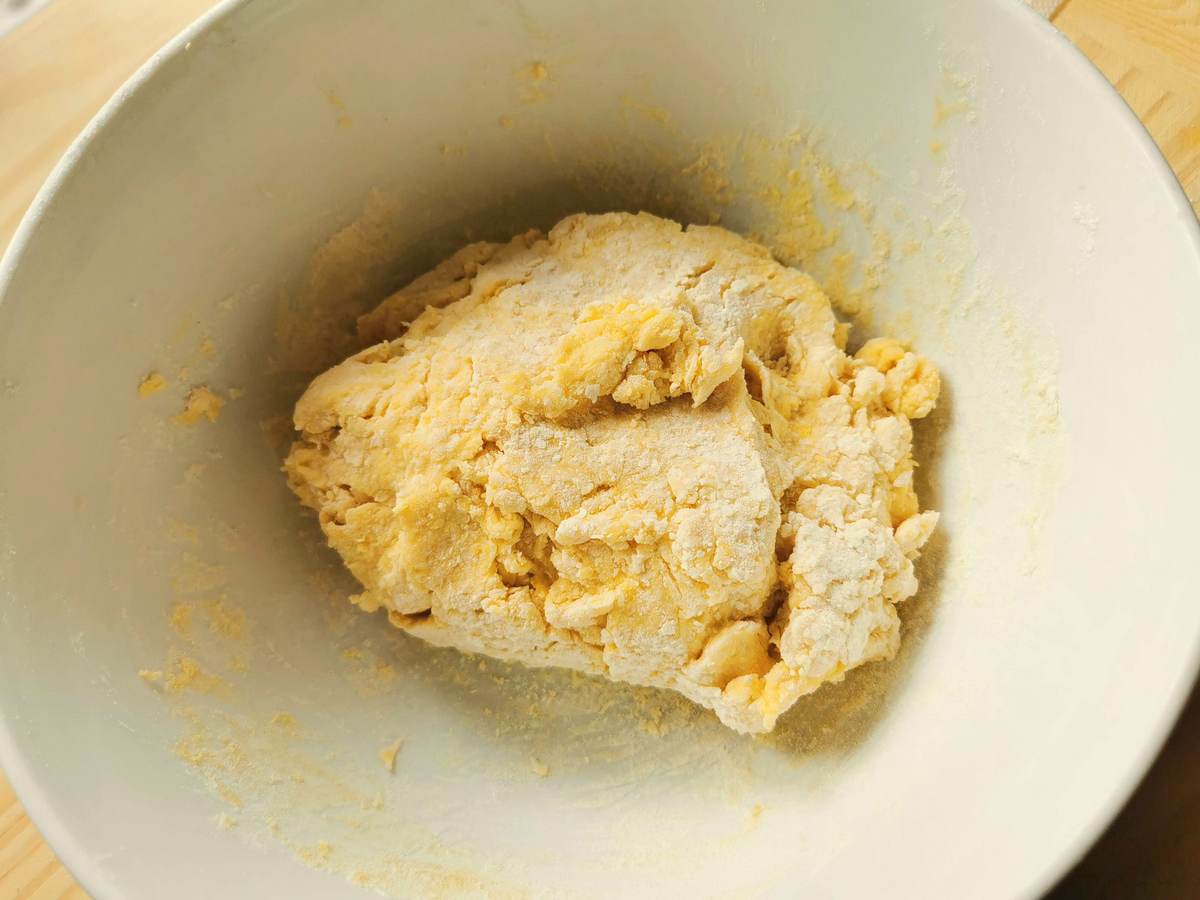 5. Knead the dough using the heels of your hands for 7-10 minutes. It's like kneading dough for bread.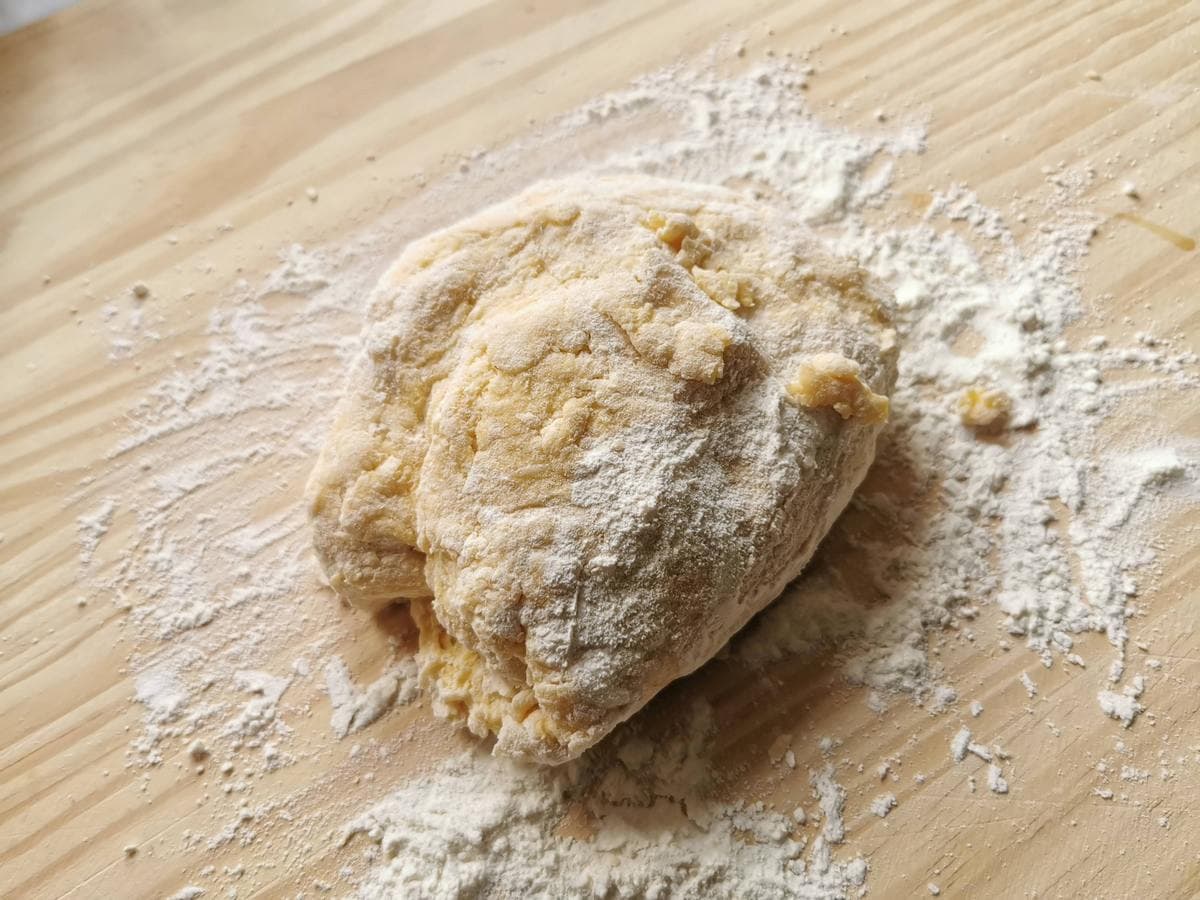 6. Once the dough is quite smooth and elastic, roll it into a ball and wrap it in cling film. Leave to rest for 30 minutes.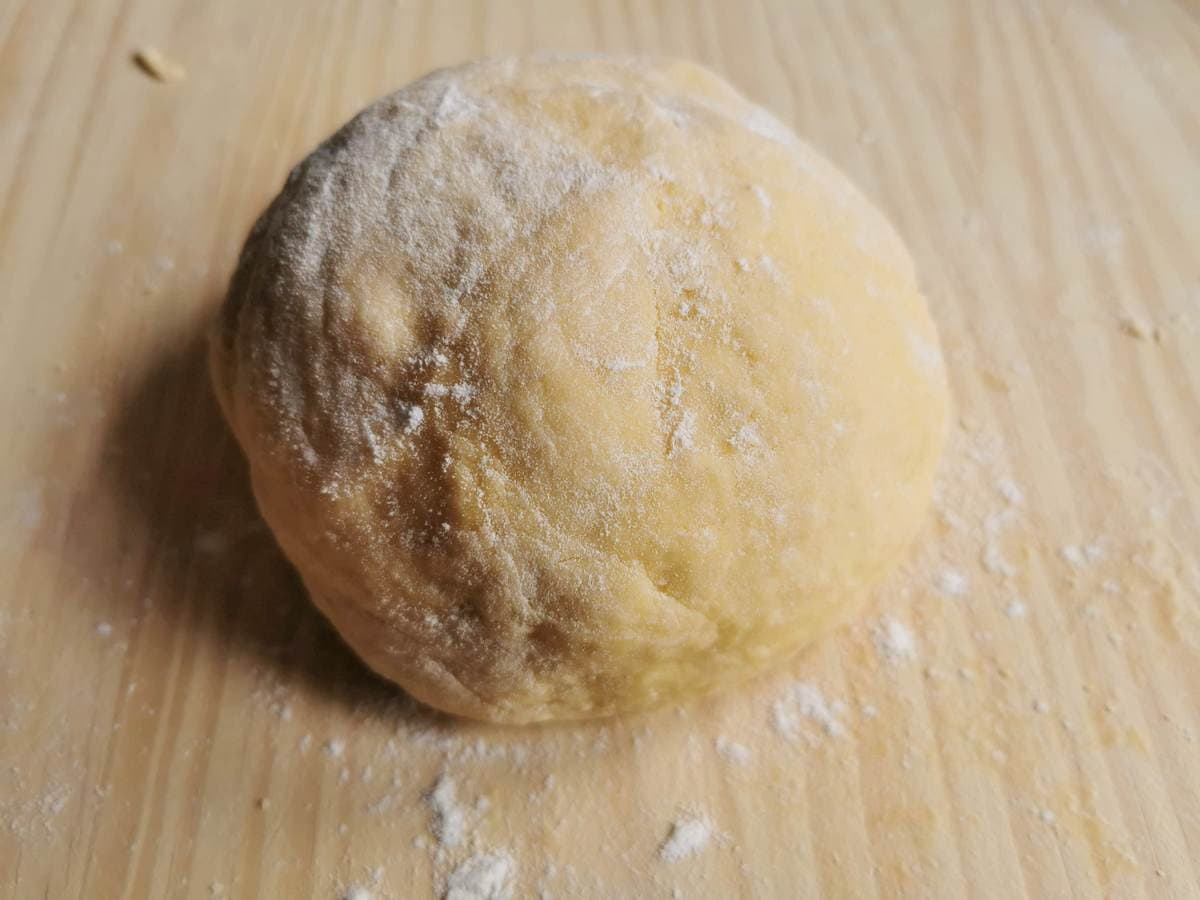 7. After 30 minutes, cut ⅕ of the dough off and reseal the remaining dough in cling film again.
8. Flatten the dough piece using your hands or a rolling pin until it's thin enough to pass through a pasta machine.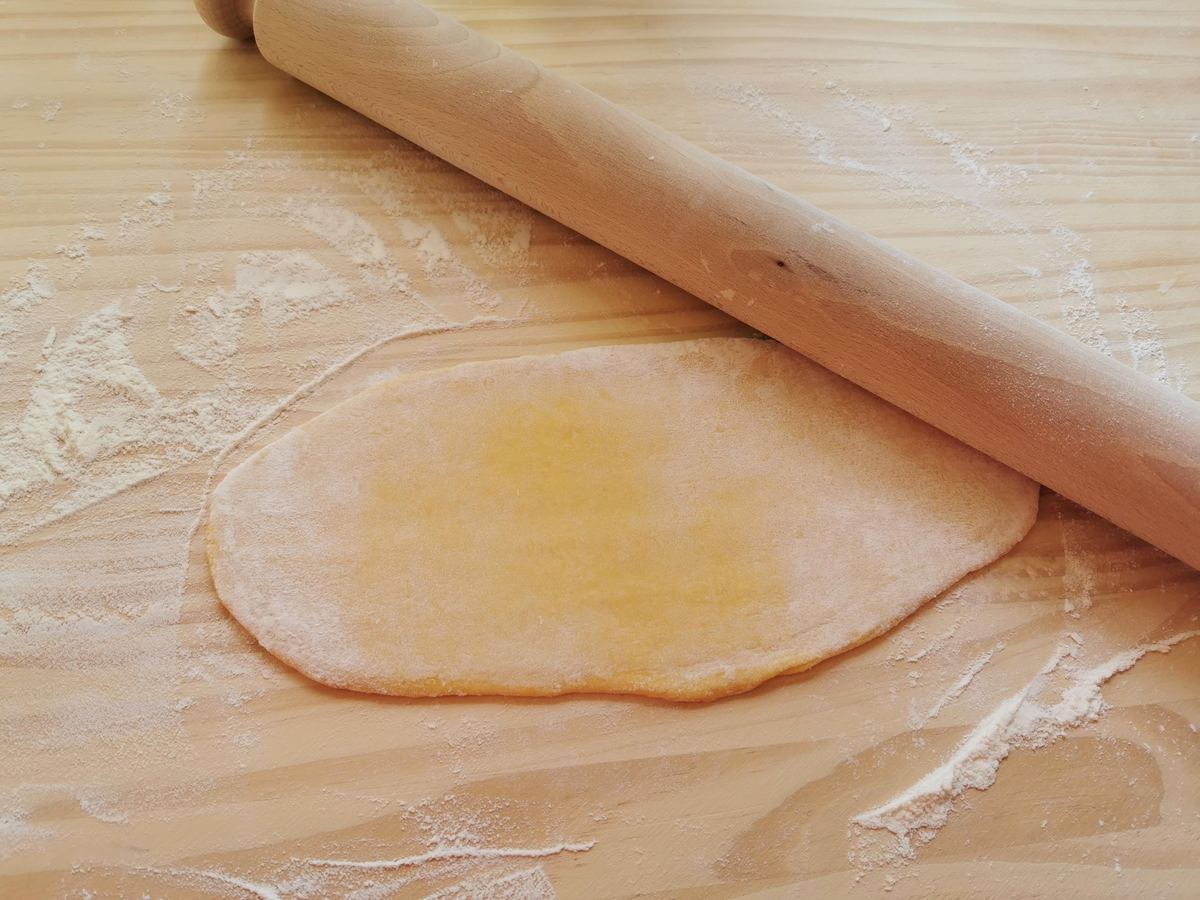 9. Pass the dough through your pasta rolling machine 3 times at the widest setting, folding it into thirds after each pass.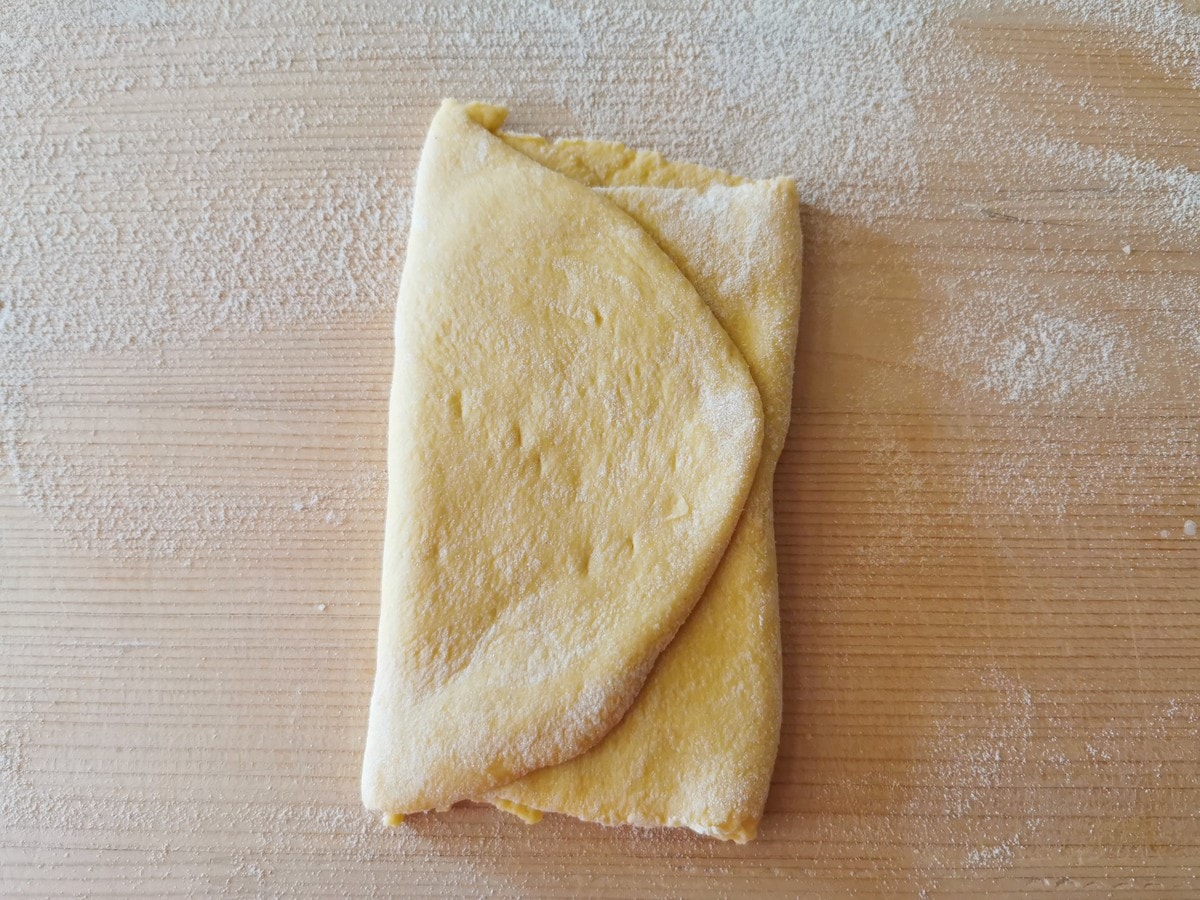 10. Then pass the pasta sheet through the next 2-3 settings until it's the right thickness and length.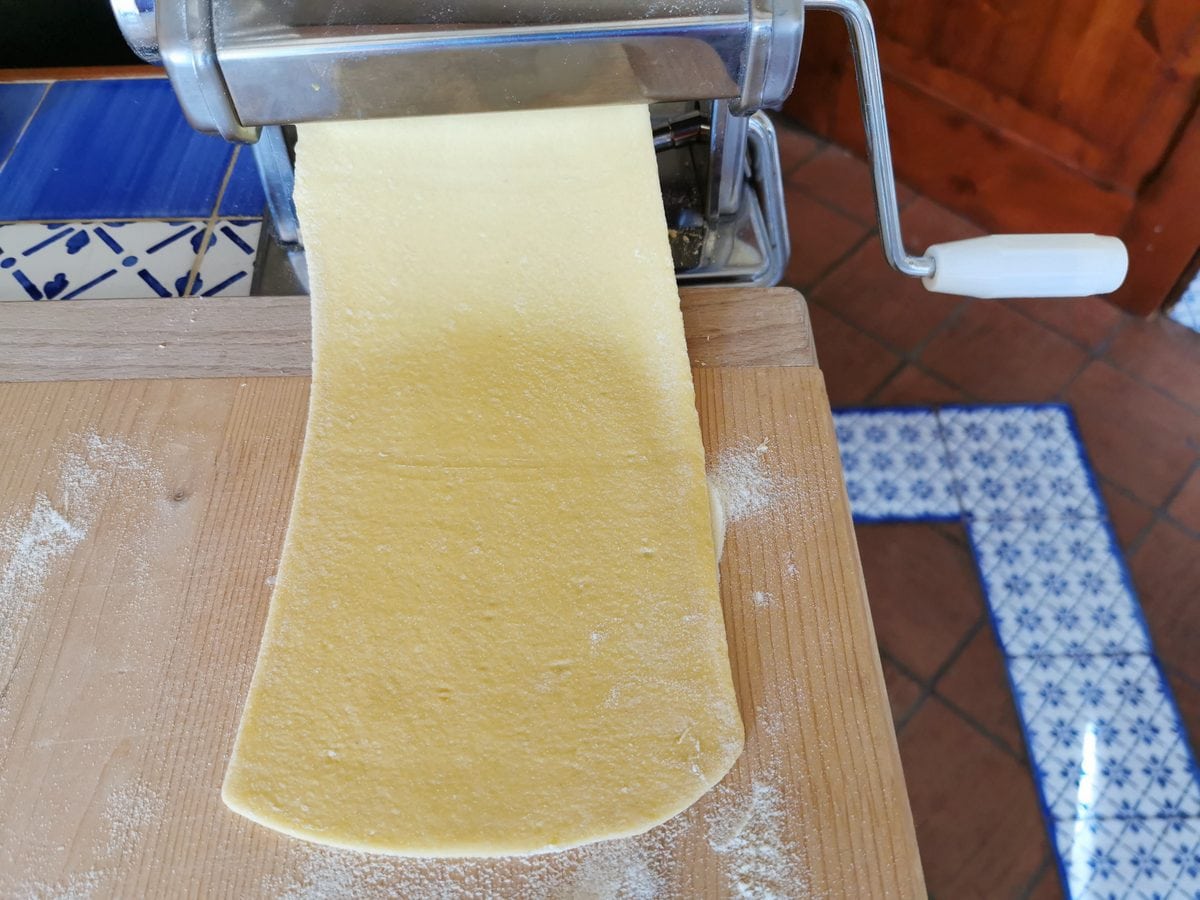 Finally, transfer the dough sheet to a floured work surface and cut to the size you want. If you want it bigger, continue to roll out using a rolling pin.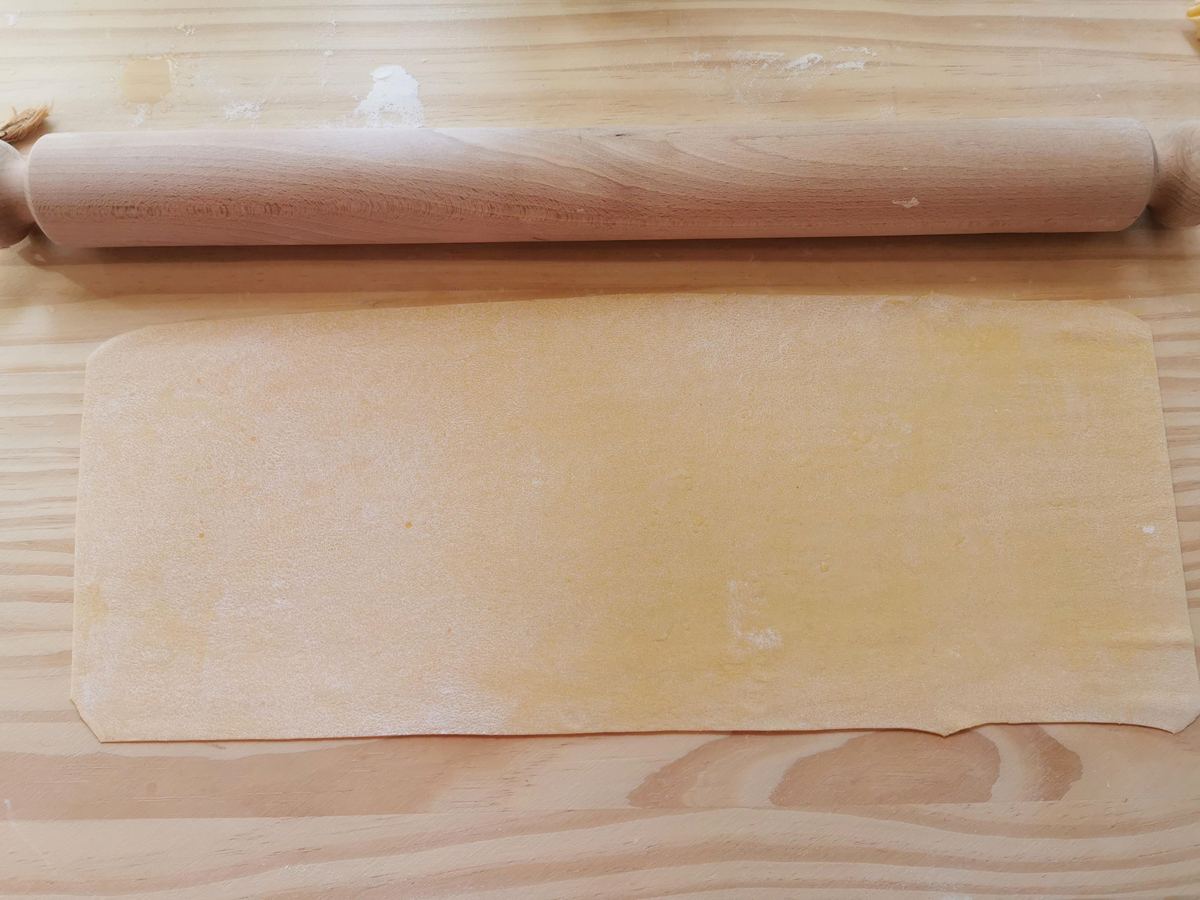 Other baked pasta recipes for your pasta sheets.
Are you interested in learning how to make other types of homemade pasta and different types of gnocchi? Then check out my shop page for some great video online courses from my friends in Rome! Nothing beats learning to make pasta from Italians! Plus while you're there why not order a copy of one of my pasta recipe cookbooks or checkout some recommended pasta making tools?