As in many other countries, lamb is traditional in Italy at Easter. Italians serve it in different ways including in pasta recipes like this delicious lamb lasagna recipe. However, this dish is so good, we don't make it only for Easter! Neither will you, once you try it!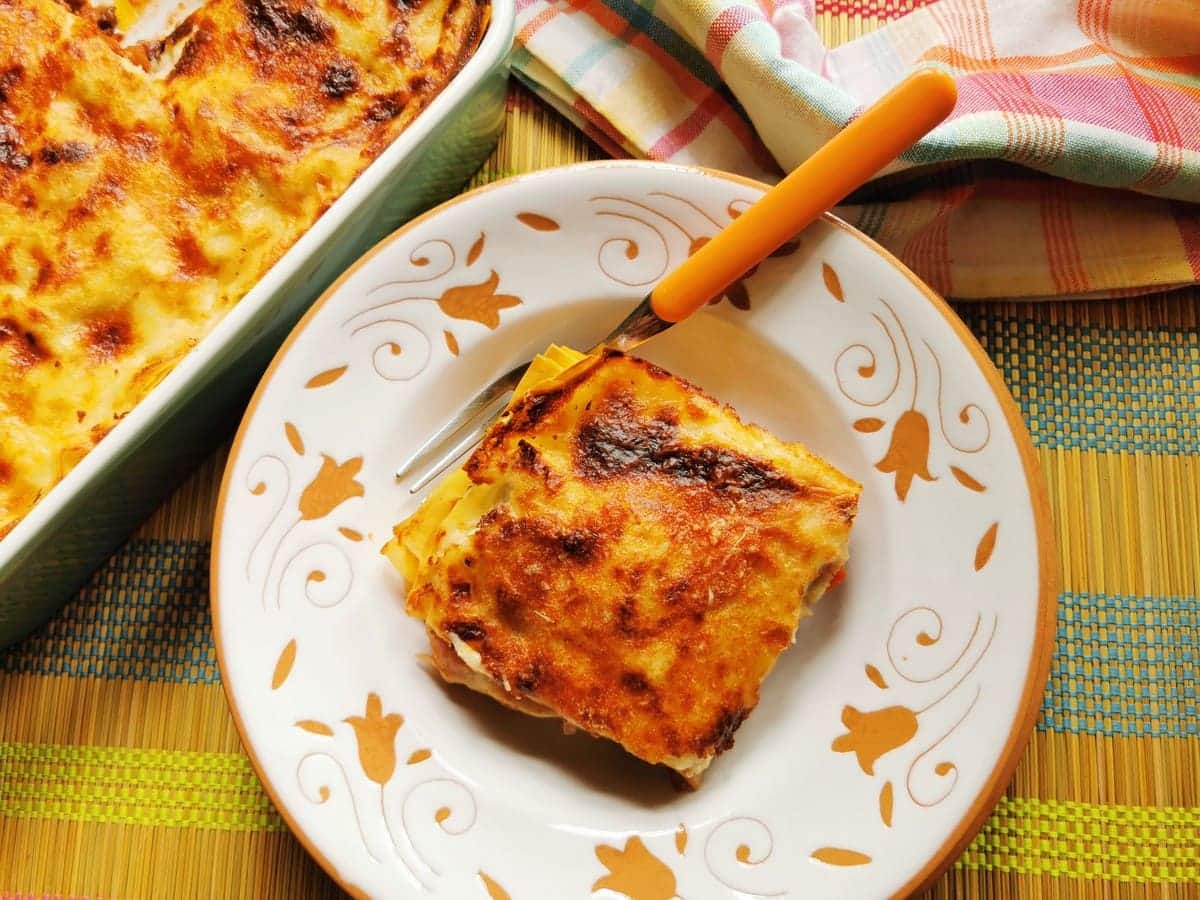 Lasagne al forno con agnello.
When it comes to lamb with pasta dishes, I have a number of favourites that I have already posted here on The Pasta Project. Recipes like pasta with lamb and artichokes or lamb ragu with Sardinian gnocchi or fusilli with lamb ragu from Molise are all incredibly delicious (see links below). However, I have to say lamb lasagna takes the lamb and pasta combo to another level of deliciousness!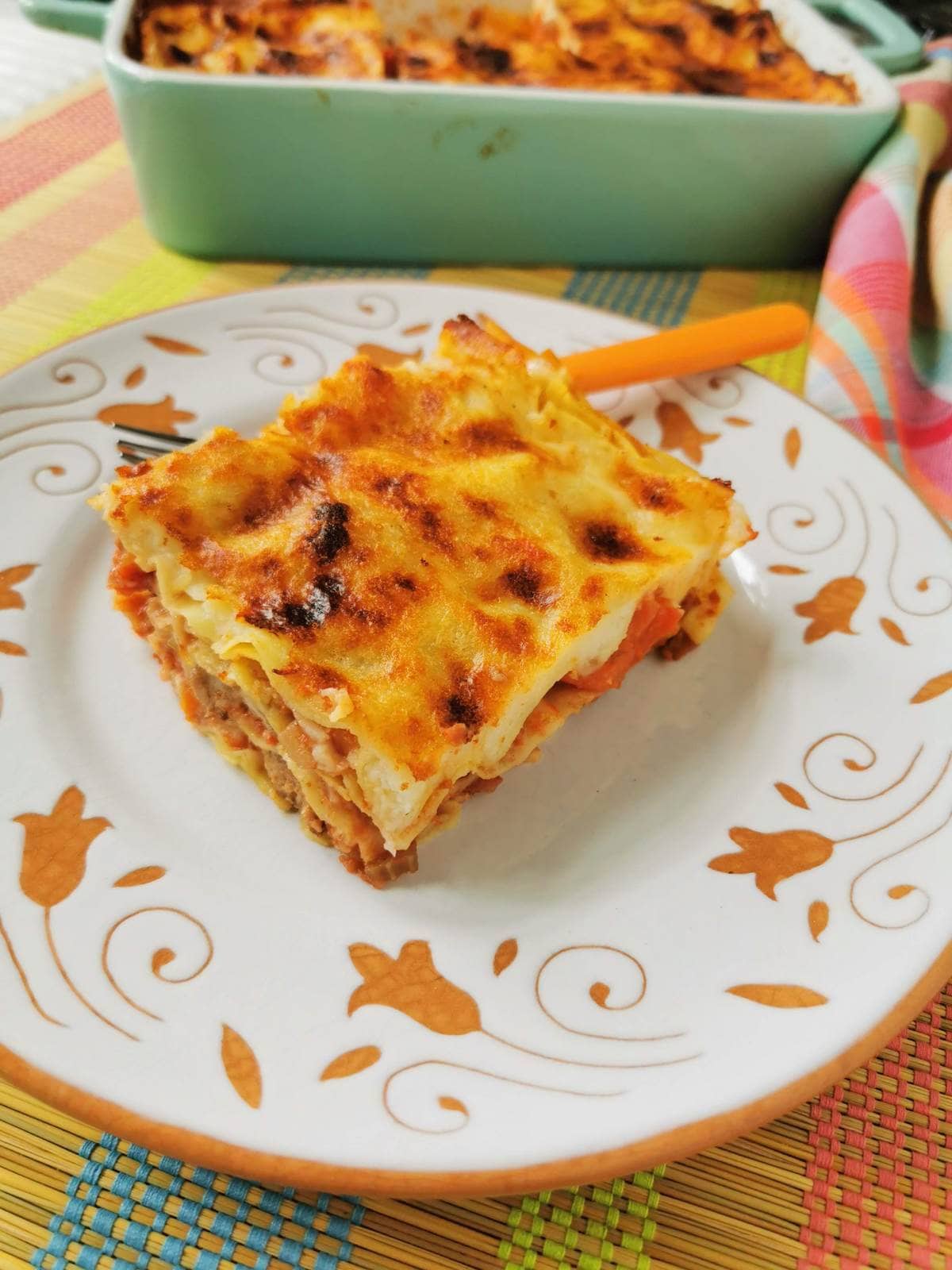 Lamb for Easter
Lamb is a must for Easter here in Northern Italy. Well, throughout Italy actually! The rest of the year, it isn't eaten so much in Veneto where I live. So, it's not so easily available, although it's popular year round in other regions. This is a great pity in my book because I love lamb.! However, I've learnt to compromise and make good use of what I can find.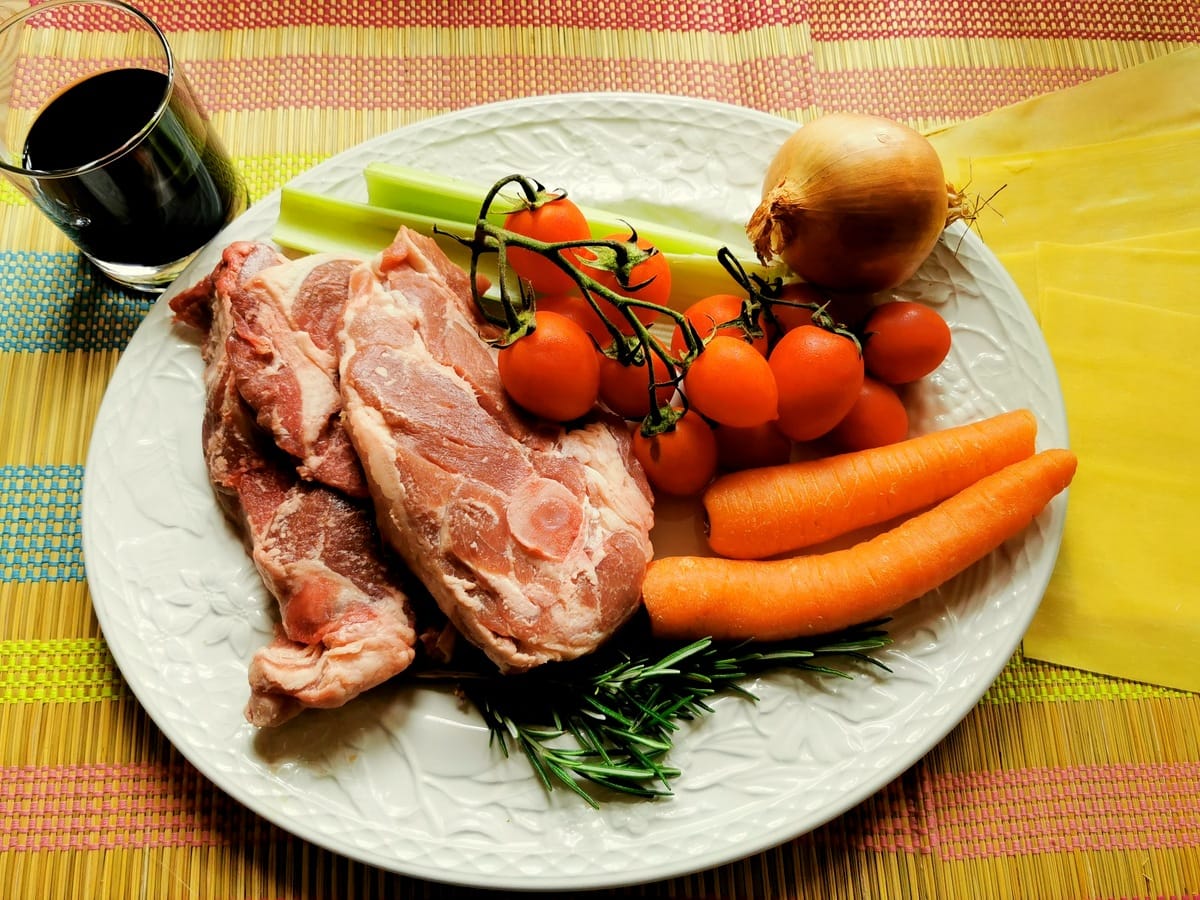 Lamb with pasta in Italy.
Luckily, one of the easiest ways for me to serve the cuts of lamb I can buy is with pasta. Lamb with pasta may sound unusual to some. However, it's very traditional in a number of Italian regions such as Sardinia, Molise and Abruzzo.
In fact, Sardinia is famous for its lamb, which is highly prized. The meat is known to be very flavourful, tender, succulent and easily digestible. Sardinian lamb has IGP certification, which is kind of like DOC for wine! You can read more about lamb in Sardinia in my homemade malloreddus in lamb broth recipe.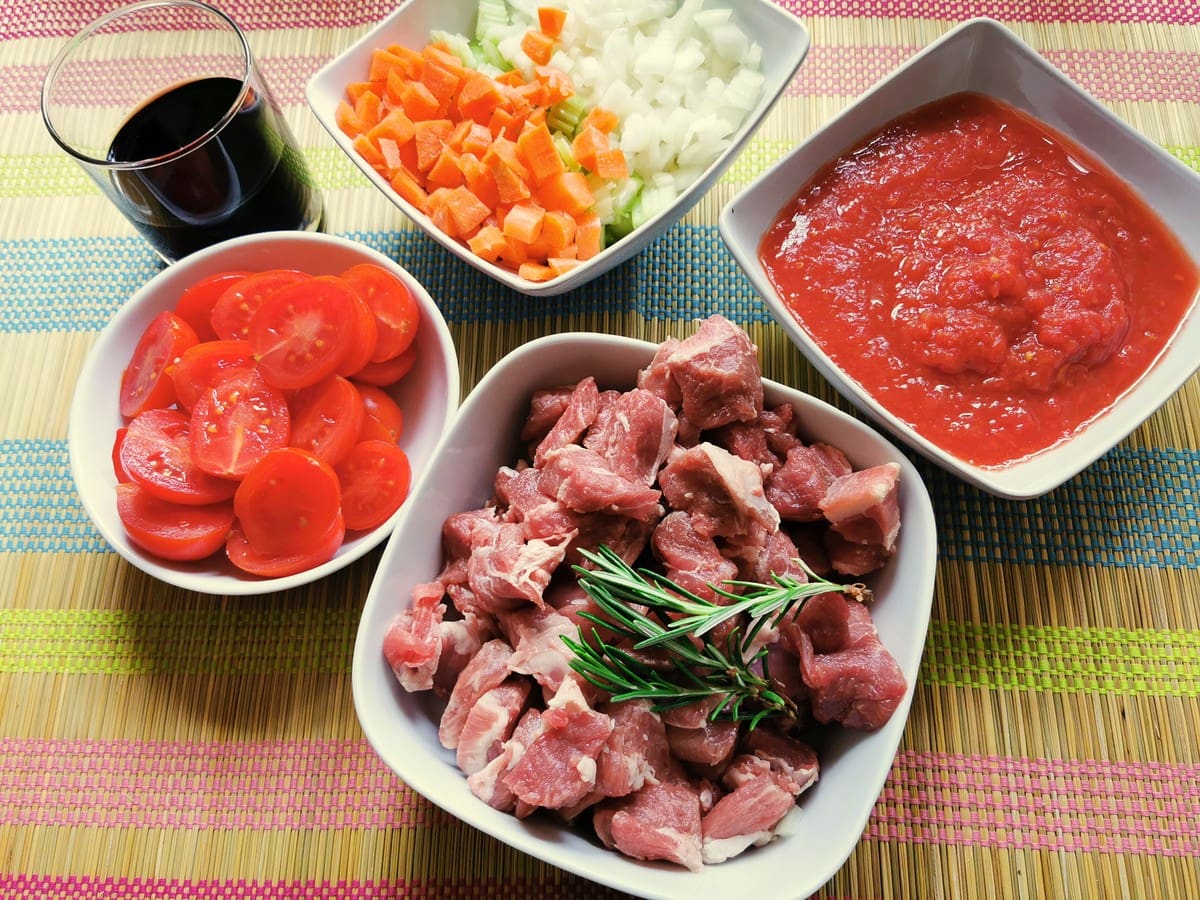 Lamb cuts for this lasagna.
I usually buy large meaty chops like neck chops and cut the meat off the bone. I use the bones to make stock and the meat in the pasta sauce. Of course, you can use other cuts of lamb for this lamb ragu. Boneless shoulder or leg meat work very well too.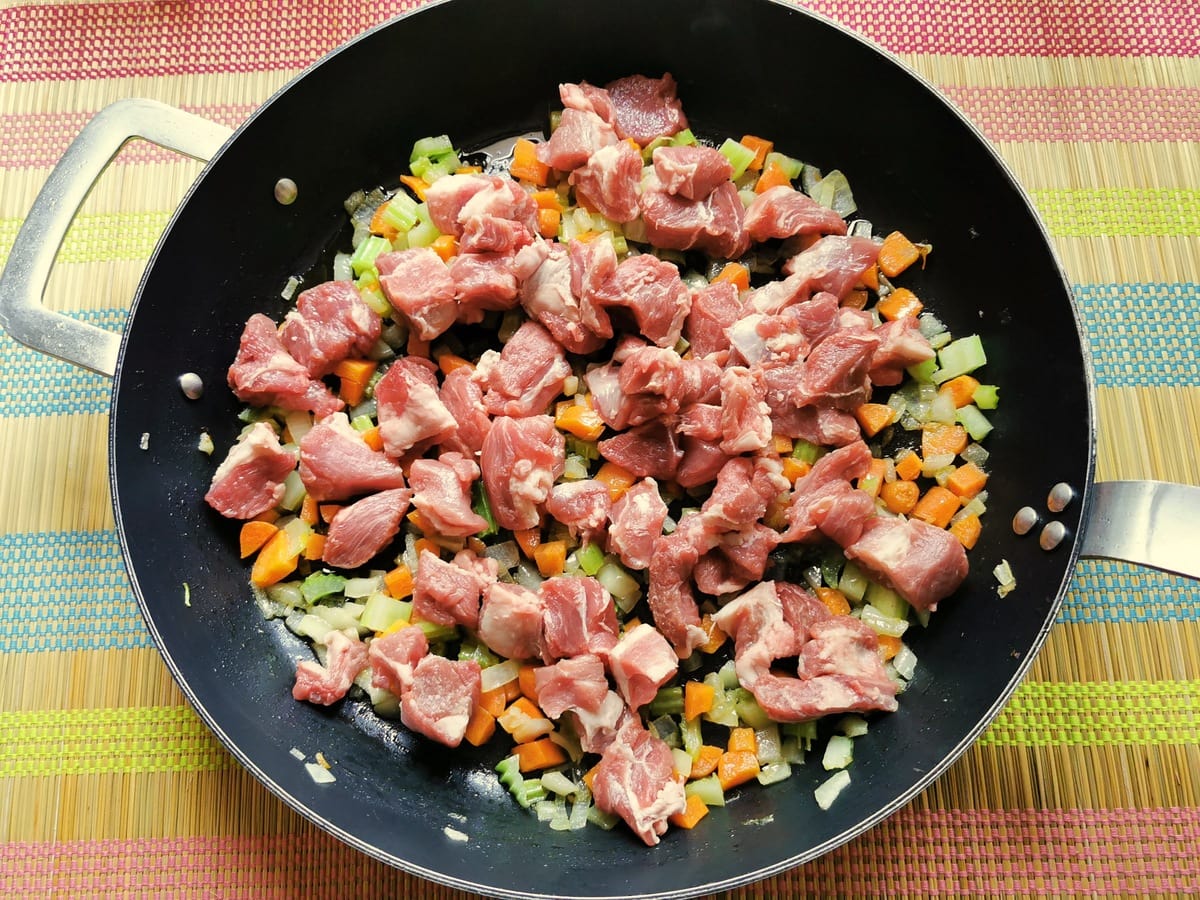 What goes into the ragu for lamb lasagna.
The sauce for this lamb lasagna is pretty similar to other lamb ragu recipes. In fact, it's similar to other types of ragu. You start with a soffritto (mirepoix) of onion, celery and carrots sautéed in olive oil. And, then add the pieces of meat. The lamb isn't ground, but I think ground lamb would be delicious and I'd like to try this lasagna recipe with it soon.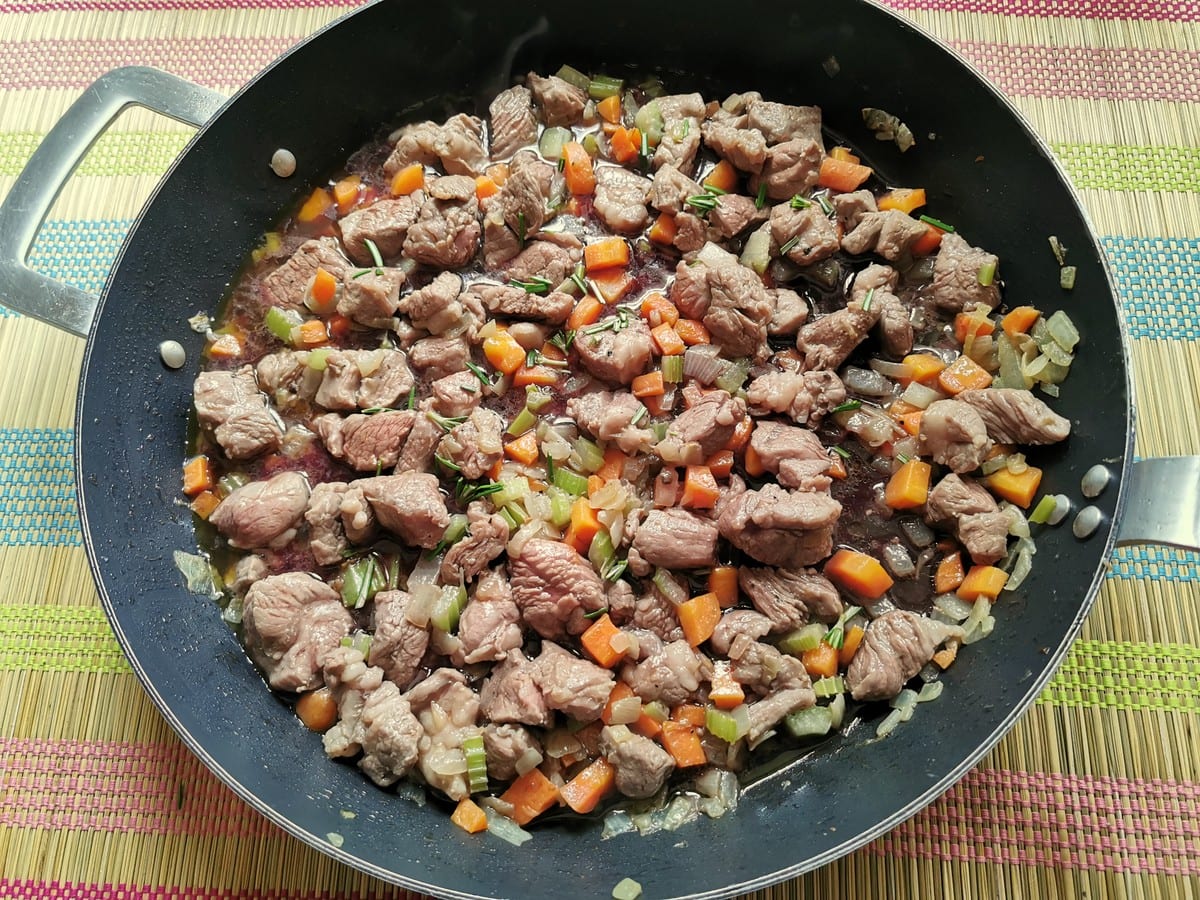 Once the meat is browned, you need to add the herbs and wine and then finally cherry tomatoes, passata and lamb or beef stock. Lamb doesn't need long cooking, so this ragu isn't one of those that takes hours to prepare!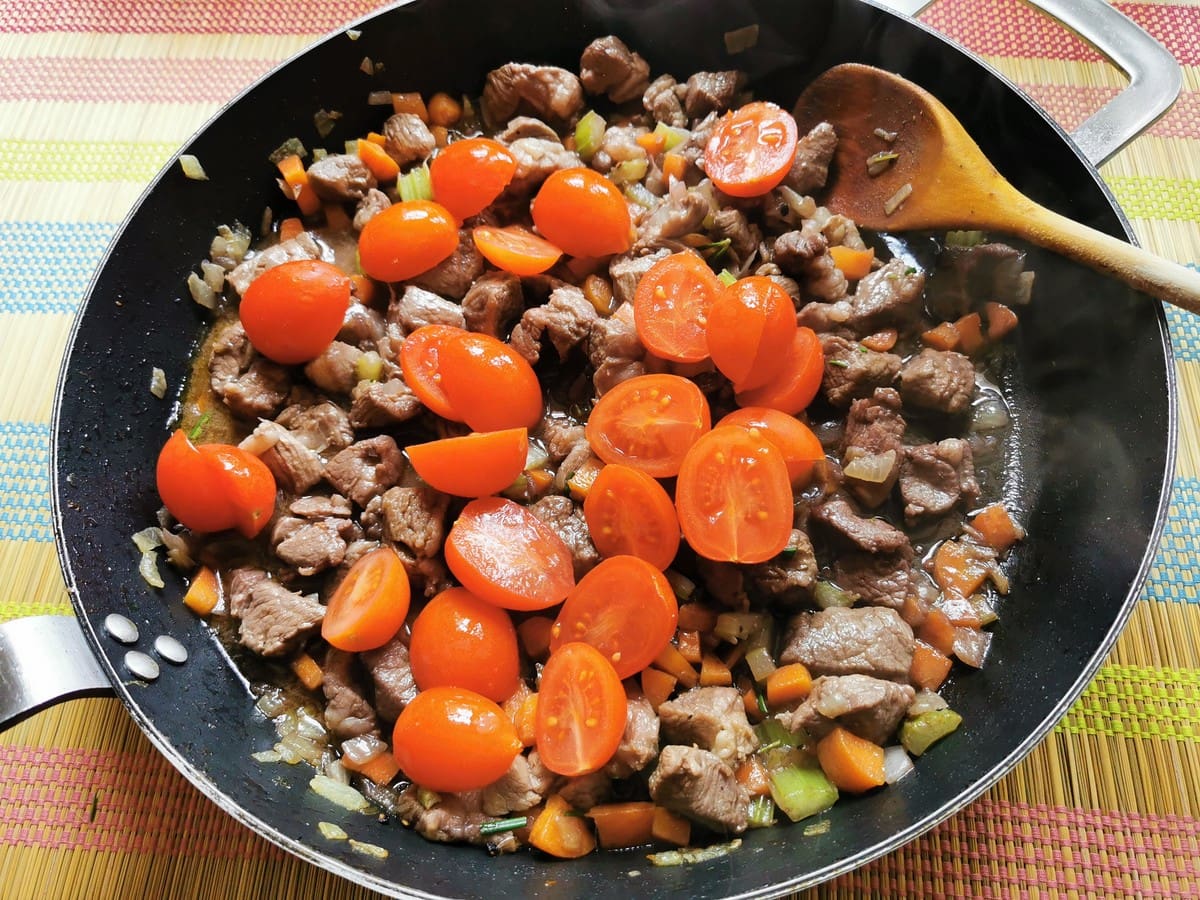 Some recipes for lamb lasagna involve making quite a complicated ragu with lots of ingredients, including different meats and vegetables. This is a simpler sauce. Lamb that's been cut into small pieces doesn't need to be cooked for very long. However, if you add other meats, then the ragu will need to simmer for longer.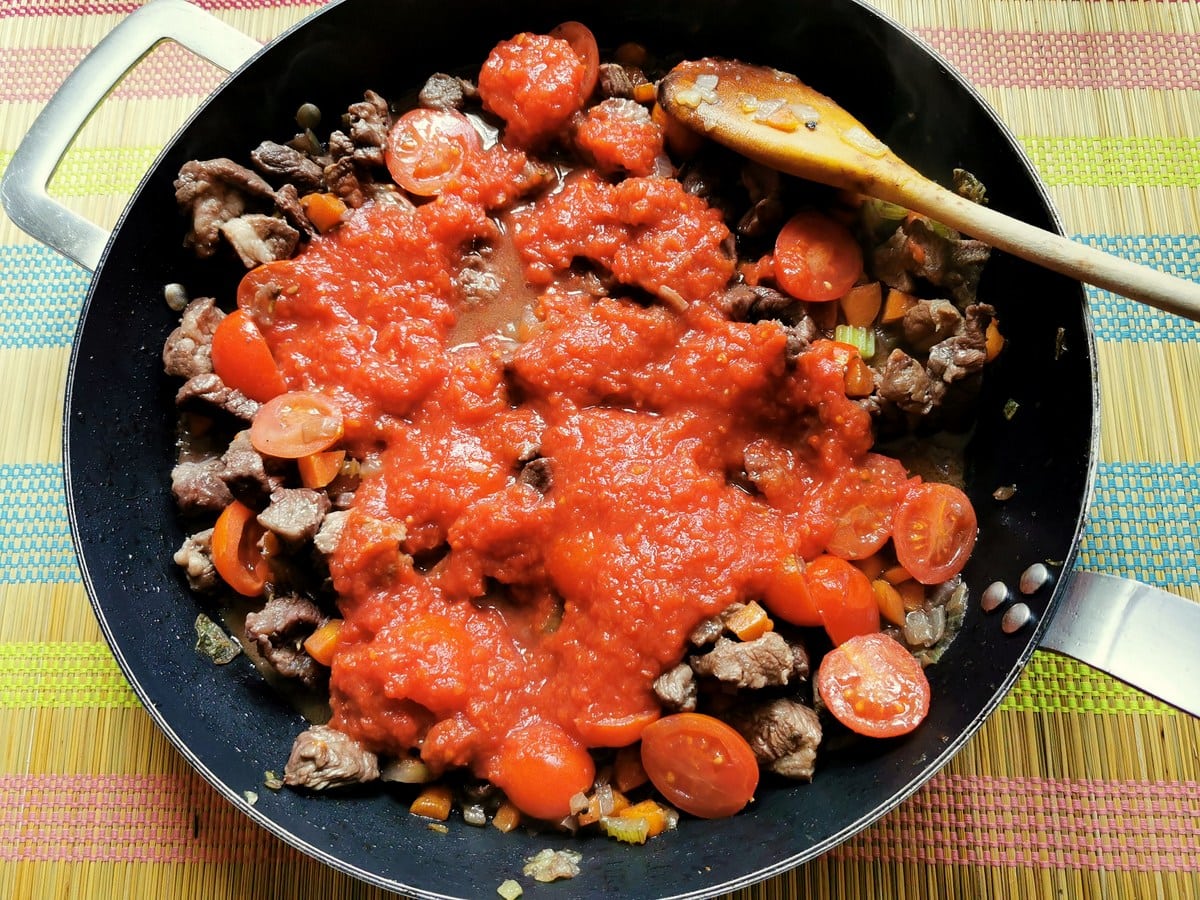 Making the béchamel.
Like many Northern Italian lasagna recipes such as traditional lasagne al forno from Bologna, this lamb lasagna calls for béchamel (white sauce). In Southern Italy, they often use ricotta instead. You can use a ready made béchamel but I prefer to make my own. It's actually quite easy.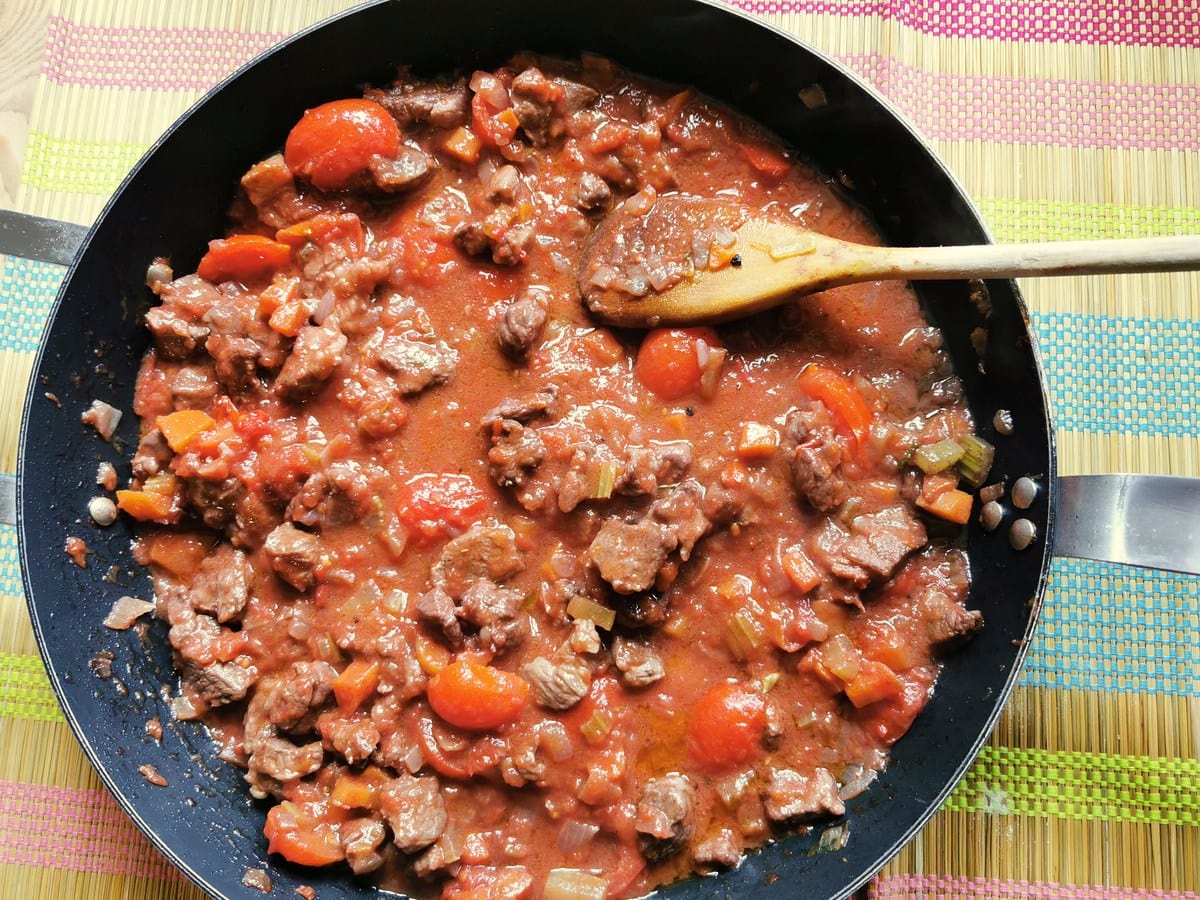 To make béchamel, melt butter in a saucepan and add flour to it. Stir the flour and butter until you have a paste (roux). Then slowly pour in milk stirring all the time until the sauce is the quantity and consistency you require.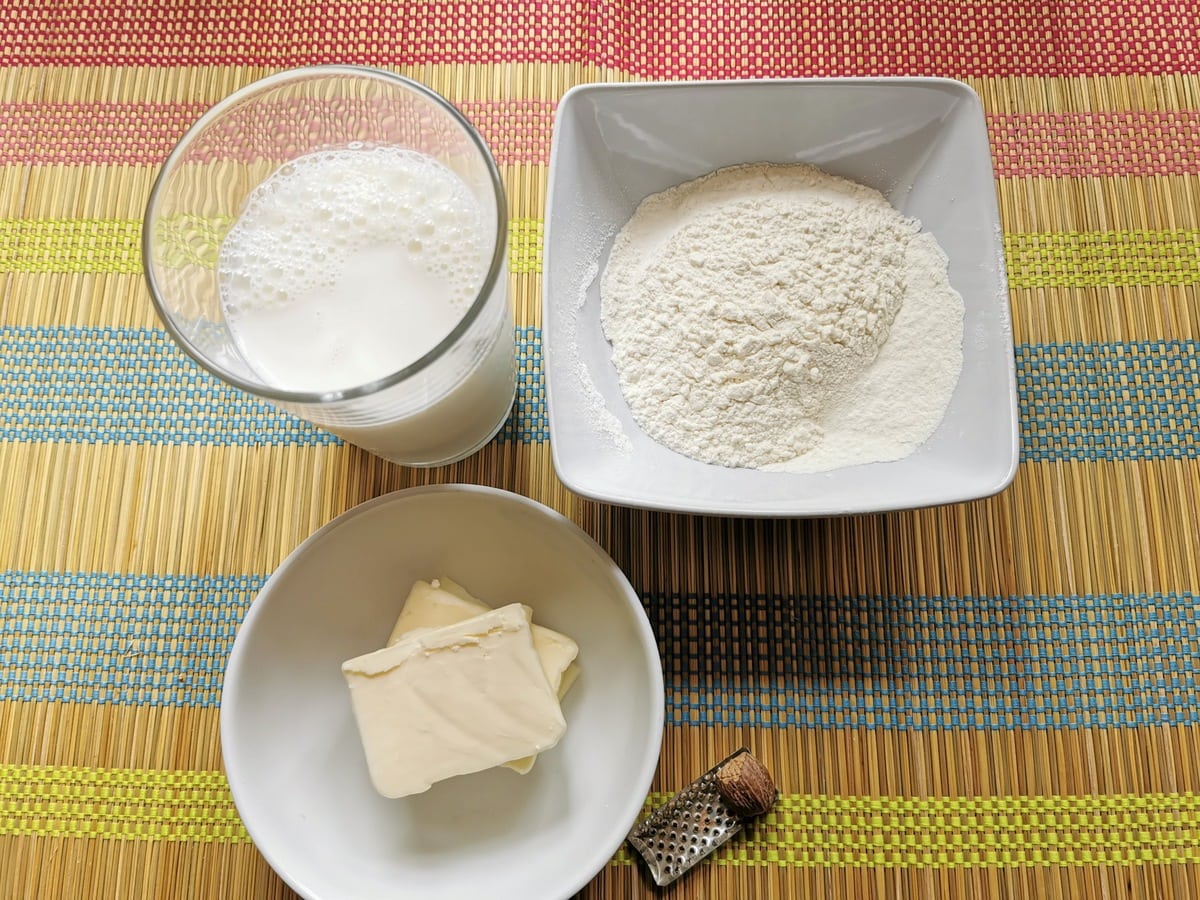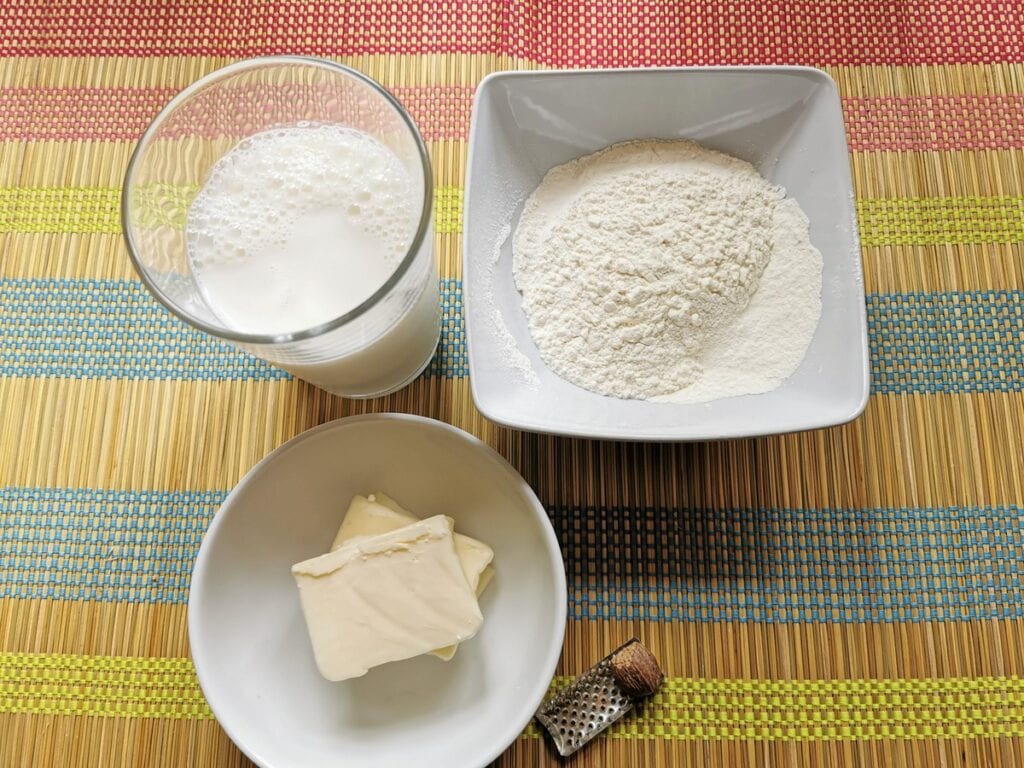 If your béchamel seems lumpy, you can use a hand held immersion blender to smooth it out. Finally add some grated nutmeg and set the béchamel aside until you want to assemble your Italian lamb lasagna.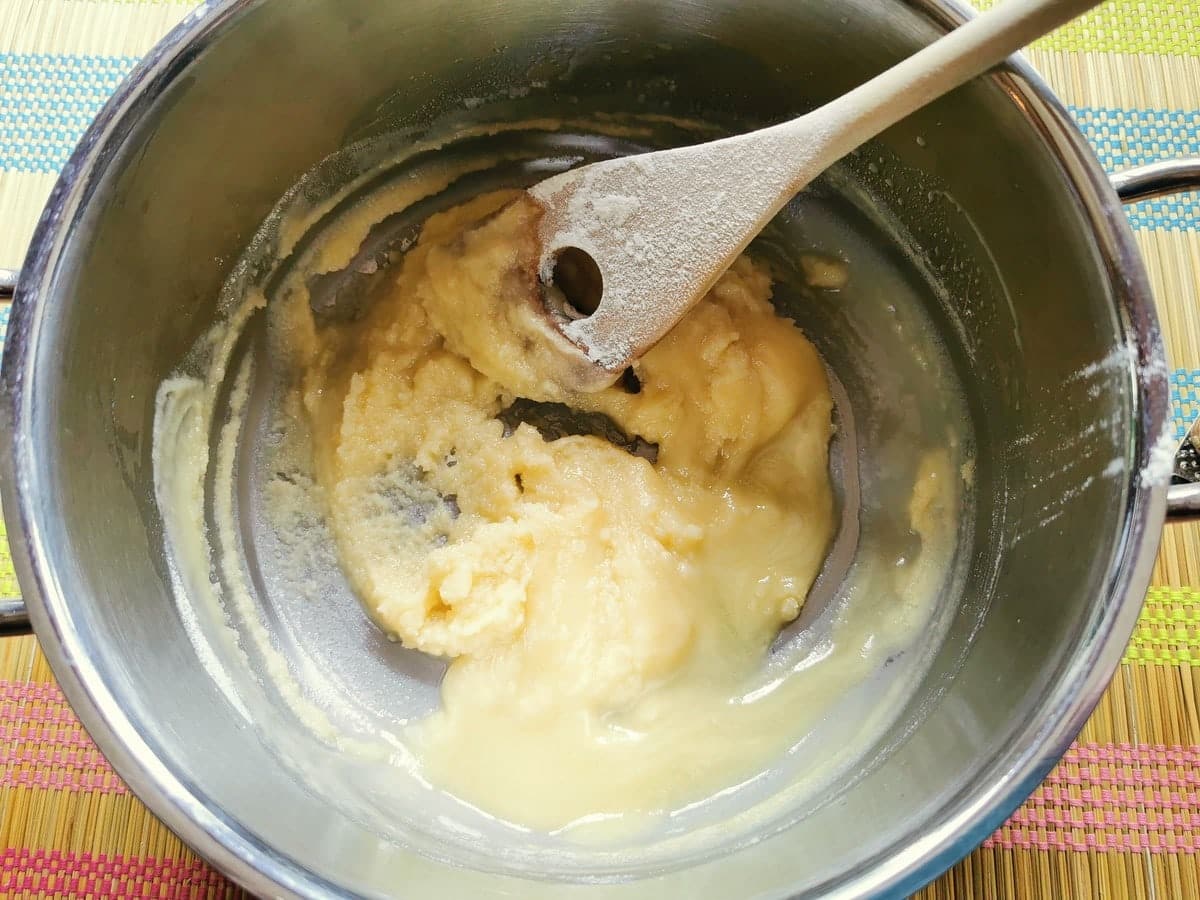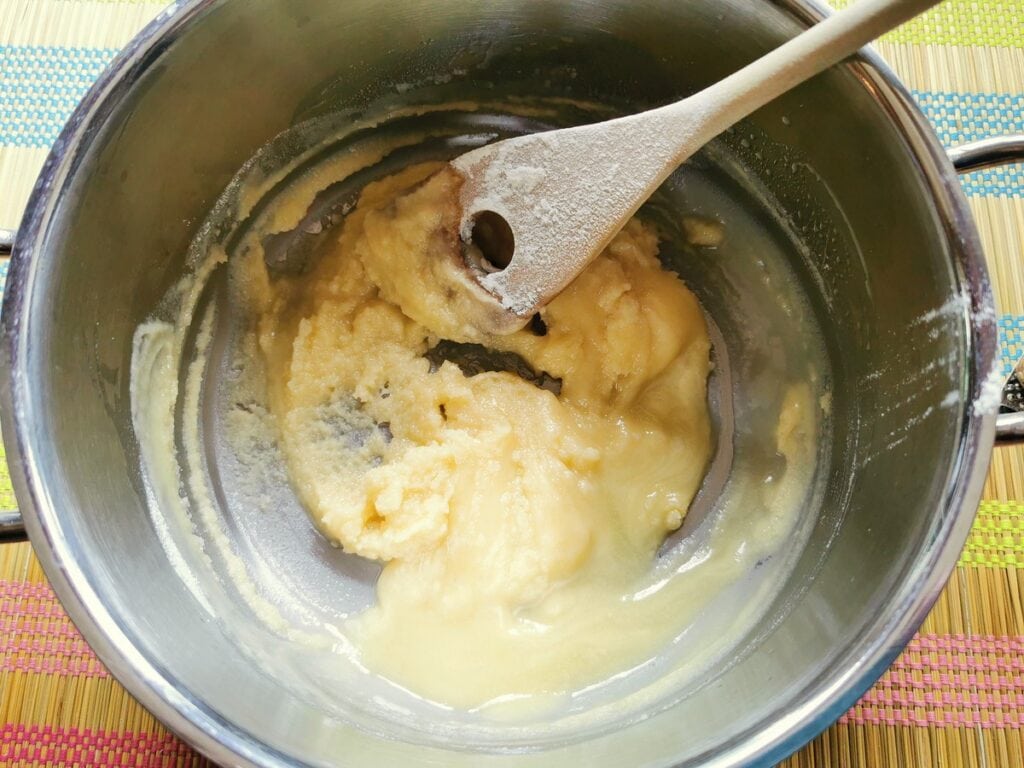 The pasta sheets.
For the pasta, I used fresh pasta sheets from Giovanni Rana, not homemade but very good. Of course you can make your own lasagne sheets or use dried lasagne. If using dried pasta you will need to semi-cook the sheets in boiling water before putting the dish together.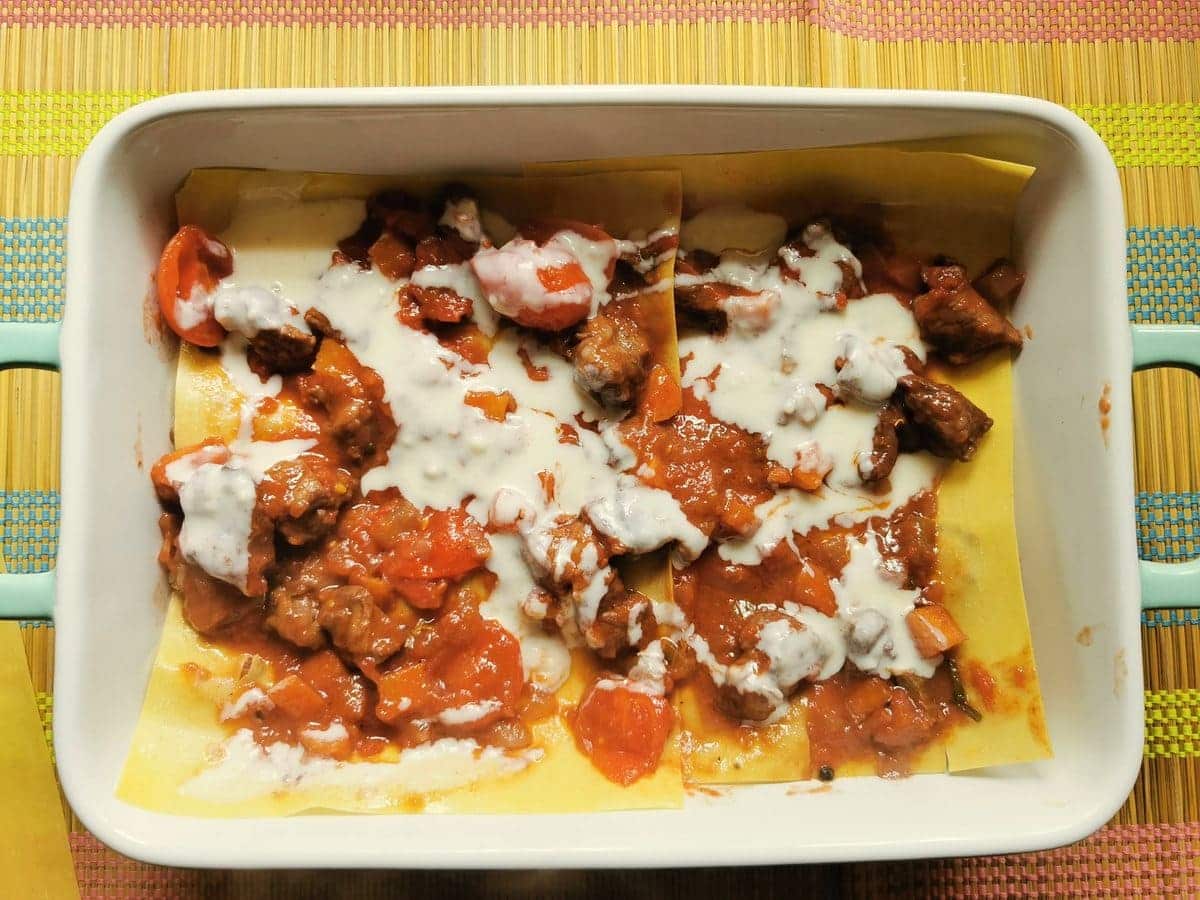 How to assemble your lasagna.
Once, the lamb ragu and béchamel are ready, you will need to assemble and bake your lasagna. Like similar recipes, this lasagna is assembled in layers. I like to start with some ragu spread over the bottom of my oven dish. However, some people like to start with pasta.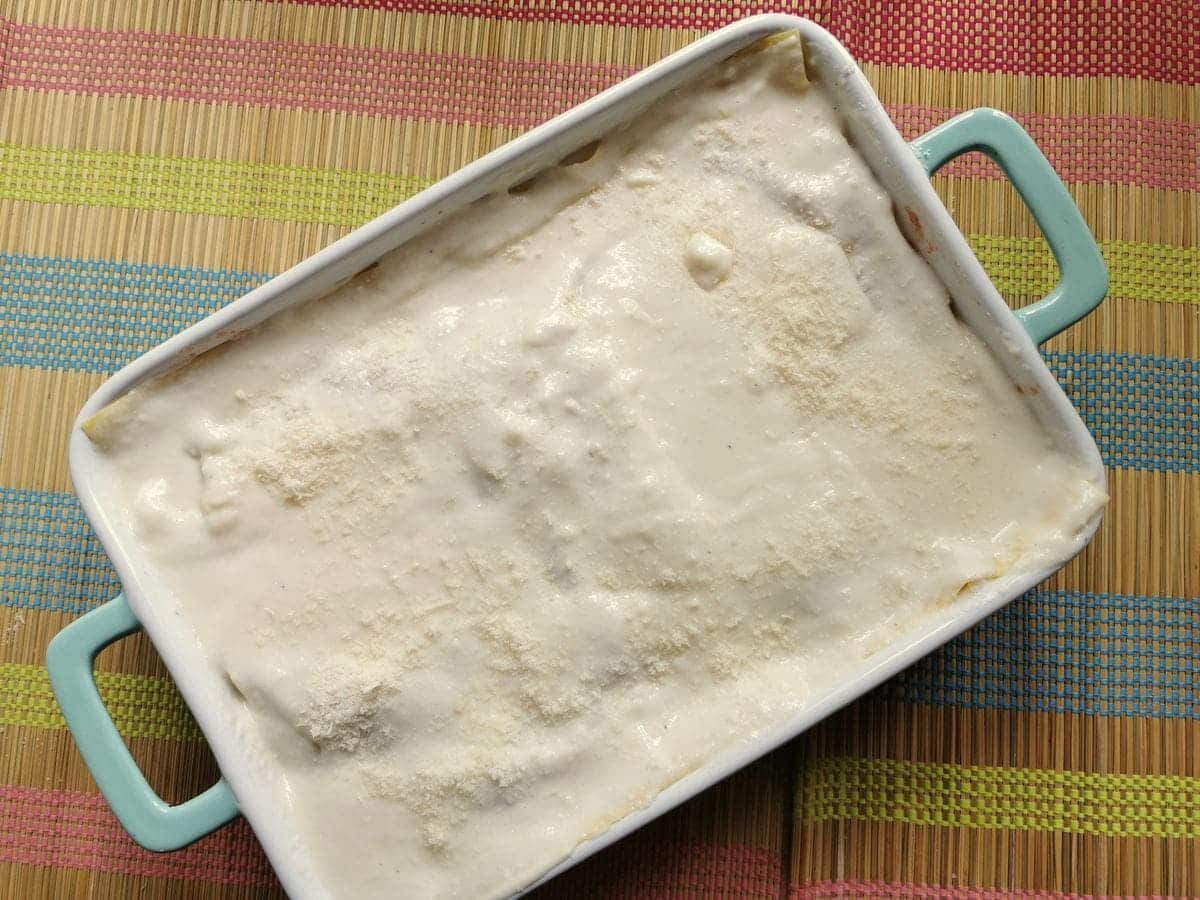 After the ragu I put a layer of ready lasagne sheets then some lamb ragu with a little béchamel, followed by another layer of pasta, then ragu and béchamel. The top layer on top of the last pasta sheets is the rest of the béchamel sprinkled with some Parmigiano cheese.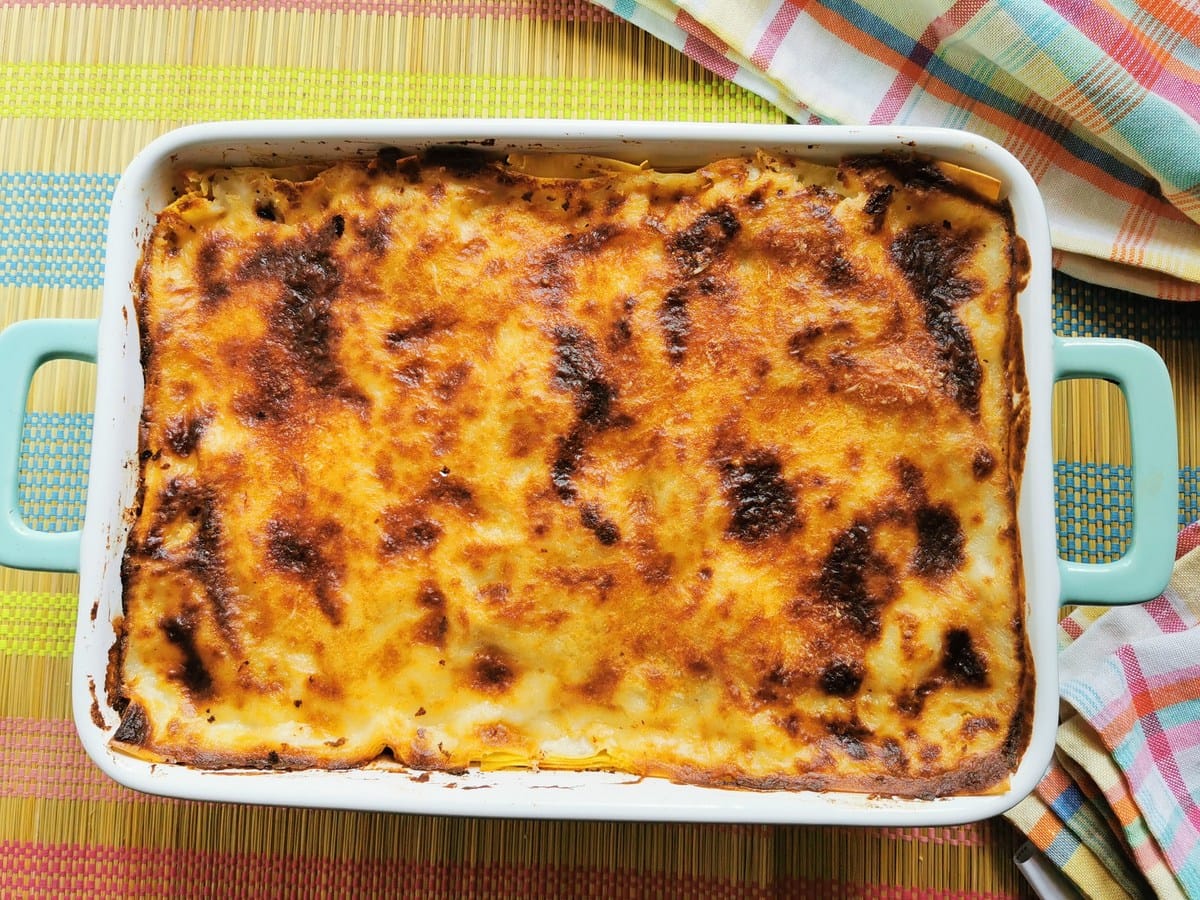 Perfect for Easter and other occasions!
This lamb lasagna recipe is not my invention. Although not a traditional lasagne al forno, there are many Italian recipes for this dish. Lasagne al forno is a popular choice in Italy for family lunches and when feeding large numbers. Making a lamb lasagna at Easter combines two culinary traditions and has become very popular!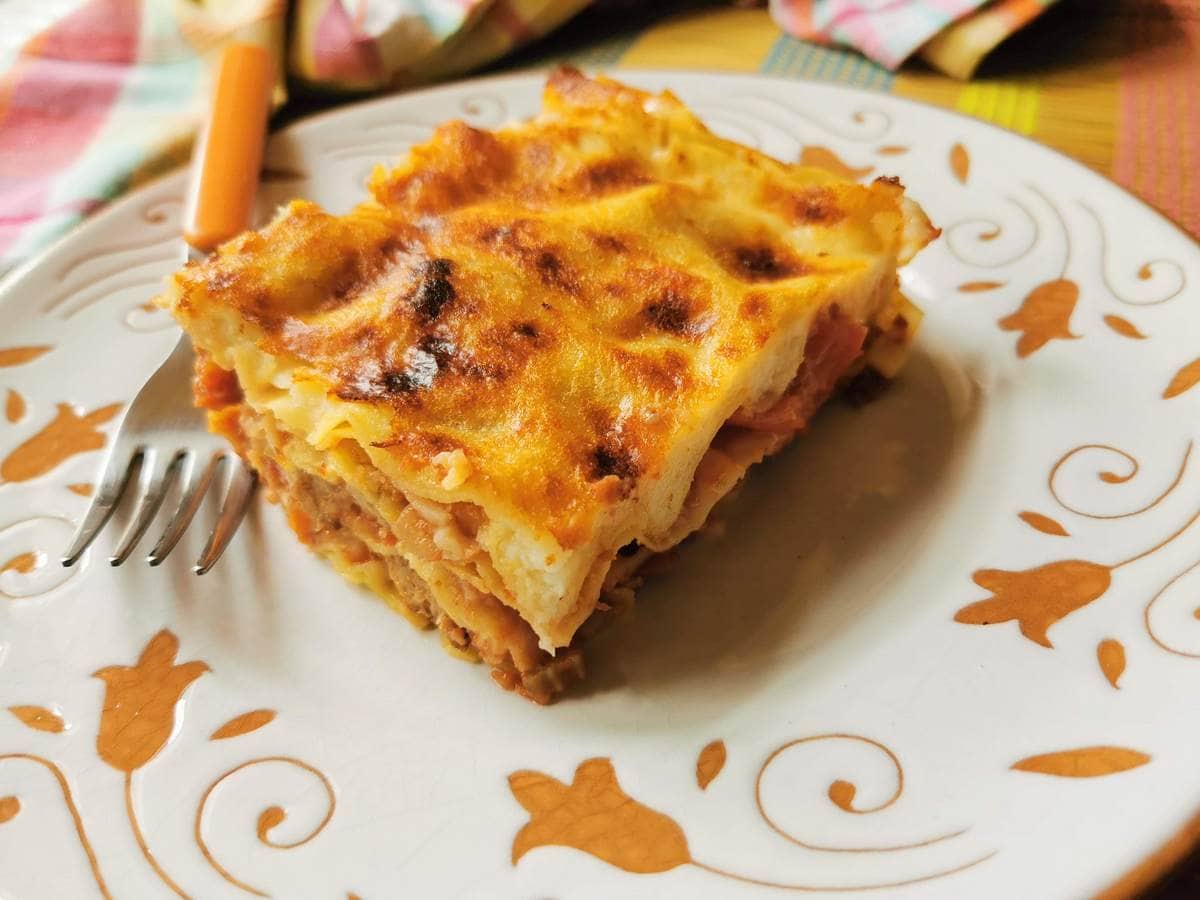 However, I don't just make this lasagna at Easter. It's too good to only have once a year. Combining lamb ragu together with lasagne sheets and béchamel and baking it all in the oven makes a dish that is much richer in taste than other lamb and pasta recipes.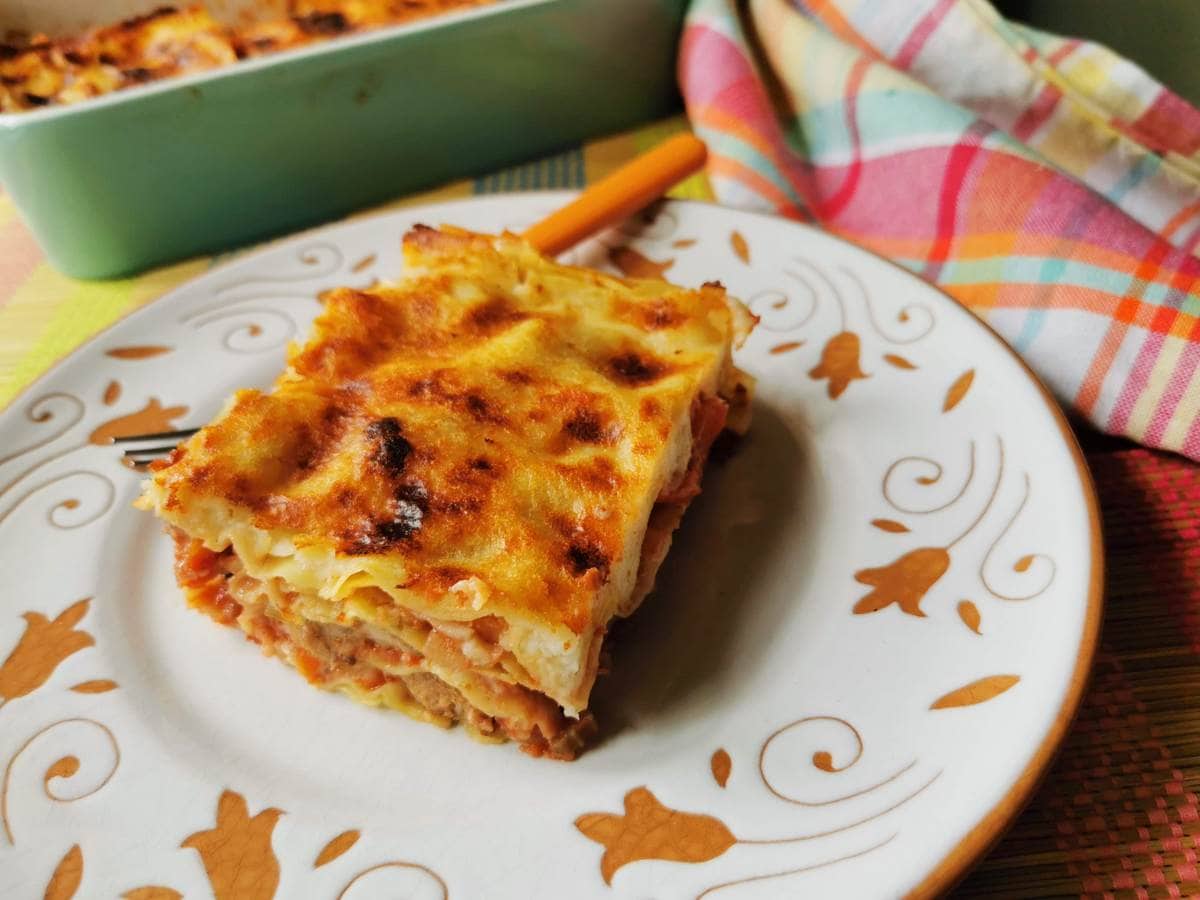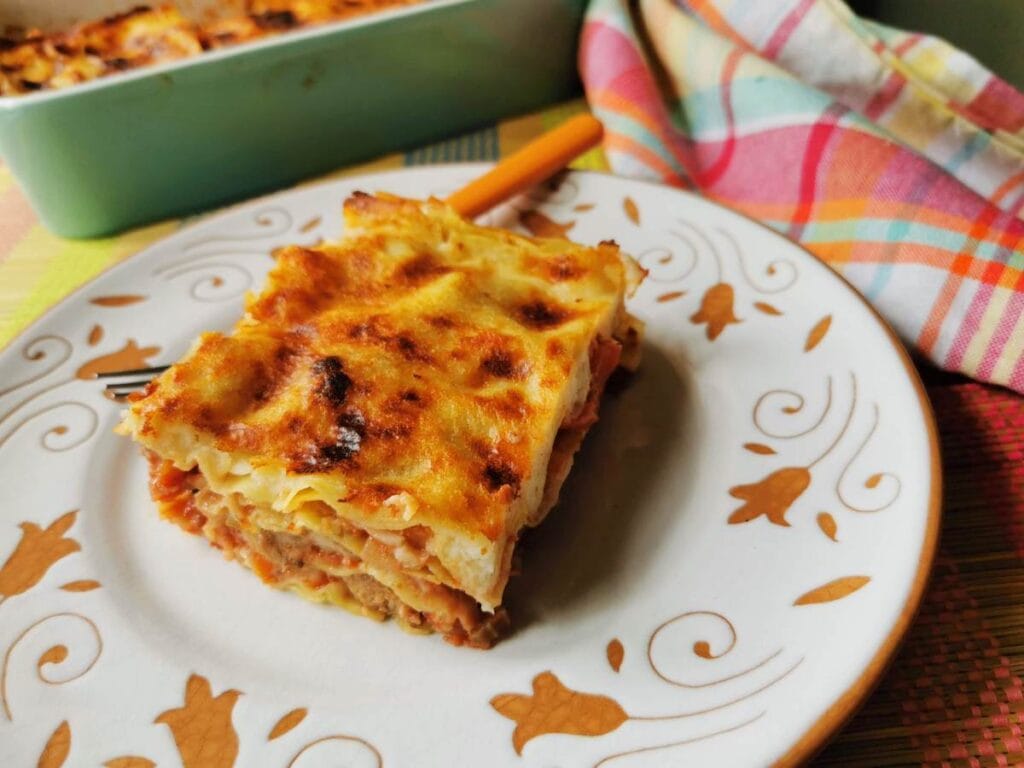 If you make this recipe I'd love to hear how it turns out and if you liked it. Please leave a comment here on the blog or on The Pasta Project Facebook page.
Looking forward to hearing from you.
Buon appetito!
This recipe was originally published in 2018 but has been updated with new photos and text.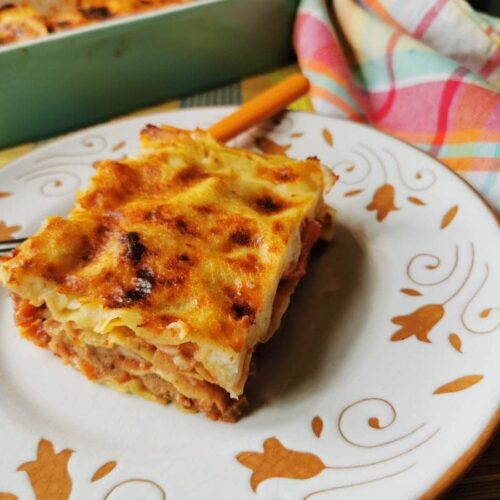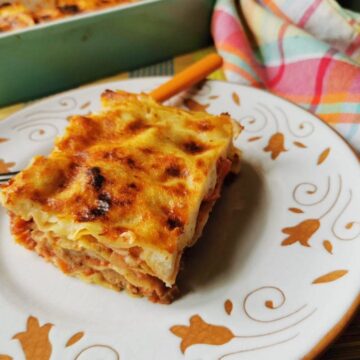 Italian Lamb Lasagna
A rich tasty baked lasagna made with a lamb ragu, béchamel and lasagne pasta sheets. This delicious dish is a fabulous way to serve lamb at Easter or for Sunday lunch. Lamb lovers will be asking for seconds so be sure to make enough!
Ingredients
250

g

lasagne pasta sheets (9oz)

fresh, homemade or dried

800

g

lamb (1.8lbs)

boneless shoulder or leg or meat from neck chops

700

g

tomato passata (1.5 lbs)

I use passta 'rustico' which is thicker or polpa (pulp)

1

handful

cherry tomatoes

optional (cut in half)

2

small

carrots

finely chopped

1-2

celery stalk

finely chopped

1

onion

peeled and finely chopped

1

sprig

rosemary

2-3

tbsp

extra virgin olive oil

1/2

glass

red wine

1

cup

lamb stock

homemade or use other stock like beef

90

g

Parmigiano Reggiano (3oz)

grated

salt

for pasta and to taste

freshly ground black pepper

to taste
for the bechamel sauce
100

g

all-purpose flour (3.5oz)

100

g

butter (3.5oz)

1

Lt

milk (4 cups)

1

pinch

salt

1/2

tsp

nutmeg

freshly grated
Instructions
Make the ragu
Clean the celery and carrot and chop finely. Peel and finely chop the onion. If using, wash the tomatoes and cut them in half. Cut the lamb into small cubes.

Heat the olive oil in a frying pan or iron skillet and add the chopped vegetables. Once they start to soften slightly, add the lamb pieces.

Season with salt and pepper and cook over medium heat for about 10 minutes.

When the lamb is almost cooked but still pink, add the rosemary and wine and let the alcohol evaporate. Add the halved cherry tomatoes (if using) and cook until they start to soften.

Finally add two thirds of the tomato passata and the cup of stock and cook over a medium heat for about 20 minutes, until the sauce thickens. If you think it's too thick add more passata or stock until you have the consistency you want.
Make the béchamel sauce
While the ragu is cooking make the béchamel sauce

In a saucepan, let the butter melt over a moderate flame. Add the flour a little at a time, stir carefully until you have a paste. Make sure any lumps of flour dissolve. 

Then pour in the milk a little at a time, continuing to stir until it starts to thicken.

Add salt, nutmeg and grated cheese, if you are using it. Continuing stirring until the cheese melts and the béchamel is thick enough. If it gets too thick you can add more milk.
Cook the pasta if you are using dried pasta sheets
Put a pot of water onto to boil for the pasta if you are using dried lasagne sheets. Add salt once it starts to boil and bring to the boil again. Cook the pasta sheets for only half the recommended cooking time. You may want to add a little oil to the water to stop them sticking together. It's best to cook them a few at a time. Drain the pasta and lay the sheets on a tea towel until ready to assemble your lasagna.
Assemble and bake your lasagna
Once everything is ready assemble your lamb lasagna. I start with a layer of ragu. Then I make a layer of pasta, with ragu and béchamel on top. Then another layer of pasta, ragu and béchamel.

I continue until the dish is almost full and finish off with a layer of pasta with only béchamel on top sprinkled with pecorino or Parmigiano. 

Bake the lamb lasagna for at least 30 minutes at 180-200 ° until the top is golden and slightly crispy. Let the lasagna stand for 10 minutes before cutting and serving. (350-390°f)
Notes
This lamb ragu can be made in advance and kept in the fridge for 2 days or frozen. If frozen, defrost and heat through before making the lasagna. 
Don't forget to let the cooked lasagna sit for ten minutes before cutting and serving. It will hold together better.
Nutrition
Calories:
894
kcal
Carbohydrates:
59
g
Protein:
38
g
Fat:
54
g
Saturated Fat:
25
g
Polyunsaturated Fat:
4
g
Monounsaturated Fat:
21
g
Trans Fat:
1
g
Cholesterol:
143
mg
Sodium:
538
mg
Potassium:
1072
mg
Fiber:
5
g
Sugar:
9
g
Vitamin A:
3978
IU
Vitamin C:
18
mg
Calcium:
249
mg
Iron:
6
mg
Other lamb pasta recipes to try.
Pin me for later!