Tumminia whole-wheat spaghettoni pasta with lamb and artichokes.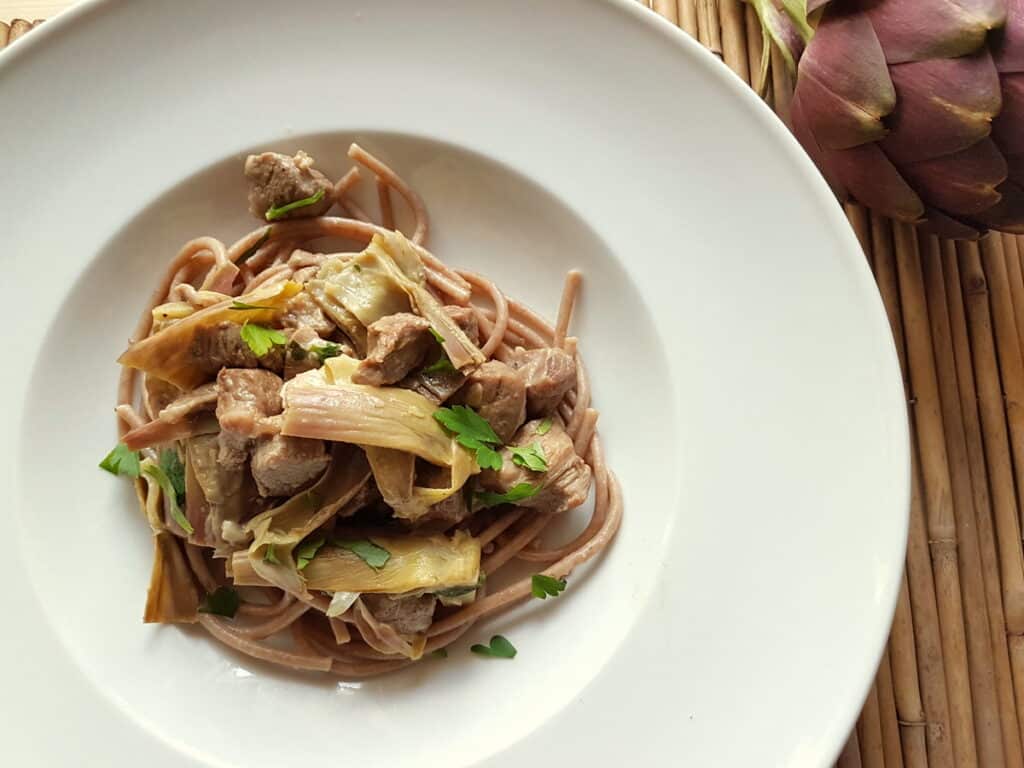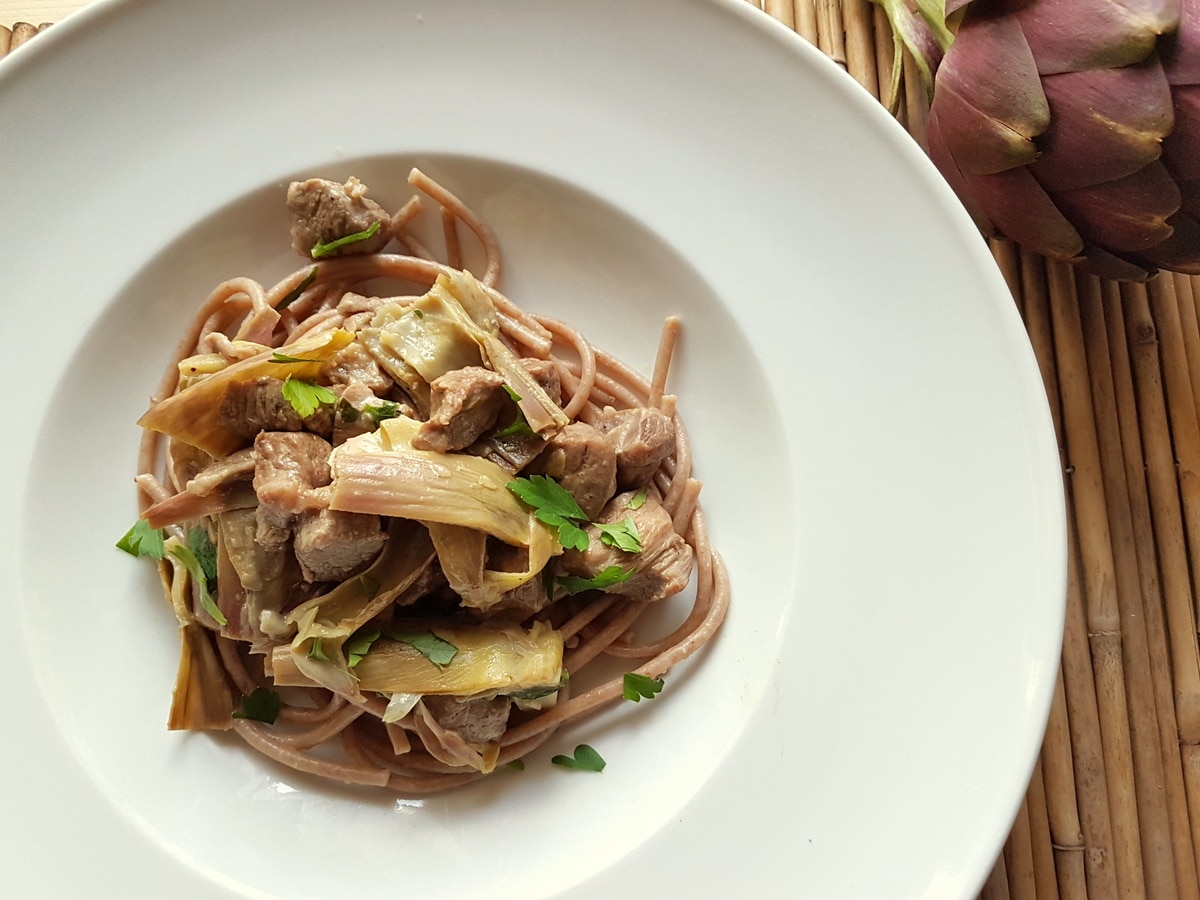 Pasta con agnello e carciofi.
Pasta with lamb and artichokes may sound like an unusual combination, but I have to say it's absolutely mouthwatering. As I have written in other posts, lamb isn't so popular here in Veneto except at Easter. However, it's very often eaten in Sardinia and Southern Italy where sheep farming is more traditional. This recipe comes from the island of Sardinia which is famous for the quality of its lamb and artichokes!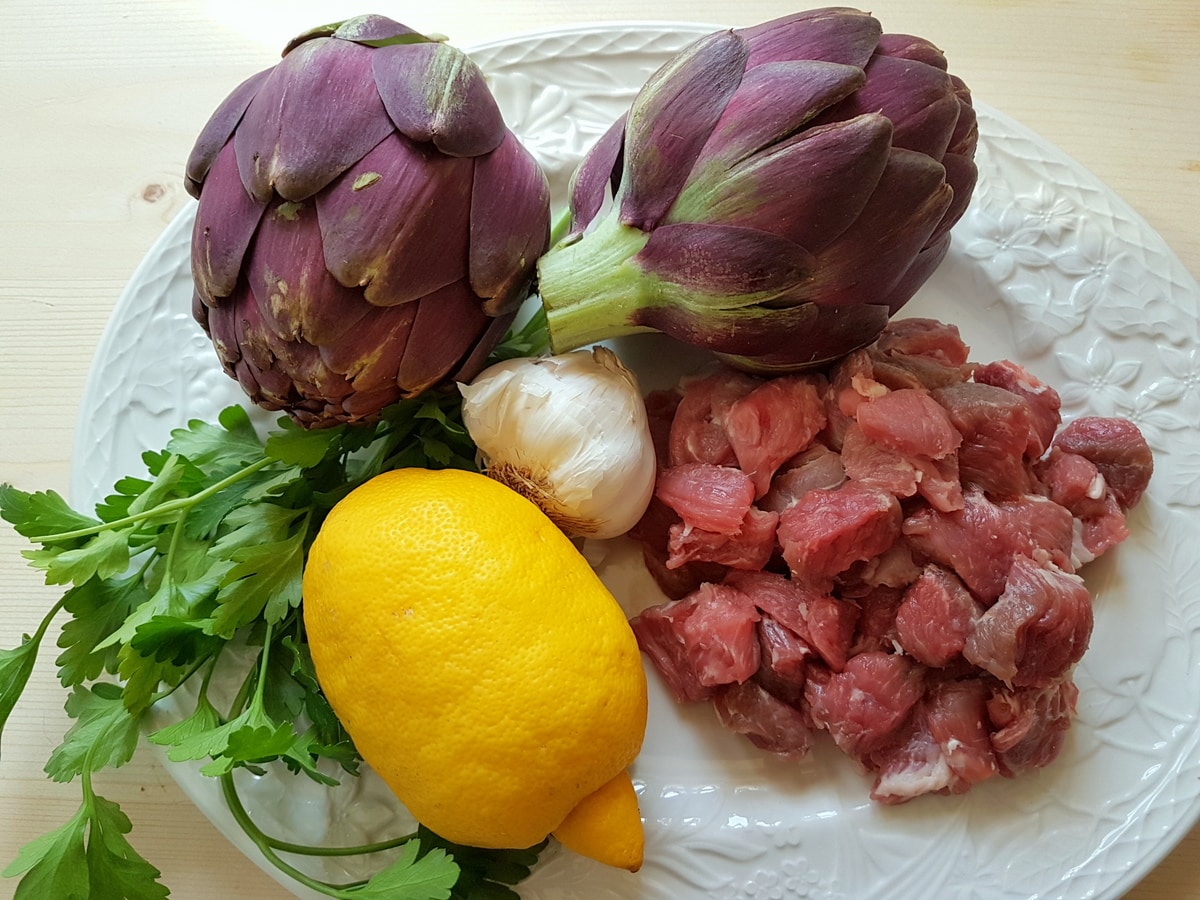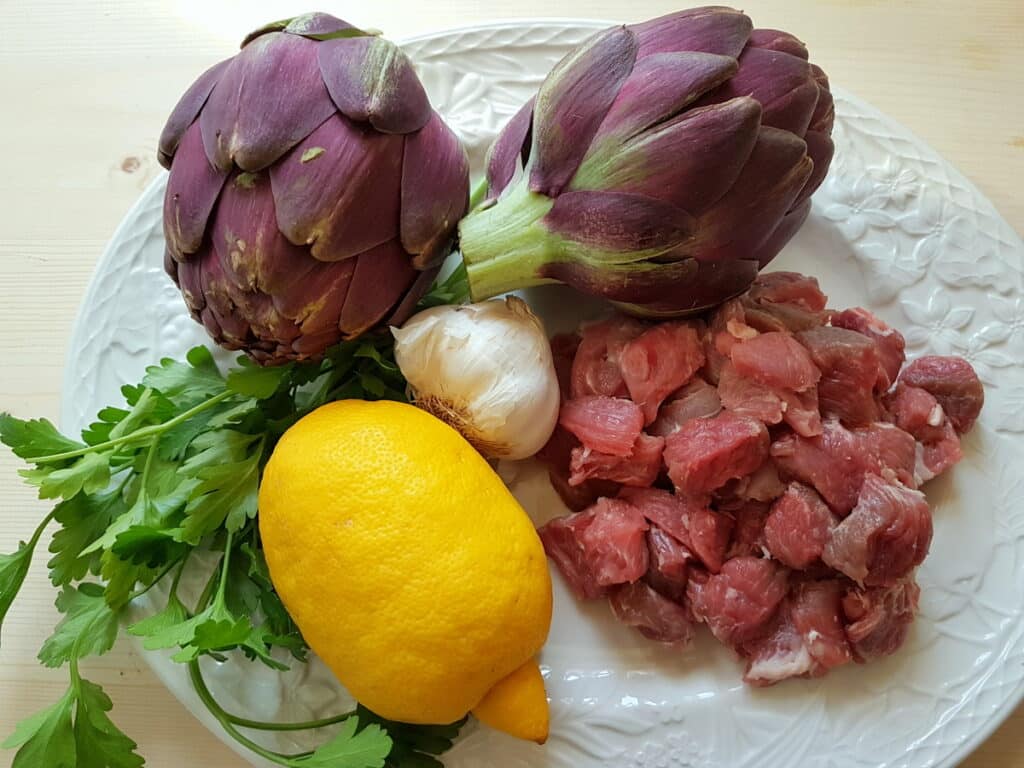 Lamb with artichokes is a traditional Sardinian dish, usually cooked at Easter. Since 4 million sheep live on Sardinia, it's easy to find good quality fresh lamb meat there and, of course, lamb is an important ingredient in Sardinian cuisine.
Sheep in Sardinia
Sardinia actually has its own breed of sheep called 'sarda'. The Sarda is indigenous to Sardinia, although you can find it in other parts of Italy and the Mediterranean. This breed has very ancient origins! It is a descendent of the wild Gennargentu or Sardinian Mouflon, which still live on the island. These sheep have been bred for their milk, meat and wool for over 4,000 years!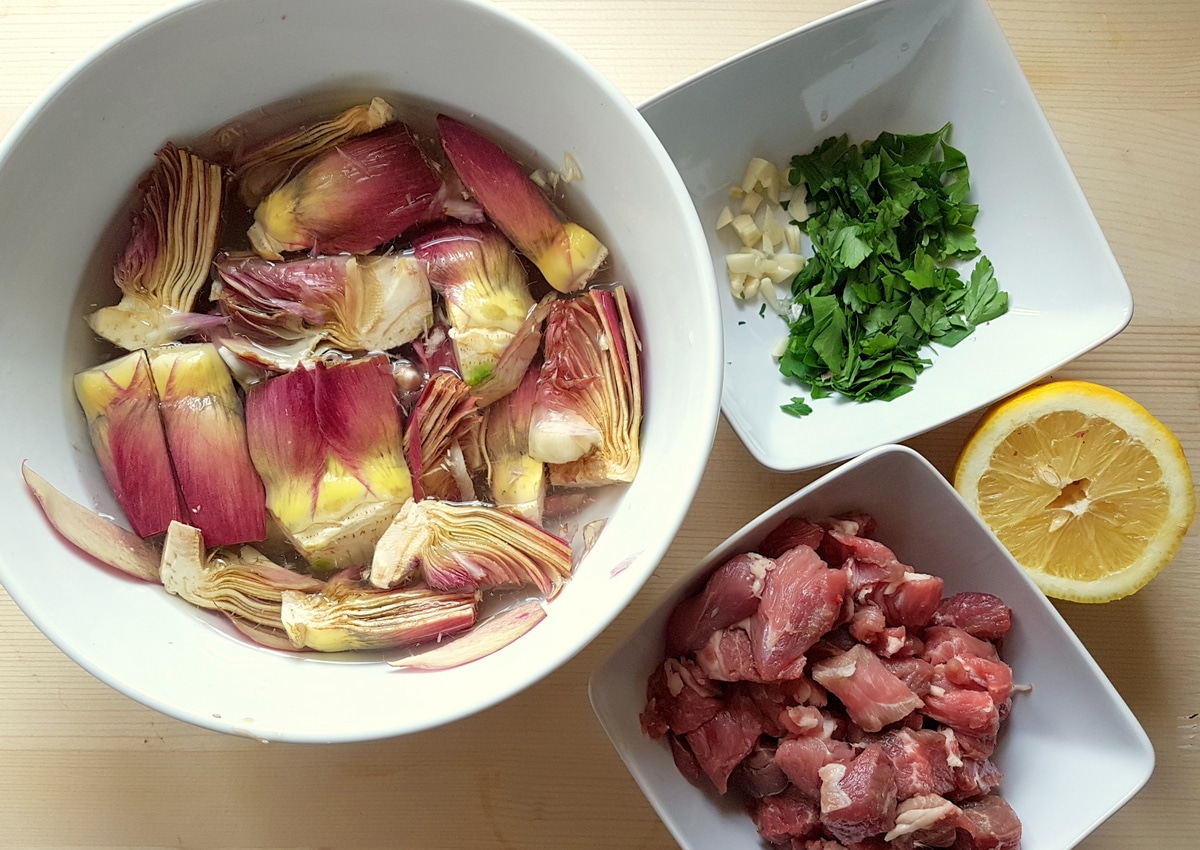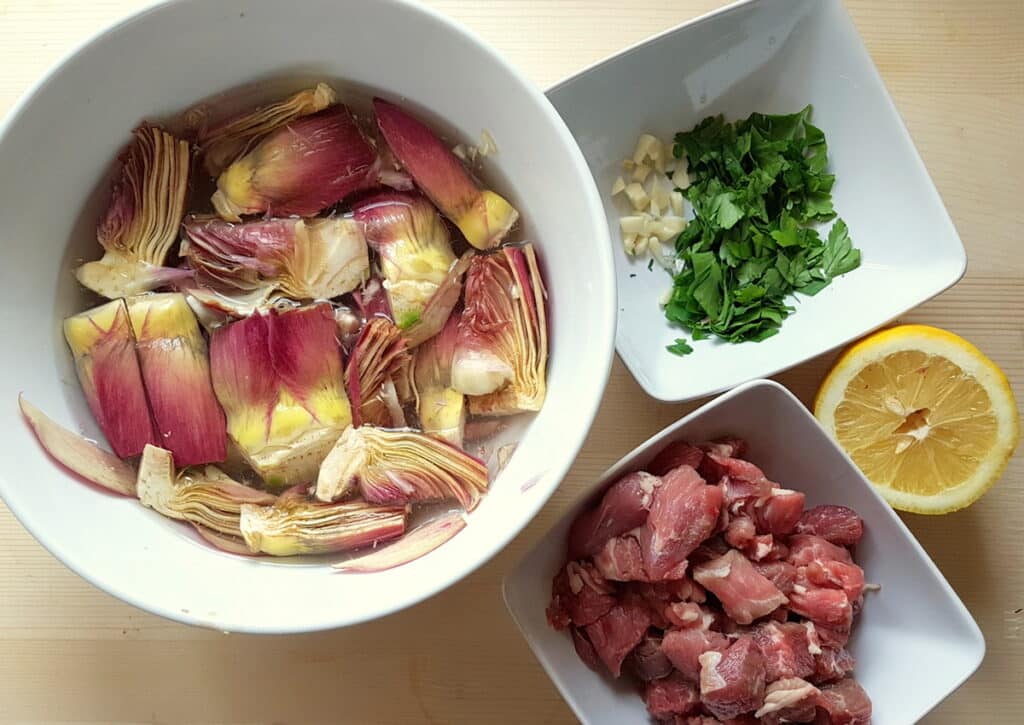 Today, Sarda sheep are considered the best sheep in Italy for milk production. In fact, most Pecorino Romano and Pecorino Sardo is made from their milk. Plus,the lamb meat is also highly prized and is very flavourful, tender, succulent and easily digestible. Sardinian lamb has IGP certification, which is kind of like DOC for wine!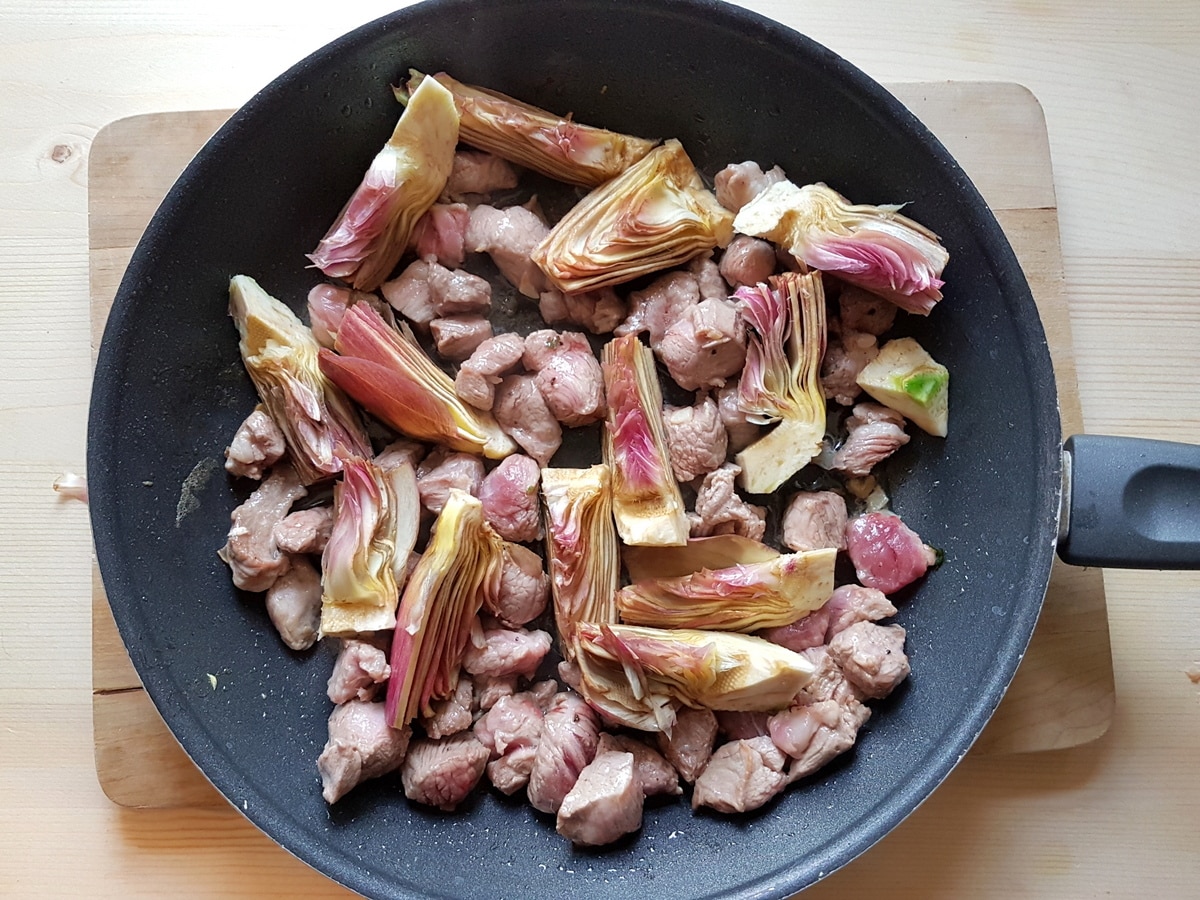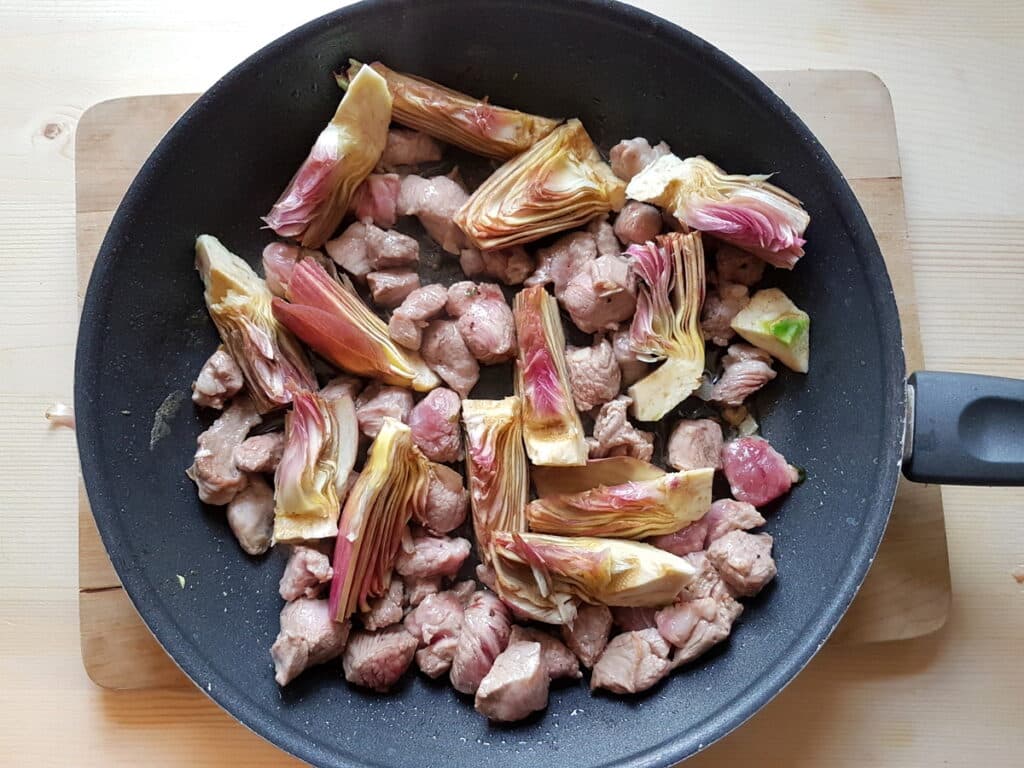 Sardinian artichokes.
Artichokes are also a quintessential Sardinian ingredient and are prepared in many different ways on the island. Known as the spiky Sardinian artichoke, or 'Carciofi Spinoso Sardo', Sardinian globe artichokes look different from other varieties. They have conical, elongated heads with sharp yellow-red spines on both their bracts and leaves. These artichokes are much sought after and have a DOP (Protected Designation of Origin) status. This means strict rules apply to where and how they are grown. However, any type of globe artichoke is fine for this recipe.
Although this dish isn't traditionally served with pasta, I found many Italian recipes for pasta with lamb and artichokes when I was researching this recipe. So, it is becoming a popular way to serve it. But, this dish can be made without pasta too. The difference would be that the lamb pieces are much bigger and cooked for longer and the artichokes added later.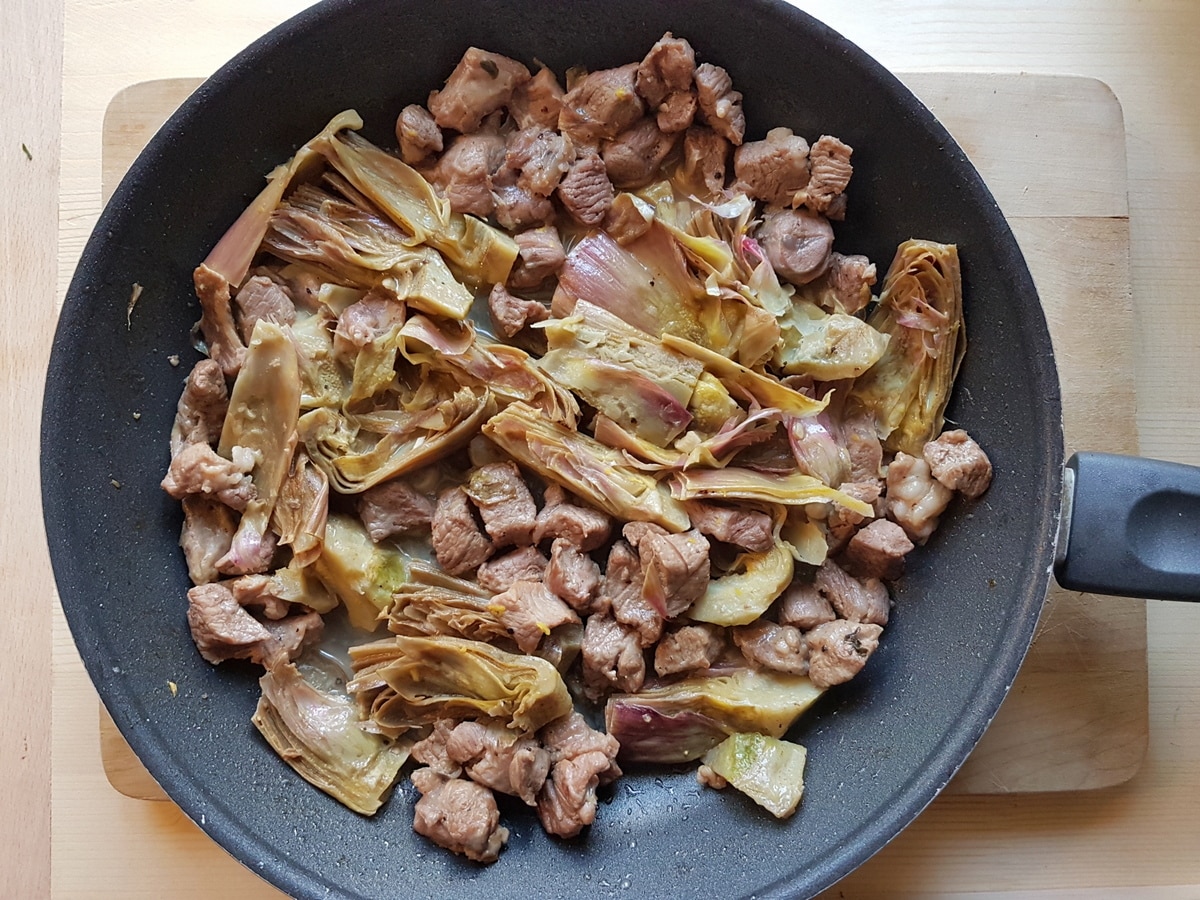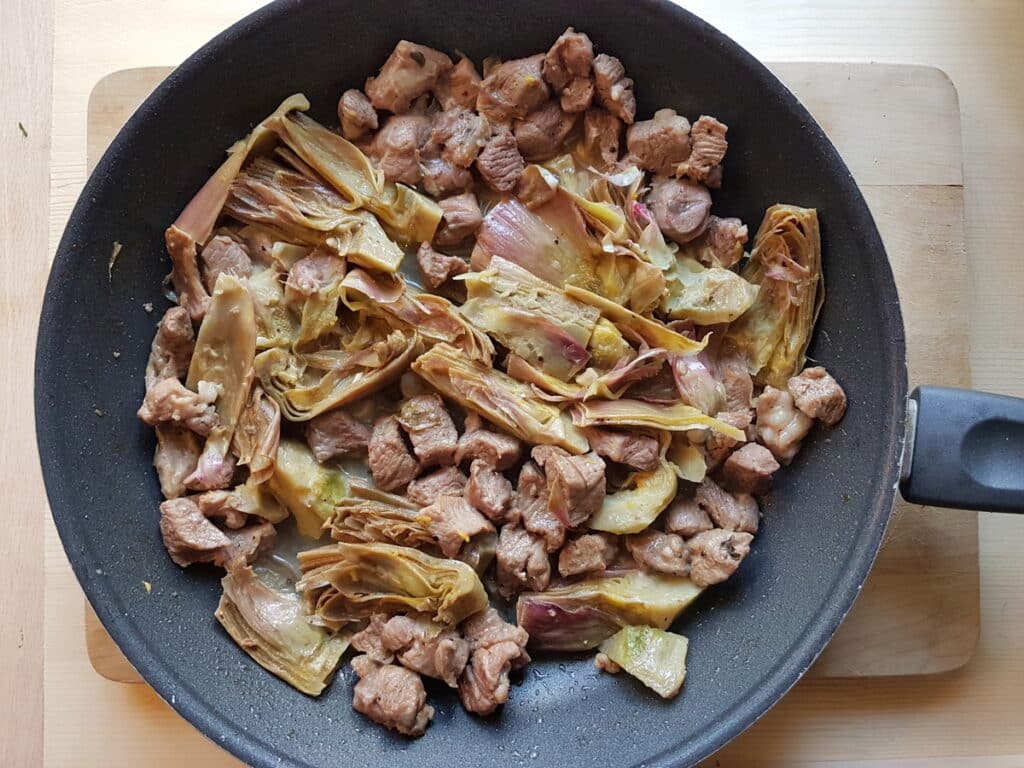 Other ingredients for pasta with lamb and artichokes.
Apart from the lamb, artichokes and pasta, the other ingredients are simple; just two lemons, fresh parsley, garlic, a little wine and some stock. If you can find organic lemons, these have more flavour than the normal supermarket ones. And are healthier as the skin is edible and not waxed.
For the stock, I made lamb stock from the bones, as I used the meat from neck chops. You can use normal stock cubes or other meat broths. However, homemade lamb stock does give the sauce a richer flavour and isn't difficult to make.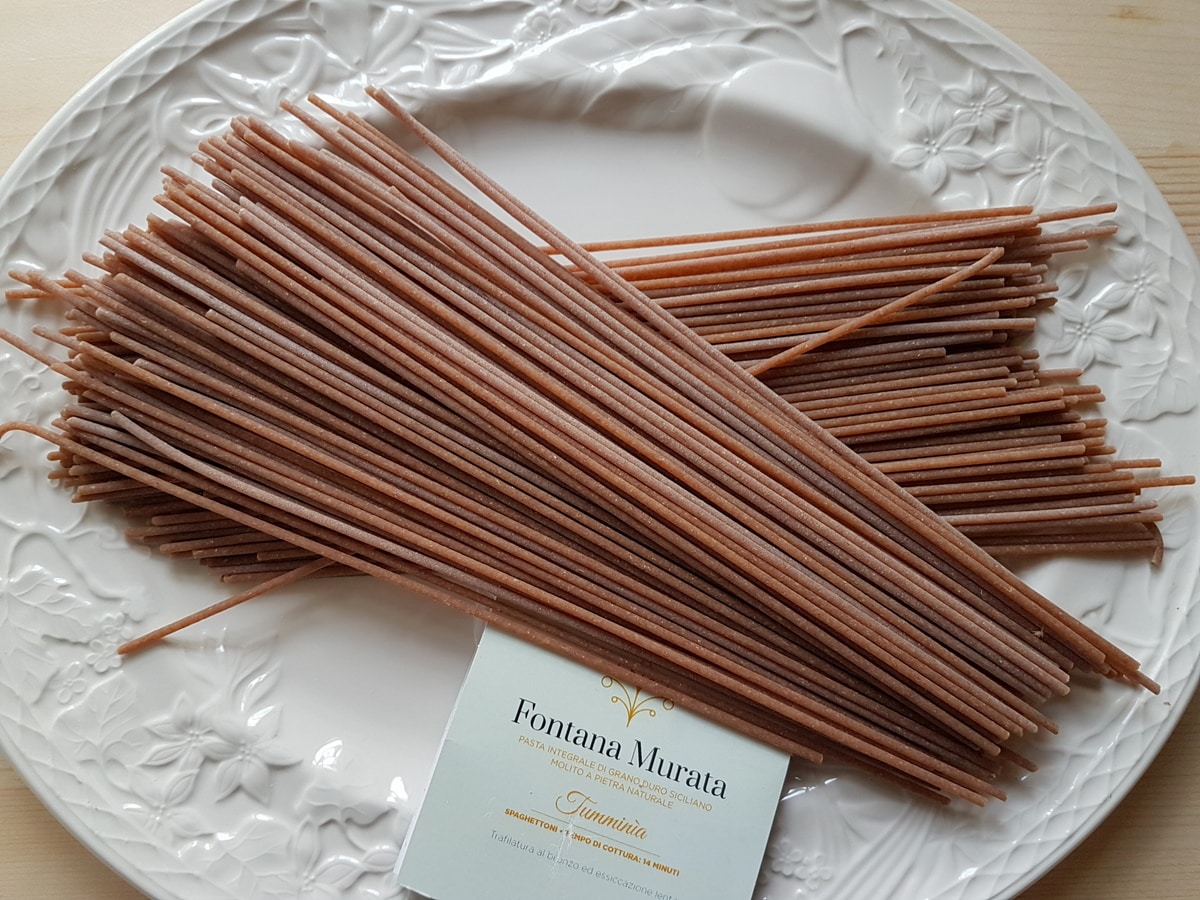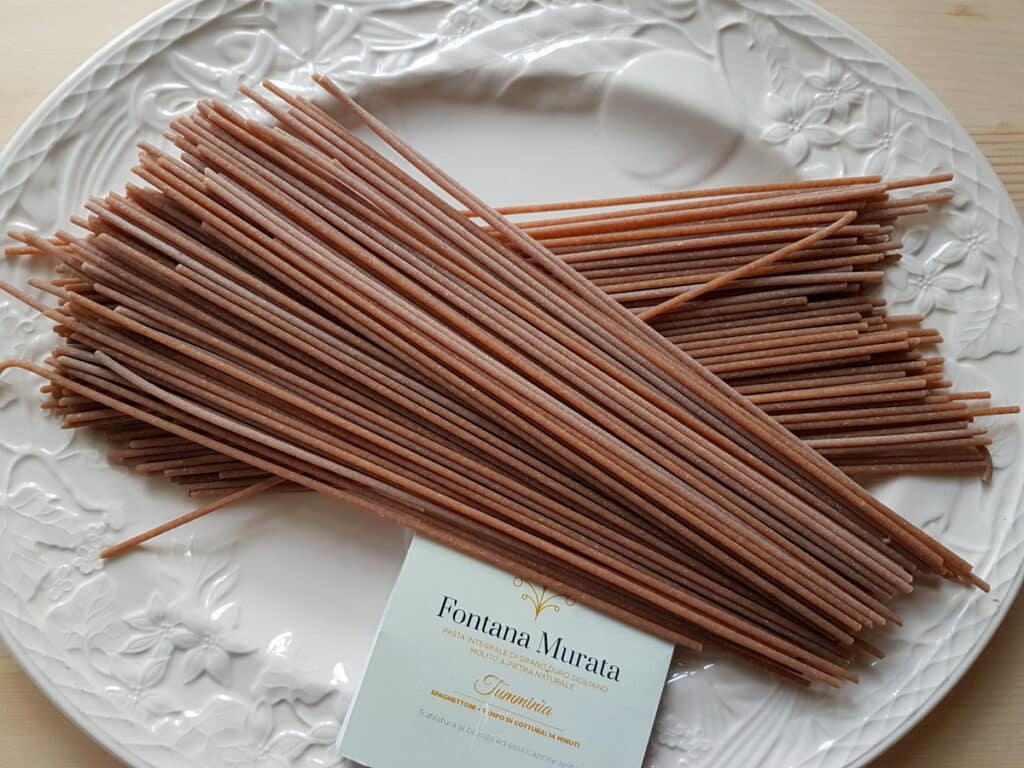 The Pasta.
Most Italian recipes for pasta with lamb and artichokes use tagliatelle or pappardelle. However, I decided to use some Sicilian whole-wheat spaghettoni (that's thick spaghetti) made from tumminia flour.
In recent years, there has been a growth in demand for organic whole-wheat pasta here in Italy. There are now a number of pasta makers producing this type of pasta with different organic heritage flours and it is also available online or in Italian specialty shops.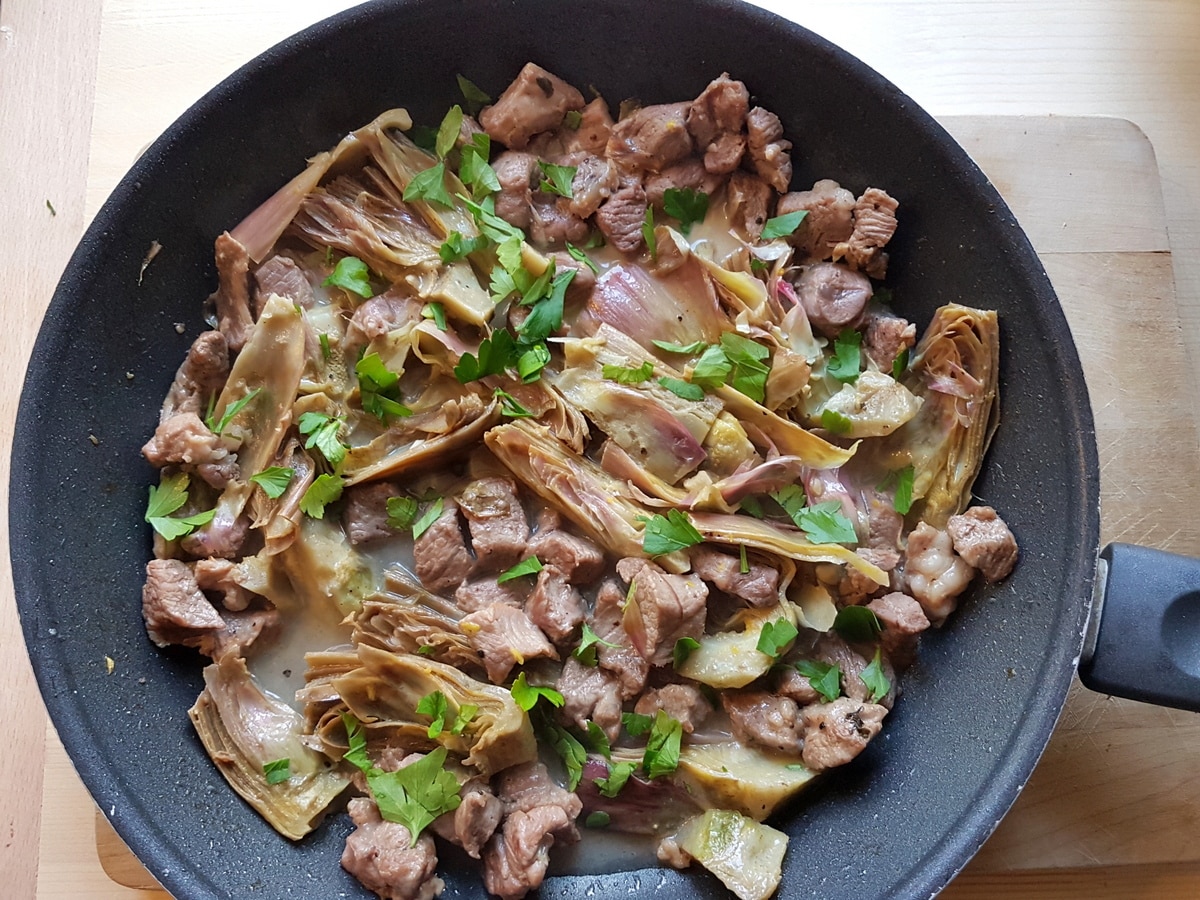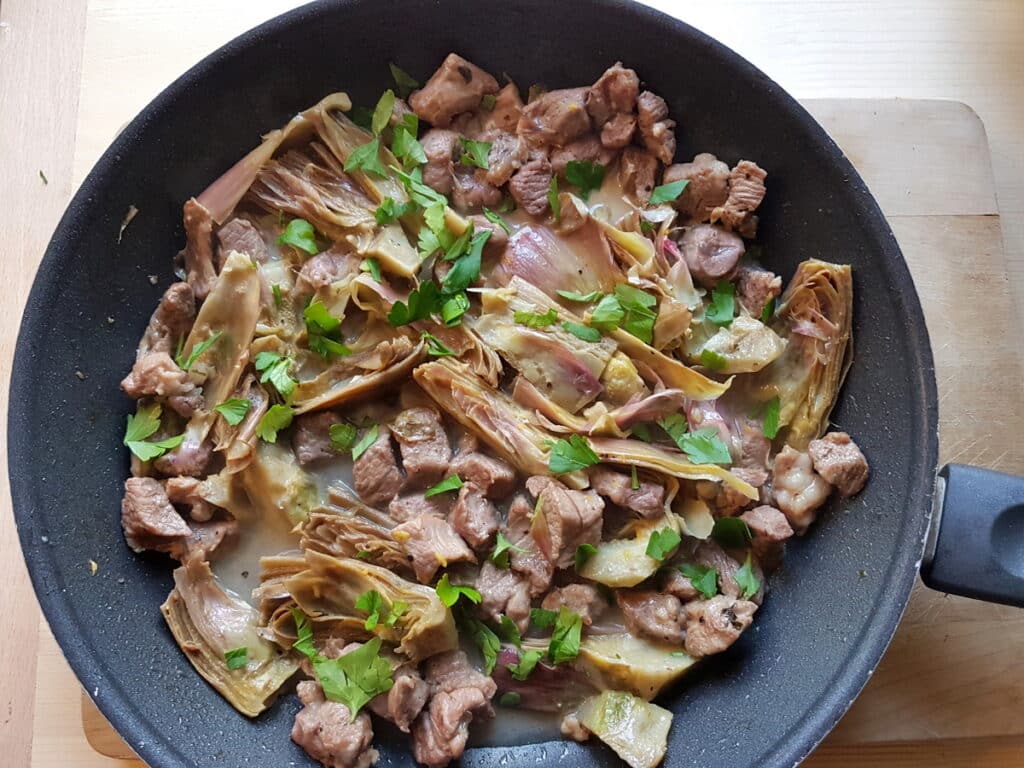 Tumminia is an ancient Sicilian grain which was grown in Sicily from the time of the ancient Greeks until the 1950s. Then, production was largely abandoned in favour of other grains because Tumminia has to be grown organically and has a lower yield. However, it has many health benefits for people with dietary problems. It is low in gluten and high in fibre and proteins. Plus, it also gives the pasta a slightly sweet flavour, thanks to the sweetness of the grain itself .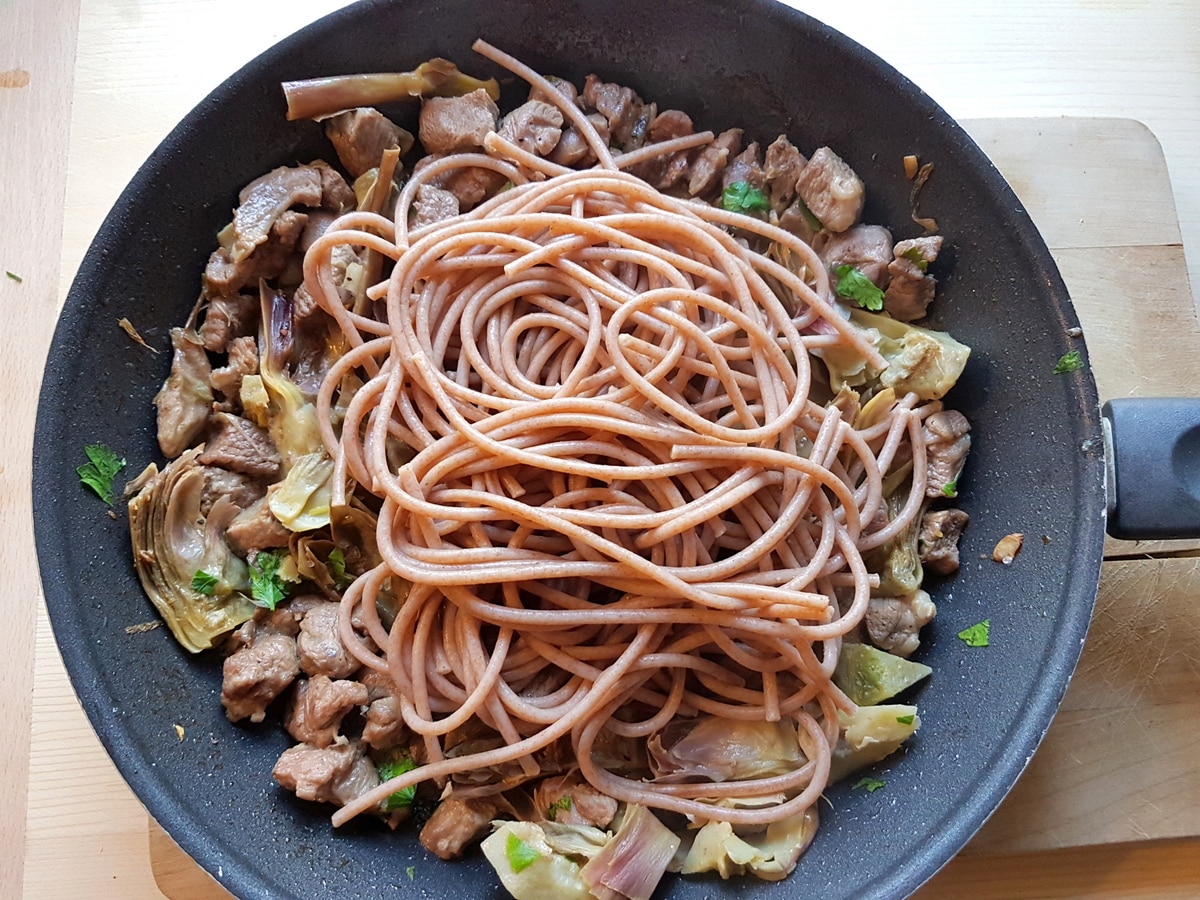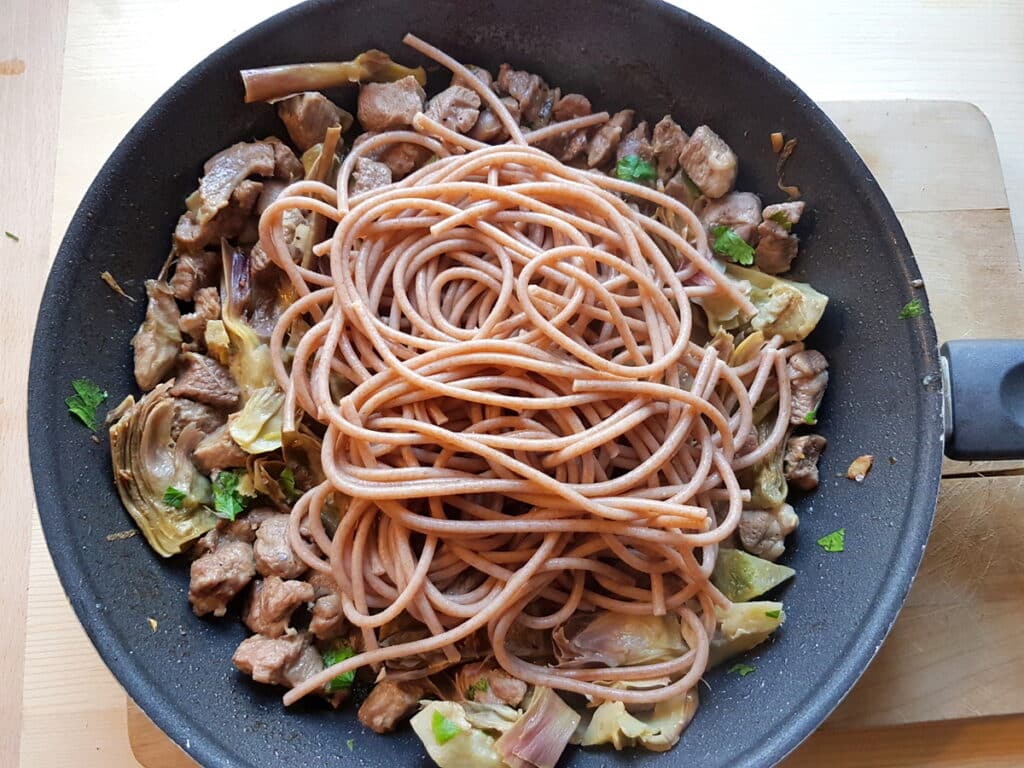 Perfect for Easter lunch.
Pasta made with tumminia does have a stronger taste than normal pastas, so I feel it works better with heartier or more strongly flavoured sauces. It was perfect with lamb and artichokes! With or without whole-wheat pasta, this Sardinian pasta dish is very tasty. It's bound to be a favourite among lamb lovers and is perfect for your Sunday or Easter lunch.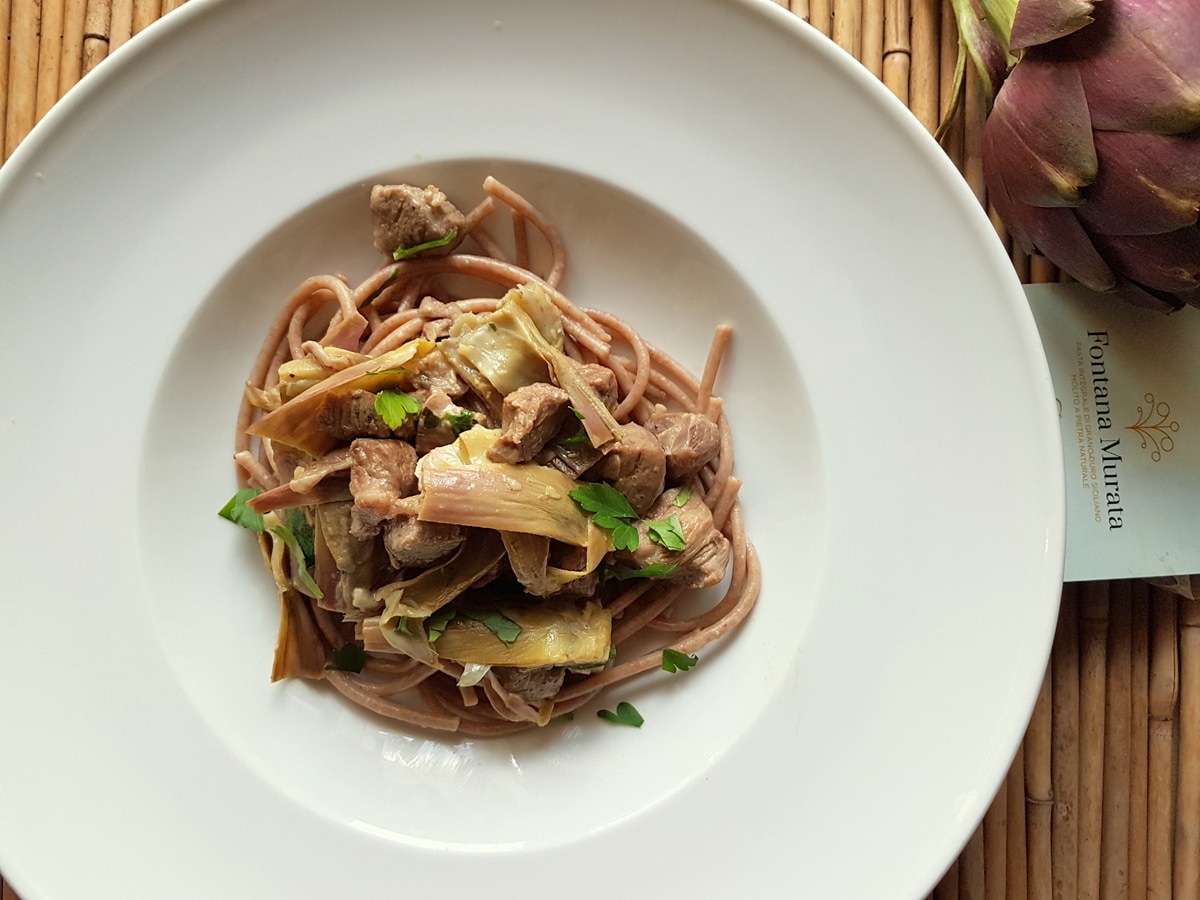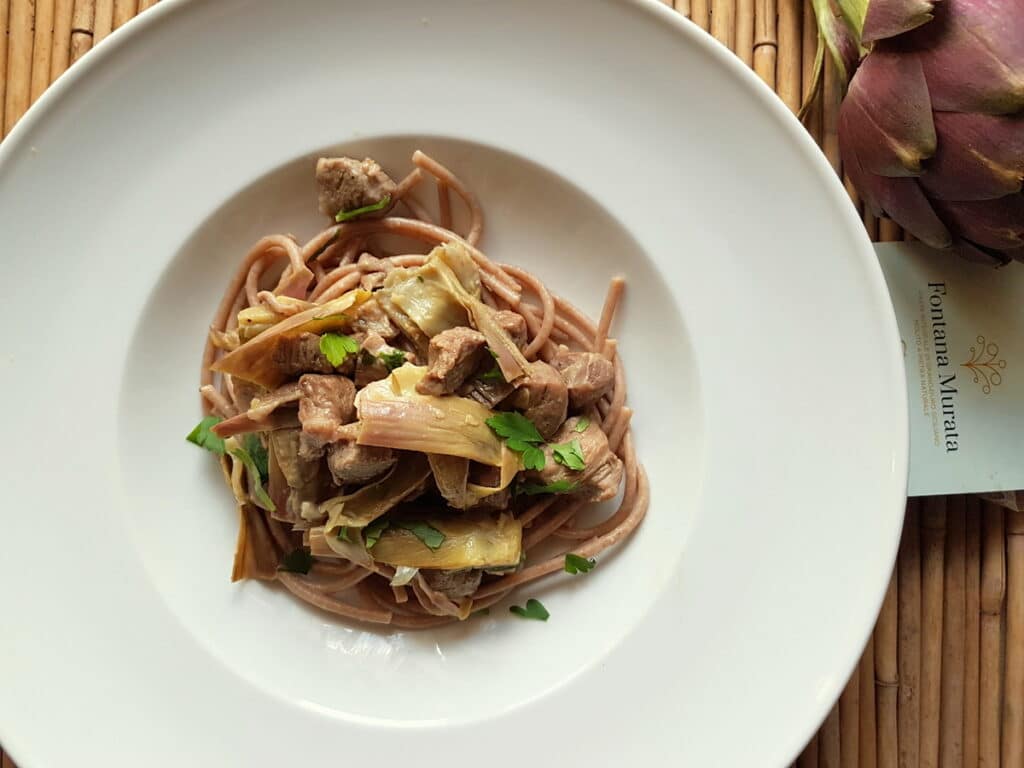 If you do try this pasta with lamb and artichokes, I'd love to hear what you think. Please write a comment here on the blog or post a comment on the Pasta Project Facebook page.
Your feedback means a lot to me!
Buon Appetito!
Other pasta with lamb recipes to try.
If you're a fan of lamb and pasta like me, have a look at these pasta with lamb recipes or any of the recipes below: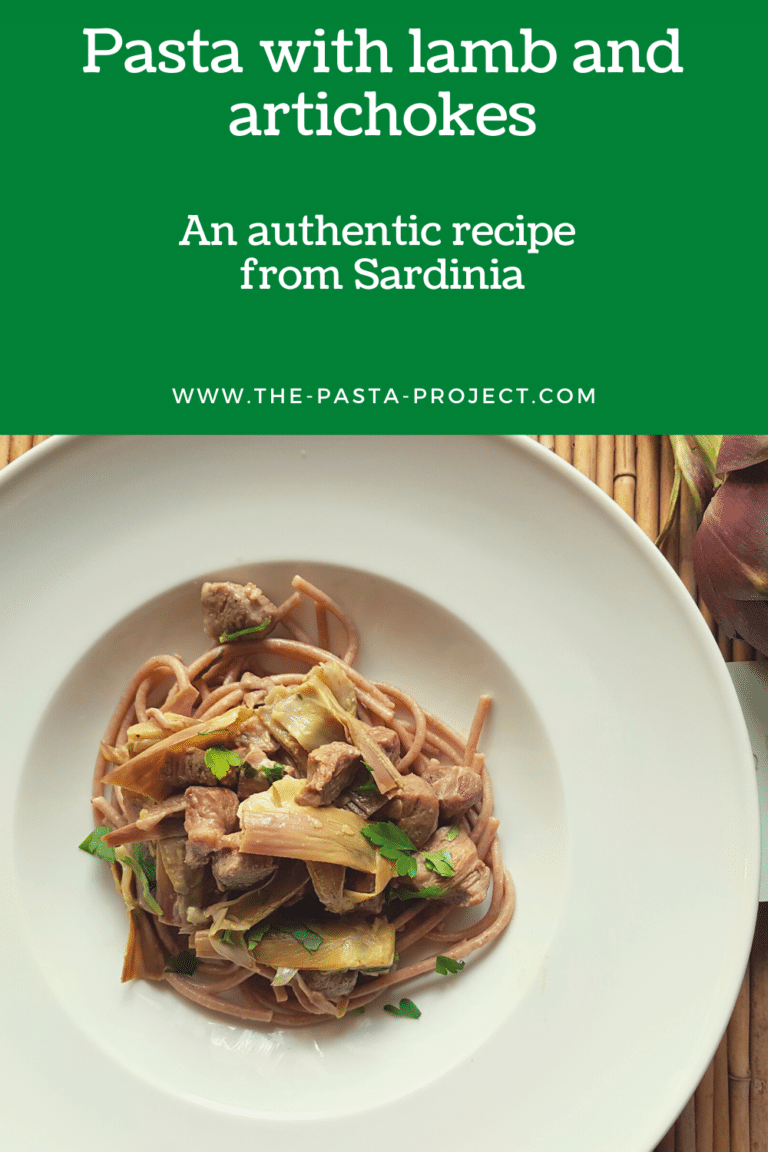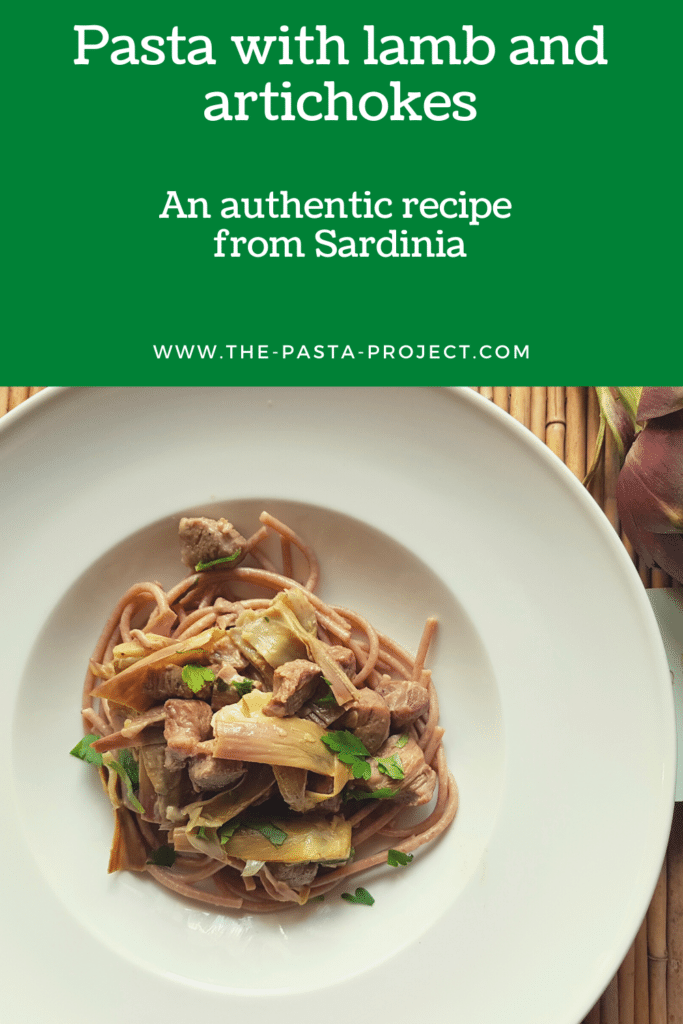 If you are interested in learning how to make homemade pasta and different types of gnocchi, check out my shop page for some great video online courses from my friends in Rome! Nothing beats learning to make pasta from Italians! Plus while you're there why not order a copy of my newly published autumn/winter pasta recipes cookbook!?
SAVE THIS RECIPE FOR LATER?
If you want to save this recipe for later, you can print it, bookmark this page or save it to Pinterest.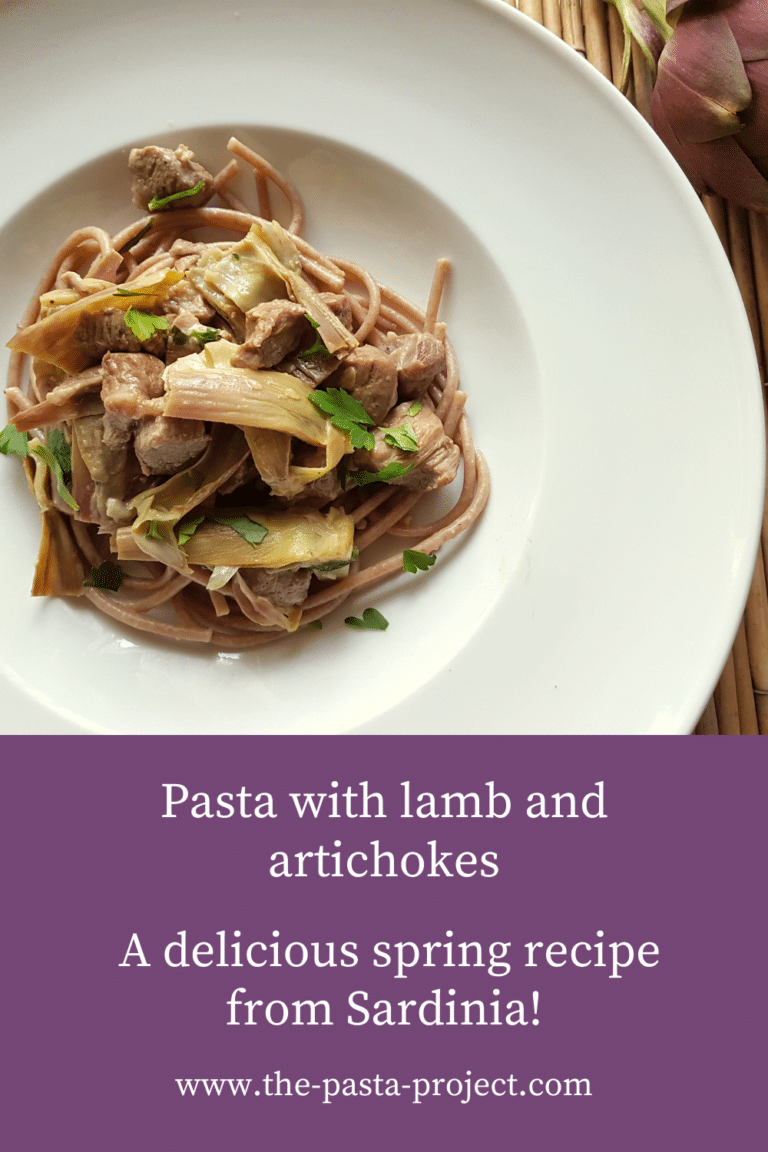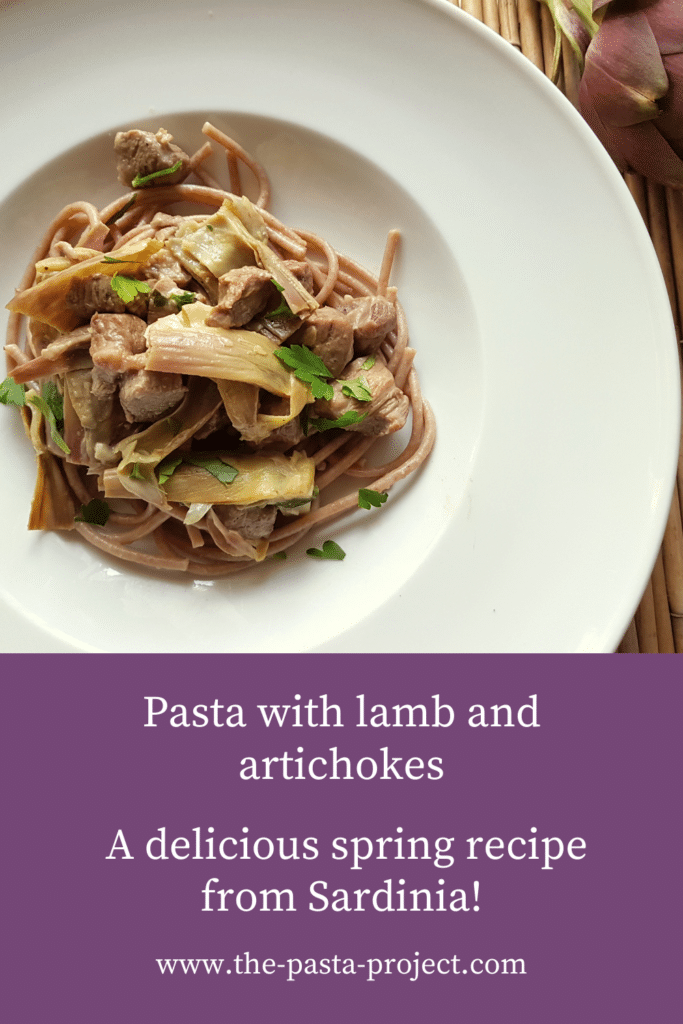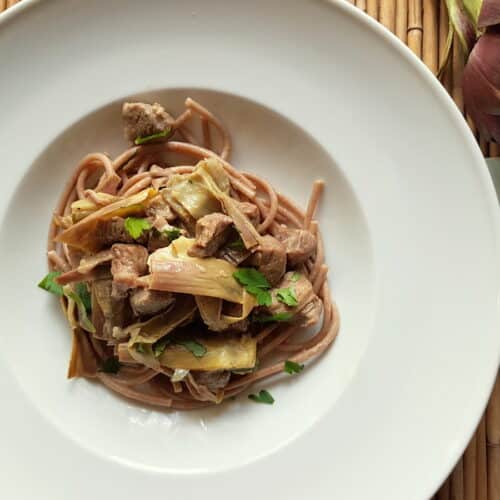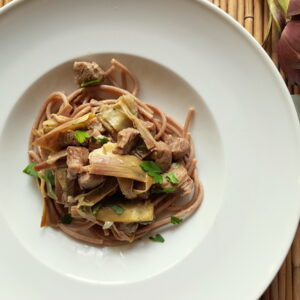 Whole-wheat pasta with lamb and artichokes from Sardinia
This mouthwatering recipe for lamb and artichokes with pasta is perfect for family occasions and Easter. It's pretty easy to make and full of authentic Sardinian flavours.
Ingredients
320

g

pasta such as spaghetti, tagliatelle etc

(12oz) I used tumminia spaghettoni

400

g

boneless lamb

(14oz) Shoulder is good. I cut the meat off neck chops and used the bones to make stock

2

lemons

4

fresh globe artichokes

outer leaves removed

2

garlic cloves

peeled and chopped

1/2

glass

white wine

1

cup

stock

chicken or veg stock is good. I made lamb stock

salt

for pasta and to taste

1

handful

fresh parsley

chopped

black pepper

to taste

3 tbsp

extra virgin olive oil
For lamb stock (if making)
1

carrot

washed and cut in half

1

celery stalk

washed and cut in 3 pieces

1

onion

peeled and cut in half

1

bay leaf

lamb bones
Instructions
Cut the lamb's meat into small cubes and keep aside. (I used neck chops and made stock with the bones)

Clean the artichokes by removing the outer leaves and the inner beard, cut them into thin slices and place them in a large bowl with the juice of 1 lemon, so that they do not blacken.

In a large frying pan or skillet, heat the olive oil and add the peeled and chopped garlic cloves.

Once the garlic has softened a little, add the chunks of lamb and brown for a couple of minutes, turning often.

Season with salt and pepper , add the artichokes and cook over high heat for a few minutes.

Add the white wine and leave the heat high until the alcohol evaporates.

Add I cup of stock or hot water, cover and cook over a low heat for about 20 minutes.

In the meantime, pot a pot of water on to boil for the pasta. Add salt once it starts to boil and bring to the boil again.

Squeeze the juice from the second lemon and grate the rind to make a teaspoon of lemon zest.

Add the lemon juice to the meat sauce. If necessary turn the heat up to reduce the sauce if it is too liquid. Add some of the fresh parsley to the sauce and mix it in.

Cook the pasta slightly less than al dente according to the instructions on the packet. Save a cup of the cooking water and drain the pasta. Then add it to the pan with the sauce.

Mix everything together carefully so the pasta doesn't break and the let the pasta finish cooking in the sauce. Depending on the type of pasta you use this could take a minute or 5 minutes. If the sauce seems dry add some of the saved pasta cooking water.

Serve immediately with a sprinkling of lemon zest and some chopped fresh parsley.
For the lamb stock
just put the lamb bones, carrot, celery, bay leaf and onion into a pot. Add a pinch of salt. Cover with water, bring to the boil and simmer half covered for at least one hour. If the stock has a lot of fat that rises to the surface, you can skim this off before using it in the sauce.
Notes
Cooking and preparation times do not include making your own stock.
I would recommend whole-wheat pasta such as tumminia pasta, but you can use whole-wheat or normal and different types such as tagliatelle, pappardelle or spaghetti. Short pasta such as penne would also go well.
This dish can also be served without pasta. The lamb needs to be cut into larger pieces and the artichokes added after the lamb has cooked for an hour in wine and stock. 
Want to know more about my life in Italy? Why not subscribe to my newsletter? New subscribers get a free recipe e-book too!