Tumminia whole-wheat spaghettoni pasta with lamb and artichokes.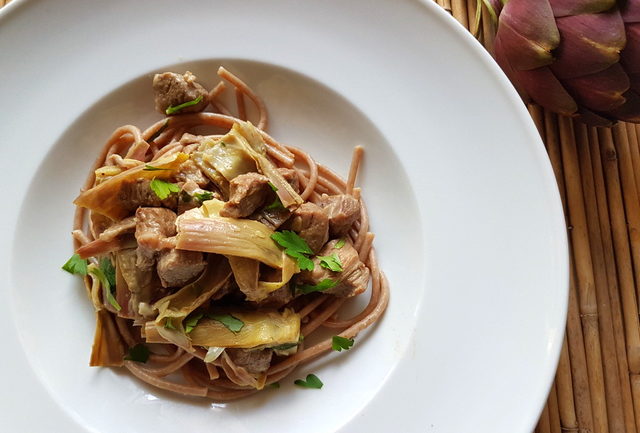 Pasta con agnello e carciofi.
Pasta with lamb and artichokes may sound like an unusual combination, but I have to say it's absolutely mouthwatering. As I have written in other posts, lamb isn't so popular here in Veneto except at Easter. However, it's very often eaten in Sardinia and Southern Italy and this recipe comes from Sardinia.
(click to go straight to recipe)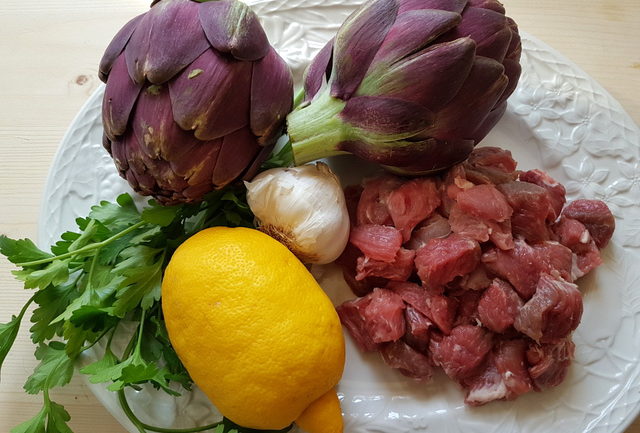 Lamb with artichokes is a traditional Sardinian dish, usually cooked during Easter. Since 4 million sheep live on Sardinia, it's easy to find good quality fresh lamb meat there and lamb is an important ingredient in Sardinian cuisine. Artichokes are also a quintessential Sardinian ingredient and are prepared in many different ways on the island.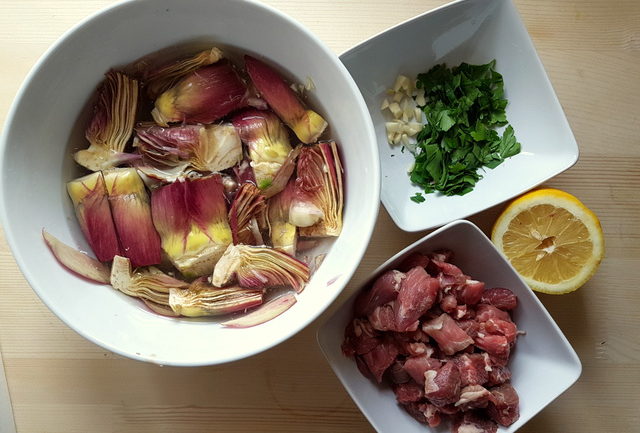 Although this dish isn't traditionally served with pasta, I found many Italian recipes for pasta with lamb and artichokes when I was researching this recipe. So, it is becoming a popular way to serve it. But, this dish can be made without pasta. The only difference would be that the lamb pieces are bigger and cooked for longer and the artichokes added later.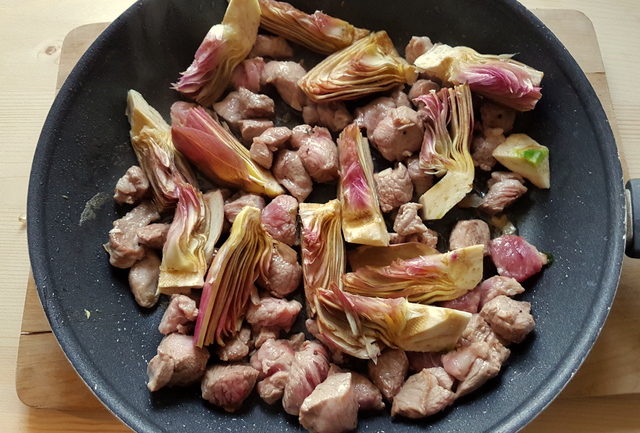 Other ingredients for pasta with lamb and artichokes.
Apart from the 2 main protagonists in this pasta with lamb and artichokes recipe, the other ingredients are simple; just two lemons, fresh parsley, garlic, a little wine and some stock. If you can find organic lemons, these have more flavour than the normal supermarket ones. For the stock, I made lamb stock from the bones, as I used the meat from neck chops. You can use normal stock cubes. However, homemade lamb stock does give the sauce a richer flavour and isn't difficult to do.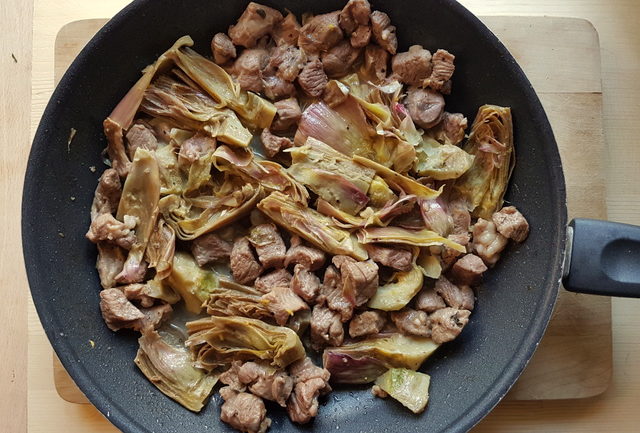 The Pasta.
Most Italian recipes for pasta with lamb and artichokes use tagliatelle or pappardelle. However, I decided to use some Sicilian whole-wheat spaghettoni (that's thick spaghetti) made from Tumminia flour. In recent years, there has been a growth in demand for organic whole-wheat pasta here in Italy. There are now a number of pasta makers producing this type of pasta with different organic flours and it is also available online or in Italian speciality shops.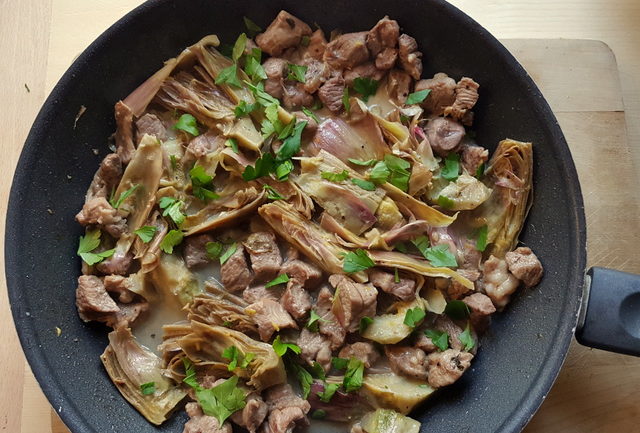 Tumminia is an ancient Sicilian grain which was grown in Sicily from the time of the ancient Greeks until the 1950s. Then production was largely abandoned in favour of other grains because Tumminia has to be grown organically and has a lower yield. However, it has many health benefits for people with dietary problems. It is low in gluten and high in fibre and proteins. Plus, it also gives the pasta a slightly sweet flavour, thanks to the sweetness of the grain itself .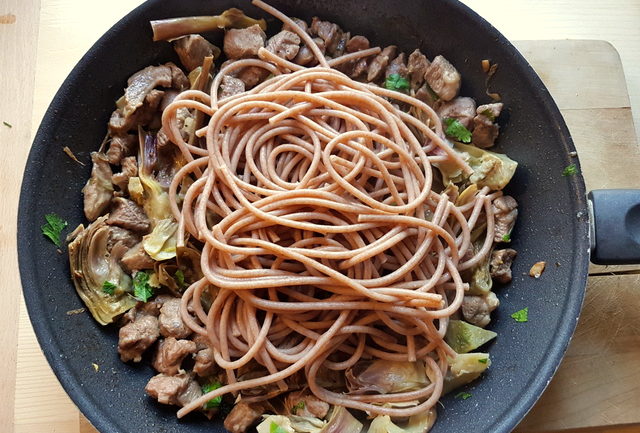 Perfect for Easter lunch.
Pasta made with Tumminia does have a stronger taste than normal pastas, so I feel it works better with heartier or more strongly flavoured sauces. It was perfect with lamb and artichokes! With or without whole-wheat pasta, this dish is very tasty. It's bound to be a favourite among lamb lovers and is perfect for your Sunday or Easter lunch.
Buon appetito!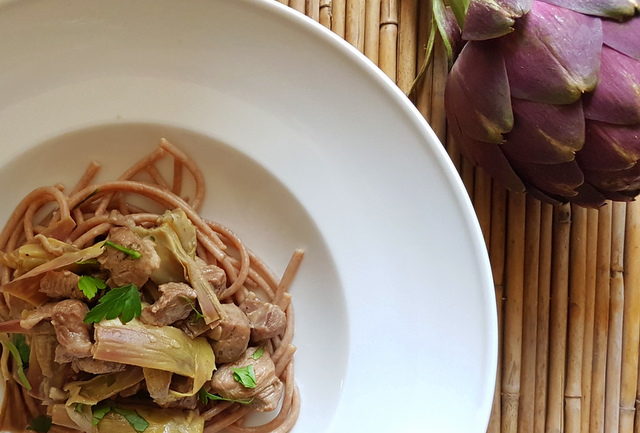 (Go to page 2 to see the recipe. Just scroll down and click 2)
Pin for later.