Spinach Gnocchi with Lamb Ragu Recipe from Abruzzo.
This homemade spinach gnocchi with lamb ragu is an incredibly hearty and flavourful dish based on a recipe from Abruzzo in Central Italy. It's perfect for Sundays and holidays, particularly Easter when lamb is on the menu both here in Italy and abroad.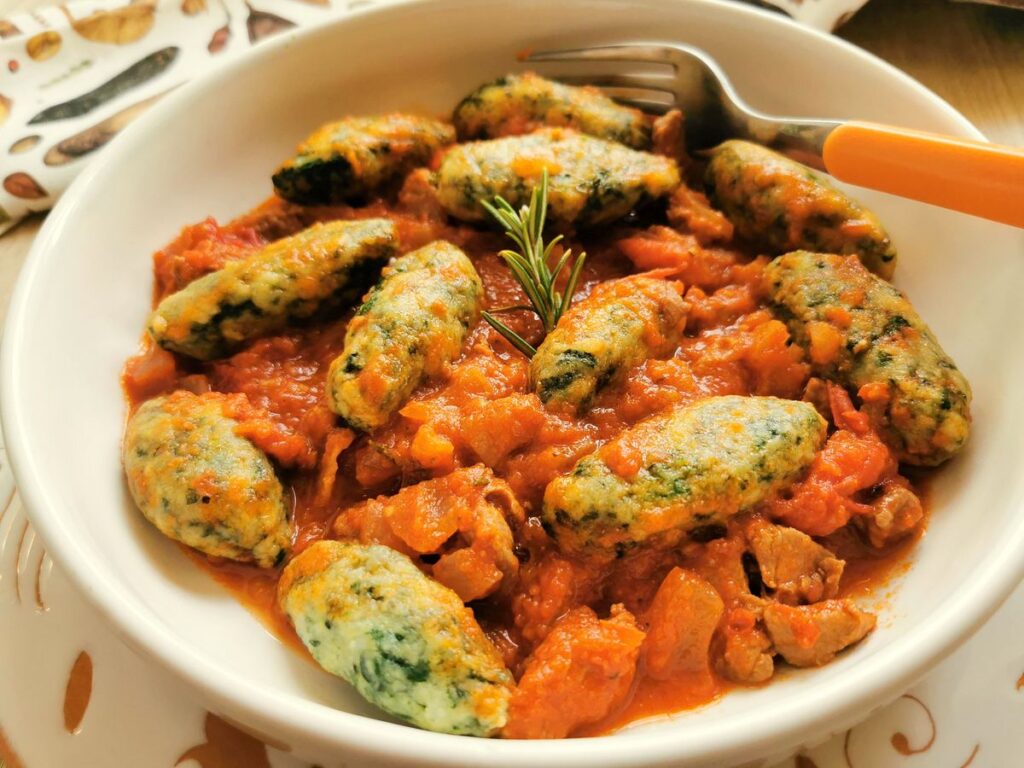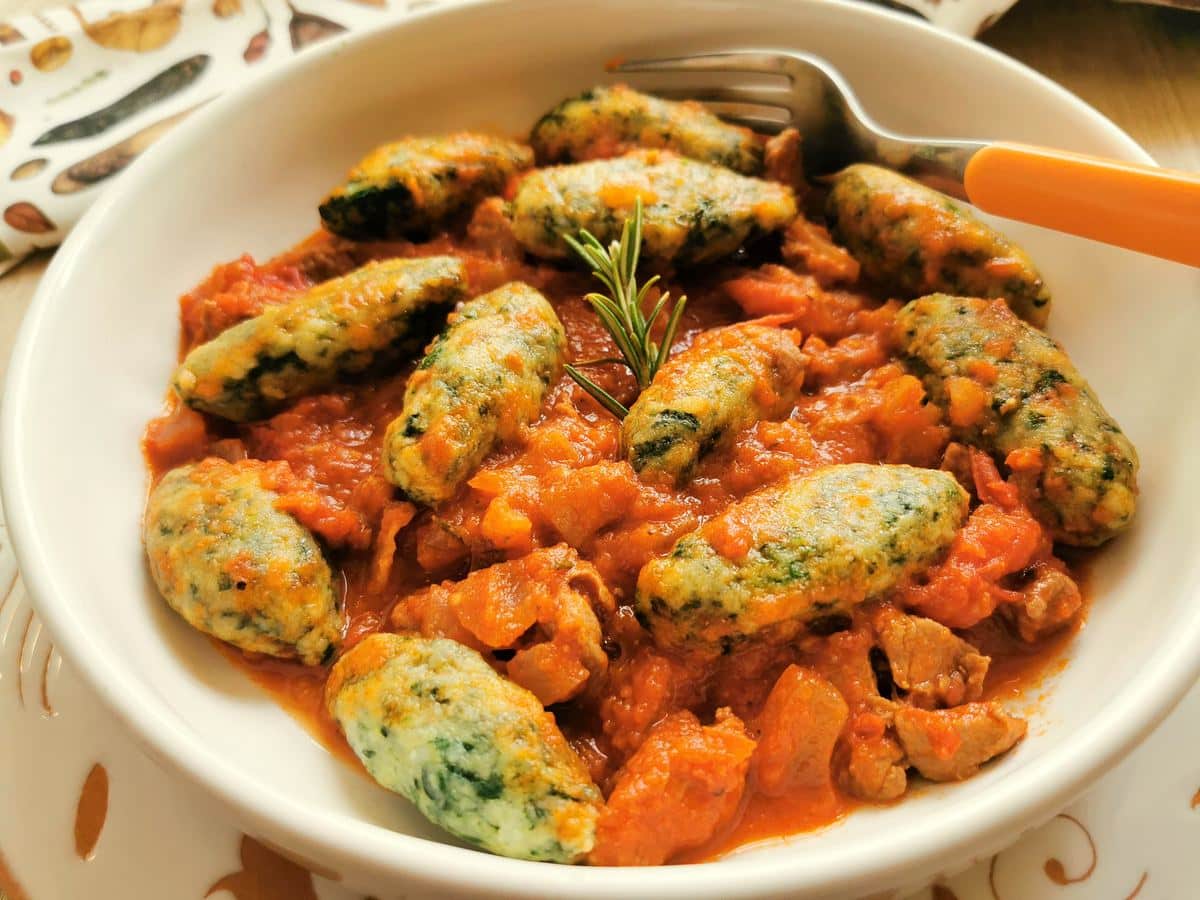 Sorcetti verde con ragu di agnello.
Known as 'sorcetti' or 'surgitt' verde in the local dialect, these spinach gnocchi are a traditional potato and spinach dumpling from the Teramo province in Abruzzo, Central Italy. In reality, sorcetti are pretty much the same as other types of potato and spinach gnocchi. They are made with potatoes, spinach, flour and eggs. And, of course, there is also a version without spinach.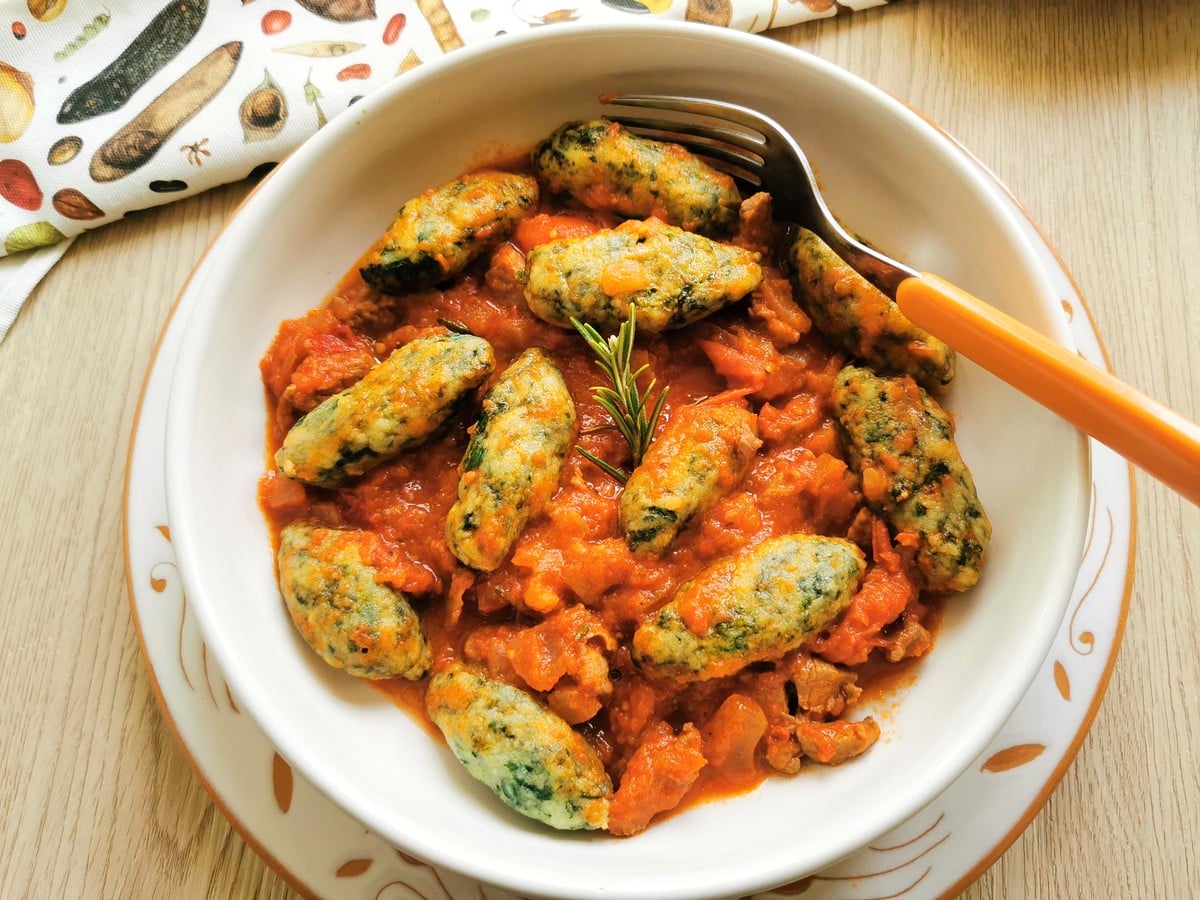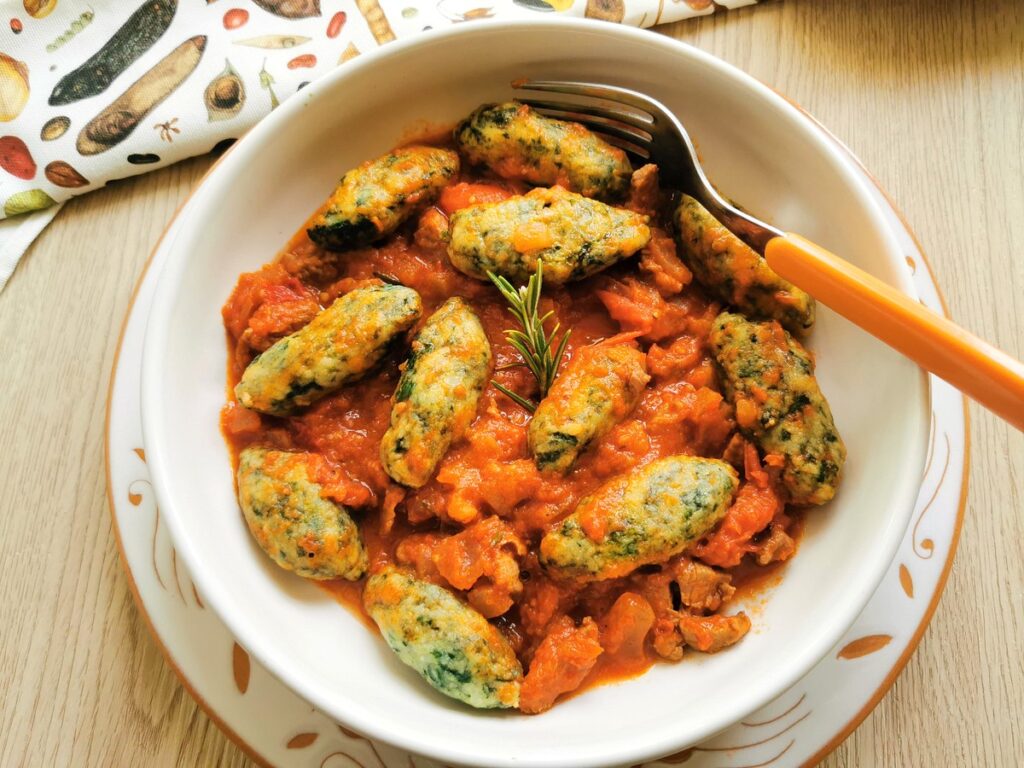 What exactly are sorcetti/surgitt?
The main difference between sorcetti and other types of potato gnocchi is the size and shape. The word sorcetti or surgitt means little mice in the local dialect. I guess this is a reference to the size and shape of these gnocchi. Traditionally these spinach gnocchi are usually quite small but more elongated than other types of gnocchi.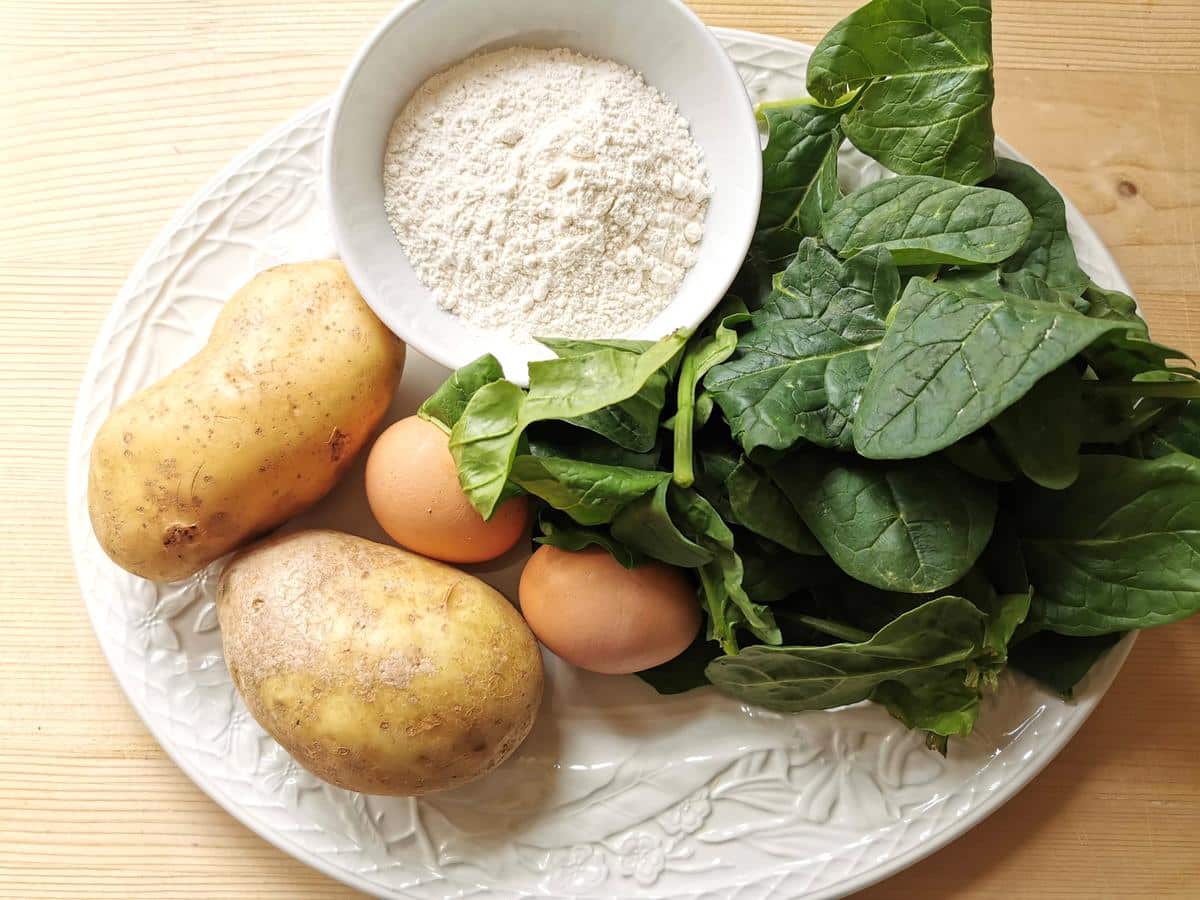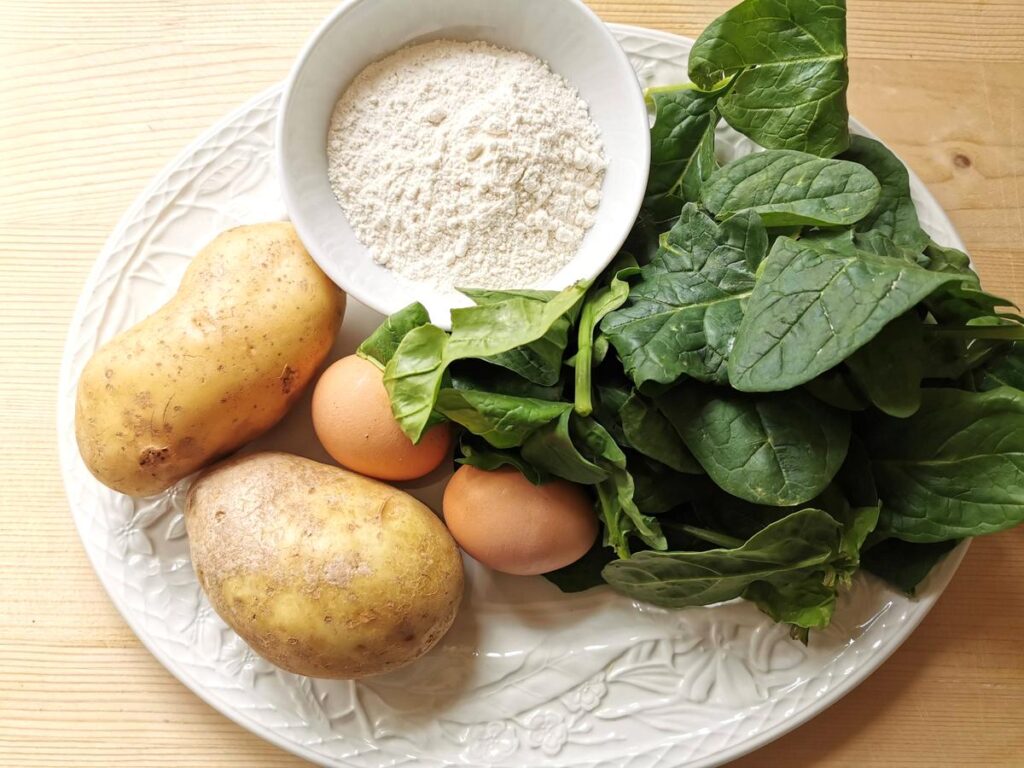 I have seen recipes in which these gnocchi are cut on the bias and are only 2cm in length. Other recipes call for them to be longer. I actually made them bigger than is traditional because I like them that way. I think mine look like little mice!! But, you can make them smaller.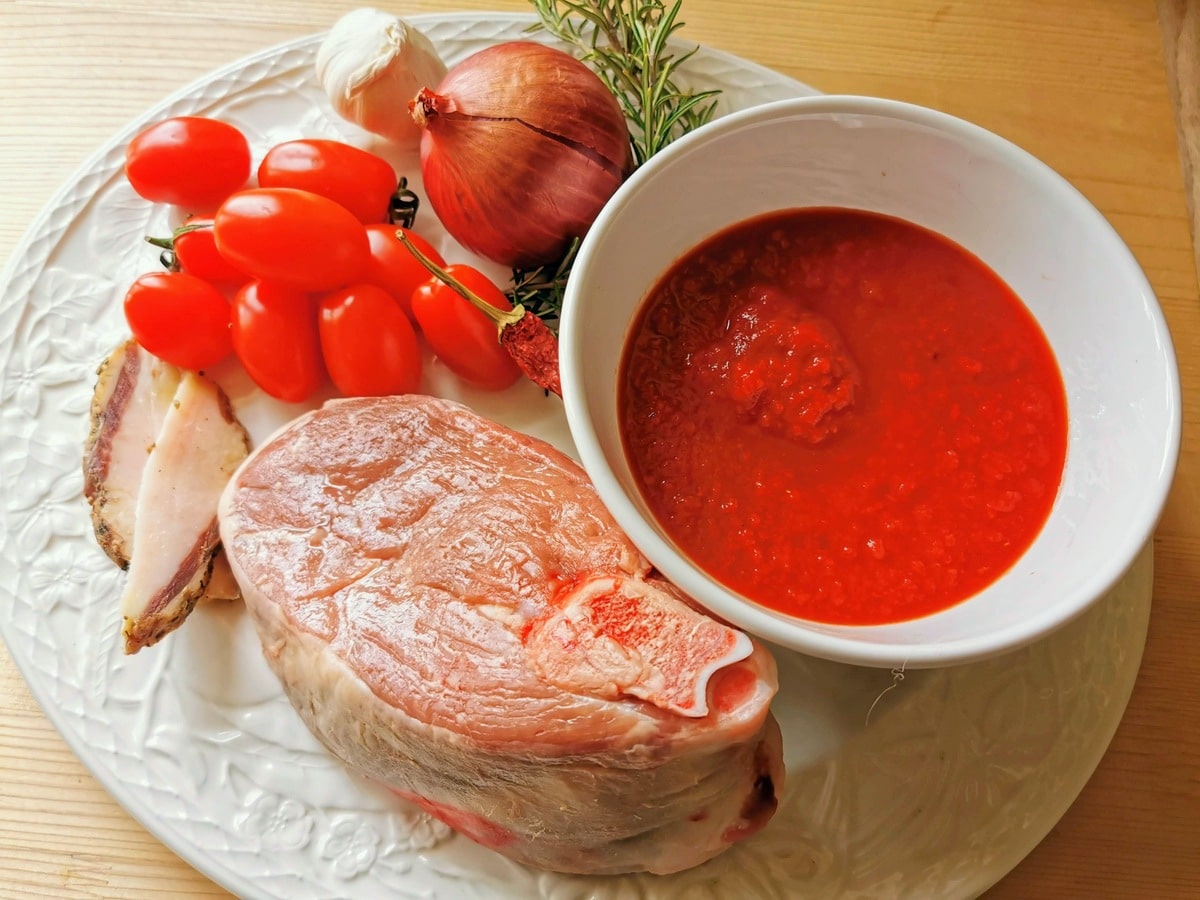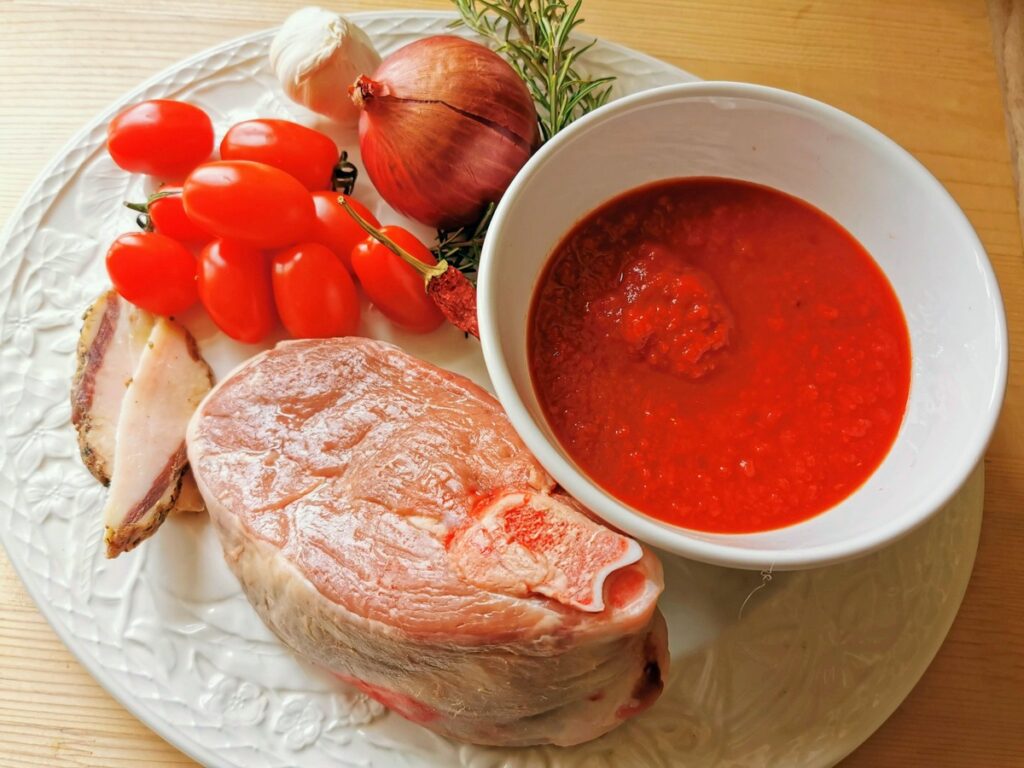 In her book 'The Encyclopedia of Pasta', Oretta Zanini De Vita says that these gnocchi can also be found in Le Marche. There, they are called sorcetti pelosi meaning hairy mice! The version from Le Marche is often made with polenta in the dough. And they sometimes fry them! According to Oretta, the use of animal names for types of pasta also indicated poor food of little value.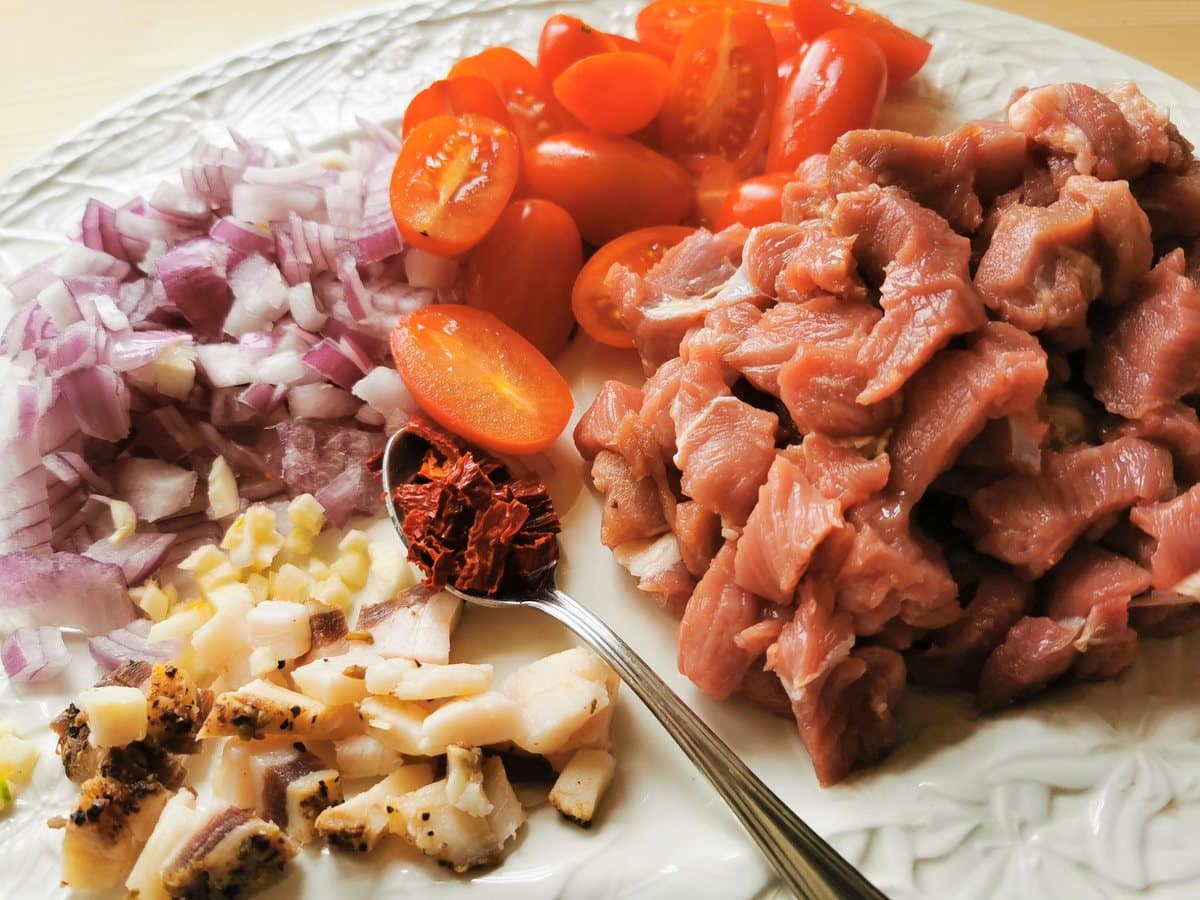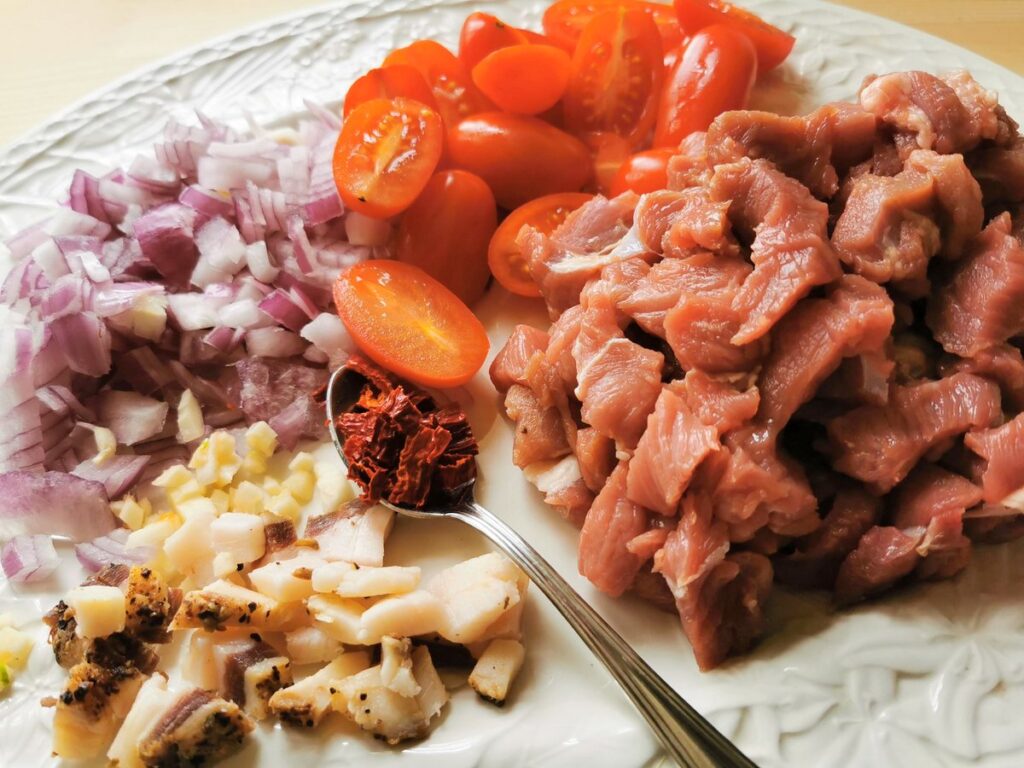 The lamb ragu.
Here in Northern Italy, lamb is mostly only eaten at Easter. However, in central and Southern Italian regions it's popular year-round. This is probably because the climate in the North is more conducive to dairy farming and cattle rearing. Whereas, the Southern regions have more ovine and caprine farming as a result of the drier climate and mountainous and rugged landscape.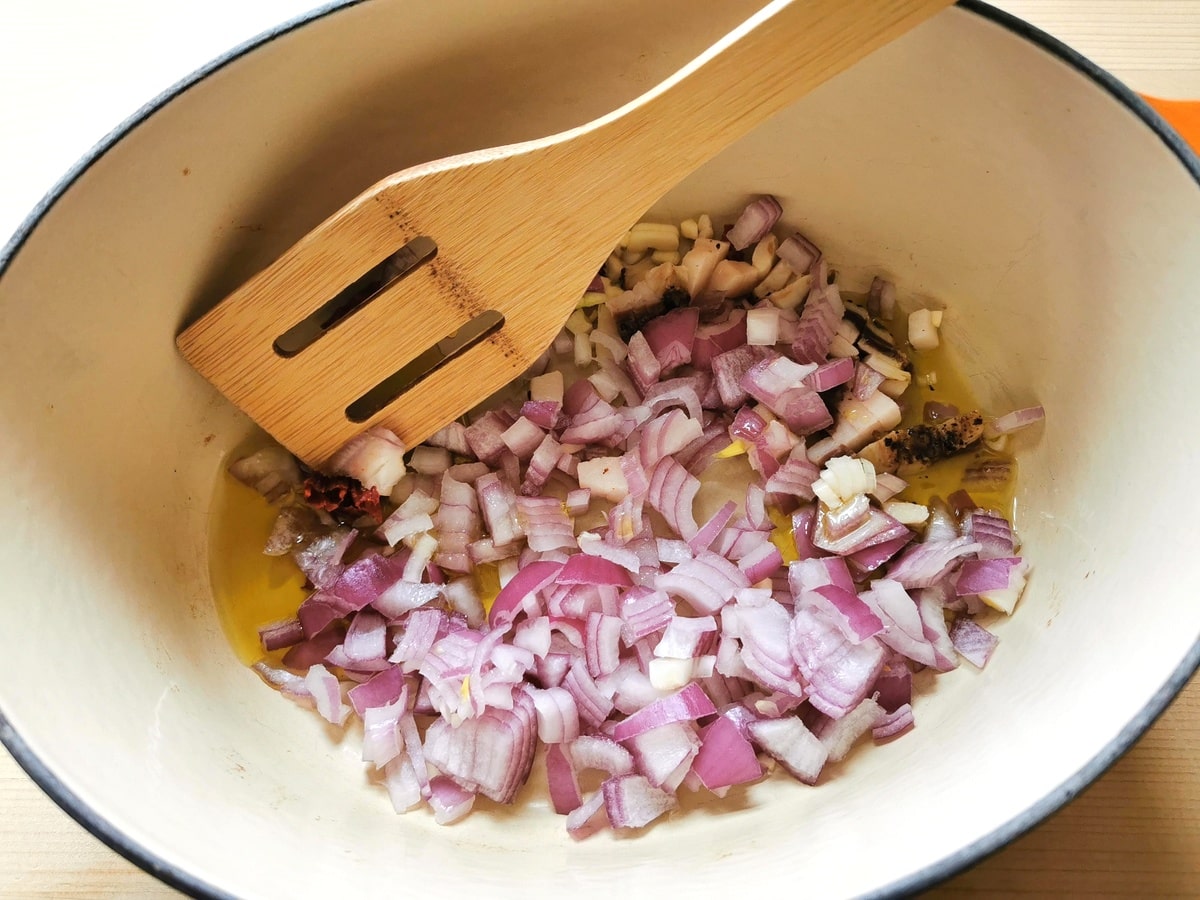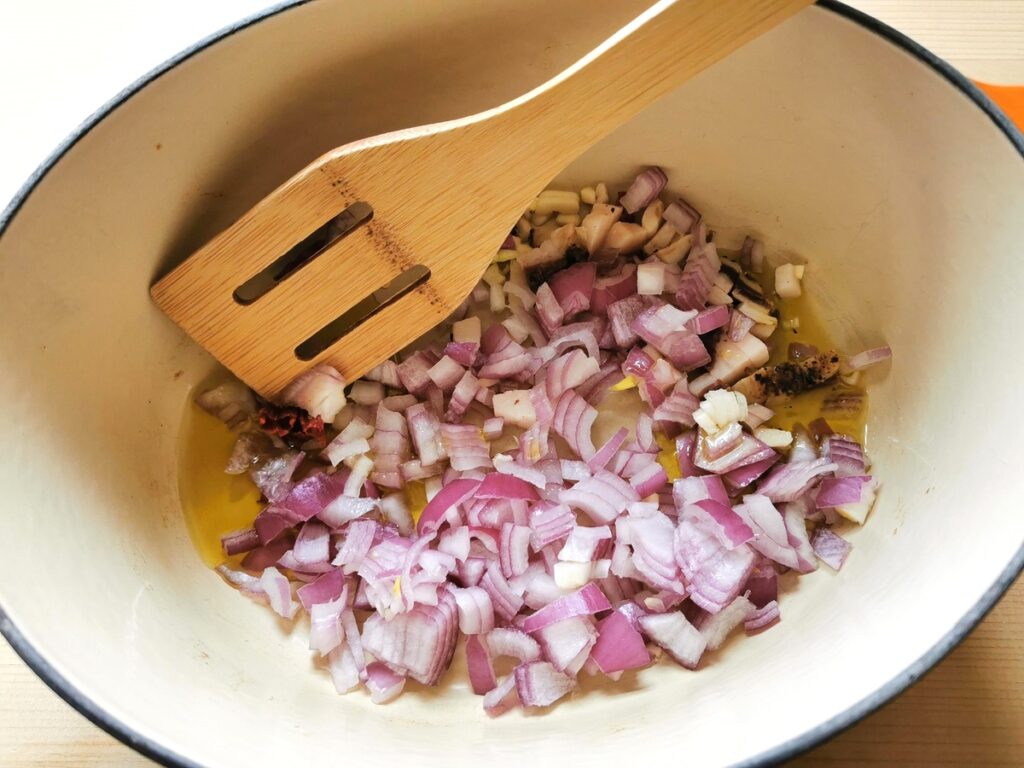 Abruzzo has a long tradition of sheep farming and the countryside is dotted with herds of sheep and goats. Lamb is a popular and staple meat. The people of Abruzzo cook it in different ways, including stewed and eaten with polenta or pasta. This spinach gnocchi with lamb ragu is just one example of the many delicious local recipes for lamb.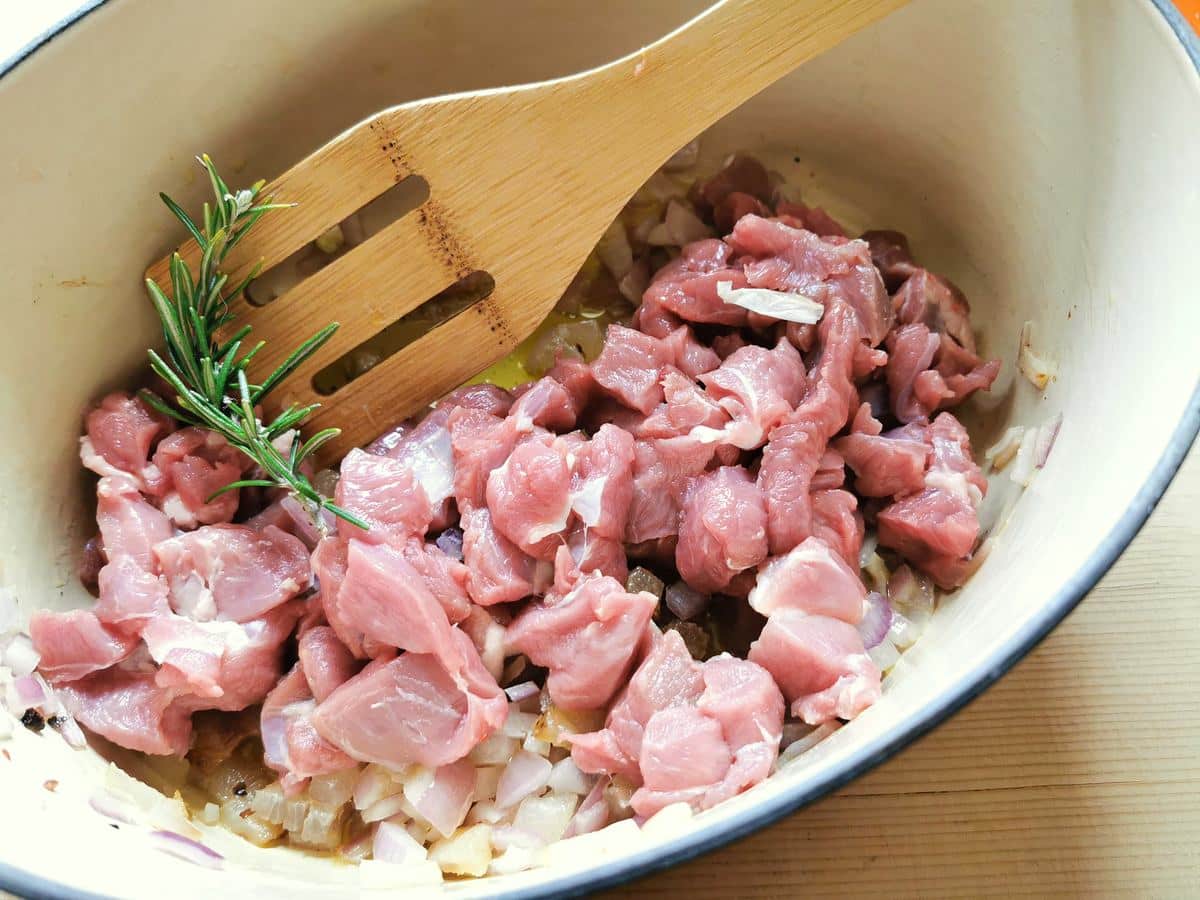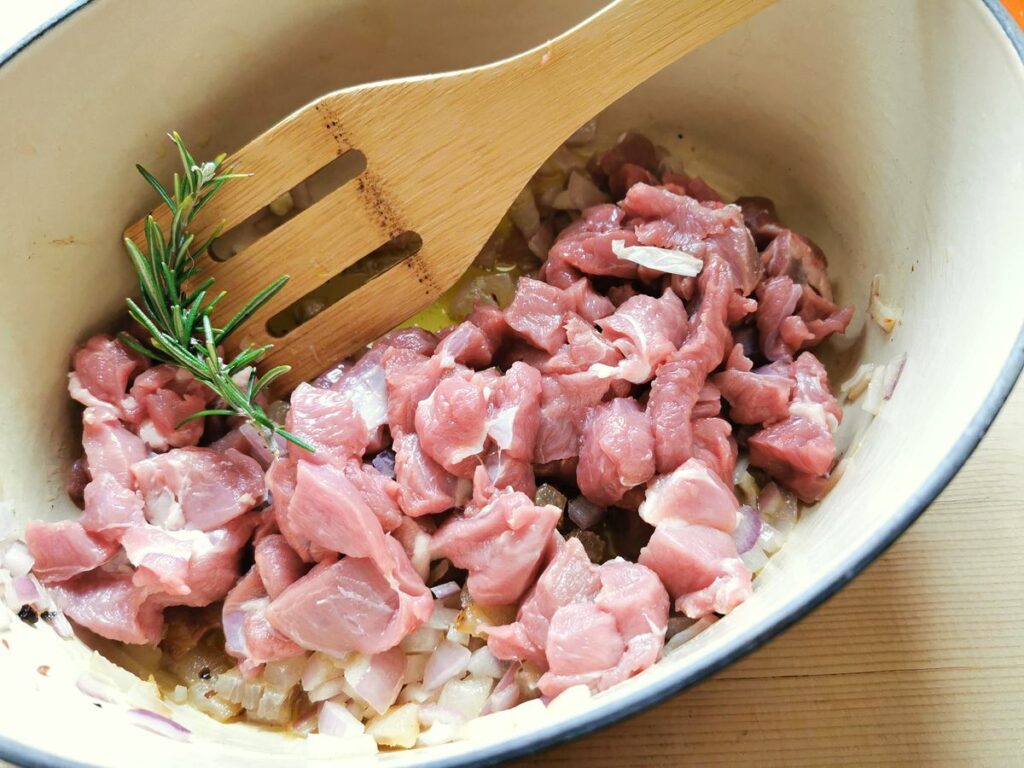 The original recipe for this lamb ragu calls for lamb meat known as 'castrato' in Italian. In fact, many central and Southern lamb dishes are made with castrato. In short, although you can find it translated as mutton, castrato is the meat from castrated male sheep or lambs aged anywhere between 5 months and 2 years. Meat from animals that are under a year old is also referred to as 'castrato di agnello' (lamb castrato).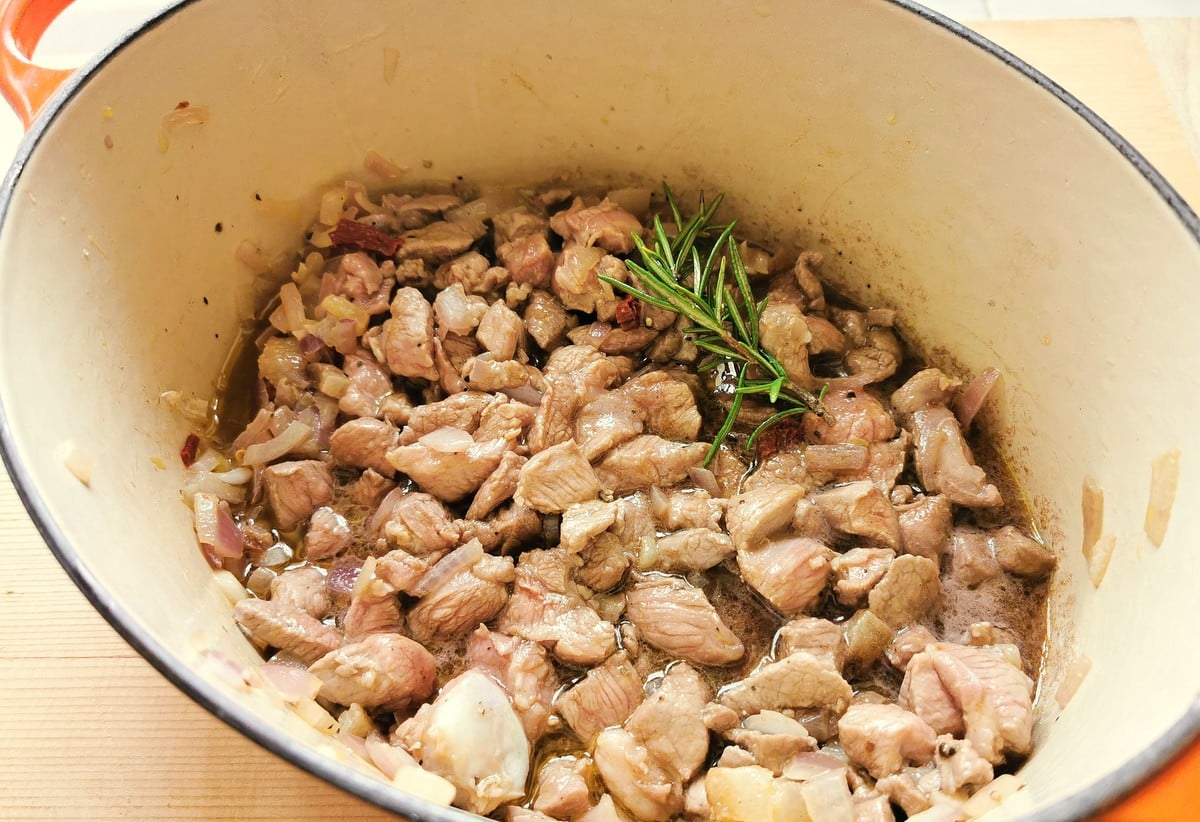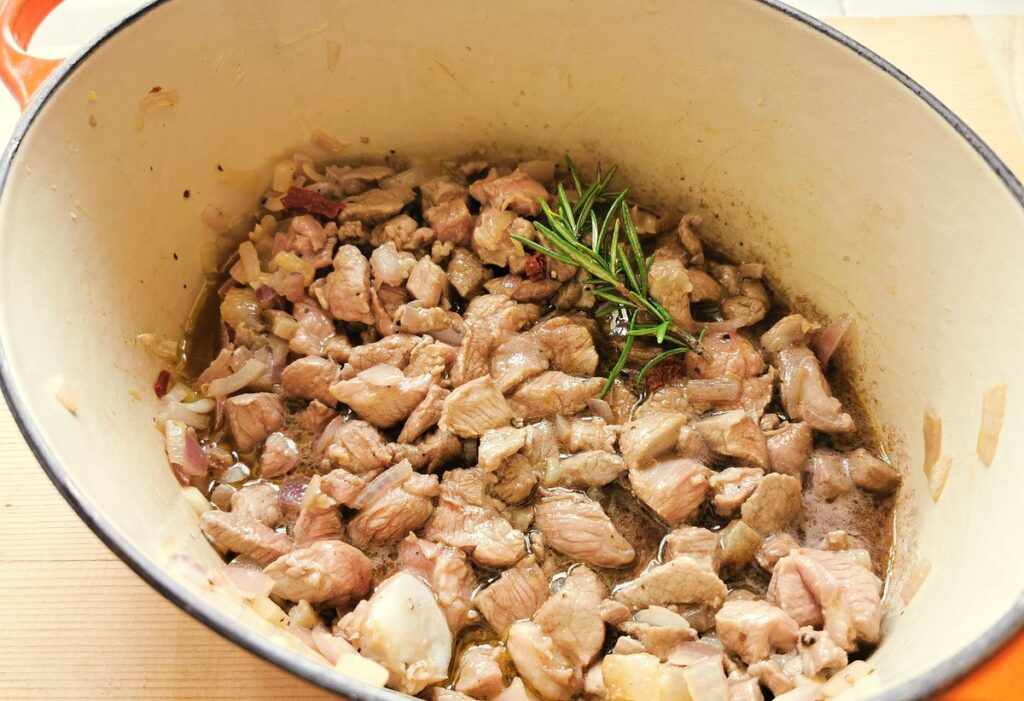 Castrato isn't easy to find here in the North. So, I used a piece of lamb leg. I think leg is good because it's easy to cut into small cubes. Shoulder would also work well.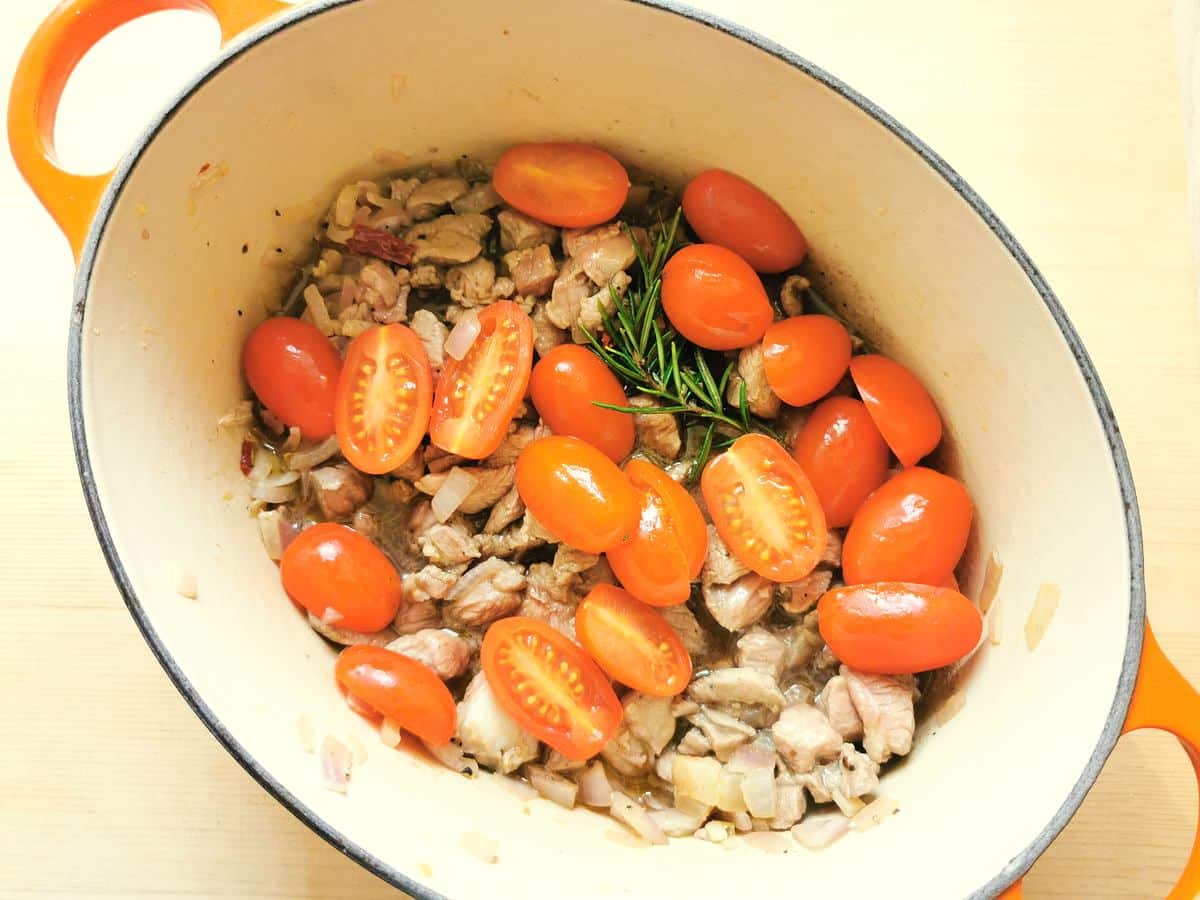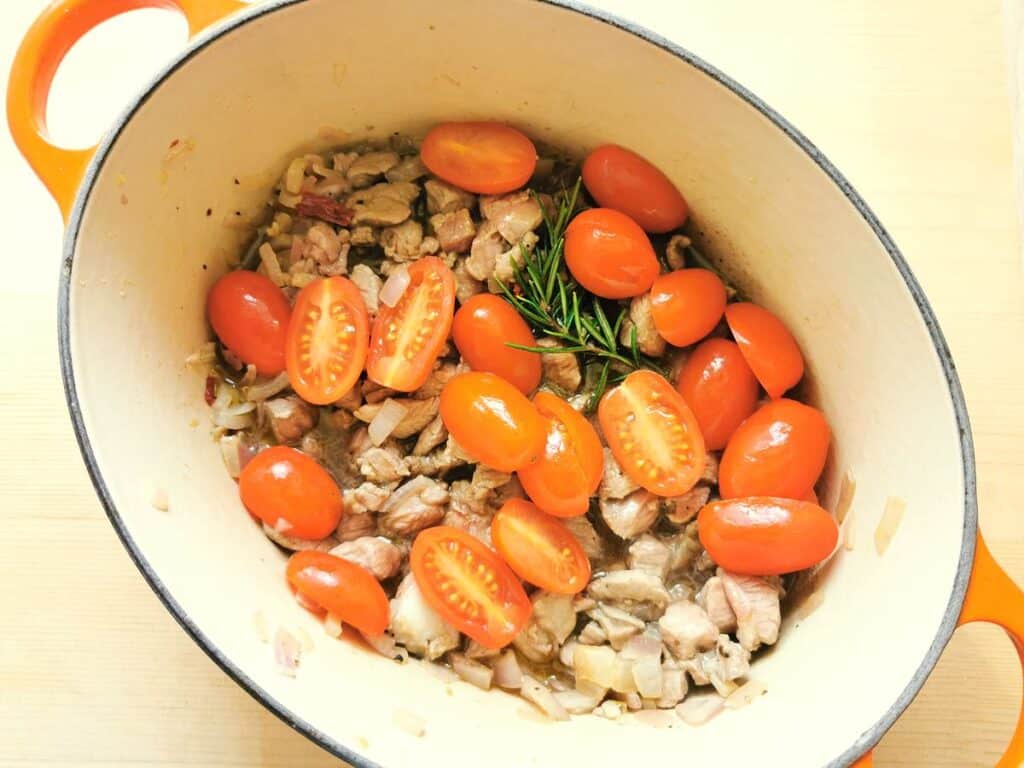 Other ingredients for these spinach gnocchi with lamb ragu.
Apart from the lamb, this ragu has just a little lardo (cured pork back fat not lard), tomatoes and tomato passata (tomato puree), onion, garlic, rosemary, red wine and peperoncino (red chili pepper). Some other recipes for lamb ragu from Abruzzo include carrots and celery and other herbs like sage, thyme and bay leaves. Of course, you can add these other herbs and veggies if you prefer.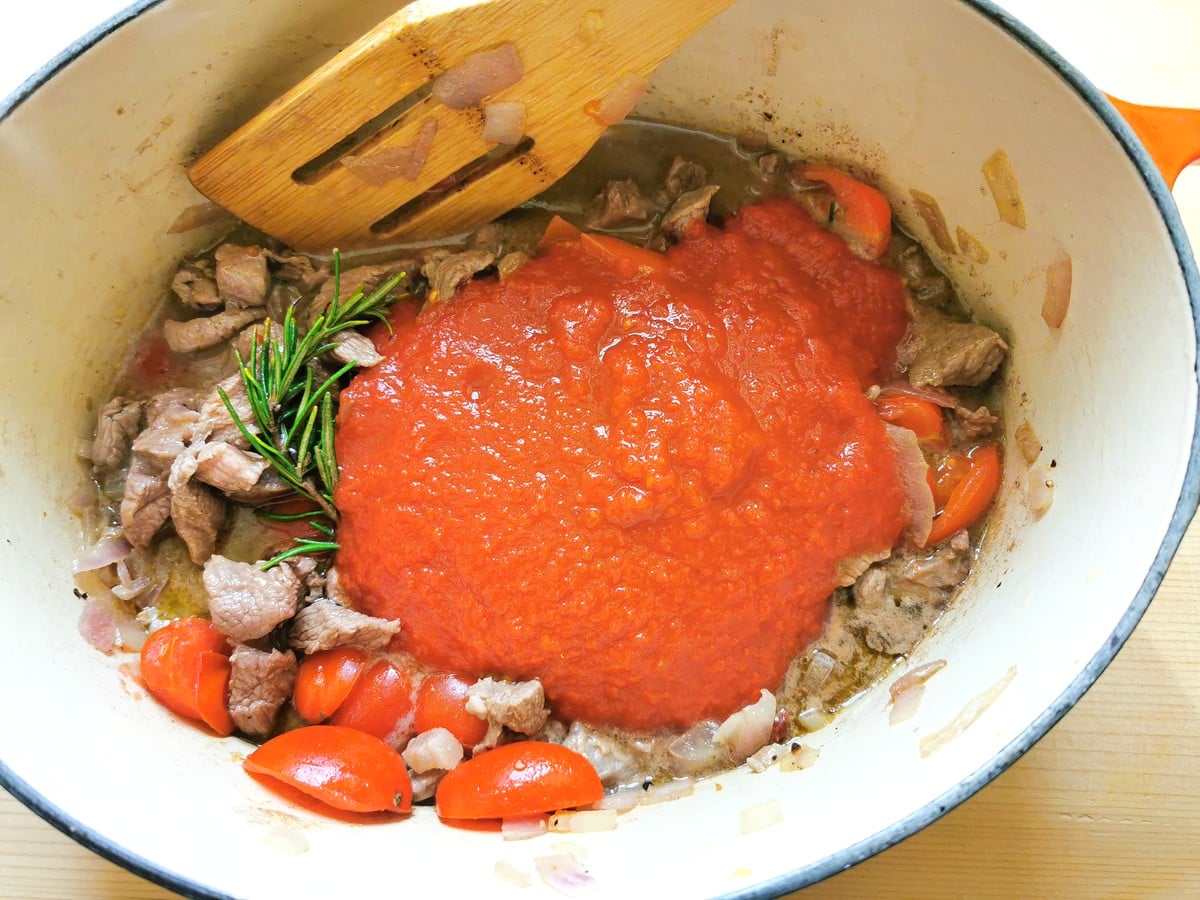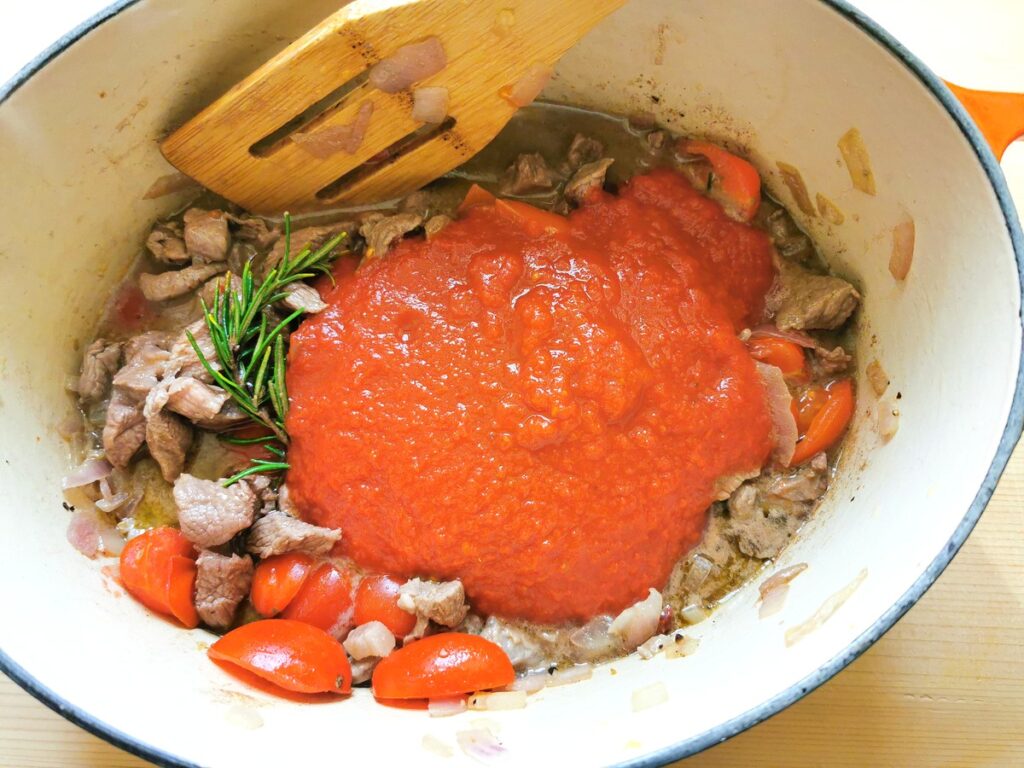 As I mentioned above, the spinach gnocchi are made with spinach which has been wilted, drained and finely chopped as well as flour, potatoes and egg.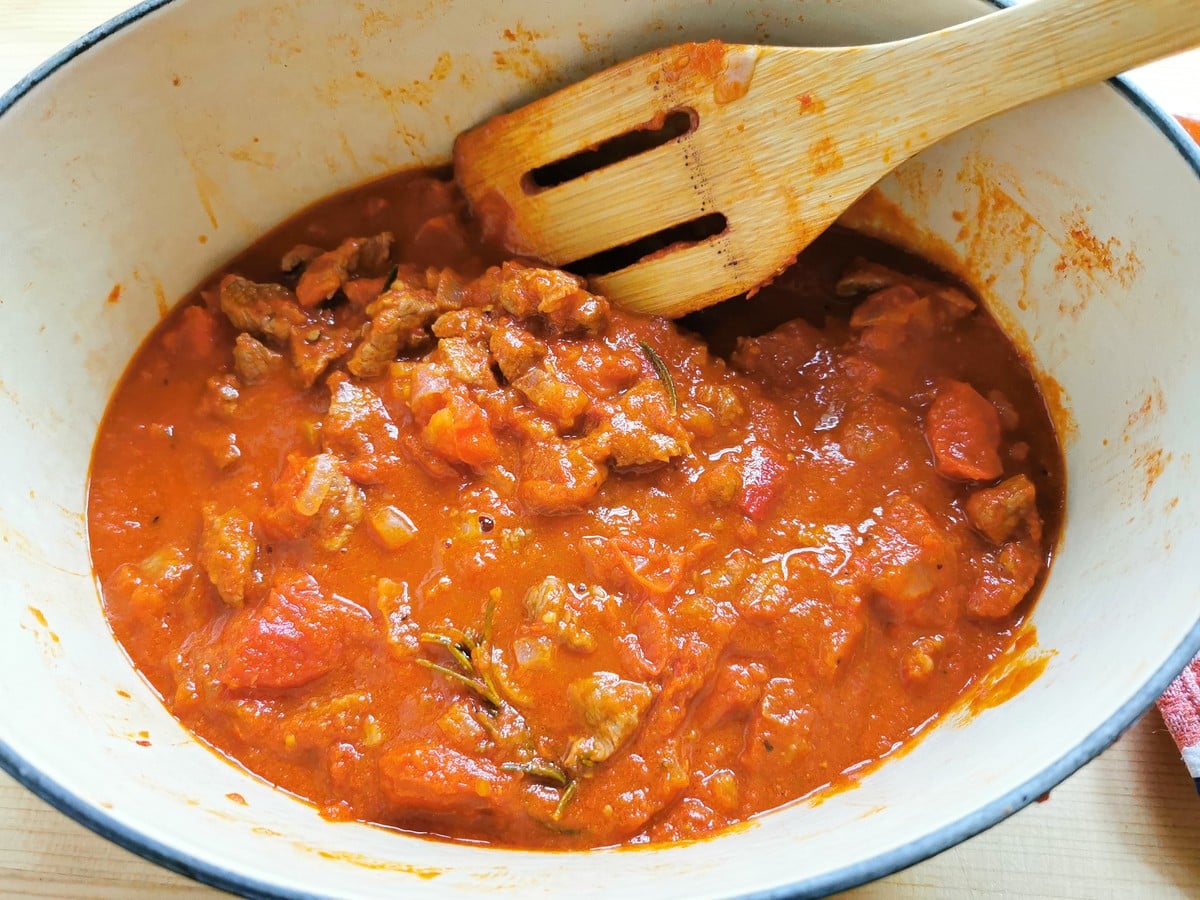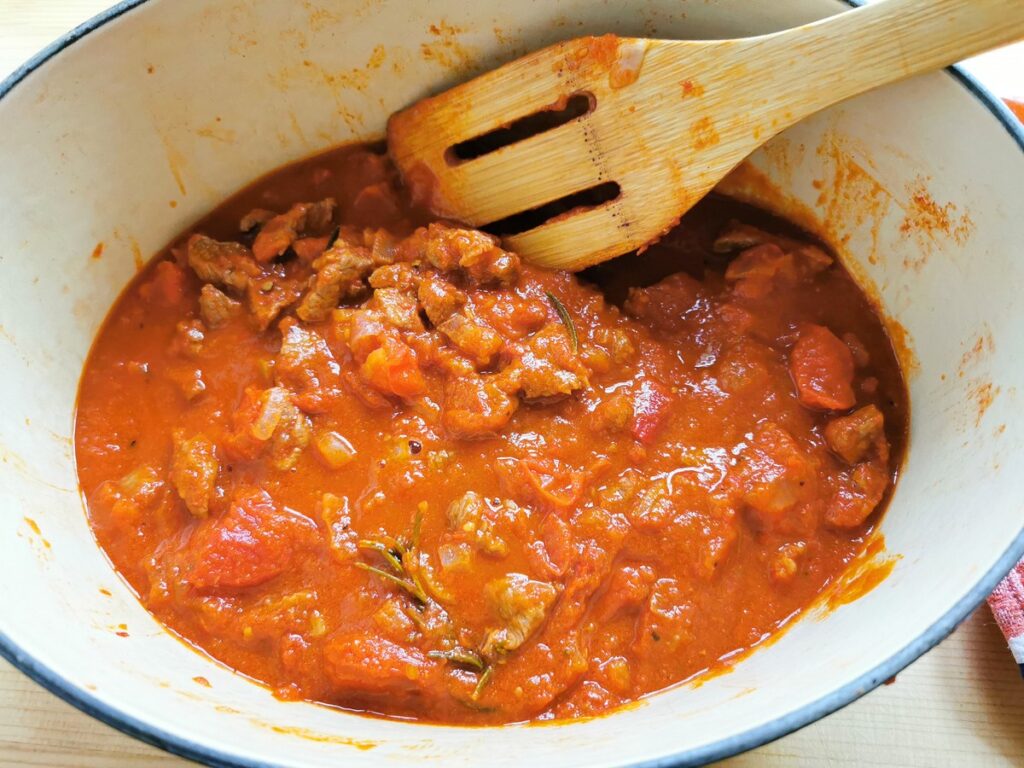 Making sorcetti with lamb ragu.
Since the ragu needs up to 2 hours to cook, it's best to start with that. You can make the spinach gnocchi while the ragu is simmering! Alternatively, you can also make the ragu a day or so in advance. Like many stewed meat recipes, it actually tastes even better the next day!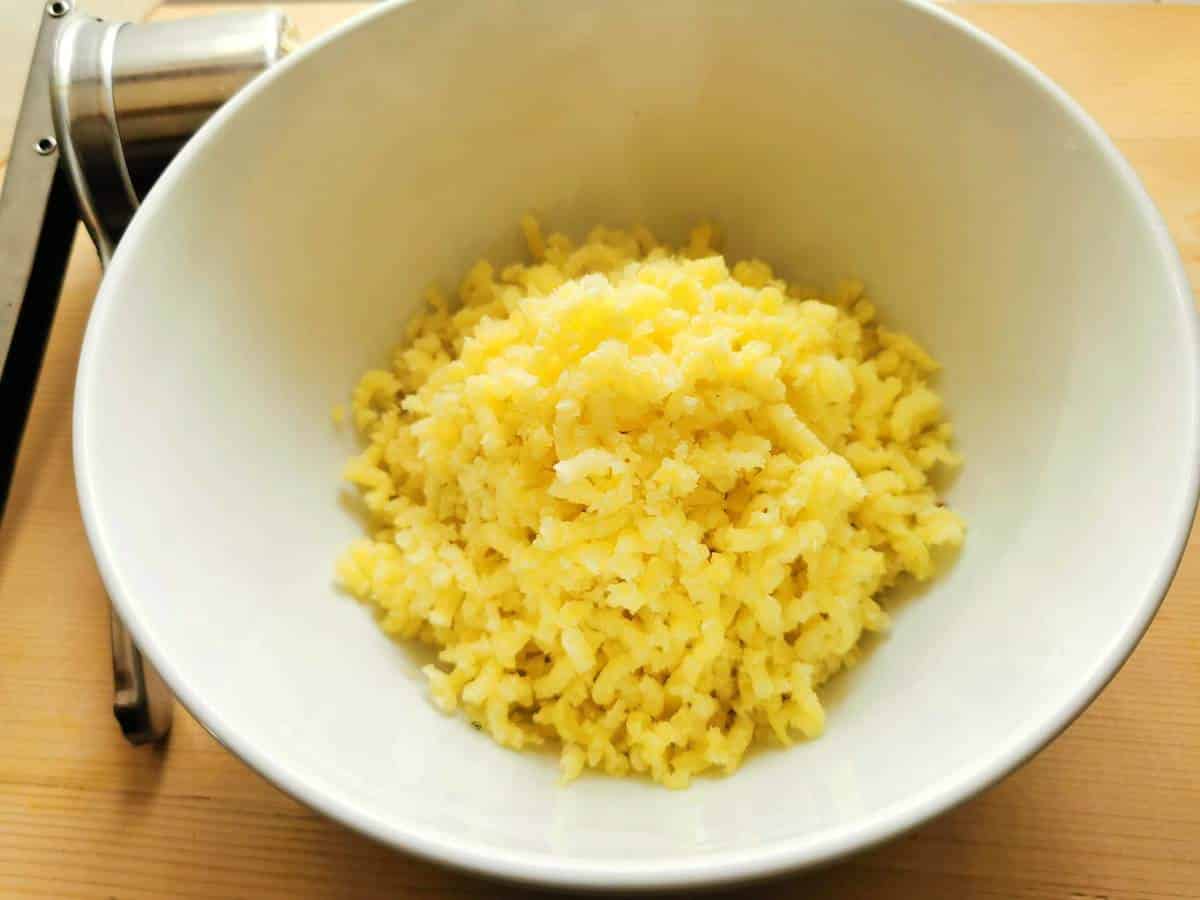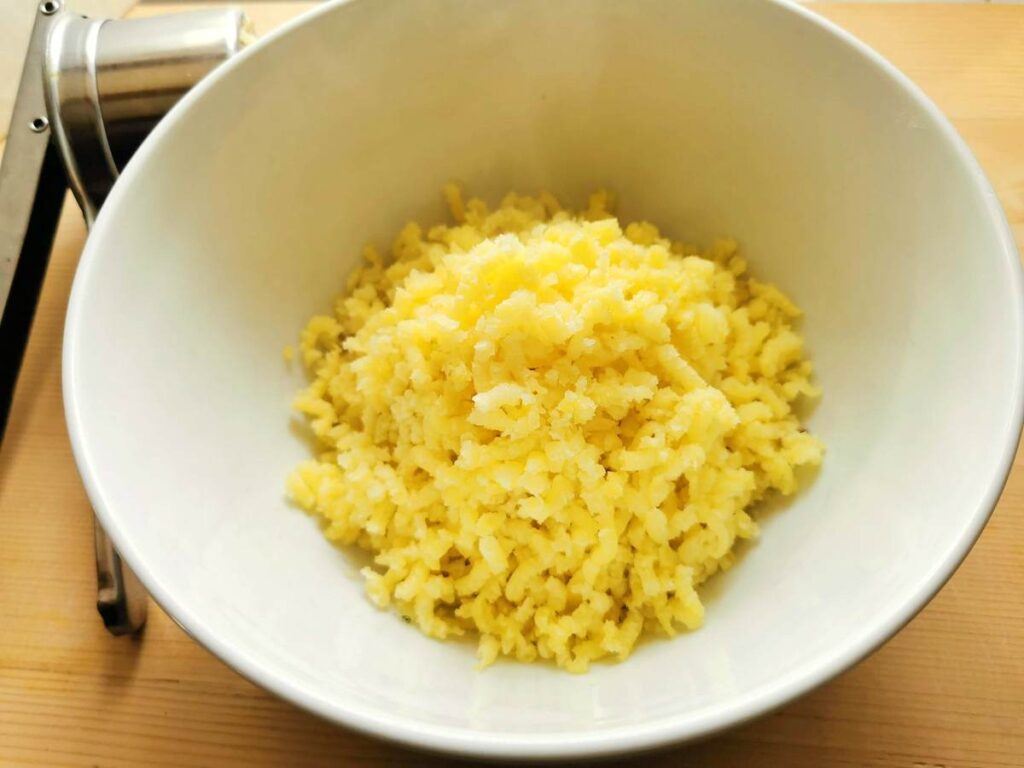 The spinach gnocchi don't take so long to make. You'll need to wilt the spinach, drain it and chop it first as it has to cool down. The important thing is to get the spinach as dry as possible after cooking it. After draining it, I often put the spinach in a fine tea towel and squeeze the water out.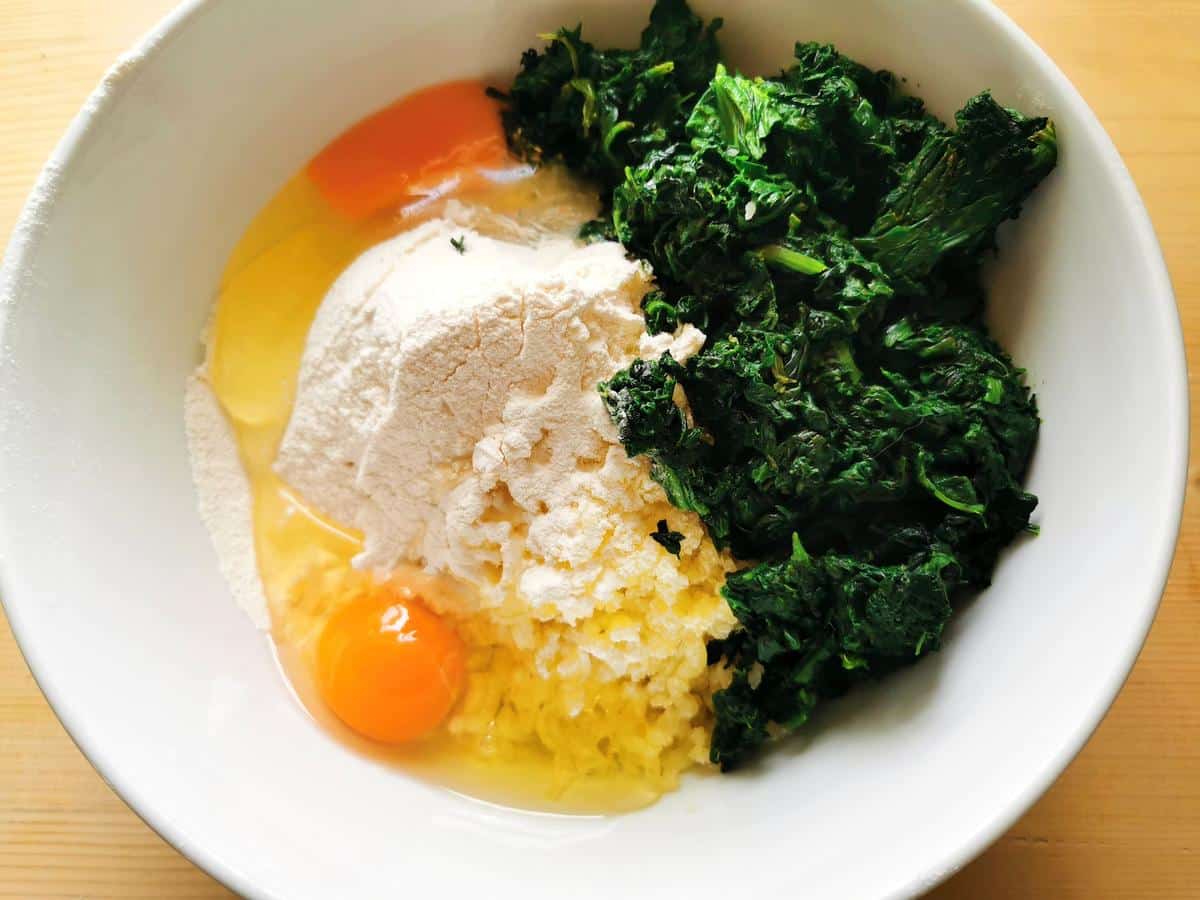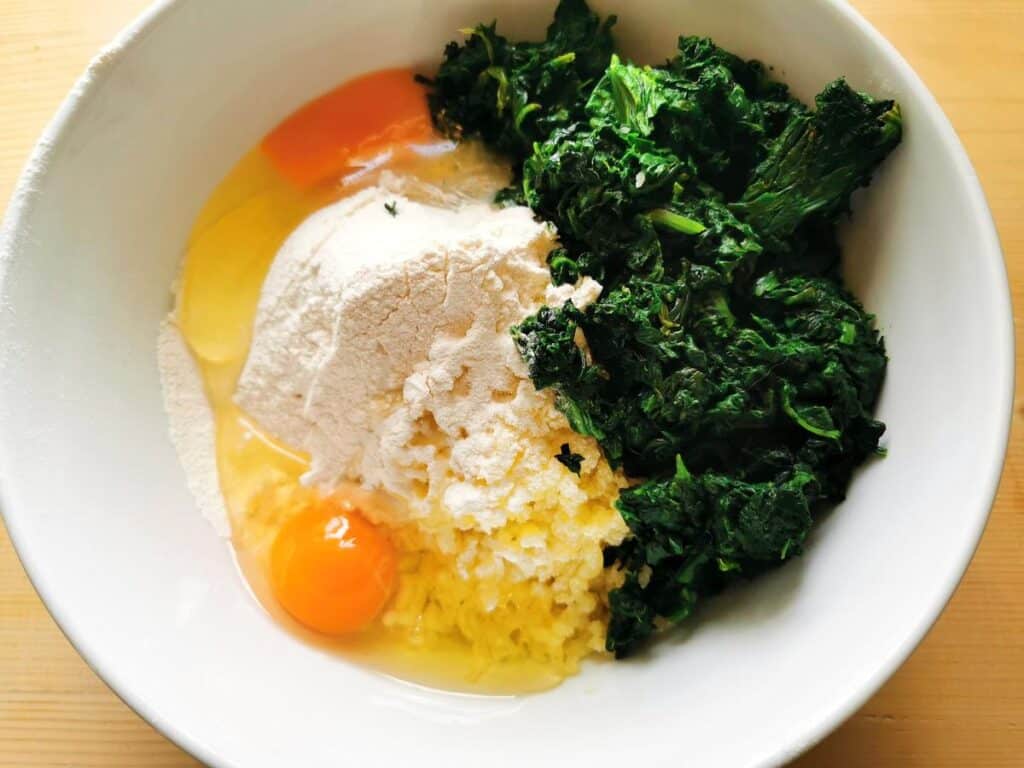 The potatoes also need to be cooked before in boiling salted water until tender. The main difficulty in making gnocchi is having the right potatoes. Potatoes which are too watery will require more flour and the result will be 'gummy' gnocchi! This is also why potatoes for gnocchi are boiled with the skin on. Otherwise, they can absorb water whilst cooking.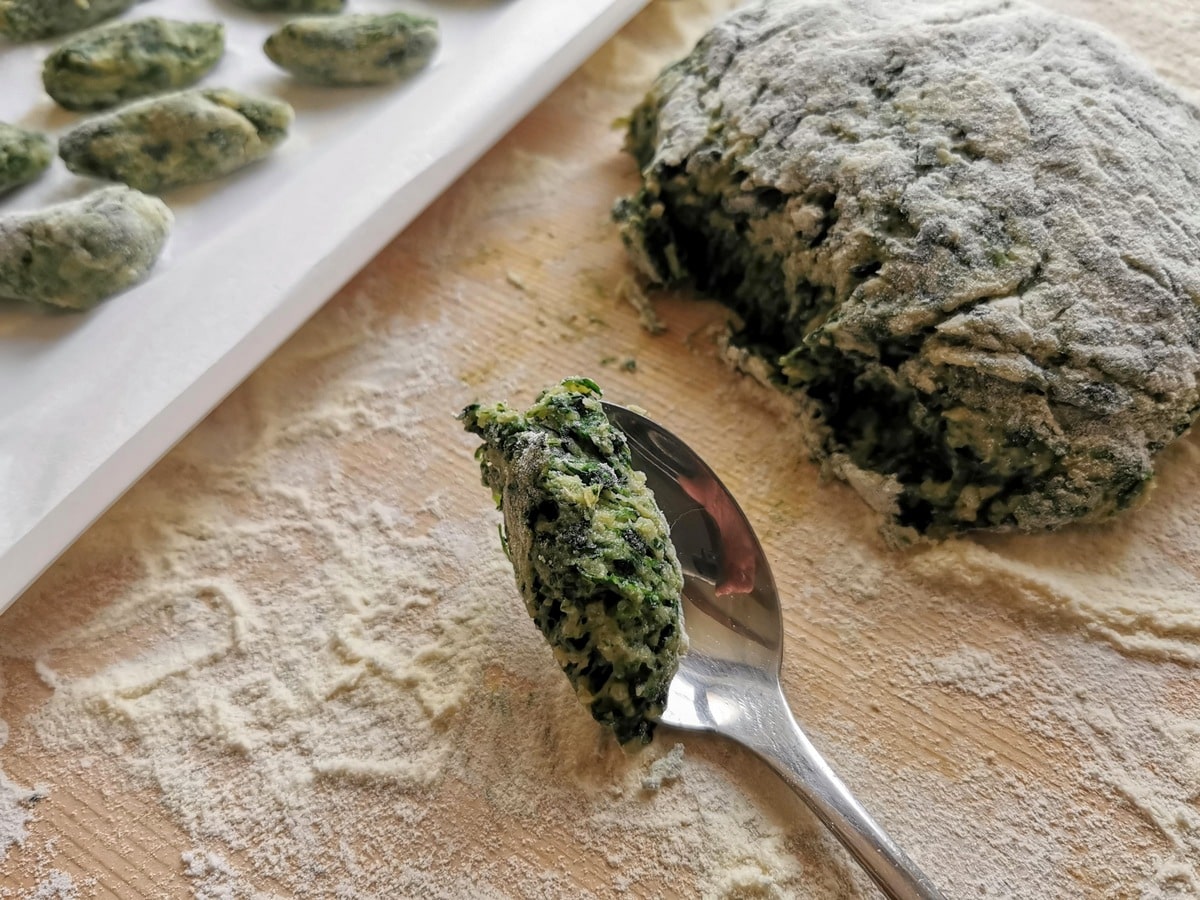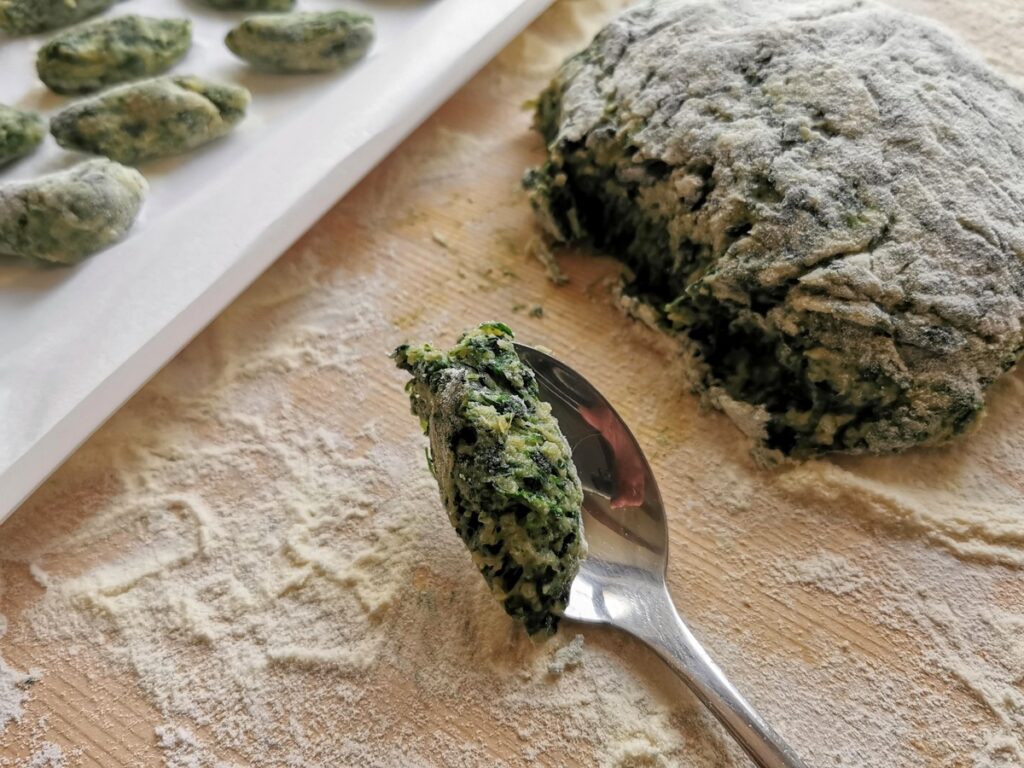 What are the best potatoes for gnocchi?
In Italian supermarkets, potatoes are labelled as suitable for gnocchi! Obviously, that isn't so outside of Italy. I often use Russet potatoes, which are the most popular for gnocchi here. But, you can also use Desiree potatoes or even King Edwards. This time, I used potatoes from the Sila mountains in Calabria. These are my favourite Italian potatoes. Sila potatoes are high in starch and low in moisture, exactly what you need for gnocchi!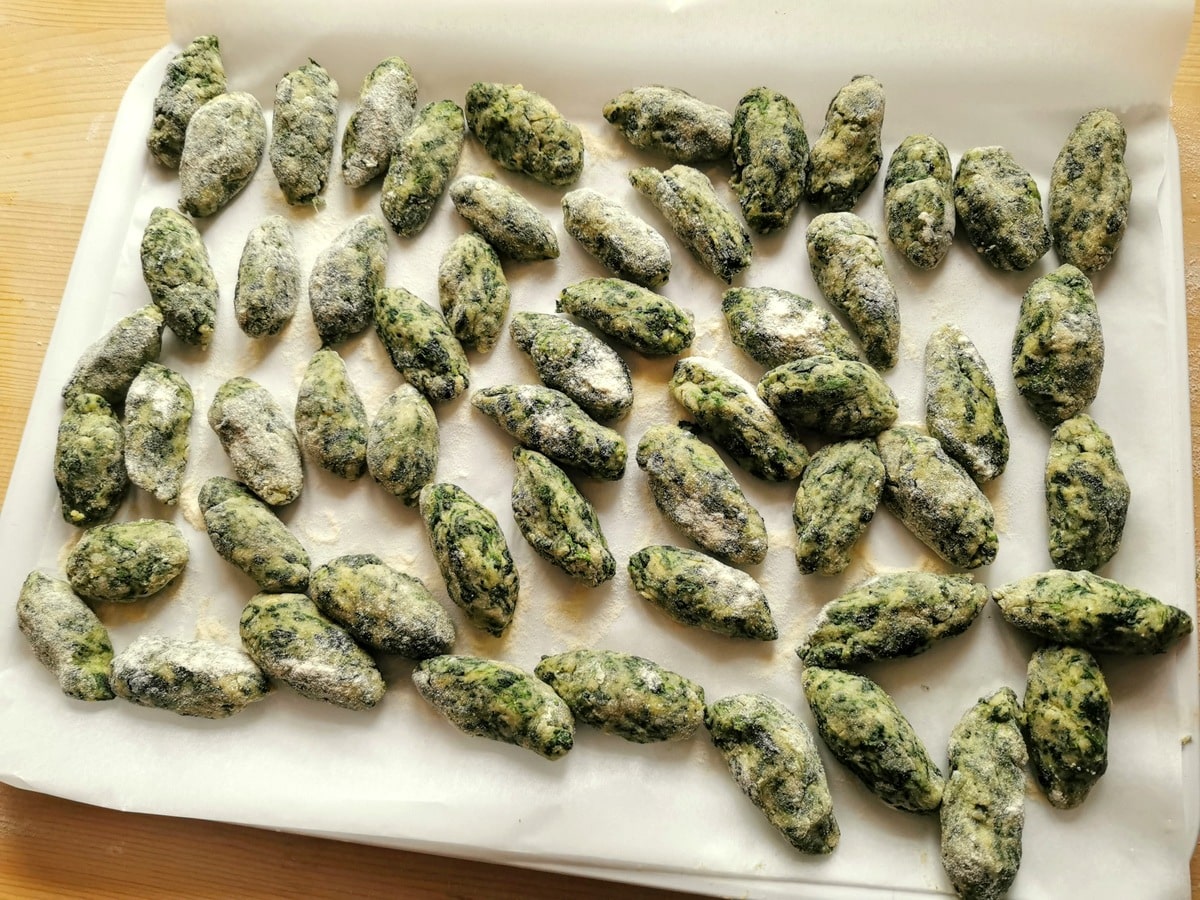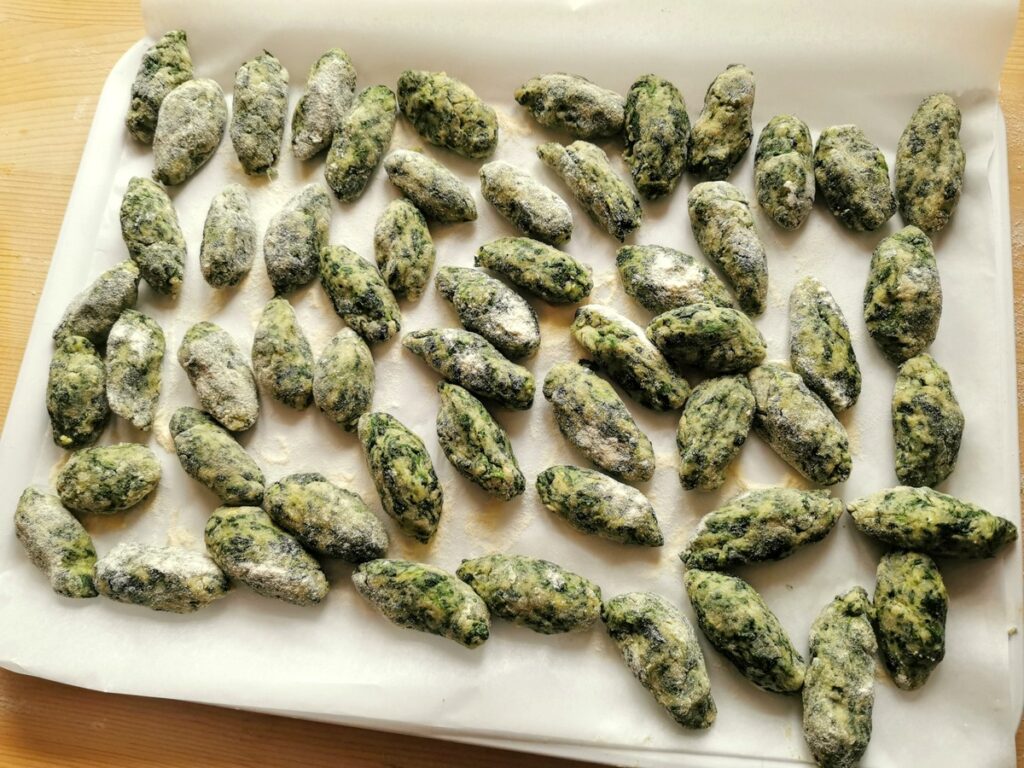 Making your spinach gnocchi.
When making these spinach gnocchi you need to make the dough whilst the potato is still warm. Italians use a potato ricer to purée the potato. I've discovered that you can actually put the unpeeled potato into the ricer and the skin won't pass through the holes when you press it. So, no need to peel the potatoes to make your gnocchi.
If the potatoes are large, cut them in half before pressing them through the ricer. However, if you don't have a ricer, you have to peel the still warm potatoes and then mash them.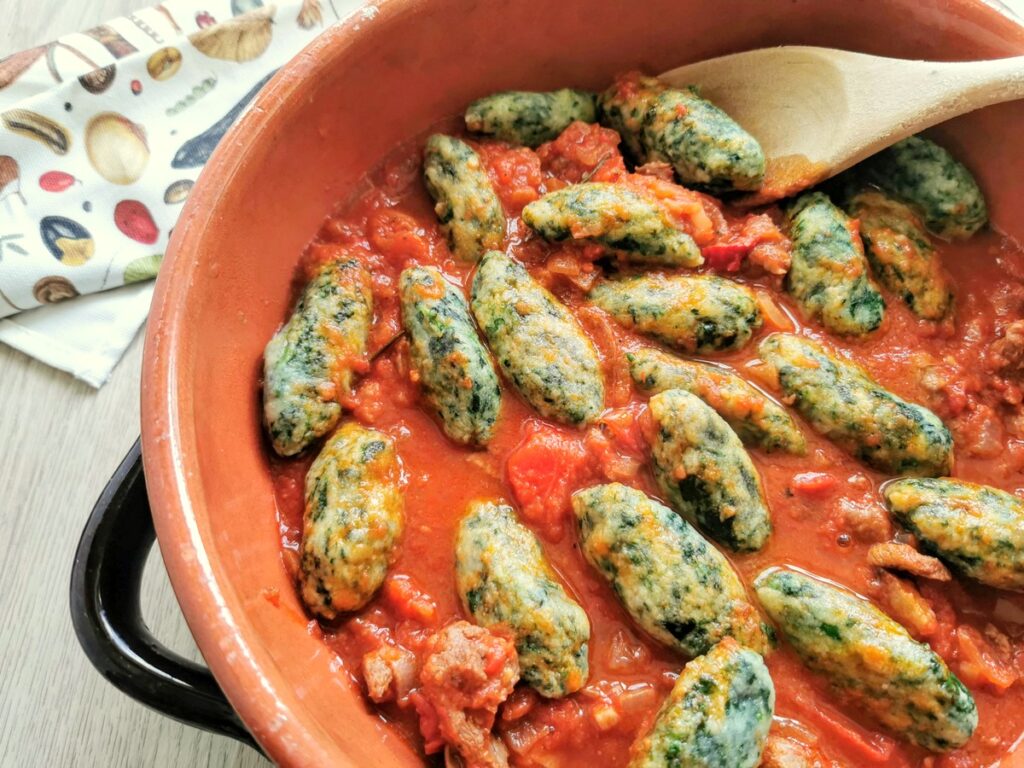 Once you have the potato puree ready in a bowl, you then need to add the chopped spinach, eggs and flour and mix everything together into a dough. Then turn the dough out onto a floured pastry board and knead it a little. But, not too much. I use durum wheat semolina flour for dusting as this works really well to prevent the dough sticking to the board or your hands.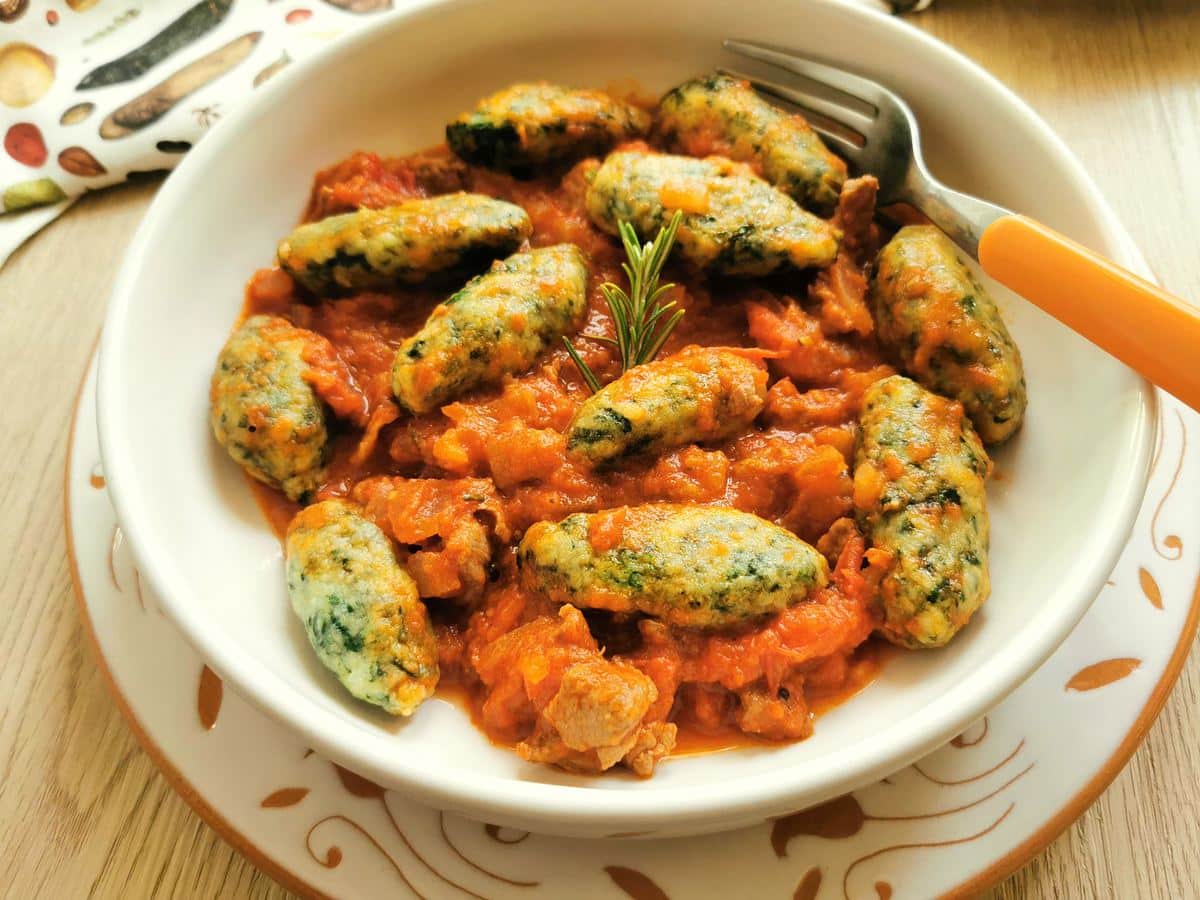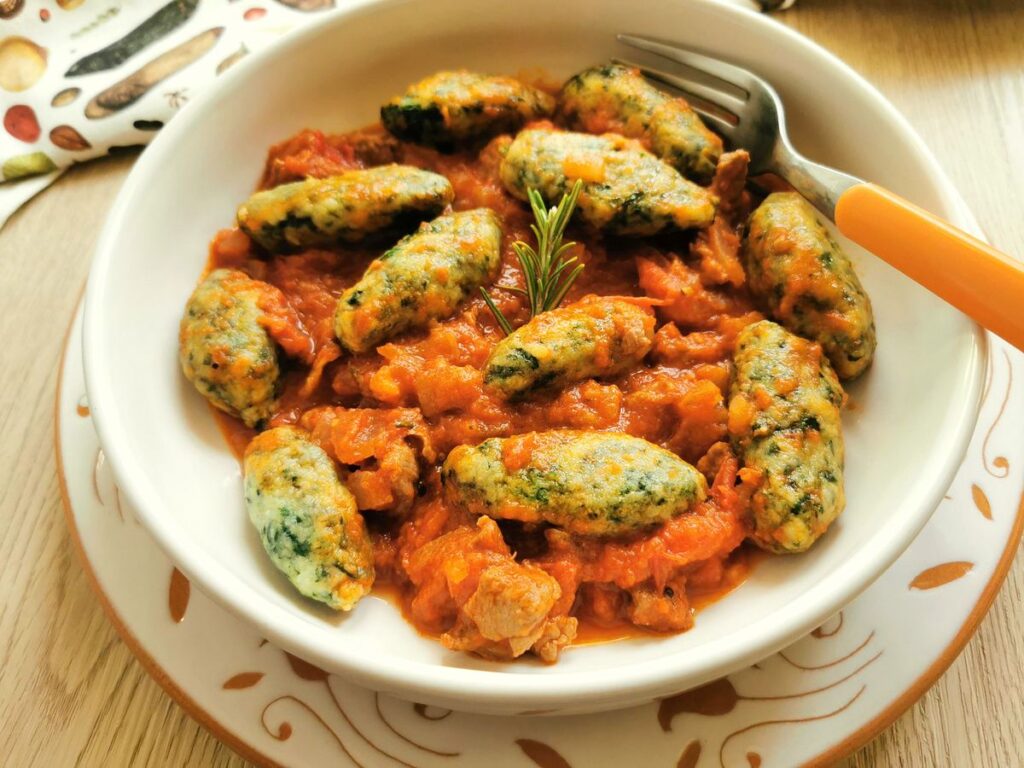 The dough can be quite soft and a little sticky. But, add a little more flour if it's too wet. Use a tablespoon (or a teaspoon) to 'cut' off enough dough for one gnocchi and shape it by rolling it between the palms of your hands. Place the ready gnocchi on a well-floured tray or sheet of baking paper until you have finished making them all. You then cook the gnocchi in boiling salted water. Once they rise to the surface, remove with a slotted spoon and add to the ragu.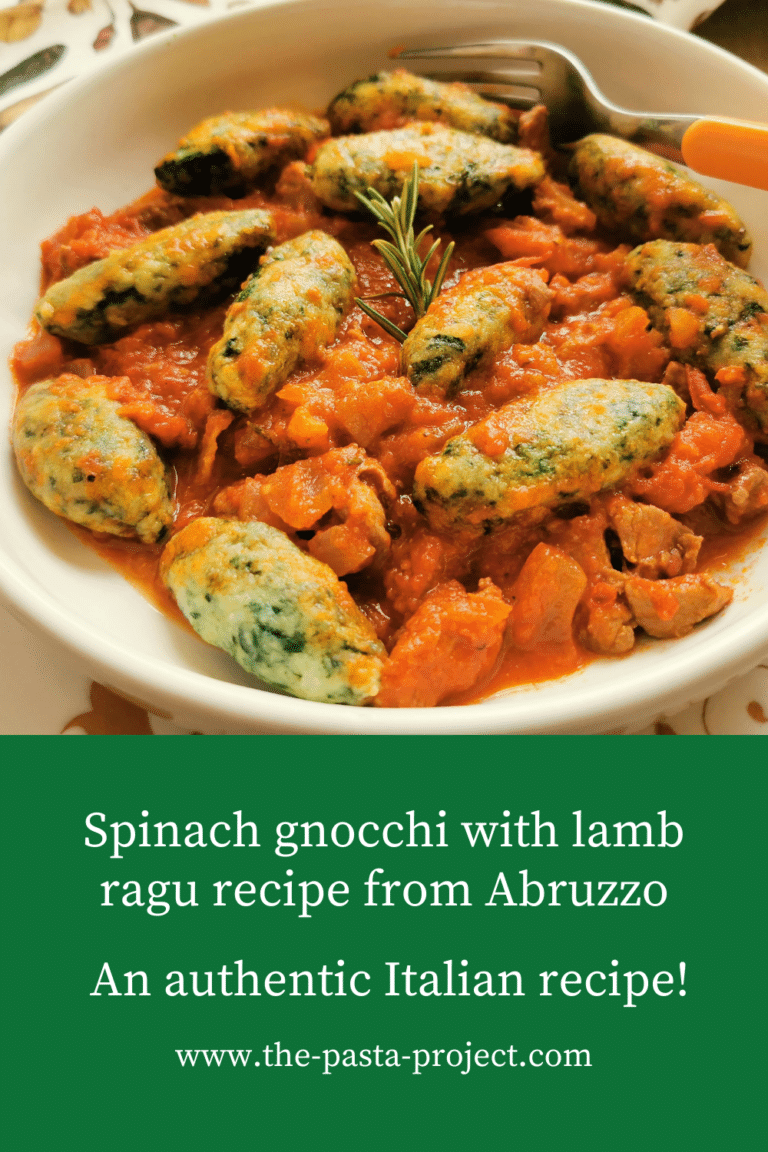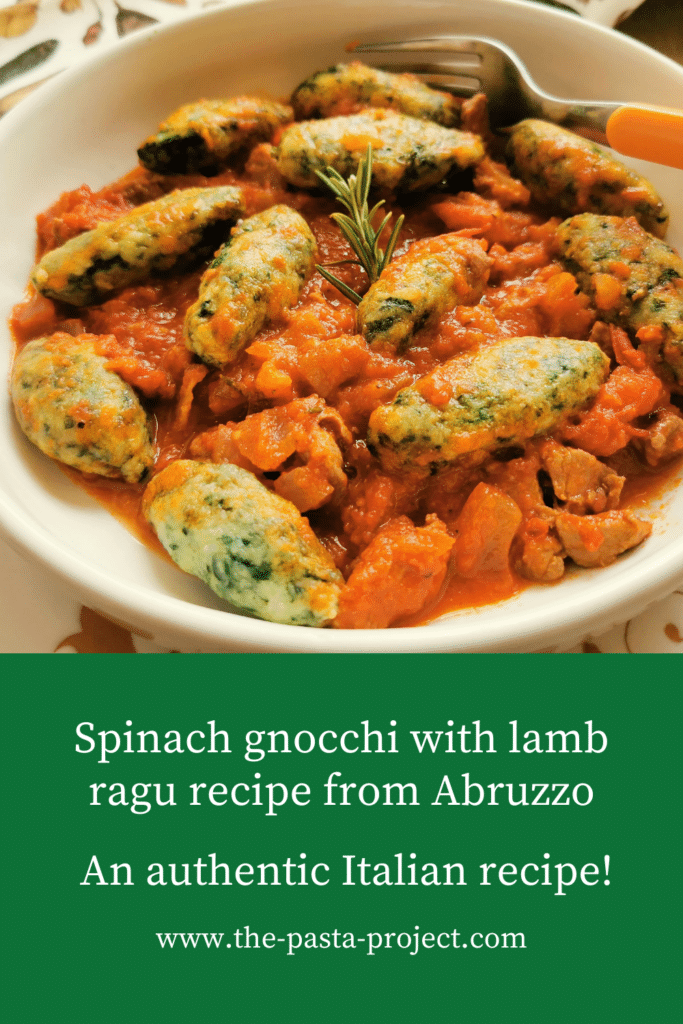 Let me know what you think.
I think this is a great Sunday lunch or holiday dish. I will probably be adding it to my Easter menu, depending on whether we have guests or not. Normally we have a large leg of lamb and all my hubby's family round the table! But, if there's just the two of us (due to covid-19 restrictions) this would be perfect.
If you do try this spinach gnocchi with lamb ragu, I'd love to hear what you think. Please write a comment here on the blog or post a comment on the Pasta Project Facebook page.
Your feedback means a lot to me!
Buon Appetito!
Other recipes from Abruzzo to try!
SAVE THIS RECIPE FOR LATER?
If you want to save this recipe for later, you can print it, bookmark this page or save it to Pinterest.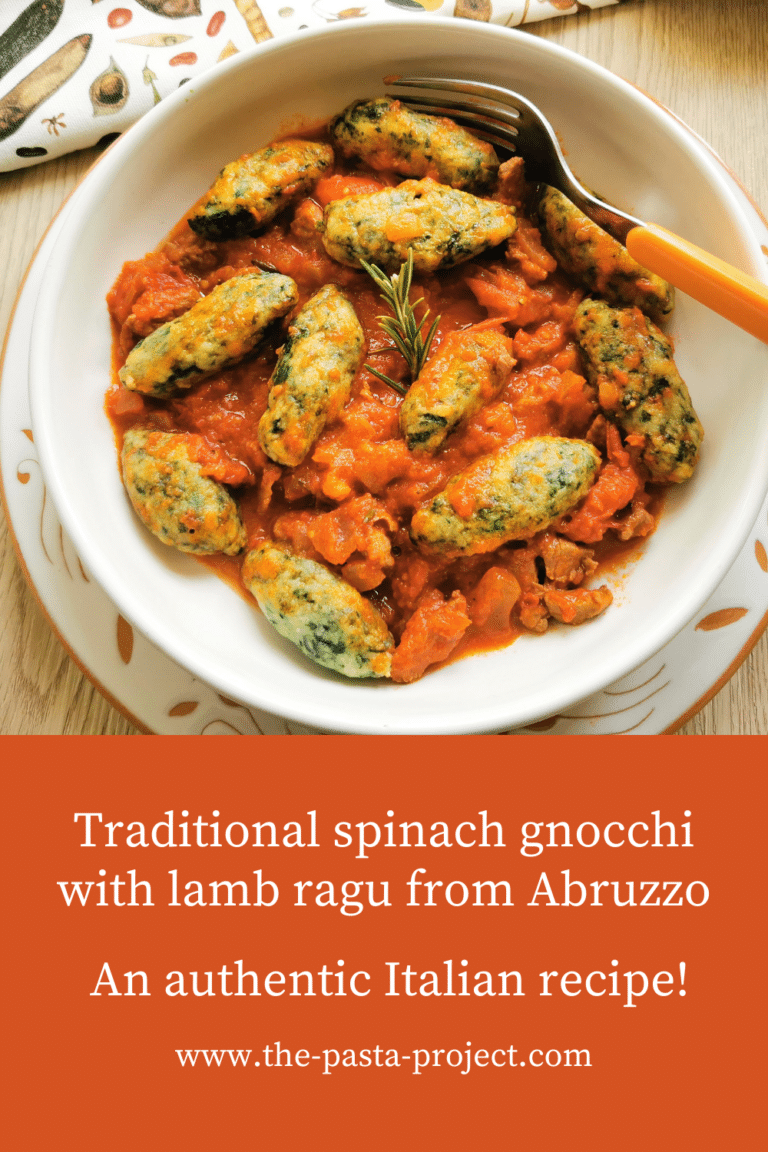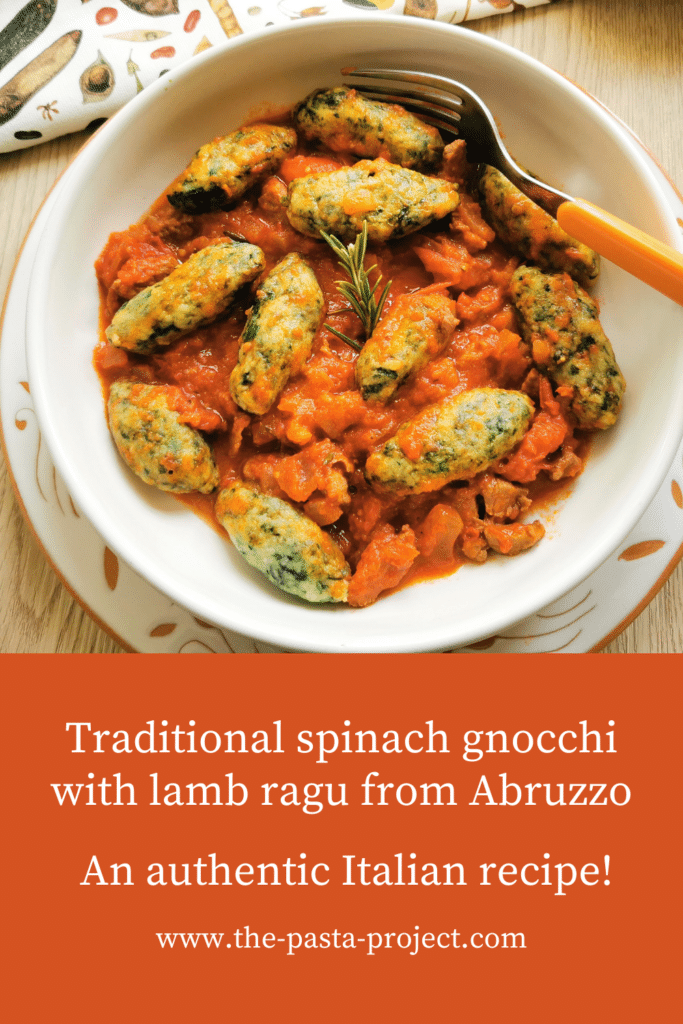 If you are interested in learning how to make homemade pasta and different types of gnocchi, check out my shop page for some great video online courses from my friends in Rome! Nothing beats learning to make pasta from Italians! Plus while you're there why not order a copy of my newly published autumn/winter pasta recipes cookbook!?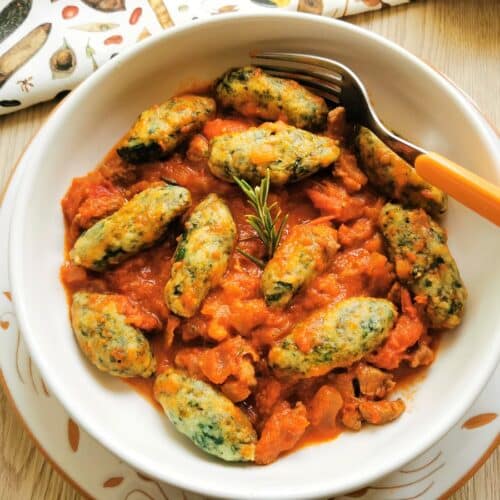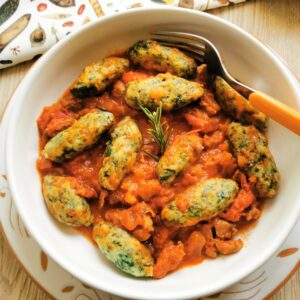 Homemade Spinach Gnocchi with Lamb Ragu Recipe from Abruzzo.
Delicious homemade spinach and potato gnocchi together with a traditional lamb ragu is a recipe from Abruzzo in Central Italy that is perfect for Sundays and holidays, particularly Easter. You can prepare both the gnocchi and the ragu in advance and freeze for another day.
Ingredients
For the lamb ragu
400

g

lamb (boneless leg or shoulder)

(14oz) cut into pieces/chunks

400

g

tomato passata

(14oz)

10-12

datterini or cherry tomatoes

cut in half

50

g

lardo

(2oz) cured pig back fat not lard or guanciale

1

onion

peeled and sliced

2

garlic cloves

peeled and chopped

1

sprig

fresh rosemary

1/2

glass

red wine

1/2

fresh peperoncino (red chili pepper)

chopped seeds removed (or 1/2 tsp flakes)

2-3

tbsp

extra virgin olive oil.

salt

to taste

freshly ground black pepper.

to taste
For potato and spinach gnocchi
1

kg

potatoes

(2.2 lbs) use starchy and dry potatoes like russets

4-500

g

Italian '00' flour

(14-17oz) You can also use AP flour or gluten free.

2

eggs

50

g

spinach

(2oz) cooked

1

pinch

salt

durum wheat semolina flour

for dusting or rice flour.
Instructions
Make the lamb ragu
Remove any excess fat from the lamb and cut it into very small pieces. Chop the lardo into small pieces. Peel and finely slice the onion. Peel and chop the garlic. Wash and cut the cherry tomatoes in halves. Remove the seeds and chop the peperoncino (if using)

Sauté the lardo with the onion and garlic in a heavy saucepan or skillet with the olive oil and the chili. I used my Dutch oven.

When the onion is soft, add the lamb and rosemary. Brown the lamb over a high heat, stirring often. As soon as it is well browned, add the wine and simmer until the alcohol evaporates. Add the tomatoes and let them soften a little. Then add the passata. Mix everything together well.

Cover and cook over low heat for about 90 minutes Add salt and pepper to taste and when necessary, a few tablespoons of hot water if the sauce seems too dry.
Make the spinach gnocchi
Boil the unpeeled potatoes in salted water. When tender drain them and press through a potato ricer into a bowl or peel them and mash in a bowl. Let them cool a little.

Wash the spinach and wilt in a pan on a low heat. Drain and then chop finely. I use a fine tea towel to squeeze as much liquid out of the spinach as possible. Add the spinach to the potatoes, together with 2 eggs, a pinch of salt and 400 g flour.

Mix the dough ingredients together with a fork and/or your hands and then turn out onto a well-floured pastry board (I use durum wheat semolina flour for dusting). Knead until you have a homogenous dough. Don't knead too much. The dough doesn't want to be too compact. Add more flour if you need to. Roll the dough into a ball and then 'cut' off half a tablespoon at a time to make your gnocchi.

Roll the piece of dough between the palms of your hands to form a slightly elongated shape. Place the ready spinach gnocchi on a well-floured tray or sheet of baking paper until you have finished making them all. I use durum wheat semolina flour here too. You can also use a teaspoon for smaller gnocchi. In Abruzzo, surgitt are usually smaller.
Finish and serve
Cook the gnocchi in boiling salted water. Once they rise to the surface, taste one for doneness and then remove with a slotted spoon and add to the ragu. If the ragu seems dry add a little of the gnocchi cooking water. Mix everything together carefully. Plate and serve with grated pecorino.
Notes
You can freeze the uncooked gnocchi and then cook from frozen. The ragu tastes great even when made a couple of days in advance. Freeze if you want to use after more than 5 days.
In Abruzzo, the gnocchi are usually about half the size of mine. I prefer them bigger but you can make them smaller.
Use gluten free flour to make this recipe gluten free.
Instead of passata and cherry tomatoes you can use just passata or peeled sauce tomatoes. In which case use 600-700g (1-1.5 lbs)
Want to know more about my life in Italy? Why not subscribe to my newsletter? New subscribers get a free series of recipe e-books too!