Known as 'sagne fritte con ceci' in Italian and 'sagne sfritt'e cice' in the local dialect, this fried sagne with chickpeas is one of the best pasta and legume recipes I have tried. I love the fact that it includes pieces of fried homemade pasta. I think you will too!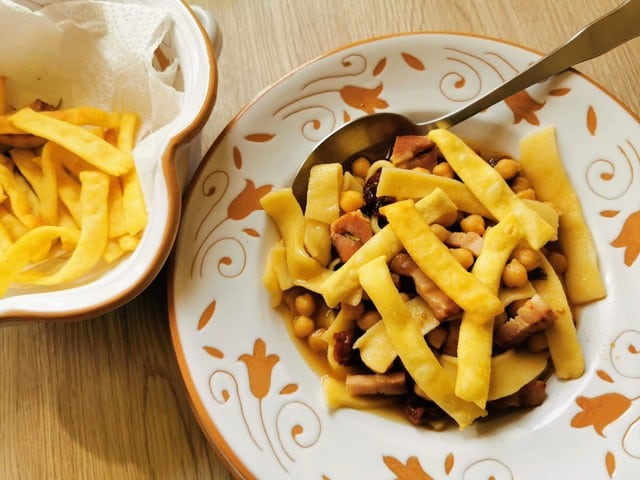 The origins of sagne pasta with chickpeas.
Sagne pasta with chickpeas is a traditional dish in Abruzzo and other parts of Central Italy. In the past, pasta and legumes was standard fare for the peasant population in these areas. These dishes were particularly popular during the winter months as both flour and legumes were easy to store. No fridges in those days! Interestingly this kind of food was also pretty healthy.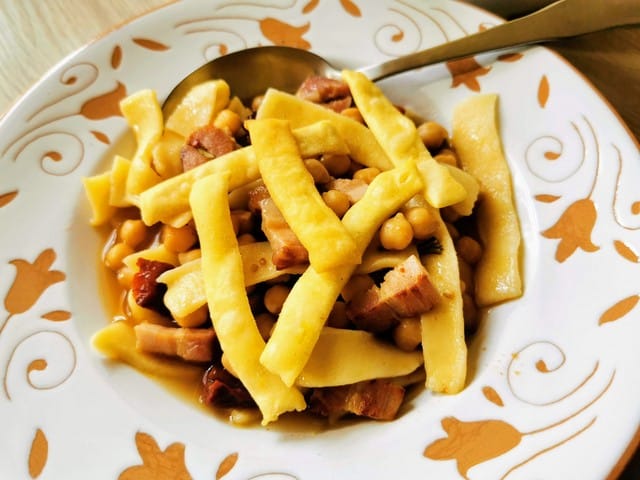 What is sagne pasta?
Traditionally, sagne or sagnette is a homemade pasta made with durum wheat semolina flour (semola in Italian) and water, no eggs! This is the same wheat that all commercial dried pasta is made from. And in the poorer regions, in Central and Southern Italy, it was, and still is, the flour used for traditional homemade pasta.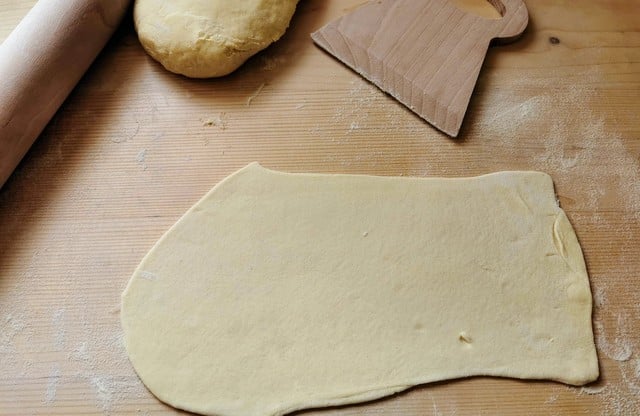 Why no eggs? Well, for the poorer peasants, eggs were too valuable to make every day dishes with. Instead, they used them for barter or kept them for special occasions. This was very different to the North of Italy, where the standard of living was higher. Egg pasta was born in the North.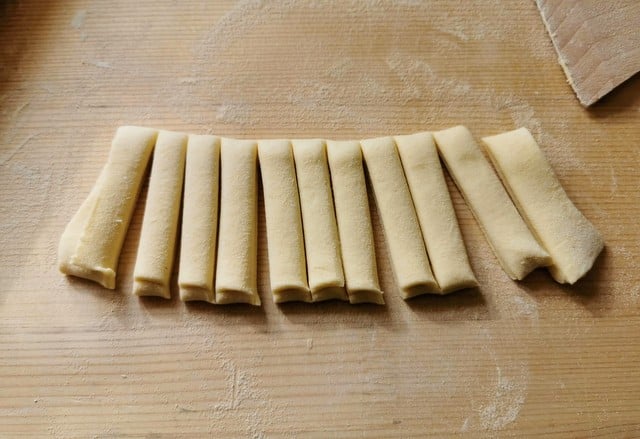 Why durum wheat flour ? Well, most of Italy's durum wheat grows in the Southern and Central regions, so it was the cheapest and most available type of wheat for the local population. Today, you can find recipes for sagne that include eggs and either a combination of soft and hard wheat flour, or even just soft wheat. But, I personally think that the result is less authentic.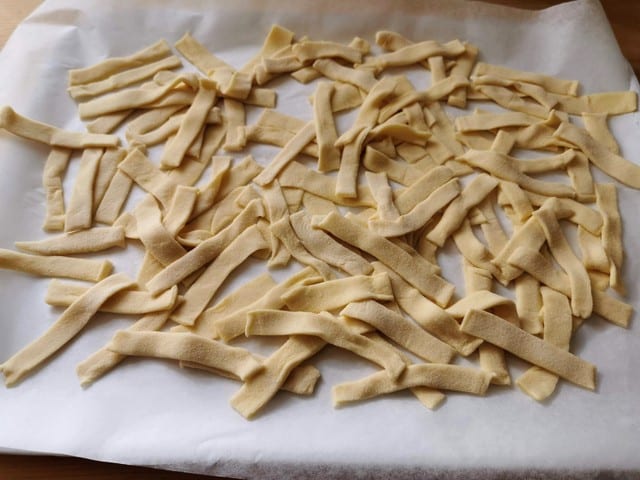 Sagne pasta is traditional in Abruzzo, Molise and parts of Lazio.
Sagne is a traditional pasta in Abruzzo, Molise and parts of Lazio. It looks like short thick tagliatelle or fettuccine. Each of these regions has slightly different versions of sagne pasta with chickpeas. This fried sagne with chickpeas recipe is from Chieti in Abruzzo and what attracted me to trying it is the addition of fried sagne. Yes! fried in olive oil with garlic and rosemary and such a delicious crispy addition to the finished dish.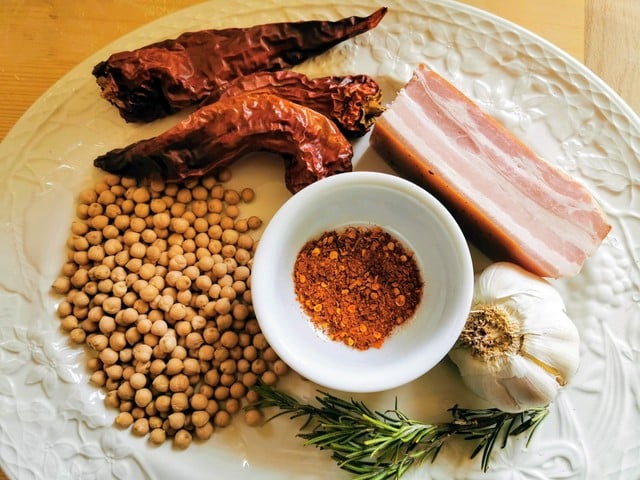 Can you use dried sagne?
Although it's possible to find dried sagne (also called sagnette), I'm not sure how possible it is to fry it! So, I guess if you want to try the original version of this fried sagne with chickpeas, making the pasta yourself is probably a must.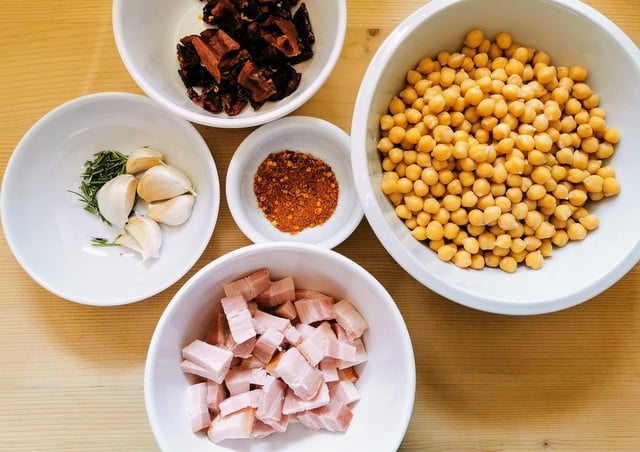 How to make homemade sagne pasta.
The main difference between making flour and water pasta and egg pasta is that the dough is harder to knead. This is apparently because of the high protein (gluten) content. However, I started my dough off in my stand mixer and then finished it on my pastry board. Just a little more elbow grease!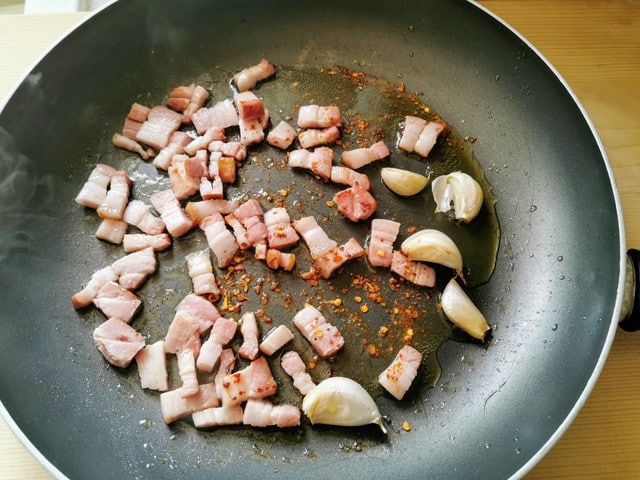 Sagne pasta is quite thick, so you can roll the sheets out by hand. I did some with my pasta machine and some by hand and actually preferred the rolled out dough sheets. Also sagne is a rustic pasta and the pieces don't need to be exactly the same, so no need to have perfect looking pasta!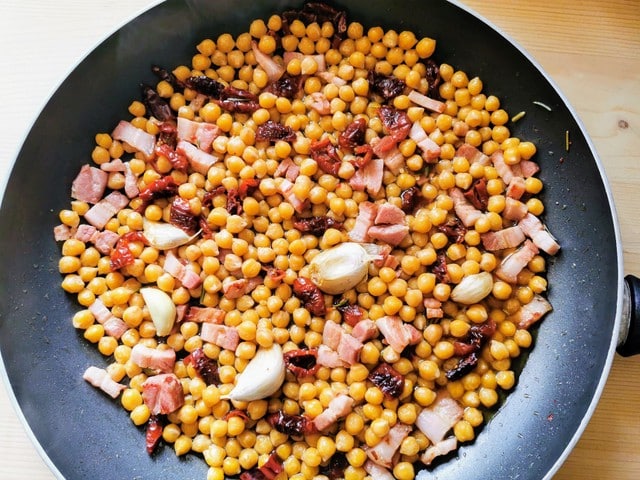 Other ingredients in fried sagne with chickpeas.
Apart from the pasta, of course you need chickpeas. I used dried chickpeas which I soaked overnight, then rinsed and boiled the next day. When I do this, I always prepare extra chickpeas to use in a salad, for hummus or to roast for a snack! I guess you could use canned chickpeas but I'm not sure how the dish will turn out. They may get too mushy! Plus, I always think dried are tastier and healthier!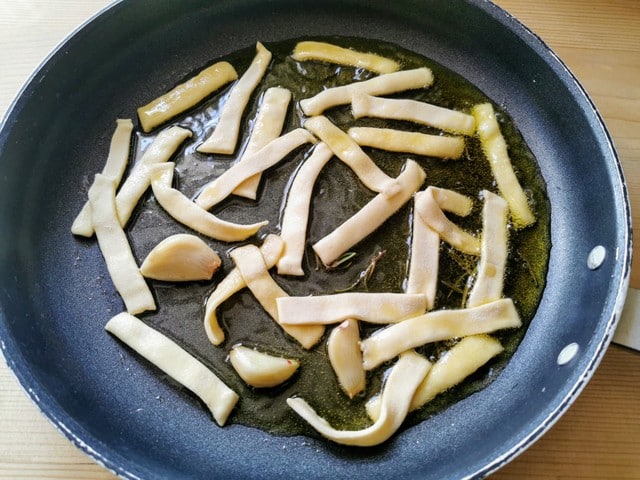 The rest of the ingredients for this dish are just garlic, white wine, stock, some pancetta (leave out for vegetarian version) , rosemary, peperoncino and dried sweet red peppers. The latter are a typical food product from Abruzzo, Molise and Basilicata. The ones from Basilicata are Senise peppers also called peperoni cruschi. I have used them in a delicious recipe with cavatelli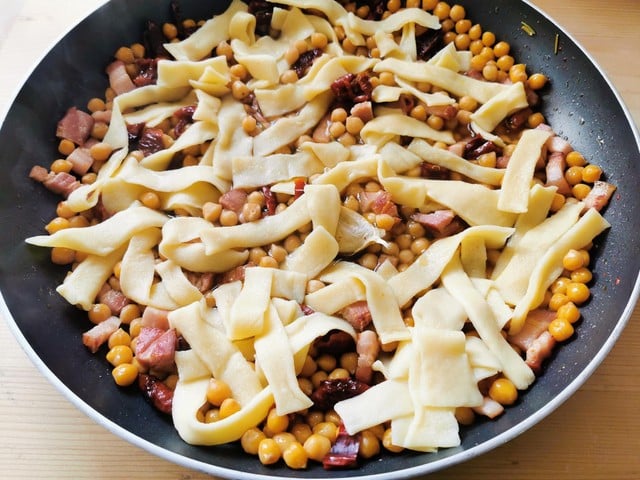 However, if you can't find dried sweet red peppers you can substitute with sun-dried tomatoes. I would suggest not those preserved in oil. But, if those are what you have, they'd probably work too. Just pat them with some kitchen paper to remove some of the oil.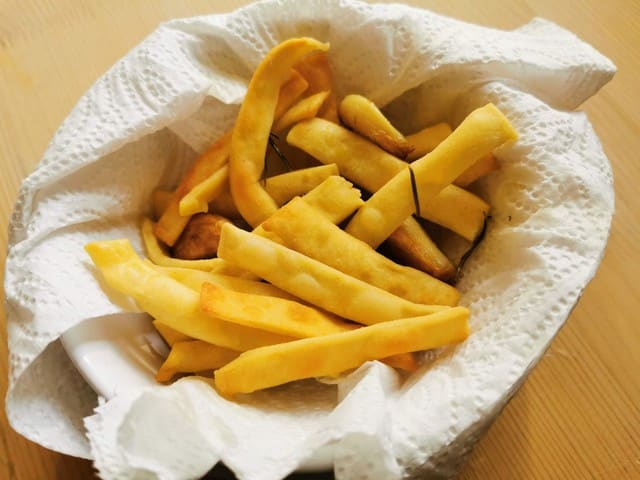 Although this fried sagne pasta with chickpeas takes a little time to make, I'm absolutely sure you will love it. This dish, which is more like a soup, is full of flavour. The fried pasta is definitely better than croutons! My hubby had 2 bowls!
If you make this fried sagne with chickpeas recipe, I'd love to hear how it turns out and if you liked it. So, please leave a comment here on the blog or on The Pasta Project Facebook page.
Looking forward to hearing from you!
Buon appetito!
Other pasta recipes you may like
Save this recipe for later?
If you want to save this recipe for later, you can print it, bookmark this page or save it to Pinterest.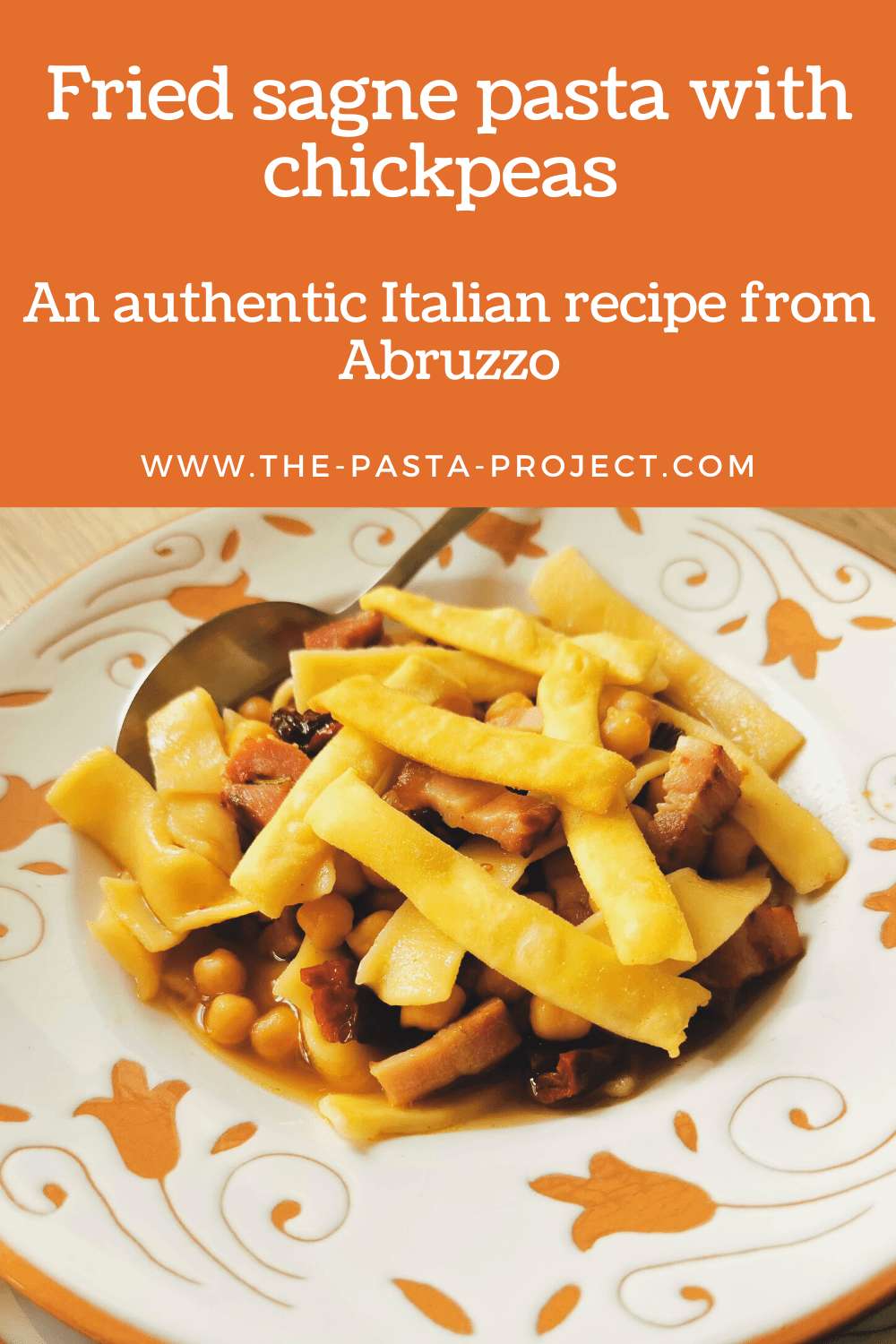 If you are interested in learning how to make other homemade pasta and different types of gnocchi, check out my shop page for some great video online courses from my friends in Rome! Nothing beats learning to make pasta from Italians! Plus while you're there why not order a copy of my autumn/winter pasta recipes cookbook!?
Watch homemade sagne being made on this video from Pasta Grannies.
Want to know more about my life in Italy? Why not subscribe to my newsletter? New subscribers get a free series of recipe e-books too!