Known as 'sagne fritte con ceci' in Italian and 'sagne sfritt'e cice' in the local dialect, this fried sagne with chickpeas is one of the best pasta and legume recipes I have tried. I love the fact that it includes pieces of fried homemade pasta. I think you will too!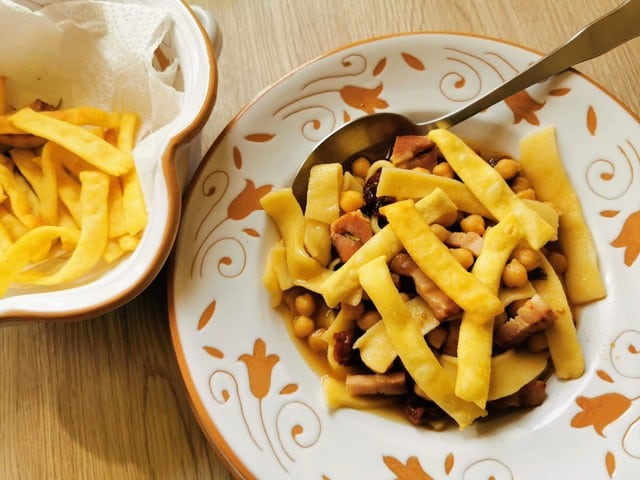 The origins of sagne pasta with chickpeas.
Sagne pasta with chickpeas is a traditional dish in Abruzzo and other parts of Central Italy. In the past, pasta and legumes was standard fare for the peasant population in these areas. These dishes were particularly popular during the winter months as both flour and legumes were easy to store. No fridges in those days! Interestingly this kind of food was also pretty healthy.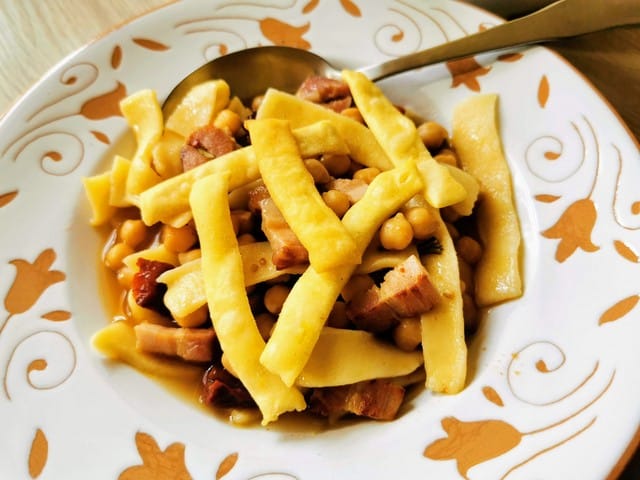 What is sagne pasta?
Traditionally, sagne or sagnette is a homemade pasta made with durum wheat semolina flour (semola in Italian) and water, no eggs! This is the same wheat that all commercial dried pasta is made from. And in the poorer regions, in Central and Southern Italy, it was, and still is, the flour used for traditional homemade pasta.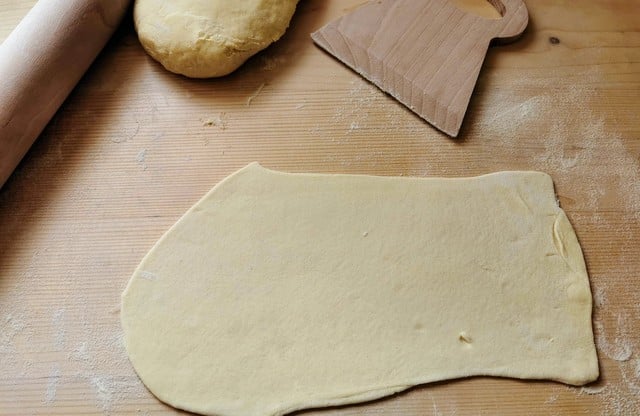 Why no eggs? Well, for the poorer peasants, eggs were too valuable to make every day dishes with. Instead, they used them for barter or kept them for special occasions. This was very different to the North of Italy, where the standard of living was higher. Egg pasta was born in the North.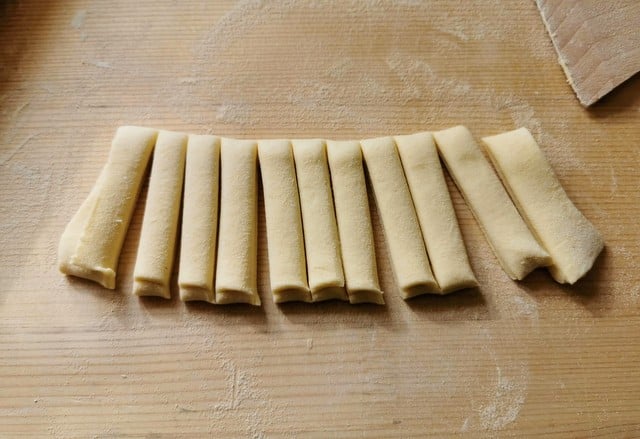 Why durum wheat flour ? Well, most of Italy's durum wheat grows in the Southern and Central regions, so it was the cheapest and most available type of wheat for the local population. Today, you can find recipes for sagne that include eggs and either a combination of soft and hard wheat flour, or even just soft wheat. But, I personally think that the result is less authentic.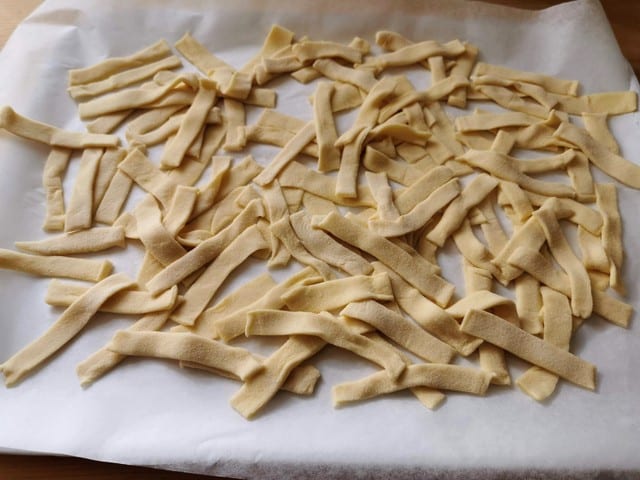 Sagne pasta is traditional in Abruzzo, Molise and parts of Lazio.
Sagne is a traditional pasta in Abruzzo, Molise and parts of Lazio. It looks like short thick tagliatelle or fettuccine. Each of these regions has slightly different versions of sagne pasta with chickpeas. This fried sagne with chickpeas recipe is from Chieti in Abruzzo and what attracted me to trying it is the addition of fried sagne. Yes! fried in olive oil with garlic and rosemary and such a delicious crispy addition to the finished dish.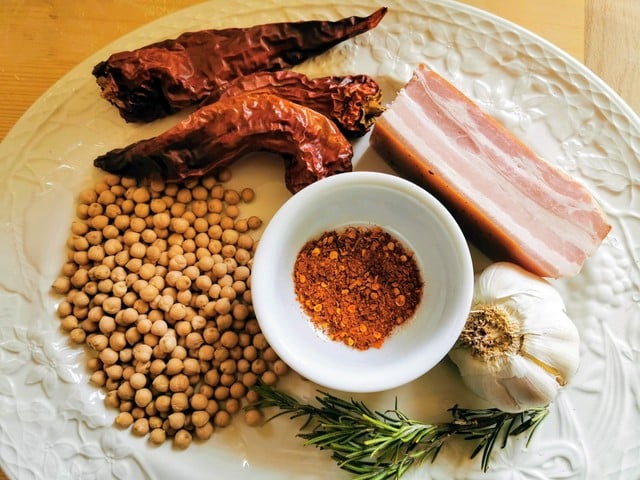 Can you use dried sagne?
Although it's possible to find dried sagne (also called sagnette), I'm not sure how possible it is to fry it! So, I guess if you want to try the original version of this fried sagne with chickpeas, making the pasta yourself is probably a must.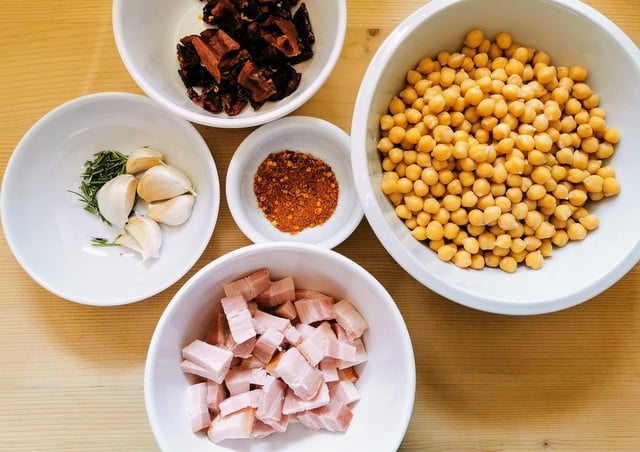 How to make homemade sagne pasta.
The main difference between making flour and water pasta and egg pasta is that the dough is harder to knead. This is apparently because of the high protein (gluten) content. However, I started my dough off in my stand mixer and then finished it on my pastry board. Just a little more elbow grease!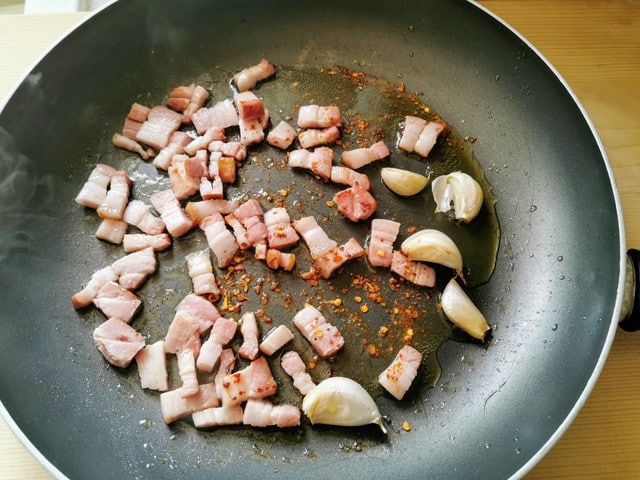 Sagne pasta is quite thick, so you can roll the sheets out by hand. I did some with my pasta machine and some by hand and actually preferred the rolled out dough sheets. Also sagne is a rustic pasta and the pieces don't need to be exactly the same, so no need to have perfect looking pasta!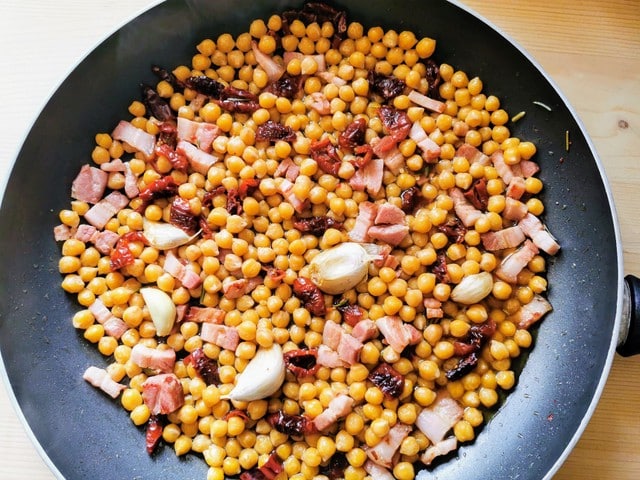 Other ingredients in fried sagne with chickpeas.
Apart from the pasta, of course you need chickpeas. I used dried chickpeas which I soaked overnight, then rinsed and boiled the next day. When I do this, I always prepare extra chickpeas to use in a salad, for hummus or to roast for a snack! I guess you could use canned chickpeas but I'm not sure how the dish will turn out. They may get too mushy! Plus, I always think dried are tastier and healthier!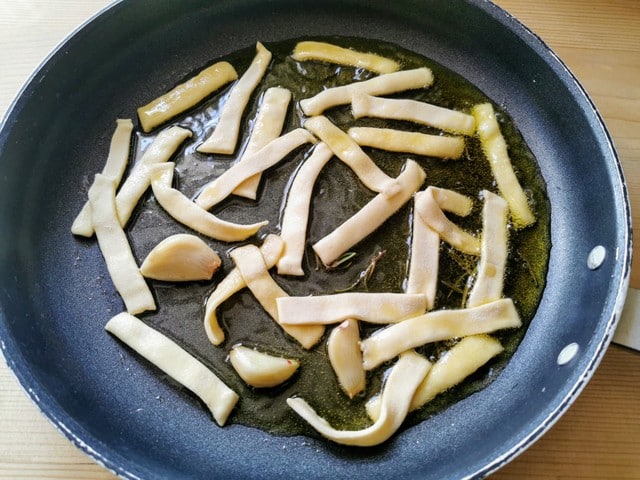 The rest of the ingredients for this dish are just garlic, white wine, stock, some pancetta (leave out for vegetarian version) , rosemary, peperoncino and dried sweet red peppers. The latter are a typical food product from Abruzzo, Molise and Basilicata. The ones from Basilicata are Senise peppers also called peperoni cruschi. I have used them in a delicious recipe with cavatelli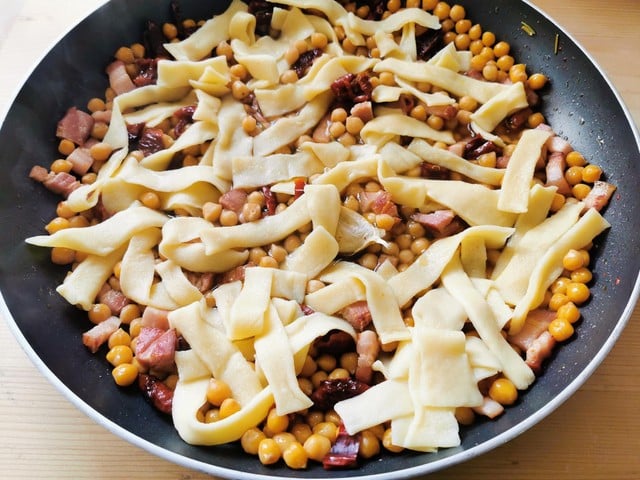 However, if you can't find dried sweet red peppers you can substitute with sun-dried tomatoes. I would suggest not those preserved in oil. But, if those are what you have, they'd probably work too. Just pat them with some kitchen paper to remove some of the oil.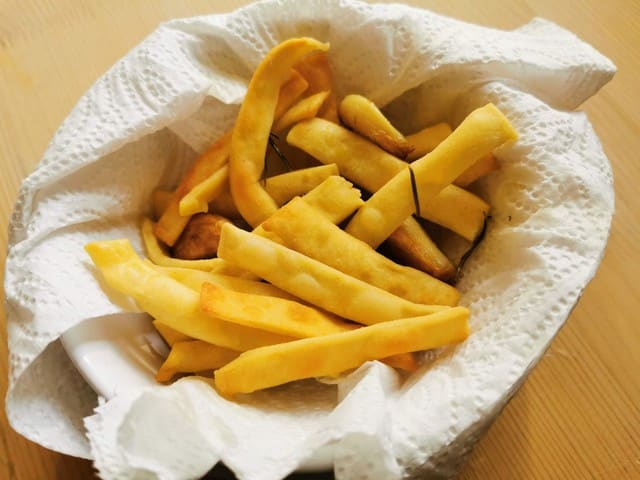 Although this fried sagne pasta with chickpeas takes a little time to make, I'm absolutely sure you will love it. This dish, which is more like a soup, is full of flavour. The fried pasta is definitely better than croutons! My hubby had 2 bowls!
If you make this fried sagne with chickpeas recipe, I'd love to hear how it turns out and if you liked it. So, please leave a comment here on the blog or on The Pasta Project Facebook page.
Looking forward to hearing from you!
Buon appetito!
Other pasta with chickpeas recipes.
Save this recipe for later?
If you want to save this recipe for later, you can print it, bookmark this page or save it to Pinterest.
If you are interested in learning how to make other homemade pasta and different types of gnocchi, check out my shop page for some great video online courses from my friends in Rome! Nothing beats learning to make pasta from Italians! Plus while you're there why not order a copy of my autumn/winter pasta recipes cookbook!?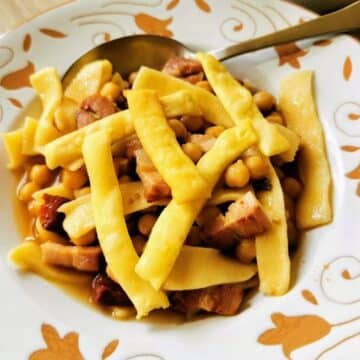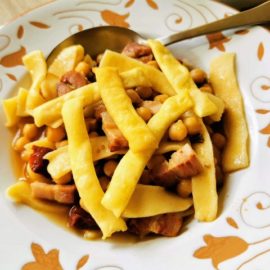 Fried Sagne Pasta with Chickpeas
This tasty, warming and nutritious authentic Italian pasta with chickpeas recipe from Abruzzo in Central Italy is made with homemade sagne pasta, some of which is fried in garlic and rosemary.
Ingredients
For the sagne pasta
400

g

durum wheat semolina flour

(14oz) semola in Italian

200

ml

water

(6floz) approx 40-50 ml per 100 g of flour.

1

pinch

salt
For the chickpea broth
250

g

dried chickpeas

(9oz)

200

g

pancetta cubes or lardons

4-5

garlic cloves

unpeeled

1

sprig

fresh rosemary

chopped

1/2-1

tsp

peperoncino flakes (red chili pepper)

1/2

glass

dry white wine

3-4

dried sweet red peppers

or 8-10 sun-dried tomatoes

2-3

tbsp

extra virgin olive oil.

salt

for pasta and to taste

1

cup

broth

(chicken, vegetable or beef)
Instructions
Prepare dried chickpeas
Soak the dried chickpeas overnight. Fill the pot so the water covers the chickpeas. After 12 hours, rinse the soaked chickpeas. Refill the pot with water and a pinch of salt and cook until they are just firm (al dente) about 60-90 minutes. You may need to remove the foam that comes to the surface with a slotted spoon. Drain the cooked chickpeas but save a cup of the cooking water.
Make the sagne pasta
Mound the flour on a wooden pastry board, make a well in the centre and add a pinch of salt. Then pour in the water a little at a time while mixing it together with the flour. The dough should hold together but not be sticky. You may not need all the water. Once you have the right consistency, knead vigorously for about 10-15 minutes. At first, it will look crumbly, but as you knead, the dough will change its texture, transforming into a smooth, firm ball.

If you want to speed things up, mix the dough ingredients in a stand mixer until it looks like wet sand, then tip onto a floured pastry board, bring together with your hands and knead for 2-3 minutes. This is what I did.

Wrap the dough in clingfilm (plastic wrap) and let it rest at room temperature for 30 minutes.

Cut off one third of the dough. Keep the rest wrapped to stop it from drying out. Flatten the piece of dough with the palm of your hand, then pass it through the pasta machine's widest setting three or four times, folding the dough into three each time. I didn't use the other settings but if you want thinner dough you can then pass it through a thinner setting.

If you don't have a pasta machine, you can use a rolling pin to roll the dough out on a floured pastry board. I did this for half my dough and preferred the result.

Cut the rolled out dough sheet into two pieces, place one on top of the other and cut the sagne according to the width you require. In general , sagne pasta pieces are about 6/7 mm wide (about 0.30in) and 5/6 cm long (2-3in). Place the cut pieces on a floured tray to prevent them sticking together. Repeat with the rest of the dough.
Finish your fried sagne pasta with chickpeas
Put the olive oil and pancetta cubes into a deep frying pan or skillet and cook over a moderate heat until the pancetta starts to change colour. Add the unpeeled garlic cloves and peperoncino and continue cooking for a couple of minutes until the garlic starts to soften.

Add half a glass of white wine. Allow the alcohol to evaporate and then add the boiled chickpeas, rosemary, dry sweet red pepper or sun-dried tomatoes cut into pieces and some salt to taste. Add a cup of hot water or a cup of broth (beef, vegetable or chicken) and some of the saved chickpea cooking water. Bring to a boil and then simmer for 10 minutes.

Set aside 1/3 of the sagne and either add the rest of the uncooked sagne to the broth and cook there (you may need to add more broth). Or parboil it in salted water for a couple of minutes and then add to the broth to finish cooking. I did the latter but some recipes say cook the pasta in the broth. In total, fresh sagne need about 5-7 minutes. But it depends on the thickness. So, test taste before serving.

In the meantime, fry the rest of the sagne in hot olive oil with an unpeeled garlic clove and some rosemary until the sagne are golden brown. The pasta browns quickly so be careful not to burn it. I used a couple of the garlic cloves from the sauce.

Remove any remaining garlic cloves from the dish and serve with the fried sagne. Only add the fried pasta a minute before serving, otherwise it loses its crispiness.
Notes
Cooking times don't include the prep of the chickpeas (overnight soaking and cooking). Instead of dried sweet peppers you can use sun-dried tomatoes. If you want to make this recipe with dried pasta instead of homemade or fresh, then you will need to skip the fried pasta. 
Watch homemade sagne being made on this video from Pasta Grannies.
Want to know more about my life in Italy? Why not subscribe to my newsletter? New subscribers get a free series of recipe e-books too!