Pasta and Chickpea Soup from Tuscany.
Delicious and nutritious pasta and chickpea soup is a classic in Tuscany and other Central and Southern regions of Italy. However, each region has its own way of making it!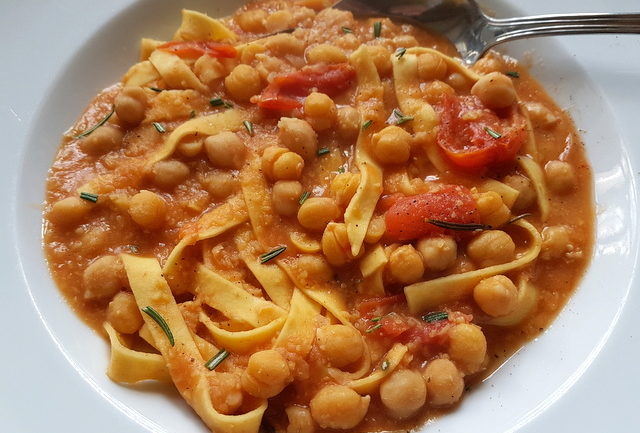 Minestra di Pasta e Ceci alla Toscana.
Pasta and chickpeas is a traditional pasta recipe in many parts of Central and Southern Italy. Most recipes are more of a soup, but others are 'dry'. Italians say pasta 'asciutta'. What this means is the pasta is served with a sauce but isn't a soup.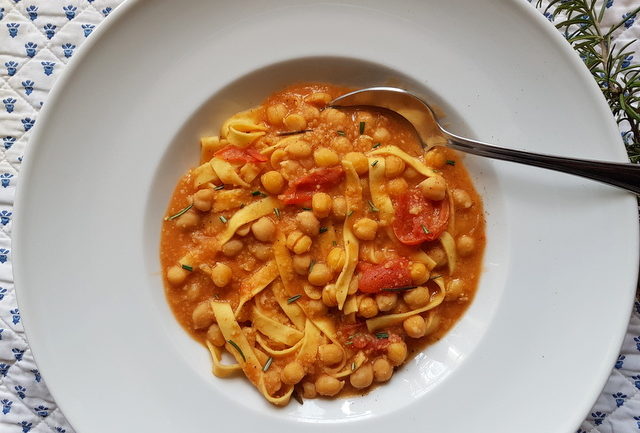 Different kinds of soup.
In Italy, pasta and chickpea soup is called a 'minestra'. Italians actually have six different kinds of vegetable soup; minestra, minestrone, zuppa, passato, vellutata and crema! The word 'minestra' comes from the verb minestrare or amministrare, meaning to administer. Apparently because traditionally this soup was served at the table by the head of the family! A minestra usually contains vegetables or legumes along with some kind of cereal such as rice, pasta, farro, barley etc.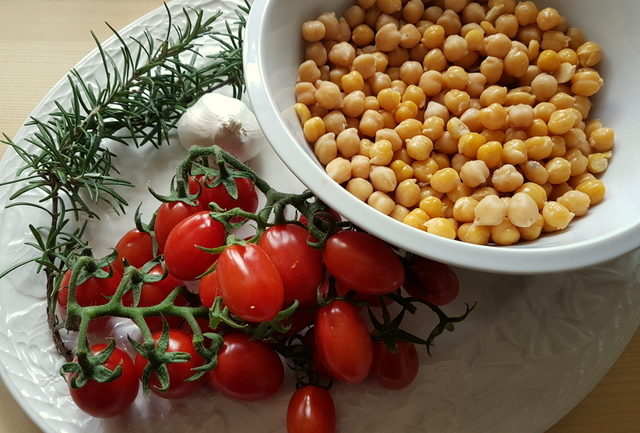 Like pasta with chickpea soup, minestrone contains vegetables and pasta and rice. However, I read that the recipe is more modern and includes quite a number of veggies which weren't widely available or eaten in Italy until the 17th-18th century. Having said that, nowadays, minestra can also contain ingredients that wouldn't have been used a long time ago, like tomatoes.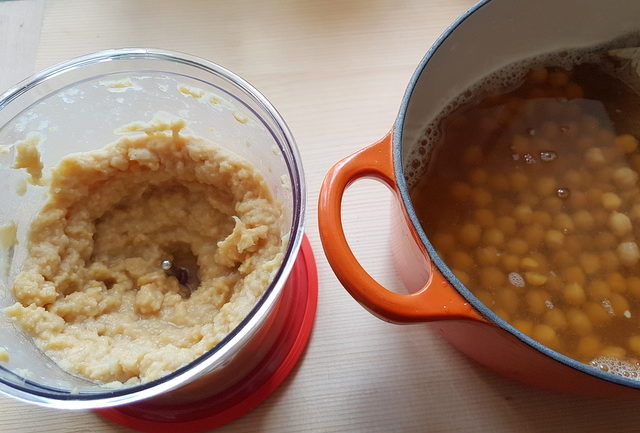 Classic minestrone is also usually thicker than a minestra and made using green, red and yellow veggies. Today, it is made with fresh and seasonal vegetables. But, in the past it was a way to use up not exactly fresh vegetables or those that become more easily digestible after a long cooking time.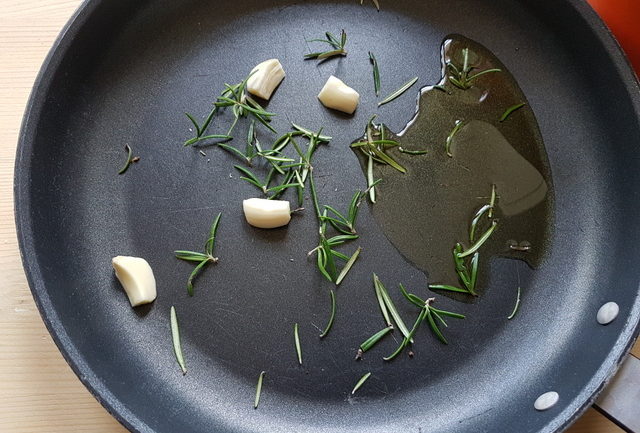 Zuppa is a soup without pasta or cereal and usually eaten with bread or croutons. Passato is a puree of mixed vegetables, often seasonal, whereas vellutata is a puree of normally only 2 or 3 vegetables to which cream may be added. Finally crema, as you may imagine is a puree too. But, this soup is usually made with one type of vegetable and may include milk or rice flour.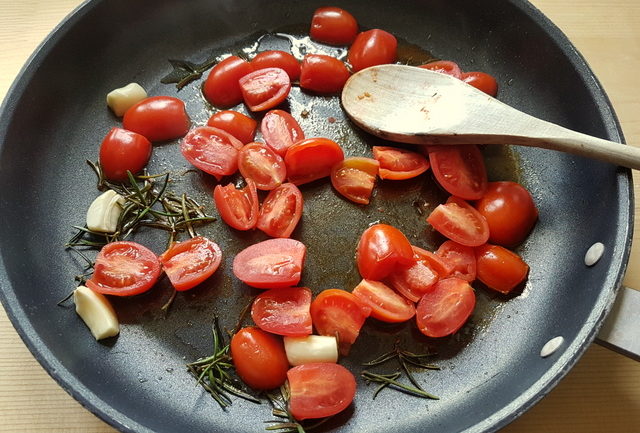 Pasta with chickpea soup is good for you!
Pasta with chickpeas is a recipe with very ancient origins some versions of which date back to Ancient Rome! It is also a dish that was popular in the past among the peasant farming population because of its low cost but high nutrient content. In fact, chickpeas, like all other legumes, possess a high quantity of protein. Today, chickpeas are considered a super food and are full of protein, fibre, minerals and vitamins. So, the combination of chickpeas with the carbohydrates contained in the pasta, makes pasta and chickpea soup super nutritious and a great source of energy! Perfect for the farmers working all day in the fields!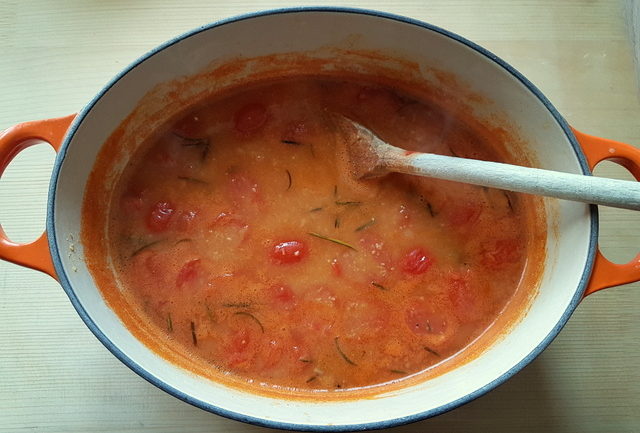 Different versions of pasta with chickpea soup.
This version of pasta and chickpea soup is from Tuscany. There, the pasta is very often egg pasta like tagliatelle or tagliolini and is cooked in the soup just before serving. The other ingredients apart from the chickpeas are just some garlic, rosemary and tomatoes or tomato concentrate. So very simple.
Other well-known versions for pasta with chickpea soup come from Puglia, Naples and Rome.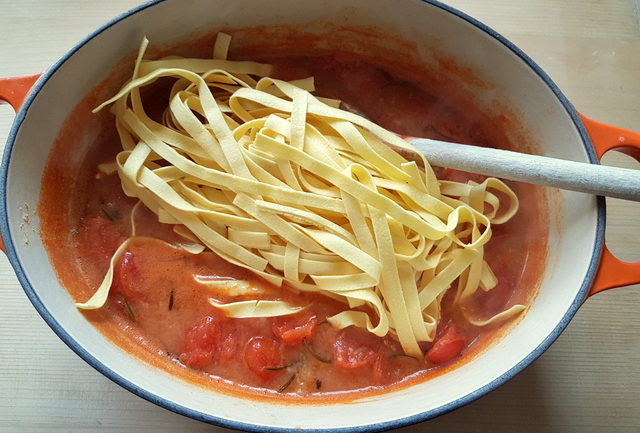 In Campania (Naples) the pasta is usually some kind of pasta tube such as broken ziti or even candele. The Neapolitans don't use rosemary but more often basil or parsley and frequently add peperoncino!
In Lazio, Roman pasta and chickpea soup is enriched with salted anchovies. These are fried separately with a clove of garlic and tomato sauce then added it to rest of the soup. The pasta in Rome is often small tubes like ditalini.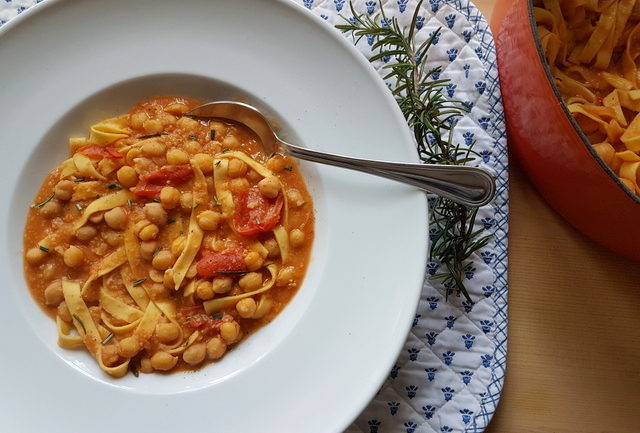 In Puglia, pasta with chickpeas is not so much a soup and the pasta is usually cooked separately. They use short pasta or lagane like in this recipe for lagane pasta and chickpeas from Basilicata.
A very ancient recipe from Tuscany which I would like to try is with the addition of chestnuts to pasta and chickpea soup. These are first chopped and sautéed with red garlic, rosemary and a handful of fine chopped pork fat.
Dried chickpeas have a higher nutritional value than canned
Making this pasta with chickpea soup.
Although more of a cold weather dish, this pasta with chickpea soup from Tuscany can, of course, be eaten year round. In Italy, it is normally made with dried chickpeas which have been soaked overnight. This is because the chickpea cooking water is the soup! Obviously this means it takes a while to make. Chickpeas have to be cooked for up to 2 hours depending on their size!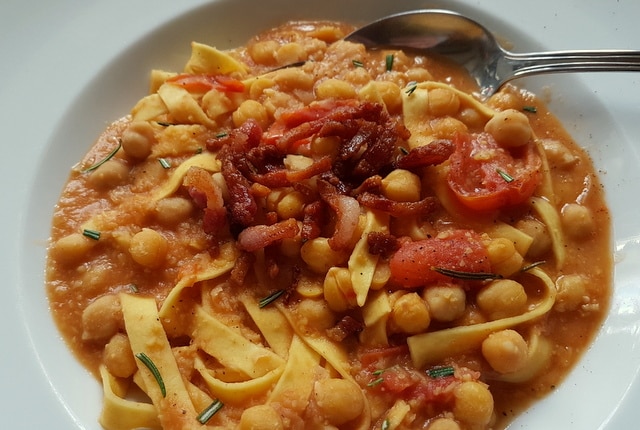 Pasta with chickpea soup can be made with canned chickpeas and stock. But I don't think it tastes the same. I also don't like using canned chickpeas because they are higher in sodium and fat and lower in protein, minerals and vitamins per serving compared to dried chickpeas. I'm sure that if you try this soup, you'll agree it's worth the time it takes to make! For added flavour, you can also add some crispy guanciale or pancetta.
If you do try this pasta with chickpea soup recipe, I'd love to hear what you think. Please write a comment here on the blog or post a comment on the Pasta Project Facebook page.
Your feedback means a lot to me!
Buon Appetito!
Save this recipe for later?
If you want to save this recipe for later, you can print it, bookmark this page or save it to Pinterest.
Pin for Later