Italian basil pesto lasagne al forno (also called lasagne alla Portofino) is hands down the best summer lasagna recipe. It's light, easily made vegetarian and just totally delicious. If you love pesto, you'll swoon over this dish!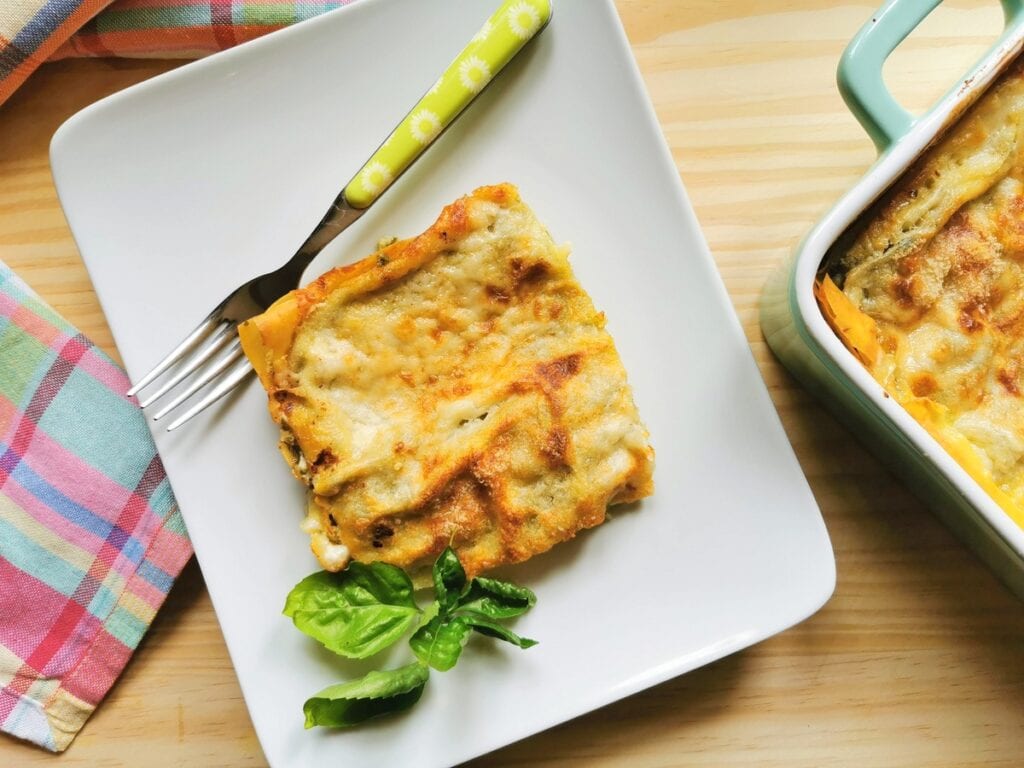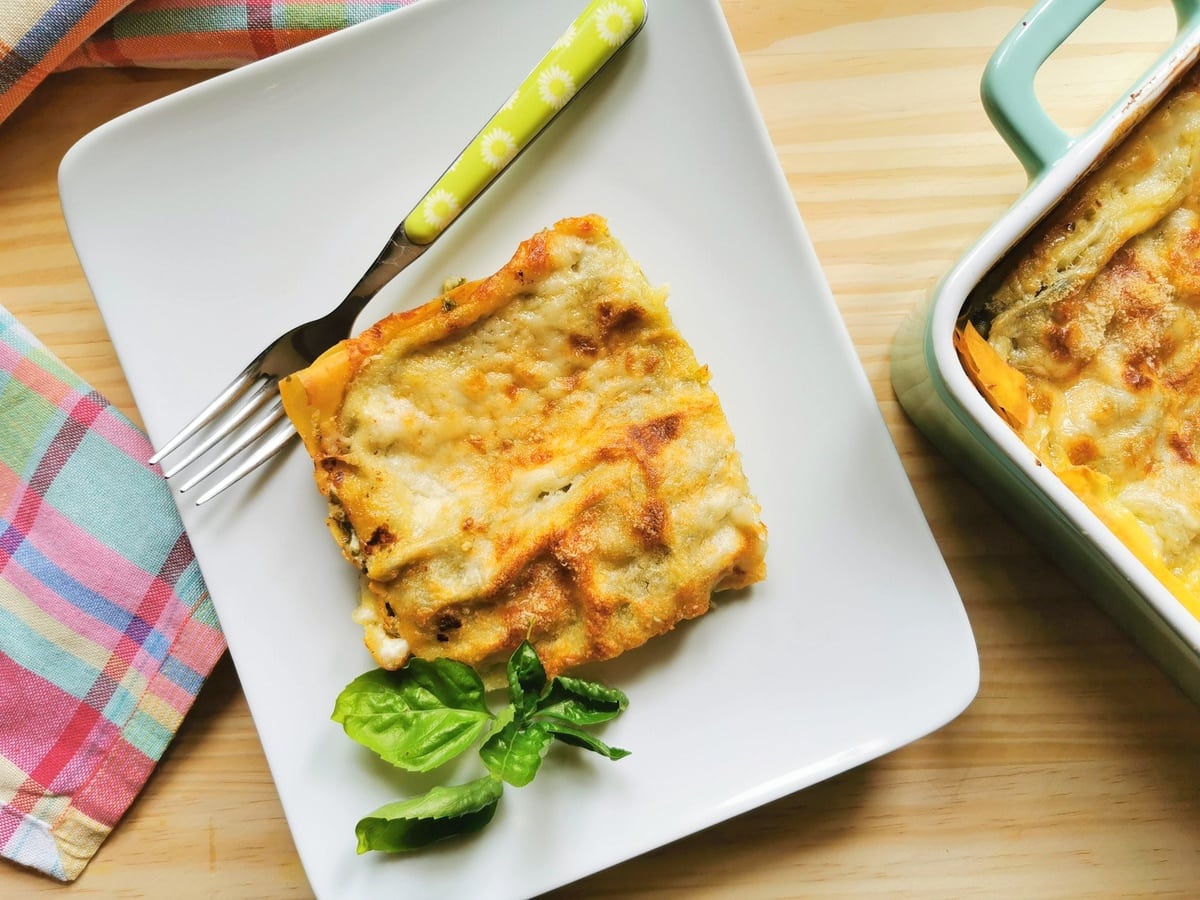 Lasagne al pesto.
This divine pesto lasagna recipe comes from Liguria, home to pesto Genovese (basil pesto). Although many Italians call this dish lasagne al pesto, traditionalists don't. For the Genovese, the original lasagne al pesto isn't baked and the pasta is cut into squares, rather than rectangles. In the local dialect, those pasta squares are called 'mandilli de saea' or silk handkerchiefs. Silk handkerchief pasta with basil pesto is considered to be the oldest pasta pesto pairing.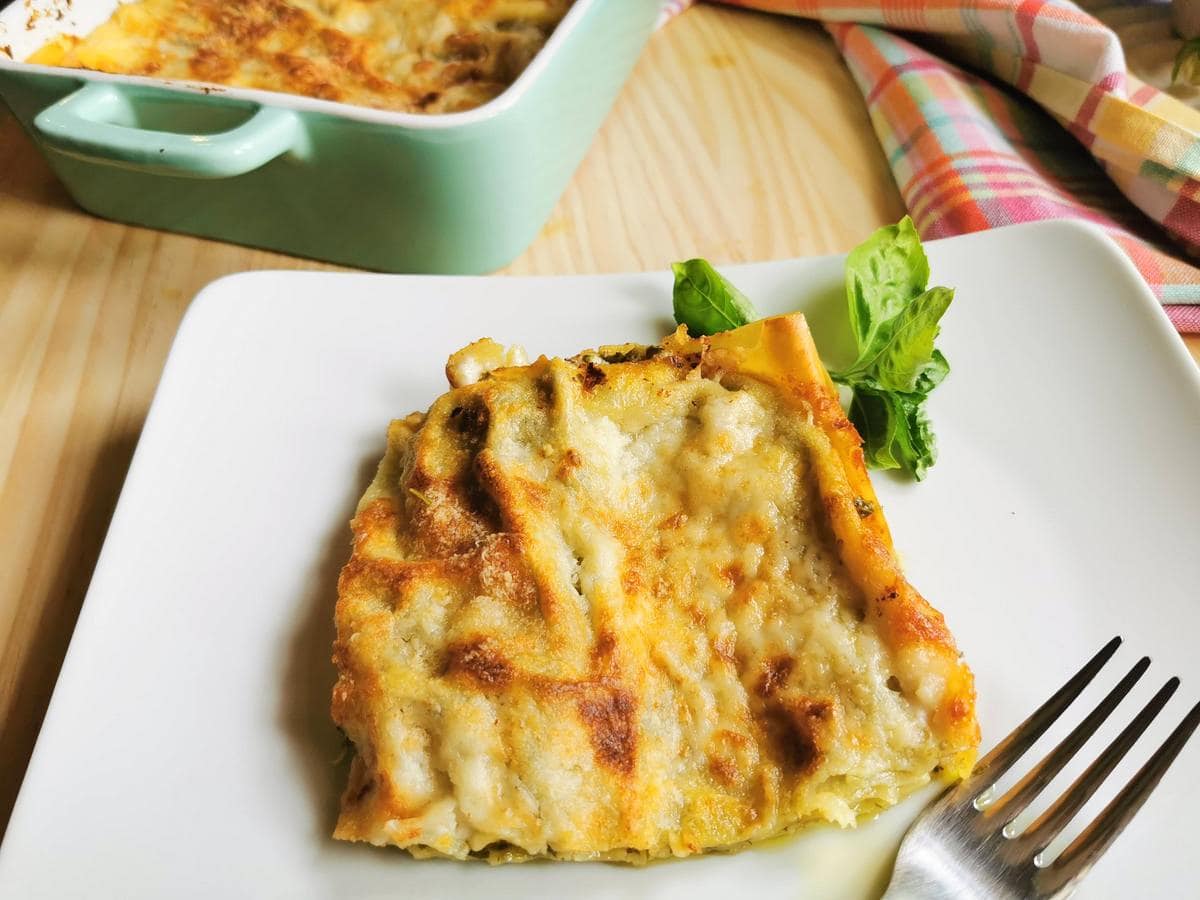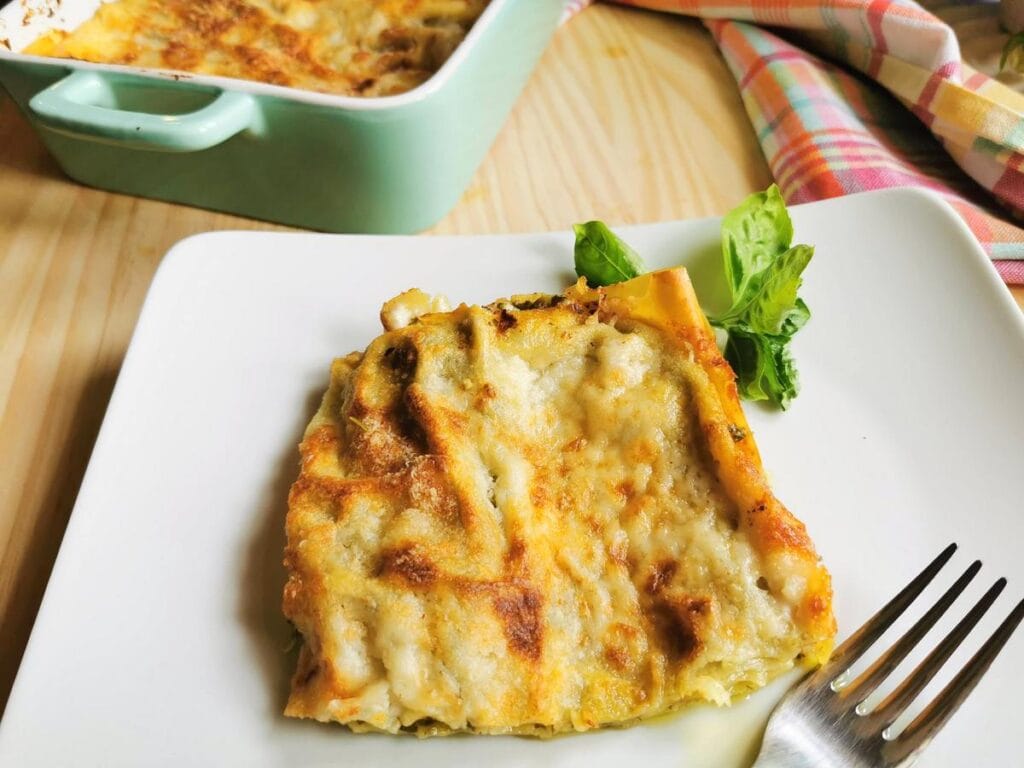 Lasagne alla Portofino.
In Italy, you can also find this pesto lasagna referred to as lasagne alla Portofino (Portofino style lasagna). However, I couldn't find any online info on how it came to be called that. Maybe, just not to be confused with the original lasagne al pesto or because Portofino is such a well-known Ligurian destination. Plus, to make things even more confusing. There are other pasta alla Portofino recipes. These include mixing pesto with tomatoes, which apparently horrifies the Genovese!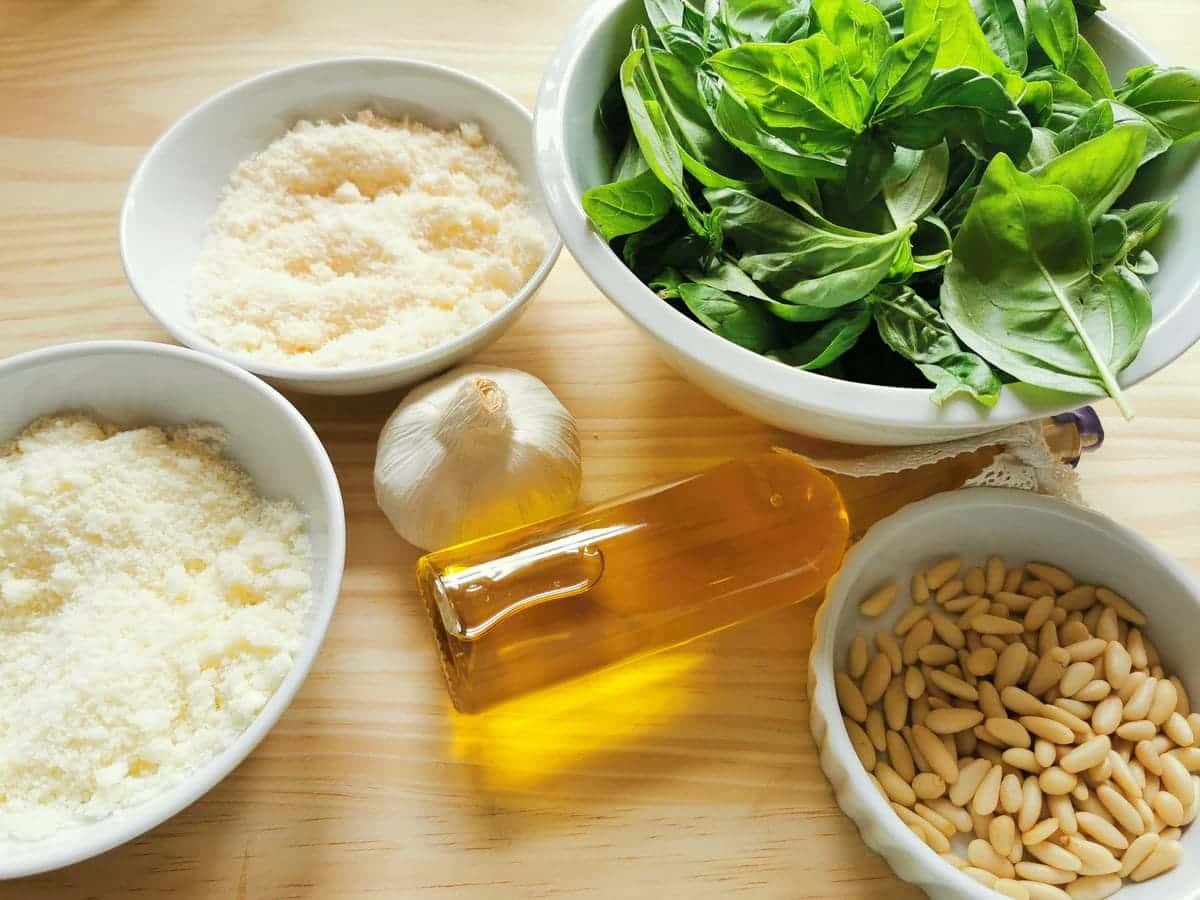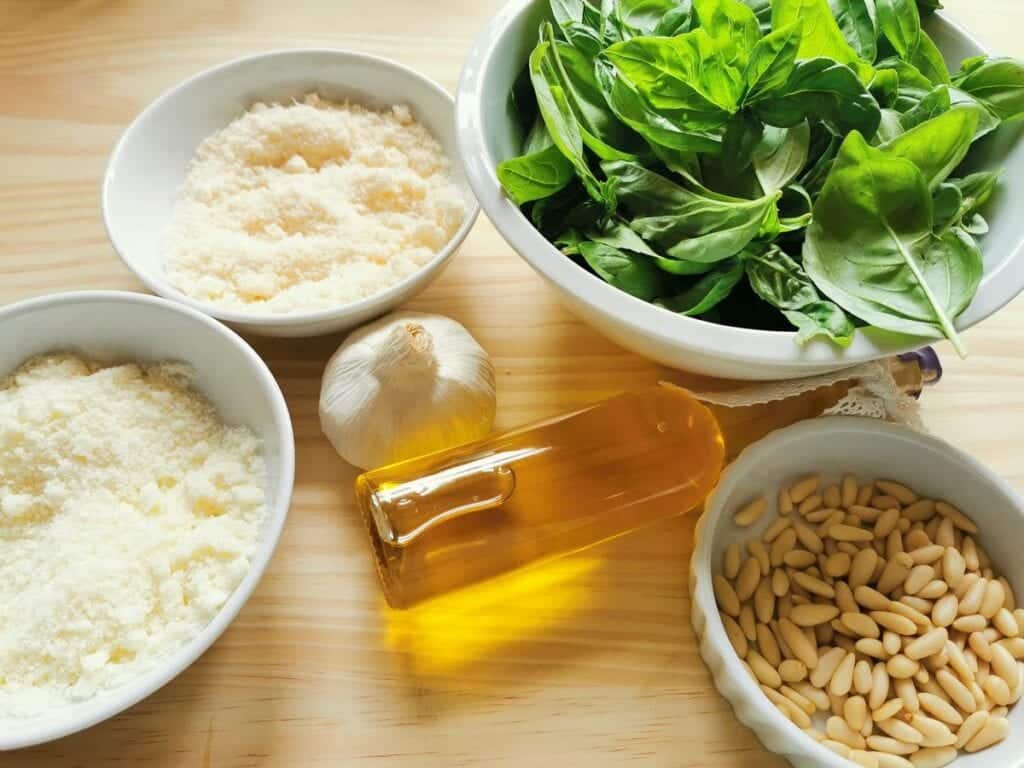 A little pasta and pesto history.
Even though this recipe is relatively modern in comparison to other pasta and pesto recipes, it has become pretty popular both in Liguria and throughout Italy. Genova was the first place in Italy to master the art of making fresh pasta. In fact, they've been making it there since the 12th century! However, basil pesto was a later addition to the Ligurian kitchen, having been invented in the 1800s.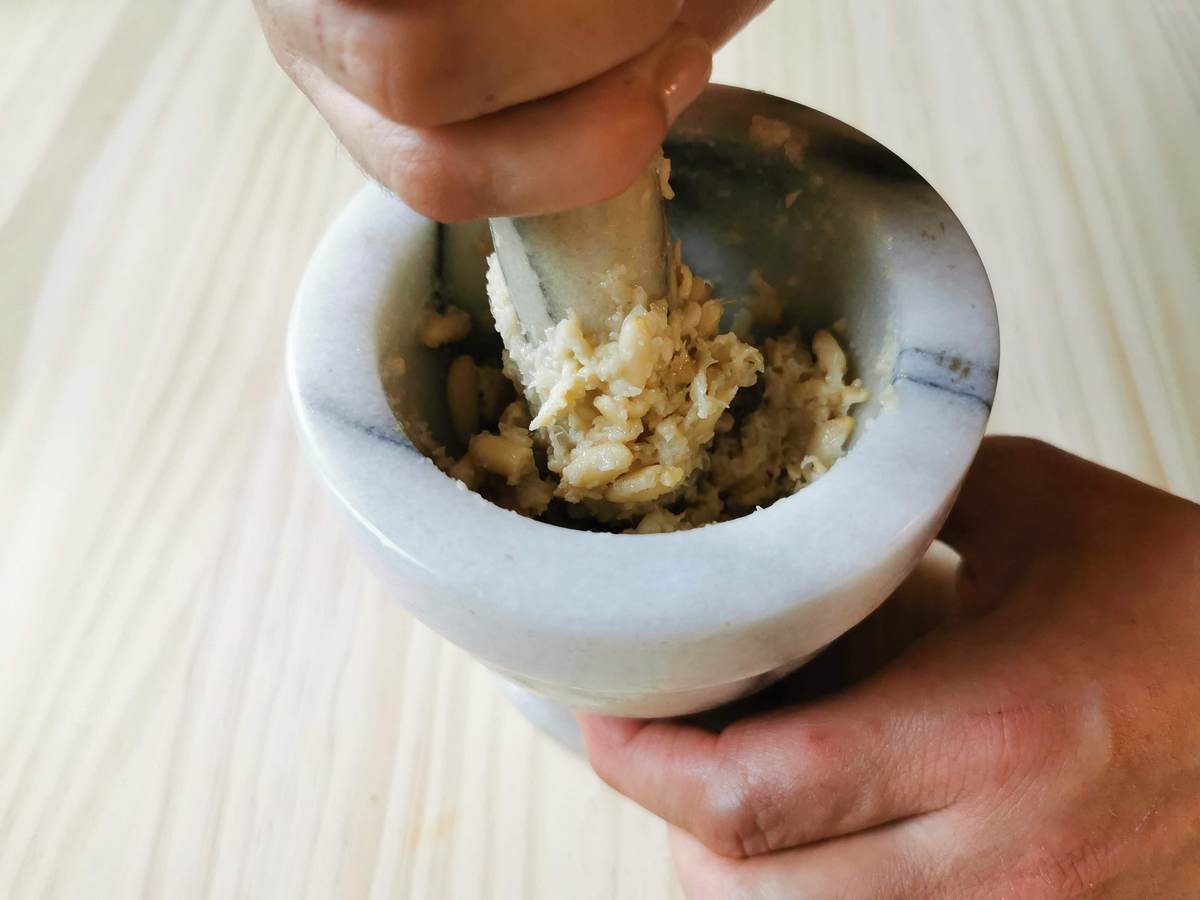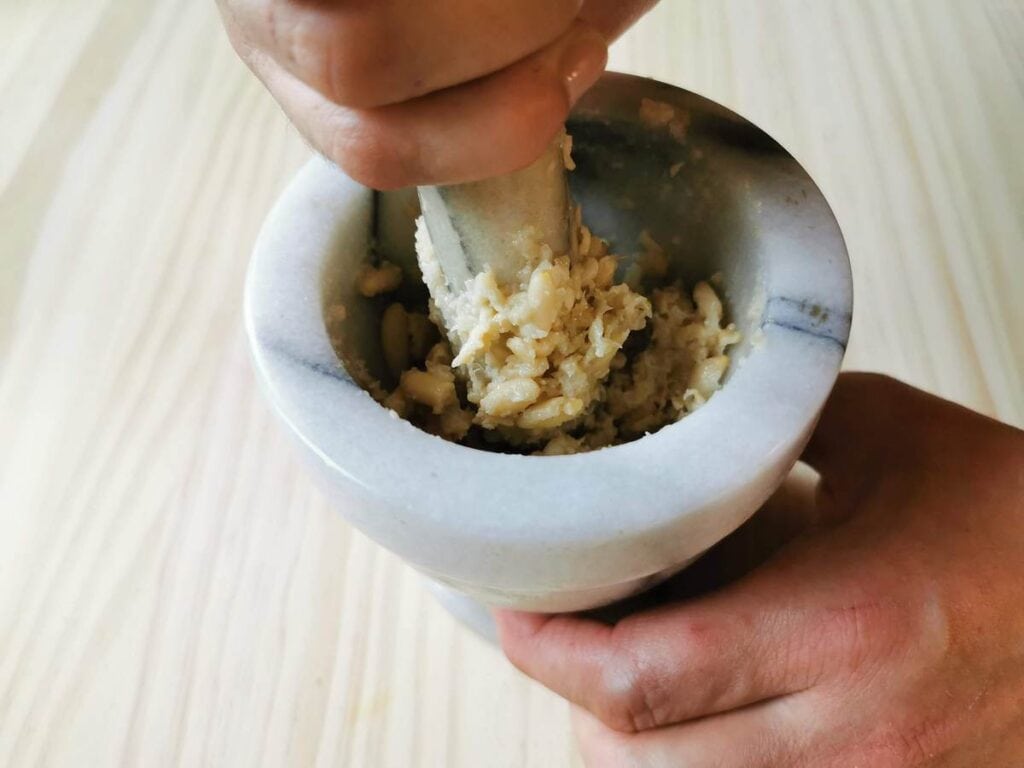 Before they invented pesto, the Genovese ate their lasagne pasta either cooked in broth and sprinkled with cheese or seasoned with condiments such as prescinsêua cheese (a cross between yogurt and ricotta), normal ricotta and cinnamon or sauces of mushrooms and hazelnuts.
Other pasta and pesto recipes from Liguria.
Apart from the above-mentioned silk handkerchief pasta, Ligurians traditionally pair basil pesto with trofie, trenette (similar to linguine) and corzetti. These are all original pasta types from the region. They also often add green beans and potatoes to their pesto pasta dishes. In fact, I've come across recipes for Italian basil pesto lasagna which include beans and potatoes too!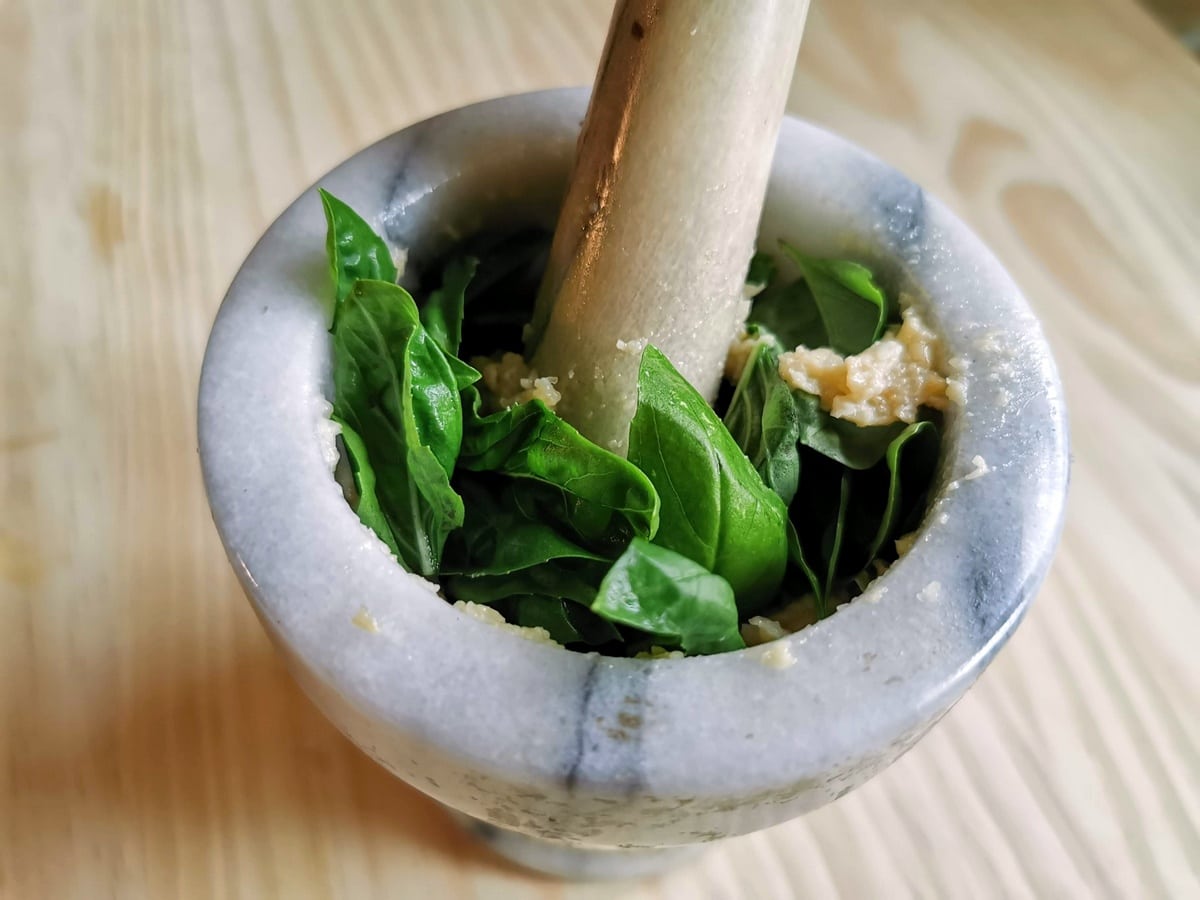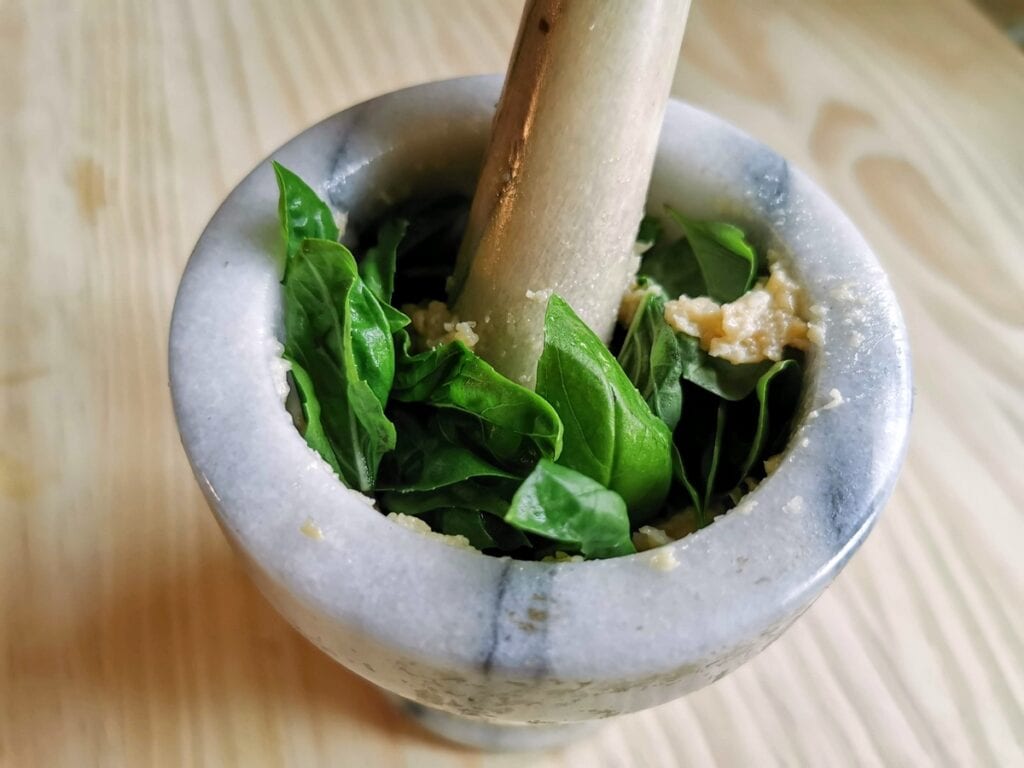 Versions of Italian basil pesto lasagne al forno.
Like many traditional Italian recipes, you can find this pesto lasagna made in slightly different ways. However, the most common is this recipe with homemade basil pesto, fresh lasagne pasta sheets, homemade béchamel and grated Parmigiano cheese. I also added some slices of provola cheese as some recipes call for that too and I liked the idea.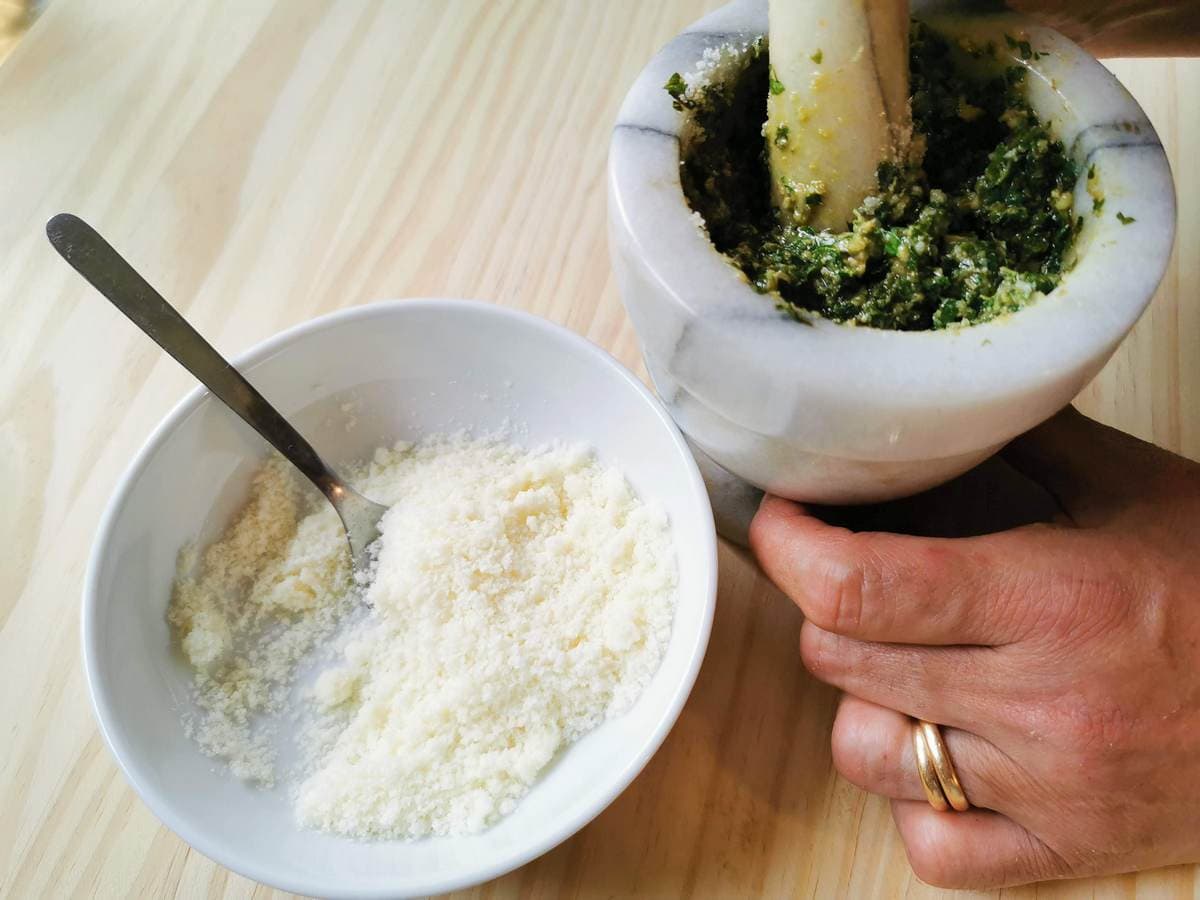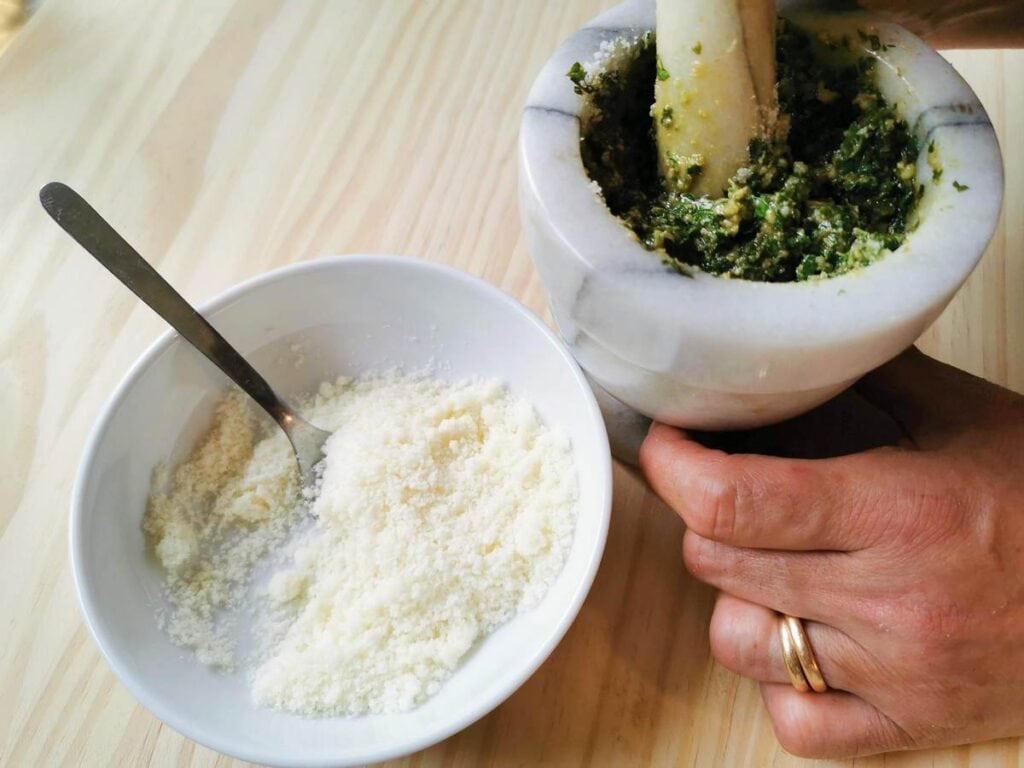 Some Italians add ricotta, mozzarella or mascarpone to this dish. Others include veggies such as zucchini or tomatoes or the green beans and potatoes I mentioned before. There are also versions with meat such as ham or with seafood like shrimps. I preferred to go with the simplest and most basic recipe. However, I made both the pesto and the béchamel myself.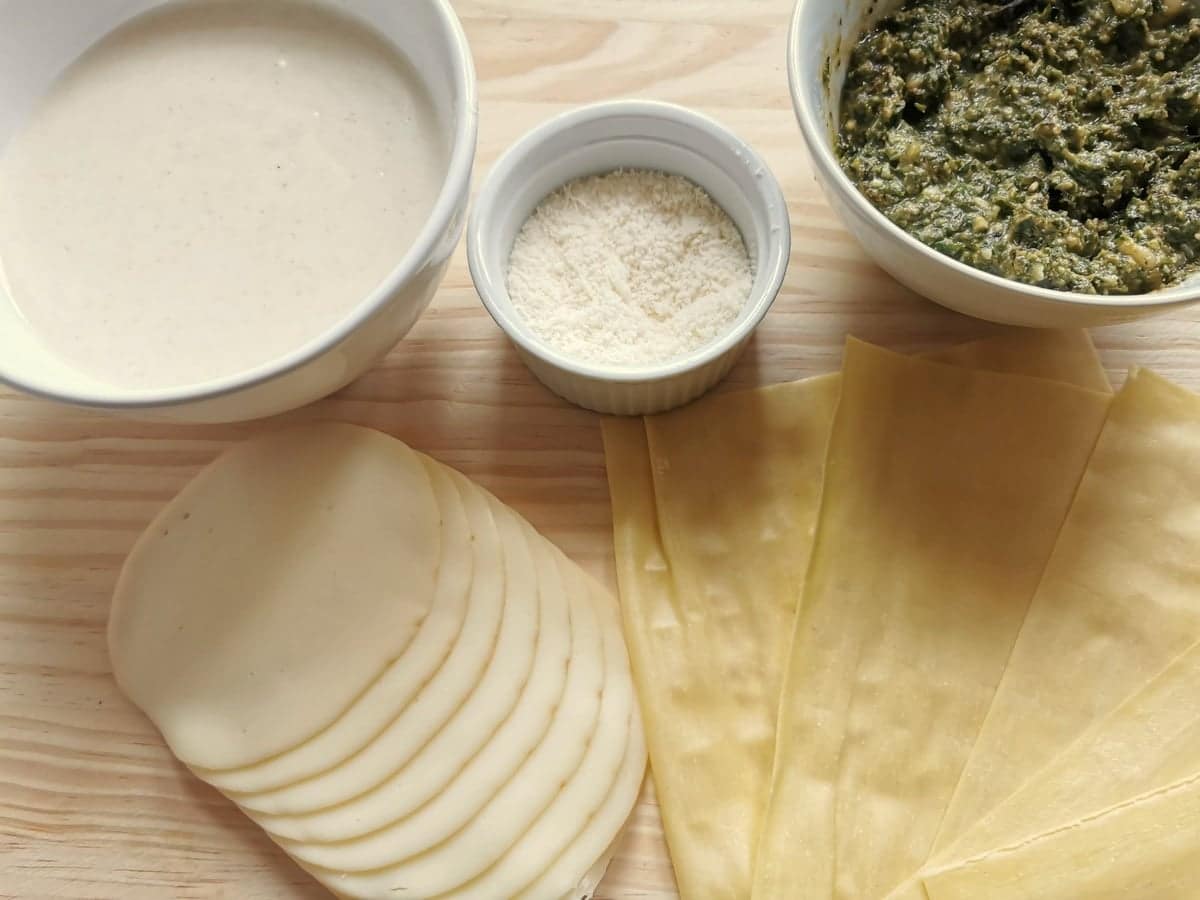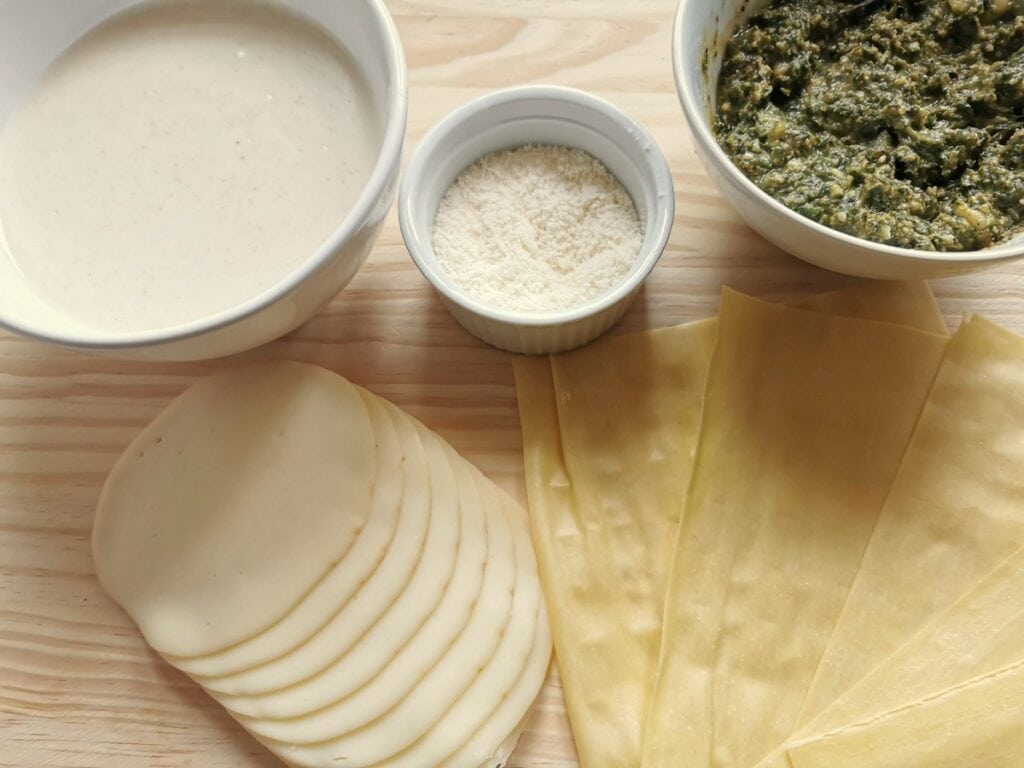 Ingredients for basil pesto.
Basil pesto (pesto Genovese) originated in Liguria. There, they have an official recipe for it published by the Genova Chamber of Commerce. This official recipe has seven ingredients: Ligurian basil leaves, Vessalico garlic, Mediterranean pine-nuts, Ligurian extra virgin olive oil, coarse sea salt and both aged Parmigiano and Pecorino from Sardinia.
Of course, those exact ingredients are hard to find even here in Veneto. So, most of us have to use locally sourced basil leaves, pine nuts, garlic and extra virgin olive oil. Both cheeses are also not easy to source. In fact, I often make basil pesto with just Parmigiano.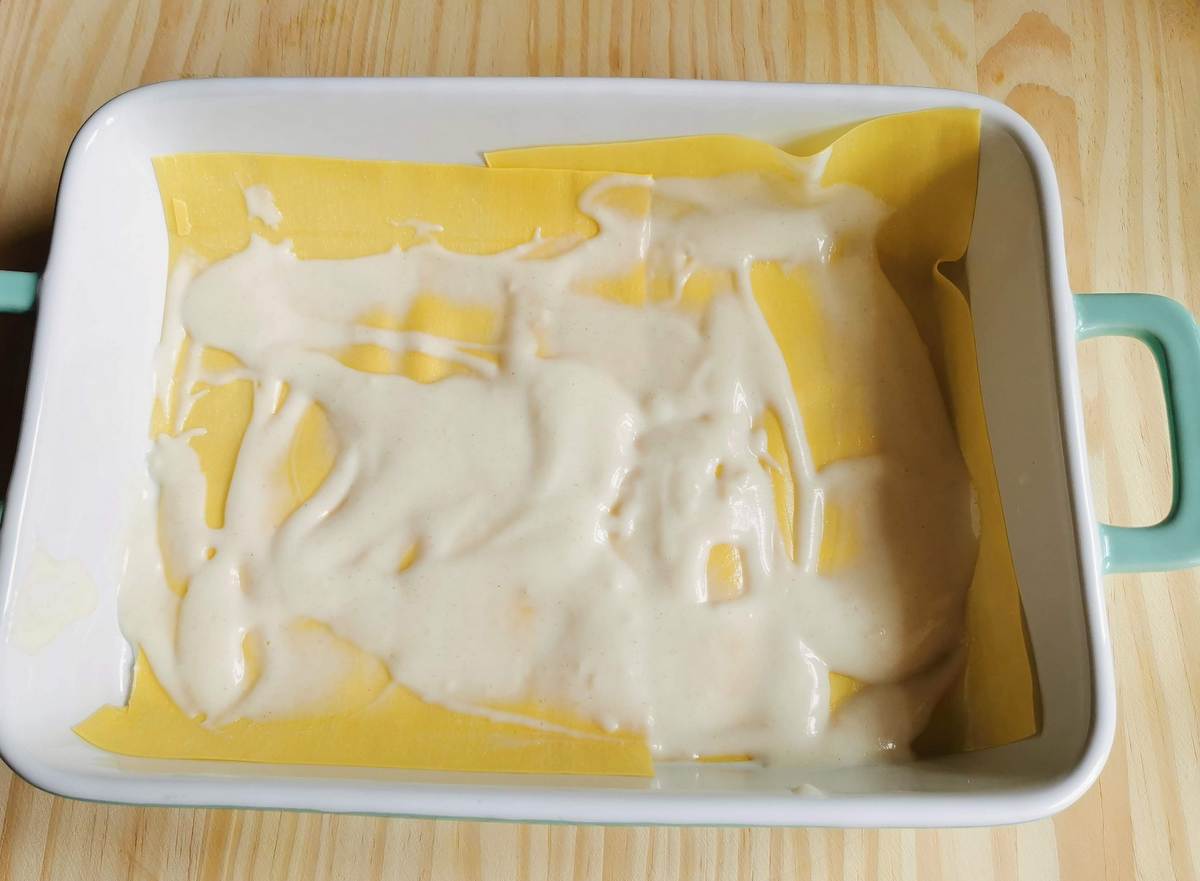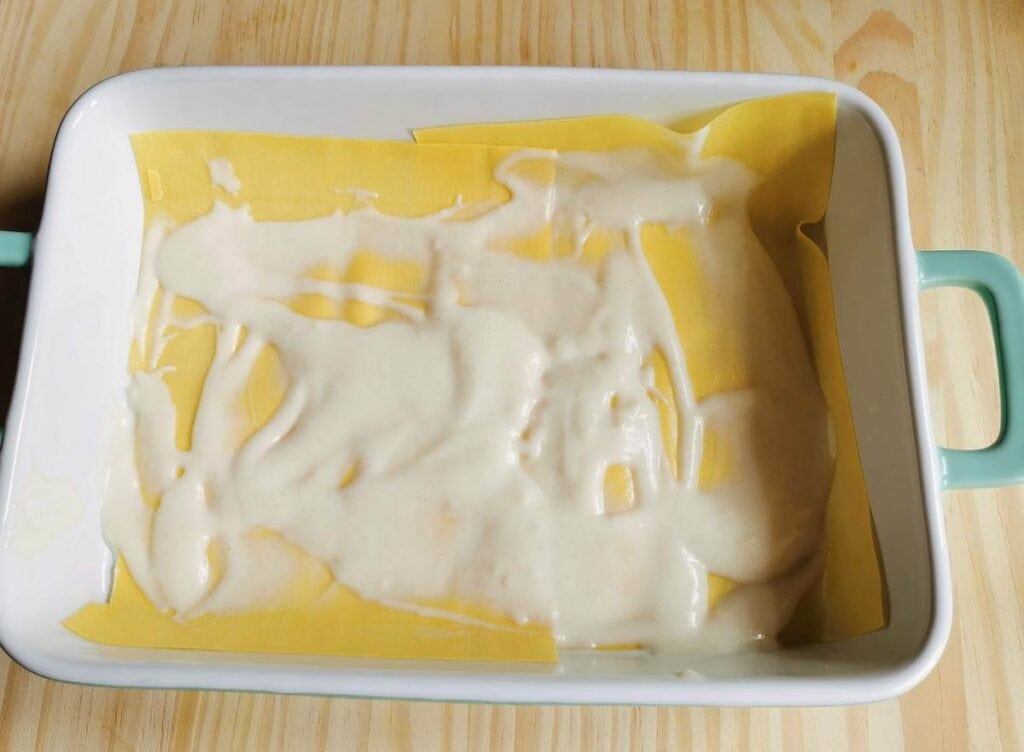 How to make basil pesto.
Traditionally, the people of Liguria make basil pesto with a pestle and mortar. This is how I made the pesto for this recipe. However, you can also use a blender or food processor. I often do! Alternatively, crush the garlic and pine nuts with a pestle and mortar or a hammer and use a blender for the rest. But, mix the cheese in after with a fork. This gives the pesto a more authentic texture.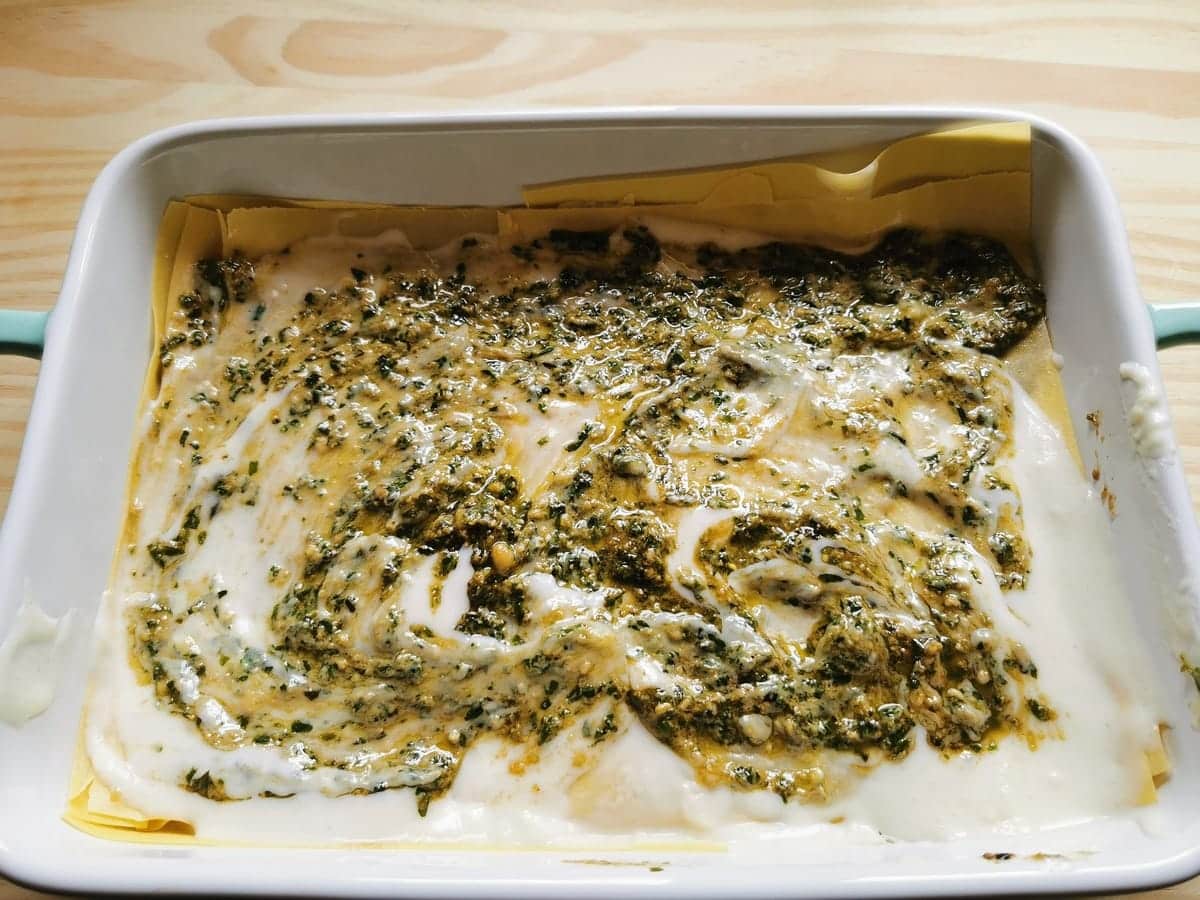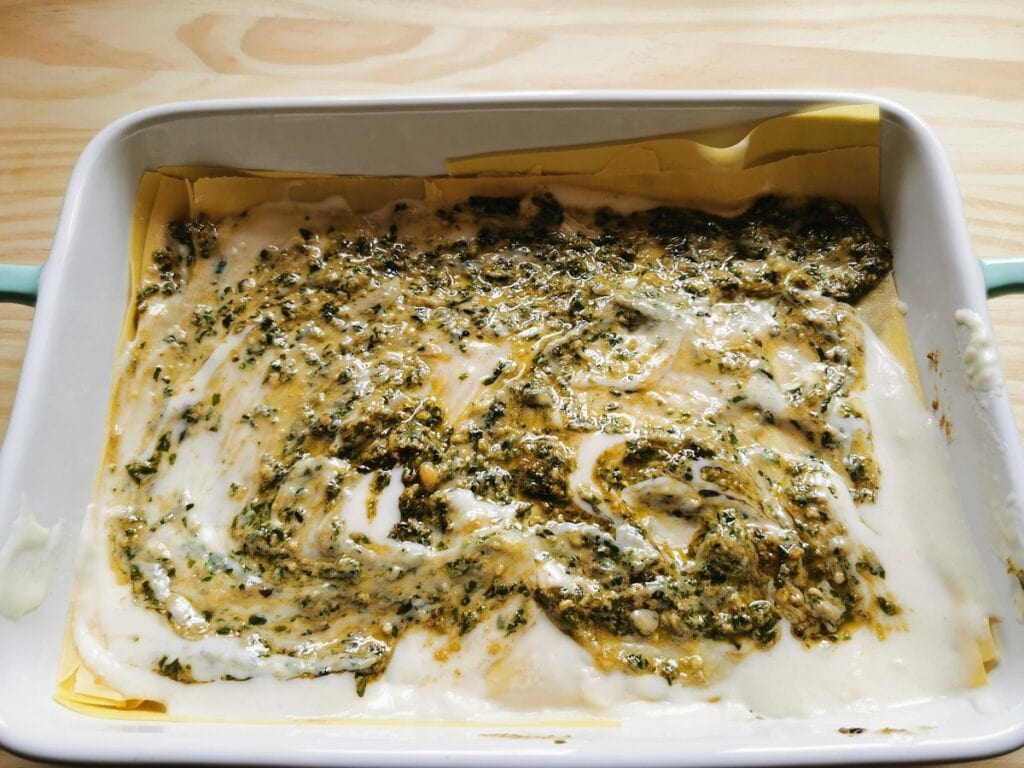 What is béchamel sauce?
Béchamel sauce is a white sauce made from flour, butter and milk, plus a little nutmeg. Today, people use it in a lot of recipes in many countries. But, as the name suggests, it is originally French. However, some food historians believe that béchamel was originally based on a Tuscan sauce known as 'salsa colla' (glue sauce). This sauce was introduced to the French by the chefs of Catherine de Medici when she became the wife of Henry II.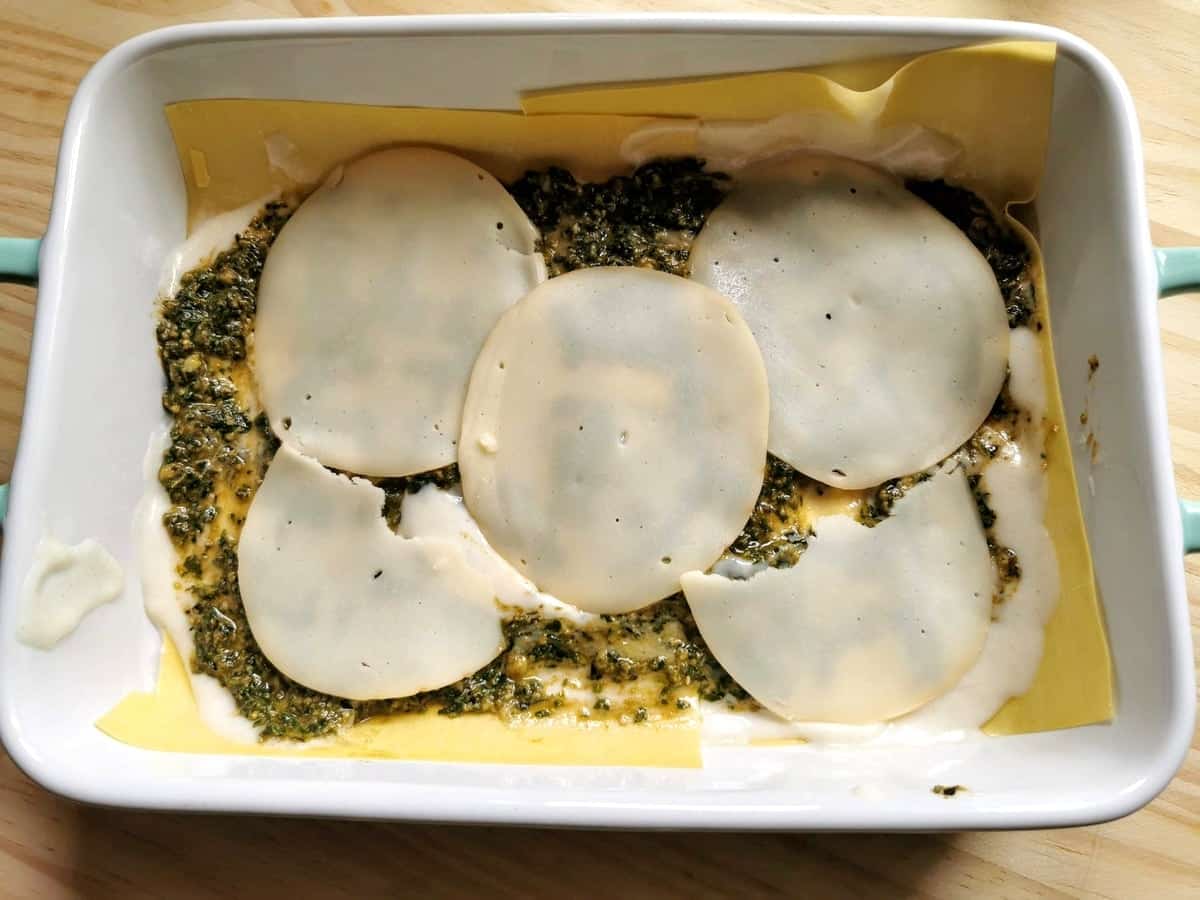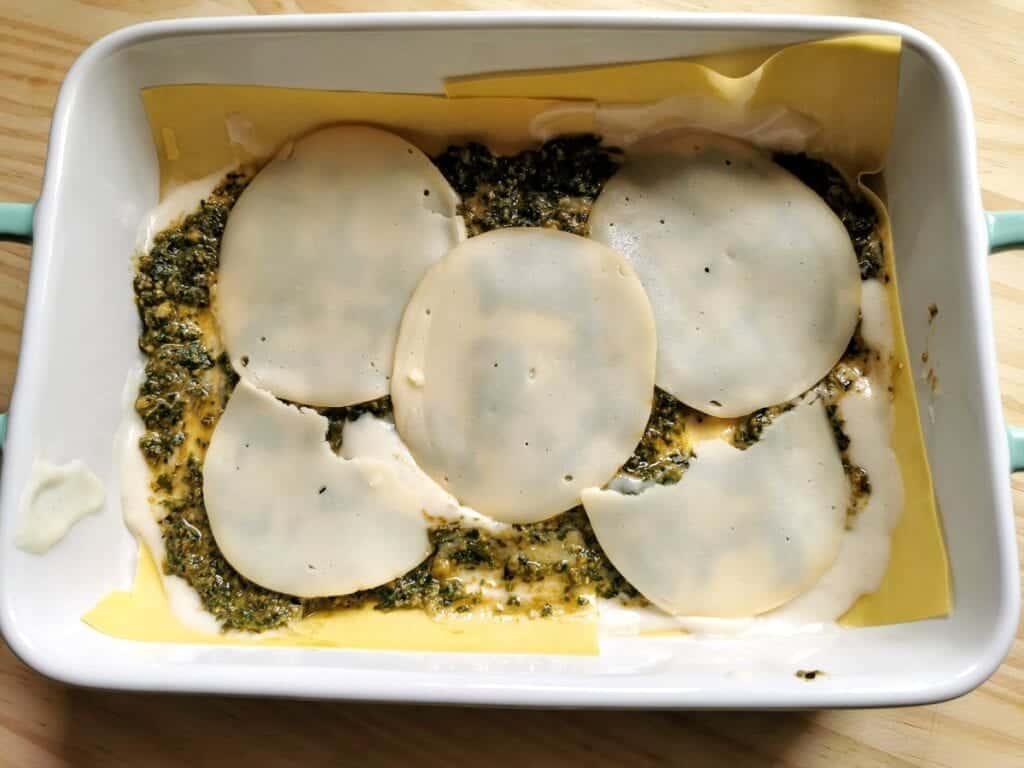 How to make béchamel.
Homemade béchamel is quite easy to make. Just melt some butter, add flour, mix the two together until you have a paste, then over a low heat, add milk a little at a time until the sauce thickens to the right consistency. For this Italian basil pesto lasagne al forno, you will need the béchamel to be a little liquid if using no-boil or fresh lasagne sheets.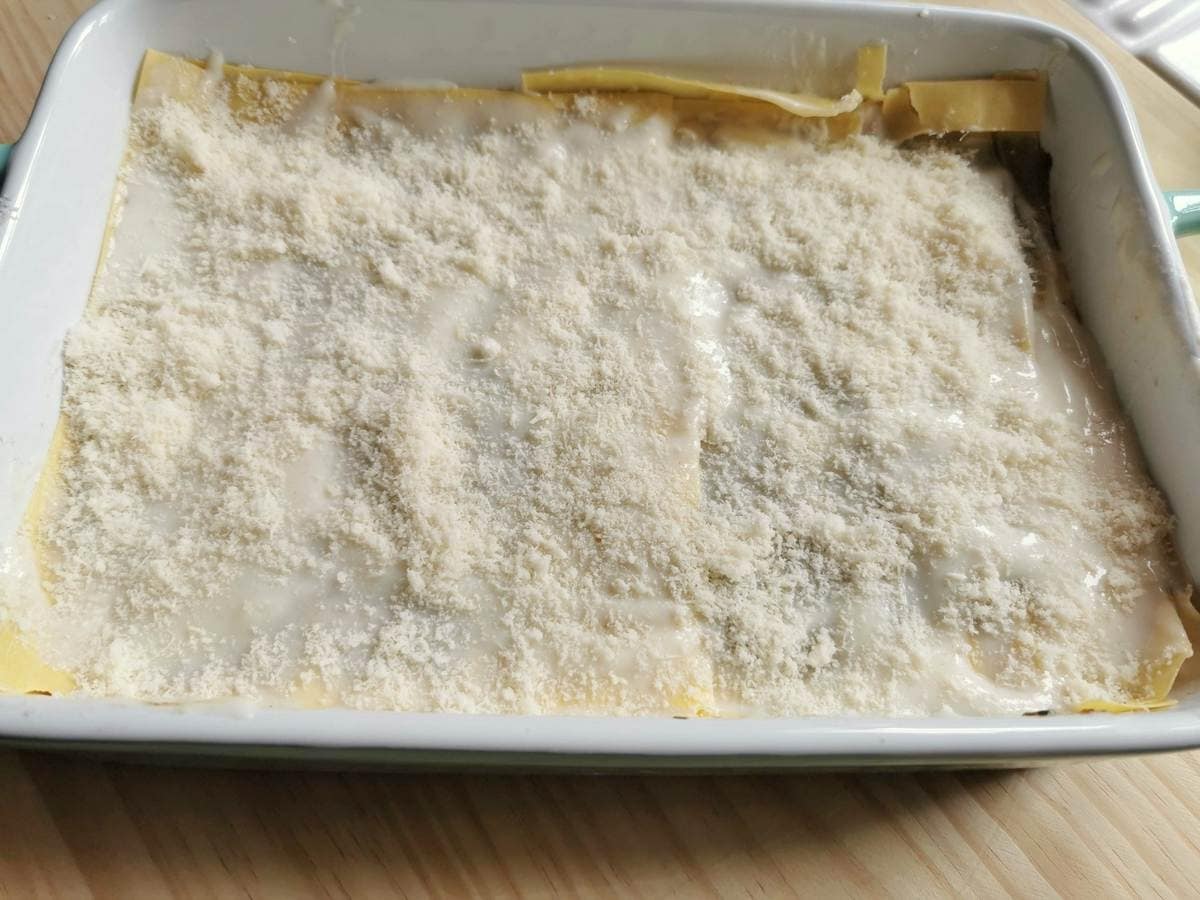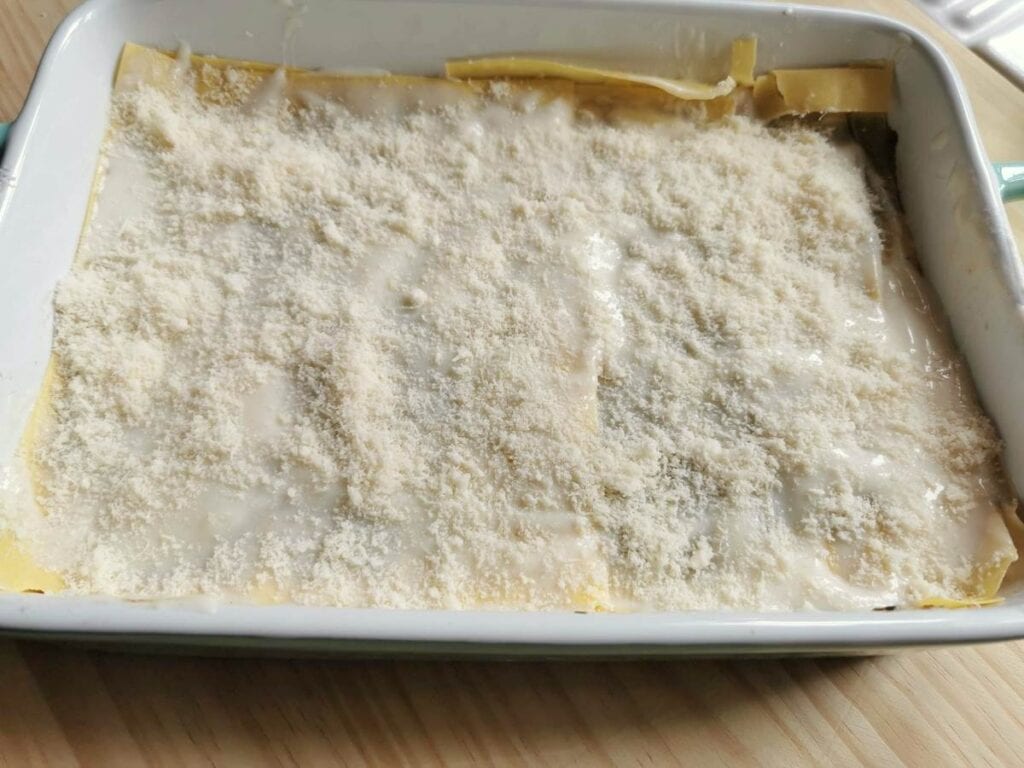 The pasta for pesto lasagna.
You can use dried, store-bought fresh or homemade pasta sheets for this recipe. If your pasta is normal dried lasagne or slightly thick fresh sheets, I suggest partly cooking them in boiling water before assembling the dish. No-boil dried lasagne or thin fresh lasagne can cook in the oven dish.
I often make my own lasagne sheets and if you would like to, you can check out my homemade lasagne recipe. This time I used ready-made thin lasagne sheets from Giovanni Rana. This company is based here in Verona, and I like their fresh pasta. I think it can also be found in US and UK.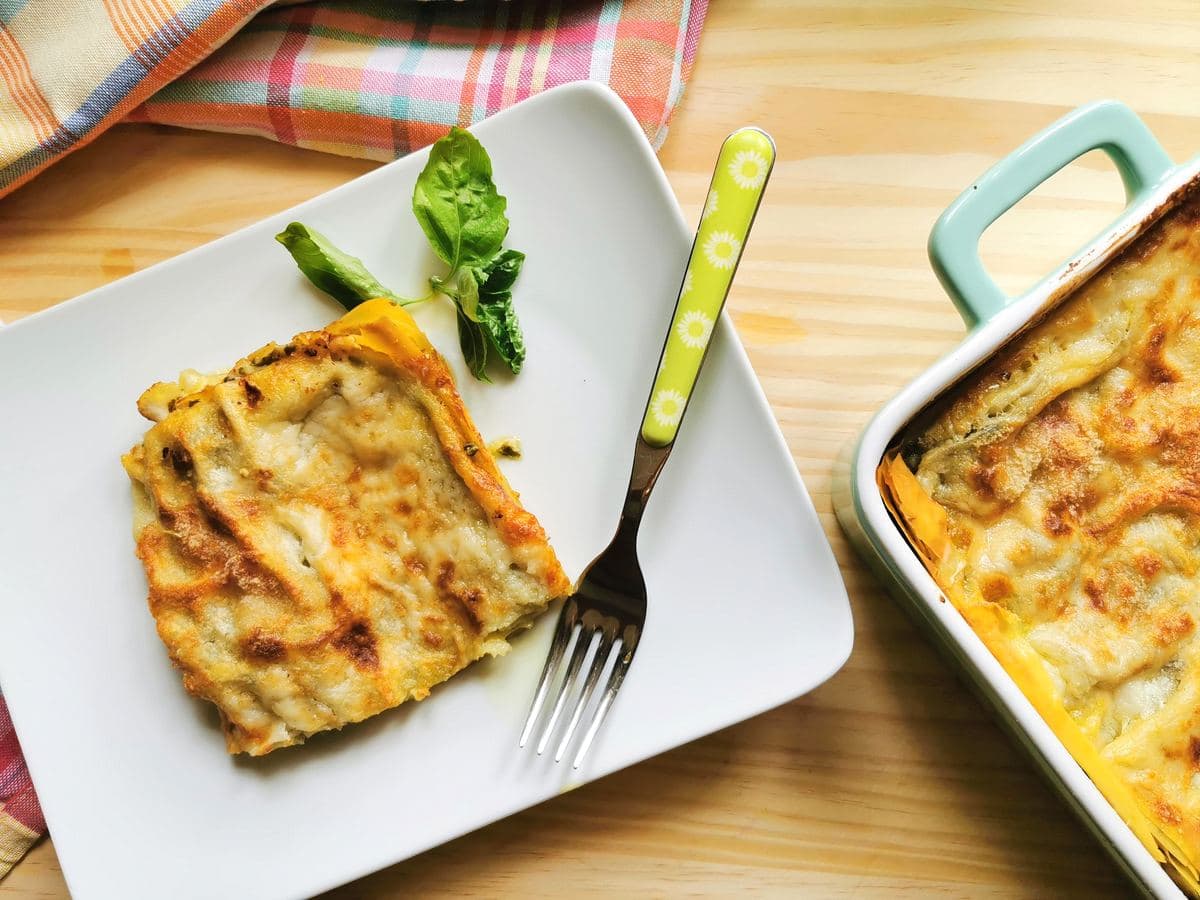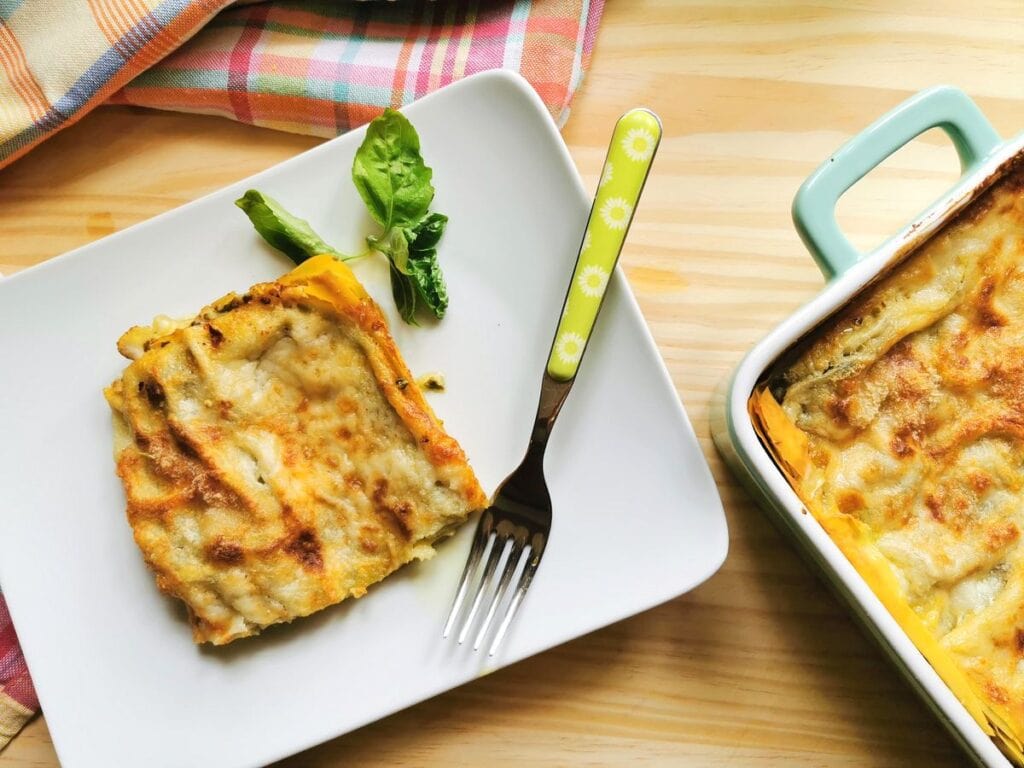 Make this Italian basil pesto lasagna vegetarian.
This recipe is basically vegetarian except for the use of Parmigiano and Pecorino in the pesto and in the assembled lasagna. Italian Parmigiano and pecorino are both made with animal rennet. So, for a true vegetarian version, you will need to use a vegetarian cheese instead.
The fastest way to make pesto lasagna.
You can make this lasagna very quickly by using ready-made basil pesto, béchamel and fresh pasta sheets. In this way, there's no prep. Just assemble and bake! However, even though I'm sure it would taste pretty good, nothing beats homemade ingredients. I made my pesto the day before with basil from my garden. Then, I made the béchamel just before assembling the dish. Ok, I cheated a bit with the ready fresh pasta to save time. But, I am definitely going to repeat this dish with homemade pasta very soon.
Let me know what you think.
In my opinion, this Italian basil pesto lasagne al forno was one of the best meatless lasagna recipes I have ever tried. My hubby Salvatore thought so too! I'm sure if you make this recipe, you'll love it as much as we do! And if you do, please let me know what you think! Write a comment here on the blog or post a comment on the Pasta Project Facebook page.
Your feedback means a lot to me!
Buon appetito!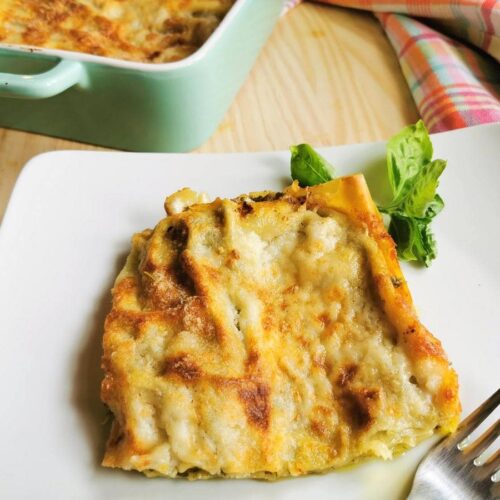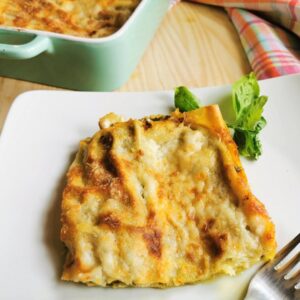 Italian Basil Pesto Lasagne al Forno (pesto lasagna)
This Italian basil pesto lasagna can be made really quickly with store bought basil pesto, béchamel sauce and lasagne sheets. Or, you can make everything yourself. Either way this is hands down the best meatless lasagna recipe I know. Perfect for summer meals and as a starter. If you love pesto, you'll swoon over this traditional Italian dish! #pesto #lasagna #authenticitalianrecipe
Ingredients
For homemade pesto
50-75

g

fresh basil leaves

(2-2.5 oz) rinsed and dried

1-2

garlic cloves

peeled

70

g

Parmigiano Reggiano

(2oz) grated (or vegetarian parmesan)

35

g

Pecorino from Sardinia

(1.5 oz) or just Parmigiano (or vegetarian parmesan)

100

ml

extra virgin olive oil.

(3.5 floz) or as required

30

g

pine nuts

(1oz)
For homemade béchamel
100

g

unsalted butter

(3.5oz)

100

g

'00' or all purpose flour

(3.5oz)

1

Lt

fresh whole milk

(about 4 cups) you may need more

1

tsp

grated nutmeg
Other ingredients
200

g

fresh thin lasagne sheets

(7oz) I used 10 sheets for 4 people or dried pasta sheets

50

g

Parmigiano Reggiano

(2oz) for baking (or vegetarian parmesan)

salt

to for pesto and béchamel to taste

12-15

thin slices

provola cheese

3-4 per layer except the top
Instructions
Make the pesto.
BASIL LEAVES If it's possible, choose medium sized young leaves (brighter green). Rinse the leaves under water and dry them well with paper towels.

Basil pesto the traditional way.

Peel the garlic cloves and put them into a mortar and crush. Then add the pine nuts.  Grind until you have a paste. Then add some basil leaves, and a little coarse salt, and 3 tbsp of olive oil. Keep working with the pestle, while continuing to add more basil leaves and olive oil until the pesto is smooth. Finally, transfer to a bowl, add the cheeses and stir well.

Using a blender/ food processor

Put all the ingredients in the blender and pulse a few seconds at a time until you have the right consistency. Don't keep pulsing for too long at once as the blender will heat up and this can spoil thebasil.
Make the béchamel.
Put the butter in a pan over a low heat, melt it, add the flour and mix until it forms a thick paste (roux), then remove it from the heat. At this point, slowly add the milk and stir continuously to dissolve the roux without making lumps. 

Put the pan on a moderate to low heat and keep stirring constantly until it starts to simmer and thicken. Lower the flame, wait a couple of minutes, then turn it off. 

Add a pinch of salt and the nutmeg, mix it again for a few minutes and then allow it to cool to thicken it further. You can also leave it in the fridge. If the béchamel seems too thick when you are ready to assemble your lasagna, add some more milk to it. Stir well to incorporate.
Prepare the pasta if using dried or slightly thick fresh pasta sheets.
Partly cook the pasta in boiling salted water to which you have added a little olive oil. This stops the sheets sticking together. Once the pasta is half cooked, remove and place separately on a tea towel until you assemble the lasagna. You may have to cook the pasta sheets in batches.
Assemble your basil pesto lasagna.
Spread some bèchamel over the bottom of your oven dish. Cover it with pasta sheets. Spread another layer of béchamel on the pasta and add some pesto to it. Spread the pesto too. Add some slices of provola (if using). Then do another layer of pasta, then béchamel, then pesto and provola. Continue till you have 4-6 layers, depending on the size of your dish. Finally, cover the top with just béchamel or béchamel and pesto and sprinkle with a generous layer of grated Parmigiano.
Finish and serve.
Bake in the oven for about 30 minutes. Check the pasta is cooked by piercing with a sharp knife. Cover and set aside and let the lasagna rest for 5-10 minutes before serving.
Notes
Strict vegetarians will need to replace the pecorino and parmigiano with vegetarian parmesan as these Italian cheeses contain animal rennet.
Nutrition
Calories:
584
kcal
Carbohydrates:
40
g
Protein:
17
g
Fat:
40
g
Saturated Fat:
16
g
Polyunsaturated Fat:
4
g
Monounsaturated Fat:
18
g
Trans Fat:
1
g
Cholesterol:
58
mg
Sodium:
409
mg
Potassium:
178
mg
Fiber:
2
g
Sugar:
1
g
Vitamin A:
1058
IU
Vitamin C:
2
mg
Calcium:
343
mg
Iron:
2
mg
If you are interested in learning how to make homemade pasta and different types of gnocchi, check out my shop page for some great video online courses from my friends in Rome! Nothing beats learning to make pasta from Italians! Plus while you're there why not order a copy of my pasta recipes cookbook!?
Other basil pesto recipes to check out.