Corzetti or croxetti is a unique kind of pasta from Liguria, in north-west Italy. This pasta originated in Liguria. However, they also eat it just across the border with Piedmont, in Alessandria province and in Emilia-Romagna, where it is called crosetti.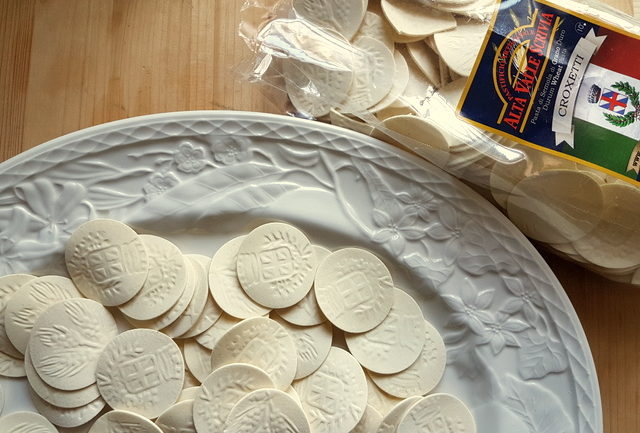 2 types of Corzetti or Croxetti.
Actually, there are two types of corzetti or croxetti in Liguria. One type comes from the Val Polcevera, a valley that runs from the region's capital Genova up into the mountains behind the city. Known as corzetti valpolceveraschi, this pasta is circles of pasta dough which are twisted into an '8'shape. The other type of corzetti is flat round pasta medallions embossed with an emblem or design. Printed corzetti are called corzétti stanpæ or corzetti del Levante. This type of corzetti originated in the Varese Ligure area in the province of Spezia.
Stamped or printed corzetti.
In Italian, corzetti del Levante are described as 'printed' or 'stamped' because of the design imprinted on the pasta. This decoration is done with a wooden mold or stamp with 2 designs carved into it (one for each side of the pasta medallion). Some believe that the reason for the designs was to help the sauce cling better to the pasta.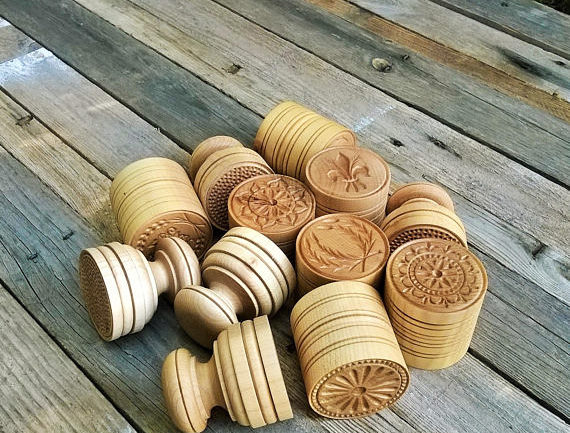 Even today, there are some artisan shops in the historical center of Genoa where there are craftsmen still making these molds. In addition to the handicraft production, there is also an industrial production of corzetti pasta which is normally carried out using ravioli machines with bronze dies.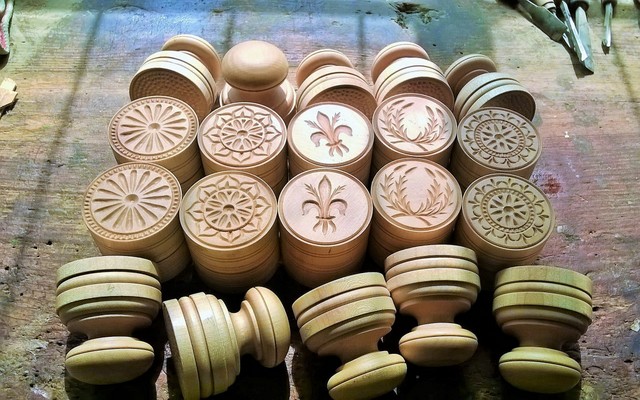 A little corzetti or croxetti history.
Historically, this pasta dates back to the Middle Ages. Some food historians believe the name derives from the crozetto, a 14th century Genoan coin. Both the crozetto and corzetti pasta medallions traditionally had a cross on one side. So, both names most probably come from the Latin word 'crux' meaning cross.
During the Renaissance, noble families had their cooks stamp the pasta circles with a mold that depicted their coat of arms. This mold was handed down from generation to generation and was a gift that a father-in-law made to his daughter-in-law at the time of her wedding.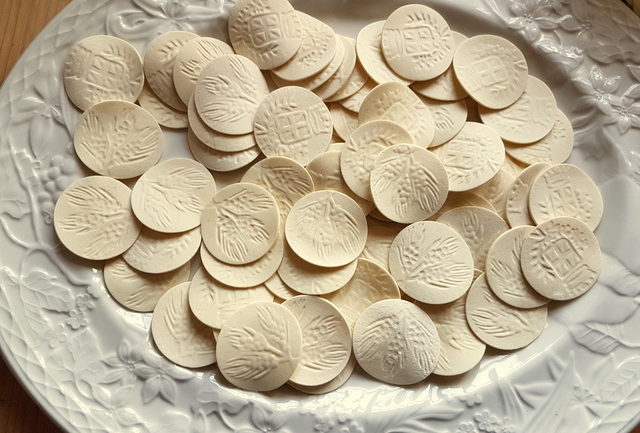 Corzetti as wedding favours!
Nowadays, the noble coat of arms have been replaced by other designs. Handmade corzetti or croxetti usually have a different design on each side of the pasta medallion. One side has a simple design and the other a more intricate one. The designs can be a cross, a regional coat of arms or the pasta maker's trademark.
More modern designs such as palm trees or a sailboat or fruit are also popular. In addition, it is traditional to give this pasta as wedding favours or to mark a special occasion. When this happens, the family will order the mold or stamp with the design of their choice and then make the pasta at home! These designs often include the initials of the newly-weds.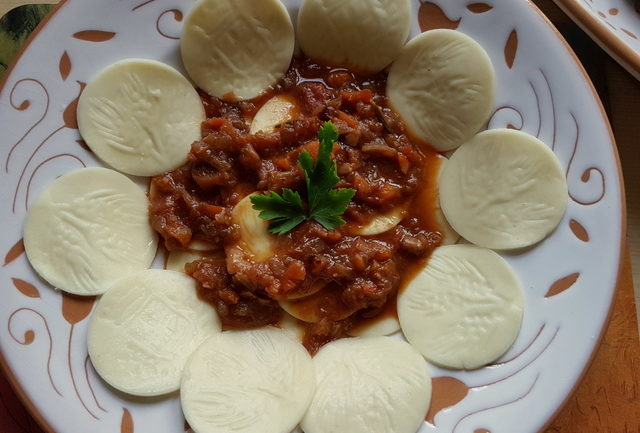 I have long wanted to try this pasta and even ordered some corzetti stamps online. Unfortunately, my stamps got lost when we did some renovation work in our house and I haven't been able to find them. Recently, a friend gave me 2 packets of dried corzetti. I served the first one in a Ligurian recipe called 'al tocco di carne', meaning meat sauce.
Tocco is the local dialect word for sauce. This very tasty recipe involves slow cooking a piece of beef in a tomato, wine, and stock sauce with porcini mushrooms. It's traditional to eat the sauce with the corzetti and the beef separately as a main course! It was delicious! As was the pasta.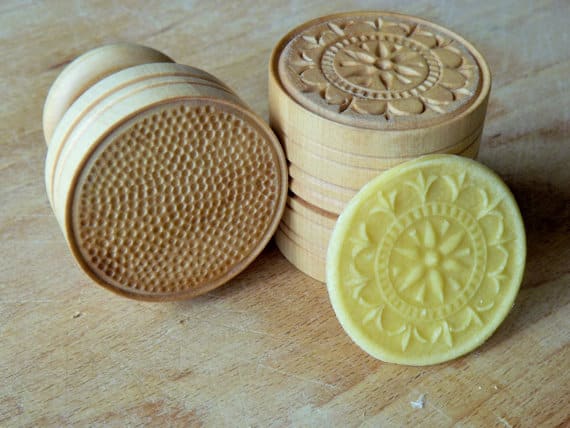 Traditional corzetti or croxetti recipes.
Another typical and traditional Ligurian recipe for corzetti or croxetti is with pesto genovese, potatoes, and green beans. In Liguria, they also eat this pasta with a walnut or pine nut sauce, a mushroom sauce called tocco dei funzi, or a light cream sauce. In addition, corzetti are also often served very simply with olive oil, pine nuts, and fresh marjoram. I am planning to order some more corzetti stamps because I am dying to make this pasta myself.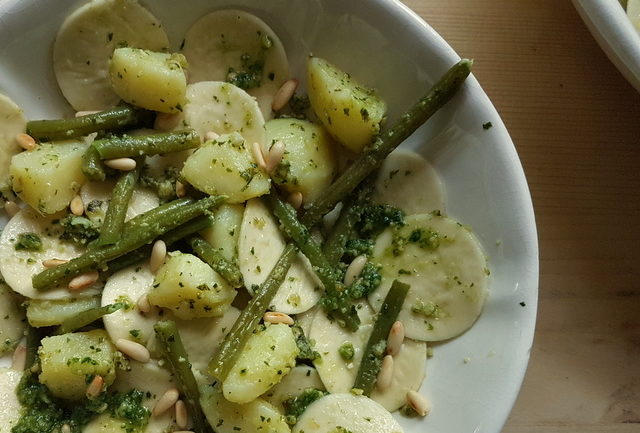 If you'd like to watch corzetti being made, check out the video below from Pasta Grannies. Also, both corzetti or croxetti pasta and the wooden pasta stamps are for sale online, even outside of Italy. I am planning to buy mine from a family run company of woodcarvers in Tuscany called Florentine touch. They make beautiful corzetti stamps and ship overseas too! In fact, I'm even thinking of ordering a stamp with The Pasta Project engraved in it!
So, why not give this pasta a try or buy a stamp and make it yourself?
Recipes with corzetti pasta on The Pasta Project