Homemade Corzetti Pasta with Marjoram and Pine Nuts: Recipe from Liguria.
This recipe for homemade corzetti pasta with marjoram and pine nuts is a fabulously elegant and delicious traditional recipe from Liguria. It is a great example of how you can make a 5 star dish with just a few simple ingredients.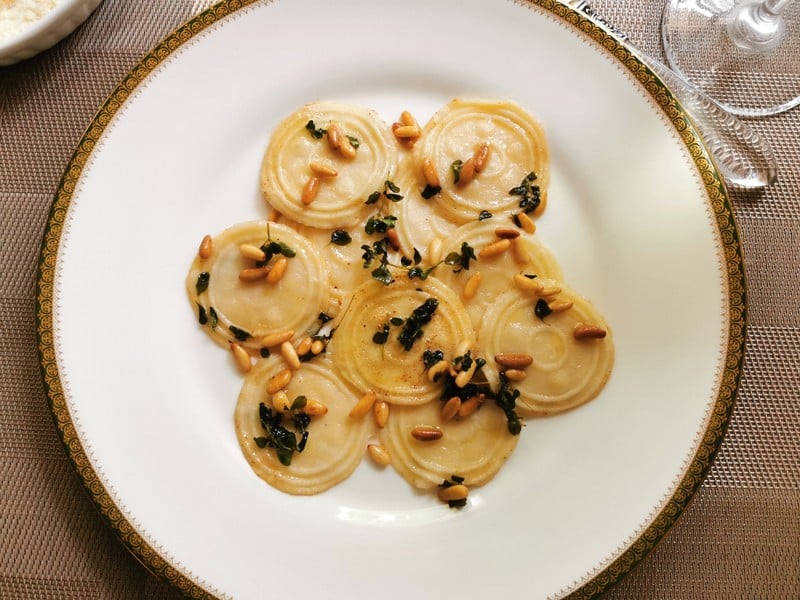 What is corzetti pasta?
Corzetti pasta medallions, also called corzetti del levante or croxetti, are a unique stamped egg pasta originally from Liguria. Originally made for special occasions, homemade corzetti pasta dates back to medieval times! This is a pasta with really interesting ancient origins. You can read more about it in my corzetti post. But in short, food historians believe the name of this pasta derives from the crozetto, a 14th century Genoan coin. Both the coin and the pasta medallions traditionally had a cross on one side.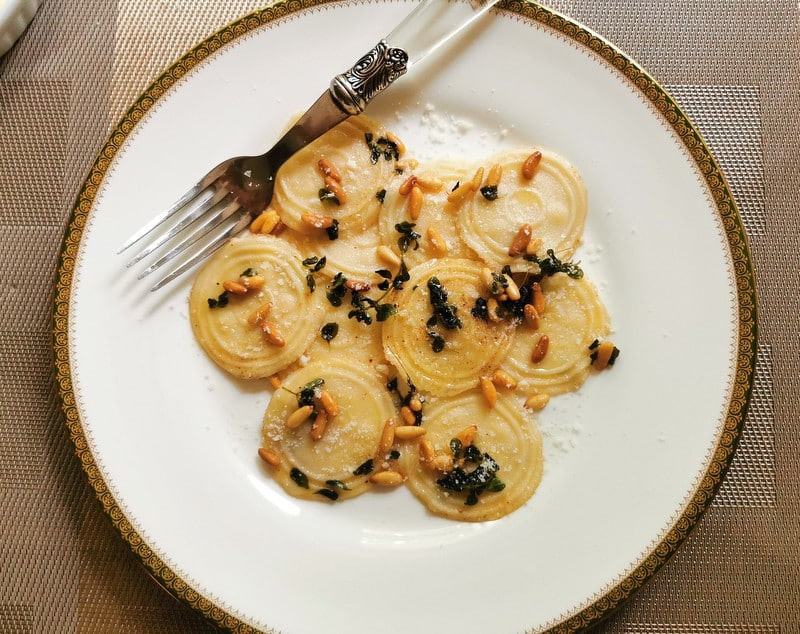 Corzetti del Levante are described as 'printed' or 'stamped' because the design on these small circles of pasta is made with a wooden mold or stamp which has 2 engravings carved into it (one for each side of the pasta medallion). Apparently, during the Renaissance, nobles had their cooks stamp these pasta circles with their family coat of arms. The wooden stamps created to make their corzetti were handed down from generation to generation. They were also a gift that a father-in-law gave to his new daughter-in-law at the time of her wedding.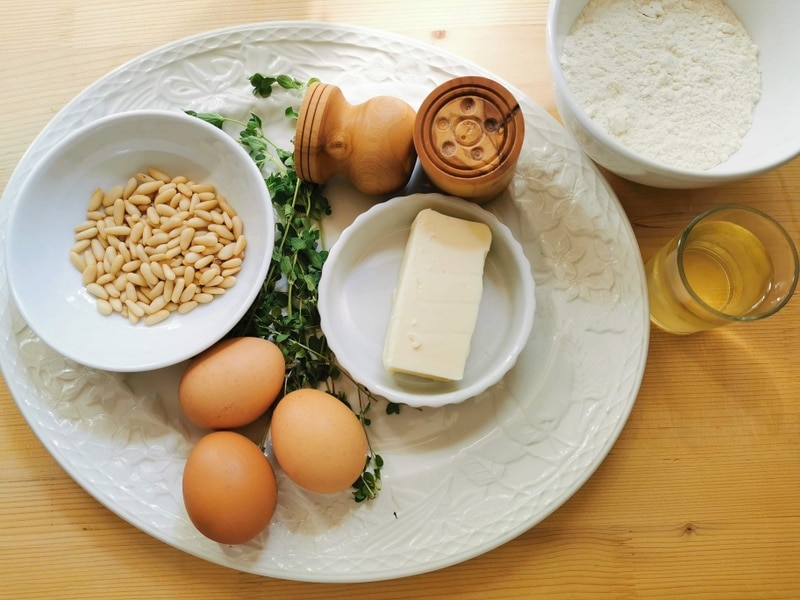 How to make homemade corzetti pasta.
Making the dough for homemade corzetti pasta medallions is much the same as other types of egg pasta. However, as with many traditional Italian recipes, there are different versions! Some people make corzetti dough with soft wheat flour and whole eggs, others use only the egg yolks and some add water or wine too!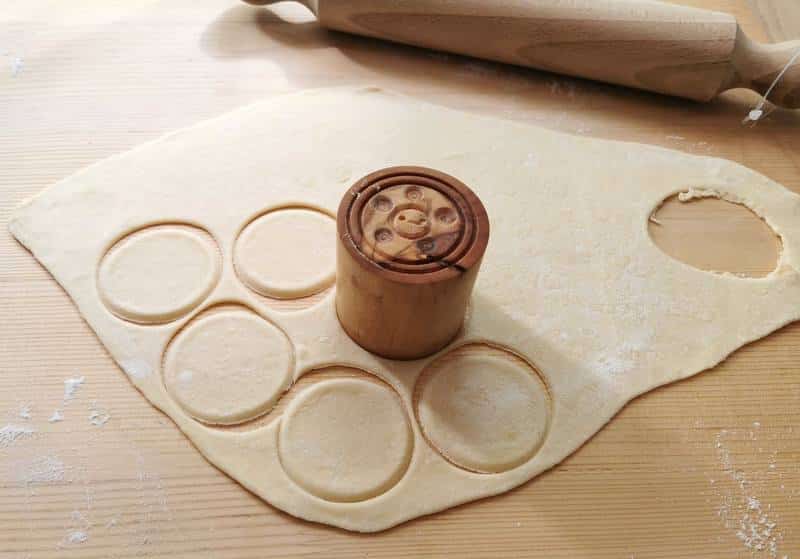 We used Italian '0' flour, 3 eggs yolks and 50ml of white wine for our dough. I say 'we' because my hubby, Salvatore, helped me. In fact, we've recently started to make fresh pasta together on Sundays when we don't have other plans. It's so much fun doing it together!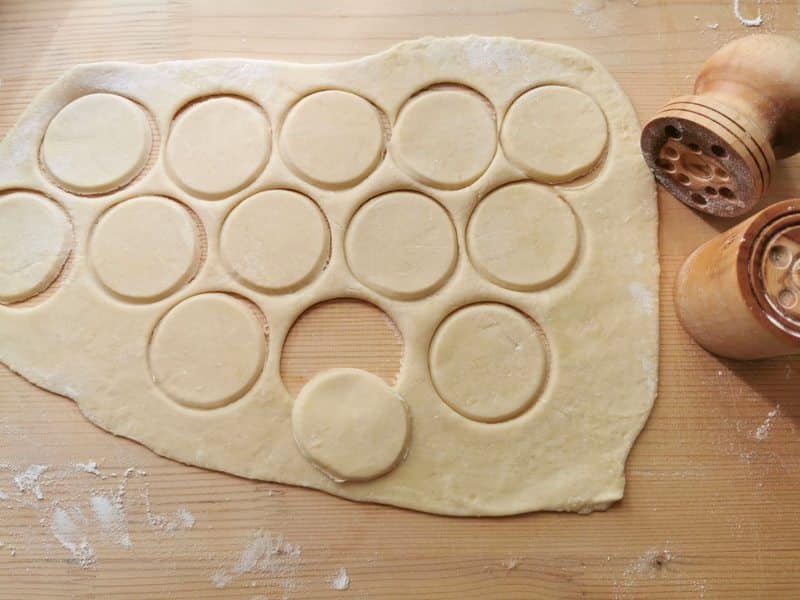 Where to find a corzetti stamp.
As far as I know, there are only 2 ways to buy a corzetti stamp, either online or from a traditional wood carver in Italy. There aren't so many of the latter these days, but I know they exist in Liguria, particularly in Varese Ligure or in the historical centre of Genoa.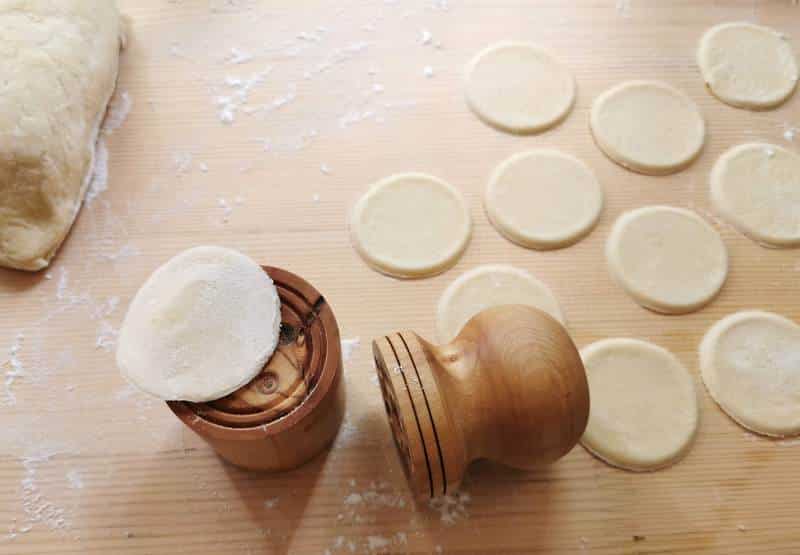 Online, there are many companies that sell stamps for homemade corzetti pasta. Of course, most are in Italy, but some ship abroad. There's a company in Florence that makes them called Florentine touch. You can order through their Etsy shop https://www.etsy.com/shop/FlorentineTouch. I've also seen some corzetti pasta stamps on Amazon.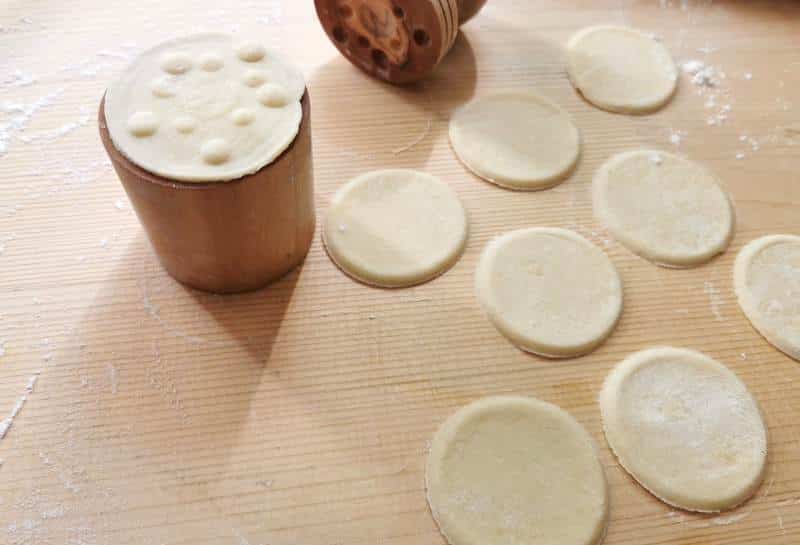 The stamp I used to make this homemade corzetti pasta with marjoram and pine nuts was actually a present sent to me by a Pasta Project follower in Western Australia called Ted Stewart- Wynne. Ted makes corzetti stamps and other wooden kitchen tools, such as cheese knives, mostly as a hobby. Although he told me he does sell them occasionally! His stamps are handmade out of olive wood. Very beautiful!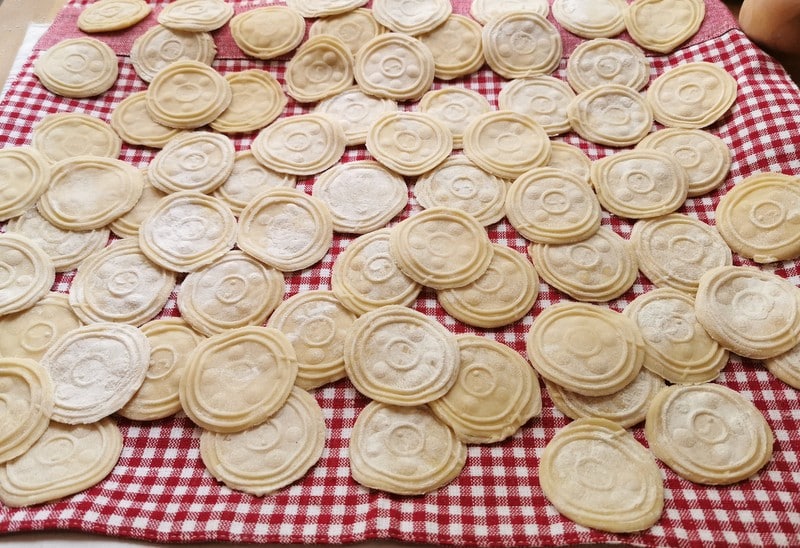 How to use the corzetti stamps.
Once you have made your pasta dough making homemade corzetti pasta medallions isn't so difficult. The stamps comes in two sections. One section has an end for cutting circles out of the dough. The other end has an engraved design upon which you have to place your cut pasta circles. The other part of the stamp also has a design as well as a handle.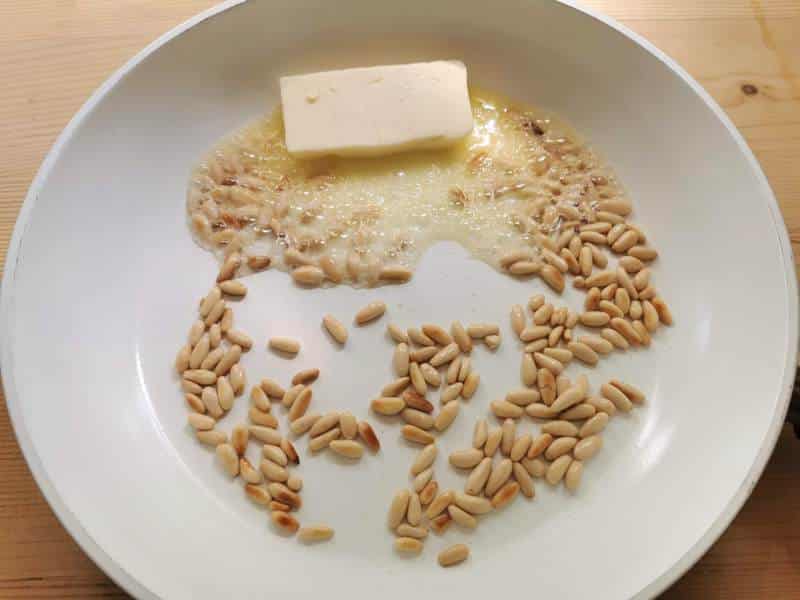 You just need to press the second part onto the first part where the dough is using a little bit of force, but not too much. When you remove the top of the stamp, you'll find a nicely embossed corzetti pasta medallion. Remove the pasta circle from the stamp carefully and place on a lightly floured clean tea towel or baking paper.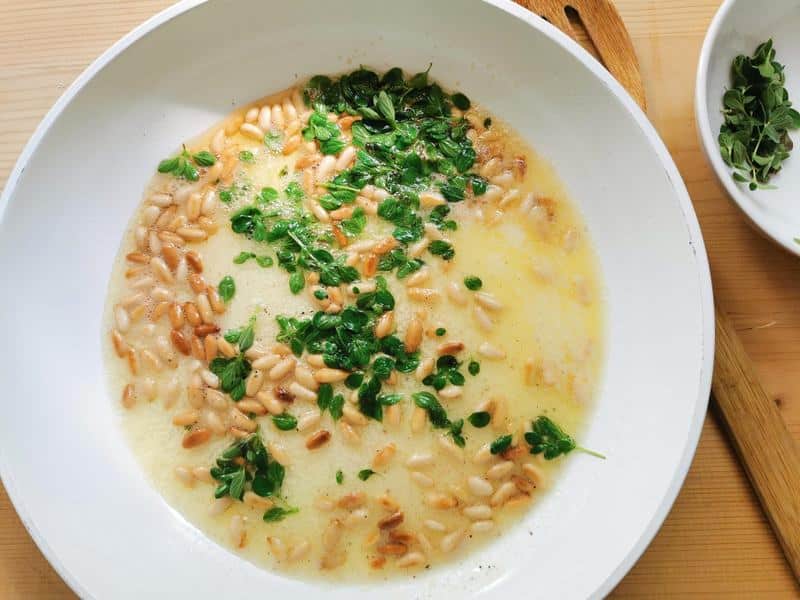 Obviously it takes a little time to make enough corzetti medallions for 4 people but it's well worth the effort! The ingredients in the recipe below makes about 500g ( about 1lb) of homemade corzetti pasta. When cooking this pasta it's best to add a few drops of olive oil to the pasta water to prevent the pasta sticking together. Cooking time will depend on how thin your pasta is and how dry!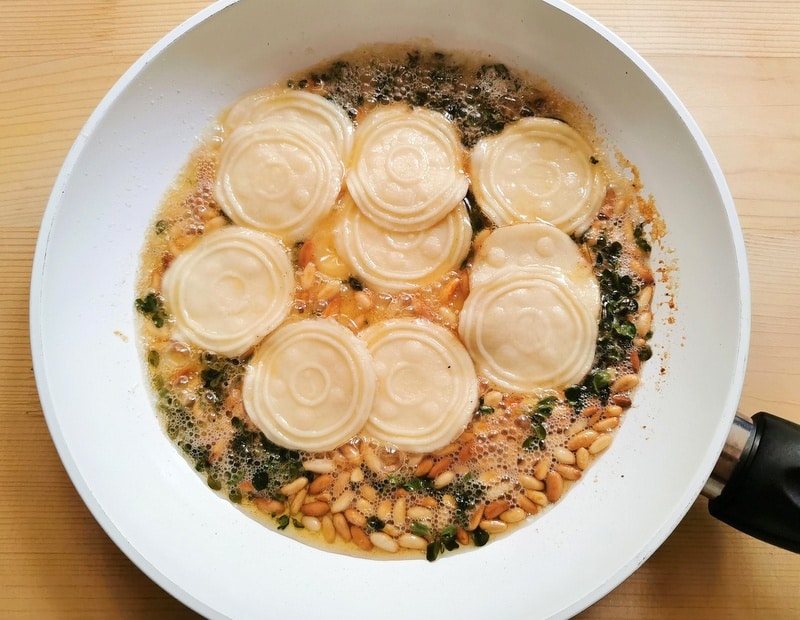 I cooked one batch almost immediately and the pasta took only 3-4 minutes after rising to the surface of the water. However, I cooked the rest the next day and because the pasta had dried, it took longer to cook! We ate the first batch with melted butter, marjoram and parmigiano. So so good! I served the second batch with a very simple homemade tomato sauce and it was delicious too!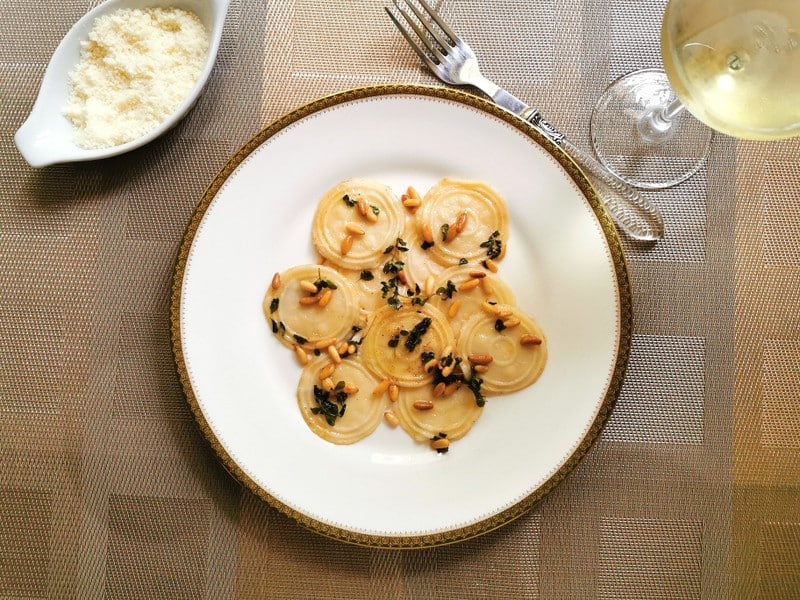 How to serve your homemade corzetti pasta.
The recipe below is for the simplest of corzetti condiments. It includes just butter, marjoram, pine nuts and grated parmigiano cheese. I first toasted the pine nuts by dry frying them for a couple of minutes. I then added the butter and once it had melted, I added the fresh marjoram. This recipe is very similar to a sage butter condiment that Italians add to many types of fresh pasta such as these tuscan gnudi with sage butter or delicious pumpkin tortelli.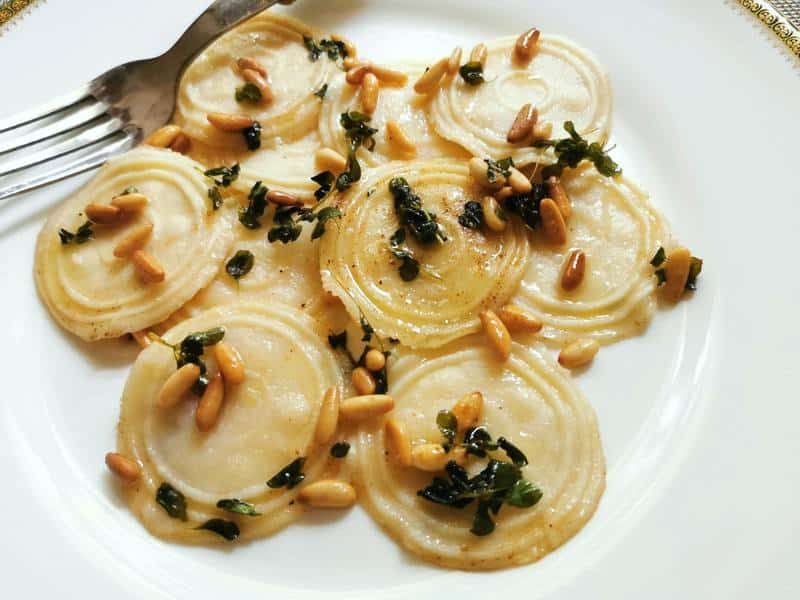 In Liguria, they also make this dish with olive oil instead of butter and add garlic. Liguria is famous for its olive oil which is usually made from Taggiasca or Opalino olives. The former are my favourite olives! Ligurian olive oil tends to be sweet and light. This is the traditional oil for basil pesto! Since I had run out of the olive oil I get from my local farmers, I decided to go with the butter version. I'll be trying this dish again once I get my fresh supply of olive oil after next month's harvest!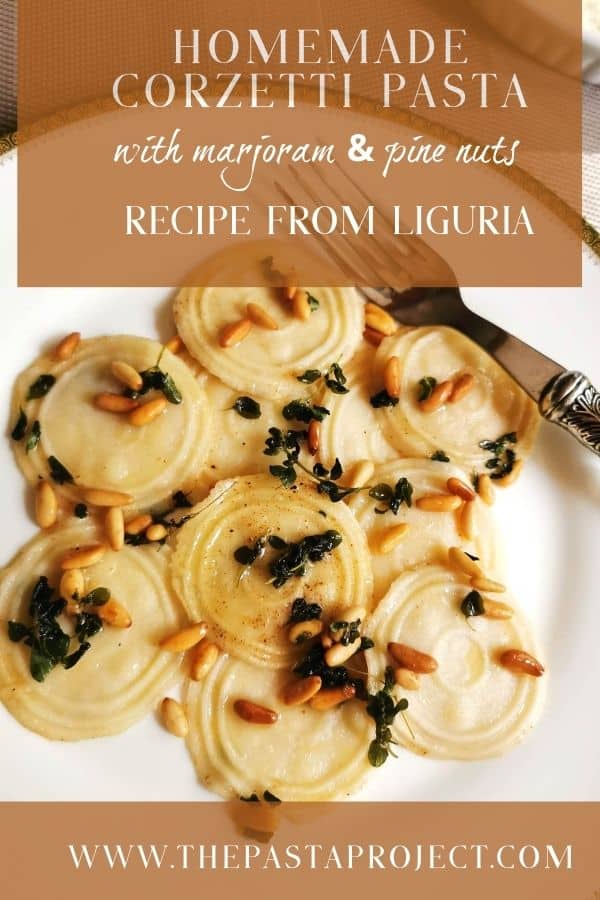 You can also find dried corzetti although it's not as widely available as other dried pasta. I have used dried corzetti in two other traditional recipes, one with a Genovese meat sauce and the other with basil pesto, potatoes and green beans. If you make homemade corzetti pasta you may want to serve them with one of those recipes instead (see links below).
Whichever way you serve your homemade corzetti, I'm sure you'll fall in love with this pasta and want to make it time and again. So eventually you can try all the corzetti recipes!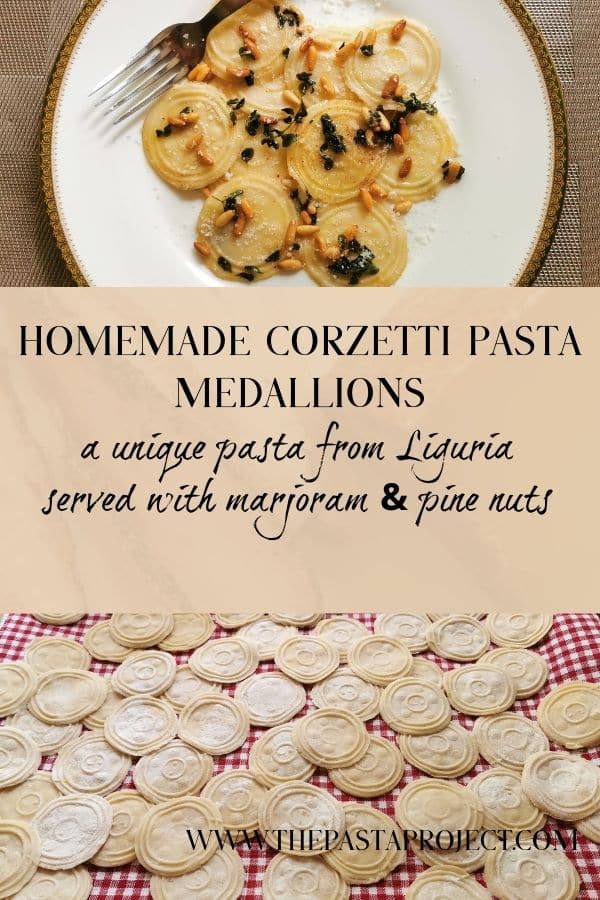 If you give this homemade corzetti pasta with marjoram and pine nuts a try do let me know how it turns out, either by commenting below or on the Pasta Project Facebook page. And if you feel it's worth sharing with friends please do.
All your feedback and support is much appreciated!
Buon Appetito!
Other corzetti recipes to try.
WHY NOT SAVE THIS RECIPE FOR LATER?
If you want to save this recipe for later, you can print it, bookmark this page or save it to Pinterest.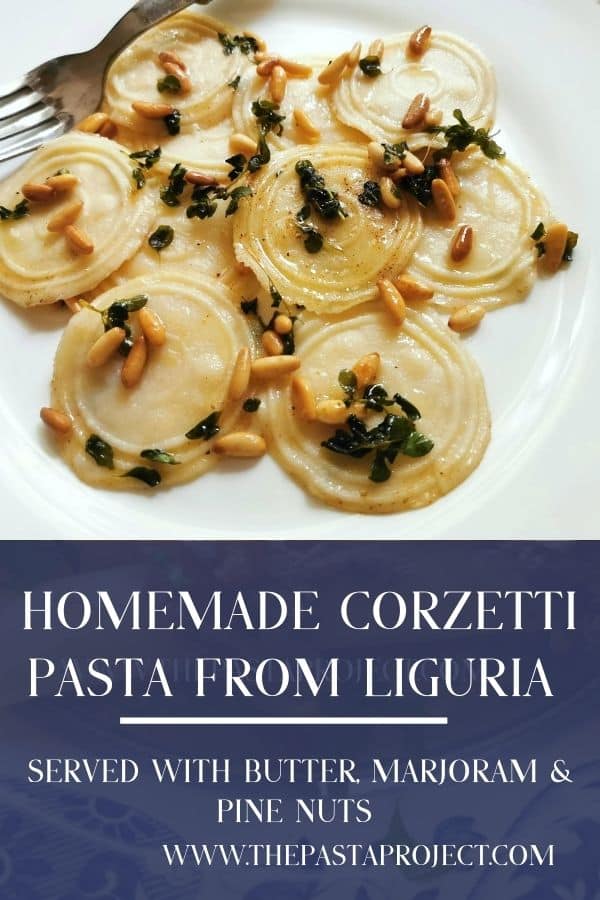 Do you want to learn pasta making online from Italians?
I recently enrolled in a great online pasta making course to help me learn how to make some homemade pasta shapes I haven't yet tried. This course is great! It's designed by two lovely Italian ladies who have a company that specializes in food and wine tours in Rome. There are lots of step by step videos and you can go at your own pace. Click the link and let me know what you think if you enroll! The Local Aromas Pasta Making Course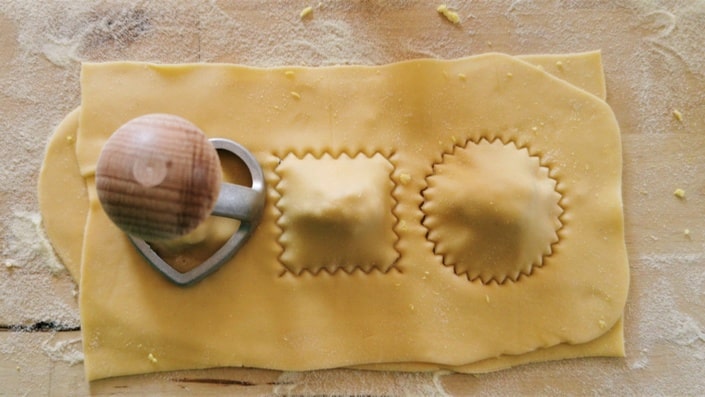 The above is an affiliate link so I will actually get commission if you subscribe through me. However the price is the same and that bit of commission helps me cover the costs of my blog. I most definitely never recommend any product that I haven't tried myself so you can rest assured that if I say these online courses are great, I really think that!