Corzetti pasta with Genovese meat sauce.
Corzetti pasta with Genovese meat sauce (al tocco di carne) is a traditional recipe from Liguria, North-West Italy. This recipe is super scrumptious for two reasons. Firstly the corzetti (also called croxetti) are divine tasty pasta medallions with beautiful designs stamped on them. Secondly, the rich and flavourful sauce doubles up as a pasta sauce and a pot roast main course.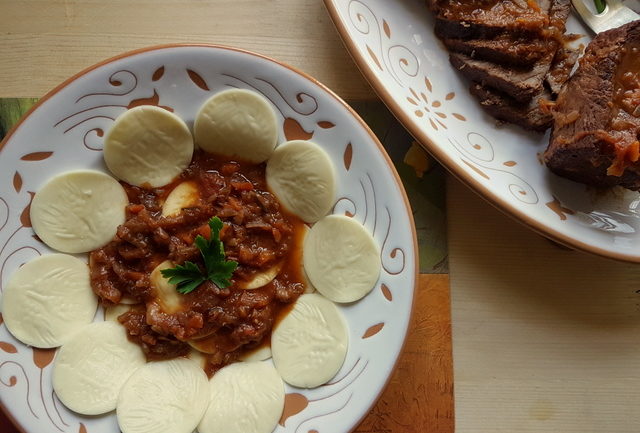 Corzetti al tocco di carne.
In Genoa, the word 'tocco' means sauce or 'sugo' in standard Italian. This recipe is the most traditional way they make and serve meat sauce in Liguria. Unlike other pasta meat sauces or ragu, this is made with one piece of meat, usually beef. But, some people use veal instead.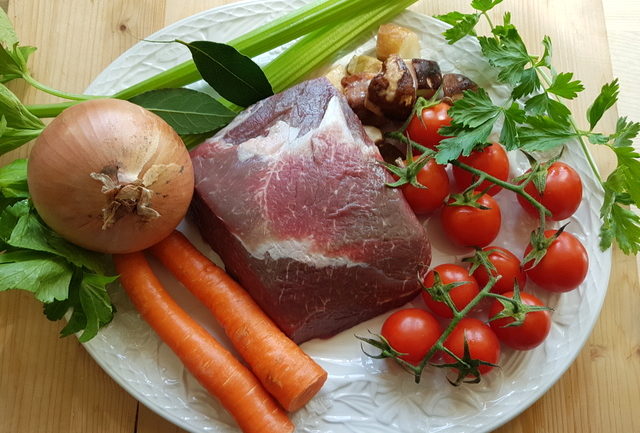 One course or two?
The beef for this corzetti pasta with Genovese meat sauce is braised slowly in a delicious rich herby tomato, stock and wine sauce with porcini mushrooms. It is then removed from the sauce to be served as a main course, while the sauce is served with pasta as a first course or primo.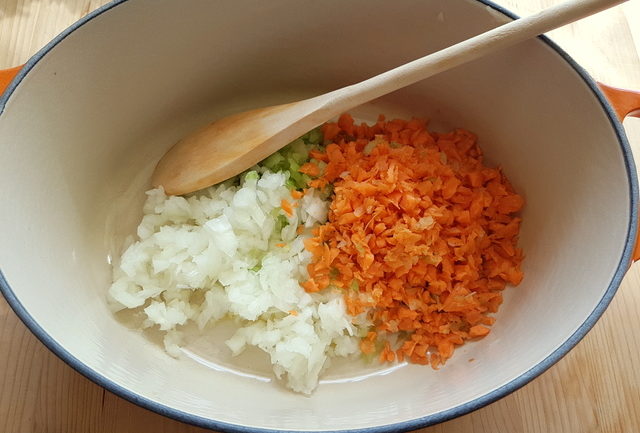 As I have mentioned in other posts, Italians often eat pasta as a first course, followed by a main course of meat or fish. However, the meat in this corzetti pasta with Genovese meat sauce can be shredded or chopped into small pieces and served with the pasta. This is the best idea if you prefer a one plate meal. Alternatively you can save it for another day and even freeze it. (Don't forget to keep some sauce back to serve with the beef, if serving the meat separately).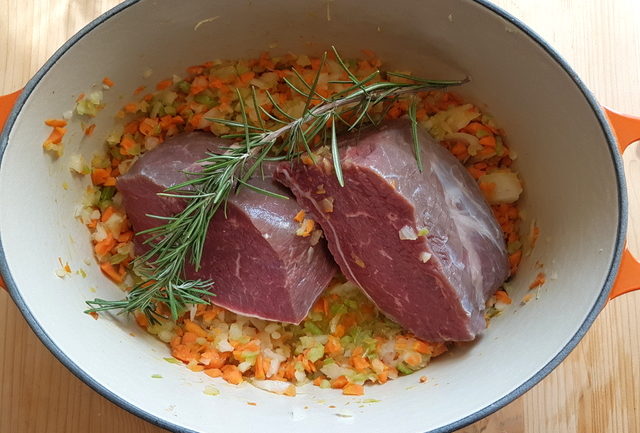 A Medieval pasta!
Corzetti or croxetti are a type of pasta that dates back to the Middle Ages. The designs on these pasta medallions are usually made using a hand engraved wooden mold or stamp that has 2 designs engraved on it. (one for each face of the pasta). In the past, noble families had their family coat of arms stamped into the pasta! You can read more about this unusual pasta on my corzetti or croxetti post.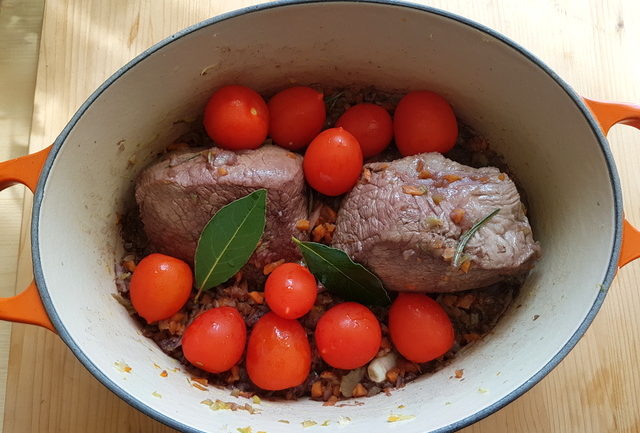 If you can't find or make corzetti yourself, this Genovese meat sauce is great with other types of short pasta, such as penne, orecchiette or rigatoni. It's also really delicious with ricotta filled ravioli! Whichever way you serve it, I'm sure you and your guests will love it.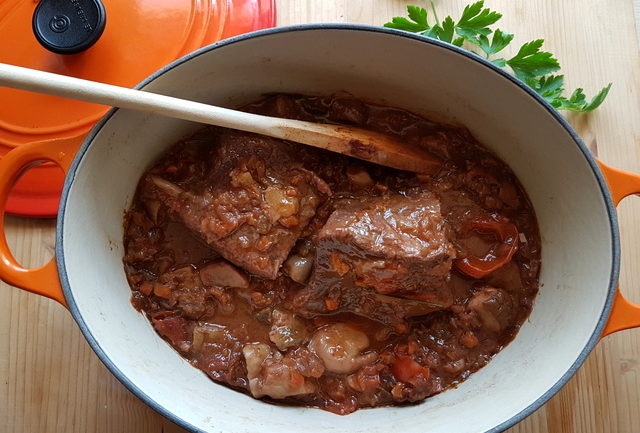 I've added this recipe to my list of go-to dishes to make when I'm entertaining because it's so unique and yet easy to make and delicious to boot! Try it and you'll definitely want to add it to your list too!
If you make this corzetti pasta recipe, I'd love to hear how it turns out and if you liked it. So, please leave a comment here on the blog or on The Pasta Project Facebook page.
Looking forward to hearing from you!
Buon appetito!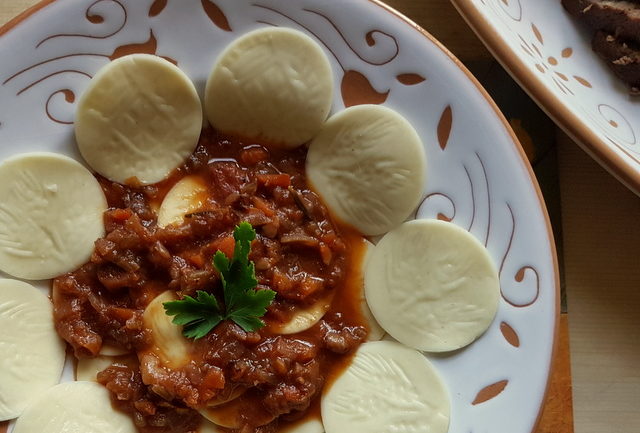 Save this recipe for later?
If you want to save this recipe for later, you can print it, bookmark this page or save it to Pinterest.
Pin for later.

Other cook once eat twice pasta recipes.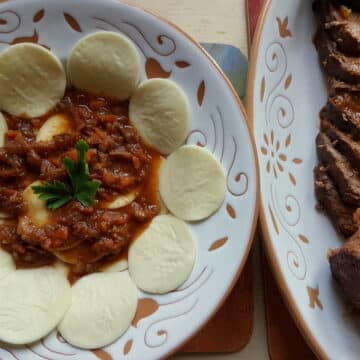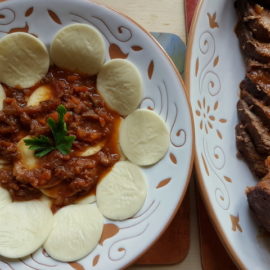 Corzetti pasta with Genovese meat sauce (al tocco di carne)
This unique 2 in 1 braised beef pasta recipe from Liguria can be served with pasta and as a delicious pot roast.
Ingredients
400

g

corzetti or croxetti pasta medallions

(14oz) you can also use other pasta

500

g

lean beef

(1lb) braising or stewing beef works well

60

g

dried porcini mushrooms

(2oz) I used frozen and fresh are delicious too

1

onion

peeled and finely chopped

2

carrots

washed and finely chopped

2

celery stalks

washed and finely chopped

1

garlic clove

peeled and finely chopped

500

g

sauce tomatoes or cherry tomatoes

(1lb) sauce tomatoes will need to be peeled. Cherry tomatoes can be left whole if very small

1

small sprig

rosemary

chopped

2

bay leaves

1

handful

fresh parsley

chopped

1/2

cup

beef stock

( I used homemade)

1

glass

red wine

(in Liguria they use Barbera)

60

g

Parmigiano cheese

(2oz) grated

salt

for pasta and to taste

black pepper

to taste

3-4

tbsp

extra virgin olive oil
Instructions
If using dried porcini, soak them in warm water for at least 30 mins, then squeeze the water out and chop them.

Chop the garlic, onion, celery and carrot finelyand sauté together in the olive oil in a frying pan, iron skillet or pot roast pan , add the meat and brown on all sides for 10 minutes.

Add some choppped rosemary leaves and parsley and salt and pepper to taste then pour in the red wine and cook on a high heat until the alcohol evaporates.

Cut the peeled tomatoes into cubes or halves (small cherry tomatoes can be left whole) add them to the meat with the porcini mushrooms, bay leaves and half a cup of beef stock. Continue cooking over a low heat, half-covered, for at least 1 hour. When the meat is fork tender, remove it from the sauce and remove the bay leaves.

While the meat is cooking. Put a pan of water on to boil for the pasta. Add salt once it starts to boil and bring to the boil again. Cook the pasta al dente according to the instructions on the packet.

Drain the pasta and plate it. Season first with some grated Parmesan and add some sauce. Serve with some more chopped parsley and extra cheese if required. The meat can be sliced and served as a main course or shredded and added to the pasta sauce.
Notes
This recipe can be used as 2 courses or meals if you keep the meat aside and serve it separately.
Traditionally, Genovese meat sauce is served with crozetti but you can use other types of short pasta or ricotta filled ravioli.
This recipe can also be made with homemade corzetti.
Want to know more about my life in Italy? Why not subscribe to my newsletter? New subscribers get a free series of recipe e-books too!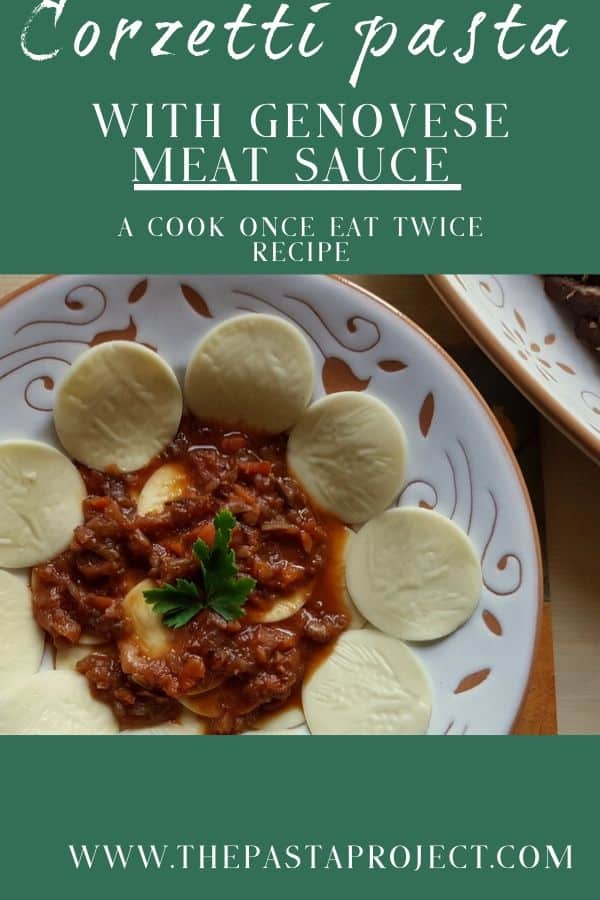 If you are interested in learning how to make homemade pasta and different types of gnocchi, check out my shop page for some great video online courses from my friends in Rome! Nothing beats learning to make pasta from Italians! Plus while you're there why not order a copy of one of my pasta cookbooks!