Maltagliati Pasta with Braised Veal and Onions
This super tasty 2 in 1 pasta with braised veal and onions recipe from Sicily can be served as two meals or two courses. Either way you are bound to love the the soft tender veal served in a thick onion sauce over pasta.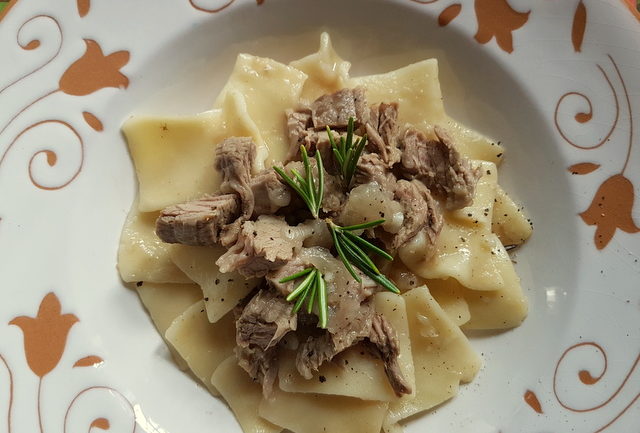 Maltagliati con L'aggrassatu
In Italy, many traditional Sunday lunch or holiday dishes involve quite long cooking times, even pasta dishes. I guess, once upon a time, women had many more hours free to prepare a family meal! These dishes were often started the day before or while side dishes, sweets, and other courses were being made.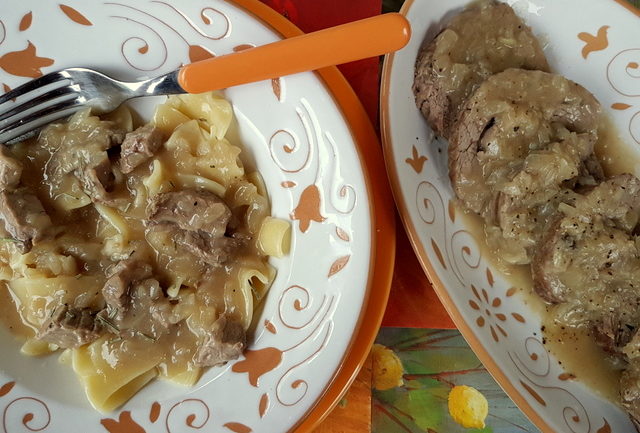 There are a number of these typical slow cooked recipes that traditionally serve as 2 courses in 1 (such a great idea!). Italians usually eat pasta as a first course and meat or fish as a main or second course. These 2 in 1 recipes involve slow cooking meat in sauce and then serving the sauce on pasta and the meat as the main course. Two examples of this are braciole (beef rolls) from Puglia and alla Genovese meat and onions from Naples.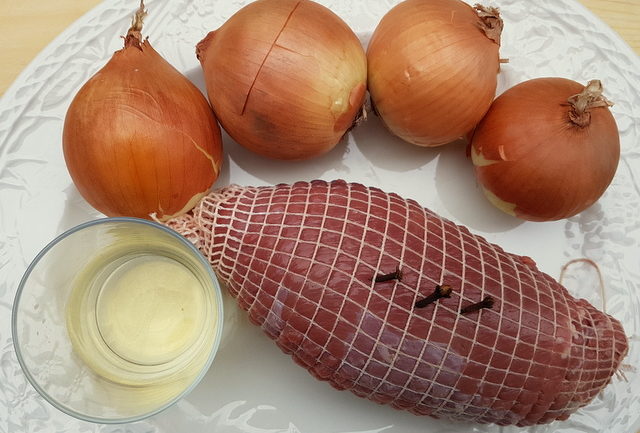 What is aggrassatu?
This pasta with braised veal and onions recipe from Sicily reminds me of the latter Neapolitan recipe. 'Aggrassatu' is a method of cooking meat which is fairly wide spread across Sicily, with a number of variations. Some people use less onions, others add potatoes and even carrots and celery. In some parts of Sicily, especially in the South-East, they add grated pecorino cheese at the end of cooking. In the Messina area, this dish is also often 'coloured' with a few tomatoes.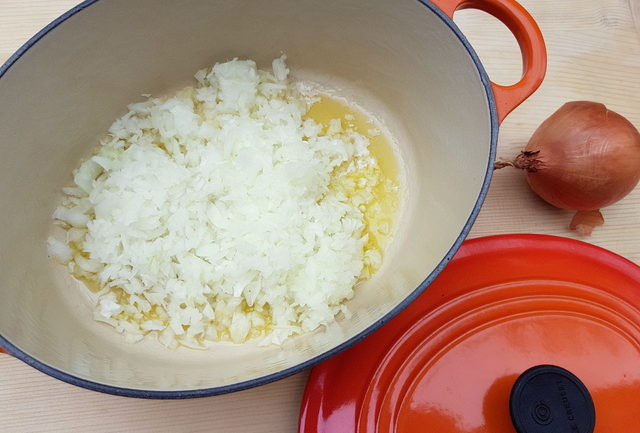 Sicilians use different meats in aggrassatu. You can find it made with lamb, beef and veal. Sometimes, the meat is cooked in one piece, as in this pasta with braised veal and onions recipe. At other times, it is cubed like in a stew or casserole. In this case, the Sicilians call it 'spezzatino aggrassato'.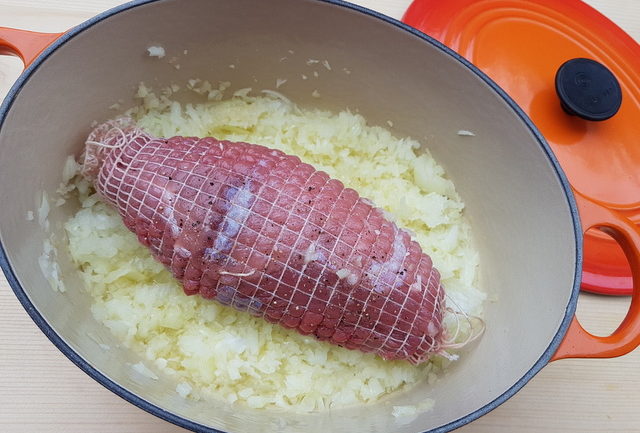 In Sicilian, the word 'aggrassatu' (also 'agglassatu' or 'glassatu') seems to come from the French 'glacer', which means to freeze. However, the right Sicilian meaning is closer to the Latin glaciare, which really means to veil or cover rather than to cool. As you can imagine, the meat in this recipe is covered in a delicious sauce!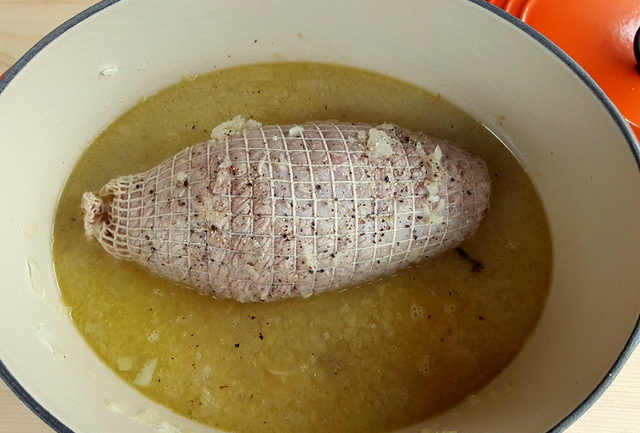 How to make pasta with braised veal and onions.
This aggrassatu recipe involves slow cooking or braising veal and onions together in a wine and stock sauce. I only added a little rosemary and cloves. However, you can also add bay leaves, sage or other aromatic herbs such as a pinch of dried oregano. When the meat is ready, it is removed from the sauce, which is then reduced and thickened with a little flour.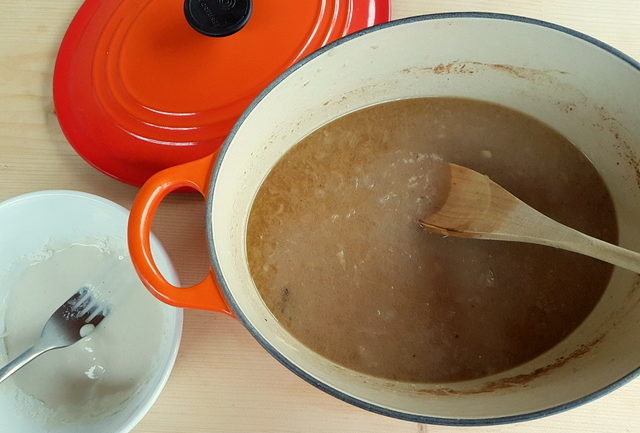 I served the pasta with some of the sauce and a few small pieces of meat. We actually ate the remaining meat with the rest of the sauce the next day. But, you can also serve it as a second course, as the Italians do. Alternatively, potato cubes can be added to the meat and sauce about 45 minutes before it's ready. Then, the dish can be eaten without pasta. I didn't use potatoes but I can imagine it would be delicious too!
The pasta
The pasta I used in this recipe is maltagliati. This pasta is basically flat squares or rectangles often cut irregularly. 'Maltagliati' actually means badly-cut. Originally, this type of pasta was made from the dough leftover after making other pasta such as tagliatelle.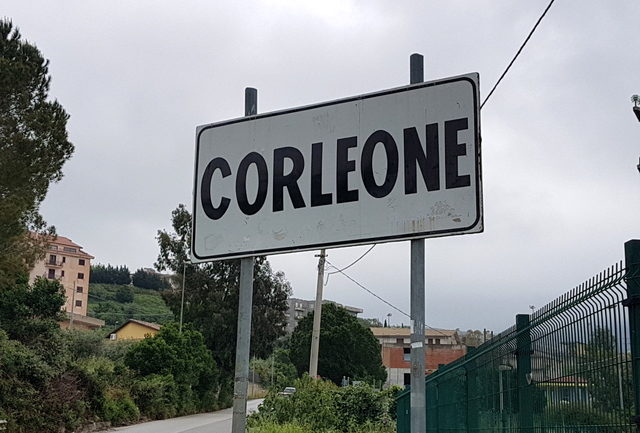 My maltagliati came from a pasta maker I visited in Sicily in May. This company is located in Corleone, the Sicilian town famous for its Mafia population and subsequently the film The Godfather. The film wasn't filmed in Corleone but, in fact, many real Mafia bosses, such as Luciano Liggio, came from Corleone. His second-in-command, Salvatore Riina, who at the time of his arrest in 1993 was the most wanted man in Italy, had also lived in Corleone for over 20 years with his family. Among the many members of the Corleone clan, Bernardo Provenzano was the most famous. He was convicted for a series of murders and finally captured in 2006.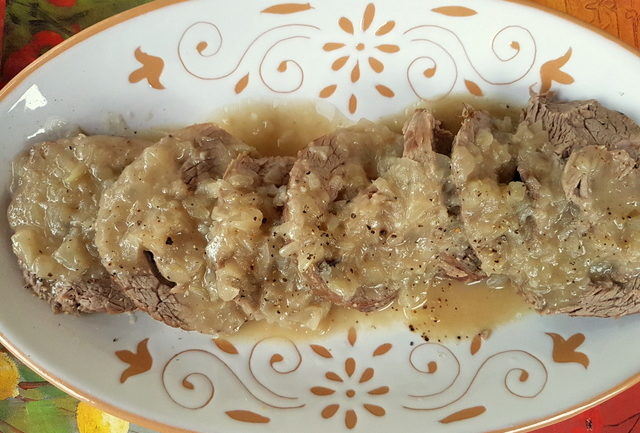 We didn't see any suspicious looking Mafia characters in the town! However, there's an anti-Mafia museum you can visit there! We didn't! Instead we visited a pasta factory, definitely more of an attraction for a pasta blogger like me! There we got to see the pasta being made and dried and bought lots of great pasta like this maltagliati.
Although this pasta with braised veal and onions isn't a very colourful looking dish, it tastes delicious. I especially liked the addition of cloves and the thick oniony sauce! I'm sure if you try it, you'll agree with me!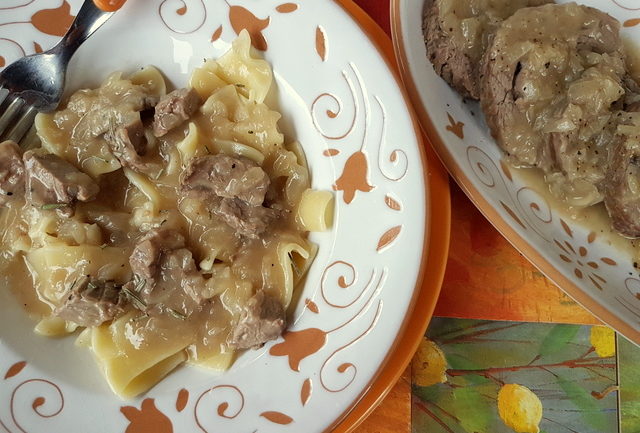 If you make this pasta with braised veal and onions recipe I'd love to hear how it turns out and if you liked it. Please leave a comment here on the blog or on The Pasta Project Facebook page.
Looking forward to hearing from you!
Buon appetito!
Other traditional slow cooked 2 in 1 pasta recipes you may enjoy!
Save this recipe for later?
If you want to save this recipe for later, you can print it, bookmark this page or save it to Pinterest.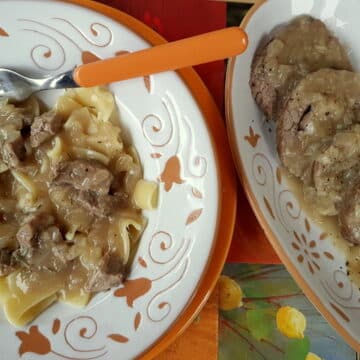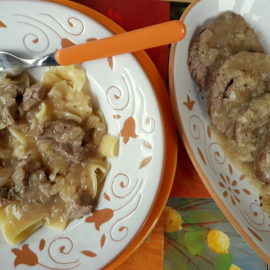 Maltagliati pasta with braised veal and onions (aggrassatu)
This delicious Sicilian slow-cooked veal with onions can be made into 2 dishes or courses. Serve the sauce with pasta and the rest of the meat with some potatoes and/ or veggies!
Ingredients
400

g

maltagliati pasta

(14oz)

1

kg

rolled veal shoulder

or eye round. (2lb)

4

onions

peeled and finely chopped

2

cloves

1

sprig

rosemary

chopped

1

glass

white wine

60

g

caciocavallo cheese

or Parmesan (grated) (2oz)

1

knob

butter

3-4

tbsp

olive oil

1

cup

beef or chicken stock

( I used homemade beef stock but you can use a stock cube)

salt

for pasta and to taste

black pepper

to taste
Instructions
If not bought tied or in a net, tie the veal with cooking string or kitchen twine. Season the meat with salt and pepper. Peel and finely chop the onions.

In a Dutch oven or heavy pan, heat three tablespoons of olive oil with a knob of butter. Add the onions and, when they have become translucent, put the meat in and brown it on all sides turning it several times with the help of a spoon or spatula.

When the meat and onions are golden, add the white wine and let the alcohol evaporate. Then add the some chopped rosemary leaves and the cloves and season with salt and pepper. Half cover the meat with stock and water and cook for about an hour and a half on a low heat, turning the meat occasionally and adding more water, if necessary.

When cooked, the sauce must have a soft consistency. Remove the meat from the saucepan, allow it to cool a little and slice (you can serve most of it as a second course/meal or all of it in slices with the pasta).

Add a teaspoon of flour diluted in half a small glass of water to the sauce and stir to reduce and thicken over low heat until you get a good consistency. Season with salt and pepper as required.

Put a pot of water on to boil for the pasta. Add salt once it starts to boil and bring to the boil again. Cook the pasta al dente according to the instructions on the packet, drain it.

Put the pasta onto a serving dish or bowl and pour 2/3 of the sauce over it (save the rest for the meat) Mix and season with the grated cheese.

Serve immediately with a little chopped rosemary and some of the meat cut into small pieces or with meat slices.
Notes
If you don't have maltagliati pasta you can serve this dish with short pasta like penne.
Pin for Later