Maltagliati Pasta
In Italian, the word 'maltagliati' literally means 'badly cut'! In fact, these squares, rhombus or irregularly shaped flat pasta pieces started life as the remains of rolled out tagliatelle pasta dough or re-kneaded ravioli cuttings.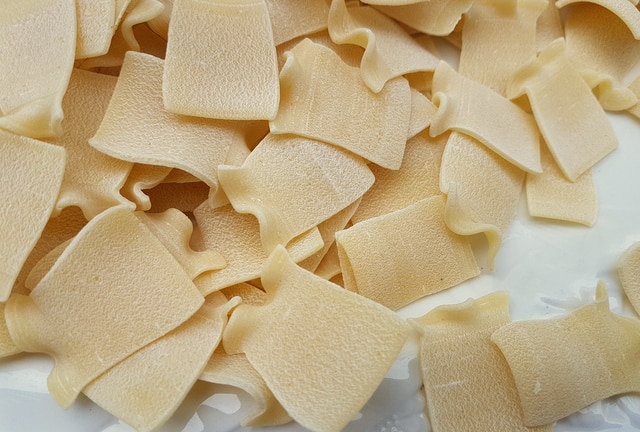 Although once just a way for housewives to use up leftover pasta dough, nowadays, maltagliati pasta is sold by a lot of pasta companies. When buying dried maltagliati, you can find them cut into slightly different shapes; sometimes with ruffled edges and sometimes irregular depending on the pasta maker. In general, homemade versions are often quite irregular. Commercially produced maltagliati, on the other hand, are more uniform.
Maltagliati pasta around Italy
This type of pasta is popular throughout Italy but particularly in Lombardy, Veneto, Emilia-Romagna, Puglia , Abruzzo and the Marche. Locally it may also have different names. For example, in the Valtellina, they make tiny maltagliati from leftover pizzoccheri dough and call it 'pizzoccherini'. In Liguria, maltagliati is also called 'martaliai' and they often add cheese to the dough. In Lazio, this pasta is known as sagne 'mpezze, in Puglia, it's also called 'pizzelle' and in Abruzzo, 'pettole'or sometimes 'fregnacce'. Sagne pasta also from Abruzzo is a type of maltagliati.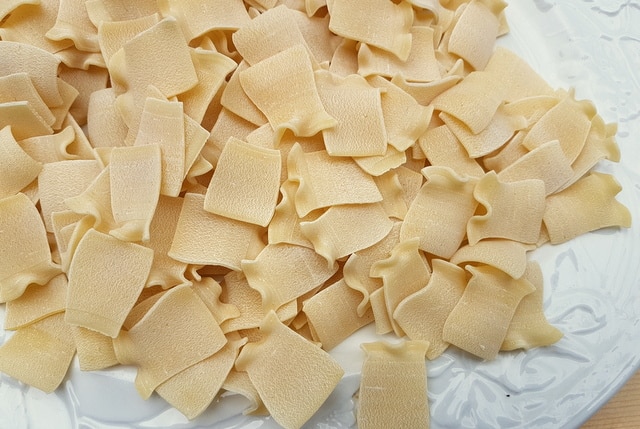 Traditional maltagliati pasta recipes
Maltalgiati pasta is served in different ways, either in broth or with a sauce. Again recipes can vary from region to region. In Emilia-Romagna, maltagliati is considered a typical local product. This is not surprising since tagliatelle originally came from this region and they often make this pasta from leftover tagliatelle dough.  The most popular way to cook these pieces of pasta is in a bean soup. Here in Veneto, they also use it in 'pasta e fagioli' (pasta and beans).
In Puglia, it is served with chickpeas. In the Marche, they eat maltagliati pasta with a duck or lamb sauce or wild asparagus.As you can imagine, you can find many versions of maltagliati pasta with various names and served in many different ways throughout Italy.
The first recipe I have posted for maltagliati comes from Sicily. It's called maltagliati con l'aggrassatu. I decided on a Sicilian recipe because I bought the pasta in Sicily, actually in Corleone. This is a small village made famous for its mafia population! This pasta recipe is made with the sauce from a braised veal and onions. You can read more about it by clicking the above link.
I'll be adding other maltagliati recipes soon. Do you know this pasta? Have you ever eaten it?