This easy ham and cheese pasta bake recipe from the mountainous South Tyrol (Alto Adige) is made with homemade egg pasta sheets cut into squares (fleckerl) and then baked with cooked ham and Asiago. The homemade pasta is simple to make. But, you can cheat by using ready-made lasagne pasta sheets. A super cheesy pasta bake that all the family will love!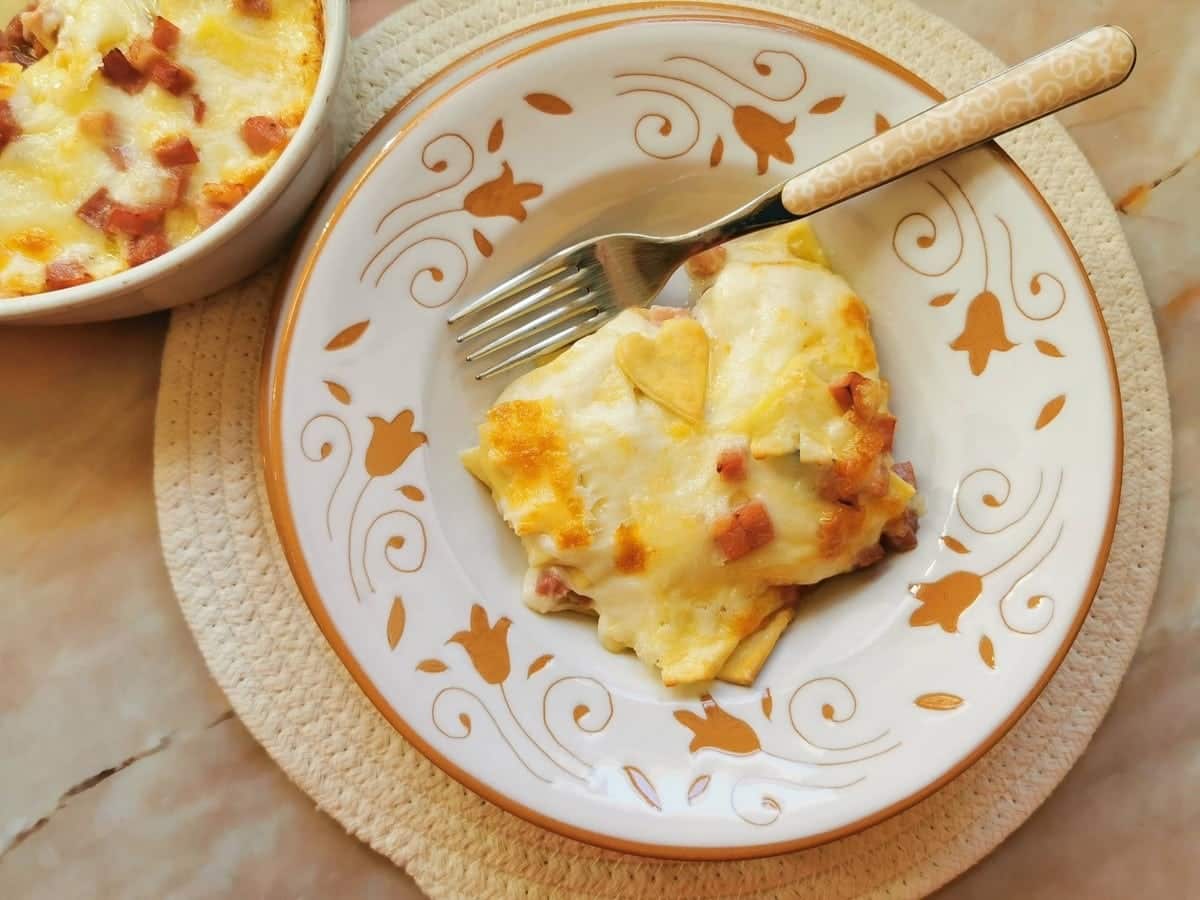 Italian recipe with a German name.
Known as schunchenfletz in the South Tyrol, this baked pasta with ham and cheese is a simplified version of another local dish called schinkenflekerl. The names are more German than Italian!
This is because Italy's South Tyrol not only borders with Austria but was part of the Austro-Hungarian Empire until 1919. Although an Italian region, the majority of people there use German when they write and speak in an Austro-Bavarian or South Tyrolean dialect.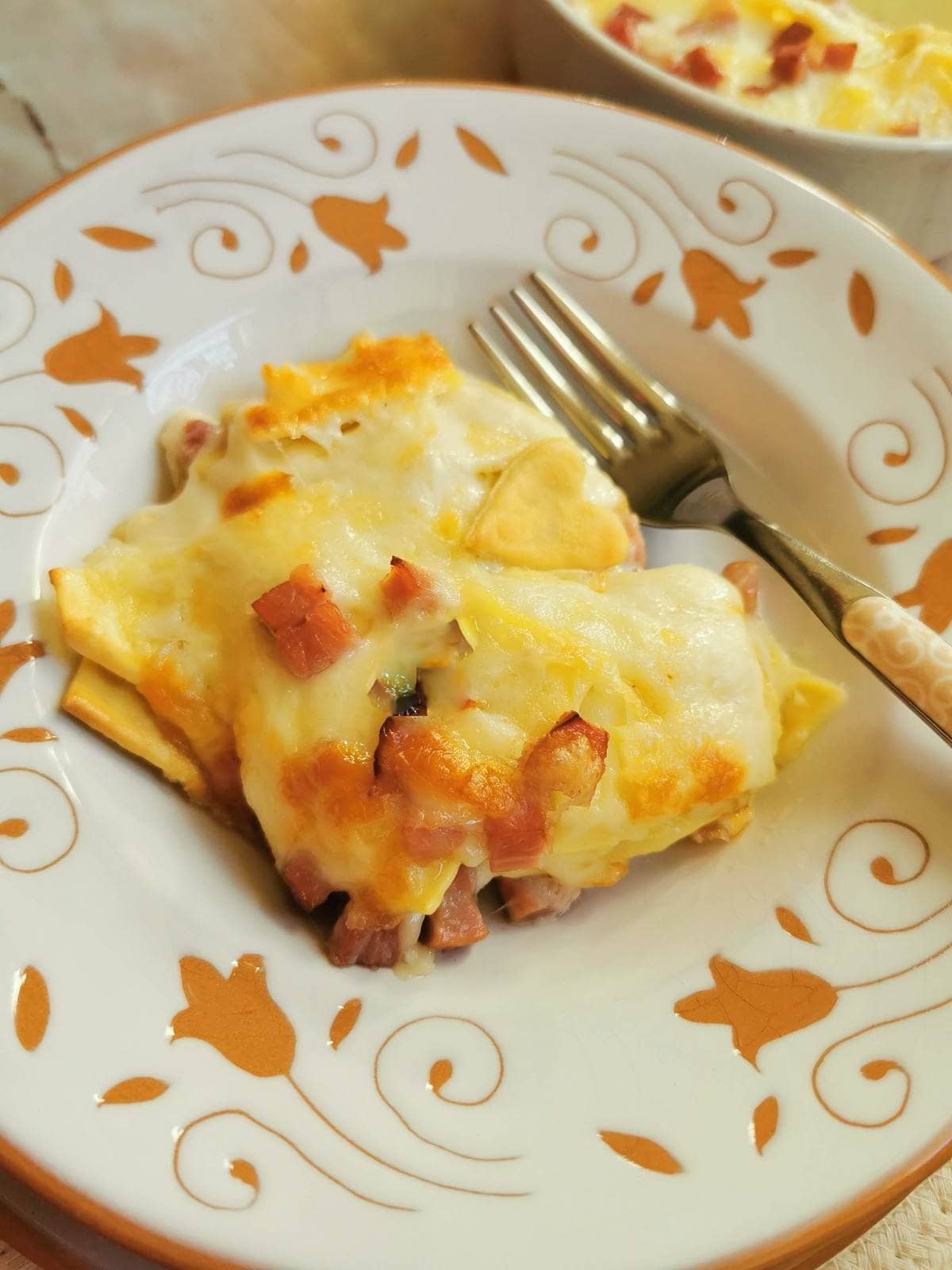 As you can imagine, the South Tyrolean cuisine is very influenced by the Austrian kitchen. In fact, schinkenfleckerl is a traditional dish in Austria, where many shops sell 'fleckerl', ready-made egg pasta squares. They also make another traditional dish with this pasta called krautfleckerl with cabbage and bacon.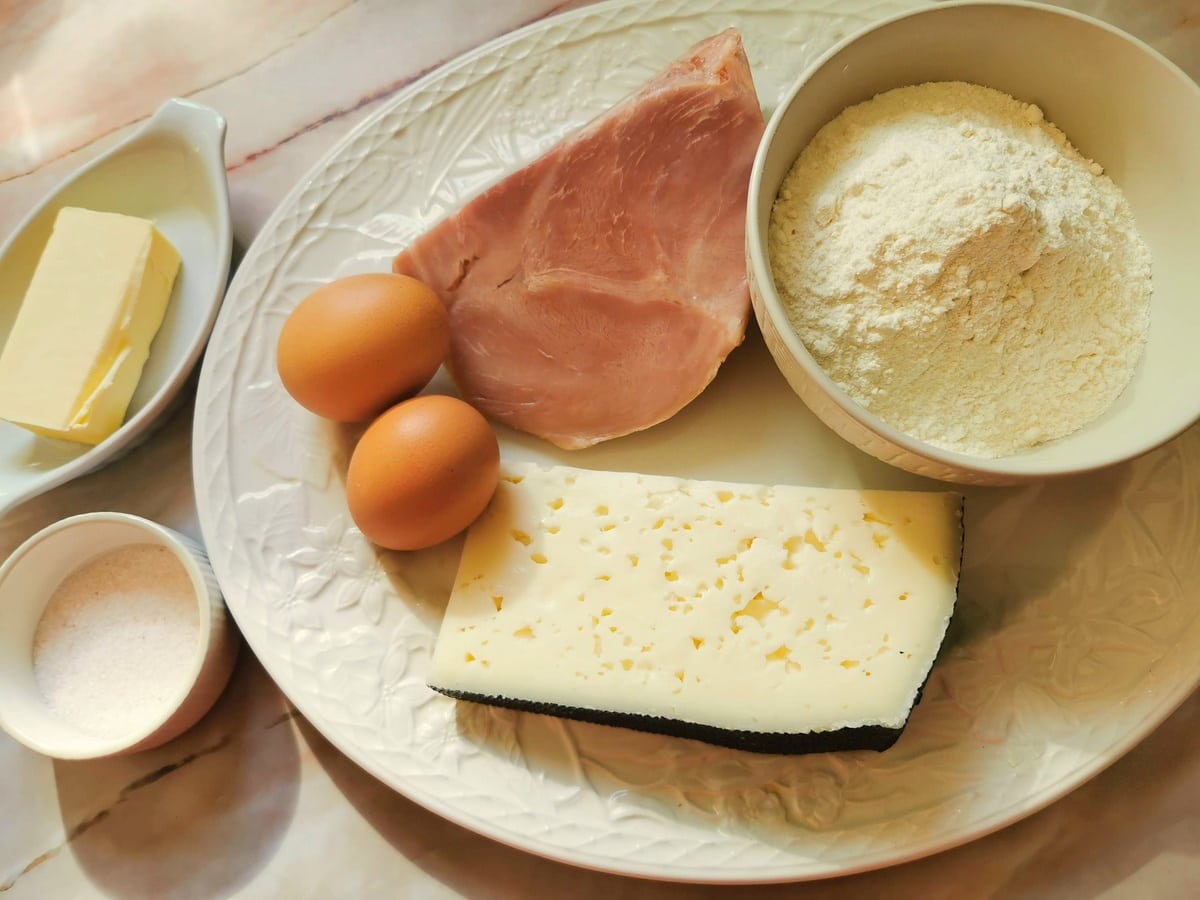 What are pasta squares called in Italian?
Outside of the South Tyrol, Italians don't use the name fleckerl to describe egg pasta squares. Instead, they call pasta squares quadrucci or quadretti. However, this pasta is usually smaller than fleckerl. It's more a type of pastina and mostly used in soups and broth.
In some Italian recipes, the name quadrotti is used to refer to slightly larger pasta squares. But that is also a popular name for square ravioli!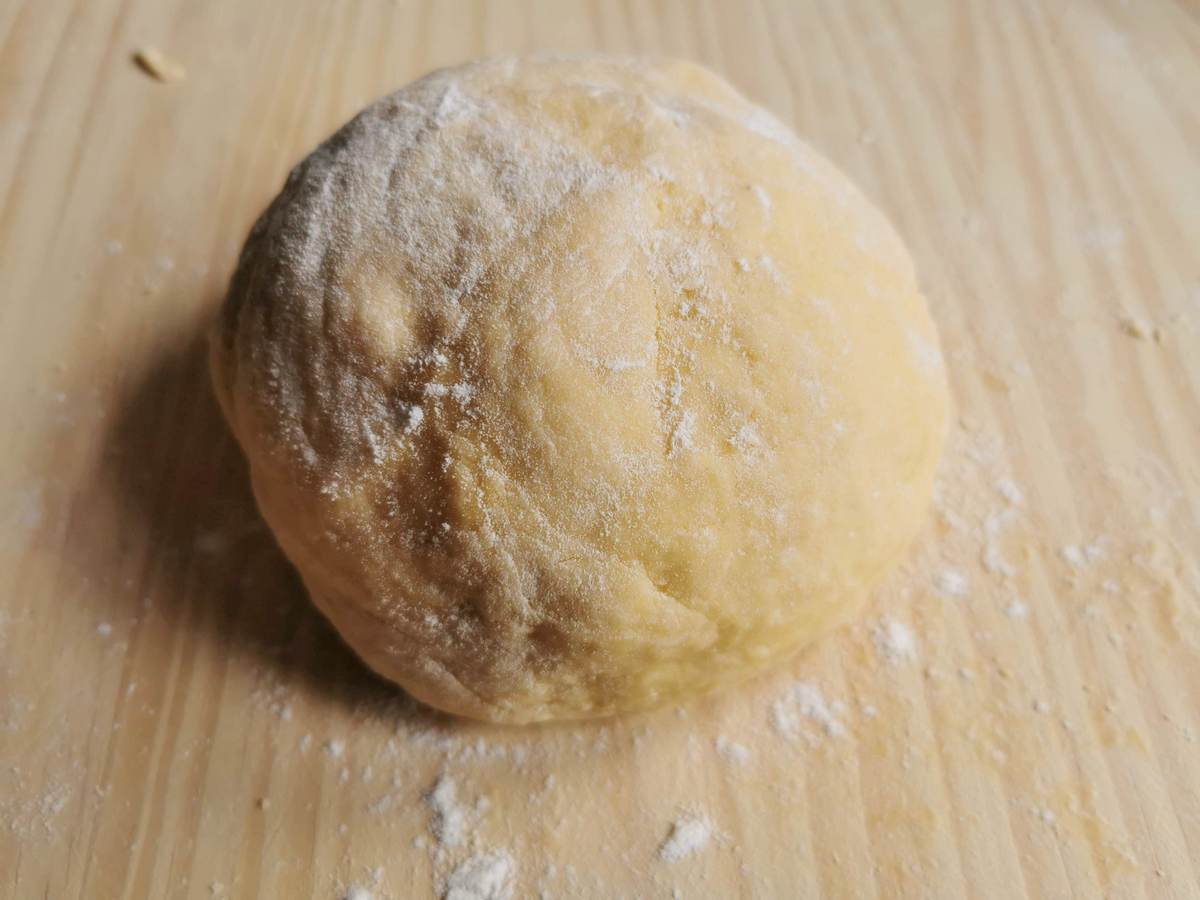 Larger pasta squares are often called fazzoletti in Italian meaning handkerchiefs. But, handkerchief pasta is traditionally much bigger than the pasta in this baked ham and cheese pasta squares recipe. It's also not normally baked, although there is a recipe for baked fazzoletti from Abruzzo called fregnacce abruzzese.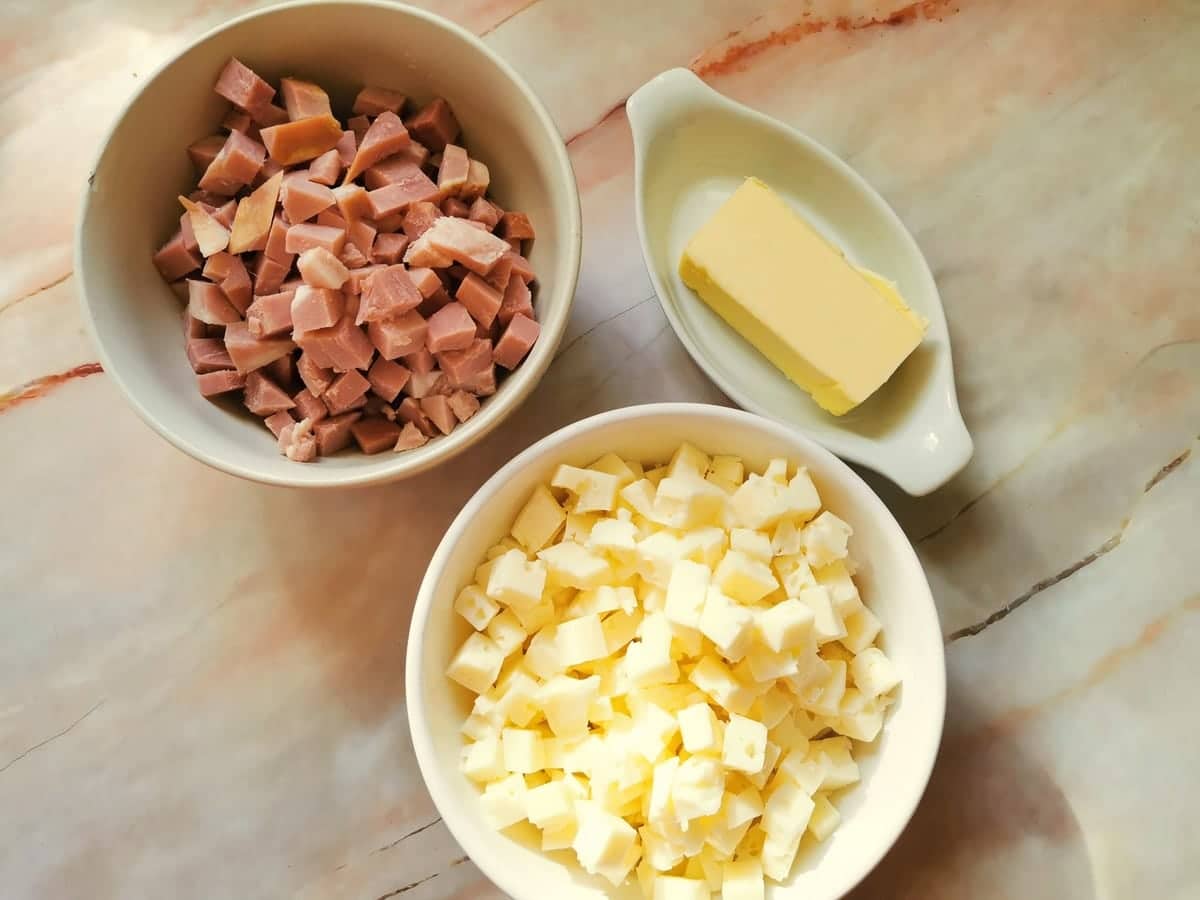 Because the pasta in this ham and cheese pasta bake recipe is handmade and the pasta squares don't need to be uniform in size, we can also call this a type of maltagliati.
Maltagliati means badly cut in Italian and there are many types of flat pasta pieces that are referred to as maltagliati. These include pasta cut into triangles, rhomboids, rectangles and squares! Some have a different name like patallette from Abruzzo or cresc'tajat in Marche.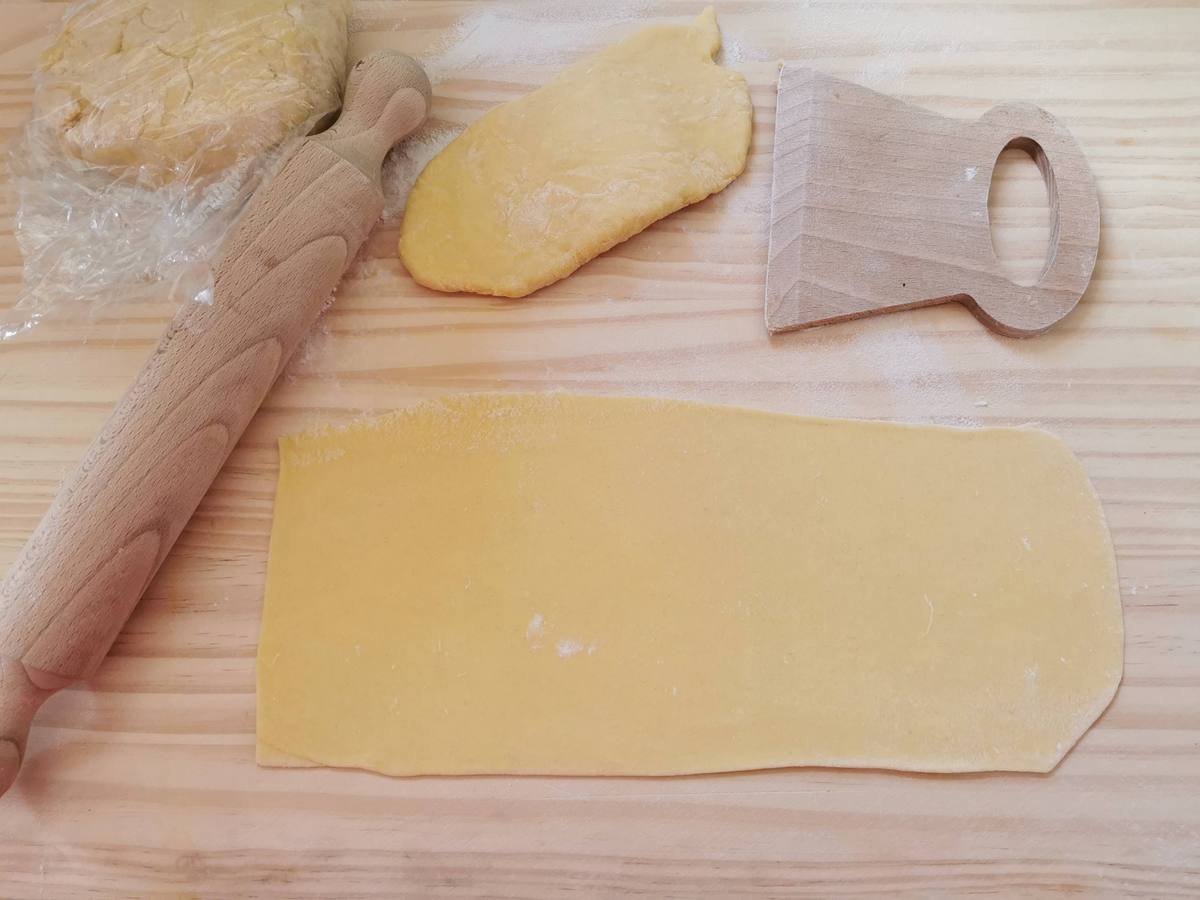 The origins of this baked pasta squares recipe.
I first came across this recipe in a wonderful book called the Encyclopaedia of pasta by Oretta Zanini de Vita. This is a great resource for pasta lovers. It includes literally hundreds of types of pasta and pasta dishes and is full of historical and geographical information.
It isn't a recipe book as there are no lists of ingredients or detailed recipe instructions. But, it's a reference book that records all the traditional types of pasta in Italy from the most obscure to the most well-known!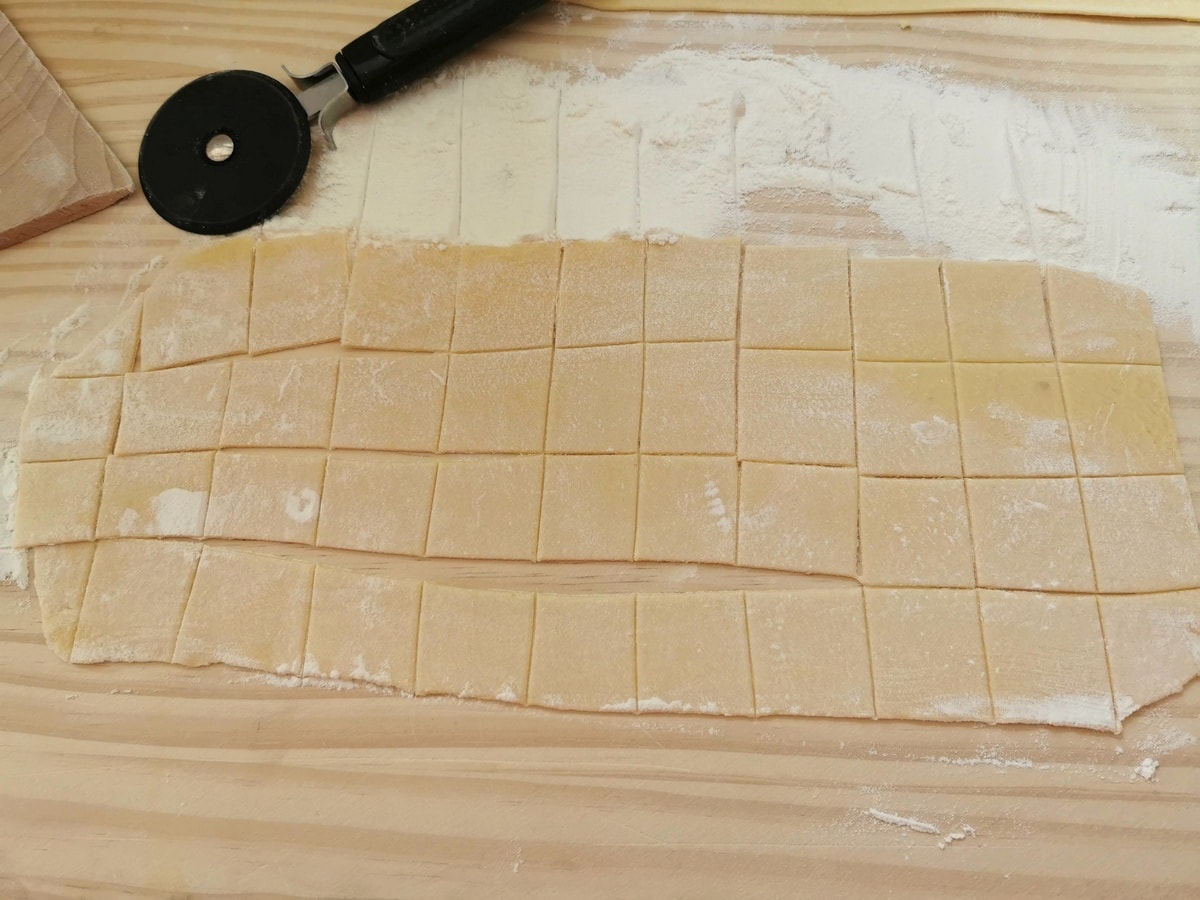 According to Ms. Zanini de Vita, the first written reference to this baked ham and cheese pasta squares (schunchenfletz) was made in the 1800s. This recipe was included in a handwritten recipe book belonging to a certain de Montel family that dates back to before 1820. The book was copied in Rome in 1871.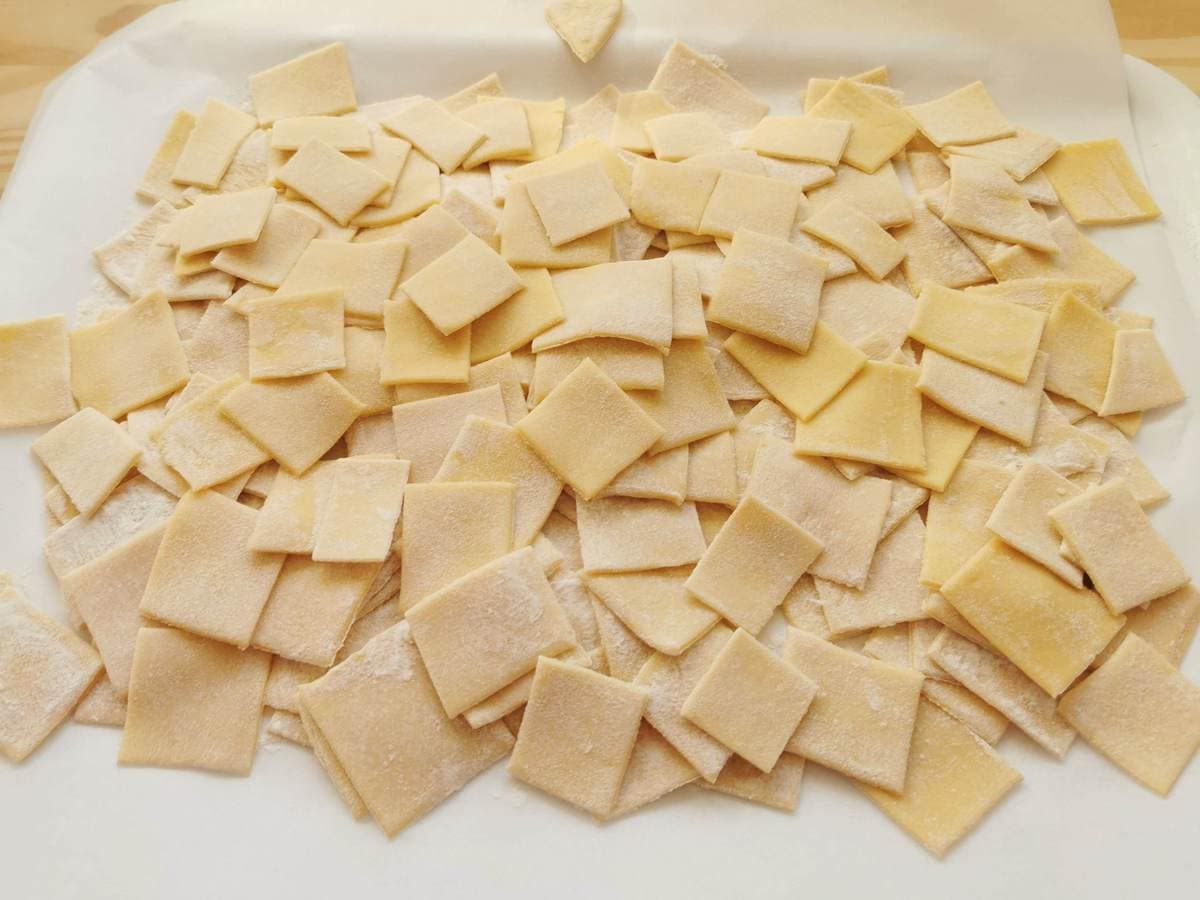 There are very few versions of this recipe online. I did discover a couple in Italian, of course. This is one that I followed for the main ingredients although I didn't use rye flour which this recipe calls for. Rye flour is a traditional ingredient in the South Tyrolean kitchen. They use it to make both bread and pasta.
How to make this ham and cheese pasta bake recipe.
Irrespective of what one might call the pasta squares in this recipe or how similar it is to schinkenfleckerl, this baked pasta is easy to make and seriously good! The pasta squares are mixed with lots of butter and cheese and then layered with pieces of ham and baked until the cheesy top has melted and become a little browned.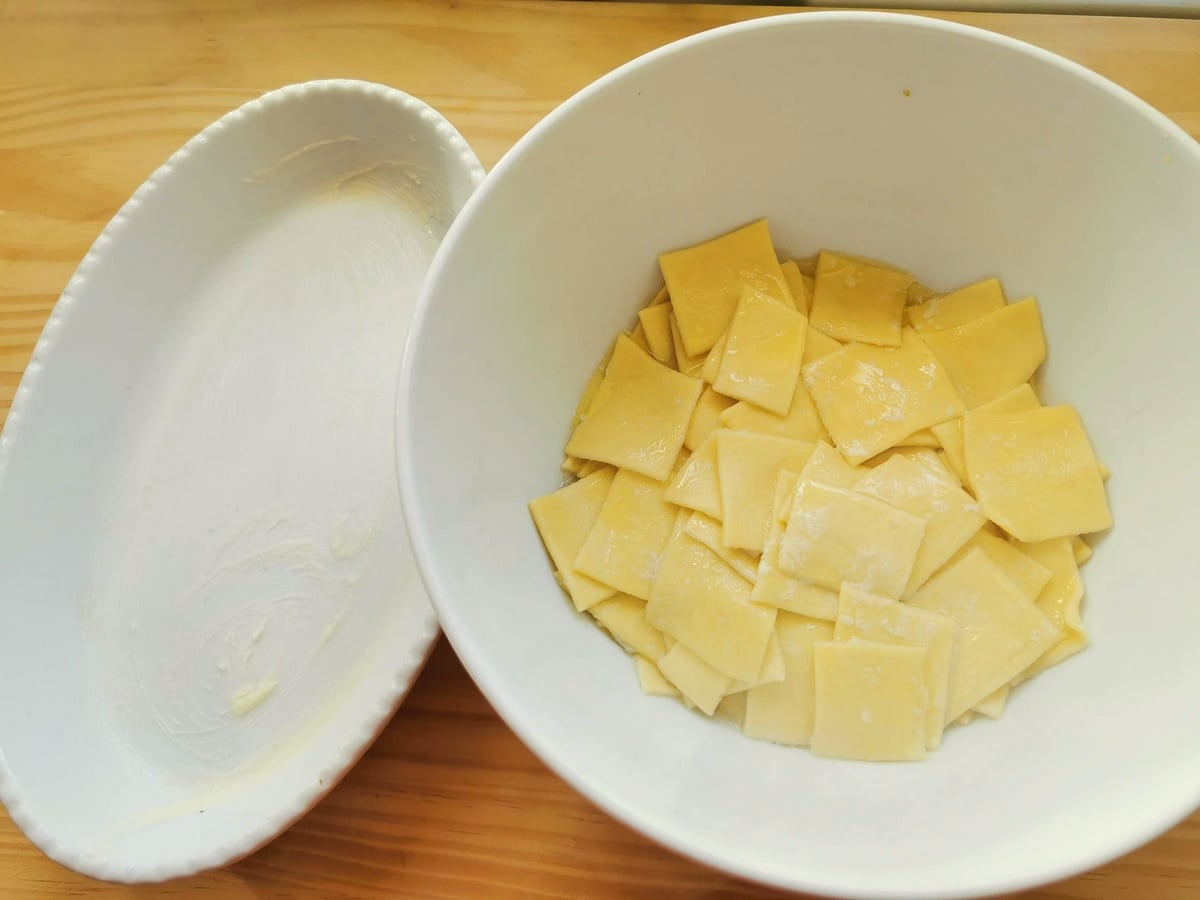 Apart from making the fresh pasta, this recipe requires very little preparation. All you need to do is melt butter and cut the ham and cheese into small cubes. Then parboil the pasta and mix it with the other ingredients and bake. Easy right? Also a great recipe for leftover holiday ham.
The cheese.
I made this recipe with Asiago. This is a very good melting cheese from the mountains close to where I live. The cheese in one of the recipes I found for this dish is Il Puzzone di Moena (Spretz Tzaorì). This is a mountain cheese from the South Tyrol made only from the milk of cows grazing at between 1,000 and 2,000 metres above sea level.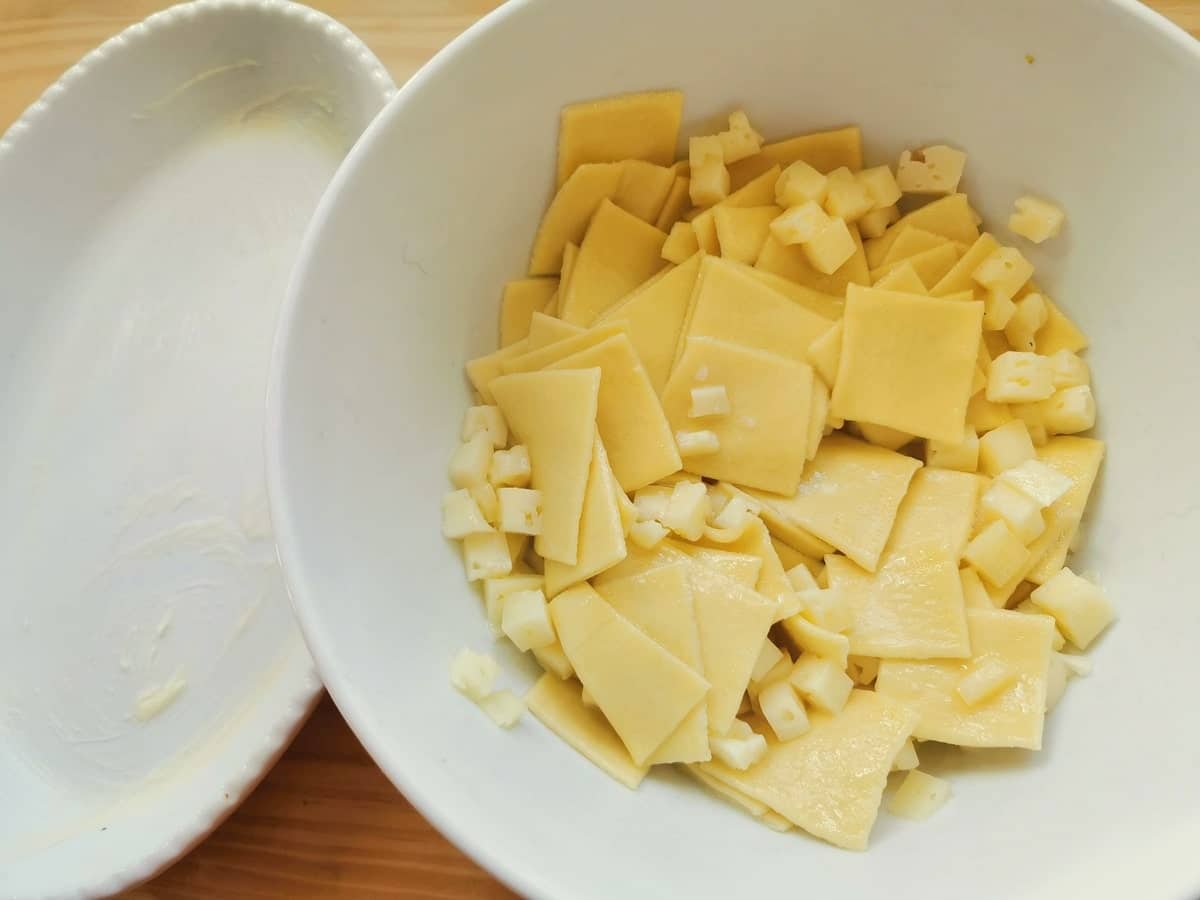 Obviously, that cheese isn't easily available outside of Italy. But Asiago is, and otherwise gruyere or fontina would work well too!
Making the pasta squares.
This recipe calls for classic egg pasta sheets which are then cut into squares. The pasta is the same as for lasagna. It has just soft wheat flour, salt and eggs which you mix together in a bowl and then knead into a dough.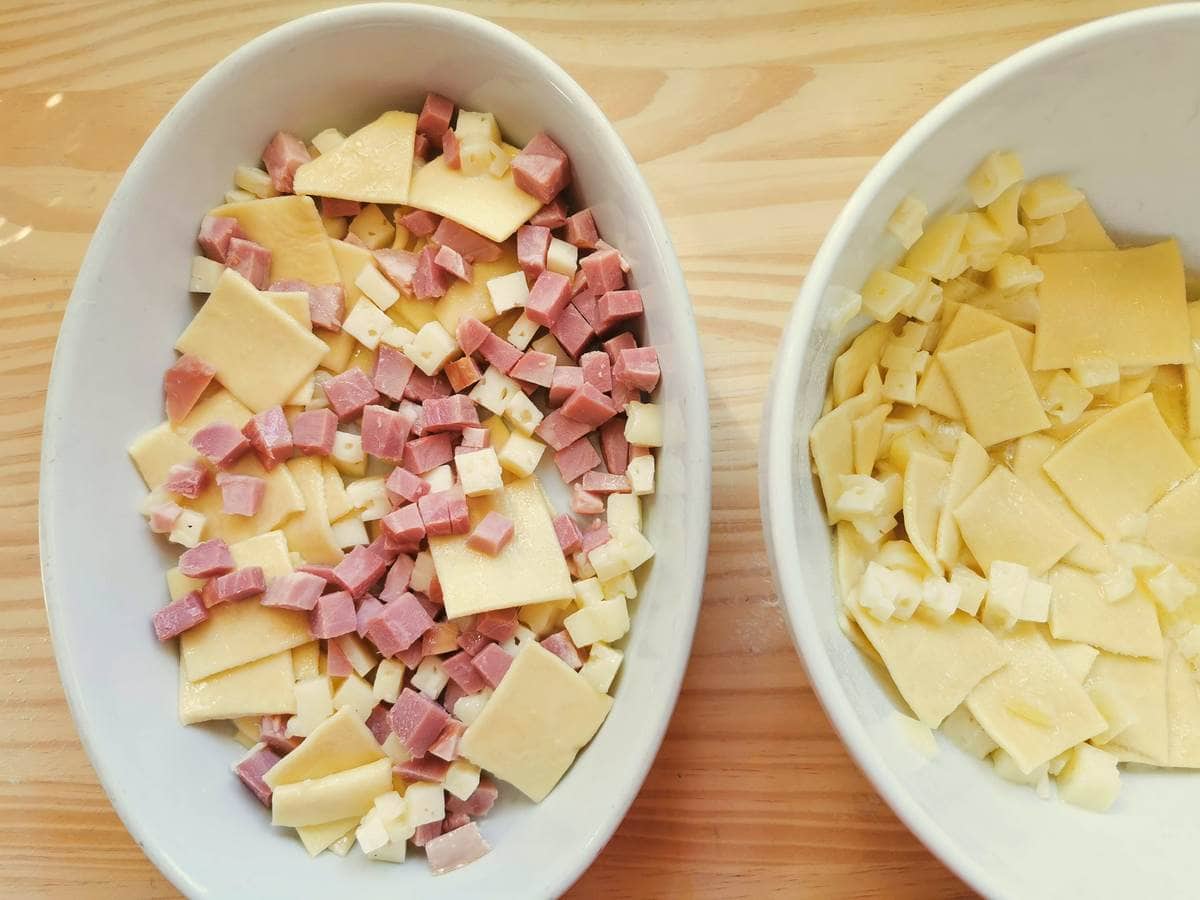 Once the dough has rested, you need to roll it out into sheets and then cut into squares. You can use a pasta machine (as we did) or roll the dough out with a rolling pin.
If you don't want to make your own pasta for this recipe, just half cook dried lasagne sheets in boiling salted water, drain them and cut them into squares once they have cooled.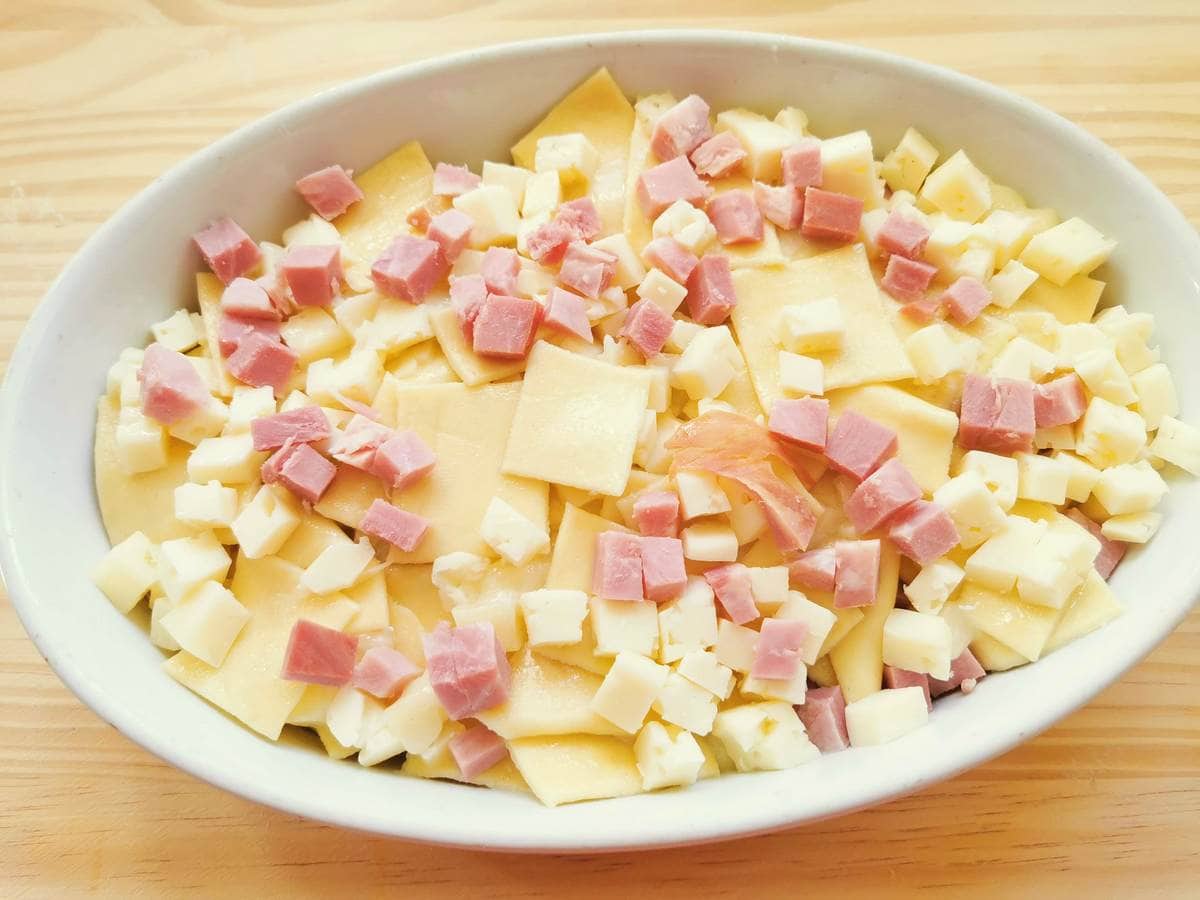 Finish and bake.
Once your pasta squares are ready, melt some butter and mix it with the pasta. Then add some of the cheese and salt to taste. mix again. The next step is to grease an oven dish and make a layer of the pasta squares.
Cover this with some pieces of ham and cheese and then make another layer of pasta. Once again, cover this with ham and cheese. Then, bake the dish until all the cheese has melted and started to brown.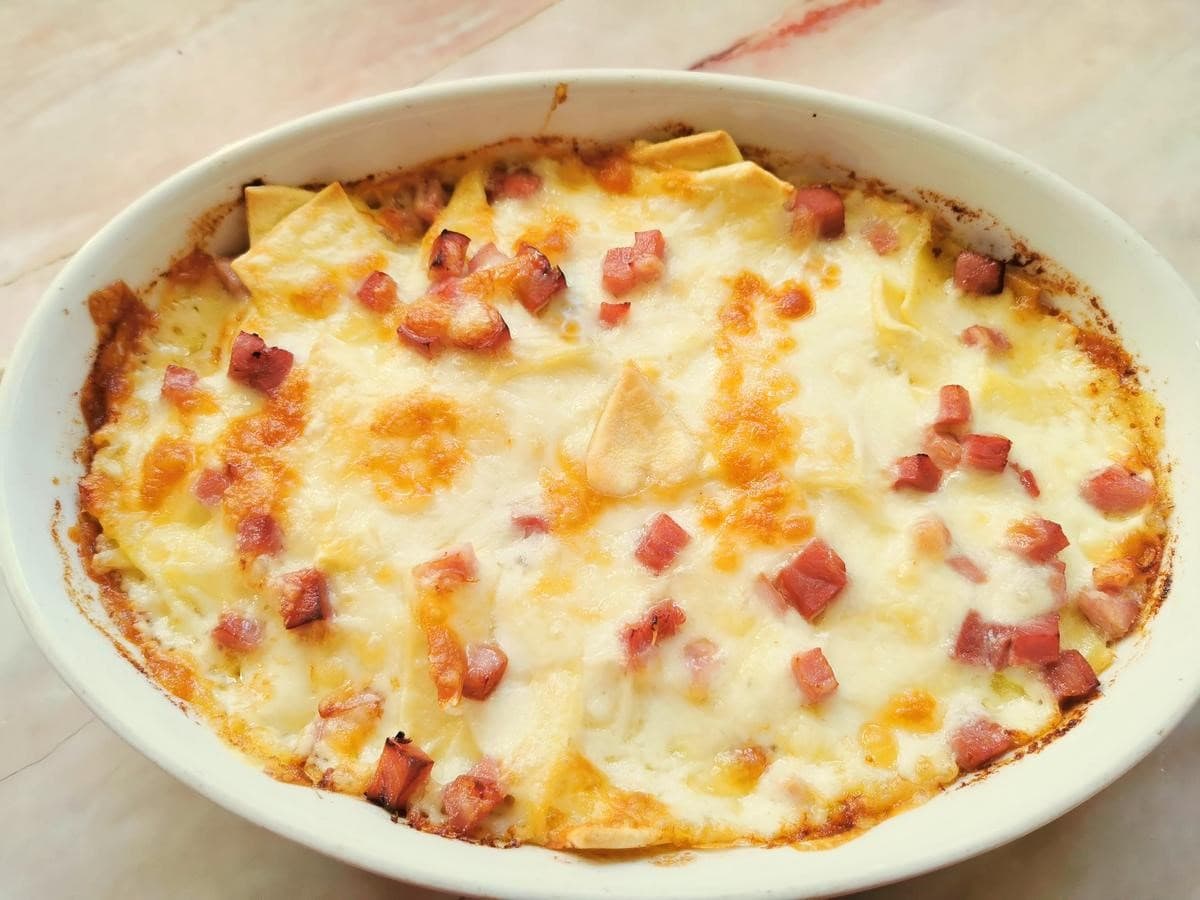 What to do with leftovers.
If you have leftovers, you can keep them sealed in the fridge for a day or two. I like to reheat leftovers as individual portions in the microwave.
Let me know what you think.
Whether you make this South Tyrolean ham and cheese pasta bake with fresh homemade pasta squares or using ready lasagne sheets, this is a super easy recipe. All you need is pasta or flour and eggs to make your own, plus salt, ham, cheese and butter. These are all pantry staples. Definitely one to try!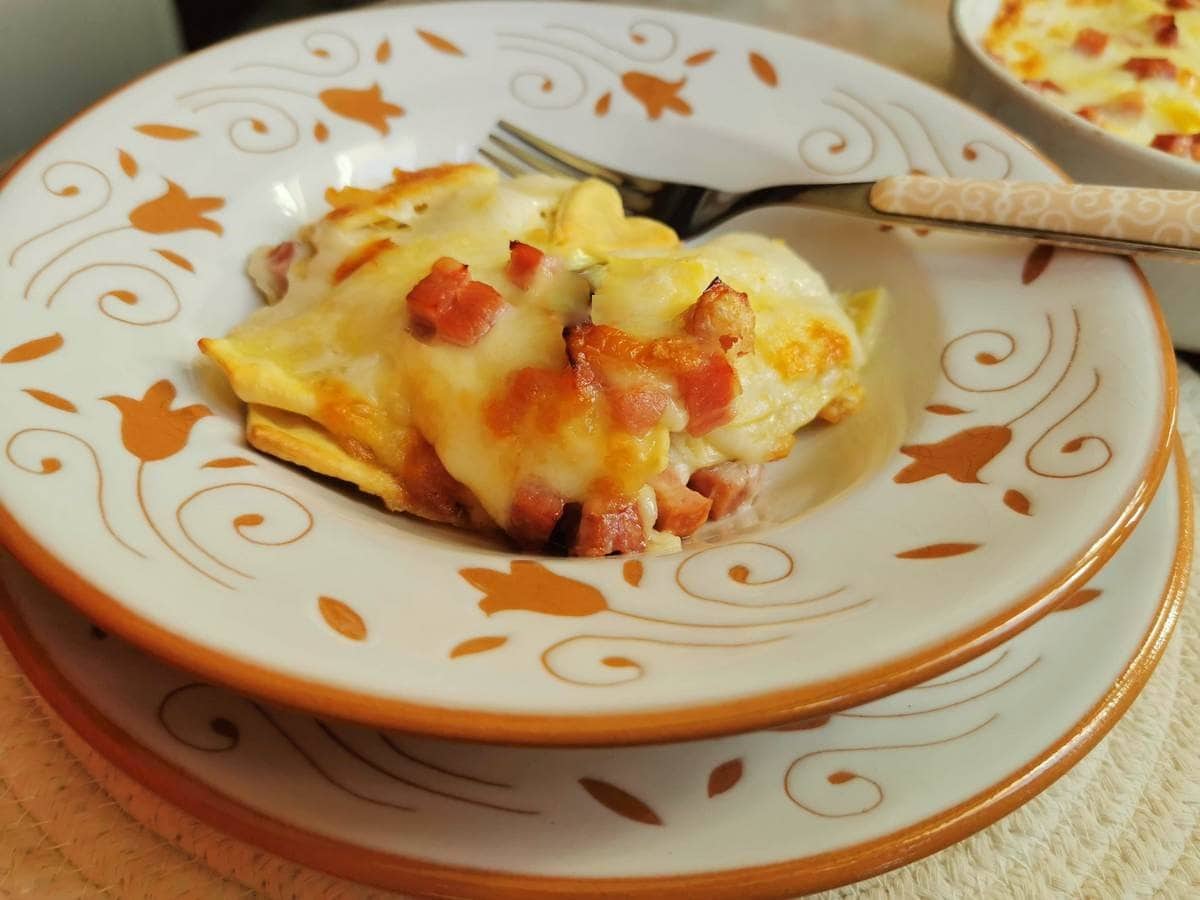 If you do try this recipe, I'd love to know what you think. Please write a comment here on the blog or post a comment on the Pasta Project Facebook page.
Your feedback means a lot to me!
Buon Appetito!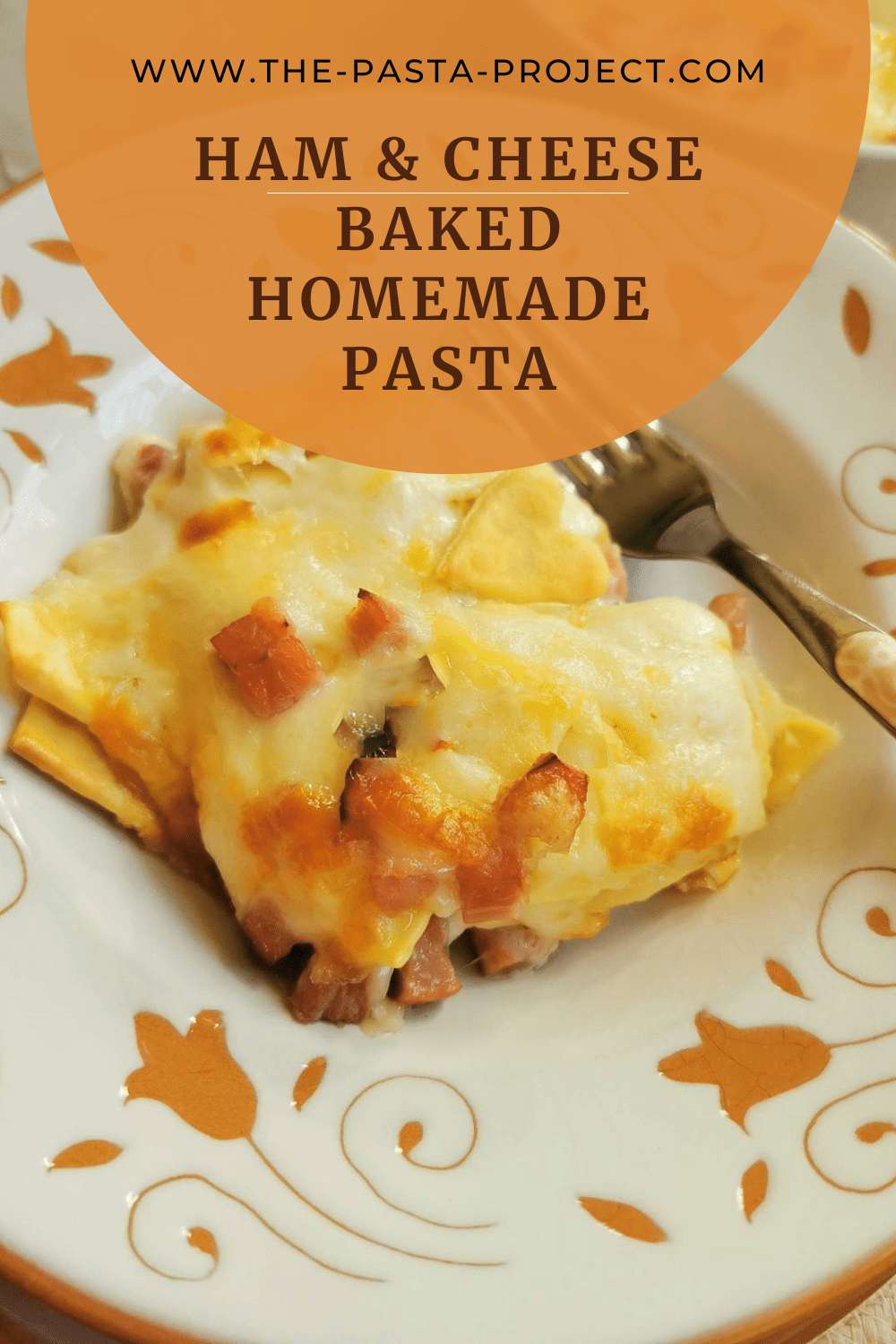 How to make fresh egg pasta sheets.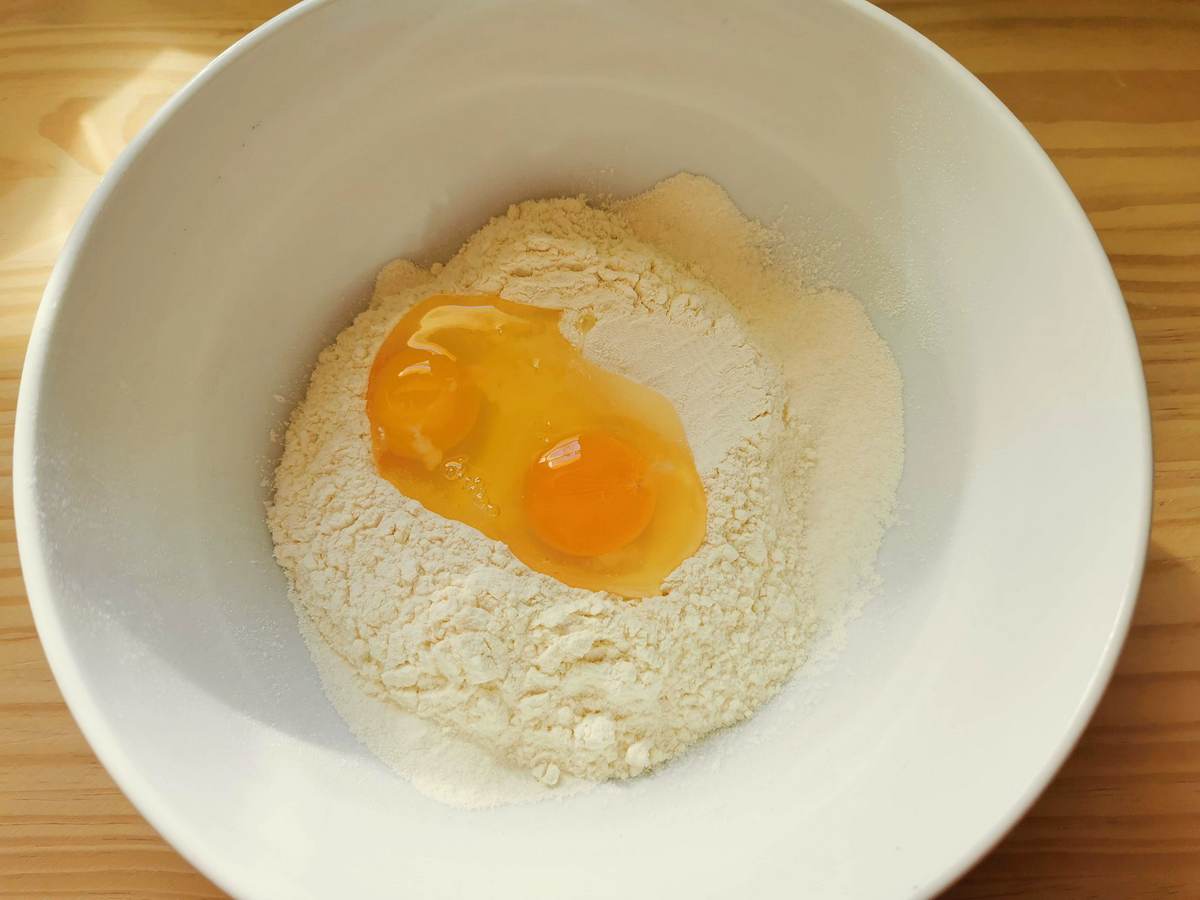 Sift the flour into a bowl and add eggs and salt.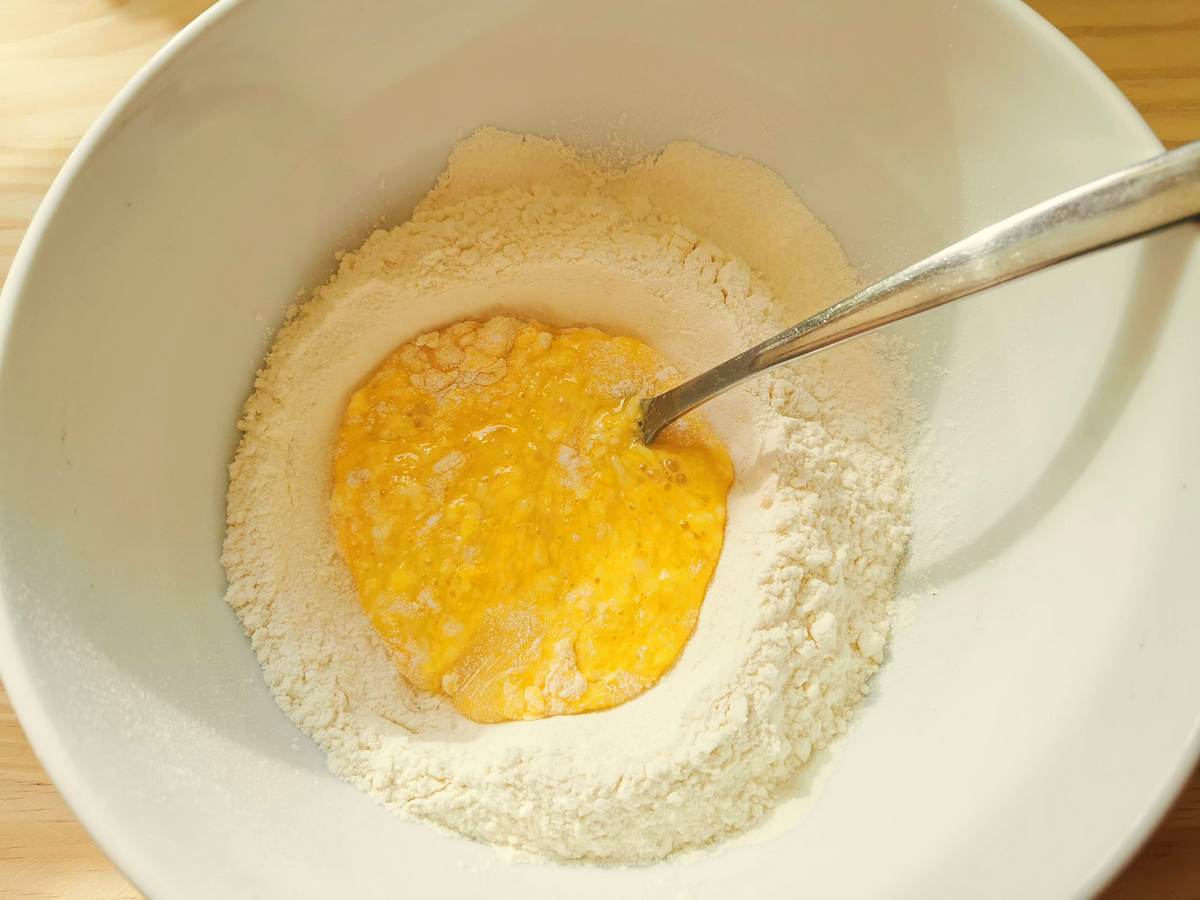 2. Beat the eggs with a fork.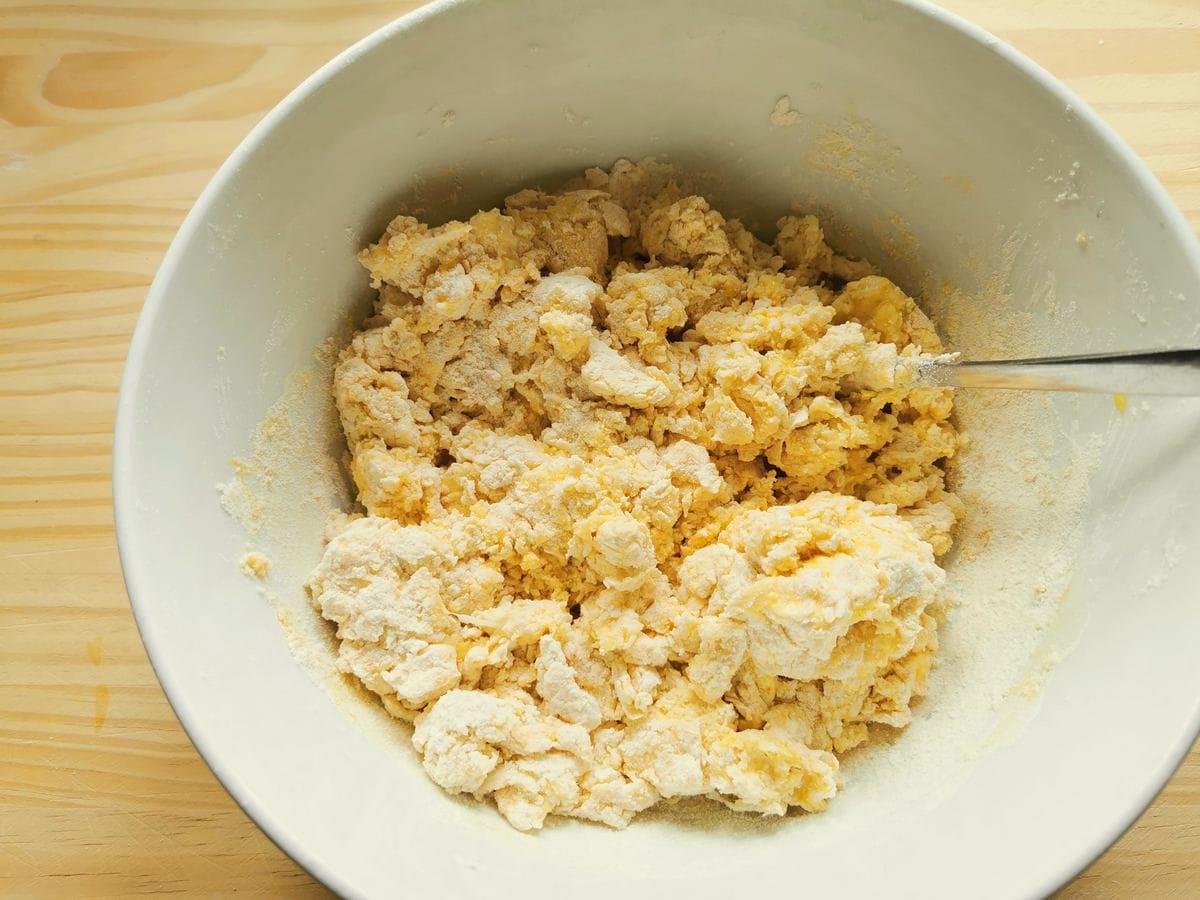 3. Continue mixing the flour and eggs until you have the start of a dough. Use your hands to knead the dough until it no longer sticks to the side of the bowl.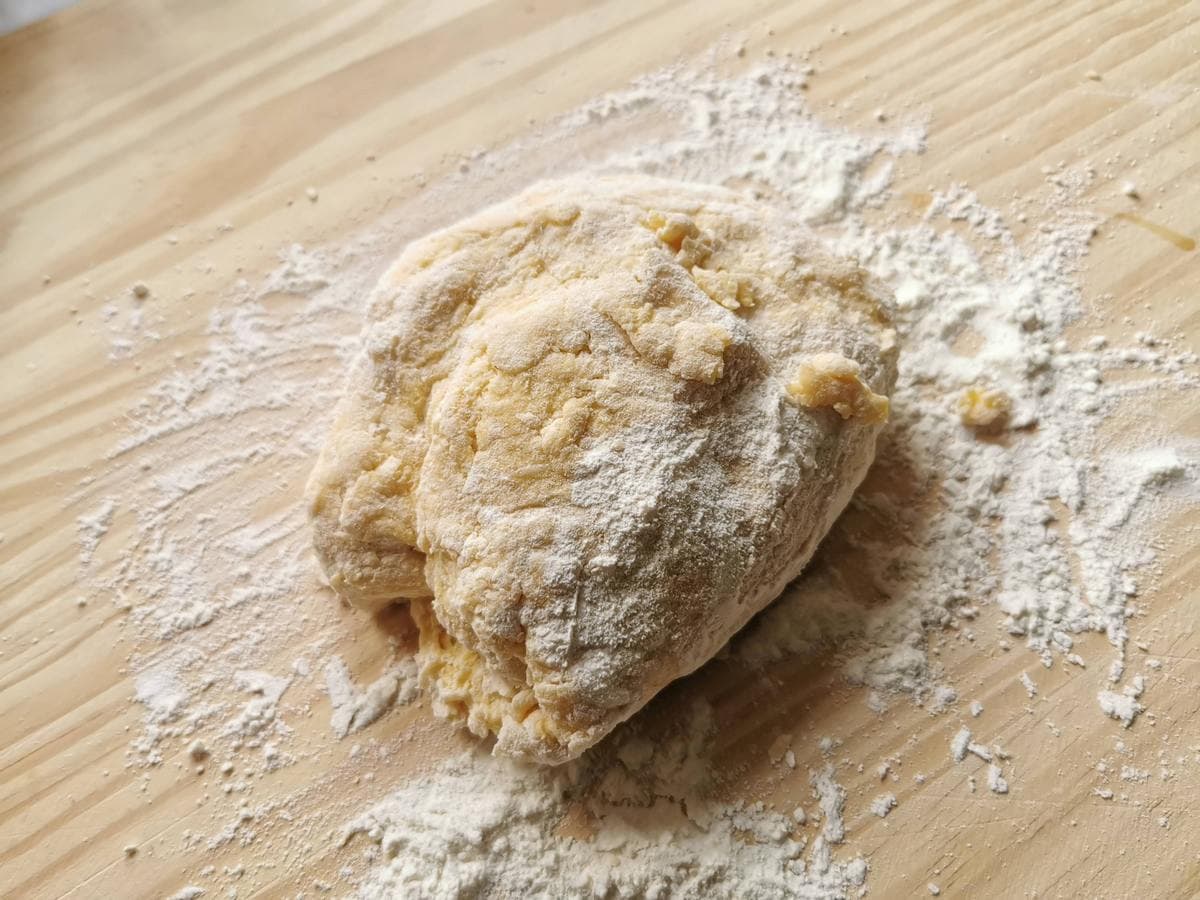 4. Turn the dough out onto a flour dusted work surface and knead for 7-10 minutes until soft and pliable.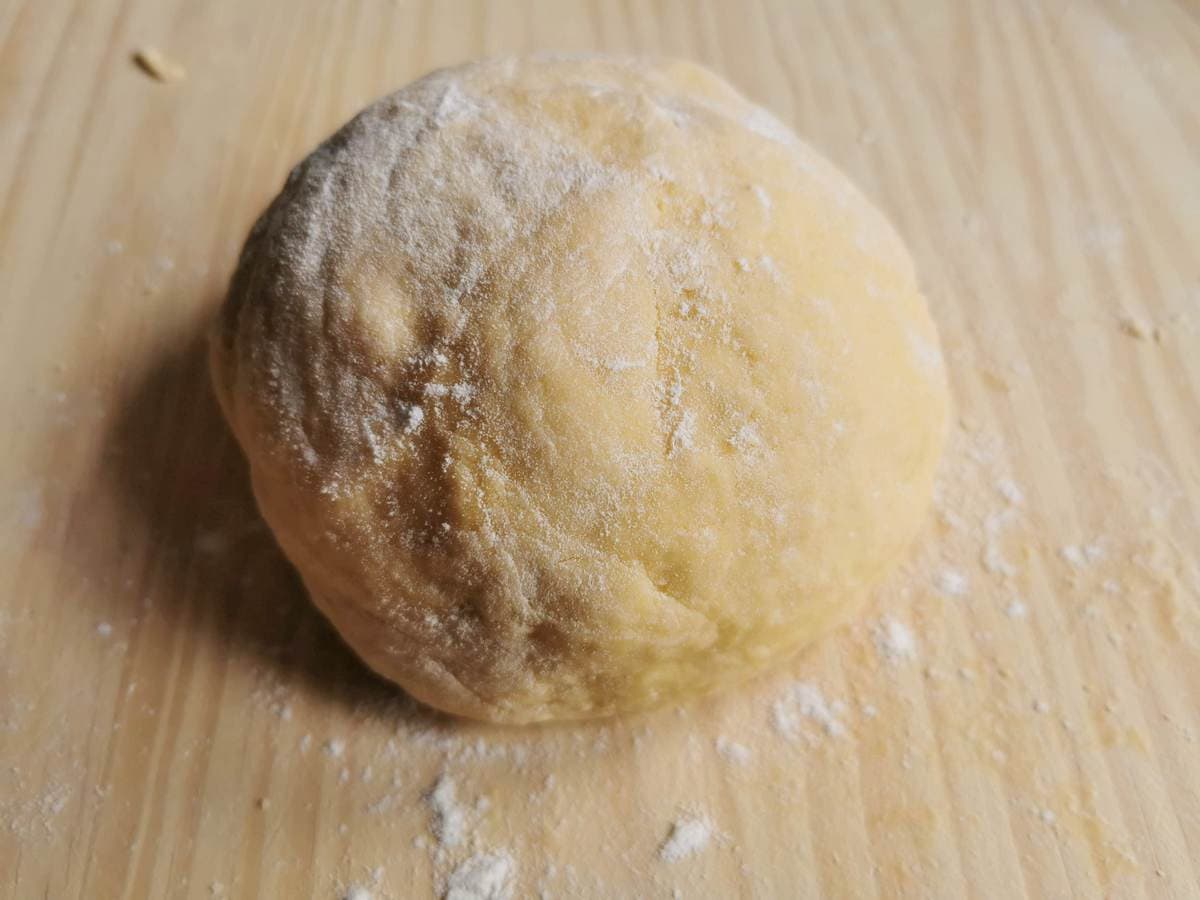 5. Roll the dough into a ball and let it rest for 30 minutes wrapped in clingfilm or a damp tea towel.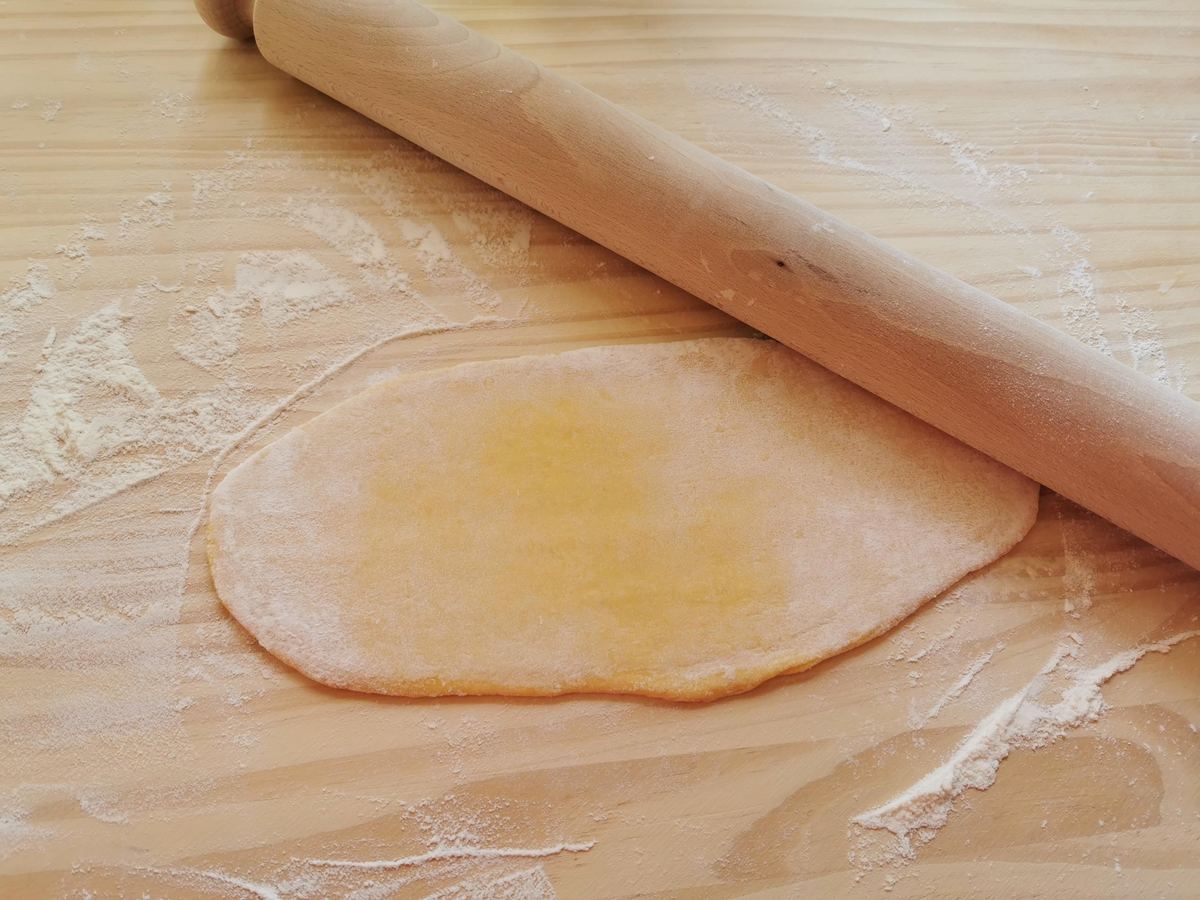 6. After the dough has rested, cut off one third and rewrap the rest. Roll the dough piece out so you can pass it through a pasta machine.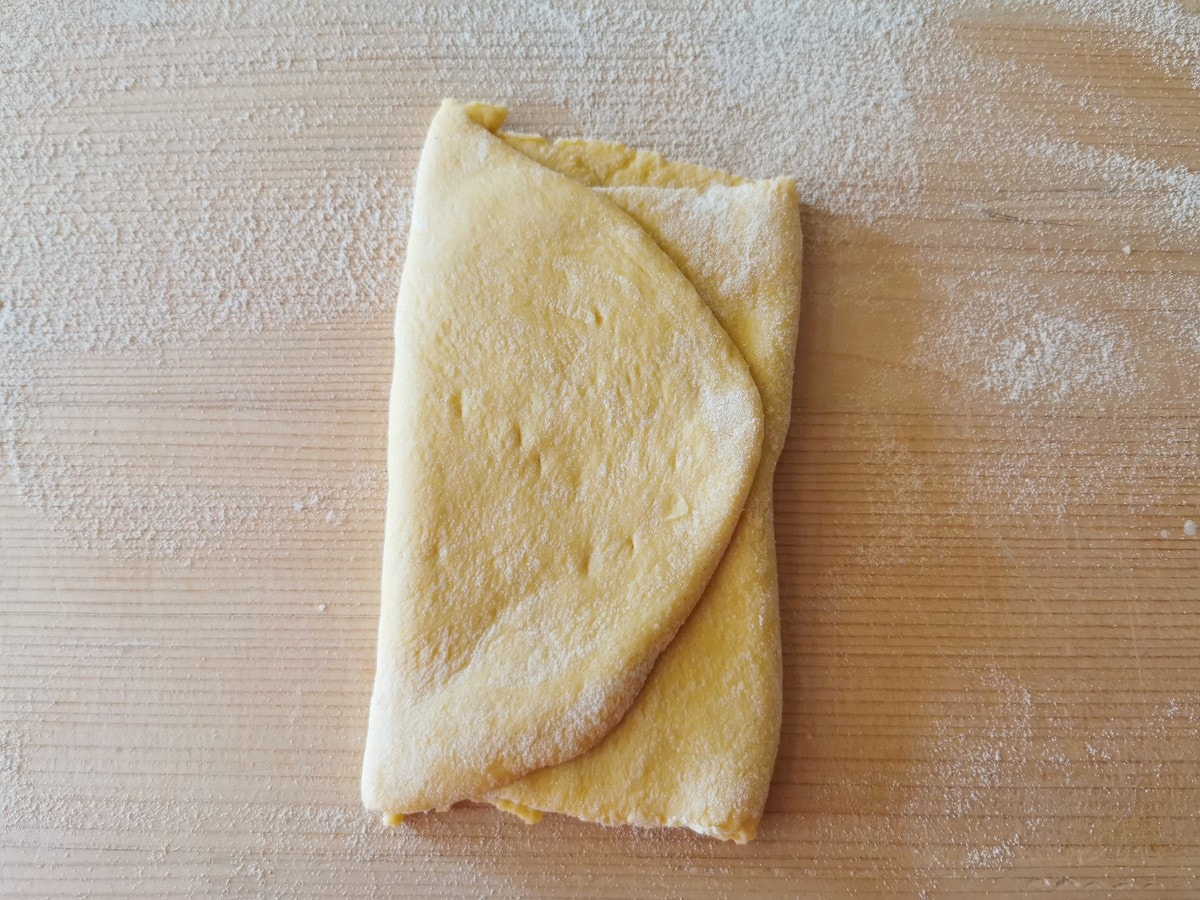 7. Pass the dough through the widest setting on your machine. Then fold it in thirds and repeat twice.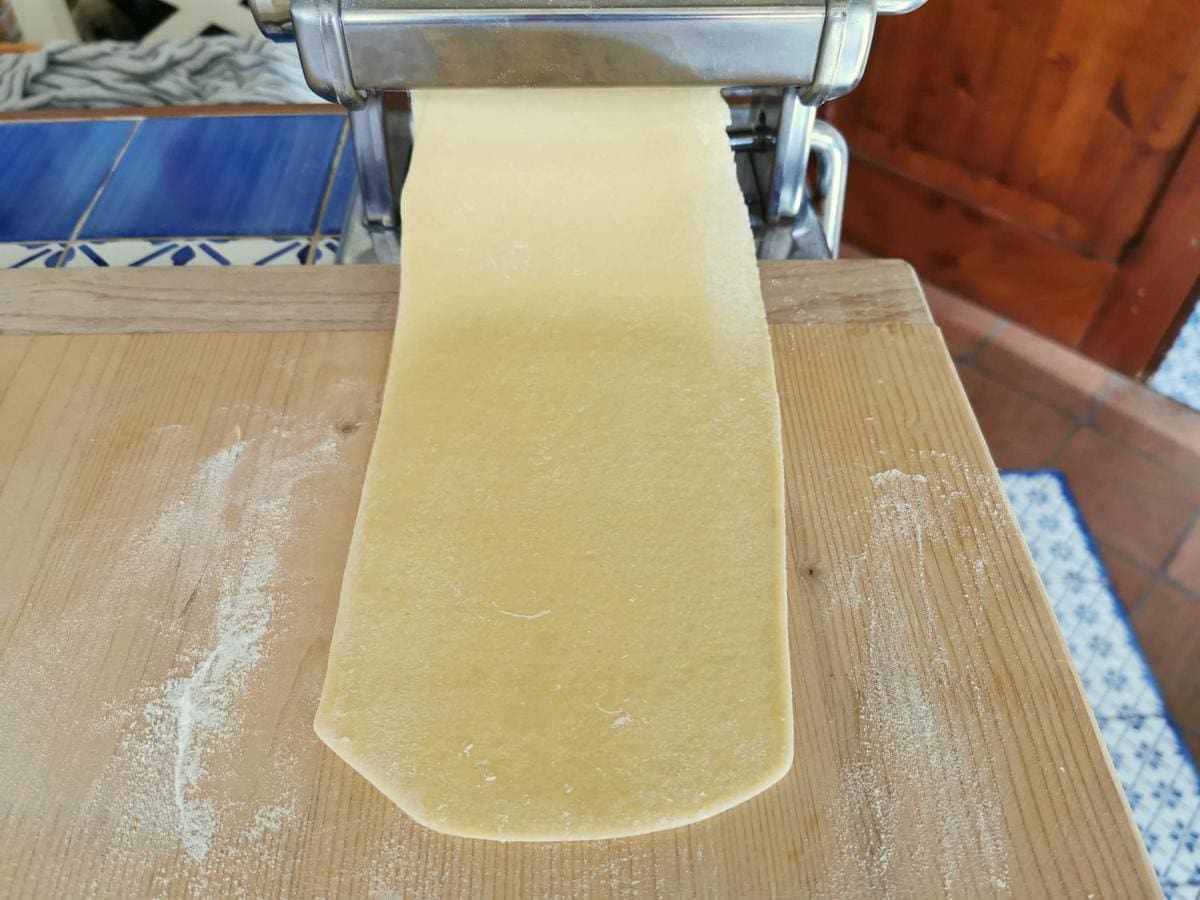 8. Then, pass the sheet through the machine 2 or 3 times more on narrower settings.
The widest setting on my machine is 7. After 7 I then pass the dough through 5 and then 3. The dough sheet doesn't need to be super thin to make pasta squares. On some machines the widest setting is 1. You can also just roll out the dough with a rolling pin.
Other baked pasta recipes for your fresh egg pasta sheets.
Are you interested in learning how to make other types of homemade pasta and different types of gnocchi? Then check out my shop page for some great video online courses from my friends in Rome! Nothing beats learning to make pasta from Italians! Plus while you're there why not order a copy of one of my pasta recipe cookbooks or checkout some recommended pasta making tools?