Schinkenfleckerl is a rich baked pasta and ham recipe from Italy's South Tyrol and Austria. This ham and noodle casserole calls for traditionally homemade egg pasta squares baked with sour cream, eggs, ham and breadcrumbs. Of course, this dish can be made with other types of pasta too.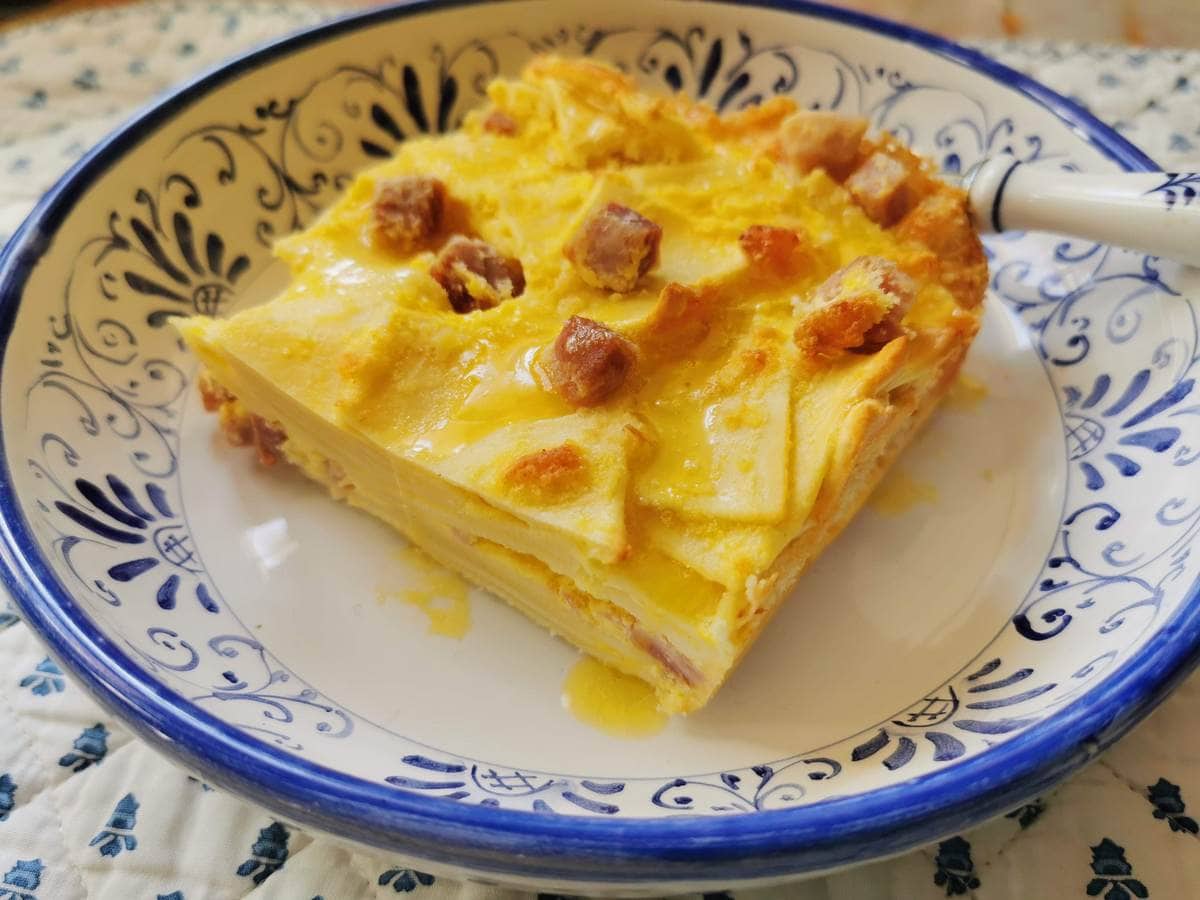 Where is the South Tyrol?
Also called the Alto Adige in Italian, this beautiful mountain region lies in Northeast Italy, on the border with Austria. It's part of the autonomous Trentino-Alto Adige region.
This stunning part of Italy stretches across the Dolomite Alps and is, of course, very mountainous and covered in pine forests. The food, culture and lifestyle of the South Tyrol seems more central European than Italian.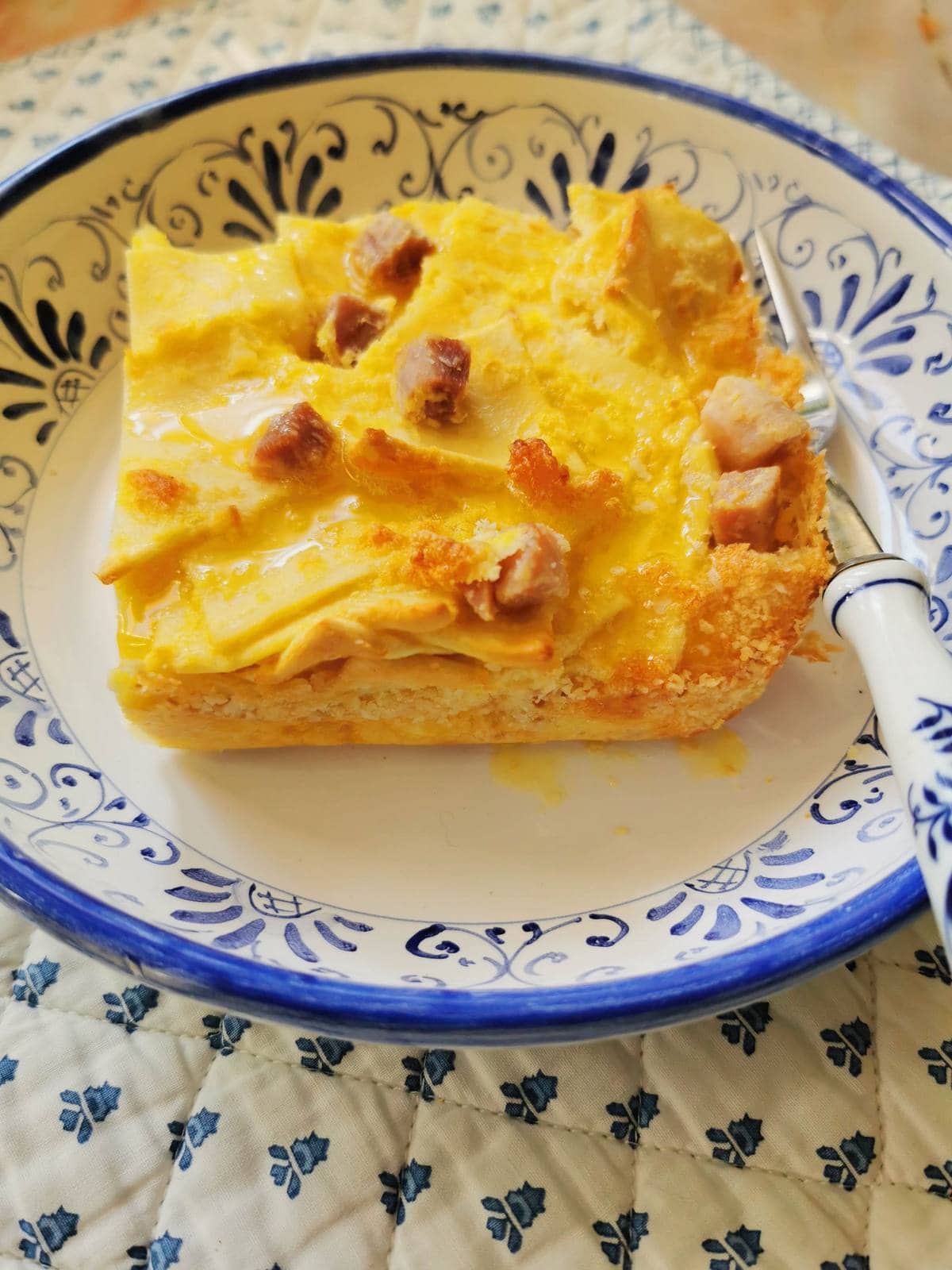 What is fleckerl pasta?
Fleckerl pasta is traditionally homemade egg pasta squares. This pasta is the basis of a number of typical Austrian dishes such as Krautfleckerl (cabbage and pasta) or Grenadiermarsch (potatoes, pasta and sometimes bacon of ham hock)) and the Schinkenfleckerl pasta and ham casserole in this recipe.
In The South Tyrol, Austria, Germany and Hungary, it's possible to buy dried fleckerl. These are usually made from eggs and hard wheat flour and may have slightly ruffled edges.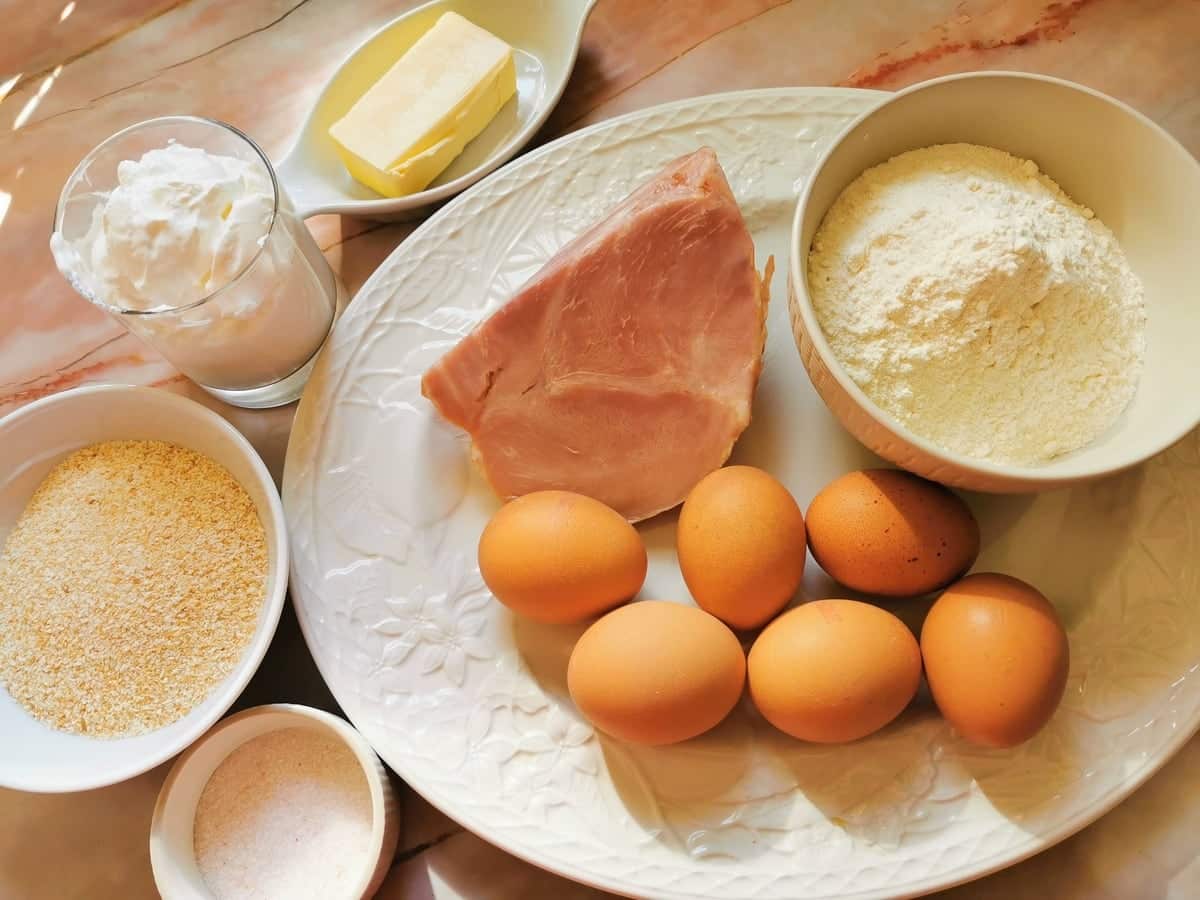 You can find versons of krautfleckerl and/or grenadiermarsch in Hungarian, Croatian, Czech, Polish and German cuisine, as well as other regions which were part of the Austro-Hungarian Empire.
Schinkenfleckerl, on the other hand, seems to be mostly an Austrian, German or Northern Italian recipe. However, fleckerl pasta is also used in a similar South Tyrolean recipe called schunchenfletz, another baked pasta and ham recipe which is a simplified version schinkenflekerl.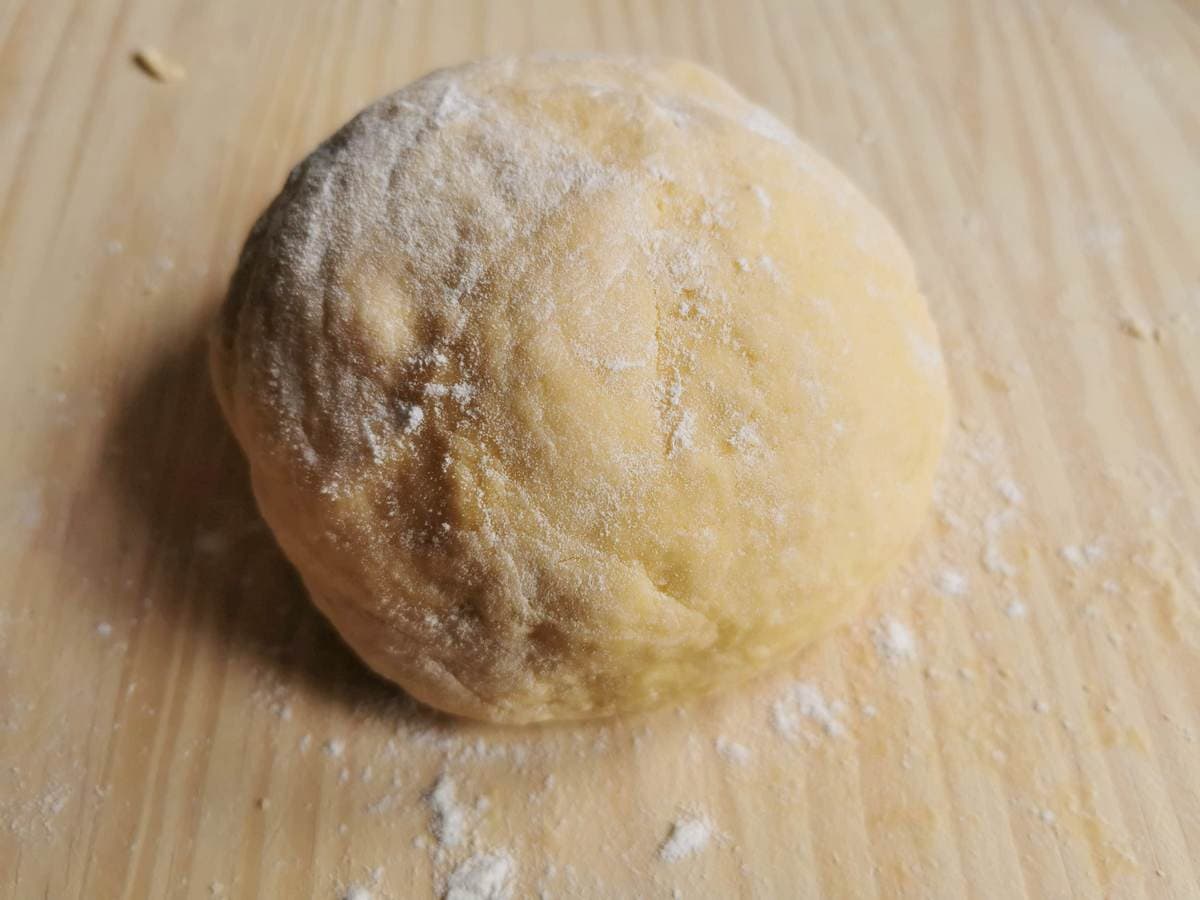 Italian recipes with German names.
The Italian South Tyrol was part of the Austro-Hungarian Empire until 1919 and this is why a number of typical local dishes have German names.
In fact, although an Italian region, the majority of people in this part of Italy use German when they write and speak in an Austro-Bavarian dialect. Plus, most streets and towns have both an Italian and German name.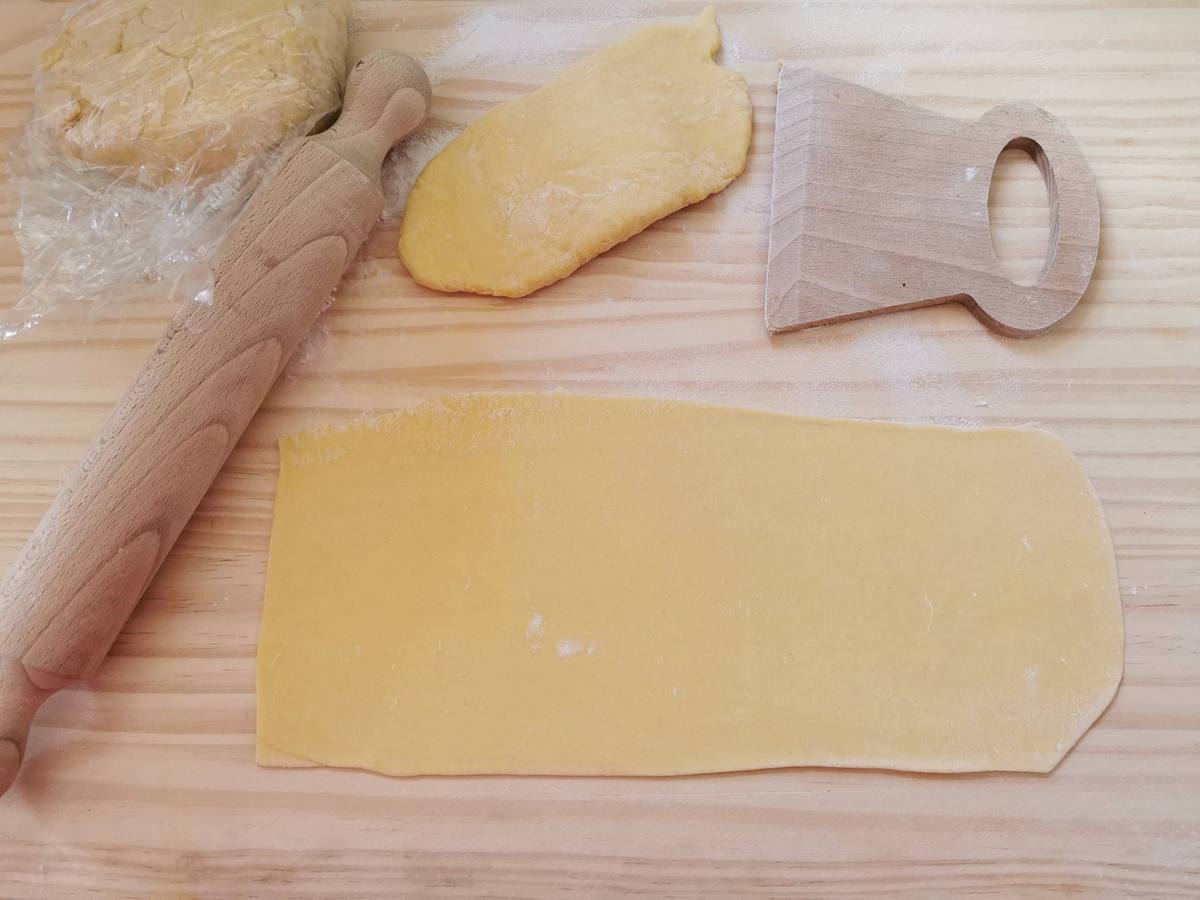 What are pasta squares called in other parts of Italy?
Outside of the South Tyrol, Italians don't call egg pasta squares, fleckerl. In fact, fleckerl pasta isn't known in other parts of Italy. Instead, they refer to pasta squares as quadrucci or quadretti.
However, this pasta is often smaller than fleckerl and is mostly used in soups and broths. Italian names for larger pasta squares are quadrotti or fazzoletti.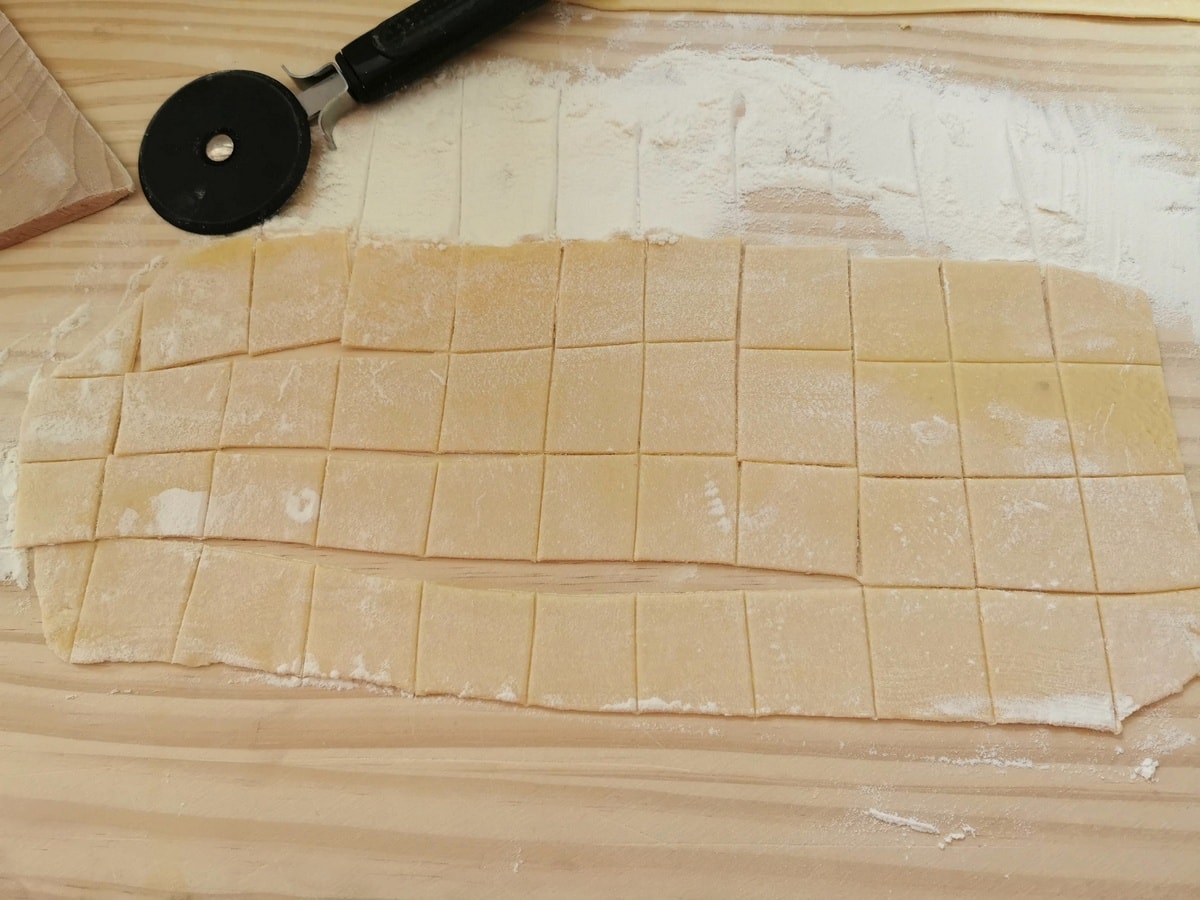 How to make homemade fleckerl pasta.
The pasta in this schinkenfleckerl recipe is quite easy to make. Mostly the dough is the same as other egg pasta like lasagne with soft wheat flour, salt and eggs, which you mix together in a bowl and then knead into a dough.
Once the dough has rested, you roll it into sheets and then cut it into squares. You can use a pasta machine (as we did) or roll the dough out with a rolling pin.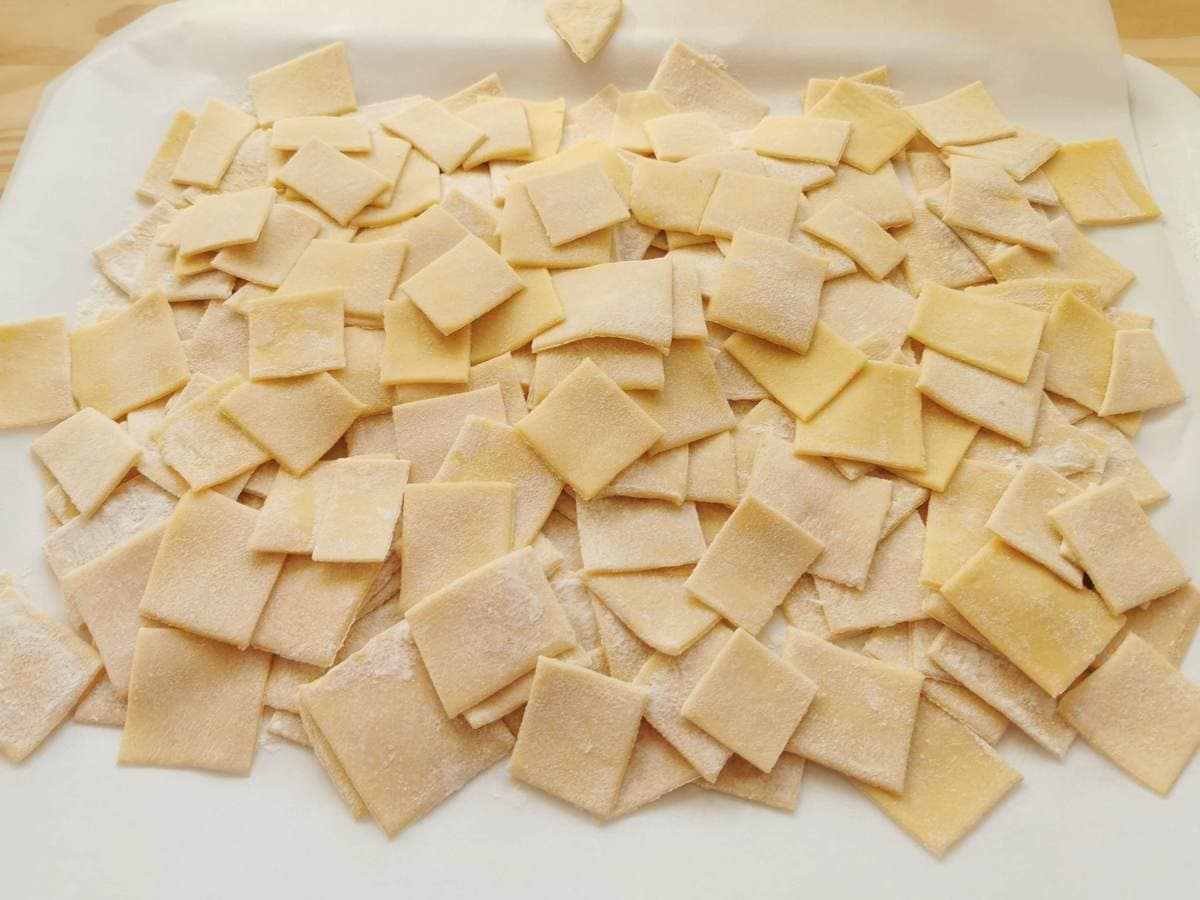 If you don't want to make your own pasta for this recipe, just half cook dried lasagne sheets or wide ribbons like pappardelle in boiling salted water, drain them and cut them into squares once they have cooled.
Alternatively, you can use ready made fresh lasagne sheets or wide egg pasta noodles.
Other ingredients in schinkenfleckerl.
The ham.
Schinken means ham in German and cooked ham is the most traditional meat used in this South Tyrolean baked pasta recipe. You can use sliced or cubed ham. This is a great recipe for using up leftover holiday ham too.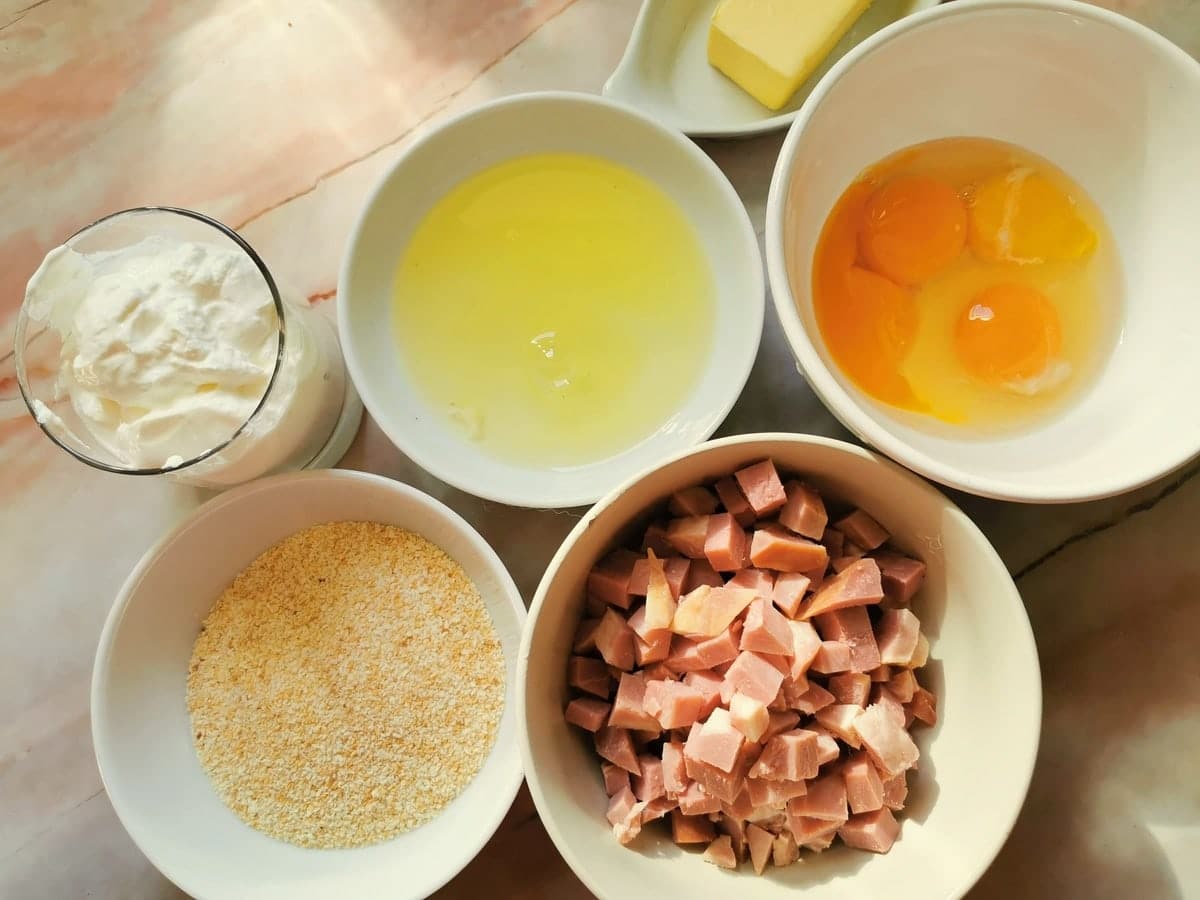 The eggs.
This is an egg rich recipe. Eggs are used to make the pasta and inside the casserole too. So, this recipe calls for 5-6 fresh eggs, depending on the size. I like to use fresh large organic eggs. These eggs are more nutritious than others because the hens are fed high quality feed and live better lives.
Bring the eggs to room temperature before using if you keep them in the fridge.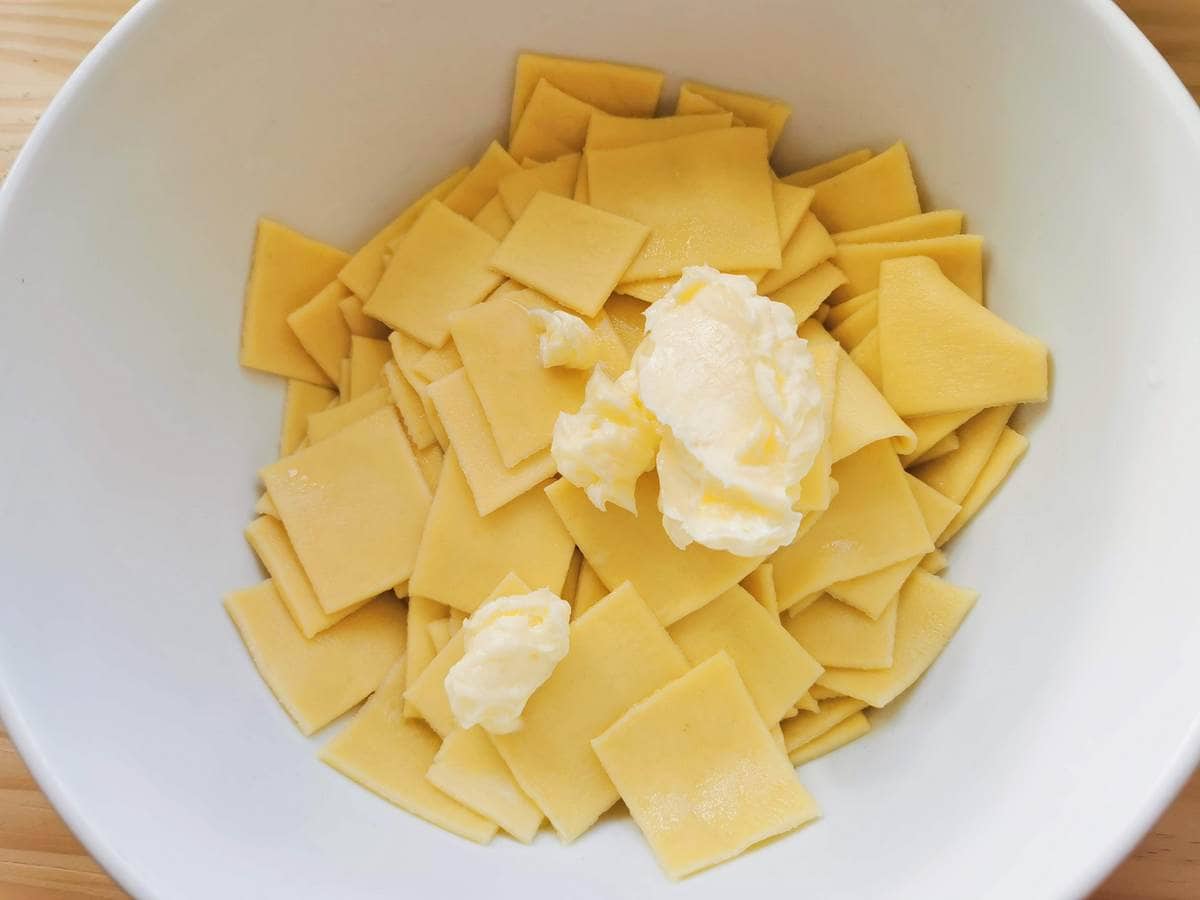 Breadcrumbs.
You can use homemade or store-bought breadcrumbs. Some people sprinkle breadcrumbs over the top of the pasta and ham before baking. I didn't do that this time. However, it does give the dish a slightly crispy topping.
Butter and sour cream.
As is common in Italy, I used unsalted butter. If you use salted butter, don't add salt to the pasta and ham mixture when putting it together.
Sour cream (panna acida) isn't widely available here in Italy, so when I can't find it, I make my own with equal quantities of fresh cream and plain white yogurt, and a little fresh lemon juice.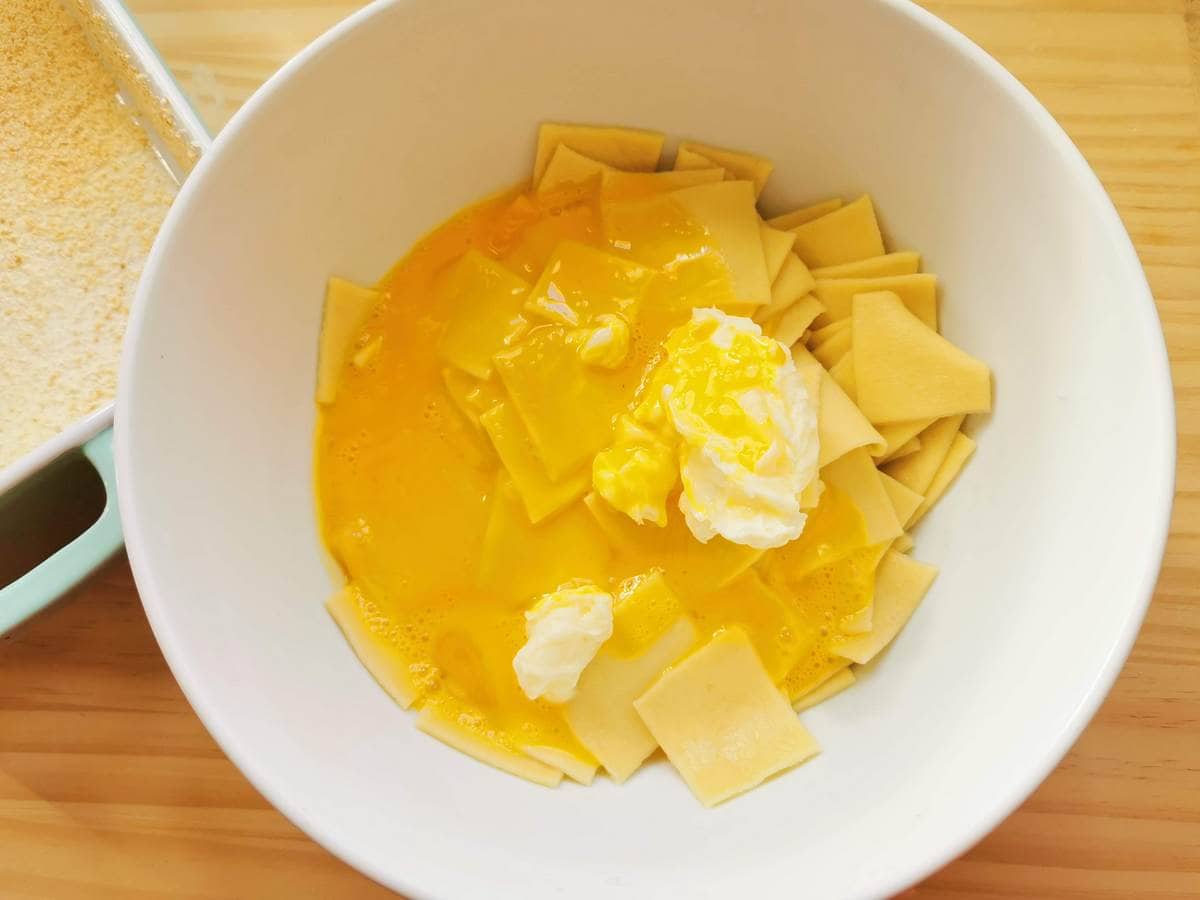 Alternatively, you can sub the sour cream with crème fraiche. This is a bit thicker than sour cream and has a higher fat content, but it works well in this recipe.
How to make schinkenfleckerl.
Once you have made the pasta dough (see step by step instructions below the recipe card) and rolled it out into sheets, you will need to cut it into 3x3cm (1.2in) squares. Place the ready squares on a floured surface until it's time to cook them.
Pro Tip : The pasta squares don't need to be perfect just more or less the same size.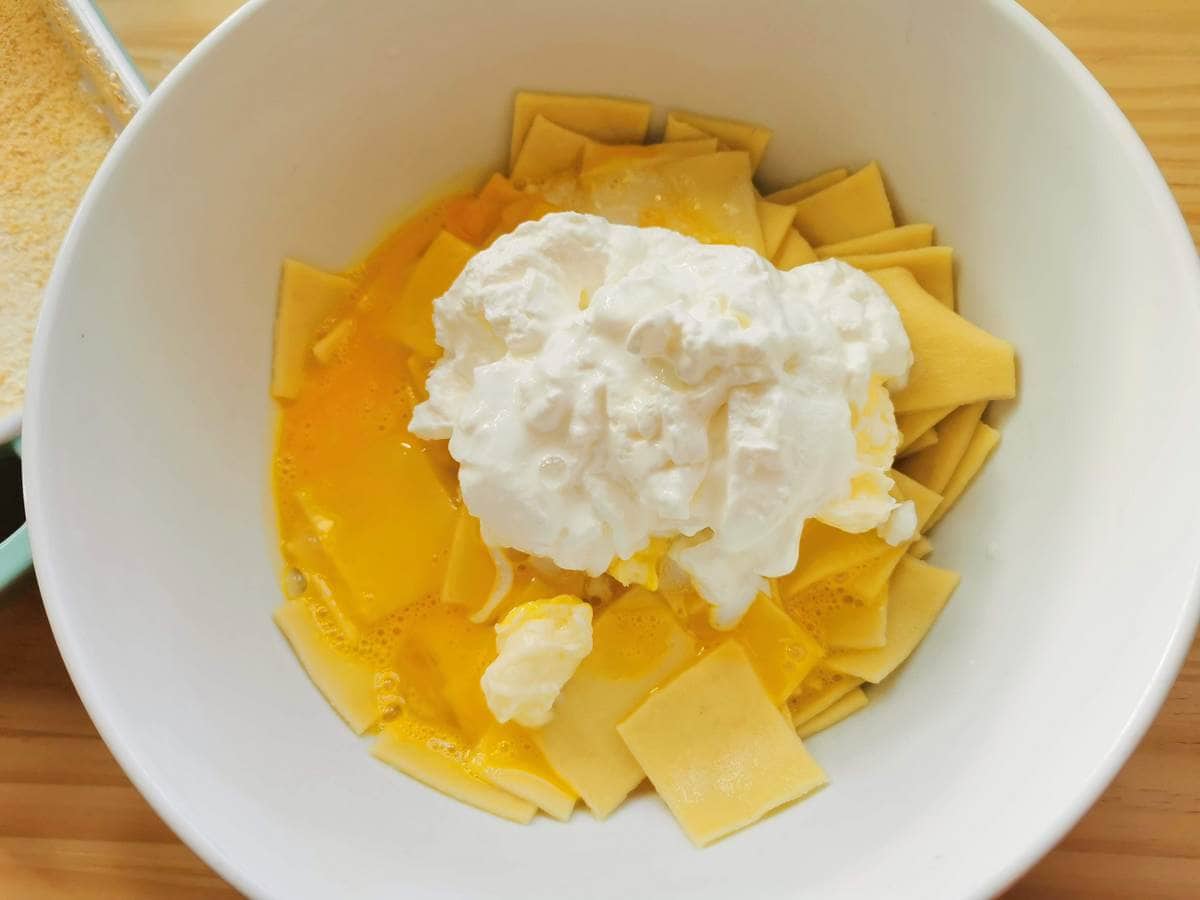 2. The next step in this schinkenfleckerl recipe is to put a pot of water on to boil for the pasta and prepare the other ingredients. Cut the ham into small cubes. Next separate the egg yolks and whites and cream the butter. Then butter an oven dish and coat the bottom and sides with breadcrumbs.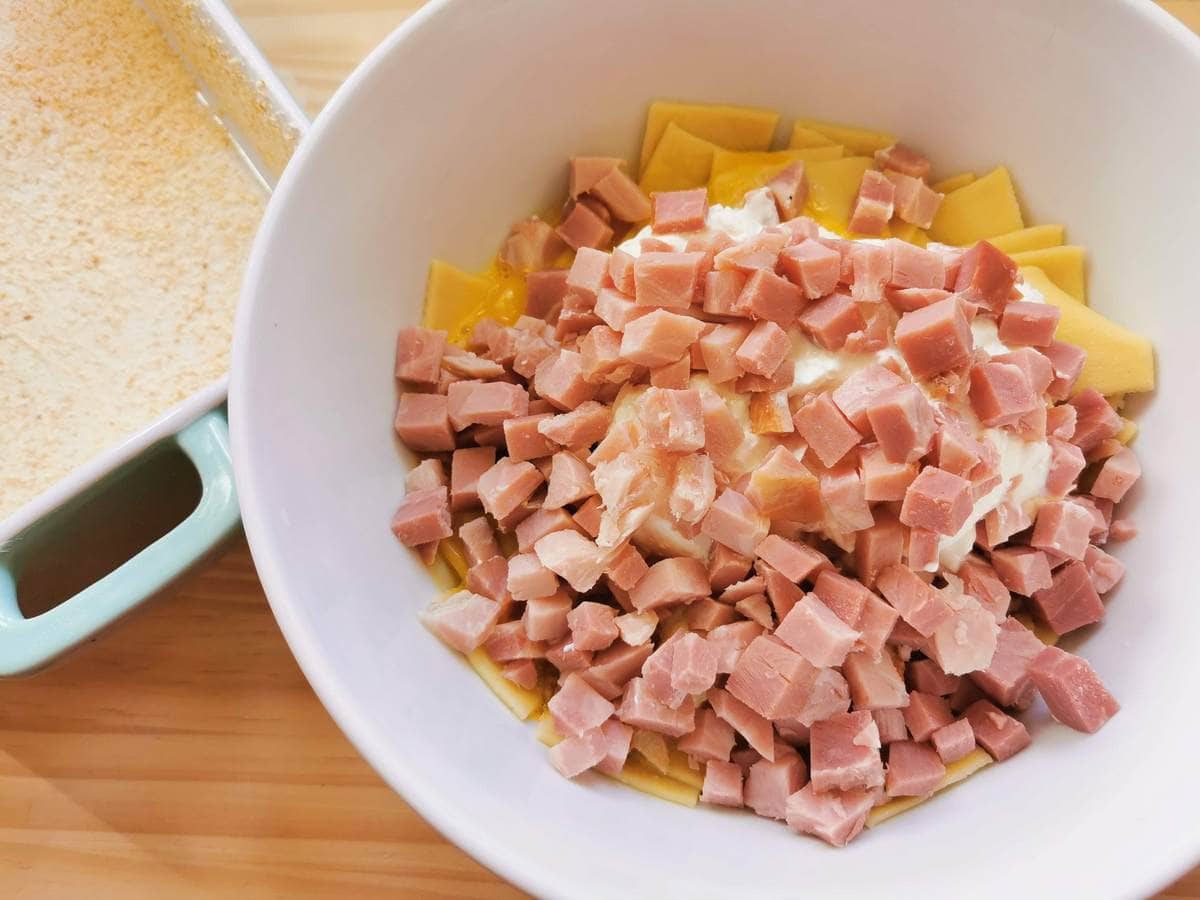 3. Cook the pasta in the boiling salted water until al dente. Homemade fleckerl takes about 5 minutes. Then drain the pasta and put it in a large bowl. Mix in the creamed butter and allow to cool.
4. Next, add the beaten egg yolks, the sour cream, and the ham. Mix everything together and season with salt and pepper.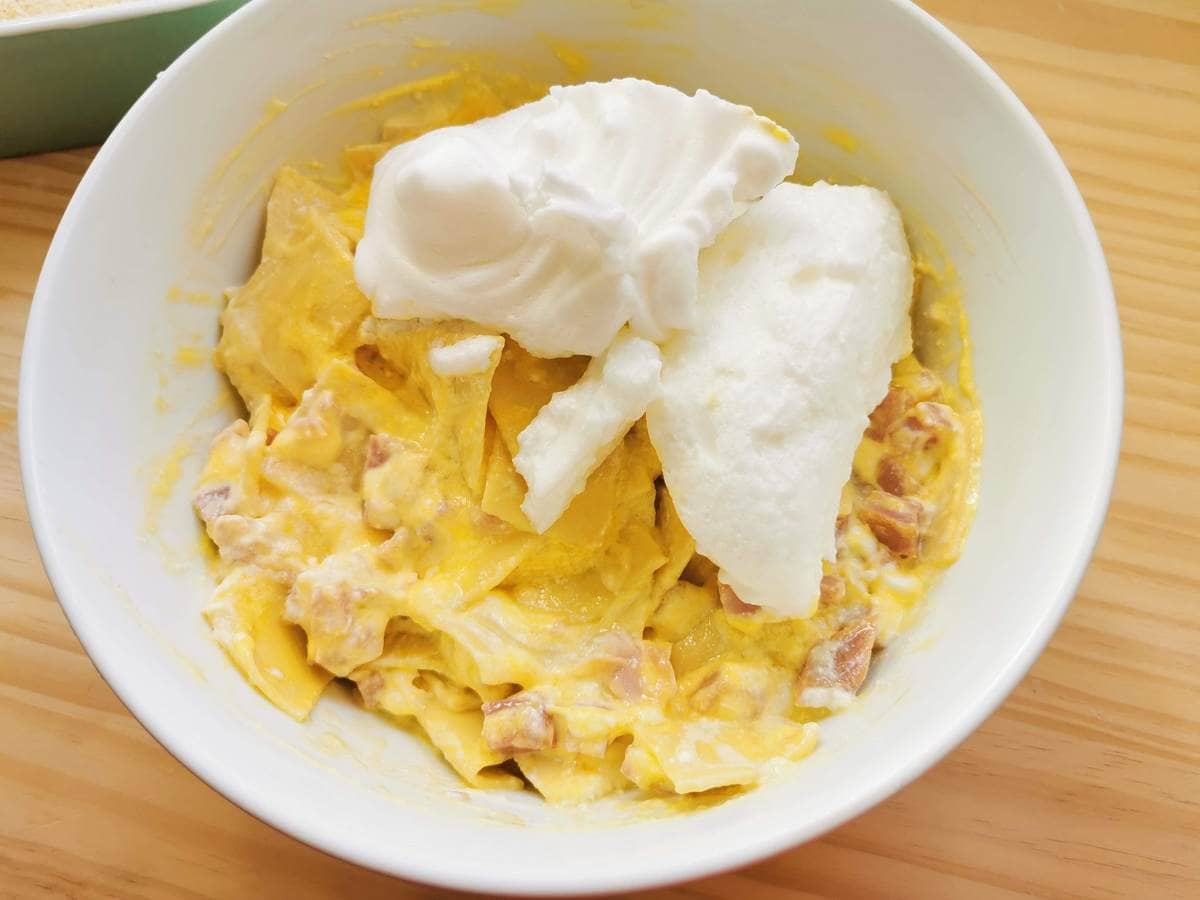 5. Whip the egg whites until stiff and fold them into the pasta and ham mixture.
6. Pour the pasta and ham mixture into the breadcrumb coated oven dish and bake for about 35-45 minutes in a preheated oven at 180°c. Allow your schinkenfleckerl to rest for 5 minutes before cutting into portions and serving.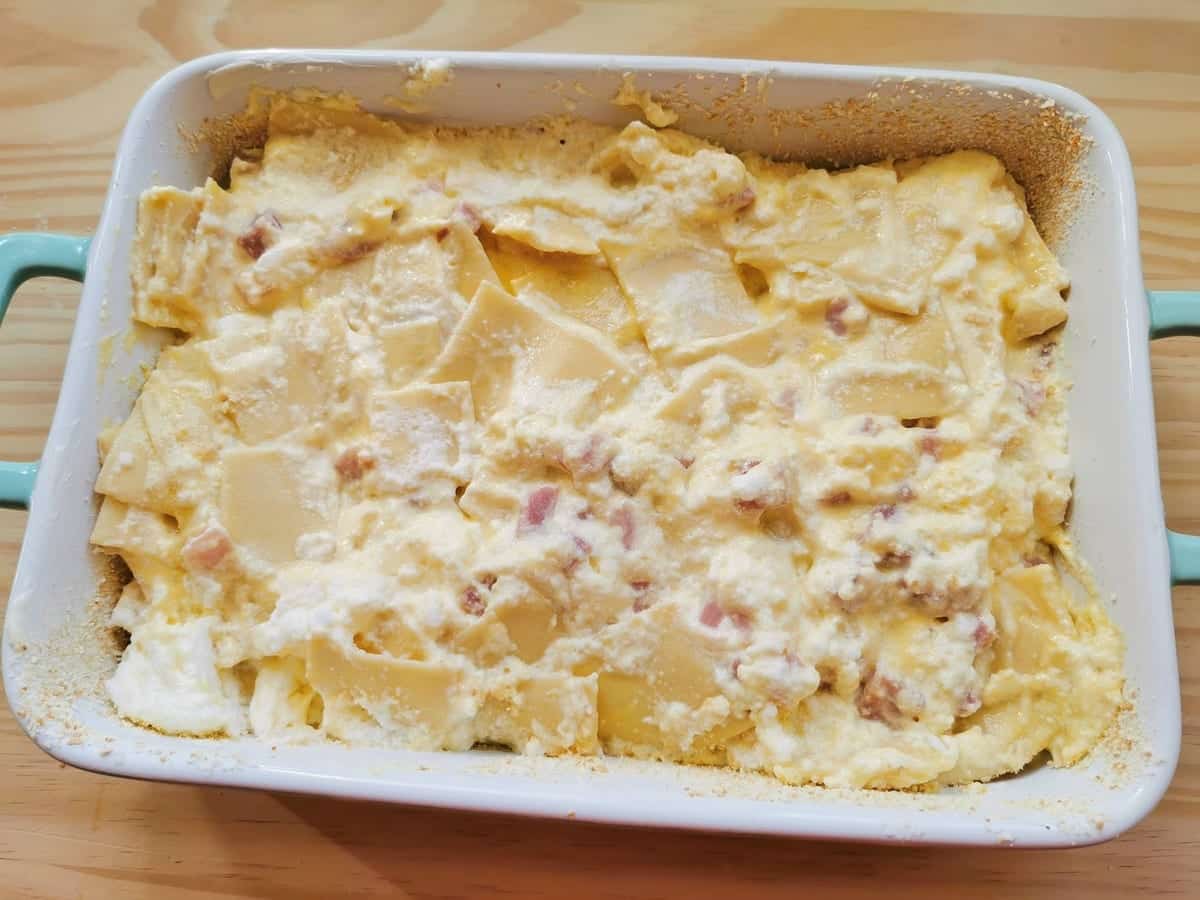 What to do with leftovers
If you have leftovers of this schinkenfeckerl baked pasta and ham, you can keep them sealed in the fridge for a day or two. I like to reheat leftovers as individual portions in the microwave or in a very hot oven.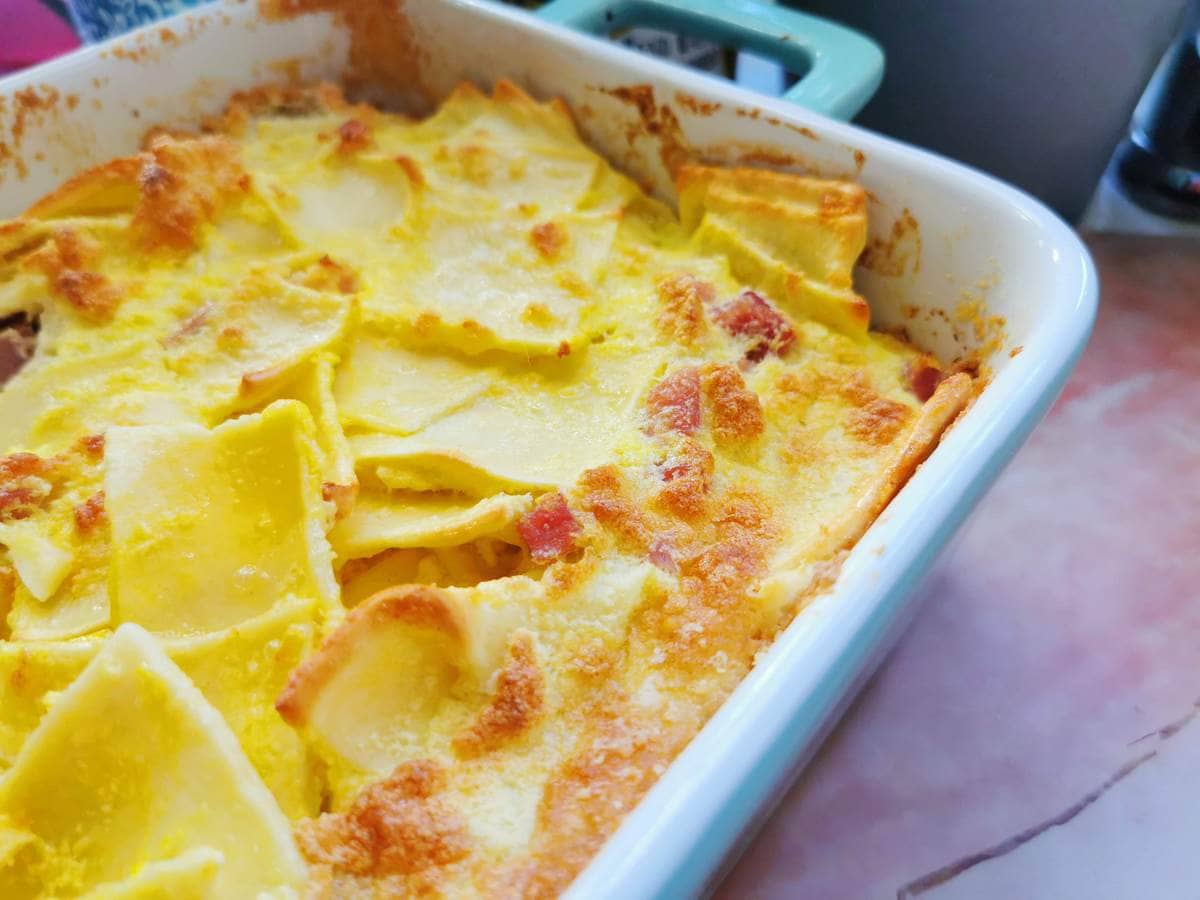 Let me know what you think.
Whether you make your own pasta squares, use ready dried fleckerl pasta or go for another type of pasta, this baked noodle and ham casserole is sure to become a family favourite. It's rich, creamy and so very tasty. The kids will love it too!
If you do try this recipe, I'd love to hear what you think. Please do write a review here on the blog or post a comment on the Pasta Project Facebook page.
Your feedback means a lot to me!
Buon Appetito!
Other family friendly baked pasta recipes with ham.
Pin for later.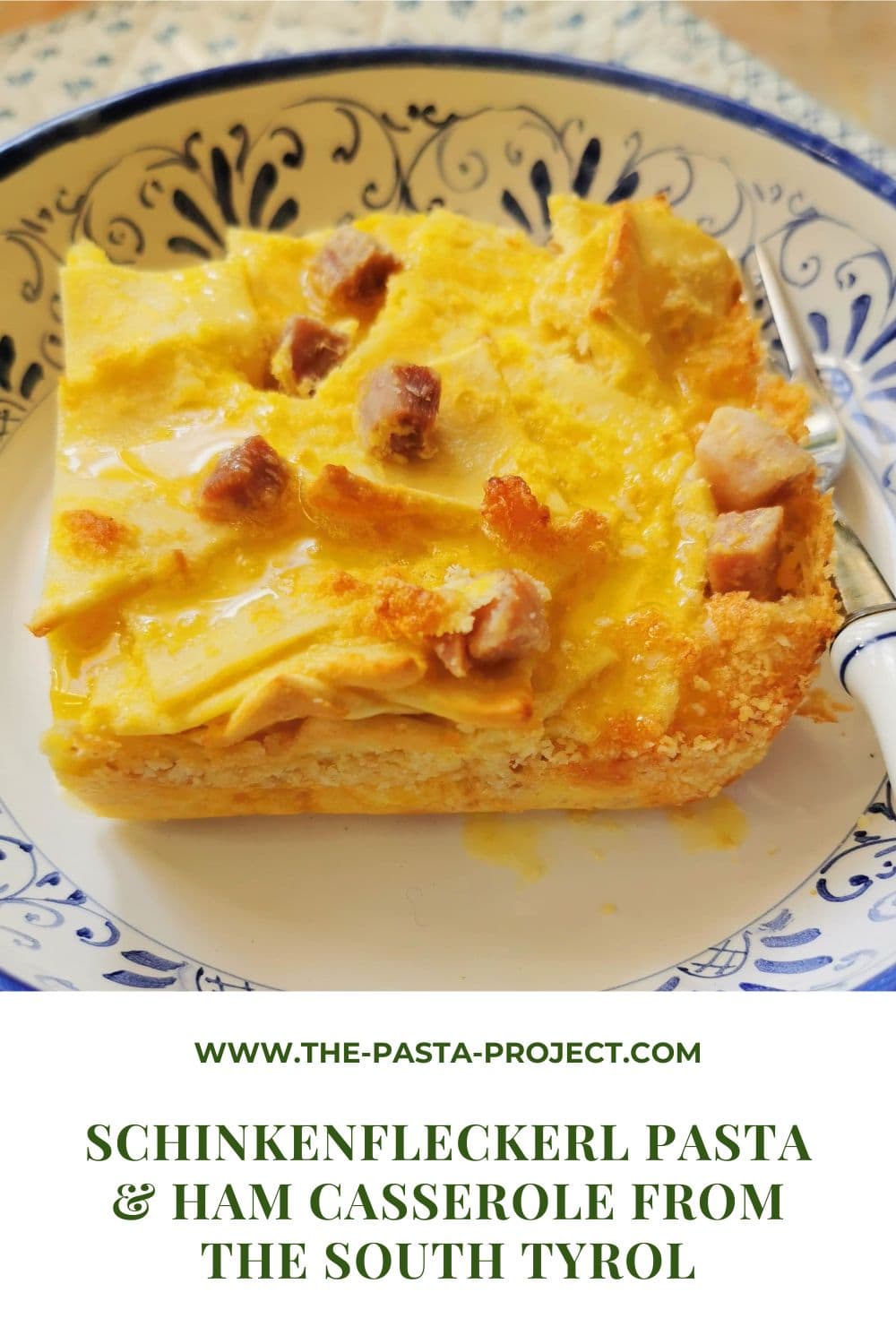 How to make fresh egg pasta sheets.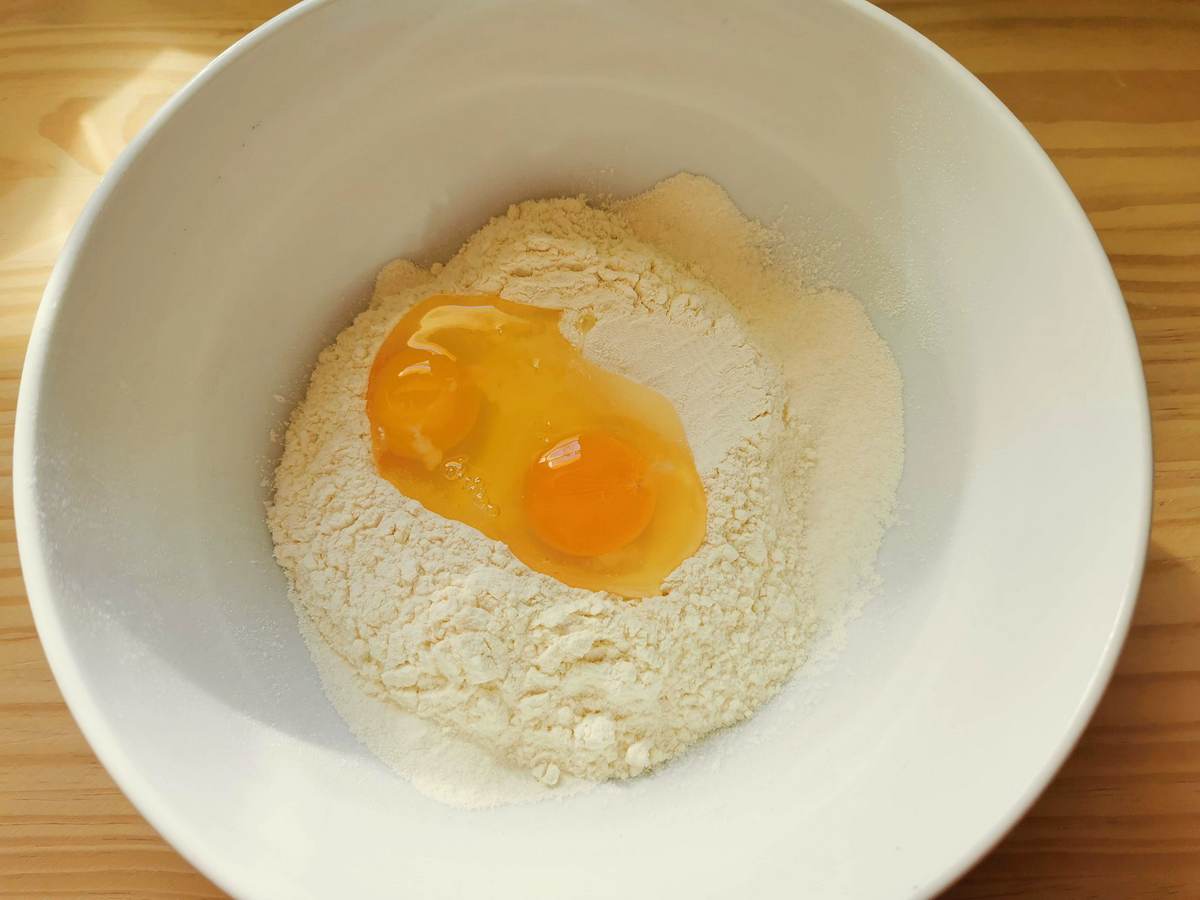 Sift the flour into a bowl, add a pinch of salt and 2 eggs.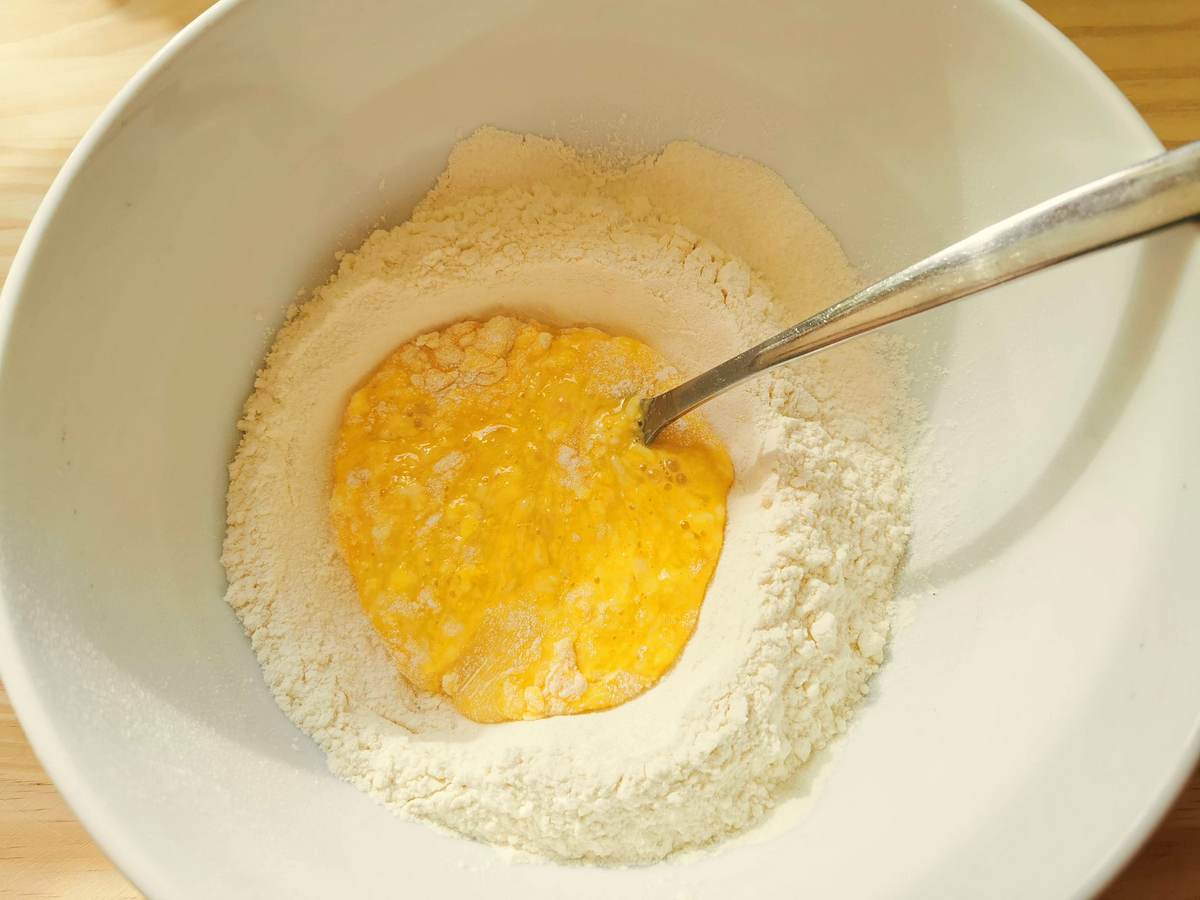 Beat the eggs with a fork and then mix them into the flour until they are well incorporated.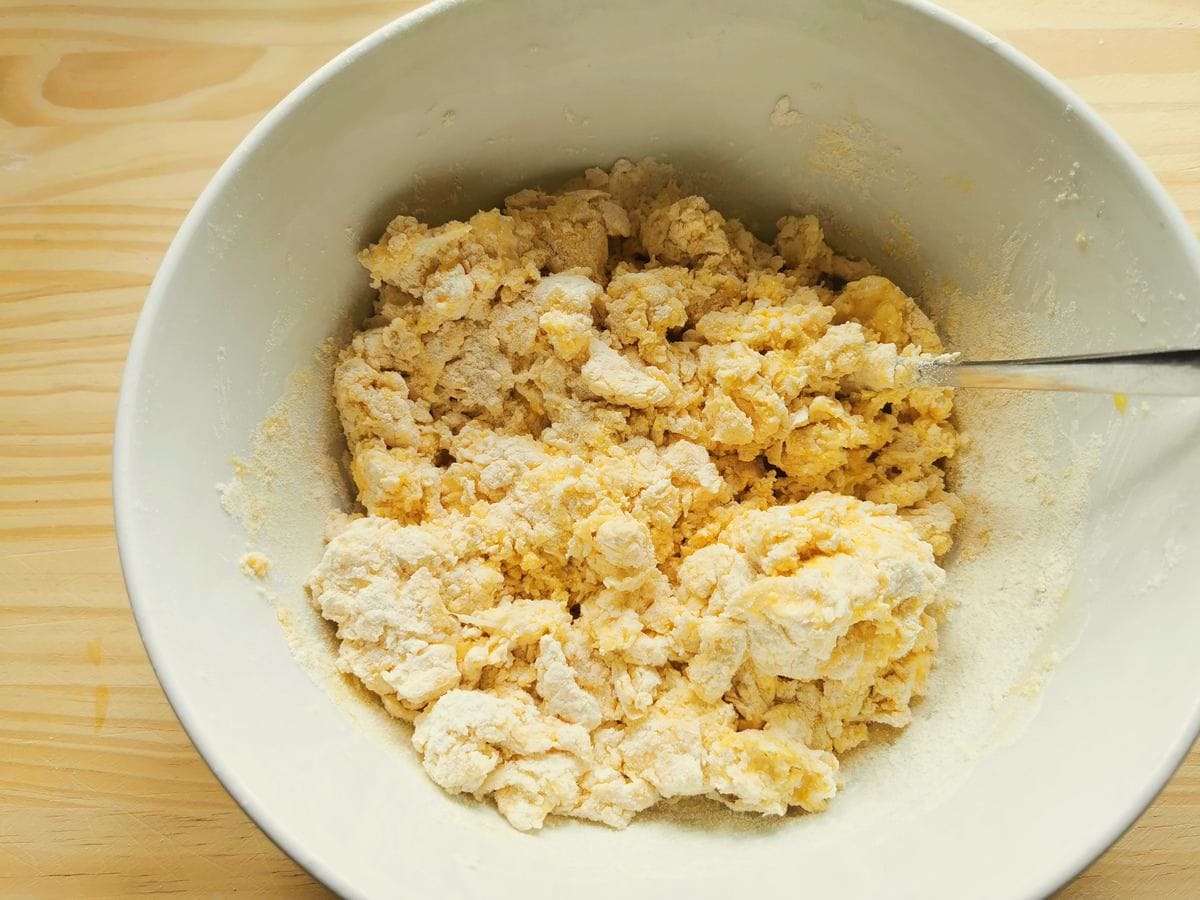 Using your hands mix and knead until you have a dough that no longer sticks to the sides of the bowl.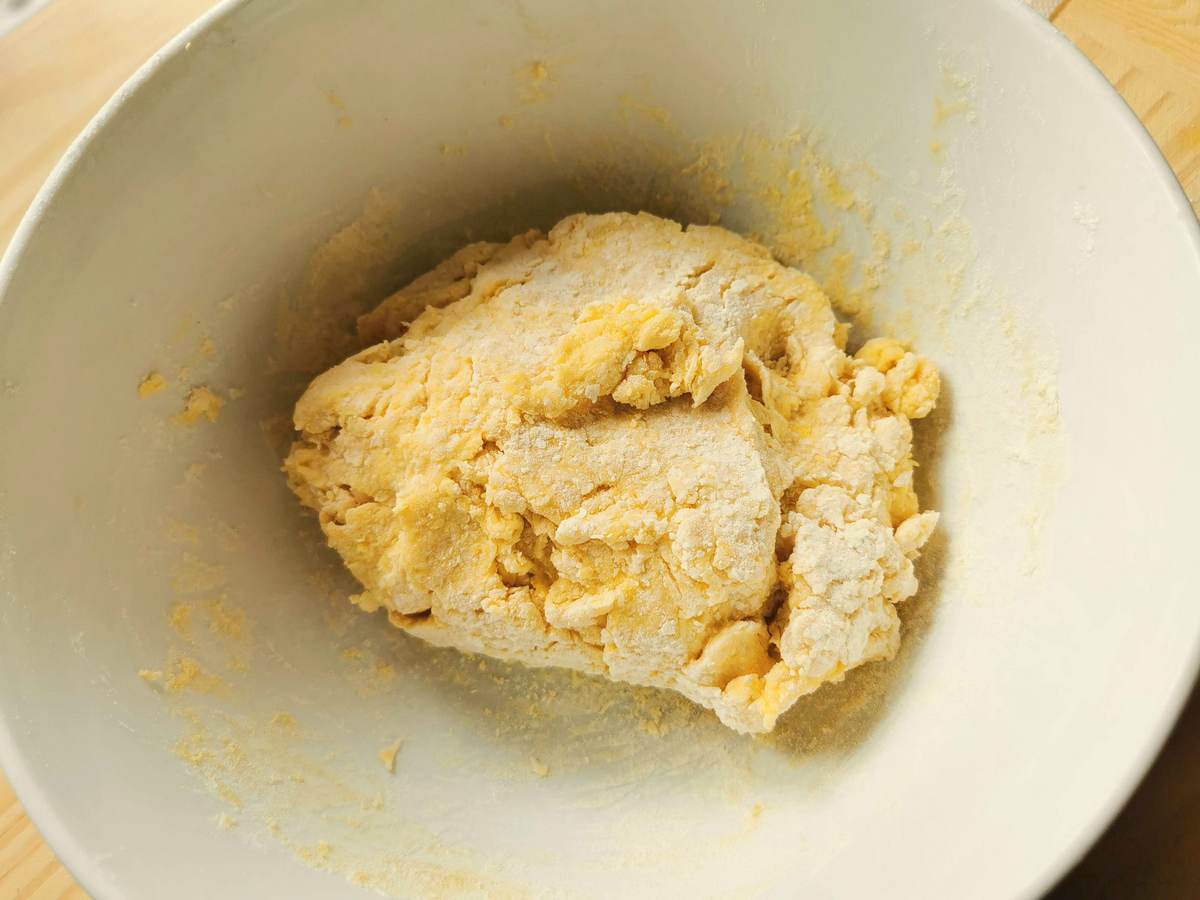 Turn the dough out onto a floured work surface or pastry board. Knead for 7-10 minutes until the dough is soft, pliable, and elastic.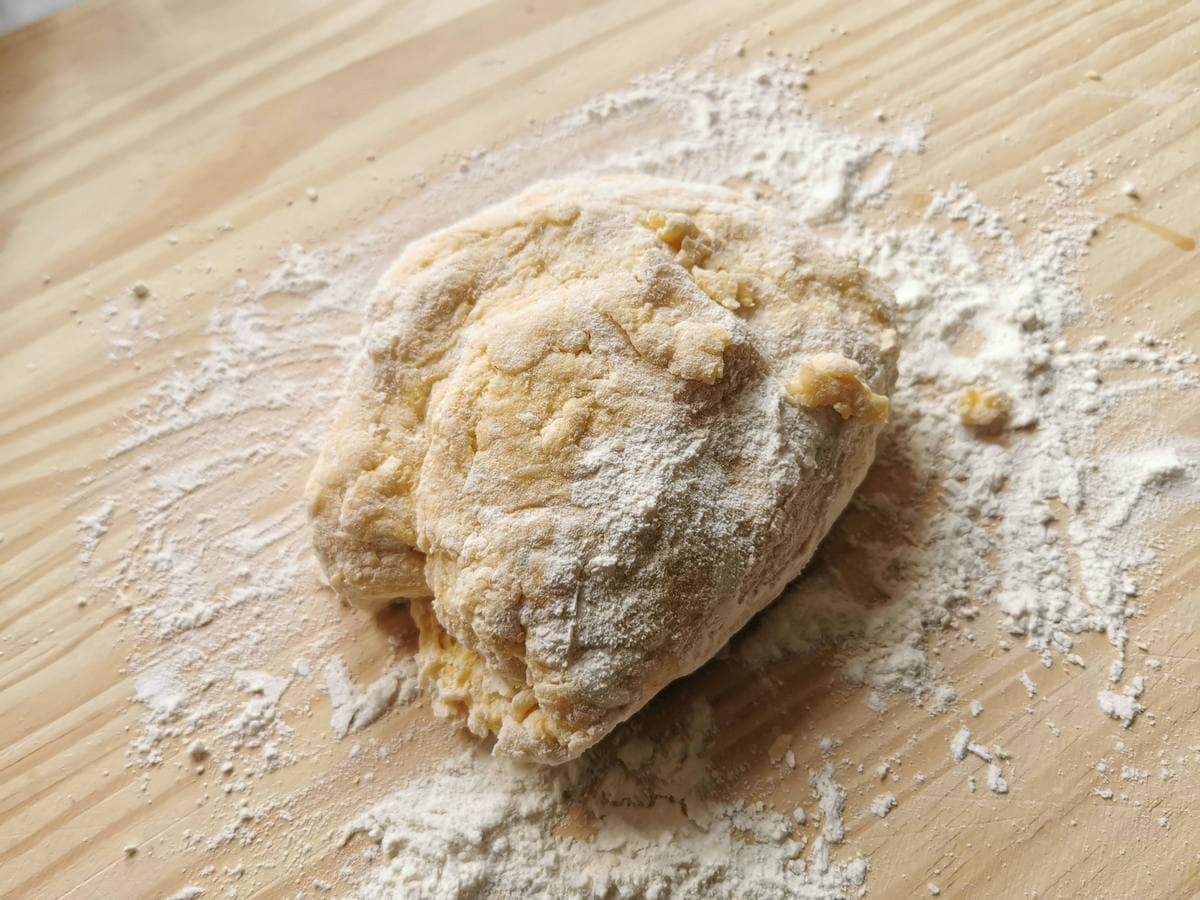 Roll the dough into a ball. Wrap it in clingfilm or a damp tea towel and let it rest for about 30 minutes.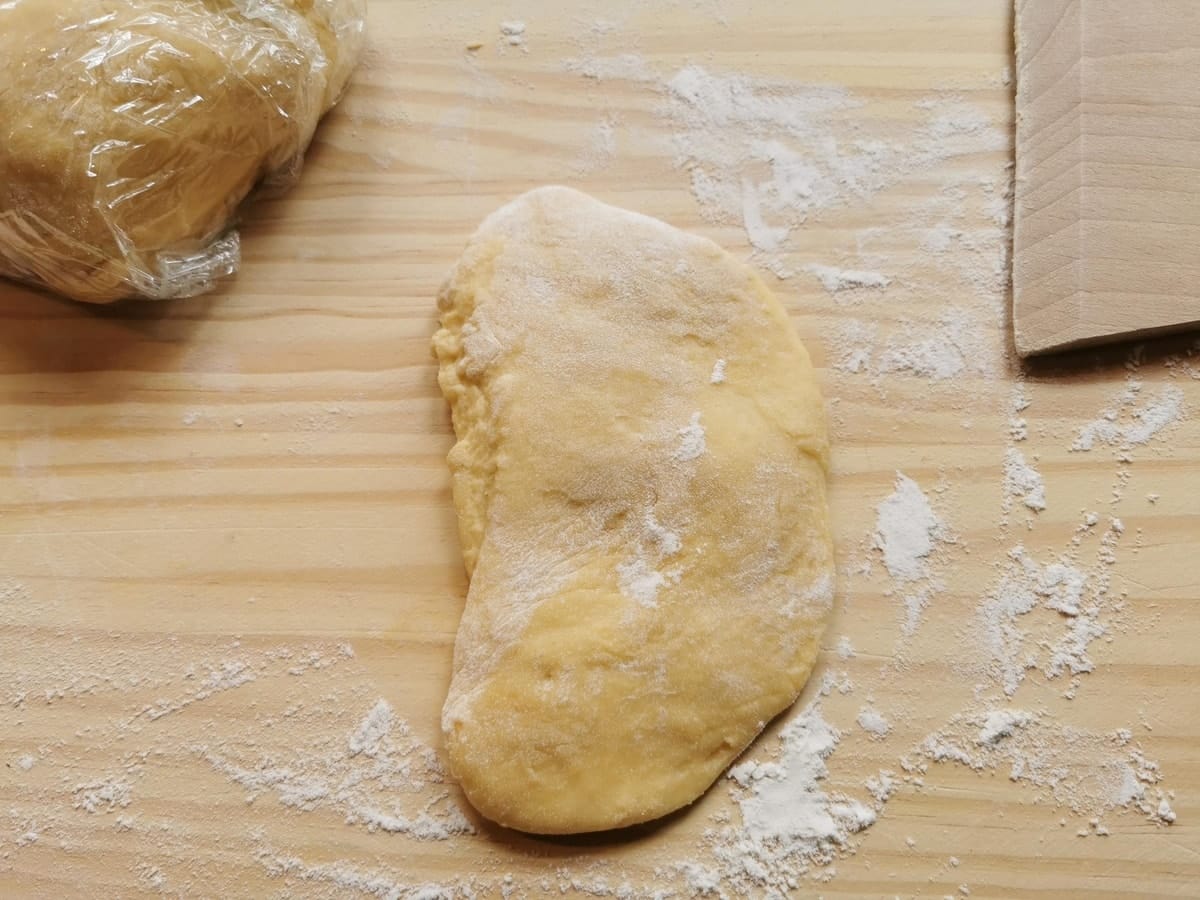 Once the dough has rested cut off a third and rewrap the rest to keep it from drying out. Flatten the dough piece you cut off with your hand or a rolling pin so it will pass through the widest setting of your pasta machine.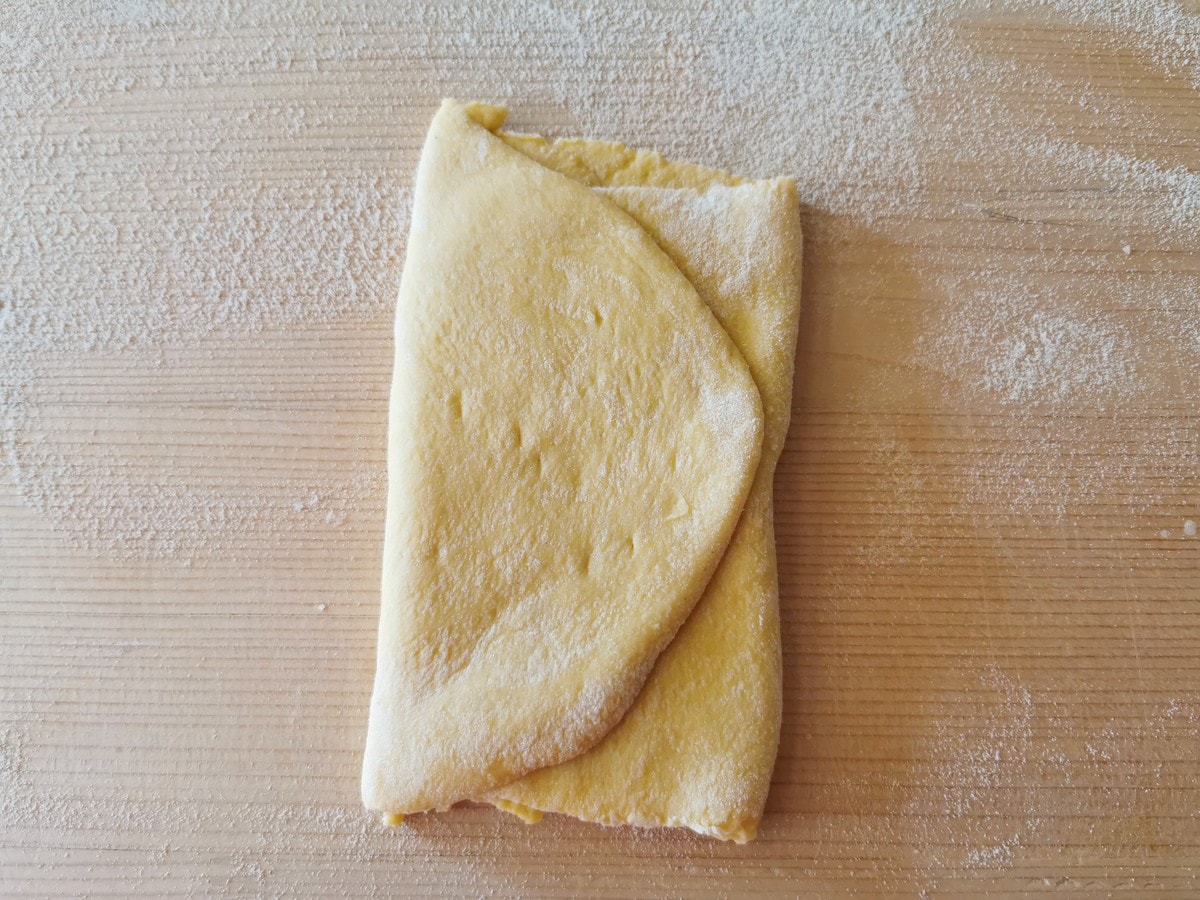 Pass the dough through the widest setting of your pasta machine. Fold it in thirds and pass it through again. Do this 2 to 3 times. Then, pass the sheet through the machine 2 or 3 times more on narrower settings.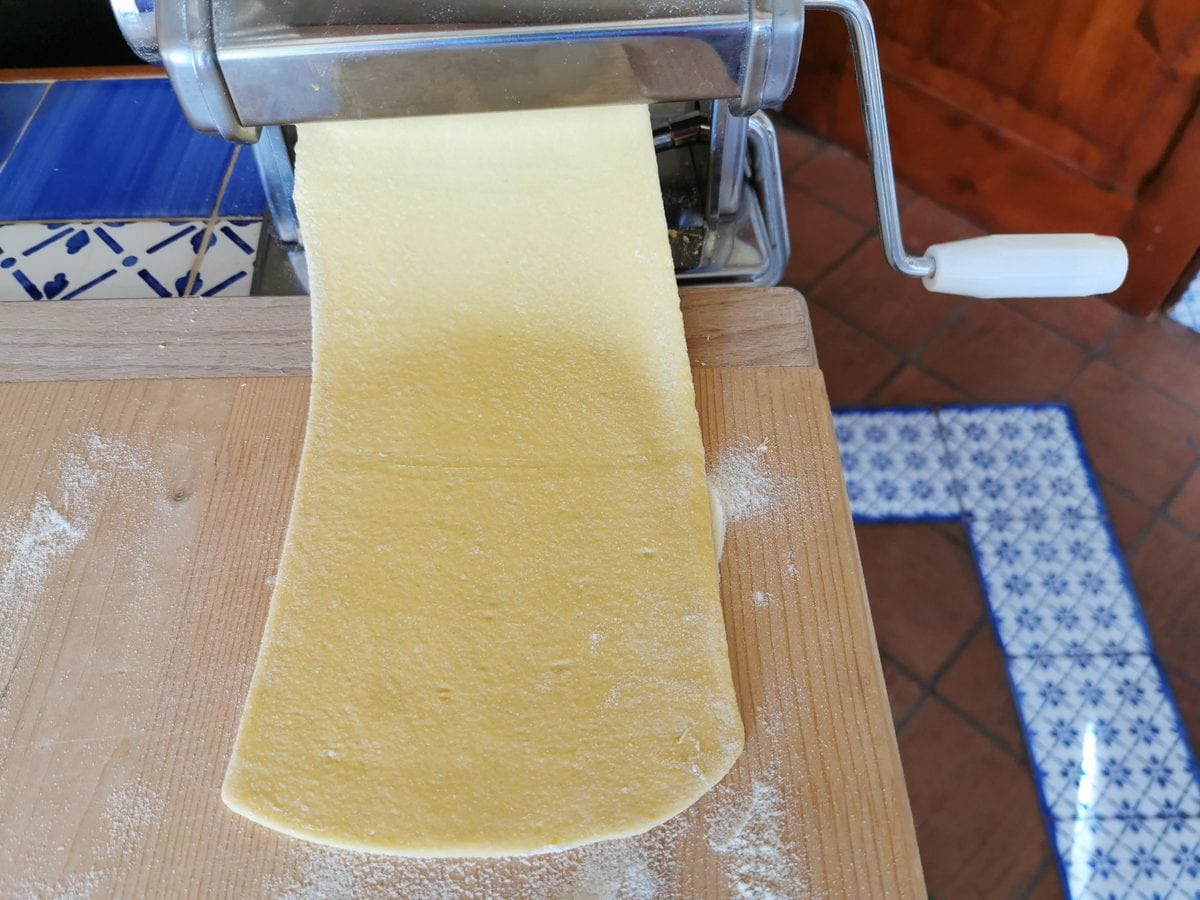 The widest setting on my machine is 7. After 7 I then pass the dough through 5 and then 3. The dough sheet doesn't need to be super thin to make pasta squares. On some machines the widest setting is 1.
You can also just roll out the dough with a rolling pin.
If you are interested in learning how to make other homemade pasta and different types of gnocchi, check out my shop page for some great video online courses from my friends in Rome! Nothing beats learning to make pasta from Italians! Plus while you're there why not order a copy of one of my pasta recipe cookbooks or checkout some recommended pasta making tools?