Tagliolini au gratin with ham.
Based on a dish from Cipriani's Harry's bar in Venice, this tagliolini au gratin recipe is a real gem. All you need is pasta, eggs, ham, grated Parmigiano and cream.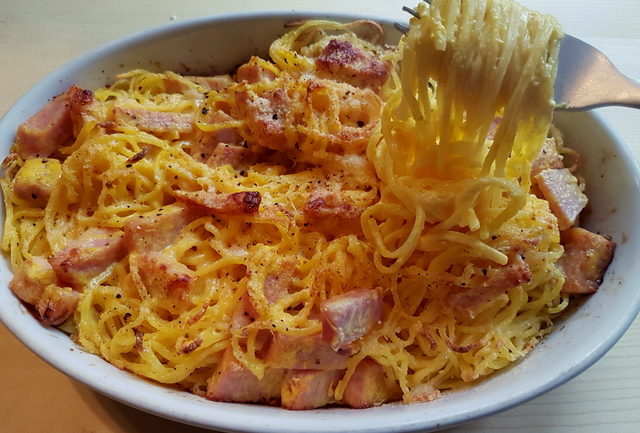 Gratin di tagliolini panna e prosciutto.
I'm always on the lookout for easy peasy recipes that can be thrown together at a moment's notice but are still very tasty and will be loved by everyone! In the world of Italian pasta, there are many! Interestingly, most of these don't find their way on to restaurant menus or celebrity cook shows.
Of those that do, pasta cacio e pepe is one that comes to mind, aglio, olio  e pepperoncino is another. The latter is my hubby's go-to recipe when we've got a houseful of unexpected hungry guests!  This tagliolini au gratin has just been added to MY go-to list for moments when you need something quick and easy to make!
(This recipe was first published a year ago but has been updated)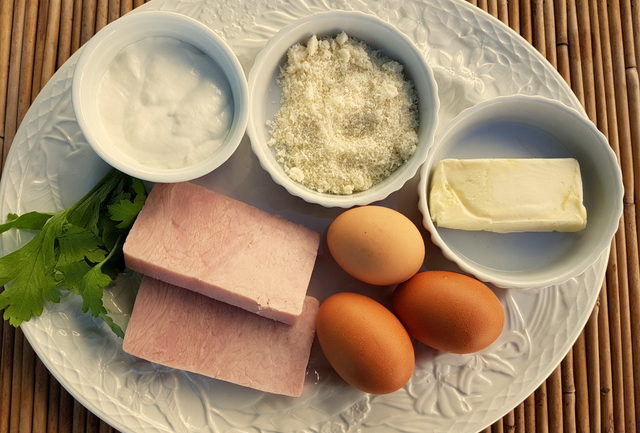 In my opinion, this recipe is an Italian gem. All it takes is some tagliolini or tagliatelle pasta, eggs, cooked ham, grated Parmesan and cream. There is another version of this recipe that includes béchamel and requires cooking the ham for a couple of minutes in butter; a little more work but definitely worth trying out.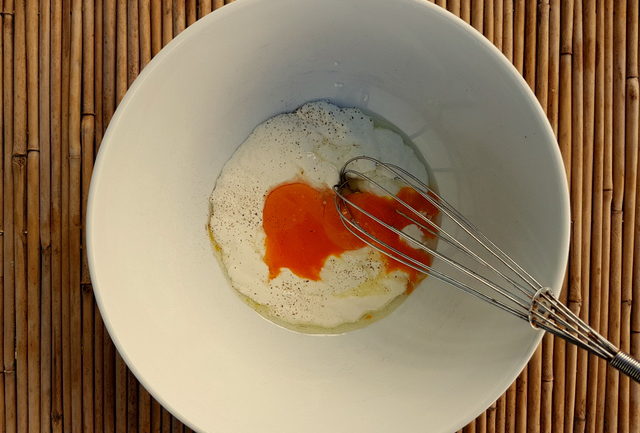 Cipriani's tagliolini au gratin.
That recipe is said to have been created at the very famous Cipriani's Harry's bar in Venice, Veneto back in the 60's and is still served in Cipriani restaurants around the world. It was, apparently, one of the favourites of opera singer Maria Callas.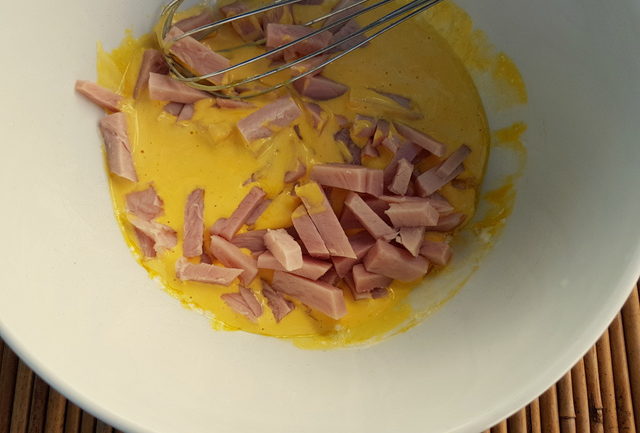 In this much simpler version of tagliolini au gratin with ham, the only cooking required is boiling the pasta and baking the dish in the oven for 10-15 minutes.  Can't get much simpler than that! The ham is cut into small strips and mixed with the cream and egg yolks.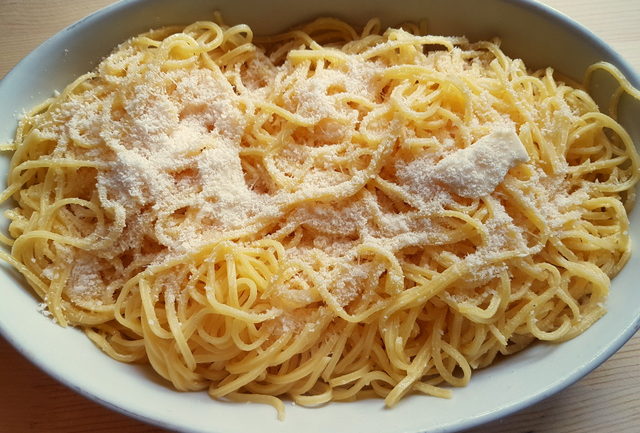 After cooking the pasta al dente mix a little butter and some Parmigiano into it and put it in a buttered oven dish. Pour the ham and egg mixture over it. Sprinkle with more cheese and your tagliolini au gratin is ready to bake! The result? Delicious! I'm sure, once you have tried it, this recipe will be added to your quick and easy to make go-to list too!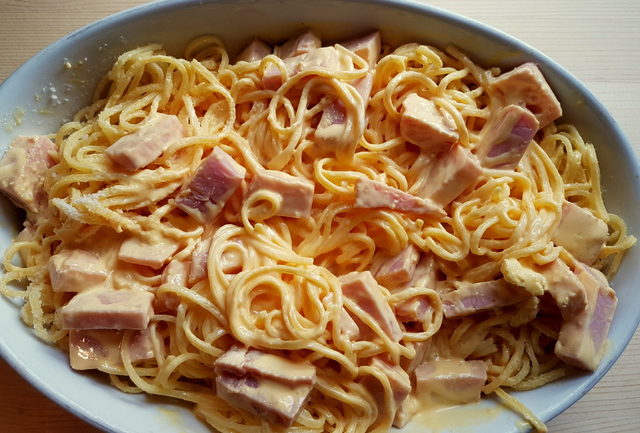 If you make this tagliolini au gratin with ham recipe, I'd love to hear how it turns out. Please write a comment here on the blog, email me or post a comment on the Pasta Project Facebook page.
Your feedback is really appreciated!
Buon Appetito!
Other delicious tagliolini recipes on The Pasta Project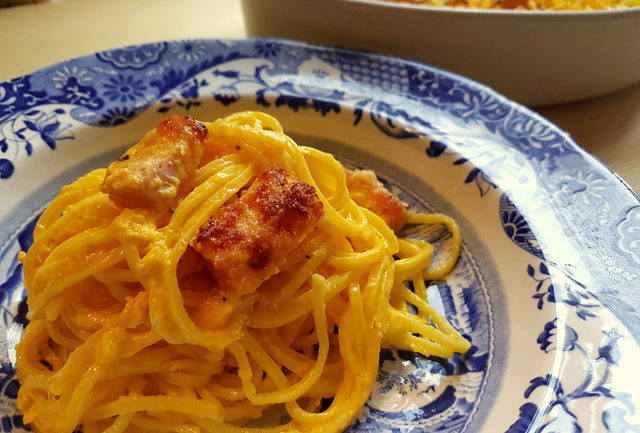 Save this recipe for later?
If you want to save this recipe for later, you can print it, bookmark this page or save it to Pinterest.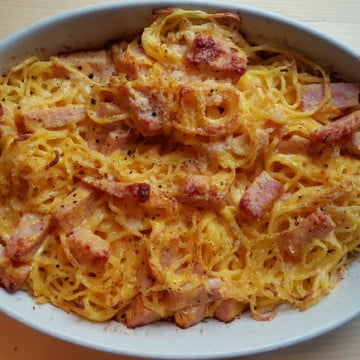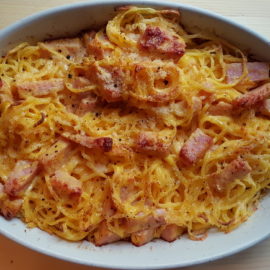 Tagliolini au gratin with ham and cream
This very simple, easy to make creamy tagliolini pasta au gratin recipe is bound to be a winner with family and friends!
Ingredients
320

g

tagliolini

(11oz) or tagliatelle

150

g

cooked ham

(5oz)

2

egg yolks

50

g

Parmesan cheese

(2oz) grated

50

g

butter

(2oz)

200

ml

heavy cream (Italian panna da cucina)

(1 cup) you can also use single fresh cream but will need to reduce it or use less.

1/2

handful

fresh parsely

salt

for pasta and to taste

black pepper

to taste
Instructions
Put a pot of water on to boil for the pasta. When it starts to boil, add salt and bring to the boil again.

Cut the cooked ham into small pieces.

In a bowl, whisk the cream together with the egg yolks, salt and pepper.

Add the cooked ham and mix. 

Cook the pasta al dente in the boiling salted water according to the instructions on the packet. Save a cup of the cooking water when the pasta is almost cooked.

Drain the pasta and return it to the pan. Add the butter and most of the grated Parmesan cheese. if necessary add a little of the pasta cooking water to get a creamy consistency.

Put the pasta into a buttered oven dish. Pour over the cream of ham and mix gently. Sprinkle with a little more grated Parmesan.

Bake in a hot 180 ° oven for 10-15 minutes and wait 2-3 minutes before serving the tagliolini au gratin. Serve with a sprinkling of chopped fresh parsley.
Notes
The recipe can be made with tagliatelle too.
Pin for Later