Tagliolini with Taleggio and Black Truffle
With just one mouthful of this Northern Italian recipe for tagliolini with taleggio and black truffle, you will fully understand why truffles are the most prized of foraged foods and have been called the diamonds of the kitchen!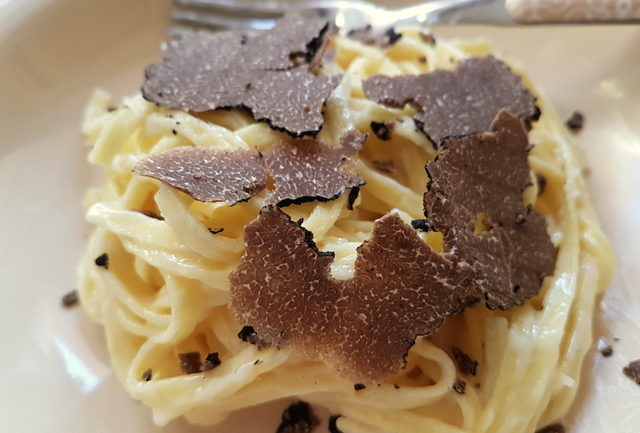 Tagliolini al tartufo con taleggio.
The other day my hubby came home with a bag of black truffles! Yes a whole bag! 20 truffles! In many parts of the world you'd pay a fortune for that! In fact, black truffles are often referred to as 'black gold'! But, we are lucky enough to live in a part of Italy where these truffles are quite plentiful, especially in the autumn.
My hubby is a family doctor in a mountain village and his patients often bring him presents of foraged foods or homemade yummies! Last week it was black truffles; the week before, honey mushrooms with which I made a wonderful pasta with white ragu and wild mushrooms!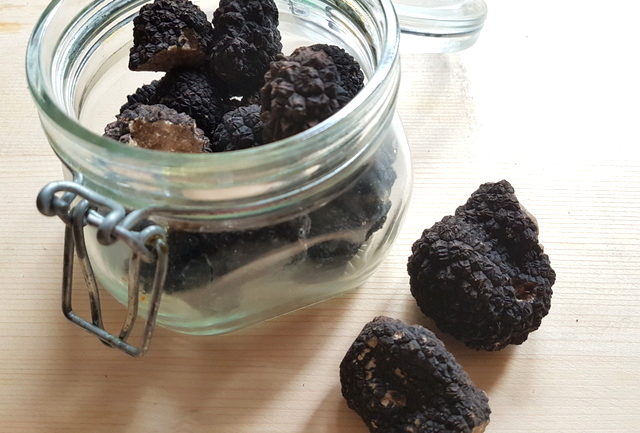 Truffles in Italy.
There are two kinds of truffles found in Italy; white and black. Black truffles are harvested in autumn and winter. So it's truffle season now! These truffles can be found in a number of parts of Italy. Because they are more common than white truffles, they cost less, but are still highly valued in the kitchen.
White truffles are rarer. They are found mostly in Piemonte/Piedmont. The most famous white truffles come from the countryside around the cities of Alba and Asti. However, they are also found in la Marche near Urbino, in Molise and Abruzzo and in Tuscany.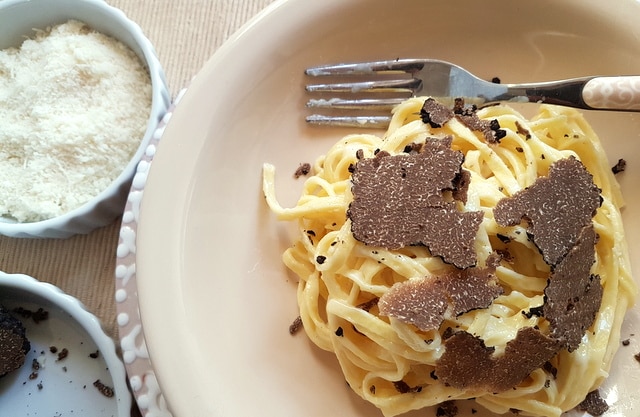 So, what is a truffle?
In short, truffles are a fungus that grows near tree roots. In fact, this subterranean mushroom is found among the roots of chestnut, oak, hazel, and beech trees. The word truffle comes from the Latin 'tuber', meaning outgrowth. Truffles date back to as early as the Sumerians and ancient Egyptians, who loved them and ate them coated in goose fat!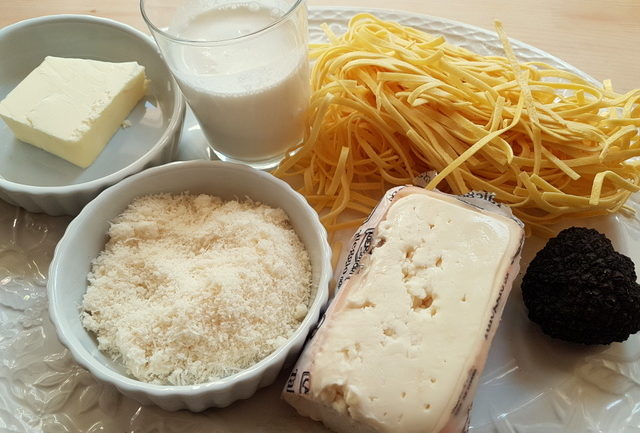 A little truffle history.
In the Middle Ages, truffles became unpopular. This is because, the church believed that because of the exotic aroma, truffles were the creation of the devil. They were even known as the 'witch's fare'. And, for centuries, very few people ate them. During the Renaissance, truffles became popular again. Louis XIV of France was fascinated by truffles and even tried, unsuccessfully, to cultivate them!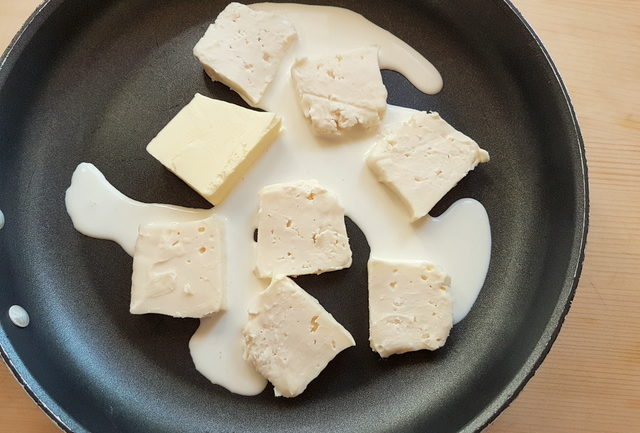 In the 1700s the white truffle from Piemonte was considered by all the European courts to be a choice delicacy. Truffle hunting became court entertainment. Guests and foreign ambassadors to Turin were invited to take part. Between the end of the 17th and the beginning of the 18th century, the Italian kings Vittorio Amedeo II and Carlo Emanuele III were serious truffle hunters.
Today truffles are considered among the most sought after delicacies. Although there is some truffle farming in France, Italy and other countries, it is an expensive undertaking. It takes up to 30 years for a truffle orchard to reach full production because truffles have to be farmed with their host tree!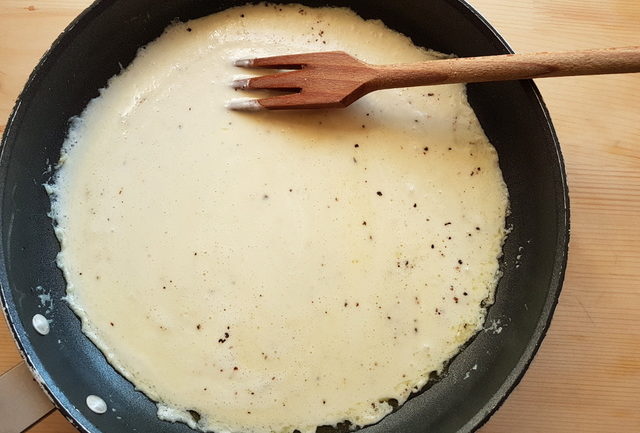 Pasta recipes with truffles.
Most Italian pasta recipes for black or white truffles are pretty simple. Truffles are rarely cooked in the sauce. Instead, truffle shavings are added to the finished dish and the truffle is eaten raw. Because truffles have a strong umami flavour they are usually paired with only a few other ingredients. Among the few other strong flavoured competing ingredients you may find in a truffle dish is porcini mushrooms. But since both are foraged fungus, they actually go together really well. Double the deliciousness!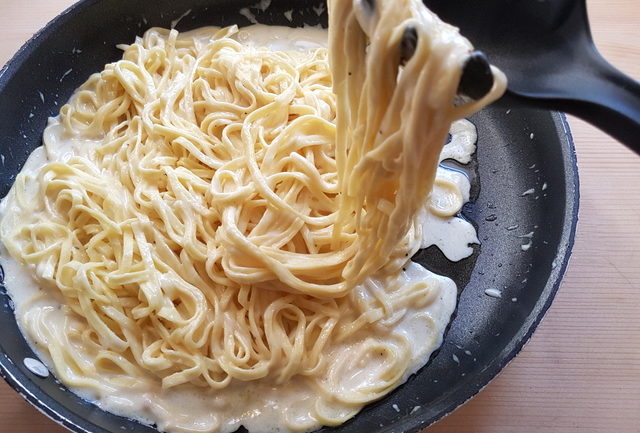 The cheese.
Different types of cheese are often paired with truffles. In fact, you can buy cheese made with truffle in it here in Italy! So delicious! In this tagliolini with taleggio and truffle recipe, I have used taleggio, a typical Northern Italian semi-soft ripened cheese from the Val Taleggio in Lombardy. Although taleggio smells quite strong, it has a relatively mild taste. It is also is a great melting cheese.
Taleggio has been produced in Italy since Roman times and production normally happens in autumn and winter. This cheese is aged on wooden shelves in special chambers, sometimes caves, and matures within six to ten weeks. It is washed once a week with a seawater sponge to prevent the growth of mold and to form an orange or rose crust. If you can't find it, you can use Fontina, Robiola or even Brie.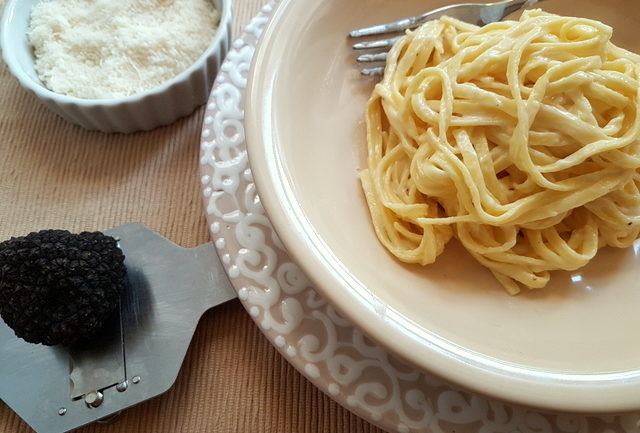 This recipe for tagliolini with taleggio and black truffle.
This recipe is super simple and really easy and quick to make. The ingredients are few and you can have this dish on the table in the time it takes to boil the water and cook the pasta. I used fresh tagliolini which took 1 minute to cook. While the water was boiling, I made the cheese sauce. This involves just melting the taleggio with some butter and fresh cream, 5 minutes! Then all you need to do is mix the pasta with the cheese sauce, plate and add some truffle shavings.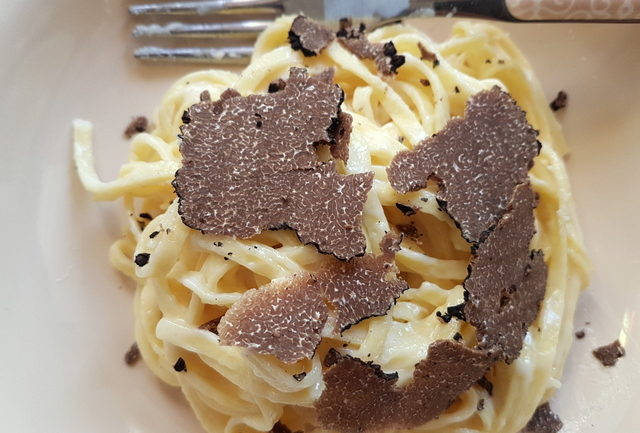 The ingredients may be few and the cooking process simple but, this is a dish that you will be dreaming about for days! This is 5 star food! If you are able to source a black truffle or two, I recommend you try this tagliolini with taleggio and black truffle. You'll think you died and went to foodie heaven!
If you do make this tagliolini with taleggio and black truffle recipe, I'd love to hear how it turns out and if you liked it. So, please leave a comment here on the blog or on The Pasta Project Facebook page.
Looking forward to hearing from you!
Buon Appetito!
Other delicious authentic Italian pasta recipes for tagliolini pasta for you to enjoy!
Save this recipe for later?
If you want to save this recipe for later, you can print it, bookmark this page or save it to Pinterest.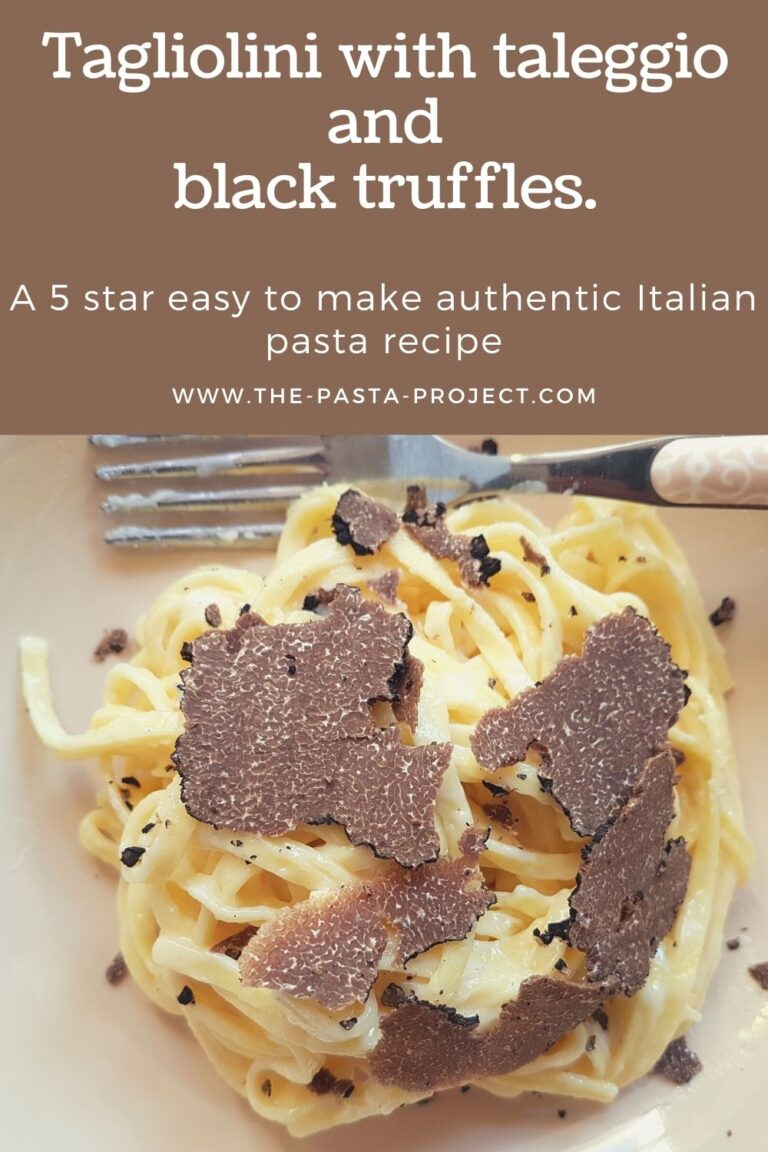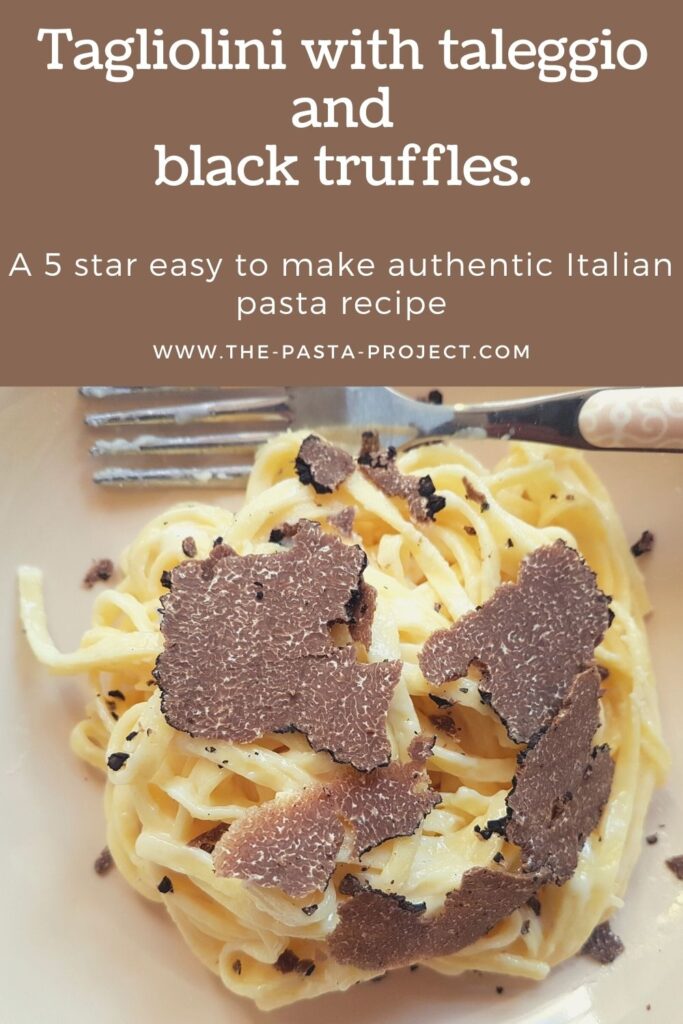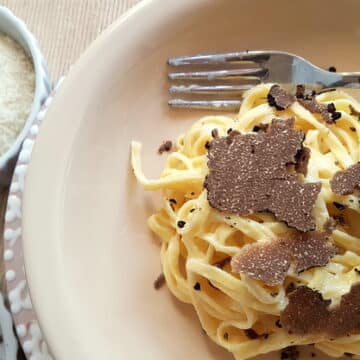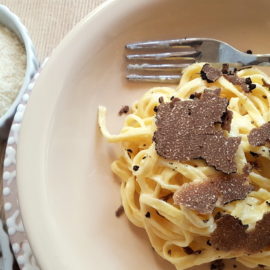 Tagliolini with taleggio and black truffle
If you are able to source a black truffle or two, I recommend you try this luxurious tagliolini with taleggio and black truffle. You'll think you died and went to foodie heaven and your guests will too!
Ingredients
400

g

tagliolini pasta

(14oz) You can also use tagliatelle

1-2

black truffle

300

g

taleggio cheese

(10oz) you can also use fontina, brie or robiola

200

ml

fresh cream

(6oz)

50

g

Parmesan cheese

(2oz) grated

salt

for pasta and to taste

black pepper

to taste

1

knob

butter
Instructions
Put a pot of water on to boil for the pasta. Add salt once it starts to boil and bring to the boil again.

Cut the taleggio into small pieces and melt it in a pan with a knob of butter and the cream. Stir continuously. As soon as the sauce has become creamy, season with salt and pepper.

Cook the pasta al dente according to the instructions on the packet, drain and add to the pan with the cheese sauce. (My fresh tagliolini from Giovanni Rana took 1 minute!)

Serve immediately with shavings of black truffle and a sprinkling of grated Parmesan.
Notes
You can use tagliatelle instead of tagliolini for this recipe.
To shave truffles it's best to have a tool called a truffle shaver/slicer. They are available online. 
Want to know more about my life in Italy? Why not subscribe to my newsletter? New subscribers get a free recipe e-book too!
Pin for Later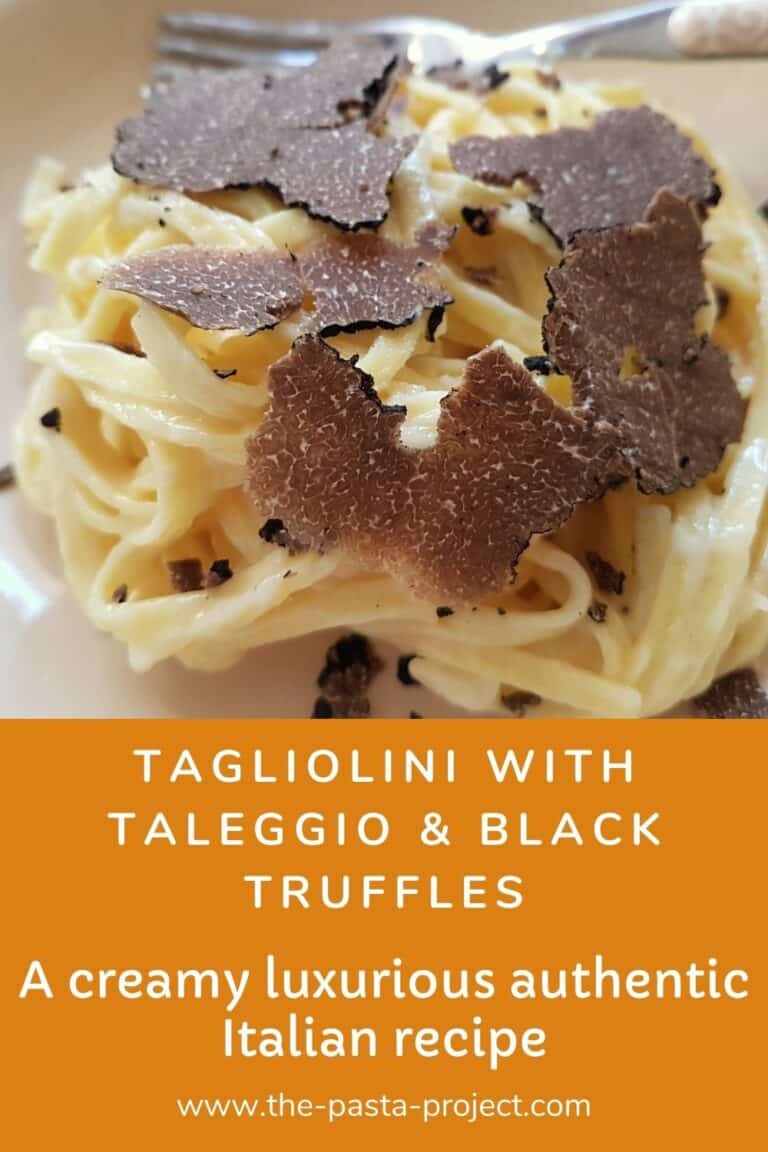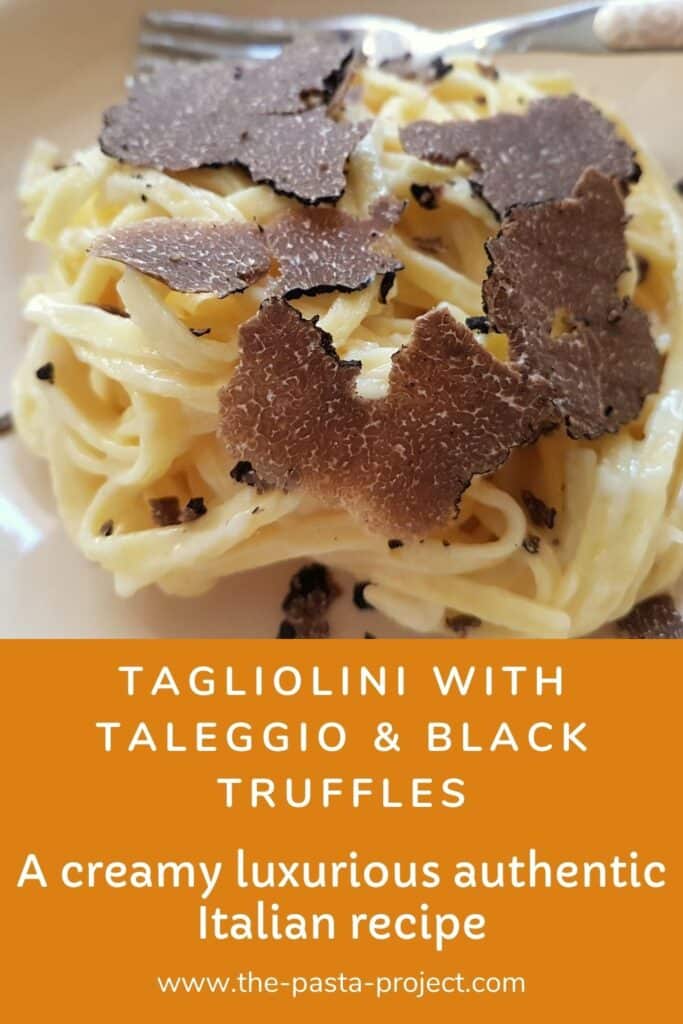 "The most learned men have been questioned as to the nature of this tuber, and after two thousand years of argument and discussion their answer is the same as it was on the first day: we do not know. The truffles themselves have been interrogated, and have answered simply: eat us and praise the Lord." ~ Alexandre Dumas (1802-1870)
If you are interested in learning how to make homemade pasta and different types of gnocchi, check out my shop page for some great video online courses from my friends in Rome! Nothing beats learning to make pasta from Italians! Plus while you're there why not order a copy of my newly published autumn/winter pasta recipes cookbook!?