Tagliolini pasta arancini (croquettes) from Naples.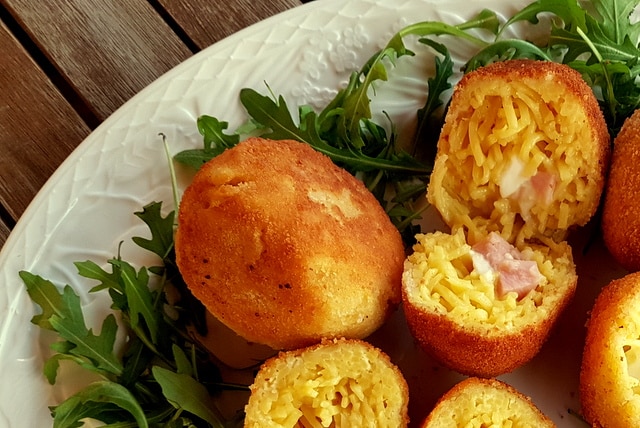 Crochette di tagliolini.
In Italian, these tagliolini pasta arancini (croquettes) are also known as crochette di tagliolini or ordura di tagliolini. They are a popular first course or street food in Naples, which date back to the 1800s. Made with filled egg pasta nests that are then breaded and fried, these balls of pastaliciousness will win you over on the first bite!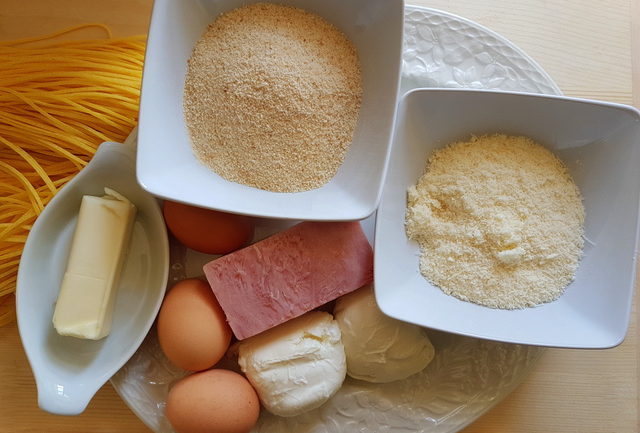 Neapolitan street food.
Naples is famous for its street food which includes many specialties. The most well-known Neapolitan street food is, of course, pizza! However, there are also many fried treats such as simple pastries (zeppulelle), fried dough balls (pasta cresciuta), potato croquettes (panzarotti), fried polenta triangles (scagliuòzz), fiorilli and seaweed in batter (pizzelle i ciurill), fried pizza and the very popular frittatine di pasta, which are a little similar to these tagliolini pasta arancini.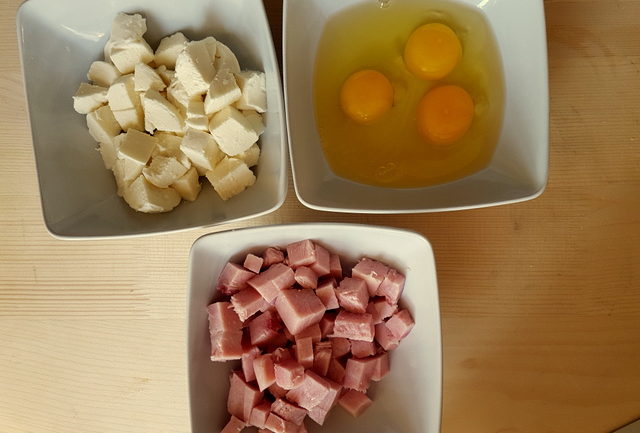 My hubby is from Sicily, so I have eaten both homemade and street bought arancini many times. However, this was actually the first time I had made them with pasta instead of rice! Did you know that the word arancini comes from the Italian 'arancia' which means orange? Needless to say because they look like oranges; at least in Palermo where they are rounder. In Catania, rice arancini are more conical.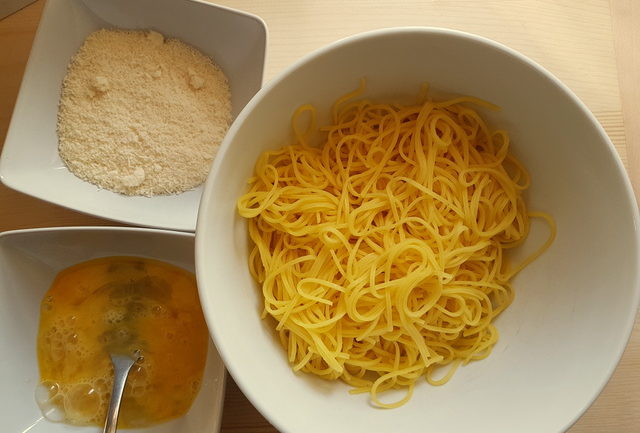 A way to use up leftovers.
Much of Southern Italian street food started life as a means of using up leftovers! These tagliolini pasta arancini can, of course, be made with leftover pasta. But, needless to say, you can make them from scratch. They aren't difficult to make and the ingredients are pretty simple, relatively inexpensive and widely available. Next time I make them, I want to try cooking them in the oven. I've cooked arancini in the oven so, these should work too.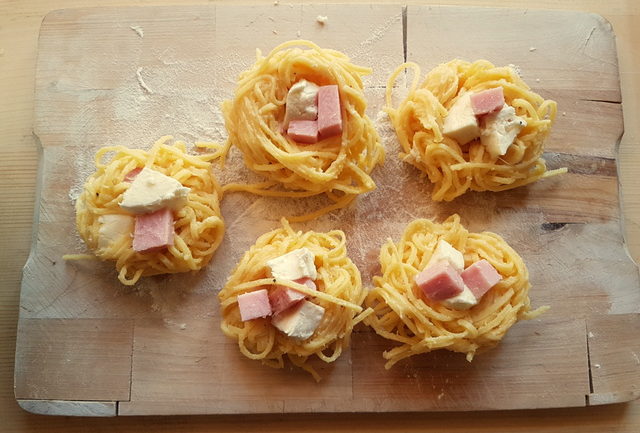 In Naples, tagliolini pasta arancini are often made with scarmoza or provolone cheese. I made them with mozzarella. If you can't find tagliolini pasta (also known as taglierini) just use spaghetti. There are also many recipes here in Italy for spaghetti arancini or croquettes, so I'm sure it will be just as delicious.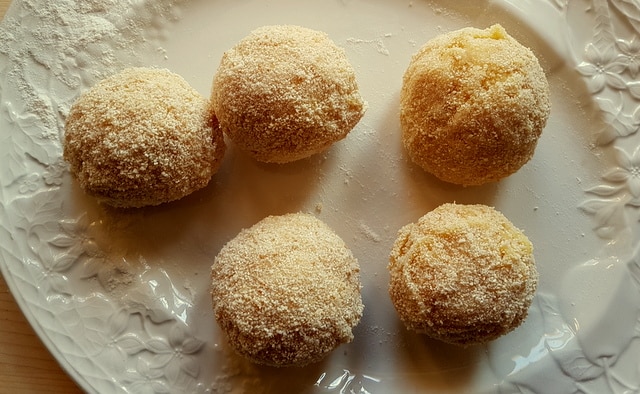 Be sure to make plenty of these pasta aracini!
As I mentioned above, my hubby is Sicilian so, I wasn't sure how he'd take to the idea of pasta arancini! I needn't have worried! He adored them and wolfed down 3 in quick succession! I'm sure you will too. Just make sure you make enough because everyone will want more!!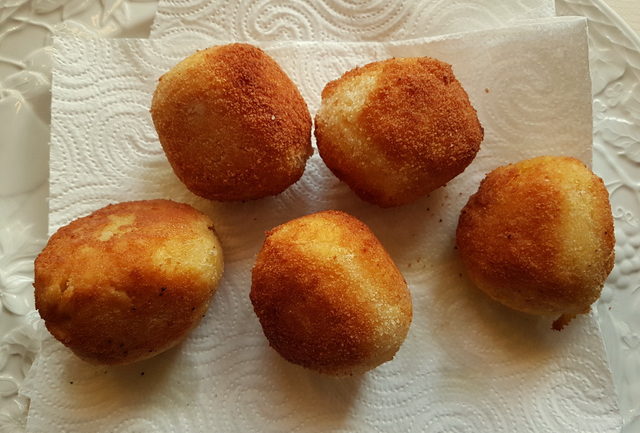 If you make this tagliolini pasta arancini recipe, I'd love to hear how it turns out and if you liked it. So, please leave a comment here on the blog or on The Pasta Project Facebook page.
Buon appetito!
Other pasta recipes from Naples
Want to save this recipe for later?
You can bookmark this page, print this recipe or pin it for later.
Pin for Later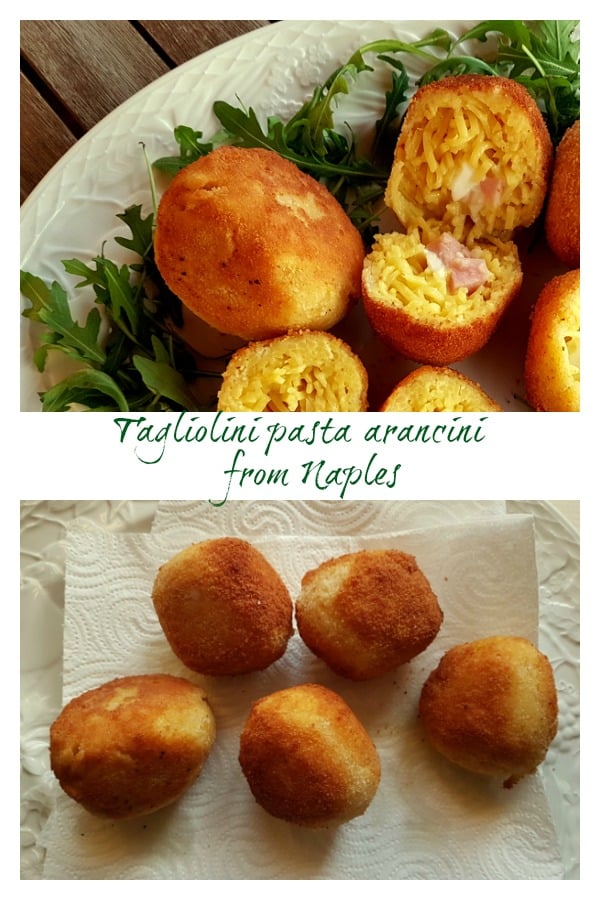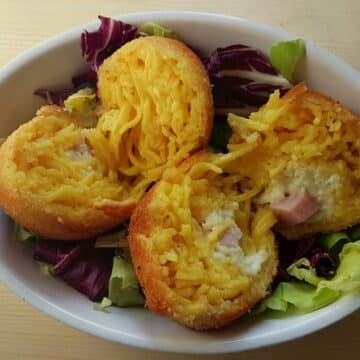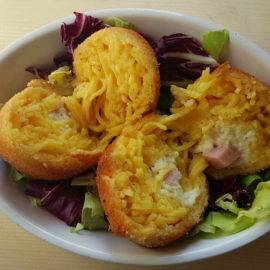 Tagliolini pasta arancini (croquettes) from Naples
These tagliolini pasta aracini are perfect as a superlicious snack, light lunch, party food or first course and are a great way to use up leftover pasta.
Ingredients
250

g

Tagliolini pasta or spaghetti

(1/2 lb) leftover pasta or cooked from scratch

40

g

butter

(1.5oz)

50

g

Parmesan cheese

(2oz) grated

50

g

scamorza cheese or provolone del monaco or mozzarella

(2oz)

50

g

ham

(2oz) diced

4

eggs

salt

for pasta and to taste

all purpose flour

as required

white breadcrumbs

as required

olive oil or peanut oil

as required
Instructions
Put a pot of water on to boil for the pasta. Add salt when it starts to boil and bring to the boil again. Cook the tagliolini or spaghetti al dente according to the instructions on the packet. Fresh tagliolini only take 3 minutes to cook.

When the pasta is ready, drain it and season immediately with the butter and Parmesan. Place it in a bowl and allow to cool. Beat 2 of the eggs and add them to the cooled pasta. Add salt to taste and mix together well.

Cut the cheese and ham into small cubes. Beat the other 2 eggs and add a little salt to them.

On a floured surface, divide the spaghetti or tagliolini into eight portions and form each portion into a ball. You need to slightly squeeze the pasta ball to get it all to stick together. Make a hole in the middle of each ball with your thumb. Place the cheese and ham in the center and close the ball around the hole.

Roll the ball over the floured surface, dip in the beaten eggs and then coat in breadcrumbs. I did this last step twice, even though the recipe I followed didn't require it.

If possible, leave the balls in a cool place or in the fridge for 20-30 minutes. Then fry them in heated olive or peanut oil until they are completely golden. You don't need a deep fryer to do this. I did it in a normal frying pan, but you have to turn the pasta arancini to ensure they are golden on each side.

Drain the pasta arancini on kitchen paper and serve hot either as a snack or with a salad.
Nutrition
Calories:
483
kcal
Carbohydrates:
48
g
Protein:
24
g
Fat:
21
g
Saturated Fat:
11
g
Polyunsaturated Fat:
2
g
Monounsaturated Fat:
7
g
Trans Fat:
0.3
g
Cholesterol:
211
mg
Sodium:
558
mg
Potassium:
259
mg
Fiber:
2
g
Sugar:
2
g
Vitamin A:
670
IU
Calcium:
252
mg
Iron:
2
mg
Pin for Later
This recipe was originally published 18 months ago but has been updated.