Linguine pasta alle vongole (linguine with clams)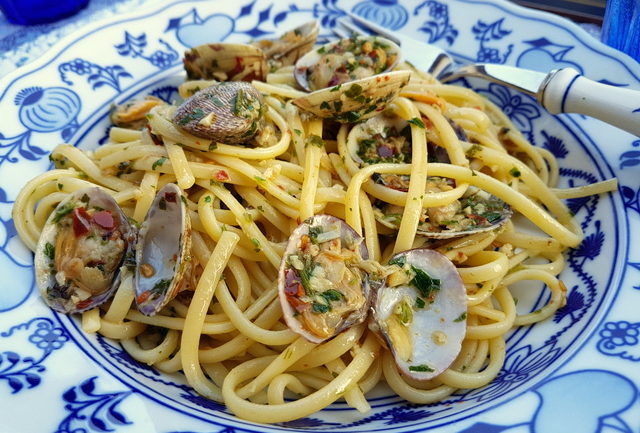 Of all the wonderful seafood pasta recipes there are here in Italy, pasta alle vongole is probably the top of the best seller list. Not surprising given how delicious this iconic Neapolitan dish is! This linguine pasta alle vongole is my Sicilian hubby's recipe. He's pretty generous with the garlic and peperoncino but it's just the way I like it!
(Scroll down to get to the recipe)
This post contains affiliate links to products. We may receive a commission for purchases made through these links but they are at no extra cost to yourselves and help me to cover the site costs.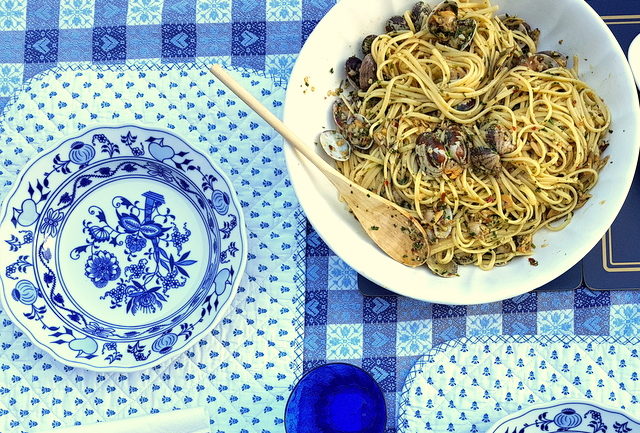 Red or white?
Like many other similar dishes, pasta with clams is traditionally made in what Italians call a red or white version (rosso o bianco); in other words, with tomatoes or without. We normally eat it without tomatoes. My hubby is the chef when we want to eat pasta alle vongole. Being Sicilian, he's a star when it comes to seafood dishes and I'm happy to leave him to it. In my opinion, his pasta with clams is the best I've ever tasted and I'm not saying that because we're married!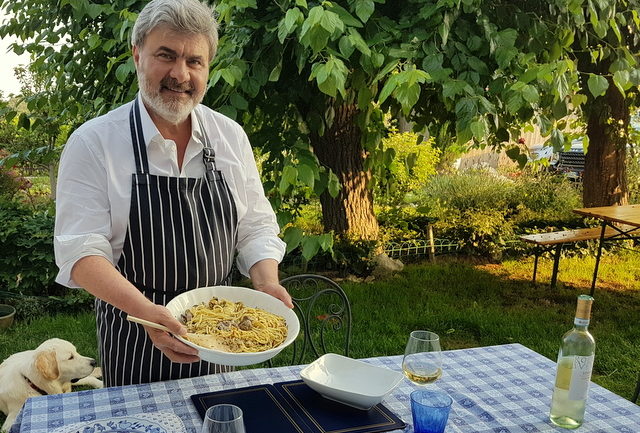 The clams or vongole.
The main ingredient for a 'real' pasta alle vongole is 'vongola verace' commonly known as the cross-cut carpet shell clam. This ridged shell clam is found both farmed and wild here in Italy, but I've read that the taste is the same as they eat only what's in the sea. If you do find vongole veraci, they can be a bit more expensive than other clams. But they are worth it! However, apart from being really delicious, these clams are self-cleaning so they're unlikely to have sand in them and make the dish much easier to prepare.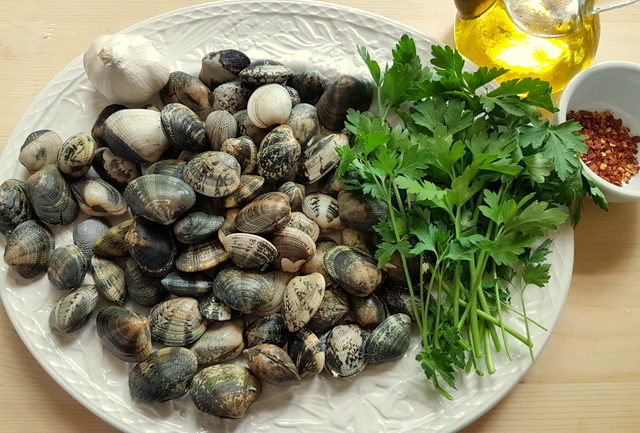 Of course, many people make pasta alle vongole with other types of clams. The Manila clam, which many Italians call the fake 'verace', is widely farmed in the Adriatic sea and Sardinia. Consequently these are used by many cooks to make pasta alle vongole.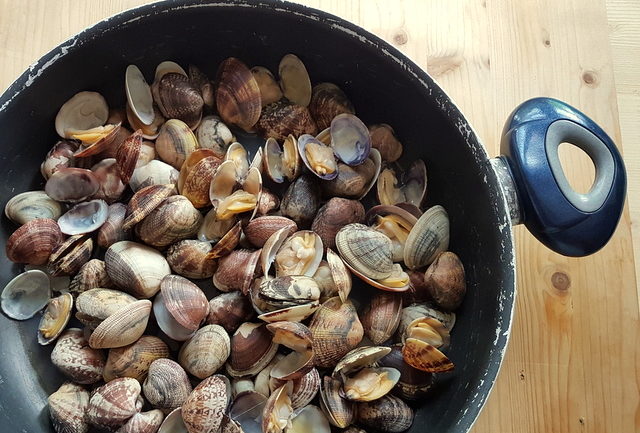 Manila clams look very similar to vongole veraci. Another popular clam is the rayed artemis clam. These are smaller, whiter and more rounded but still taste really good too! Of course it's possible to use tinned clams, but in my opinion you won't get anywhere near the same flavour, as with fresh clams.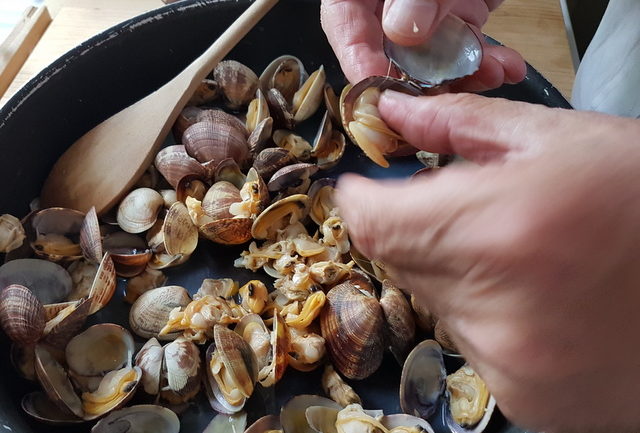 The pasta.
Traditionally this recipe is made with spaghetti, vermicelli or linguine. We used linguine made by Pasta Liguori, one of the producers of Pasta di Gragnano IGP. This is one of the best pastas in Italy and worth looking out for! I prefer linguine for this dish because this pasta has more surface area to soak up the sauce. But, any narrow long pasta works well. Italians don't usually use short pasta in this dish.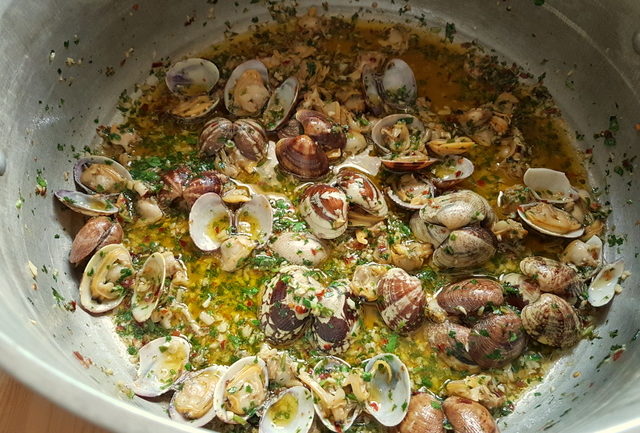 Other ingredients.
Apart from the linguine and clams, this linguine pasta alle vongole recipe has very few other ingredients. In fact, most versions contain nothing more than garlic, peperoncino (Italian red chili pepper), white wine, olive oil and parsley.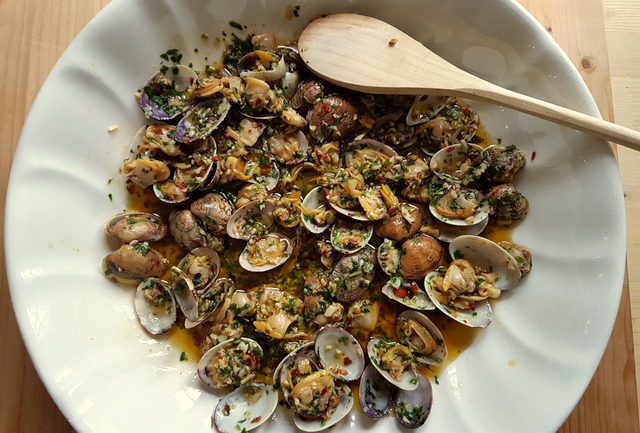 I recently read an article about this recipe that said, if you're going to spend a bit for fresh clams, then you don't want to smother their taste with lots of other flavours. I really agree with this point of view! Having said that, my hubby is pretty generous with the garlic and peperoncino. But, you can use less if you prefer!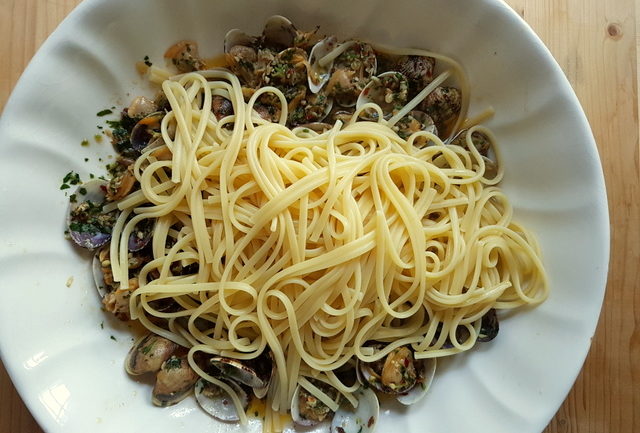 Nota Bene!
There are just 2 points that need care to make sure your linguine pasta alle vongole is perfect. Firstly, in this version the clams are cooked alone first. Then you will need to remove the meat from most of them, keeping just a few in their shells to make the dish look more appetizing! It's important to discard any unopened shells as this means the clam is dead. Don't try to open and eat unopened clams! Secondly, if the liquid from the clams appears to have sand in it then it's best to filter it before adding the cooked clams and liquid to the rest of the sauce ingredients.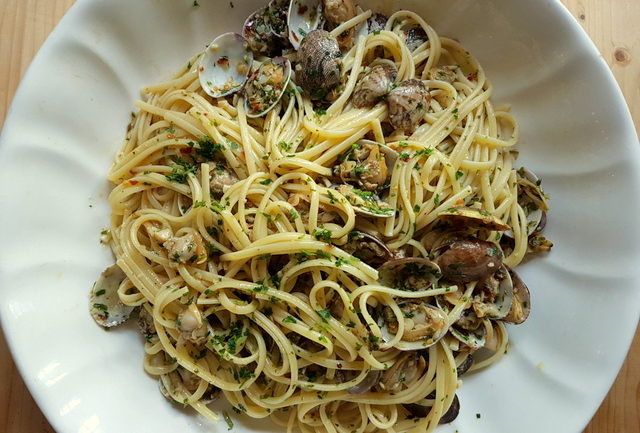 Easy to make.
This is a dish that many people order in restaurants but rarely make at home. However, it's actually pretty easy and there's no residue fishy smell in the kitchen. What you'll get is a wonderful garlicky aroma that is so mouth- watering! My hubby is quite generous with the garlic and peperoncino, as we like it that way, but you can reduce the quantities if you prefer. We sometimes cook the clams and eat them without pasta, just a bit of bread to soak up the sauce. Delicious too!
If you make this recipe I'd love to hear how it turns out and if you liked it. Please leave a comment here on the blog or on The Pasta Project Facebook page. Looking forward to hearing from you!
Buon appetito!
If you like linguine you will probably love these other classic recipes from Campania
Linguine al limone (with lemon and cream)
If you like seafood pasta recipes check out these traditional ones too
Baked fish ravioli from Liguria
Fregola with clams from Sardinia
Mussels alla Tarantina from Puglia
Save this recipe for later?
If you want to save this delicious linguine pasta alle vongole recipe for later, you can print it, bookmark this page or save it to Pinterest.

Pin for Later