Spaghetti with mussels alla Tarantina.
Many people prefer to eat seafood in restaurants, rather than cook it at home. However, many seafood dishes, especially seafood pasta recipes, are really not difficult to make and don't leave your house smelling of fish! This spaghetti with mussels alla Tarantina is one such dish. It's unbelievably tasty, easy to prepare and will definitely impress your guests!

Pasta con cozze alla Tarantina.
When it comes to pasta with shellfish our go-to dish is usually linguine with clams (vongole). But, I had some great pasta with mussels during a recent trip to Puglia and wanted to do something similar at home. Actually, in this case, I didn't cook the dish, I just requested it! My Sicilian hubby was the chef as he's the seafood cook a casa nostra! He made this spaghetti with mussels alla Tarantina that was not only a dream but can actually be served without pasta, as a finger-licking first course along with some bread to mop up the spicy tomato sauce!

Mussels from Puglia.
This recipe comes from the province of Taranto, in Puglia. There mussels, known as Tarantine mussels, have been cultivated for over 1000 years! These mussels are quite large and have a whitish colour. They are famous for their sweet taste. Today, Taranto apparently has the largest production of farmed Mediterranean mussels in the world.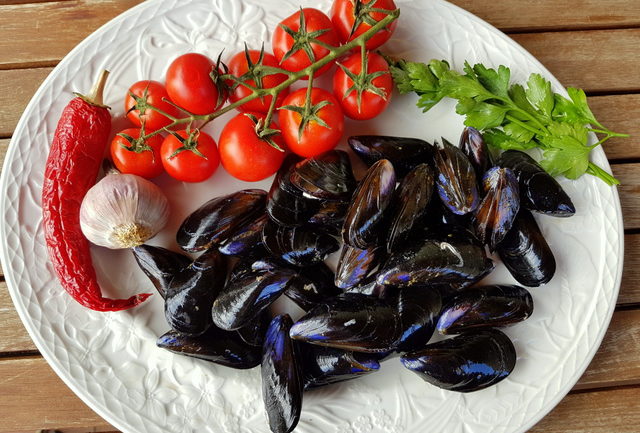 Tarantine mussels are grown on ropes and nets suspended over poles and wooden structure in the Mar Piccolo (little sea). There, a mixture of fresh water from 34 underground springs mixes with salt water to provide a special marine environment that creates favourable conditions for mussels and other kinds of fish and shellfish.

As you can imagine, mussels are an important ingredient in Apulian seafood cuisine and there are some wonderful recipes for mussels from there. Sadly, I couldn't find Tarantine mussels, the ones we used were very good however and combined with the Apulian way of preparing them, made for a fabulous plate of pasta, that looked and tasted as good, or even better, as similar dishes I've had in restaurants.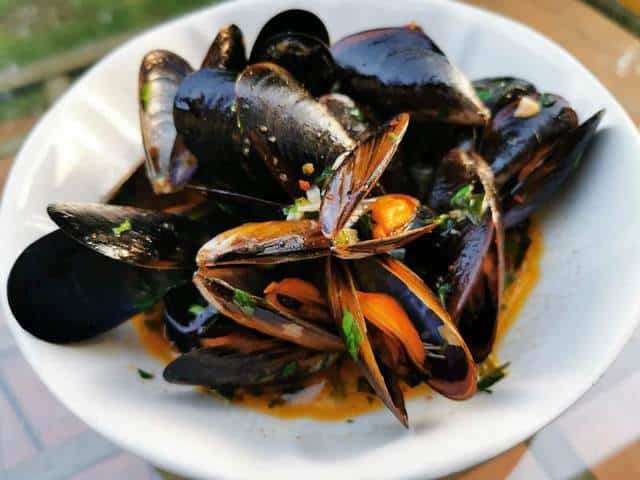 Alla Tarantina is delicious without pasta too!
We used spaghetti all chitarra (also popular in Puglia) for this dish but you can also use normal spaghetti or linguine. You can use fresh tomatoes or a good quality tomato passata and fresh or dried peperoncino.
There are some different versions of this recipe, for example without any mussels in their shells, or without wine. But, I loved having those mussel shells on my plate. And of course if you eat this sauce without pasta, you definitely need to keep most the mussels in their shells, otherwise you'll have no reason to lick your fingers!

If you do make this spaghetti with mussels alla Tarantina recipe, I'd love to hear how it turns out. Please write a comment here on the blog or post a comment on the Pasta Project Facebook page.
Your feedback means a lot to me!
Buon Appetito!
Have a look at my favorite seafood pasta recipes if you're interested in more delicious pasta recipes!
Save this recipe for later?
If you want to save this recipe for later, you can print it, bookmark this page or save it to Pinterest.
Pin for later.

Other shellfish pasta recipes.
This recipe was originally published in 2017 but has been updated.