Pasta and beans is one of the most typical traditional dishes of Italian home cooking. This rustic dish is made throughout the country and each region has its own recipe or recipes! Undoubtedly, among the most famous versions is pasta with mussels and beans, also known as Neapolitan pasta and beans.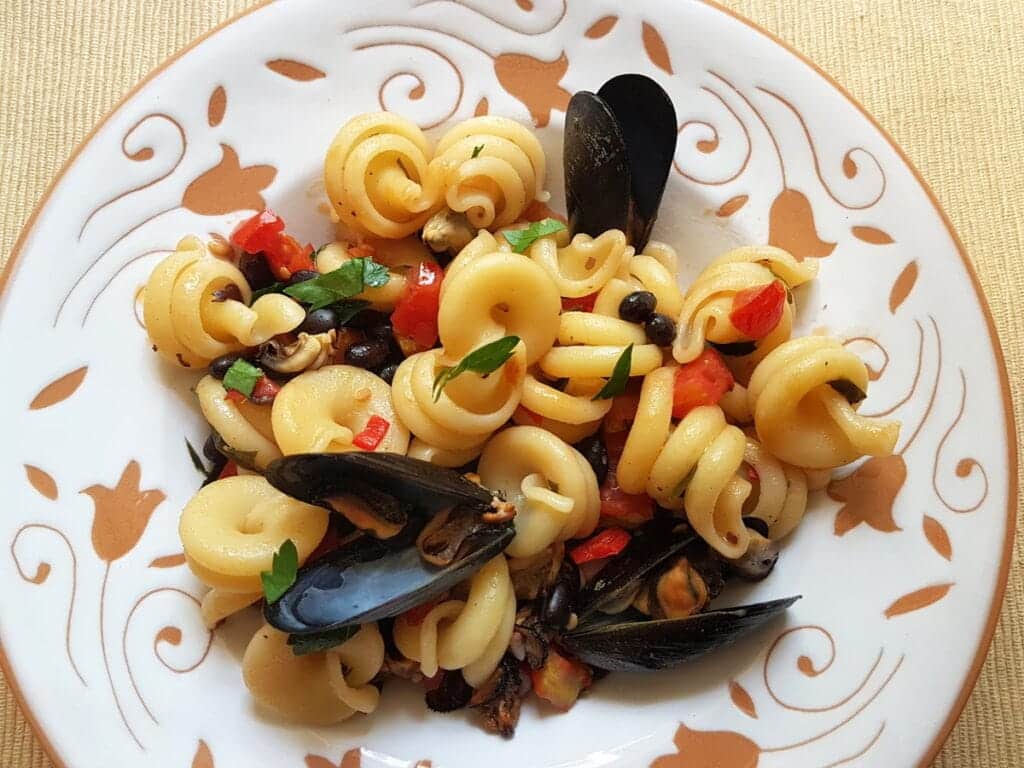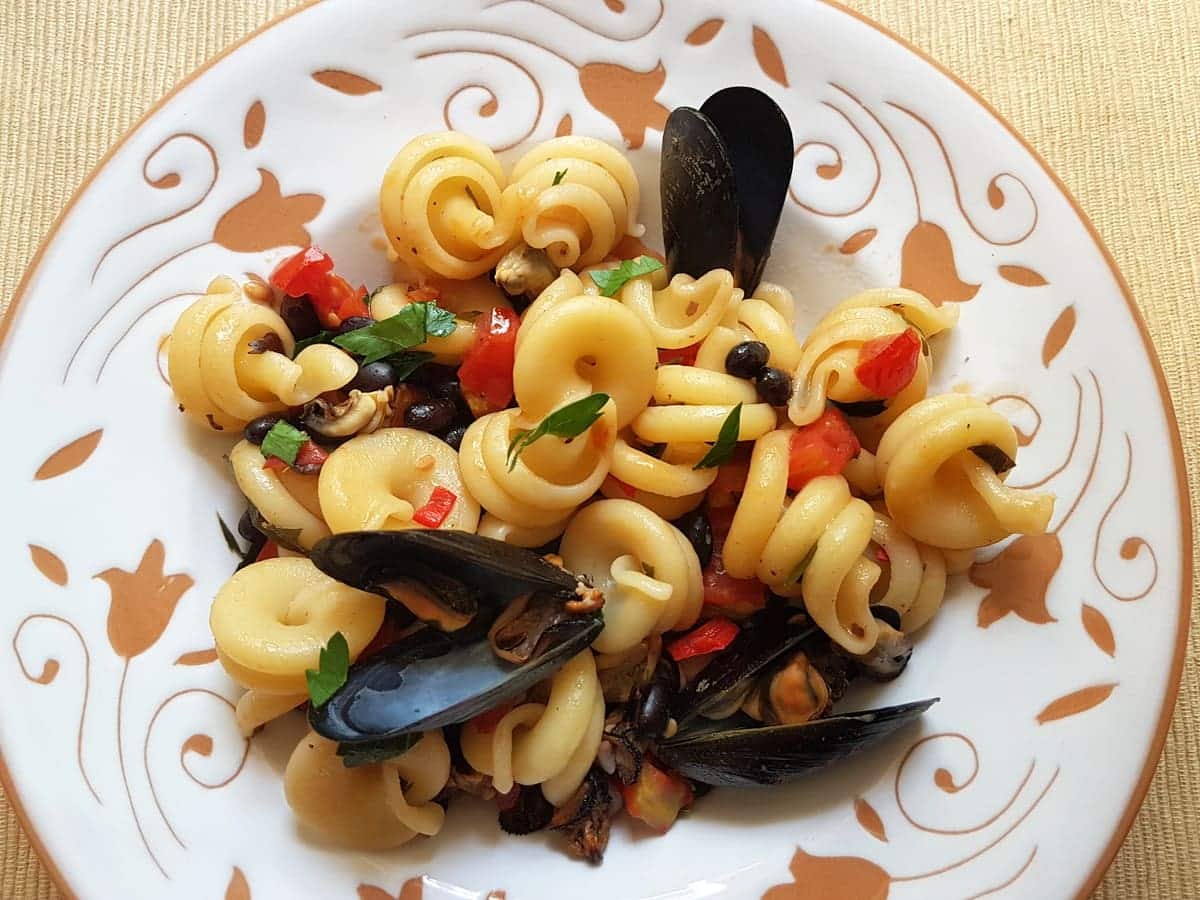 Pasta con cozze e fagioli
In Naples, pasta with mussels and beans is often more of a thick soup. However, some people prefer to make a drier version like this recipe. In the soup version, the pasta is typically cooked together with the beans in broth. It's a lot more filling and heavier. So, in my opinion better suited to colder weather! In this drier version, I cooked the pasta very al dente separately and then finished it off with the tomatoes and beans.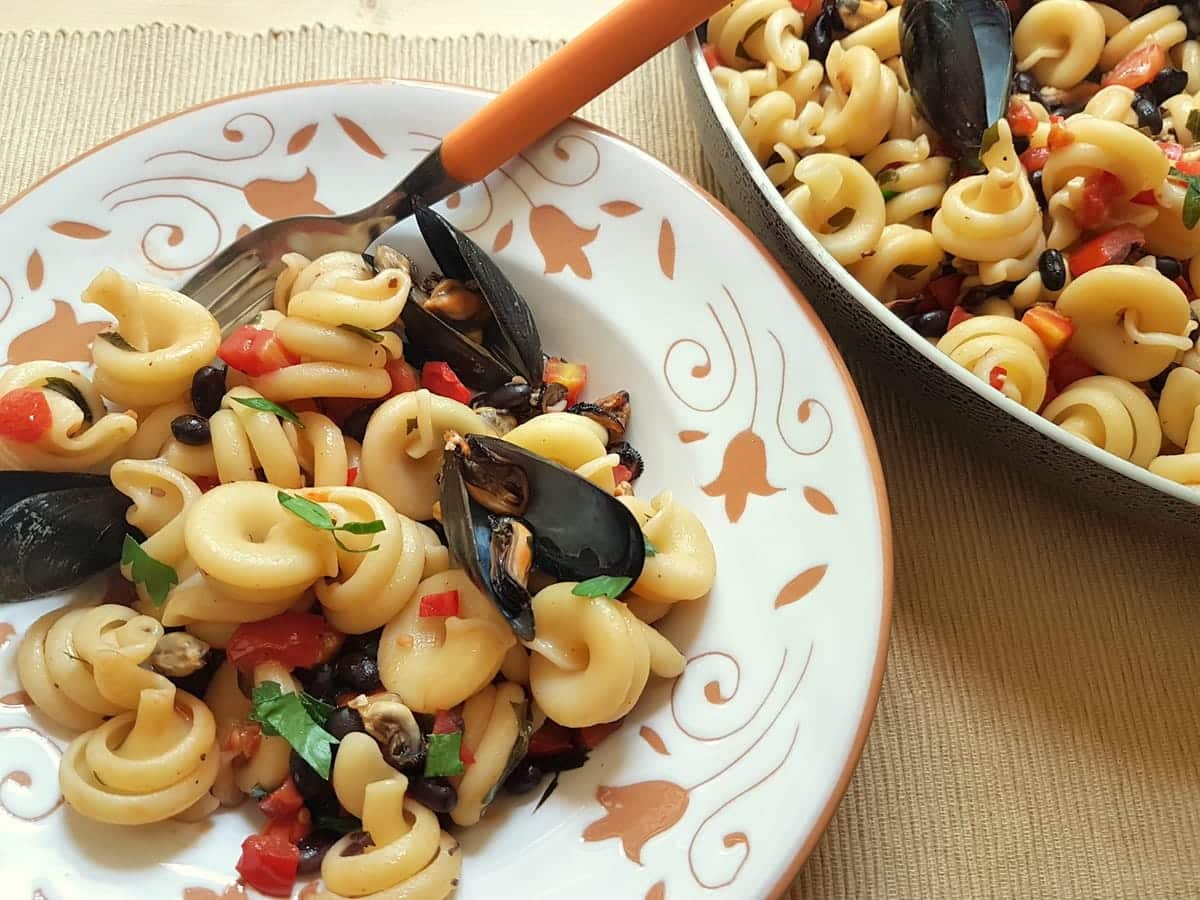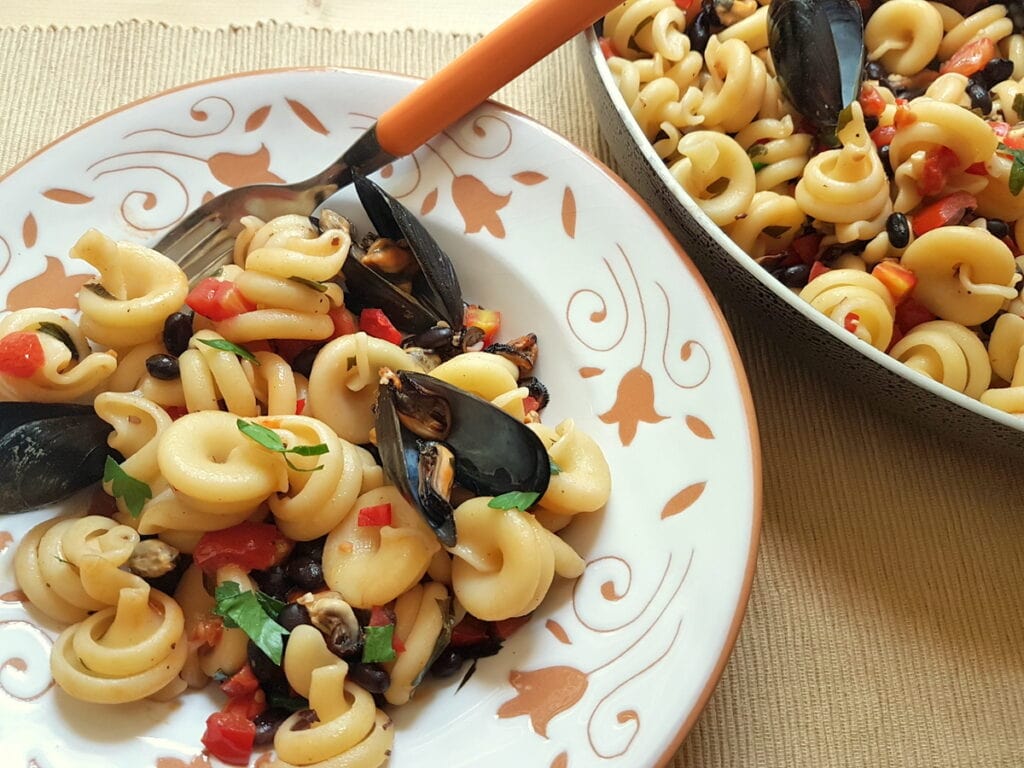 I cooked the mussels on their own and just added them at the end. This is also the way it is done traditionally as mussels really don't need much cooking!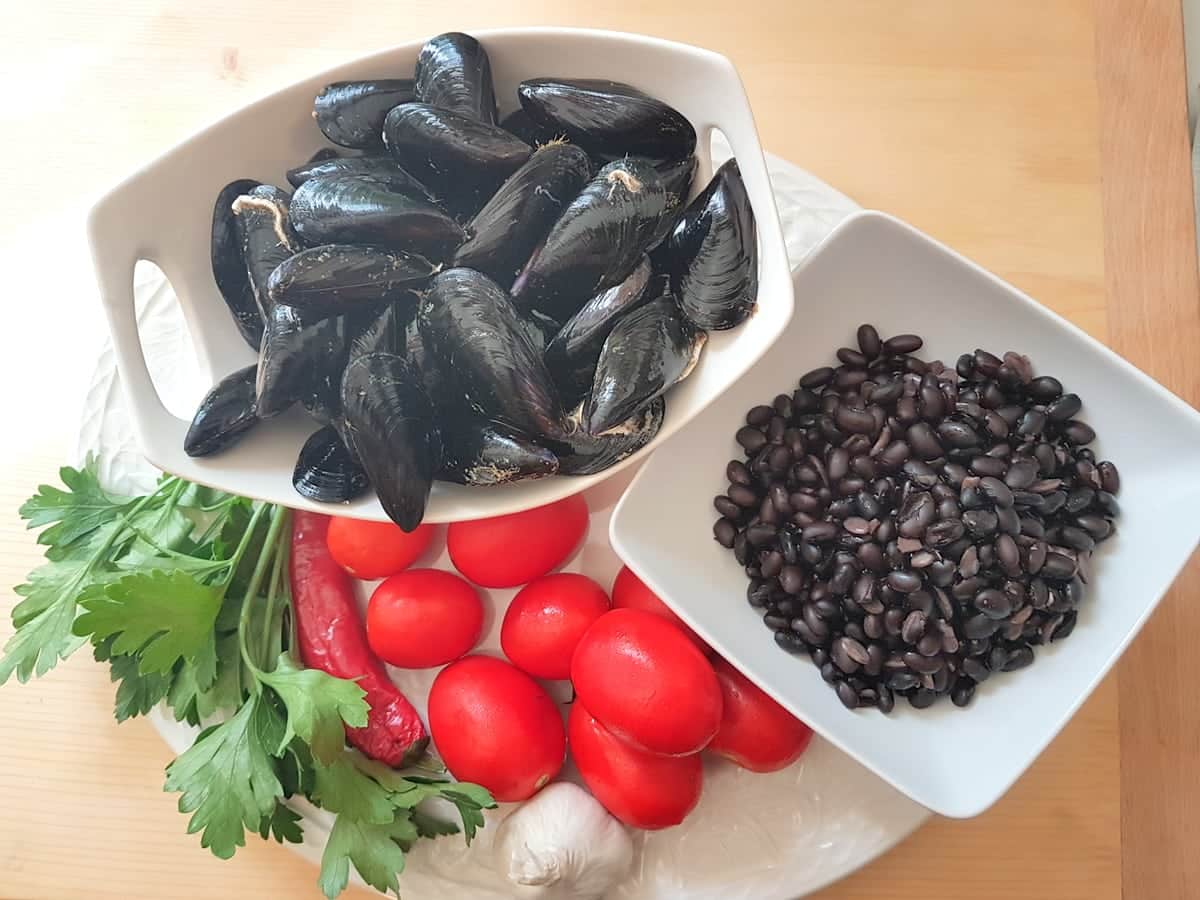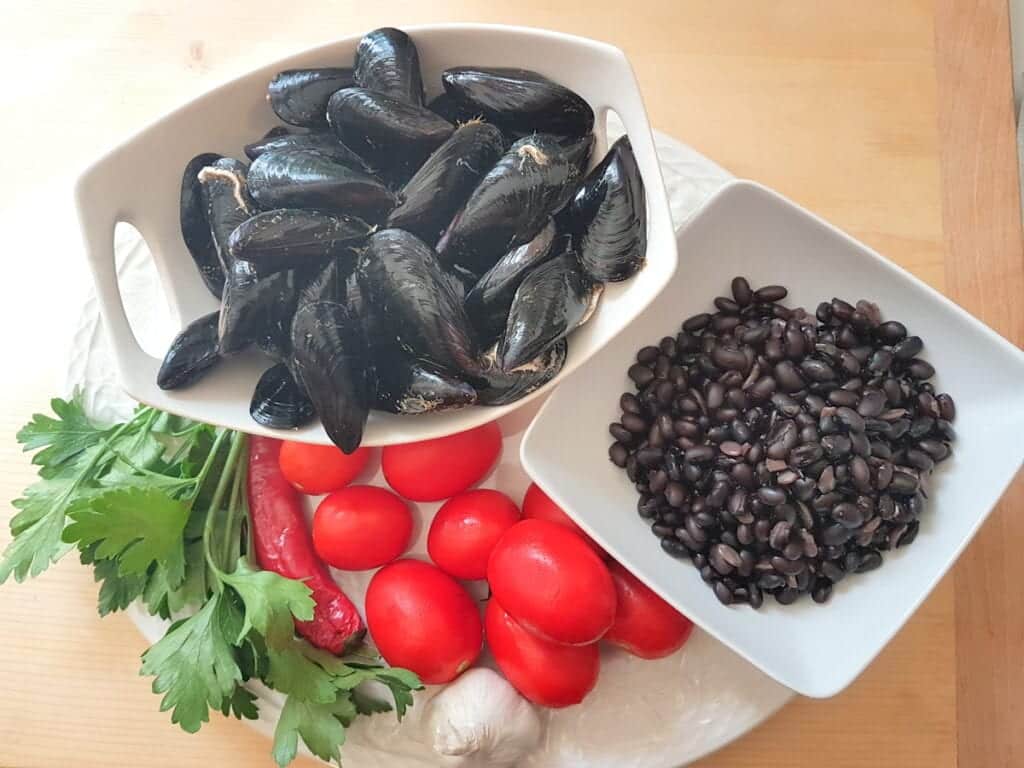 Which beans are best?
The most traditional beans used in pasta and beans soups in Italy are borlotti or cannellini. Both types can be used in this recipe. Some Italians use both together! I followed a recipe which called for black beans. Again, because I think the end dish is lighter and also I loved the colour! Sounds silly, but we eat with our eyes too! And, the black beans and mussels contrasted so well with the tomatoes and pasta. This dish tasted as beautiful as it looked!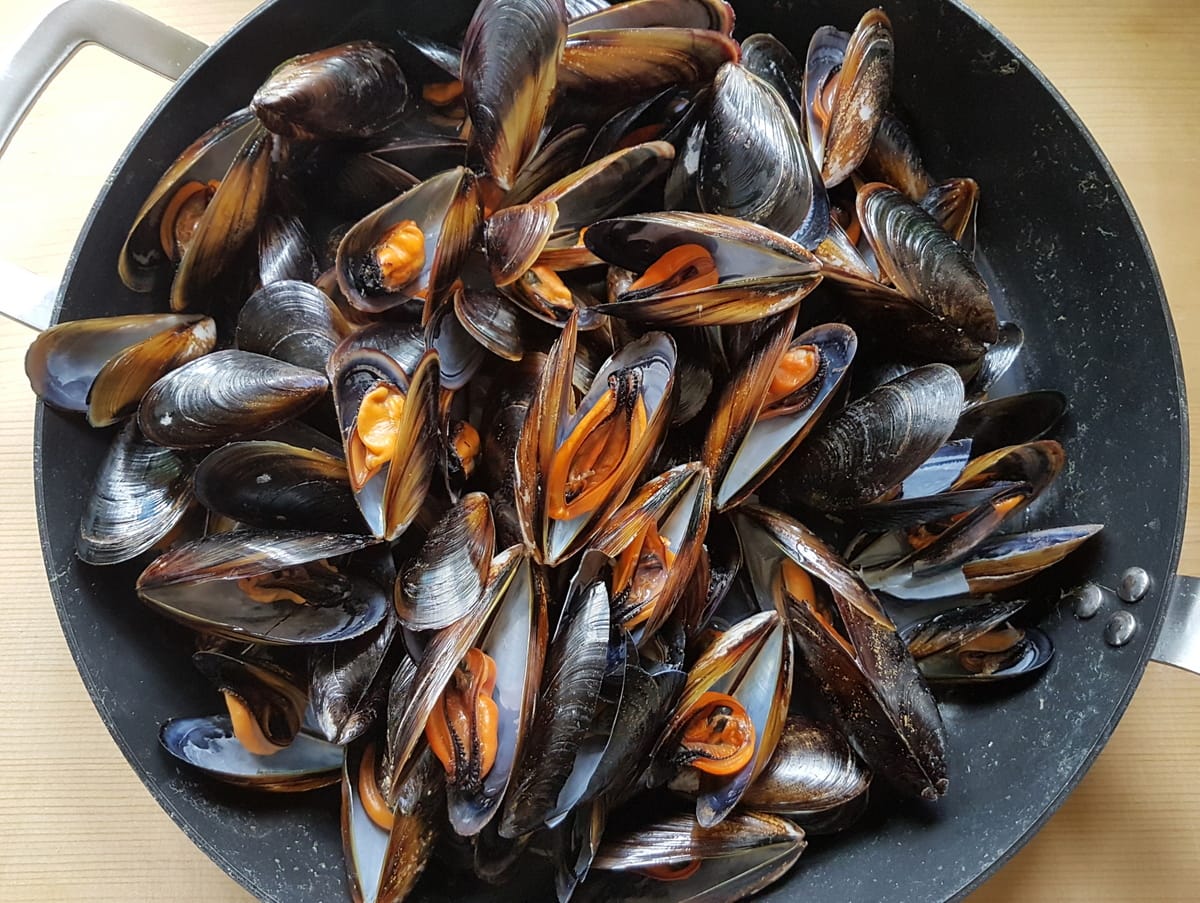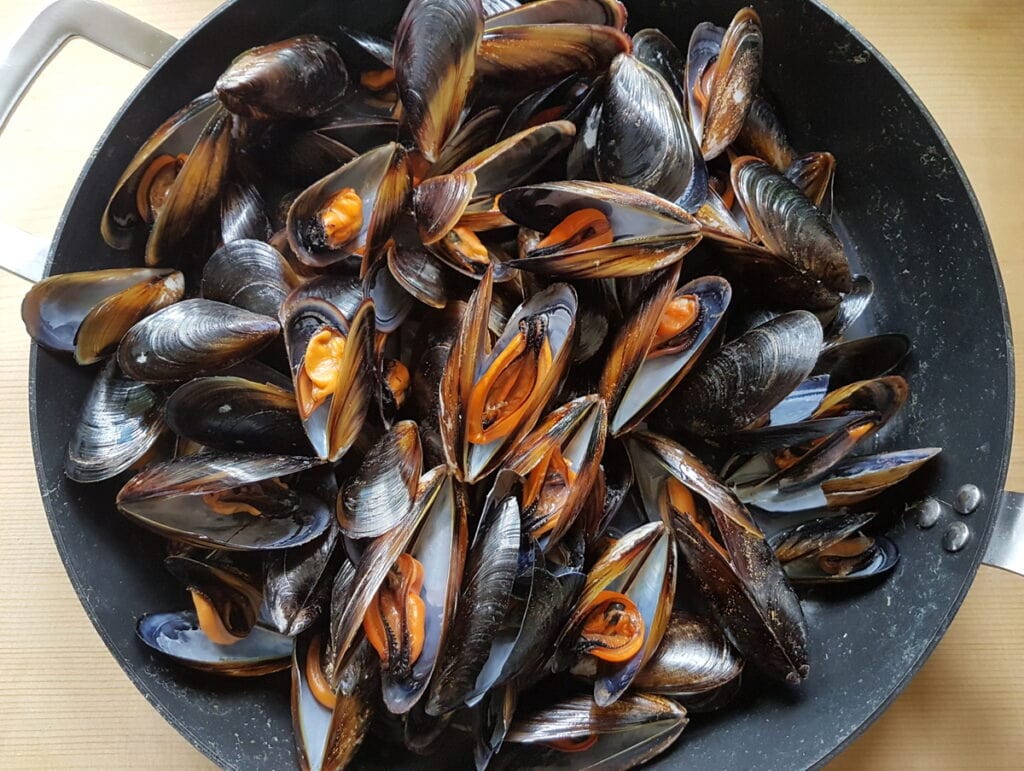 I always prefer to use dried legumes in my cooking. Mostly, because I think they taste better and are definitely healthier. However, this does lengthen the time it takes to make this recipe because the beans need to be soaked overnight and then cooked. In the case of black beans, only for an hour as they are quite small. Of course, you can use canned beans instead.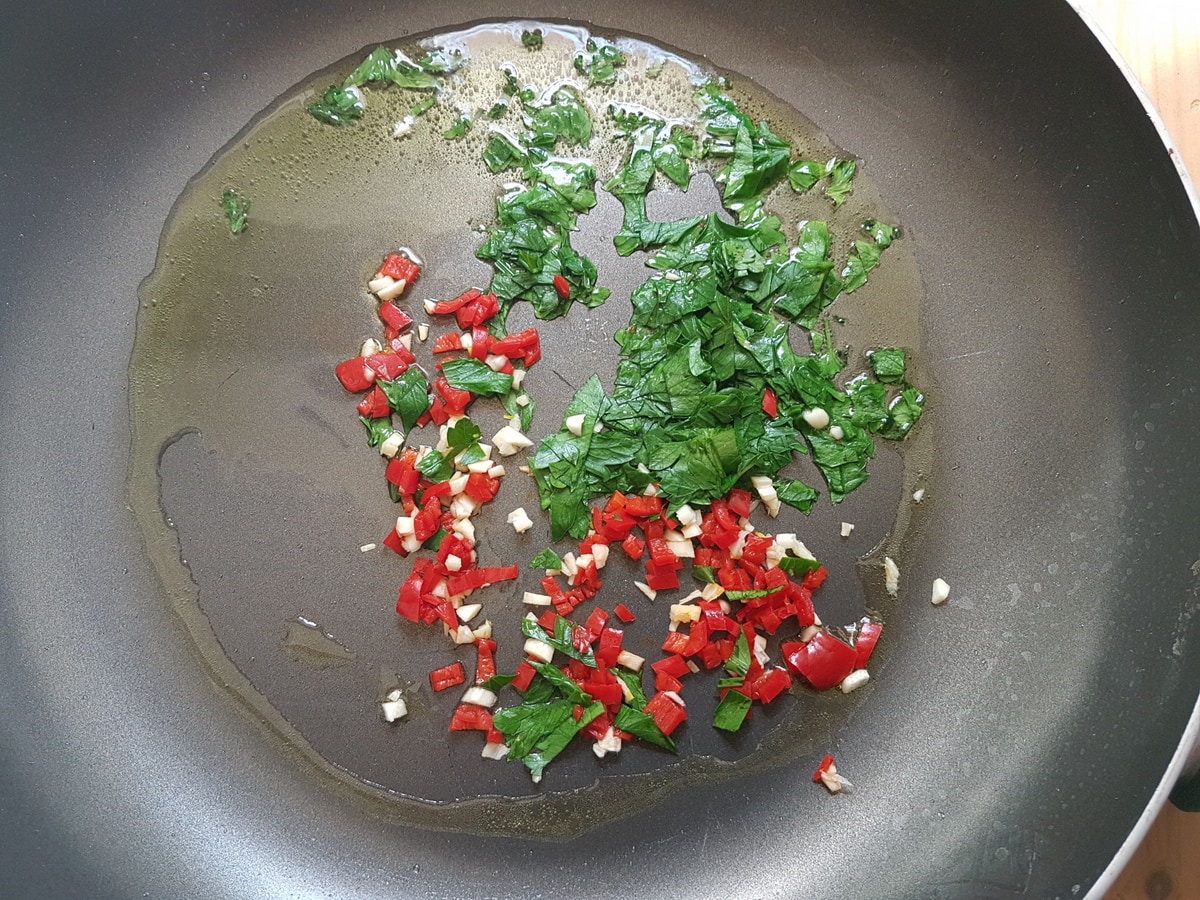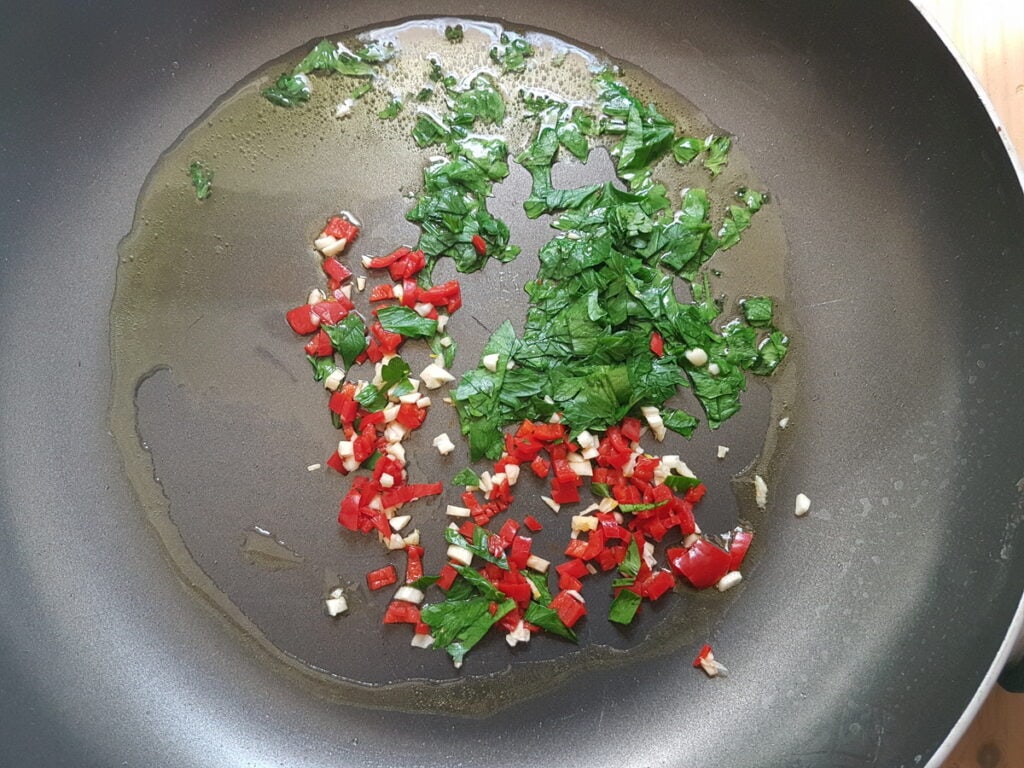 What pasta to use?
When making pasta with beans, Italians usually use small pasta tubes such as ditalini or flat maltagliati. Since this isn't really a soup recipe, I decided to use vesuvio pasta. This unique contemporary pasta shape comes from Campania and is named after Vesuvius, the volcano that dominates the skyline around Naples.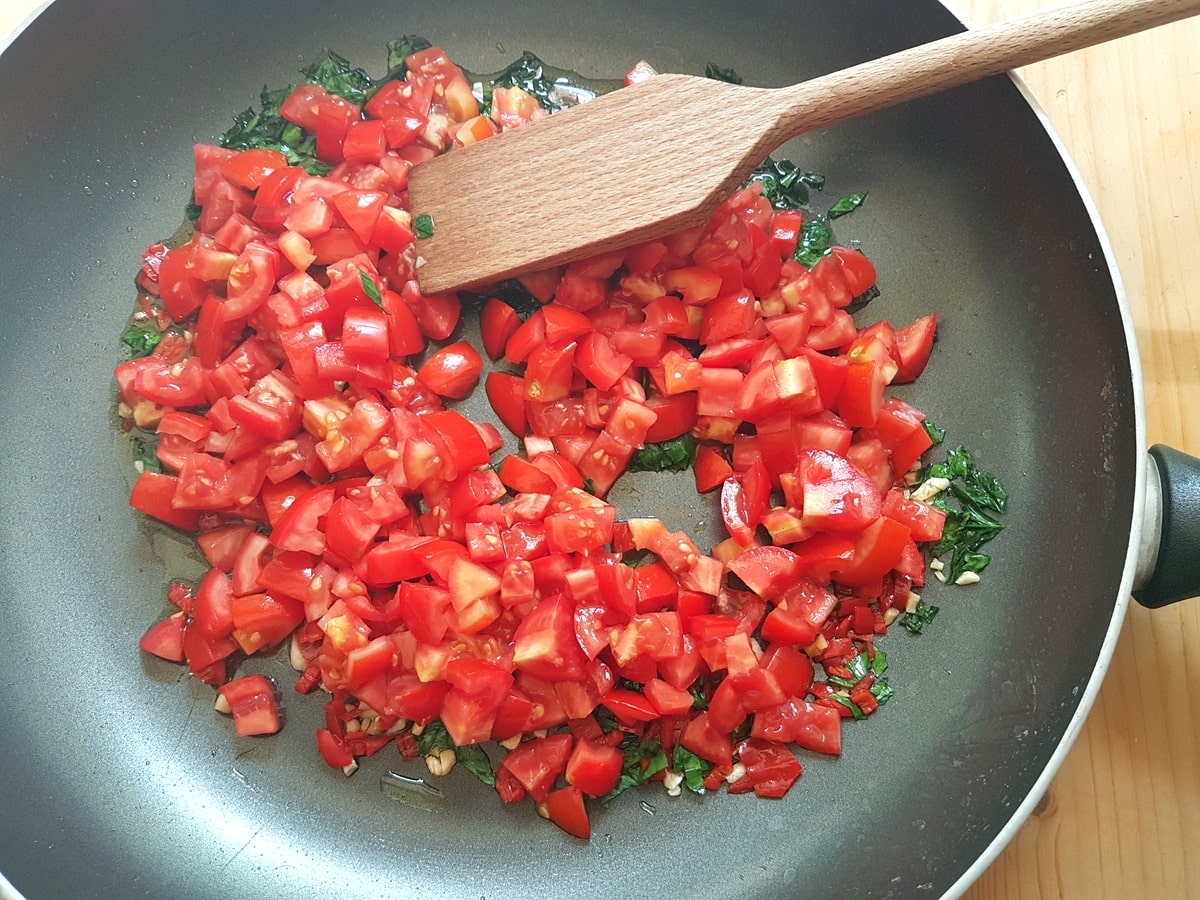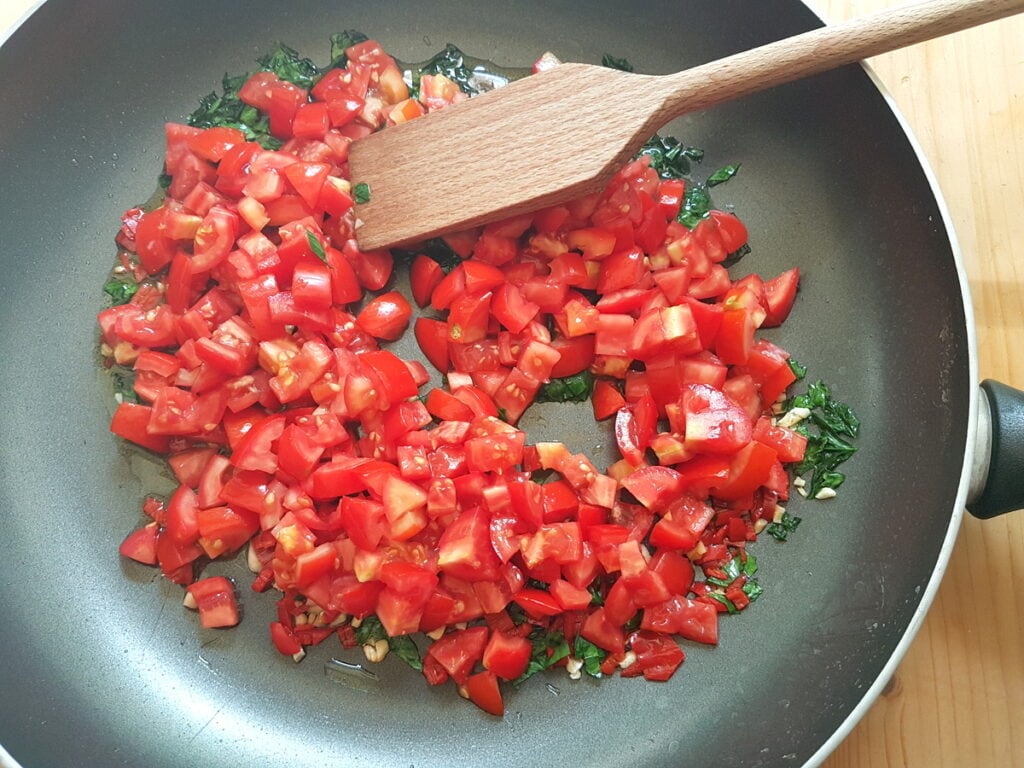 As you can imagine this pasta is shaped to look like the volcano. It's not only a very pretty pasta but holds together really well and tastes great. Most of the companies that make vesuvio pasta are located in or near Gragnano, a town near Naples which is famous for its dried pasta production.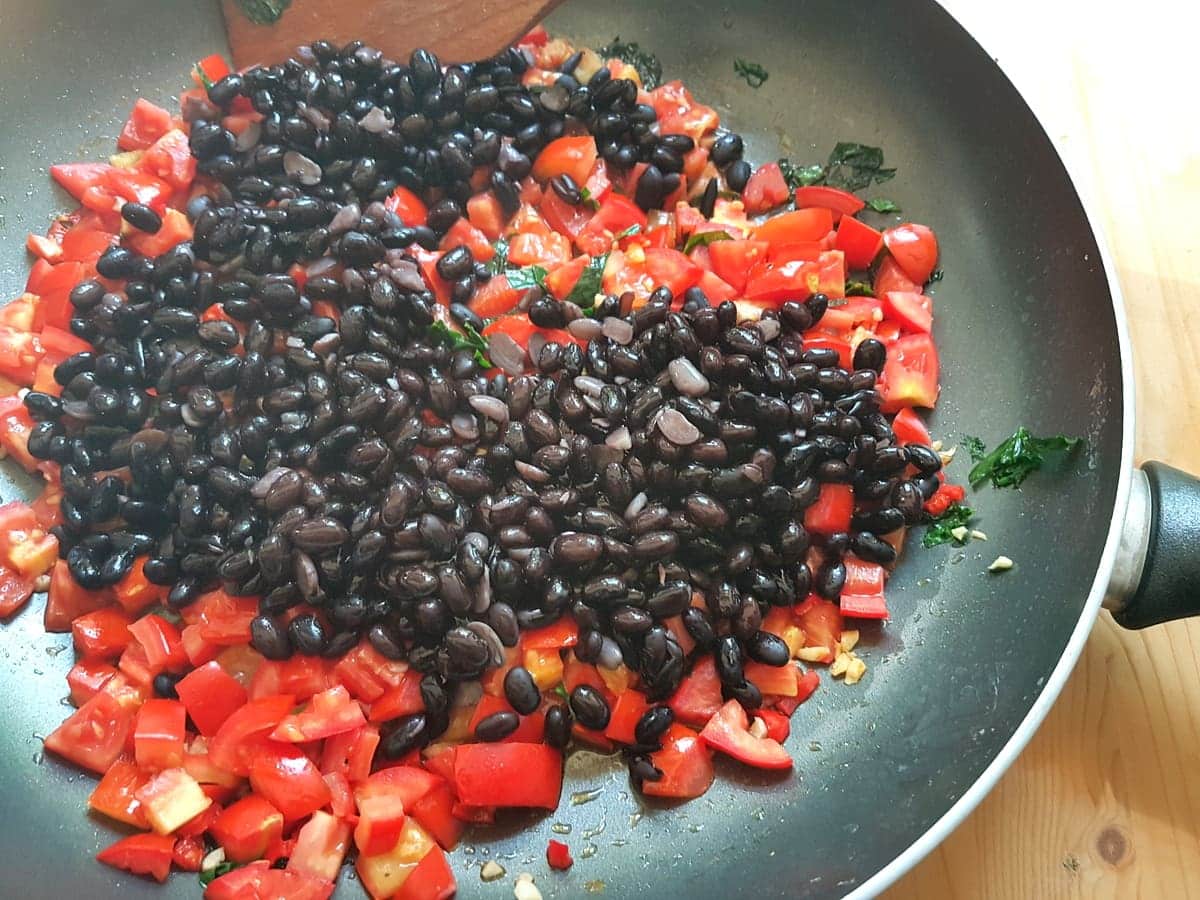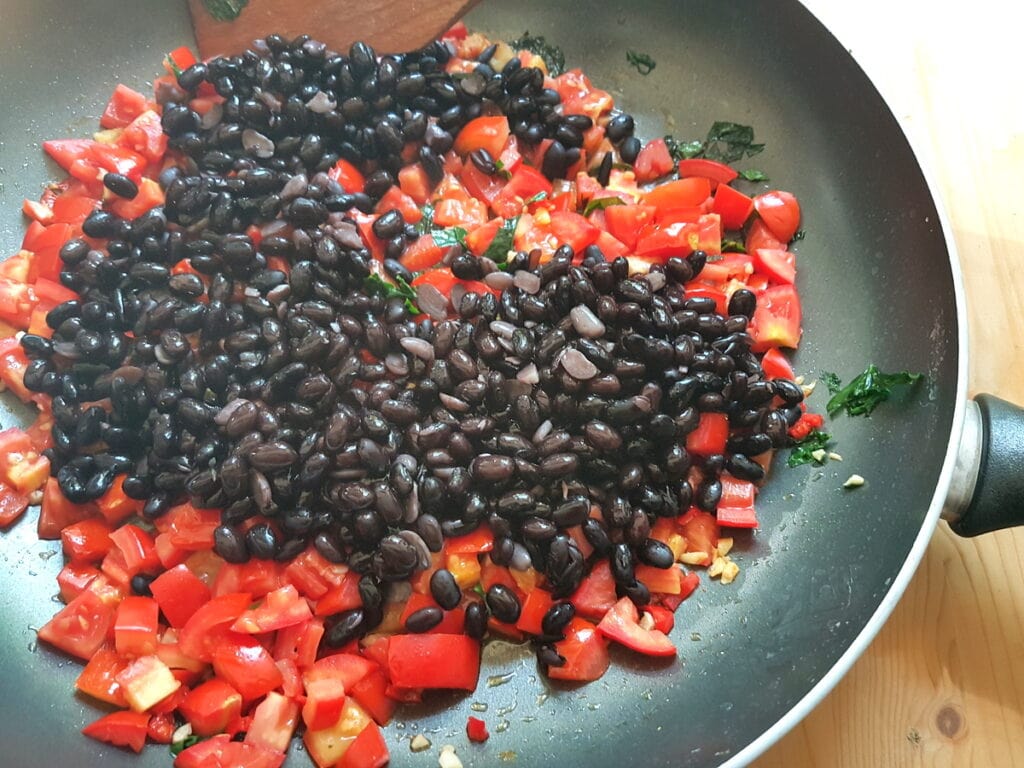 Other types of pasta that are used in drier versions of pasta with mussels and beans are fusilli, orecchiette or short pasta tubes like rigatoni or penne. So, if you can't find vesuvio pasta, any of these would work well too!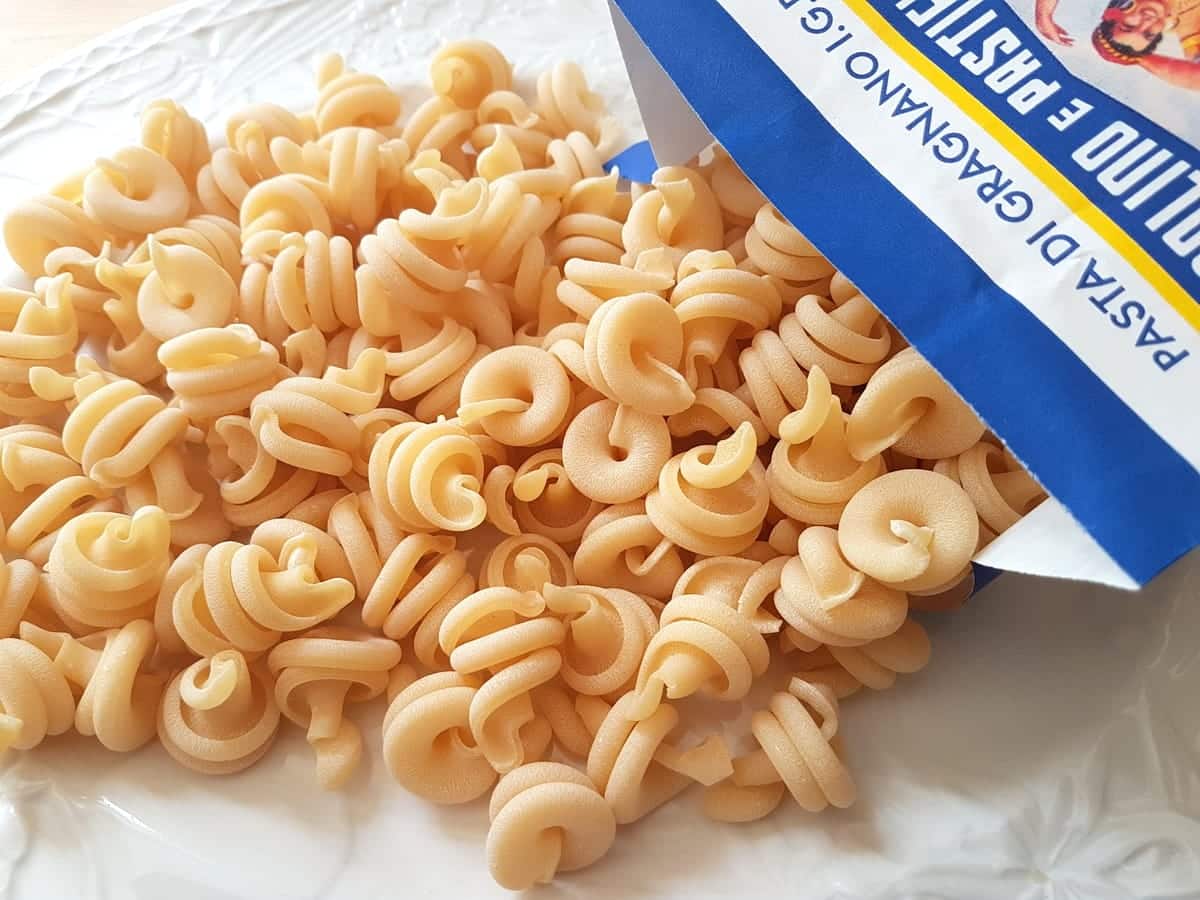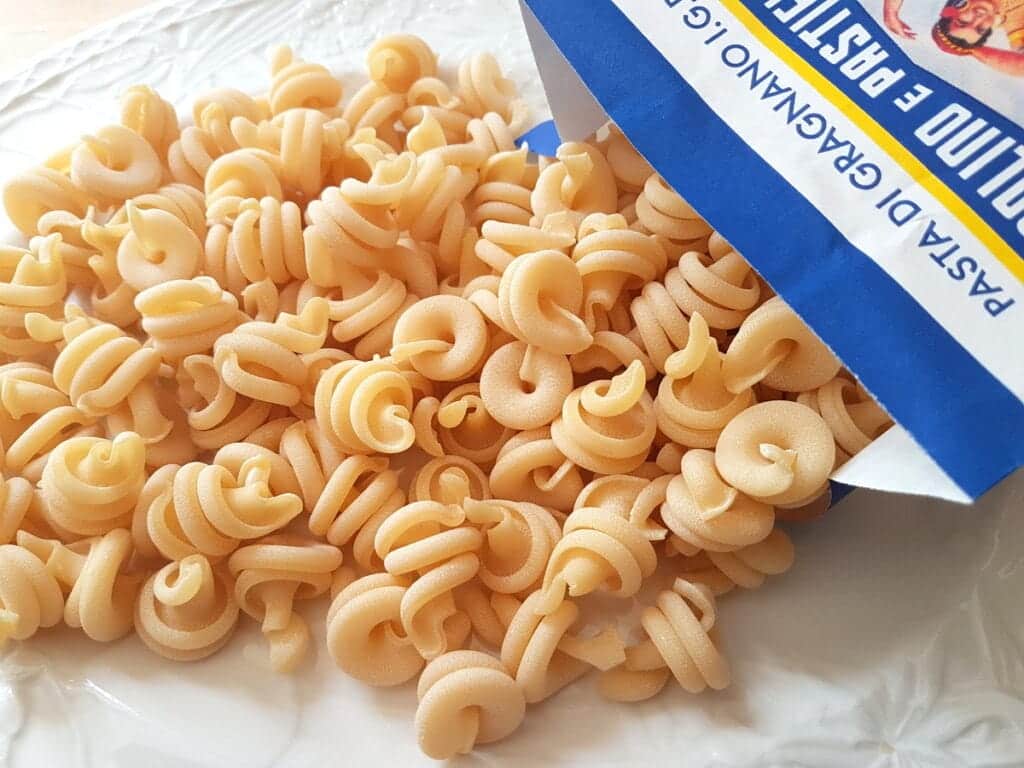 Making this pasta with mussels and beans recipe.
This recipe requires a few steps, especially if you are going to use dry legumes. As I mentioned above, the beans will need to be soaked overnight and then cooked in boiling water for an hour. The next step is to clean and cook the mussels. Don't forget to discard any that don't open.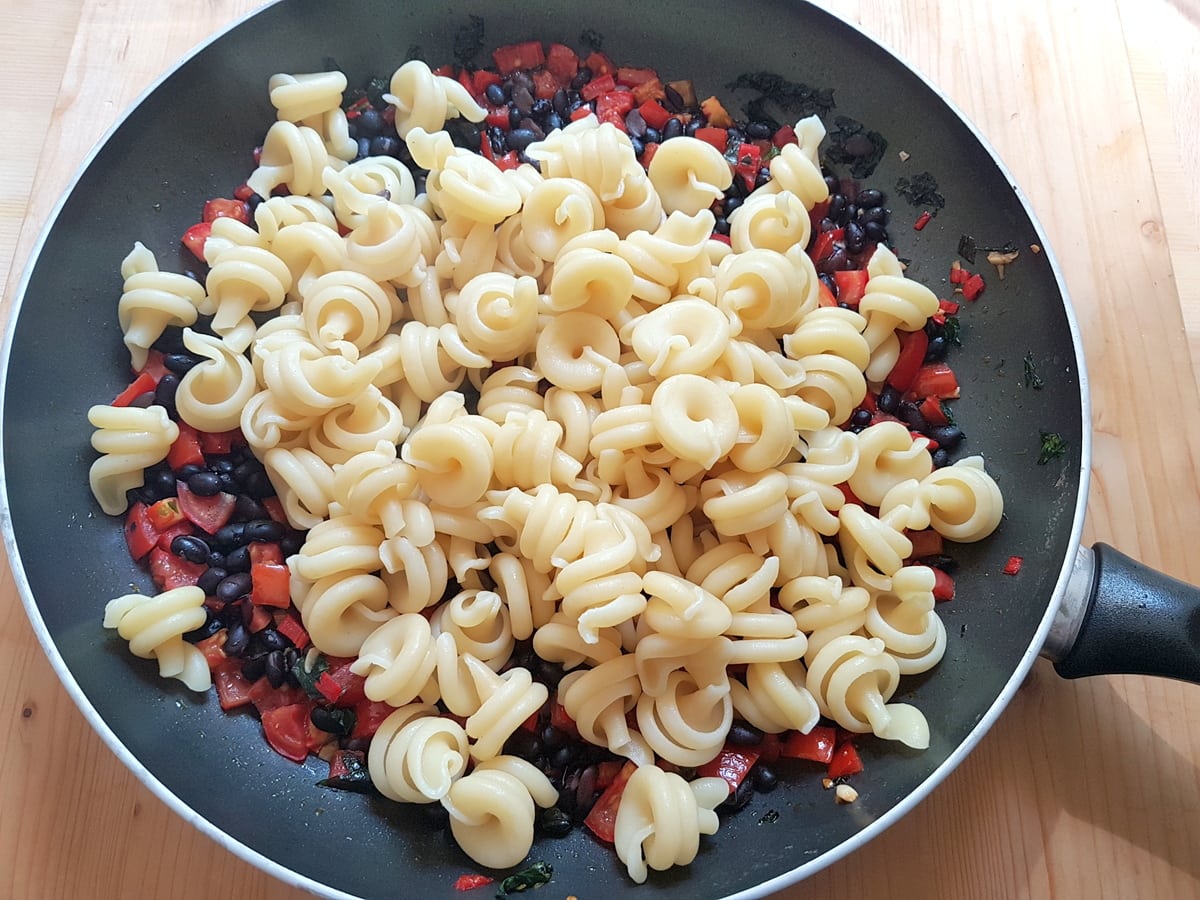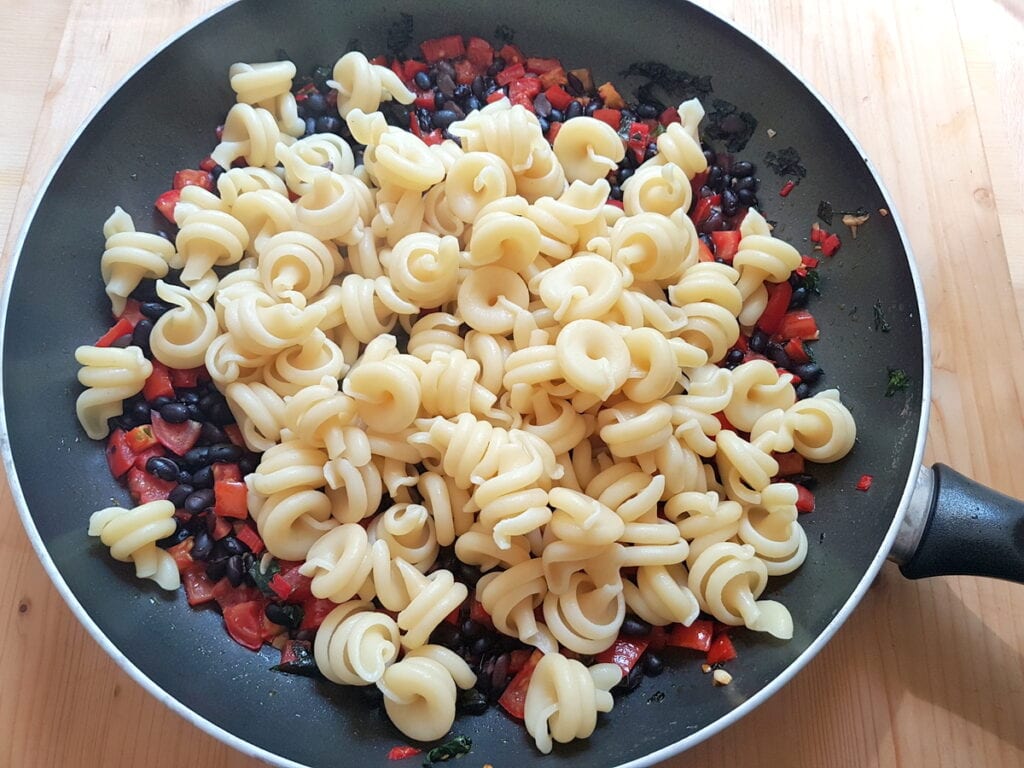 After cooking the mussels and removing most of them from their shells, I filtered the remaining liquid and set it and the mussels aside. Then I made the sauce. This is quite simple, just chopped fresh tomatoes, parsley, peperoncino and garlic. Once the sauce is cooked, add the beans and the liquid from the cooked mussels.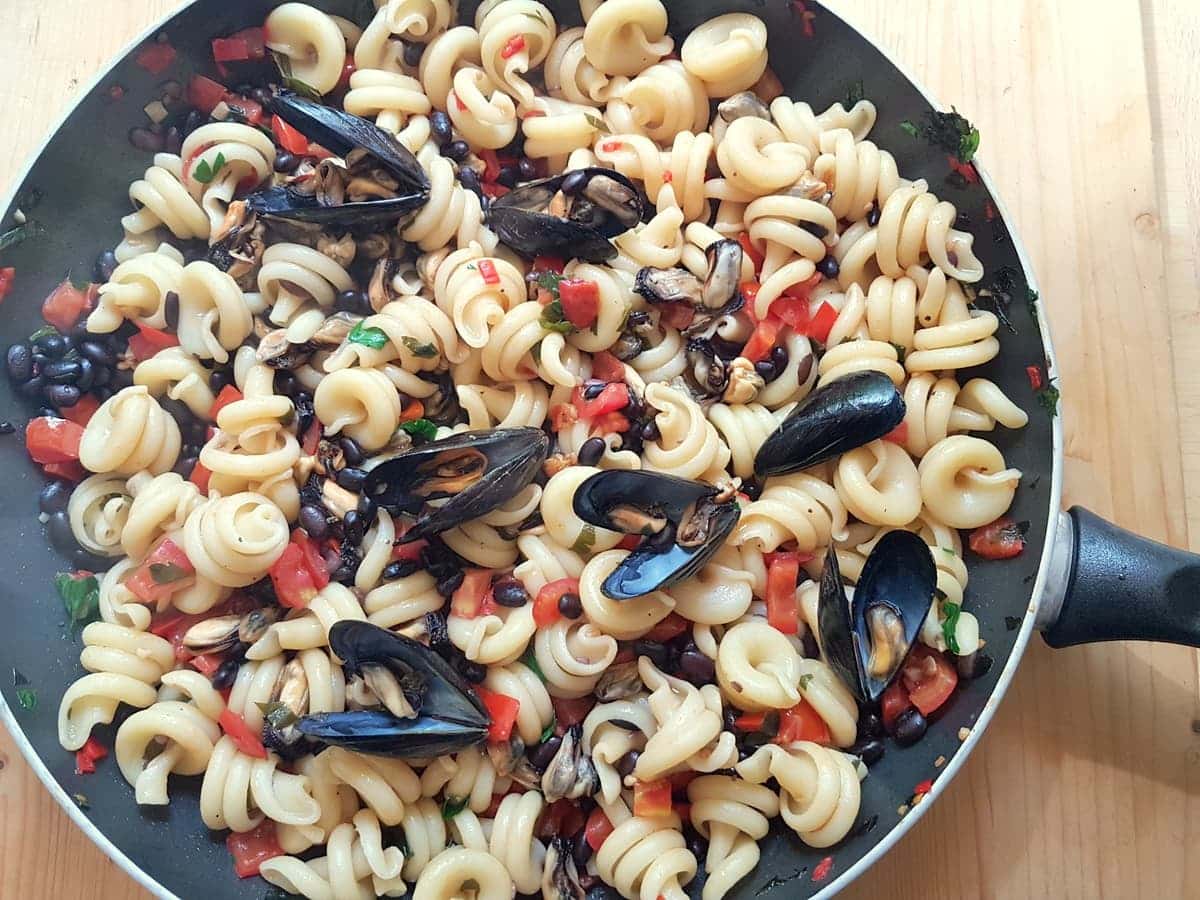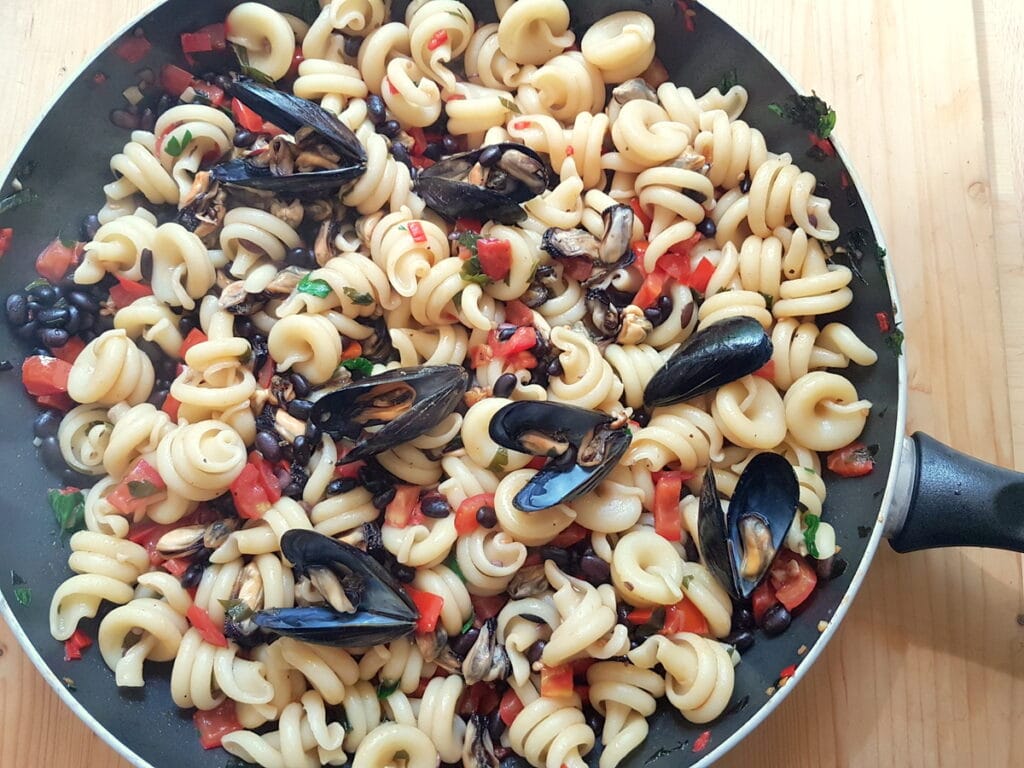 If using canned beans, just rinse them before adding them. Finally, all you need to do is cook the pasta al dente, add it to the tomatoes and beans and cook a bit more with some of the pasta cooking water. The mussels are added at the last minute.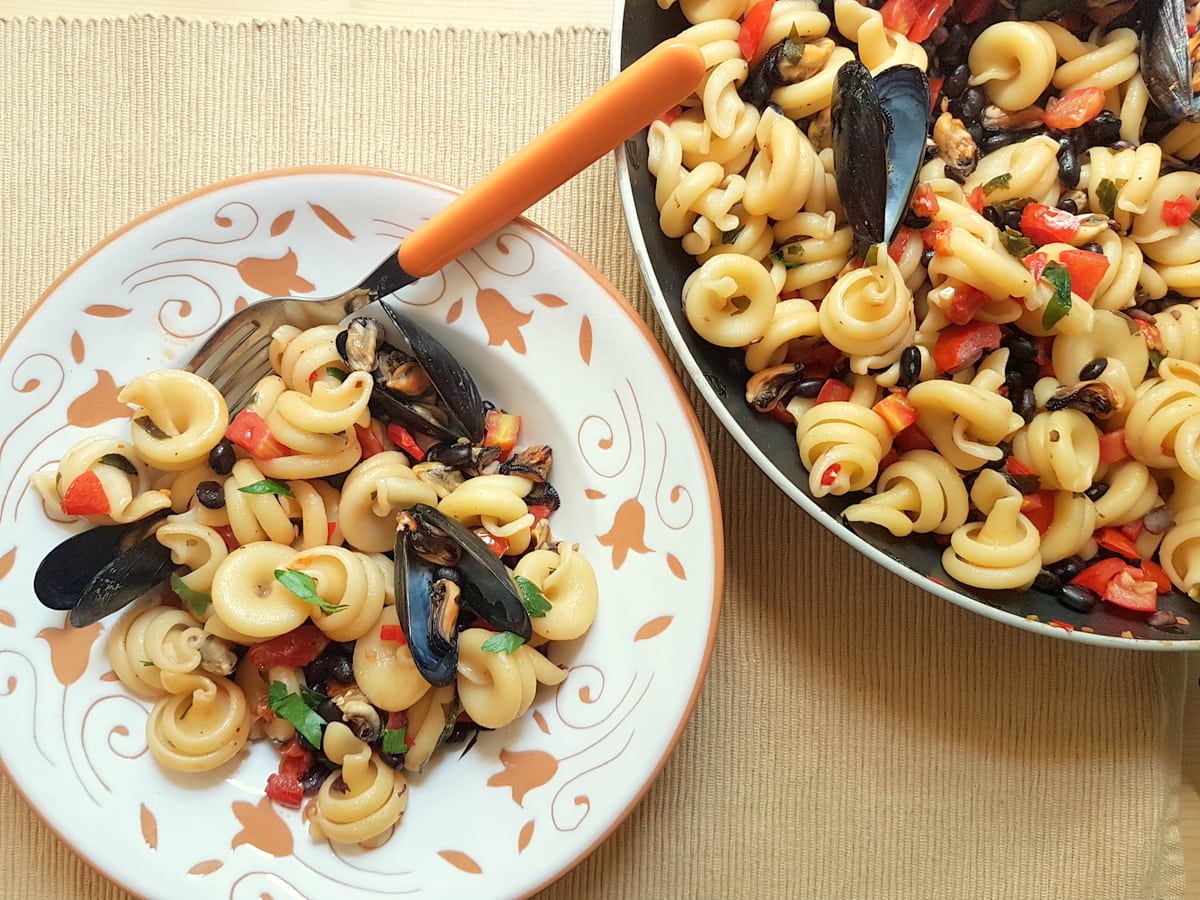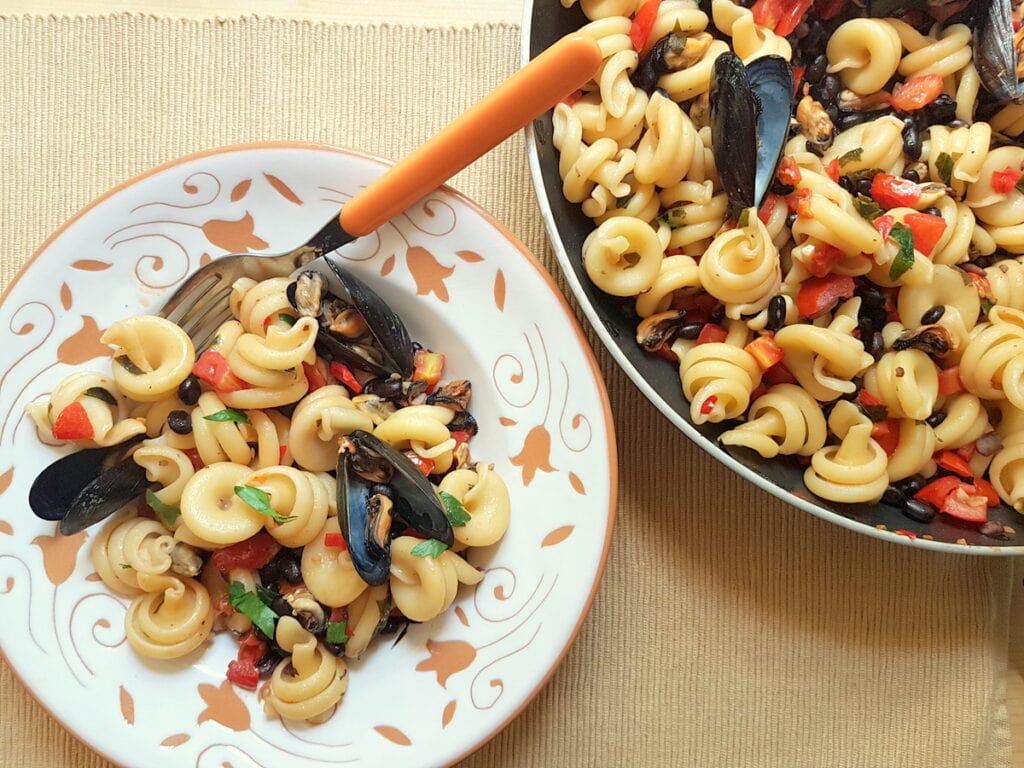 Pasta, beans and seafood.
The combination of pasta, beans and seafood is particularly Southern Italian and very popular in that part of the country. Although mussels are the most popular seafood addition there are also recipes that include clams or prawns or even fish as well. If you try this recipe, I'm sure you'll not only enjoy it, but also understand why Southern Italians love it so much!
If you make this pasta with mussels and beans recipe, I'd love to hear how it turns out and if you liked it. So, please leave a comment here on the blog or on The Pasta Project Facebook page.
Looking forward to hearing from you!
Buon appetito!
Other seafood pasta recipes you should try.
Spaghetti with mussels alla Tarantina: Recipe from Puglia
La Calamarata: pasta and calamari recipe from Naples
Pasta with sardines and wild fennel: Recipe from Sicily
Paccheri with fresh tuna ragu: Recipe from Sicily
Want to know more about my life in Italy? Why not subscribe to my newsletter? New subscribers get a free series of recipe e-books too!
Save this recipe for later?
If you want to save this recipe for later, you can print it, bookmark this page or save it to Pinterest.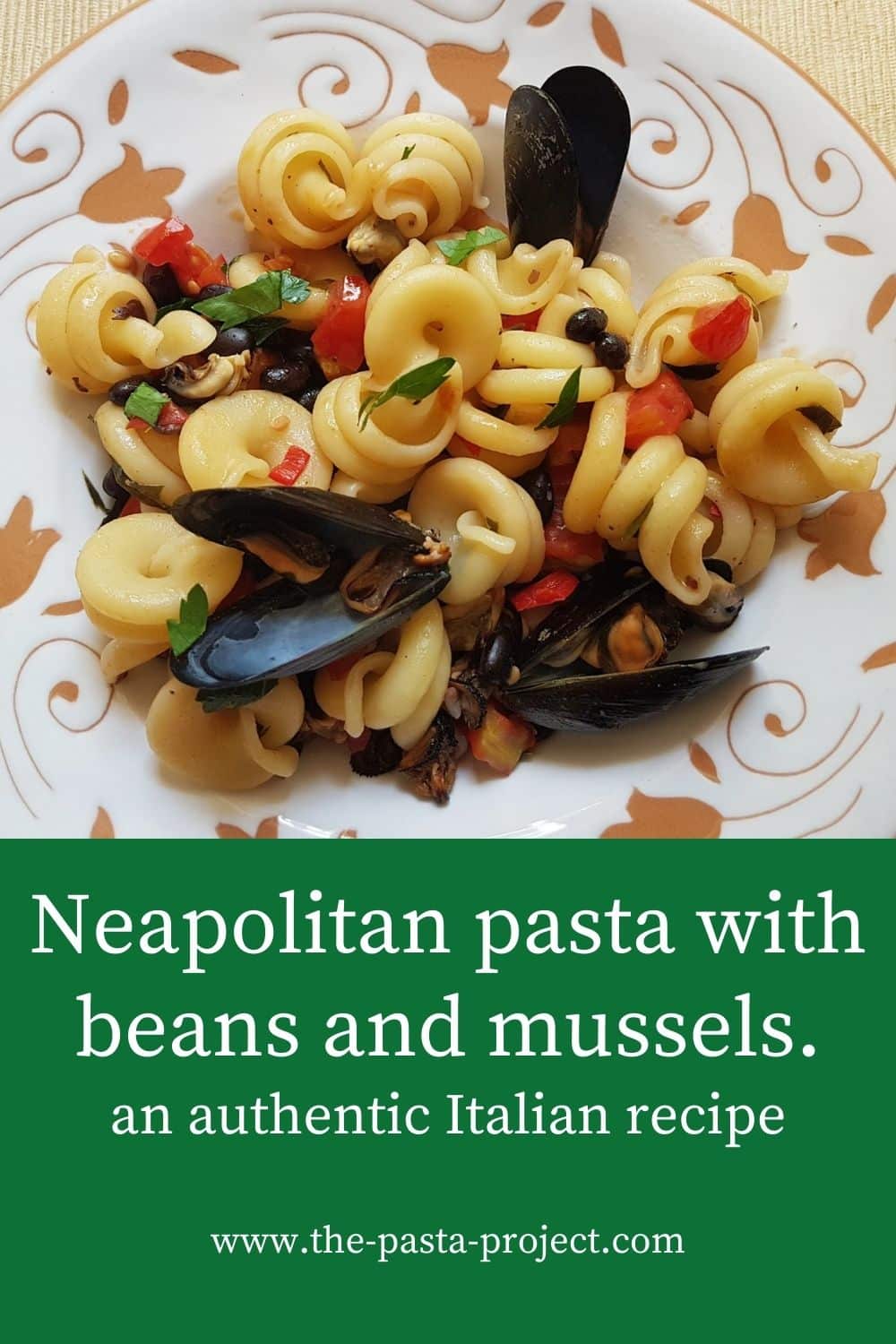 If you are interested in learning how to make homemade pasta and different types of gnocchi, check out my shop page for some great video online courses from my friends in Rome! Nothing beats learning to make pasta from Italians! Plus while you're there why not order a copy of my autumn/winter pasta recipes cookbook!?